Here we go again with a roundup of where our 2016 travels took us, featuring a lot of wanderlusty photographs.
Is it really a year since our last annual travel review?!
At the start of every year we catch ourselves saying "we're going to really slow it down this year", but as we draw to the end of 2016, 21 countries later, we don't seem to have managed that! We did return to many previously visited countries and out of those 21, only 7 were new destinations for me and just 5 for Mark!
That said, it doesn't feel like we've travelled at breakneck speed and, considering we spent almost two months in Cambodia, another two in Central Asia, around a month each in Thailand and Ukraine, a couple of weeks in places like Singapore, and France and lots of time in England… it doesn't seem to add up! It must be all those small European nations.
Although we visited many countries of the former USSR, we found a huge amount of diversity. Yes, there was plenty of concrete but equally no lack of ornate historical and religious buildings. We also saw oodles of stunning scenery and copious amounts of vibrant street art.
Our 2016 Travel Highlights
For the second year running, we spent Christmas and the New Year in Chiang Mai and then flew to Siem Reap for the best part of two months in …
Cambodia
It was good to be back in Cambodia! Our work meant our time was split between Siem Reap and Phnom Penh separated by assignments to other parts of the country.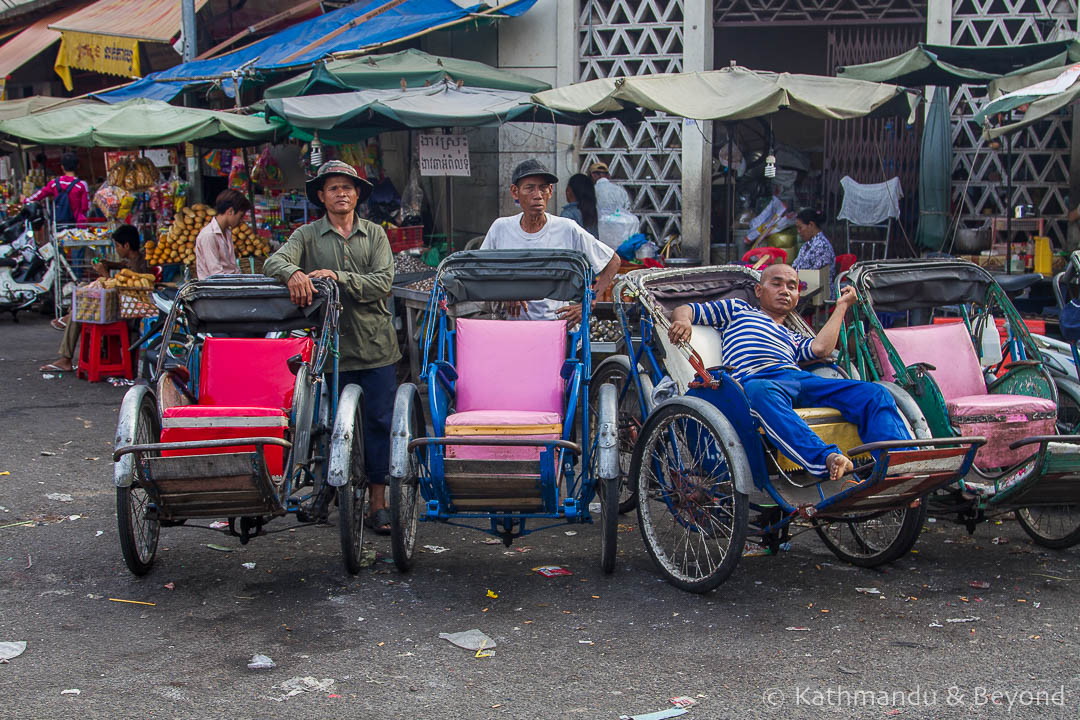 Phnom Penh
On the first of those journeys, we visited Cambodia's off-the-beaten-path provinces of Mondulkiri and Ratanakiri. The reddish-orange dried mud roads and the layer of red dust that cakes everything it comes into contact with will be among our lasting memories of the region; however, the ethnic minorities introduce a fascinating cultural aspect rarely seen in other parts of the country. We visited the village of Vong where the people practice a form of animism similar to that we've seen not too far across the border in Vietnam, and on the Indonesian island of Sulawesi. It was on this trip that we discovered the weird-looking Mad Max-style jungle bikes that are the main motorised transport between many small villages in Mondulkiri and Rattanakiri.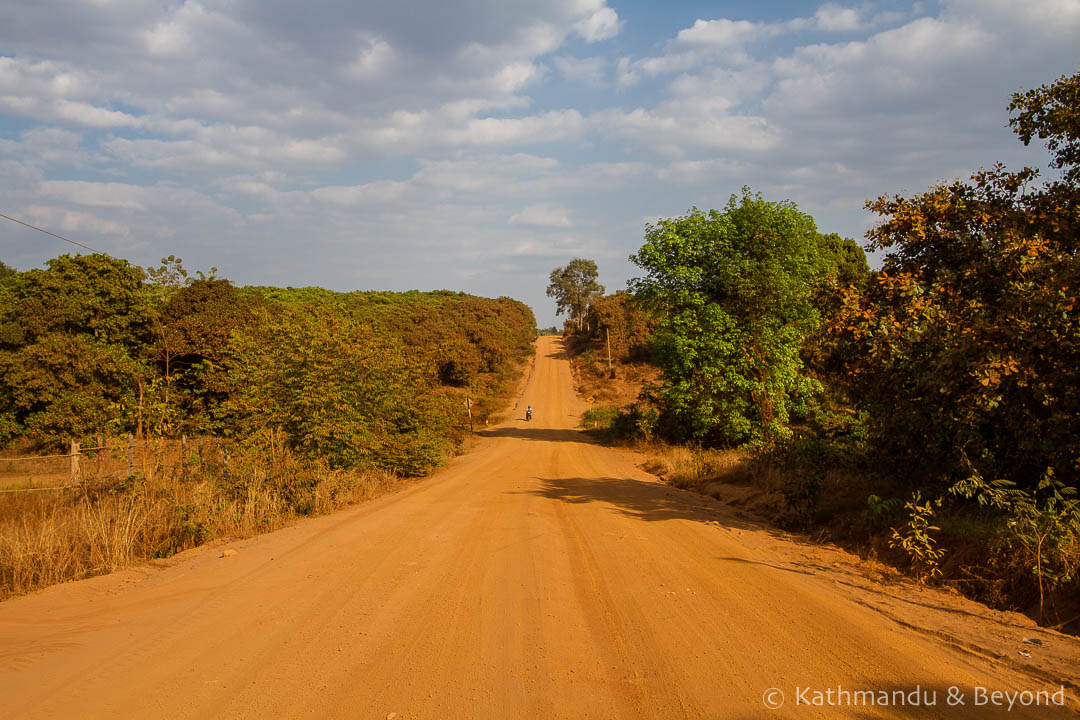 Red Road of Ratanakiri
Out sightseeing in Mondulkiri, we were puzzled when we noticed our guide getting a lot of attention from Khmers. It turned out he was quite a well-known pop star and people were recognising him from videos playing in the ever-popular karaoke bars found all over Cambodia! We never did find out why he was moonlighting as a tour guide …
It was the first time either of us has stayed in Siem Reap and not visited the temples of Angkor. Shock horror! Although it felt a bit strange being so close and not visiting one of our favourite sights in the world, Angkor has been noticeably busier and busier on each subsequent visit over the years. We decided we would end up getting too annoyed by all the selfie sticks getting in our way so gave it a miss And as Mark often points out, it's just not the same as it was when he visited in 1992!!!
We did return to some of the lesser-visited Angkorian temples – to Beng Melea, which despite the increased number of tourists is still one of our favourites, and to Koh Ker where the handful of tourists there was still considerably more than the none we met on our first visit in 2010! The same goes for Preah Vihear which we last visited in 2007. On that occasion we had to approach from the Thai side, but this time we visited as a side trip en route from Stung Streng to Siem Reap.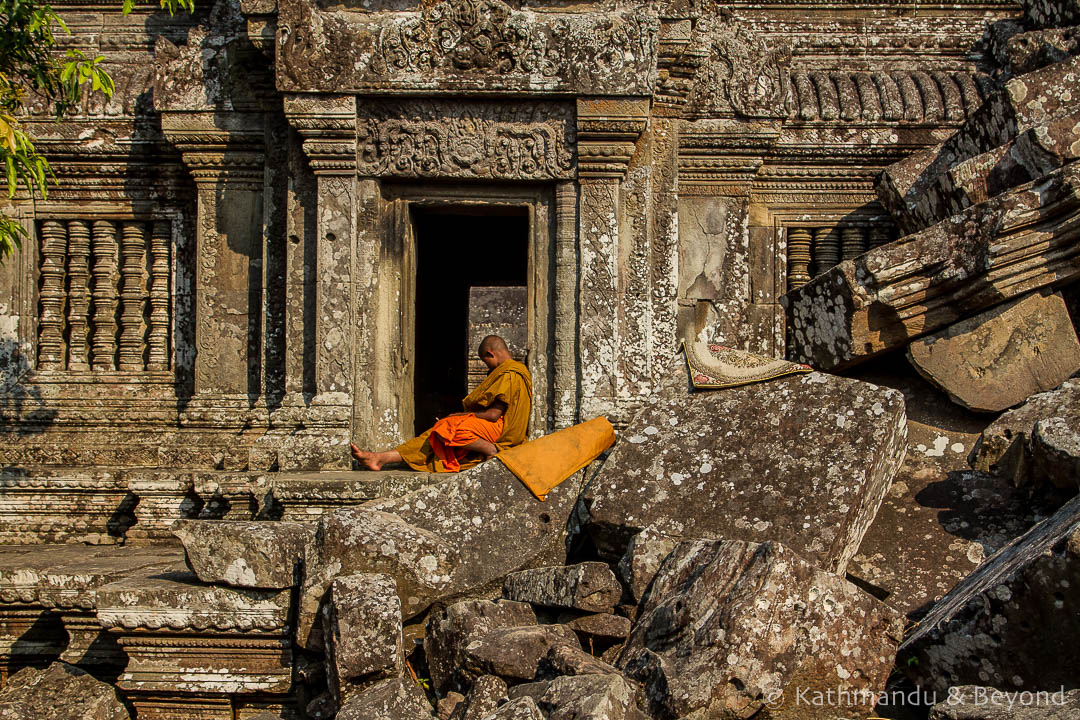 Contemplation at Preah Vihear
We also got to spend time on Cambodia's southern coast, checking out a tropical island or two …
For those doubters among you, who think we don't do any work here are a few photos of us hard at work in Cambodia!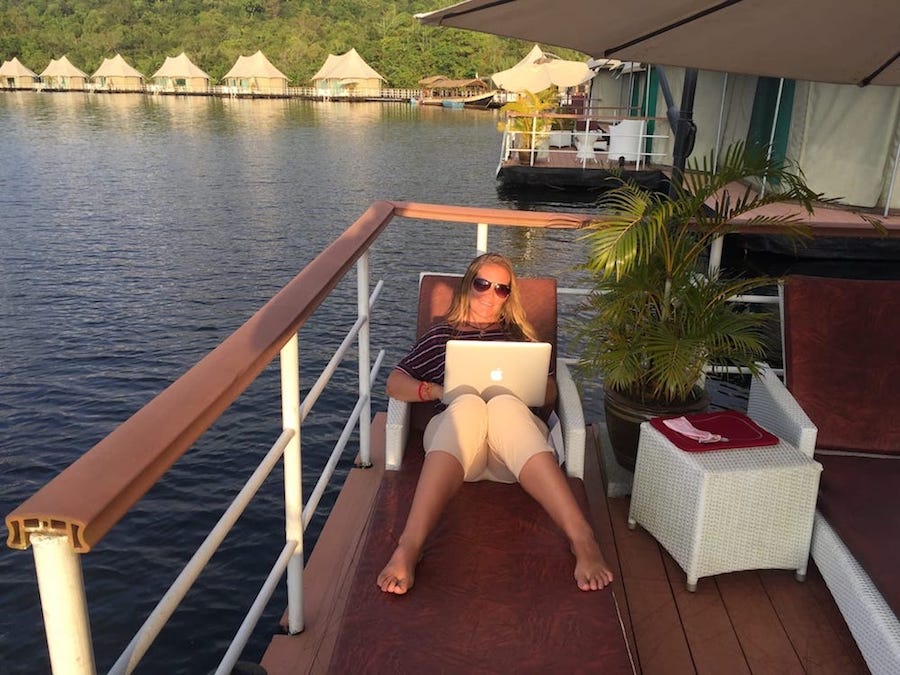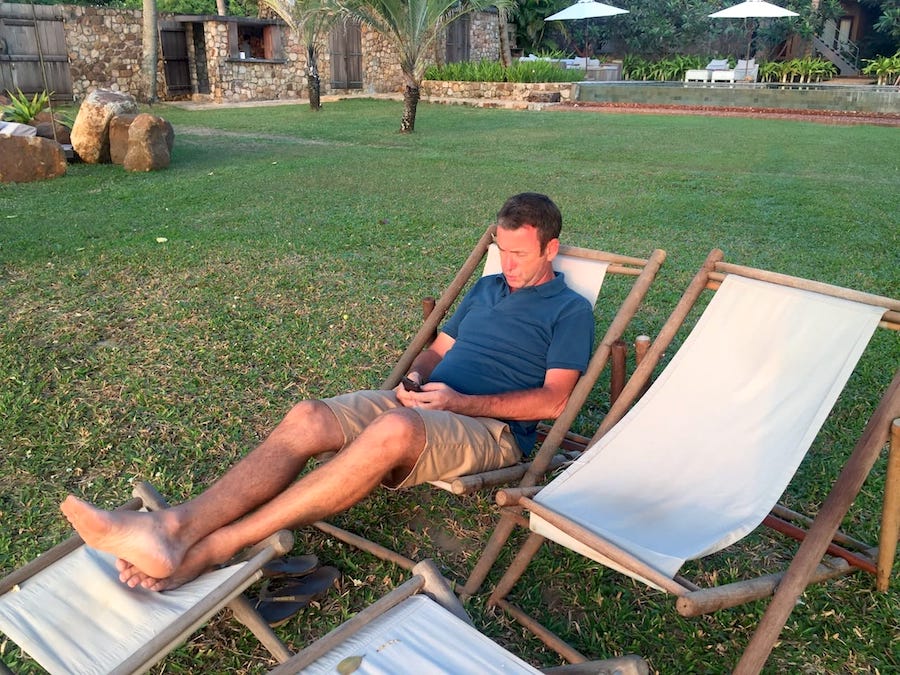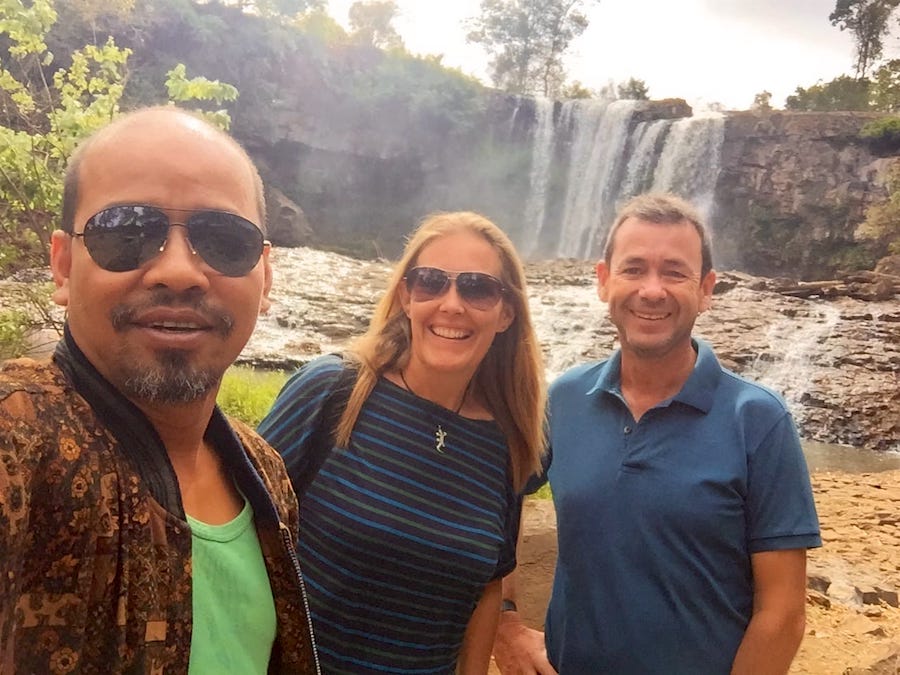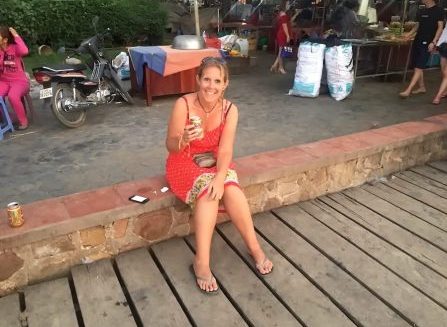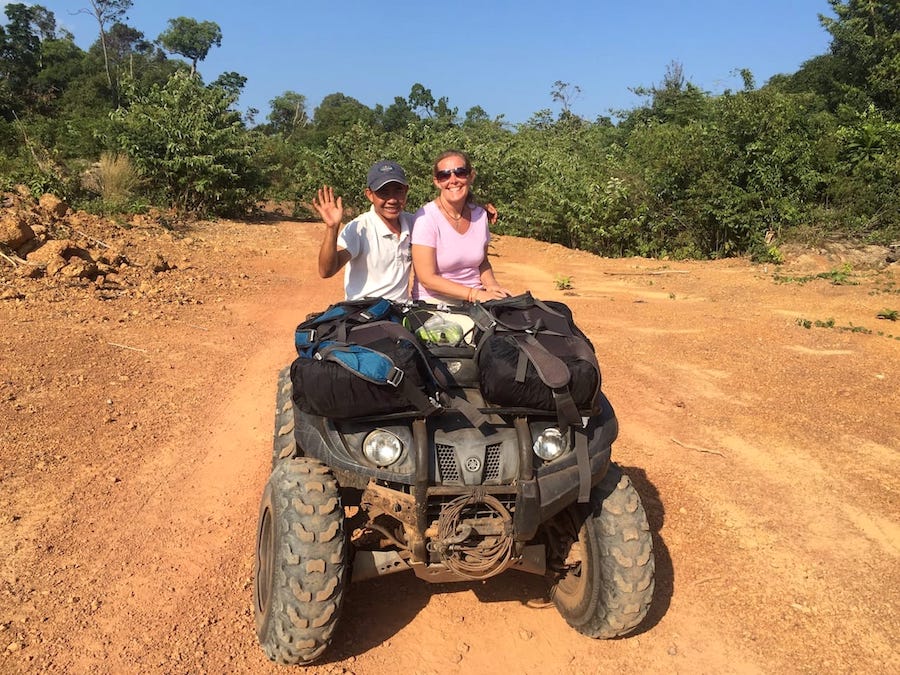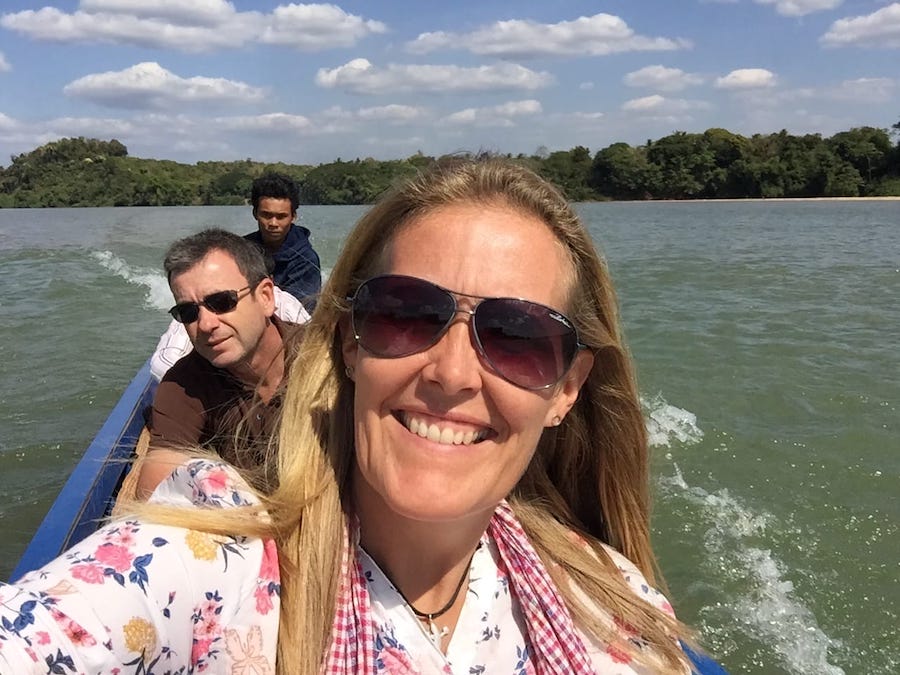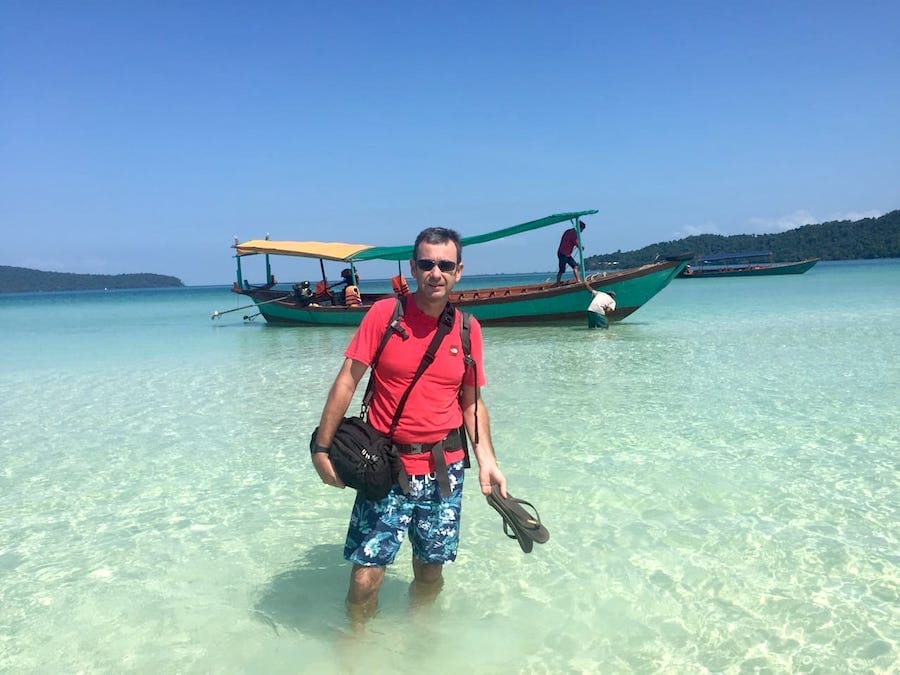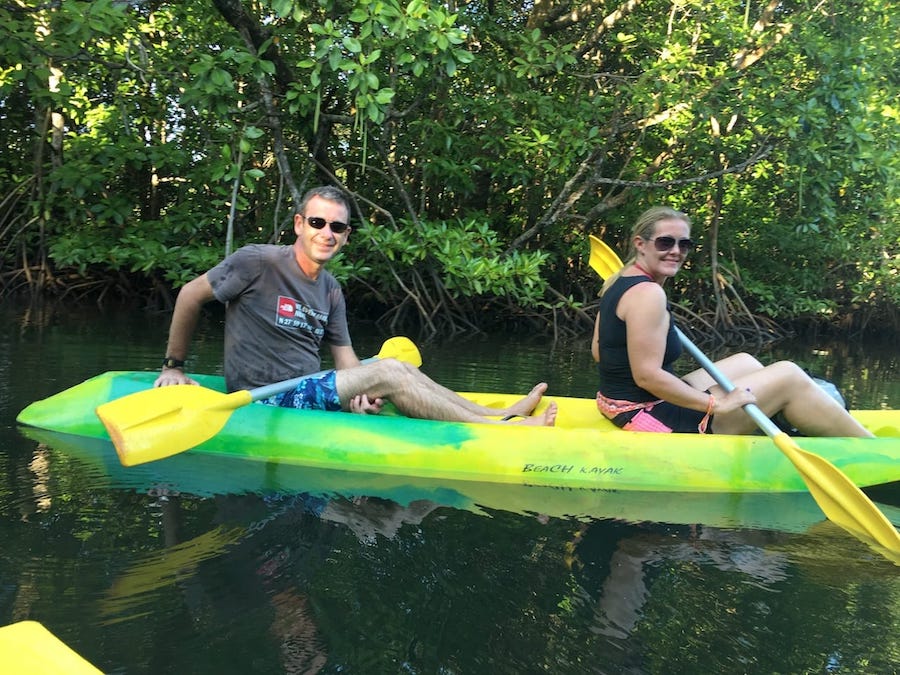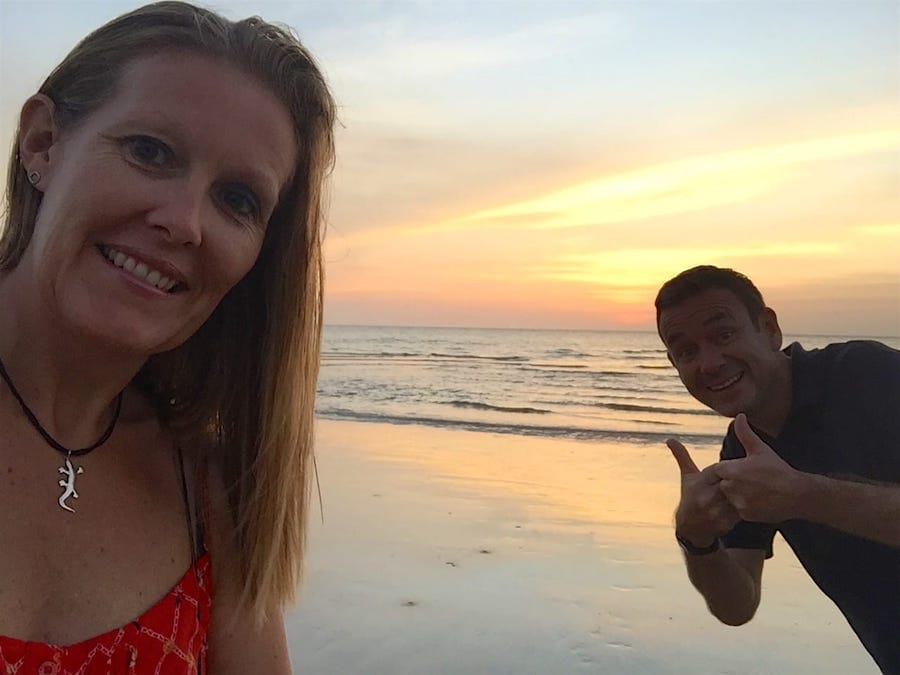 Cambodia
Ahem, sorry about that! 😉
From Cambodia, we flew to …
Singapore
… spending a couple of weeks staying with good friends. It was a chance to wash off all that red dust from Cambodia and feel squeaky clean again! The difference in beer prices was a bit of a shock to the system though!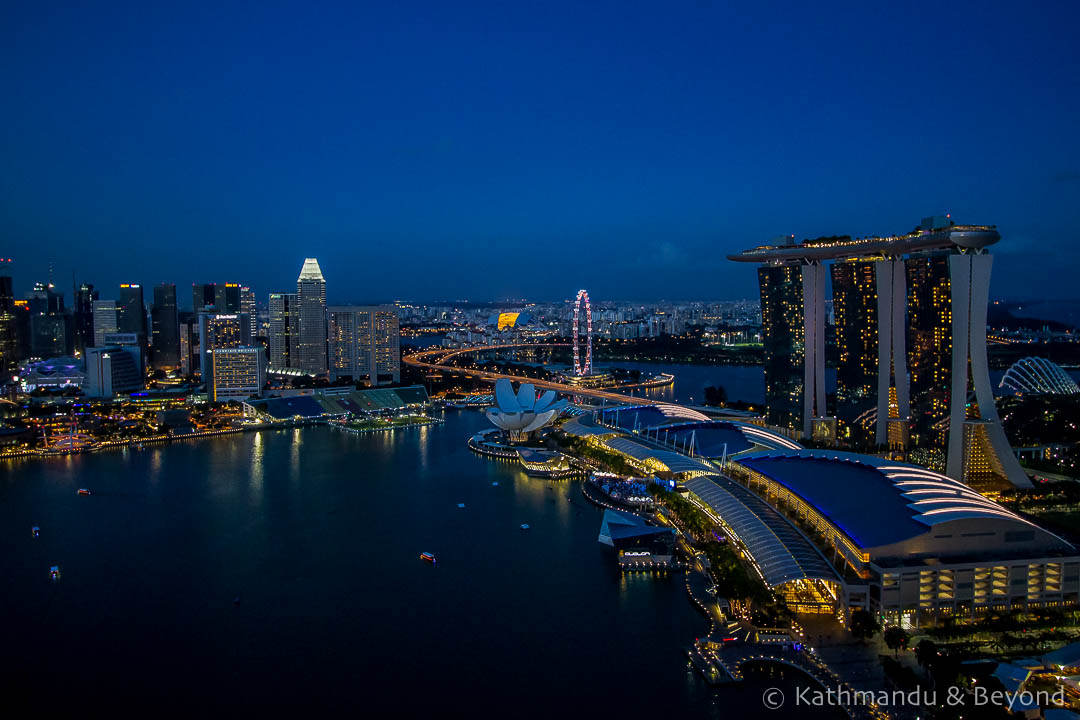 Singapore Skyline
Bad photos but good friends …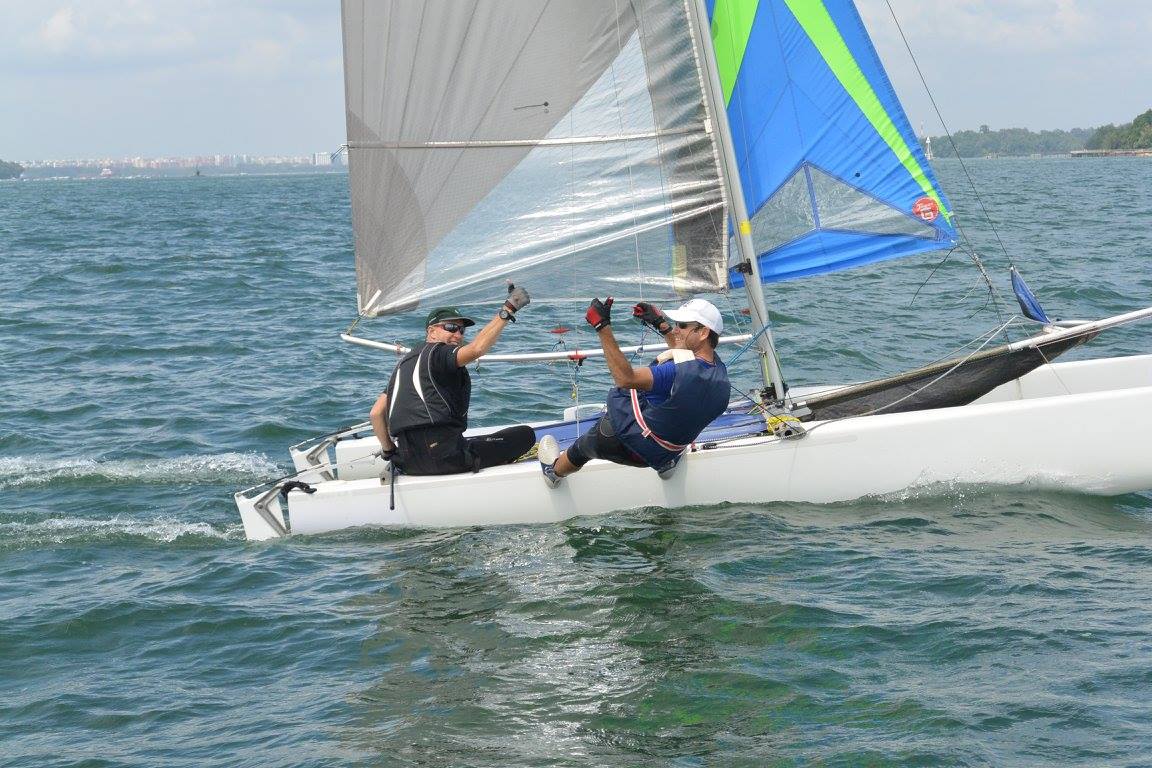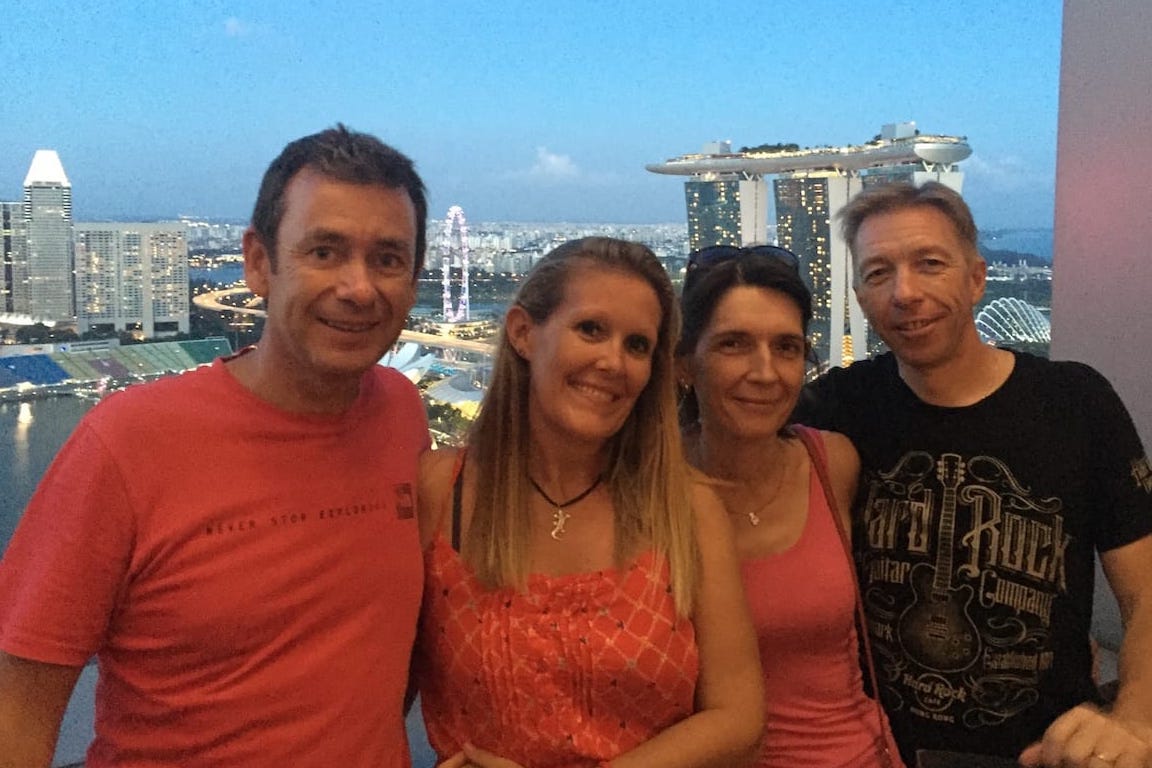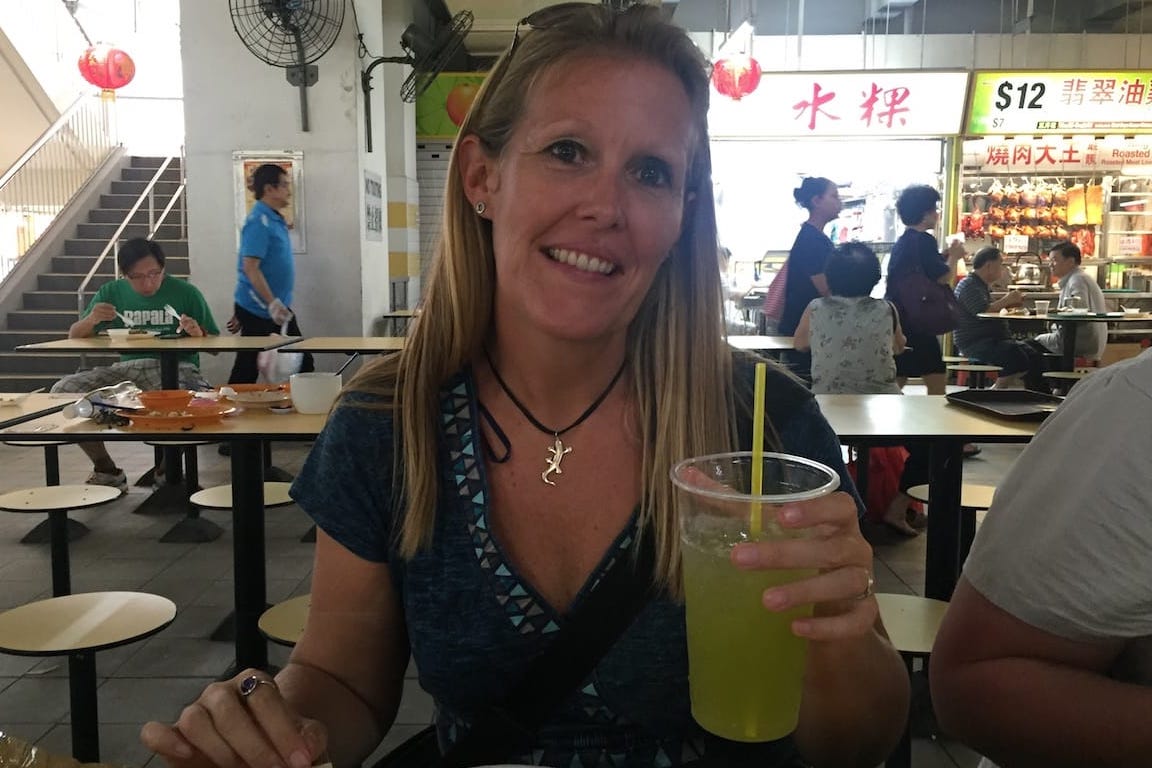 Singapore
Malaysia
Next stop was Penang in Malaysia. Our main mission during our stay in George Town was to photograph the prolific street art scene that has exploded there since our last visit, and to eat! We often say the only two places in the world to eat good Indian food are India and England! but George Town is the exception to that rule!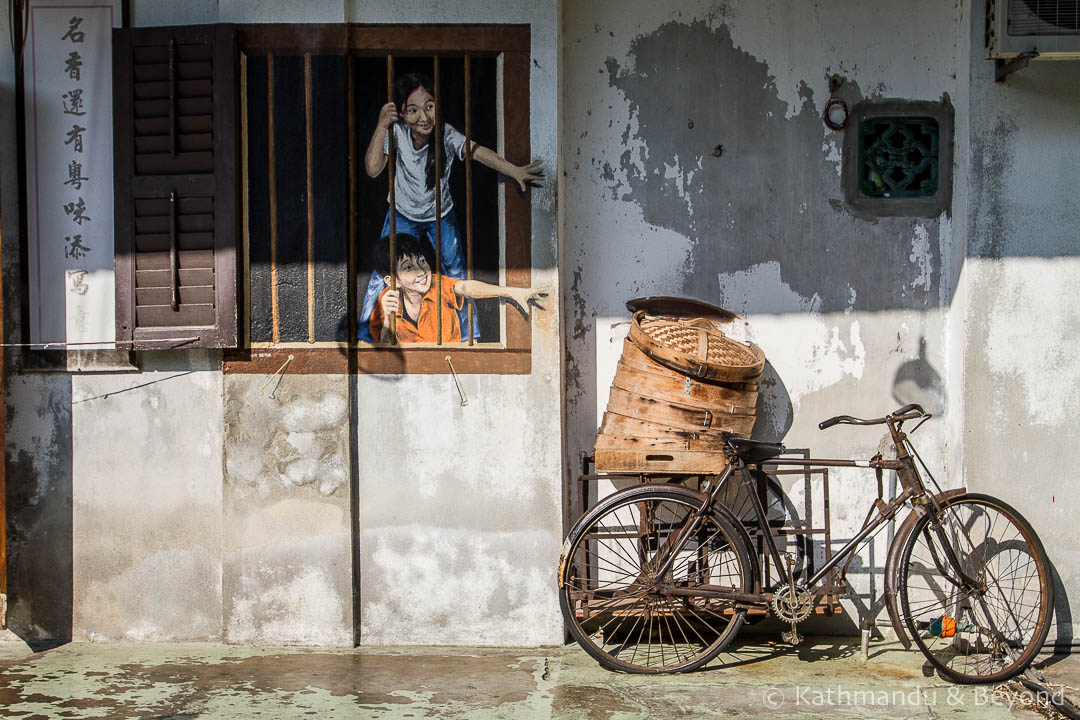 Street Art in Penang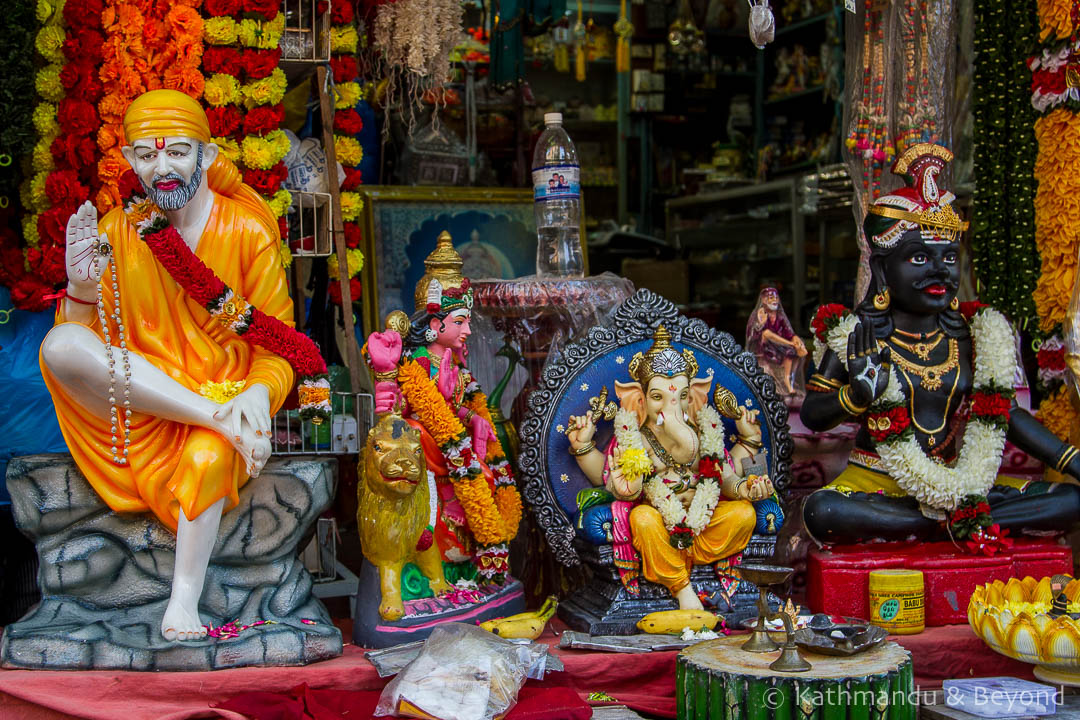 Little India in George Town
We headed back to…
Thailand
… and had a couple of weeks in Bangkok and Ayuthaya … mostly to eat our fill of Thai food! We visited a handful of other small Thai towns that were on our 'check out' list but none made the 'must go back to' list.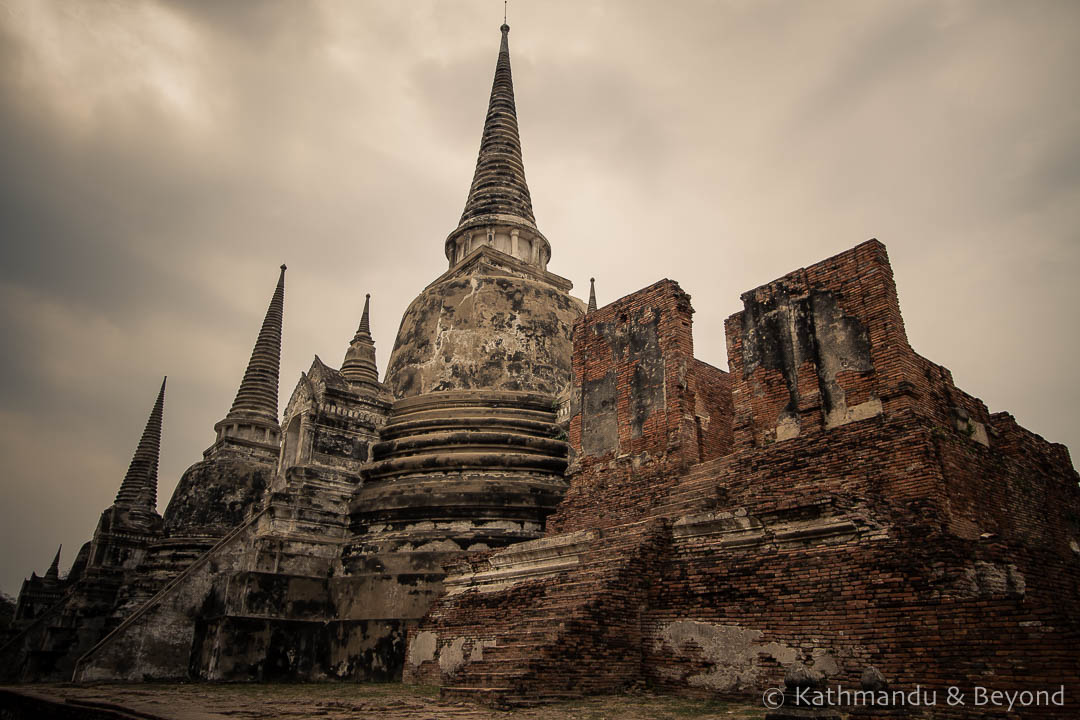 Ayuthaya temples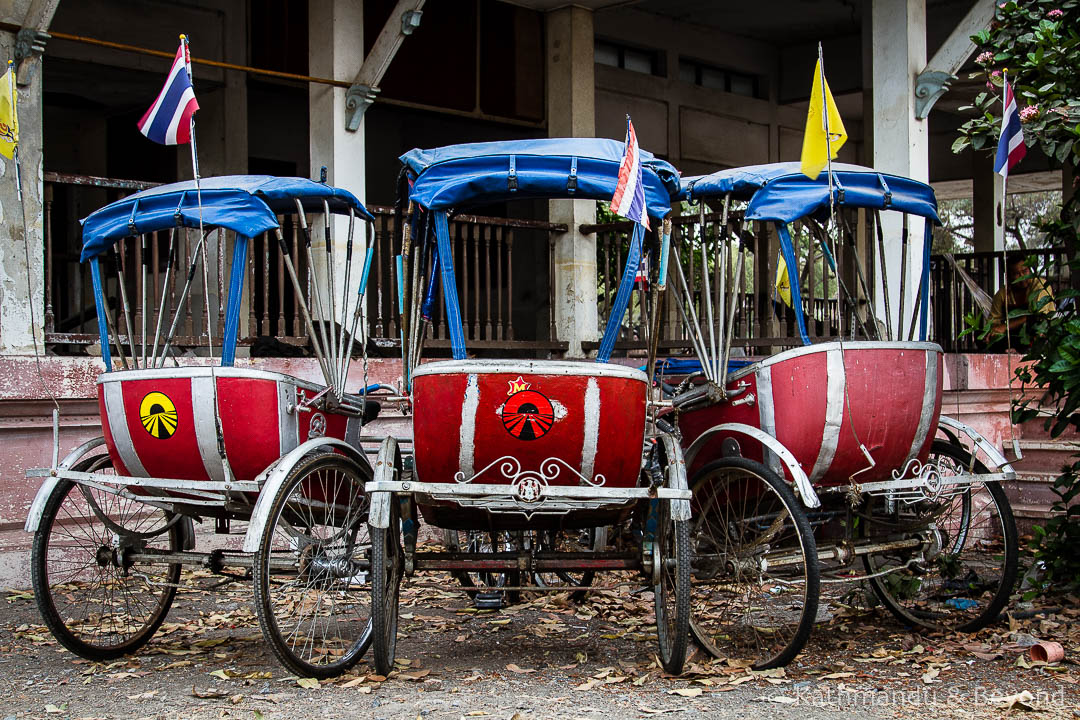 Rickshaws in Ayuthaya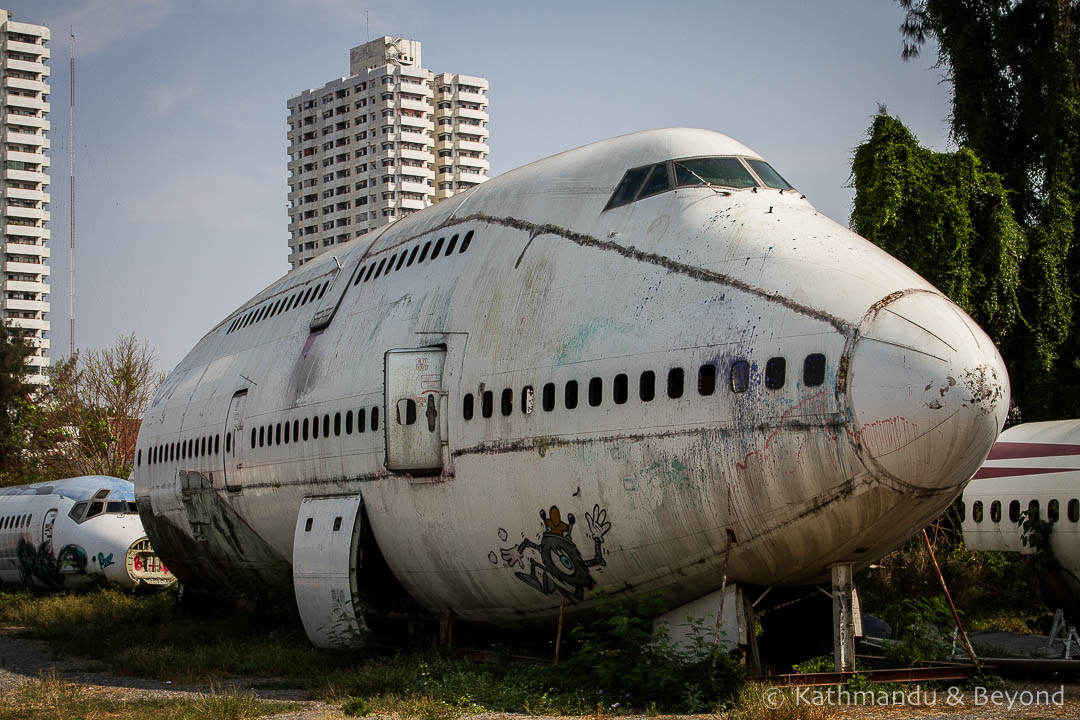 Airplane Graveyard in Bangkok
UK
In late April, we made a quick stop back in the UK before beginning our 'Epic Summer Adventure'. As always, we didn't follow the route we initially planned to the T but, hey plans are made to be changed …
Lithuania
We started in Kaunas, Lithuania's second city. On our previous visit, the weather was cold and wet and we weren't inclined to explore that much. This time around, the spring weather was perfect and we enjoyed the city more. We took the back route to Belarus via the historic spa town of Druskininkai, providing the opportunity of a birthday treat for Kirsty: a visit to a Communist statue graveyard!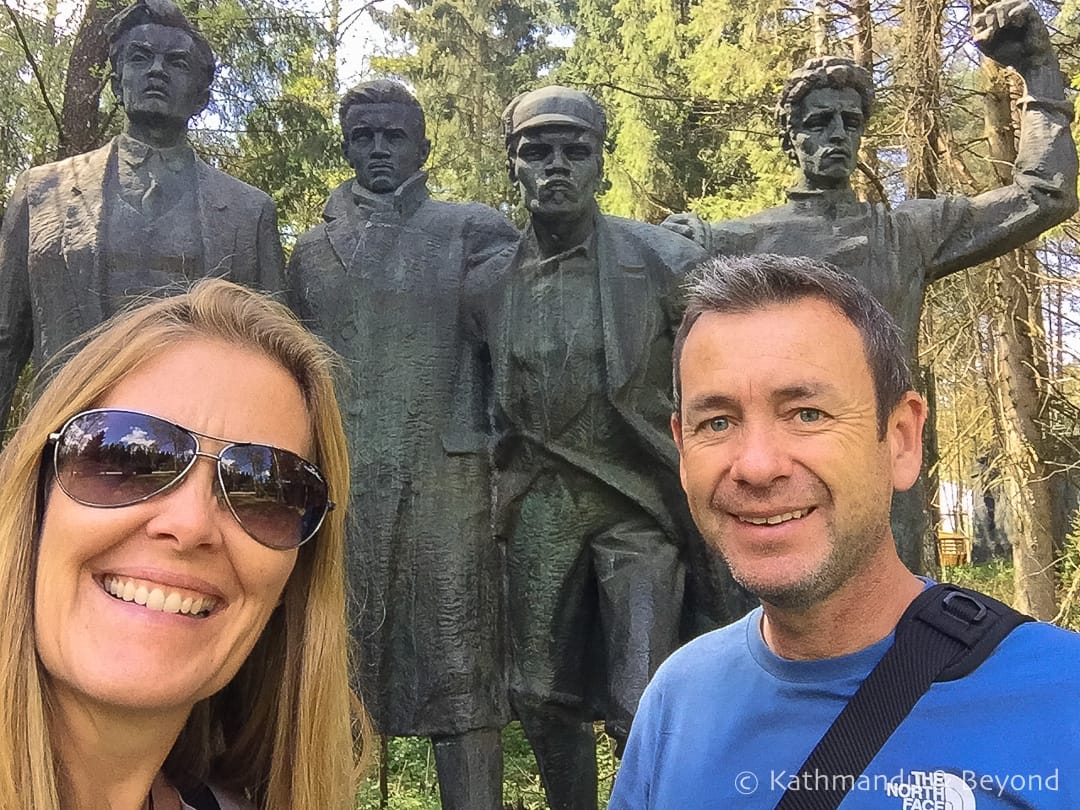 Grutas Park on Kirsty's Birthday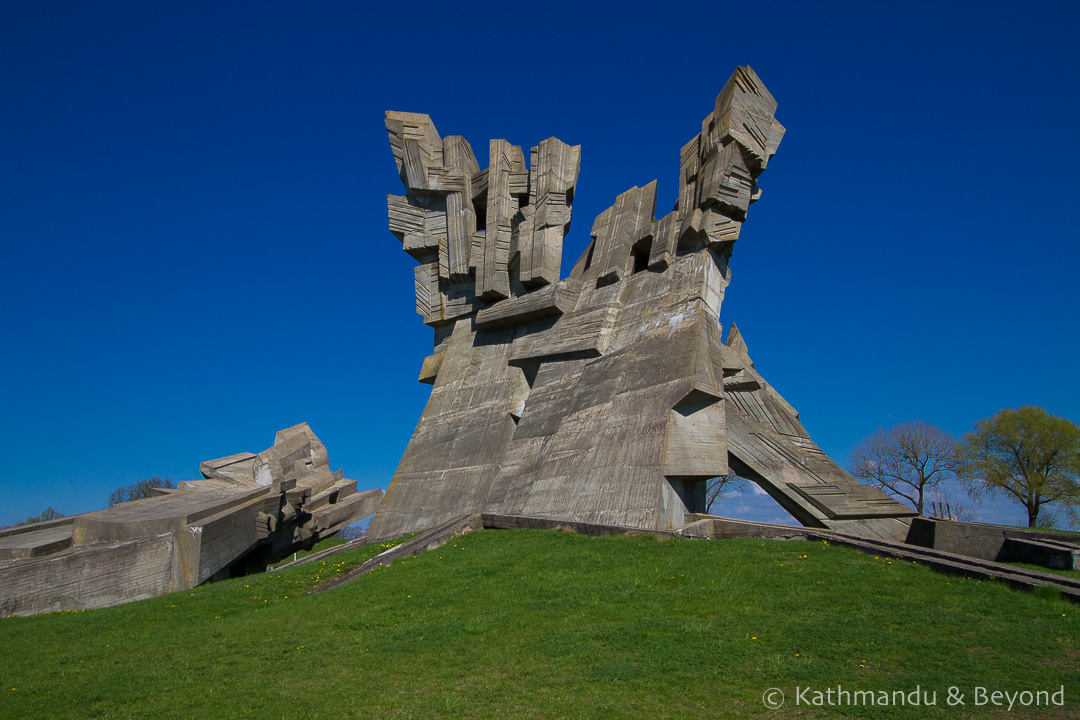 Memorial to the Victims of Nazism Ninth Fort in Kaunas
Belarus
Our first stop in Belarus was Grodno before taking the bus to Minsk and the train to Brest. We were hoping to witness the might of the Belarusian army on display at the 9 May Victory Day parade in Minsk but unfortunately, cutbacks on flagrant spending of public funds at a time when the country is in deep recession meant we didn't get to see tanks and missiles being paraded through the city streets. However there were military parades and wreath-laying ceremonies and people were out in huge numbers, waving flags and displaying photographs in memory of lost friends and relatives.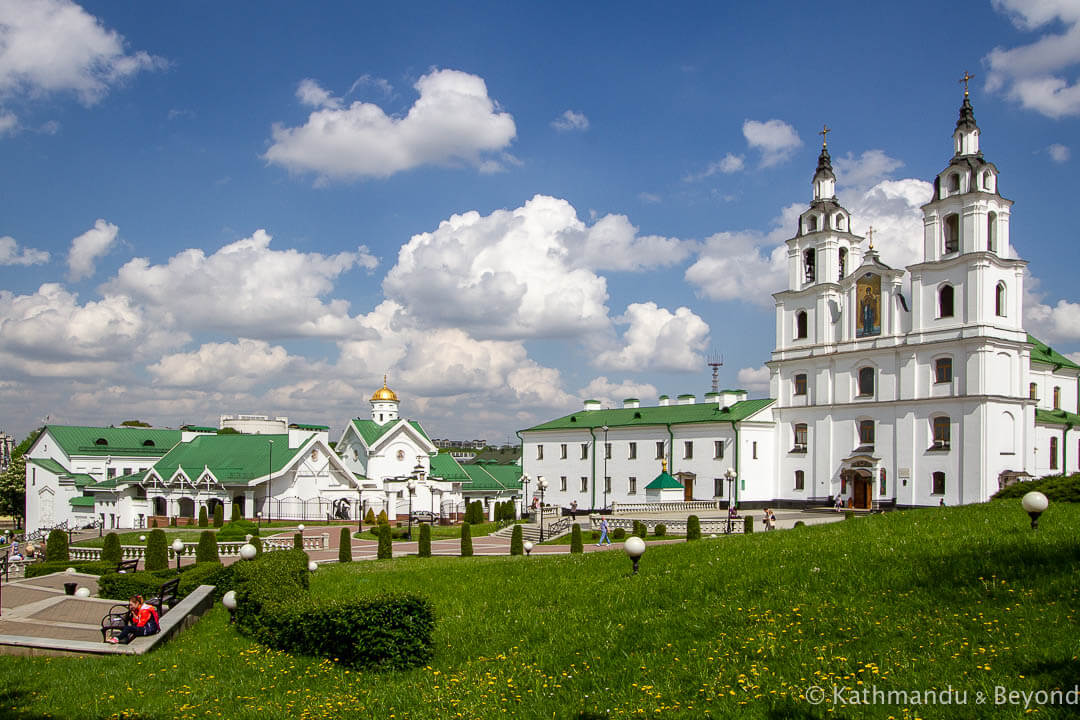 Holy Spirit Cathedral on Svobody Square in Minsk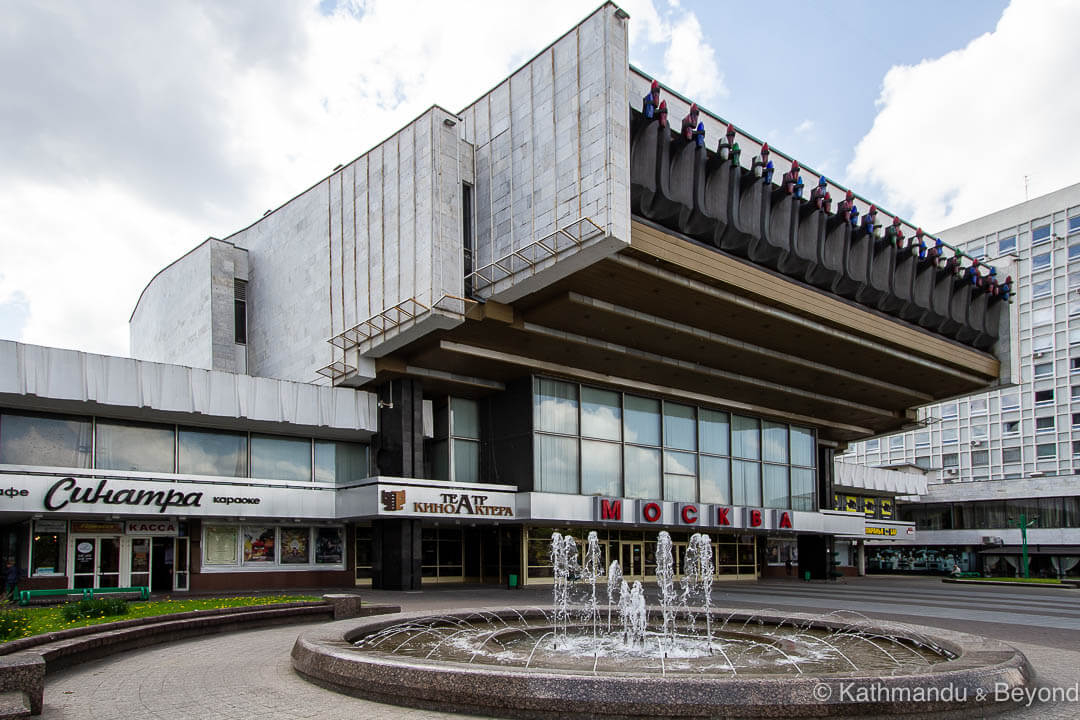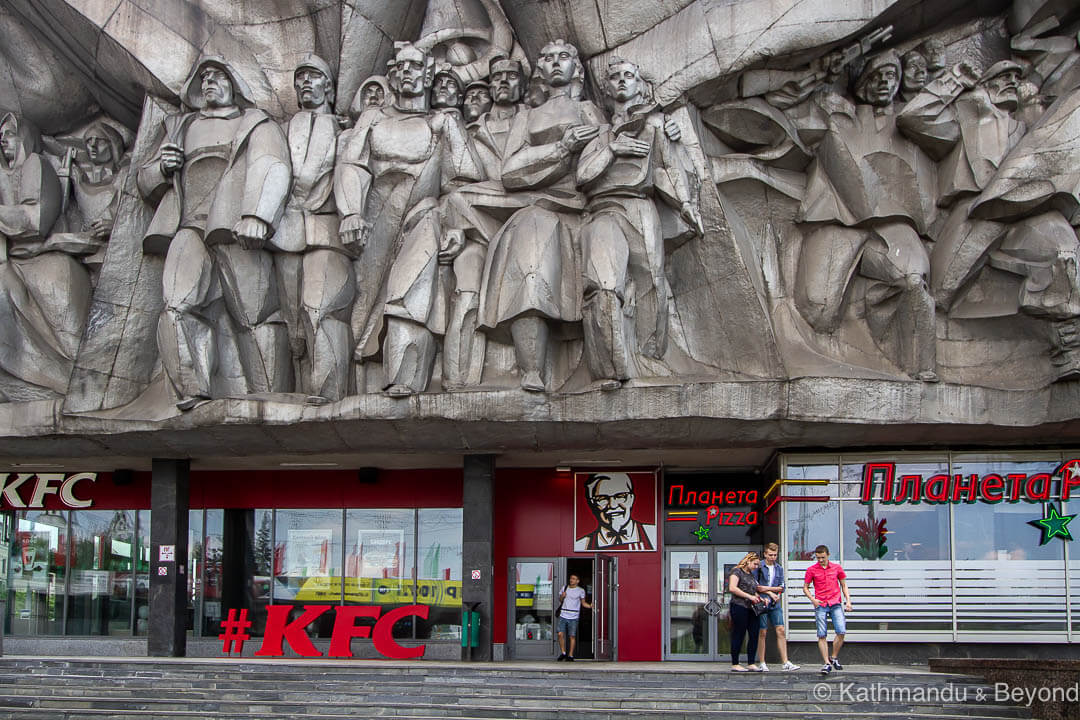 Examples of Soviet architecture in Minsk: Moscow Cinema (left) and the House of Fashion (right)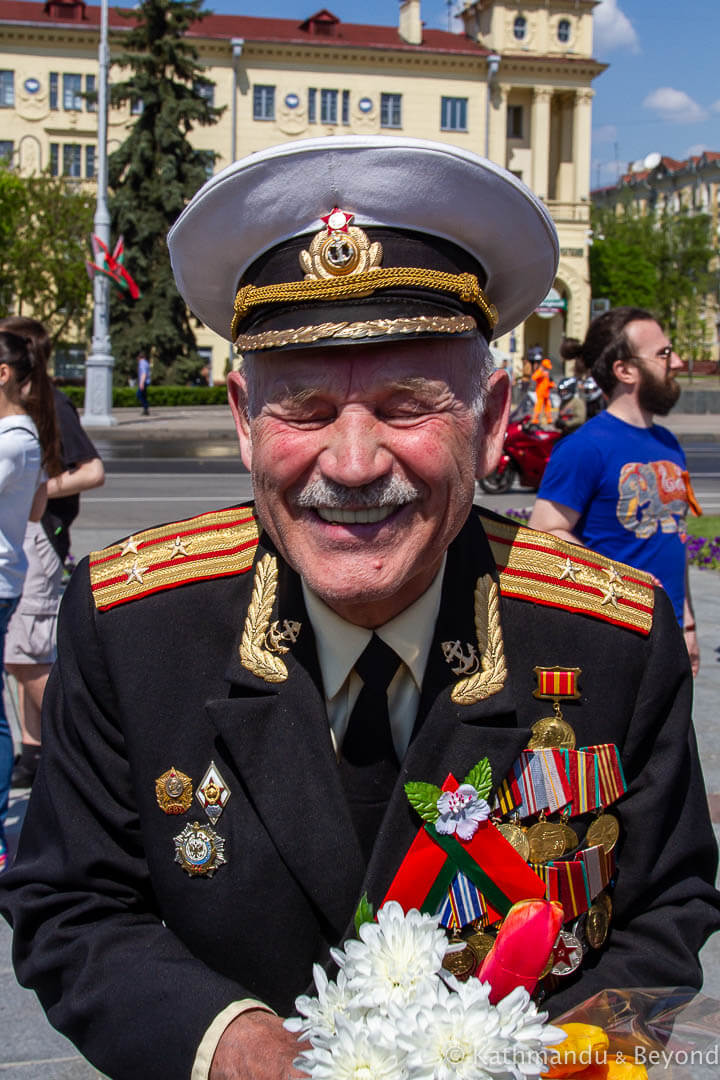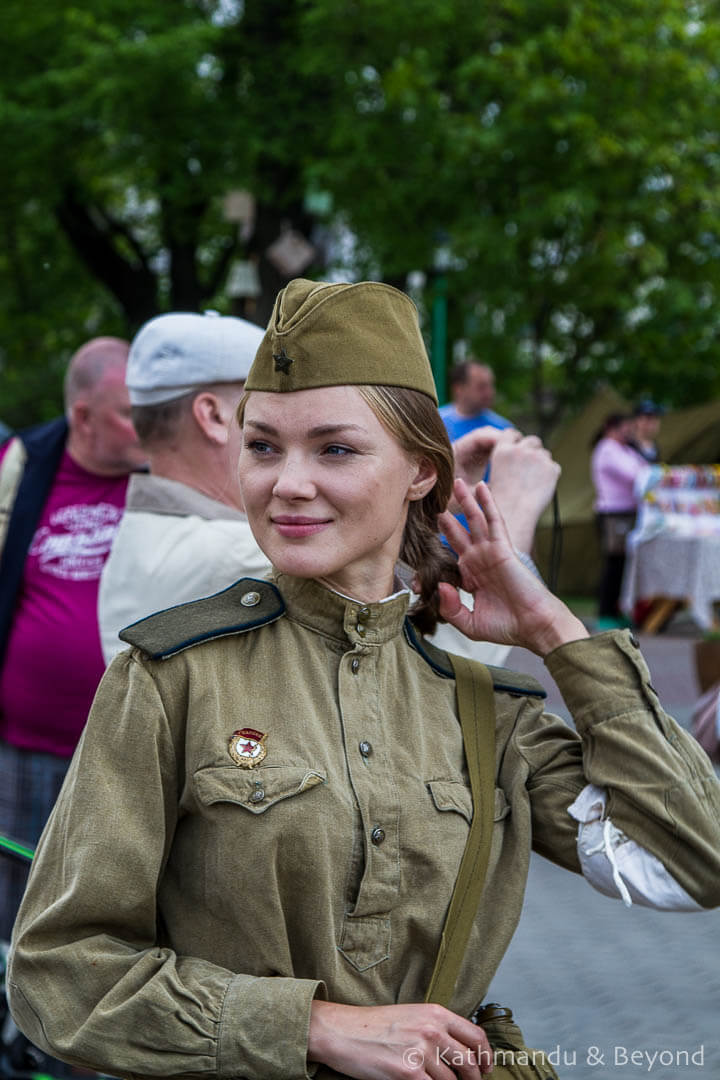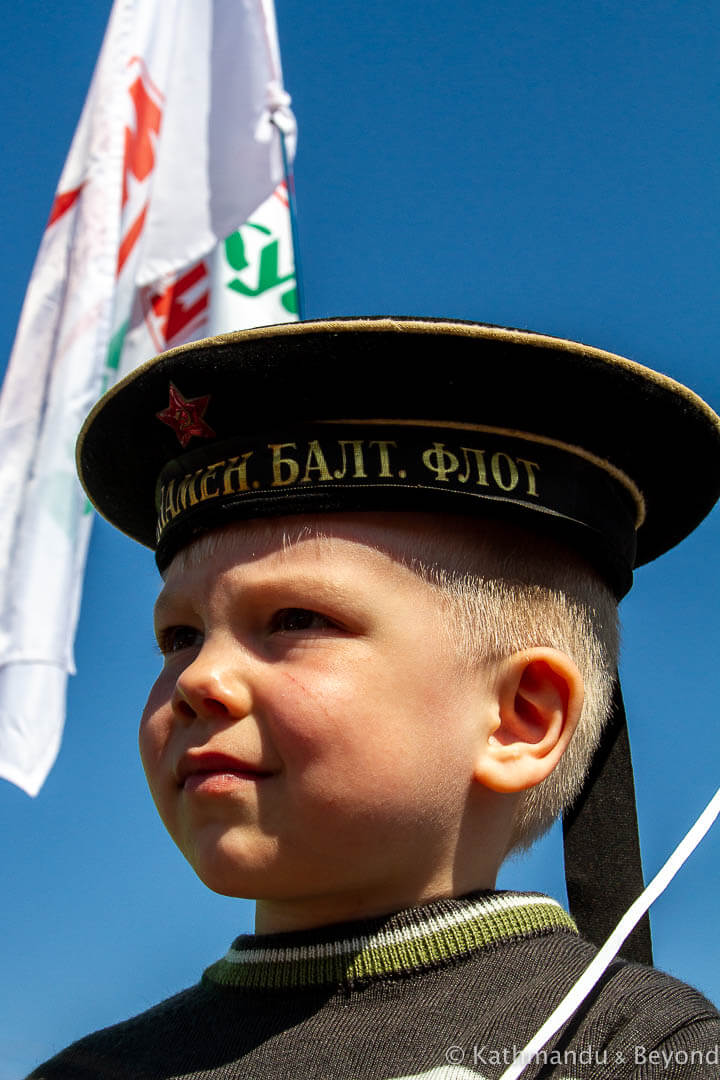 Victory Day in Minsk
Poland, Czech Republic and Slovakia
The next three countries were return-visits for us and our route involved a bit of border hopping as weaved an interesting path through some of Eastern Europe's lesser-visited spots.
We arrived in Poland by train from Belarus and kicked off with a few days in Warsaw. It wasn't our first visit to the capital but this time it was great to have friend, and fellow travel blogger Kami from Kami and the Rest of the World show us some cool spots in her hometown.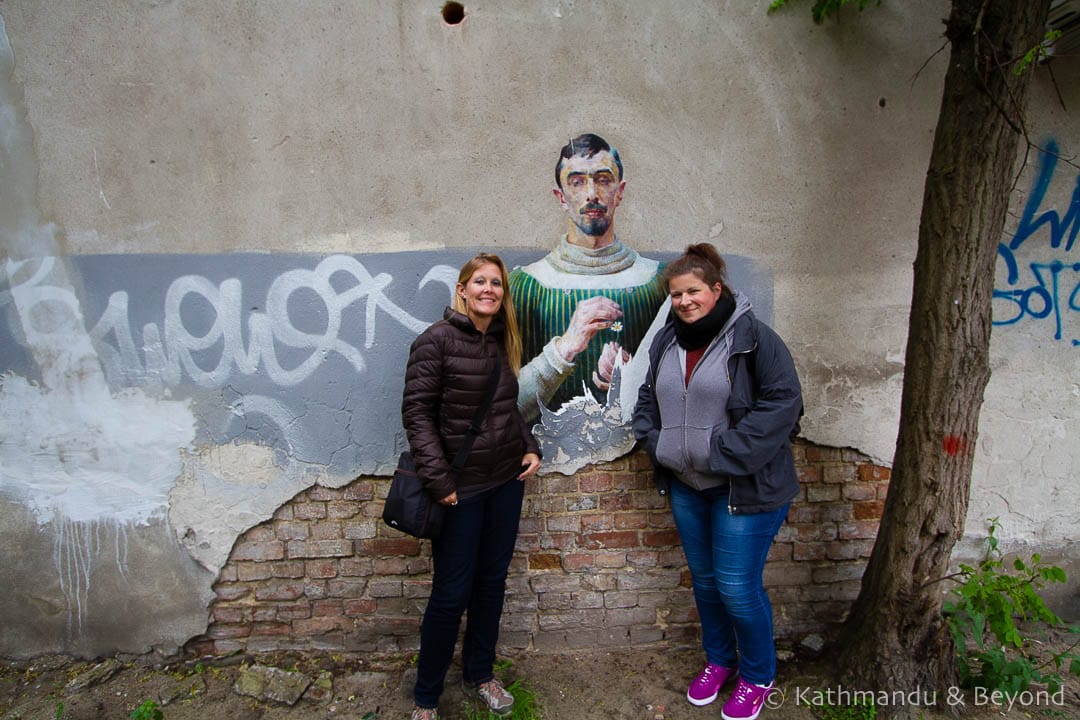 Kirsty and Kami checking out the street art in Warsaw's Praga district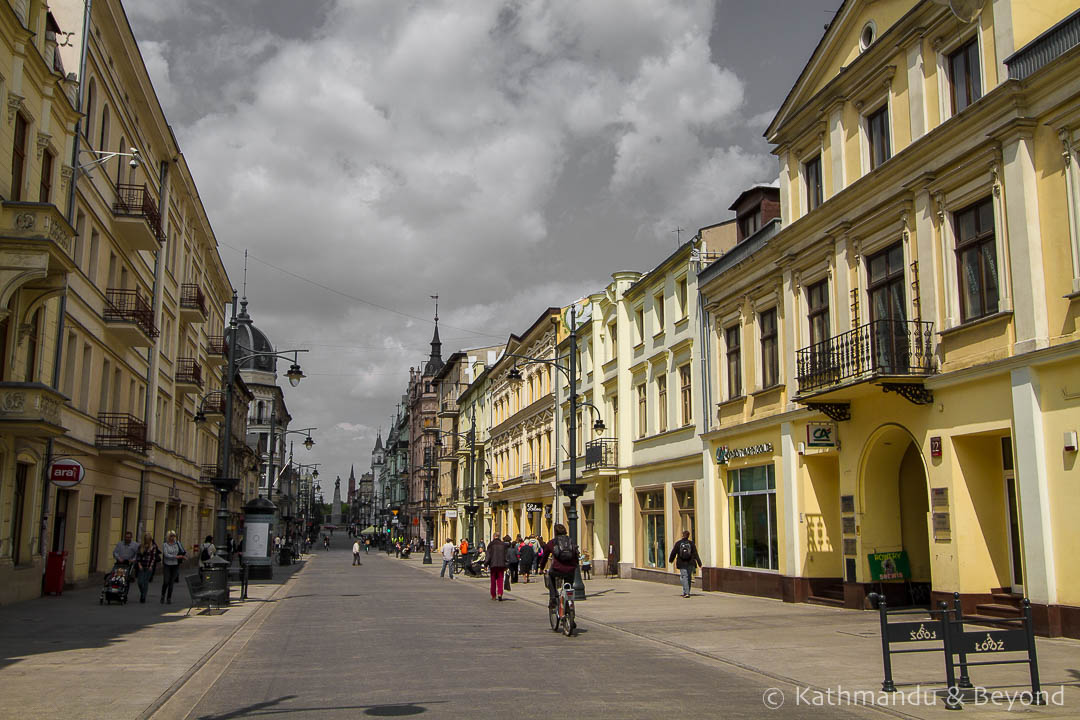 Lodz – an unexpected surprise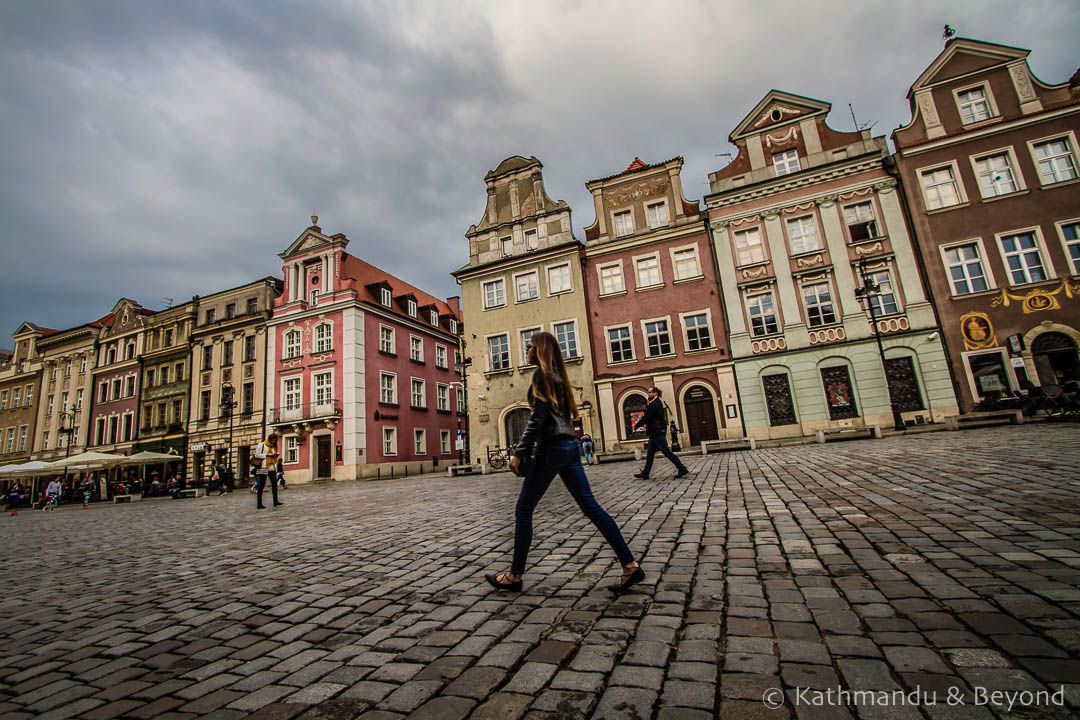 Market Square (Stary Rynek) in Poznan Old Town 
We travelled to Łódź, Poznań and Wrocław (all towns well-worth spending time) before travelling via lesser-known Kłodzko and Kudowa-Zdrój and crossing the border to the Czech Republic for stays in Brno, Olomouc and Ostrava (yes, we went to Czech and didn't go to Prague, but don't panic, we've been before!). Next, we crossed back into Poland for a few days in Cieszyn. In fact, we took the train to Český Těšín which is the same town but on Czech soil and then walked through the town to the Polish side. We've walked across plenty of borders on our travels, but none where the border runs right through the centre of a town!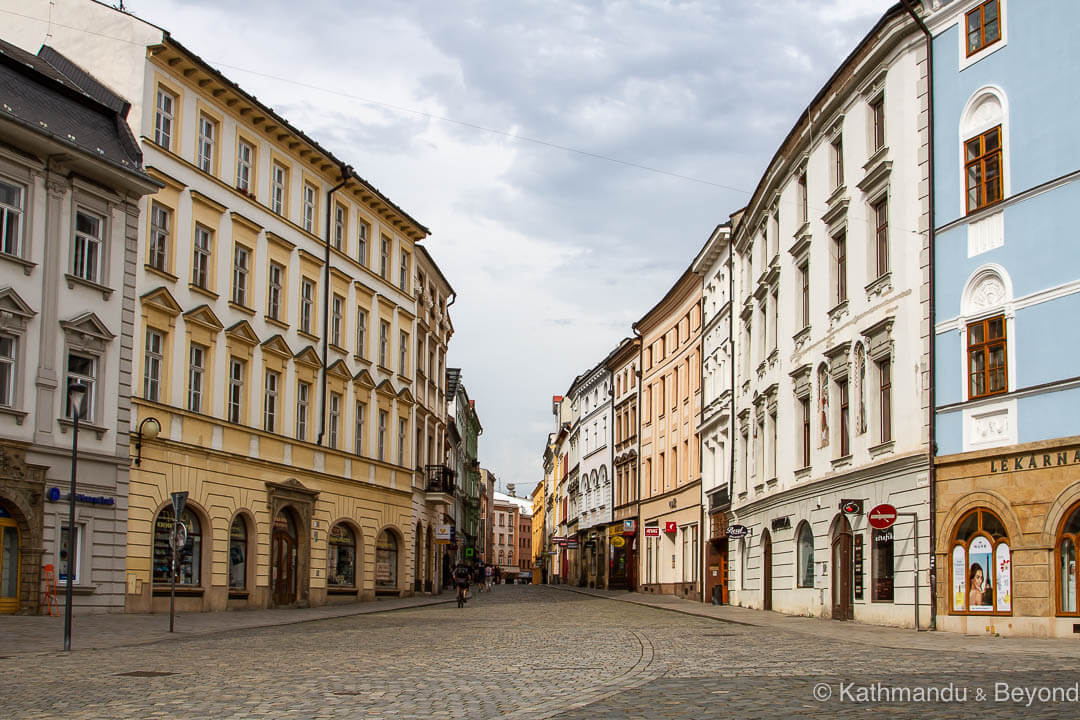 Olomouc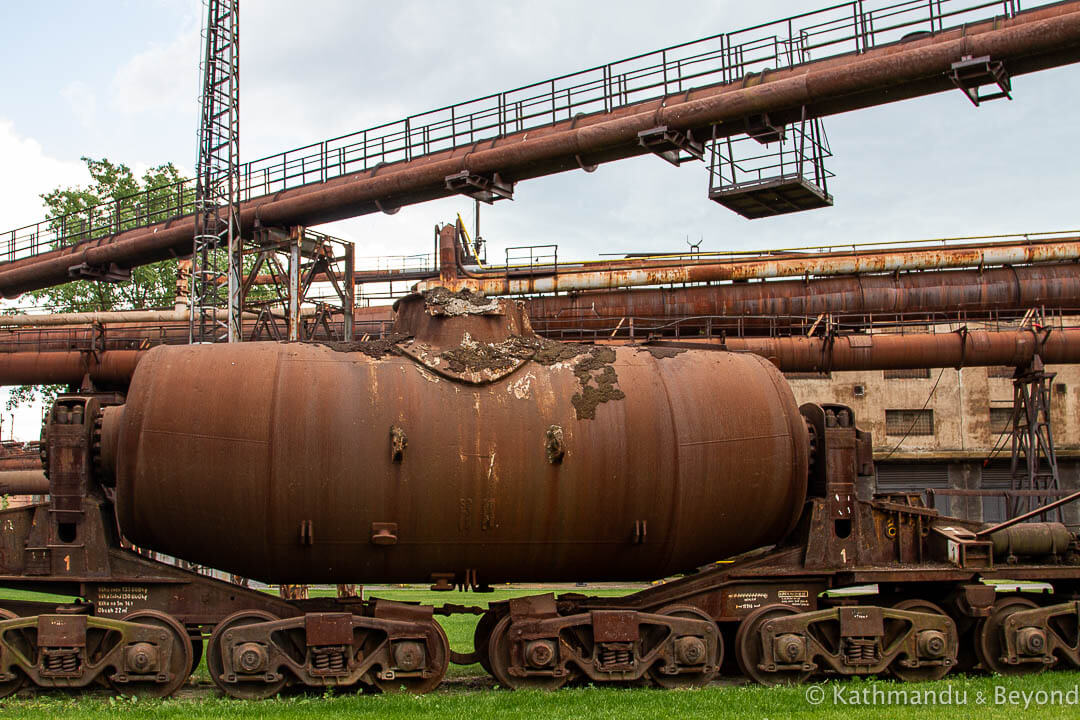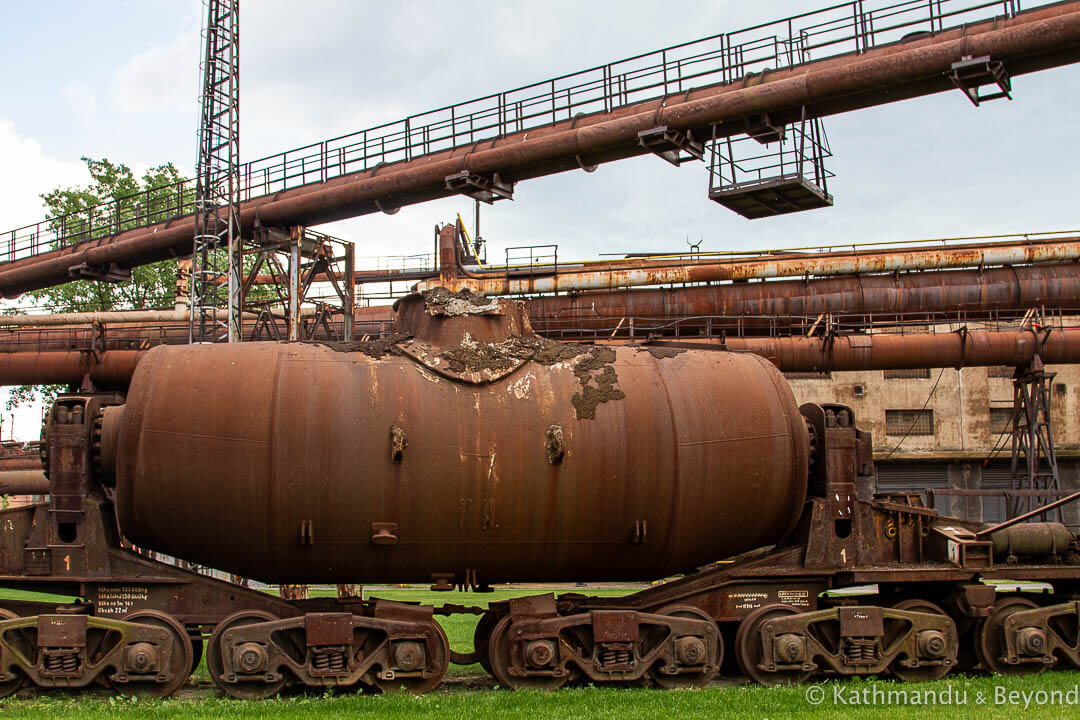 Dolni Vitkovice in Ostrava
It was then back to the station in Czech to take the train to Košice in eastern Slovakia.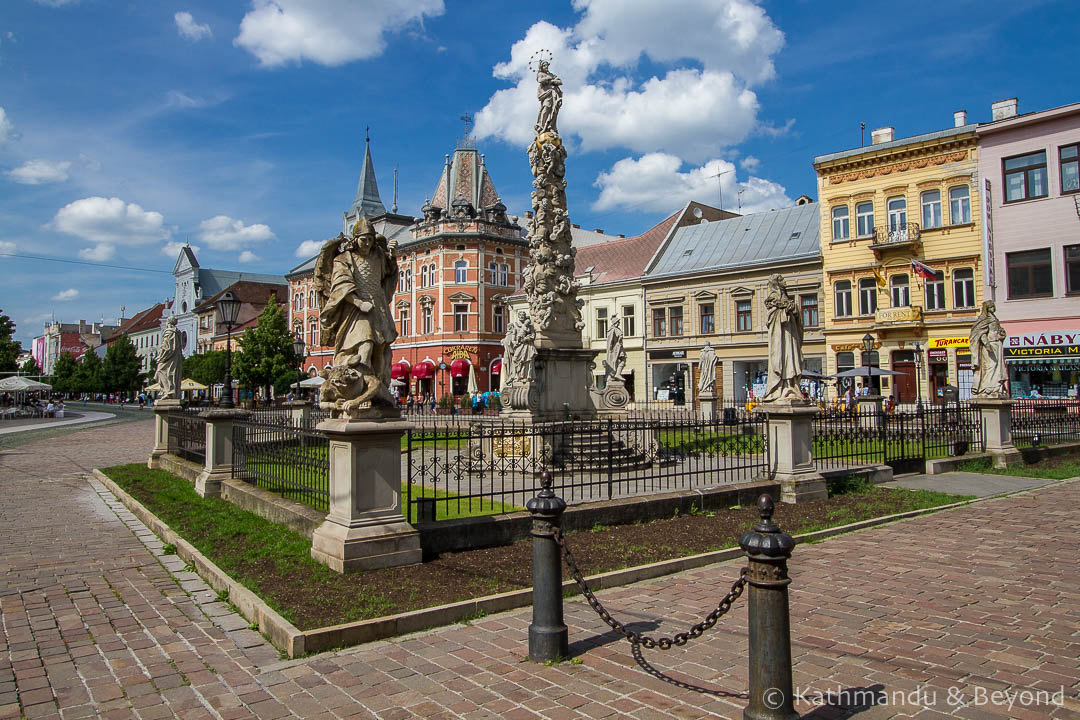 Kosice
We still had a few more borders to cross and the next one we crossed took us into Ukraine …
Ukraine
We first fell for Ukraine, and Kyiv in particular, when we visited last year. This time we spent a month in the country and visited 12 different towns and cities. You can read some of the reasons we are so enamoured with Ukraine in the post below.
Diverse Ukraine …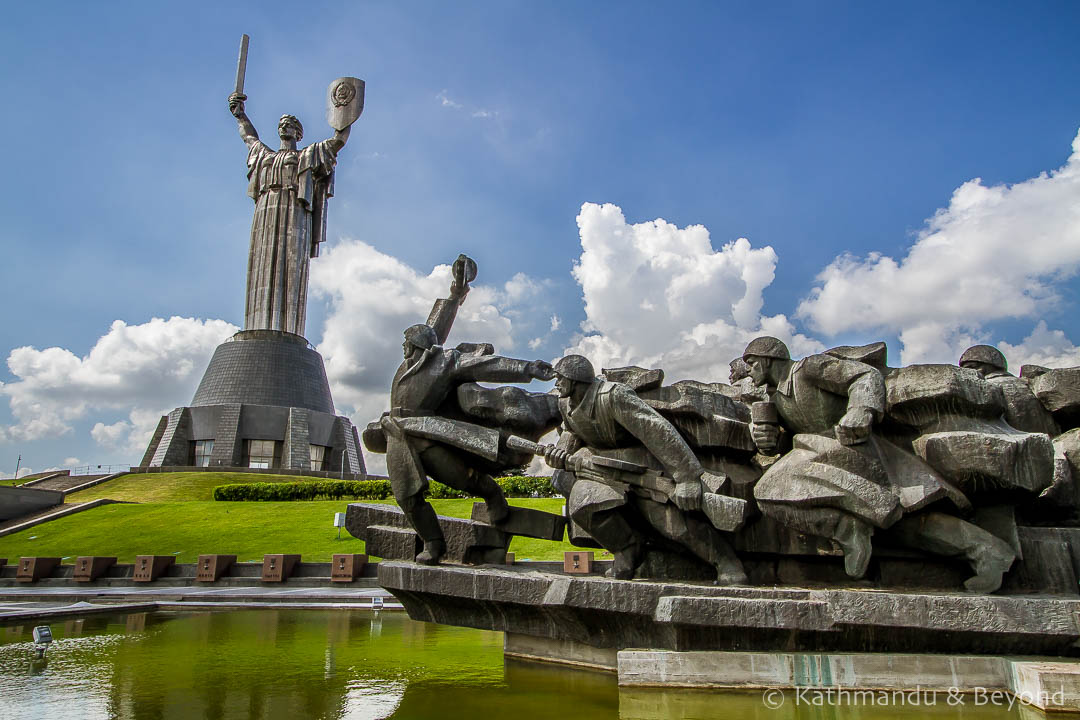 Mother Ukraine & World War II Memorial Complex in Kiev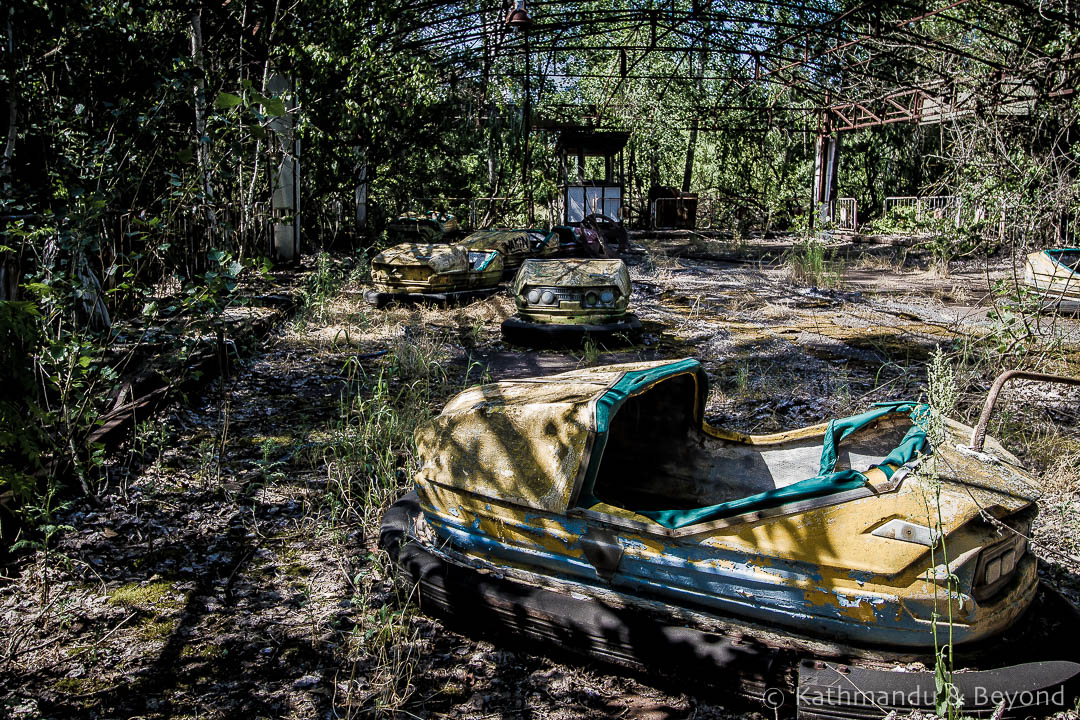 Chernobyl Exclusion Zone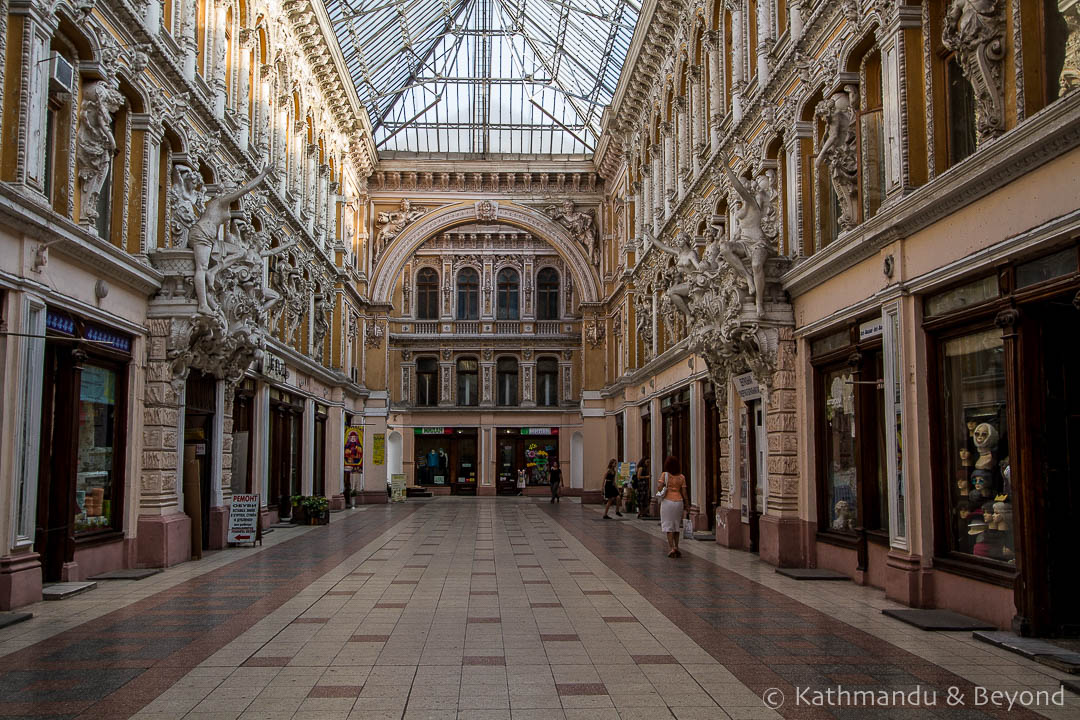 Odessa Passage in Odessa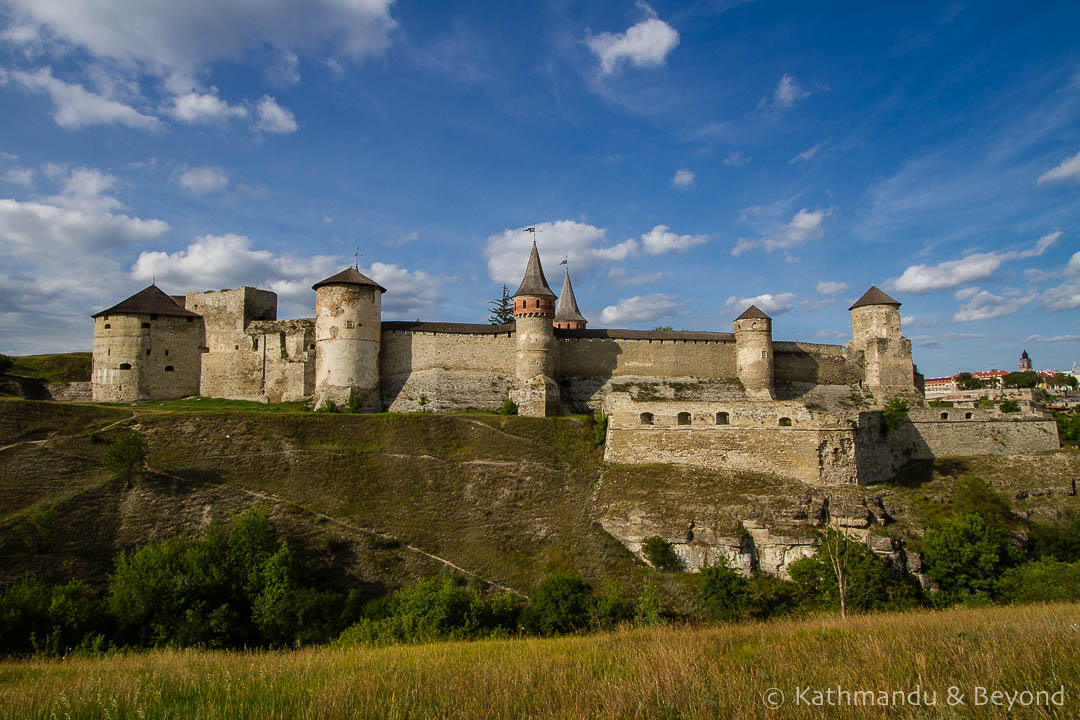 Kamyanets-Podilsky Fortress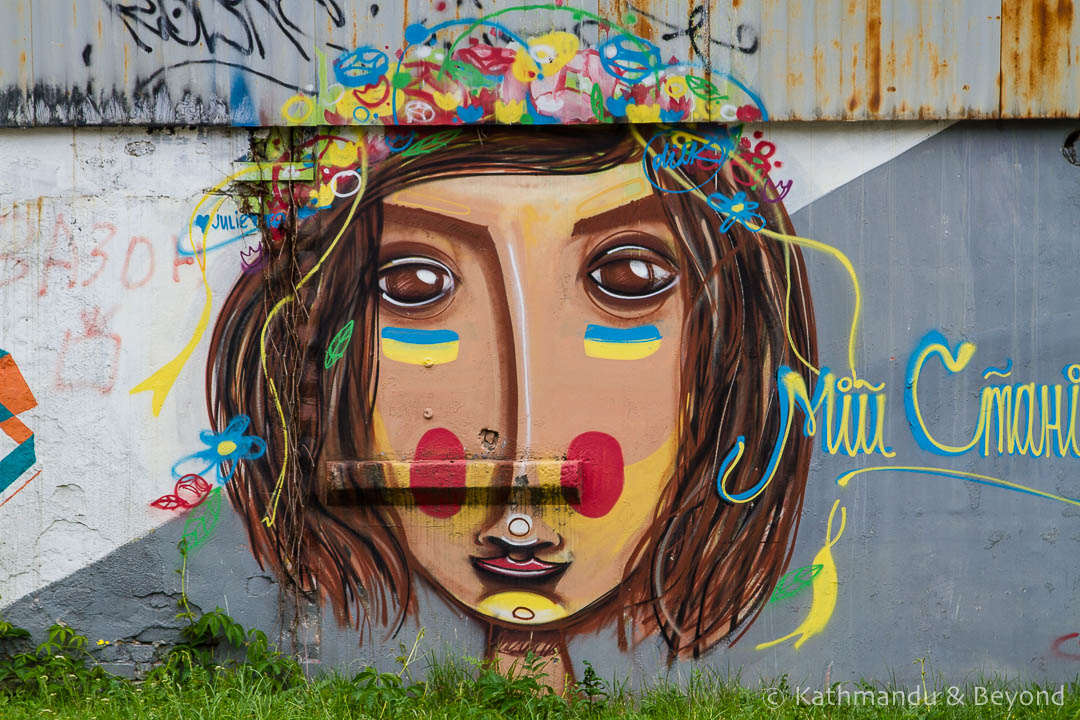 The Ukrainian Institute of Scientific and Technological Research and Development in Kiev 
Moldova
Next stop was Moldova where we visited the capital, Chisinau. Even though city sightseeing didn't take much longer than half a day, we enjoyed our time there. Perhaps it was all that concrete that kept us happy!
Although a country of the former USSR, we noticed a distinctly Romanian influence in Moldova: a result of both history and proximity. Some Romanians don't consider Moldova to be a separate country.
And a significant moment for Mark: Moldova was country number 100 for him!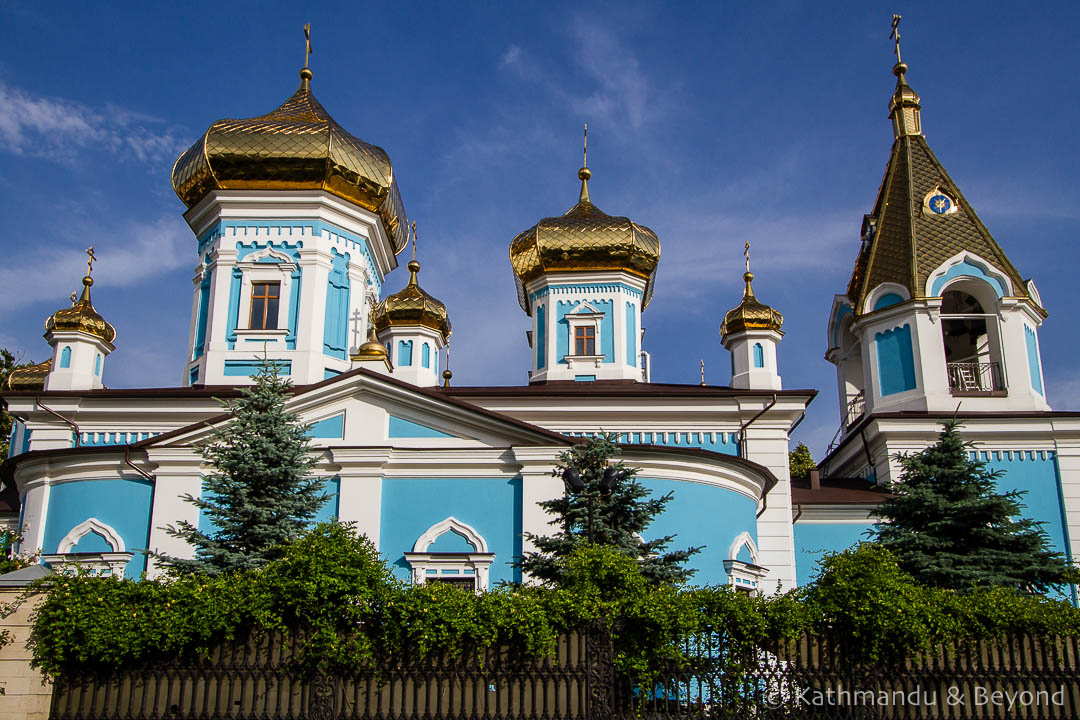 St. Theodor Tiron Convent in Chisinau
Chisinau State Circus 
Transnistria
Our next destination was Transnistria, an autonomous self-declared republic within Moldova, but not internationally recognised as a nation. It's no coincidence that the only three 'countries' that recognise Transnistria are Abkhazia, Nagorno-Karabakh and South Ossetia, also self-declared republics! So, although Moldova was country number 100 for Mark, Transnistria wasn't #101!
To be honest – and we feel we should be – Transnistria was a bit of an anticlimax. It's a destination much hyped by travellers but, dare we admit it, we were a little bored after a couple of hours! And whilst there are definitely plenty of fascinating elements to visit there – this 'non-country' has its own President and Parliament, it's own currency, police force, flag, and car license plates and all visitors must pass through a border, get a 'visa' and complete immigration and customs inspection – it doesn't have an awful lot to actually see and do!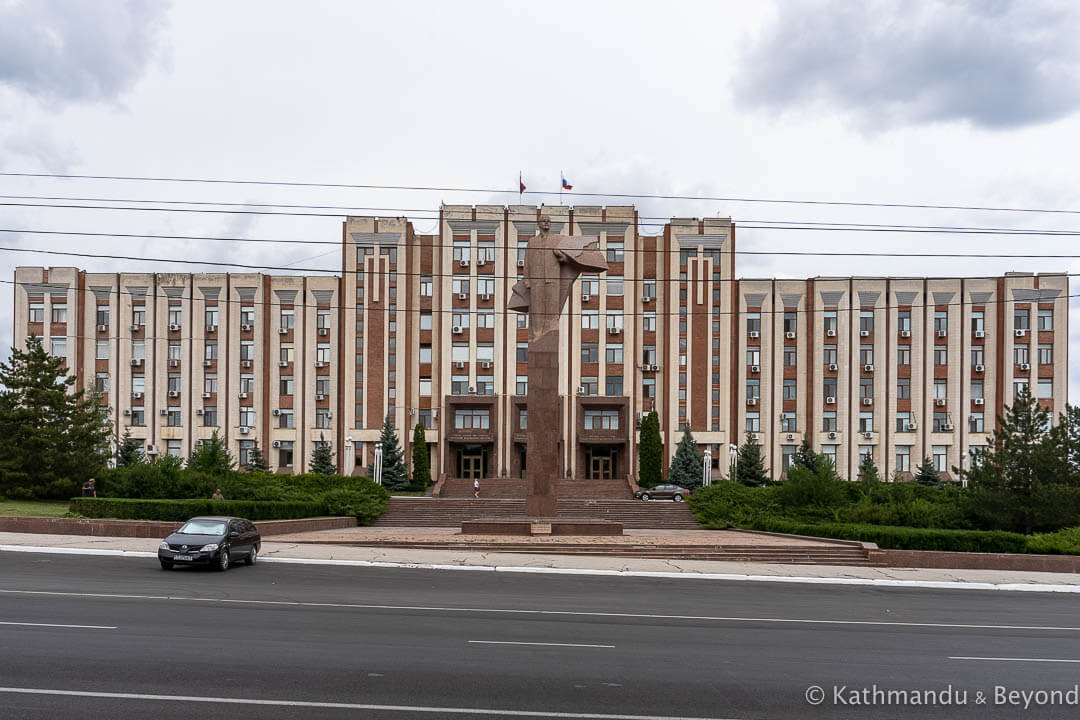 Transnistria Parliament building, Tiraspol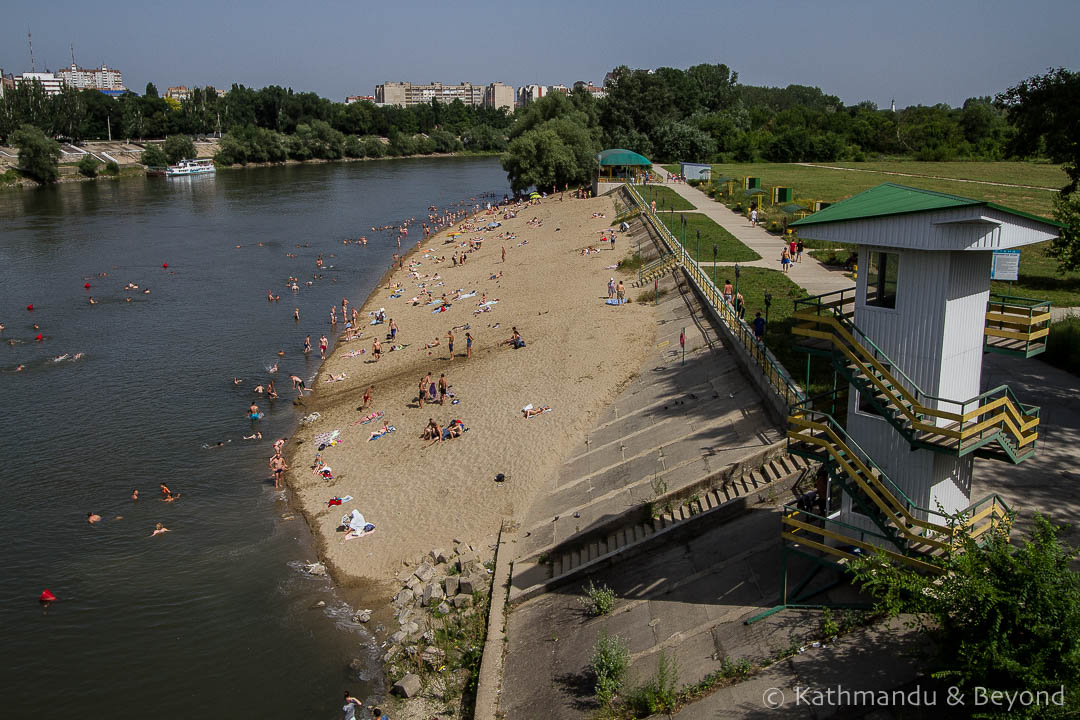 Dniester River in Tiraspol, Transnistria
Traveller rumours abound about the high odds of being bribed at the border on entering Transnistria but we found the process painless – they asked us how long we would be staying, we said overnight* and they stamped us in without a sniff of corruption.
* Tourists have the option of either a 10-hour or 24-hour entry stamp – all we had to do was tell them the name of the hotel we were staying at. We took the bus from Chisinau to Tiraspol and then onwards to Odessa in Ukraine the following morning without any issues.
We crossed from Transnistria back into Ukraine and travelled from Odessa on the Black Sea coast to Kiev with a few more stops on the way (there's a post on that coming soon!).
From Kiev, we flew to Almaty in …
Kazakhstan
We spent time in Almaty before moving on, intending to return to Kazakhstan later in our Central Asian journey …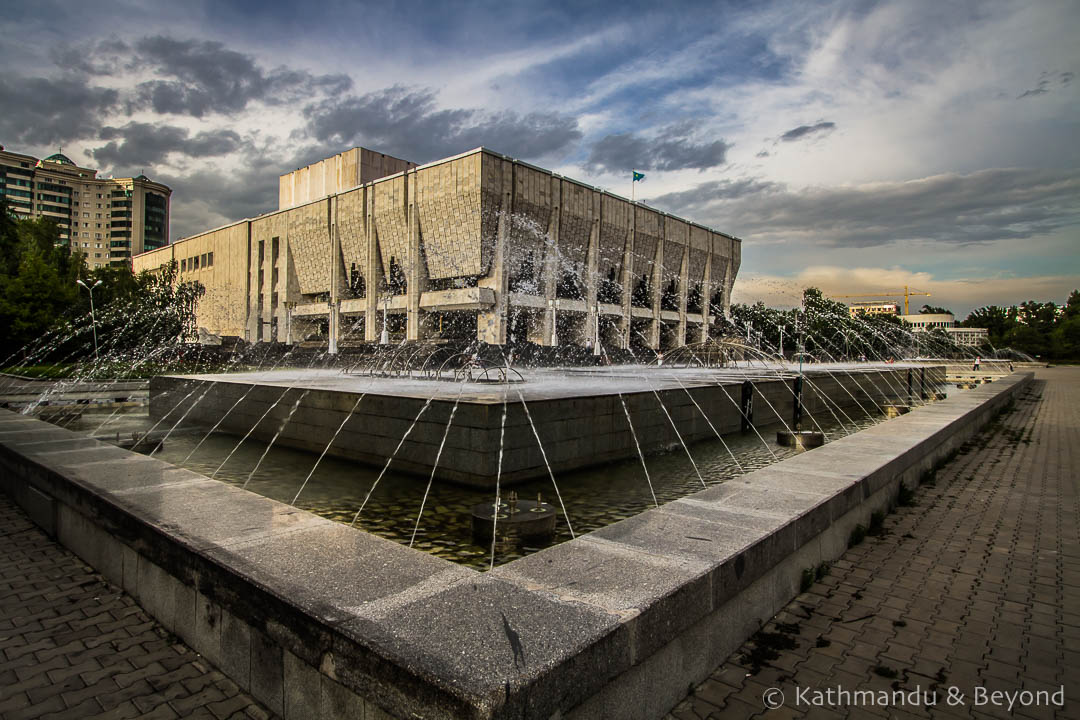 Kazakh State Academic Drama Theatre (Auezov) in Almaty
Kyrgyzstan and Tajikistan
We've put these two destinations together as the highlight of the region spans both countries: the stunning journey along the Pamir Highway and through the Wakhan Valley.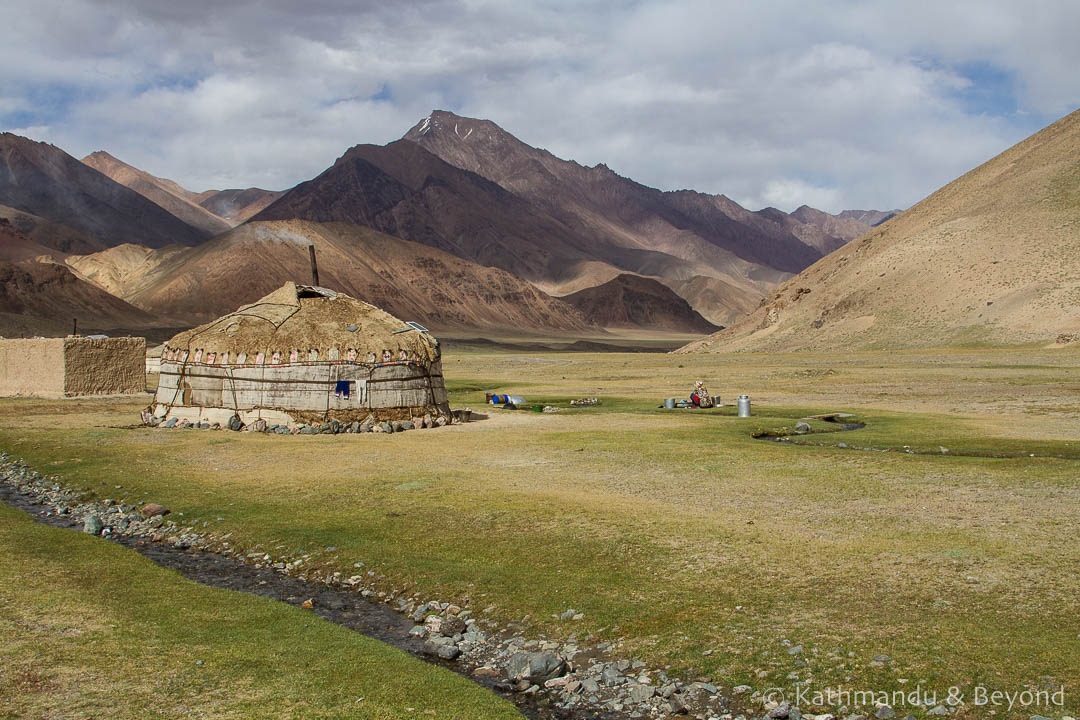 Pshart Valley near Murgab, Pamir Highway in Tajikistan
Some of you will remember our failed attempt to cross the border between these countries, four years ago. The upside of this was that our diversion to China turned out to be one of our most memorable travelling experiences and one that's not possible to repeat today due to restrictions on hitch-hiking along this route!
Before hitting the Pamir Highway, we spent some time in northern Kyrgyzstan, in Bishkek and on and around Lake Issyk-Kul, and then made our way to Osh in the south to begin a journey that was not only the scenic highlight of 2016 but also one of the most visually stunning we've ever done.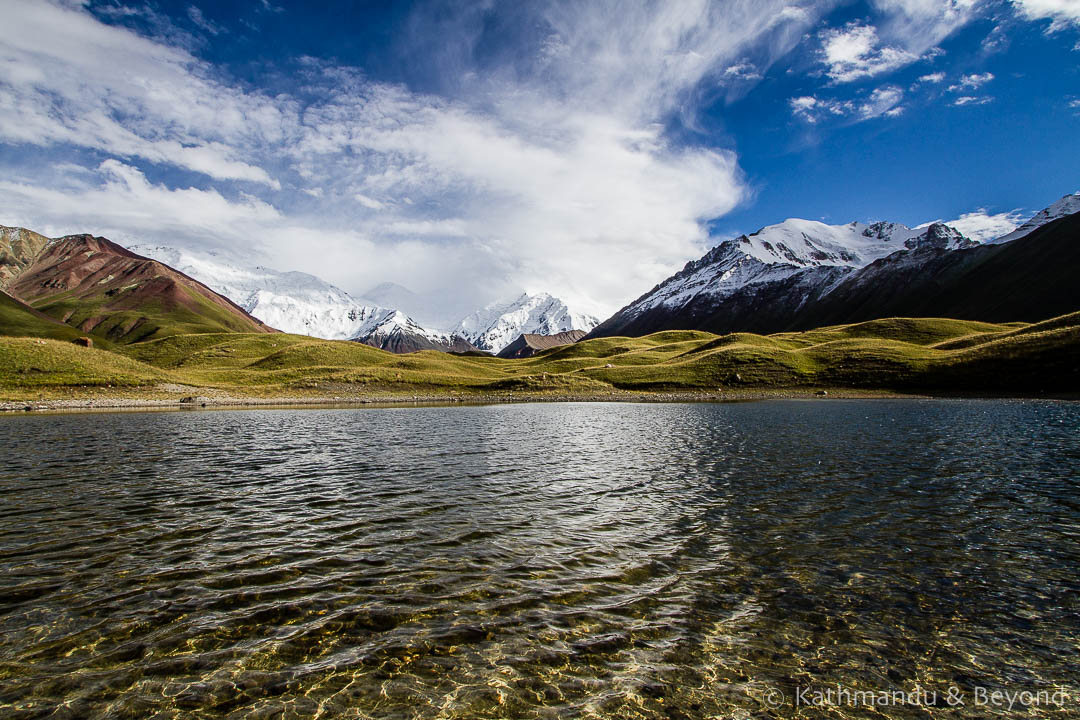 Peak Lenin Base Camp in Kyrgyzstan
Crossing the border from Kyrgyzstan into Tajikistan, unsurprisingly the scenery was equally jaw-dropping. We've already published a few posts about our journey, so we won't repeat ourselves here – the links are just below.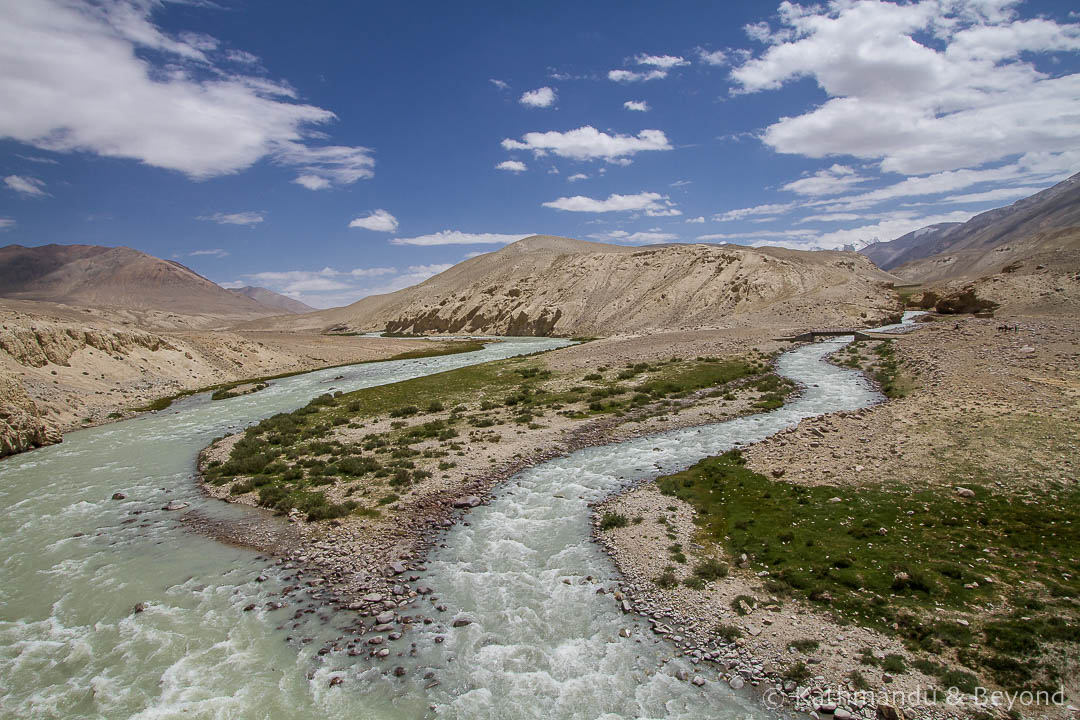 Khargush to Langar in the Wakhan Valley, Tajikistan
After a faultless journey through the Wakhan Valley, when we arrived in Khorog our plans started to go wrong: we endured the journey from hell to Dushanbe, and once we arrived in the capital we could only get dorm bed accommodation (at least within our budget) in a small and disorganised hostel located in the middle of nowhere.
When we discovered the only way we would be continuing our travels into Uzbekistan was to hang around for three weeks for our visas to be issued because the government had stopped issuing visas and were refusing visitors over the period of their celebrations of independence, we threw the towel in. We weren't in the mood to hang around and so booked a flight out …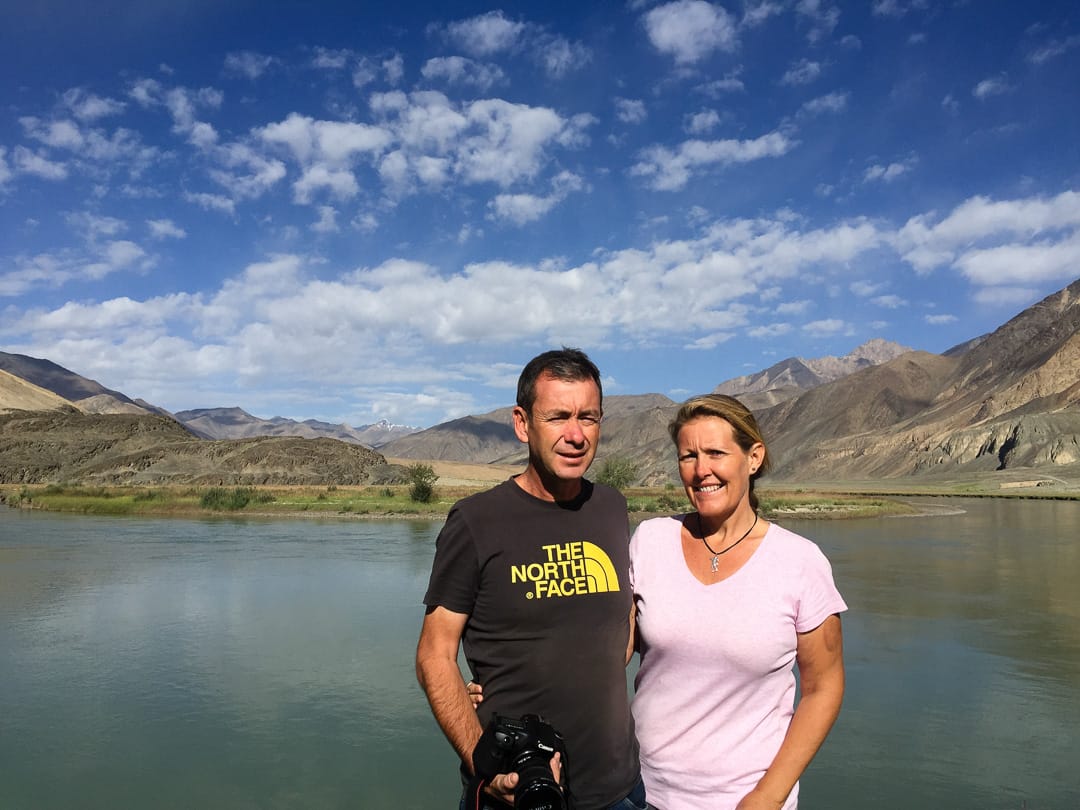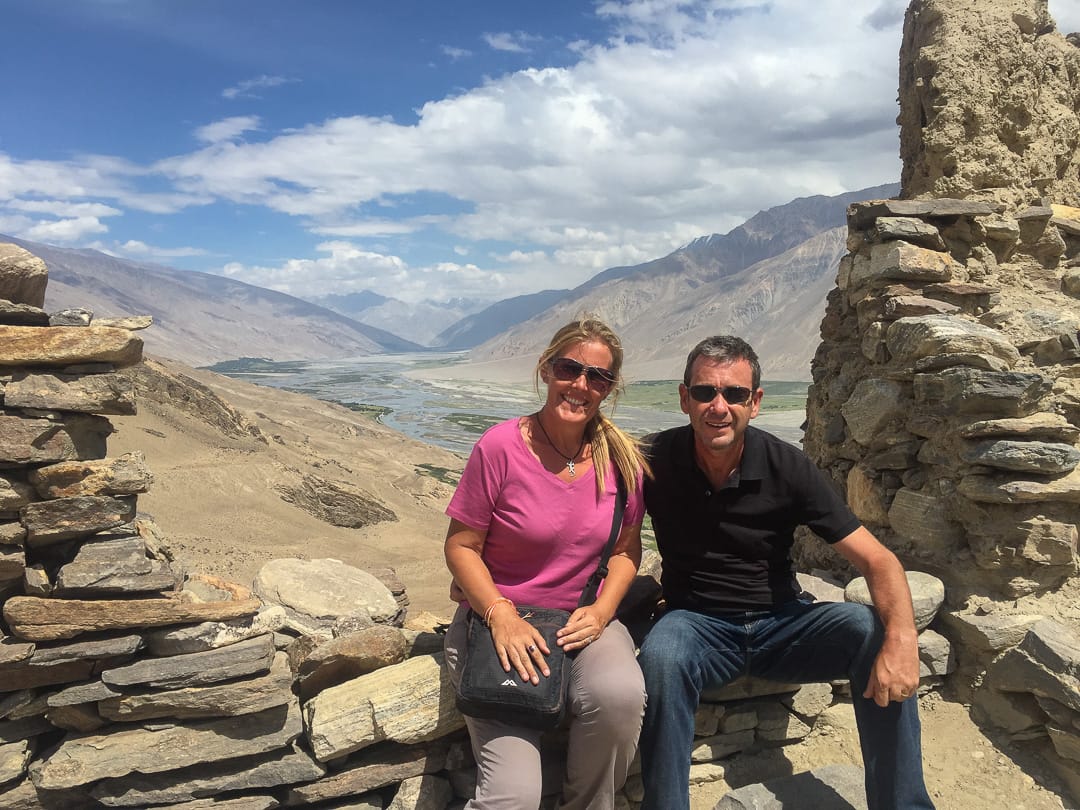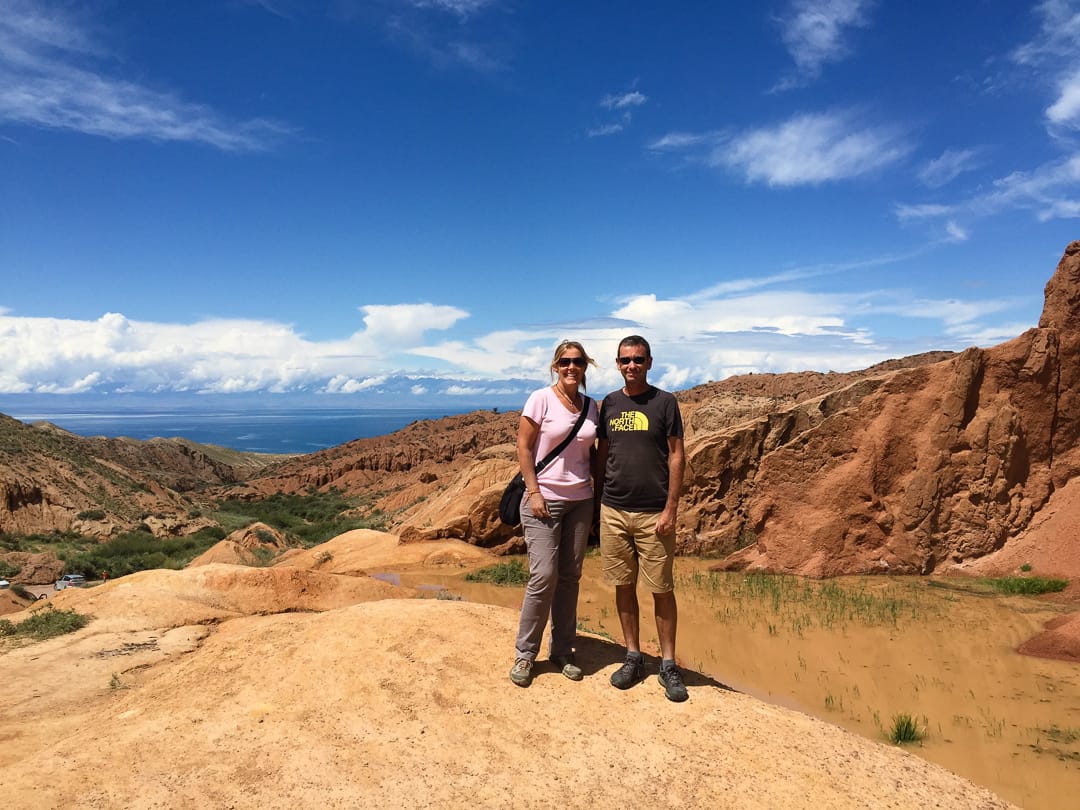 Kyrgyzstan and Tajikistan
Turkey
The cheapest flight in the direction we wanted to head was to Istanbul, and so that's where we ended up next. Not unhappily – Turkey is one of our favourite countries and we were happy to be back somewhere with such great food. Much as we enjoy travelling in Russian-influenced countries we are not enamoured by the food!
After a few days in Istanbul chilling, relaxing and replacing much of our backpack wardrobe we set off toward Europe. En route we visited Edirne (in northwest Turkey), a great town to break the journey between Istanbul and Bulgaria.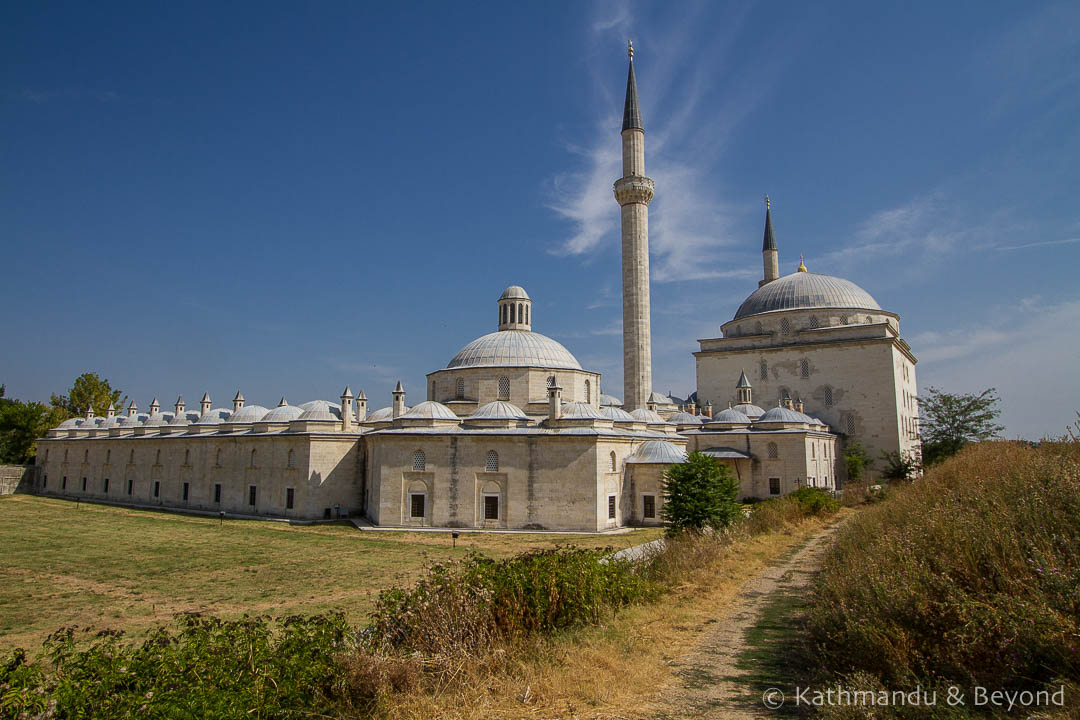 Complex of Sultan Bayezid II Mosque in Edirne 
Read More:
Our Turkey posts (from our two month trip in 2015)
Bulgaria
Bulgaria is a funny one for us. We can't make up our minds whether we really like the place, or not. Putting it politely, we found the people a bit off, but being more brutal we came across more people that were rude or mean to us in Bulgaria than any other country we've visited!
Perhaps it was the dressing down Mark got from the guy at the Sofia tourist board or maybe it was the bus driver who refused to squeeze us in even though his was the only bus to our destination that day, and leaving us to hitch a ride (despite hitch-hiking being illegal in Bulgaria)! Of course, we met some very lovely Bulgarians, but if asked what we like about Bulgaria our response is unlikely to be "it's the people"!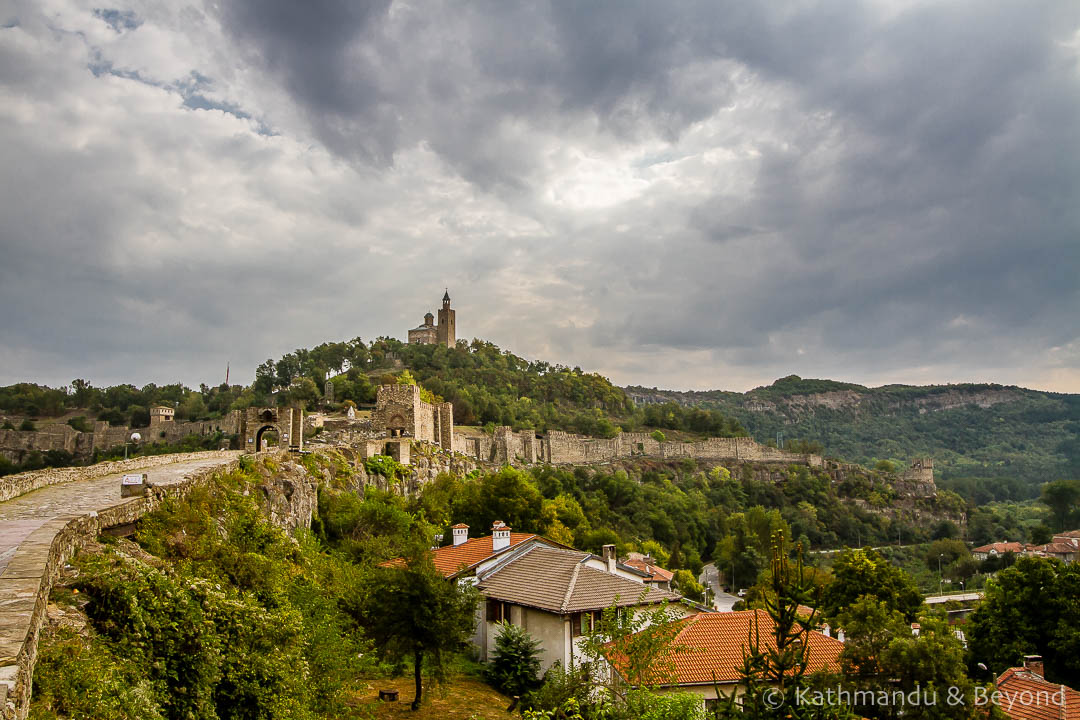 Tsarevets (fortress) in Veliko Tarnovo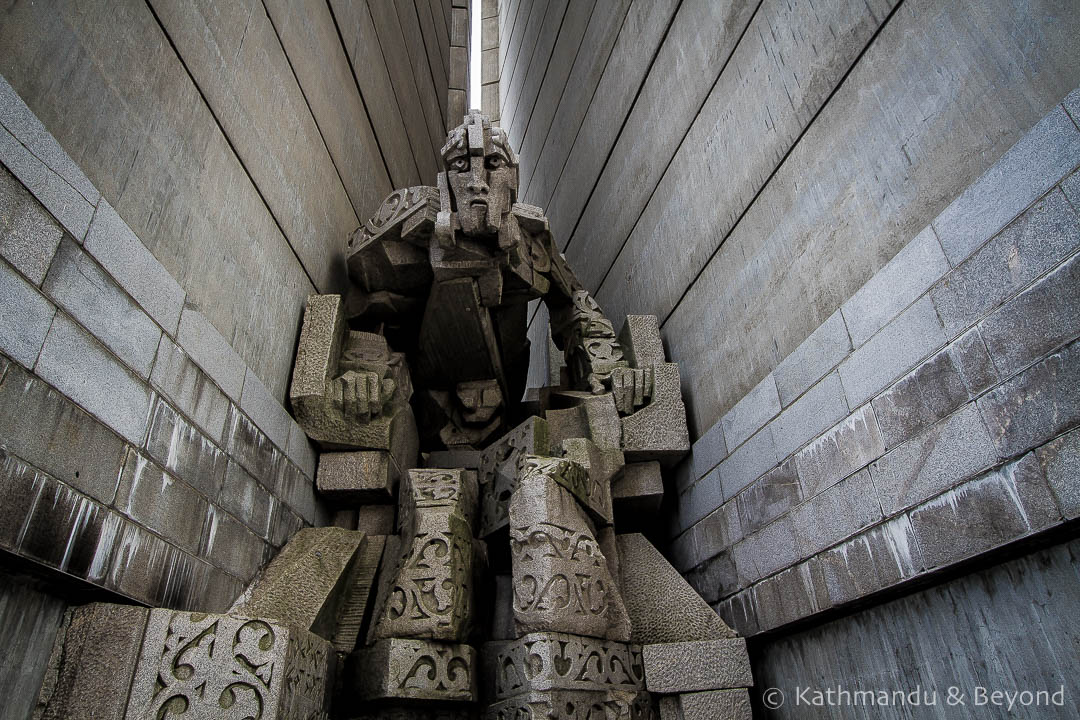 Monument to 1300 Years of Bulgaria in Shumen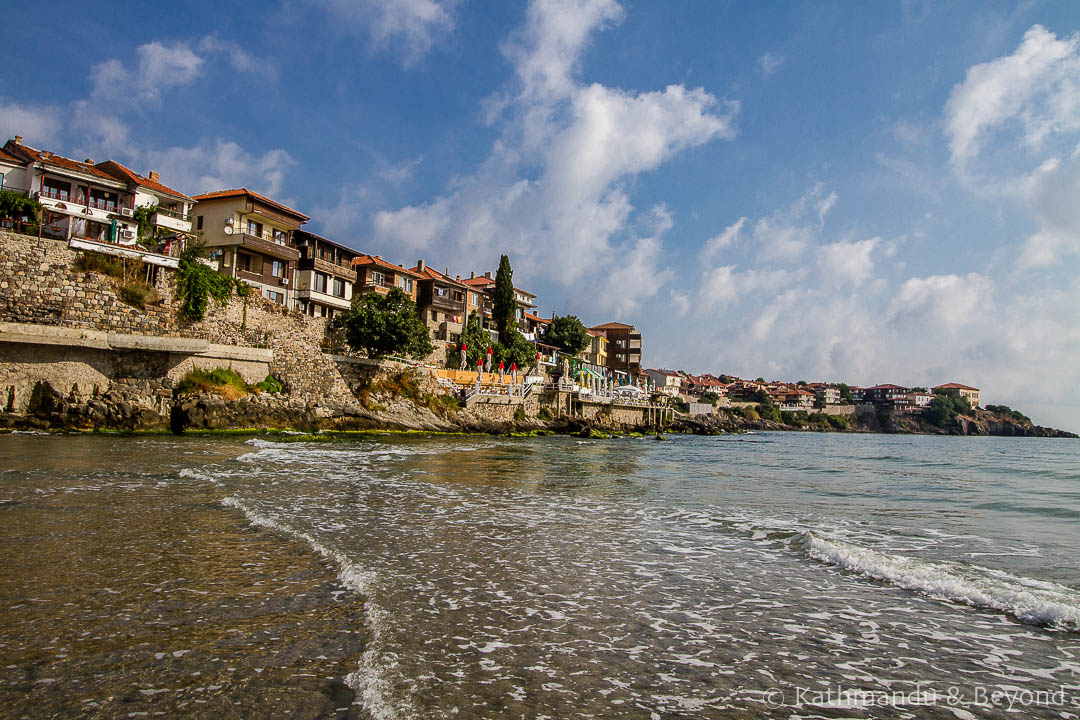 Sozopol
That said, we spent over three weeks in Bulgaria, visiting twelve different towns so something must have held us … Ah, yes, all the imposing Soviet-style monuments and buildings and the varied street art. Yes, that could have been it!
Romania
Of all the countries we visited in Europe, Romania is the one we are keenest to get back to.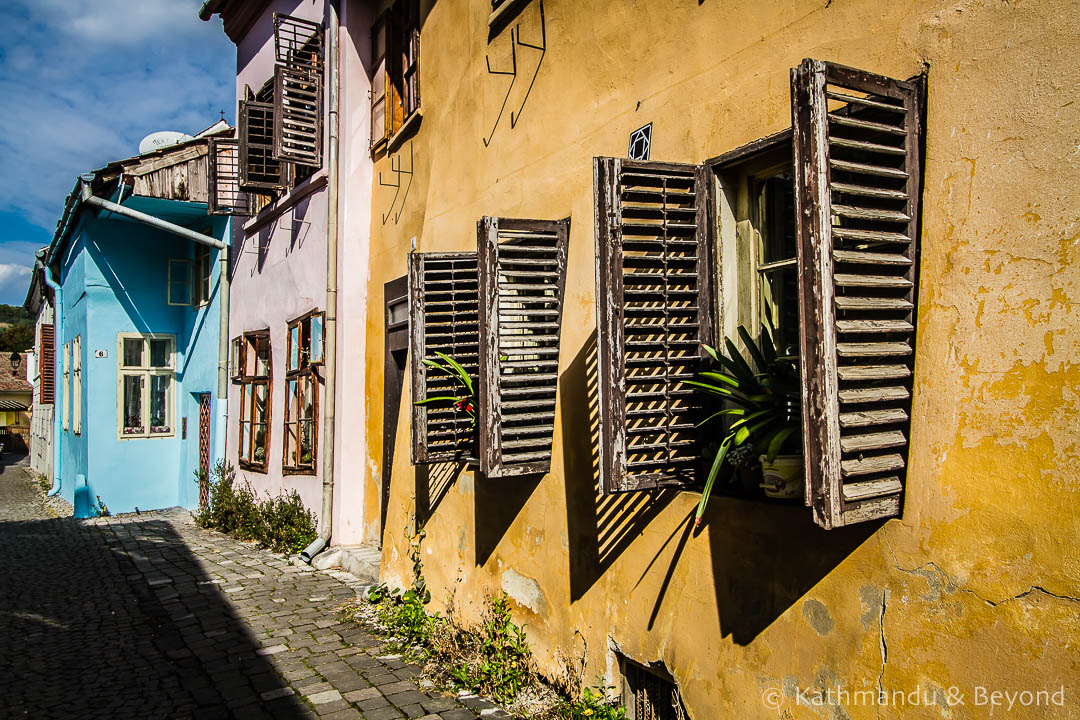 Old Town (Citadel) in Sighisoara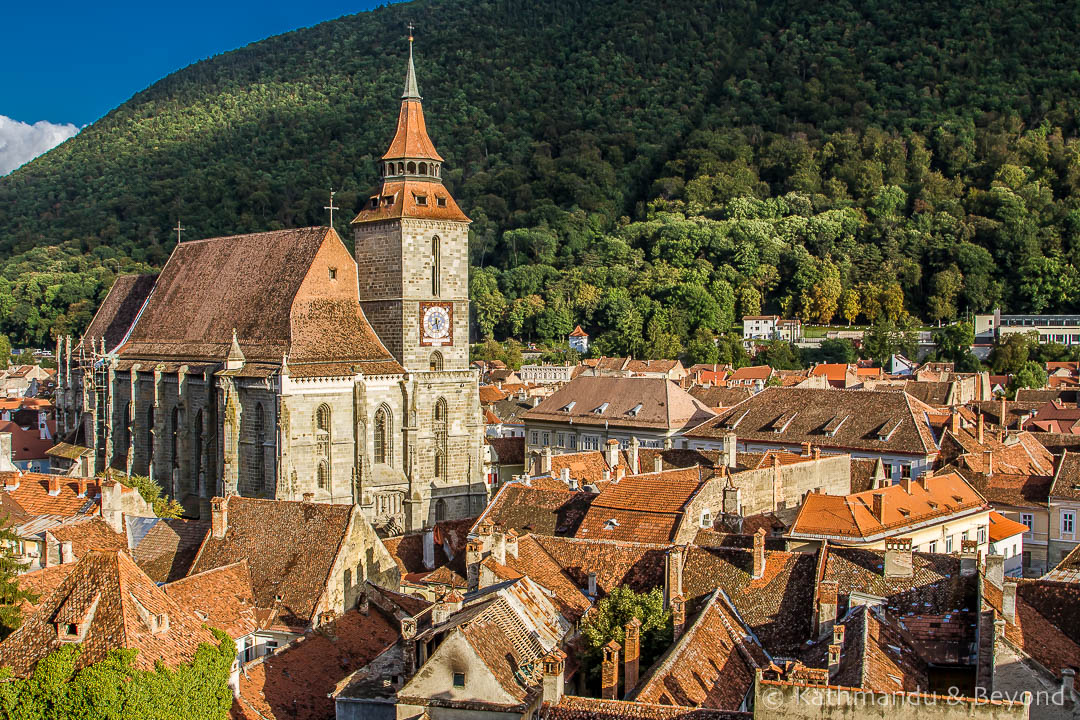 Old Town, Brasov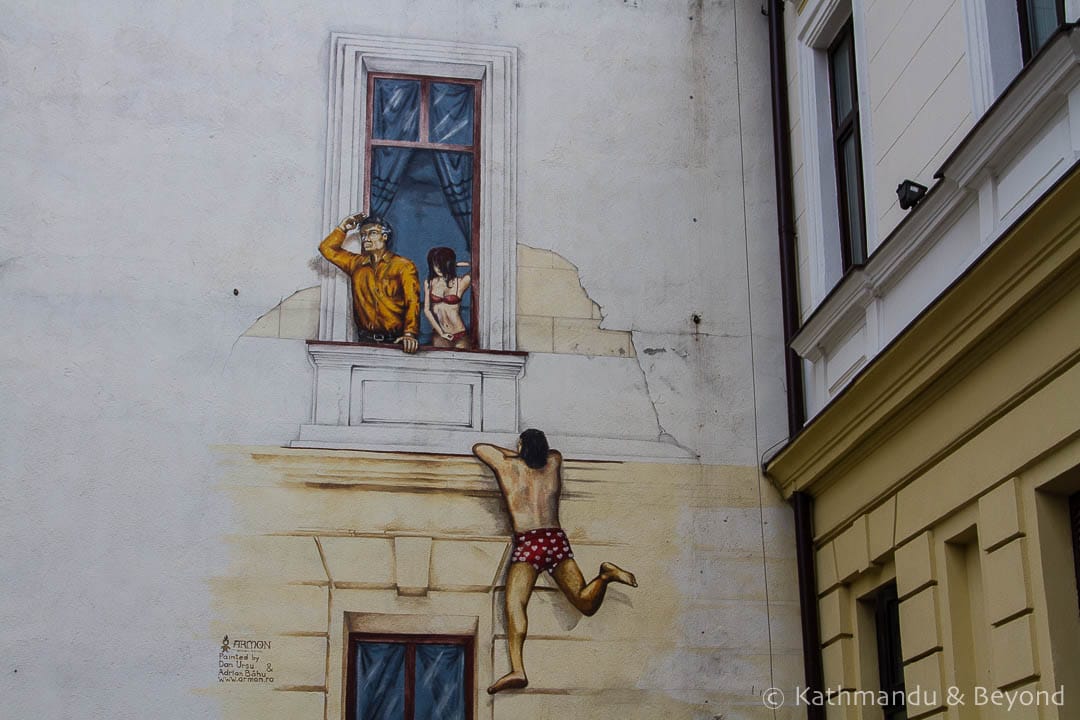 Street Art in Bucharest
We enjoyed what we saw although we probably didn't appreciate it at the time, but we were also incredibly frustrated with the inaccessibility of many places we wanted to visit due to lack of public transport. We could have hired a car but the options were pricey, the weather was unstable and we didn't want to risk it: photography has become so important to us and the conditions need to be right!
Hungary
By this point, it was early October and an autumn chill was definitely in the air. On our previous trip to Hungary, we visited Budapest so this time we were keen to see a bit more of the country. Crossing the border from Timisoara in Romania by train, we arrived in Szeged. Two other towns we visited before getting to Budapest were Kecskemét and Pécs.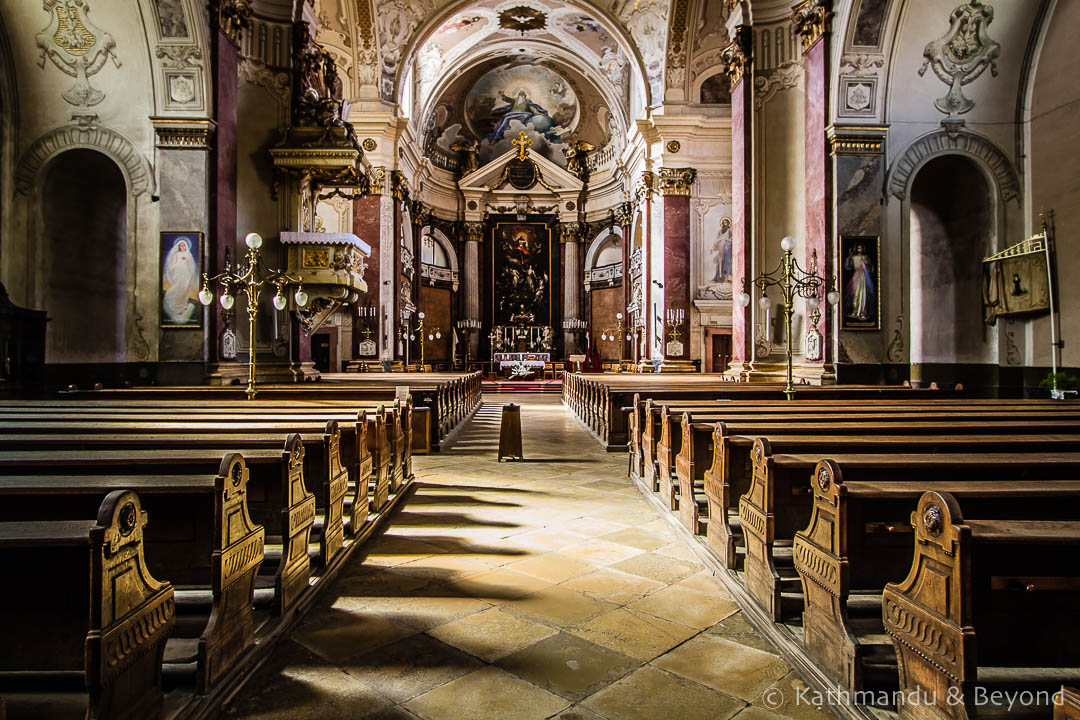 Cathedral of the Ascension of the Lord (The Great Church) in Kecskemet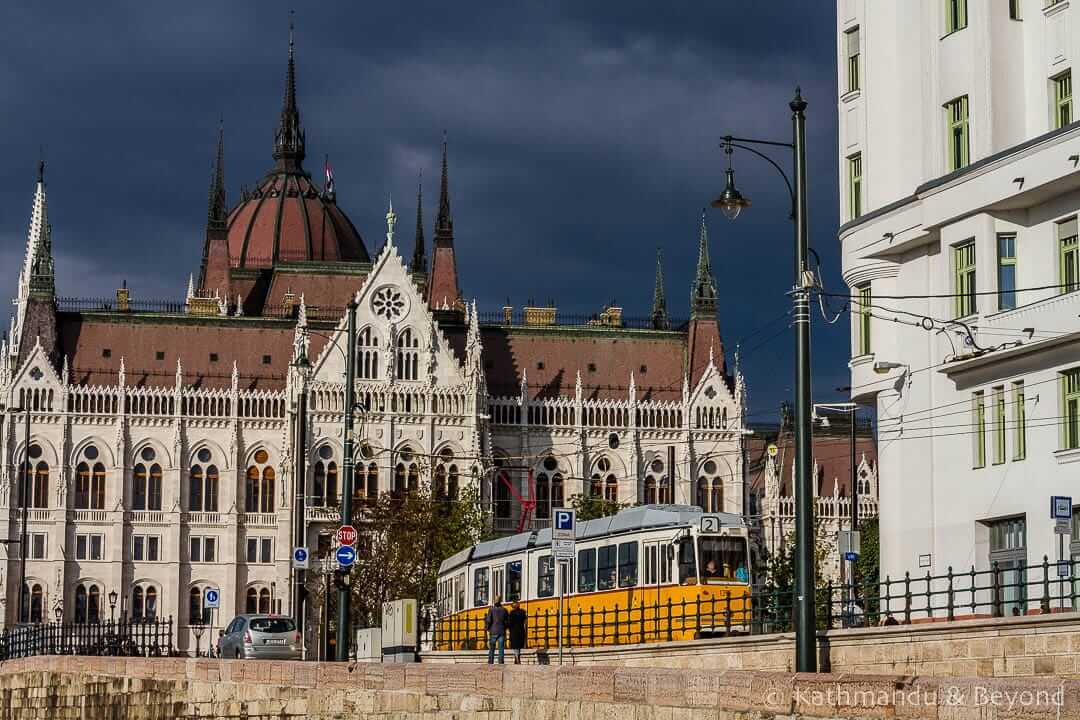 Hungarian Parliament Building, Budapest 
By now, we had to admit we were feeling a bit jaded. The weather didn't help – we get a bit grumpy when cold temperatures and less than favourable photography conditions combine! We'd also stopped appreciating the places we were seeing and developed a bit of a "can't be arsed" attitude. We were coming up to eight years of almost non-stop travel and this was the first time we felt, that just maybe, we needed to slow down a bit! Not bad going, after all this time but, for these reasons, we don't really feel like we did Hungary justice.
It did feel good to be back in Budapest though, without any pressure to rush around sightseeing and snapping photos. If we do reach the point where we put down (shallow) roots in Europe, Budapest will be a strong contender as a base!
France
In mid-October, we left Eastern Europe and flew to France to spend a couple of weeks with Mark's sister and her family. We were very well looked after and the break went some way to restoring our morale and energy levels.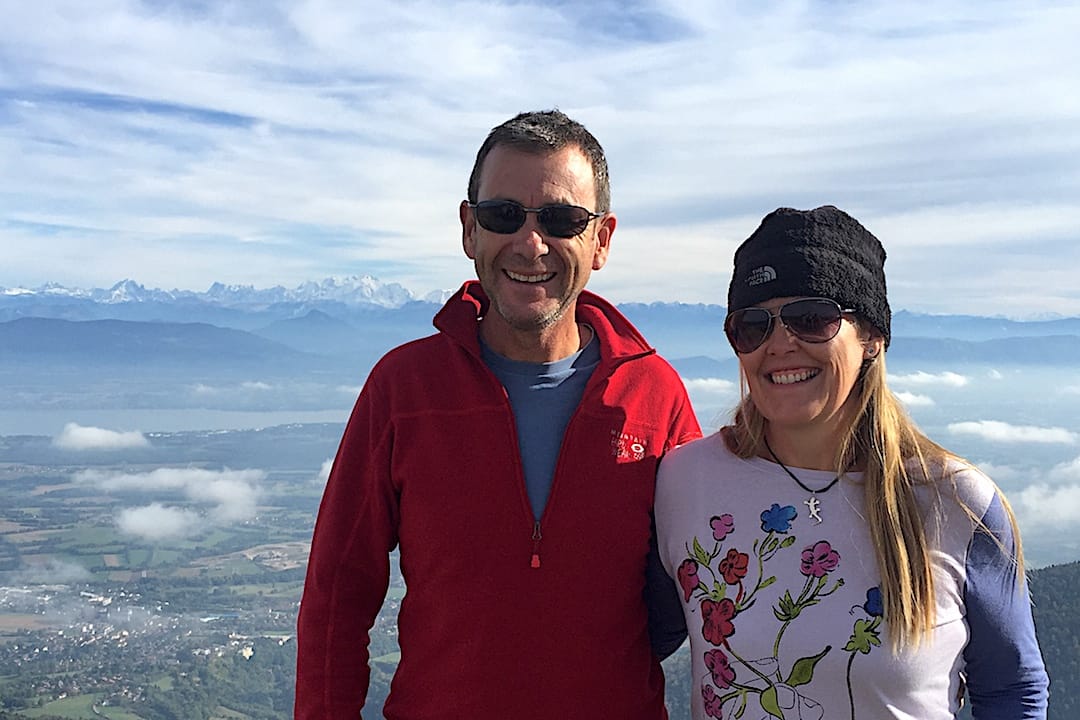 France
UK
So that brings us close to the end of 2016. We have some 'housekeeping' chores and admin tasks to take care of here. Part of the reason we're weathering the UK winter climate is we are still waiting to firm up our travel plans for early 2017. Watch this space!
We're also taking the opportunity to get out and explore parts of London that, unbelievably, we haven't seen before. Or more accurately, haven't taken notice of! With Mark's new passion for Soviet-era architecture, he's keen to check out the brutalist style buildings in London. And then there's the street art: we track it down all over the world, yet London is often cited as having some of the best street art in the world!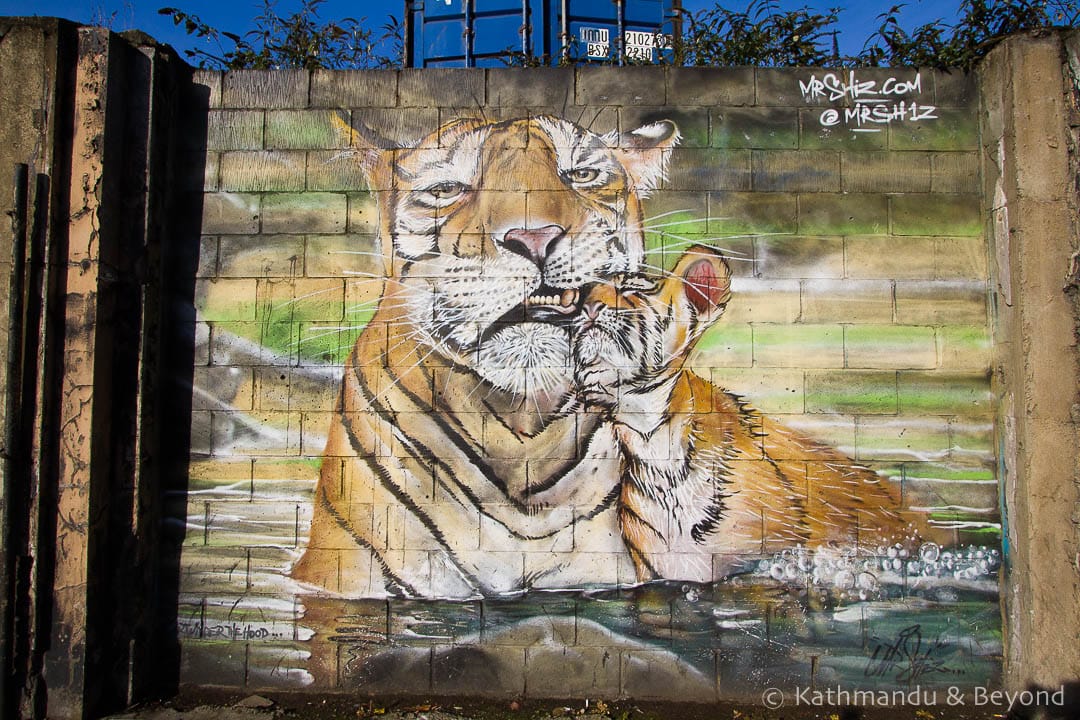 Hoxton in London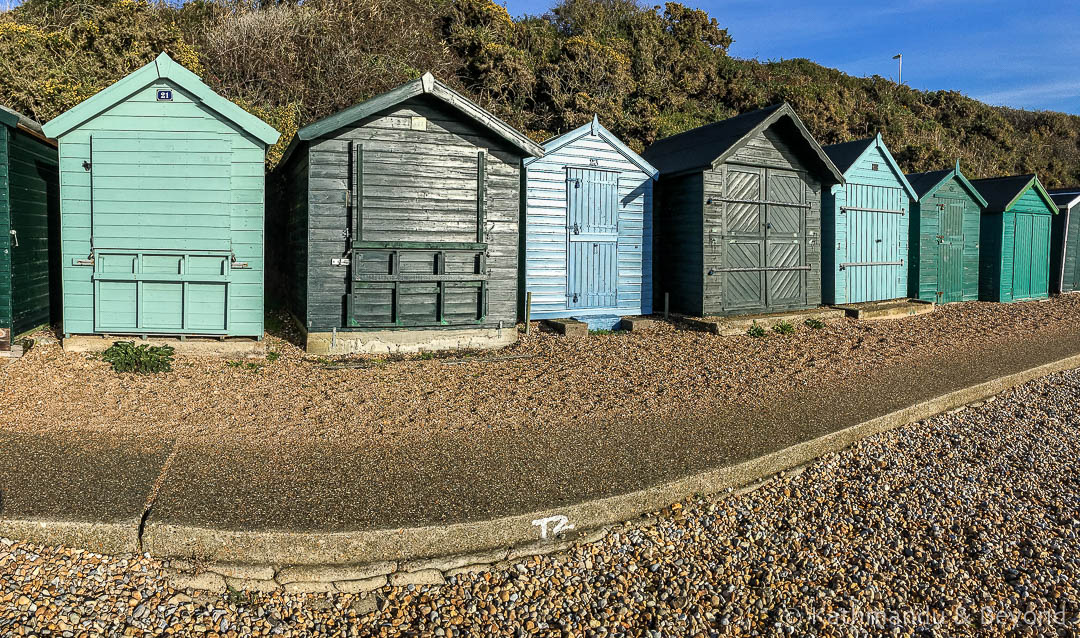 Beach Huts in Stubbington, Hampshire
We hope you enjoyed this speed-walk through our 2016. You can imagine that we have only shared a tiny percentage of the photos we've taken and skimmed over many of the places we visited too, but we've added links to posts for further reading.
What was your 2016 travel highlight? We'd love to hear it in the comments below, as we're always looking for ideas for new destinations!
Here's to a fun and travelled-filled 2017 – we're looking forward to sharing our travel plans with you very soon!
Kirsty and Mark 
---
INSPIRED BY THIS POST? PIN IT!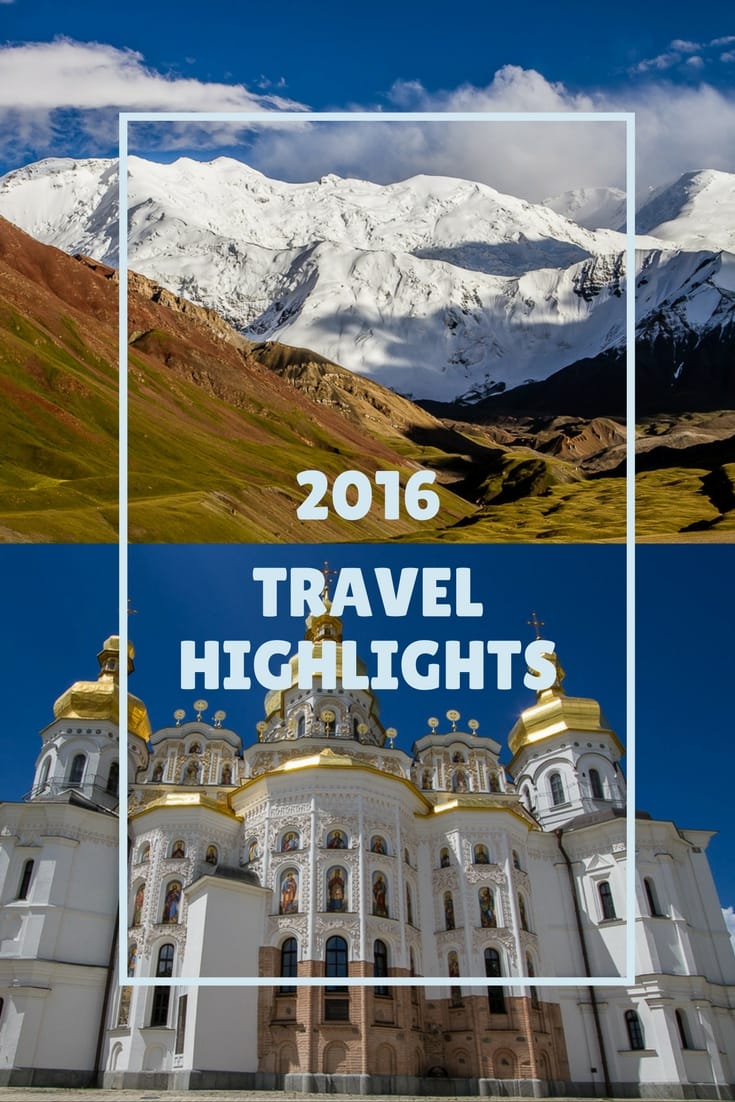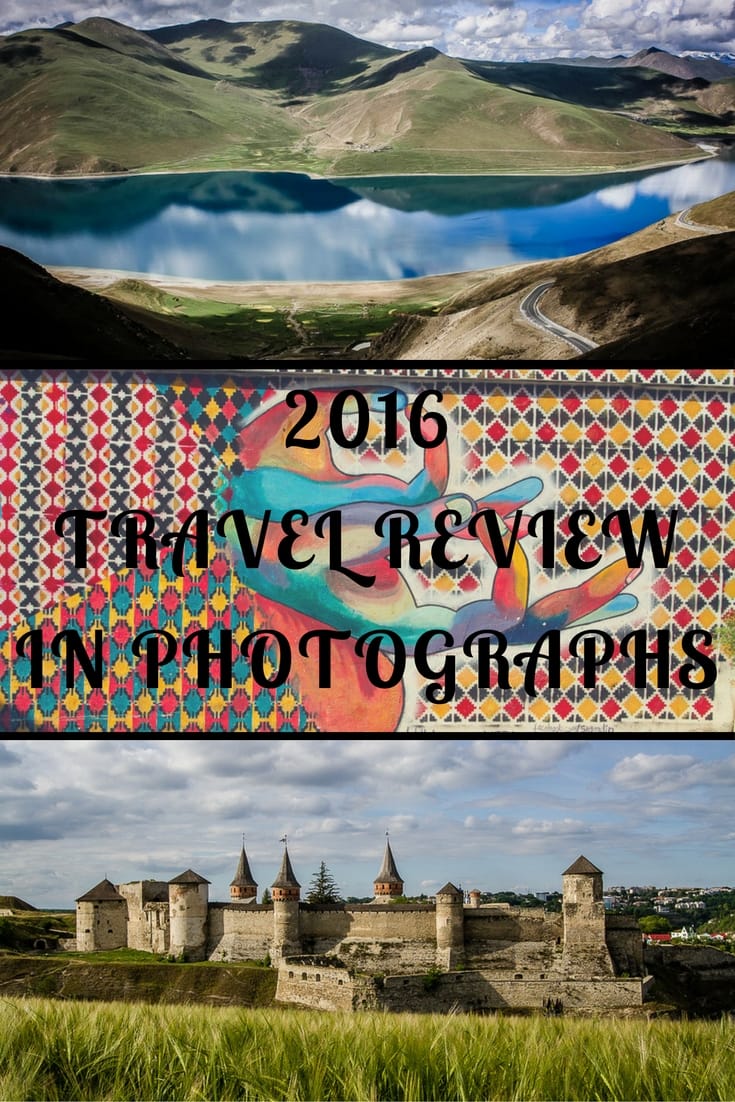 ---