Some of the reasons you should consider Ukraine as your next travel destination 
We have been to Ukraine several times since our first visit in September 2015. On that occasion, we only spent time in the capital Kyiv, and the western city of Lviv. We have to admit, we knew very little about the country before that visit and only ended up in Ukraine by chance because we found a cheap flight.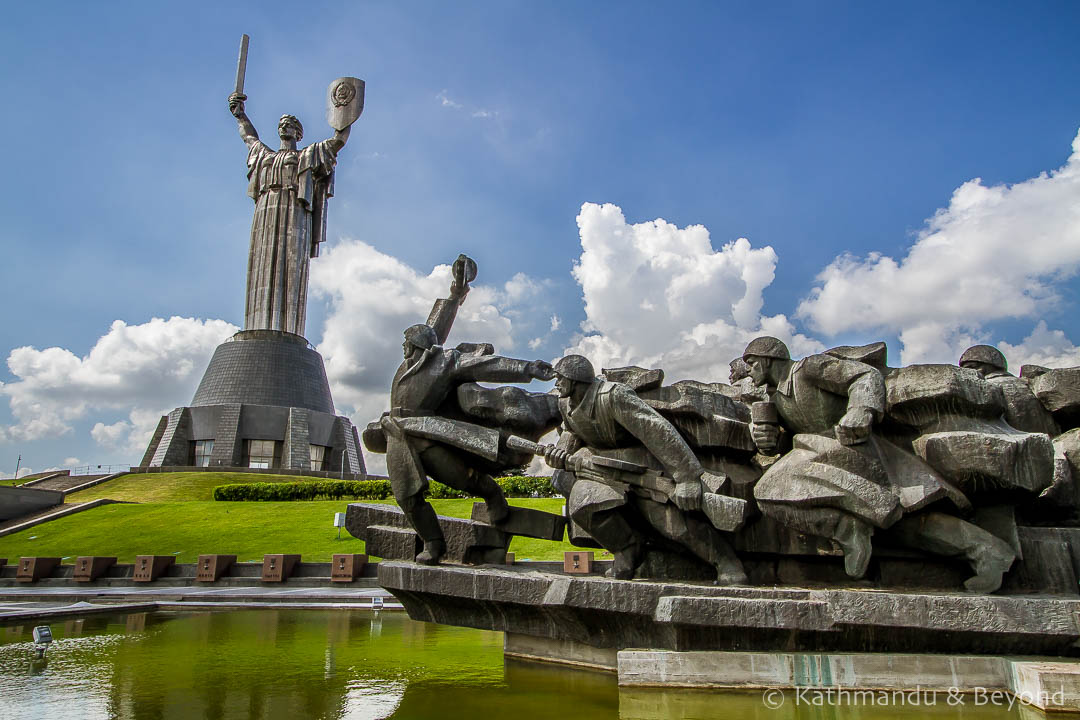 Mother Ukraine & World War II Memorial Complex in Kyiv
We spent a large part of the summer of 2015 in the Caucasus, discovering Georgia, Armenia and Nagorno-Karabakh, and when it was time to return to Europe, we didn't have anywhere specific in mind. Like all good budget travellers, we hunted around for the cheapest flight we could find and this happened to be from Tbilisi to Kyiv on Ukraine International Airlines. We ummed and aahed about it over our morning coffee. "Wasn't Ukraine in the midst of a war with Russia?" we asked each other, "Should we go there, was it safe?" Neither of us really knew the answers to these questions. Obviously, we were aware that something had been going on in the country but we weren't that up to speed with exactly what. Funny enough, however, we had recently met some Ukrainians in the Georgian trekking mecca of Kazbegi. We had discussed with them about whether Ukraine was an interesting/safe country to visit. Naturally, they said Ukraine was an interesting country, promptly giving us loads of tips on where to go and what to see, but they also told us that, as long as we stayed away from the eastern border with Russia and also the Crimean border, Ukraine was a very safe country in which to travel.
Based on the tips from our fellow travellers and backed up by further research on safety and what-to-see, we decided to give Ukraine a try. Neither of us had visited the country before and being inveterate 'country counters', we booked a one-way flight from Tbilisi to Kyiv on Ukraine International Airlines. The tickets were reasonably priced and even the departure and arrival times were sociable, which is unusual given the cost of the tickets.
We spent five days each in Kyiv and Lviv on that first trip and were thoroughly impressed with what we saw, so much so that we returned in the summer of 2016 and spent nearly a month exploring more of the country. This time round we spent time in the Carpathian region (Uzhhorod, Ivano-Frankivsk, Yaremche etc.), travelled down to the port city of Odesa, reacquainted ourselves with Kyiv (and took a day trip to Chernobyl) and visited several, smaller towns and cities (such as Uman and Vinnytsya) along the way. Some were well worth the detour, others not.
We've got lots we want to write about our second trip around Ukraine but while we are getting on with it, here are some compelling reasons why you should consider Ukraine as your next holiday destination.
It's easy and painless to cross (most) land borders in Ukraine
Russia aside, travelling overland between Ukraine and its neighbouring seven countries is very straightforward. We have crossed in and out of Ukraine from Poland, Moldova, Slovakia and Transnistria and experienced no difficulties. If you are coming from Belarus then the train is the recommended option between Minsk and Kyiv and the last we heard, it is still possible to travel by train between Kyiv and Moscow although if you are planning this route you should check for updated information using additional sources.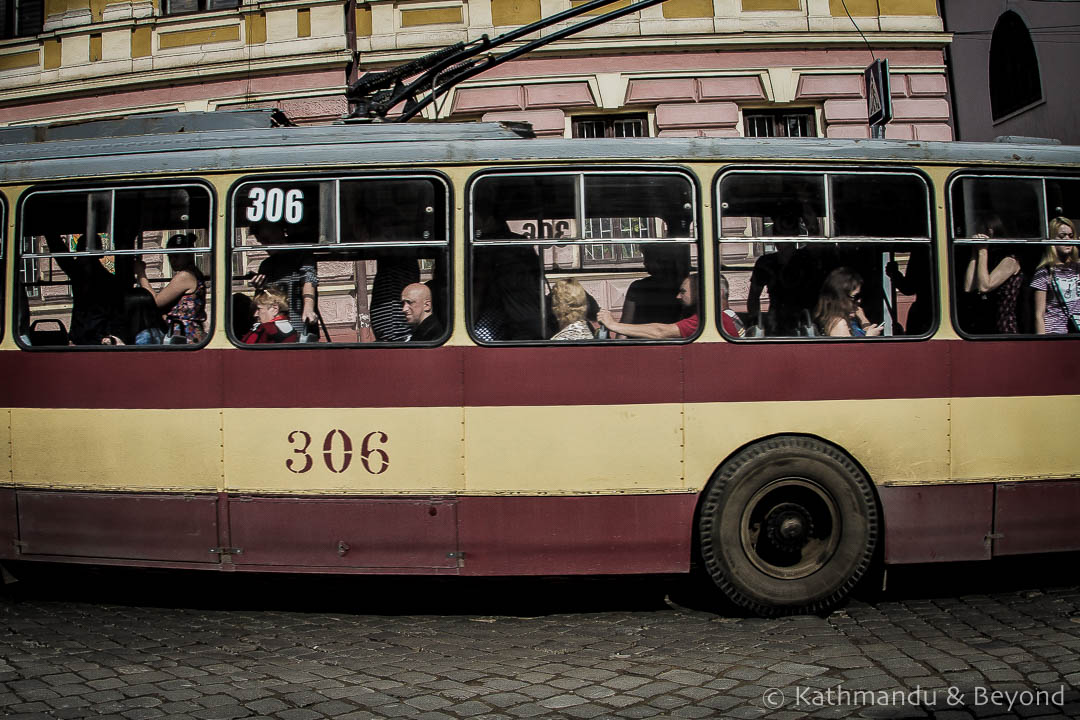 Ukraine is exceptional value for money
Even for us Brits, who have been screwed on pretty much every currency going since our announced exit from the European Union, Ukraine is extremely cheap. The war with Russia has resulted in a massive devaluation of the Ukrainian currency (the Hryvnya (uah), which we still don't know how to pronounce by the way!) and when we were in Ukraine last (June/July 2016, just before Brexit), we were getting 36uah to GBP1.00. Our Lonely Planet guidebook, which is currently the most up to date version and published in 2014, quotes 13uah to GBP1.00. For us, that meant a six-hour train ride cost us £7.50 per ticket, a beer in a bar was just £0.60 per 500ml, and a decent hotel would set us back between £10 and £15 per night and usually included breakfast.
It would be insensitive of me to wax lyrical about how cheap Ukraine is for too long, however. The weakening of the Hryvnya has hit the economy hard and life for many Ukrainians has been very tough for some time now. But that said, the country is without a doubt the best value destination in Europe right now.
Kyiv and Odesa are really cool cities to visit
There is nothing outdated about either Kyiv or Odesa, I can tell you that for nothing! Both are thriving metropolises with loads of things to see and do, a happening bar and restaurant scene, and an all-round great atmosphere. As permanent nomads, we are always looking for places to settle down for a month or two and both cities are high on our list. We will be writing in more detail about both destinations in due course but please don't ask either of us to say which, out of the places, we prefer the most!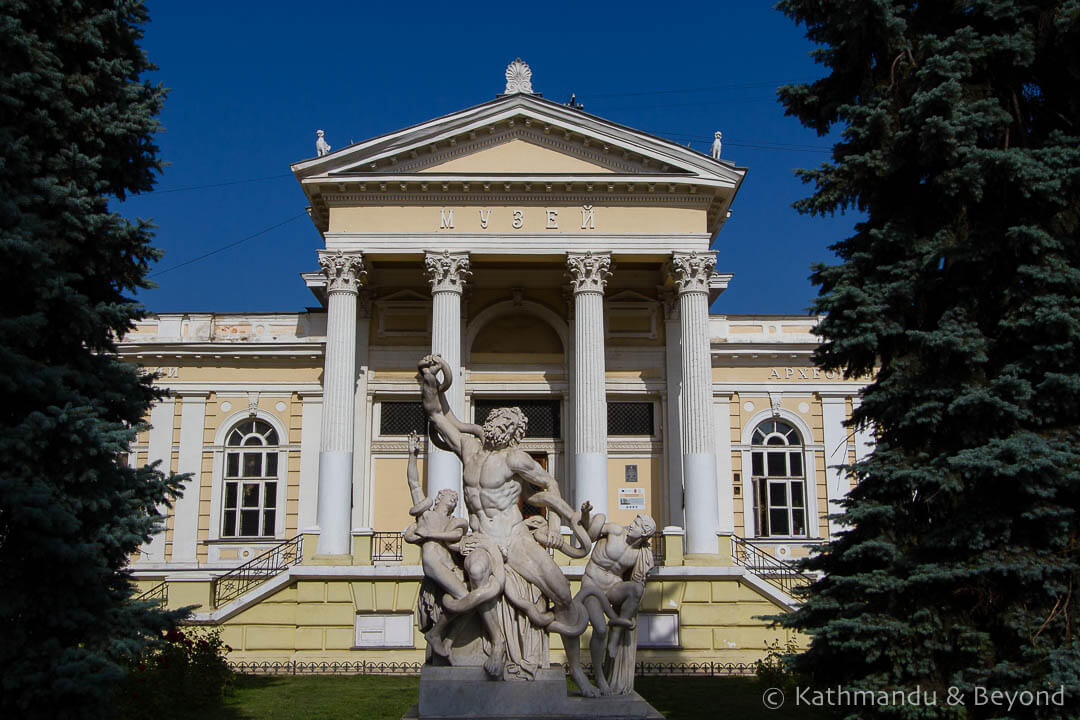 Archaeology Museum, Odesa
Ukraine has pleasant summer temperatures
From what I can work out, the winter in Ukraine, particularly in Kyiv and the north, can be brutal but we have no intention of verifying this fact first hand! What I can tell you, however, is that the summer climate is very pleasant. We experienced agreeable temperatures in both the north and the south of the country throughout parts of June and July and all things considered, we were very comfortable. Prior to this, we were in Poland, Slovakia and Czech, which were all a bit too cold for our liking, whereas the Moldovan capital, Chisinau (bless you!) was way too hot and humid and reminded us of the climate in Southeast Asia!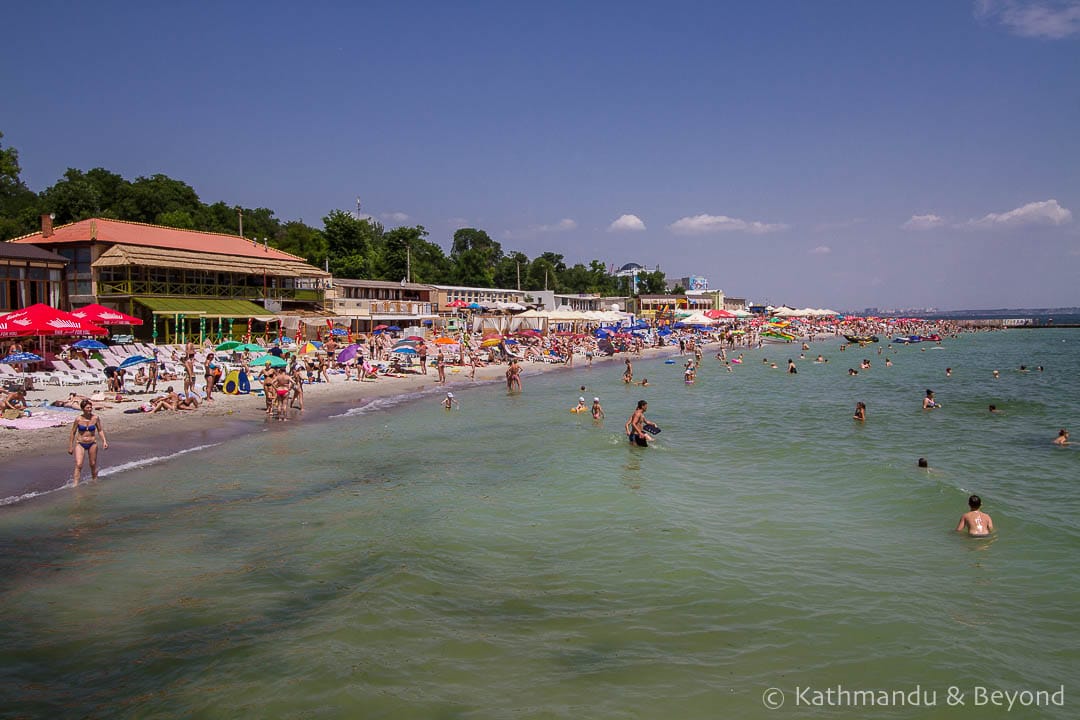 Lanzheron Beach, Odessa 
This might not be to everyone's taste, but if you are into concrete, brutalism, post-modernism or just plain over-the-top monuments then Ukraine is for you. Every place we visited throughout the country had a concrete-infused municipal town hall, a huge theatre and a dominating Victory Square but we also found Soviet-era War Memorials, circuses, mural-decorated government buildings and even on one occasion, in Zhytomyr, a stark-looking museum dedicated to cosmonauts.
Kyiv is probably the best place to hunt down Soviet-era architecture but be discreet when taking photographs. Some are still used by government institutions and we nearly got into trouble on more than one occasion when trying to take a few photos.
The Ukrainian Institute of Scientific and Technological Research and Development in Kyiv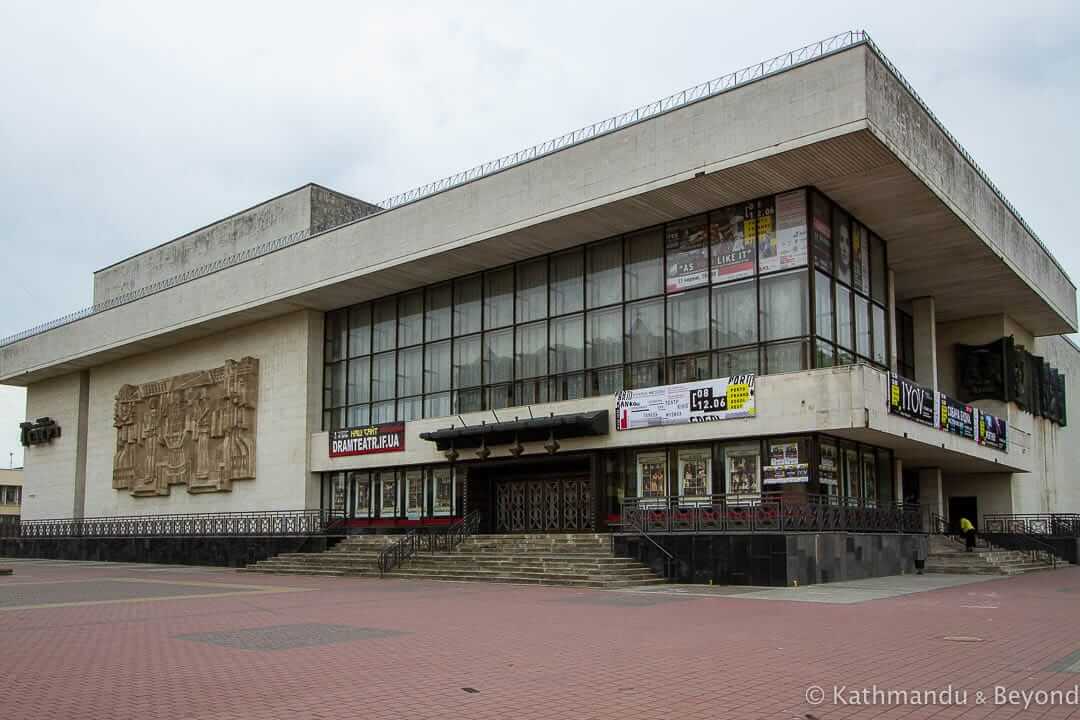 Academic Music and Drama Theatre, Ivano-Frankivsk
Ukrainian women are among the most beautiful in the world
Sorry ladies, but I had to get this one in. Ukrainian women have a reputation for being amongst the most gorgeous in the world and I for one would certainly agree most whole-heartedly. When I have spoken with others about the physical attributes of Ukrainian women (mainly with men, I must admit), Kirsty has pointed out that this is mostly the case in Kyiv and Odesa, the two most cosmopolitan cities in the country. She's not the jealous type but perhaps in this instance, there is a touch of envy here as, in my opinion, she is off the mark and I can provide instances (plus dates, places and times!) if necessary! I will concede, however, and I am treading on very thin ice here, that the contrast between the twenty-five-year would-be supermodel and the seventy-year wizened babushka (granny) is extreme and that the eventual transformation from one to the other boggles the mind.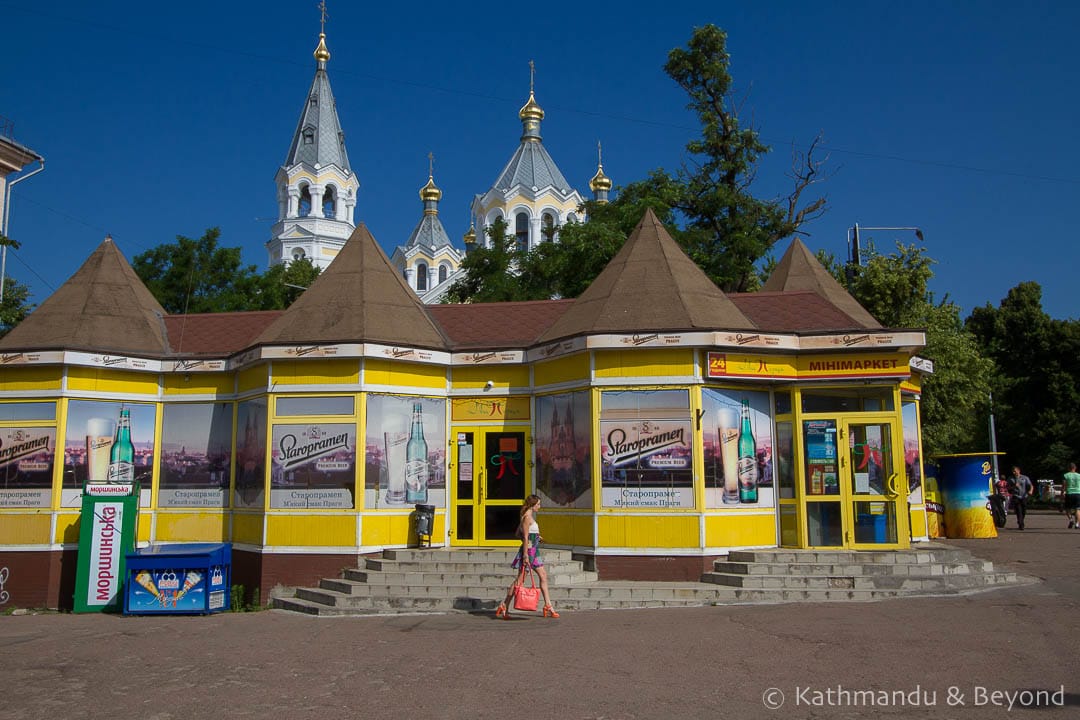 Zhytomyr, Ukraine
Ukraine has a medieval town that nobody visits
Perhaps a slight exaggeration, but the ancient town of Kamyanets-Podilsky (440km south-west of Kyiv) is a picture-perfect bundle of gorgeousness packed with churches, medieval walls, traditional houses and one of the coolest-looking fortresses we have ever seen. There is only one thing missing: the crowds. This is the sort of place where you can still sit in the main square, order a beer and only pay slightly over the odds for it. We had a hard time dragging ourselves away from Kamyanets-Podilsky.
Kamyanets-Podilsky Fortress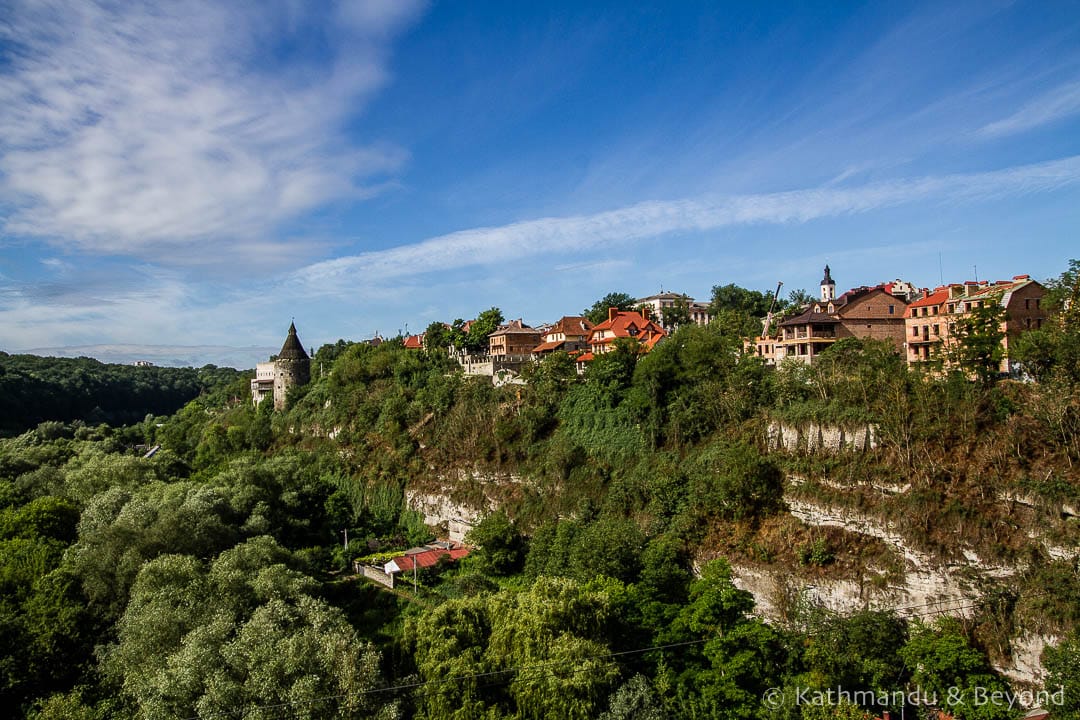 Kamyanets-Podilsky
The food isn't as bad as you might expect
OK, so Ukrainians do eat a lot of borshch (beetroot soup to you and me) and the staple meal when dining out is most definitely pizza accompanied by pizza but I remember, on our first trip to Kyiv, going into our first stolova (self-service canteen) and piling my plate high with all sorts of goodies, including slices of beef, bean stew and Ukrainian-style dim-sum/dumplings known locally as Varenyky. Of course, in Kyiv, Odesa and other major cities, there is a wide choice of international as well as Ukrainian cuisine (we tried Crimean food in Kyiv once, boy that is good!) but on a day-to-day basis and when travelling on a budget, the canteens are ideal for filling your boots.  And better still, it's a pick and point system – no messing around, trying to fathom out what the menu says using trusty Google translate. And it goes without saying that it's all very cheap by western standards!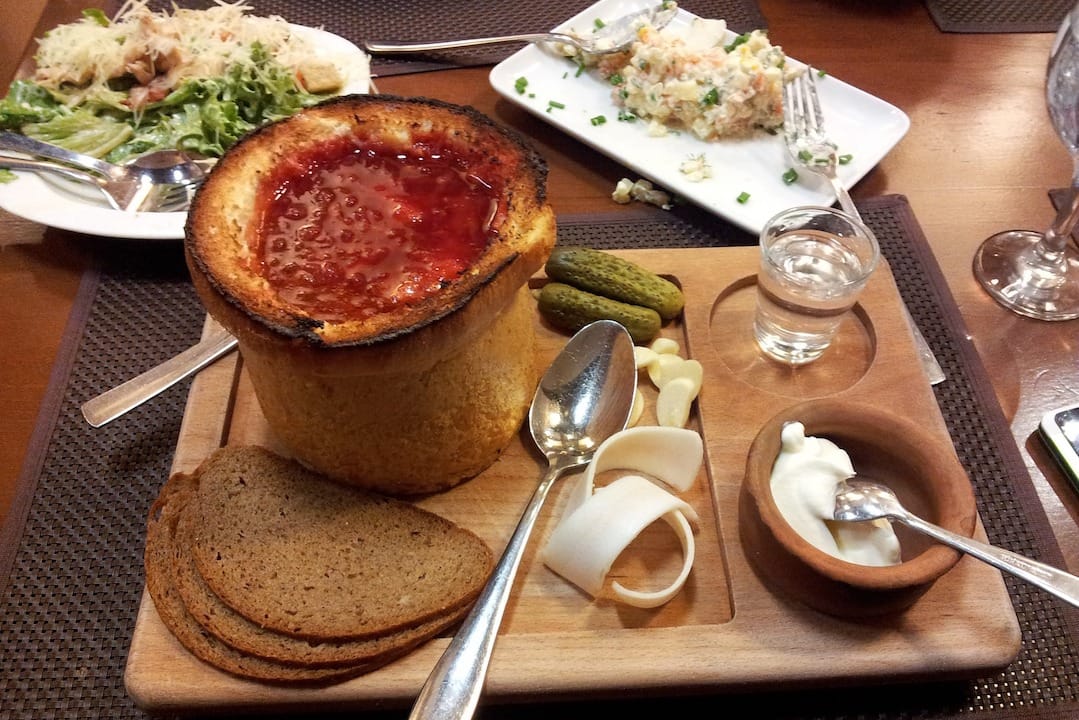 Visa regulations are relaxed and easy
When it comes to issuing visas, Ukraine is way more relaxed than neighbouring Russia and Belarus. Nationals of the EU and the USA, as well as several other countries (which includes Canada, Norway, Switzerland, Japan and South Korea), are permitted to stay in Ukraine for up to 90 days within any 180-day period. Other nationalities have to apply for a visa but by all accounts, this is a simple process, especially when compared with obtaining a visa for Russia (massive pain in the butt) and Belarus (semi-massive pain in the butt).
This relaxed approached to visa requirements (which includes land borders) makes Ukraine an enticing option for those travellers who require a Schengen visa to travel in Europe and at some point need to make a visa-run.
There are literally hundreds of onion-shaped domes dotted throughout Ukraine
It's easy to get bored looking at churches in Europe, we know, we've been there but the onion-shaped domes that adorn the orthodox churches in Ukraine are quite special, especially if it's your first time in a Christian Orthodox country and haven't seen this style before. Standout examples include Saint Sophia's Cathedral, St. Michael's Golden-Domed Monastery and St Andrew's Cathedral (all in Kyiv), the Greek-Catholic Church in Yaremche and the lovely blue and gold coloured Orthodox Cathedral in Uzhhorod. Yet none quite match the majestic Dormition Cathedral in Kyiv's UNESCO world heritage-listed Lavra. It's not often I can sit and look at a church for more than a few minutes these days but Dormition Cathedral is exceptional and merits more than the standard few minutes viewing time. Indeed the entire Lavra complex is special enough that it should really have its own listing on this blog post.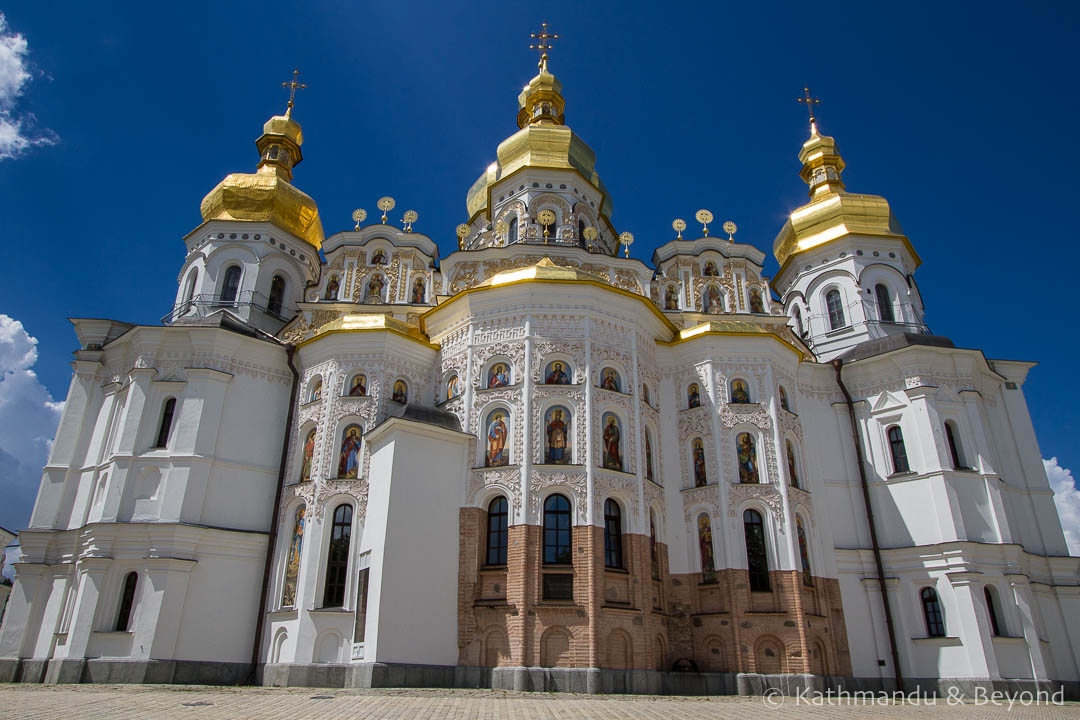 Dormition Cathedral Kievo-Pecherskaya Lavra in Kyiv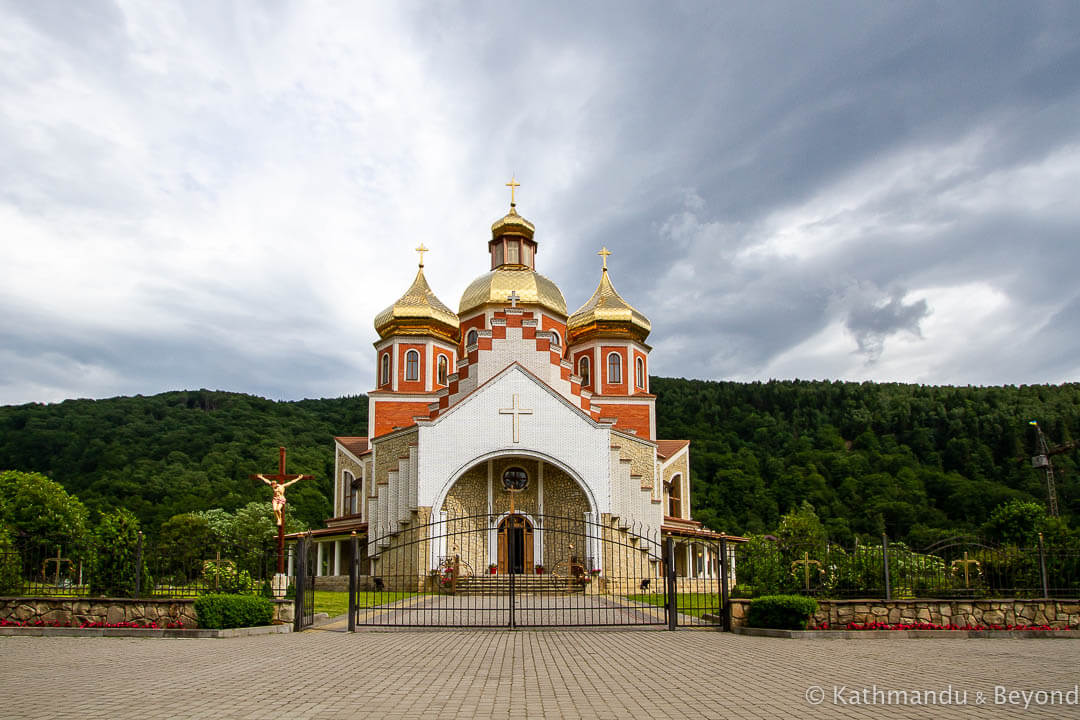 Greek-Catholic Church (Uniate Church) in Yaremche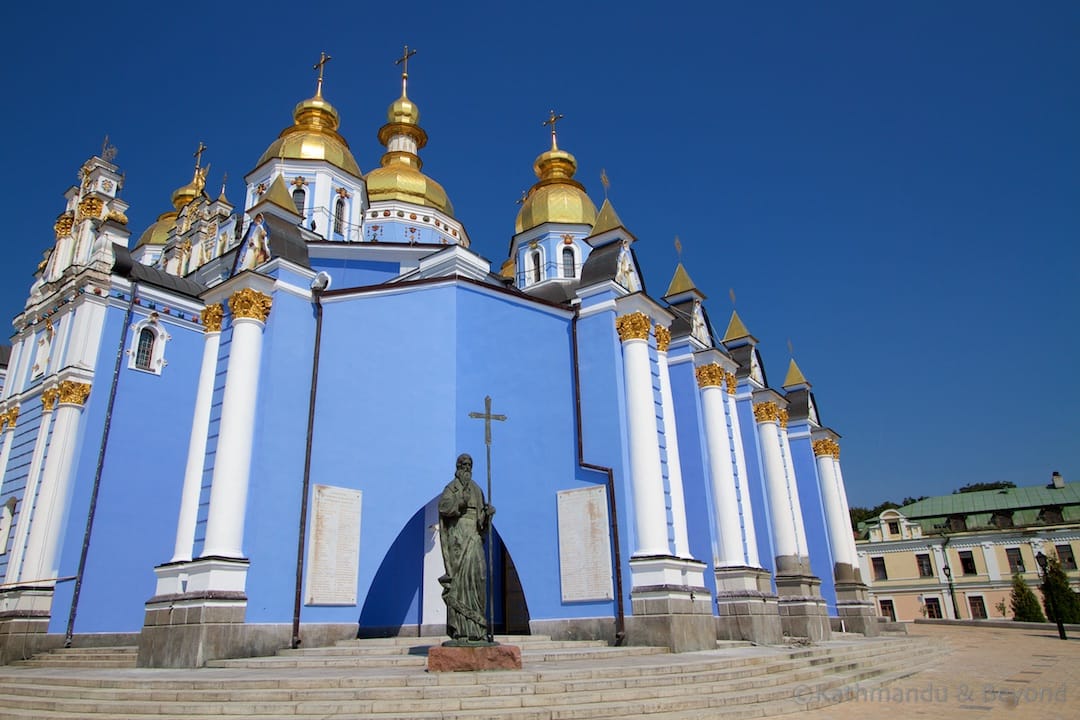 St. Michael's Golden-Domed Monastery in Kyiv
Kyiv is great as a long weekend destination from the UK and most places in Central Europe
So perhaps Kyiv isn't as well connected as some other major cities in Europe and the flight prices are probably not as cheap but what extra you spend on airfares will easily be clawed back by the low cost of living once you have arrived. Venice for €50 one way and a couple of drinks on the Piazza San Marco or Kyiv for €100 one way and a few decent nights out near Maydan Nezalezhnosti (Kyiv's main square). Money-wise, I know which one I would opt for!
Sample flying times include 3 hours, 15 minutes from London, 2 hours from Berlin and 2 hours, 50 minutes from Geneva.
Lviv is one of the most attractive towns in Central/Eastern Europe
This is a fact, according to Kathmandu&Beyond's list of Attractive towns in Central/Eastern Europe – well it would be if such a list existed! I dislike the term pretty (way too overused for my taste!) but there ain't no denying, Lviv is real pretty. It's also awesome and amazing (stop it, Mark!). Lviv is the least Soviet city that we have visited in Ukraine (*) and there is plenty to see and do including the Old Town and the very photogenic Lychakivske Cemetery. It's even got a brewery that offers tasting tours for 15uah (US$0.60) per person! We visited every day! (Only kidding.)
(*) Edit: We take this statement back. We have since been back to Lviv and found quite a bit of Soviet-era architecture, monuments and memorials. Read our ideas for alternative things to do in Lviv to find out more.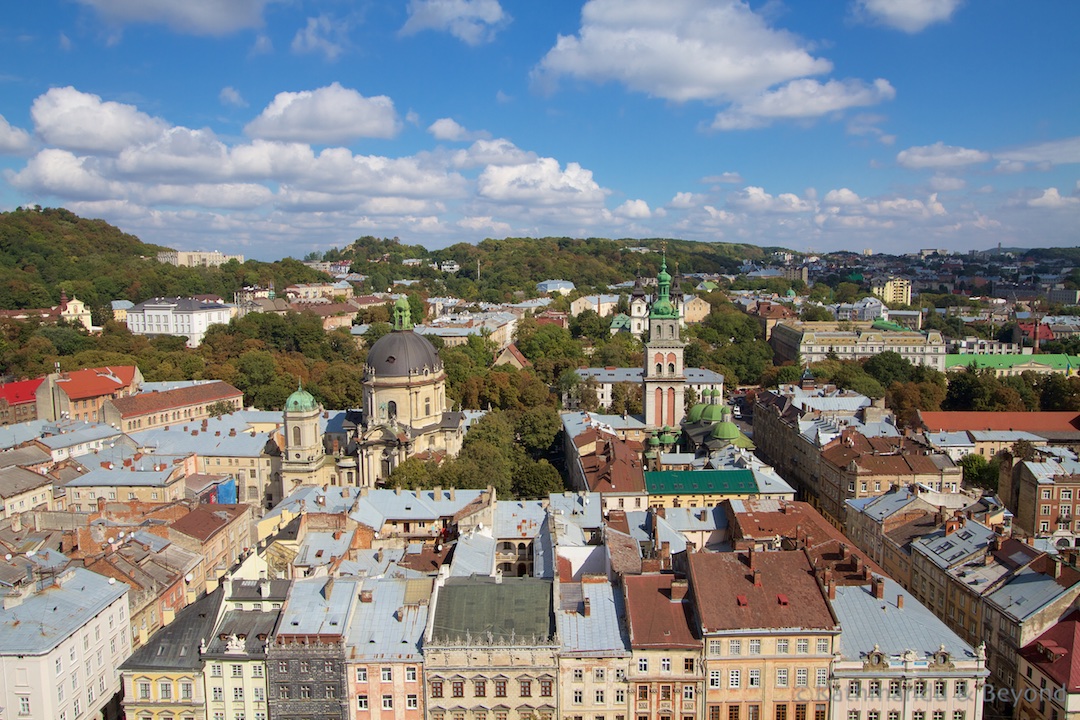 View over Lviv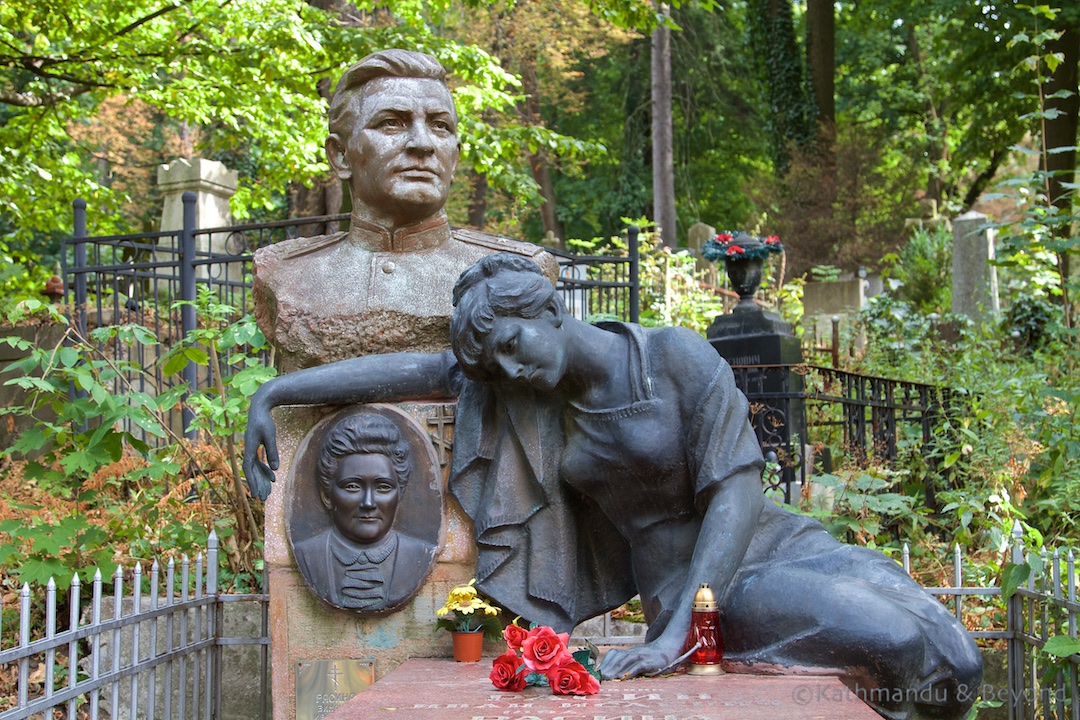 Lychakivske Cemetery Lviv
Ukraine is great for unusual souvenirs
Well, only one unusual souvenir if I'm being honest. Mostly you will only find the usual gaudy tat (traditional wall plates, matryoshka (Russian) dolls, tacky t-shirts and such things) but one souvenir that did catch our eye (and would have been purchased had we had the room in our packs) was the Vladimir Putin toilet paper! We very nearly bought some regardless of space as it was much smoother than the more common toilet paper which, how should I put it, was a tad more coarse than we were used to.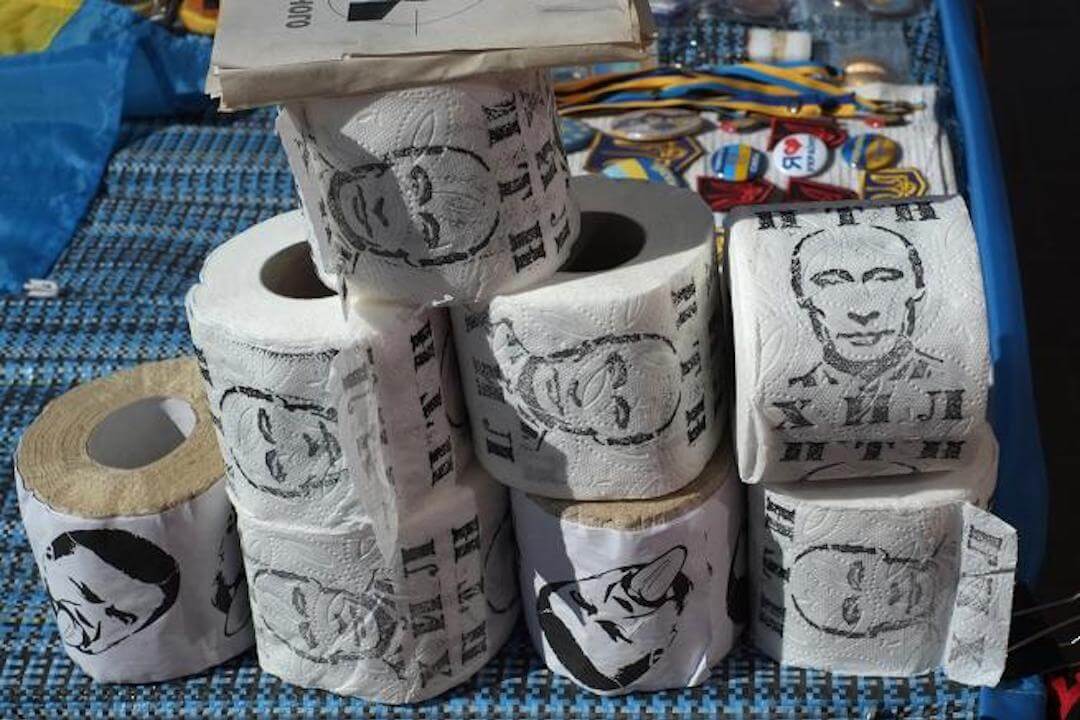 The Lada is alive and kicking in Ukraine
In many parts of Ukraine, the faithful Lada and to a lesser extent, other Soviet-designed cars such as the Moskvitch, are still the dominant mode of private transport on the roads. You will also see an interesting array of trams and trolleybuses as well as regular buses trundling the city's high streets and main roads.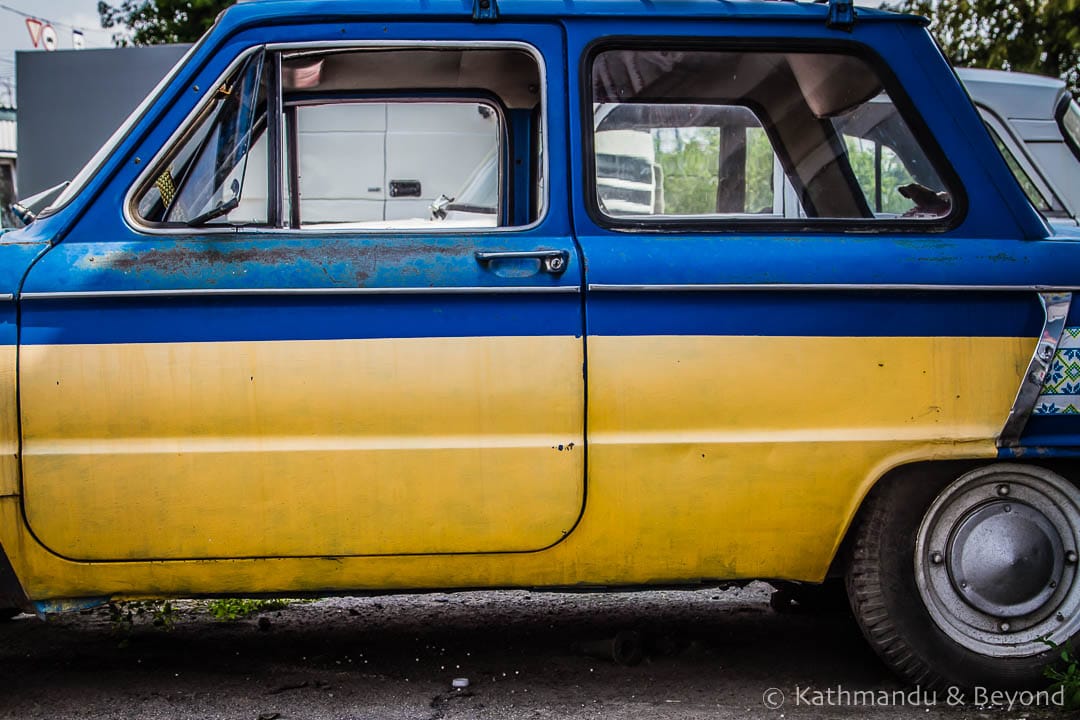 Lada-love in Ukraine
Chernobyl is
one of the most unique tourist attractions on the planet
I'm loathed to use the words tourist attraction to describe Chernobyl. After all, the Chernobyl disaster was a catastrophic nuclear accident that resulted in the death of thousands of people, both at the time and thereafter and this is not something that should be made light of. But there is no getting away from the fact that visiting the site of the disaster is singularly the most fascinating thing you can do in Ukraine. With day trips from Kyiv starting at around the US$100 mark, visiting Chernobyl is expensive by Ukrainian standards but money well spent in our opinion and if you are planning to visit Kyiv then we would highly recommend tacking on an additional day in order to see it for yourself.
Read: Pripyat: Photos from Chernobyl Exclusion Zone.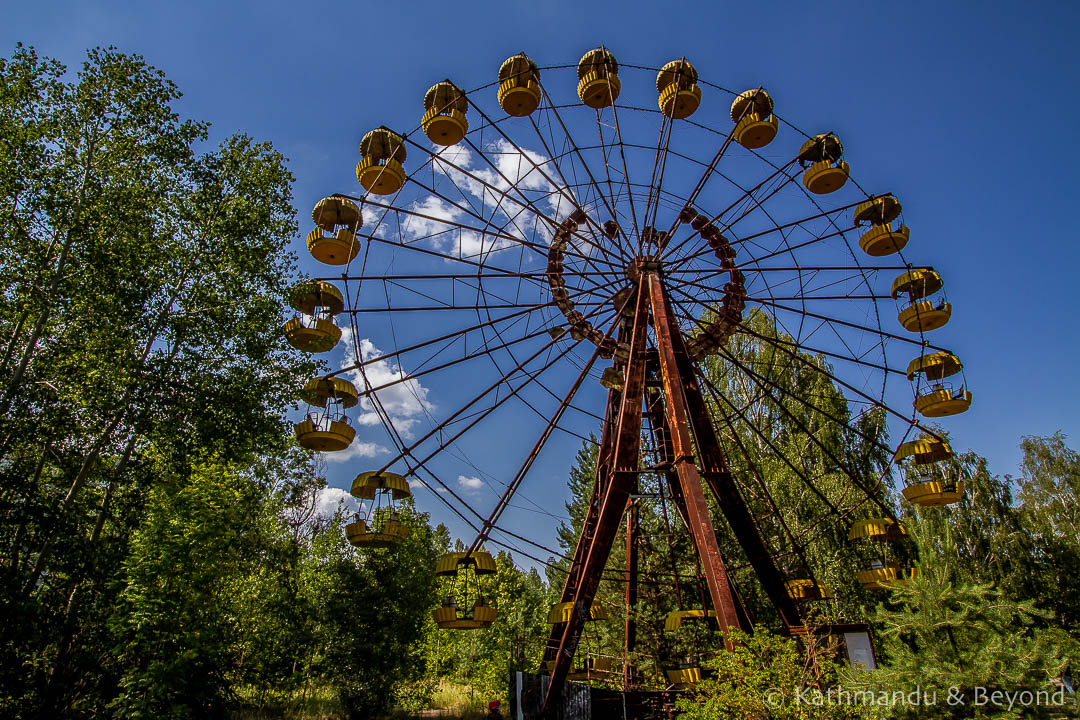 Amusement Park, Pripyat town in Chernobyl Exclusion Zone 
City Hospital No. 126, Pripyat town in Chernobyl Exclusion Zone
And finally … Ukraine is a safe country to visit
When talking about Ukraine with other travellers, invariably the first question we get asked is Is Ukraine a safe country to visit? and without hesitation, we both answer with a resounding Yes. We've spent about six weeks in Ukraine in total over two visits and never in this time have we had concerns about our personal safety or felt as if we were travelling in a war zone. A little bit more on the subject of safety and security in Ukraine …
The annexation of Crimea and the war in Eastern Ukraine
The annexation of Crimea by the Russian Federation and the ongoing conflict in the east of the country (in particular the oblasts (administrative divisions) of Donetsk and Luhansk) means these regions are off-limits. But Ukraine is a big country and when you look at the area that is off-limits on a map, it isn't that much relative to the country as a whole. It is possible to travel as far east as the city of Dnipro (formally known as Dnipropetrovsk) by public transport but beyond that, it is probably a bit tricky to do so and most certainly not an intelligent thing to do. 
We have only seen evidence that Ukraine is in the midst of conflict on three occasions during our time there and all of them were in Kyiv, on our first visit in September 2015. We once witnessed a high police (and media) presence outside the Ukrainian Parliament when we walked past (as there had been a demonstration there a few days before) plus we saw a small demonstration/show of support for Ukrainian troops in the centre of the city at Maydan Nezalezhnosti (Independence Square). Neither event gave us cause for concern. We also witnessed a large military troop movement at Kyiv's railway station. In fact, many of the servicemen boarded the same train as us, which was bound for Lviv. Once again, there were no issues and most of the guys either fell asleep or played on their phones for the duration of the journey. We assumed they were simply going home on leave.
Things can change, however, and you should always check the latest information with your own Foreign Office. If you stay away from the east and from Crimea (which apparently you can only visit from within Russia nowadays anyway), there is no reason why you shouldn't be able to safely travel around Ukraine in the same way you would in any other country in Europe.
If you want to learn more about the conflict, CNN has an excellent online article that is concise and to the point: Ukraine: Everything you need to know about how we got here.
Personal safety in Ukraine
Not so good – I kept bumping into lampposts and the like because I was distracted by beautiful Ukrainian women! I'm only joking (or am I?). I don't have any issues to report when it comes to personal safety in Ukraine. Kyiv is a big city with all the normal big-city problems (petty theft, scams, etc.) but if you take the usual precautions, you are unlikely to fall foul or become a victim. Same goes for the infamous Ukrainian mafia. Unless you are in nightclubs and/or bars you really shouldn't be frequenting anyway, you have zero chance of having a run-in with these guys.
As per the world over, taxi drivers will try and scam you for a higher fare in most places but then again, there is no need to use them as local public transport is very good in Ukraine. The only real danger to your personal safety in Ukraine in our opinion is crossing the road – keep your eyes peeled and don't dilly, dally (hang around)!
Our friend Kami, at Kami and the Rest of the World, has written an excellent article about safety in Ukraine, which you can read it detail is her post: Is it safe to travel to Ukraine? 
Ukraine is also one of the most photographically diverse countries we have visited …


Above: Uzhhorod (left) and  Vydubychi Monastery, Kyiv (right)


Above: St.George's Cathedral, Lviv (left) and Tunnel of Love, Klevan (right)


Above: Prut River, Yaremche (left) and Kharkiv (right)
---
---
---
Have we inspired you to travel to Ukraine? Pin it! Just click on a pin below!


---