Where Are We Now?
Live from the Road…Our Social Media feed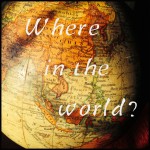 We're currently in England. Although overseas travel is tentatively opening up, there is still much uncertainty. For now, we have decided to remain in the UK, and explore some of our home country. 
Although you can see which country we are in at the moment by the flag on our homepage, our recent posts often don't reflect our current location (especially at the moment as we're mostly sharing some #throwback content combined with new posts about past travels. Our Facebook and Instagram pages are usually a good way to track our most recent moves, but for those who don't subscribe to the world of social media but still want to keep up to speed with our latest news and whereabouts, this page is for you. It's as close to a "live feed" as we'll probably ever get!
Stay on the radar…
Subscribe to our newsletter to receive our latest blog posts as well as our latest news from the road less travelled…