We were following a barely discernible track traversing the grazing pastures which are home to nomadic Kyrgyz families and known locally as the jailoo, the rain beating down on our 4WD and the mist lying heavy on the endless horizon.
Our destination was Peak Lenin Base Camp, one of the most eagerly anticipated spots on our Kyrgyzstan travels, and our reward was to be panoramic views of majestic Lenin Peak. Only the weather wasn't playing ball… again.
We'd spent the previous night in a yurt at Lake Tulpar Kul. As the crow flies, Peak Lenin Base Camp is only a few kilometres away but valleys and ridges separate the two and our vehicle needed to return to the village of Sary Mogol, an hour away in order to backtrack for another hour on an almost parallel track.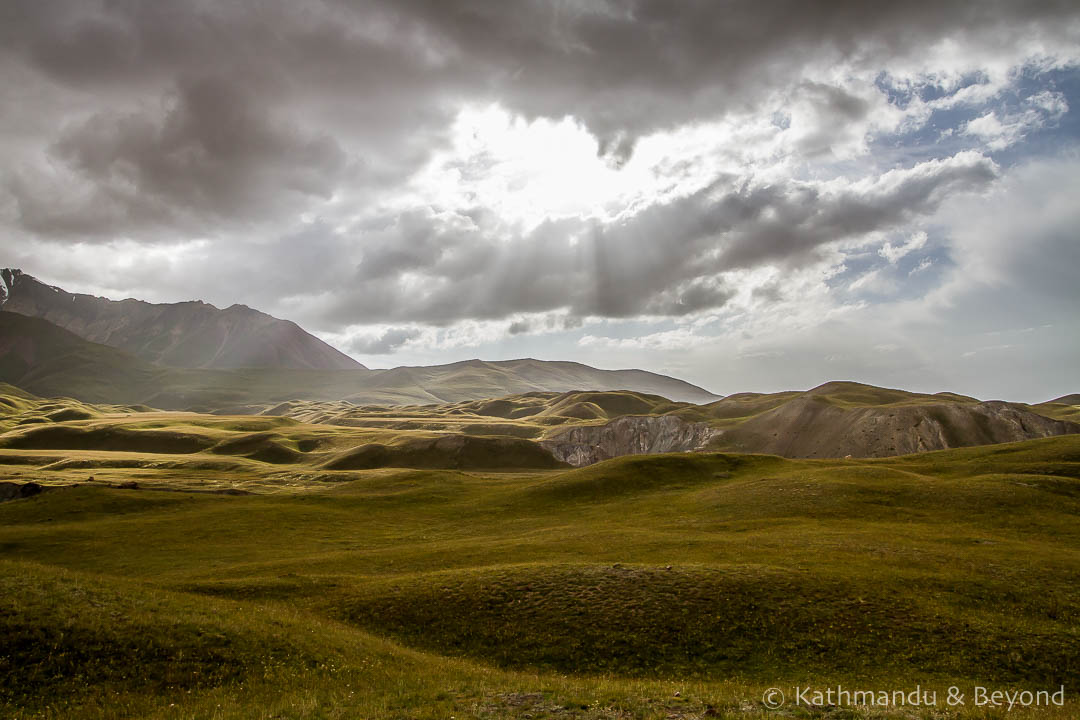 We were at Lake Tulpar Kul to watch the annual Nomadic Horse Games and whilst the day had been dry, we woke up in the night to the sound of rain battering the felt roof of our yurt. Staying in a traditional Central Asian yurt is a great experience… until it rains! Generally, I'm not too fond of the hole-in-the-ground toilet but they lose any possible redeeming features pretty rapidly when the need to take a pee in the middle of the night involves dressing in waterproofs and pulling on walking shoes in a sleep-induced state to make a 200-metre dash under heavy rainfall in the pitch black to a rickety wooden shed in the middle of nowhere!
It was still raining when we woke and cold as well: the warmth from the wood-burning stove in the centre of the yurt had long died out. At breakfast, a plate of greasy fried rice that looked much the same as our meal the previous evening was placed in front of us and we grew despondent. This was hardly going to set us up for our journey across the jailoo.
So there we were, bumping along towards Lenin Peak with the prospect of spending another night camping in the rain …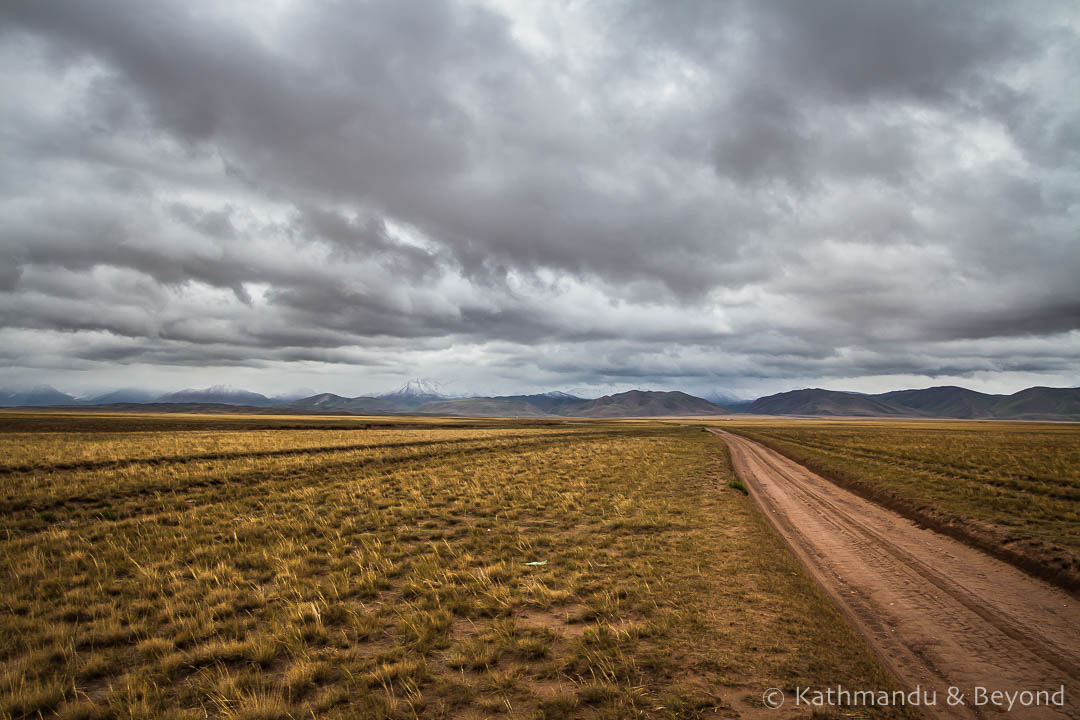 Lenin Peak is firmly planted on the border of Kyrgyzstan and Tajikistan and is the third-largest mountain in the former Soviet Union. At 7,134 metres, only Jengish Chokusu (7,439 metres) on the Kyrgyzstan – China border and Ismoil Somoni Peak in Tajikistan (7,495 metres) are higher.
The mountain is considered to be one of the easiest 7,000ers to summit, but we weren't there for a challenge in any way close to that scale. We just wanted to gaze upon the mountain, be awed and take a few photographs! Only we couldn't see either the proverbial nor the literal hands in front of our faces!  The rain got heavier and by the time we arrived at Base Camp, the weather was nothing short of downright miserable! At 3,600 metres above sea level, the rain was turning to icy snowflakes but not the pretty crystallised confetti kind – these were the sort that bite into your skin.
Our home for the night was Ak-Sai Travel's Achik-Tash camp and as we approached we could make out their bright yellow two-man tents through the thick cloud; standing in neat rows on top of the ridge.
We arrived at the camp and were met and ushered into the large dining tent packed with expectant climbers clad in branded climbing gear. It wasn't particularly warm, but it was dry. Just as we sat down, lunch was served and plates were put in front of us.  We looked at each other in amazement: salmon steaks, fresh vegetables and creamy mashed potato! A far cry from the greasy fried noodles we'd eaten for three meals on the trot at the Tulpar Kul yurt camp! It was delicious too, and the salmon was preceded with soup and followed by dessert (freshly baked sponge pudding!). Things were looking up.  Whilst a good meal couldn't compensate for the lack of views, it was better than greasy noodles and no views!


The dining tent at Peak Lenin Base Camp
Later that evening, dinner was also three courses but the main dish was simpler and more traditional – plov (rice, meat and vegetables). However, of the countless plates of plov we ate during our time in Central Asia, this was definitely one of the best! The kitchen is filling bellies for a day on the mountain and, unsurprisingly, breakfast was equally satisfying. Tea and coffee were available during meals and water bottles could be filled from urns of hot water at any time. There was also a small bar in the corner of the dining tent offering beer and spirits for an additional charge (more than you'd pay normally, but reasonably priced considering the remote location). Additionally, the dining tent held another rare treat – Wi-Fi!
After lunch, we were shown to our tents. The rain had eased off a little but it was still extremely cold and I was dreading the prospect of a night under canvas. I think we were all worried we would be frozen to the core but my spirits lifted when I saw our tent – a cosy two-man tent, seemingly brand new, with two camp beds each covered with an incredibly puffy sleeping bag and, just in case, a snuggly fleece blanket. The tents also had an electric light and a power socket… the height of luxury in the wilds of Central Asia!  With the addition of an outer area to store boots and bags, the tents were well-designed. As it was, we needn't have worried about the cold – we had one of the warmest and cosiest night's sleep of the trip! Getting out for a pee at 3am was a different story!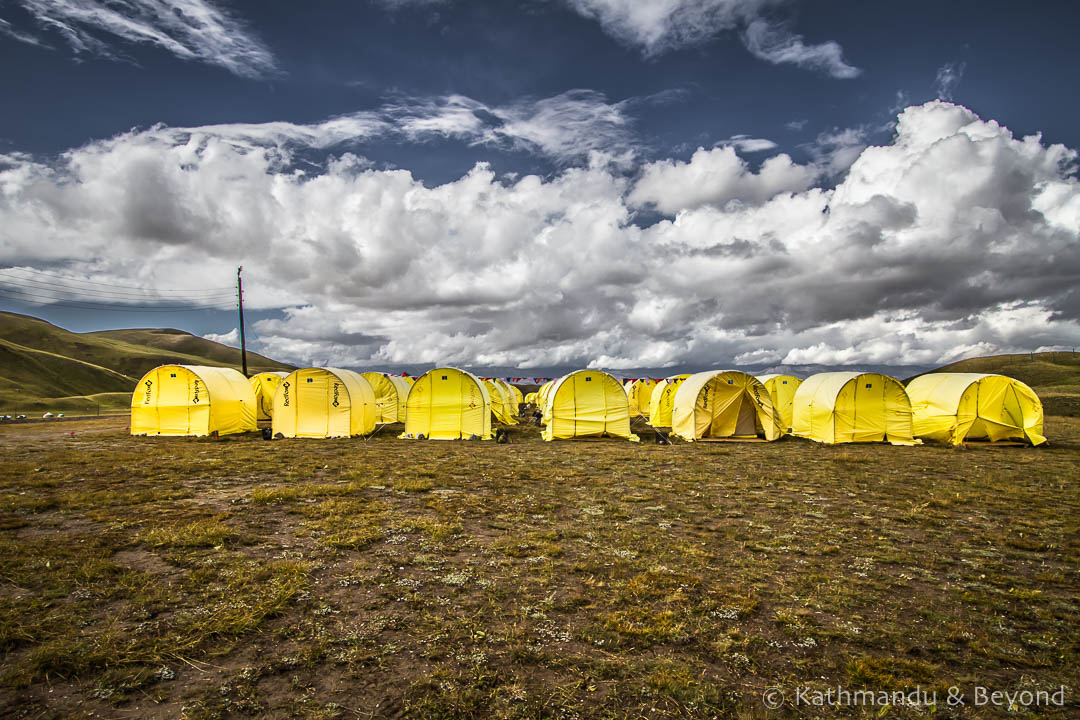 Inside the tents at Peak Lenin Base Camp
While we're on those kinds of practicalities, we were all excited to discover that we could have a hot shower! Housed in a converted storage container, this was another wonderful surprise!
By mid-afternoon, the rain had stopped and the clouds had started to break up a little so Mark and I decided to head out for a walk. We climbed a small hill for a panoramic view of the area. Looking back towards Lake Tulpar-Kul the gently rolling hills were dimpled with smaller pools.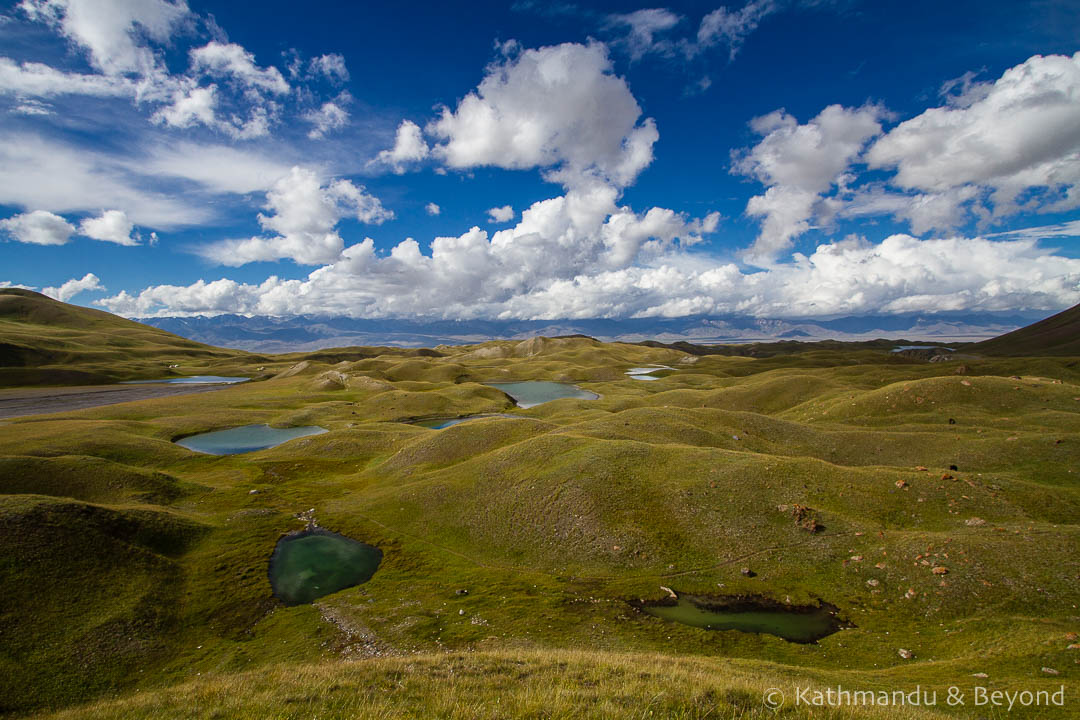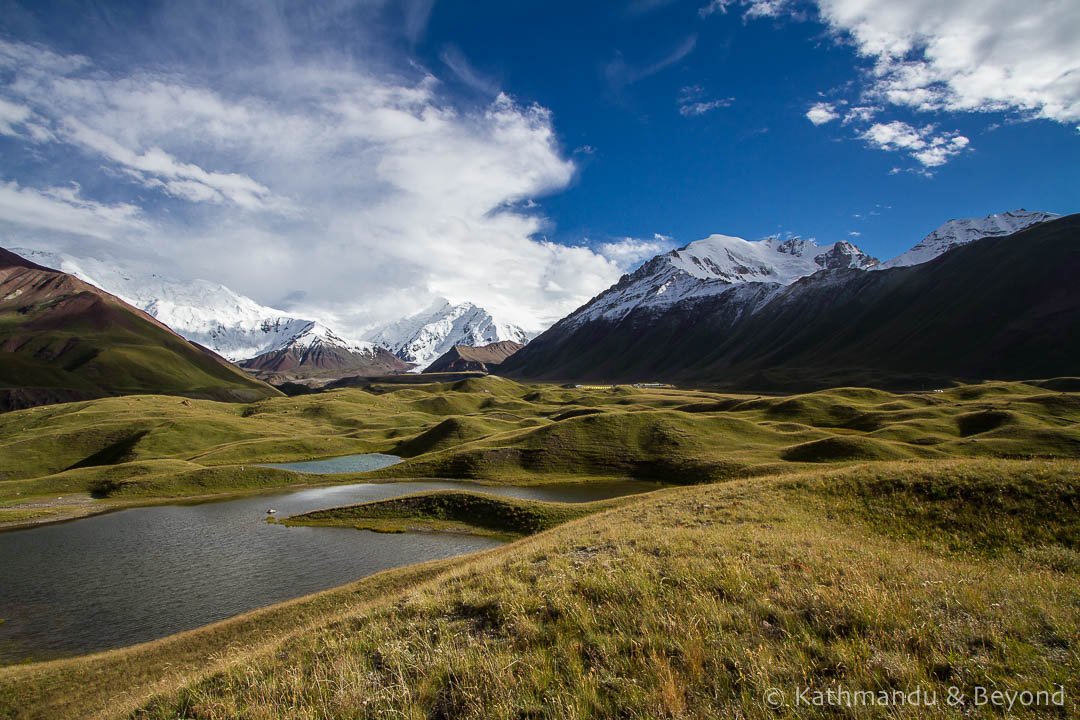 Turning around, we were facing Lenin Peak but we couldn't see it: clouds were obscuring any views of mountain peaks but the wind was quite strong and the clouds were moving across the sky so we waited patiently.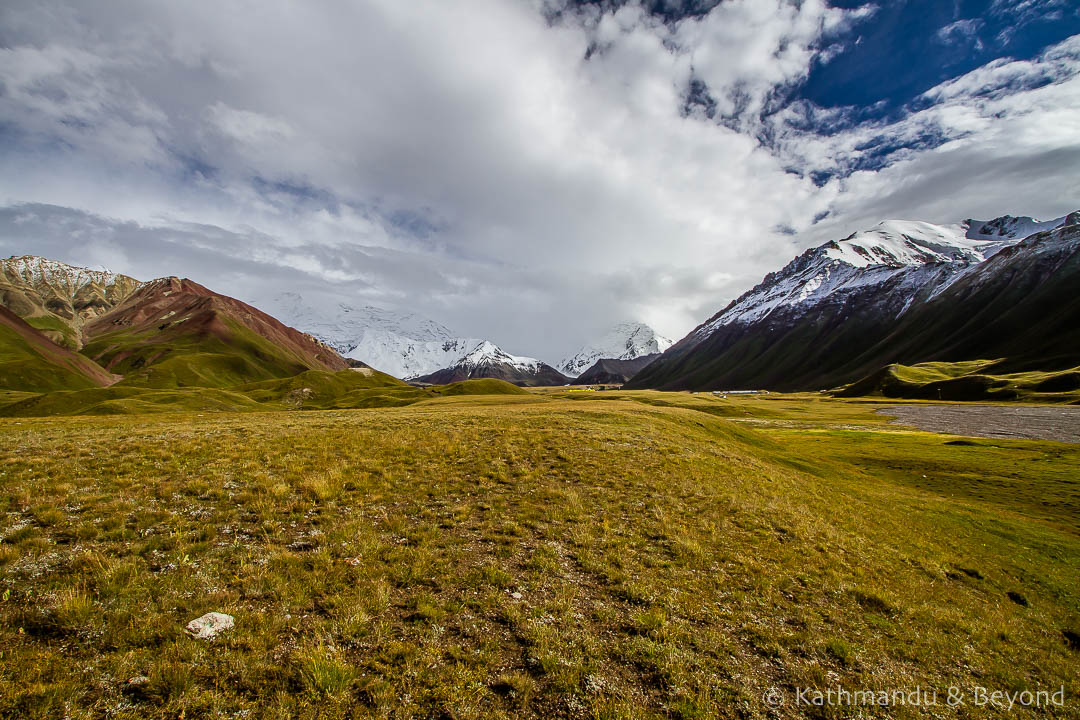 It was worth the wait and before long, although the clouds were still touching the mountain tops we were rewarded by some fantastic views ….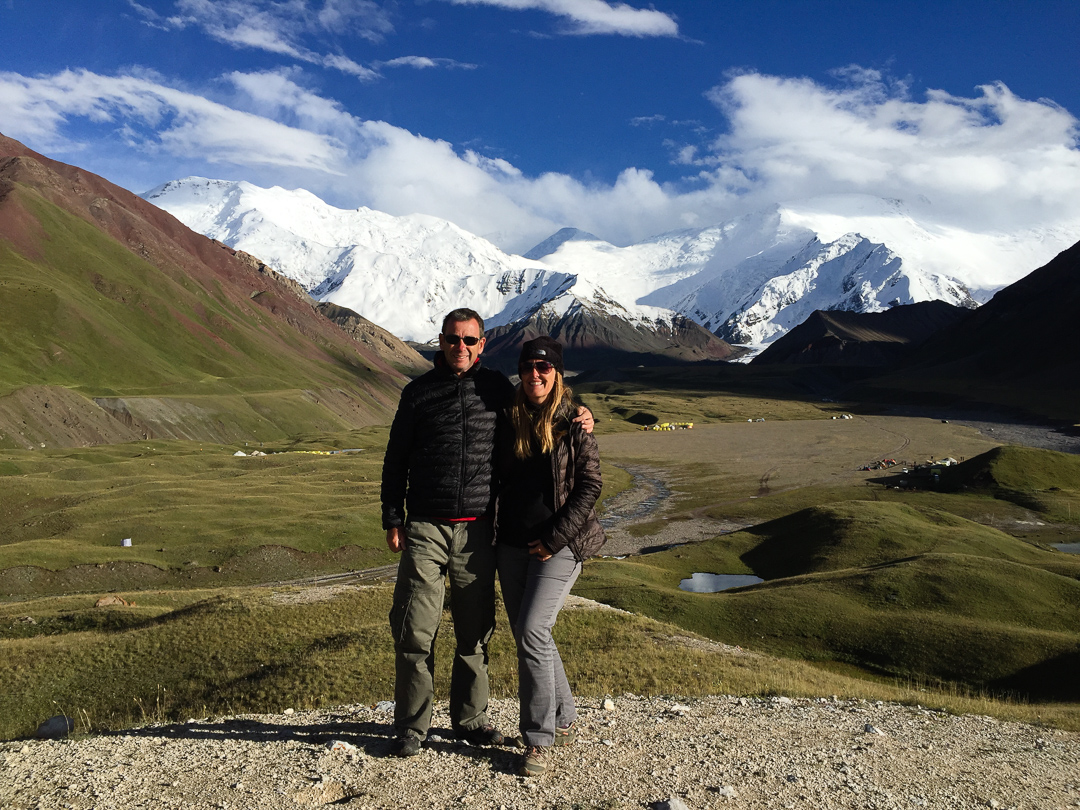 Meals times are fixed at the camp so we headed to the main tent for dinner. The mood was optimistic – we were surrounded by climbers who had been grounded by poor weather for too many days and they were all getting itchy climbing boots. After we'd eaten, and with a mug of tea in hand, I stepped outside the tent to check the weather. Wow …
At this point, I will stop rambling and just say it with photos!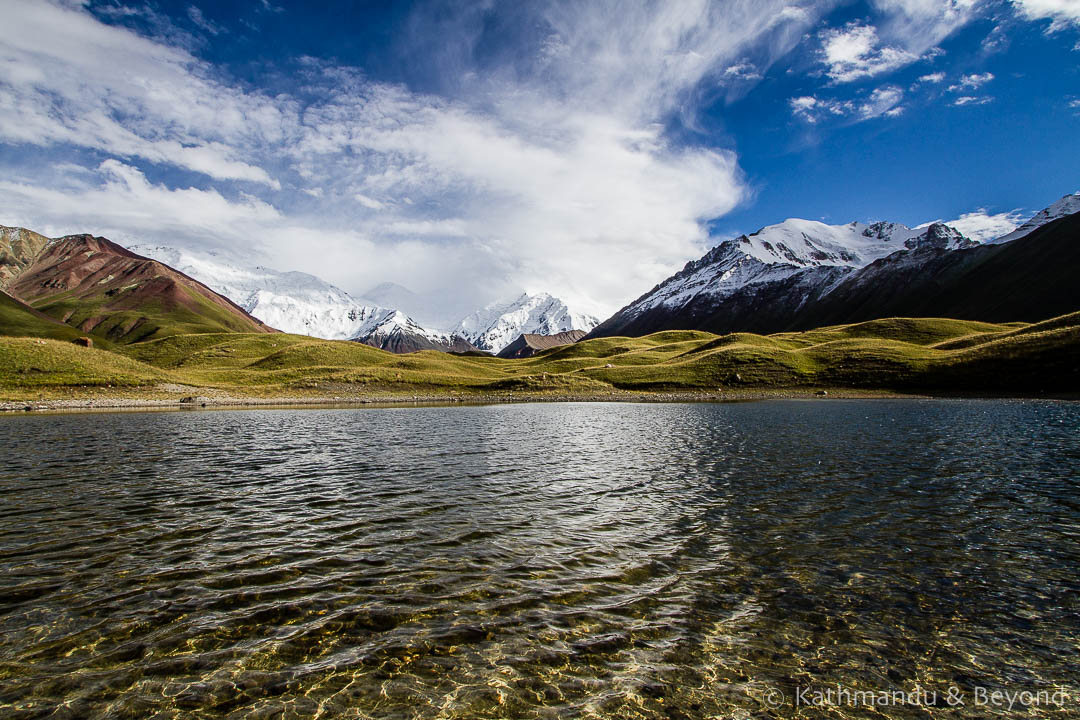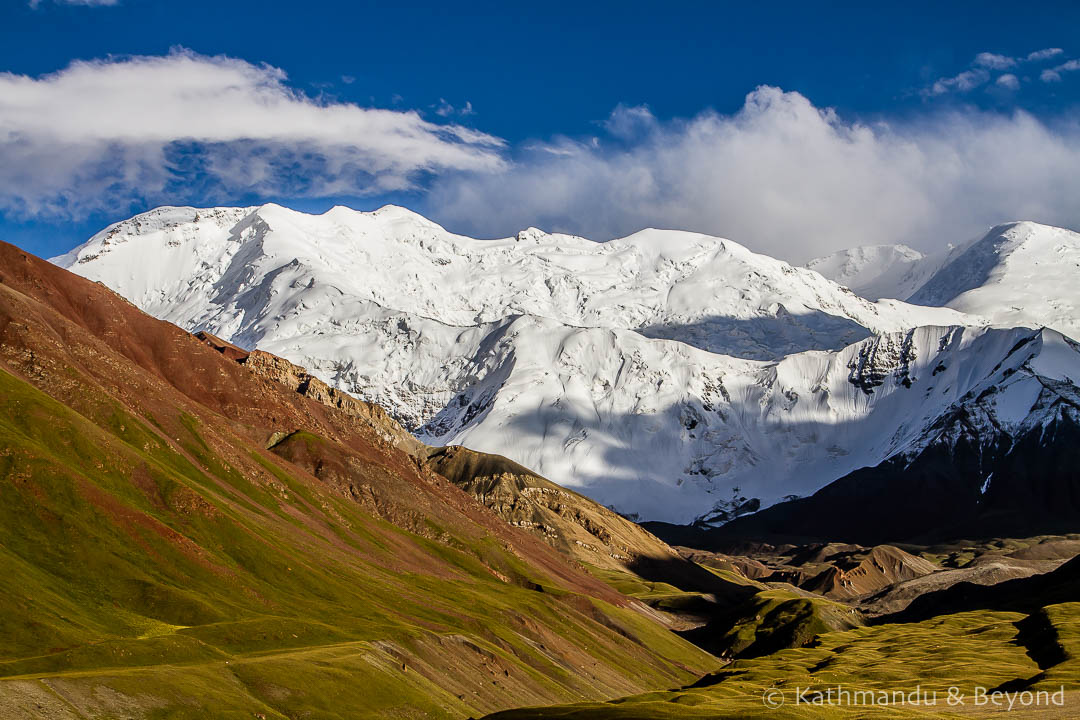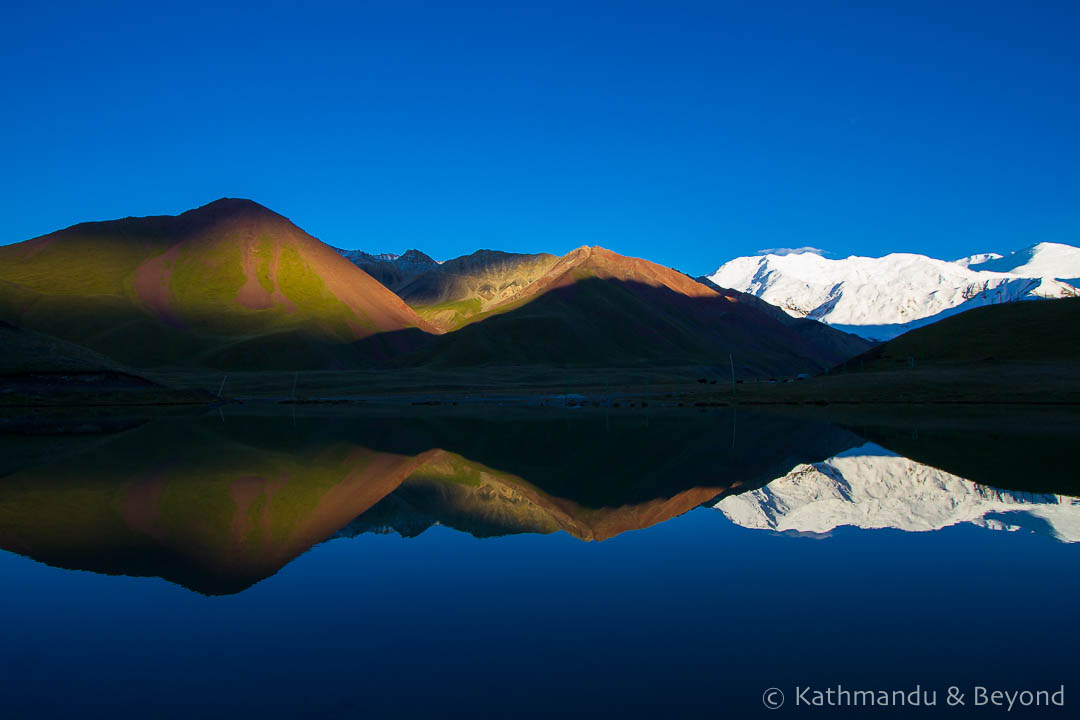 As night fell, the stars came out and the yellow tents glowed in the dark.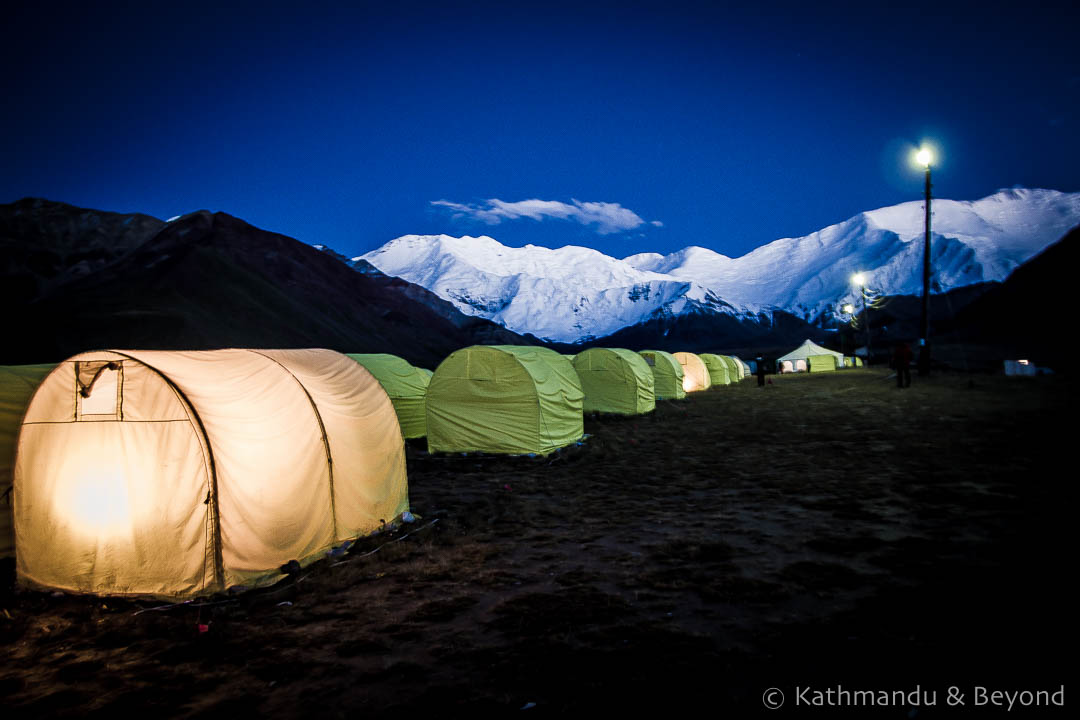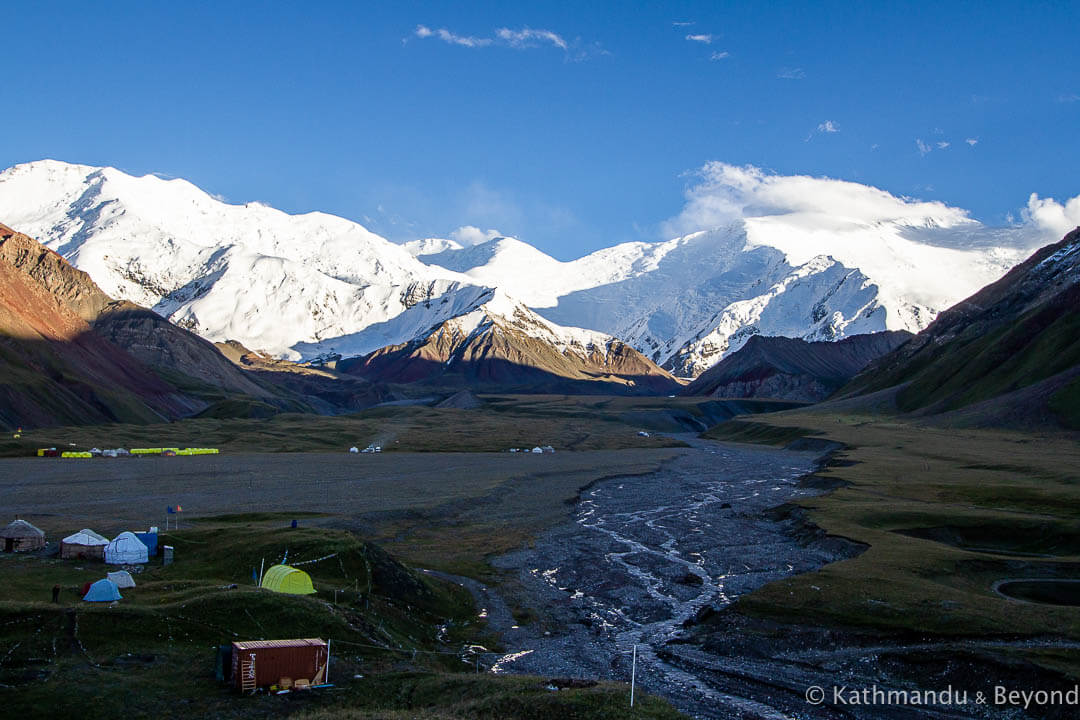 We awoke to an equally glorious day and rushed around excitedly taking more photographs prior and after breakfast until, before long, it was time to move on towards … Tajikistan.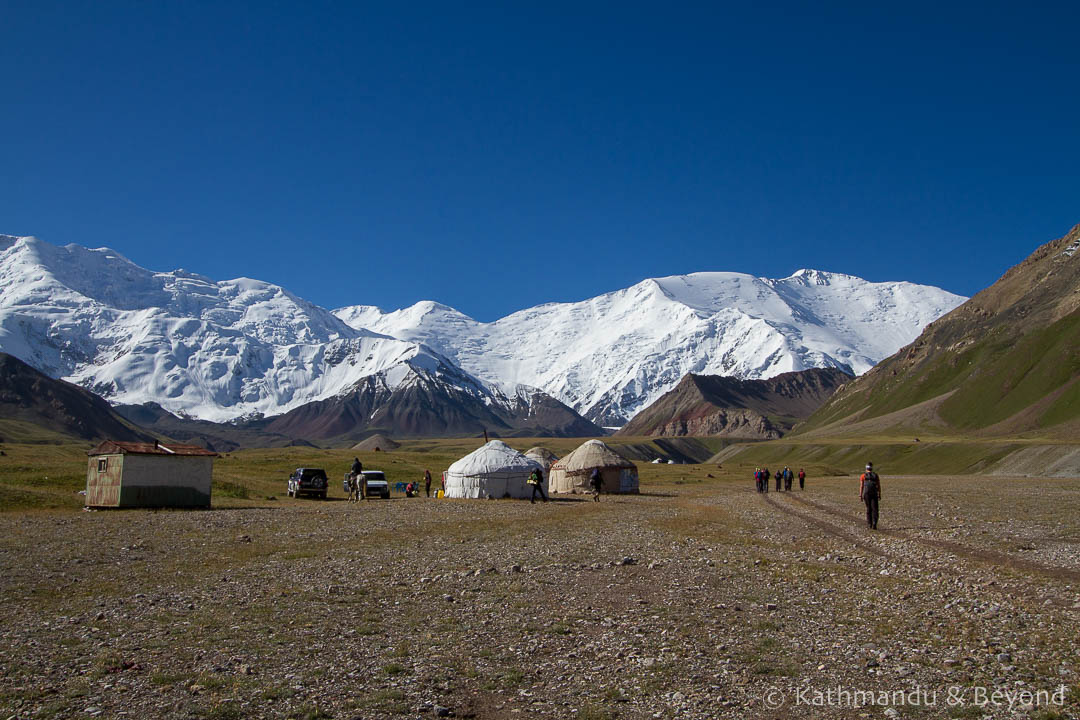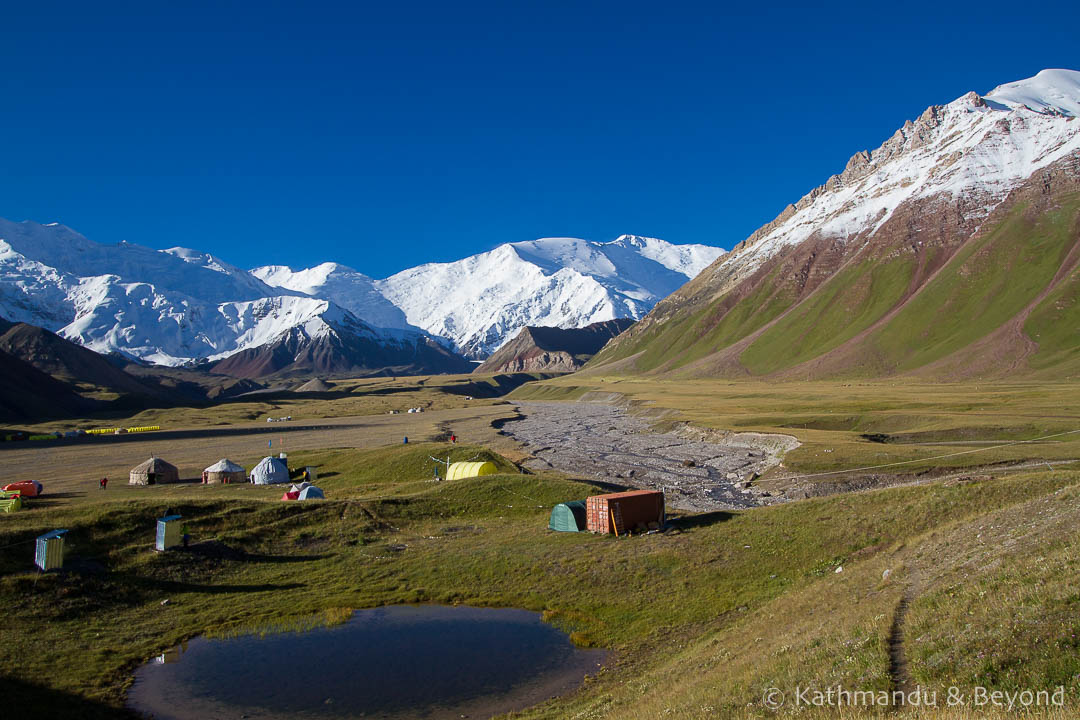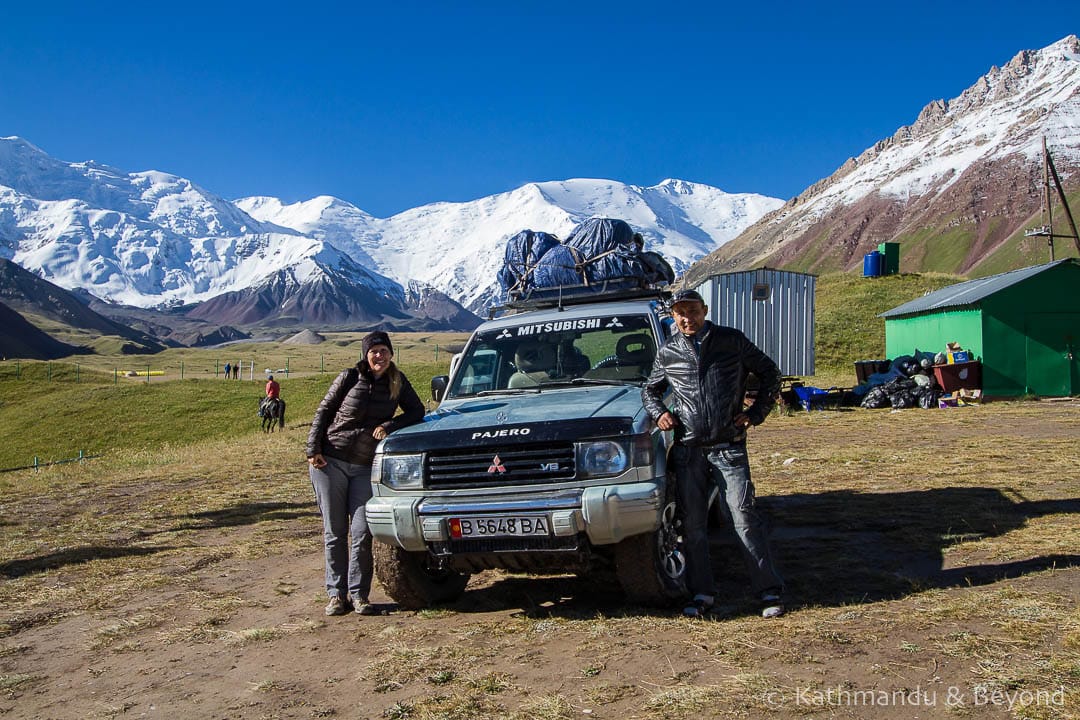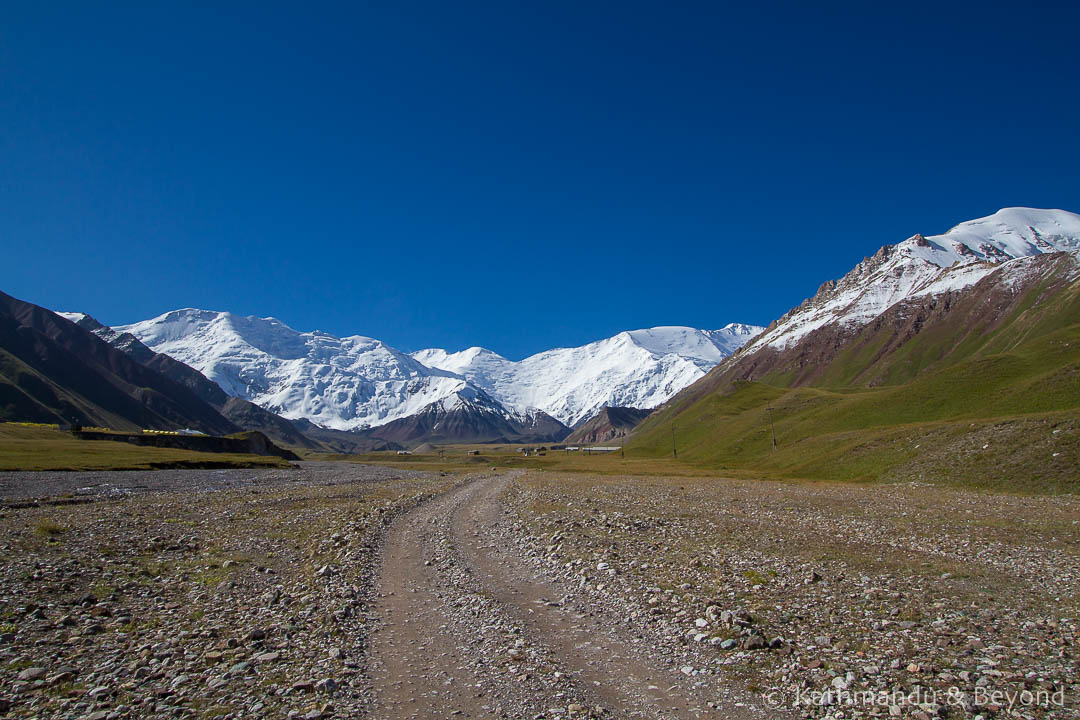 PRACTICAL INFORMATION FOR TRAVELLERS TO PEAK LENIN BASE CAMP
WHERE TO STAY FOR VIEWS OF LENIN PEAK
As touched on above, there are two places in Kyrgyzstan where you can base yourself for views of Lenin Peak. One is the CBT yurt camp near the shores of Lake Tulpar Kul, where outside of the annual horse games, the area is all but deserted save for a handful of tourist yurts. The thing about staying at Tulpar Kul though is that you can't actually see Lenin Peak and the surrounding dramatic snowcapped mountains from there. I'm not saying the scenery around the lake isn't beautiful. It is, but to see Lenin Peak from the yurt camp you need to hike out for around an hour or more to reach a decent viewpoint, and then hike back! Some travellers do this, but as a result, many miss out on the best views. If that had been our plan, with the weather the way it was, we would have had to give up on the idea and move on…
The second spot and the place which offers far superior views of Lenin Peak is Lenin Peak Base Camp. Sometimes referred to Achik-Tash, the name of the plateau on which Base Camp is located, it is the starting point for climbers attempting to summit the mountain. Base Camp consists of a handful of tented camps and a couple of small yurt settlements. The camps are operated by various companies that arrange climbing expeditions and sits in a basin at 3,6000 metres surrounded by the Trans-Alay mountain range which includes Peak Lenin itself. We stayed at Achik-Tash Base Camp, operated by Ak-Sai Travel which felt like it was the largest, most comfortable and professionally run camp.
DO YOU NEED SPECIAL PERMISSION TO GO TO PEAK LENIN BASE CAMP?
Whilst it's possible to go to Tulpar-Kul Lake without any additional permits, you do need permission to visit the region in which Base Camp is located. It was a very simple process – we emailed copies of our passports to Ak-Sai Travel and they took care of everything. There was no additional cost for the permit. That said, no-one bothered to check if we had permission to visit Base Camp.
ADDITIONAL INFORMATION FOR AK-SAI TRAVEL'S ACHIK-TASH BASE CAMP
The camp is only open from 25th June until the 1st September, to tie in with the climbing season.
The nightly cost for one night at the camp is US$30 per person which includes three meals, tea/coffee and hot water (both for drinking and showering). The average cost for an average homestay in rural Kyrgyzstan and along the Pamir Highway is US$15 person including breakfast (and sometimes, but not always, dinner) but we feel the splurge would be well worth it, even if you're on a budget.
And one final surprise … Base Camp has a mobile phone signal meaning you can upload photos to Facebook or Instagram via 3G from the cosiness of your sleeping bag if you don't want to hang out in the main dining tent to use the Wi-FI!
LOCATION AND HOW TO GET TO PEAK LENIN BASE CAMP
The closest village is Sary Mogol, a 3-hour drive south of Osh. From Sary Mogol, the drive to Base Camp is approximately 1 hour. If you're following the Pamir Highway, Sary Mogol is about a 30-minute westerly detour off the M41 at Sary Tash.
The location of Peak Lenin Base Camp
If you are visiting Peak Lenin as a side trip from Osh, Ak-Sai Travel can provide transfers for US$25 per person and if money is no object, they can even arrange for you to be flown in by helicopter!
We visited Peak Lenin Base Camp as part of our longer Pamir Highway and Wakhan Valley adventure and so had our own driver and vehicle. Note that the camp doesn't have any separate facilities for drivers and guides – they can be accommodated but the price is the same for everyone. Bear this in mind if your transport price includes an allowance for the driver's accommodation and food – our arrangement factored in US$15 a night for our driver and so we offered to pay the extra so he could also stay at the camp. In the end, he preferred to find a nearby family and stay in their yurt (and presumably keep back most of his US$15 allowance, which is fair enough).
Full details of Achik-Tash Base Camp and all the services offered by Ak-Sail Travel can be found on their website.
Disclaimer: We were invited to stay at Achik-Tash Base Camp as guests of Ak-Sai Travel. We were under no obligation to write about it on our website. However, we both agree that it is an experience we would happily pay for out of our own pocket and highly recommend it to other travellers.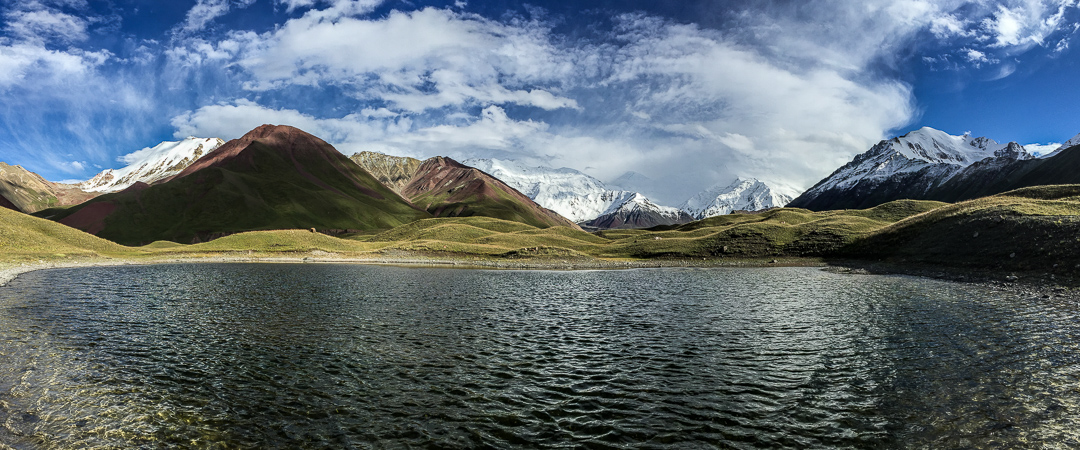 ---
LIKE IT? PIN IT!


---