How to spend a few days exploring Lodz, Poland's third-largest city
Lodz (pronounced woodge), approximately 130km south-west of Warsaw, is not a city that instantly grows on you. But dig a little deeper and you'll find plenty of things to do in Lodz. It doesn't have the (almost) mandatory picturesque square that you will find in so many of Poland's other cities and towns. Instead, the centre of the city is dominated by a wide and rather long, central boulevard named Piotrkowska Street. What's more, Lodz is a grand city, not a pretty one (another adjective that can so often be attributed to numerous Polish cities and towns). Its more recent heritage lies in industry, textiles to be precise, and the city grew magnificently wealthy in the 19th century off the back of its production. At its height, Lodz was the main centre of textile manufacturing for the then-mighty Russian Empire and was sometimes referred to as the Manchester of Poland. As a result of all of this wealth, rich mill owners and industrialists, such as Izrael K. Poznanski (see below), left their mark by building opulent palaces and mansions throughout the city.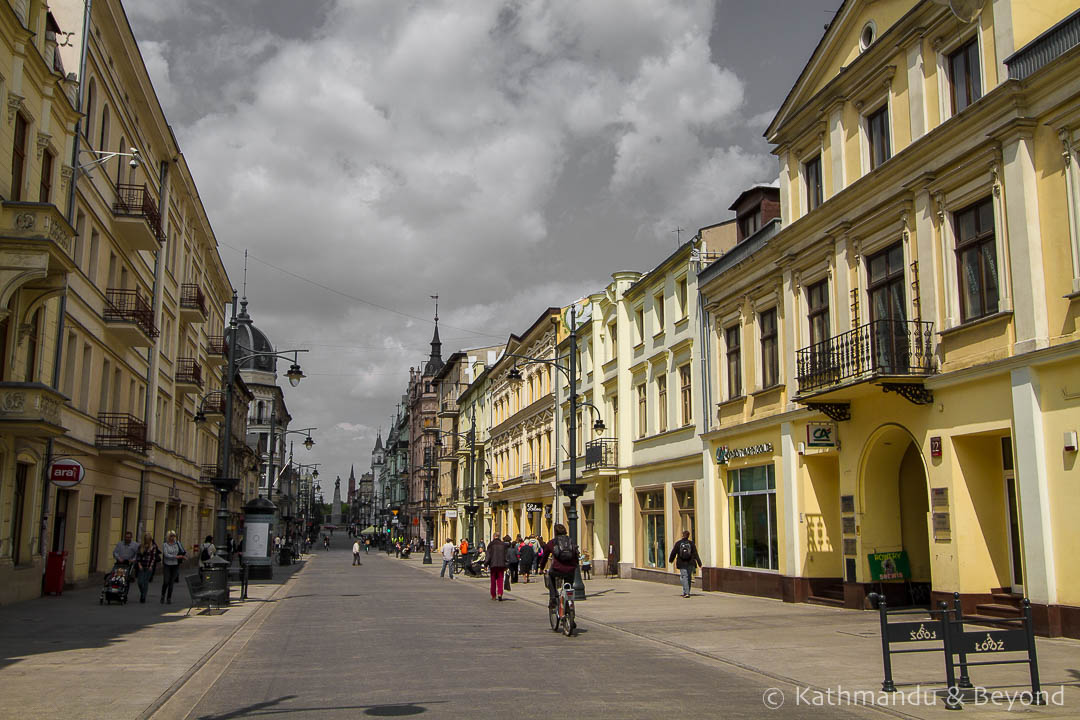 There are also plenty of former textile mills and factories scattered throughout. Some of these buildings, for example, Manufaktura and OFF Piotrkowska (again see below), have been renovated and turned into shopping malls, restaurants, bars, boutiques, offices etc. but you still see plenty of rundown or part-renovated ones as you walk around and discover the city. How long this will be so is a good question. Lodz is a city of rejuvenation. Millions of euros have been poured into it in recent years and everywhere you look, buildings and streets are receiving tasteful facelifts. For the time being, though, the grit is still there and it is this Beauty and the Beast combination that makes Lodz one of Poland's most engaging cities to visit.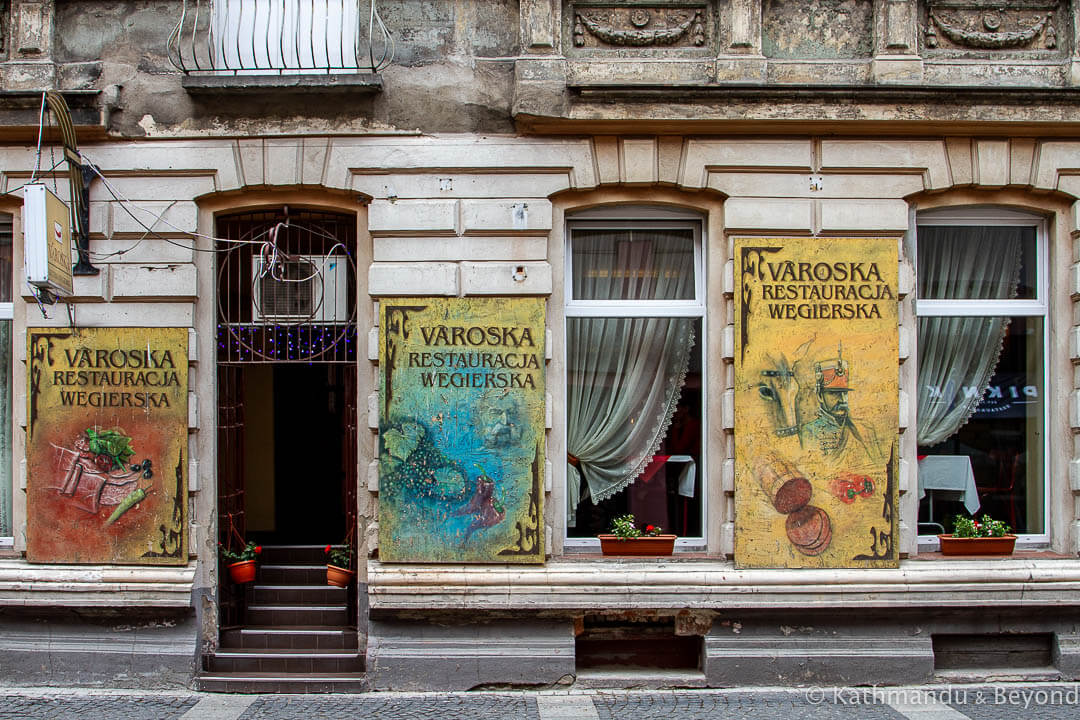 As a result of the Great Depression of the 1930s, the devastation of World War II and decades of Communist rule, the city's industrial strength fell into serious decline in the 20th century but Lodz also has a second industry that is active and doing rather well and that is filmmaking. Nicknamed Hollywoodge, Lodz has long been accredited as the centre of Polish movie making. Several renowned Polish directors, including Roman Polanski, attended the National Film School in Lodz, while part of the city's Cinematography Museum is dedicated to the Polish movie industry (the rest of the museum is devoted to carved wood panelling!). The city even has its own Walk of Fame located outside the Grand Hotel on Piotrkowska Street.
Things to do in Lodz?
Self-guided walking tour of Lodz (approximately 5 hours)
The Tourist Board on Piotrkowska Street is a good place to begin a walking tour of the city. Firstly get yourself a city map and also ask the Tourist Board for a copy of their free guidebook entitled Jewish Landmarks in Lodz. This useful publication highlights what there is to see in the Litzmannstadt (former Jewish ghetto) district of the city and without it, a self-guided visit to this particular part of the city would be fairly meaningless as you won't know where to go and what to look out for. If the Tourist Board on Piotrkowska Street doesn't have a copy of this guide, try the branch at Manufaktura, which you will pass before heading up to Litzmannstadt. Alternatively, download it from the Tourist Board's website.
With maps in hand, head along Piotrkowska Street in a northerly direction. Outside the Grand Hotel you will see plenty of bronze stars honouring famous names from the Polish film industry – Lodz's own version of Hollywood Boulevard!
Remember to look up as you walk along the street. Although much of the city's key architecture was either destroyed during World War II or allowed to fall into a state of disrepair in the wake of the Communist-era, many buildings on Piotrkowska Street have now been restored or are in the process of being so. That said, we also enjoyed ducking off the main drag to look at some of the side-streets and courtyards, many of which are still fairly rundown and full of character.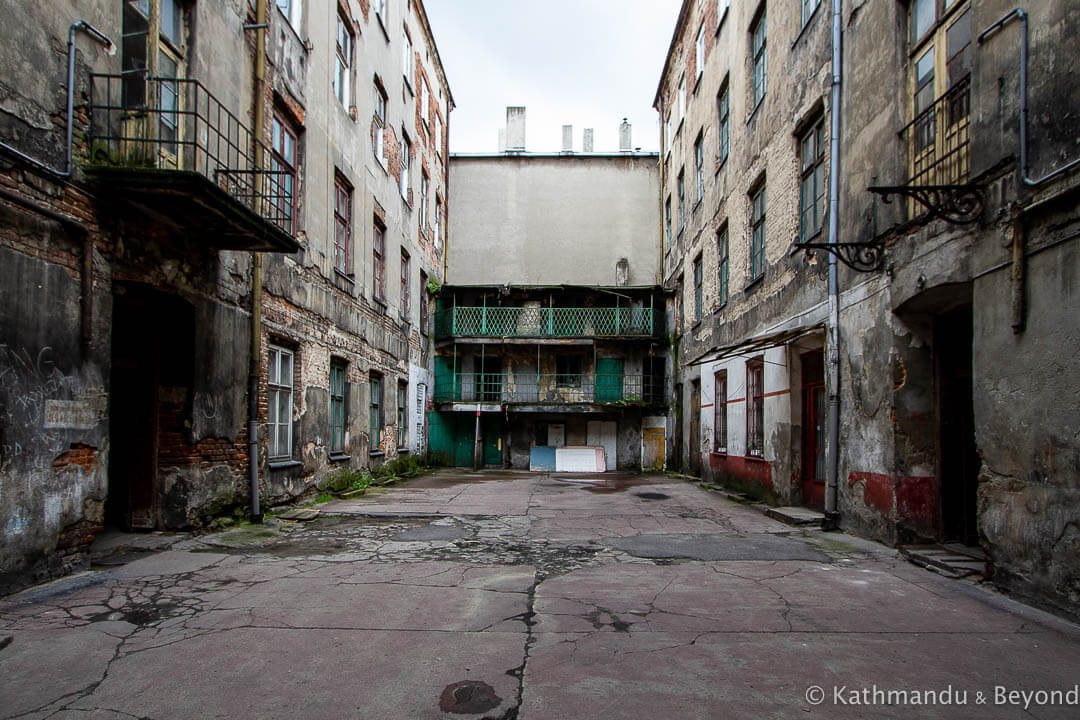 Before you reach Plac Wolnosci (Freedom Square) at the top of Piotrkowska Street, take a left down a gated side alley (more or less opposite the Church of Pentecost) to visit the Former Hotel Polski. Now apartments, the building is noteworthy as it is completely covered in tiny pieces of mirrors. Of all the things to do in Lodz, taking a selfie or two here is probably one of the most popular.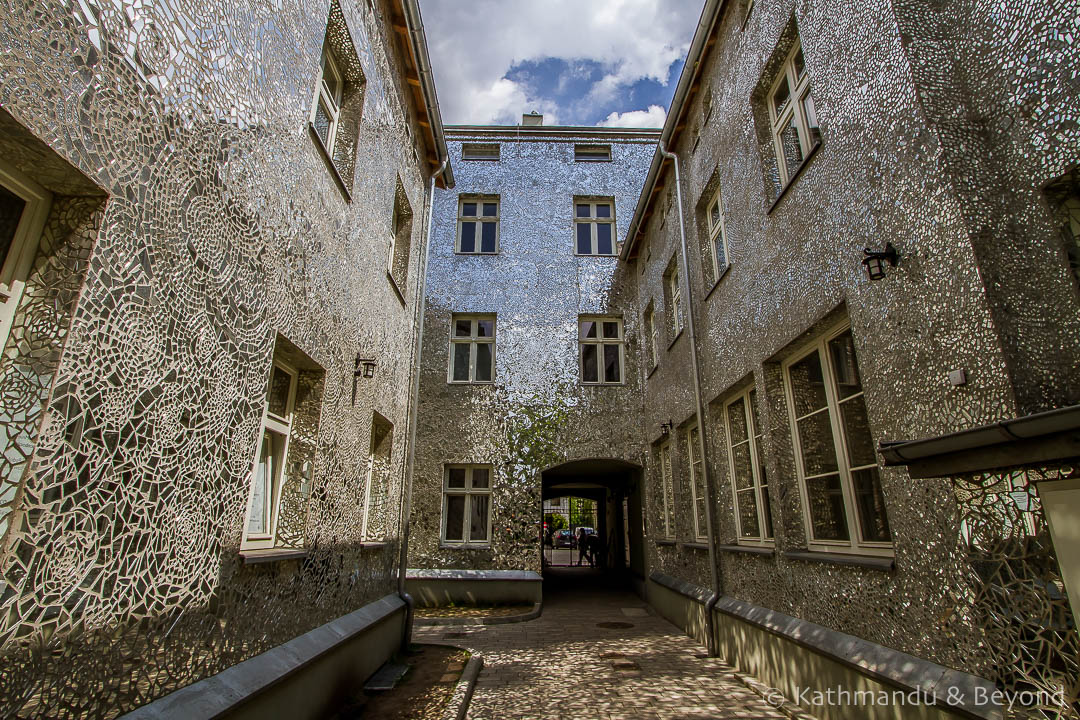 Former Hotel Polski, Lodz
Continue across Freedom Square (still going north) for two blocks and then turn right and walk towards the impressive Manufaktura. On the way, you can stop to visit the Historical Museum of Lodz (also known as the City Museum of Lodz and the Izrael K. Poznanski Palace). Built at the turn of the 20th century for the textile magnate and philanthropist, Baron Izrael K. Poznanski, it really is a glorious-looking, Neo-Baroque style building but in our opinion, the facade and the view from the back garden are more impressive than the contents within.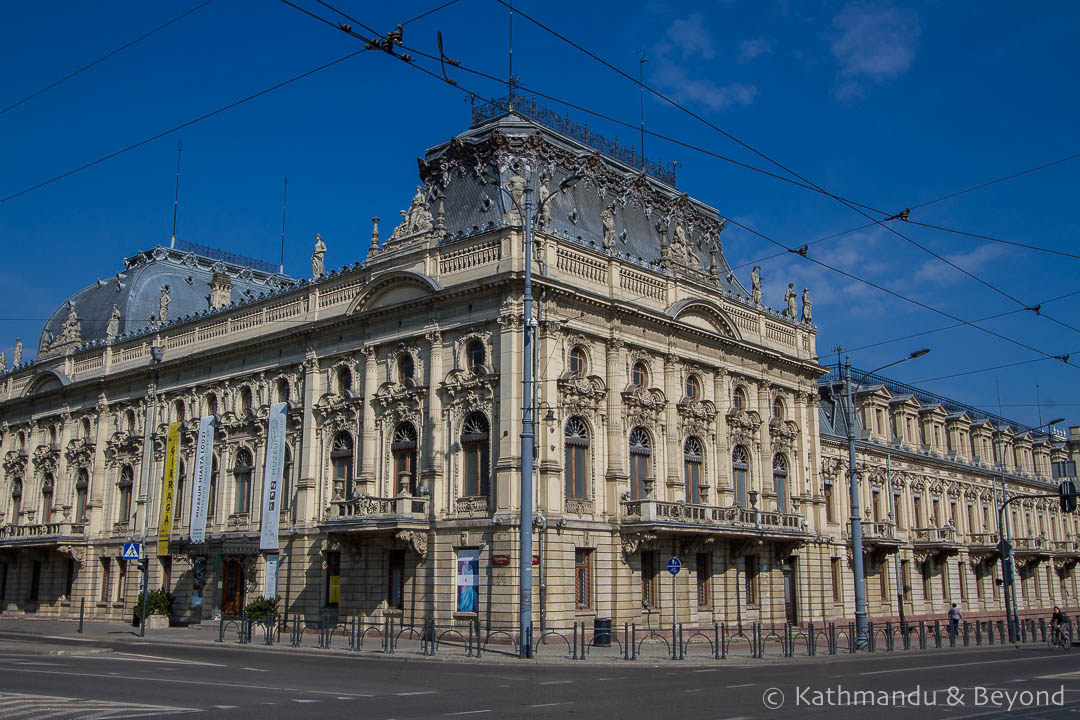 Historical Museum of Lodz
It's not often that we recommend including a visit to a shopping centre in our suggested walking tours, but the massive, 100 square metres plus Manufaktura is well worth seeing. Once an abandoned textile mill, the complex is a good example of the rejuvenation project I touched on earlier. It is now home to shops, offices, restaurants, bars etc. and a good place to stop for a rest and something to eat or drink before continuing to Litzmannstadt.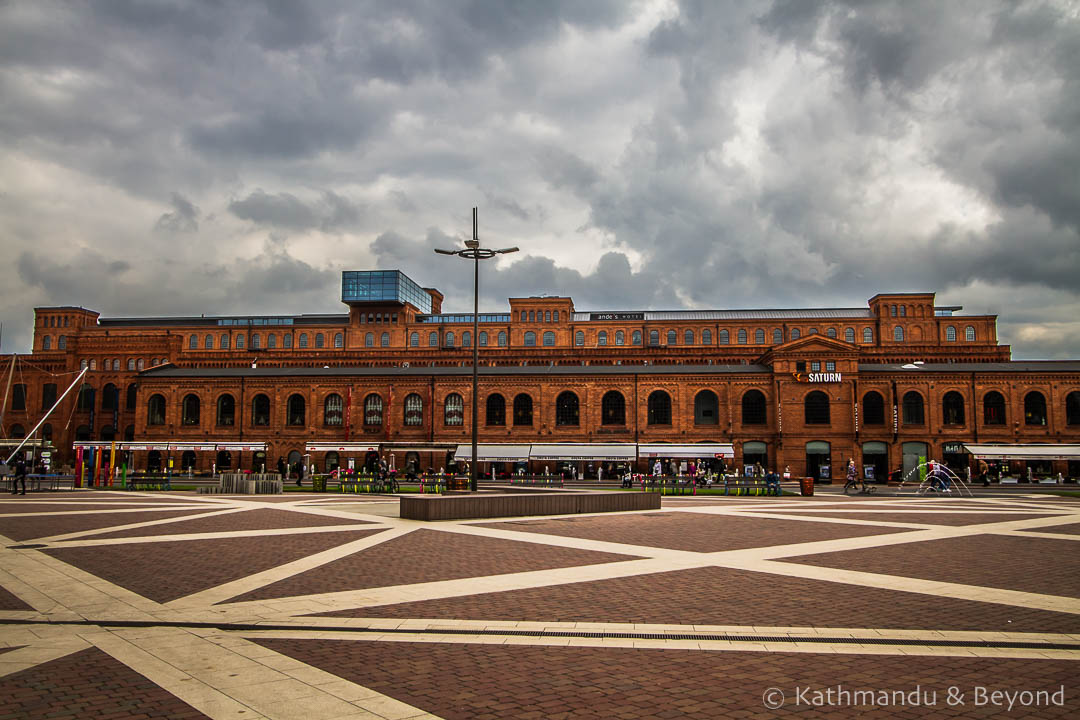 Manufaktura, Lodz 
Litzmannstadt was the first Polish intercity Jewish ghetto to be established by the Germans at the beginning of World War II and second only in size to the Warsaw Ghetto in all of German-occupied Europe. These days the district is evidence that Lodz still has a bit of an edgy side to it. When discussing our intended visit with the Tourist Board, the woman we spoke to advised us to be a little vigilant as we walked through this part of the city. Of course, we were there in daylight hours, but I still think she was being a bit overcautious. Nonetheless, the district is certainly working class and quite run down in parts.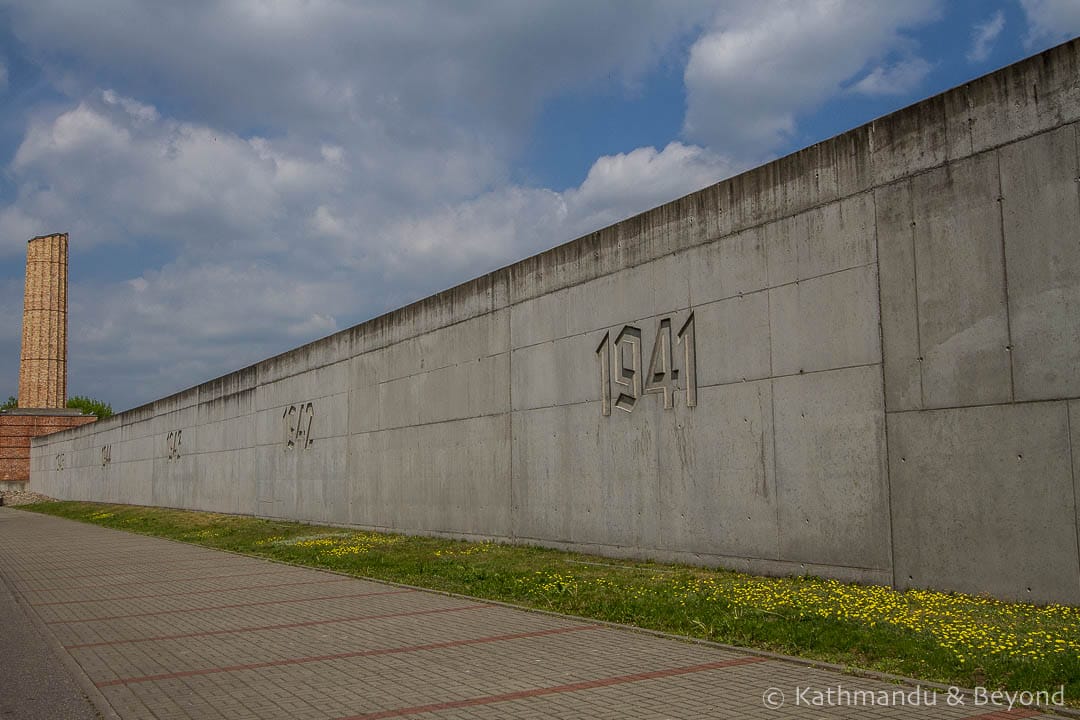 Radegast Station Memorial in Litzmannstadt, Lodz
Places of interest in Litzmannstadt are numbered in the Jewish Landmarks in Lodz guidebook. Note, the total distance covered if you decide to visit all of the places mentioned on the route is approximately 10km. On top of that, we decided to walk to the starting point of the tour from Manufaktura, which took us about 30 minutes (there are also regular trams). There are forty-one sights and places of interest on the walking tour, of which many are noteworthy mainly for their historical value. The most significant sights on the tour are the impressive Radegast Station Memorial (#23), the Monument to the Child in Szarych Szeregow Park (#20) and the Jewish Cemetery (#22). The latter is the only place on the tour which has an entrance fee.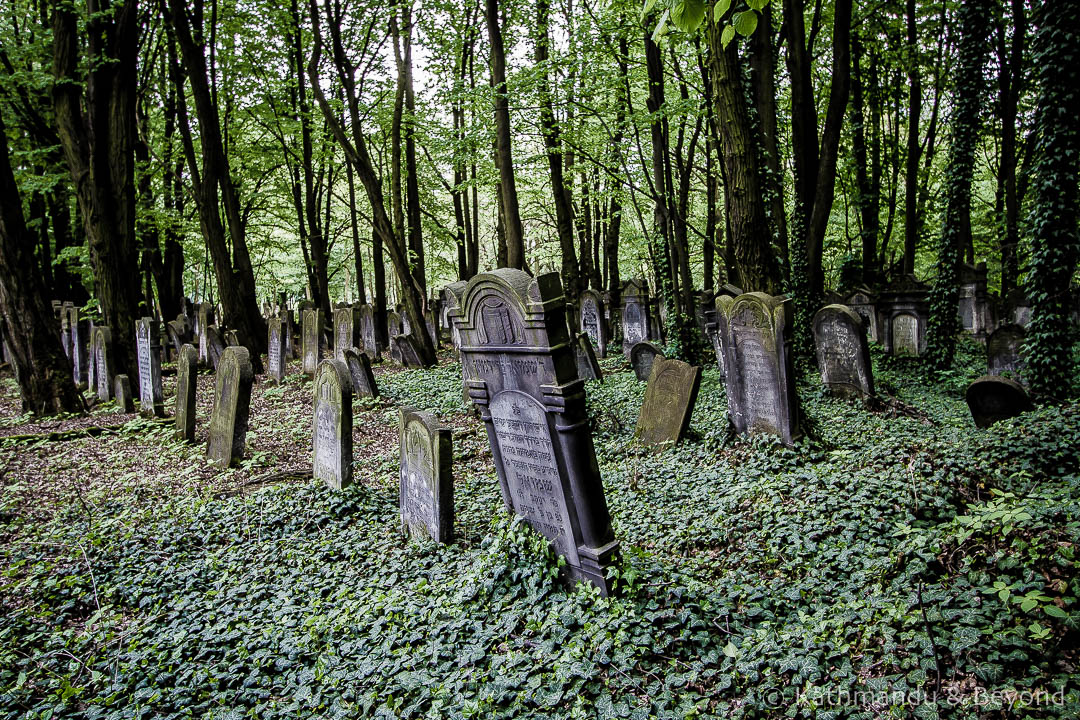 The Jewish Cemetery in Litzmannstadt, Lodz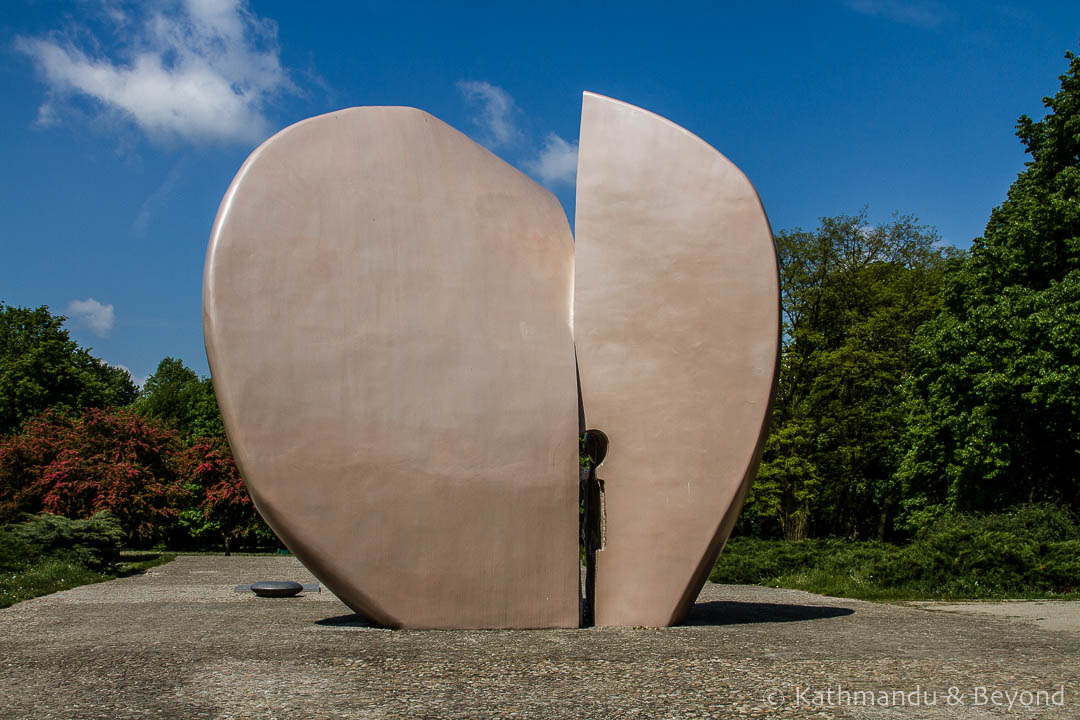 Monument to the Child Martyrs in Litzmannstadt, Lodz
You don't have to follow the tour in chronological order and we ended our walk at the cemetery. From there we took tram #6 back to the northern end of Piotrkowska Street.  Despite a lot of walking, the tour was certainly worth doing, but I will reiterate that without a copy of the Jewish Landmarks in Lodz booklet, it's difficult to locate many of the district's sights and places of interest. Furthermore, you need the guidebook's descriptions in order to get the most out of the tour.
Back in the centre of the city, veer away from Piotrkowska Street to visit the colourful Eastern Orthodox Alexander Nevsky Cathedral.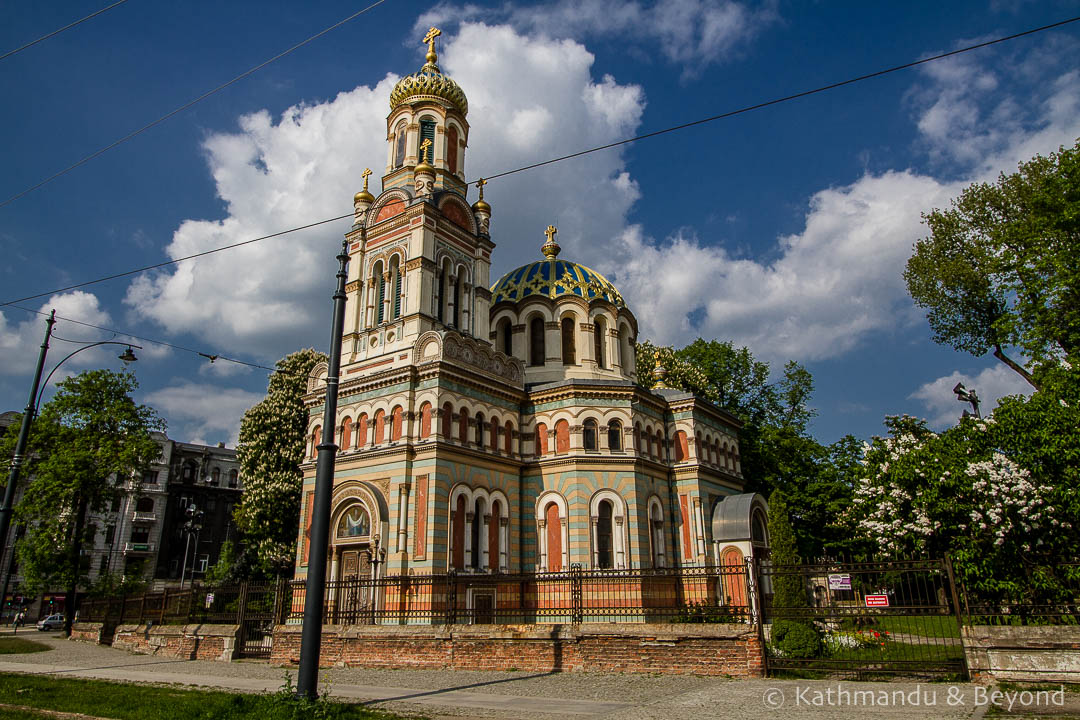 Alexander Nevsky Cathedral, Lodz 
Our suggested walking tour ends at the southern end of Piotrkowska Street at the rather cool OFF Piotrkowska so you can either stroll along Piotrkowska Street once more or head down one of the streets that run parallel to it.
OFF Piotrkowska is a former cotton mill that has been transformed into a bohemianesque playground that is full of bars, restaurants, galleries and quirky shops. We ended up here at lunchtime (well-timed for a  late lunch and couple of afternoon beers!) but regardless of the time of day, OFF Piotrkowska is a great to place in which to end a walking tour of Lodz.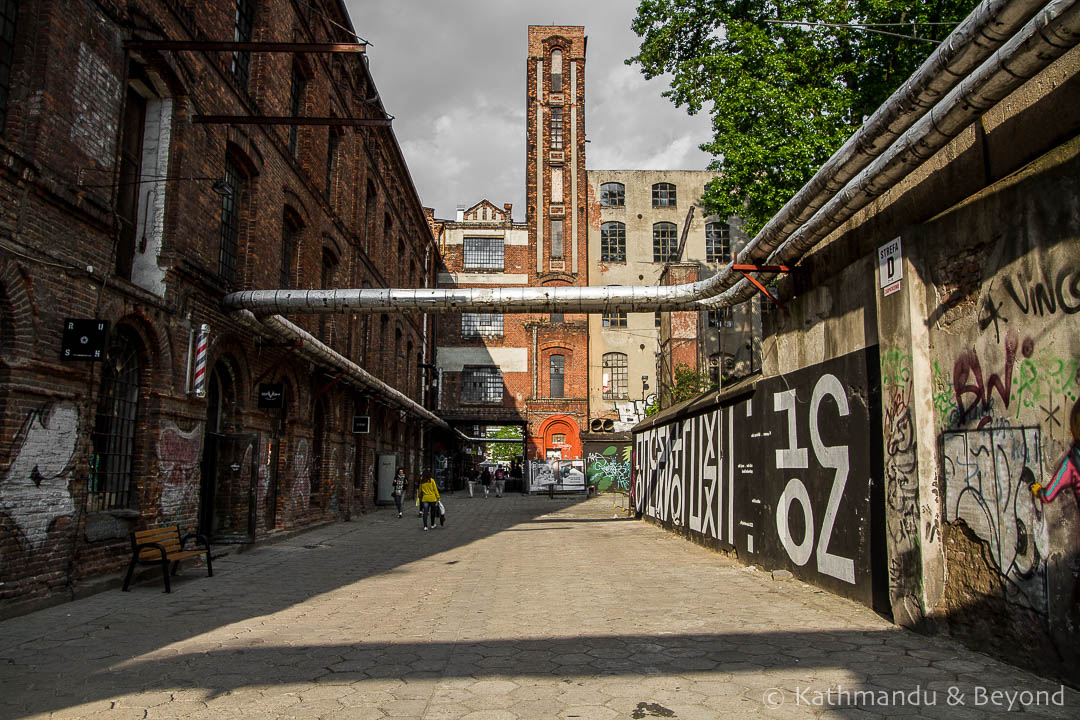 OFF Piotrkowska, Lodz 
Street art in Lodz
Lodz has a thriving street art scene. There is plenty of it clearly visible within the proximity of Piotrkowska Street plus additional murals further afield, including some interesting pieces in Litzmannstadt. Below is a small taster of what you can see in Lodz but Kirsty intends to showcase it in more detail in a separate post so watch this space! On the recommendation of our friend Kami at Kami & the rest of the World, we downloaded and printed a useful map which highlights the location of Lodz's plentiful street art.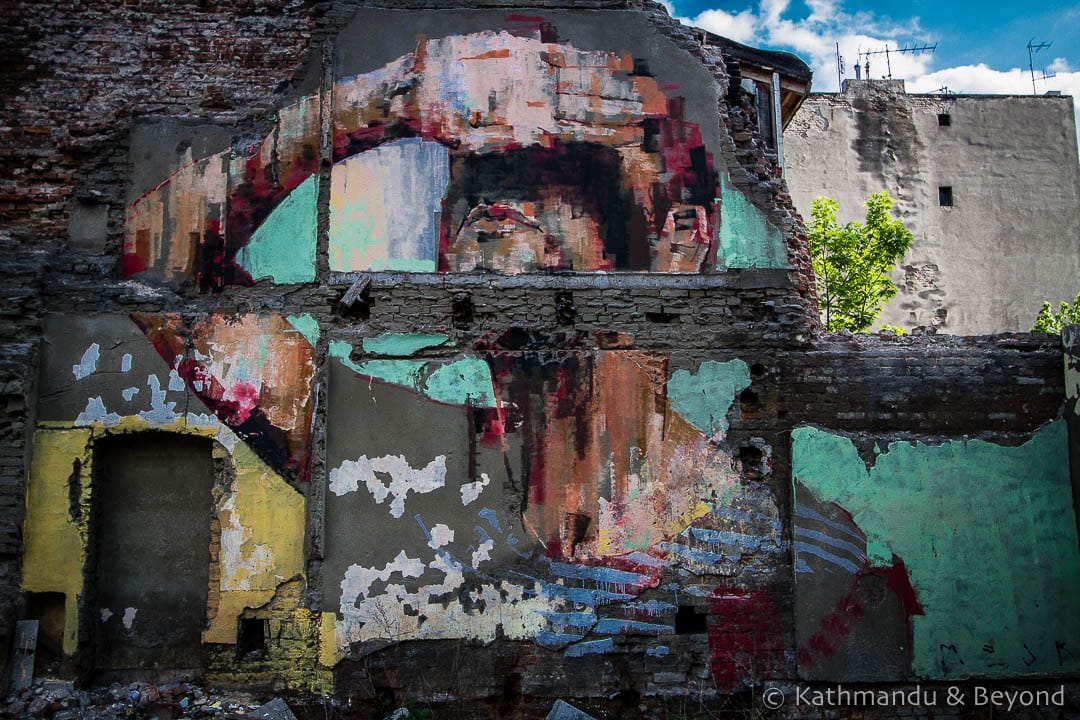 Where to stay in Lodz
We stayed at the very grand-sounding Hotel Savoy. Situated just off Piotrkowska Street, the location was excellent and our room was quite big (separate bedroom and lounge) but there was something rather Psychoesque  about the place – long, empty corridors, an eerie silence throughout, floor-ladies who would just appear from nowhere and an elevator attendant (yep, you weren't allowed to ride the elevator on your own) that had us looking at our feet for the whole, seemingly very long, ride to our floor. If we returned to Lodz, we would probably look for somewhere a little more vibrant but for price and location, the Hotel Savoy was fine.
Getting to Lodz
There are at least hourly connections on both trains and buses between Lodz and Warsaw. Both modes of transport take between 2 and 2½ hours. Lodz is also well connected with other cities in Poland. For example, we visited en route between Warsaw and Poznan but there are also good transport links to Krakow and other popular destinations.
We travelled from Warsaw on the Polski Bus which, if booked in advance, is a very economical way of travelling not just between Warsaw and Lodz but to plenty of other destinations in Poland as well.
Keep in mind that Lodz is also serviced by RyanAir and a few other budget airlines. The city is perfect for a long weekend break.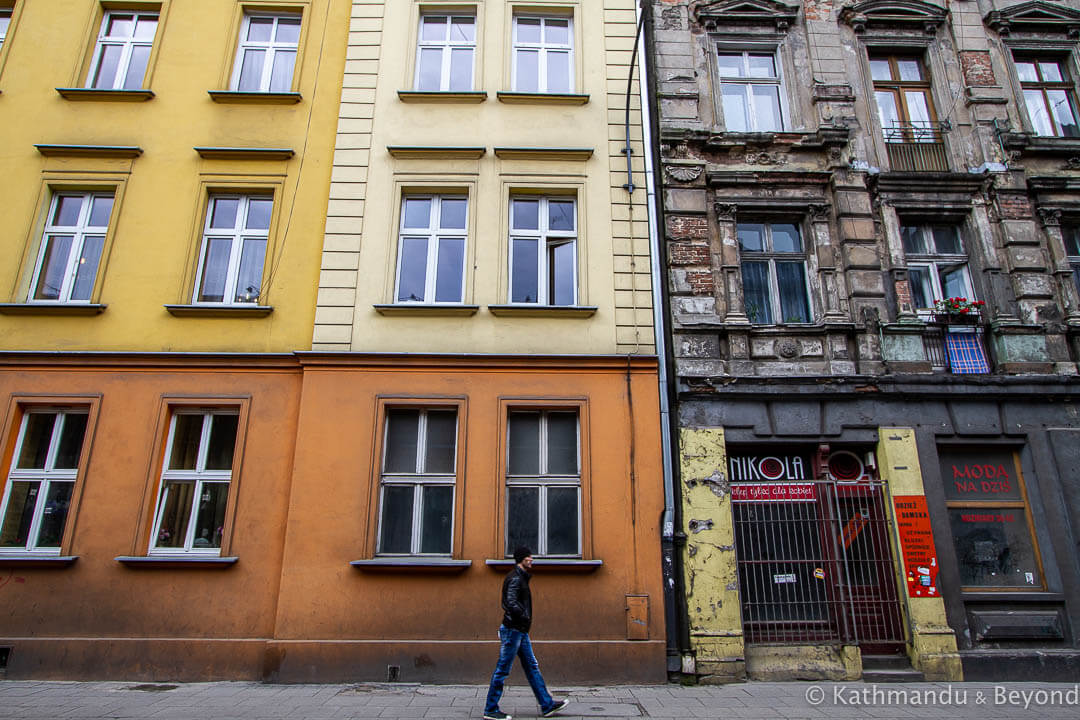 Is Lodz worth visiting?
There are plenty of interesting things to do in Lodz, and the answer to this question is most definitely, yes. We are a tad biased in that we really enjoy Poland and haven't been disappointed by any of the places we have visited on previous trips to the country but Lodz is quite unique when we compare it to other Polish destinations we have been to. Our first impression (during the walk into the centre from the bus station) were 'hmm, this is a bit rough-looking compared to Krakow for example' but you soon realise that the grittiness of the city blends perfectly with its historic grandeur and we certainly enjoyed the couple of days that we spent there.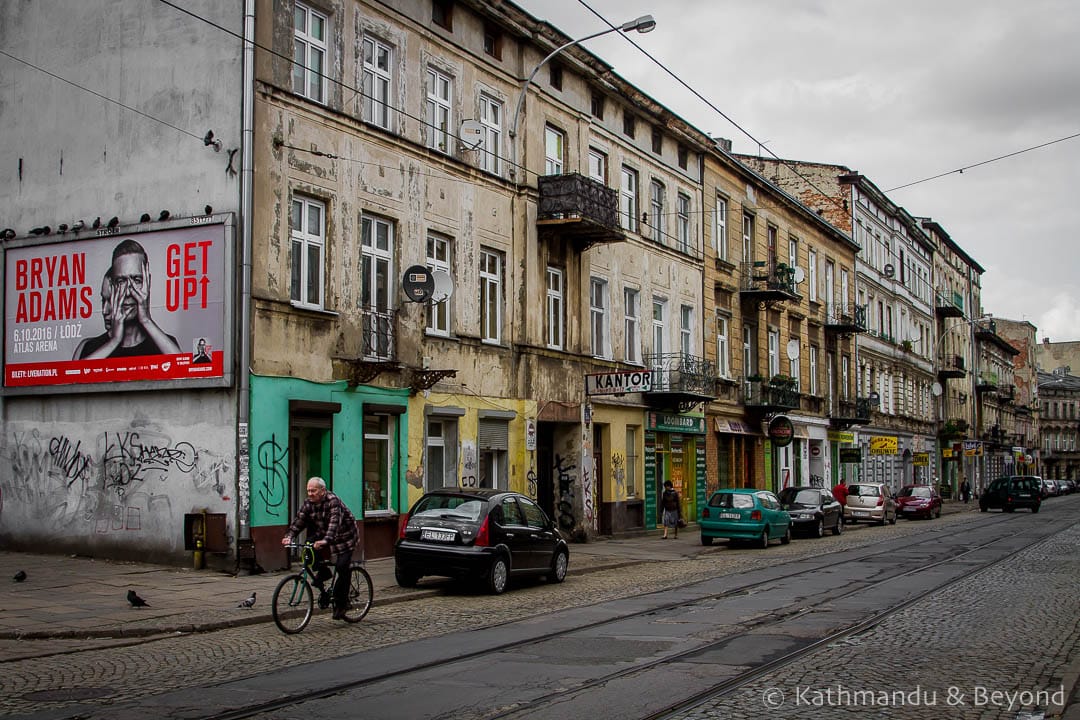 ---
---
Have we inspired you to travel to Lodz? Pin this article to your travel boards…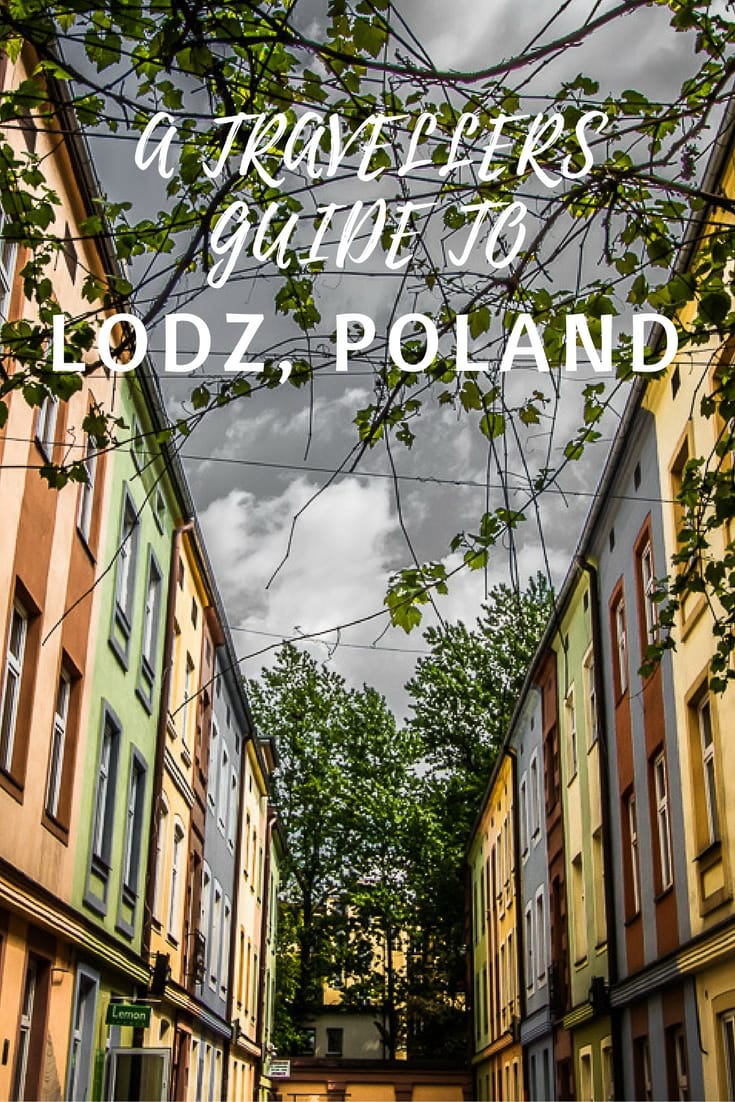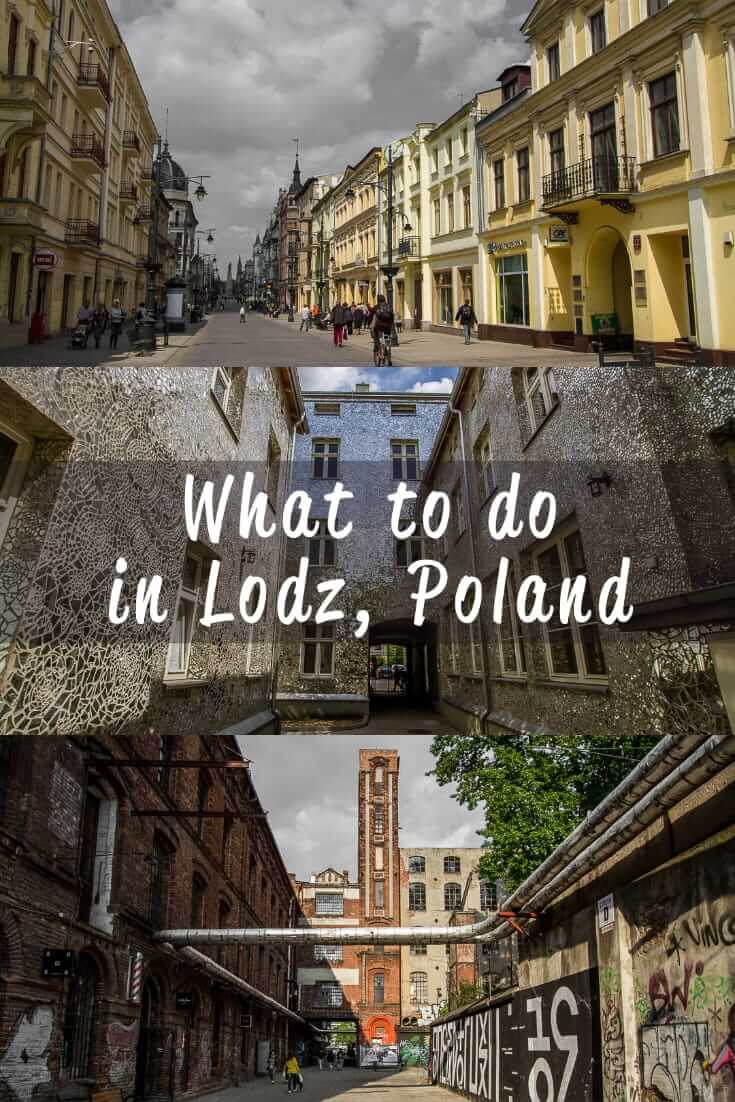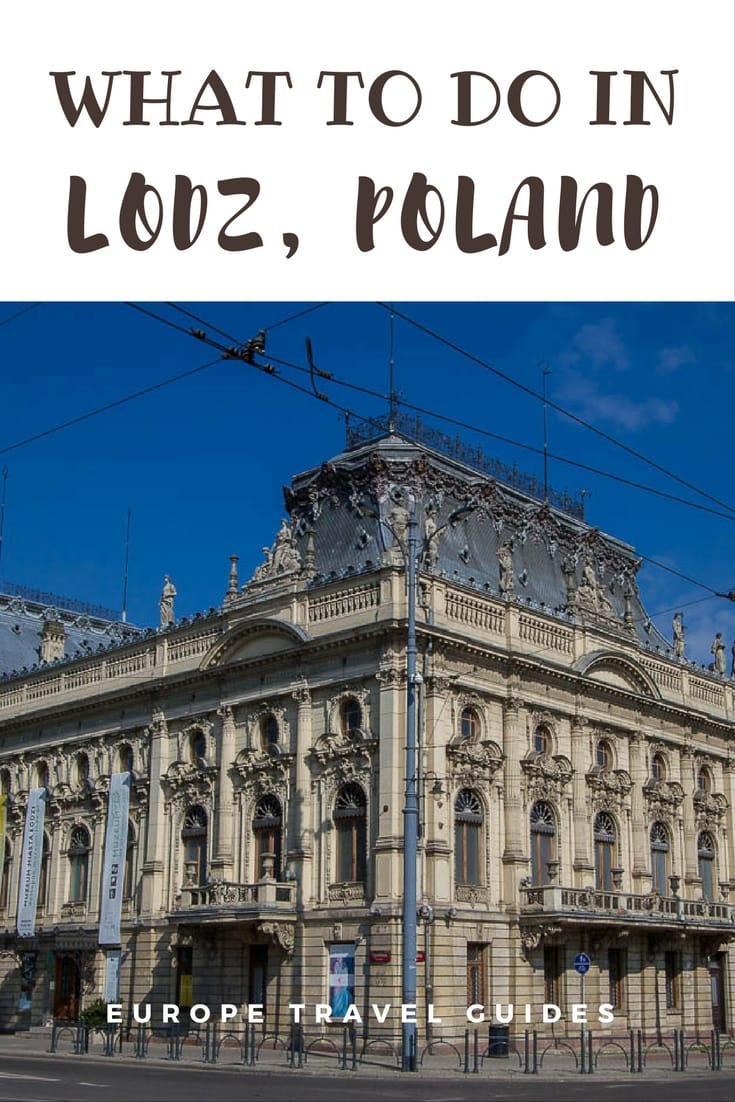 ---
---