Our visit to Buzludzha Monument: the UFO on the hills of Central Bulgaria
Neither of us is particularly fond of the term bucket list –  the phrase is over-used these days and it grates a little when we hear it. However, if we did subscribe to such a list, then Buzludzha Monument in Bulgaria is one that has been on our … bucket list for a few years. Even before getting heavily into concrete, after seeing a friend's photographs of this imposing UFO-shaped wonder, we were hooked.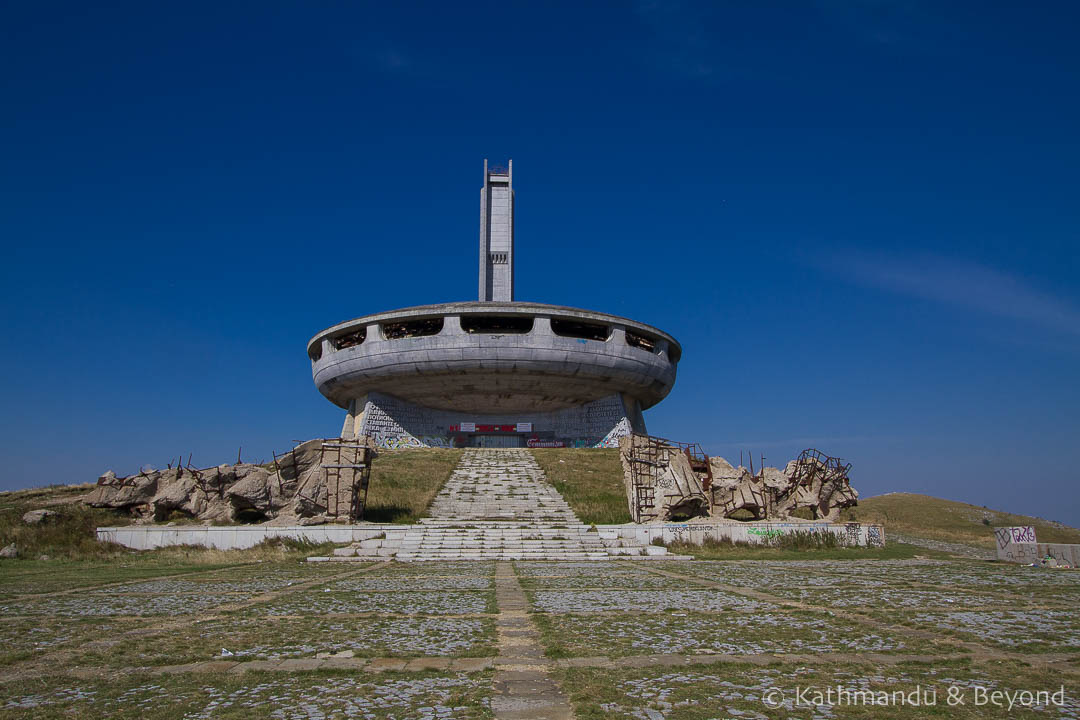 What is Buzludzha?
In brief: Opened in 1981, Buzludzha was built by the Bulgarian communist regime to commemorate the place where, in 1891, the Bulgarian Social-Democratic Workers' Party (which became the Bulgarian Communist Party) first met and was formed. The modernist-style UFO building apparently cost 7 million Euros to construct! For several years thereafter the Communist Party held annual meetings there but after communism fell in 1989, the building's decline began – ravaged by both harsh elements and vandals.
Where is Buzludzha?
Located in the hills of central Bulgaria, the nearest village to the Buzludzha Monument is Shipka, 20 or so kilometres away.  The closest town of significant size is Kazanlak, a further 12 kilometres from Shipka.  Buzludzha is actually the name of a 1,440 metre-high mountain in the Central Balkan mountain range and it's located close to the historic Shipka Pass, the site of several famous battles between the Bulgarians and the Ottoman Empire during the Russo-Turkish War that took place from 1877 to 1878.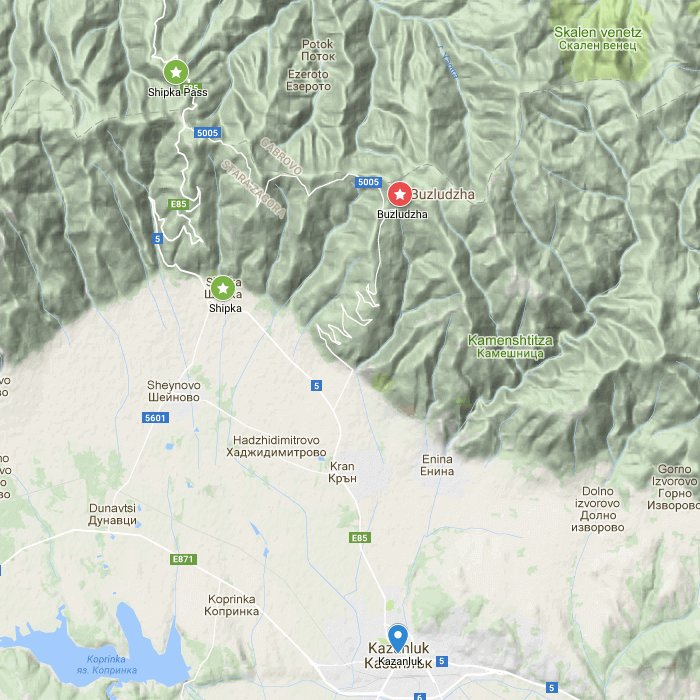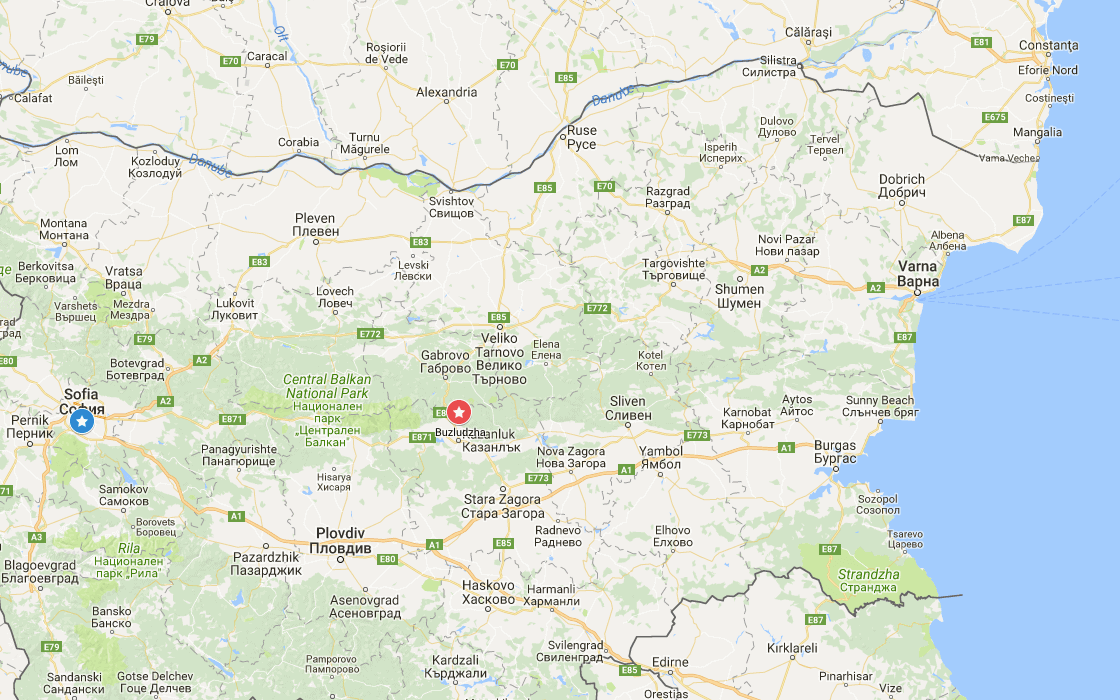 Click here to see Google map version.
Why visit Buzludzha?
What self-respecting lover of modernist Communist-built architecture wouldn't want to see Buzludzha for themselves?! We've seen a lot of concrete, particularly over the last couple of years, and we have to agree this is one of the most visually impressive buildings we've clapped eyes on.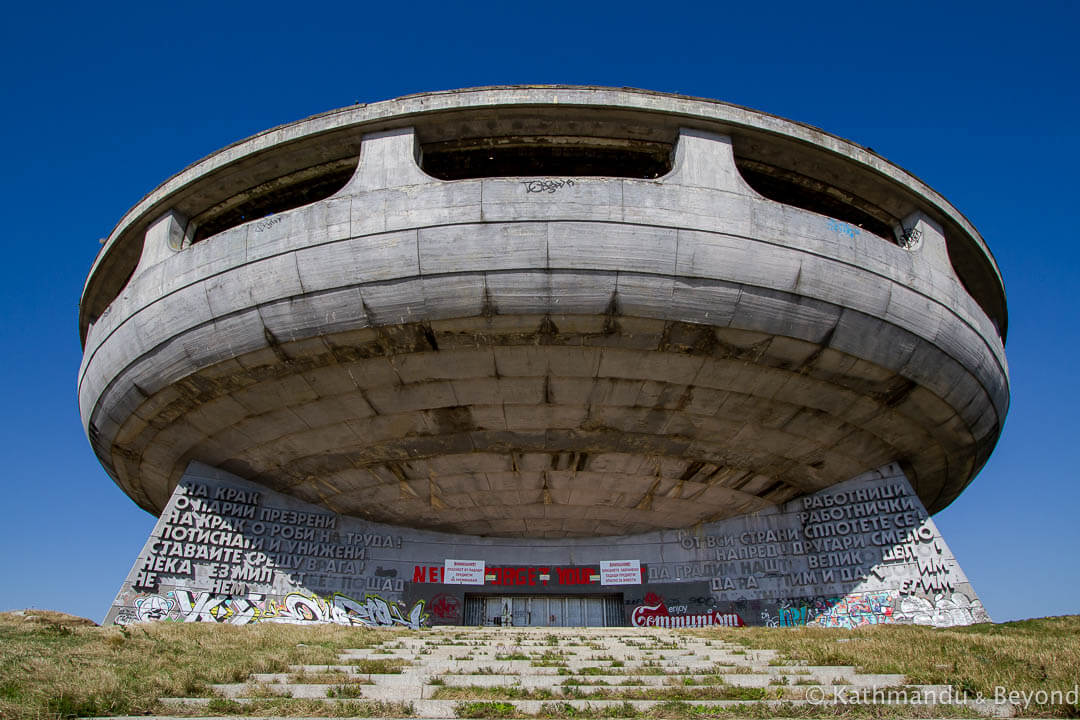 Over the past few years, Buzludzha has become something of a Mecca for urban explorers and lovers of Socialist-era architecture. It seems that every traveller to the region wants to check it off their list. But the real stripes are earned not from merely visiting this concrete eyesore on a mountain ridge but from entering it: sneaking in surreptitiously and illegally, risking life and limb. Yes, life: two French tourists died whilst exploring the building a couple of years ago*.
After the building was abandoned in 1989, it was initially left unguarded, largely attracting little attention. It was left open to the whim of vandals who did a good job of destroying the interior and graffitiing the walls. One theory is that allowing self-expression of anti-Communism in the form of vandalism was deliberate on the part of the government. For many travellers, the major attraction of Buzludzha was not in admiring the architecture itself, but the thrill of exploring abandoned places. For us, it was both of those things …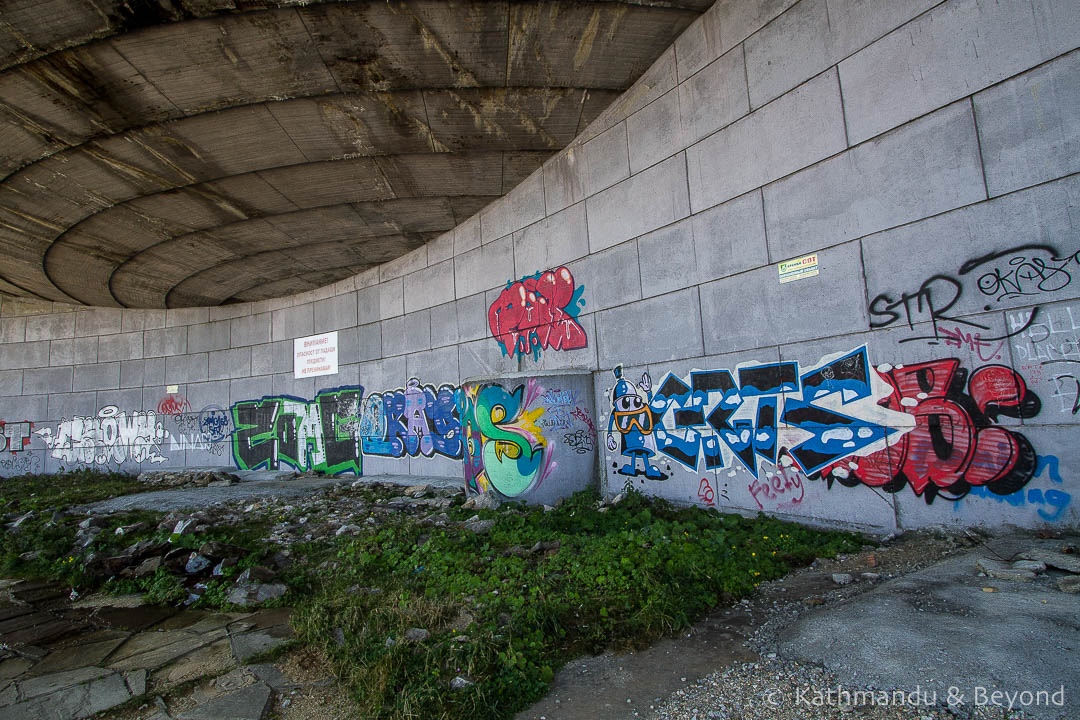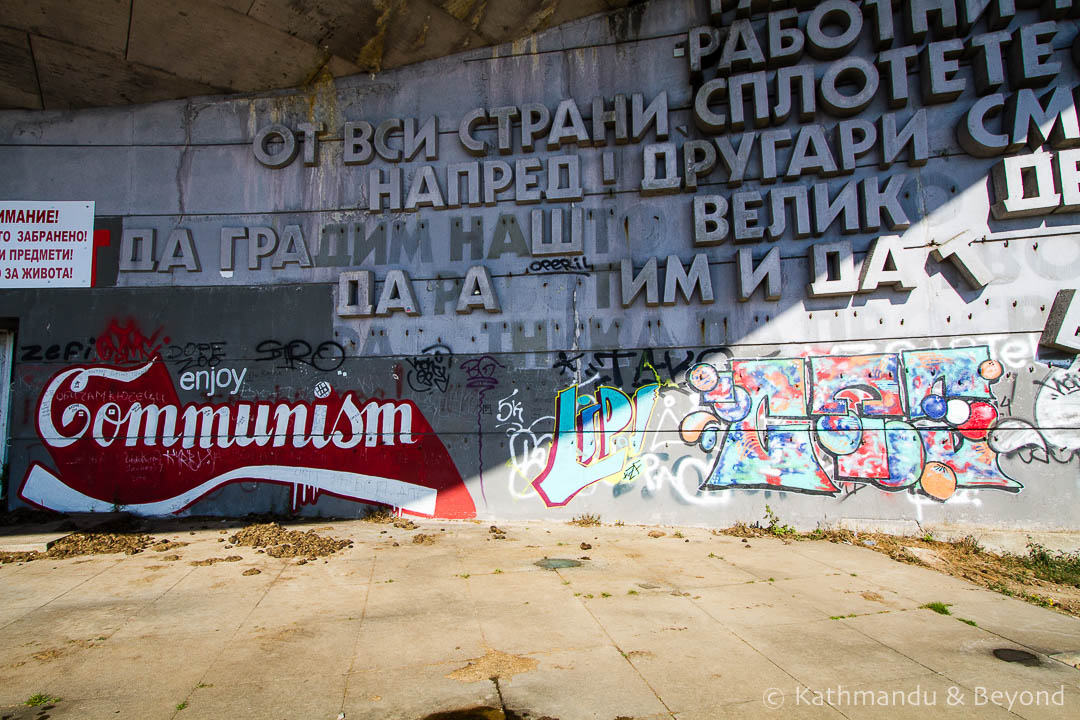 *** UPDATE*** We'd read accounts of the deaths – cited as murder – of two French tourists at Buzludzha and even seen photos of the small shrine to them, in the bowels of the UFO. However, when we delved further, we couldn't find any news articles to corroborate the stories. Eventually, we found a post on the site Abandoned Berlin which concludes it is some kind of elaborate hoax! The fact this was confirmed to the author by Ivan at the IT Shipka Hotel is sufficient evidence for us to believe this version of events. Annoyingly, we didn't think to ask Ivan ourselves during our stay. It seems the mysterious 'deaths' have turned into something of an urban myth! *** Continue to the end of the post for a further update and more intriguing reading on the subject … ***
A good two or three years after Buzludzha first came onto our radar screen, we were in Bulgaria and we started to make enquiries. We'd read accounts of how it was possible to enter Buzludzha by squeezing through an opening in the side of the building but we'd also heard rumours that this was no longer possible and that the site was now manned by security guards. "You might still be able to get inside" we were told at our hostel in Plovdiv where they were offering a day trip to Buzludzha. The site is a two-hour drive from Plovdiv (the most popular place to visit from) and the cost of the excursion on offer was €25 per person so, always up to do things independently AND save money, we declined and decided to plan a route through Bulgaria that allowed us to stay in Shipka, just 20 minutes' drive from Buzludzha.
Street Art at Buzludzha Monument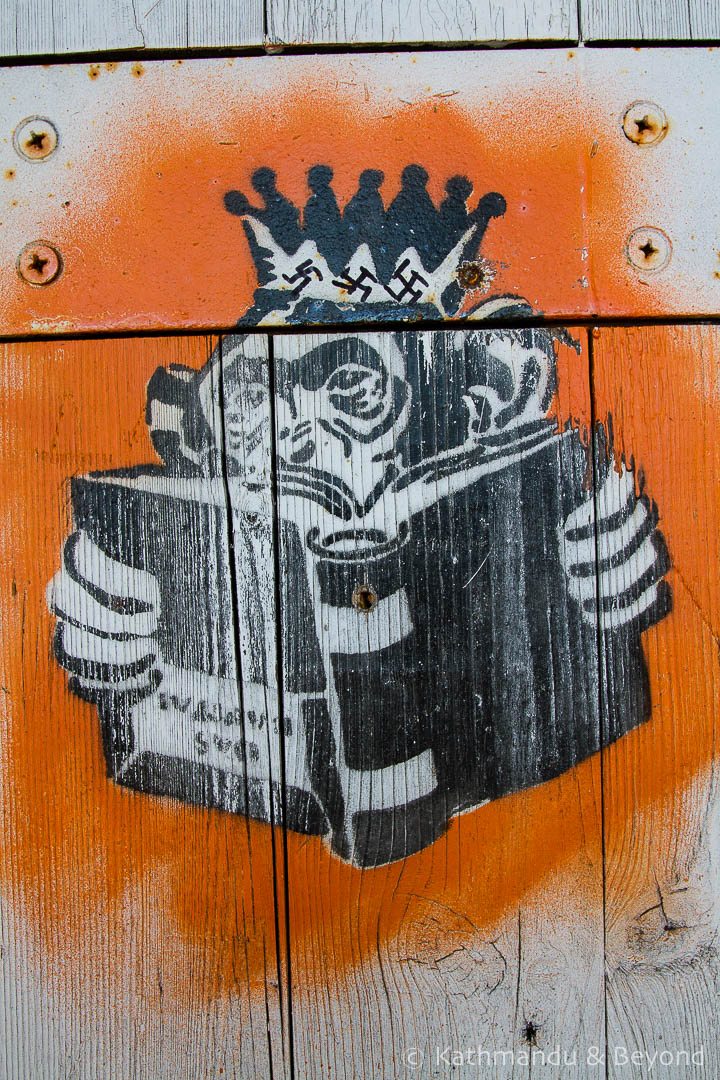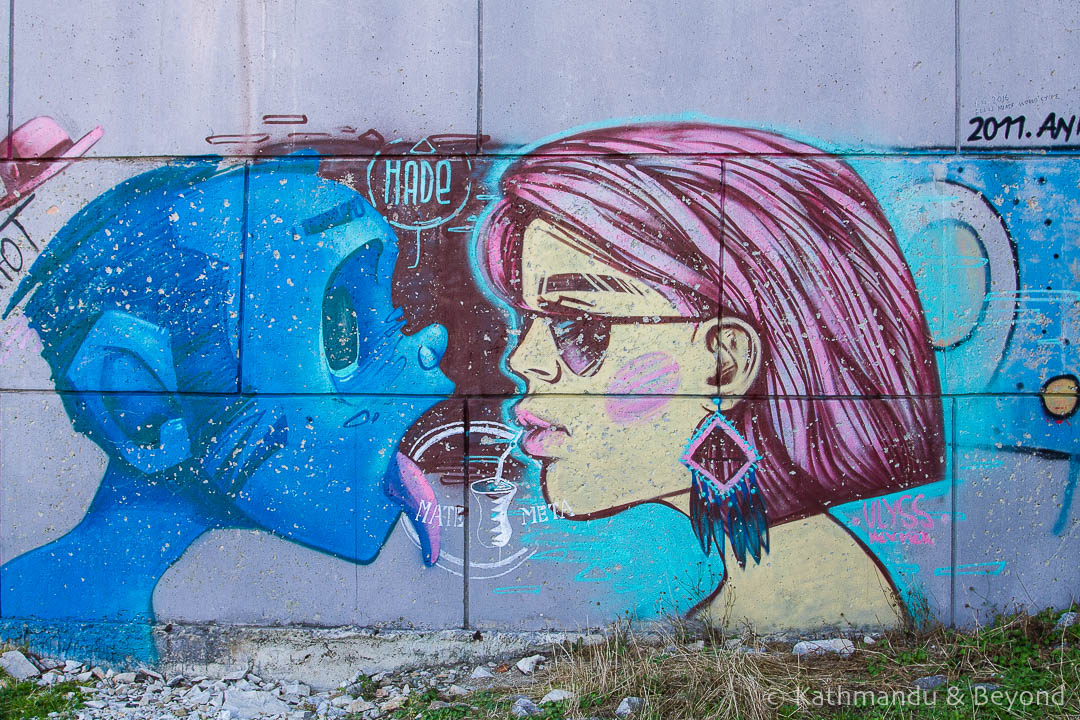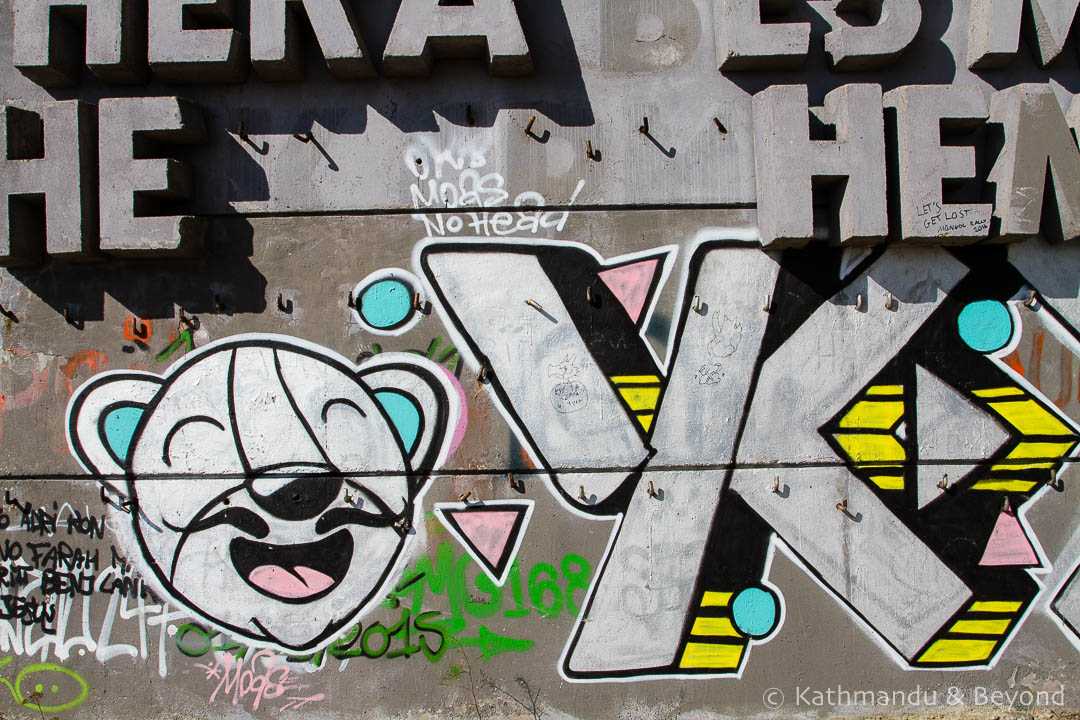 ---
HOW TO GET TO BUZLUDZHA MONUMENT INDEPENDENTLY
As we said, we could have taken transport arranged by our hostel in Plovdiv. However for those travellers, like us, who prefer to explore things independently, here are the answers to some of the questions you might have.
Do you need your own transport to visit Buzludzha?
Not necessarily. Of course, if you have your own transport, it's all pretty easy and straightforward! However, with a little planning and bit of extra time, it's not essential …
Is it possible to visit Buzludzha by public transport?
Almost. You can travel as far as Shipka by bus. First, take a bus to Kazanlak which is on the main road between Sofia, Bulgaria's capital, and Burgas on the Black Sea coast. We found only three daily buses from Sofia to Kazanlak and took the first bus which left Sofia at 1030am (taking a little over 3½ hours). You can also take the train but the timings weren't very sociable or convenient so we opted for the bus. From Kazanlak, take the bus to Shipka (buses run approximately every 30 minutes on weekdays and less frequently on weekends). Our bus from Sofia dropped us at a bus stop in the centre of town across the road from the Kazanlak Grand Hotel. The bus to Shipka also stops here so there is no need to walk to the main bus station. By the time we arrived at our hotel in Shipka, it was 3.30pm, so we decided to wait until the following morning to visit Buzludzha.
Are there hotels or guesthouses close to Buzludzha monument?
We stayed at the Shipka IT Hotel, which is a short walk from the centre of the village where the buses stop and around a 20-minute drive from Buzludzha. The Shipka IT Hotel is a small hotel/guest house with good rooms, and which thoroughly deserves its high rating on Booking.com.  The manager Ivan and his wife are very personable and speak good English. Ivan can also arrange a taxi to visit Buzludzha and the surrounding area.
There are limited places to eat in Shipka, so we decided to have dinner at the hotel. We had a tasty home-cooked Bulgarian meal which was very good value, as was the jug of wine we washed it down with.  At 6 lev per person (€3 or just over $3), breakfast cost more than we usually spend in Bulgaria(!) and in comparison was a bit pricey particularly taking into account Mark's non-cheese eating and the fact that neither of us partakes of tomato and cucumber at this time of day! But, there aren't many other options if you want breakfast. The eggs, salami, cheese, toast, waffles and homemade fig jam did set us up nicely for our day of urban exploration!
We kind of regretted that we didn't have a second night there just so we could relax on the terrace overlooking the hills and take a dip in the swimming pool.
The next closest accommodation option would be to stay in Kazanlak which is only around 12 kilometres from Shipka. Kazanlak is also on the main route from Sofia so there are plenty of public transport connections. Kazanlak would arguably make a better value base: a taxi to Buzludzha should cost the same from both Shipka and Kazanlak
There are also some remote hotels on the road to Buzludzha but you would need your own transport to stay at them.
How much does it cost to hire a car and driver to visit Buzludzha?
We paid 40 lev (€20) for a taxi arranged by our hotel in Shipka (the price was agreed upfront, based on the number of miles covered and the assumption we would take around three hours to see everything). In addition to stops at Buzludzha itself and the torch monument on the road below, the taxi driver took us to Shipka Pass, site of a memorial to the 1877 battles. Interestingly, whilst we were the only people at Buzludzha, the monument on Shipka Pass was heaving with local tourists!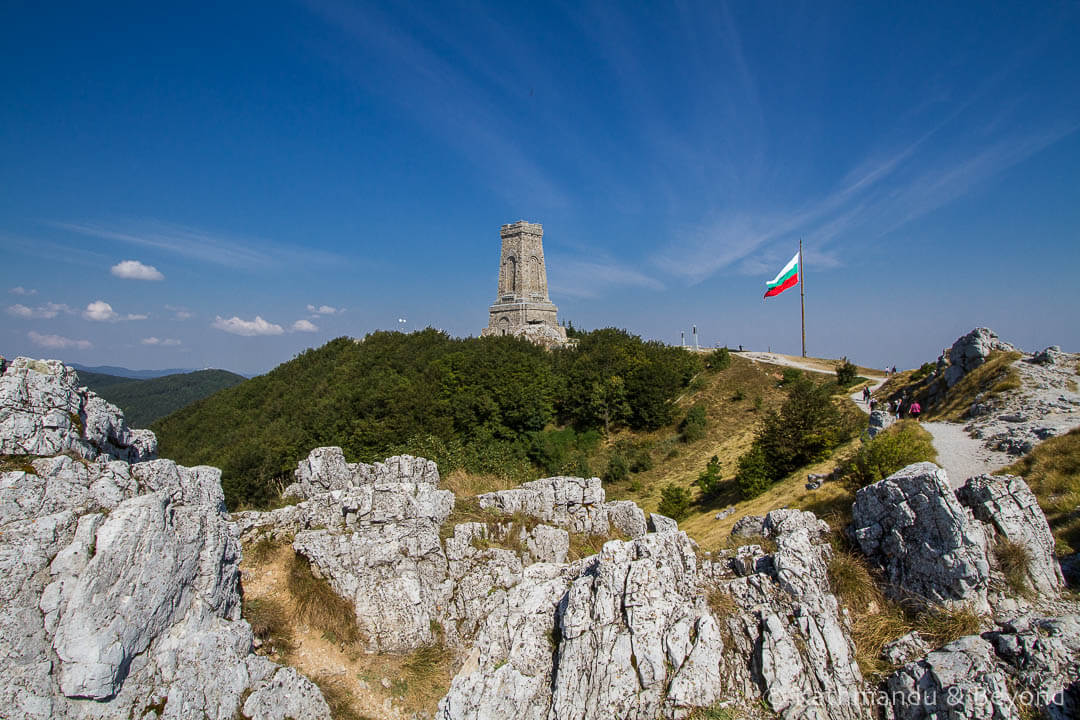 Freedom Monument on Shipka Pass
The driver came from and returned to Kazanlak and so he dropped us off at Kazanlak bus station, saving both the return bus fare and time. 
Can you go still go inside the Buzludzha monument?
This is the question currently on the lips of urban explorers to Bulgaria … And the simple answer is no, not now. Or, maybe not. The small openings that people used to squeeze through are now sealed shut. Attempts at prising the metal open are visible but until someone manages to throw something over the security cameras and smash a hole with a seriously heavy-duty sledgehammer, there is no chance. Occasionally we hear reports of travellers that have managed to get inside, but it seems that the authorities swoop in quickly to reinforce the entry point.
*** Update: Visiting Buzludzha Monument in 2018 ***
It appears that the authorities have finally sealed off access once and for all – there is a security hut next to the monument with an around-the-clock guard manning it. For those who truly care about this magnificent building, this is good news: from all accounts, the interior is not only close to deteriorating beyond repair, no thanks to some of the less respectful visitors, it's very dangerous in parts. Campaigners are working to preserve Buzludzha Monument and in early 2018, Buzludzha was declared as one of the most significant examples of endangered heritage in Europe by Europa Nostra, and included in their '7 Most Endangered programme'.
So, what does the interior of Buzludzha look like?
In July 2018, the BBC's Travel Show gained access to Buzludzha. Watch the show: 'Bulgaria's crumbling ode to socialism' for a glimpse of what it looks like inside.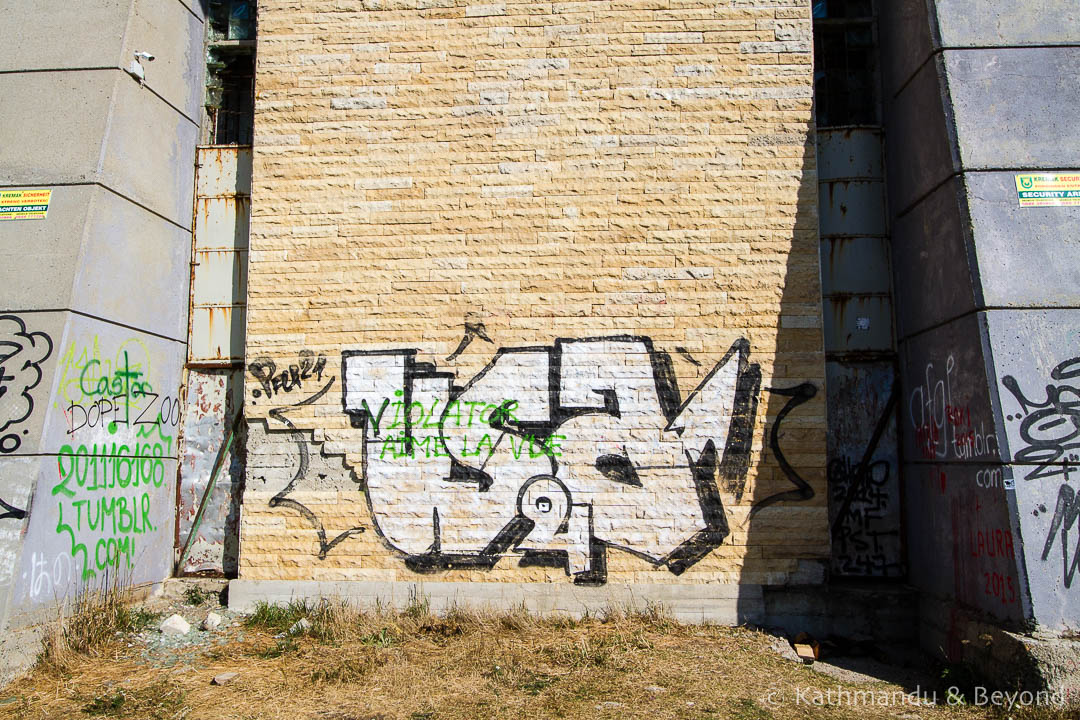 Note the security camera top left, above the heavily sealed entry points
Our friend Dave, aka uninvolvedobserver visited a couple of years ago and was able to get inside. For those who are curious, here are some of his photographs: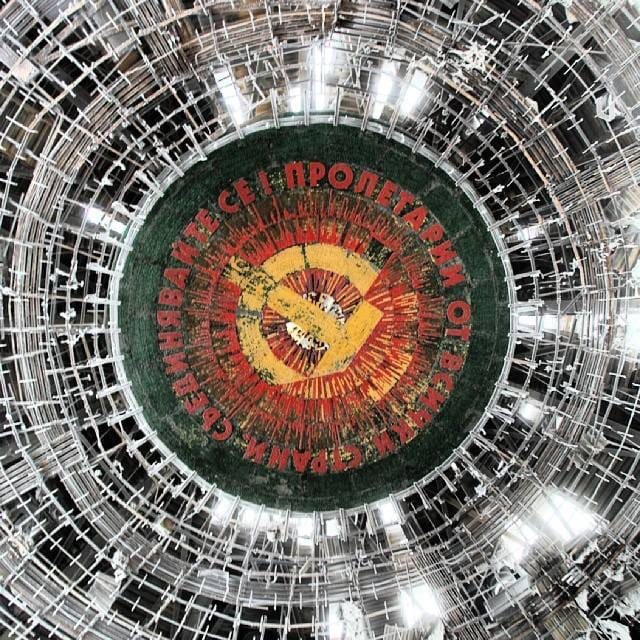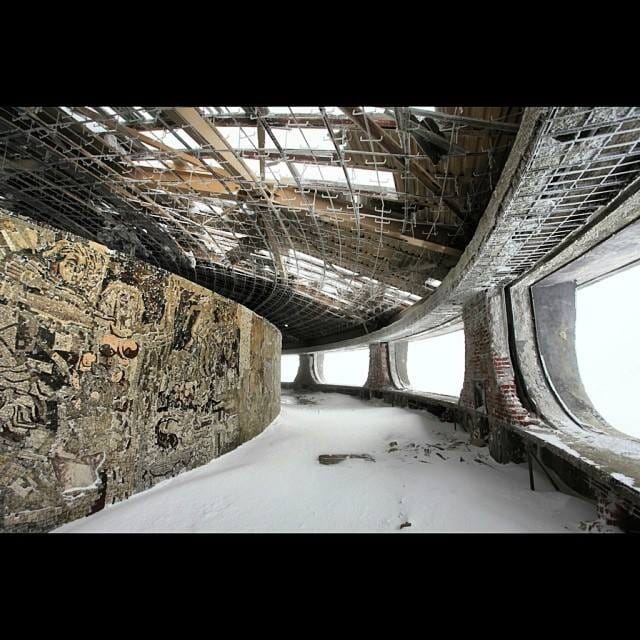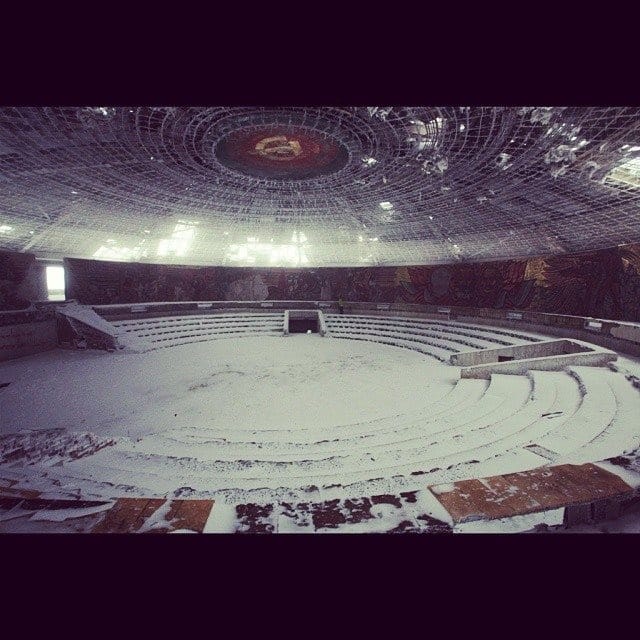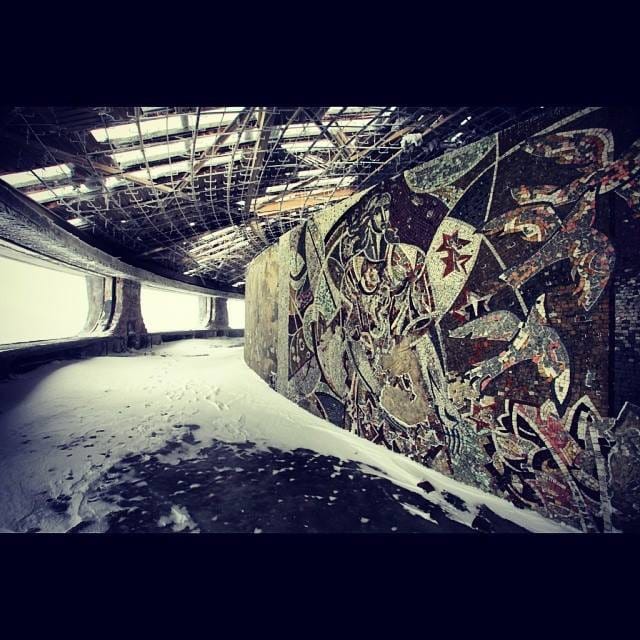 Above: The interior of Buzludzha Monument 
Is it dangerous to visit Buzludzha?
Arguably not anymore seeing as there is currently no possible way of entering the building. However, the reason the building is now sealed off is because of the danger of falling debris and rotting floors. It's not being melodramatic to say that previous explorers of the interior were risking their lives. But there is no danger in exploring the exterior of Buzludzha.
Are there security cameras and guards at Buzludzha?
Yes, security cameras are installed above the spots where previous access points are now firmly sealed (see above photo). Apparently, there are also speakers. Presumably, if the cameras pick up any mischievous activity, there will be a verbal warning! From May 2018, there is a permanent security guard positioned at the monument.
Is there an entrance fee to visit Buzludzha?
Nope – after all, it isn't officially a tourist attraction!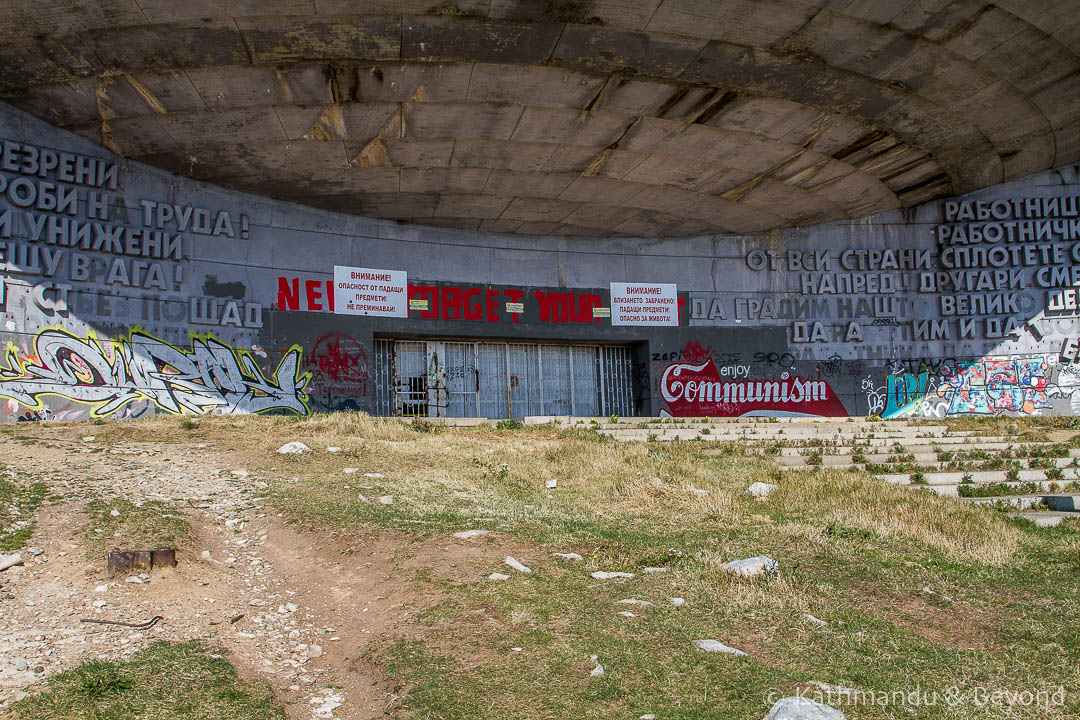 When is the best time of day to photograph Buzludzha?
The main entrance to Buzludzha faces east which means that as you photograph it from the front, the sun is behind you. Perfect. If you are there in the afternoon, you'll need to walk a little way down the slope to the backside of the building to get the best light. The view of Buzludzha from the torch monument is also very popular and in the morning, we had a little too much sunlight creeping in from the east.  The afternoon would be the best time to photograph from this spot. As usual, it's impossible to get it right from every angle!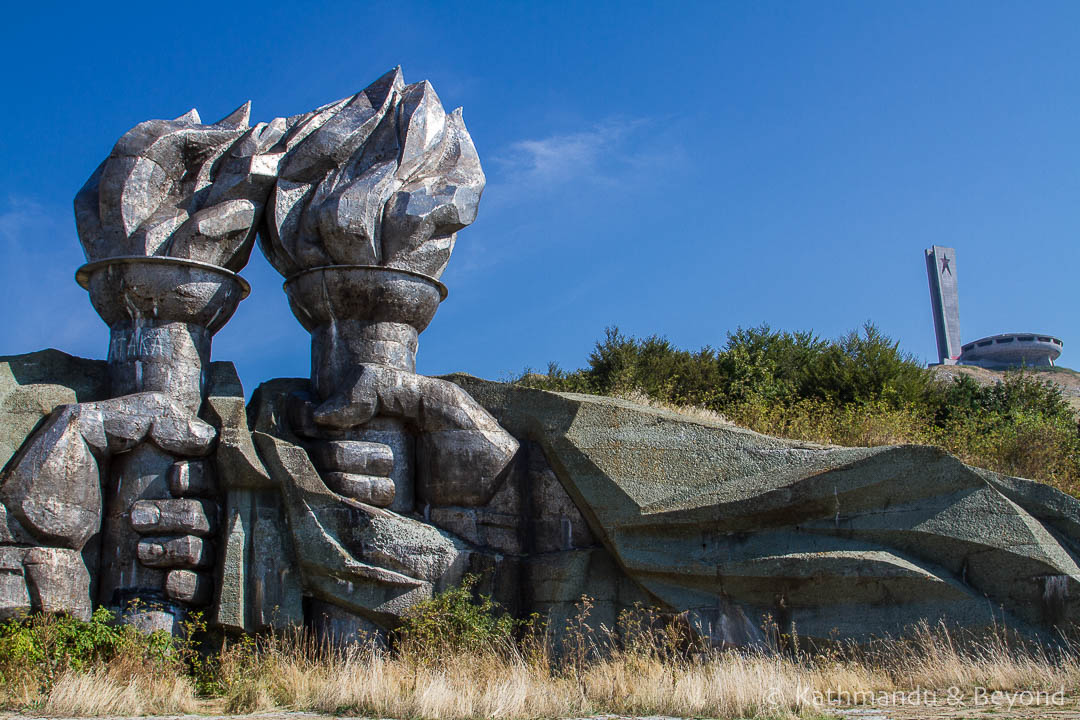 What else is there to see nearby and in Shipka?
Most Bulgarian tourists aren't at all interested in Buzludzha the UFO – they come to visit the monument on Shipka Pass and to visit Shipka Monastery, known locally as the Russian Church. Its golden onion-shaped domes are like a miniature version of the grand Orthodox churches in Russia and Ukraine.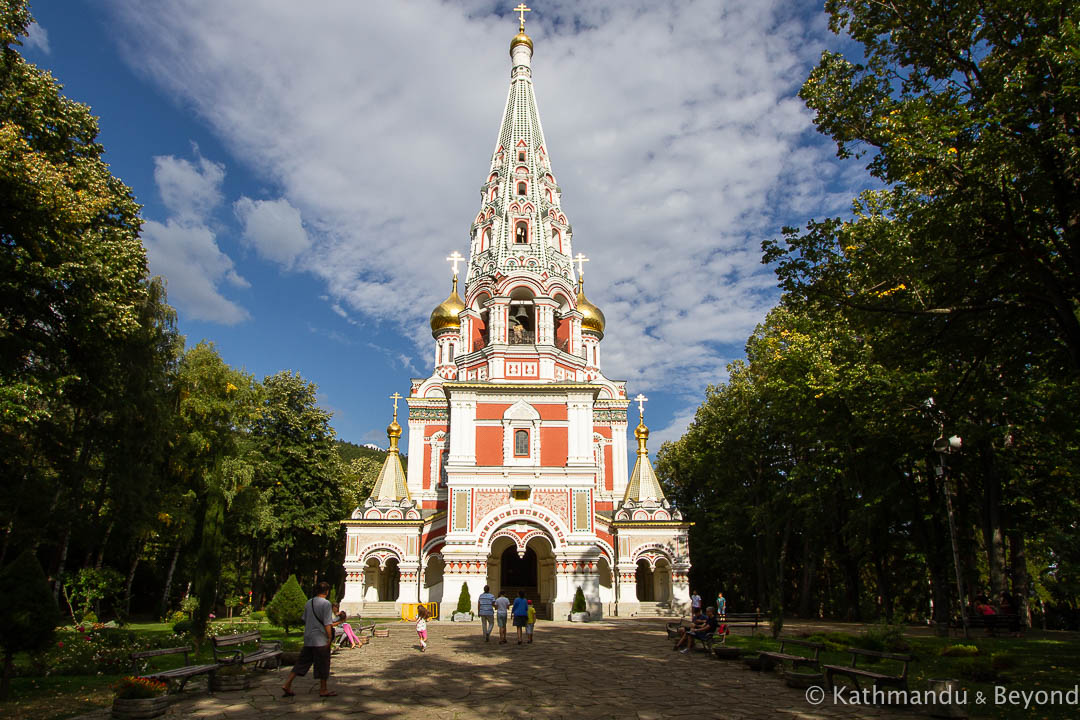 Shipka Memorial Church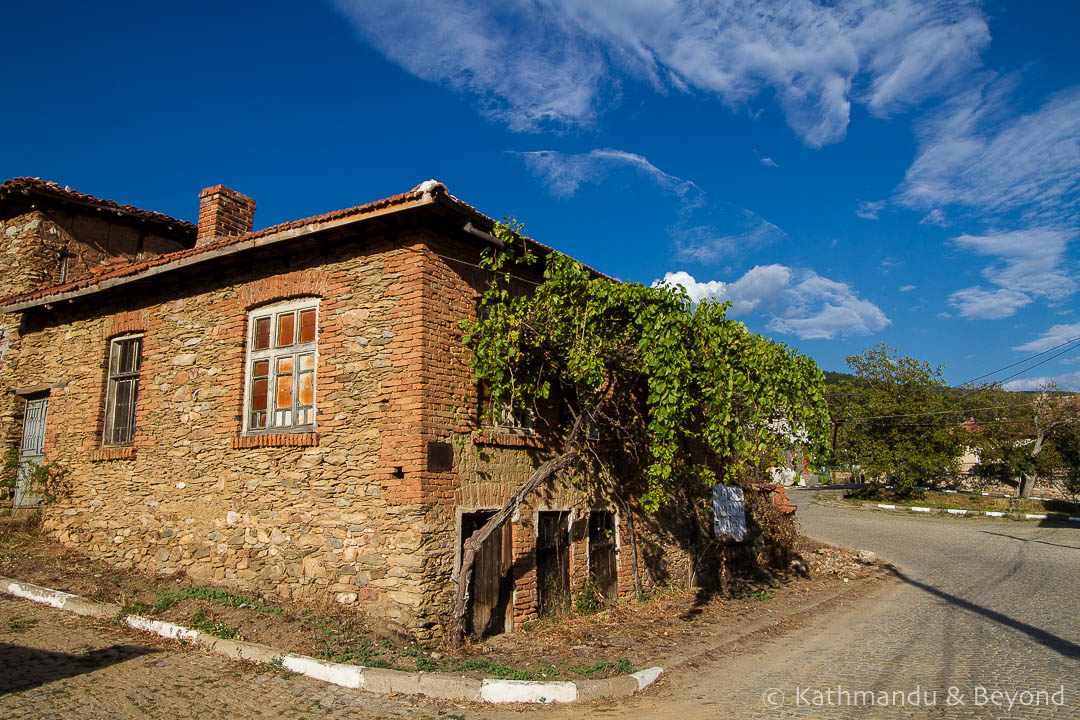 Shipka 
Preserving Buzludzha Monument 
You can't get a much more comprehensive guide to the Memorial House of the Bulgarian Communist Party than this one. In their own words, this project "aims to provide a comprehensive guide to the past, present and future of the Buzludzha Monument". It's a fascinating website.
Further Reading on Buzludzha Monument
Intrigued by the story behind the deaths of the two Frenchmen, Mark's dad put on his detective hat and decided to delve deeper into the question of whether or not they had been murdered at Buzludzha, and if so, why? Or whether it is just an elaborate hoax … Read his post: 'Murders at Buzludzha: Fact or Fiction?'
Additionally, quite a few blog posts have already been written about the Buzludzha Monument, including many travellers who were lucky enough to have visited when it was still possible to sneak inside. Others have also written a far more in-depth account of the history, so we haven't repeated the same detail here. These are our favourites, which also feature those much-coveted interior shots:
Global Gaz: Buzludzha Monument – Flying Saucer
Yomadic: Communist Party Headquarter Buzludzha – Bulgaria is so hot right now
Ex Utopia: The Buzludzha Memorial House: Bulgaria's Communist Momento
---
---
DID YOU ENJOY THIS POST? WHY NOT PIN IT FOR LATER…