Our suggestions of what to do in Minsk, following our visit to the capital city of the Republic of Belarus
Totally flattened during WWII and rebuilt to showcase the architectural style of the Stalin Empire, Minsk is a surprisingly attractive city with plenty of green space, wide boulevards and the attractive Svislach River meandering through it. That said, Minsk also has more than its fair share of Soviet-era buildings and architecture. There are stark reminders throughout the city that the powers that be in Belarus have firmly sided with Russia rather than embrace Europe like so many other former Eastern bloc countries – concrete shopping centres, propaganda art and gigantic statues of Lenin and other Heroes of the Motherland are still evident throughout.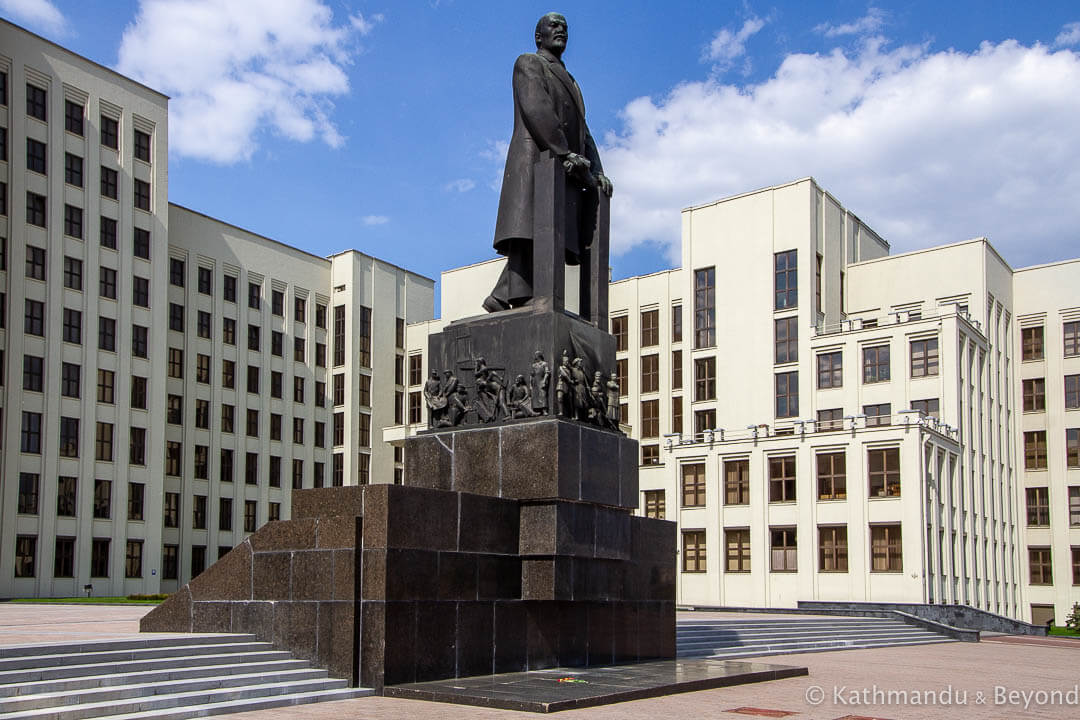 Belarusian Government Building in Minsk
Of course, it is subjective, but if you like Soviet Modernism architecture and want to get off the beaten path, then Minsk is an interesting place to visit for a day or two. And if you're not a lover of all things concrete, the broad tree-lined avenues, impeccably clean streets (you don't see any litter in Minsk), burgeoning coffee culture and pavement bars will undoubtedly appeal.
Self-Guided Walking tour of Minsk (3-4 hours)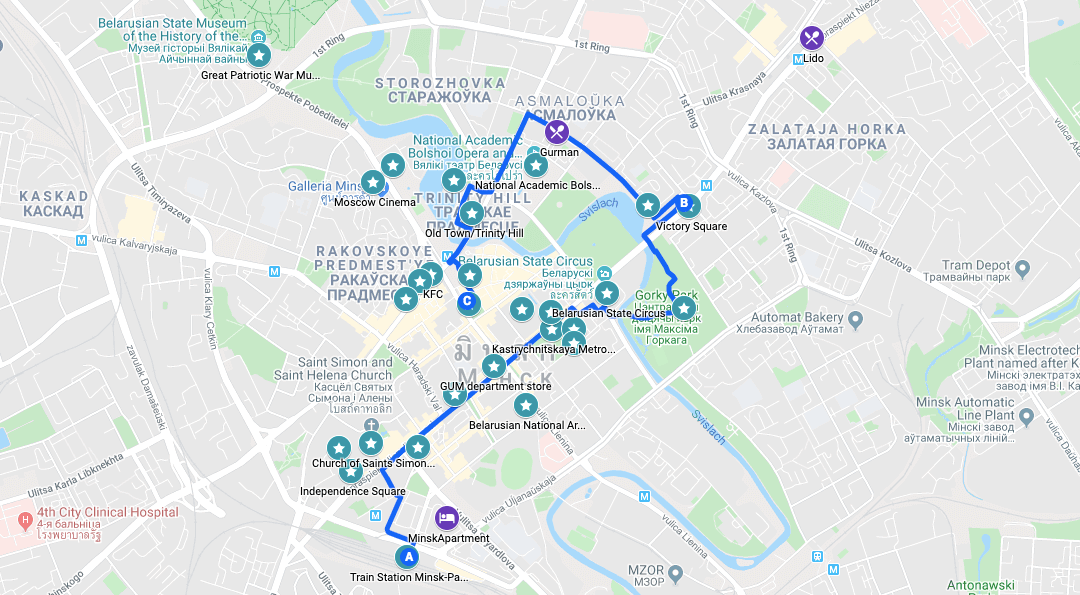 Minsk walking tour – click here to open Google maps version
Getting around Minsk is surprisingly easy, even if you have to use the metro. Most places to visit in Minsk fit into a convenient walking tour which will take 3 to 4 hours to complete (excluding any time spent visiting museums or taking the detour to the Belarusian Great Patriotic War Museum – see below).
The railway station is as good a place as any to start. Check out the facade of this modern-looking building before heading due north to Independence (Nezalezhnastsi) Square, where the Belarusian Government Building (pictured above) is fronted by a large statue of Lenin.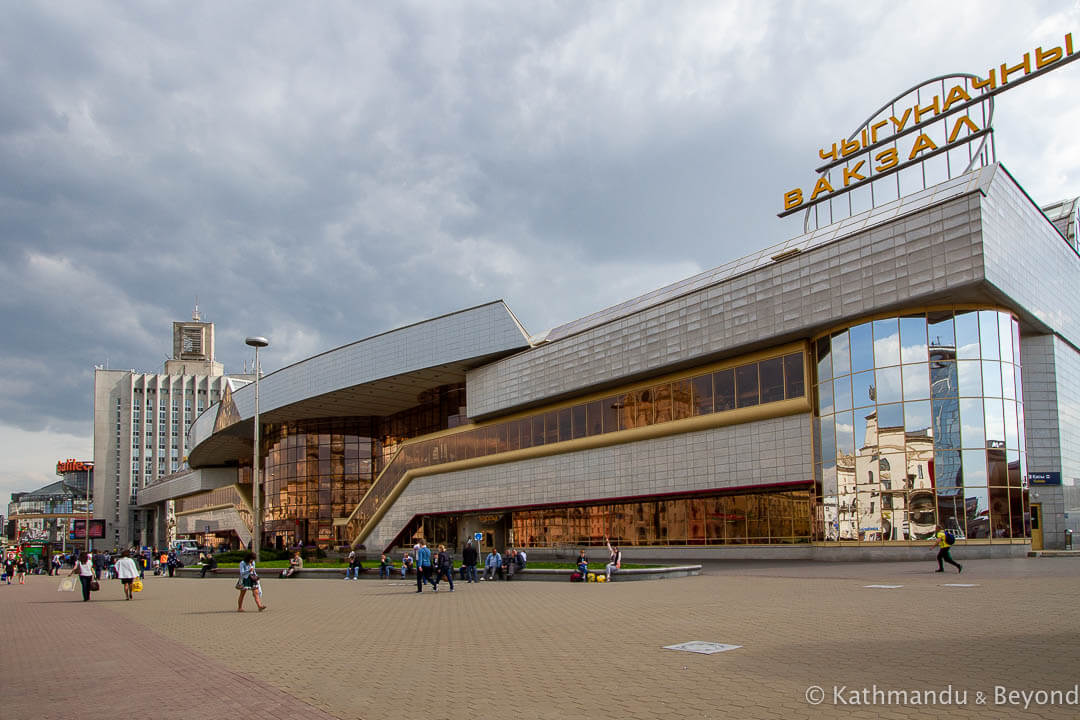 Minsk Railway station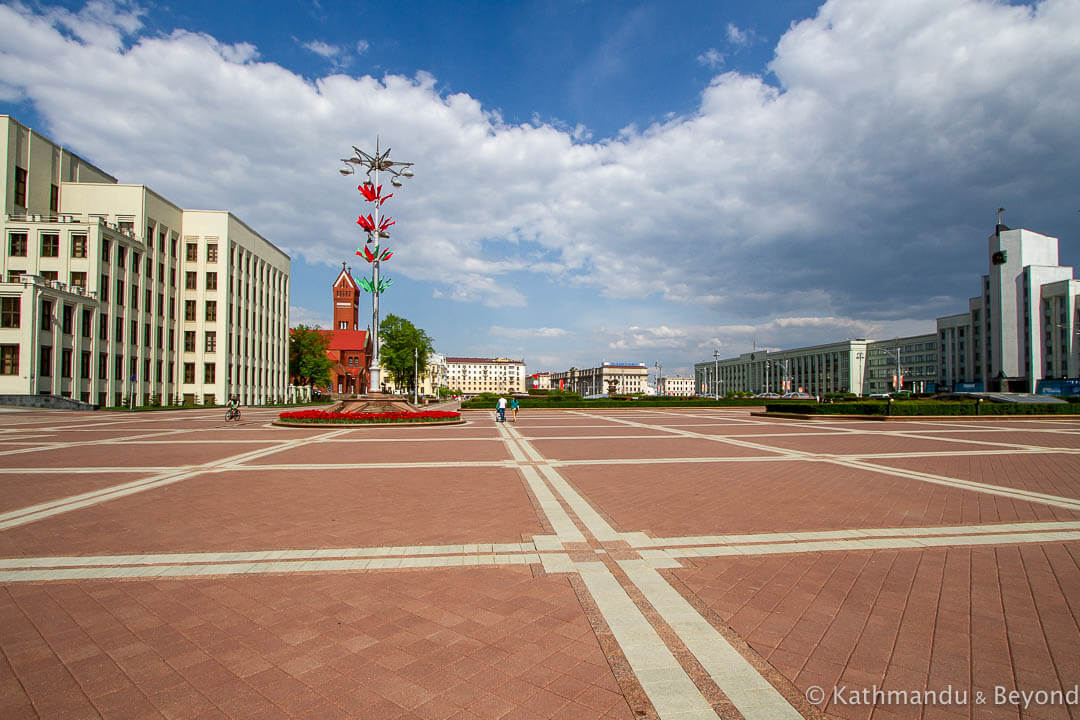 Independence (Nezalezhnastsi) Square
The Church of Saints Simon and Elena is also worth visiting before walking up Minsk's main avenue, Nezalezhnastsi Avenue. This wide boulevard is lined with some of the finest buildings in the city, including the Post Office on your right and the GUM department store on your left. Also of note is the yellow neo-classical building on the corner of Nezalezhnastsi Avenue and Kamsamolskaya Street. The KGB has never been disbanded in Belarus (*) and this ominous looking place remains their headquarters to this day.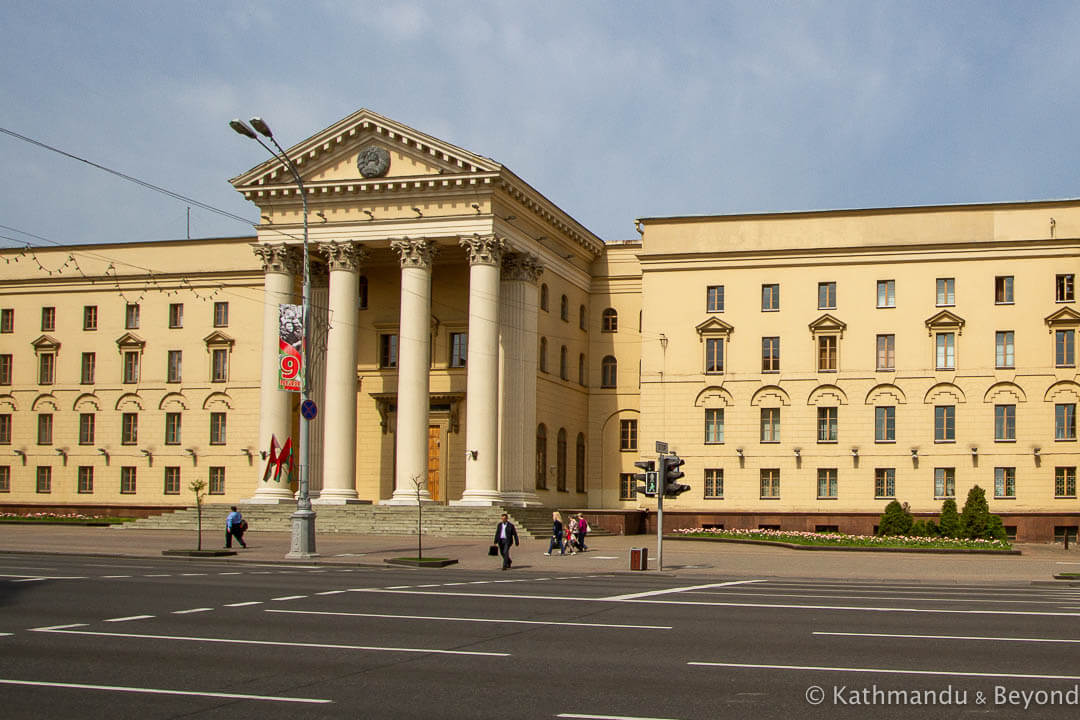 KGB Headquarters in Minsk
(*) Something we confirm first hand as we were in the city for the Victory Day parade on 9th May and it was crawling with guys in dark suits and sunglasses. It was a scorching hot day and we assumed they weren't hanging around on street corners in such attire simply to enjoy the day's festivities!
If you want to visit the Belarusian State Art Museum, this is a good time to detour off Nezalezhnastsi Avenue and do so. Otherwise, continue along the avenue as far as October (Kastrychnitskaya) Square. On the way, it is worth stopping at Kastrychnitskaya Metro Station, where the frontage has some good examples of Soviet-era propaganda art. October Square is the city's main plaza and you can't miss the huge Palace of the Republic and the Stalinist-Empire style Trade Unions Palace of Culture.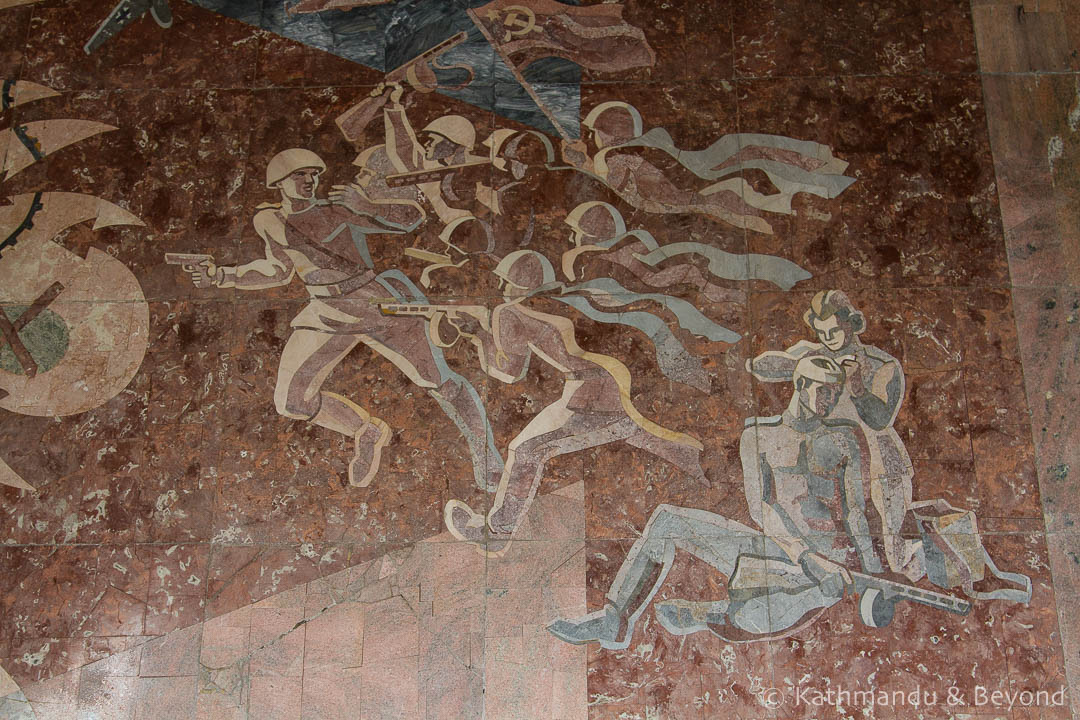 Soviet artwork outside Kastrychnitskaya Metro Station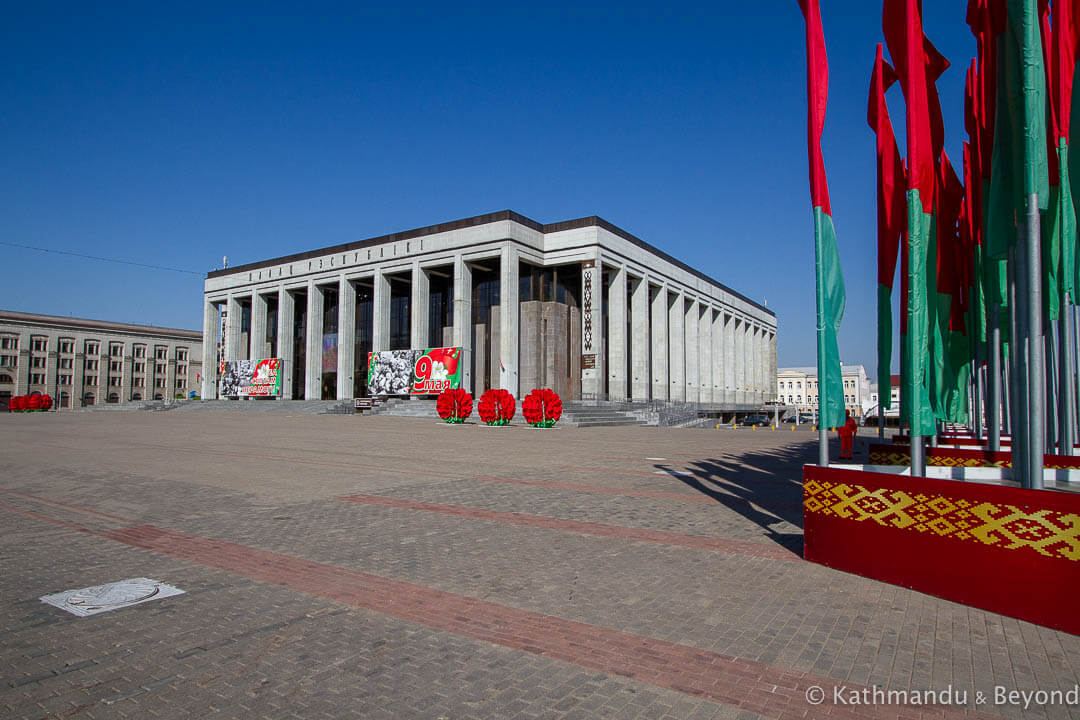 Palace of the Republic, October Square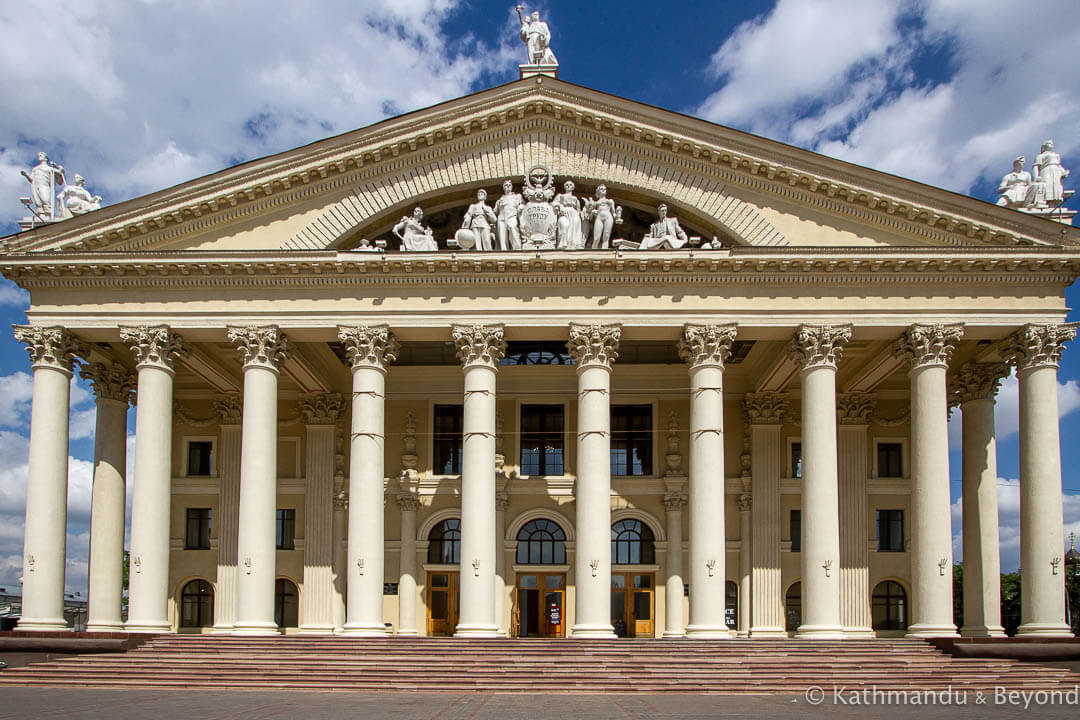 Trade Unions Palace of Culture
Over the road from October Square is Central Square (Tsentralny Skver), which is smaller in size and dominated by the slate grey Officer's Building (Dom Ofitserov) and a tank memorial that is dedicated to the soldiers who defeated the Nazis and liberated Minsk.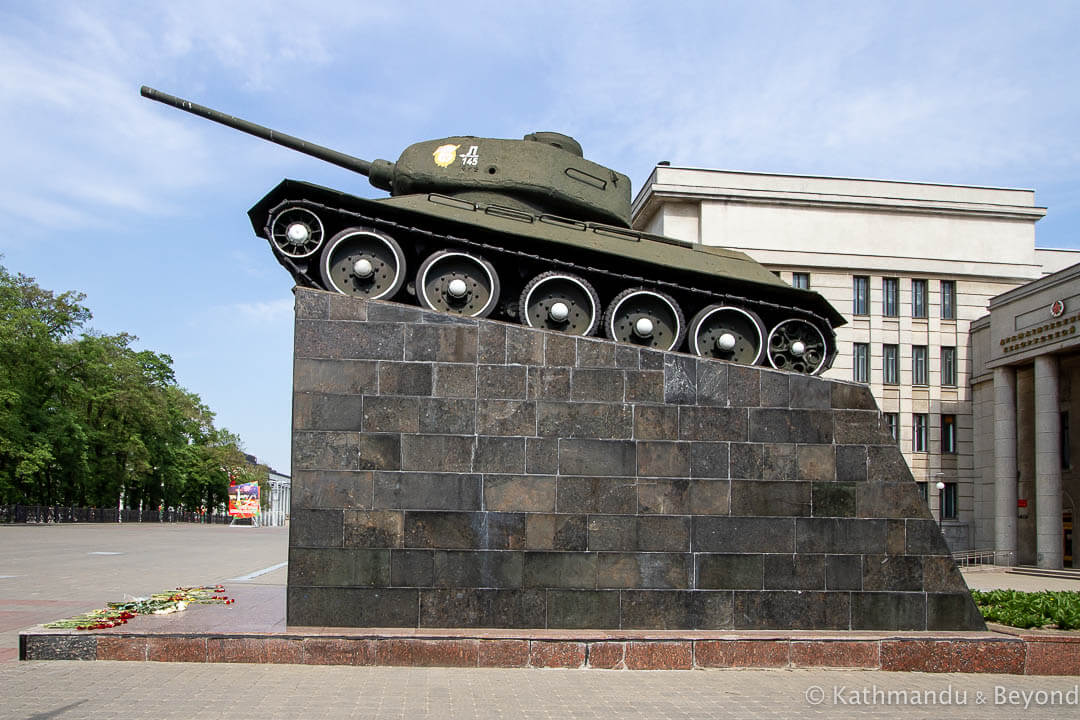 Tsentralny Skver (Central Square)
Rather than continuing up Nezalezhnastsi Avenue, I would suggest heading downhill from the tank memorial and entering Gorky Park via its southern entrance. Before entering the park, you might want to take a quick look at the Soviet-style circus building to your left. Gorky Park is a pleasant place for a stroll and en route keep an eye out for the spaceship-style hockey stadium and the huge Ferris wheel which only seems to operate in the afternoon. There is a public toilet in the park – take advantage if you need to go, these are far and few between in Minsk!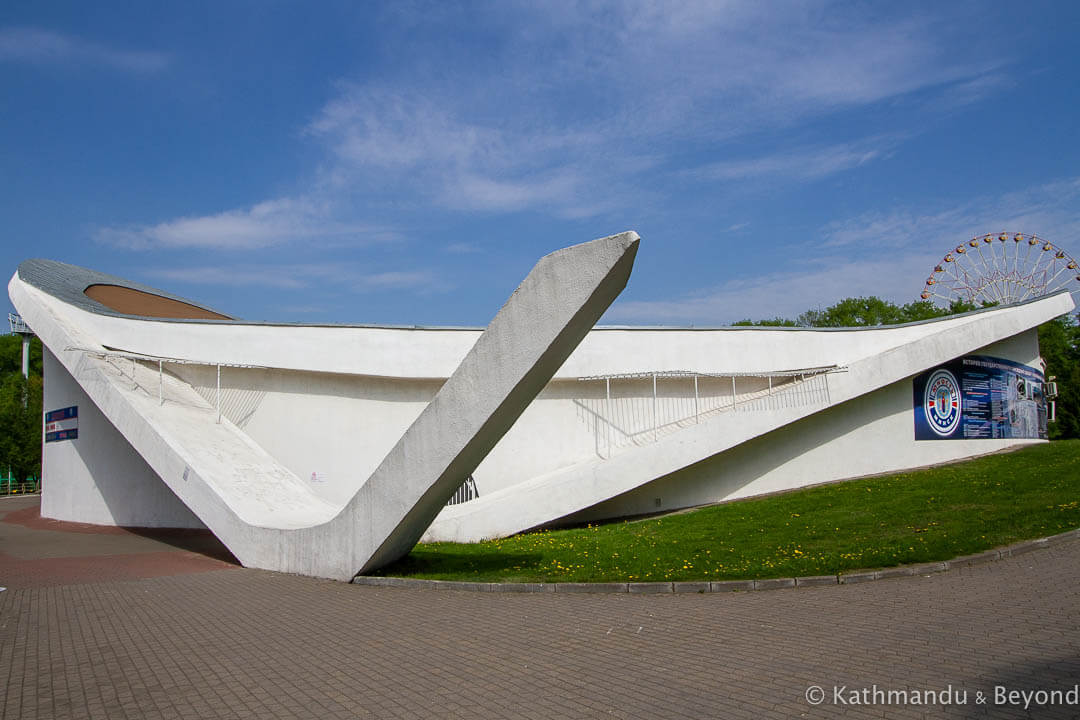 Hockey Stadium, Gorky Park
You can exit the park through its main entrance and continue the short distance along Nezalezhnastsi Avenue to Victory (Peramohi) Square. This square is dominated by a huge obelisk, beneath which (i.e. underground) you will find an eternal flame.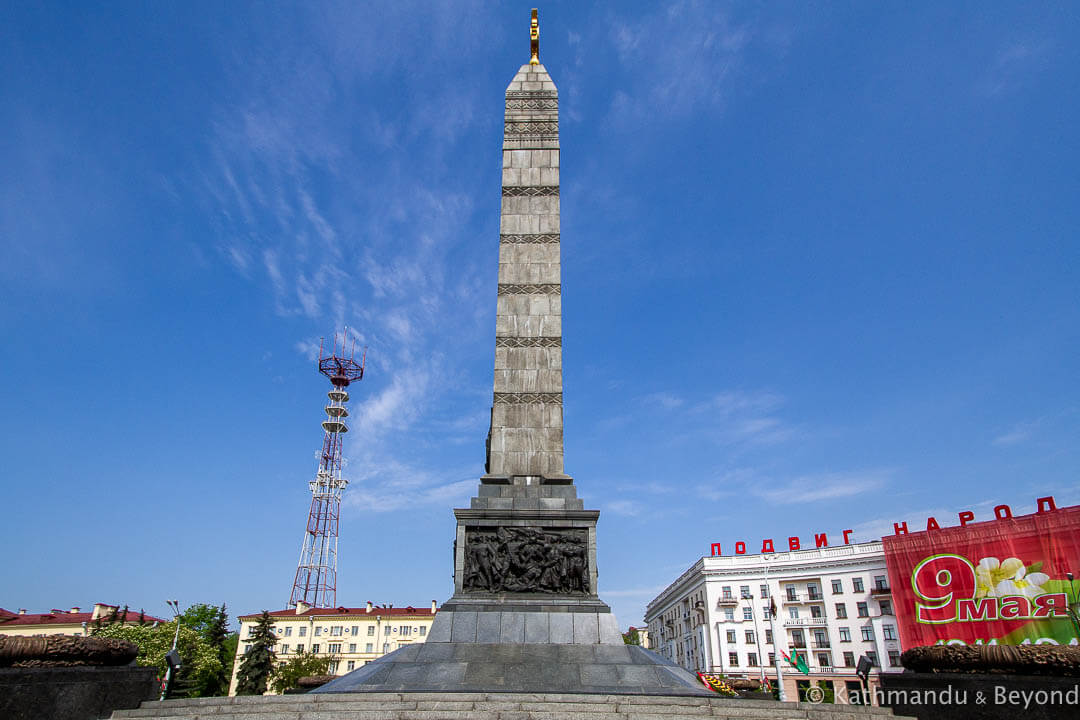 Victory Square
For something a bit offbeat, backtrack a little down Nezalezhnastsi Avenue until you reach the bridge. At this point take a right and visit No.4 Kamyunistychnaya Street, where the lower apartment was once home to Lee Harvey Oswald.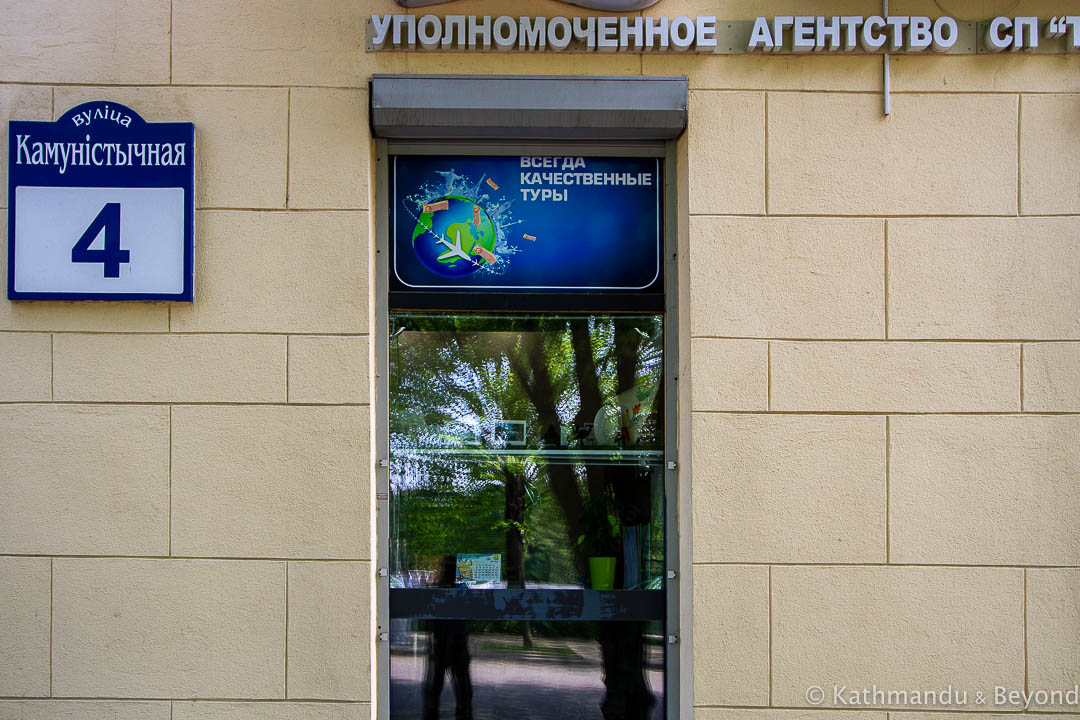 Former Residence of Lee Harvey Oswald
There's not a lot to see, but from here you can continue along Kamyunistychnaya Street to Gurman, a Russian restaurant that makes great homemade soup and pelmeni (Russian-style ravioli). Even if you aren't hungry, it's a pleasant place to stop for a drink.
From the restaurant, it is a short walk to The National Academic Bolshoi Opera and Ballet Theatre of the Republic of Belarus, which is one of the most impressive buildings in the city.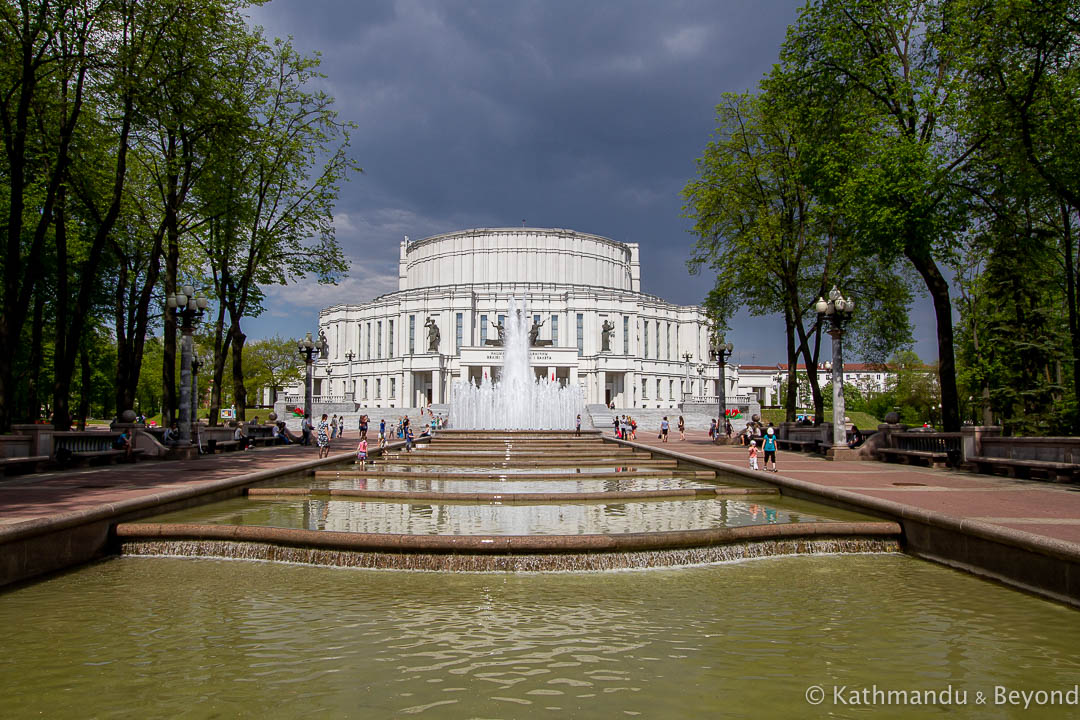 The National Academic Bolshoi Opera and Ballet Theatre
Minsk's titchy Old Town (Traetskae Pradmestse), also known as Trinity Hill, is next. Since there's no construction older than the 1950s, this worthwhile effort attempts to show what Minsk's buildings would have looked like pre-WWII. It does a pretty good job and there are a few cafés and a nice view of the river from here.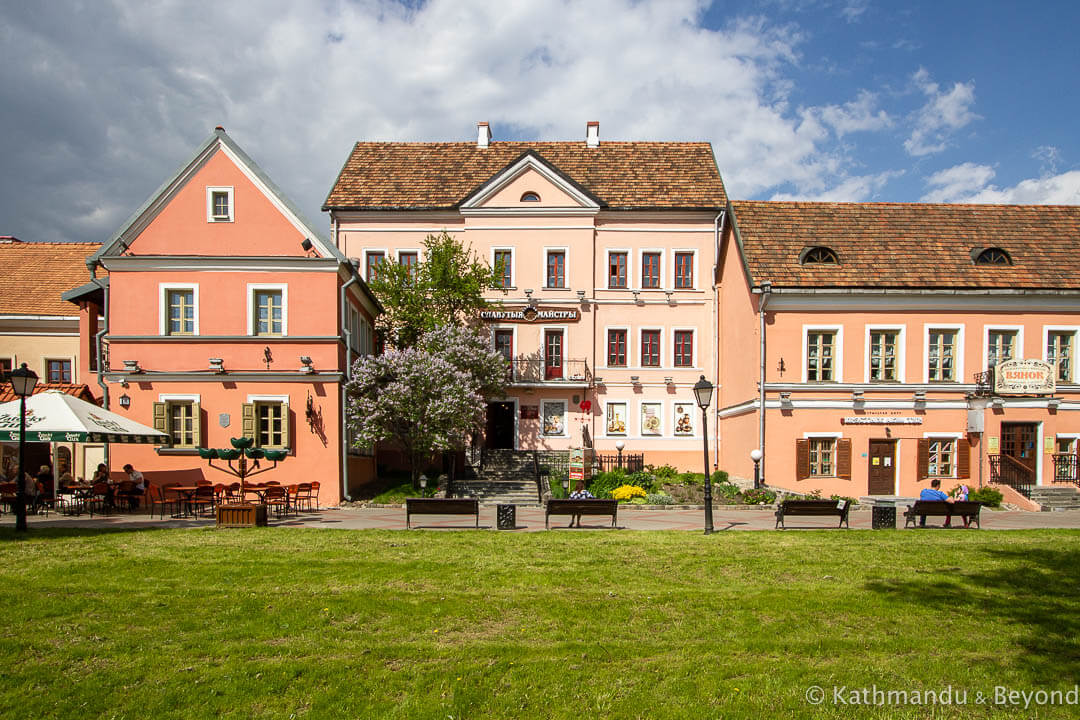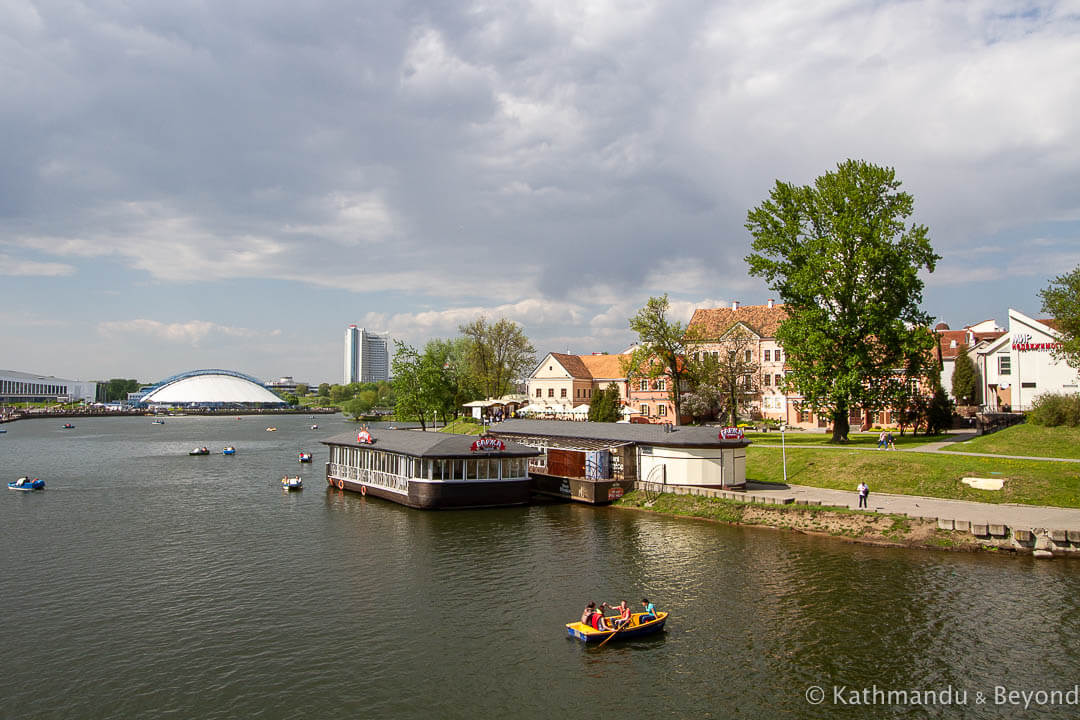 Minsk Old Town
Close by is the Island of Tears (also known as the Island of Courage and Sorrow), a haunting monument dedicated to Belarusian soldiers who lost their lives fighting for the Soviet Union in Afghanistan.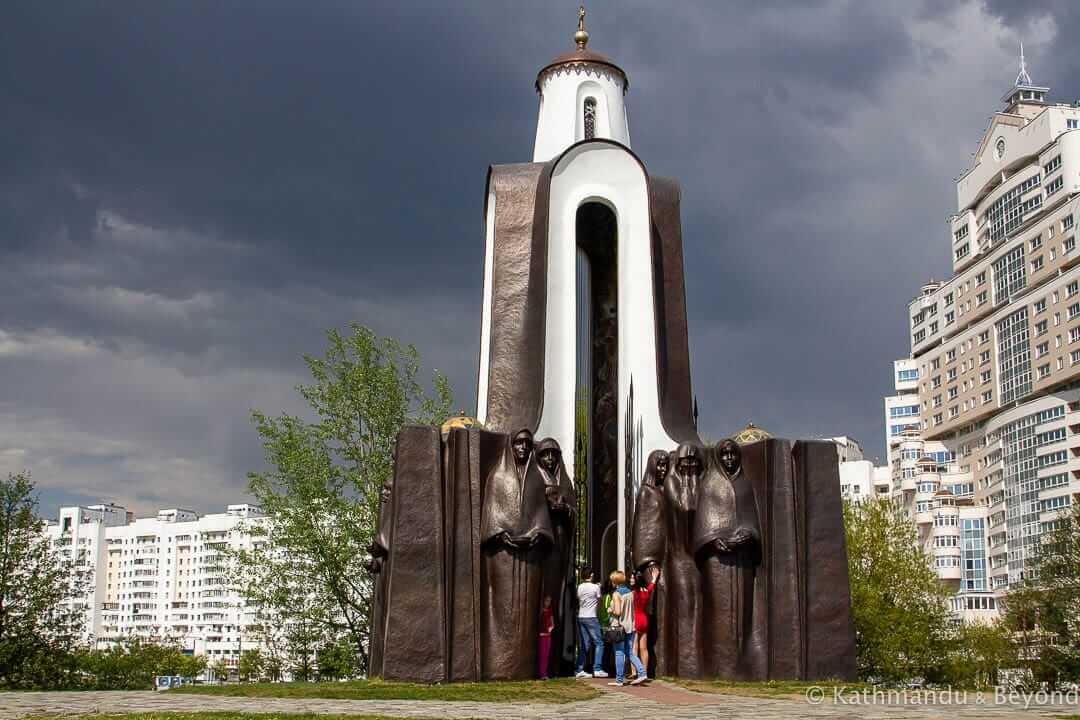 Island of Tears
Crossing the river and leaving the Old Town behind, you will end up on the Lenin overpass (near Nyamiha metro station). Note the stirring Soviet-era bas-relief on the facade of the Belarusian Fashion Centre (House of Fashion) before checking out the Church of Saint Peter and Saint Paul which is dwarfed by some heavy-duty concrete structures.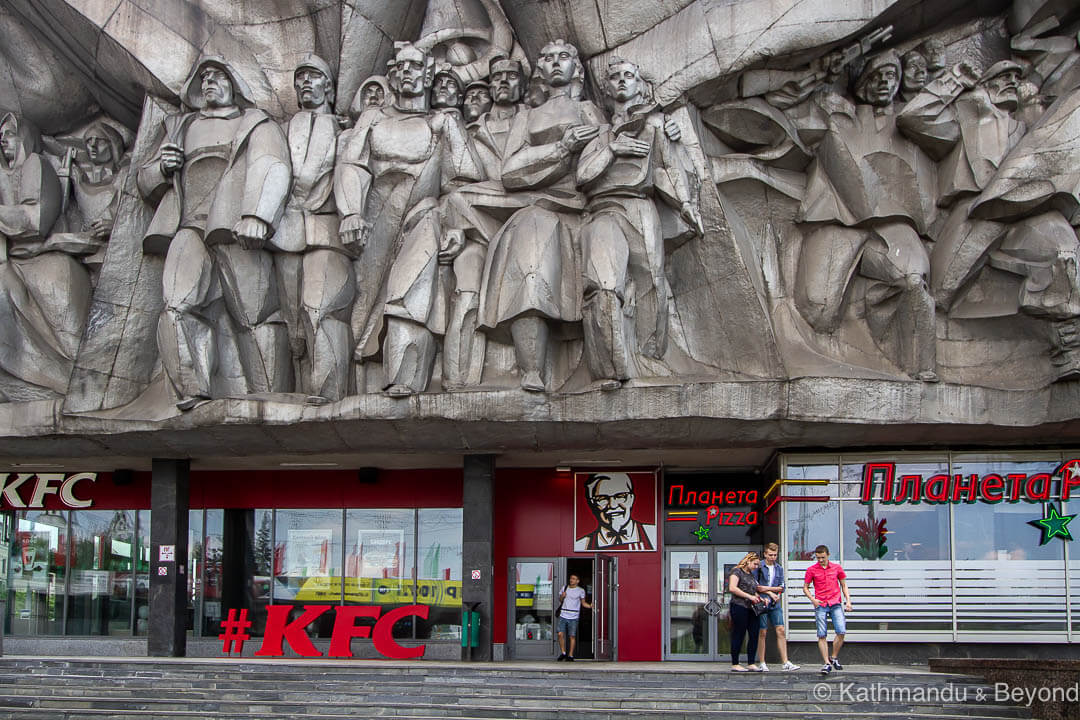 Socialist-era KFC! (House of Fashion)
In fact, it is worth heading up the stairs near the church and wandering along the elevated walkway through Na Nemige which is as fine an example of a modernist shopping centre as you'll find anywhere. For a throwback to the 1980s, take a peek inside the main department store before backtracking to the Lenin overpass and ending the walking tour with a visit to Svabody Square. The two key places of interest in the square are the Holy Spirit Cathedral and the Town Hall, but it is also the location of some pleasant cafes and eateries.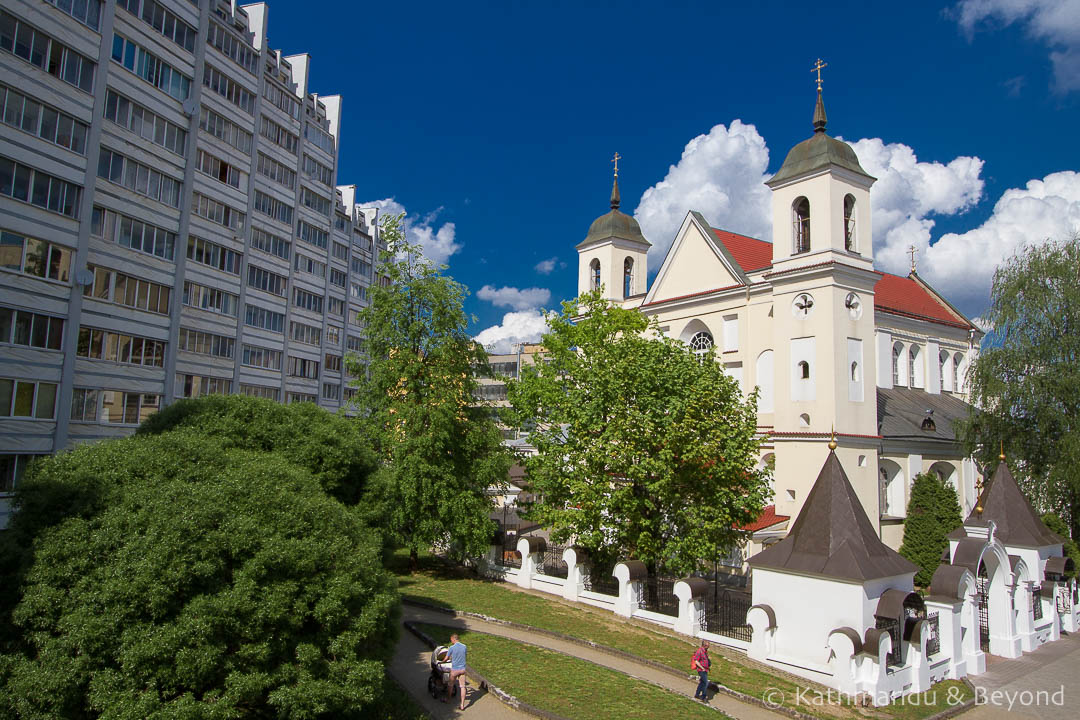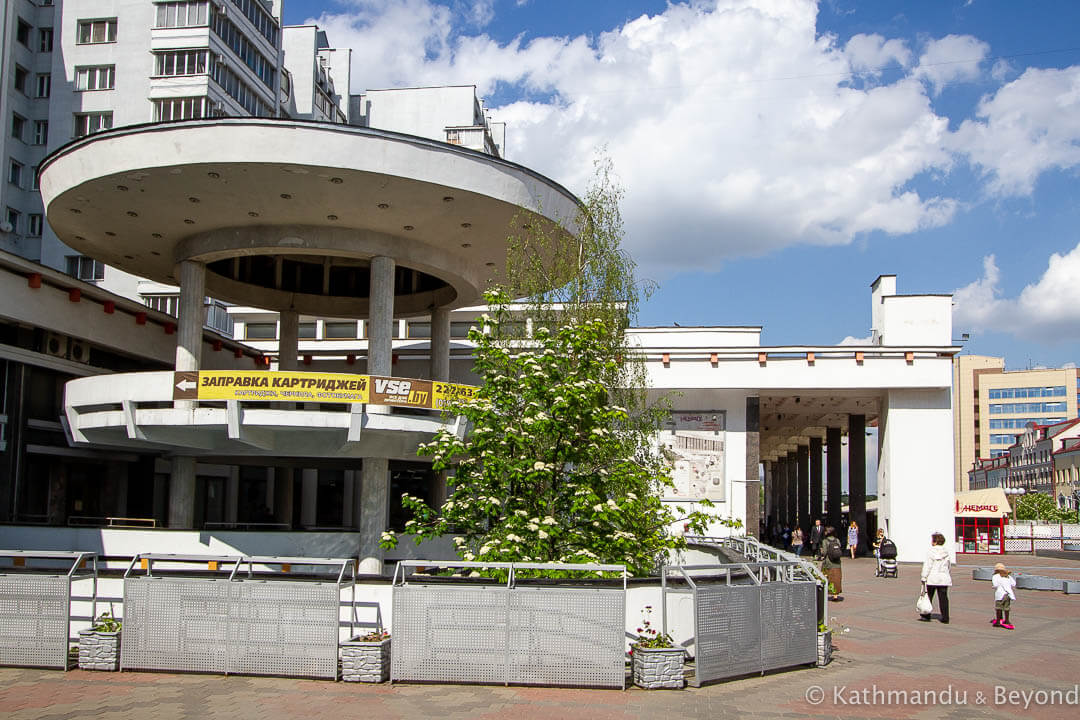 Church of Saint Peter and Saint Paul (left) and Na Nemige Shopping Centre (right)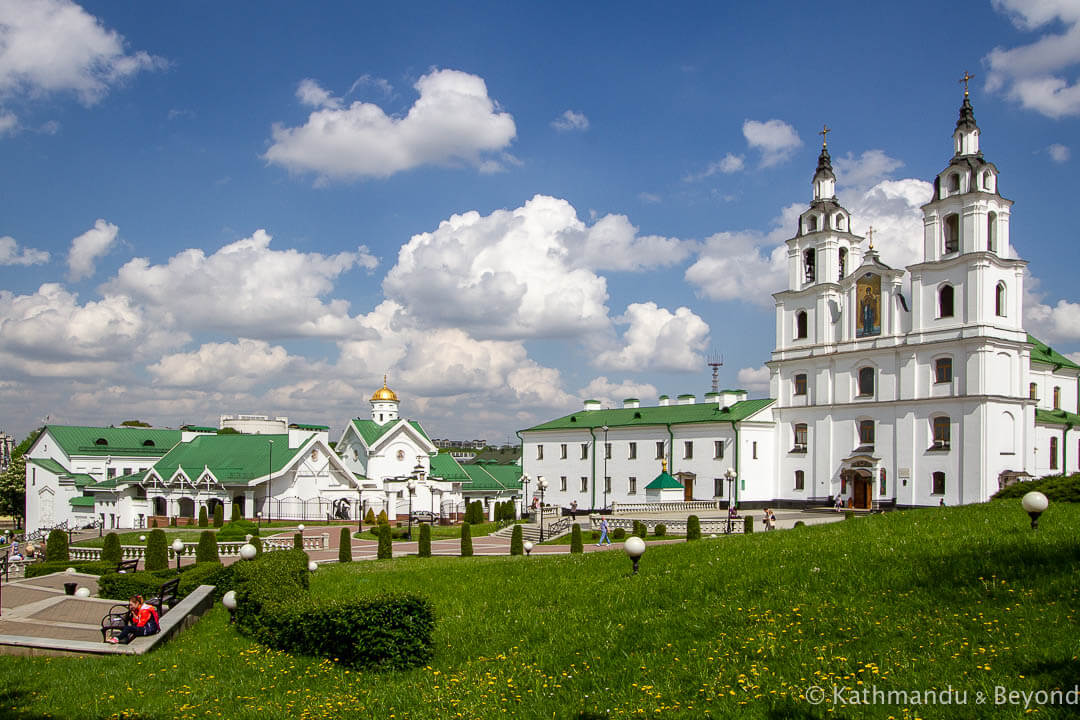 Holy Spirit Cathedral on Svobody Square
At this point, you will have come almost full-circle back to October (Kastrychnitskaya) Square and Nezalezhnastsi Avenue.
Option for extending the walking tour at the Old Town and including a visit to the Belarusian Great Patriotic War Museum
In earlier versions of Lonely Planet's guidebook to Eastern Europe, the Belarusian Great Patriotic War Museum is listed as being located next to the Palace of the Republic on October Square. However, the museum has now moved away from this very central location and is situated on Pieramozcau Avenue, approximately 800 metres northwest of Nyamiha metro station. There is public transport (buses) that pass by the museum but we couldn't work out which number we needed to take and so ended up walking to it. In the event, this was a good call. After visiting the Island of Courage and Sorrow, we walked along the east bank of the Svislach River for about 20 minutes until we reached the huge memorial at the base of the museum (which is also the entrance to a big park).
After visiting the museum, we strolled back along Pieramozcau Avenue until we got to Nyamiha metro station and the Lenin overpass, from where we picked up the remaining section of the suggested walking tour detailed above. There are some interesting buildings on Pieramozcau Avenue including the Sports Palace and the Moscow cinema (*), which I thought was a fantastic looking building. You will also notice several Soviet-era shops selling furs (coats, hats etc.) along this street – apparently, this is still a sizeable industry in Belarus.
(*) If you like the look of the Moscow cinema, also check out the Children's Cinema (especially the interior), which is opposite the President Hotel (near the Belarusian State Art Museum) and the October cinema which is situated opposite the National Academy of Sciences of Belarus (nearest metro Akademija Navuk/Akademiya Nauk) and a fine example of Soviet Modernism.
Update January 2020: It may well be that the Moscow cinema will not look like it does in the photo below by the time you get to see it. Plans are afoot to renovate/modernise the cinema both inside and out. If these plans go ahead (there is a petition in place to try and prevent them from happening) then this iconic movie theatre will no doubt lose its original architectural design.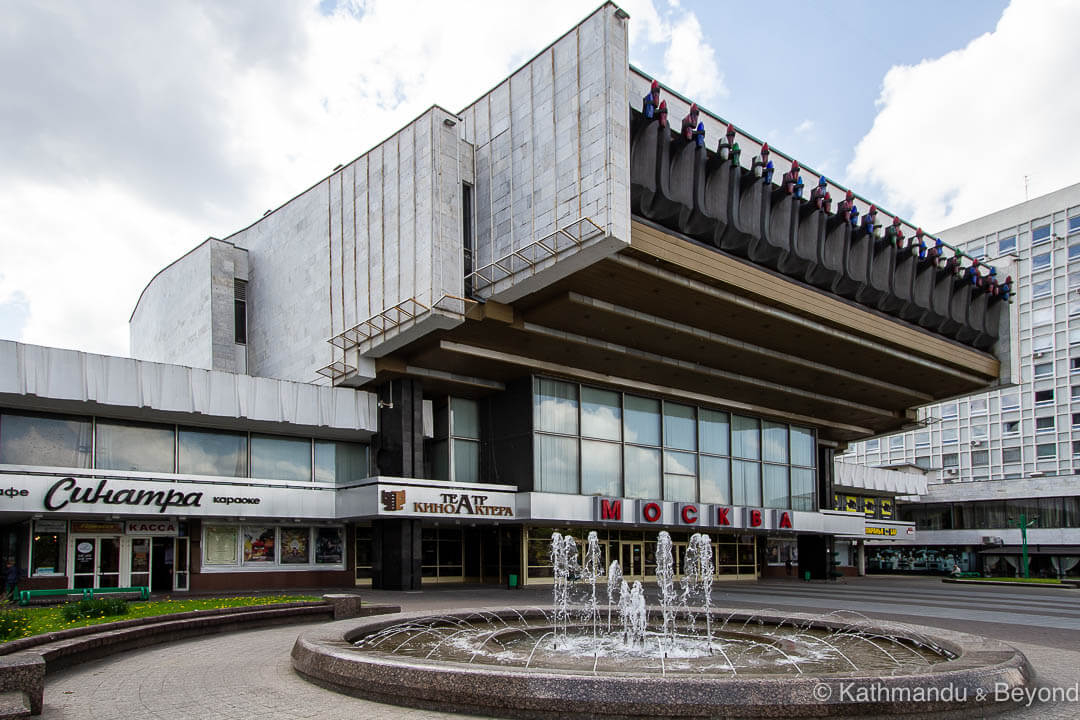 Moscow Cinema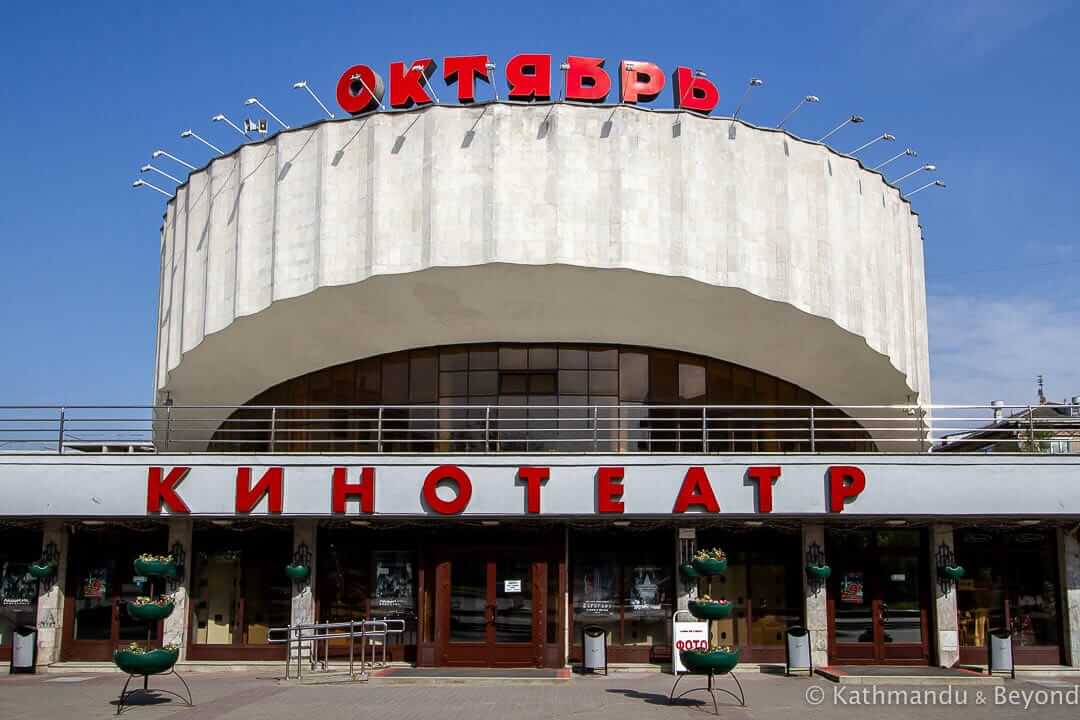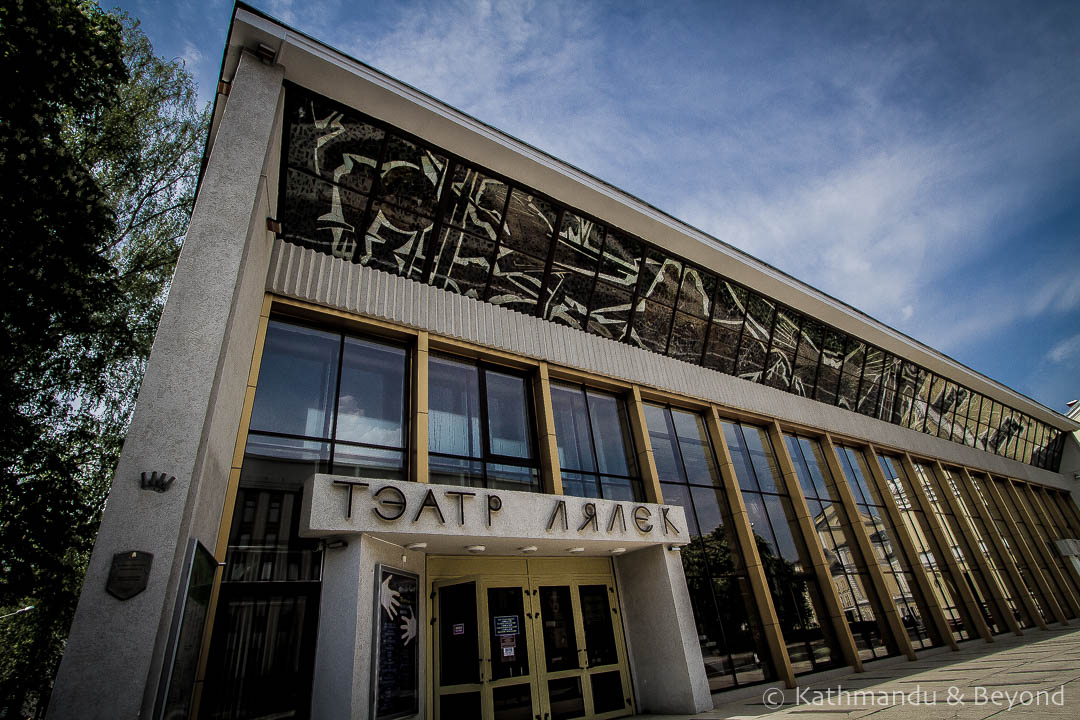 Above right: October Cinema and above left: Children's Cinema
The Belarusian Great Patriotic War Museum is pretty interesting – impressive from the outside and well-presented on the inside. There are several exhibition halls to get through and quite a lot of the descriptions are in English. Allow at least 1½ hours for a visit. The current price (May 2016) is BYR70,000 (US$3.50) plus BYR15,000 (US$0.75) to use a camera.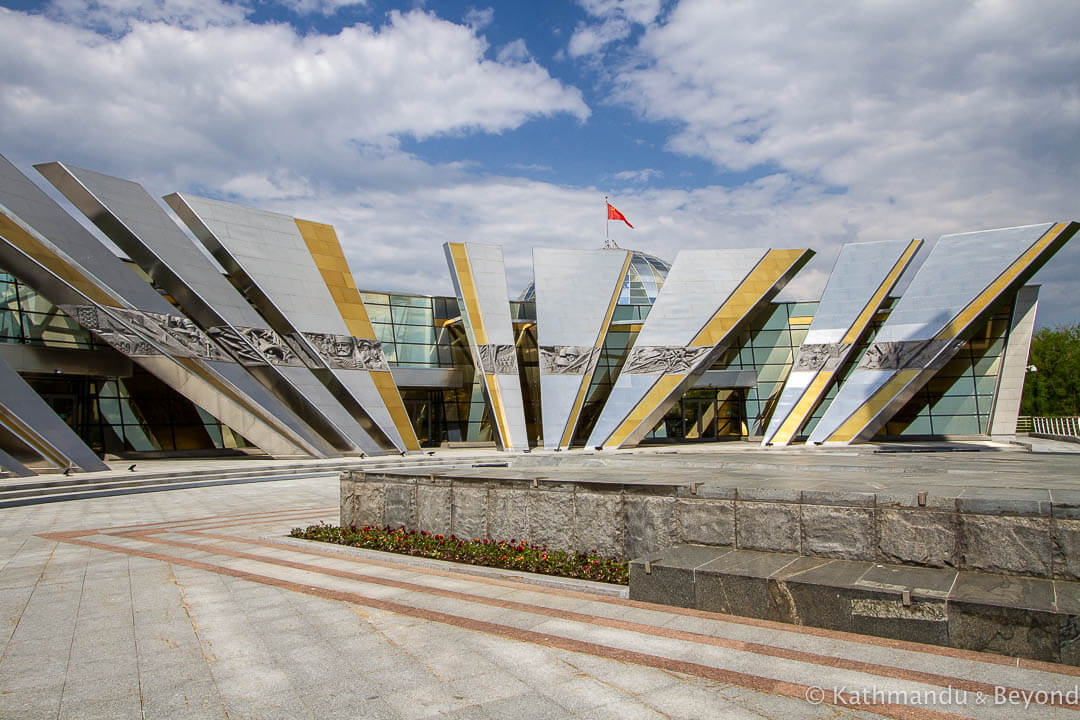 The exterior of the Belarusian Great Patriotic War Museum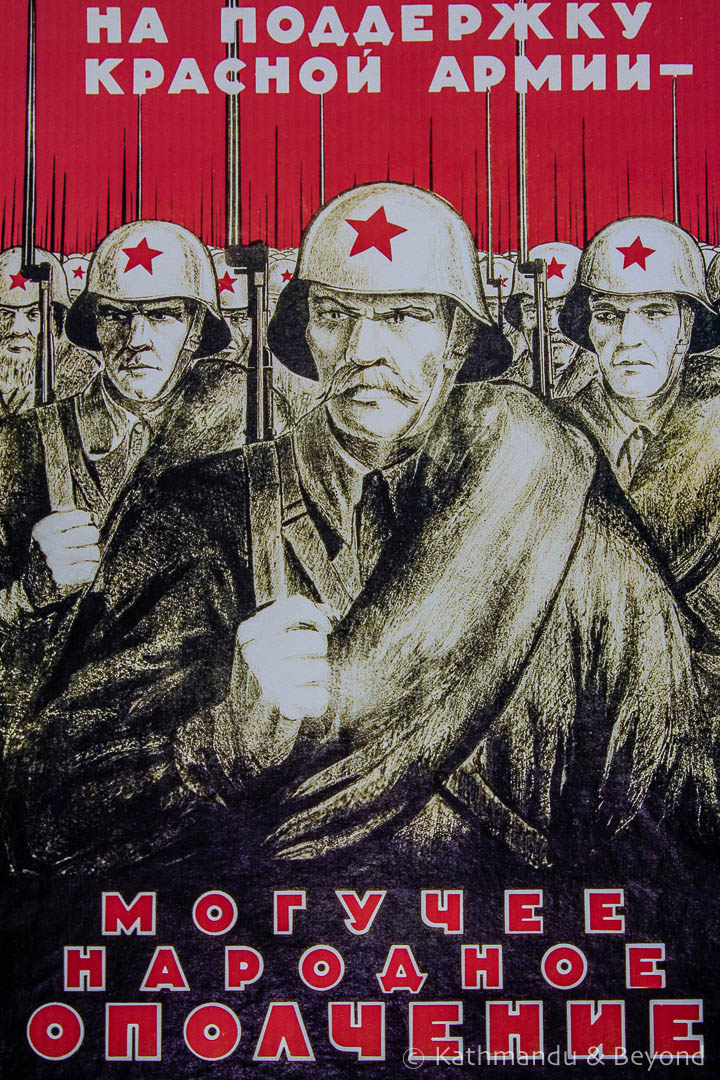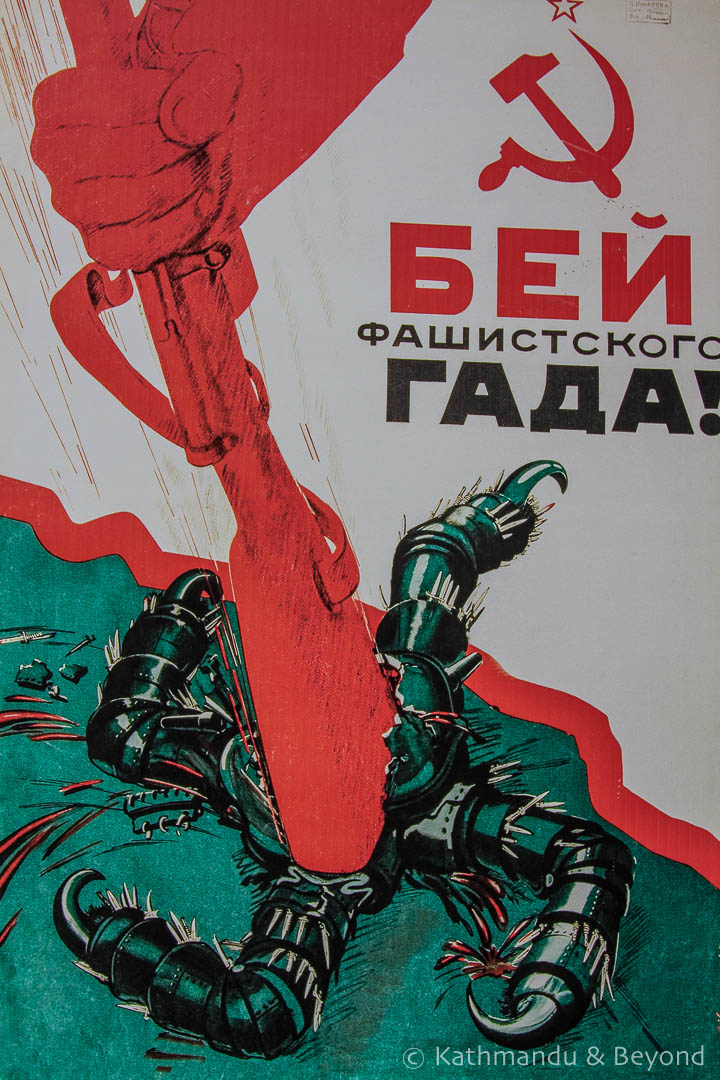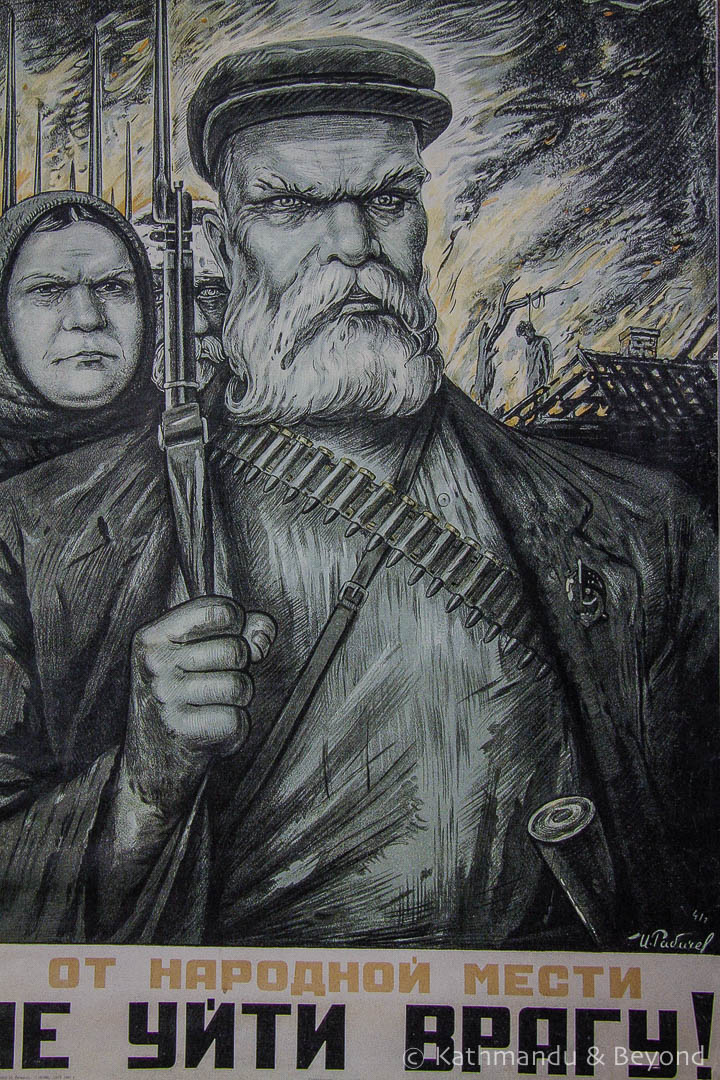 Propaganda art on display inside the Belarusian Great Patriotic War Museum
Things to do in Minsk away from the city centre
If you have the time, there are also a few places worth checking out away from the city centre. The National Library of Belarus on Nezalezhnasti Avenue is a beast of a building some 3km northeast of Victory (Peramohi) Square. The library is best reached by taking the blue metro line to Uschod station (also called Vostok station) – you won't miss the building upon exiting the station and it's about a 15-minute walk away. The library has a viewing platform but unless you visit at night, the panorama is not that impressive but the building itself is and if you want to photograph it in all its glory (i.e. with the sun behind you), it is best to visit in the late afternoon. Note the Soviet-era East-1 Residential District with its colourful mosaics that is opposite the library and Uschod metro station.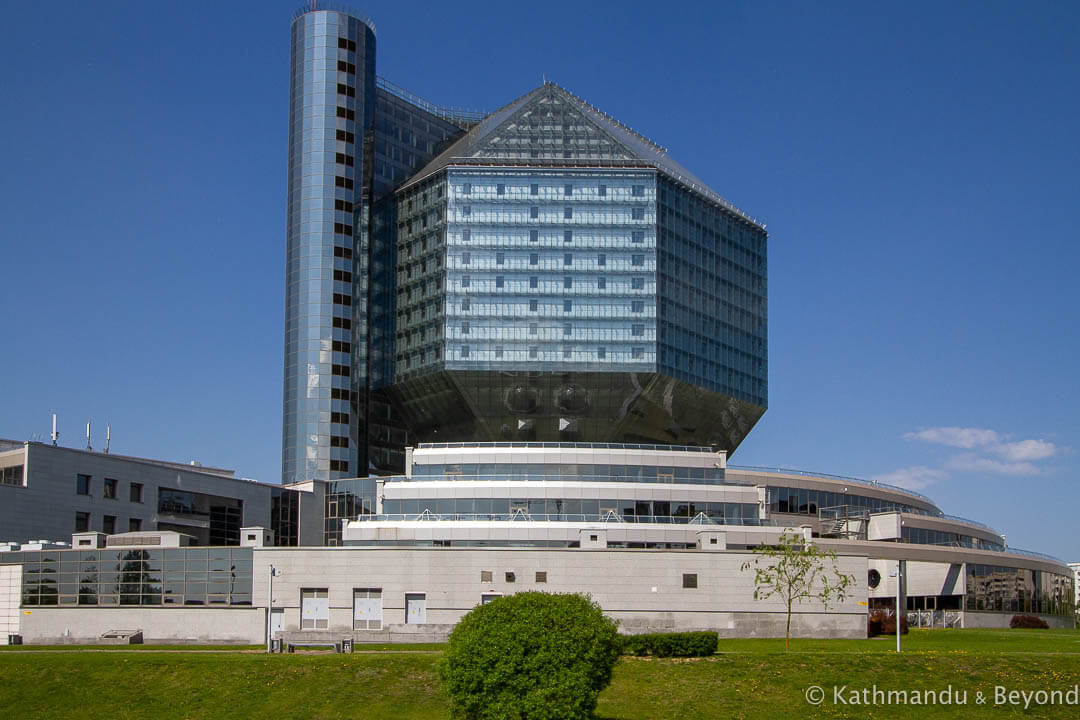 National Library of Belarus
Also on the same side of Nezalezhnasti Avenue as the library and one stop further on the metro (Barysauski Trakat/Borisovski Trakt station) is the weird ship-like building of the Belarusian National Technical University, a futuristic Soviet-era building that was constructed in the early 1980s.
Belarusian National Technical University
We also ventured out to view the mighty Mound of Glory. Situated 20km from Minsk, on the Moscow Highway, this colossal memorial is dedicated to Soviet soldiers who fought for the Motherland during WWII. The monument is not too far from the airport and you will more than likely catch a glimpse of it when driving to/from the city but if you want to get a closer look you will need to catch the blue line metro to Uschod station (which is the same stop for the National Library of Belarus). Exiting on the same side of the road as the library, you then need to catch a Marshrutka (fixed-route minivan) or a public bus to the village of Slabada (Слобода in Belarusian). We have zero Belarusian (or Russian) language skills but managed to find a Marshrutka almost instantly. It helps if you have a photo of the Mound of Glory saved to your phone as everybody knows the monument.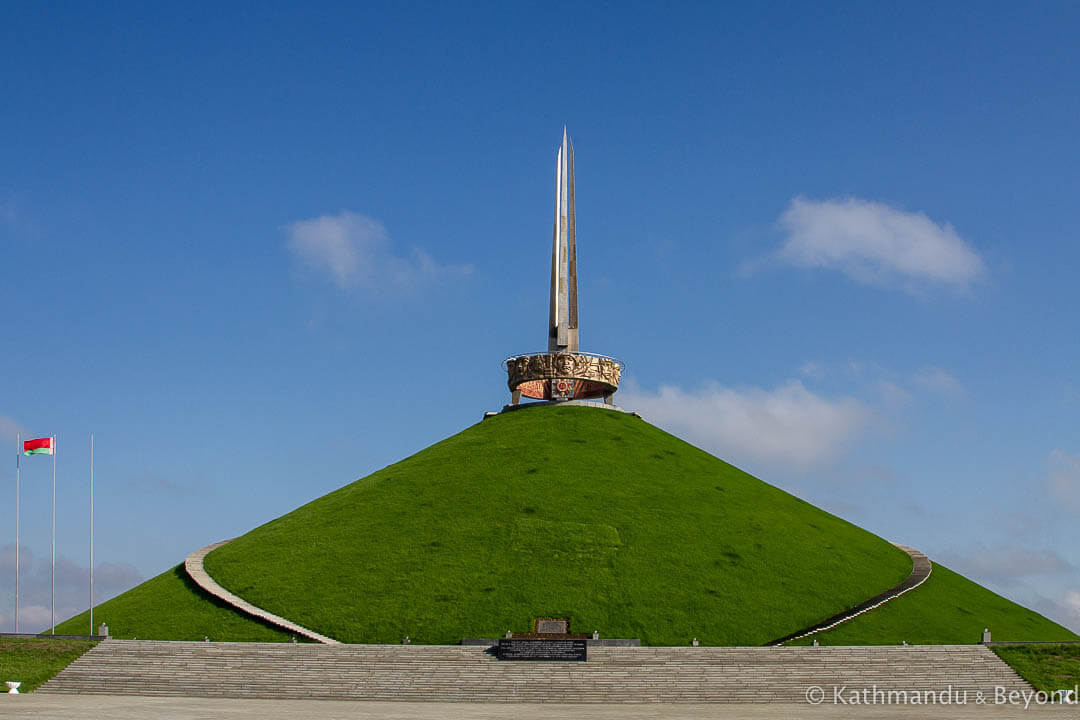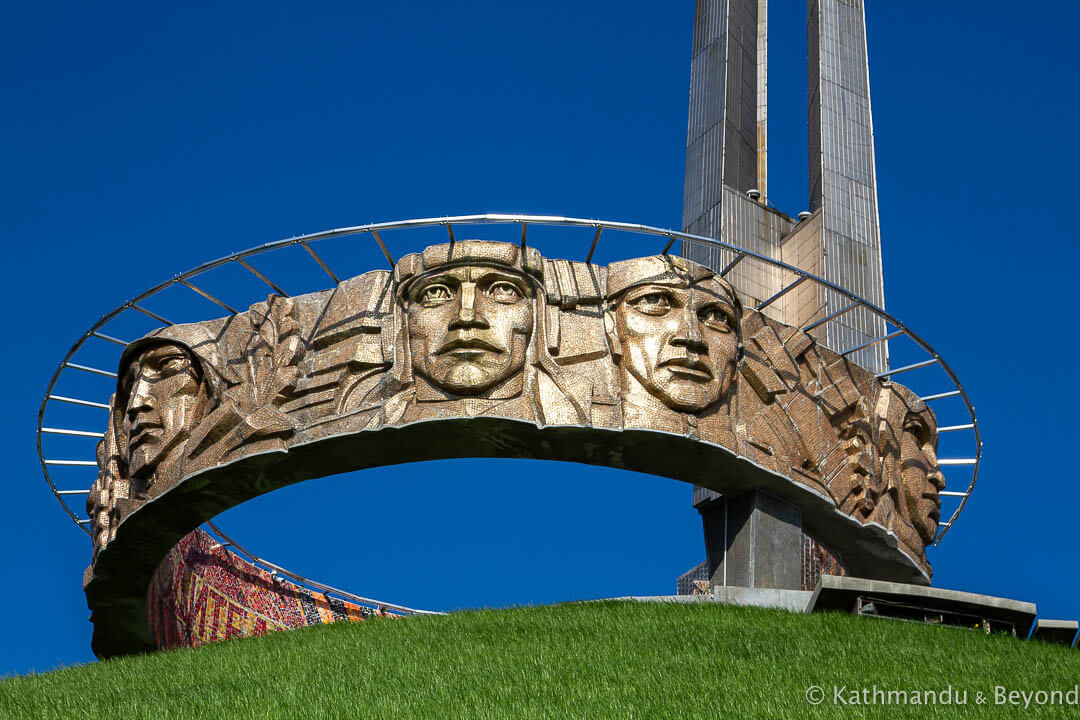 The Mound of Glory 
Transport doesn't terminate at Slabada but it is the first significant stop once you have left the city limits (the Marshrutka will turn off the highway to the village bus stop). Upon arrival at the village, you need to head to the opposite side of the road via the underpass and then walk along the Moscow Highway (away from the city) for approximately 1.5km. It is an unpleasant walk and there is no pavement. We were lucky in that the driver of our Marshrutka on the outbound journey told us to stay in the van when we reached Slabada and he dropped us directly in front of the monument. For the return journey, we had to walk back to the bus stop as no transport would stop for us on the highway. A Marshrutka costs 10,000 BYR (Belarusian Ruble) one way and the bus cost 7,000 BYR. If you don't want to tackle public transport, it should be pretty easy to find a taxi driver that will take you there – just show him a photo and negotiate a price.
Map showing the location of the out of town sights, in relation to Minsk city centre

Sights in Minsk outskirts. Click to enter complete Google map version
There are also some longer day trips out of Minsk – Mir Mip, Nyasvizh and Dudutki are all recommended by both Lonely Planet and the Belarus Tourist Board, but public transport to them (and certainly between each one) is limited and so we decided to give them a miss on this occasion.
Where to stay in Minsk
We spent five nights at the Minskapart Apartment (Kirova Street 4/6, Oktyabrsky District, 220000 Minsk, Belarus). The apartment building was located just a couple of minutes' walk from the railway station and overall we would rate our stay very highly. The apartment was spacious – we had a separate bedroom, lounge and kitchen as well as a decent sized bathroom. The location was very quiet (we overlooked a large courtyard) and ideal for visiting the city. The only criticism would be that the curtains in the bedroom were too thin and allow in too much early morning light (a common feature in much of Central and Eastern Europe) but apart from that, we were very happy there. Serge, the owner met us at the station and gave us a quick orientation tour of the city in his car before taking us to the apartment. He spoke only a few words of English but brought along a friend whose command of the English language was excellent. Serge said he would try and do this each time he had non-Russian speaking guests (95% of his guests are Russian speaking). It was a nice touch and most welcome as it meant we could ask questions and converse in our mother tongue for a short while!
Serge also took care of registering our stay in Belarus (see useful tips below). He picked us up from the apartment at an appointed time and drove us to the Passport and Visa Department (PVU) in Minsk. He handled pretty much every detail of the process, including the form filling and then took us back to the apartment after everything was complete. The whole process took about 1½ hours door to door and we were not charged extra for this service. All I can say is that we were very glad that Serge took control of this process. We would never have found the office on our own in a million years, nor would we have known what to do when we got there!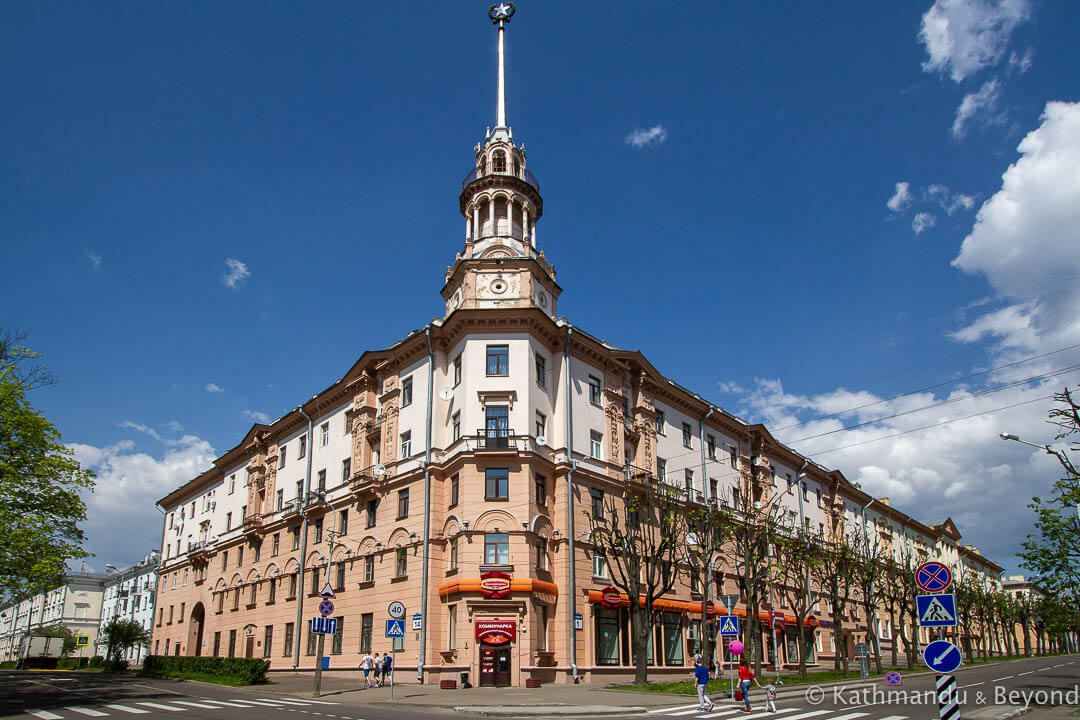 Downtown Minsk
Where to eat in Minsk
We were staying in an apartment so we didn't eat out much in Minsk, as we prefer to self-cater when we can. However, we tried two restaurants recommended by Lonely Planet and both were good. I've already mentioned Gurman above as a good place to break for lunch when out sightseeing but it would also be a very pleasant spot for dinner. Lido is a canteen-style restaurant where all the food is on display. It's hardly gourmet cuisine but you just need to pick and point which, trust me, is a real lifesaver in a city where hardly any menus are in English. You'll also find several branches of Stolle dotted around Minsk. They are known as pie shops, but they are posh pies!
Useful tips when visiting Minsk
Check out the small tourist information centre at the railway station. The helpful lady is very willing and speaks a tiny bit of English. She helped us buy our onward train tickets to Brest for example and also put us in the right direction to get to the Mound of Glory.
If you get really stuck, the young manageress at McDonald's opposite the railway station speaks English and is extremely helpful. She helped us get in contact with the owner of our apartment and was very happy and smiley!
The metro system is only two lines and contrary to what Lonely Planet says, it is pretty useful for tourists and easy to use.
Don't be tempted to take photos inside metro stations – it's a big no-no and you could get in trouble for doing so. Taking photos of the exterior is OK.
Don't jaywalk – nobody does it and again you could get in trouble if you decide to jump a light.
There is a well-stocked supermarket in the shopping centre next to the train station (with your back to the station, it's to your right).
If you are staying in Belarus for more than five working days, you need to register your visa at the Passport and Visa Department (PVU). Hotels do this automatically for you when you check-in but if you are staying in an apartment it is down to you and the apartment owner to sort this out. You only need to register once, i.e. not in every city you visit.
---
---
---