A Mini-Guide to Visiting Grutas Park in Lithuania for Independent Travellers
We joked that it was my birthday treat but truthfully it was Mark's interest in abandoned Communist-era statues and memorabilia that took us to Grutas Park that day. That's not to say I wasn't willing – I am always up for discovering anything a bit out of the ordinary.
Grutas Park, known locally as Grūto Parkas, is essentially a communist statue graveyard, a little like Momento Park in Budapest. Grutas Park is located in southern Lithuania, forming the bottom tip of a triangle with the capital Vilnius to the north-east and Kaunas to the north-west, and close to the border with Belarus.
Our plan was to cross the land border from Lithuania to Belarus, but instead of going the more conventional route from Vilnius directly to Minsk we decided to take the road less travelled and go from Kaunas, Lithuania's second city, to Hrodna (also known as Grodno) in Belarus. The idea was motivated by two factors: 1. It was just as cheap, but more convenient, for us to fly from London Gatwick to Kaunas rather than from Stansted to Vilnius (both are options with Ryanair). Although we enjoyed our time in Vilnius we didn't feel the need to revisit so soon. And 2) We could add Grutas Park to our route, a place we didn't visit on our previous visit to Lithuania. More information on how to get to Grutas Park by public transport from both Vilnius and Kaunas can be found towards the end of the article.
Arriving at Grutas Park we were met by a replica of a train carriage, the kind that was used to transport people to death camps during World War II, and a slightly sinister-looking mannequin of a soldier looking down on us from a watchtower. Next, we passed a large grassy enclosure housing several alpaca and a handful of scattered Lenin heads.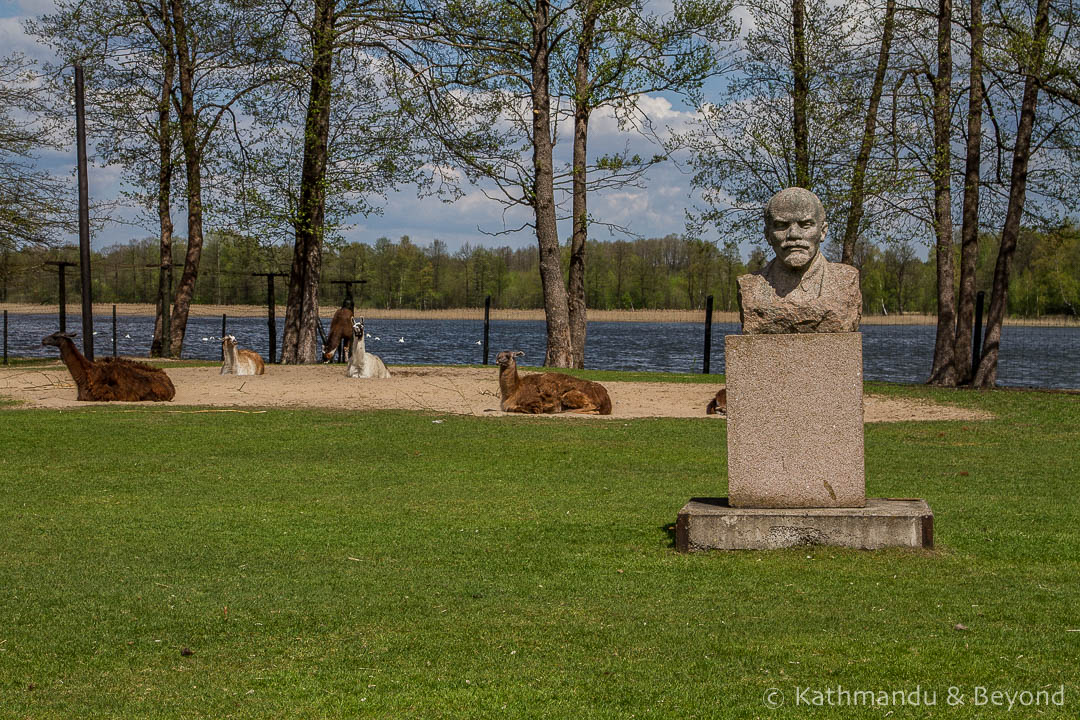 Monument to Vladimir Lenin at the entrance to Grutas Park
We were then greeted by a dominating sculpture of communist heroes; adjacent to and juxtaposed with a rather rundown theme park of kiddies rides! What was this place? Some kind of socialist Disneyland?!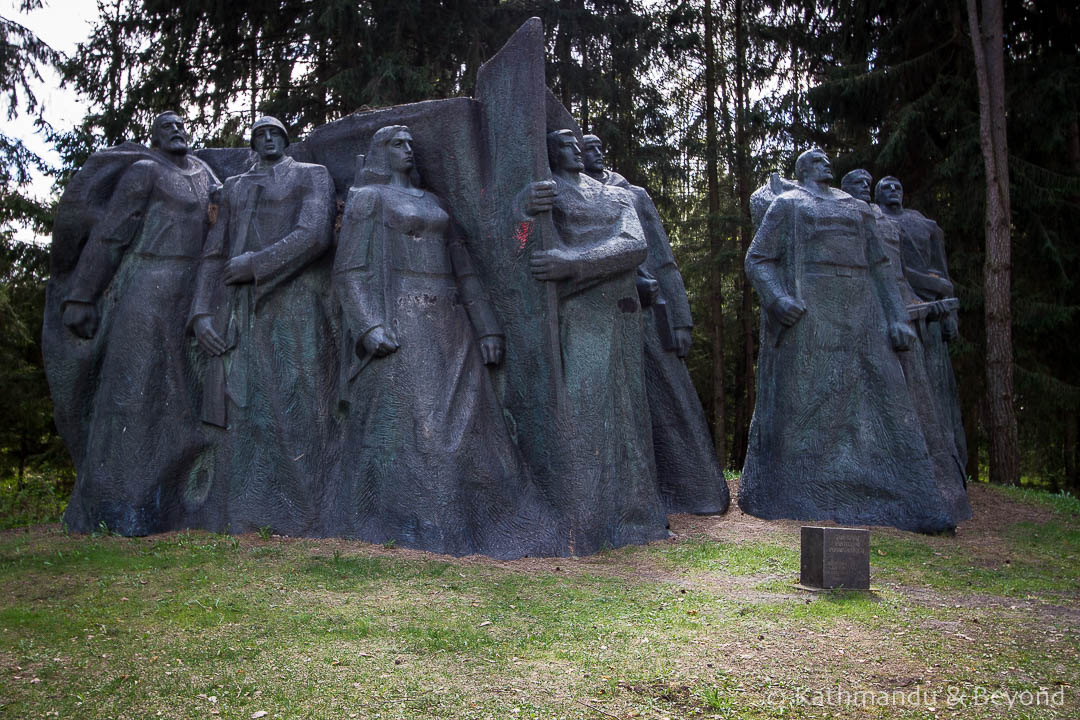 Monument to Soviet Partisans and Underground Workers. Originally in Vilnius (sculptors J. Kalinauskas and A. Zokaitis, 1983)
Trails lead out from this point through a pleasant area of forest and manicured lawns. There were birds chirping in the trees but this was accompanied by the faint sound of rousing Soviet anthems emitting from loudspeakers placed in yet more replica watchtowers. Are they really trying to theme this place like a concentration camp?!
The paths are lined with some fifty-odd statues of Lenin, Stalin, Marx as well as well-known Lithuanian communist heroes. They were all removed from parks and squares around the country in the years following Lithuania's independence from Russia.
Some of the statues and busts are accompanied by photographs showing where they originally stood which were interesting to see as it gave them a bit of contextual perspective.
This statue (below), which stood in Vilnius's 'Lenin Square', was topped on 23 August 1991. The plaza has been renamed Lukiskiu Square.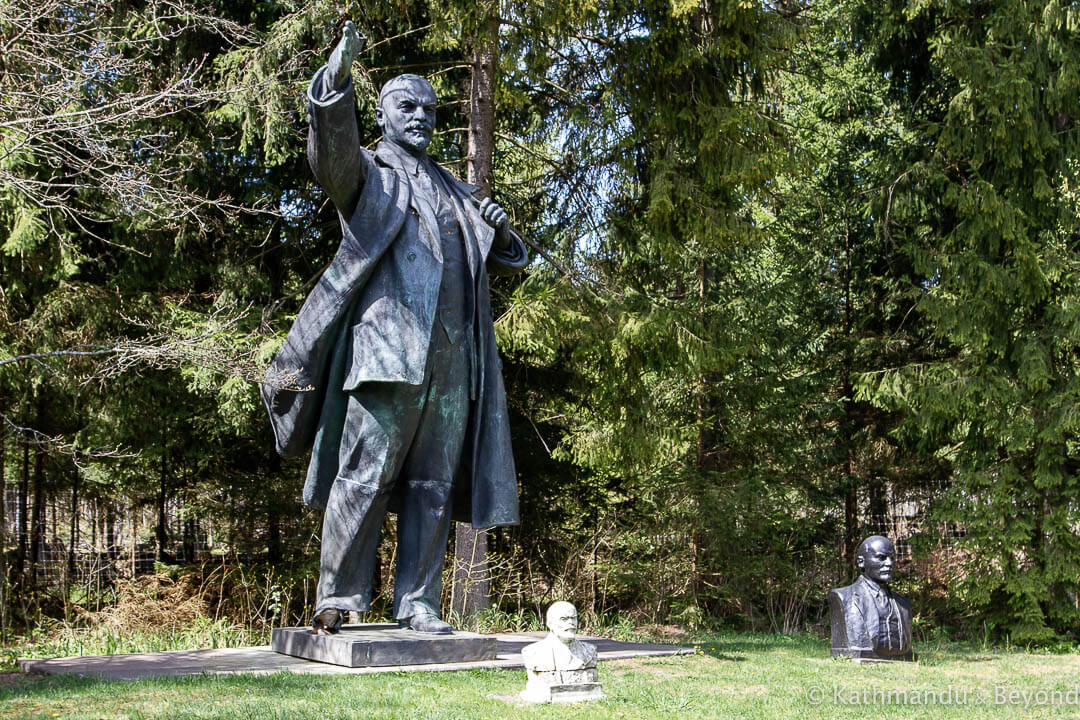 Monument to Vladimir Lenin. Originally in Vilnius (sculptor N. Tomskis, 1952)


Archive photos of the dismantling of the above Monument to Vladimir Lenin
There are also a handful of wooden buildings housing exhibits from the time including various communist memorabilia, paintings and propaganda posters as well as other artefacts documenting the Soviet oppression of Lithuania.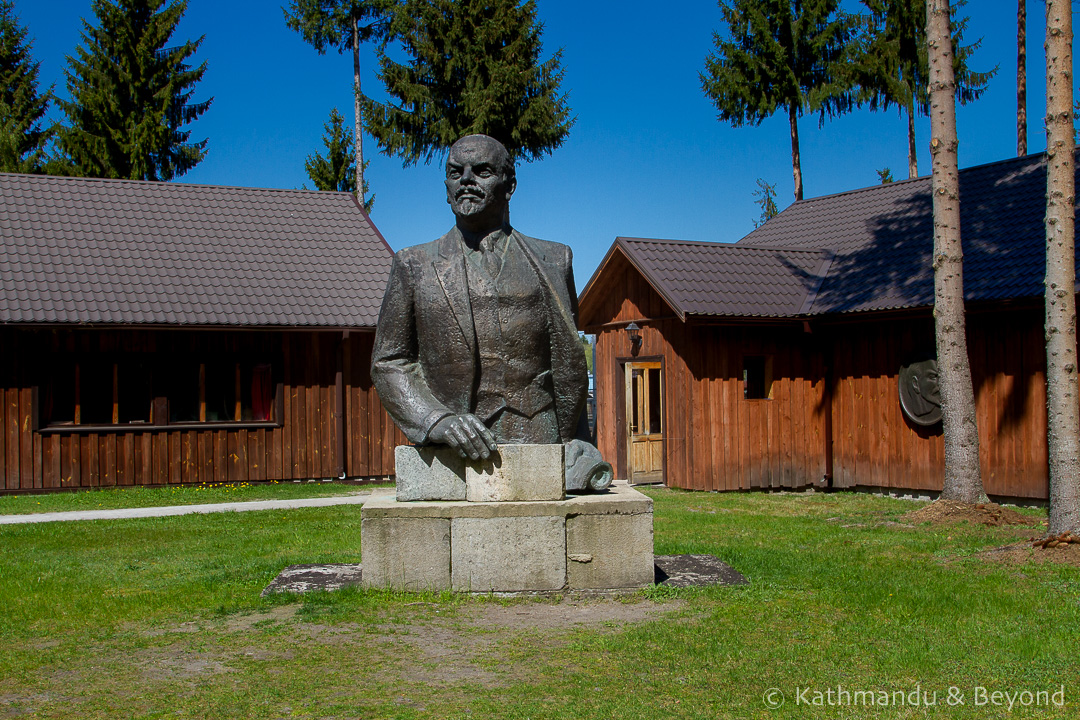 Monument to Vladimir Lenin outside the museum at Grutas Park




Inside the museum at Grutas Park
There are classic paintings from the era as well as items like this large Lenin rug …
Inside the museum at Grutas Park
We continued around the trail at a leisurely pace – Mark snap-happy with the camera – and spent around 1½ hours at the park, including a quick pit stop on a bench to eat our packed lunch. There is a cafe at the park, but being good budget travellers, we brought our sandwiches with us! We decided not to spend time at the small zoo which appeared to mainly consist of birds, deer, llamas and others of their ilk.
Is Grutas Park worth the effort?
It's debatable and once you have waded through the information below on how to get to Grutas Park by bus, you may quickly form your own opinion. If you've got your own transport and plenty of time, sure, why not? If you are considering visiting by bus as a day-trip from either Vilnius or Kaunas we both agreed that, for most, it's probably not worth the effort – the travelling time will add up to around 2½ to 3 hours in each direction. If you have extra time to kill in Vilnius, we would recommend a day trip to Trakai Castle or a beer on one of the city's plazas.
Travelling overland from Lithuania to Belarus and happy to go the long way round? We used the nearby town of Druskininkai (approximately 8kms from Grutas) as a transit point and this worked out well, so we would recommend it in this case.
Finally, if you are slightly obsessive about ticking off all the socialist-era sights in the region then, yes, you have to go!
Grutas Park Entrance Fee:
Adults: 7.50 Euro
Children: (aged 6 to 16) 4 Euro
Children under 6: Free
Audioguide: 13.30 Euro
Map: 25 cents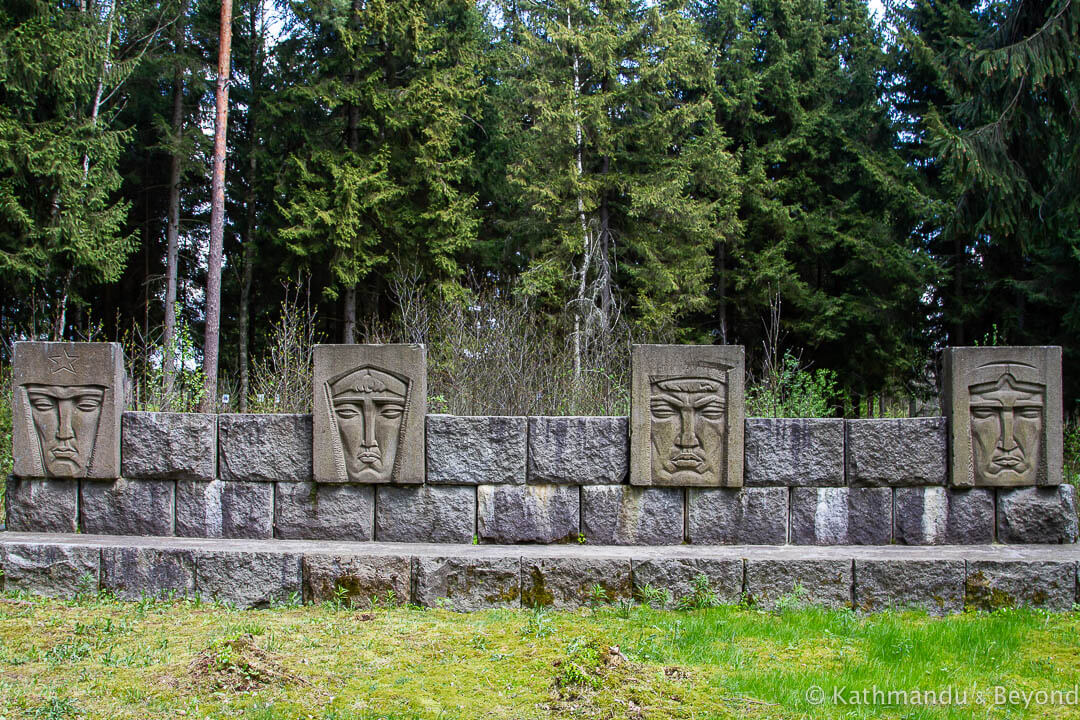 Grutas Park
The next section includes a lot of detailed information about travelling to Grutas Park – the kind of detail that will bore you completely unless you are planning a trip there. Therefore, you might want to skip this part and jump past it.
 Getting to Grutas Park by Public Transport
We travelled from Kaunas to Grutas and then continued to the nearby town of Druskininkai to spend the night. This would have been equally doable coming from Vilnius.
From the limited information in our guidebook and online, it looked possible but we weren't sure how the timings would work out. We knew that in a worst-case scenario we would be able to take a taxi or hitch the 7kms from the park to Druskininkai so we decided to take a chance.
It is possible to visit Grutas Park as a day trip from either Vilnius or Kaunas but it involves a lot of time on the bus and, as we've said, we're not sure it's worth the time and effort involved.
The only place from which you can get a bus directly to Grutas Park is the town of Druskininkai, around 8kms away. Buses from both Vilnius and Kaunas travel to Druskininkai (beyond the park) giving you two options:
Option 1:
Take a Druskininkai bound bus; get off at the turning to the park and walk a kilometre to the park – make sure the drive knows you are getting off at the Grutas village stop (ticket price around 8 Euro). The junction is on the opposite side of the road from the bus stop and is clearly signposted. This is what we did and the woman at the park ticket office was happy for us to leave our backpacks with her whilst we visited.
We took the bus at 1020 from Kaunas. There are earlier and later options than listed here but you'll probably want to take one of these to ensure you can get onward or return transport: 0700/0930 hours / 0805/1035 hours / 0855/1125 hours / 0955/1155 hours / 1020/1235 hours
Option 2:
Take the bus all the way to Druskininkai and change to a bus coming back the same direction (although not the same route as it goes via Vieciunai village) directly to the bus stop in Grutas Park car park. The problem with this option is that you may have to wait for an hour or more in Druskininkai for the onward bus. However, if you are spending the night in Druskininkai and have heavy luggage that you didn't want to carry for a kilometre, this option would allow you to drop your bags at your hotel before going to the park.
With either of the above options, you could also do the same thing on a Vilnius-Druskininkai bus. You can get bus schedules here but note the stop Grutas refers to the stop on the main road rather than the park itself.
Grutas Park to Druskininkai
Assuming you have arrived on a bus from either Kaunas or Vilnius, convenient options for the bus from the park to Druskininkai are 12.29pm 2.30pm, 3.44pm and 17.20pm. Note, this is the weekday schedule. Services are reduced on weekends and public holidays when the convenient options are 11.45am, 14.45pm, 17.20pm – a lot more planning will be required. Check the bus schedule at the stop in Grutas Park carpark or ask for assistance at the ticket office.
If you are visiting as a day trip from Vilnius or Kaunas, don't forget to check the schedule for the return buses!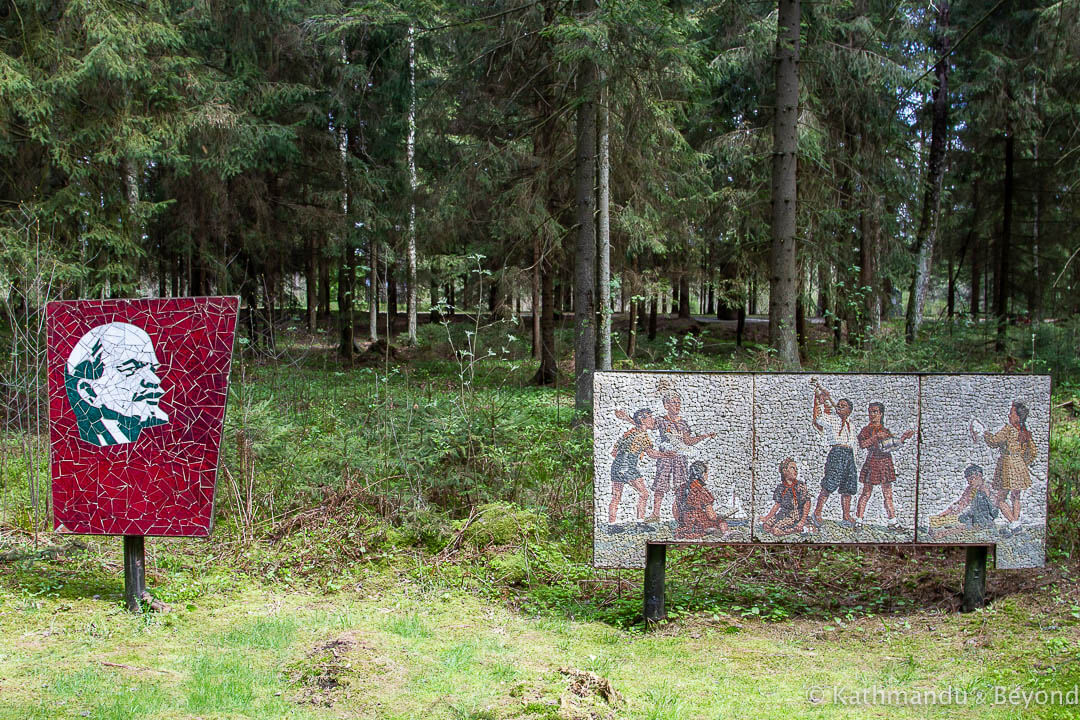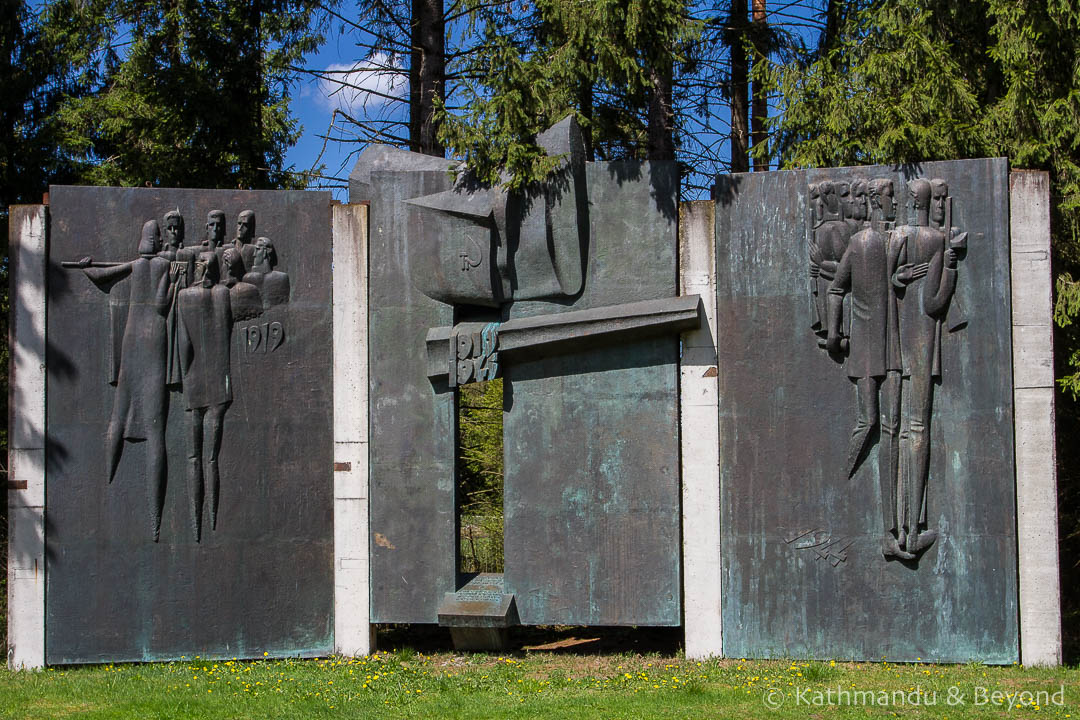 Monument to the All-Union Leninist Young Communist League in Kaunas. Originally in Kaunas (sculptor S. Sharapovas, 1979)
Monument to Vladimir Lenin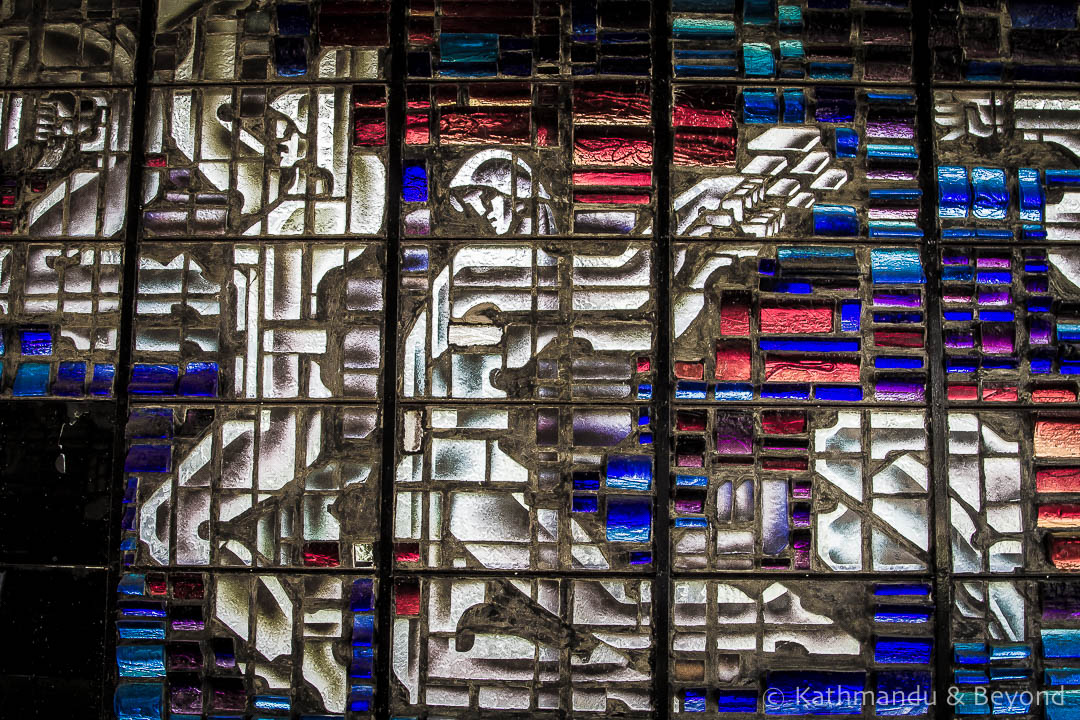 Inside the museum at Grutas Park



Left: Monument to Vincas Mickevičius-Kapsukas (originally in Marijampolė, 1980) Centre: Monument to Vladimir Lenin (originally in Panevezys, sculptor Gediminas Jokūbonis, 1983) Right: Monument to Bronius Grigas (originally in Šiauliai, sculptors Donatas Lukoševičius and Aloyzas Toleikis, 1968)
As far as we know Grutas Park in Lithuania and Momento Park near Budapest in Hungary are the only two Soviet-era statue graveyards that exist. Have you visited either or do you know of any others? Let us know in the comments below.
---
---
---