Suggested Itinerary to Ukraine, Moldova & Transnistria: From Uzhhorod to Kyiv
(Ukraine) Uzhhorod – Mukacheve – Rakhiv – Yaremche – Ivano-Frankivsk – Kamyanets-Podilsky – Chernivtsi – (Moldova) Chisinau (Transnistria) – Tiraspol (Ukraine) – Odesa – Uman – Vinnytsya – Zhytomyr – Kyiv
The border town of Uzhhorod is the logical place to start if you want to cross from one side of the Carpathian Mountains to the other. There is not much in the way of forest or mountains in the vicinity but it's a nice city with some interesting architecture. We continued to nearby Mukacheve to see Palanok Castle before heading to Rakhiv, which is more rural and surrounded by lovely countryside. We had mixed feelings about Yaremche – it's a good base for getting into the Ukrainian part of the Carpathians but with our limited language skills, it was hard finding out any information on how to go about it and so we ended up doing very little during our time there. Ivano-Frankivsk (or I-F for short), on the other hand, was an unexpected find.
The easiest way to get to Kamyanets-Podilsky from I-F is via Chernivtsi but we didn't stop in the city first time around as we knew we would be coming back in order to get to Moldova. We could wax lyrical about Kamyanets-Podilsky till the cows come home but this is just a summary of our routing through the region so we will refrain from doing so! Needless to say, K-P is a stunner and it was hard to drag ourselves away. Back in Chernivtsi we visited the UNESCO-listed university before taking the morning bus to Moldovan capital, Chisinau. A very walkable city, Chisinau was all about Soviet-era architecture for us, plus we took a day trip to the Eastern Orthodox monastery of Orheiul Vechi near Trebujeni.
Crossing into a country that doesn't officially exist was a unique experience but in all honestly, we weren't that impressed with Transnistria's capital, Tiraspol(*). We spent the night there however and in the morning returned to Ukraine. Odessa is one cool city and buzzing during the summer months and as we headed north to Kiev, we stopped at Uman, Vinnytsya and Zhytomyr along the way. Of the three, Vinnytsya was the most attractive city but the other two were also worth visiting. Kiev is firmly listed as one of our favourite cities in Europe and what with day trips to such places as Chernobyl and Pereyaslav-Khmelnytsky as well as a lively cafe-culture, it's easy to spend a week or more in the city before moving on.
(*) This was not the case on our second visit in 2019, when we discovered there are more than enough things to do in Transnistria on a 10-hour visa, and can't wait to go back!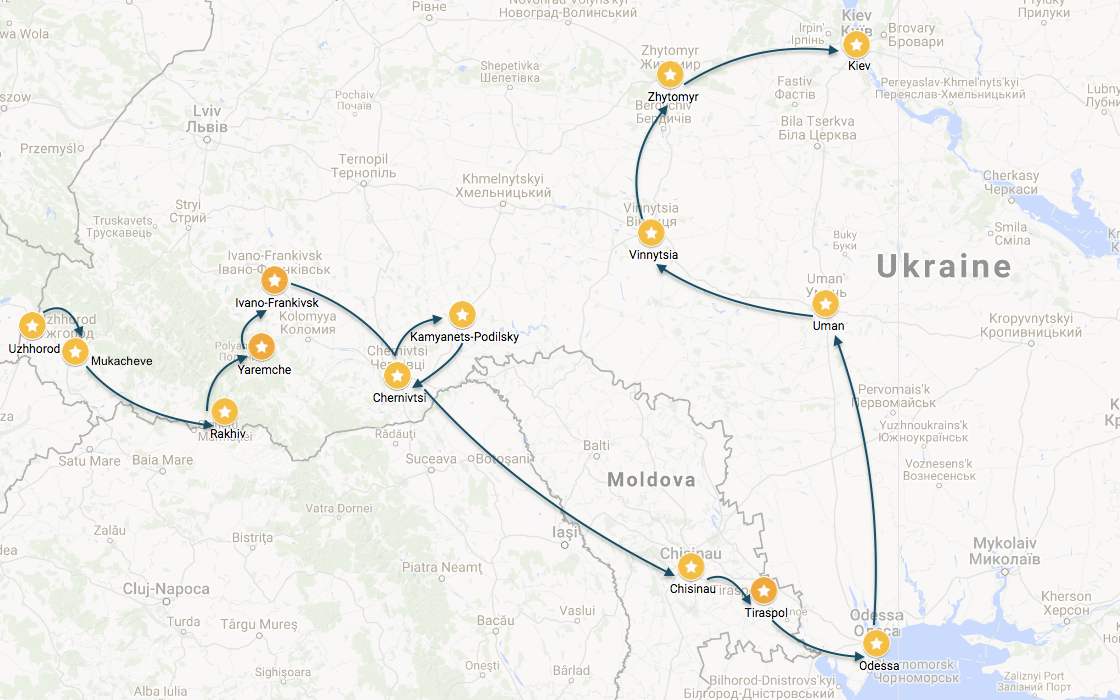 Number of countries: 2 plus one self-proclaimed state
Number of UNESCO sites: 3
Best time to travel: May to September
Recommended duration: 3-4 weeks
Best places to slow the itinerary down: Rakhiv and Odesa
Mode of transport: Buses and marshrutkas (fixed route minivans). Most places in Ukraine are also connected by train but we found that the timings were always inconvenient
The medieval town of Kamyanets-Podilsky
Taking a stroll and finding a bar along Deribasivska Street, Odesa's pedestrian walkway
Visiting the Chernobyl Exclusion Zone (if you have the time and can afford it, a tour that overnights in the Exclusion Zone is recommended)
The brilliantly-named AutoMotoVeloPhotoTeleRadio Museum in Vinnytsya
Tracking down Soviet-era architecture in Chisinau
Getting off the beaten track and staying in some smaller Ukrainian towns
The Lavra monastery complex in Kyiv
OPTIONS FOR EXTENDING THE ITINERARY
Ukraine International Airlines (UIA) and Air Astana both have useful (and reasonably cheap) flights between Kyiv and Almaty in Kazakstan so adding a trip to Central Asia works well
There is a good train service from Kyiv to Lviv and from there it is a straightforward hop across the border into Poland
Russia and Belarus are also obvious extensions to the above itinerary
A couple of our favourite places we stayed in on this trip are:
Mini-hotel Kyiv downtown – we've stayed here a couple of times now and highly recommend it as a centrally located budget option. The only downside for a first-time guest is that it's a little difficult to find (it's a hotel disguised as an apartment building!). If you book it, feel free to ask us for directions!
Hotel France in Vinnytsia – expensive by Ukrainian standards (US$25 for a double room!) we thought a 'splash-out' on this 4-star classified hotel was worth it.
OTHER TRAVEL PLANNING RESOURCES
Check train information and make reservations at Ukrainian Railways and for buses we use this site.
A couple of our favourite travel bloggers who also write regularly about this part of the world:
Depending on our itinerary and destination, sometimes/often we find our accommodation as we go, particularly in smaller places. In big cities, for slightly longer stays, during peak season or just when we're being a bit more organised, we tend to make a reservation in advance using Booking.com. If your travel style is to book in advance, please consider using our link – we earn a small commission which helps us with the running of our site.
There are a few guidebooks to this part of the world available but we've always used Lonely Planet and it's hard to change a habit of a lifetime! They publish a dedicated guide to Ukraine and Moldova and Transnistria are covered in their Eastern Europe guide.
A Ukrainian phrasebook might also come in handy as English is limited once you head off the beaten track in Ukraine.
And if you need a few more reasons to follow this itinerary…
Kamyanets-Podilsky, Ukraine
Orheiul Vechi Monastery, Moldova
House of Soviets Tiraspol, Transnistria
Greek Catholic Church Vinnytsia (Vinnytsya), Ukraine
Chernobyl Exclusion Zone, Ukraine
Museum of The History of Ukraine in World War II Memorial Complex Kiev, Ukraine
Did you find this post useful? Pin it to your travel planning board for later…