Off the Beaten Track Kyiv (Kiev)
Historically, I can't provide you with too many facts about the Expo Centre in Kyiv. I know its correct name is the National Complex Expocenter of Ukraine (VDNG), that it was constructed between 1952 and 1958, and was originally known as the Exhibition of Achievements of the National Economy of Ukrainian SSR (Soviet Socialist Republic).
Pavilion number 1
There are a few more tidbits I could pass on (most of which I gathered from the Expo's own website but in all honesty, they aren't that interesting and don't actually enhance what I want to say about it.
Simply put, the Expo Centre (*) in Kyiv is one of the most photogenic places in the city in my opinion.
(*) I'm going to go back to the British spelling of center at this point as autocorrect is doing my head in!
If you search for the Expo Centre on the internet and go to images, the dominating photo is always Pavilion number 1. Nothing wrong with that, it's a fantastic-looking building in classic Stalinist Empire style. In fact, we assumed it would be the only building we would see at the Expo Centre but that was sufficient, in our opinion, to warrant jumping on the metro and taking a look for ourselves.
Pavilion number 10
Sure enough, when we arrived, the first thing that grabbed our attention was Pavilion number 1. It's a relatively long walk from the main entrance to the heart of the exposition and there isn't really anything else to focus on apart from this ornate building in front of you. But, as soon as we reached the fountain in front of Pavilion number 1 and looked around, it became apparent that there was much more to this place than we originally thought.
Close up of Pavilion number 1 (left) and number 10 (right)
According to the website listed above, there are 180 buildings and structures within the grounds of the Expo Centre. This wasn't instantly obvious but there were some very impressive-looking structures in the immediate vicinity, including Pavilion number 7, a theatre of some kind, and a very moody-looking Pavillon number 10.
It was at this point that we spotted a large billboard map of the complex. It was all in Ukrainian but it was obvious from the layout that there were several more buildings within easy walking distance. With a mental image of the map in our heads, we walked around the back of Pavillon number 10 to see what else we could find. The first thing we came across was a riding stable (which was still in use) and a tank (as in a container) of some kind that was decorated with an image of Margaret Thatcher pouring a cup of tea. It was entitled 'Tea Time with the Iron Lady'. It looked out of place but later I delved a little deeper and came up with the following reason for its existence in the park:
For those of you who don't know, Margaret Thatcher was the British prime minister from 1979 to 1990. She was probably one of the UK's most controversial leaders and got her 'Iron Lady' nickname from a speech she made in relation to the Soviet Union in 1976 (source). What's more, she was also an official visitor to the Expo Centre in 1990 (source). Clearly, whoever created this piece of street art was a history buff as well!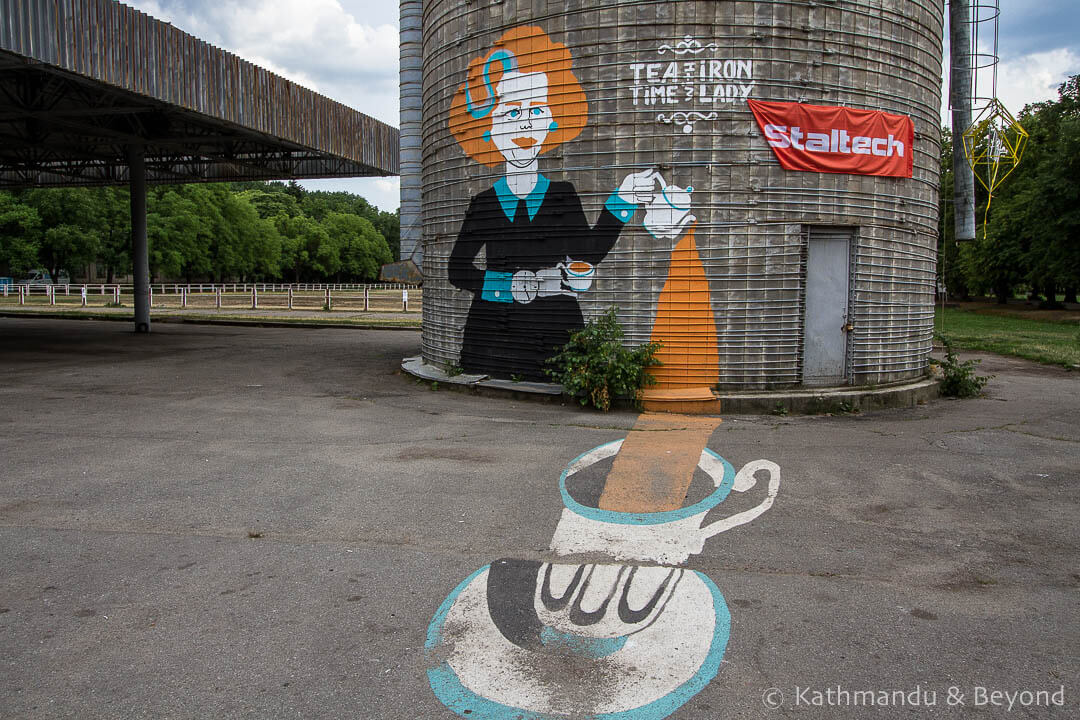 Margaret Thatcher street art at the Expocenter of Ukraine
We kept going but never really strayed that far from the main drag of the Expo Centre. Yet, we came across all style of buildings that presumably had been added at different periods in the Expo's history. Unlike the area around Pavilion number 1 (see below), there was very little life in this part of the grounds. Most of the structures were not in use or in a state of disrepair and the dark sky above us gave this part of the Expo a definite air of forlornness.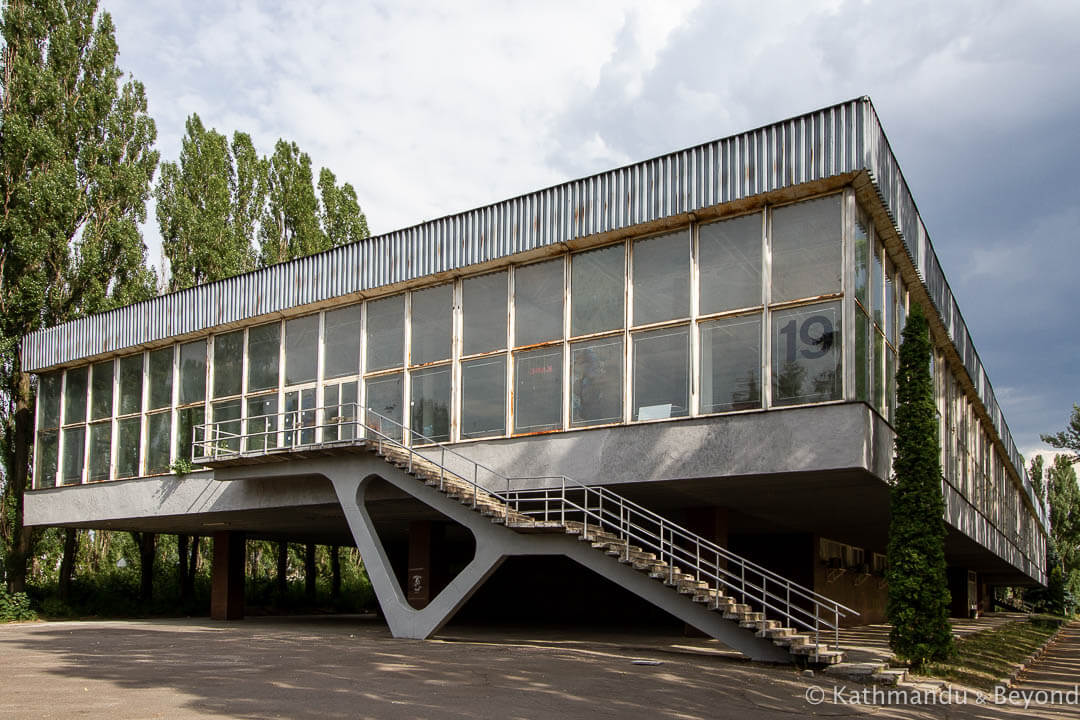 Pavillon 19/Exhibition of Achievements of Folk Agriculture
Above: Pavillon 13/Coal Industry Pavilion (left) and Unknown Pavillon (right)
Above: Unknown Pavillons
Science Pavilion
And we were loving it!
You couldn't get inside any of the rundown buildings (or indeed the main buildings in the vicinity of Pavilion number 1, which are apparently decorated with wonderful Soviet-era murals) but we spent quite some time admiring the exteriors and peering through filthy windows when the opportunity presented itself. I couldn't name any of the buildings directly, but as the exposition was originally established to showcase the economic achievements of the Ukrainian SSR, they all have catchy names such as 'machine-building and instrument-making', 'grain and oil crops' and 'animal husbandry'!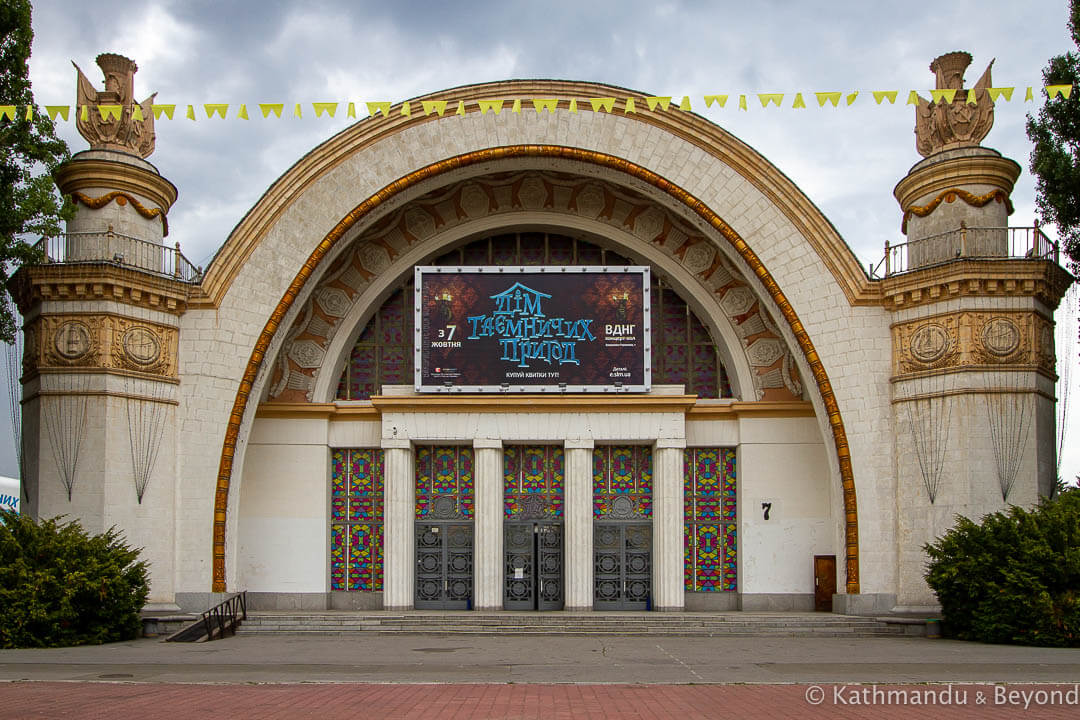 Pavilion number 7
One of the entrances to the Expocenter of Ukraine
How to get to the Expocenter of Ukraine on public transport
Getting to the Expo Centre is dead easy.  Take Metro line 2 (blue) to Vystavkovyi Tsentr station. Come out and cross over the road. You can't miss it but just in case, the coordinates are 50°22'43.4″N 30°28'43.2"E.
Additional information
There is no entrance fee to go inside the Expocenter of Ukraine and if the sun is shining, the afternoon is the best time to visit if you are keen on photography. Allow between 2-3 hours for a visit if you want to see all of the buildings close to Pavilion number 1.
Above: unknown Pavilions in Stalinist Empire style 
Is the Expocenter of Ukraine worth visiting?
Even if you aren't interested in the buildings associated with Kyiv's Expo Centre, it is still worth a trip out from the centre of the city. Among other things, there are play areas for children, water slides and bikes for rent as well as several cafes and restaurants in the vicinity of Pavillion number 1. Plenty of Kievites come here to enjoy the facilities, especially on a nice sunny day which, as you can see from the enclosed photographs, we didn't have. Not that we were complaining. There's something about semi-abandoned structures and a backdrop of a threatening sky that make us all tingly these days and the reasonably long ride out on the metro was well worth it.
One of the cafes/resturants at the Expocenter of Ukraine
An added bonus for Soviet-era architect buffs
Across the road from Expocenter of Ukraine, i.e. the same side as you exit the metro station is the Taras Shevchenko University and inside the grounds can be found the Akademmistechko Campus. If you are interested in ornate Soviet-era bas-relief, this building is definitely worth checking out (coordinates 50°22′58.44″N 30°28′17.91″E). In comparison to the Expo Centre, if the sun is out, the afternoon is not the best time to photograph this building as our pictures will testify. Thank you to our friend Kami, from Kami and the Rest of the World for bringing this one to our attention.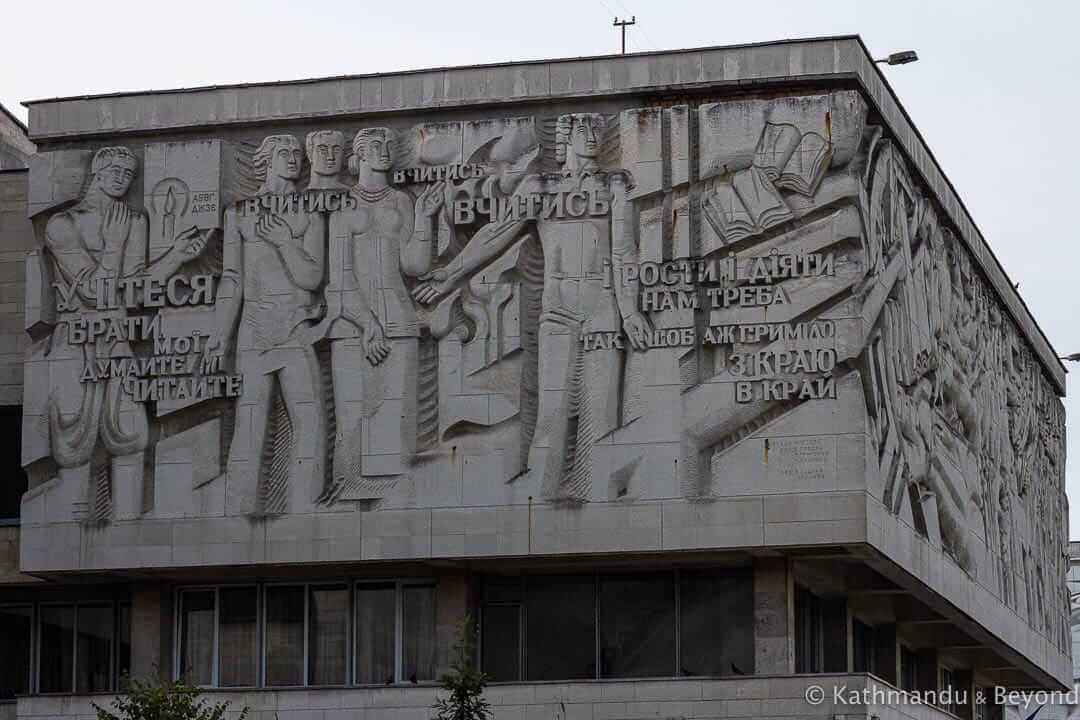 Computer Science and Cybernetics Department of Taras Shevchenko University
---
---
DID YOU ENJOY THIS POST? WHY NOT PIN IT…
---
---