A self-guided walking tour of murals and street art in Kyiv (Kiev), an open-air art gallery.
Street art in Kyiv is big and bold and in your face. Of all the cities in which we've seen street art, I don't think many any compare with Kyiv in terms of the scale and volume of huge murals adorning apartment buildings and offices all across the city.
To say there has been an explosion in the street art scene in Kyiv over the past few years would be an understatement. The only other place we've seen so many large-scale murals is in Lodz, Poland. But Lodz is a much smaller city and the number of pieces doesn't compare. Budapest also has its fair share of large-scale street art, but again not nearly as much.
You could spend more than a week in Kyiv hunting down street art and still not see it all. And double that amount of time if you want to photograph it all in the best light!  Street art is dotted all over the city, covering an area of around 285 square kilometres! Attempting to see it all on a single visit to Kyiv is a daunting business which would involve traipsing around the city by Metro, bus, and marshrutka as well as on foot, for days on end.
There are a couple of great resources for locating street art in Kyiv (which I've detailed at the end of this post) but because of the huge volume of murals, it can be a bit overwhelming working out which direction to head in.
To take the pain out of that, I have put together a walking tour that will not only take you past some of the city's best centrally located street art and murals, but it will also guide you through interesting neighbourhoods that have a mix of Soviet and pre-Soviet architecture and reveal some of Kyiv's hidden spots which are surprisingly close to some of the main sights.
I've also marked any nearby 'must-see' sights on the map in case you're incorporating street art hunting with regular city sightseeing. Note: Some of the names of the artwork are the official name given by the artist and some are made up by me in order to help me identify them! Where two names are given, the name in brackets is the official name.
The most convenient Metro station for starting this walk is Zoloti Vorota in the central Golden Gate area of the city. If you're staying closer to Maiden or Podil, Kyiv's Old Town, points on the circuit are also close by. Just pick the most convenient point and get walking…
From Zoloti Vorota Metro, pass the Golden Gate monument and head down Zolotovoritska Street and take a left when you reach Reitarska Street.
Crows (Herald of Life) by Alexandr Britcev (November 2015)
Address: 7B Reitarska Street
GPS: 50.451164, 30.512871
Even with the GPS coordinates, this piece isn't immediately obvious. You need to enter the metal grey gates between the buildings and the mural is on a wall to the left inside the courtyard. If you're ready for a caffeine fix, it's just above a cool little coffee shop. There's also a barbershop if you're a guy in need of a haircut! More curiously, there is a small aviary housing some rather large crows – I wonder what came first, the birds themselves or the mural?*
Edit: Apparently crows have been living in this yard for over twenty years.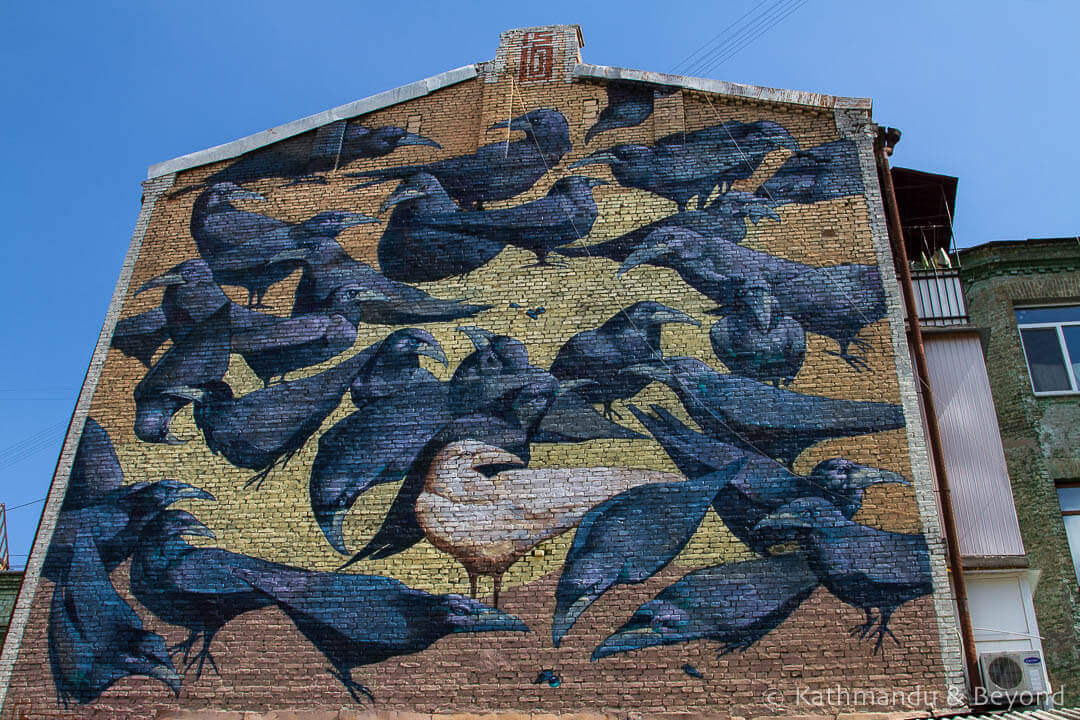 Leaving the yard, continue down Reitarska Street until you meet the junction with Striletska Street. Just to the left, you will see…
Traditional Girl (Lilly of the Valley) by Guido van Helten (July 2015)
Address: 28 Striletska Street
GPS: 50.451729, 30.510391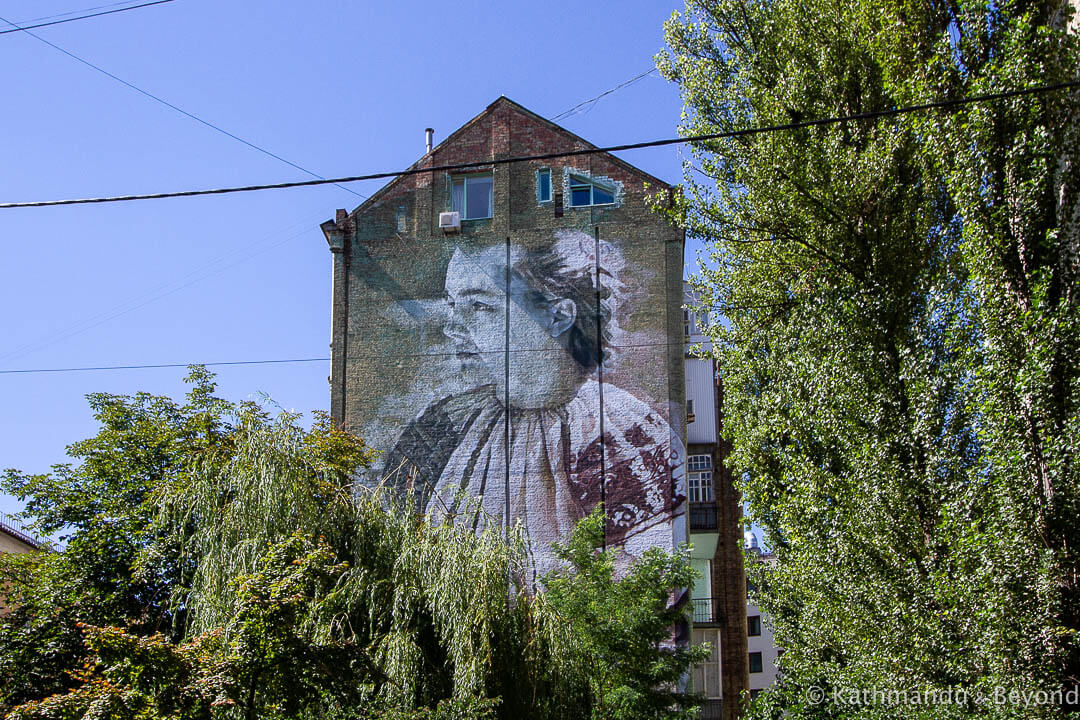 Turn around and backtrack slightly. You can see the next mural on the building just the other side of the crossroads….
Blue Birds (Shadoofs) by Taras Arm (December 2016)
Address: 9 Heorhiivskyi Lane
GPS: 50.45212, 30.51197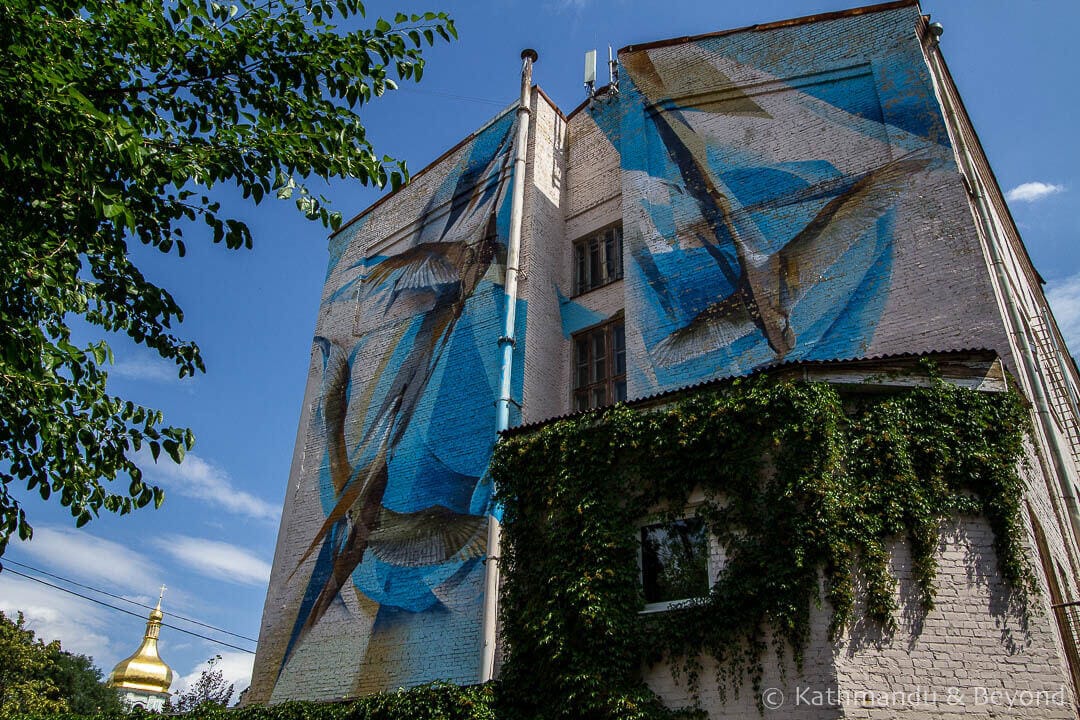 In close proximity, you'll also find…
Car Cogs (Car Carousel) by M-City (December 2015)
Address: 20B Striletska Street
GPS: 50.45259, 30.51104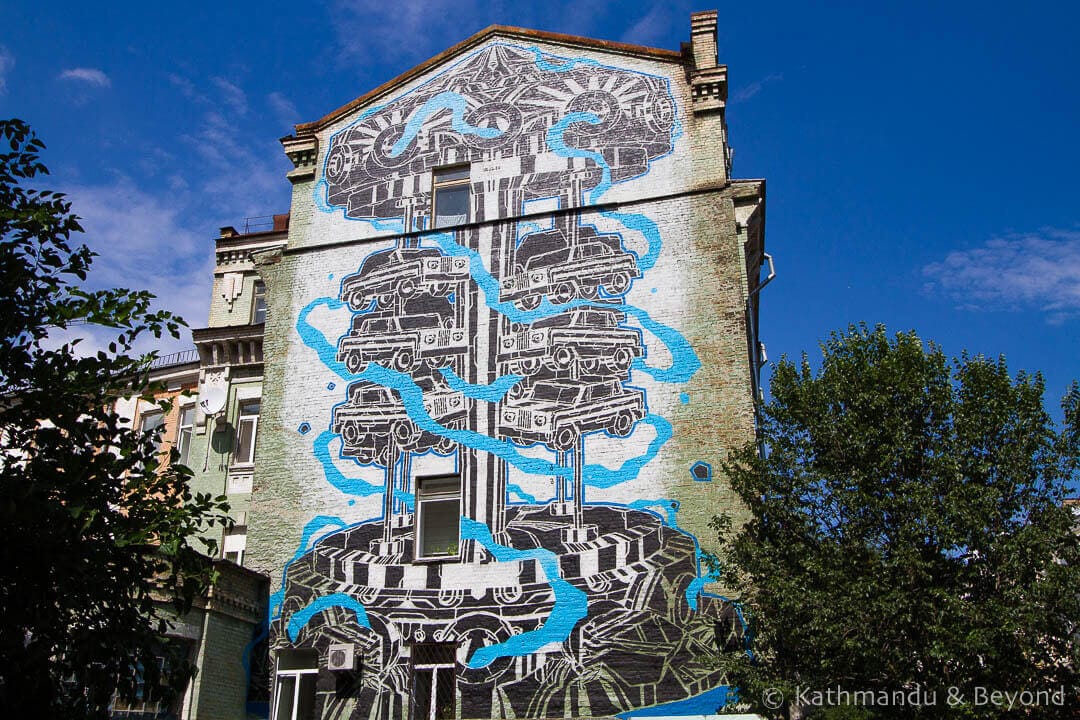 Back on Striletska Street, head north. At the corner with Stritenska Street, there are two more pieces including one of my personal favourites, dedicated to Ukrainian gymnast, Anna Rizatdinova…
Upside Down Girl (Gymnast) by Fintan Magee (July 2015)
Address: 12 Striletska Street
GPS: 50.45352, 30.51192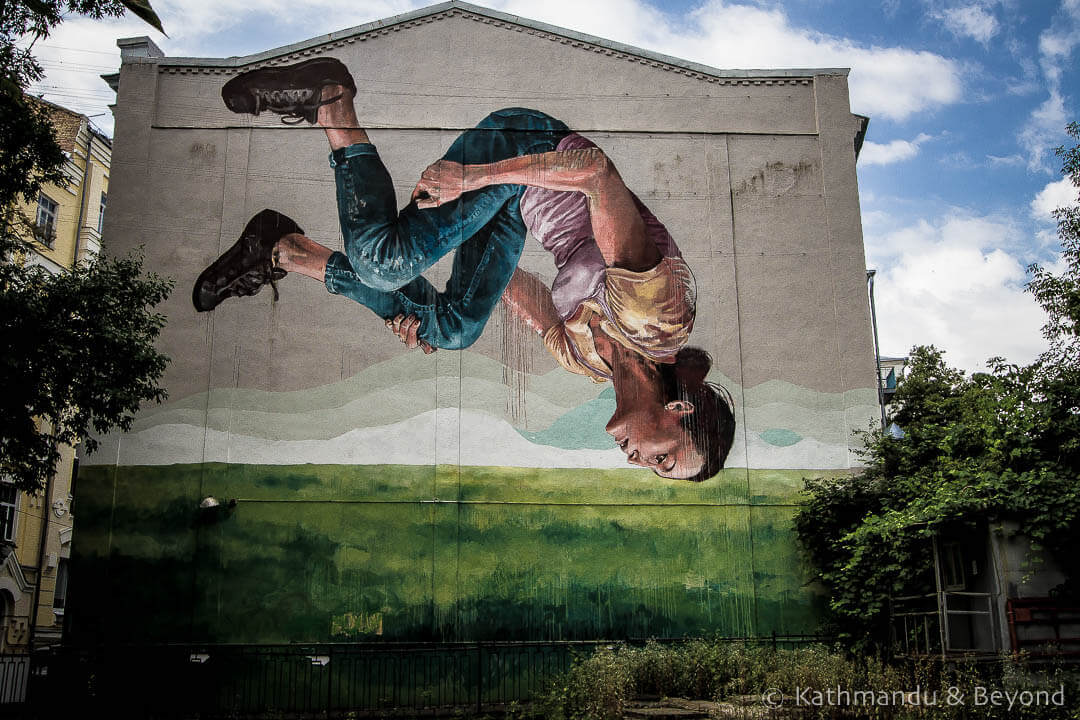 Across the courtyard, is one of the oldest murals in Kyiv which, at the time was also the largest mosaics in the city.
Children by Konstantin Skrytutskyi (December 2010)
Address: 12 Striletska Street
GPS: 50.453075, 30.511086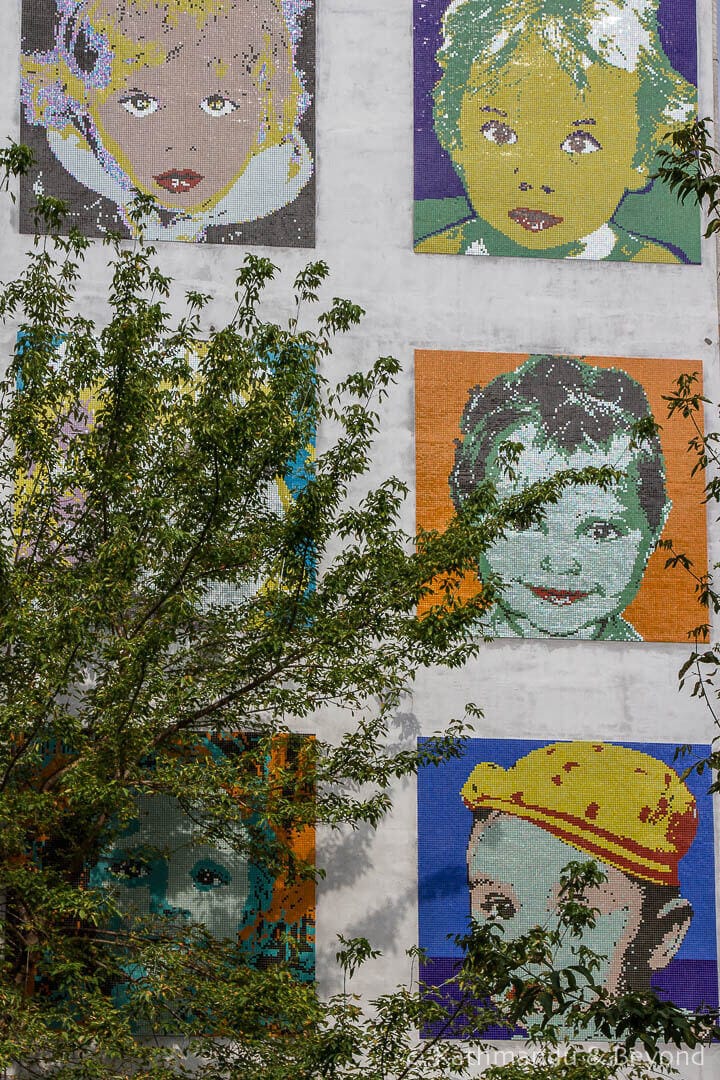 While you are still on Stritenska Street, look back in order not to miss this bizarre and colourful piece…
Time for Change by Waone (November 2014)
Address: 4-6 Striletska Street
GPS: 50.454475, 30.513203
This surreal mural depicts a cosmic battle between good, evil, light and dark and took 35 days to complete.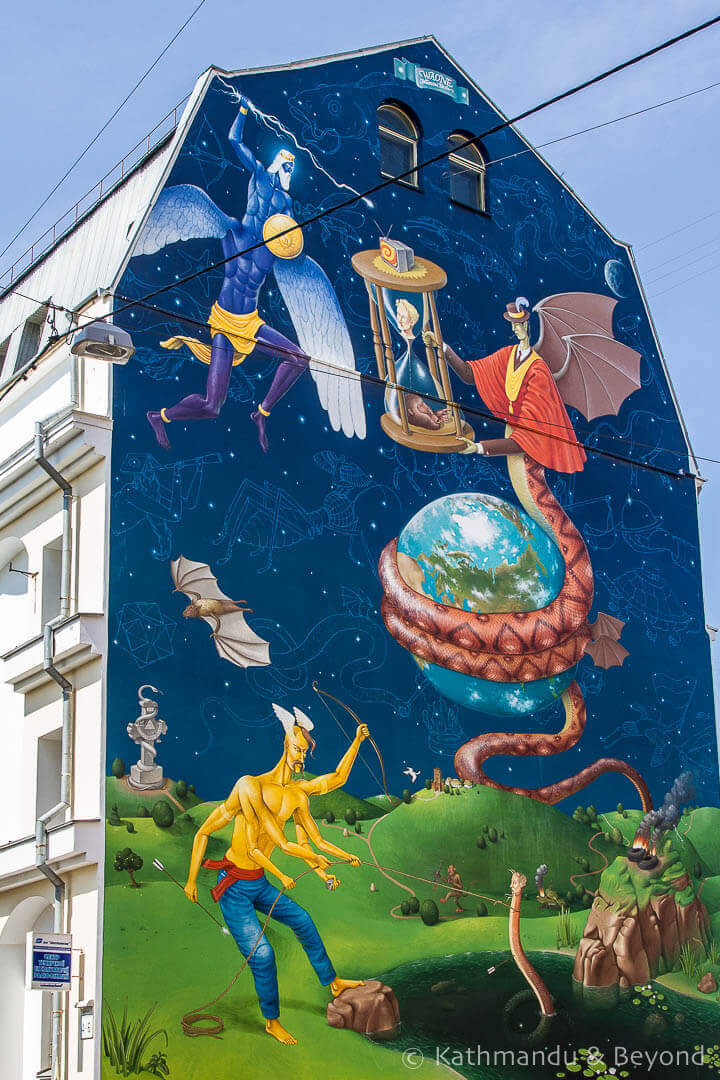 Cut through to Olesia Honchara Street, passing the following two pieces in the small park:
Yaroslav the Wise by Dima Fatum (November 2015)
Address: 19B Velyka Zhytomyrska Street
GPS: 50.454487, 30.512798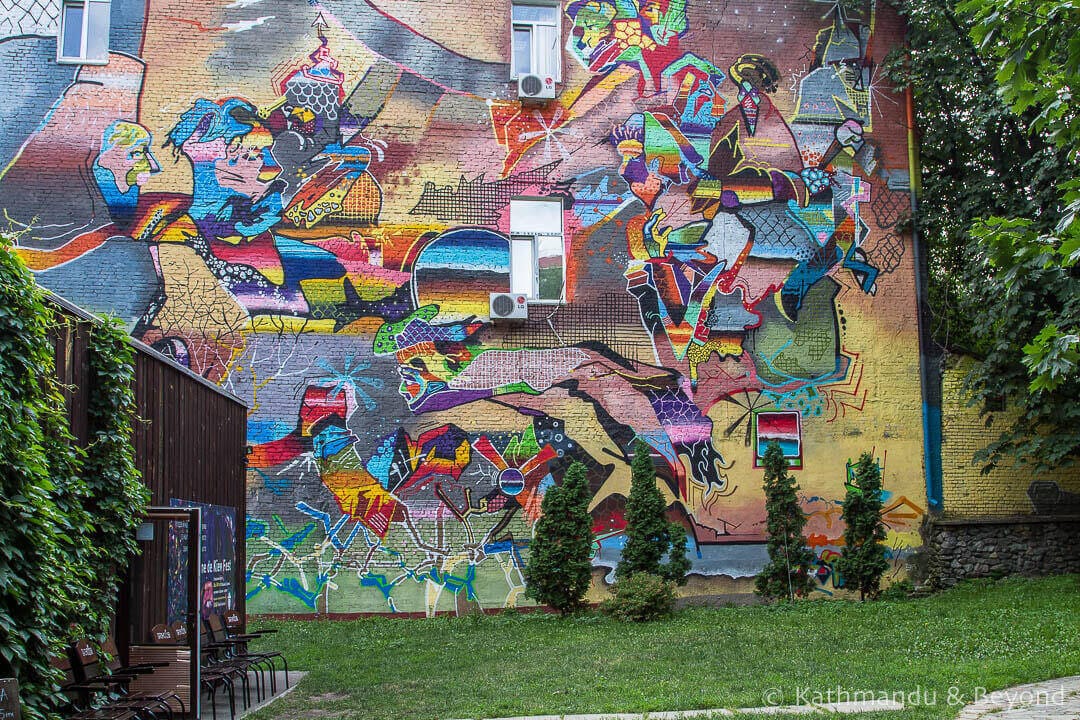 People Jumble by Zbiok (May 2011)
Address: 9 Olesia Honchara Street
GPS: 50.454437, 30.511805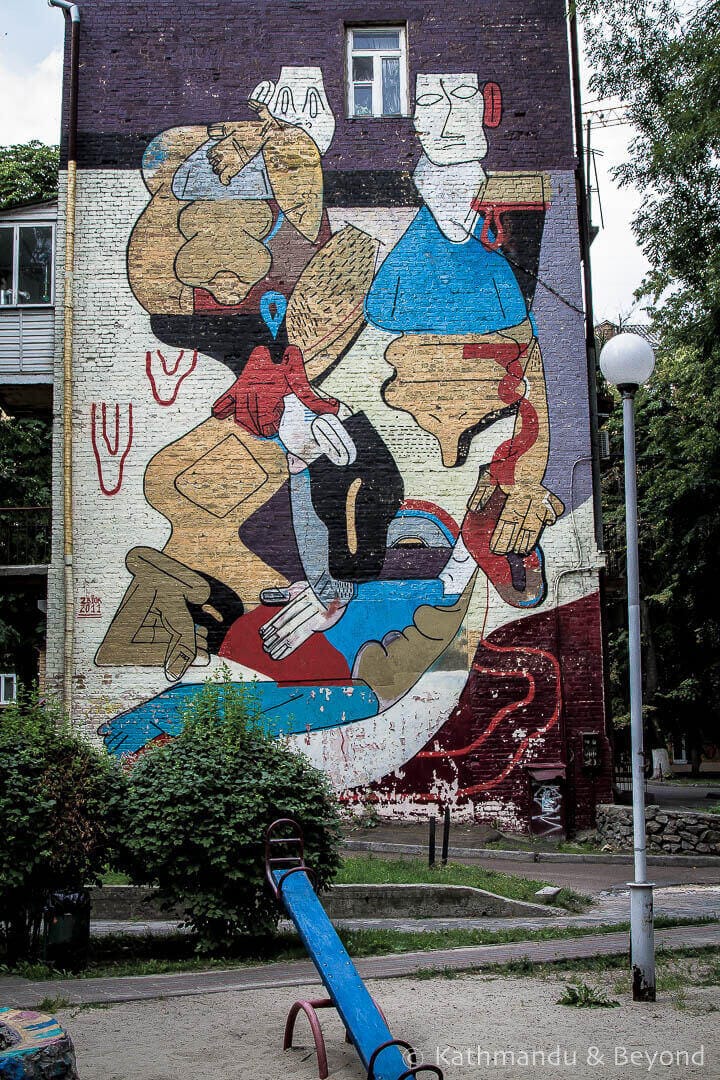 Turn right onto Olesia Honchara Street and walk to the main road, Velyka Zhytomyrska Street. At the bottom of Olesia Honchara, you'll find the next mural on the building to your right. You may recognise the style – it's another mosaic mural from the same creator seen a couple of spots back. Despite only being a minute from the apartment we were staying in, we never managed to get a good photo of it!
Children Playing by Konstantin Skrytutskyi (December 2015)
Address: 23 Velyka Zhytomyrska Street
GPS: 50.455185, 30.511959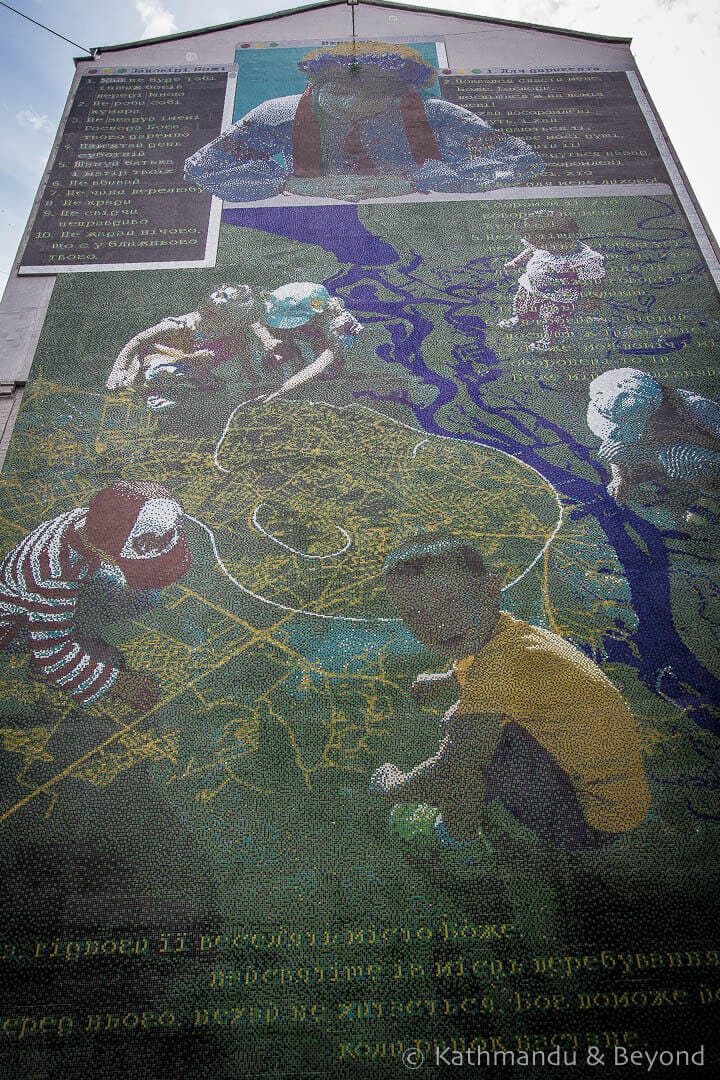 Walking down Velyka Zhytomyrska Street, there are a couple of options… If you haven't already visited, you shouldn't miss the opportunity to take a peek at 'Landscape Alley' (post coming soon!).
This is also a good place to find a spot to rest for a while or grab a coffee or soft drink from one of the coffee carts.
If you've seen enough street art or want to save some for another day, there's a handy cut through the park to St Andrews Cathedral, at the top of Andriyivsky Uzviz, from where you can explore Podil, Kyiv's Old Town. (Of course, there is yet more street art in the old town too!).
If you're hungry for more street art, get back on track by continuing along Velyka Zhytomyrska Street until you reach another huge, surreal, and colourful piece.
Ukrainian St. George by AEC (October 2014)
Address: 38 Velyka Zhytomyrska Street
GPS: 50.455242, 30.508526
Inspired by the story of George and the Dragon, this piece carries a more modern political message. Notice the double-headed snake attacking from two sides? This represents a nation being divided by Russia in the East and NATO-bloc countries from the West.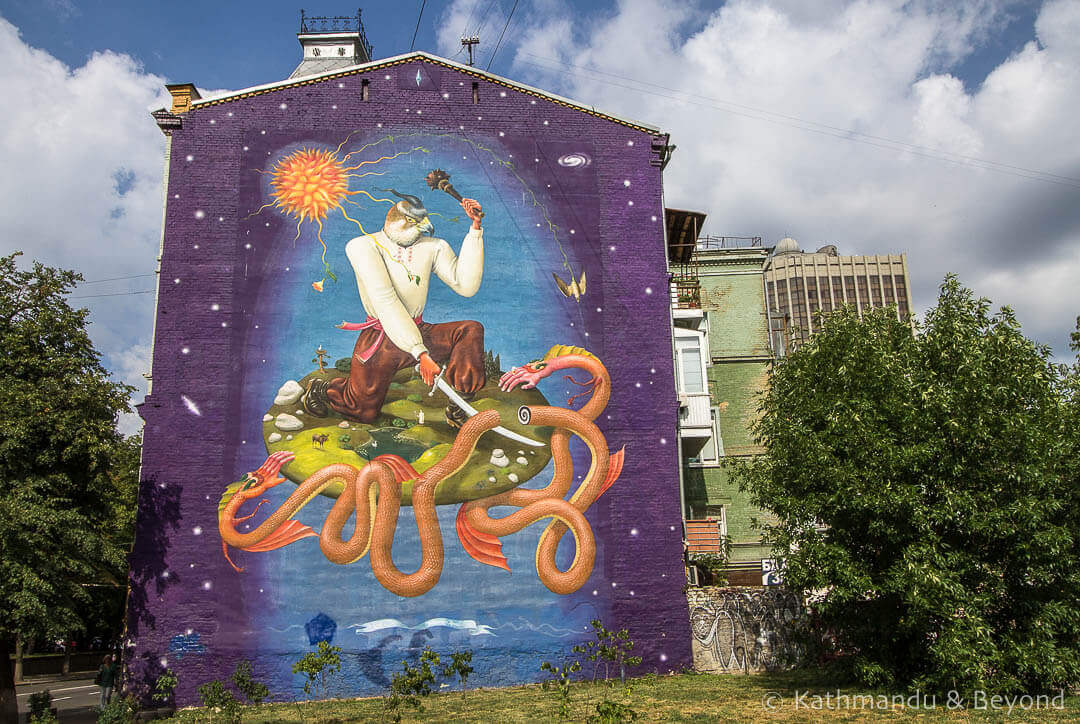 Continue along the road towards the Billa supermarket (good for snacks or supplies for a park bench picnic). As you reach the traffic lights before the supermarket, pause and look up and around.
Man in Hard Hat by Oleksandr Korban (July 2015)
Address: Artema Street
This mural is a little hard to spot and even harder to get close to but if you look up in a diagonal direction hopefully you'll see it up on a rooftop.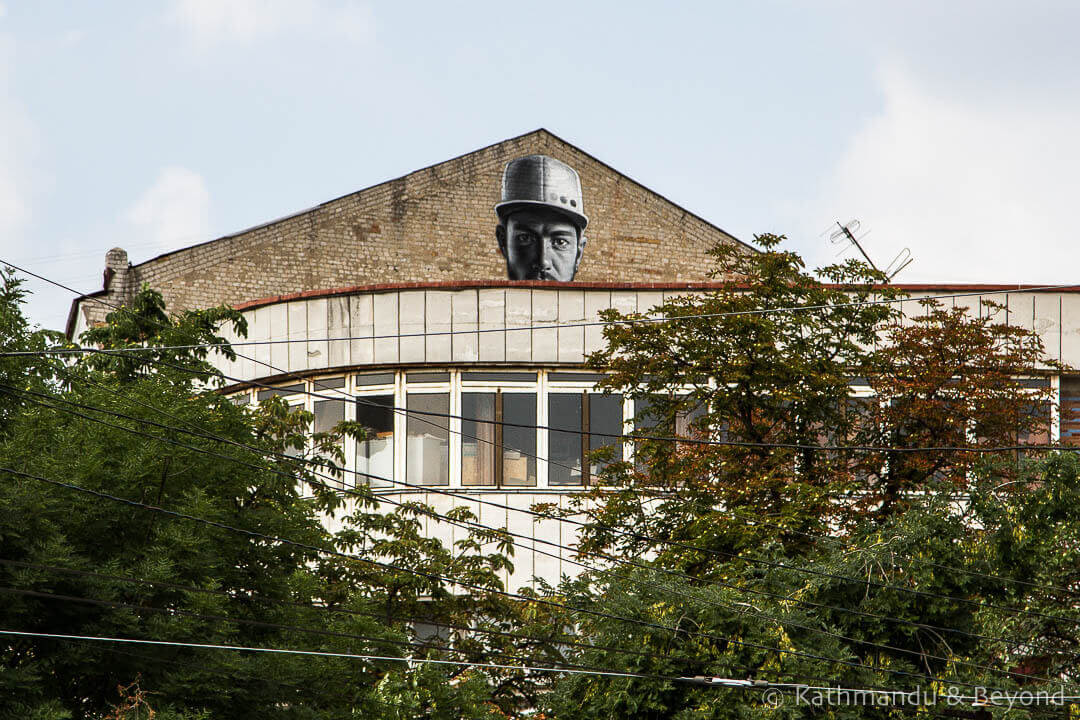 With the Billa behind you, cross the road and head up Bulvarno Kudriavaska Street (best to use the nearby pedestrian crossing).
Poppy-like flowers (Fluor & Malva sylvestris) by Fabio Petani (July 2017)
Address: 15 Bulvarno Kudriavaska Street
GPS: 50.452816, 30.502662
When I spotted this new mural, I thought it represented a poppy but, apparently, it's malva, a common plant in Ukraine, and similar to mallow which we get in the UK. It's on the left-hand side of the street and you'll have to turn around to see it.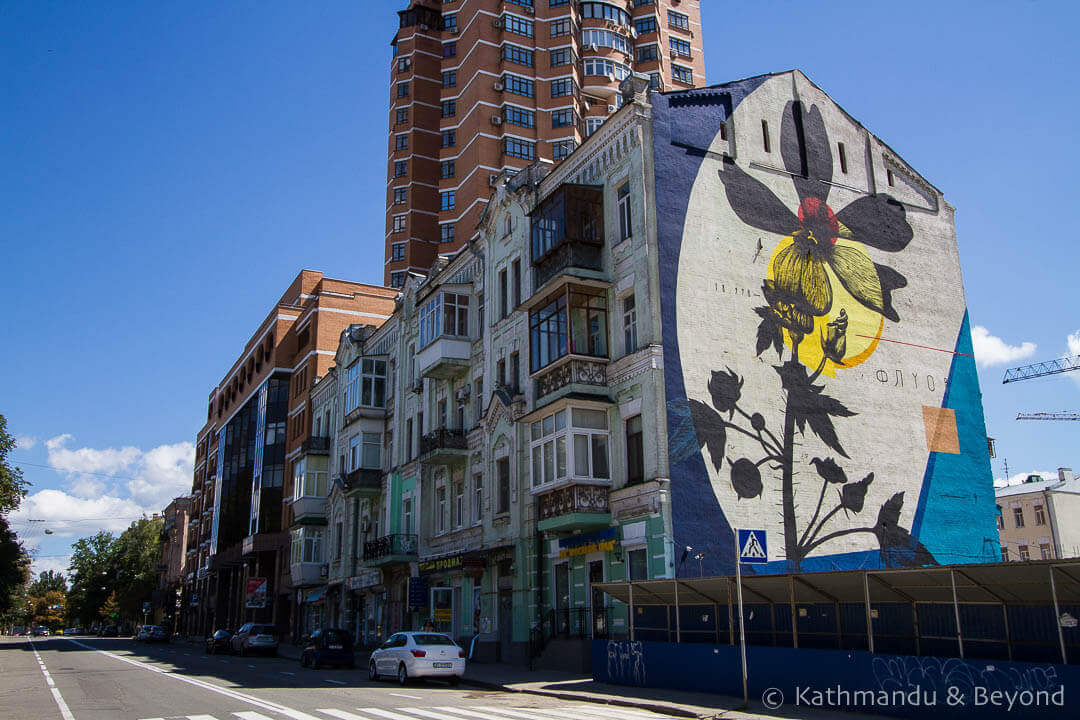 Continue down Bulvarno Kudriavaska Street, keeping an eye out on your right for Observatorna Street.
Bright Abstract Design (Homme Habile) by Guillaume Albi (Spring 2015)
Address: 3 Observatorna Street
GPS: 50.452866, 30.499903
You'll spot this large mural, on the side of an apartment building just off the main road, before you see the street name. According to one online source, it represents a man holding a staff in one hand and a bird in the other.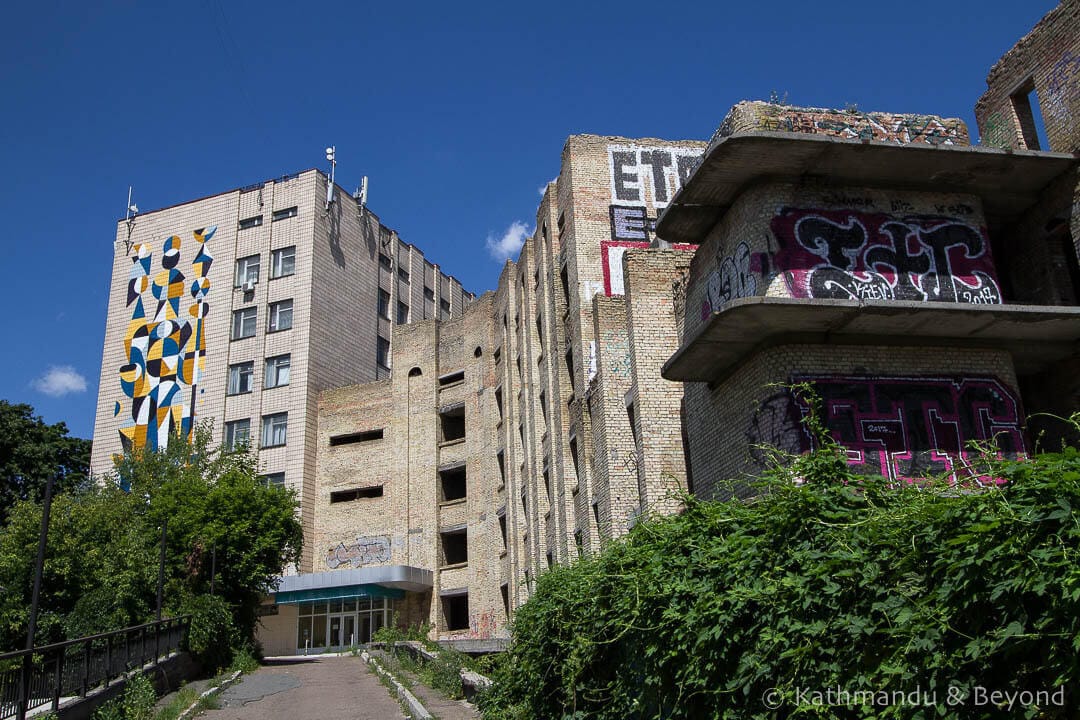 Back on Bulvarno Kudriavaska Street, a short distance down on the left, you'll come face to face with…
The Black Sea by Jake Aikman (August 2017)
Address: 35 Bulvarno Kudriavaska Street
GPS: 50.45059, 30.497394
Whilst treading Kyiv's pavements in search of street art, we were fortunate to come across a mural in progress. I was quite excited, Mark, less so!
Whilst we often catch kids with cans of spray paint behind abandoned buildings, this was the first time I'd seen a full-scale piece of artwork in progress. When we first passed, the artist was hard at work with his paint roller up a hydraulic crane. Curious to see if the mural was complete, I returned the following day. This time the artist was checking out his progress from ground level and I took the opportunity to ask when he would be finished. He told me it would take eight days in total, and there were still a few more days to go. I also learned that South African, Jake Aikman, had never painted a mural before – he is usually a studio artist and this was his first street art commission.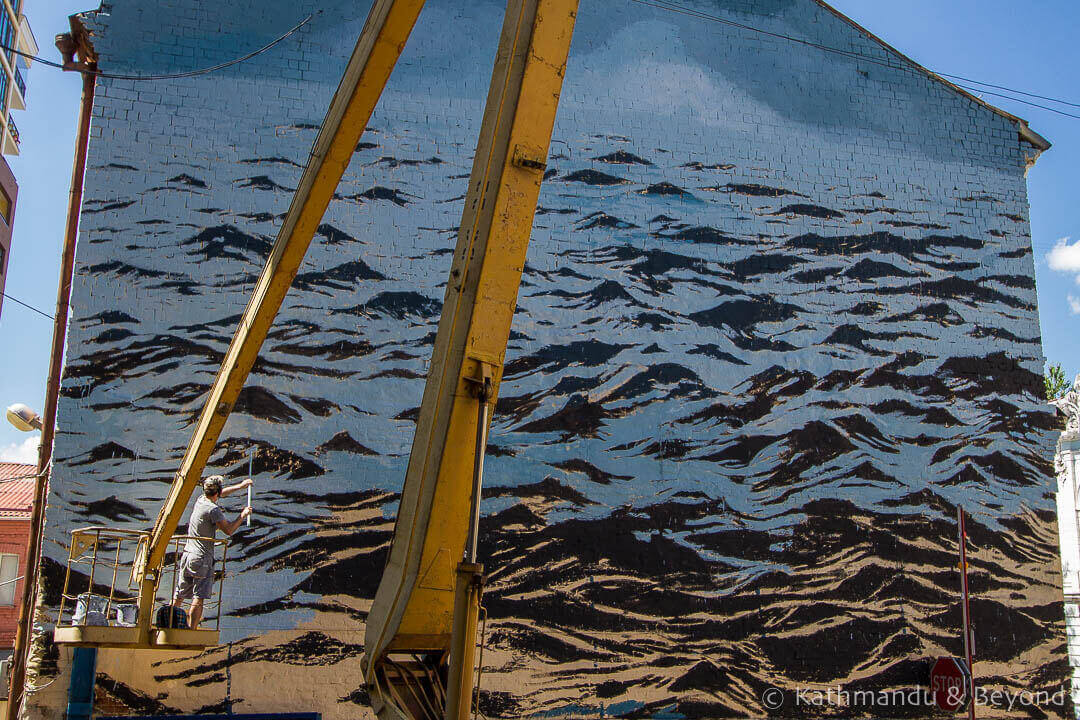 And this is the finished piece…
View this post on Instagram
With so much street art on the streets of Kyiv, you've got to reach a point when you turn around otherwise you could keep walking for miles, discovering murals all the way to the suburbs! Unless you are really on a mission, this could be that point. If you continue down Bulvarno Kudriavaska, you'll come to Kyiv Circus (which is worth seeing for its whacky architecture). There are several more murals in that area but you may want to save them for another day.
Instead, I suggest taking a left along Hoholivska Street and then left again back onto Olesia Honchara Street.
The next two pieces are very close to each other on the left-hand side of the road. You'll see the friendly rodents first, and this very detailed portrait of a man set against bright city lights is at the end of the building facing it.
City Man/City Lights by Sebastian Velasco (July 2016)
Address: 36a Olesia Honchara Street
GPS: 50.451088, 30.505322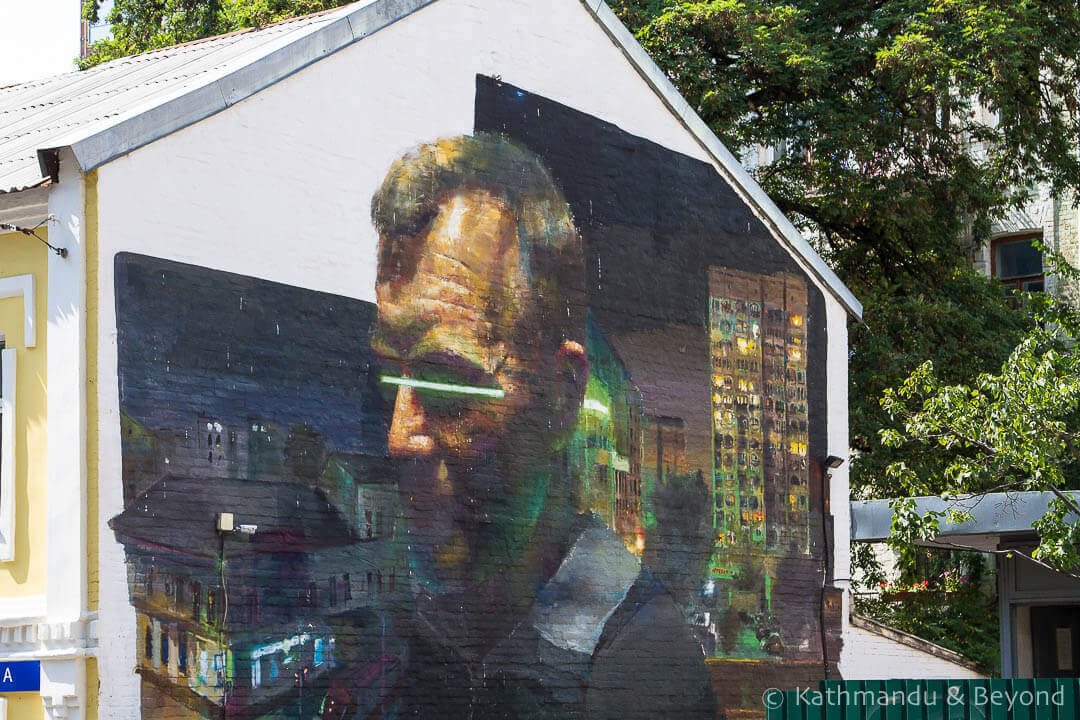 Rodents by Roa (July 2016)
Address: 32a Olesia Honchara Street
50.451199, 30.505686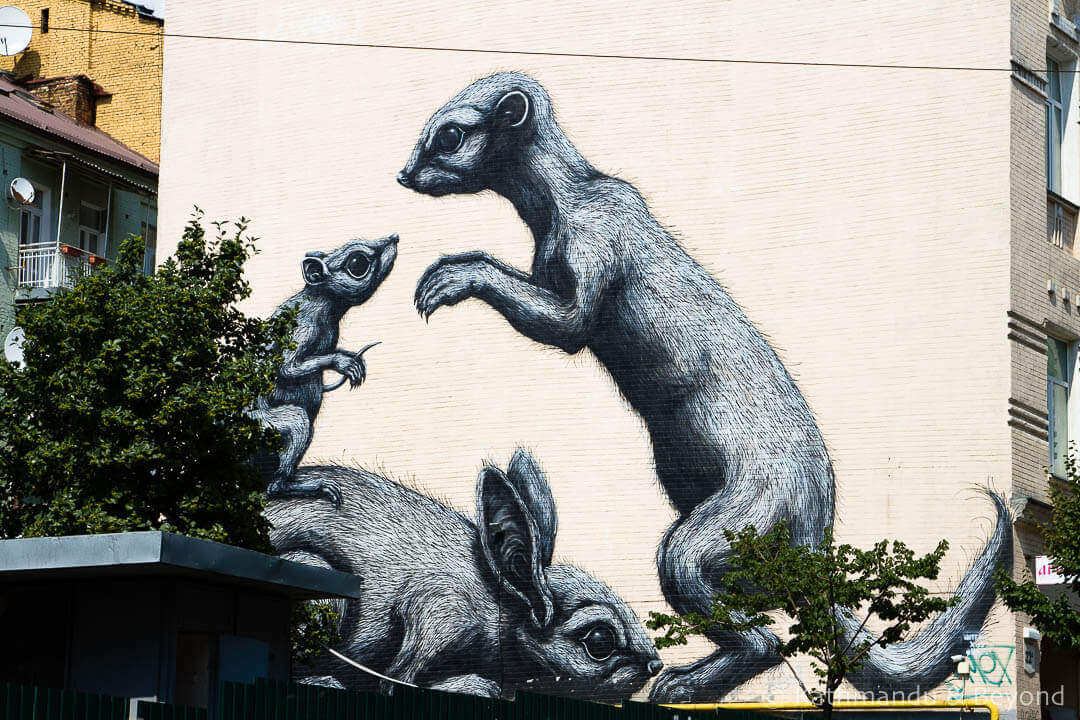 Wander a short distance further along the road, and you'll come to 'Self-Made Man', a piece dedicated to journalism.
Self-Made Man by Alexander Grebenyuk (October 2015)
Address: 24a Olesia Honchara Street
50.451828, 30.5072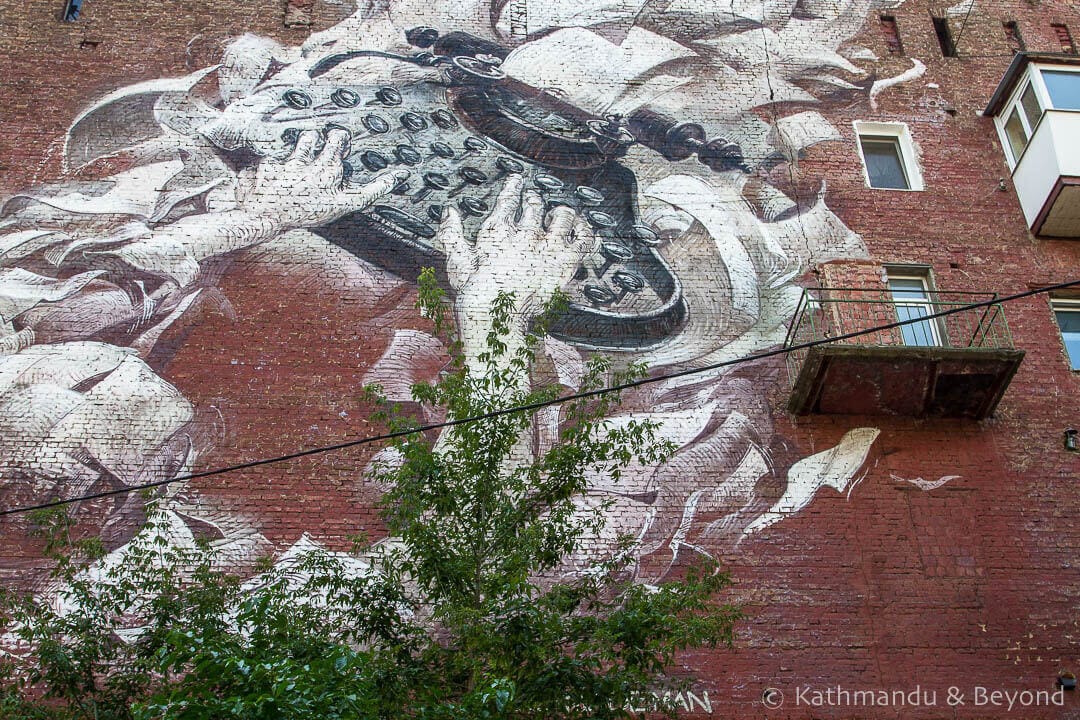 If you turn right at the top of Yaroslaviv Val Street and walk for about five minutes, you'll be back at the start point, Golden Gate. However, I recommend a little detour down Ivana Franka Street where two of my favourite pieces of street art in Kyiv can be found…
Blue Tit on a Lightbulb (Freedom) by Alex Maksiov (May 2016)
Address: 12 Ivana Franka Street
GPS: 50.449486, 30.509409
I adore this colourful piece featuring a blue tit hanging on to a lightbulb – the 3D detail and the illusion of a shadow are incredible.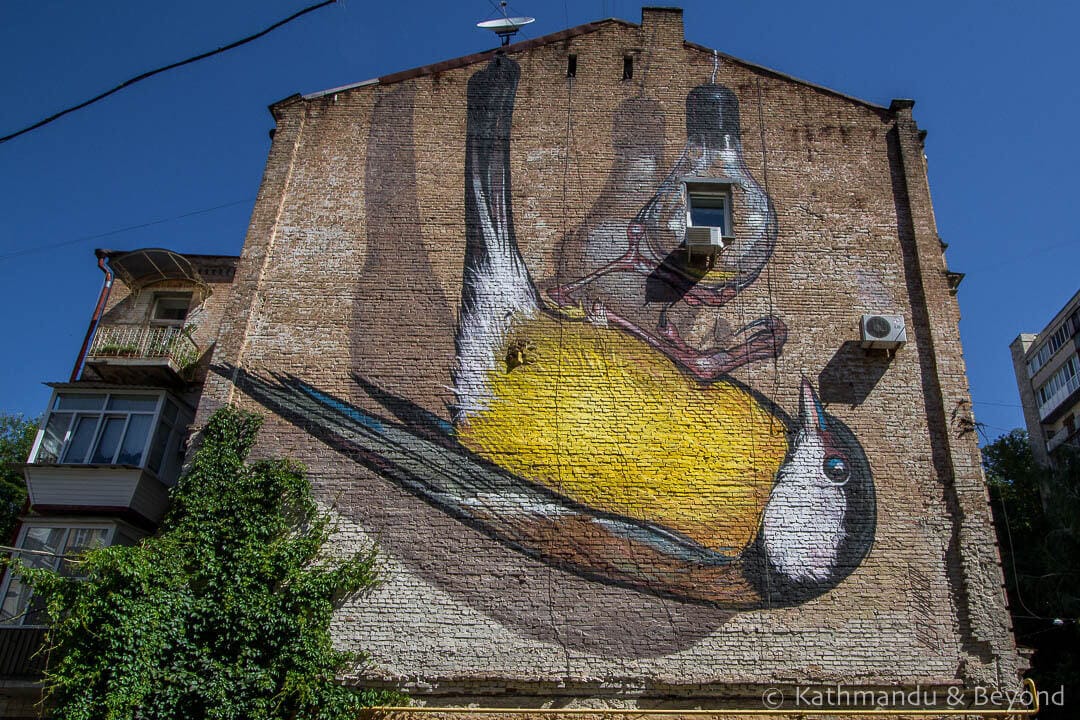 Don't be so awed by this beautiful piece that you miss this small and delicate bit of art on the wall below it…
Poppy and Dove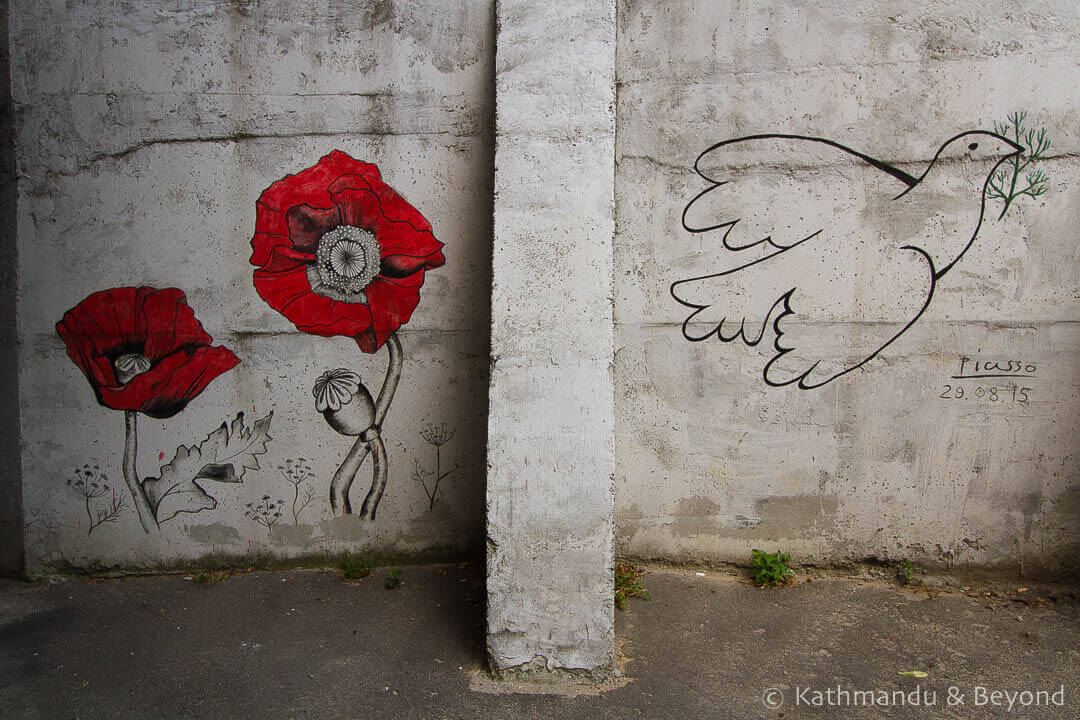 On a nearby wall look out for this painting featuring a rural scene.
Rural Scene
Address: 12 Ivana Franka Street (corner Viacheslava Lypynskoho Street)
GPS: 50.449257, 30.508873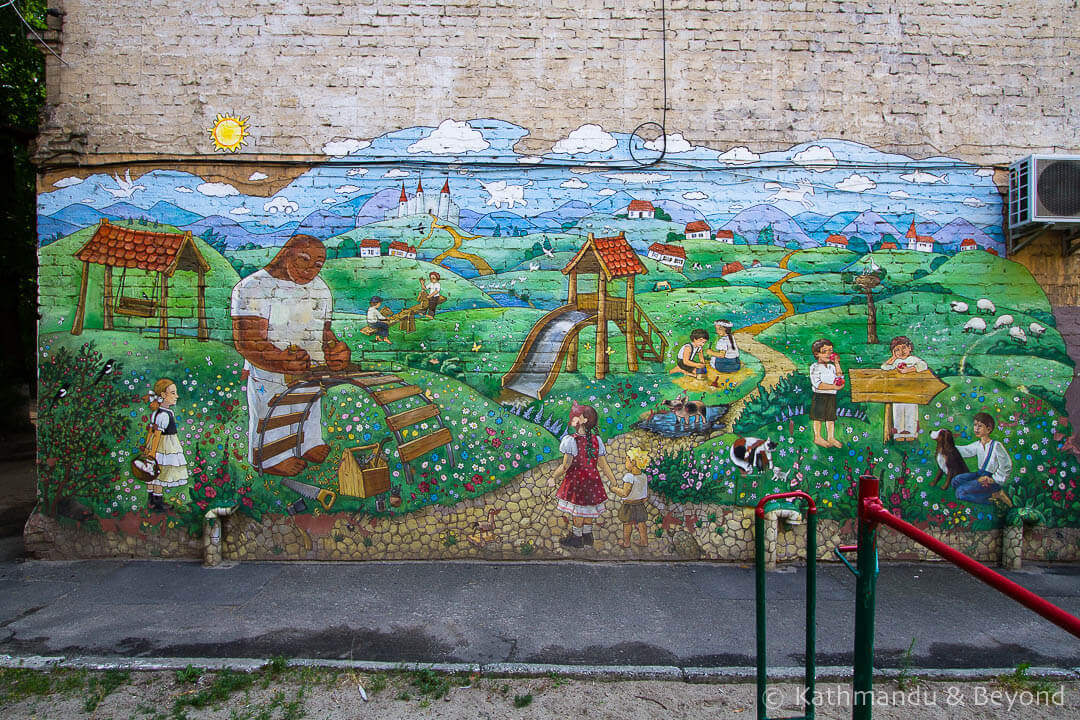 Turning down Viacheslava Lypynskoho Street, continue until you come to the final mural (for now!), and it's a great one to finish with!
Red Bicycle by Emmanuel Jarus (May 2016)
Address: 13 Viacheslava Lypynskoho Street
GPS: 50.449272, 30.506359
Another one of my favourites, apparently this is a self-portrait of the Canadian artist. It overlooks Kyiv velodrome.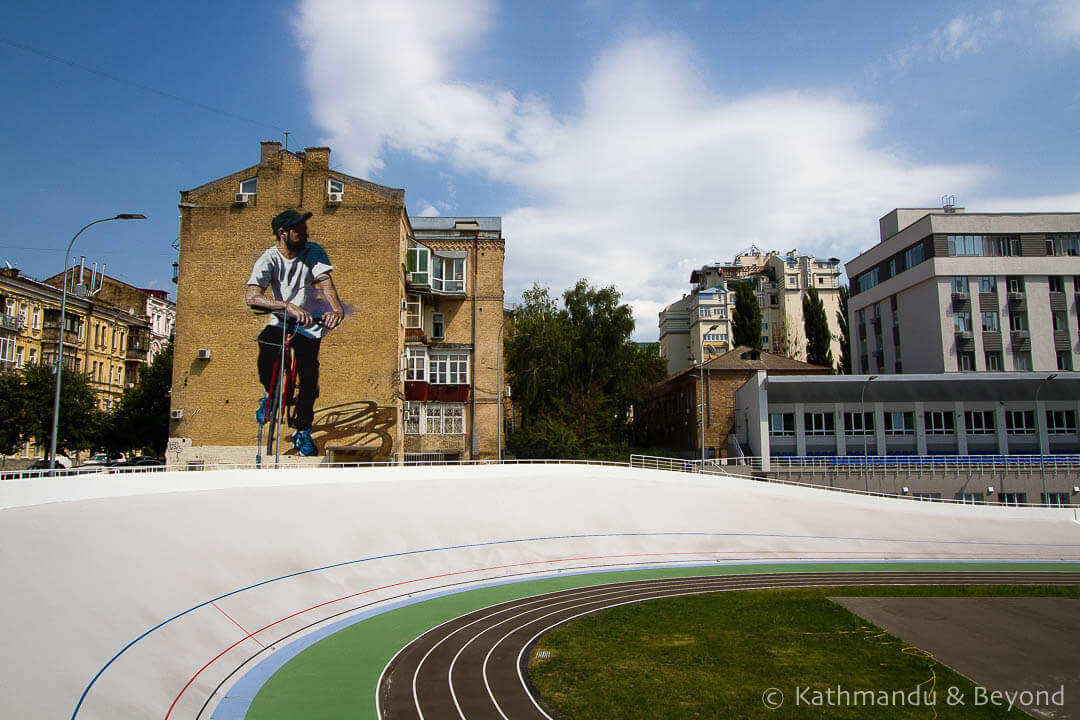 By this point, you will have probably walked just under five kilometres, so are probably ready to head to a bar or a coffee shop!
If you're heading to the Metro, backtrack up Ivana Franka Street and then turn right onto Yaroslaviv Val Street to return to Golden Gate (Zoloti Vorota).
Street Art Location Map
Believe it, or not, what you have just seen is a tiny fraction of the street art in Kyiv. If you are still eager to see more, the resources below will help you locate it.
Kyiv Street Art Resources
Kyiv Murals is a fantastic app available for iPhone and Android devices which pinpoints street art in your vicinity and gives the artist's name and date of creation. It's up-to-date with the latest pieces almost as soon as they appear on the streets of Kyiv. You do need to have an internet connection to use the App.
Alternatively, Kyiv Murals is a great website with the GPS locations of all almost all of Kyiv's street art.
---
---
DID YOU ENJOY THIS POST SHOWCASING THE STREET ART IN KYIV? PIN IT TO YOUR STREET ART OR TRAVEL BOARDS…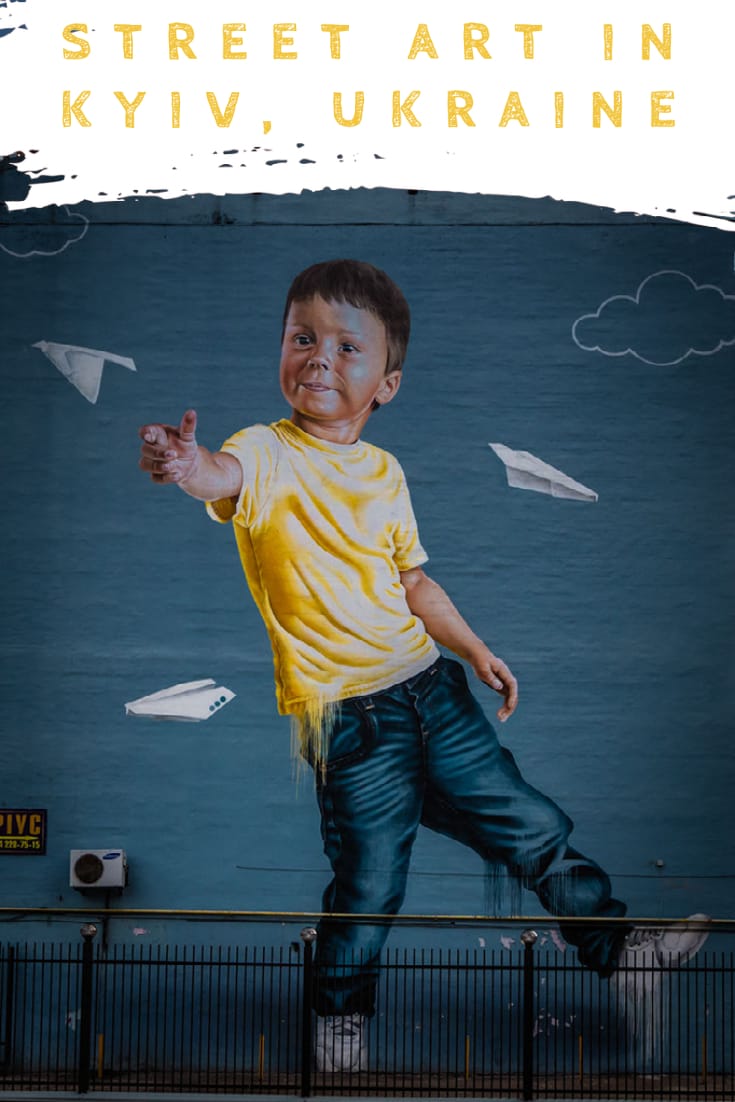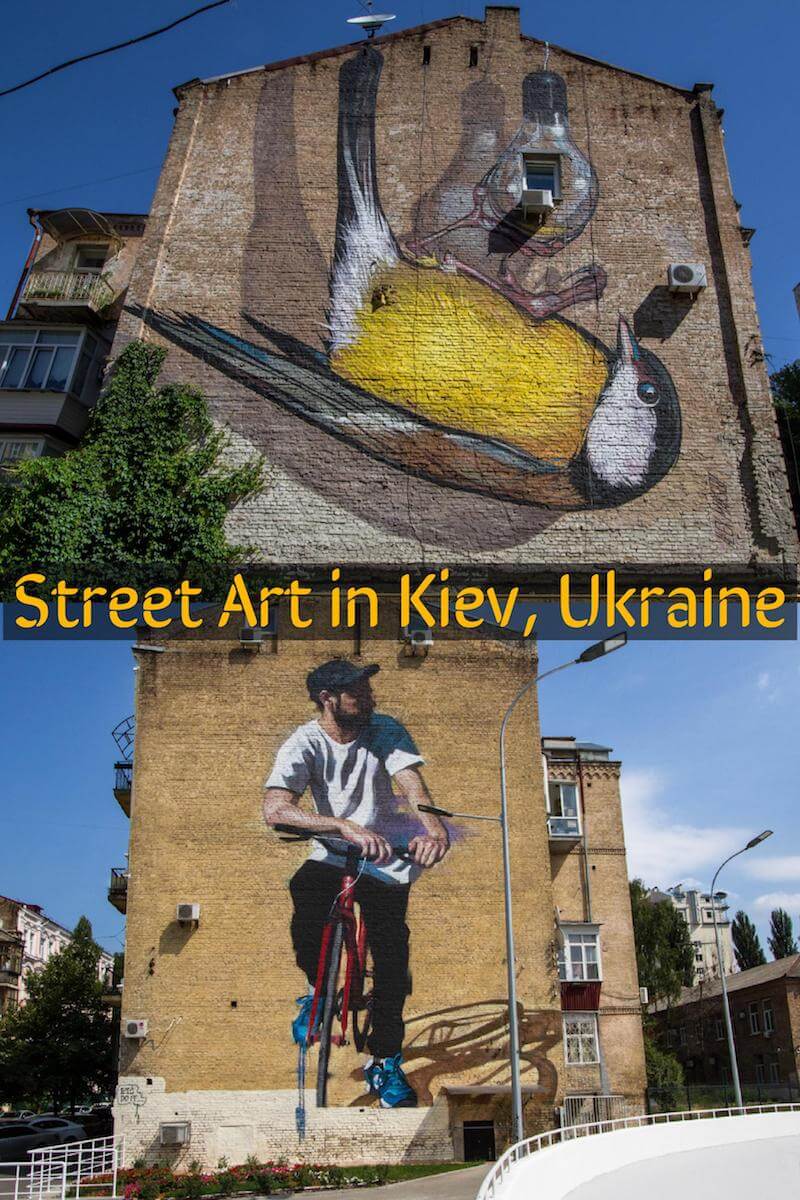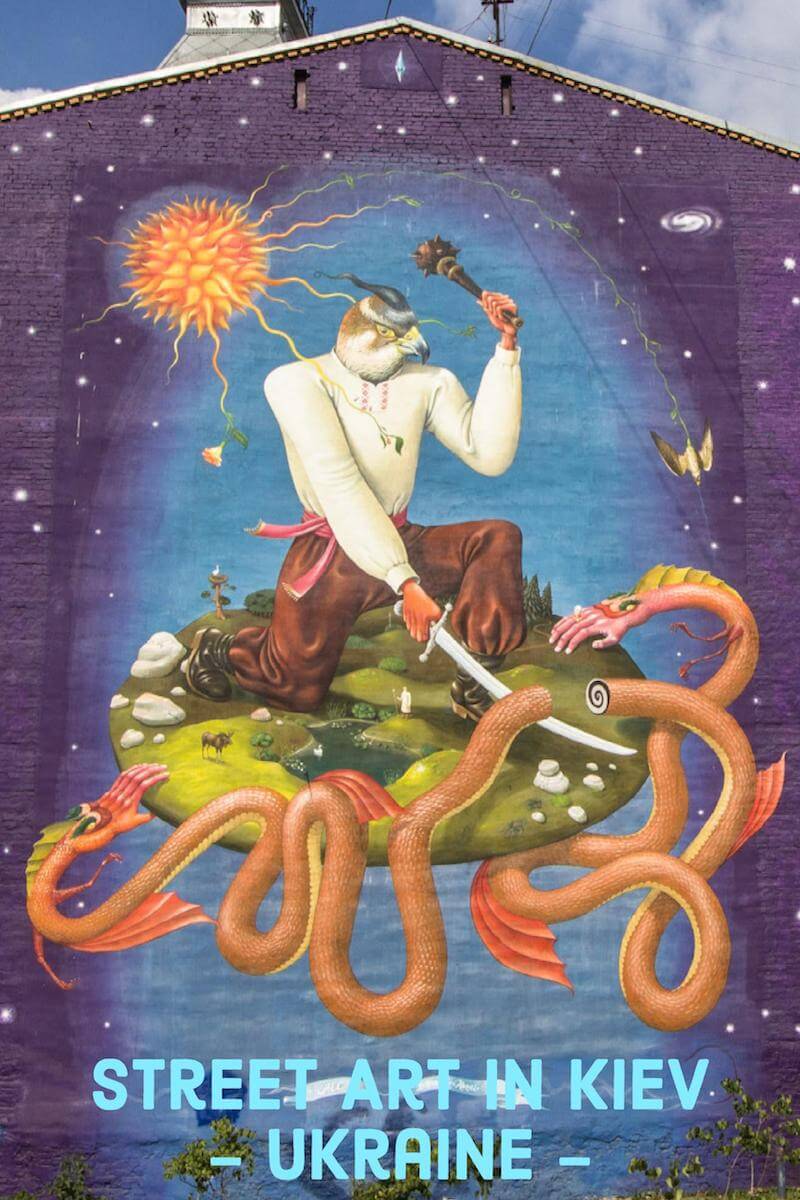 ---
---