Suggested Itinerary to Poland, Czech & Slovakia: Warsaw to Kosice
(Poland) Warsaw – Lodz – Poznan – Wroclaw – Kłodzko – Kudowa-Zdroj (Czech Republic) – Brno – Olomouc – Ostrava – Cesky Tesin (Poland) – Cieszyn (Slovakia) – Kosice
After a few days in Warsaw, we opted for the Polski Bus to get us to Lodz, but there are plenty of trains also heading in that direction, if that is your preferred option. Poland's third largest city is a bit of diamond in the rough – not instantly alluring, it is nonetheless a splendid place to visit and remains one of our top destinations in the country. Poznan, on the other hand, oozes charm and has one of the prettiest market squares we have seen anywhere!
Heading further west, look out for dwarfs as you wander around Wroclaw, another terrific city (Poland is full of terrific cities, that's why we keep going back!) situated on the Odra River. We stopped in Kłodzko to see its huge fortress before taking another bus the short distance (37km) to the spa town of Kudowa-Zdroj. It only took 20 minutes to get from Kudowa-Zdroj to the Czech town of Nachod, from where we travelled via Hradec Králové (where we had to change again) to workaday Brno. We regretted spending only one night in Brno, two would have been better, whereas little-visited Olomouc can be seen in a couple of hours. Definitely stay longer than that though. Olomouc might be small but it packs a hefty punch and the architecture in and around the old town is striking.
Ostrava is home to one of the region's most unique tourist attractions, the huge and extremely photogenic iron and coal-mining complex known as Dolni Vitkovice. We thought it was one of the best things we had seen in a while and when we did move on, it was to the Czech/Polish border towns of Cesky Tesin and Cieszyn. Linked by a couple of bridges, you are free to come and go as you please between the two places. Cieszyn is the nicer of the two but Cesky Tesin has the better beer! Our final stop was Slovakia's best kept secret, Kosice, where we stayed a couple of nights before crossing into Ukraine.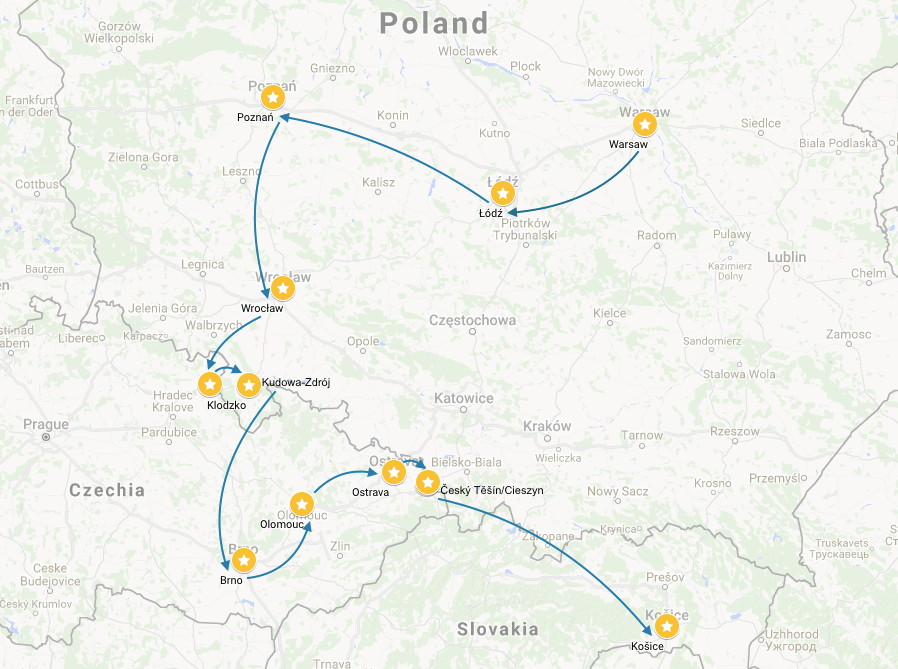 Number of countries: 3
Number of UNESCO sites: 3
Best time to travel: May to September
Recommended duration: Two to three weeks
Best places to slow the itinerary down: Poznan, Olomouc and Kosice
Mode of transport: Train and bus
And if you need a few more reasons to follow this itinerary…
Did you find this post useful? Pin it to your travel planning board for later…