Located near the small town of
Pereyaslav-Khmelnytsky,
t
his outdoor museum makes a great day trip from Kyiv (Kiev)
A good friend of ours, Hugh, who lives in London, came out to see us while we were in Kyiv. He's done this a few times, come out to visit us while we have been on the road that is, and it's always good to see him. He likes a few beers and so do I and it's nice to have a partner-in-crime as well as a few days away from our normal routine of planning, travelling and sightseeing.
We did the usual sights in Kyiv, such as visiting the UNESCO heritage-listed Orthodox Christian Monastery Pechersk Lavra and wandering around the Old Town, plus we went on a fascinating day trip to Chernobyl, but we also ensured enough time in the day was dedicated to what Hugh and I like to term research. This involves finding a suitable spot for lunch, settling in for the rest of the afternoon and sampling a number of the local brews.
It's all good fun but one of the side effects of this research is invariably a stinking hangover and one particular morning I woke up feeling and looking like death. Over breakfast, we discussed our options for the day. I would have been quite happy with a return to the room, a bit of television for a few hours and a hair of the dog at lunchtime in order to even things out a bit. Hair of the dog is not my usual habit, I hasten to add, but I was feeling particularly rough on this occasion. However, the other two were having none of it. Kirsty (who is sensible when it comes to drinking alcohol) and Hugh (who has a higher tolerance level when it comes to drinking alcohol) were both feeling fine and up for a day out. 'How about a cultural village just outside Kyiv?' says Hugh. 'Sod off,' was my instant response. 'Wild horses couldn't drag me to one of those' (I dislike cultural villages at the best of times, even more so when I feel like I have had a run-in with an elephant). Undeterred, Kirsty looked the place up in our guidebook. 'I'll give it a go,' she pipes up, looking at me and grinning (she knew the state I was in and can be out and out evil sometimes!). 'BLOODY HELL!', I exclaim. 'What's the matter with just hanging around here and heading out for an early lunch?' Neither of them was going to let me off the hook. I was outgunned, snookered and, given that I hate missing out, had little choice but to agree.
So a bit later, we took the metro to a point on the outskirts of the city from where you can pick up a marshrutka (fixed-route minivan) that will take you to the small, unpronounceable, town of Pereyaslav-Khmelnytsky, where the Mid-Dnipro Museum of Folk Architecture & Life is located.
My joy at being hoodwinked into taking this trip was further enhanced by the fact that there were only two seats left on the marshrutka and the next one wasn't departing for at least another forty minutes. Naturally, Kirsty was given a seat and for some unknown reason, I offered the other one to Hugh, which he promptly accepted. It was apparent they were both going to make me suffer this day and my assumption that at least one person would alight from the vehicle on the 90km journey to Pereyaslav-Khmelnytsky, and thus free up a seat for me, was misjudged. I spent nearly the entire trip standing up, head crooked to one side (as the van was short on headspace) and trying not to think about how rotten I was feeling as the driver sped through the back roads of rural Ukraine.
When we arrived at the bus station in Pereyaslav-Khmelnytsky, we followed Lonely Planet's instructions and took a taxi to the main entrance (8km away) and purchased our tickets. None of us really had any idea what to expect. Lonely Planet lists the museum as one of their Kyiv-and-around highlights and I'm assuming that is why Hugh picked on it in the first place?
There are apparently twenty-three museums in Pereyaslav-Khmelnytsky, of which the Mid-Dnipro Museum of Folk Architecture & Life (also known as the Museum of Folk Architecture and Household Traditions in Middle Naddnipryanschina – these ex-Soviet countries love a catchy title!) is the main attraction and the highlight. The museum, which is open-air and spread over several hectares of forested land, showcases approximately seventy heritage structures made of wood, that have been brought to the museum from nearby villages.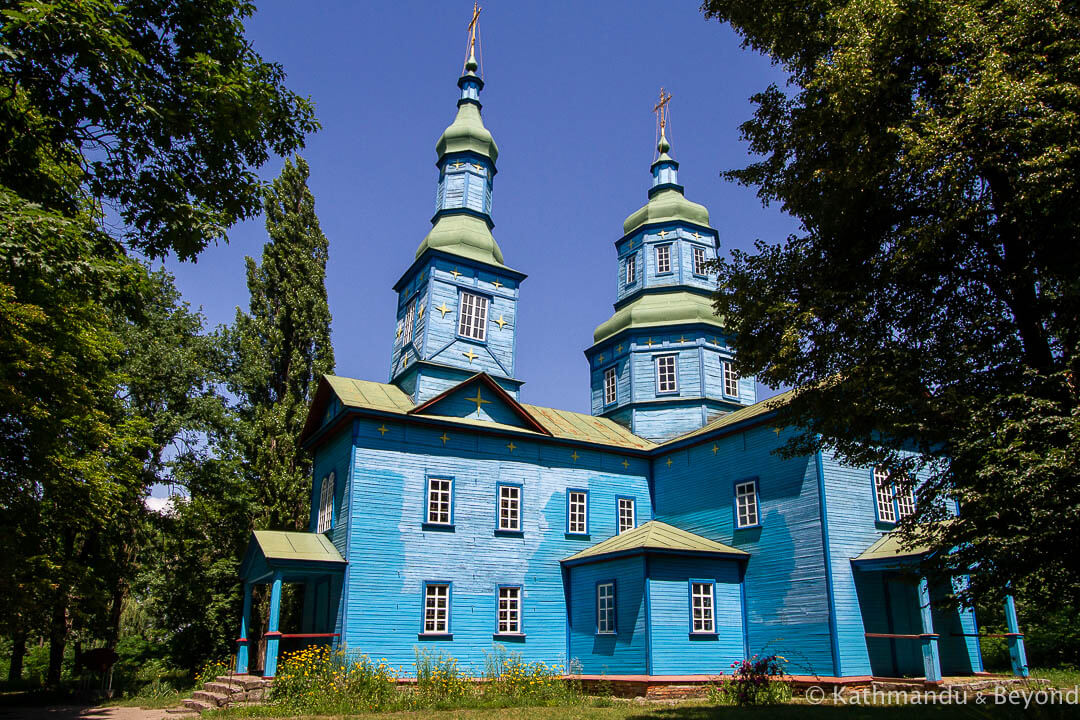 Still not convinced? Neither was I but it transpired that some of the buildings had been turned into museums and inside these museums we found a wonderful display of items, most of which harked back to the time of the Soviets. The place now had my attention (I admit I was also feeling a little bit better) and as we poked around, strolling from one building to the next, we came across all sorts of fascinating relics, machines, statues and artefacts that screamed out Soviet kitsch and retro.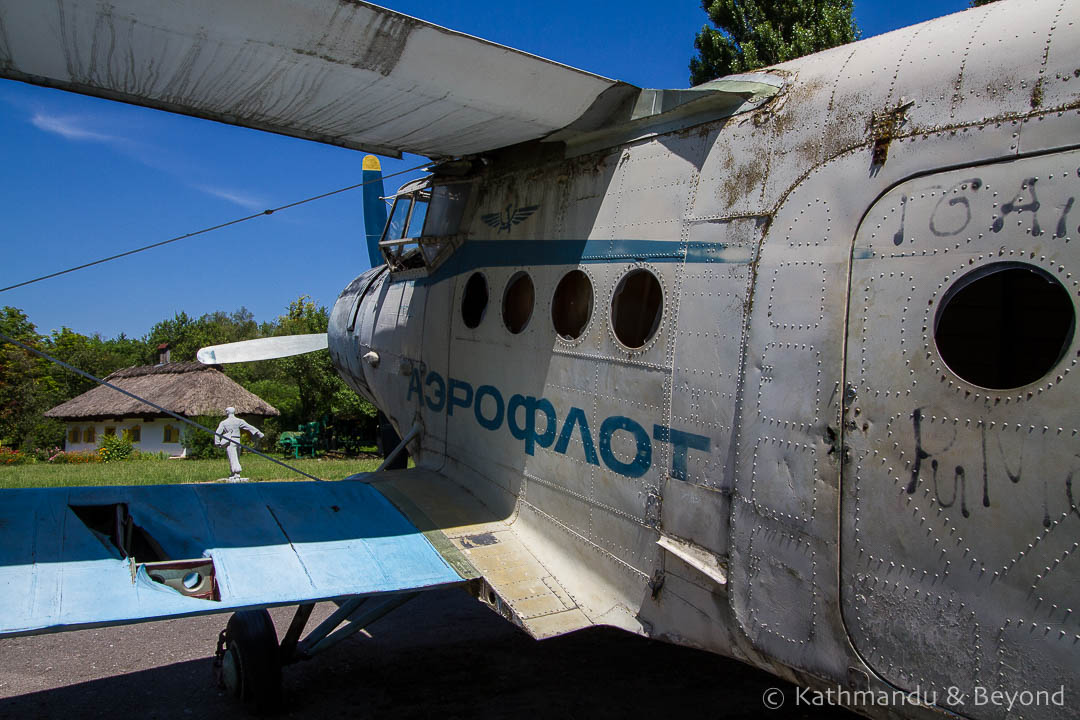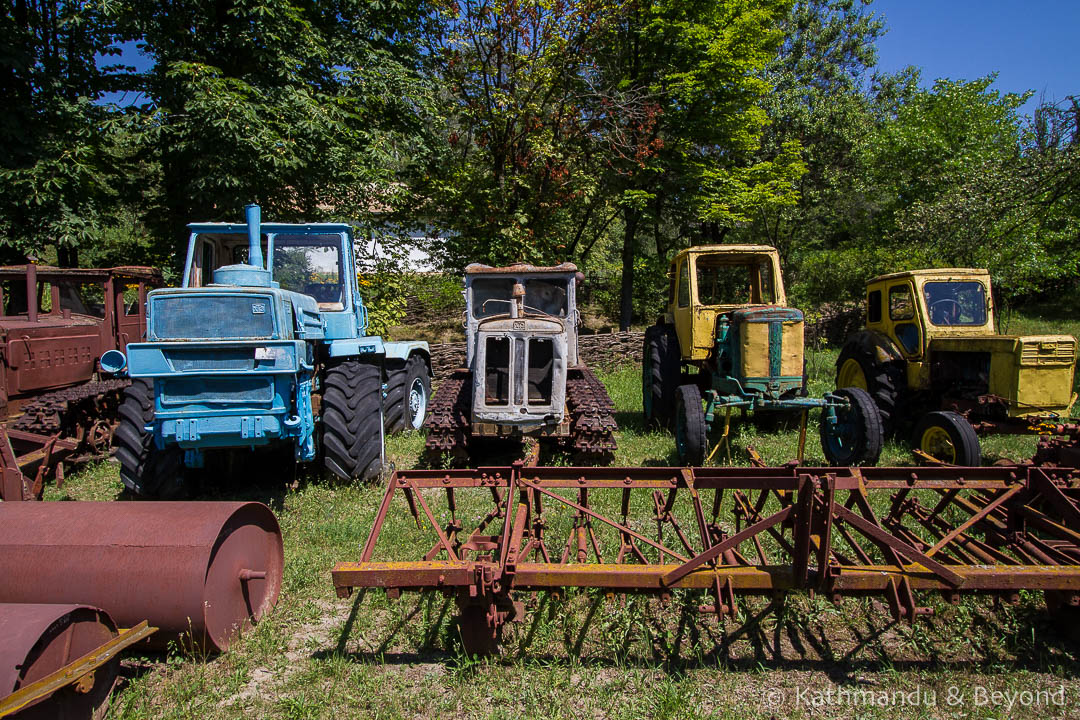 There were a few highlights for us but even the buildings that were just houses were of interest plus it was nice to be out in the countryside on such a warm and pleasant summer's day rather than confined to the city and, as we were leaving, I begrudgingly had to admit to Hugh that visiting the Mid-Dnipro Museum of Folk Architecture & Life was indeed a good idea.
As for the highlights, the Bread Museum, although dimly lit, had some great bits and bobs within its walls and the outdoor area surrounding the building was full of rusting tractors, other agricultural machinery and even an old Aeroflot plane.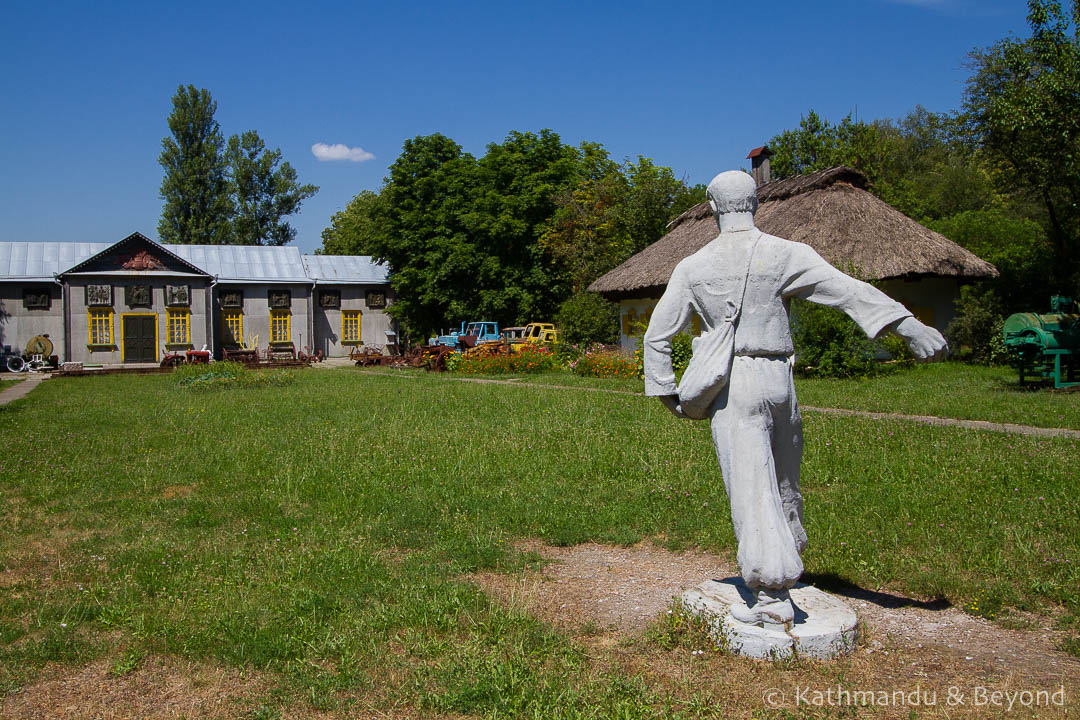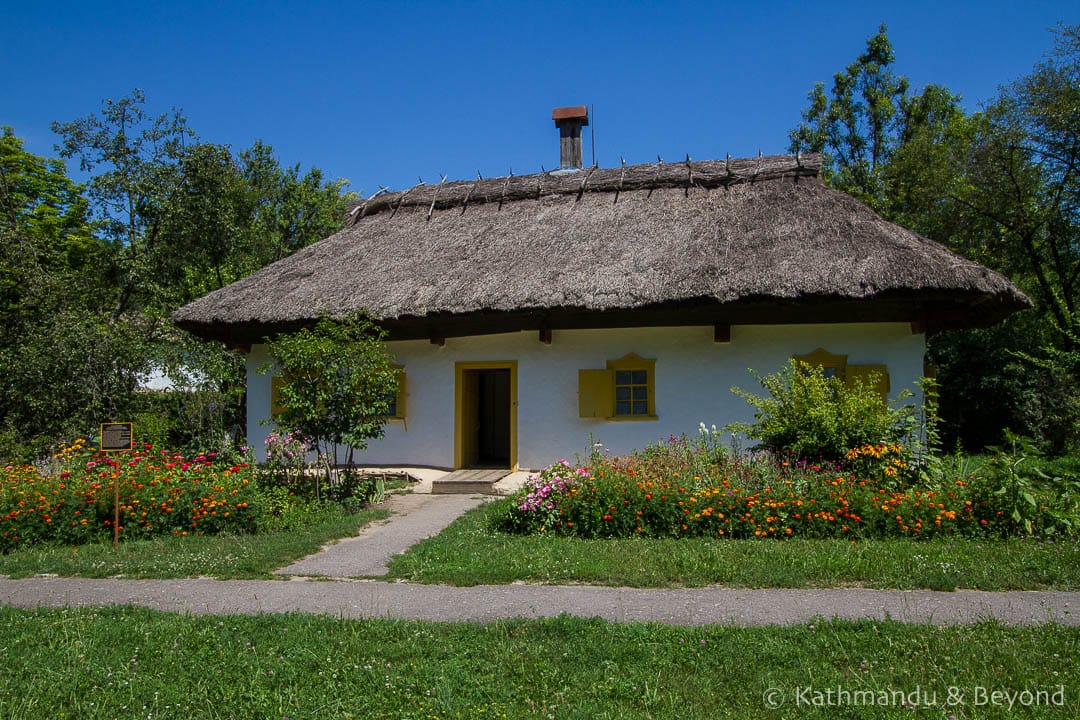 The Space Museum which, for some strange reason, is housed in a lovely wooden church was also excellent and full of space exploration related memorabilia.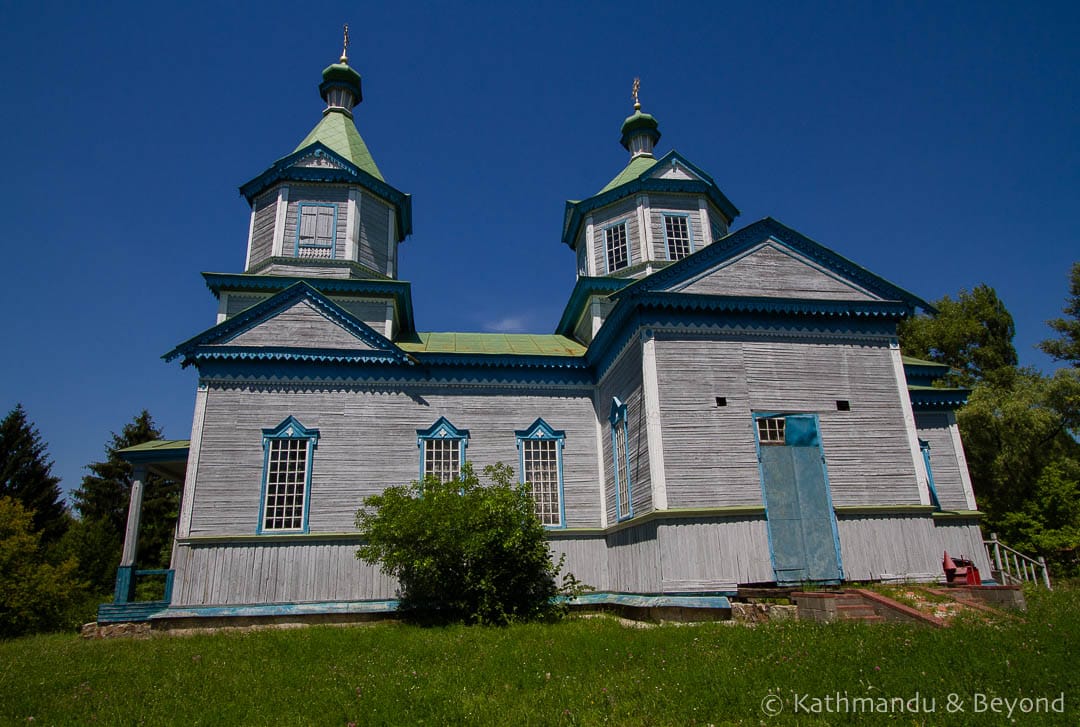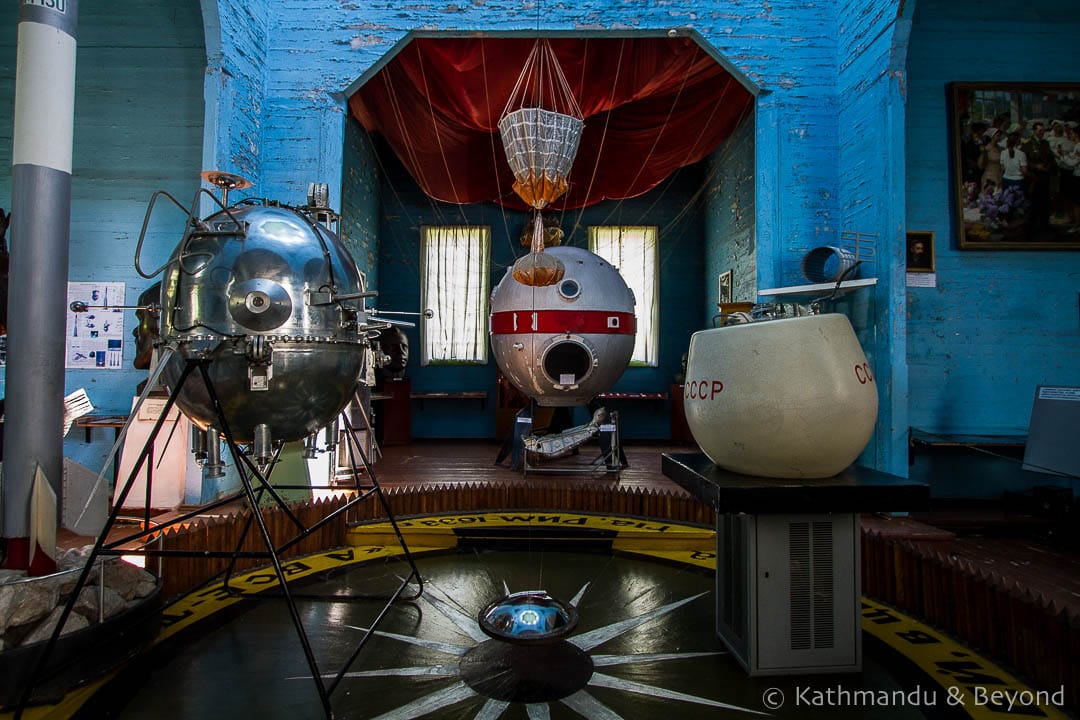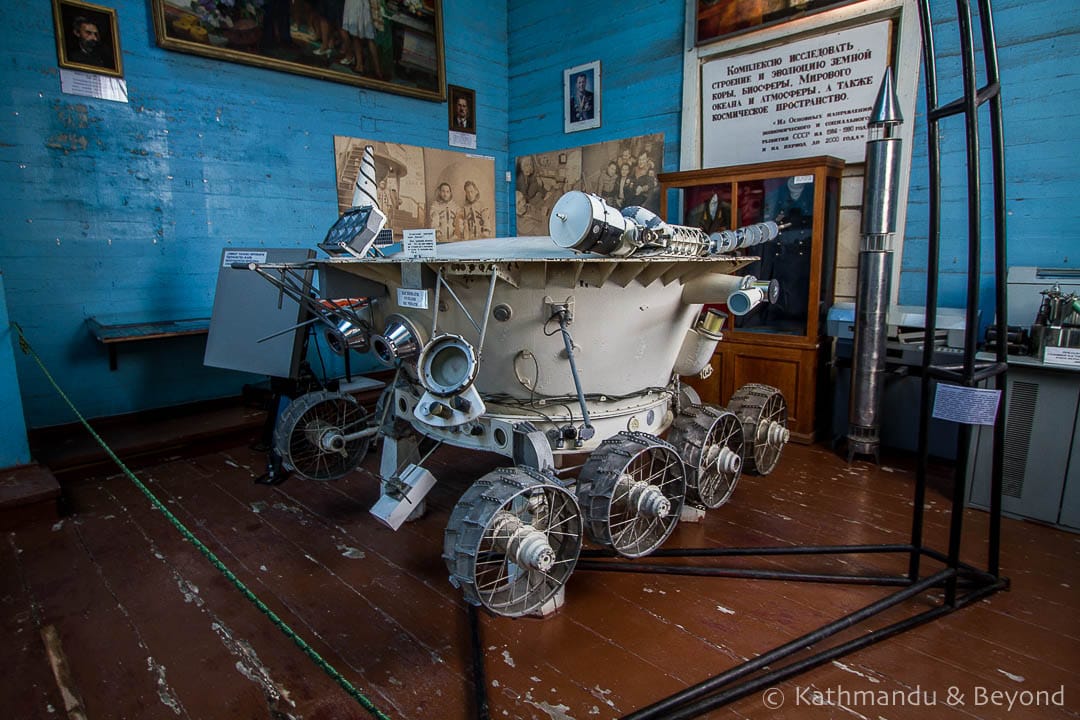 It took us approximately two hours to cover the complete area at a leisurely pace and from the opposite entrance to which we entered, we walked back to the centre of Pereyaslav-Khmelnytsky.
What you need to know to plan a visit the Mid-Dnipro Museum of Folk Architecture & Life in Pereyaslav-Khmelnytsky near Kyiv
How to get there
Pereyaslav-Khmelnytsky is 90km southeast of Kyiv. Using public transport, take Line 3 (Green Line) on the metro to Kharkivska station. Come up on the side of the road that heads out to the airport and away from the city and look for a parking lot full of marshrutkas. Track down one of the marshrutkas that regularly (every forty minutes or so) heads to Pereyaslav-Khmelnytsky. Get on, take a seat, hand over the fare and wait for it to fill up and leave. The price in July 2016 was 35uah (Hryvnyas) (US$1.40) one-way and it takes just over an hour to complete the journey. Having Pereyaslav-Khmelnytsky written in Ukrainian (Переяслав-Хмельницький) is a good idea as you sure-as-hell won't be understood if you simply try to pronounce it unless of course, you are fluent in Ukrainian or Russian!
Upon arrival in Pereyaslav-Khmelnytsky, Lonely Planet's suggestion of taking a taxi the 8km to the furthermost away (main) entrance of the museum, then walking through the grounds (seeing the places of interest along the way) and exiting at the entrance closer to town is a good one. The distance between the two entrances is at least a couple of kilometres and it's an easy walk of about forty minutes back to the centre of town.
To get back to Kyiv on public transport, repeat the above process in reverse.
Admission fee
The entrance fee to enter the main site is 30uah (US$1.16) per person. On top of this, some of the buildings have an additional (but negligible) entrance fee of 2-3uah (US$0.11) per person. We think we also paid a camera fee but can't remember exactly what this was.
Opening times
The museum is open daily from 10am to 5pm.
Is the Mid-Dnipro Museum of Folk Architecture & Life in Pereyaslav-Khmelnytsky worth visiting?
If you have plenty of time in the Ukrainian capital or you are a second-time visitor, then the museum is a pleasant way to while away two-thirds of a day or so. This is especially the case if you are interested in wooden houses and churches and/or Soviet-era memorabilia but if you are limited on time, don't forgo any of Kyiv's highlights, which are numerous, in order to fit in a visit. Furthermore, if you can only squeeze in one day trip during your time in Kyiv, we would recommend dedicating the time to visiting Chernobyl, which is a more rewarding excursion.
Much as we enjoyed the museum, we are also not sure how much fun this open-air museum would be if the weather wasn't bright and sunny?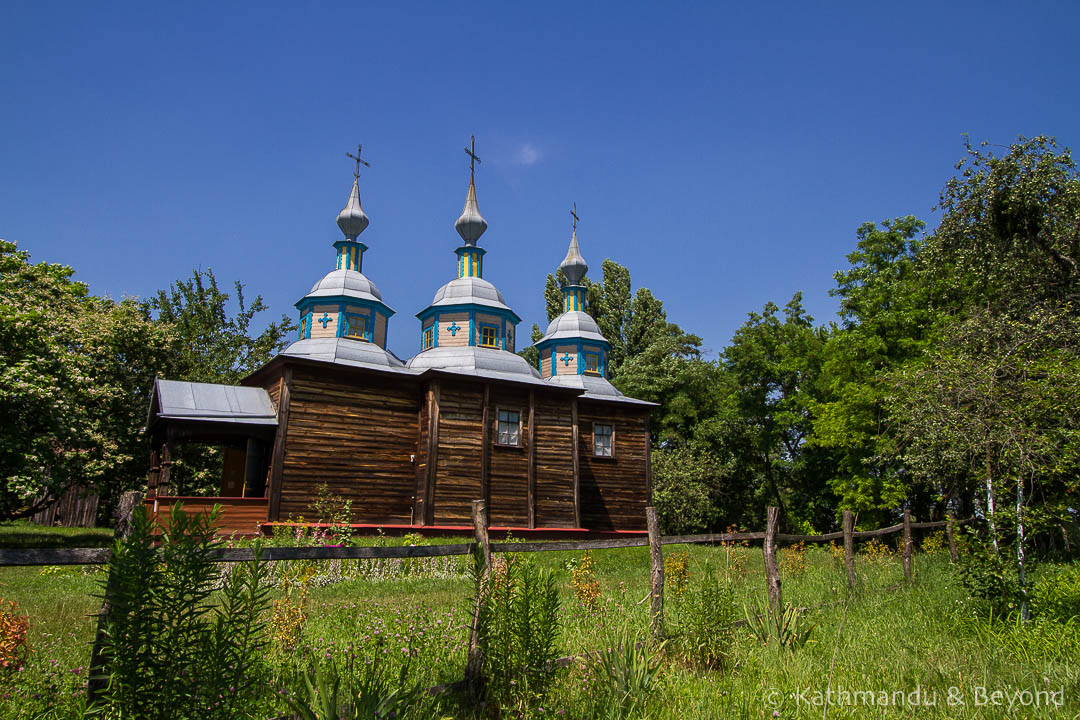 ---
---
Planning a visit to Kyiv? Why no pin this to your travel boards …
---