The off-the-beaten-path medieval town in Central Ukraine that's only missing one thing – tourists…
I don't believe in sticking up a load of photos, accompanied by the minimum of text and telling the reader that they must go to such and such a place simply because it's awesome and I'm telling you so. Sure, pictures are a great selling point for any destination but you need justification for such a statement, backed up by facts, some narrative and a few practicalities. 
BUT, in this instance, I reckon I could write This is Kamyanets-Podilsky, it's in Ukraine, it's an incredible place, you should go visit and then let the photographs do the rest of the work! 
View of the fortress from Turkish Bridge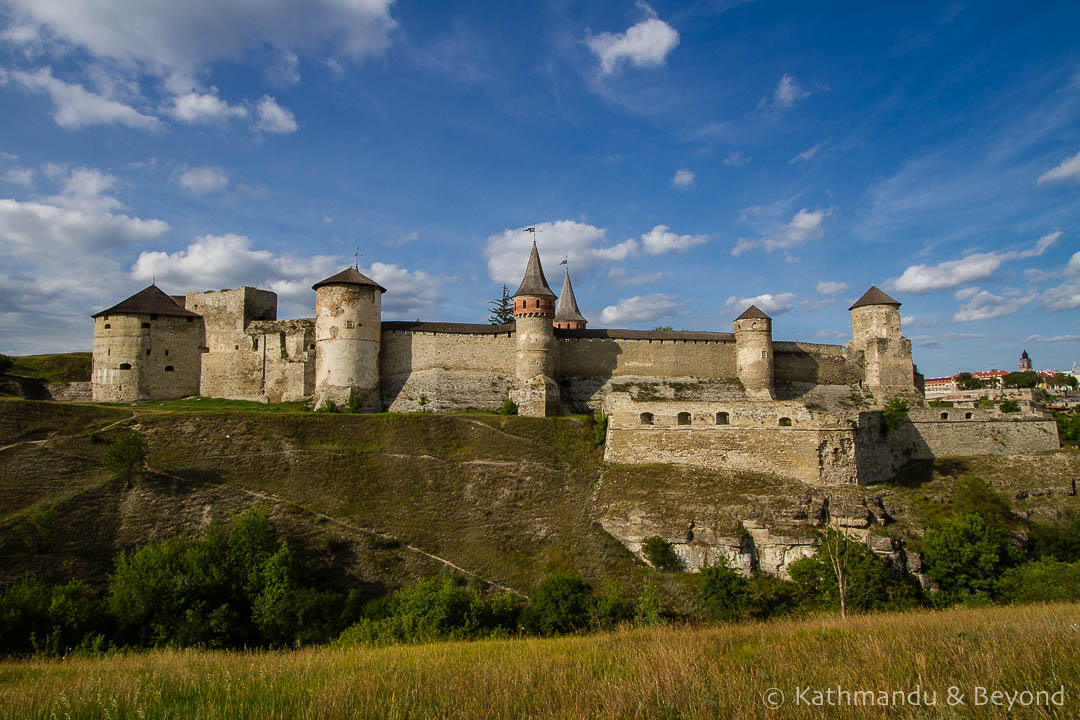 It's not that I'm saying our photos are incredible, although I do think they are one of our better sets, it's more the subject matter that is incredible in this instance. Kamyanets-Podilsky is a stunningly, beautiful medieval town and I think even a 5-year could not fail to do it justice if you stuck a camera in their hand.
I think Lonely Planet describes the town perfectly with their opening couple of sentences in their Ukrainian guide;
Kamyanets-Podilsky is the sort of place that has writers lunging for their thesauruses in search of superlatives. Even words like 'dramatic', 'stunning' and 'breathtaking' just will not do.
Excerpt From: Lonely Planet. "Ukraine Travel Guide." iBooks.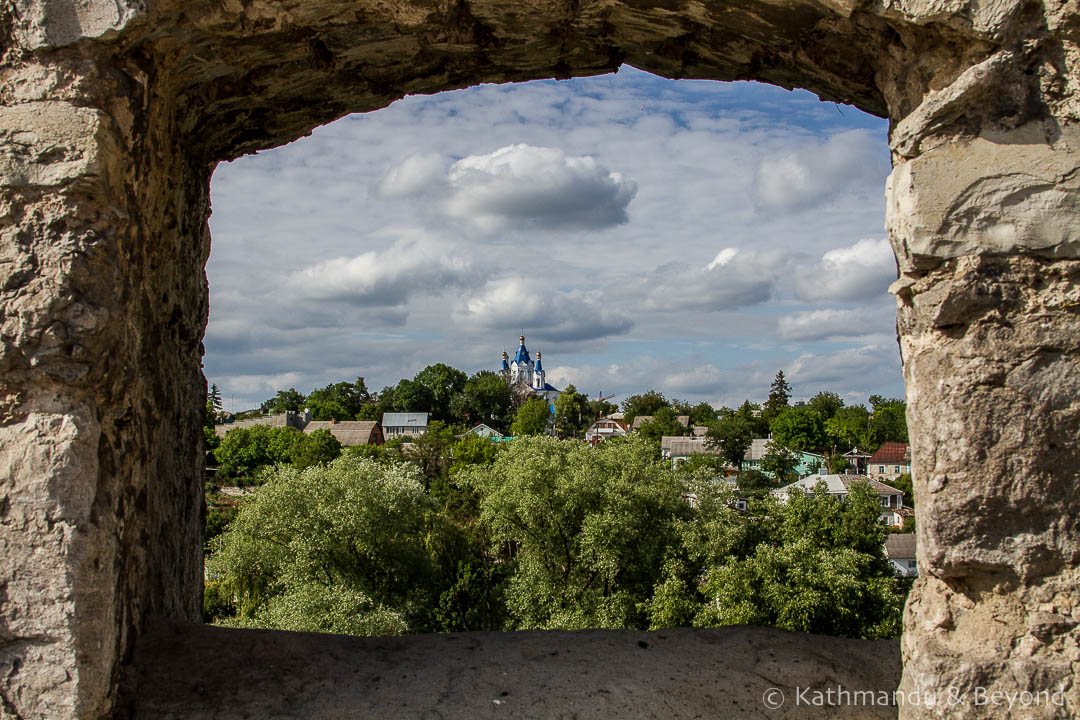 There are umpteen medieval towns in Europe, I know that but what makes Kamyanets-Podilsky unique is the fact that it has an undiscovered feel about it and, what's more, attracts a fraction of the visitors that big names such as Carcassonne in France and Nuremberg in Germany draw in, for example. This is probably partly down to the ongoing conflict with Russia in the east of Ukraine, but I've got a feeling that Kamyanets-Podilsky was probably never on a par with such towns, even before the war started.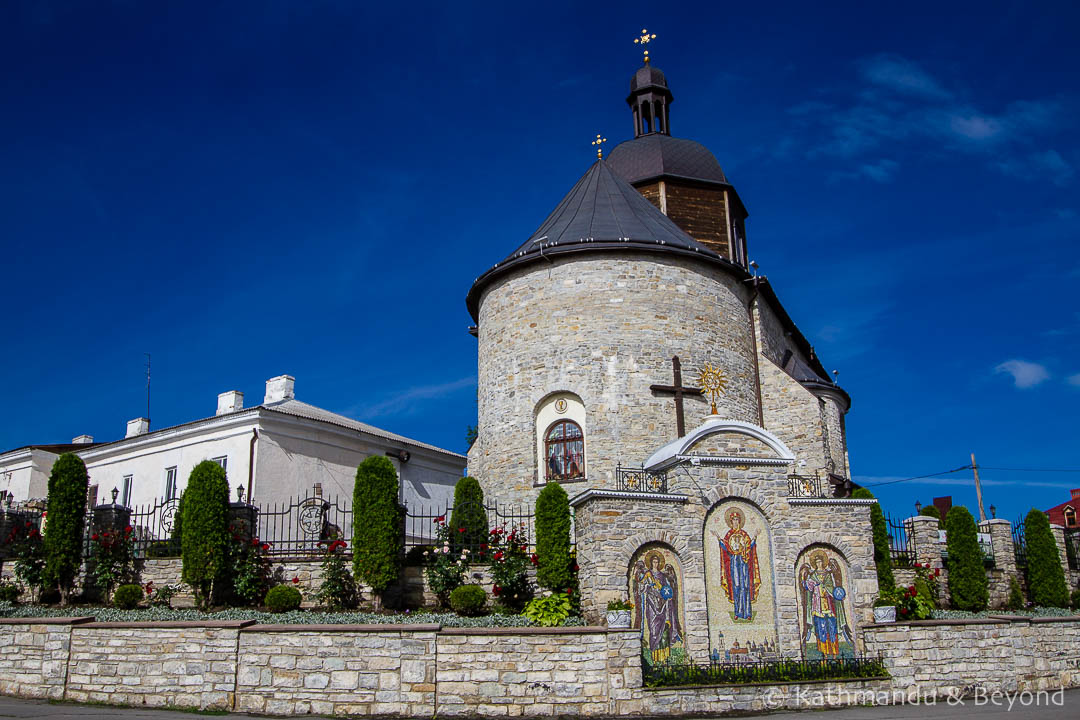 Holy Trinity Church
I put this last statement as much down to the fact that Ukraine, for some mind-boggling reason (well, mind-boggling to Kirsty and I plus a few other diehard travellers that we know who also love the country) just isn't a popular tourist destination and that has helped keep Kamyanets-Podilsky under the tourist radar.
Where is Kamyanets-Podilsky?
Kamyanets-Podilsky is situated in central Ukraine, 430km south-west of Kyiv, 270km south-east of Lviv and not too far from the border with Moldova. The Old Town, i.e. the part that dates back to the Middle Ages, is situated on an island and surrounded by the Smotrych River canyon. This formed a natural moat and line of defence and the view from New Bridge (which links old Kamyanets-Podilsky with the New Town), as you approach the Old Town, wouldn't look out of place in a Game of Thrones movie set.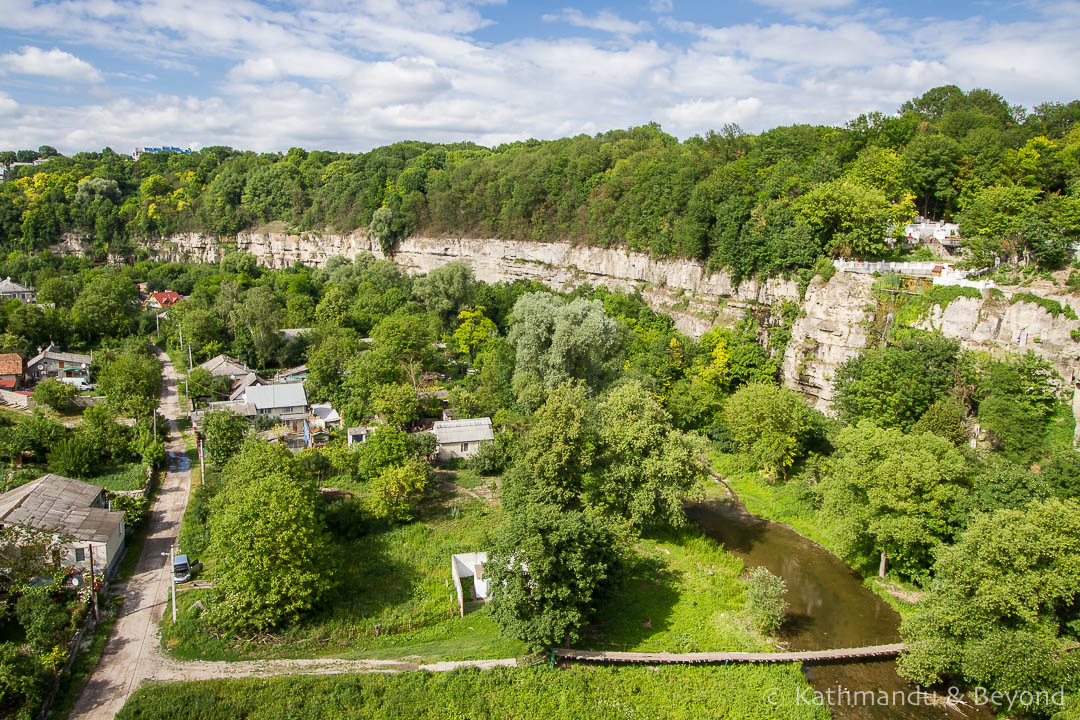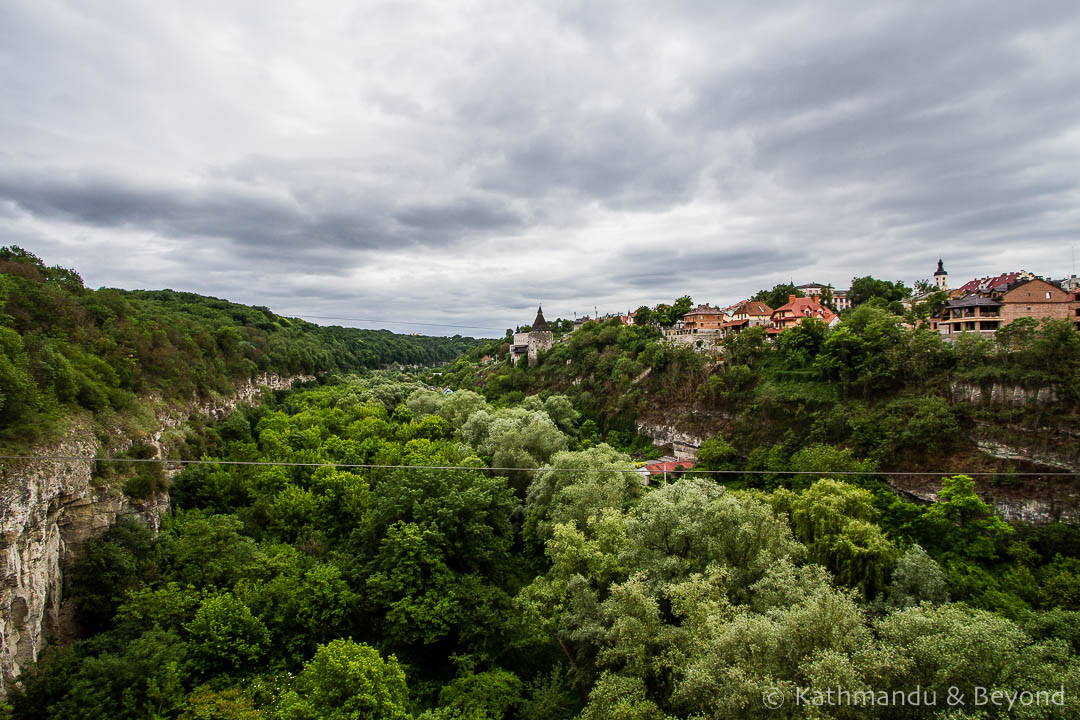 What is there to see and do in Kamyanets-Podilsky?
Look at the photos, I can't be arsed to expand. Only kidding!
Kamyanets-Podilsky's centrepiece is its picture postcard-looking fortress. It was created in the 10th century and began life as a wooden structure, but several centuries later was rebuilt using stone. The view across to the castle from the Turkish Bridge is superb but there are also two other vantage points worth checking out. There is a great view from within the grounds of the Cathedral of Saints Peter and Paul but our favourite vista was from the southern side of the fortress itself. Walk down the (sometimes) steep embankment on the backside of the fortress, through the small settlement of houses at the bottom and up the other side again and you'll see a stone cross located in a field of wheat. The view from this point is wonderful, plus the location itself is a great place to sit and relax for a while. If you want to get the best photo, go in the afternoon when the sun will be behind you.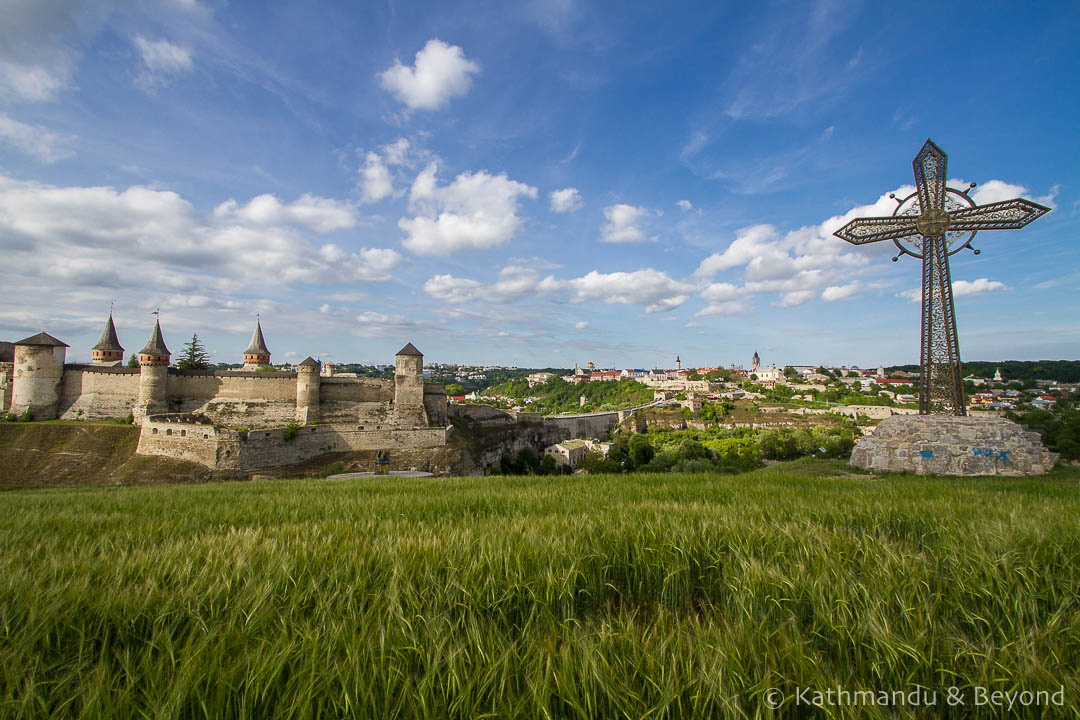 View of the fortress from the wheat field described above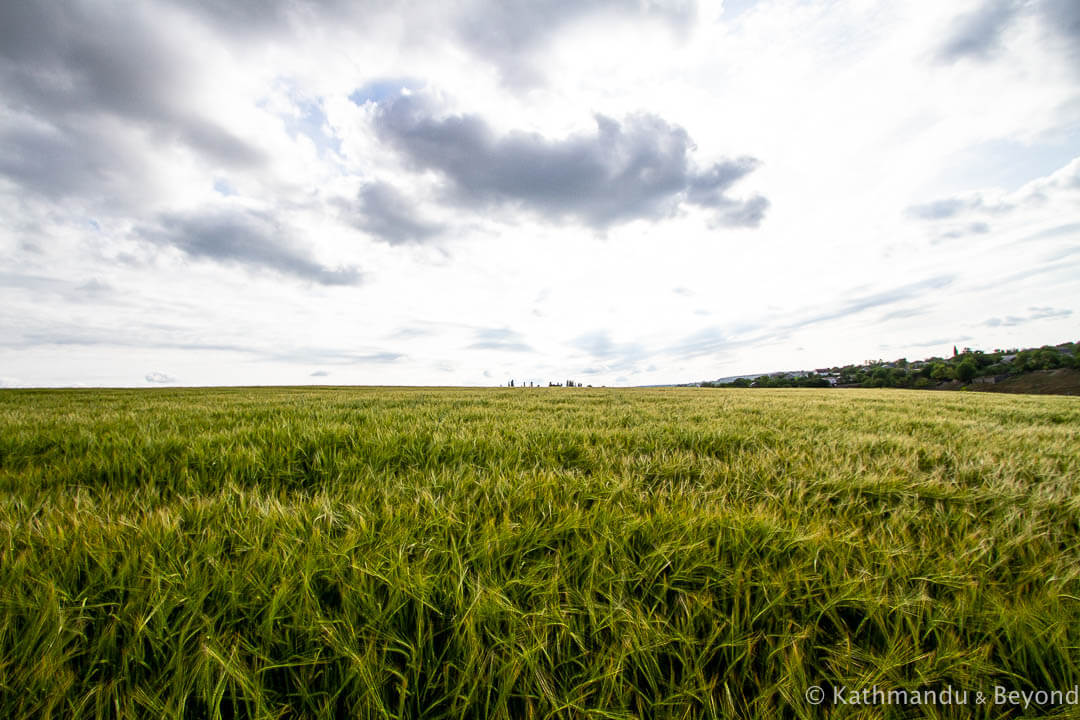 And looking in the other direction
Back within the confines of the Old Town, there are two main squares, Armenian Market Square and Polish Market Square. There is more happening around the latter. Here you will find a few gelato stores, some restaurants and outdoor cafes as well as Kamyanets-Podilsky's orange-coloured Town Hall (Ratusha). The bars and restaurants are only a little bit more expensive than other, regular Ukrainian cities – another sign that Kamyanets-Podilsky hasn't yet hit the big time.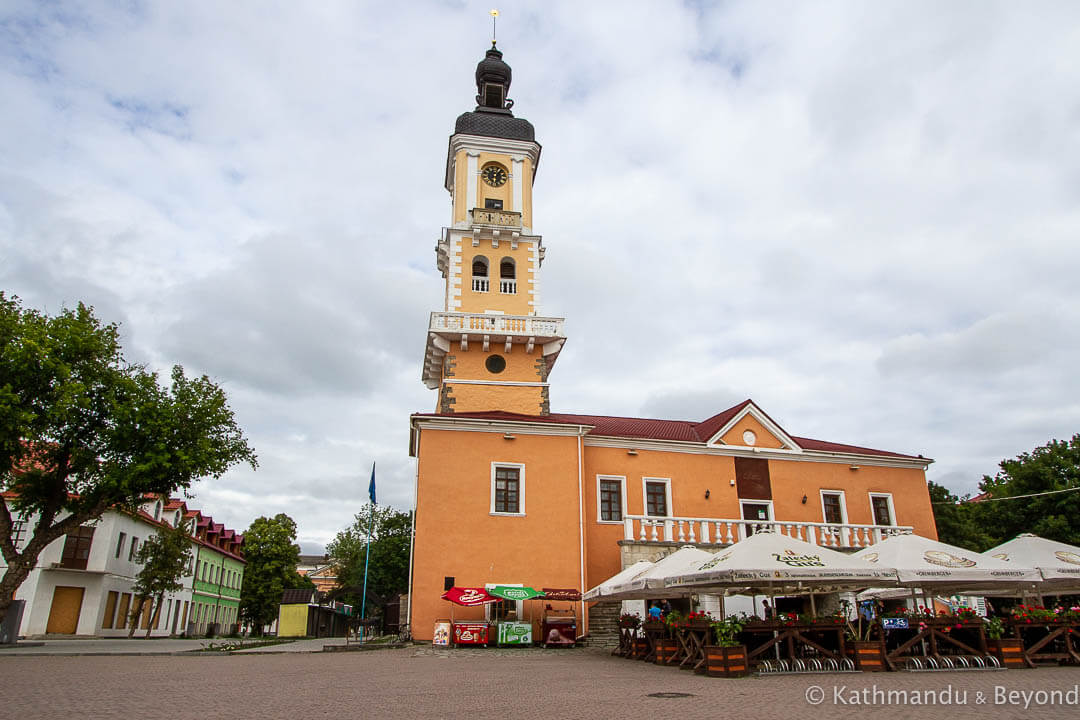 The Town Hall on Polish Market Square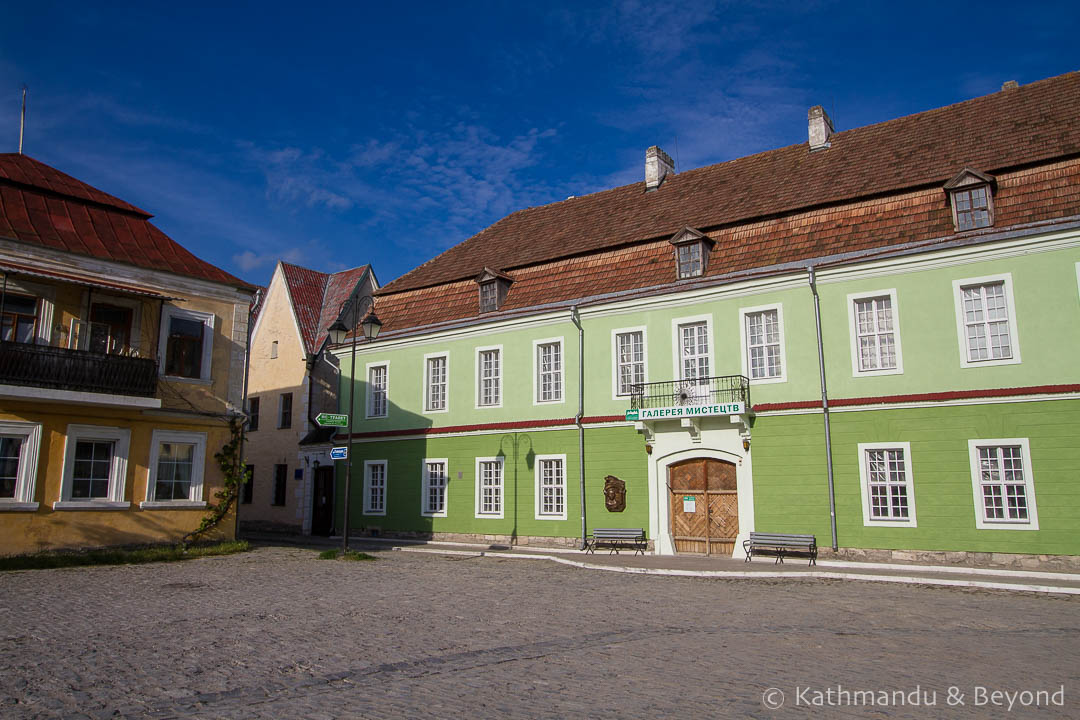 Armenian Market Square
You will also find the Tourist Information Centre on Polish Market Square, just to the left of the main entrance to the Cathedral of Saints Peter and Paul. It's located in a tiny office but the staff were friendly, helpful and spoke good English. They hand out free maps (not that you really need one) and help with bus schedules.
There are a couple of museums and some notable buildings in the Old Town but the real pleasure comes from wandering around and simply enjoying the scene. There are a few access points from where you can get down to the riverbed and paths lead around the base of the historical centre. This is worth doing as looking up at the town gives you a completely different perspective. You will also stumble across some interesting structures such as the wooden Khrestovozdvyzhenska Church.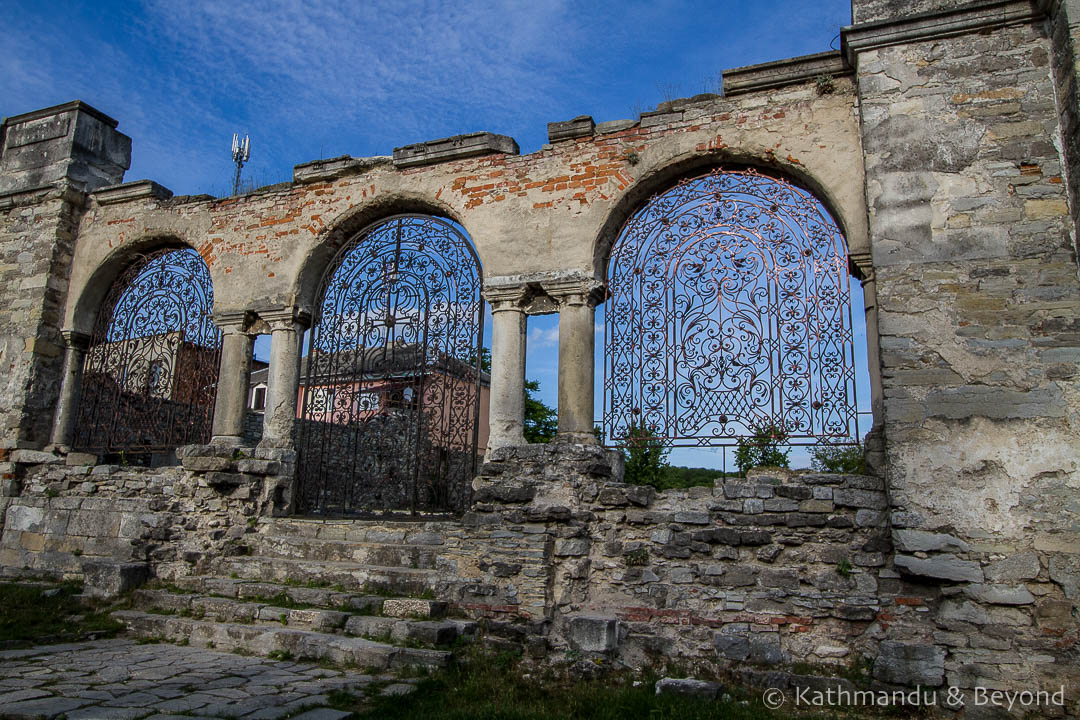 Armenian Church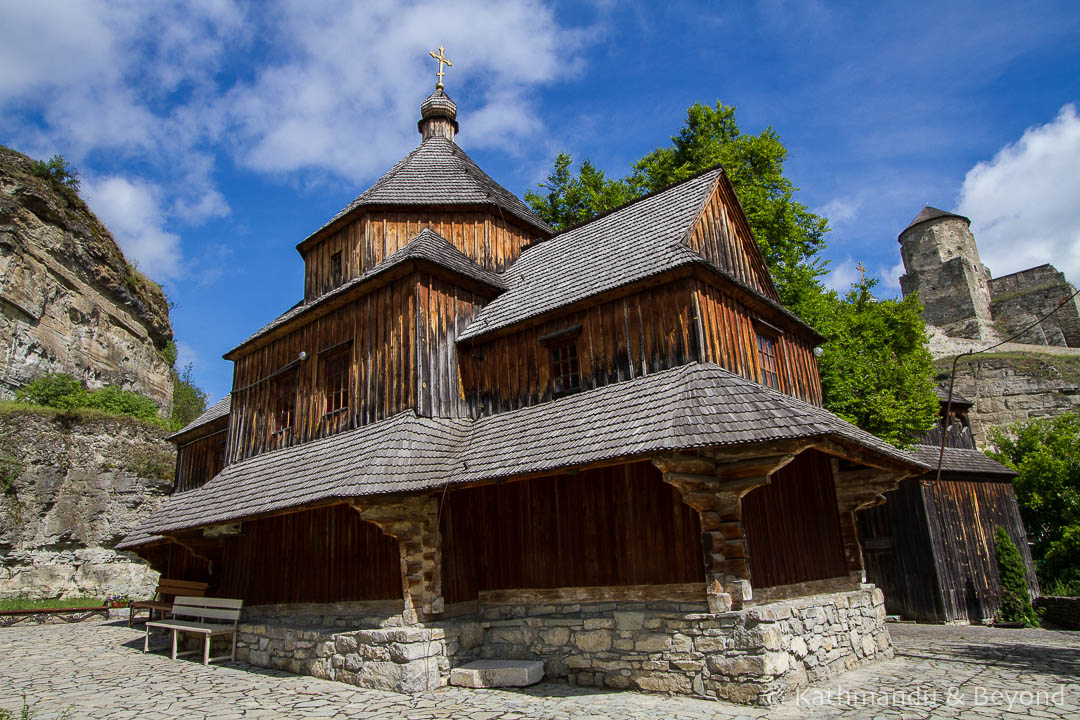 Khrestovozdvyzhenska Church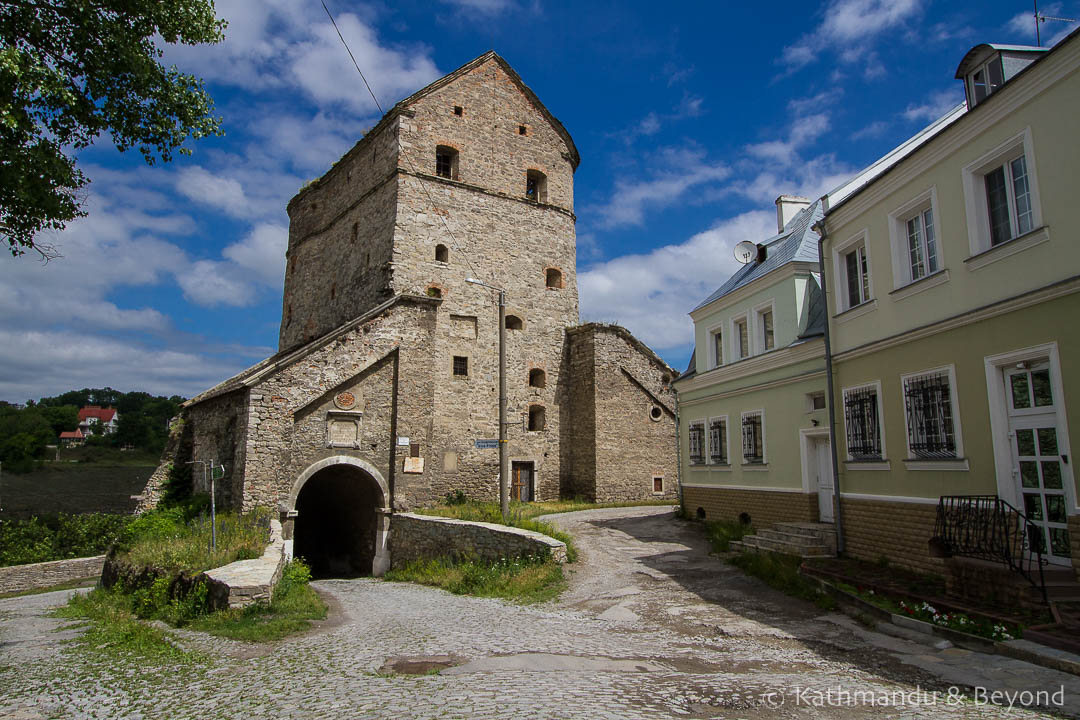 Vitryani (Windy) Gate 
Where to stay in Kamyanets-Podilsky?
Now here's the only problem with Kamyanets-Podilsky. There aren't any budget-option hotels in the Old Town and even the new part of town is lacking them somewhat. But the good news is that the midrange, and even the upper-range hotels, are good value because of the weakness of the Ukrainian currency (Hryvnia (UAH)). The other good news is that there are apartments to rent. We stayed in Apartments U Ratushi, which was located in the Old Town, just around the back of Polish Market Square. It had everything we needed for a short stay including a small balcony and a washing machine and cost us UAH450 per night (£13.00/US$16.50/€15.40).
If you don't fancy an apartment, the Hotel 7 Days on Soborna Street in the New Town is a solid mid-range choice and close to several restaurants and cafes/bars. In fact, I think if we went back to Kamyanets-Podilsky, we would stay at this hotel or somewhere else in the New Town. As night falls, the Old Town becomes unbelievably quiet and eating and drinking options are limited. For us, it wasn't that much of an issue as we were self-catering but there is definitely more going on in the New Town (along pedestrianised Soborna Street). The distance between the two is about 750 metres and note, if you are self-catering, the closest decent supermarket is in the New Town anyway. There are a couple of corner shops in the Old Town, but that's your lot.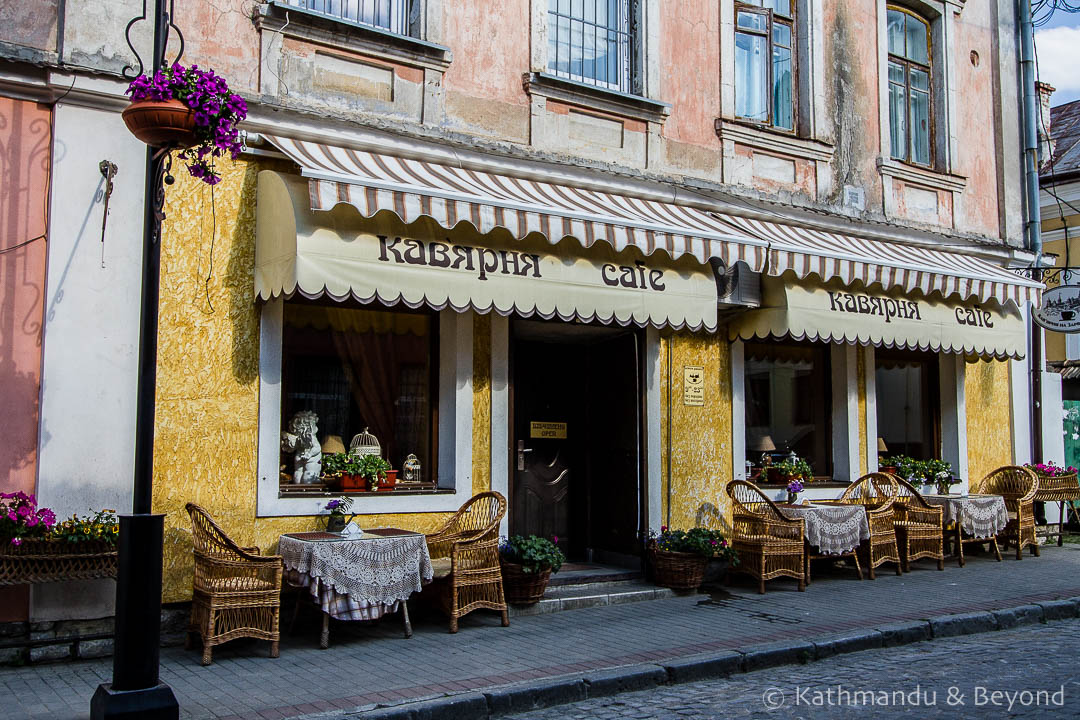 Getting There and Away
Another possible reason for the lack of tourists in Kamyanets-Podilsky might be down to the fact that it takes a while to get there from anywhere in Ukraine except Chernivtsi, a university town some 90km to the south-west. We wanted to reach Kamyanets-Podilsky from the Carpathian city of Ivano-Frankivsk which, when you look at a map, is a logical route but there was no direct transport and we had to travel via Chernivtsi. Marshrutkas (fixed route minivans) leave at least hourly from Chernivtsi (and vice versa) and the journey takes about 1.5 hours.
Further afield, there are a couple of overnight trains between Kyiv and Kamyanets-Podilsky, while buses take around 9 hours to complete the distance. There are also buses from Lviv (6-7 hours) and a few overnight buses from Odesa (12 hours).
If you are not up for a long bus or train ride, the best option is to combine Kamyanets-Podilsky with a visit to the Carpathian Mountains.
Both the bus and the train station in Kamyanets-Podilsky are located in the New Town.
In Conclusion
If the above rhetoric and enclosed photos haven't convinced you that Kamyanets-Podilsky is one of Europe's must-see medieval destinations then I shall give up. I will put down my computerised quill (shut the lid) and find another way to fill my time. Like an incredible Instagram account waiting to be discovered (ahem!, have you checked out @KathmanduBeyond lately :-)), Kamyanets-Podilsky really is a hidden gem in a country that, in my opinion, is full of hidden gems. But somewhere that stunning can't stay that way forever, so if you do want to see the place for yourself, I would suggest you visit sooner rather than later before it ends up on the radar of the tour groups and the extremely annoying selfie-stick-wielding brigade.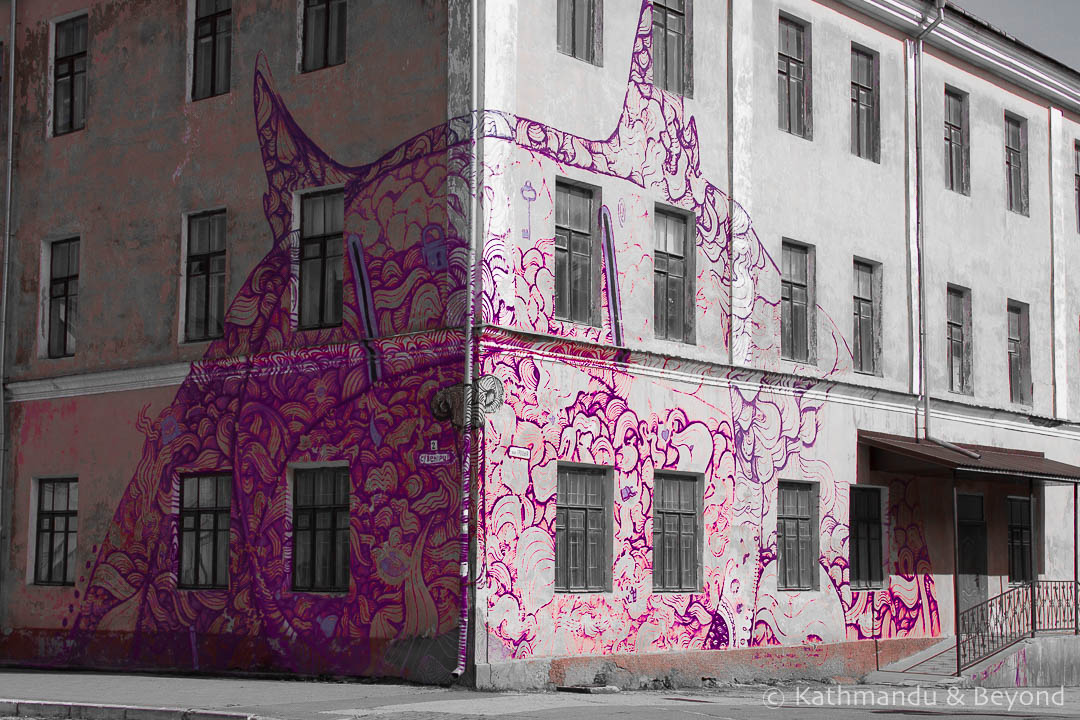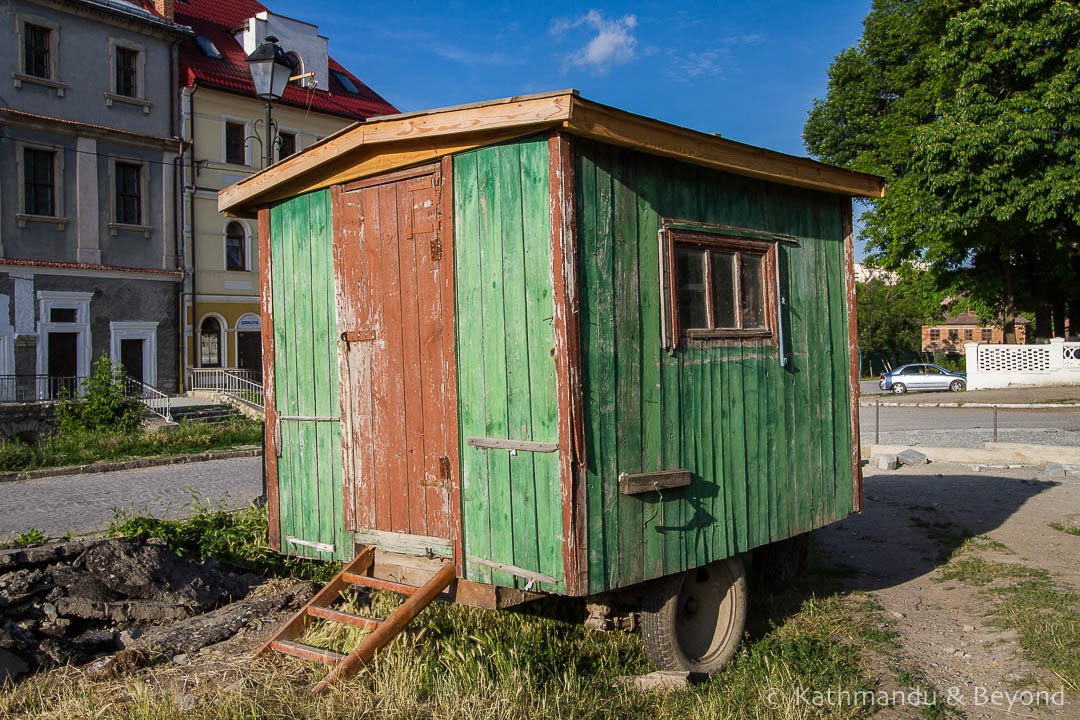 ---
---
ARE YOU INSPIRED TO VISIT KAMYANETS PODILSKY? PIN THIS POST IT!


---
---