Suggested Itinerary to Romania and Hungary: Bucharest to Budapest overland
(Romania) Bucharest – Brasov – Sighisoara – Medias – Sibiu – Timisoara (Hungary) – Szeged – Kecskemet – Pecs – Budapest
Two full days in Bucharest will allow just enough time to see the main sights before taking a train to Brasov. Way less touristy than we expected, Brasov was a really interesting place with plenty to do for a day or so. We didn't visit the two castles – Bran (Dracula's) and Rasnov – but if you do want to see them, then Brasov is the place to base yourself. Picture-postcard perfect Sighisoara, in the heart of Transylvania, is as pretty as everyone says and Medias is a good place to stop for a few hours en route to Sibiu.
We liked Sibiu from the minute we arrived – not too big, not too small and with one of the coolest Old Towns we have seen in a while (and we've seen lots!). It was the sort of place we could have spent much longer in if we hadn't had a schedule to keep. We stayed for three nights, however, before heading west, via Arad (where it is necessary to change transport), to Timisoara. At the heart of the Romanian Revolution (16–27 December 1989), the medium-sized city of Timisoara is one of the best places to learn more about this aspect of Romania's recent history.
Crossing the border into Hungary involves a change of train in Békéscsaba and we thought both Szeged and Kecskemet were logical (and decent) places to break the journey north to Budapest. Pecs, on the other hand, is a bit of a detour in the opposite direction but a worthy one in our opinion. It's got lots going for it, plus it is an easy city to navigate on foot. We've been to Budapest several times but there are always new things to keep us occupied and the city is an excellent hub from which to move on to other places in Europe.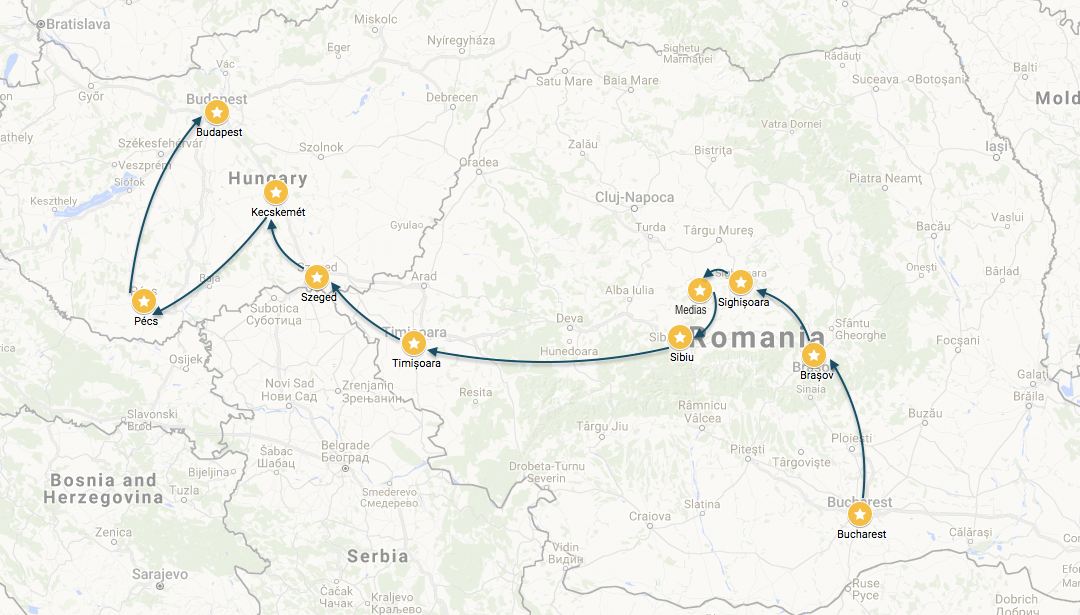 Number of countries: 2
Number of UNESCO sites: 2
Best time to travel: May to September
Recommended duration: In the region of 17 days including time in Bucharest and Budapest
Best places to slow the itinerary down:  Brasov, Pecs and Budapest
Mode of transport: Bus and train
Wandering around the centre of old Brasov
Visiting Memento Park in Budapest
Sibiu – one of Europe's nicest cities in our opinion
The backstreets of Pecs
Hanging out in Ruin bars in Budapest
Romanian countryside
Pretty, pretty Sighisoara
Visiting the Permanent Exhibition of the 1989 Revolution Museum in Timisoara
Street art in both Bucharest and Timisoara (Kirsty's highlight!)
OPTIONS FOR EXTENDING THE ITINERARY
You could follow our suggested Budapest to Belgrade itinerary or cross the border into Ukraine and follow our Uzhhorod to Kiev itinerary or consider our Sofia to Bucharest itinerary prior to embarking on this one
It is easy to get into Western Europe from Budapest via Austria
Budapest is the hub for Wizz Air, who have cheap flights all over Europe and further afield
If you want to see the north of Romania, this is best done from Sibiu
Our post,
Impressions of Romania
goes into detail on the places we stayed in Romania and whether or not we would stay there again. In Hungary, we stayed in great apartments in Pecs and Budapest:
Hi5 Apartments
in Budapest – actually, we've stayed in two of their apartments on two different occasions and both were great.
City Center Marilyn-apartman
 in Pecs
You may also like to read some of our blog posts featuring the region…
OTHER TRAVEL PLANNING RESOURCES
Balkan Viator is a useful resource for finding bus and train schedules in the region, although it's not 100% reliable so double-check timings locally.
For trains:
Domestic train schedules in Romania
Depending on our itinerary and destination, sometimes/often we find our accommodation as we go, particularly in smaller places. In big cities, for slightly longer stays, during peak season or just when we're being a bit more organised, we tend to make a reservation in advance using Booking.com.
There are a lot of great guidebooks to Romania and Hungary available but we've always used Lonely Planet and it's hard to change a habit of a lifetime!
Lonely Planet's guides: 
And if you need a few more reasons to follow this itinerary…
Old Town (Lipscani) Bucharest, Romania
National Theatre Szeged, Hungary
House of Science and Technology Kecskemet, Hungary
Szechenyi Square Pecs, Hungary
Did you find this post useful? Pin it to your travel planning board for later…