Budapest to Belgrade the Long Way: An Introduction to the Balkans
(Hungary) Budapest (Slovenia) – Maribor – Ljubljana (Croatia) – Zagreb – Zadar – Spilt – Dubrovnik (Bosnia & Hercegovina) – Trebinje – Mostar – Sarajevo – Visegrad (Serbia) – Zlatibor – Belgrade
This Budapest to Belgrade itinerary spends around three weeks travelling from Hungary, through Slovenia and Croatia, into Bosnia and Hercegovina before ending in Serbia. It's the perfect introductory itinerary to the Balkans.
Leaving Budapest, Maribor is a great place to break the journey to the Slovenian capital, Ljubljana itself is not only a lovely city in which to while away a day or two but also the jumping off point for visiting the Julian Alps' two star attractions – Lake Bled and Lake Bohinj. It's a mystery why Zagreb doesn't receive more visitors than it does and personally, we thought both Zadar and Split were nicer than Dubrovnik, but you definitely shouldn't miss the latter if you haven't been before. Trebinje in Bosnia & Hercegovina was a real find and Mostar is one of those cities in which you could linger for ages. East meets West in Sarajevo and the recent history is fascinating, while Visegrad, on the Bosnian/Serbian border, is home to one of the most attractive, arched bridges in the Balkans. Zlatibor is all about skiing in the winter and hiking in the summer and the Serbian capital, Belgrade, certainly needs no introduction.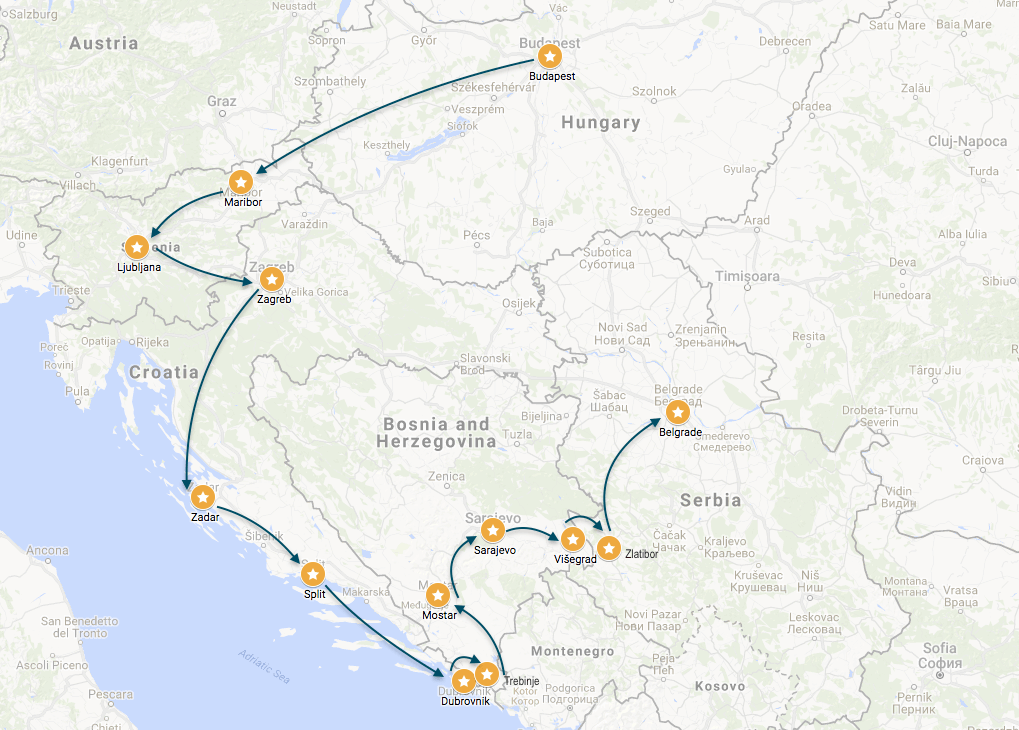 Number of countries: 5
Number of UNESCO sites: 5
Best time to travel: Mid–April to early October but don't travel in July and August if you want to avoid the bulk of the tourists on the Dalmatian Coast and steer clear of the hottest part of the year
Recommended duration: 3 weeks
Best places to slow the itinerary down: Mostar and Split
Mode of transport: Train and bus
Travelling along Croatia's Adriatic coast – although perfectly feasible by bus, having your own transport for this part of the journey would be worthwhile
Belgrade – one of the coolest cities in the Balkans
The rugged scenery between Trebinje and Mostar
The Mokra Gora/Sargan 8 gauge narrow railway, which is situated between Visegrad and Zlatibor. Getting seats can be tricky as the train is often fully booked  but the journey is definitely a highlight if you can get them (try the tourist board in Zlatibor if all else fails – they managed to get us two seats at the last minute)
OTHER TRAVEL PLANNING RESOURCES
Balkan Viator is a useful resource for finding bus and train schedules in the region, although it's not 100% reliable so double-check timings locally.
Depending on our itinerary, often we just find our accommodation as we go, particularly in smaller places. In big cities, we tend to make a reservation in advance using Booking.com.
There are a lot of guidebooks to this part of Europe available but we've always used Lonely Planet and it's hard to change a habit of a lifetime! They have a wide range of Europe guides both in print and eBook format.
Although the Eastern Europe guide is sufficient for a short trip like this one, we think Lonely Planet are missing a trick by not having guides to Serbia or Bosnia and Herzegovina. If you like more detail, Bradt travel guides are excellent and have a dedicated guide to Bosnia and Herzegovina and also a guide to Serbia.
And if you need a few more reasons to follow this Budapest to Belgrade itinerary…
Sarajevo, Bosnia & Herzegovina
Mostar, Bosnia & Herzegovina
Trebinje Old Town, Bosnia & Herzegovina
Sargan Eight Railway Mokra Gora, Serbia
Street art in Belgrade, Serbia
Did you find this post useful? Pin it to your travel planning board for later…