Our guide on what to do during a short break in Serbia's capital, Belgrade
Our very first 3-night visit to Belgrade (in July 2014) was an unexpected surprise. We knew there would be enough things to occupy us for a full day of sightseeing but we weren't expecting to enjoy the city as much as we did. We certainly didn't anticipate that Belgrade would become a city that we would return to again and again.
We've been back to Belgrade several times since that first visit so an update to this post, adding the many more things we've found, is long overdue. If you're looking for ideas on how to spend a few days in the Serbian capital, here are our recommendations for the best things to do in Belgrade…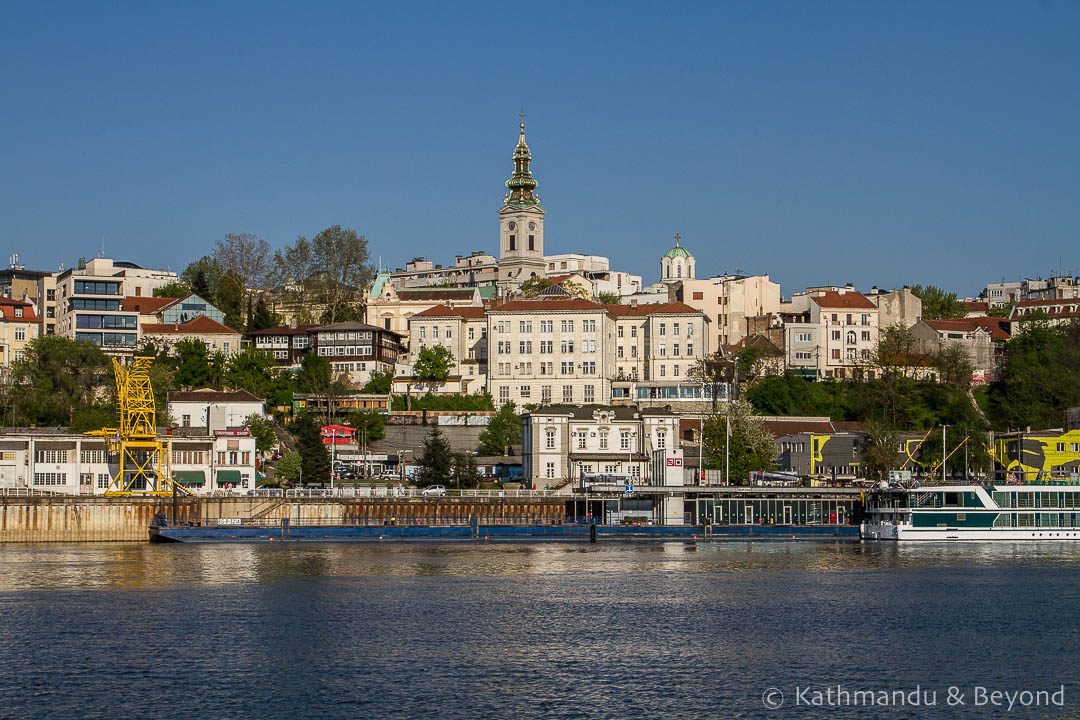 The Sava River, Belgrade
Contents:
Walking tours of Belgrade with a map
Others areas of Belgrade: Savamala, Novi Belgrade, and Zemun
Alternative Belgrade
Dark tourism
Belgrade for transport geeks
Where to stay in Belgrade
Where to eat and drink in Belgrade
Getting around Belgrade
How to get to Belgrade
Belgrade itineraries
What to see and where to go during a short break to Belgrade, Serbia
At first glance, Belgrade is not the most attractive city in Eastern Europe. Some may even go so far as to say it's a little rough around the edges. However, unlike some of Europe's prettier tourist towns, Belgrade has a lived-in feel, and the longer you linger, the more it grows on you, and the more you will find to do.
Belgrade's reputation is on the up and more travellers are recognising it as the fantastic-value alternative city break that we believe it is. A recent Post Office Travel Money survey put Belgrade at the top of its list of Europe's 'unsung' city breaks in terms of value for money.
Despite their bad-boy reputation, the Serbs we met on that first trip were a friendly bunch to whom we immediately warmed. We also had the benefit of staying in a great part of the city, near Skadarlija (Bajloni) market (more on that later). The cost of living in Belgrade is relatively low, and we enjoyed slowing things down and being able to linger over an espresso or a beer and have the odd meal out rather than cooking in every evening. All of these factors undoubtedly enhanced our stay and when that first 3-day visit drew to an end, we knew that we'd be back for more.
Map of places to see in Belgrade
BELGRADE WALKING TOURS
A self-guided walking tour of Stari Grad (the Old Town)
We always 'walk a city' if we can as we find it's the best way to find places the average guide book doesn't cover. The Tourist Organisation of Belgrade on Republic Square is a good place to pick up a free map and begin an independent walking tour. Stari Grad (the Old Town) covers quite a large area of Belgrade and so we've divided our tour into two parts. This is a logical thing to do as Republic Square acts as a central point. If you've had enough walking, or have made too many stops to complete the entire route in one go, or just prefer to take things slowly, it can easily be spread over two days.
Whilst in Republic Square and if you are the museum type, start with a visit to the National Museum, now reopened (in 2018) after many years of closure. With the museum restored, work has begun on Republic Square where you may find a lot of renovation work going on.
The first part of our walking tour covers the oldest part of Belgrade, the fortress, and Skadarlija, an area known as the Bohemian Quarter. The second part includes buildings from later parts of Belgrade's history and strays a little further south from Stari Grad's official boundaries.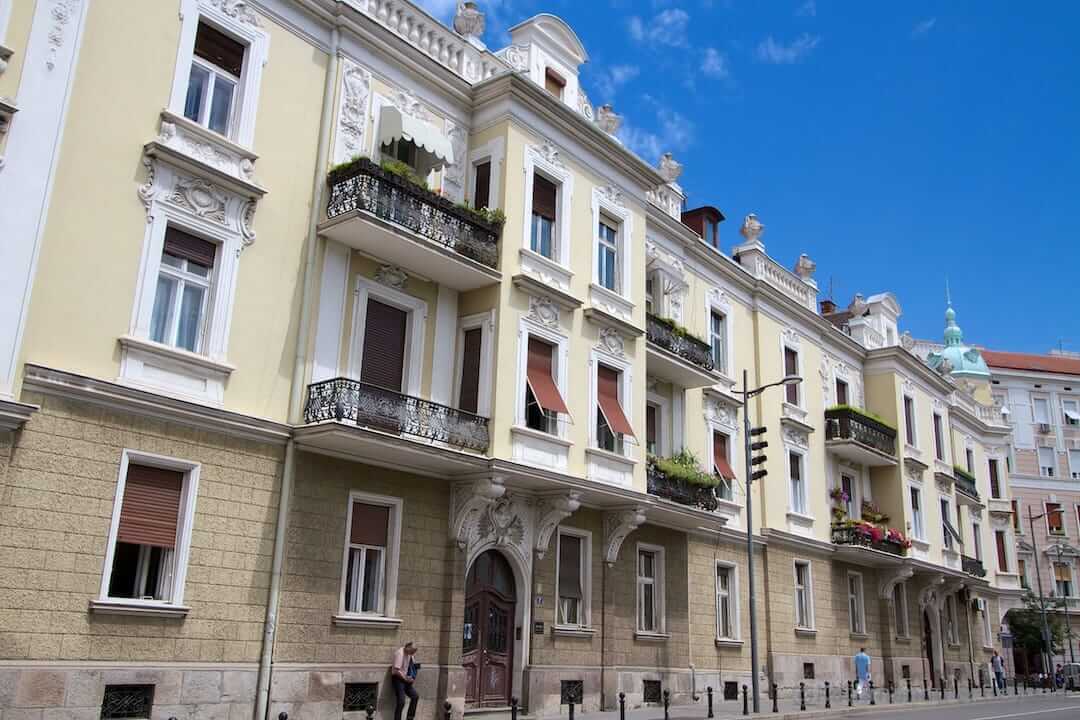 Old Belgrade
Self-Guided Walking Tour, Part 1: Belgrade Fortress and Skadarlija
Begin by walking in a northwesterly direction along Kneza Mihaila, Belgrade's premier pedestrian and shopping zone. Often written as Knez Mihailova, this street is one of the oldest in the city and there are plenty of impressive buildings to catch your eye, or open-air cafes where you can follow the locals and enjoy an espresso.
About halfway down Kneza Mihaila Street, turn left onto Nikole Spasica Street and walk until you reach the Palace of Princess Ljubica, a fine example of Serbian-Balkan style architecture dating back to the early 1800s. Continue along a terraced street of grand-looking apartments until you reach the Museum of the Serbian Orthodox Church and St. Michael's Cathedral.
Follow Kralja Petra Street back to Kneza Mihaila and turn left in the direction of the fortress. You'll pass further notable buildings such as the Faculty of Fine Arts and Belgrade City Library. At the western end of Kneza Mihaila, cross the main road and enter Kalemegdan (City) Park, site of the Belgrade Fortress and other significant landmarks.
Kalemegdan Citadel (Belgrade Fortress)
Located to the west of the Old Town, there are fine views from the Kalemegdan Citadel of the confluence of the Sava and Danube rivers. The citadel is Belgrade's top attraction and it is easy to spend half a day seeing the sights and relaxing in the surrounding pleasant park. The history of the fort can be traced back to the Scordisci Celtic times (3rd century BC) with many major-league empires, including the Romans, Byzantines and Turks, leaving their mark over time. The grounds below the fortress are used for open-air concerts and recent 'invaders' have included Amy Winehouse, Whitesnake, Iron Maiden and Simply Red (they're clearly still pulling crowds somewhere!).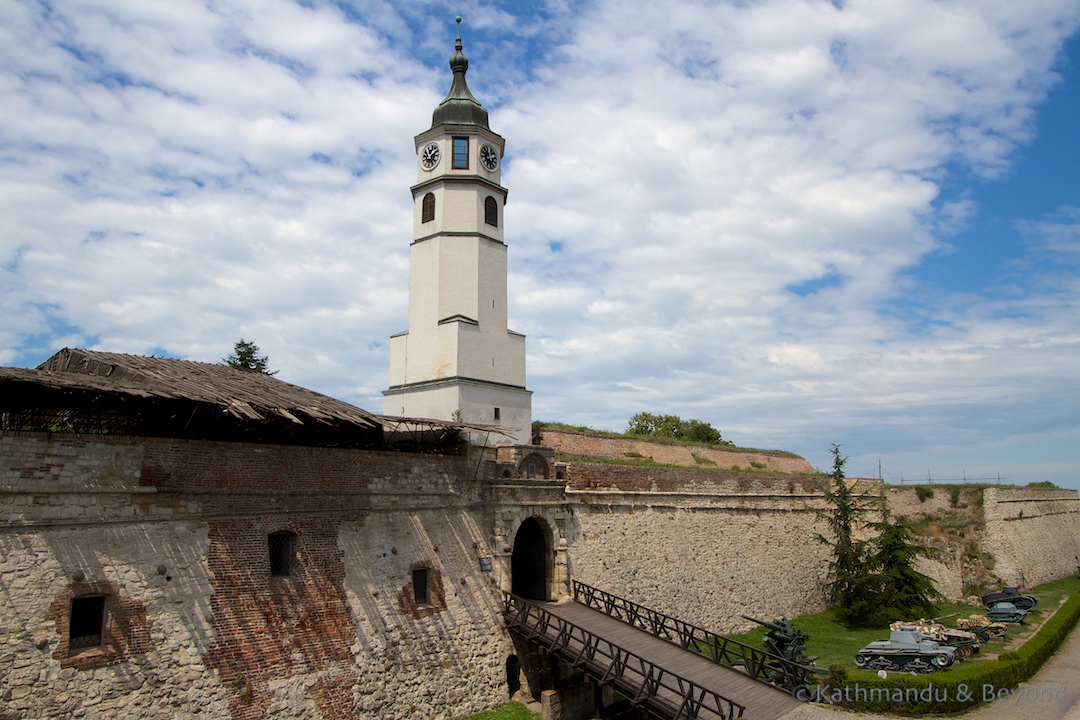 Belgrade Fortress
Enter the citadel through the Stambol Gate from where you will clock eyes (ho ho!) on the Clock Gate. We spent time in the Military Museum, although we were a little disappointed (too much ancient military history and not enough modern history for our liking). Other things of interest to look out for include the quaint Ružica (Little Rose) Church, the Monument of Gratitude to France and Despot Stefan Tower. If zoos are your thing, Belgrade Zoo is on the edge of the park, but they aren't ours, so we haven't visited.
It's free to enter the citadel and the grounds but there are entrance fees for the Military Museum as well as other museums, the clock tower and the gunpowder magazine. Opening times and entrance fees can be found on the Belgrade Fortress website.
When you've finished exploring the fortress and its grounds, leave the park the same way you entered and continue to Skadarlija Street, or simply Skadarlija as it's more usually called. The pedestrian-only cobbled streets of this part of Old Beograd are worth a quick stroll and if it's either lunch or dinner time, you're in luck because Belgrade's bohemian quarter is packed with bars, cafes, and restaurants. It is reasonably touristic but not overly so and you'll also see plenty of locals enjoying a coffee there.
Self-Guided Walking Tour, Part 2: Downtown Belgrade and Vračar Neighbourhood
The easiest place to start this part of our walking route is, again, from Republic Square. Walk along Knez Mihailova Street once more, but this time in a southeasterly direction until you reach the Hotel Moskva.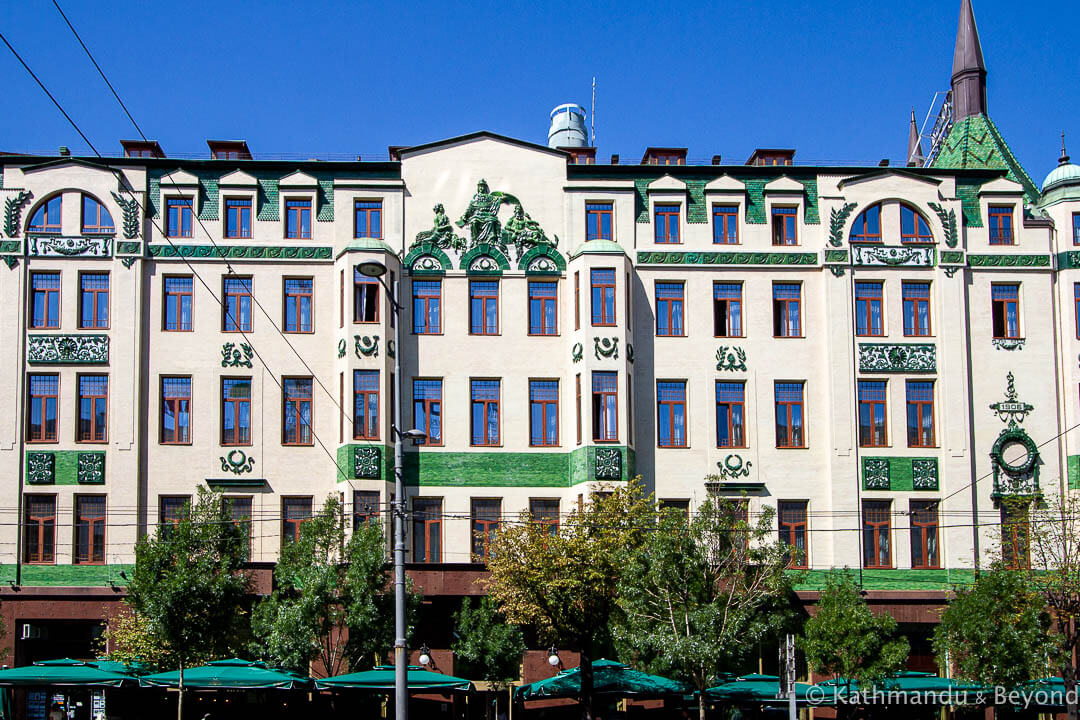 Hotel Moskva
Located on Terazije Square, this grande dame of Belgrade's hotels has a fascinating history and is one of the city's most recognisable landmarks. Apparently, it is the only hotel in Belgrade that doesn't have a room number 13. Notable previous guests include Albert Einstein, Yasser Arafat and Alfred Hitchcock, as well as the German Gestapo who took over the hotel and used it as their headquarters from 1941 until 1944. The hotel was one of the last buildings in the city to be liberated from German occupation.
Knez Mihailova Street turns into Kralja Milana Street just after the Hotel Moskva and continuing in a southerly direction along this busy road takes you past several historical buildings including Stari Dvor (Old Palace), a once-royal palace that now houses the City Assembly of Belgrade (City Hall). Across Andrićev Venac square is Novi Dvor (New Palace) which was built around forty years later in the early 1920s and now serves as the Presidential Palace.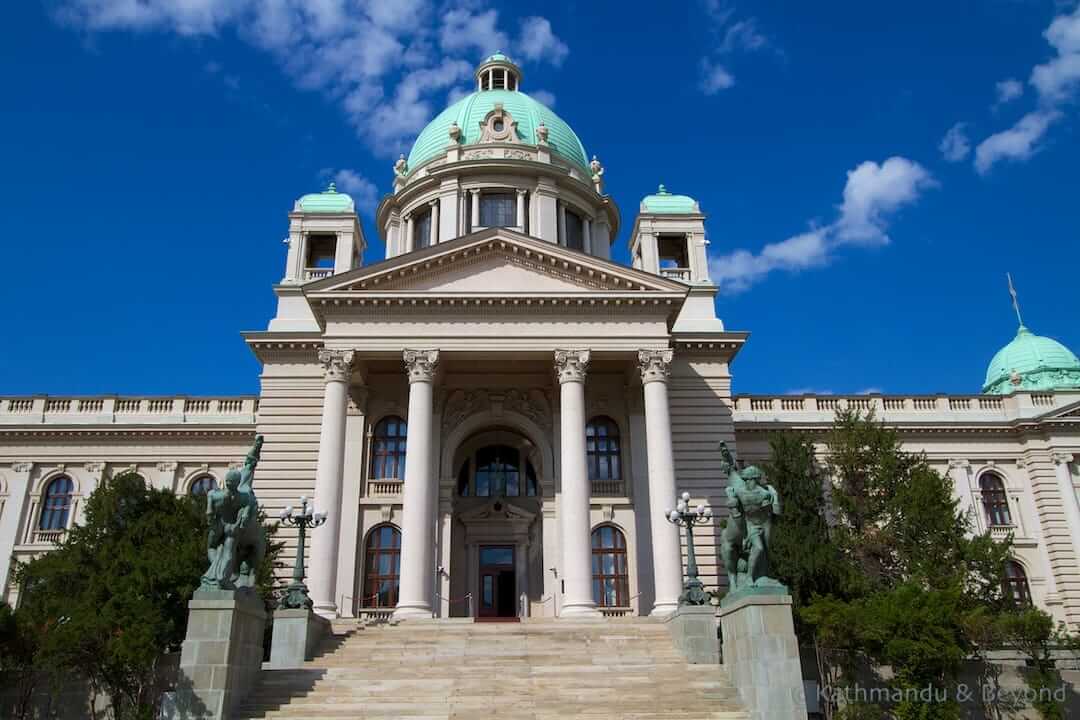 National Assembly
Depending on how much time you have (and your energy levels) there is the option of a detour here. Visiting the following three sights will add between 3½ to 4 kilometres to your walk.
The former Yugoslav Ministry of Defence building
Just under ten minutes' walk from the Presidential Palace is one of the sites of the 1999 NATO bombing of Belgrade during the Kosovo War. Also known as the Yugoslav General Staff building, the bombed-out ruins of several buildings lay at the main crossroads a short distance from Belgrade's main train station. The buildings can be viewed from the road – there's often a policeman stood around outside, but it's OK to take photographs.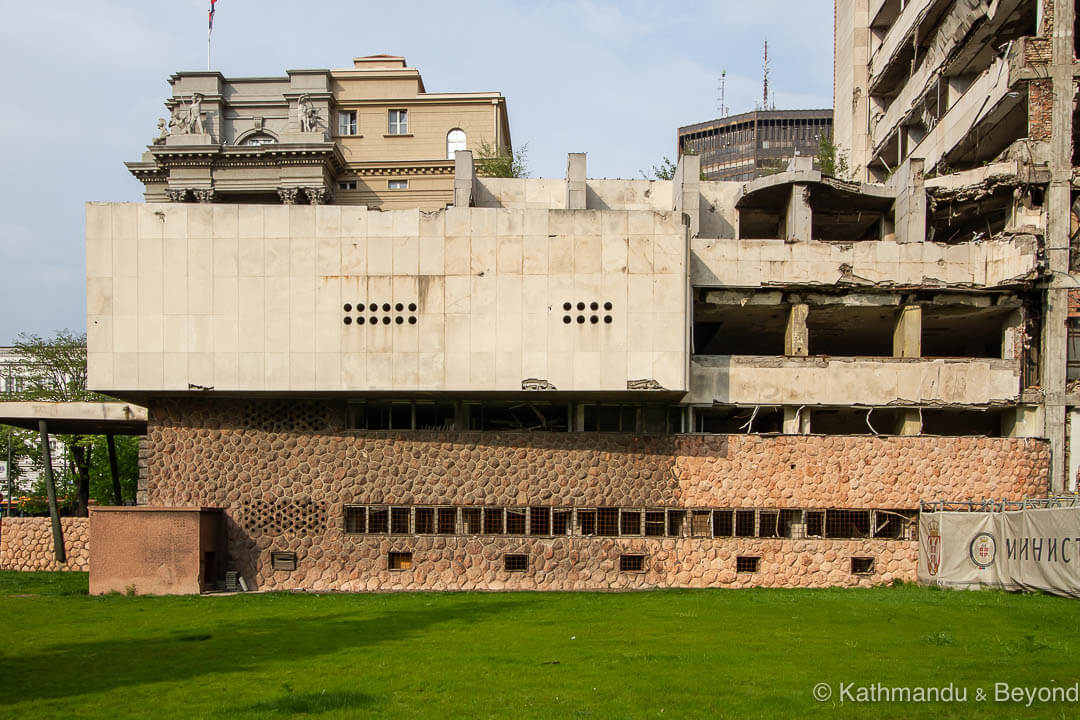 Former Yugoslav Ministry of Defence building
Nikola Tesla Museum
The highly-rated Nikola Tesla Museum is about a ten-minute walk from the Yugoslav General Staff building. In case you haven't heard of Nikola Tesla (or maybe you have heard the name but don't know why he's so significant), he was a prolific inventor and engineer who, in the 1890s, was responsible for developing an energy-efficient long-distance power-distribution system based on alternating current (AC) electricity, in contrast to his great rival Thomas Edison's direct current (DC) proposals. He was born in Smiljan, a village which was part of the Austro-Hungarian Empire and is today in Croatia. His parents were Serbs, although Tesla himself never lived in Serbia. He left Europe to live in the USA where, initially, he worked for Thomas Edison but following a fallout over AC versus DC power distribution*, collaborated with George Westinghouse. The rest, as they say, is history.
*Those interested in scientific history might enjoy the 2017 movie, The Current War, that fictionalises the 'war of the currents' that took place between Tesla and Edison.
It's well worth visiting the Nikola Tesla museum, which is dedicated to his life's work and achievements and is open from 9.45am to 8pm every day except Monday. Hourly guided tours lasting around 45 minutes run every hour from 10am and are held in Serbian and English. The museum website has all the details and they recommend booking ahead. It's worth joining a tour because you get to play with the interactive elements in the museum.
Church of Saint Sava
From the museum, it's a further kilometre on foot to the imposing Church of Saint Sava, one of the largest Orthodox churches in the world. Although it is out on a limb compared to the city's other attractions, the church is definitely worth visiting. From the outside, Saint Sava is impressive although for a long time the interior of the church didn't mirror such grandeur.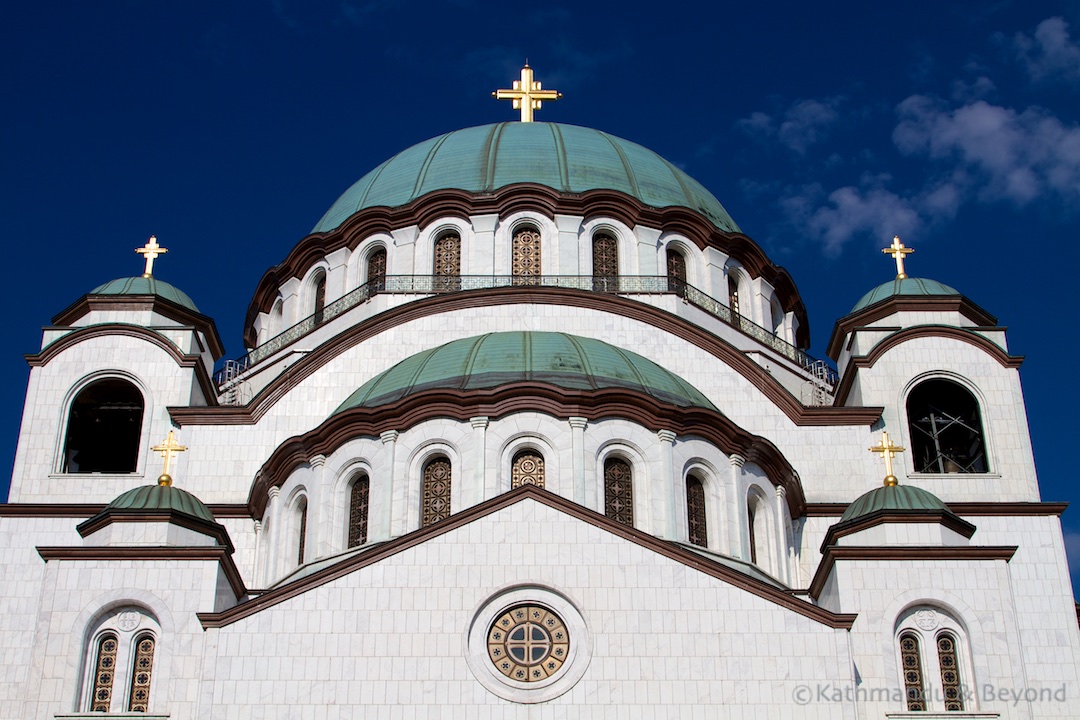 Church of Saint Sava
During our first 2014 visit, Saint Sava's interior was a plain concrete shell. Although construction of the church first began in 1935, the interior was only finished in late 2017/early 2018 with the completion of a stunning central dome. Progress was slow and hampered by lack of funds, which came exclusively from donors, and by several wars that interrupted progress.
The Church of Saint Sava is located approximately 2km southeast of the Hotel Moskva. The quickest way to walk there from the hotel is to go along Kralja Milana Street, across Slavija Square and straight up Svetog Save Street.
Continuing with the walk…
Assuming you haven't detoured, the easiest thing to do at this point is cut through Pionirski Park from the Presidential Palace and head into Tašmajdan Park to visit the Church of St. Mark's. The park and many buildings within its vicinity were badly bombed by NATO in 1999 during the war in the Balkans (in particular the Kosovo War). A pleasant path leads through the park to St. Mark's church, one of the largest churches in Serbia. The building of the original church began in 1931 and was completed in 1940 but in April 1941 it was completely destroyed by fire as a result of an extensive German bombing campaign. However, I cannot find any reference that indicates that St. Mark's was bombed during the NATO attacks. There is a small Russian Orthodox church next to St. Mark's that is also worth a visit. One building that is documented as being badly damaged by the NATO bombings is the Former Serbian Broadcasting Corporation (RTS) building, located in the park behind St. Mark's Church, along with a memorial plaque.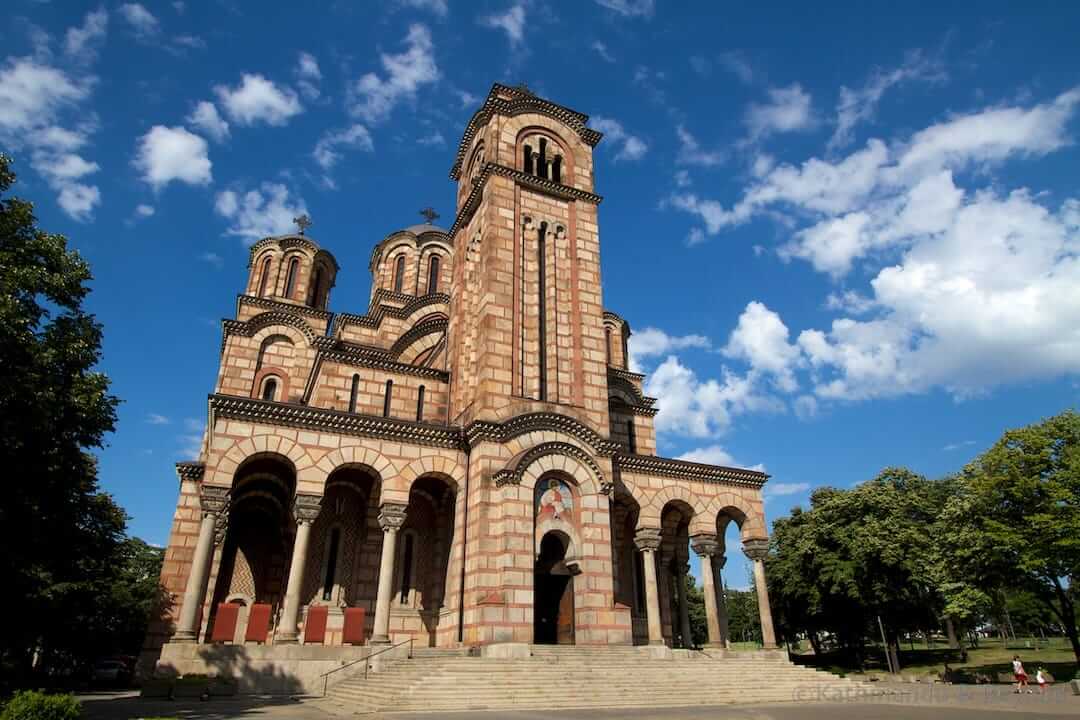 St. Mark's Church
The Central Post Office and the House of the National Assembly of Serbia are the next two impressive buildings you will come across as you walk in a northwesterly direction along Bulevar Kralja Aleksandra Street towards Nikole Pašića Square and the Historical Museum of Serbia. From the square, it's about a 500-metre walk back to the start point of Republic Square.
Organised Walking Tours of Belgrade
We tend not to take organised tours, instead preferring to navigate our own way around a city. However, if your time is limited, or you prefer to have the benefit of a local guide, there are no shortage of organised walking tours available, many of them free although 'free' generally means the guide will expect a tip because they aren't being paid a salary. So, give what you think the tour is worth but budget a minimum of €5-10 per person.
OTHER AREAS OF BELGRADE
Savamala
Stretching from the banks of the river Sava below the castle grounds, past Branko's Bridge and across to the train station, Savamala is one of Belgrade's most central neighbourhoods. It's a historic part of the city but it has gained a reputation as Belgrade's creative hub – derelict mansions and warehouses have been converted into fashionable spaces in which to both work and play, and the area is a good place to go street art hunting.
Savamala is also one of the city's most popular nightlife districts and it's where you can find some of the best bars in Belgrade, full of ambience, good beers and wines, and interesting clientele.
While you're in Savamala, you could check out the progress of the Belgrade Waterfront project. This highly ambitious UAE-funded development scheme has remained an unfinished eyesore during all our visits, but one day that may change. Described by Forbes as 'Abu Dhabi's Bad Joke', some doubt the project will ever be completed.
Novi Beograd / New Belgrade
Spanning the river Sava and connecting the centre of Old Belgrade with New Belgrade, the views from Brankov Most (or Branko's Bridge) are far more inspiring than those of the bridge. As the name suggests, Novi Beograd is a new, planned city. Since 1948, the district has grown from an uninhabited area to become Belgrade's main business district. In fact, this part of the city wasn't a district of Belgrade until 1929.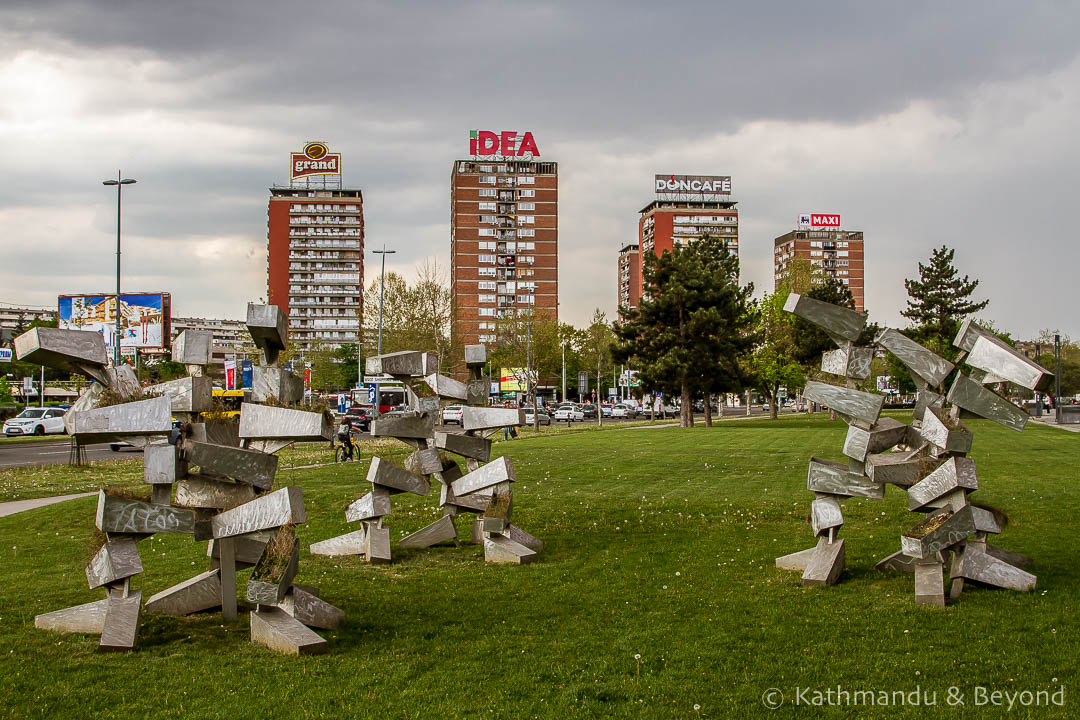 New Belgrade
Fans of concrete and brutalist style architecture are likely to be New Belgrade's happiest kind of tourist and will be eager to get to Genex Tower (official name: Western City Gate). More on this iconic piece of Belgrade architecture later.
Other architectural highlights to look out for include the Palace of Serbia (SIV 1). Don't be fooled by the name – originally built as the home of the Federal Executive council of Yugoslavia, the building is one of the oldest examples of modernist architecture in Belgrade.
A little further along the Danube is the Hotel Jugoslavija. Opened in 1969, it was once the largest hotel in the Socialist Federal Republic of Yugoslavia. War and political change led to its permanent closure in 2000. There is a redevelopment plan of course, but the date when the Hotel Jugoslavija will reopen as a luxury Kempinski property is unknown.


Above right: Hotel Jugoslavija and above left: Monument to Pilots
Close by, on the riverside, you can see a World War II memorial (spomenik) to the Pilots of the Belgrade Defenders, also known as the Monument to the Royal Yugoslav Air Force defenders of Belgrade.
Continue along the River Danube and you'll notice that the ordered style of naming a new town by 'Blok' (e.g. Blok 51, Blok 32, etc) is replaced by the more traditional method of naming streets after people, places or historical happenings. This is where Novi Beograd merges into Zemun.
Zemun
With its markedly 'prettier' architecture, Zemun is more on the average tourist's radar than Novi Beograd. Feeling like a suburban town, it's hard to believe that Zemun was once a village on the outskirts of Belgrade. More historically significant, it was once part of the Austro-Hungarian Empire and marked the boundary between western and socialist Europe. Zeman was made part of Belgrade in 1934.
Before heading to Zemun's more charming spots, stop by the Air Force Command building designed in 1935 and considered one of the most important works of modernist architecture in the former Yugoslavia. In the park opposite the building is the Monument to Fallen Fighters of the National Revolution 1941-1945.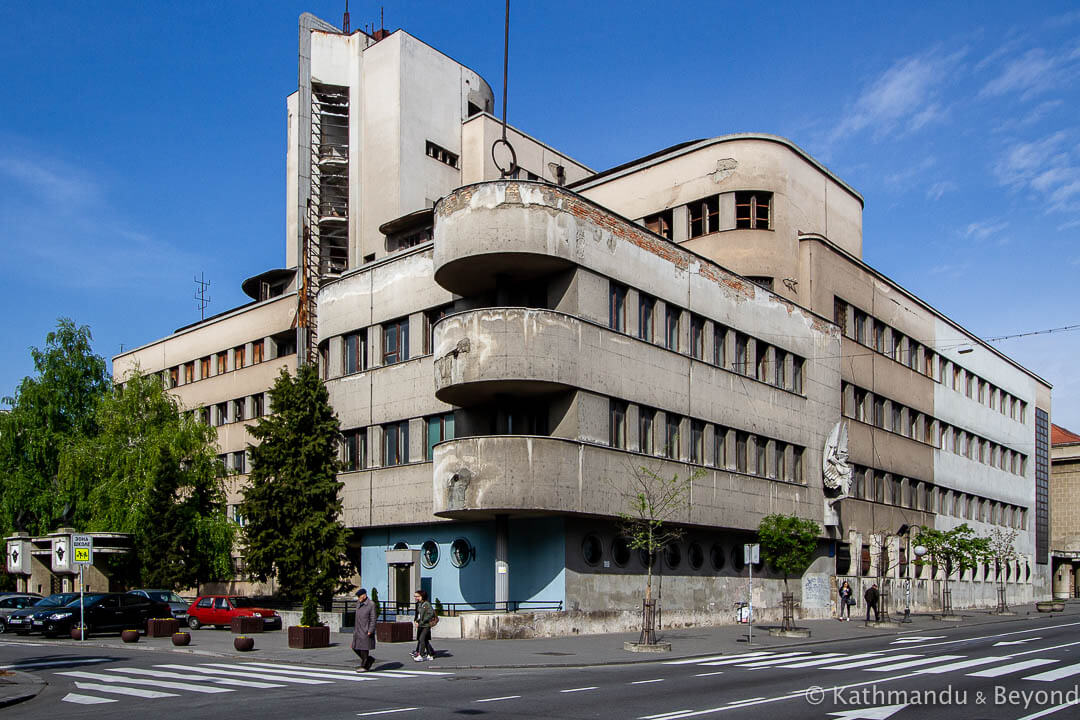 Air Force Command Building
There's not a huge amount to see and do in Zemun, but it's a pleasant place to wander around particularly during warmer weather when you can enjoy a drink or lunch at one of the many riverside bars and restaurants. It's also interesting to see the contrast with Belgrade in the architectural style of many of the buildings which, due to their place in the Austro-Hungarian Empire, look more like the style you'll see in parts of Central Europe – Vienna, Budapest for example.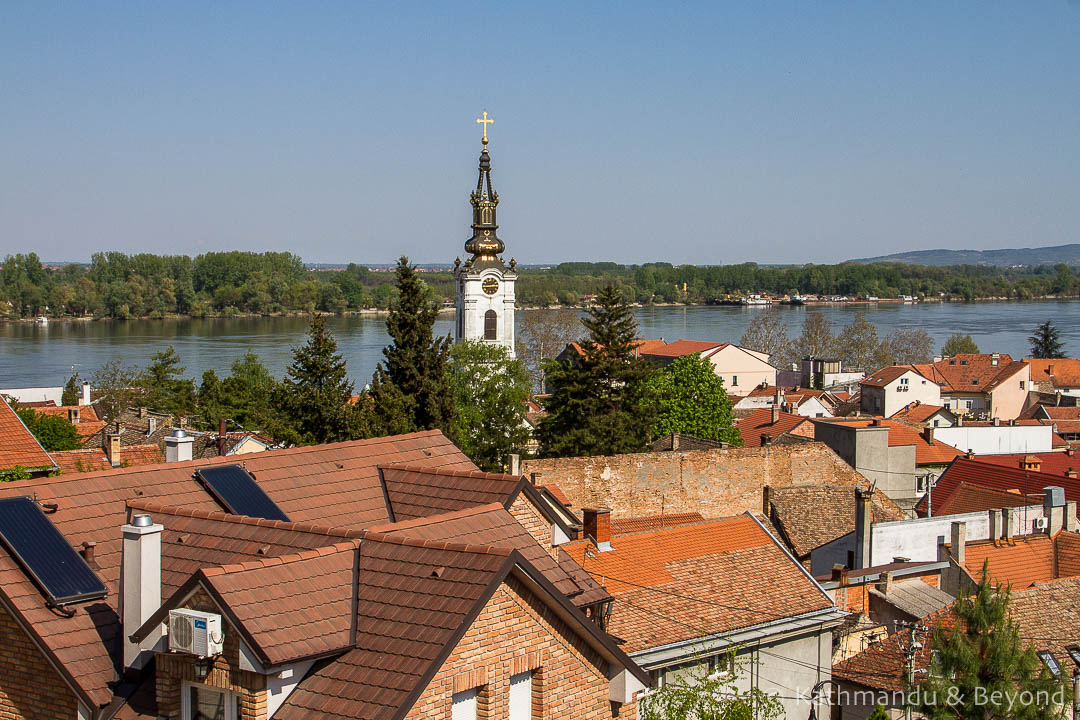 Zeman
One of Zemun's most famous landmarks is Gardoš Tower and it's a pleasant walk through the cobbled streets to visit it. The tower was built (and opened) in 1896 and celebrates one thousand years of Hungarian settlement on the Pannonian (Carpathian) Basin. You can climb to the top of the tower for great views of Zemun and the River Danube. There is a cafe next door, and opposite is a small church and graveyard where, unusually, you can see graves from the Catholic, Orthodox Christian, Jewish and Muslim faiths – a cosmopolitan cemetery indeed!
A highlight of Zemun is its location on the River Danube and you can follow the course of the Danube all the way back via Novi Belgrade, across the Sava River to Old Belgrade. It's very possible on foot but cycling* is also a great option – taking the river path from Gardos Tower to Republic Square it's about eight kilometres.
* There are several rent-a-bike places in Belgrade renting out 'comfortable city bikes, e-bikes for the elderly or lazy, bikes for children, even a tandem if there's two of you and you're on good speaking terms! Prices are reasonable and around €2/hour or €8/day (€12/day for the tandem).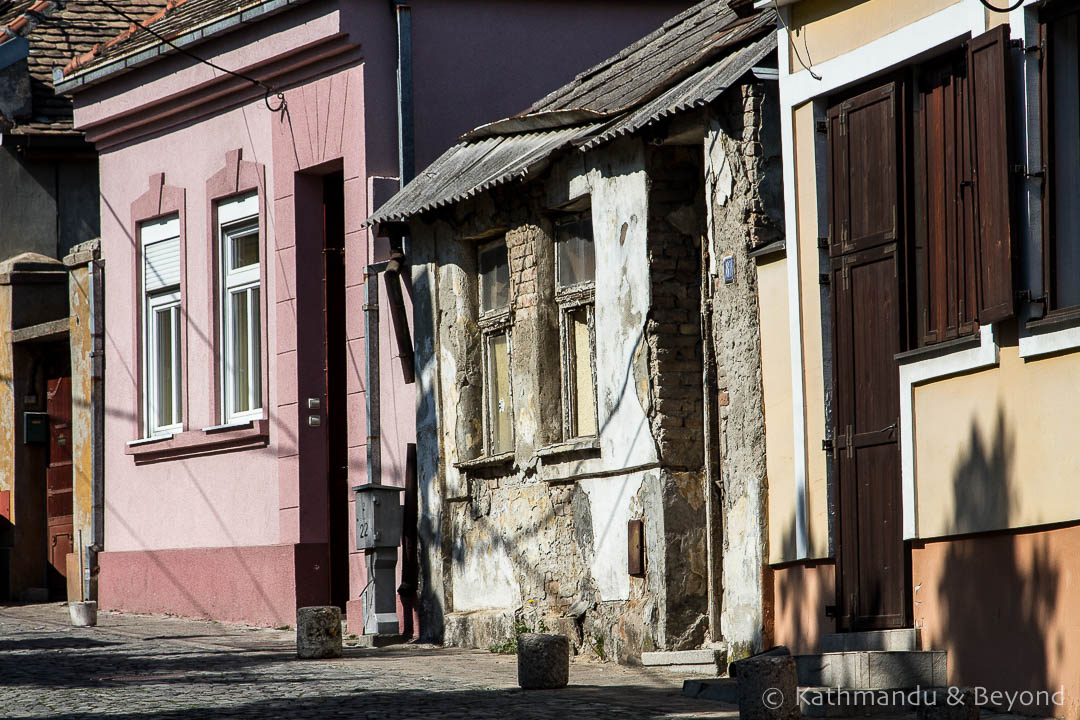 Zemun
How to get to Novi Beograd and Zemun
It makes sense to combine visits to Novi Beograd and Zemun as many buses from Old Belgrade serve both districts.
Bus numbers 15 and 84 travel from Old Belgrade to Zemun via the road containing Hotel Jugoslavija – the #84 passes close to Gardos Tower and the #15 turns off just before the Air Force Command Building. Bus number 83 also stops close to Gardos Tower but goes through New Belgrade's main street (more convenient for getting to Genex Tower).
ALTERNATIVE BELGRADE
For us, the beauty of revisiting a city is that we don't need to revisit the conventional sights and can instead seek out the more unusual and off-the-beaten-path things to do in a city. Belgrade is a great place to do this as, like many large cities, it has many neighbourhoods that the average tourist doesn't frequent.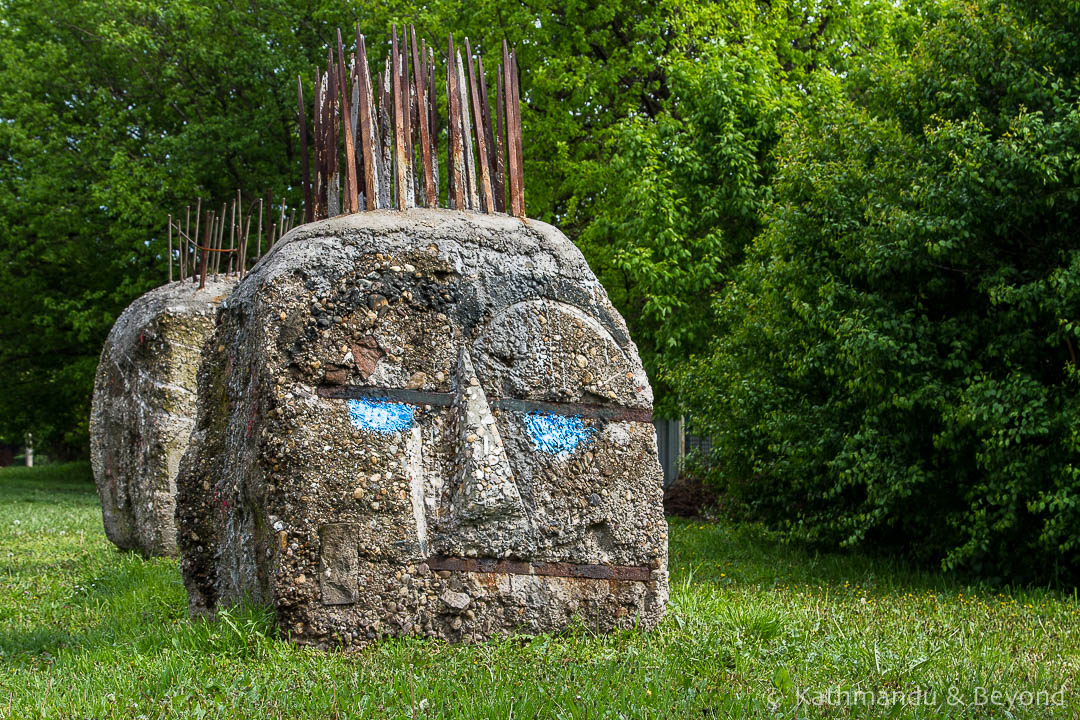 Artwork near the former Sajmište Concentration Camp (see below)
Street Art in Belgrade
As in many other Balkan capitals, street art in Belgrade is a mixed bag. That said, the standard in Belgrade is far better than in Podgorica, Skopje or Sarajevo and on a par with the vivid and varied graffiti and murals in Zagreb.
Savamala is known as the creative area and is a good place to go hunting for street art – don't forget to check out the riverfront. You'll find graffiti and street art scattered all over the city, but Dorcol is another good district to search for it. A full guide to street art in Belgrade is on my to-do list, but in the meantime, here are a couple of my favourites.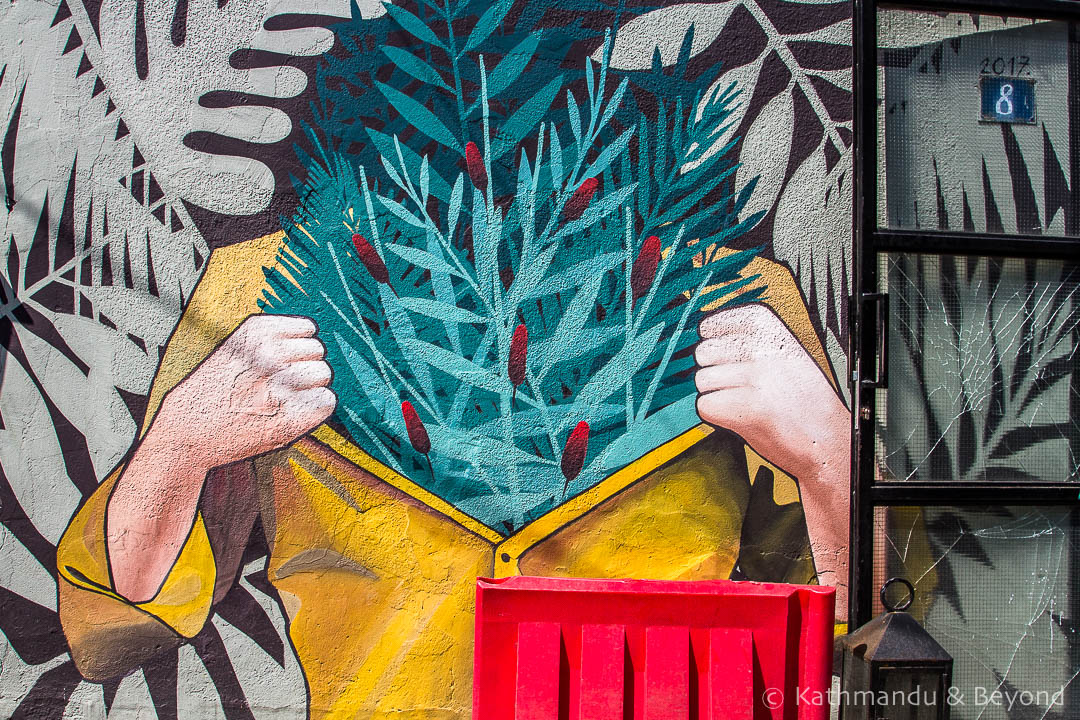 Belgrade street art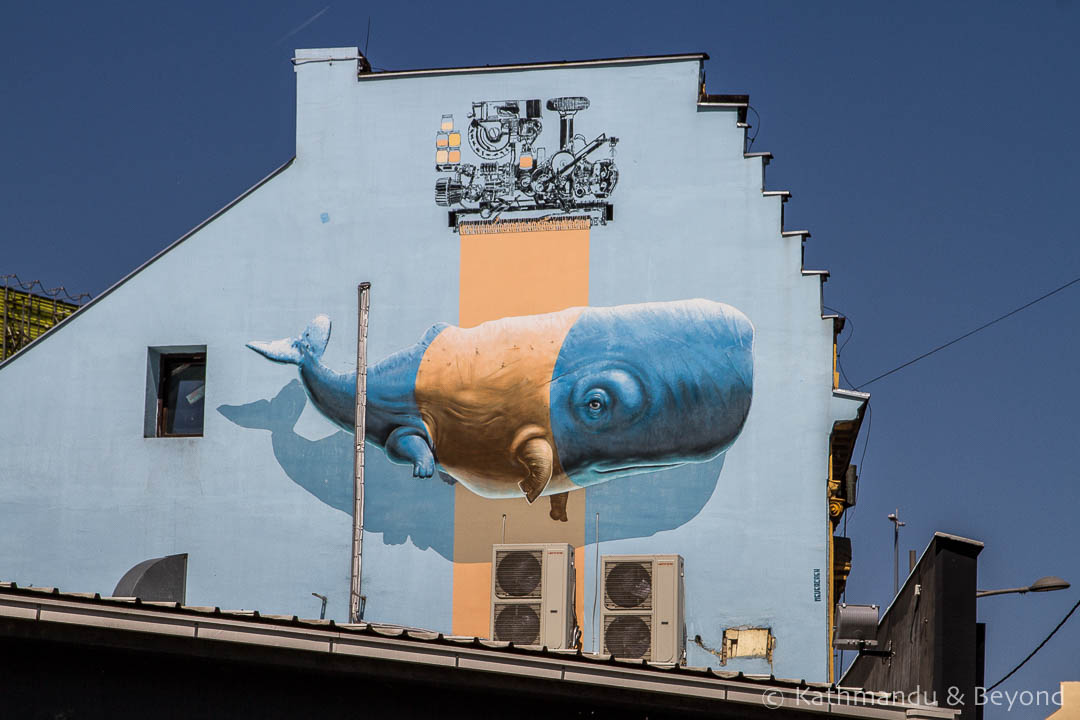 Belgrade street art
Brutalist and modernist architecture in Belgrade
Since our first visit to Belgrade, Blue Crow Media has released their fantastic map to brutalist and modernist architecture in the city. That gave us an excuse to go back to track down some of the buildings we didn't see the first time around (and is also a reason to go back again as we still haven't seen everything marked on the map). Here are a few of the most striking brutalist buildings in Belgrade. You can expect a more detailed post in the future, although Mark says we need to make another trip to Belgrade before he writes it as he has found even more buildings to add to the list! Here are a few that stand out.
The Genex Tower
Quite possibly Belgrade's most famous piece of brutalist architecture, the Genex Tower is officially known as the Western City Gate. Located in New Belgrade, this half-occupied/half-abandoned tower block is, according to Wiki, the third tallest residential building in the Balkans. It's an impressive sight and if we had a travel bucket list, one of the items would be to stay in an apartment in this iconic tower block!
To get to the Genex Tower, take one of the numerous city buses that cross Branko or Gazela bridges from Old Belgrade (e.g. numbers 18, 65, 70, 74).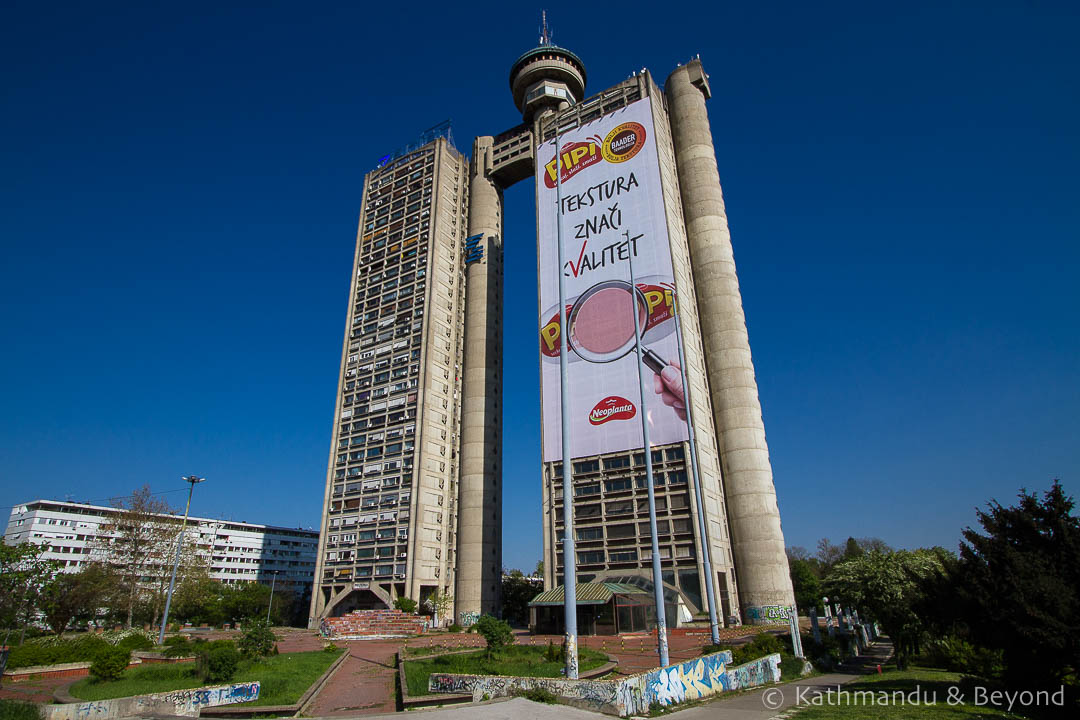 The Genex Tower
The Rudo Building
Across the opposite side of town, you'll find another concrete wonder. Officially, the Eastern City Gate is called Rudo and is named after a town in what is now the eastern Republic of Srpska, part of Bosnia and Herzegovina, where the supervising architect on the project, Dragoljub Mićović, was born. The triple towers are also nicknamed 'The Three Sisters' for obvious reasons. Although the Genex Tower is the more famous of the two city 'gates', we both find the Rudo more visually appealing.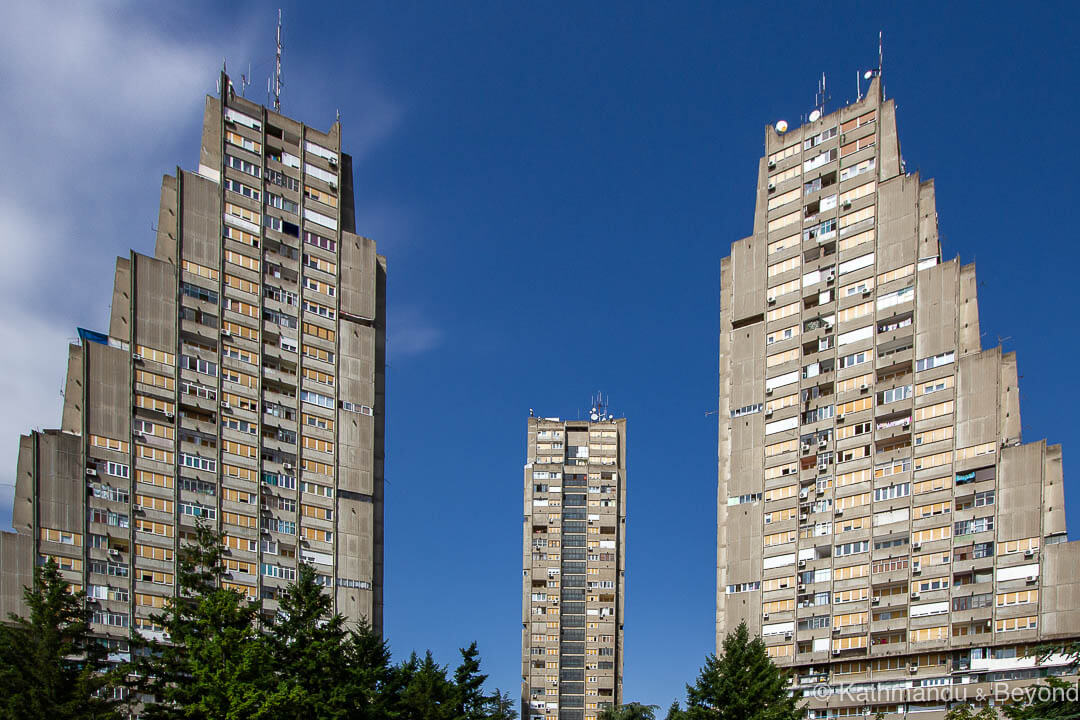 The Rudo
Tram numbers 5, 6, 7 and 14 all run from central Belgrade to the stop, Ustanička, which is about a five-minute walk from Rudo. In fact, tram 14 travels across the river into New Belgrade if you wanted to combine the two city gates.
You can read more about the Genex Tower and Rudo Building in our post about Belgrade's Modern City Gates.
Karaburma Housing Tower (aka the Toblerone Building)
Not quite good enough to eat but you can see how this building earned its 'Toblerone' nickname. Although not really near any 'regular' Belgrade sights, this residential building in the Karaburma neighbourhood is worth the effort if you are serious about your concrete!
Several buses can take you to Karaburma Housing estate and Omladinski Stadion is the name of the nearest tram and bus stops. Tram number 12L is a useful option, running via the train and bus station, and over the river to New Belgrade.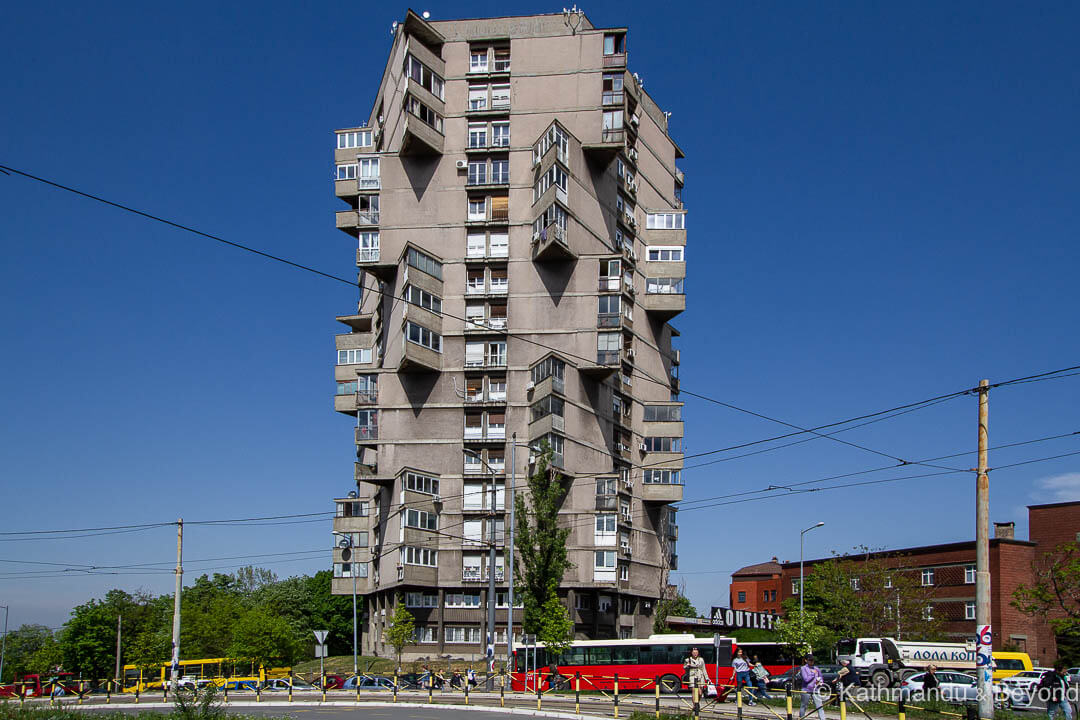 Karaburma Housing Tower 
SC Milan Muškatirović Sports Centre
From one building that looks like a Toblerone to another that looks a bit like a squashed piece of the same Swiss-made chocolate! We stumbled across the triangular-shaped SC Milan Muškatirović Sports Centre whilst we were walking along the stretch of river below Belgrade castle. Even if you aren't hunting for socialist-era concrete, it's a nice place for a stroll, particular in the summer and there are usually various kinds of public art mostly in the form of statues on display along the path.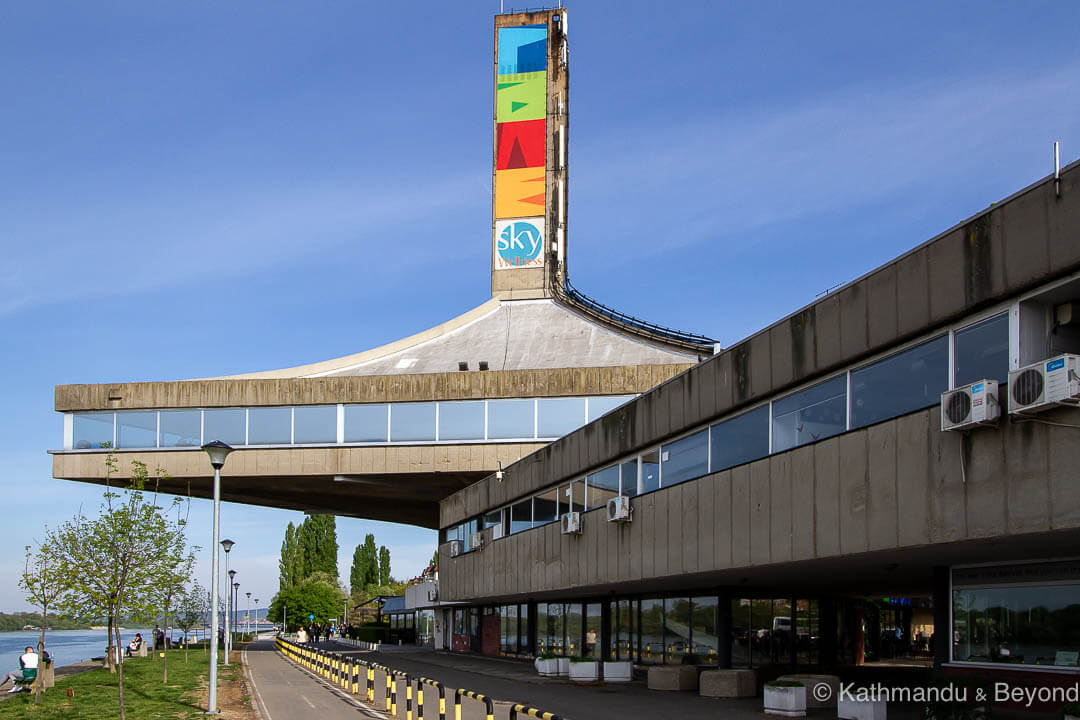 SC Milan Muskatirovic (25 May) Sports Centre

Underground Belgrade
It was the promise of a visit to a Yugoslav-era army bunker that attracted us to the Belgrade Underground tour but, actually, the tour spans a much wider period of history, starting from the Roman times. Our guide gave an interesting overview of Belgrade's history. The walking tour visits places in and around Belgrade fortress and ends with a hospitality drink in an underground wine cellar.
We booked our Belgrade Underground tour with Go2Serbia for €15 per person but there are plenty of companies offering this and other tours of Belgrade.
Underground Belgrade
DARK TOURISM IN BELGRADE
Sajmište (Semlin) Concentration Camp in New Belgrade
A steel monument sitting by the side of the Sava river on the New Belgrade side marks the location of one of Belgrade's darker moments in modern history. It's an unassuming spot and we might have missed it had we not been looking for this particular spomenik in Belgrade.
Prior to World War II, this area was home to Belgrade Fair Exhibition Grounds but once war broke out, the buildings were requisitioned and used to detain the city's Jewish and Roma population. We wrote in more detail about our visit to the site of Sajmište Concentration Camp and more on the history of the area here.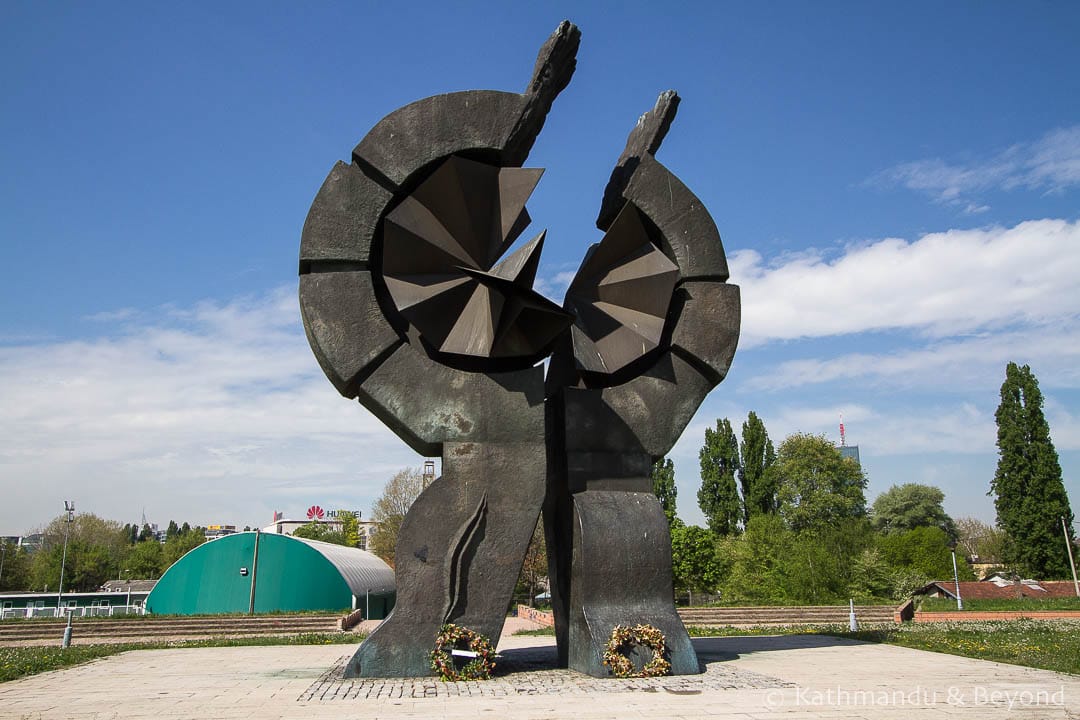 Spomenik (memorial) commemorating Sajmište (Semlin) Concentration Camp
House of Flowers
The House of Flowers is the mausoleum of Josip Broz Tito, the much-loved-by-many former President of the Socialist Federal Republic of Yugoslavia. The original complex was built in 1975, designed for Tito as a winter garden – a place close to his residence where he could go to both work and relax. On his death in 1980, Tito was entombed on a platform overlooking Belgrade and a memorial museum was created. The museum is an eclectic collection of gifts that Tito was given by world leaders along with several personal artefacts.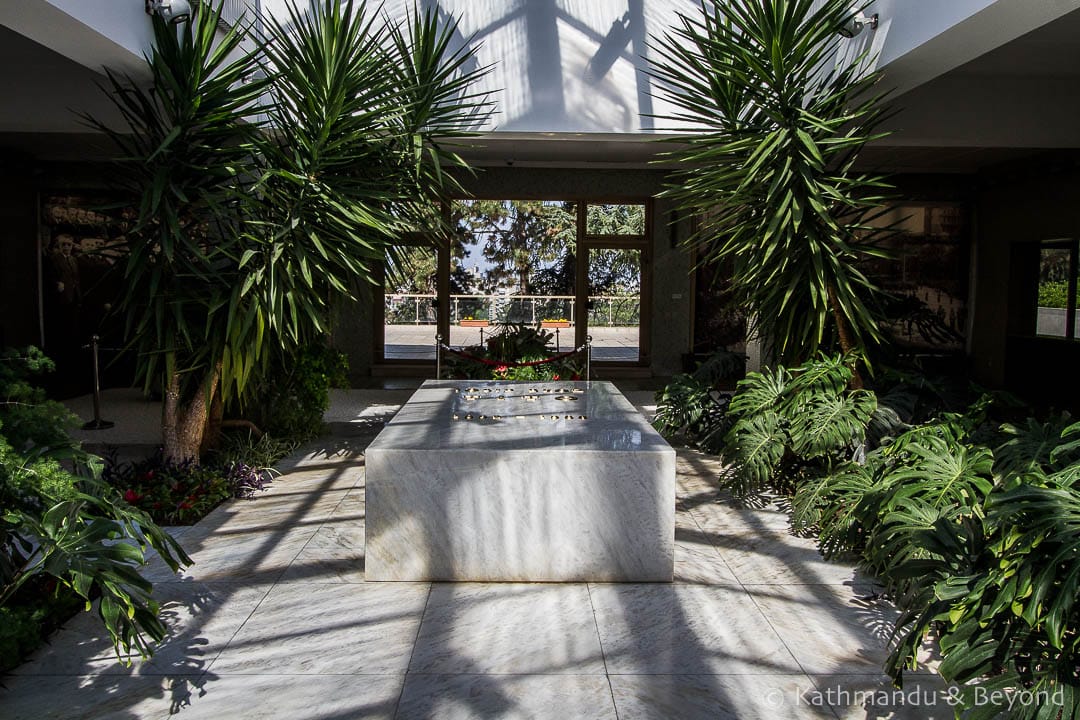 The House of Flowers
The House of Flowers is open daily (closed on Monday) from 10am to 6pm and the entrance ticket was RSD400 (approximately €3.40, as of January 2019) each.
The museum is on Bulevar kneza Aleksandra Karađorđevića and you can get there from Old Belgrade by taking trolleybus #40 or #41. The bus stop for the museum is called 'Muzej istorije Jugoslavije.
Bombed NATO buildings
The bombed-out and abandoned remains of the Former Yugoslav Ministry of Defence building on Nemanjina Street are included in our walking tour of downtown Belgrade but we are mentioning it again here as it is one of Belgrade's most iconic buildings, as a result of being a target of the 1999 NATO bombings. This crumbling building is under threat of demolition even though it's listed as a protected cultural monument because some government officials say falling debris is a risk to passing pedestrians.
BELGRADE FOR TRANSPORT GEEKS
Dunav Railway Station
If like us, you are into abandoned trains, you can go inside and take photos of the rusting carriages at this railway station if you ask permission from the station staff. Dunav was the departing station for trains travelling via Vrsac to Timisoara in Romania but since that service has been suspended for over a year now, Dunav may turn into more of a train graveyard in the future. This area is also another good place to look for street art.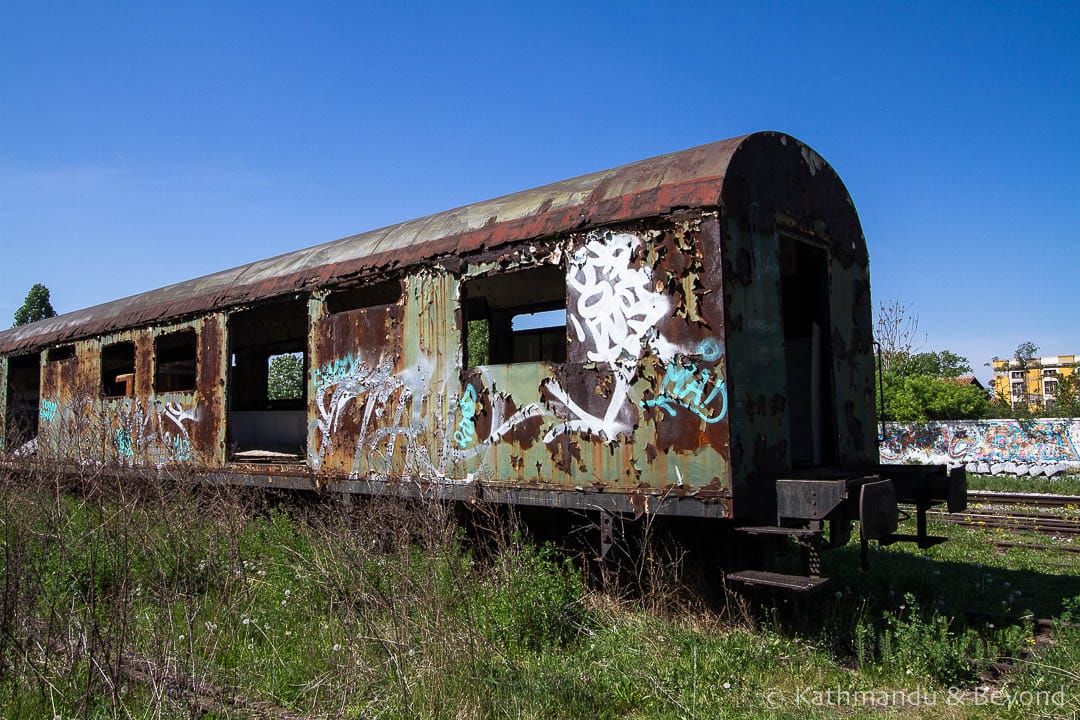 Dunav Railway Station
Aviation Museum
Aircraft geeks will enjoy Belgrade's Museum of Aviation which has a large outdoor display of aircraft throughout history. Architecture lovers will also appreciate the incredible UFO-like mirrored structure that houses memorabilia from Yugoslavia's commercial flying days.
The aviation museum is situated next to Nikola Tesla international airport. The easiest way to get there by public transport is to take bus #72 to the airport and get off one stop before the passenger terminal and walk to the museum. The museum is open daily from 8am to 4pm and the adult entrance ticket costs 600 Serbian dinar (approximately €5 @ February 2019).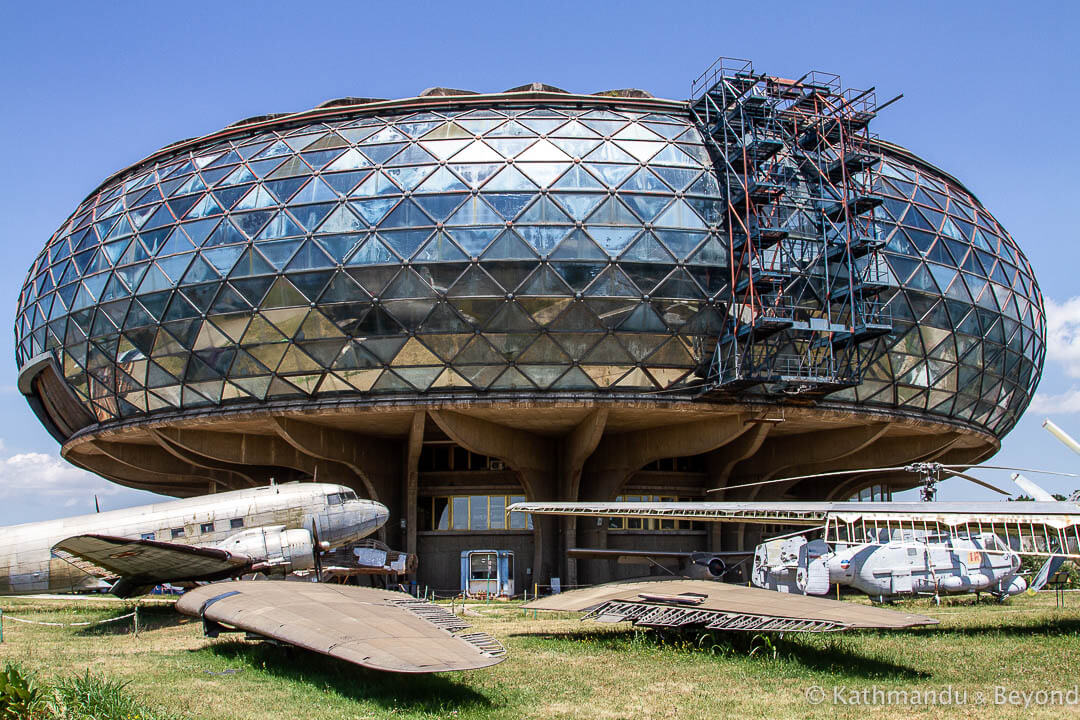 Aviation Museum
Belgrade Main Train Station
Until recently, this centrally located railway station in Savamala was, as the name implies, Belgrade's main train station. However, the last train departed from this station in the summer of 2018 and the 'main' station has been moved to Belgrade Centre Railway Station (often referred to as Prokop). Therefore, this station is, for now, a museum piece. Constructed between 1882 and 1885, it's an attractive building, worthy of a photo. Whether or not it will survive the Belgrade Waterfront development project is questionable but the station is designated as a cultural monument of great importance so I hope so.
Although we have been known to visit train and car museums on our travels (for example the Museum of Railway Technology in Brest, Belarus, the Retro Museum in Varna, Bulgaria and the AutoMotoVeloPhotoTeleRadio Museum in Vinnytsia, Ukraine) we haven't yet visited the Belgrade Railway Museum or the Museum of Automobiles. If you have and think they are worth including next time we visit Belgrade, do let us know.
PRACTICAL STUFF
Where to stay in Belgrade
We've stayed in a couple of different apartments in Belgrade. On our first (and almost all subsequent visits) we chose Studio 15 and we both agree it is one of the best places we stayed at during our time in eastern Europe. The owner, Milos, is helpful, welcoming and hospitable. He met us at the bus stop when we first arrived, gave us loads of useful information and drove us to the airport-transfer bus stop when it was time for us to leave. The location is great and the apartment is in an old building, just behind Skadarlija (Bajloni) market and 5 minutes' walk from Skadarlija Street. It took us about 15 minutes to walk to Republic Square.


Studio 15
On another occasion, we stayed at Butterfly Apartment, which we would also recommend. Location-wise, it's slightly closer to the fortress area and also near to several bars and restaurants, but not on a noisy part of the street.
If you prefer the sociability of a hostel, fellow travellers have recommended these options: Hostel Bed&Coffee 360°, Balkan Soul Hostel, Sun Hostel, Hostel Fair & Square, and the White Owl Hostel. If hostels aren't your scene and you value privacy, bear in mind that you can get a private apartment for the cost of two dorm beds. Use this map to browse accommodation by area.


Where to eat and drink in Belgrade
We're not foodies so it's no good asking us about the best places to eat in Belgrade. We are inclined to grab food on the go rather than sit down for long meals. Because we tend to stay in private apartments, we cook for ourselves a fair bit. We try to shop in markets whenever possible and Bajloni market is great for picking up some local produce – fresh fruit, bread, cheese and cooked meats etc. If you enjoy exploring local markets, be sure to visit Zeleni Venac, Belgrade's oldest.
That said, Serbian food is good and I urge you to try as much variety as possible. At first glance, it's not the healthiest and also not very vegetarian-friendly as Balkan cuisine tends to be meat-heavy. Popular Serbian dishes include cevapi (small sausage-shaped minced meat kebabs made of either beef, lamb or pork or a mixture of all three) which are served with flatbread (a bit like a fat pita) and raw onions, and sometimes kaymak, a kind of sour cream. Another waistline-busting Balkan favourite is burek, a baked filo pastry pie filled with meat, cheese, mushroom or spinach (the cheese and spinach combo is my favourite but not Mark's – he hates cheese!). Vegetarians on a diet may find themselves eating a lot of shopska, a regional salad comprising chopped tomatoes, cucumber and onion, and topped with sirine, a white crumbly cheese.
Our only restaurant recommendation is Pizza Botako which in addition to great pizza, does salads that aren't shopska and serves a selection of craft beers. However, fellow travel blogger Wanderlustingk has written a good Belgrade food guide: Where to eat in Belgrade and where to drink coffee, which includes lots of places we'd be tempted to try ourselves next time we visit Belgrade.
Drinking coffee is so much a Belgrade pastime that it really should be included in the things-to-do section. We tend to grab a seat at whichever pavement cafe we are passing at the time rather than return to the same place religiously. For us, it's more about the ambience and finding a good place to people watch, but if you are serious about your caffeine fix, our friend, Megan Starr, has produced a comprehensive guide on where to get the best coffee in Belgrade.
We also drink beer although Mark will happily confess that he's a cooking lager kind of guy whose head isn't turned by trendy microbreweries. If you're a more discerning drinker there are plenty of cool places to drink craft beer and cocktails in Belgrade.
Getting around Belgrade
Belgrade is a great city to explore on foot but it's a big place and sometimes you may want to save time, or just not walk that far! Obviously, Belgrade has taxis but we've never taken one – if we can't walk it, we'll take public transport.
Belgrade's public transport system is efficient – there are trams, buses and trolleybuses and, between them, they cover pretty much everywhere you'll want to get to.
A good site for checking public transport options in Belgrade is EasyWay – put your destination into the search box and it will show you a map with all available public transport options (there is also an App version of the website). Single journeys cost 150 Serbian dinar and an excellent value 24-hour public transport card can be purchased from kiosks for 250 dinars (just over 2€ @ February 2019).
How to get to Belgrade
By train
Serbia's rail network appears to be fast deteriorating* with some international services only operating in the summer months and many cancelled altogether.
* The site, Railway Research are damning in their reasons for this: "lack of strategy for development, irresponsible and incompetent management, great financial funds spent on projects used in political and promotional purposes, megalomaniac ambitions in times when the country is under sanctions and is barely surviving". If you are really interested, you can read an eight-page paper on the subject. 
For now, Belgrade is connected by direct train to Budapest, Sofia, Podgorica, Zagreb and Ljubljana. The Belgrade to Sofia train only operates in the summer (from 14 June to 16 September in 2019). There is no longer a direct train between Belgrade and Bucharest but it's possible by changing trains e.g. at Timoşoara. The train service between Belgrade and Skopje was suspended in October 2018 and it's uncertain if it will be reinstated, and there hasn't been a train service between Belgrade and Sarajevo since 2012.
Yes, it all sounds like a bit of a mess! The excellent Man in Seat 61 has lots more information about trains from Belgrade including detailed information on the connecting trains between Bucharest and Belgrade.
One final international train route to mention is the scenic Belgrade to Bar which makes a stop in the Montenegrin capital, Podgorica.
Remember that since the closure of Belgrade Main Station in July 2018, Belgrade Centar Station (also known as Prokop) serves as Belgrade's main station. Trains to Podgorica and Bar in Montenegro, as well as the summer-only service to Sofia in Bulgaria, use Topcider Station.
By bus
Given the uncertainty and often inconvenient times of trains, you may find yourself relying on bus travel. There are frequent and reliable bus connections to other major towns and cities within Serbia, and to other major cities across Europe.
By flight
Several European national carriers fly directly into Belgrade (e.g. Air Serbia, Lufthansa), but prices tend to be high. Although many of the other Balkan cities seem to have an increasing number of options, there aren't yet many low-cost flights into Belgrade. Along with Air Serbia, the only other airline which flies directly from the UK to Belgrade is Wizz Air (albeit it from Luton airport with an antisocial arrival time into Belgrade). Germany, France, Sweden, Netherlands, Malta and Cyprus are among the cheapest countries to fly to Belgrade from, again thanks to Wizz Air. easyJet has flights to Belgrade from Geneva, Basel and Berlin and Norwegian fly from Oslo.
Nearby international airports served by low-cost carriers are Osijek, Croatia (167 kms), Timişoara, Romania (174 kms) and Tuzla, Bosnia and Herzegovina (249 kms). However, flying into these airports could turn out to be a false economy as bus connections are likely to be costly and time-consuming.
Larger cities like Budapest, Skopje and Sofia may better options to fly into, and would be good combinations for multi-city breaks.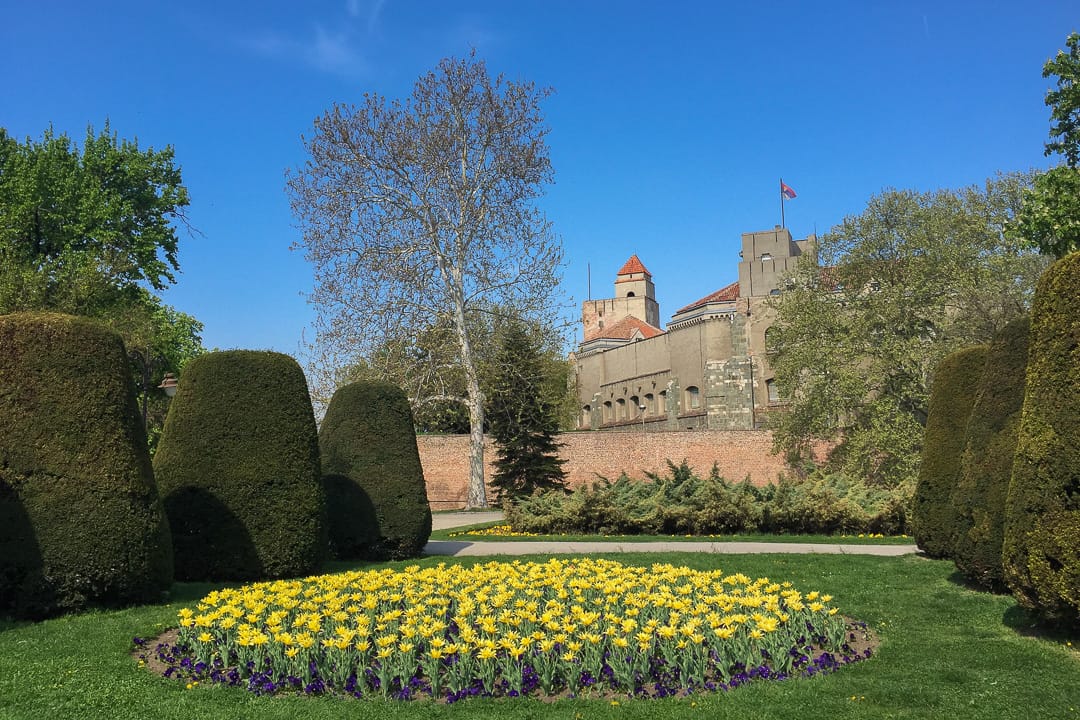 Kalemegdan Park
BELGRADE ITINERARIES
How to spend a few days in Belgrade
We could happily find enough things to do in Belgrade to keep us there for a week or more, but we already know it's a city we're very fond of and we appreciate that not everyone has the luxury of unlimited time. Whether you've already booked your trip and are working out what you can fit into the time you've got, or you're trying to decide on how long you should spend in Belgrade, hopefully, our suggestions below will help.
One Day in Belgrade
With just one day in the Serbian capital, our recommendation would be to walk your socks off on our suggested walking tour. You should concentrate on the area around Belgrade fortress and Republic Square, and you may not have time to complete more than the basic tour.
Two Days in Belgrade
Two days in Belgrade will give you enough time to see the city highlights without feeling too rushed. We'd suggest doing our walking tour but including a diversion to see the bombed-out former Yugoslav Ministry of Defence building and a visit to the Nikola Tesla museum.
Three Days in Belgrade
With three days, you'll have the opportunity to explore some of Belgrade's alternative sights. Depending on your style, seek out street art, Brutalist buildings, or visit a museum or two. Alternatively, pop over the river Sava to Zemun and New Belgrade.
Five Days in Belgrade
After five days in Belgrade, you should know the city pretty well. A few days will allow you to do all of the above, and give you plenty of time to fully enjoy the cafe scene. Fans of museums will have more than enough choice to fill a week. If it's summertime, why not visit the city beach, a lake known as the Belgrade Sea? If you like to keep busy, you could consider a day trip to Novi Sad, Serbia's very attractive second city. The bus journey takes between an hour and a half to two hours, so unless you have private transport, you'll spend a large part of the day travelling.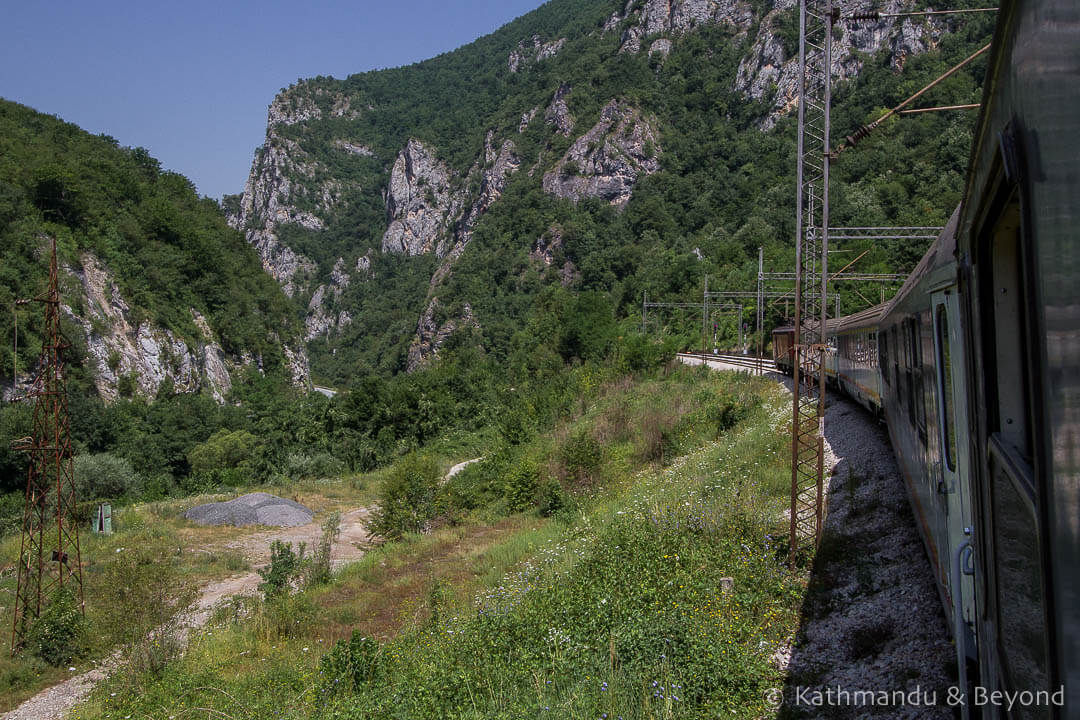 The Belgrade to Bar railway
Itineraries including Belgrade
If you plan to see more of Serbia than Belgrade (and we recommend you do), other places we recommend include Novi Sad, Subotica, Ucize and Nis.
We have written a 3-week suggested itinerary that will give you a good overview of five of the twelve Balkan countries. It starts in Budapest and travels through Slovenia, Croatia and Bosnia and Herzegovina before ending in Belgrade: Budapest to Belgrade the Long Way: An Introduction to the Balkans.
If you're travelling between Serbia and Hungary, we urge you to break the journey between Belgrade and Budapest. We recommend the same if combining Serbia and Montenegro – by all means, take the Belgrade to Bar railway but stop off at a couple of places en route. If you don't already know, we hate long journeys and 'stop the bus' is one of our mottos.
Wow! If you've made it all the way through the post, congratulations and thank you!
Have you visited Serbia? What are your favourite things to do in Belgrade? Please, let us know in the comment section below…
---
Edit: Originally posted: May 13, 2015, Last updated: February 2019
---
SEE MORE OF OUR PHOTOGRAPHS OF SERBIA
READ MORE BLOG POSTS FEATURING DESTINATIONS IN THE BALKANS
---
HAS OUR COMPREHENSIVE LIST OF THINGS TO DO IN BELGRADE INSPIRED A VISIT? PIN THIS ARTICLE FOR LATER…



---
---