Maribor in Slovenia: a great place to break the journey between Budapest and Ljubljana
We wanted to take the train from Budapest in Hungary to Ljubljana in Slovenia and although the timings for the cheapest train were OK (1335/2125 hours), we don't like to arrive anywhere too late in the day so decided to look for somewhere convenient to break the journey. This 'arriving too late' is partly a safety thing (major European railway stations aren't normally the most savoury of places and there are often a few scumbags and weirdos hanging around in the evening), but also we don't like to mess around with our dinner/beer drinking time. Call us creatures of habit but that's the way it is, so out came the trusted Lonely Planet and our map of Eastern Europe with the intention of finding somewhere suitable.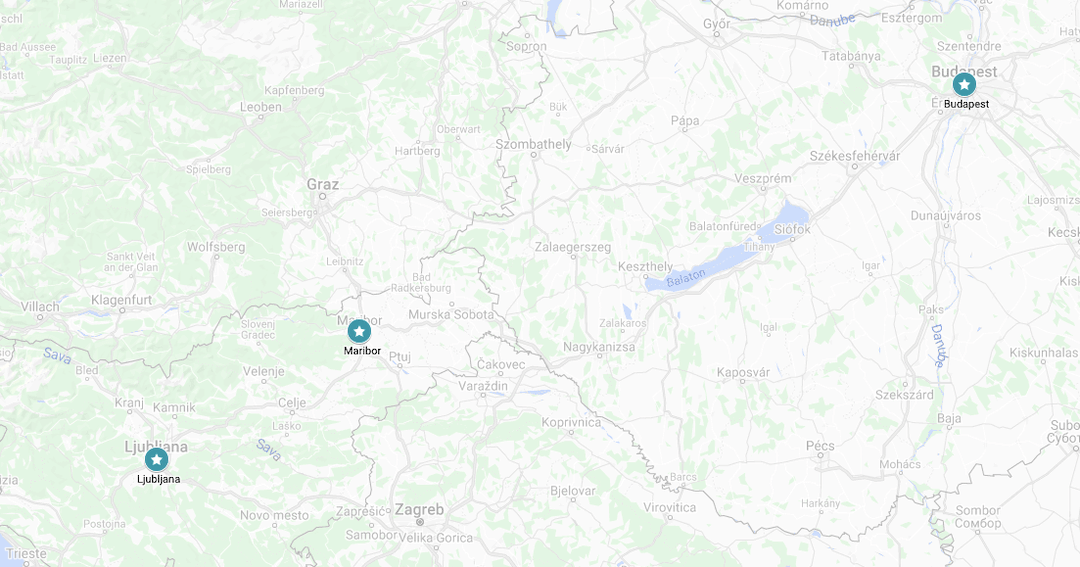 Location of Maribor in relation to Ljubljana and Budapest
Nowhere in Hungary grabbed our attention but over the border in Slovenia, the small city of Maribor seemed to fit our criteria. The city was on the main Budapest-Ljubljana rail line (no unnecessary detour required), the train arrived into Maribor around 7.30pm (still a little late for our liking but hey, we can be flexible!), you could walk to the city centre from the train station and Kirsty had identified a decent place to stay (*).
(*) We stayed at the Hotel Orel and Youth Hostel Uni which, apart from piping out Christmas carols in reception despite it being June, was perfectly OK. We had a big room with a private bathroom and the cost was €36 per night.
All good stuff so we researched a little further on what Maribor was like as a city as neither of us had heard of it before. The first thing that we discovered was that it was the European Capital of Culture in 2012. This was an encouraging start and we were fairly confident that, given the city had been awarded this prestigious status, it wasn't going to be a dump.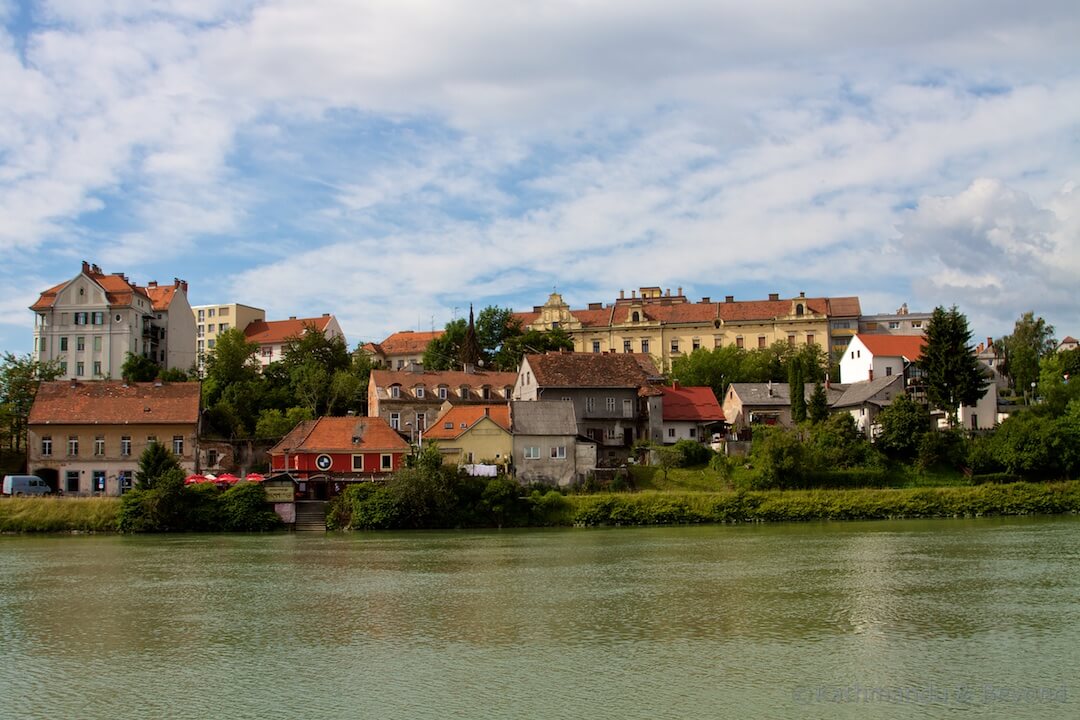 Drava River, Maribor
Indeed Maribor was anything but a dump. I keep using the word city but Maribor, even though it is the second-largest settlement in Slovenia, is more like an oversized town and we enjoyed our evening and the next morning exploring before taking the afternoon train to Ljubljana.
The train arrived into Maribor on time and after locating our hotel and checking in, we headed down to Lent, a pedestrianised area of the city located on the Drava River. It was Friday night and the area was buzzing and full of people. This was partly down to the fact that there was a food festival on over the weekend which attracted the crowds. We drank big steins of beer and ate sausages and bread (**) before returning to our hotel.
(**) For those that don't know, I hate cheese. I don't have any cheese-related allergies, I simply hate the stuff and Kirsty was convinced I ate some that night. The sausages and bread were served with onions and a thick sour-cream-type sauce and as always, if I am in doubt I check what it is before eating it. I did so in this instance and the friendly waiter told me it was crème fraîche which is fine with me so I tucked in. Kirsty wasn't convinced it didn't have cheese in it however and kept telling me so. But it tasted OK so I didn't believe her and we ended up having a bit of a mini-argument about it. In the end, she gave up telling me and we both enjoyed the remainder of the meal!
Sausages, bread and CHEESE!
We got up early the following morning as our onward train was leaving at about midday and we wanted to see more of Maribor before leaving. Its size meant it was easy to see the sights (including the City Castle, Plague Monument, Glavni Bridge and the Old Vine House) in about three hours and also include a pit-stop at a small cafe for coffee and croissants before heading to the railway station.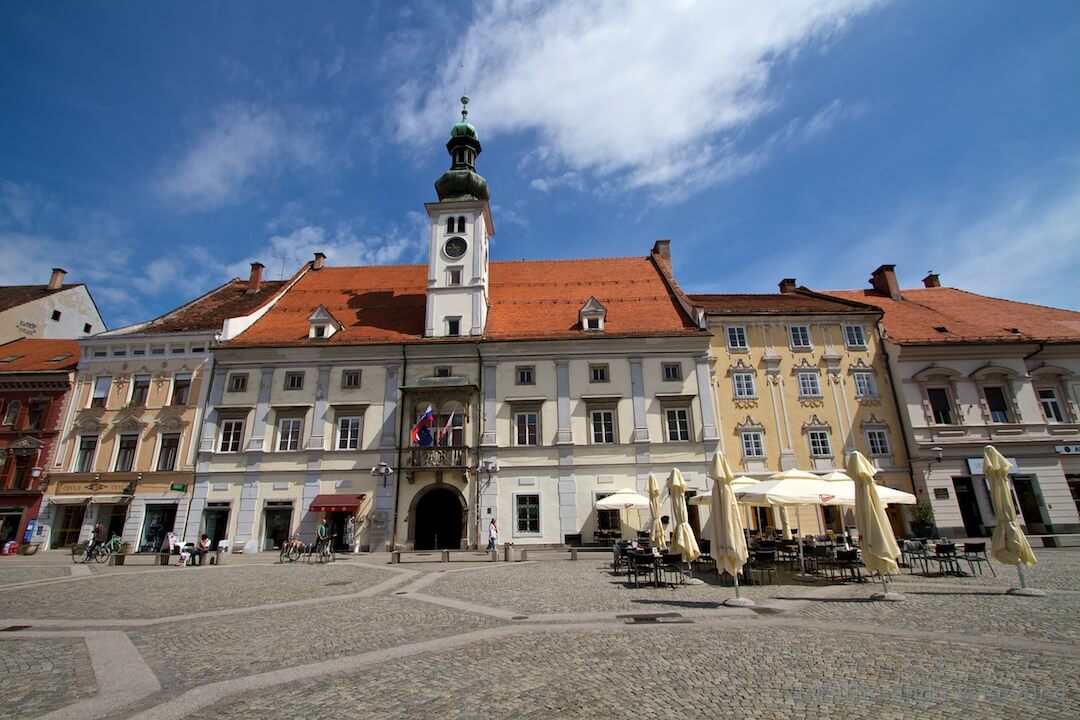 City Hall on Glavni Trg


Franciscan Church (left) and the Old Vine House (right)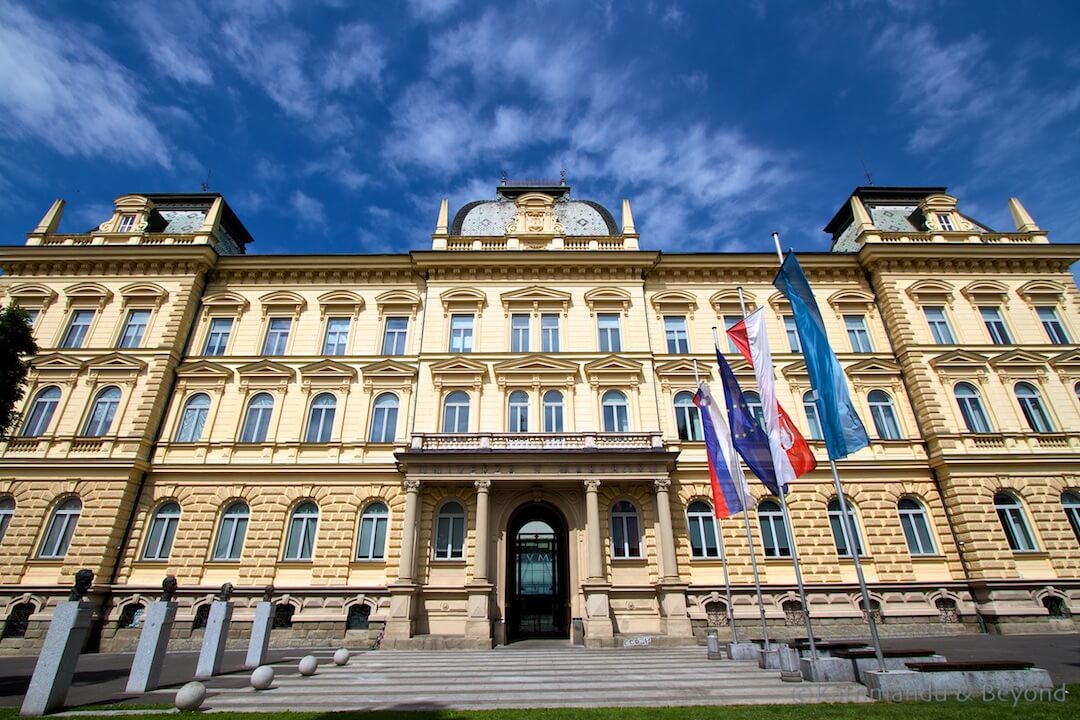 University of Maribor
In terms of things to see, Maribor has fewer head-turners as its grown-up sibling, Ljubljana, but we felt we had stumbled upon a real winner here and we were glad we broke the journey between Budapest and Ljubljana.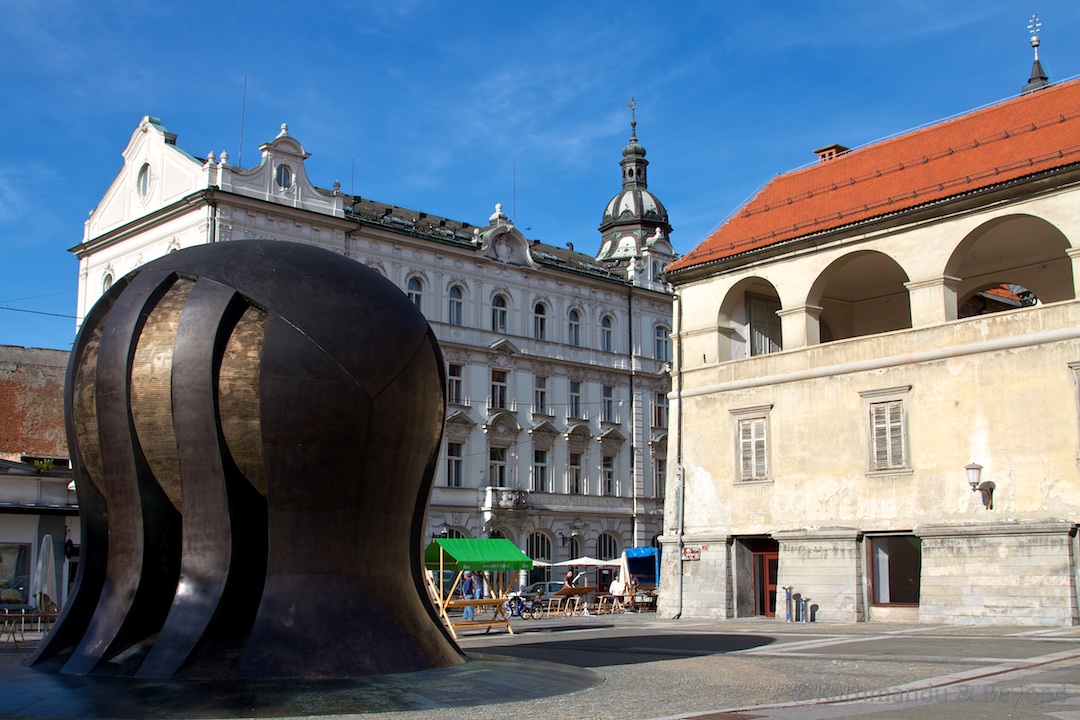 The city's spomenik: Maribor Liberation Monument
---
Click here to see more of our photos of Slovenia
---
---