Trebinje: Bosnia and Herzegovina Off the Beaten Path
Everybody has heard of Dubrovnik, the stunning but impossibly overcrowded Croatian city on the Adriatic Sea, and quite a few people will know about Mostar, the most important cultural city in the Herzegovina region of Bosnia and Herzegovina (BiH), just across the border. Indeed the UNESCO World Heritage-listed Stari Most (Old Bridge) in Mostar is probably the most iconic historical landmark in the entire country. 
Mention the town of Trebinje however and it's safe to assume that most people will draw a blank, us included until we decided to visit BiH during our travels through the Balkans.
Trebinje, the southernmost town in BiH, is only 28km from Dubrovnik but tourist-wise it is a world apart from its more famous neighbour and an excellent place to break the journey if travelling between Dubrovnik and Mostar. We arrived on the daily bus (see Getting there and away below) at around 2.30pm and headed to the nearby tourist board to pick up a map. The young guy behind the counter was extremely enthusiastic about his town, friendly and spoke very good English. We had already booked a hotel but he pointed us in the right direction and highlighted the interesting things to see and do in and around the town.
By 3pm (Trebinje is small) we were out and about, camera in hand and ready to explore. We started with a hike up to Arhangel Mihailo Church, a brand new church with excellent views back over the town and the surrounding hills.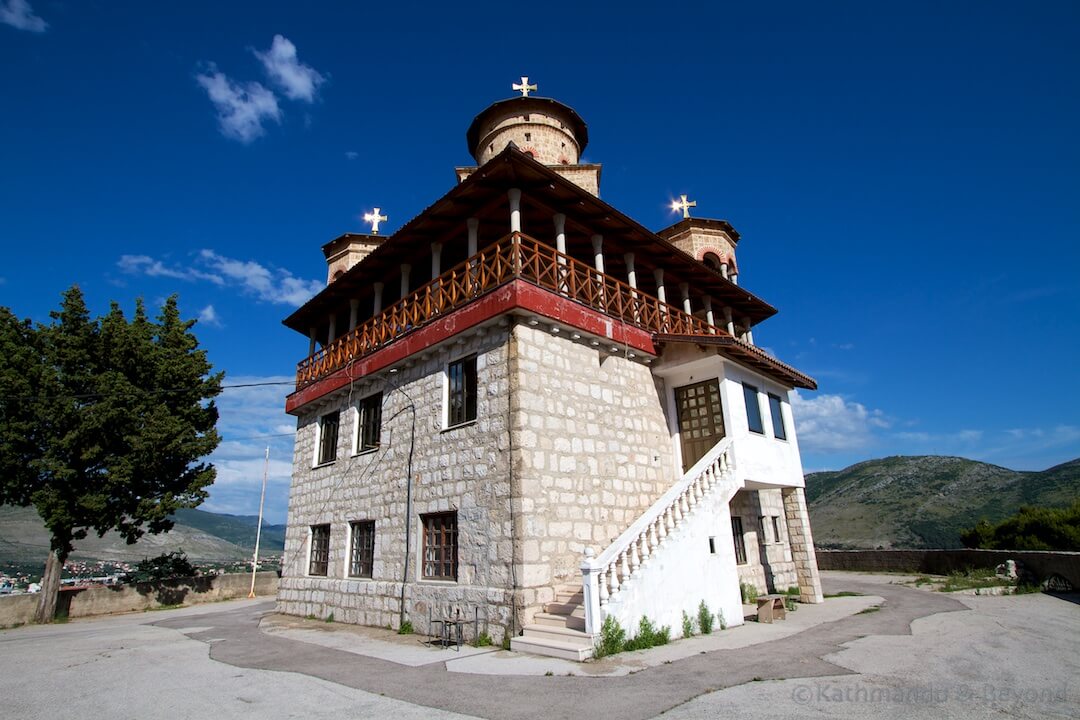 Arhangel Mihailo Church
We then walked along the Trebišnjica River to get to the double-backed Arslanagic Bridge, Trebinje's most famous landmark.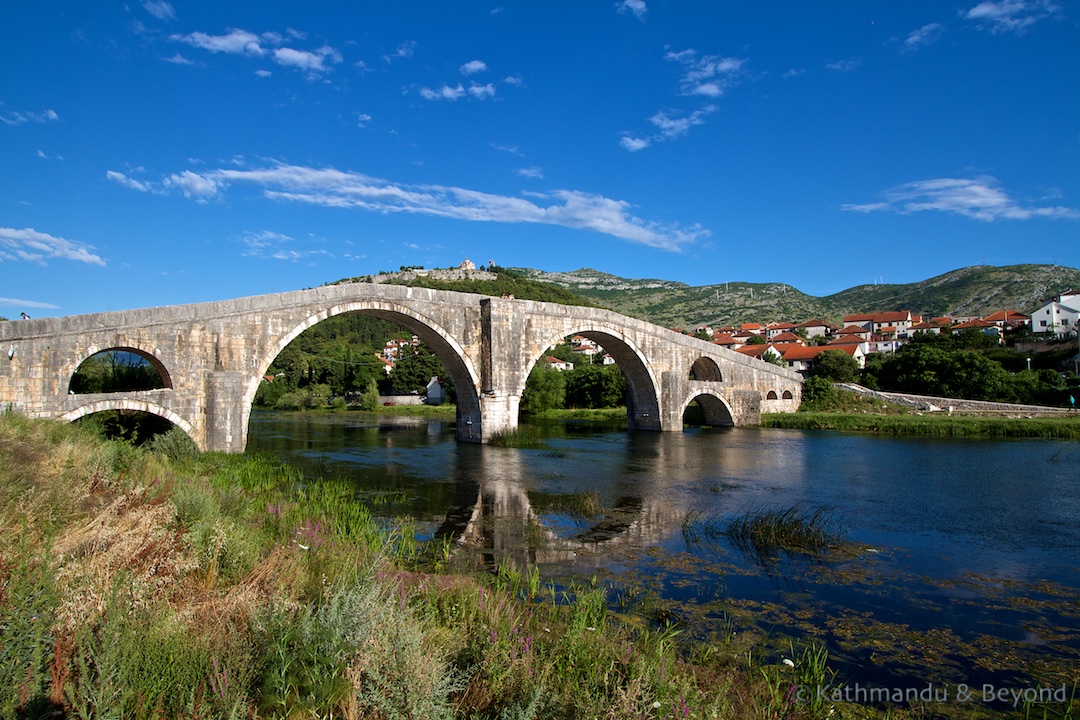 Arslanagic Bridge
By the late afternoon the light was perfect so after photographing the bridge we climbed up Hercegovacka Gracanica hilltop for yet more great views and to see the imposing Presvete Bogorodice Church.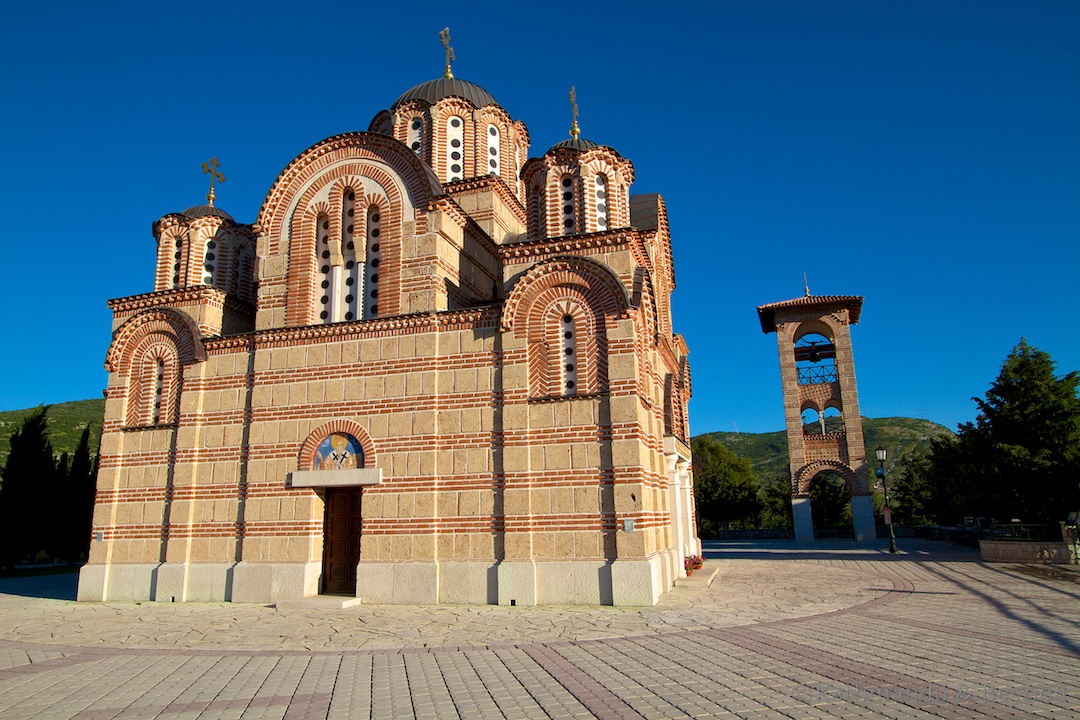 Presvete Bogorodice Church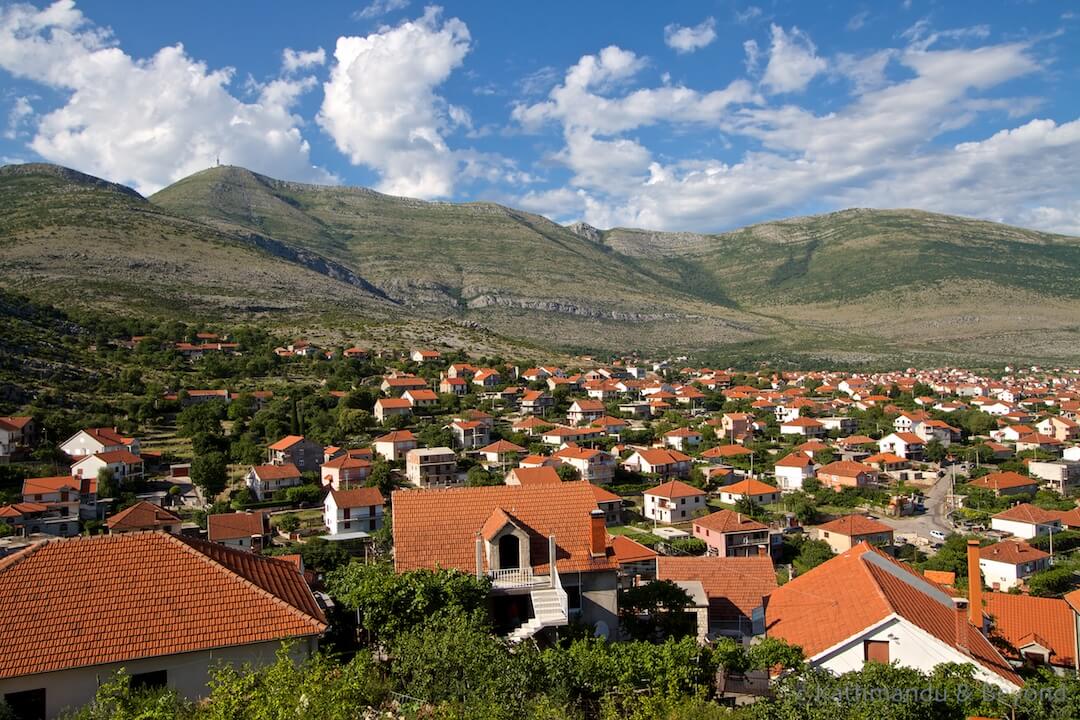 The view of Trebinje from Hercegovacka Gracanica hill
The walk up and down Hercegovacka Gracanica was a bit tedious (we could have done with transport) but as it didn't get dark until 8.30pm, we still had time to look around the Old Town, relax with a beer or two and eat a yummy kebab before calling it a day.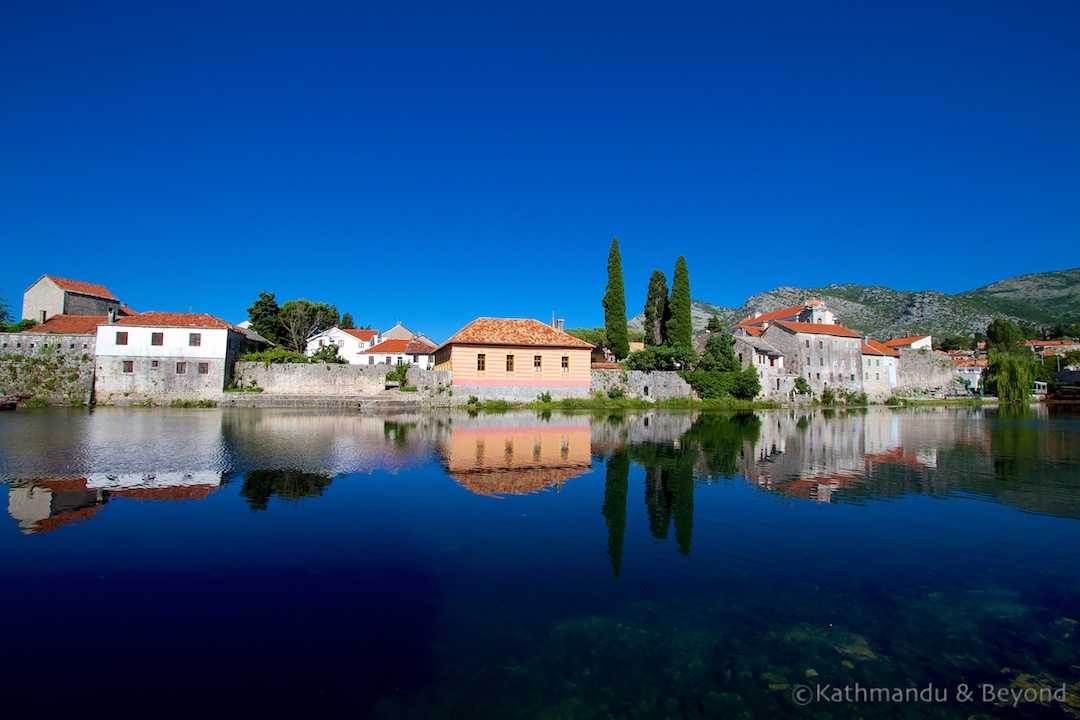 Old Town
The next morning we spent a couple more hours wandering through the Old Town (and giving our (positive) feedback to the nice man at the tourist board) before catching the 10am bus to Mostar. We felt that we did Trebinje justice in the short time we were there but if we had known it was such a nice place, we would possibly have had one night less in Dubrovnik and another one in Trebinje and relaxed our pace a little.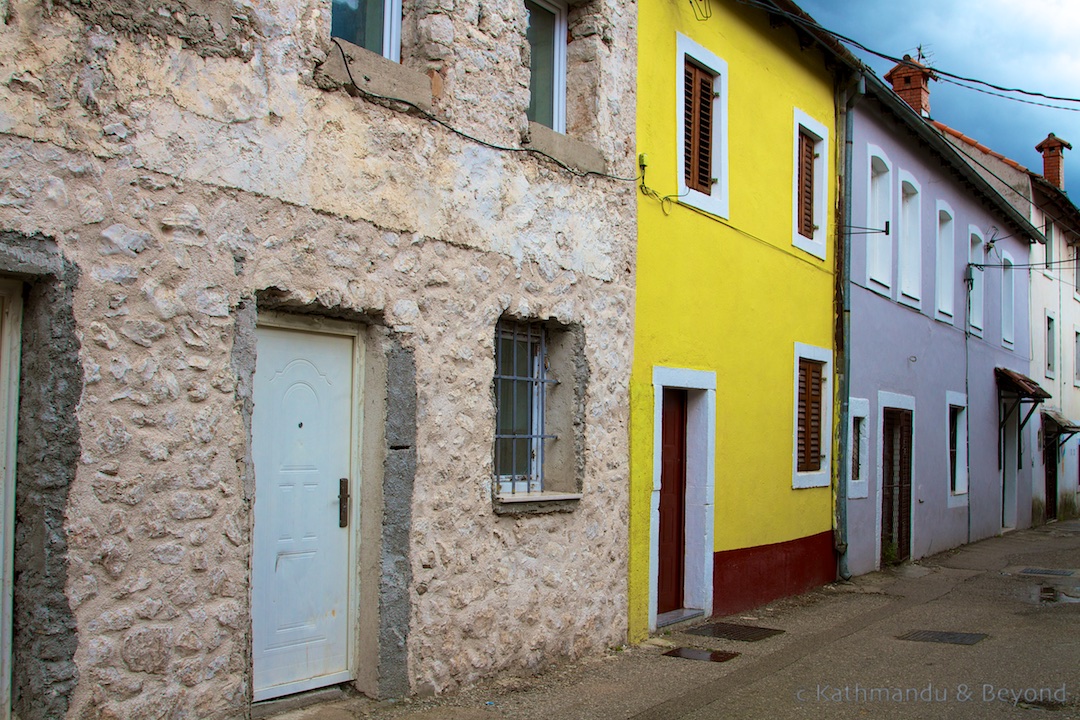 Old Town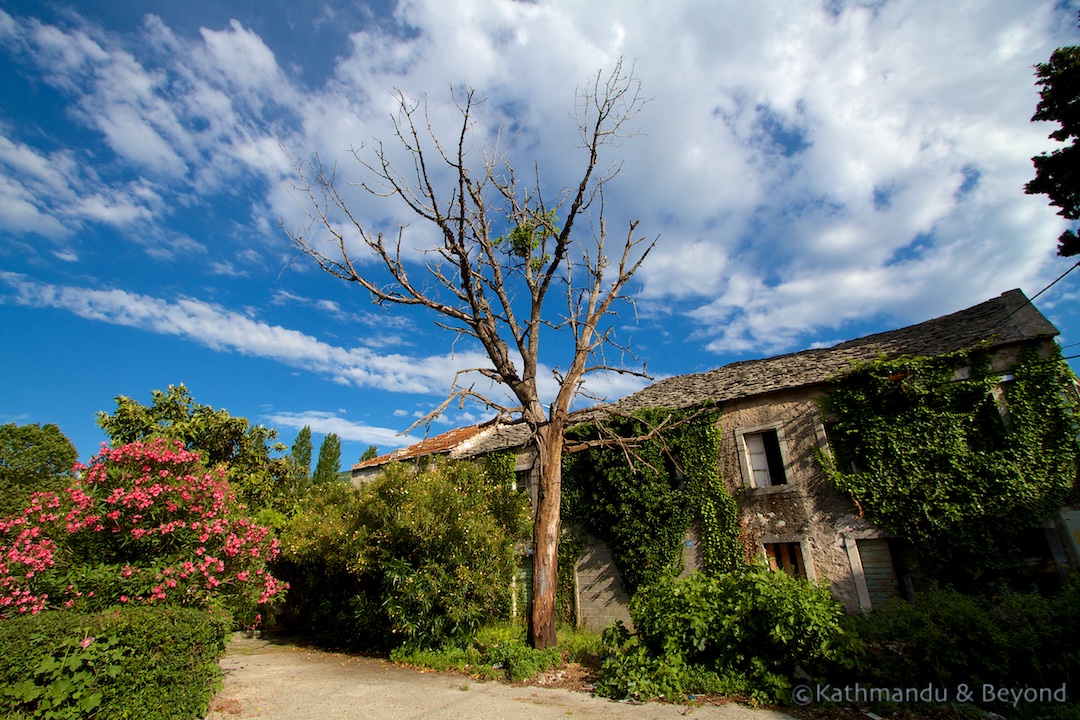 Old Town
All in all, though, we would highly recommend an overnight stay in Trebinje and for us, it was a great way to start our time in Bosnia and Herzegovina.
Trebinje: Getting There and Away
There is only one daily 16-seater bus between Dubrovnik and Trebinje that leaves at 1.30pm and takes approximately 1 hour including formalities at the border (*). On the return journey, the bus leaves Trebinje at 10am. Note there is no Sunday service. The journey travels through some superb craggy mountain scenery, a characteristic we were to experience throughout southern BiH.
There are three daily buses from Trebinje to Mostar (6.15am, 10am and 2.30pm) and the journey takes approximately 3 hours.
Alternatively, there are three daily buses between Dubrovnik and Mostar via the more direct, partly coastal route.
(*) Annoyance of the day. When you travel as much as we do, every bit of space in your passport is precious. Up until this point in Europe we hadn't received one stamp in our passports and we were very happy about this but when we left Croatia, the border official stamped a completely clean page in both of them and to make things even worse the BiH official did exactly the same thing. I was livid (Kirsty doesn't really do livid!), especially as the Croatian official didn't even need to stamp our passports (Croatia is EU, BiH is not).
Where to Stay in Trebinje
We stayed at the newly opened Motel San (address; Popi 4, 89101 Trebinje). Located near the hospital and €25 per room per night (including a big breakfast), it was perfect for our needs. It was quiet, the staff were friendly, the room was big and we had a private bathroom.
---
---
---