28 April to 10 May 2010
Playing a bit of catch up here as I have been politely reminded of an important omission in our blogs – our recent holiday with Mum and Dad. I've also been meaning to put up some photos for a while now. For those that don't know, Mum and Dad were due to fly out the day that was has now become known as "that bloody volcano" struck. Their flight was due to take off half an hour after the cut off point. There followed 12 frustrating days of will it happen, won't it happen but finally it did and we met Mum and Dad at Chiang Mai airport one balmy evening.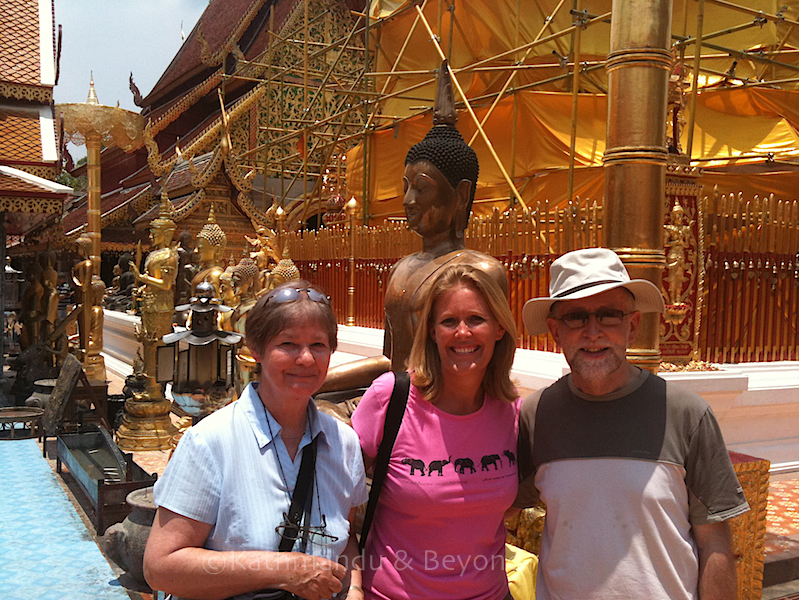 We had a few days in Chiang Mai visiting the wats (temples), enjoying some great meals, a bit of time by the pool and meeting up with one of Dad's old uni friends and best man. From Chiang Mai we hit the road in our self drive hire car with the first stop Lampang and the elephant conservation centre. As well as demonstrating he skills of working elephants they also have a hospital where they treat sick ele's and a nursery where you can feed the cute babies. Our next stops were Sukothai and Ayutthaya where we explored the ancient temple ruins, took a boat trip and had some tasty meals at the riverside night market. We had originally intended to take M&D to Bangkok too but as the Red Shirts were in full swing decided to spare them the pleasures of Khao San Road. So we dropped the car off at the airport and travelled from there by road to the border with Cambodia and then onwards to Siem Reap. Frankly this particular border crossing can be a pain in the backside and is notorious as one with the most scams going on. Having done it a few times we are wise to them but I was still a bit hesitant about getting Mum and Dad through it smoothly but all went to plan.
It was good to be back in Siem Reap and see familiar faces and friends again, starting with the staff at the guesthouse who were all smiles and one of the girls even rushed around from the reception desk and gave me a big hug!
When we last left Cambodia towards the end of March it was already pretty hot and by now, early May, it was scorching hot, incredibly humid and the rains eagerly anticipated. Thailand was hot, but Siem Reap was reaching new highs and typically during the 2 weeks we waited for Mum and Dad and when they should have been here saw he biggest hike of the mercury. Thankfully we'd allowed a few days in Siem Reap so were able to slow the pace down a bit and include time for siesta's
and cold drinks in the many bars and restaurants and some time by a pool. But the temples of Angkor couldn't be put off forever and so we headed off in a tuk tuk for a day of sweaty exploration. Even though it's my fourth time to the temples and it was tipping 40 degrees they're still fab! Other Siem Reap highlights were a boat trip on Tonle Sap lake to see the communities who live, shop, school, go to church or temple on floating homes and vessels and travel around only by boat, most of which are displaced Vietnamese. Their homes rise and fall according to the water level of the lake and at this time of year, being the end of the dry season, the levels were lower than I've seen them before and our boat struggled not to get completely grounded in the canal up to the lake. Two interesting facts about the Tonle Sap 1) its flow changes direction twice a year and 2) the lake expands and shrinks dramatically with the seasons. For most of the year the lake is fairly small, around one metre deep and with an area of 2,700 square km but during the wet season, this can increase up to 16,000 square km and its depth to up to nine metres.I also took Mum and Dad to visit the orphanage where I did some voluntary stuff when we were there before and it was good to see all of their smiling faces again.
All too quickly it was time to put Mum and Dad back on a flight back home, the holiday seemed to have gone very quickly. But it was wonderful to spend the time with them and show them a little bit of what we do and the places we love.






---