Derelict spaces provide the perfect canvas for graffiti and street art
It was a recent (October 2019) visit to a derelict villa in central Croatia that was once frequented by Tito that prompted me to write about street art in abandoned buildings.
It was late afternoon and we had been driving up an isolated and very narrow single-track road for about 5kms in search of the said stately home. I don't mind admitting that we are always nervous on the approach to an abandoned location, especially when it is in the middle of nowhere. Kirsty is always very quiet and tends to play with her fingers, which is something she does when she is anxious, whereas I put music on, chat, and generally distract myself from the task in hand (*).
(*) We were once told by a seasoned infiltrator of abandoned places that "nervous urban explorers live longer" so we are at peace with our approach to it all!
As is our habit, in this instance we pulled up outside the villa and sat in the car for a bit, gauged if there was anyone/anything else around, and then decided to go in. Entry was via a large set of wooden doors, one of which was slightly open. Another ritual that we have when exploring forsaken locations is that I always take the lead. I don't mind doing this. In fact, I know that if I didn't agree to this, I doubt very much I would be able to convince Kirsty to go urbexing in the first place. So, ever since our first infiltration, it has always been a role that I have taken on.
It wasn't necessary to push the door open any further but I did need to turn to my left slightly in order to squeeze through the open gap. Once in, I turned to my right in the direction of the once-grand stone staircase that led to the upper floor and there it was, a truly horrible purple-painted devil with yellow snakes for horns and another slivery creature coming out of its mouth. It has purposely been drawn on the wall opposite the entrance to scare the crap out of anyone coming in and, for me personally, it did the job perfectly!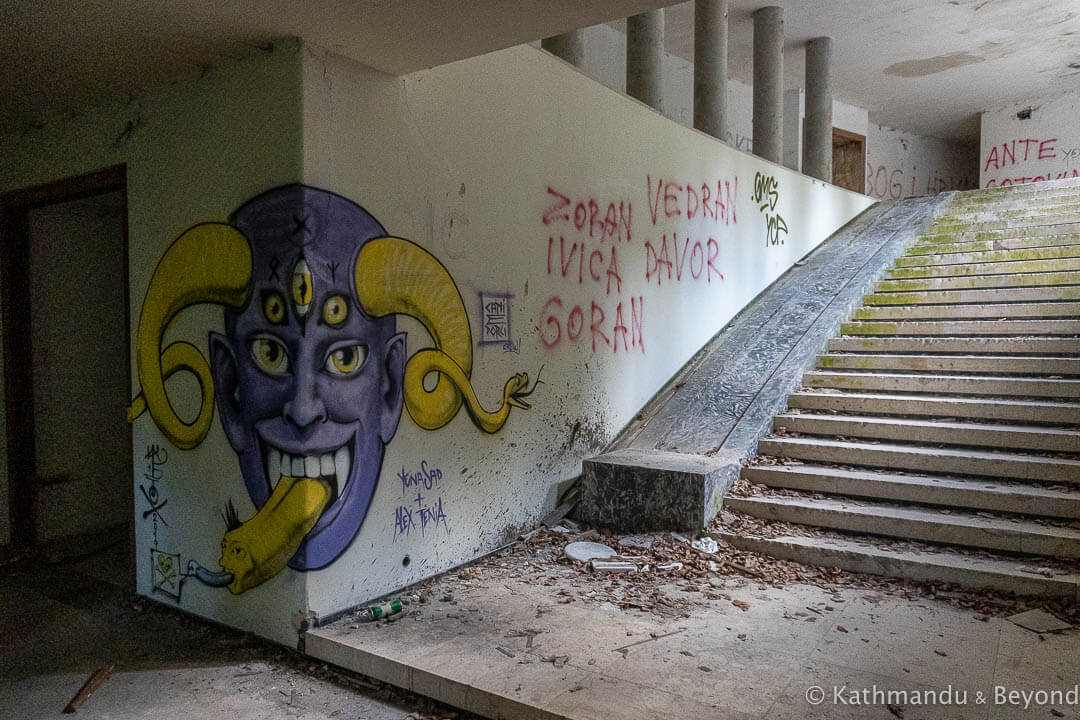 The first thing to greet us upon entering Villa Izvor in Croatia
The rest of our time inside the villa was uneventful. We crept around, took our photos and then returned to the car and left. You see, although we like discovering abandoned locations, we don't hang around. The quality of our photos taken in the interior of these places is generally poor because, even if we did carry a tripod, I'm damned if I'm going to fanny about setting it up in such a dank environment. These places are eerie at best and you're never 100% certain that you are alone, or what you are going to find around the next corner or level. Then there's the hire car to think about … parked in splendid isolation, normally ladened with all our possessions in the boot (trunk), and nice and vulnerable to anyone who might take a fancy to it. Yep, my pint glass is always half empty but, then again, "nervous urban explorers live longer!"
Maybe we are too old, or too cautious (don't the two go hand in hand?) because there are clearly those who do hang around in these places much longer than is necessary to just take a quick tour and some photographs, and spray paint artists evidently fall into this category. As much as it gave me the shivers and almost instantly had me bolting for the car, the purple devil painted on the wall inside the villa was a decent bit of art and would have taken a reasonable amount of time to create.
And we've seen many examples of street art inside the abandoned buildings we've visited. On the one hand, it is pure vandalism and should be condemned. Wandering through a building that is covered in unimaginative graffiti and tags is boring and a compelling argument for why many urban explorers don't divulge locations. But, on the other hand, some of it is very good and impressive artwork can actually enhance the structure and make what you are looking at more appealing. 
Looking past the image quality (remember we don't hang around!), below are some more instances of urban art we have come across in abandoned locations:
Women
'
s Correctional Institution in Chiang Mai, Thailand
Two sides of the outer wall of this former female-only prison in Chiang Mai are covered in artwork but there is also some artwork inside the penitentiary as well, including within the canteen and couple of the cells.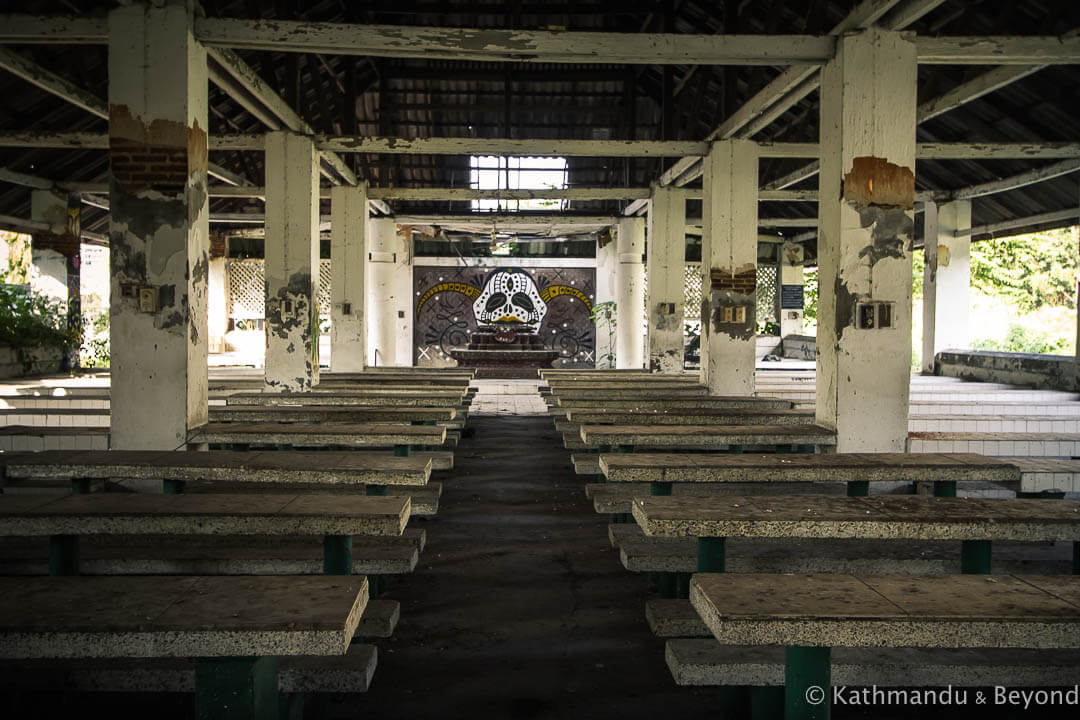 Aragil Restaurant in Yerevan, Armenia
Personally, I can't stand Bob Marley's music (too much time spent in backpackers' hostels in my youth!) but this piece of art inside a derelict restaurant in Yerevan is a fitting likeness of him.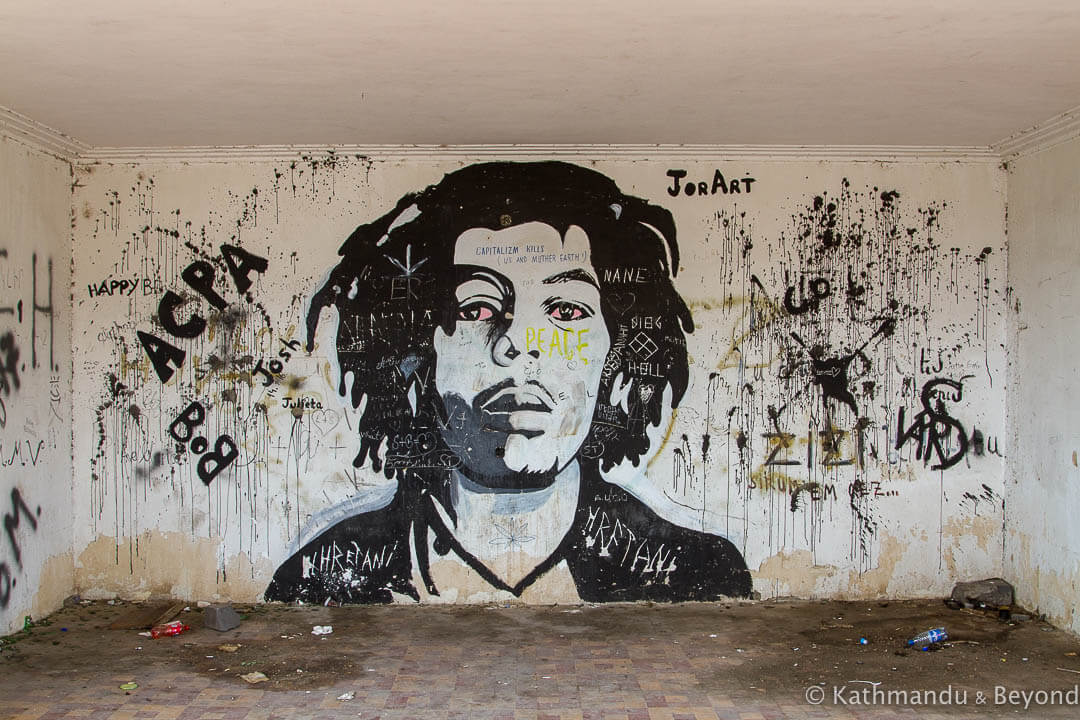 Ljubljanska Bank (Sniper Tower) in Mostar, Bosnia and Herzegovina
Some of the most imaginative art we have discovered at an abandoned location has been both inside and on the exterior of this ex-bank in Mostar that was turned into a sniper tower during the Bosnian War.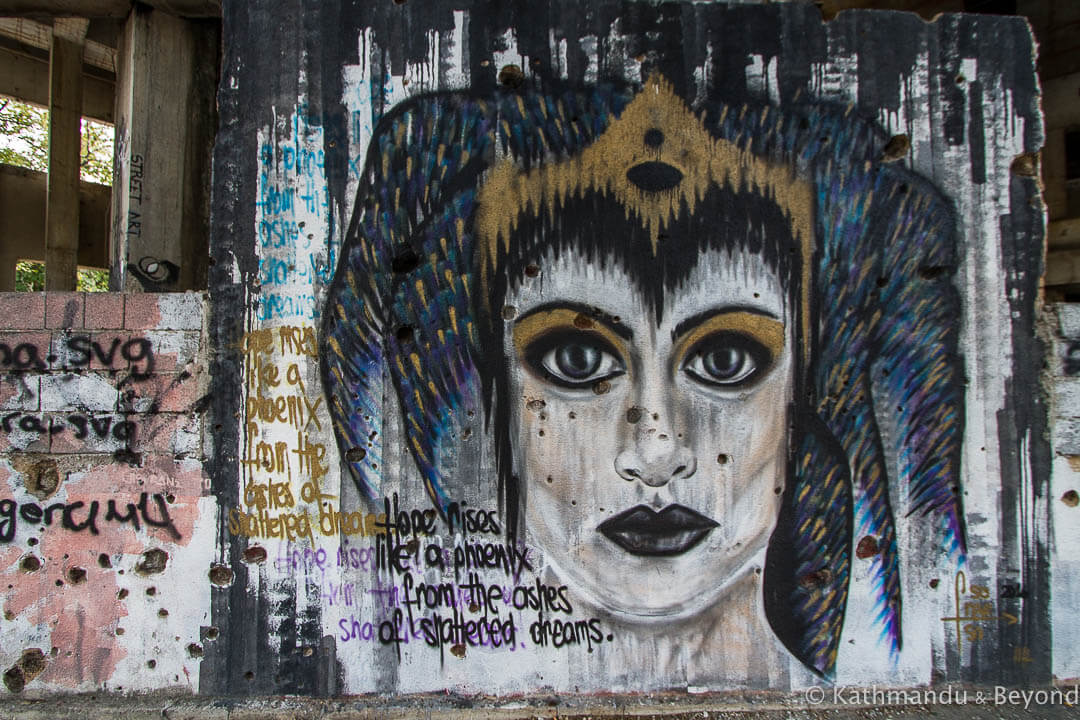 Summer Theatre in
 Lithuania
This former summer theatre was covered in art but the most impressive piece was on the back wall of the auditorium.


Hara Submarine Base in Estonia
A beefy-looking Popeye and a satirical Ronald McDonald adorn the walls of this once-secretive Soviet military base overlooking the Gulf of Finland.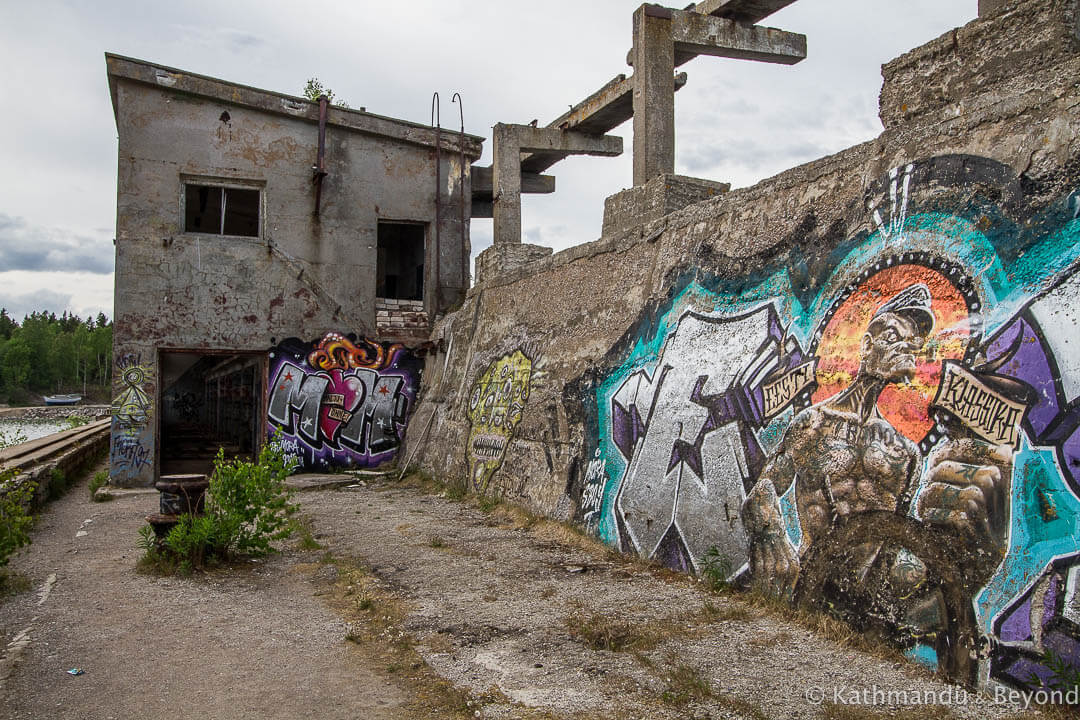 Home of Revolution (Dom Revolucije) in Nikšić, Montenegro
The Home of Revolution in Nikšić was one of our earliest forays into the world of urbexing and it remains one of our favourites. The interior of this concrete-dominated structure was riveting to explore, plus the artwork covering its interior walls was truly excellent. Nicknamed the 'House of Death', this is most certainly not one to hang around in, which makes the art on the walls even more impressive in my opinion.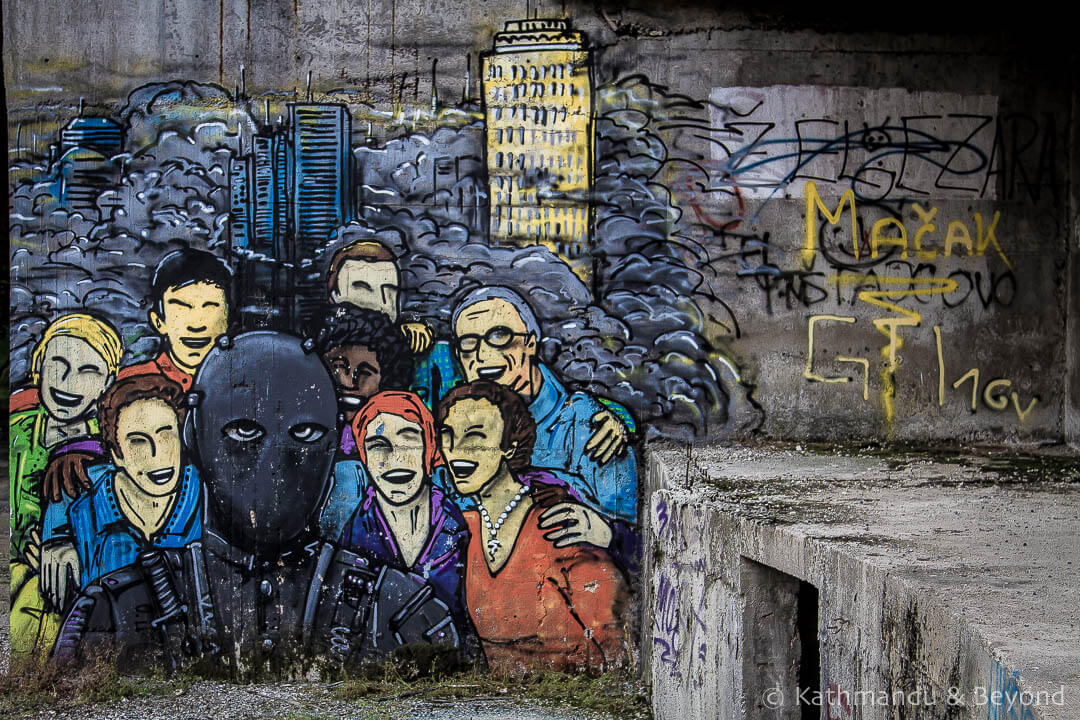 A factory in Hua Hin, Thailand
I located this former factory covered in street art and, as a result, remained in Kirsty's good books for about a week thereafter! It was the first time she discovered the phenomenon that is Mardi (artist Alex Face), the three-eyed child dressed as a bunny in the photo, and we now look out for other versions of her wherever we go in the world!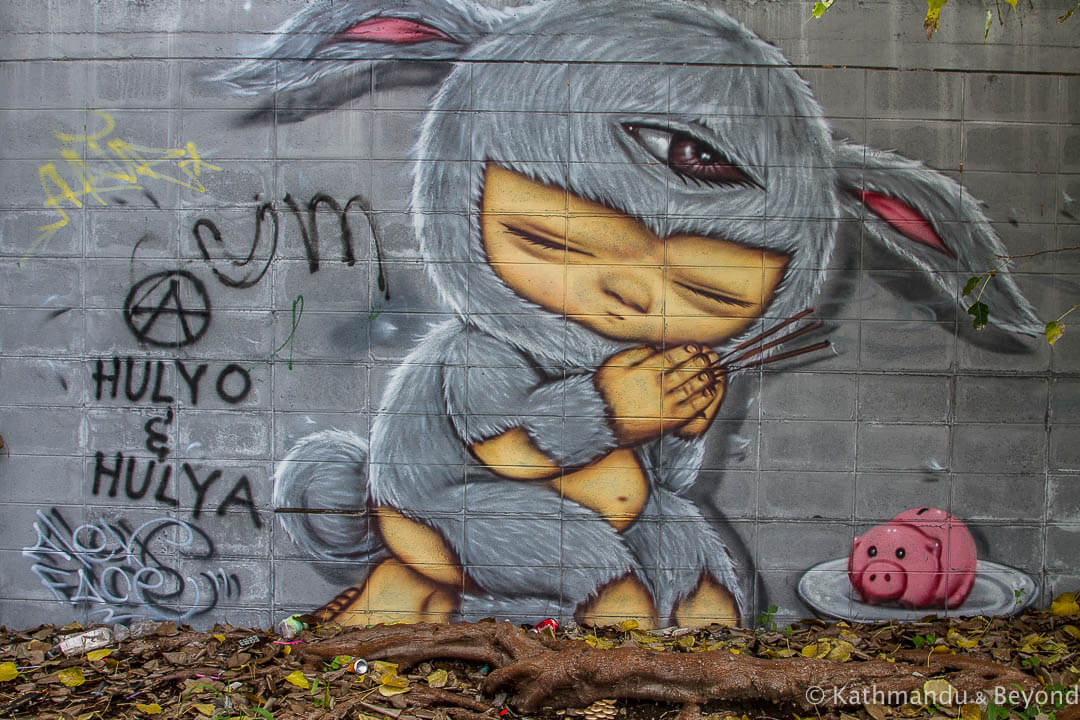 Former Navy Barracks in Pula, Croatia
There wasn't much urban art inside this old military cantonment but this piece caught our eye and made us smirk.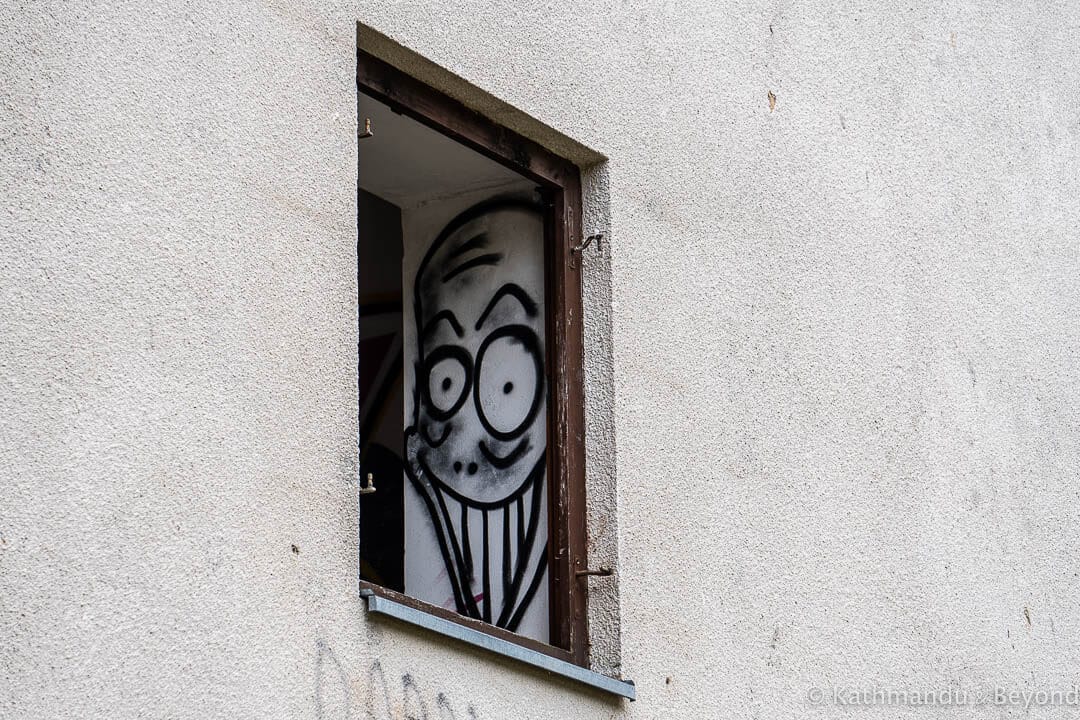 Volta Factory in Tallinn, Estonia
Yet another building not really covered in street art, but this image inside this former factory on the outskirts of Tallinn gave us the willies (no pun intended!) when we stumbled across it while rooting around.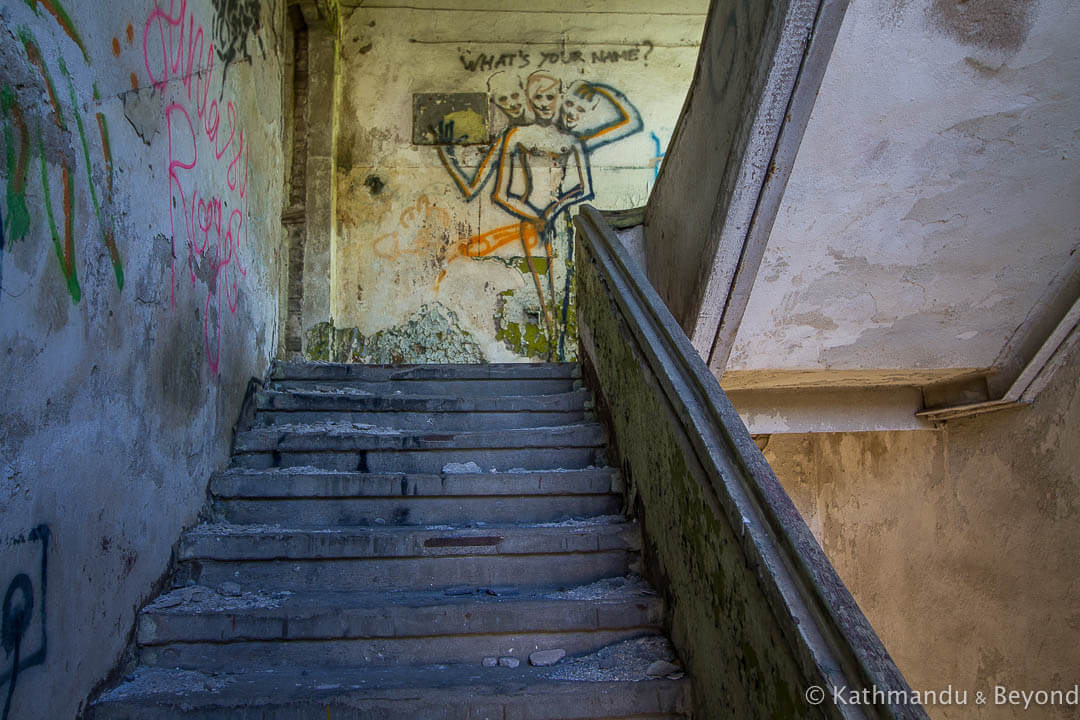 Qianyue Building in Taichung, Taiwan
Generally speaking, there is some high-quality street art in Taiwan and the stuff in this quasi-abandoned construction in the heart of Taichung was no exception. In fact, two street art collectives have set up base on the fifth floor of the building and I suspect there is even more urban art there now than there was when we visited in January 2018.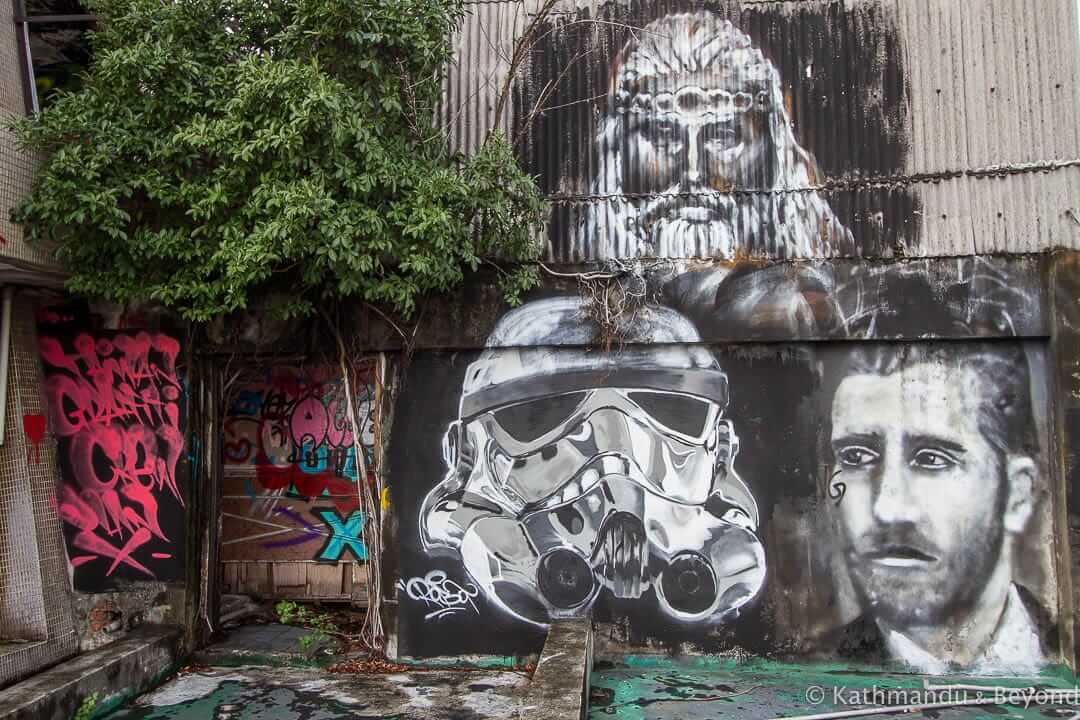 Haludovo Palace Hotel on Krk Island, Croatia
I intend to write more about this abandoned hotel that was constructed in the late 1960s and included Bob Guccione, the founder of Penthouse magazine, as one of its major investors. But, in the meantime, you'll have to be content with some of the spray art that covers part of the hotel's lobby and outdoor swimming pool.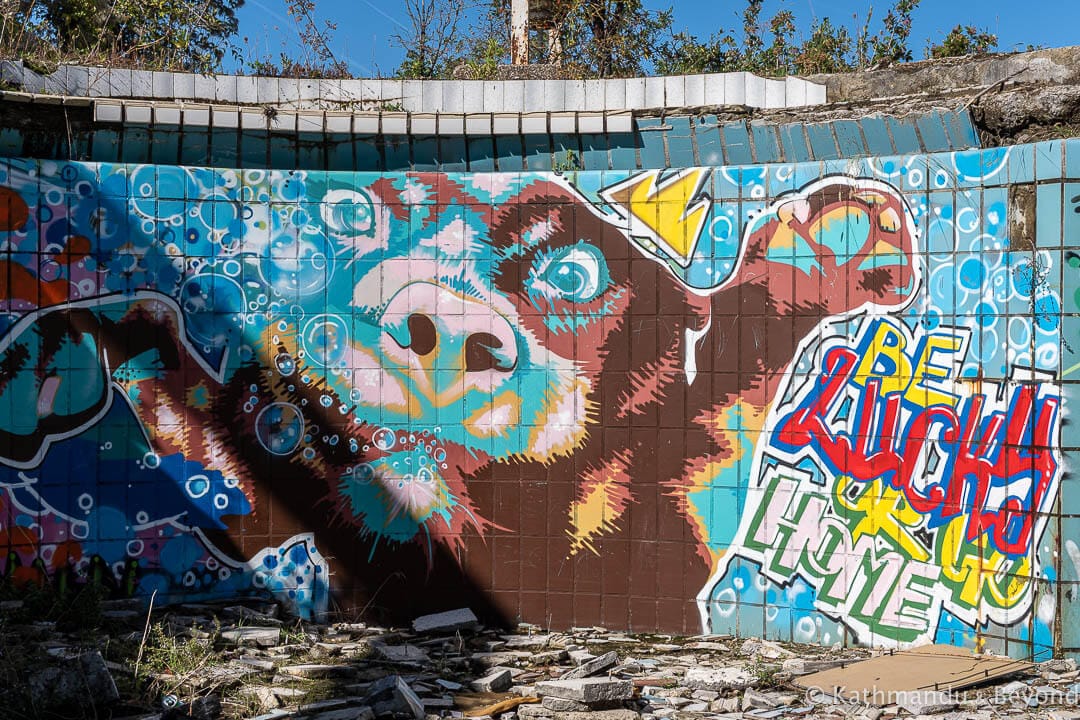 Abandoned villas in Kep, Cambodia
There are plenty of murals covering the once-glorious, French colonial-era, villas in the Cambodian seaside town of Kep. There were so many, in fact, that Kirsty put together a dedicated photo essay on the subject.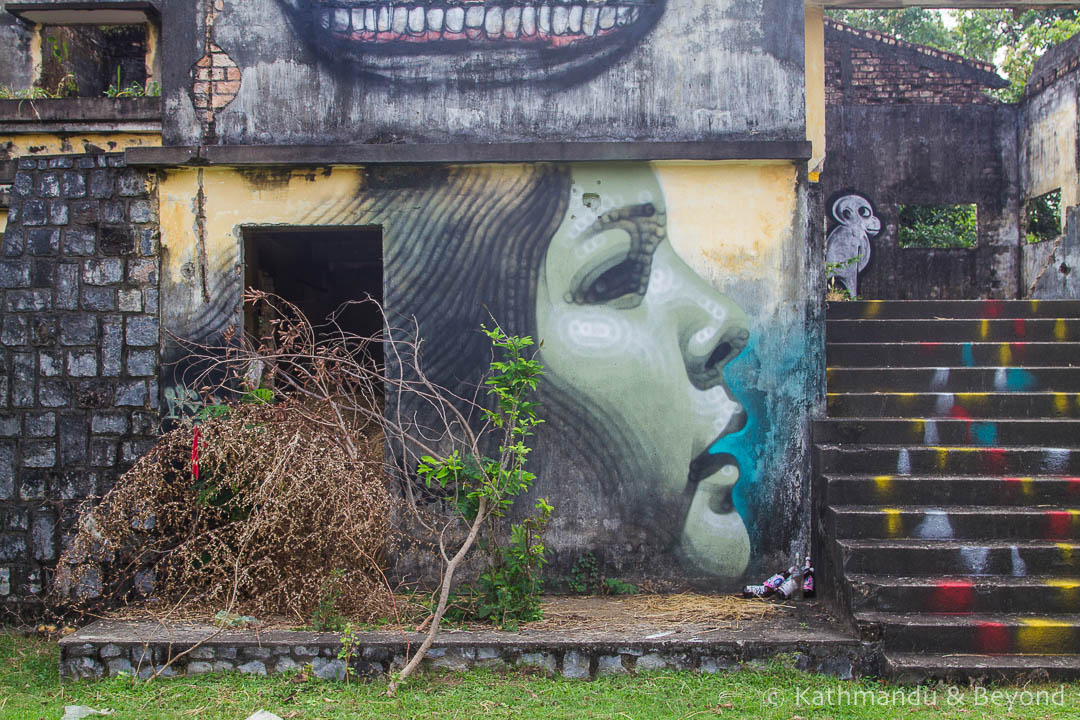 Rummu Quarry (Rummu Underwater Prison) in Estonia
There is only one piece of street art at this one-time hard labour penal institution, better known as Rummu Underwater Prison, situated 45km southwest of Tallinn but, it's a quite a decent one and blends in nicely with its surroundings.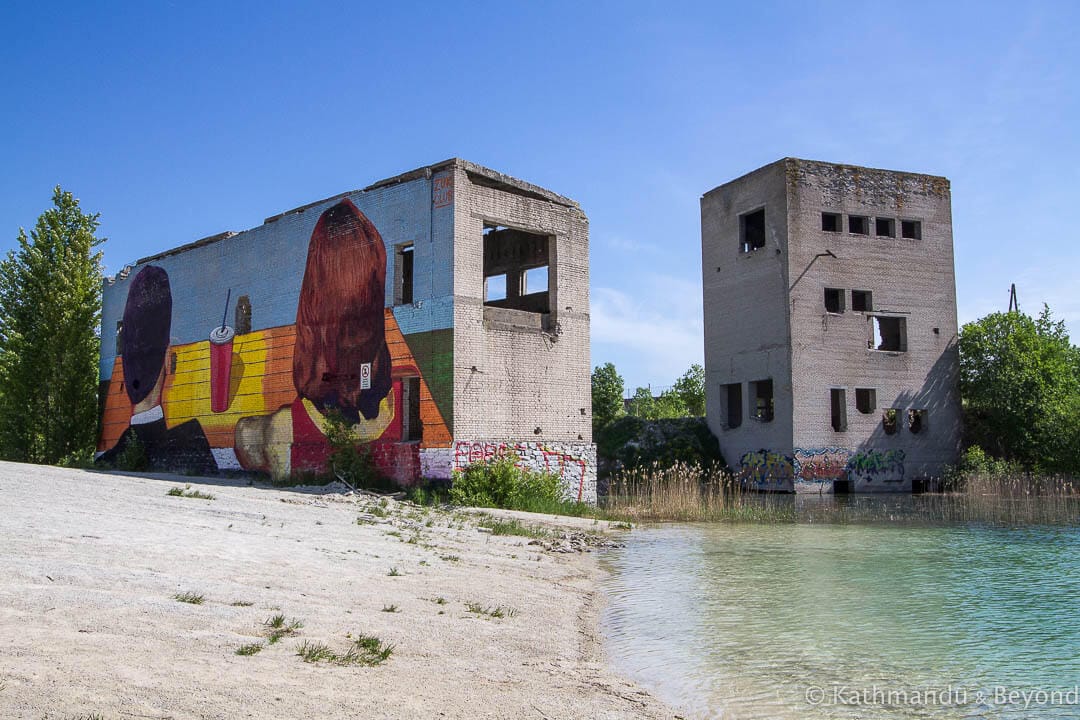 Olympic Bobsleigh and Luge Track in Sarajevo, Bosnia and Herzegovina
Pretty much the entire length of this bobsleigh and luge track, which is situated above the city on Mount Trebevic and was constructed for the 1984 Winter Olympics, is covered in street art. Most of it is unimaginative graffiti and tags but, every now and then, you do come across a piece that necessitated a bit more creativity.
The former 1984 Winter Olympics bobsleigh and luge track is situated on Mount Trebevic above Sarajevo. Almost the entire length of it is now covered in street art, most of which is unimaginative graffiti and tags, but in places there are pieces that are more creative.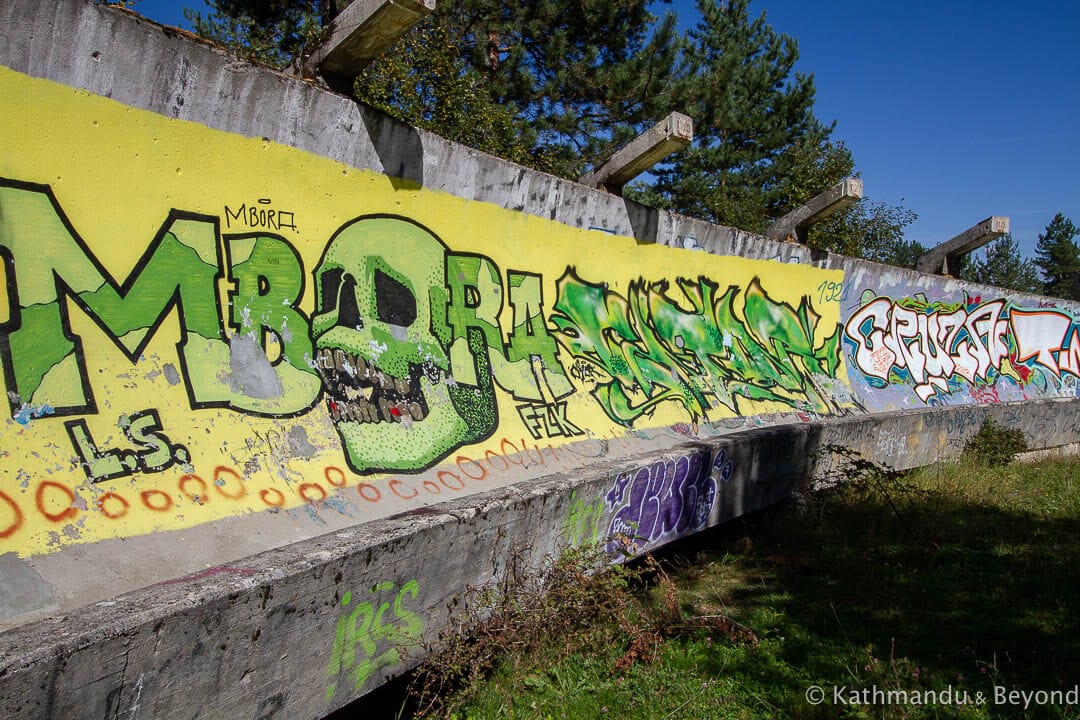 There you have it, a selection of the best graffiti and street art in abandoned buildings that we have come across during urban exploration. If you enjoyed the post, why not pin it to your travel, street art or abandoned places boards…



---
---
---