The best places to find street art in Chiang Mai
One of the reasons we return to Chiang Mai time and time again is that many things there never change. The familiarity means it feels like home. But one thing that is always evolving in Chiang Mai is the street art scene. Despite photographing Chiang Mai's street art and graffiti for several years, I have never put it into a post until now, when I have finally put together a little round-up from our most recent visit.
Dream Space Gallery Chiang Mai – my new favourite place for street art in Thailand
Indoor street art may seem like an oxymoron but it works for me. During our most recent stay in Chiang Mai, I came across the Dream Space Gallery. It's only a ten-minute walk from where we stay, yet I didn't know of its existence until I read an article about a new piece of neon artwork in Chiang Mai by Spanish artist Spidertag and began to search for the location.
After a couple of false leads, I ended up in front of the Dream Graffiti shop where, on a wall outside was Spidertag's December 2019 piece, Interactive Neon Mural #7. The small shop sells spray paint cans to local artists but it quickly became obvious that there was a lot more going on here.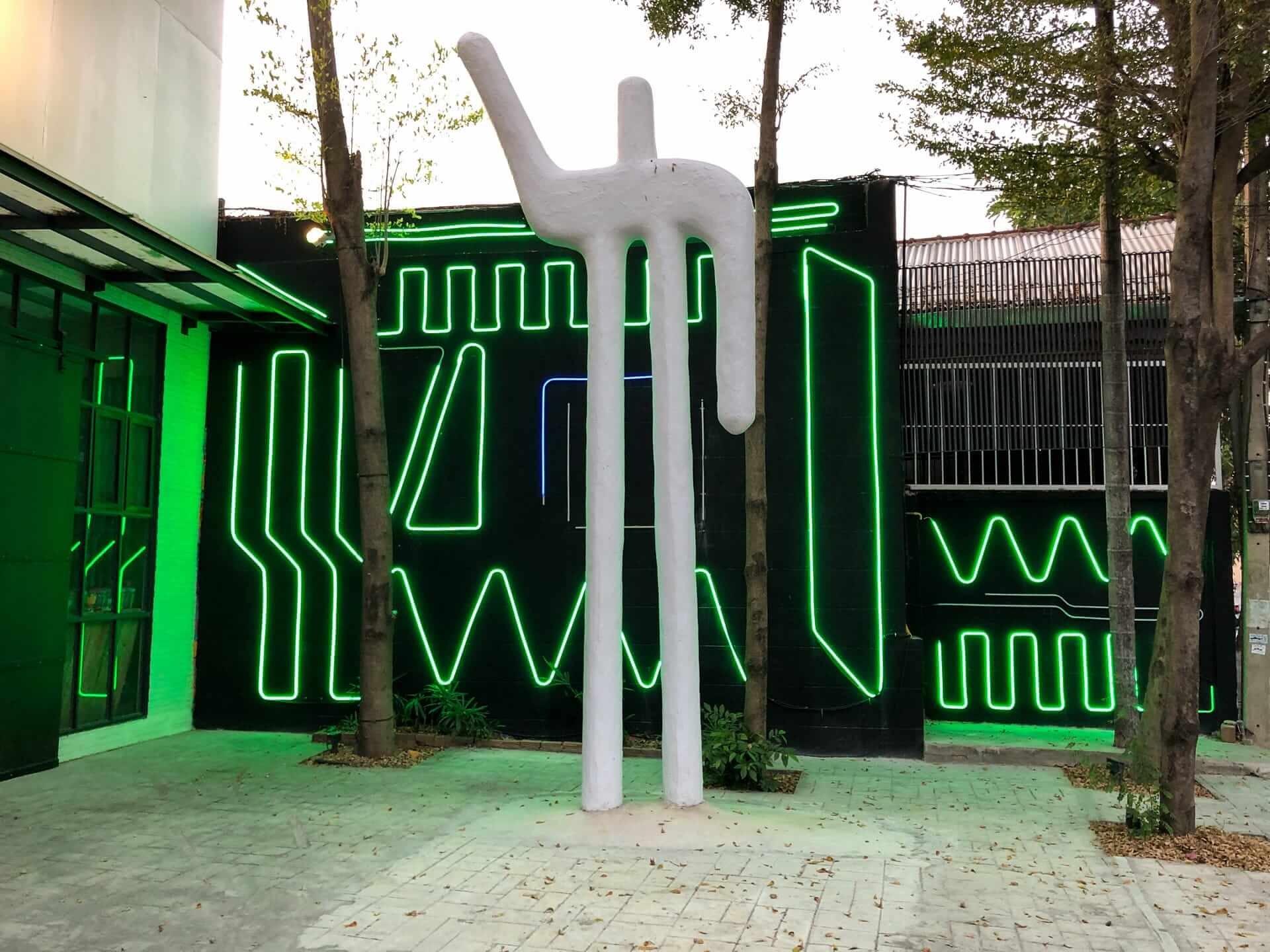 From the outside, the Dream Space Gallery is big but looks deceive the cavernous spaces within. The complex is made up of a series of three, or maybe more, large buildings and a courtyard.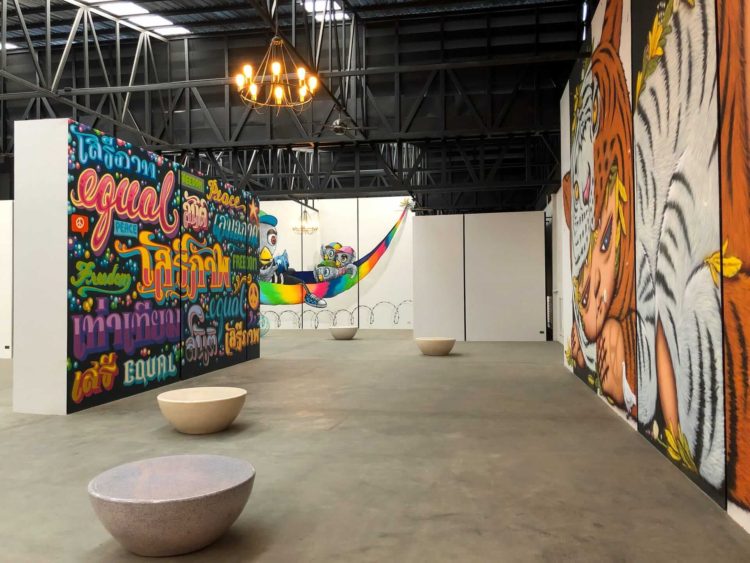 Adjacent to the shop is Spidertag's neon lights mural. I'm told it's a permanent installation but it's not constantly illuminated during the day. Someone will turn on the lights but for maximum lights-shining-in-the-dark effect, visit in the late afternoon (but not later than the store closing time of 6pm) as the light is fading. Beyond the graffiti paint shop, there is a small gallery that, at the time of our visit, contained an exhibition of more of Spidertag's neon artwork, Reflexions of the Neon Dream. I don't know how long his neon display will remain as I believe this gallery space will host different guest artists over time.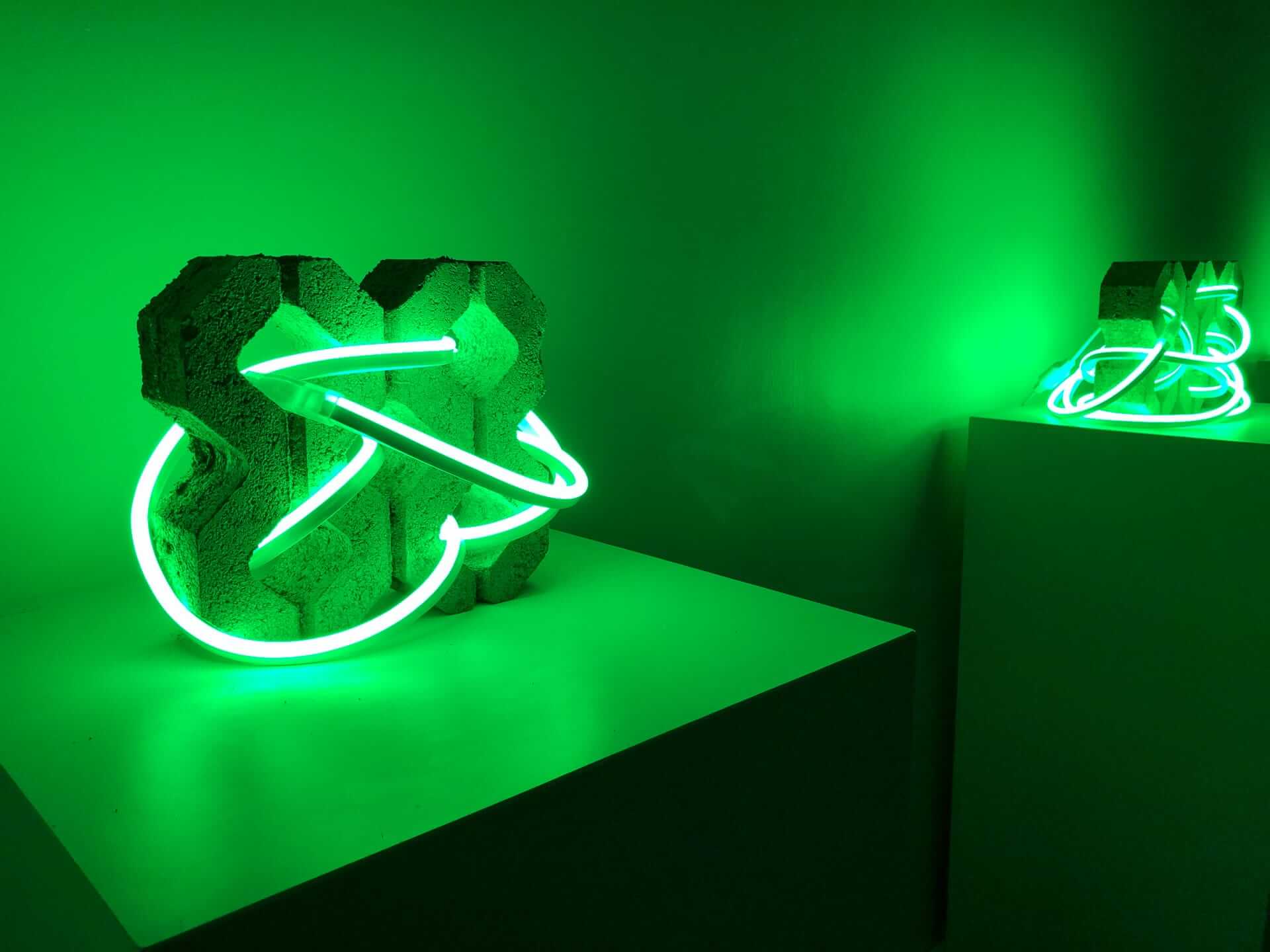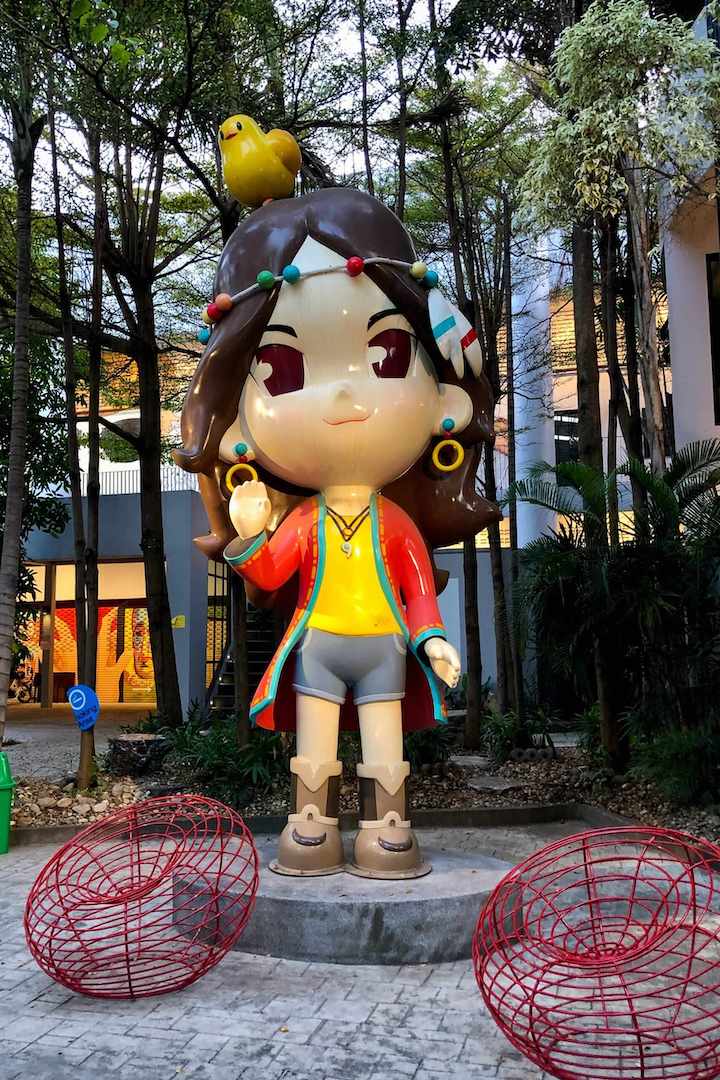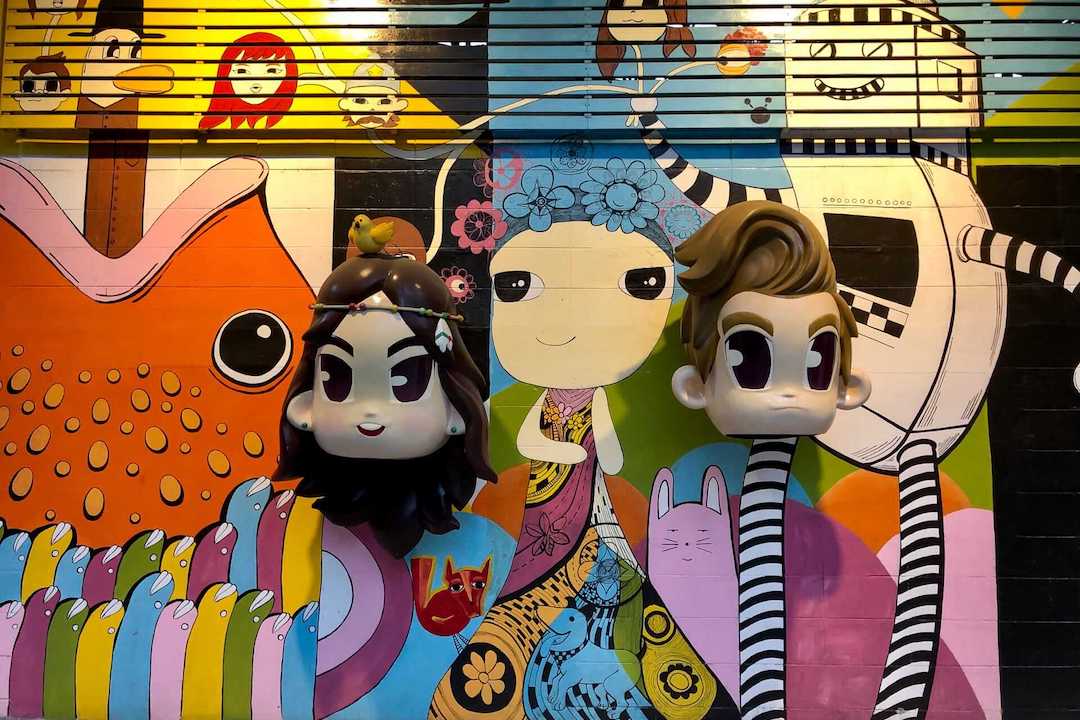 The courtyard is home to some large and colourful statues which appear to be made from fibreglass and reminded me of the artwork we saw in Taiwan at the Pier 2 Art Centre in Kaohsiung.
Beyond the courtyard is a series of huge spaces. Not quite an aircraft hangar kind of huge but certainly enormous spaces with equally big walls. These vast blank canvasses are perfect for some of Thailand's best street artists and international visitors to decorate! The result is a gigantic indoor street art gallery.
There are some amazing murals at the Dream Space Gallery including work from two of my favourite street artists, Alex Face and MueBon. Both of these Bangkok-based Thai artists paint characters that make their work instantly recognisable. Alex Face's art features Mardi, a child dressed in a bunny costume with a third eye, and MueBon frequently paints Pukruk, a cartoon bird with an oversized head and beak.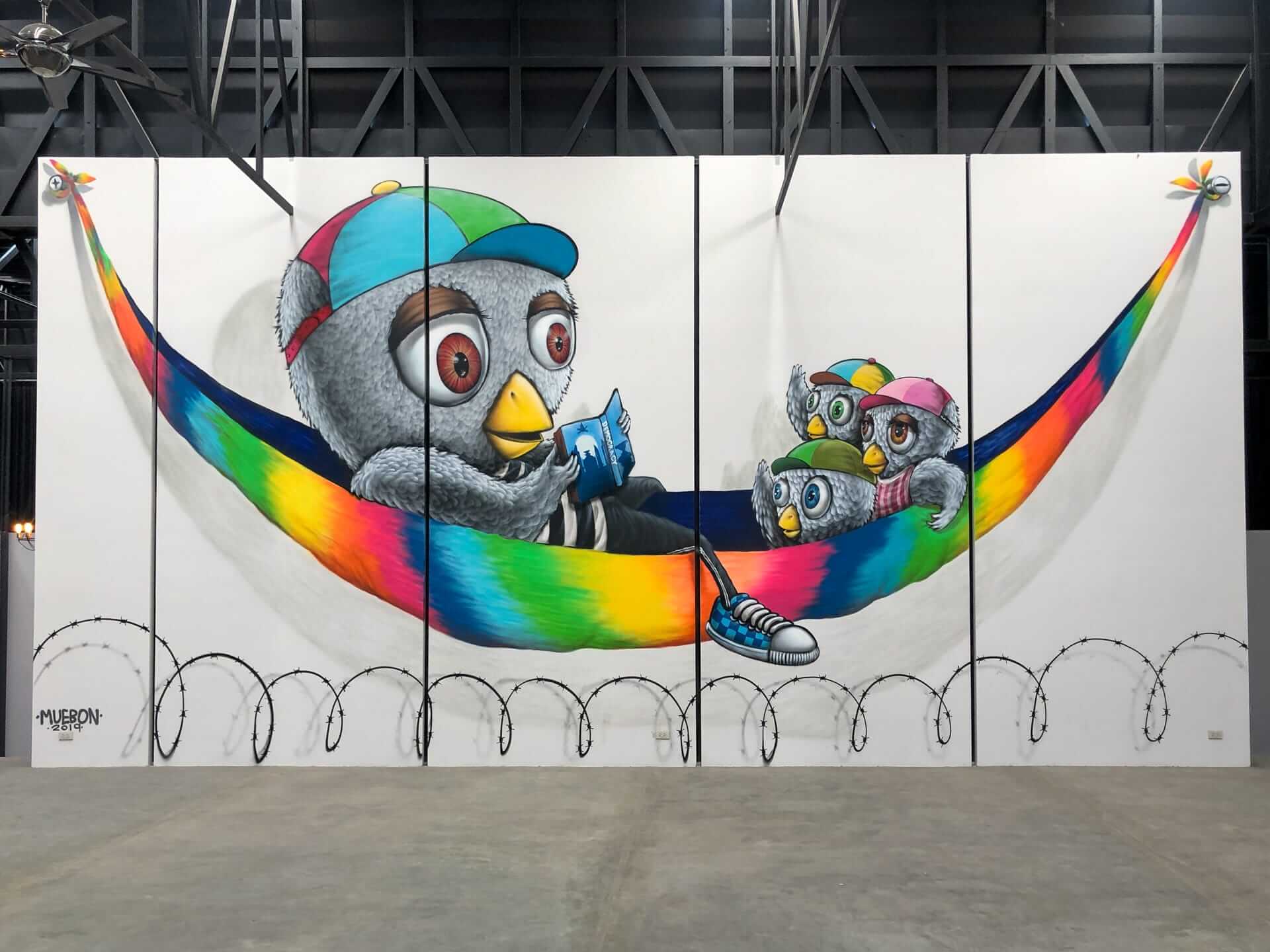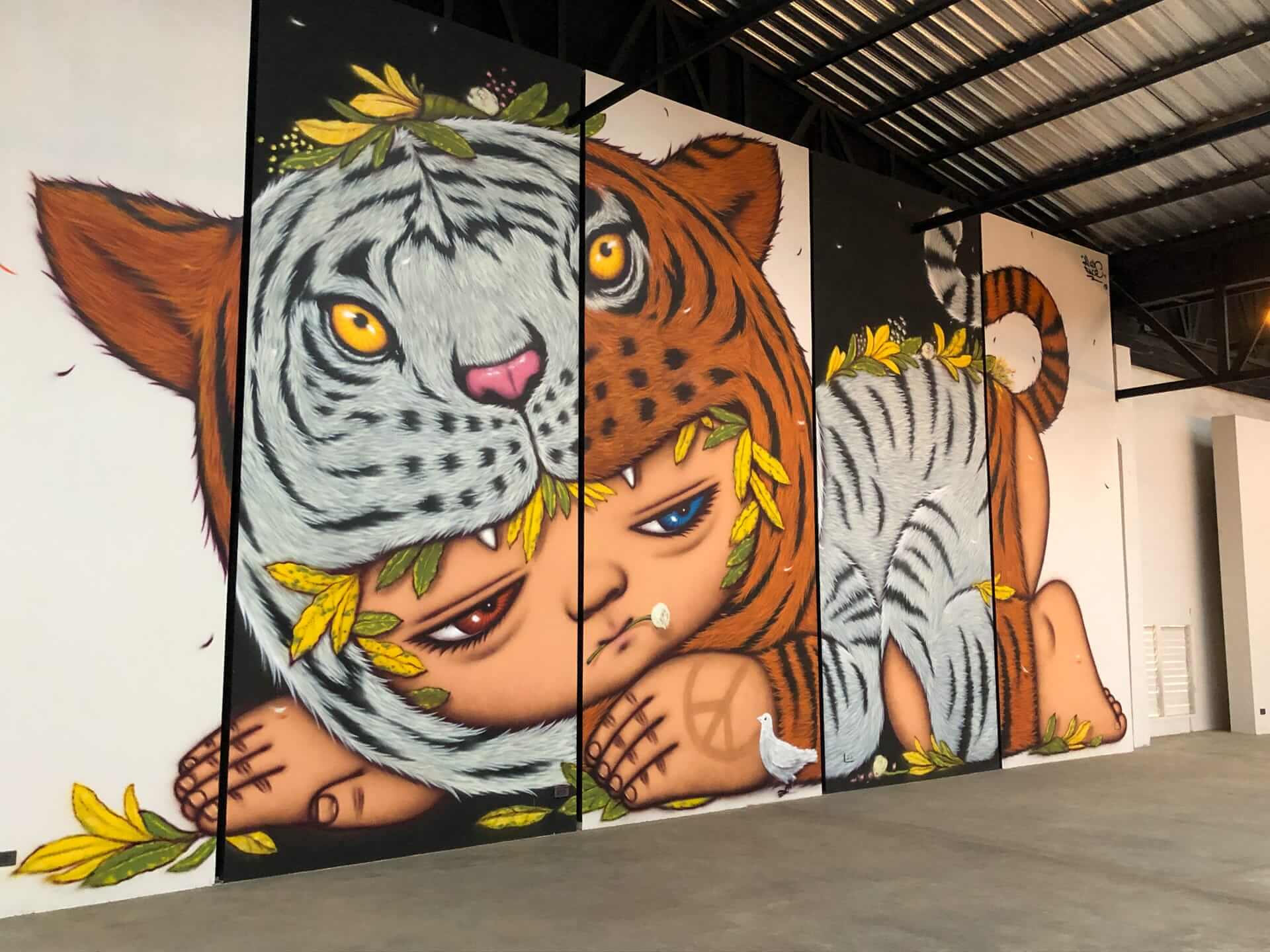 Another artist whose work features heavily at Dream Space Gallery is Joker EB. Not to be confused with the Italian street artist, Joker, the Thai Joker uses the moniker Joker EB Crew (Endless Bewitch Crew). I couldn't find out a lot about the artist, except that he/she is also from Bangkok and is known for his graffiti-style lettering. His paintings at the Dream Space Gallery appear to be a departure from that style and are impressive pieces of art.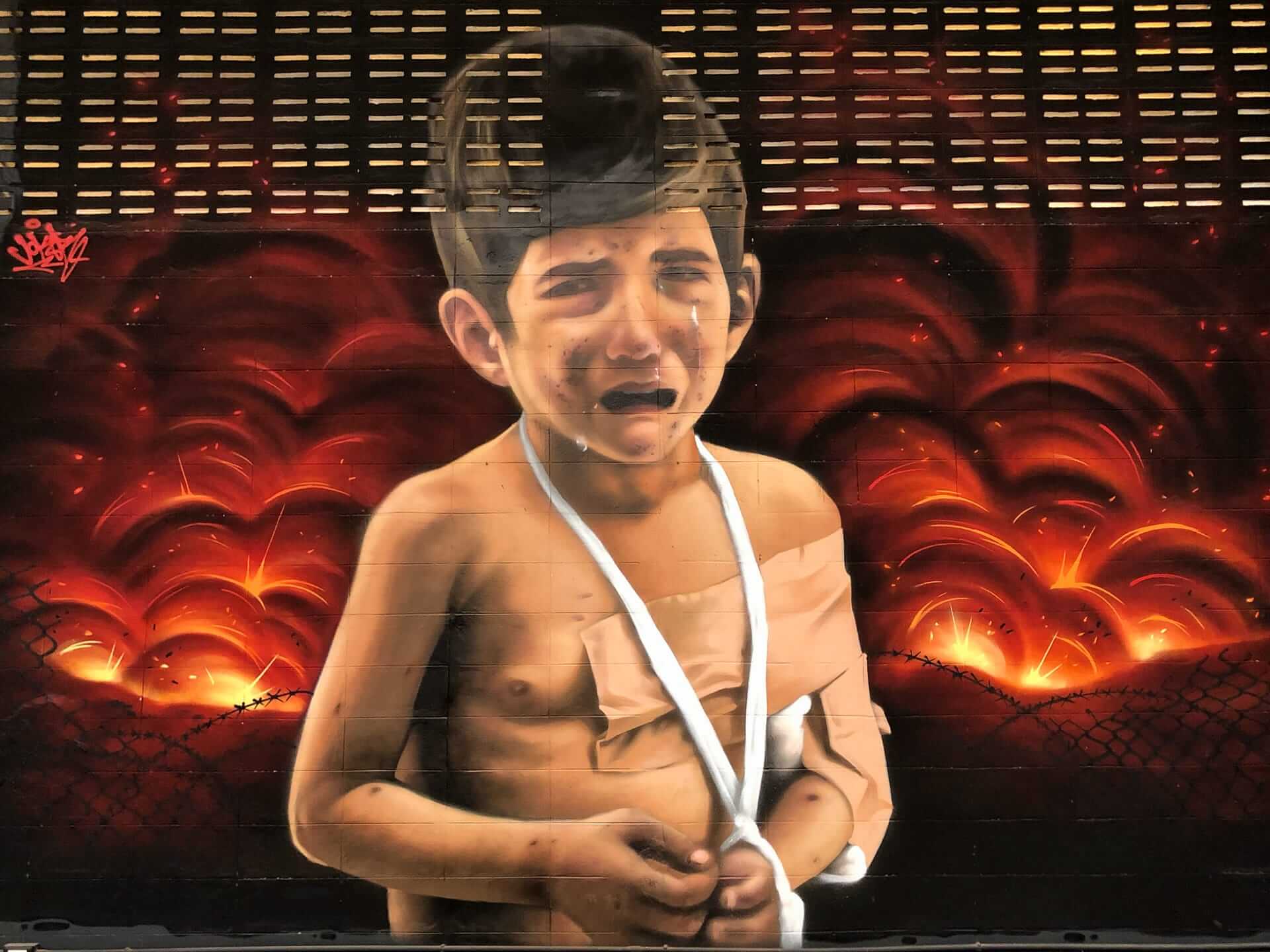 Whether the murals at Chiang Mai's Dream Space Gallery qualify as street art or art by street artists, it doesn't matter. It's a fantastic project and I hope it continues to thrive. The indoor gallery is a great idea and shows how seamlessly street art can transition into conventional art and gives credibility to a form of creativity that many would claim lacks skill and cannot be called a profession.
I don't know what the long term plans for the artwork are – whether or not once all the walls have been adorned, it will become a permanent exhibition or whether as with more conventional street art, their lifespan is limited until either another commission is accepted, or simply painted over.
The Dream Space Gallery is open from 10.30am to 6pm (closed on Monday). The location is pinned on Google maps here.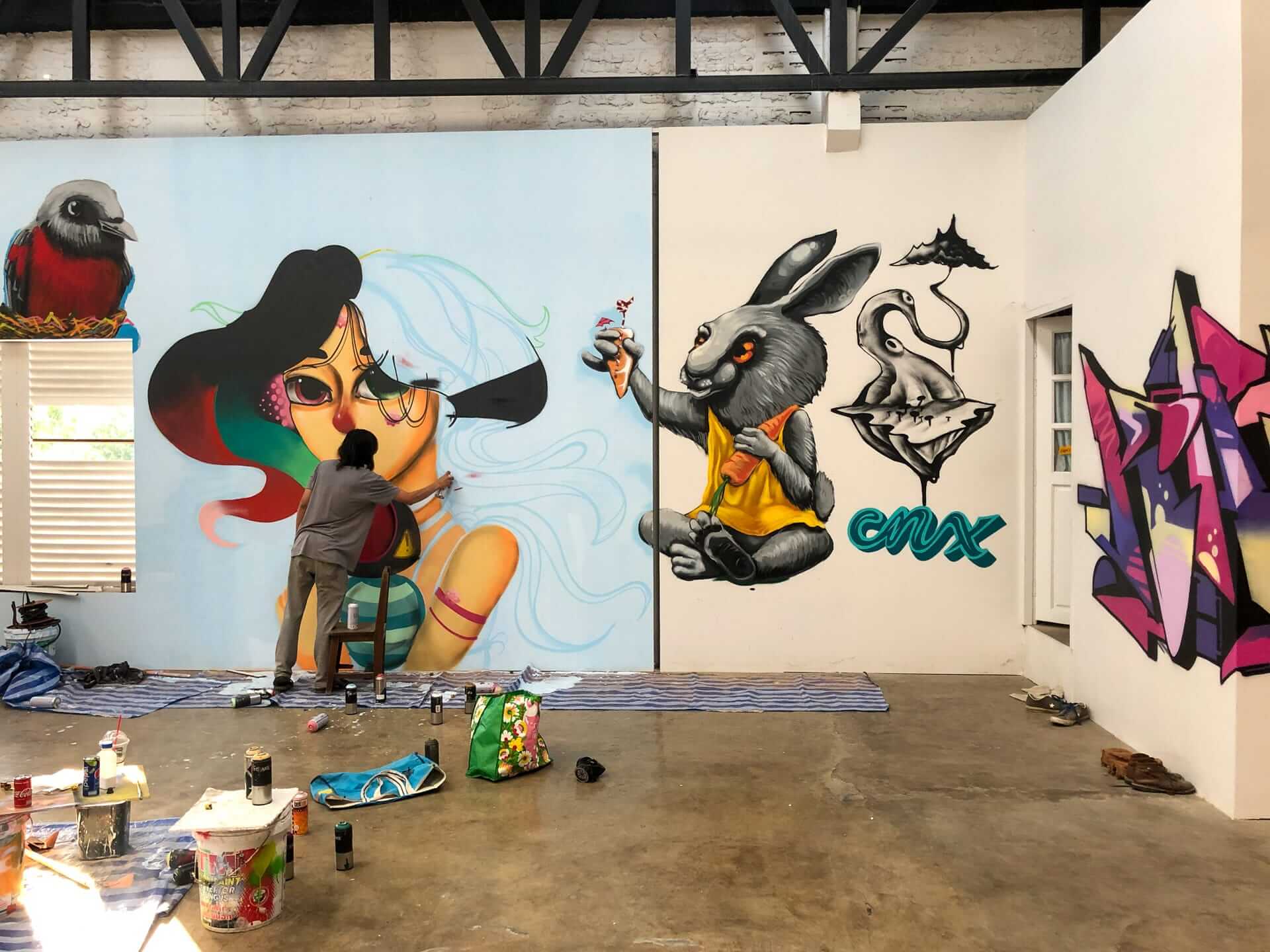 Street Art at Chiang Mai's abandoned women's prison
We first discovered the street art and graffiti around the exterior walls of the abandoned prison in Chiang Mai back in 2017. Each time we revisit Chiang Mai I head back to this same spot to see what is new. The observant street art geek will notice that many of the artworks are done by the same group of artists. The names that you repeatedly see signed on the walls here (and all over Chiang Mai) are Mauy, Waris Dump and Nap, all Chiang Mai artists from the MSV Crew. This team of upcoming street artists has risen in profile enormously over the past five years and as well as seeing their street art across Chiang Mai, you may also start seeing it around the world.
I don't know if the MSV Crew have some kind of unofficial (or even official) arrangement that the walls of the abandoned prison are theirs to paint, but if any of the art gets painted over, it's usually by their own spray cans.
Whilst some of the street art here endures the test of time, there is always something new to see.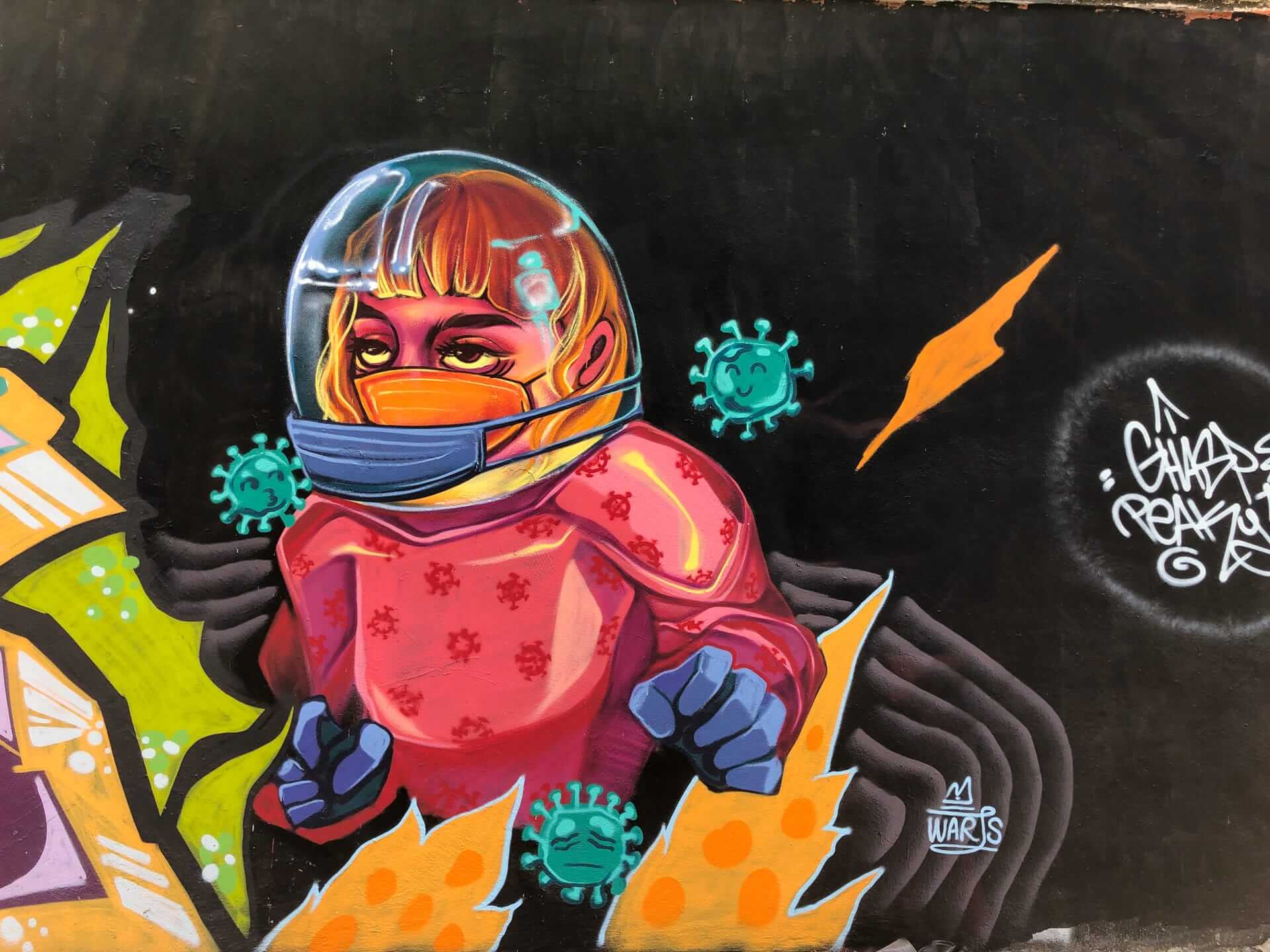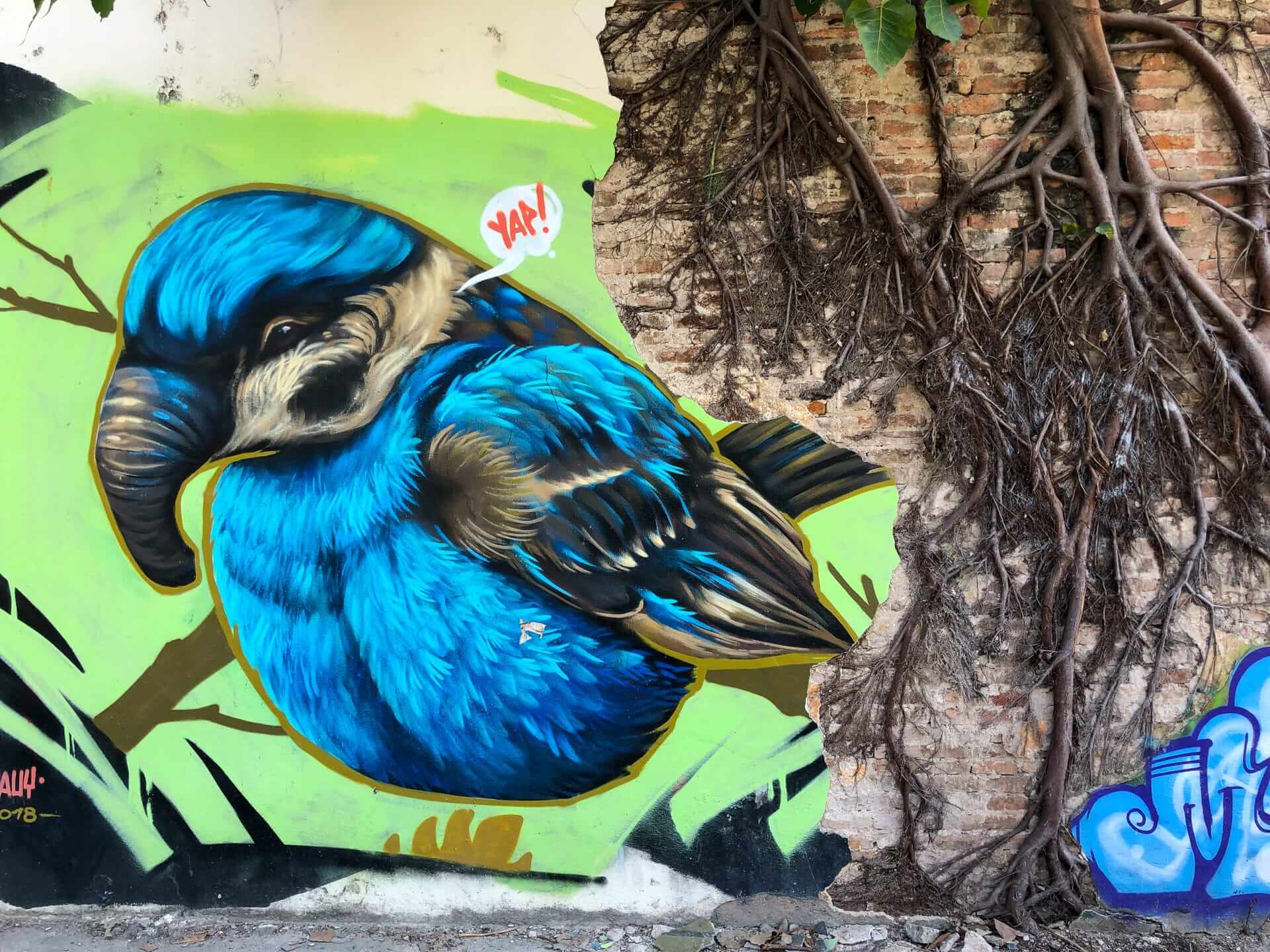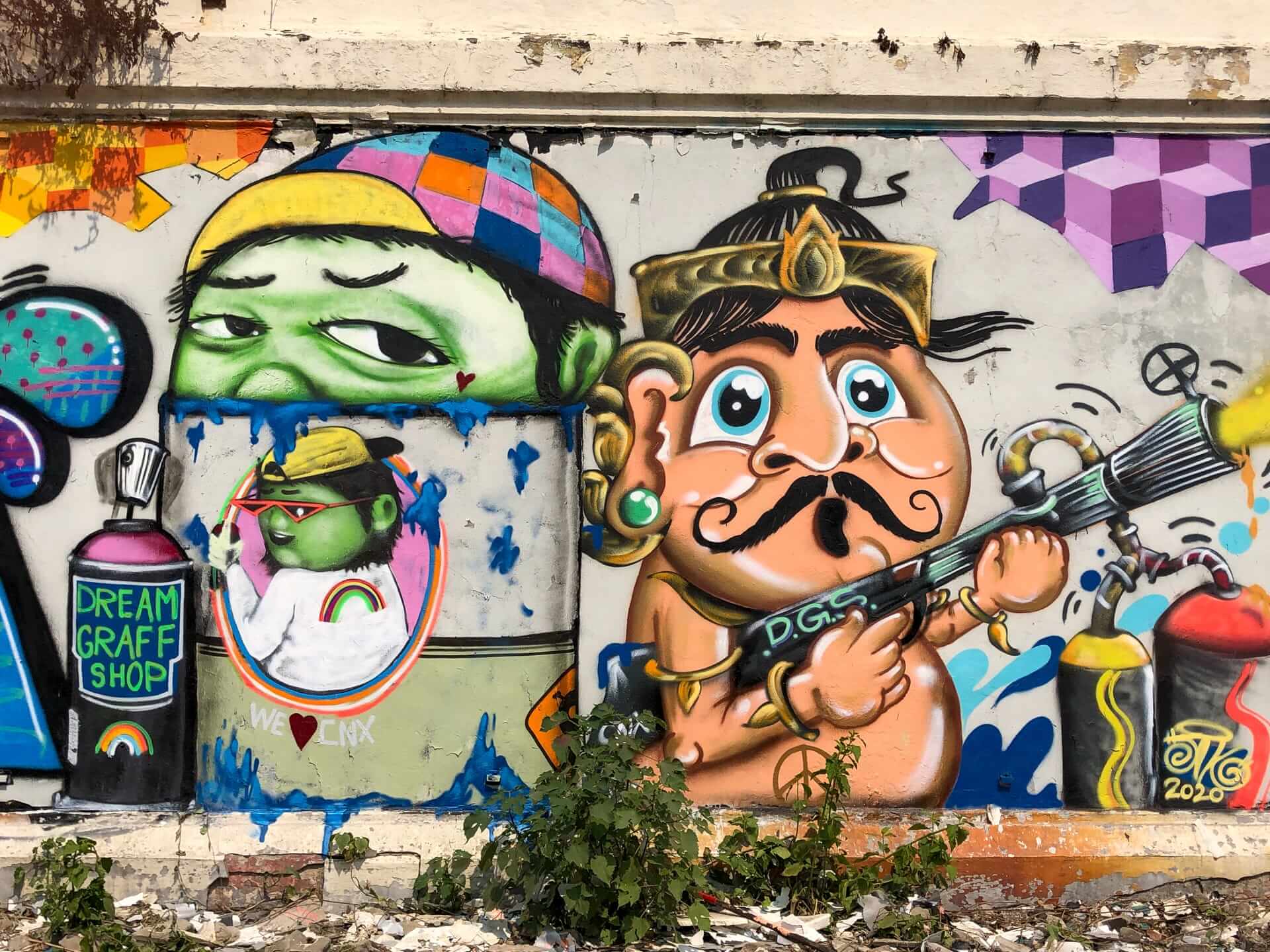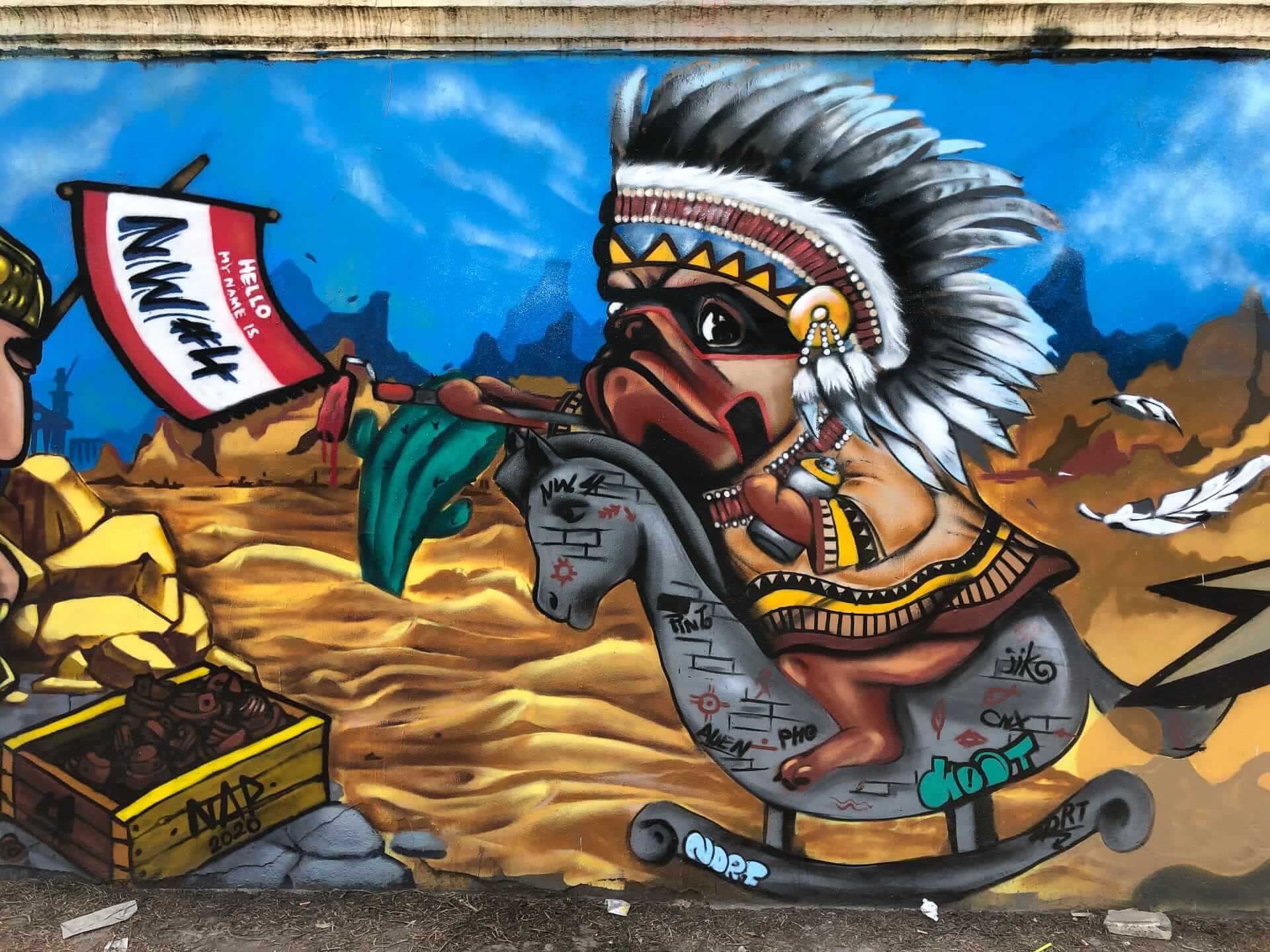 Tona Street Art in Chiang Mai
The Dream Space Gallery wasn't my only new street art discovery during our recent stay in Chiang Mai. I began noticing small stencil-like figures dotted around the city. At first, it was one or two here and there, but all of a sudden they appeared everywhere I looked. The distinctive style always features either a single girl or boy or a girl and boy together and is usually monochromatic. The artist is Tona and he comes from Germany. As well as stencil work, Tona often creates paste-up art, but (as far as I know) always in the same style: apparently, his characters are inspired by children he meets whilst travelling. And he certainly appears to enjoy travelling for his art: his creations can be seen across Europe and Asia. Tona has left his mark in multiple towns and cities across India, and in unlikely locations such as Luang Prabang in Laos, Tona's characters are usually quite small and he appears to choose to paint (or stencil or paste) in unloved places and unassuming locations. For example, where the figures can be part-hidden by undergrowth, over places already covered in graffiti, derelict places such as abandoned phone boxes, and crumbling walls.
From his Instagram account, it would seem that Tona was busy stencilling across Chiang Mai throughout December 2019 and January 2020, exactly the time we were last there. Whilst there is a certain amount of repetitiveness to Tona's work I found myself a bit addicted to photographing every piece I saw despite Mark's grumbles that "they all look the same". Even so, I had a hard job choosing my favourite "few" for this post!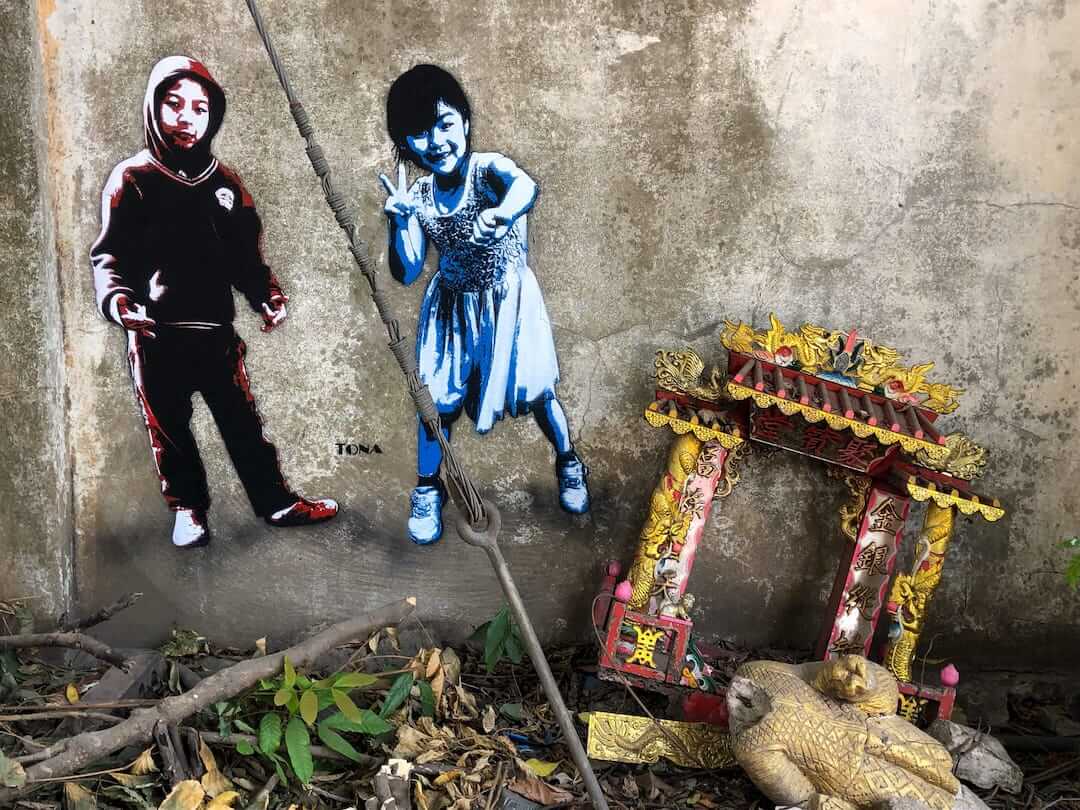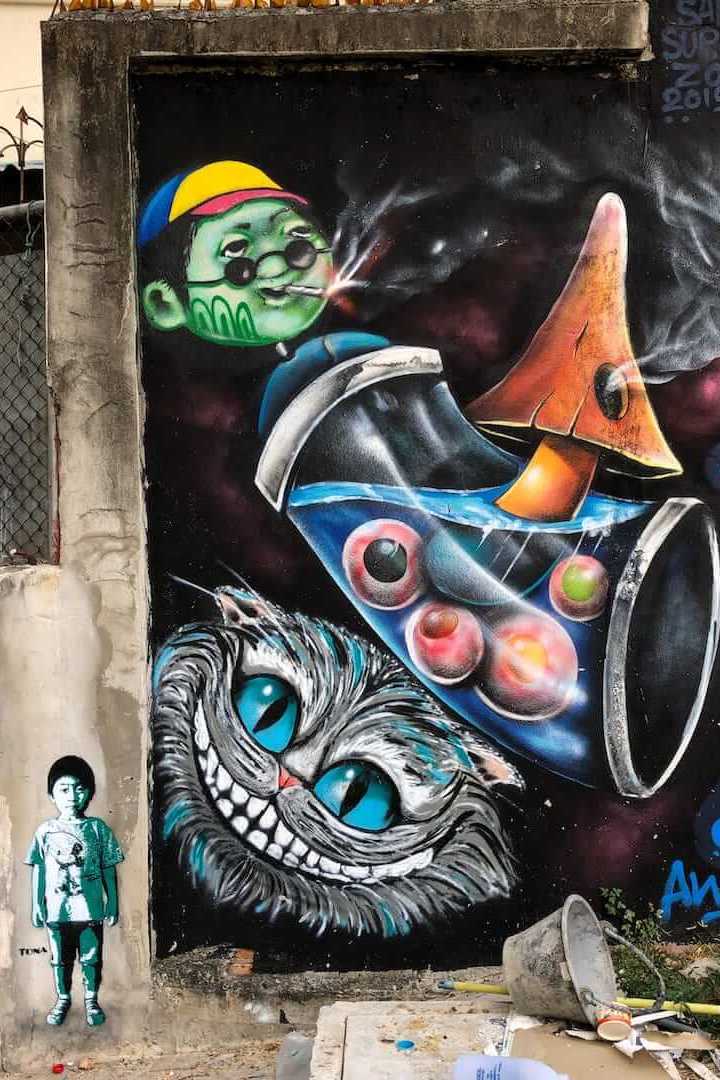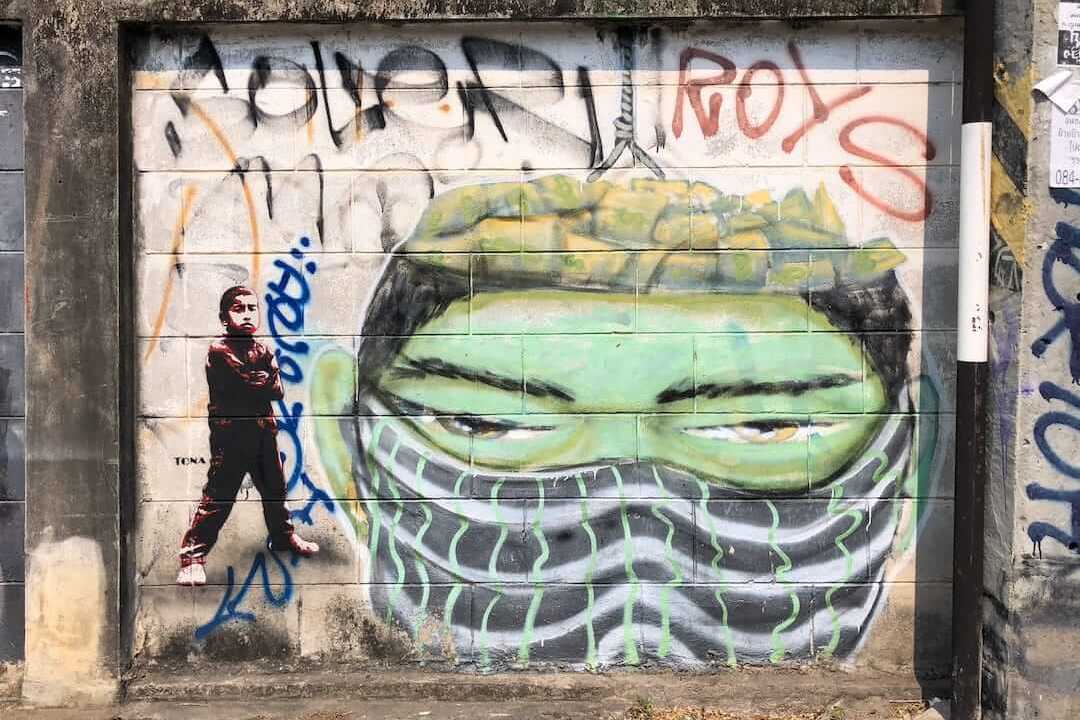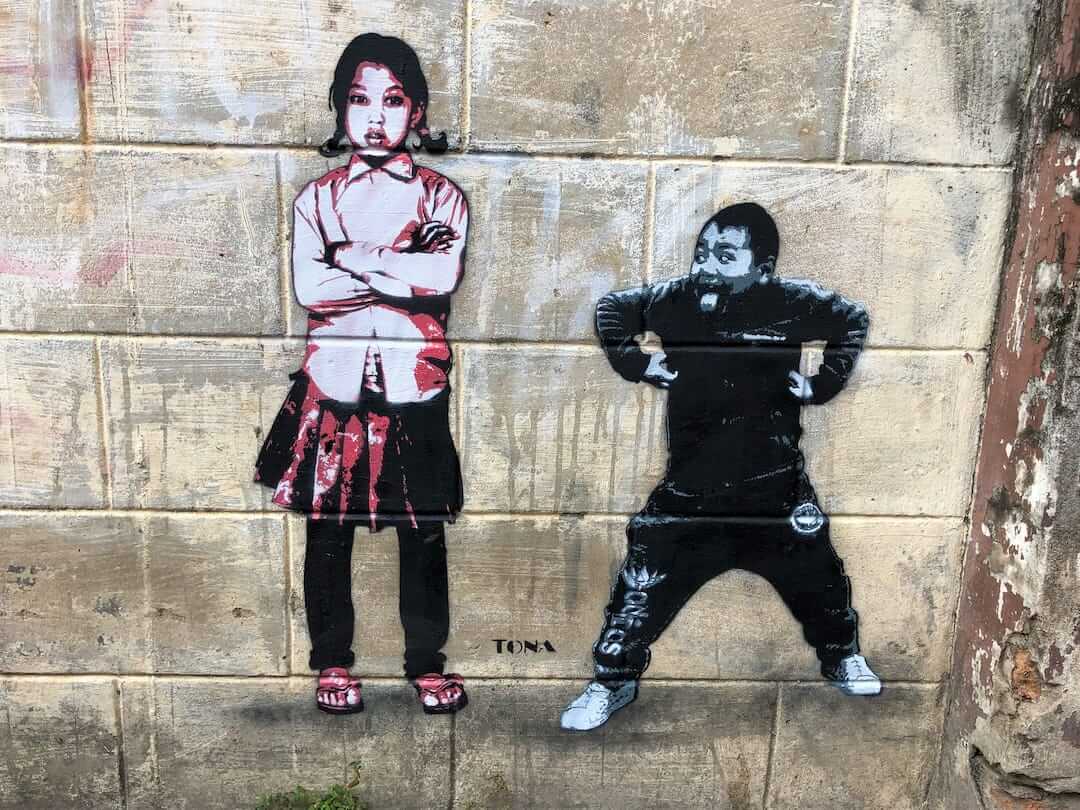 Street Art at Jing Jai Market in Chiang Mai
In June 2019, Style Walls held the first (but hopefully not the last) international Graffiti & Street Art Festival at Jing Jai Market, a little northeast of Chiang Mai's Old Town. On weekend mornings Jing Jai is a lively farmers market where you can buy organic fruit and vegetables, other food, and handicrafts. The rest of the week, the area feels semi-abandoned.
The original street art event lasted three days and featured the work of Chiang Mai favourites, Alex Face and Mauy, among others. Some street art can be found within the market area, but there is also a lot on the walls and among the crumbling buildings along Atsadathon Road.
The main decision to make is whether to visit at a time when the market is taking place and pick up some tasty delights, but risk some of the art being obscured by shoppers and food stands, or miss out on the market and have the area all to yourself.
Jing Jai farmers market is open on weekend mornings only: Saturday and Sunday from 6am to 1pm.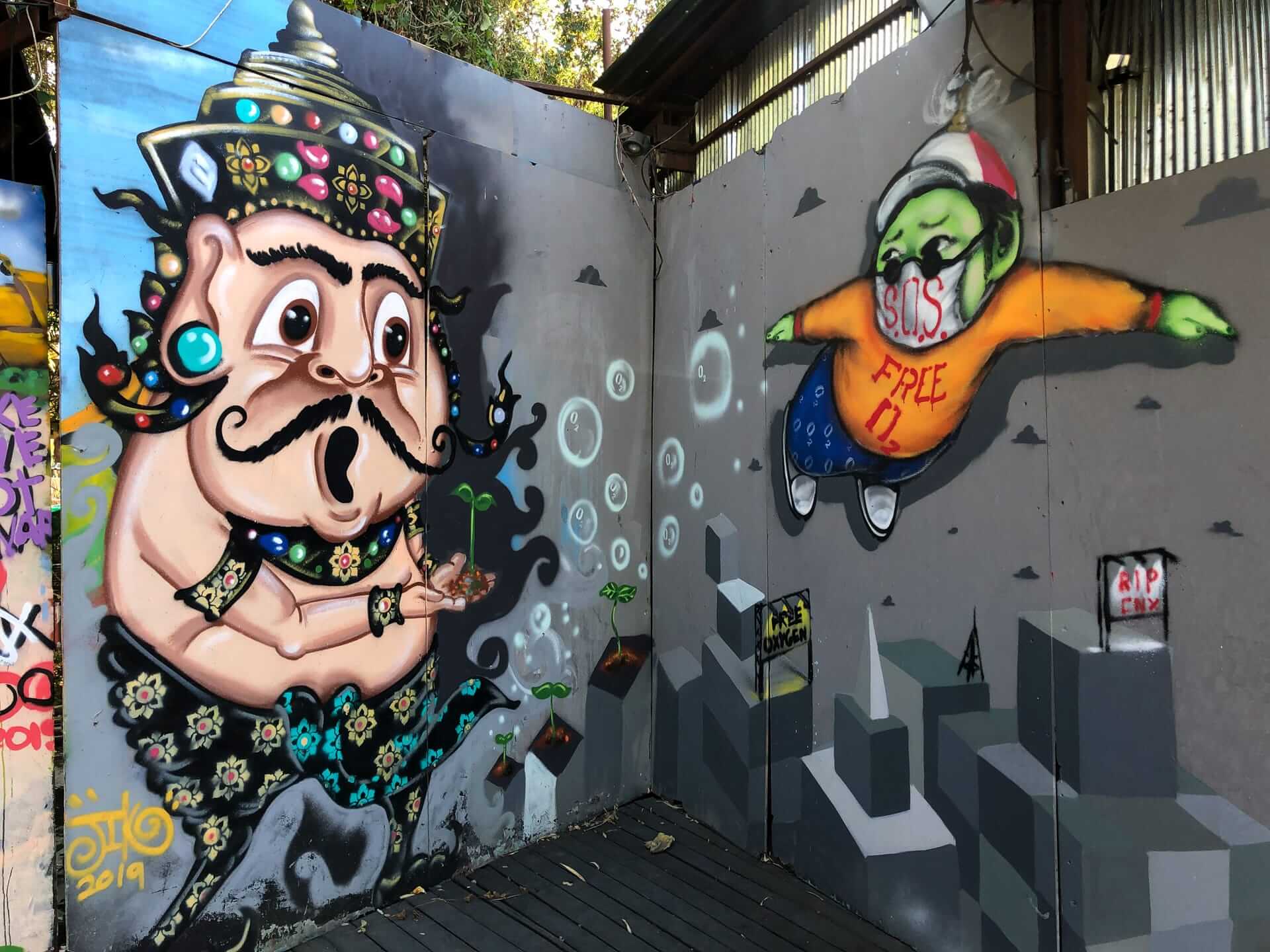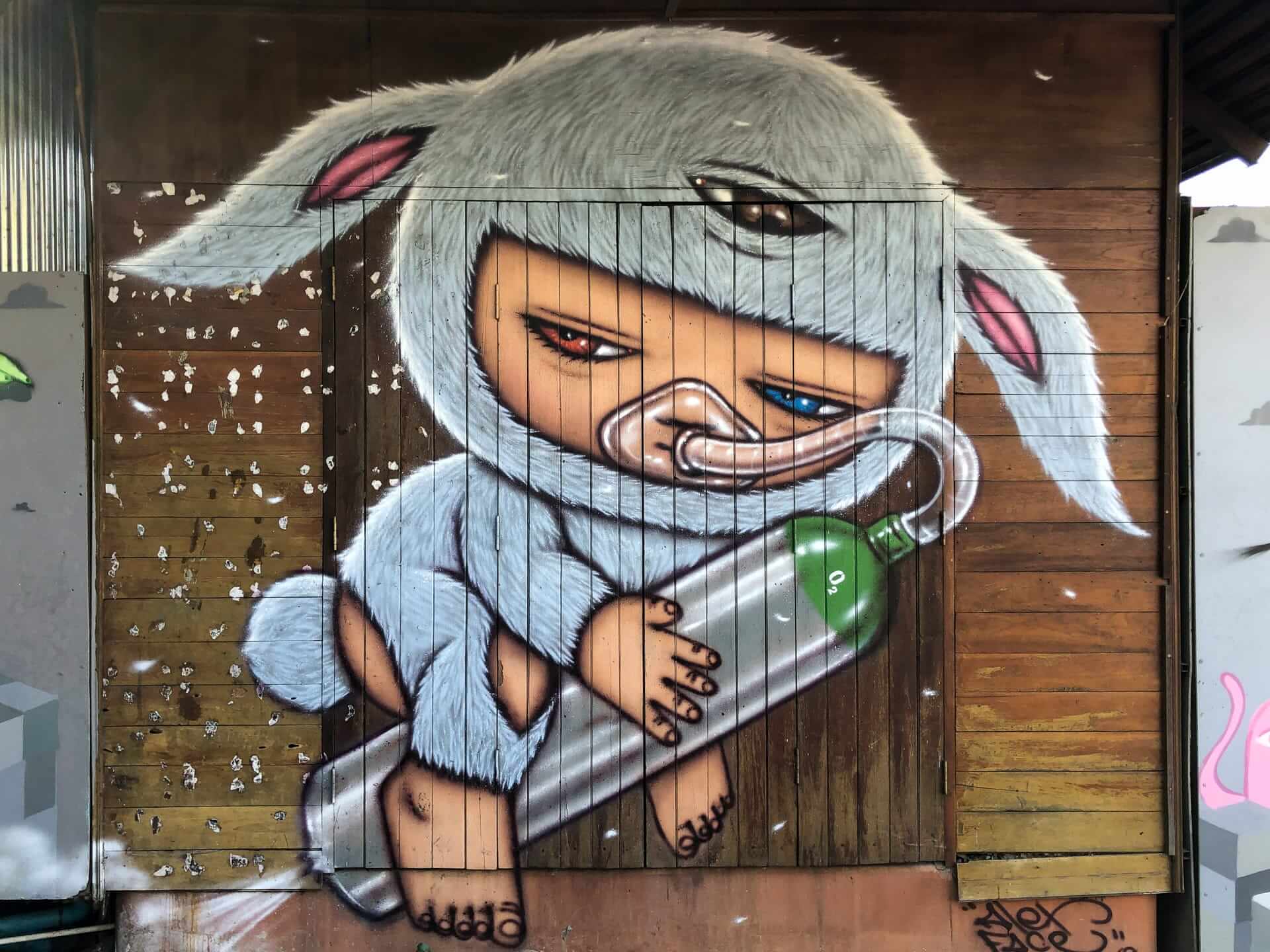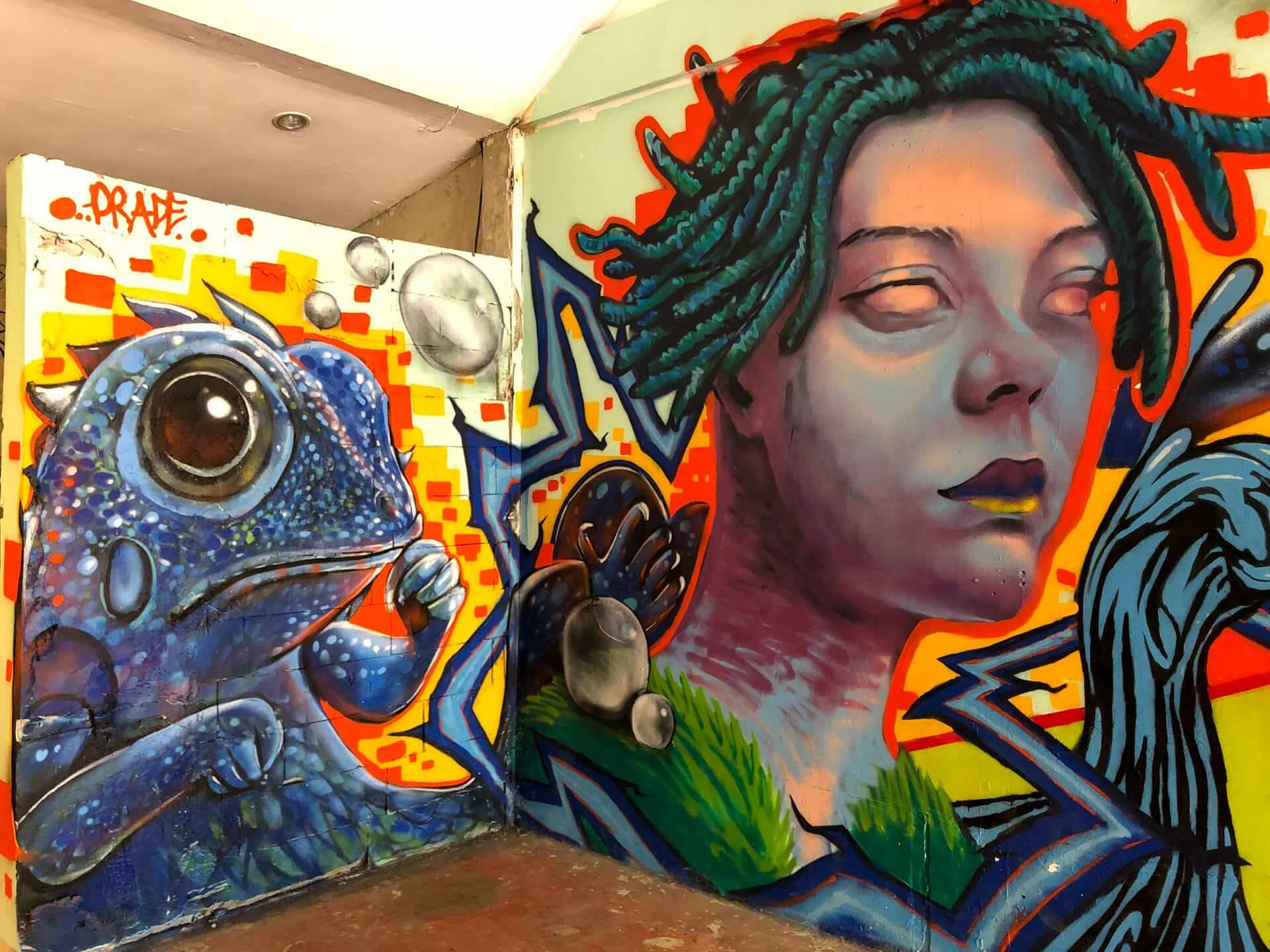 Nimmanhaemin Street Art
Nimmanhaemin (or Nimman for short) has a reputation as being the trendy part of Chiang Mai. It's packed with hip cafes and in the evening is buzzing with Hi-So (elite and wealthy) Thais and all the cool kids. As you can imagine, we don't go there very often! But when it comes to street art, Nimman is worth a visit. The sois (small lanes) branching off Nimmanhaemin Road are the best places to begin your hunt. As with other parts of the city, it's a question of wandering with your eyes open. On the edge of Nimman, the walls of this condo car park on Huaykaew Road usually have some good street art although it frequently gets graffitied over with ugly tags.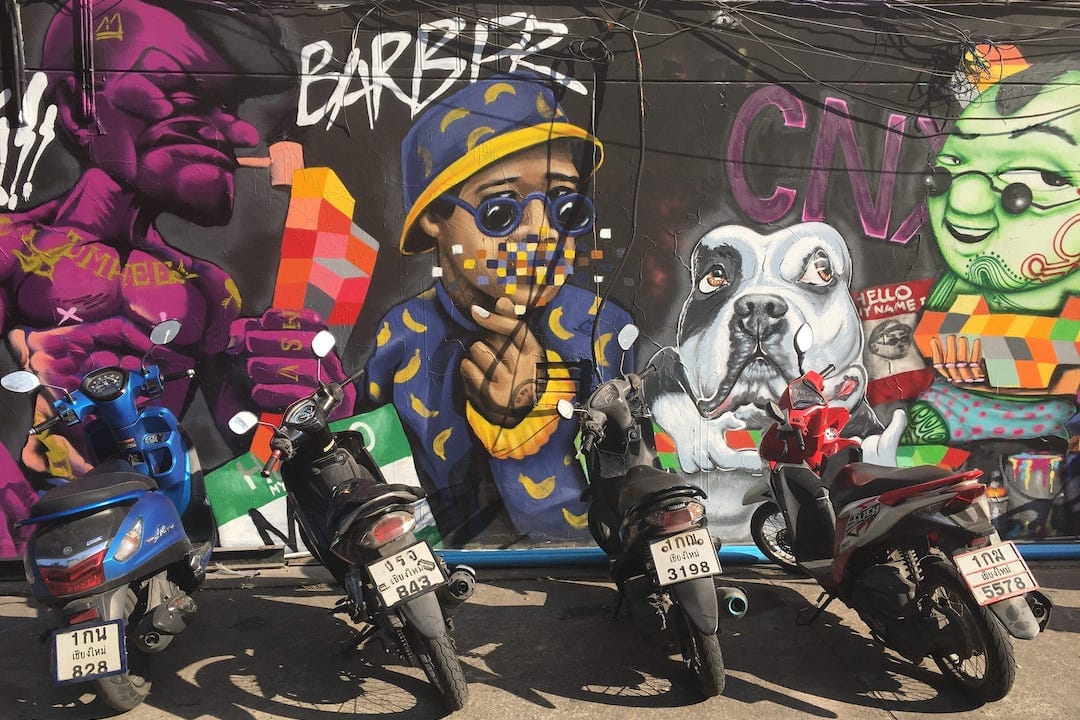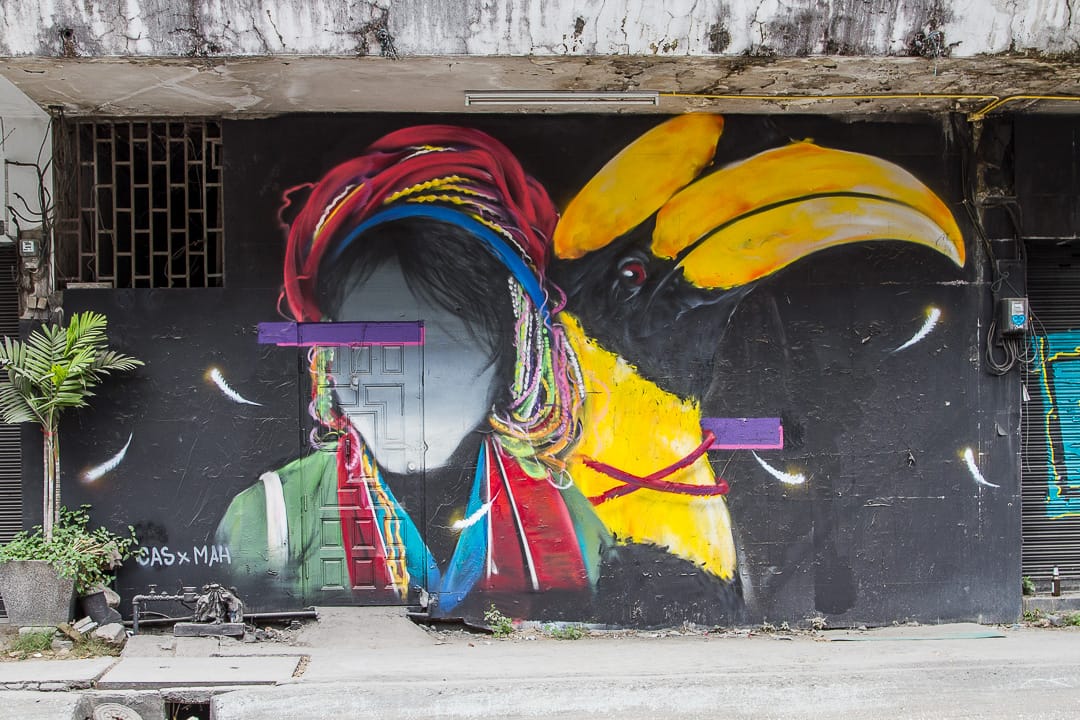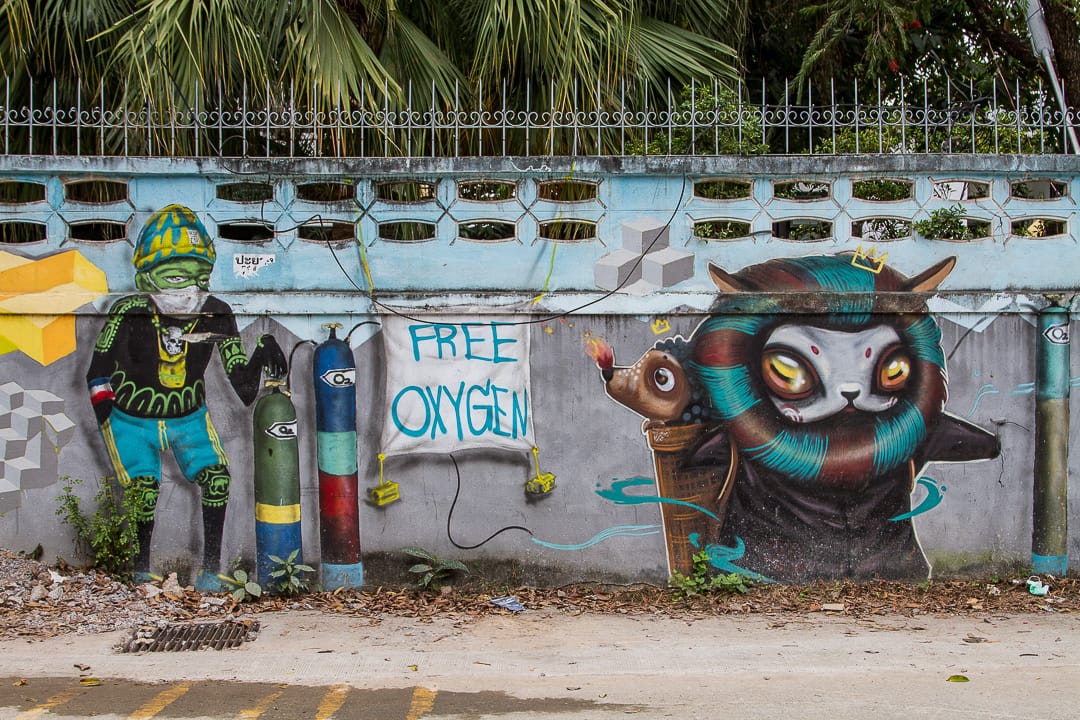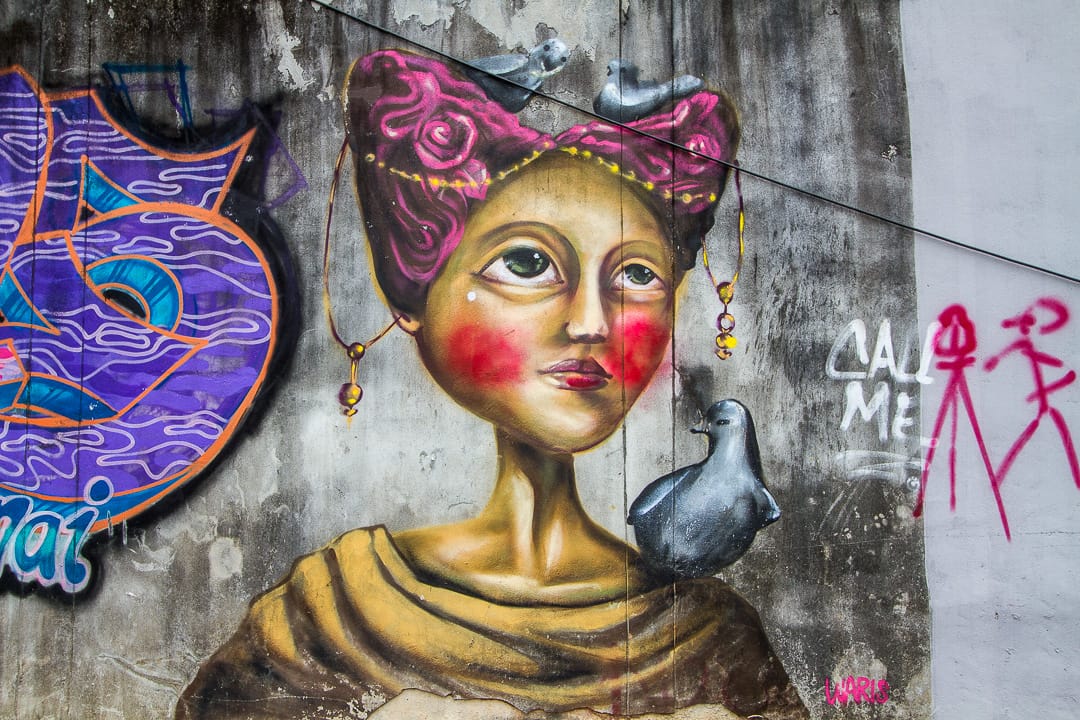 Street Art at Street Art Kad Suan Kaew Shopping Mall
Kad Suan Kaew Shopping Mall is roughly halfway between Nimman and the moat that surrounds Chiang Mai's Old Town. It's a classic 80s-looking hunk of concrete although it was built in 1992. If you head behind the building to the car park, you'll quite a lot of street art. Much of it is faded and it's not as impressive as that in other parts of Chiang Mai, but it's worth a look if you're passing.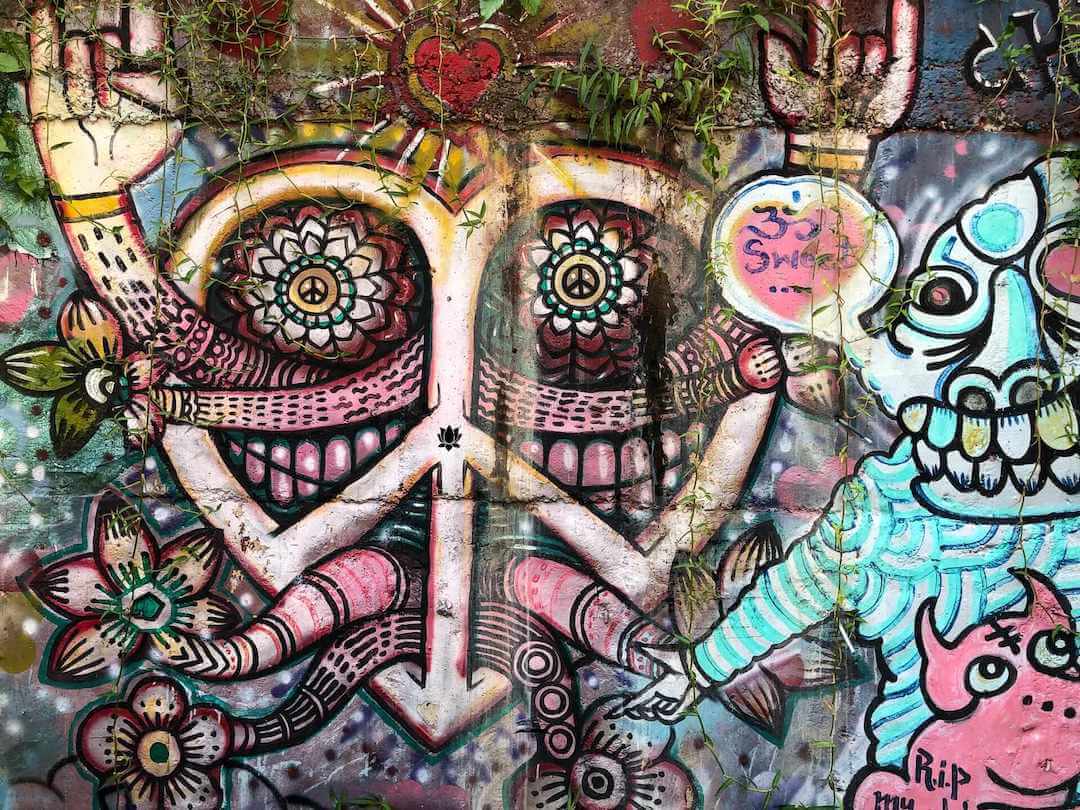 Street art behind Kad Suan Kaew Shopping Mall
Street Art in Chiang Mai Old Town
Wherever you are in Chiang Mai, you don't have to go far in any direction to find good street art, even in the Old Town. If you keep your eyes open, you'll spot it although street art is more prolific in the small streets (sois) south of the moat on the north side of the city. Here are a handful of my favourite pieces of Chiang Mai street art found within the old city walls.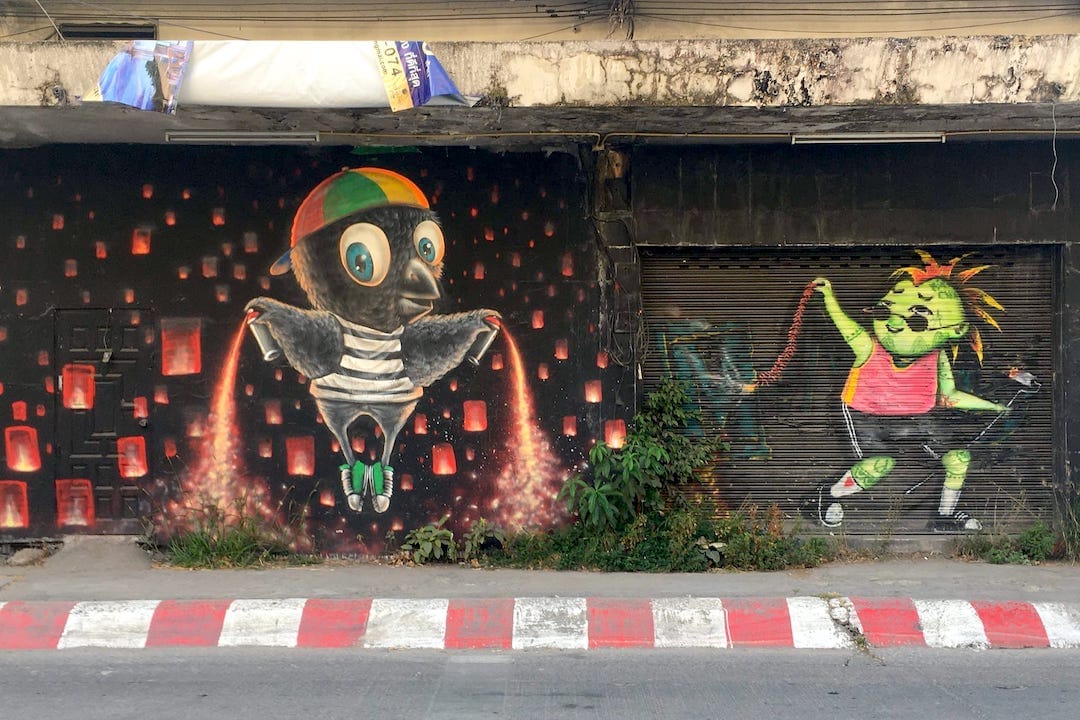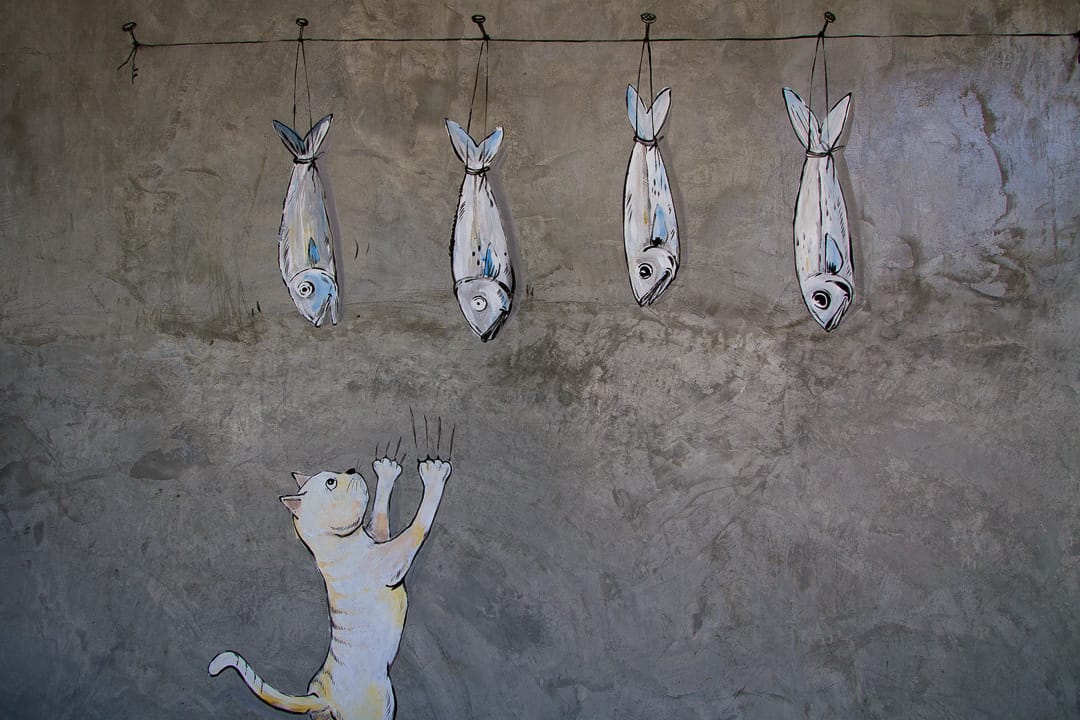 If Chiang Mai achieves UNESCO status, the city authorities may come under pressure to clean up the walls within the old town, but until that time comes, enjoy the open-air street gallery, and explore the ever-changing canvas.
Other places to look for Street Art in Chiang Mai
Everywhere! I could come up with a dozen more Chiang Mai street art locations, and I may well add to this post in the future. But for now, I'll draw a line and simply include some of my favourites pieces of Chiang Mai street art that don't fit into the above location sections…
Freebird Cafe
This is a wonderful collaboration between Alex Face, Mue Bon and Sanchai, although it is VERY hard to photograph. Freebird Cafe is on the corner of Manee Nopparat and Sanam Kela roads.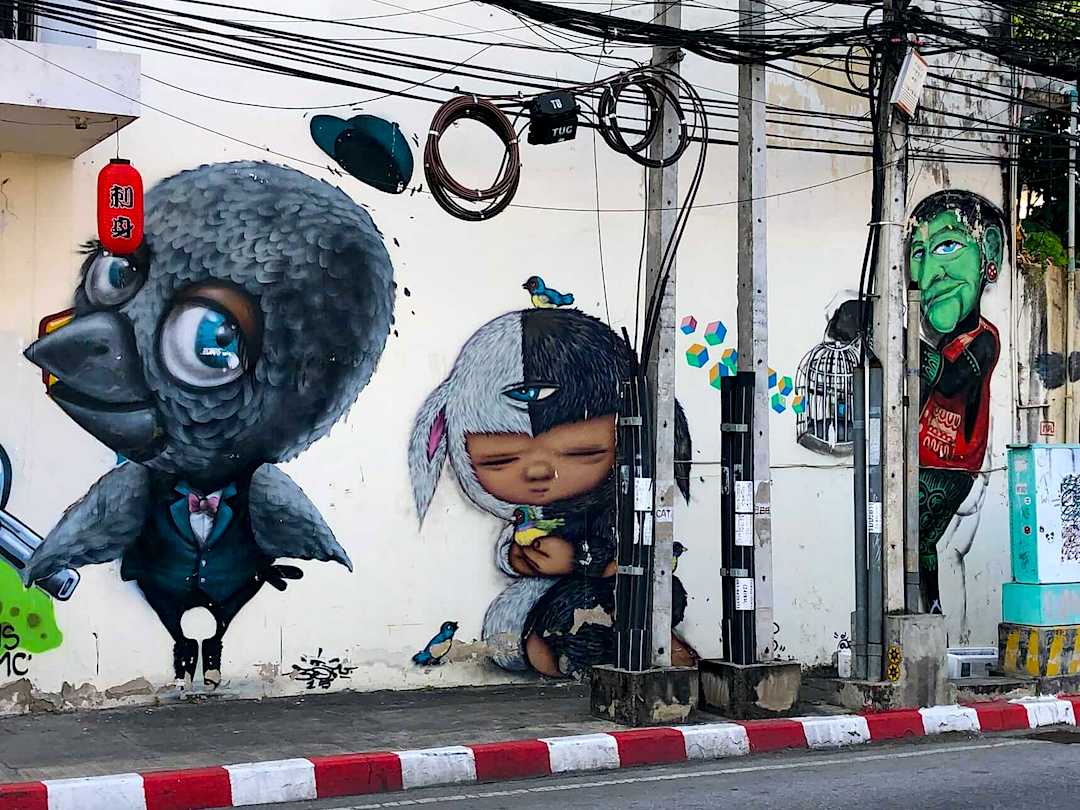 Chiang Mai Gate Market
I've become rather fond of this piece by Mauy (below left) because I see it almost every day that we are in Chiang Mai. From early morning until around noon, it's largely obscured by the vegetable vendors that set up in front of it, but pass by at other times and the creation is usually obstruction-free. If you cross the moat beyond the south gate, and have a hunt around on the sidewalls, you'll also find MueBon's birdy, Pukruk.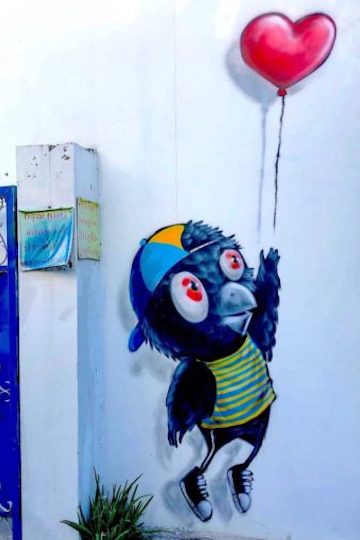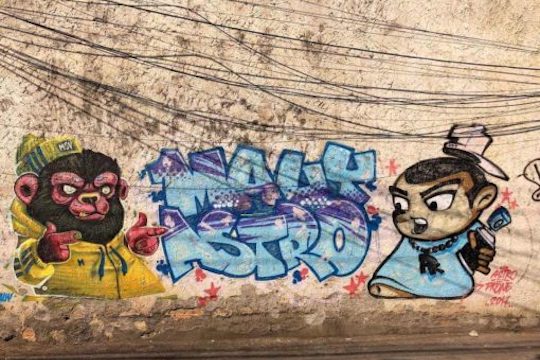 Everywhere in Chiang Mai!
Honestly, if you walk around Chiang Mai with your eyes open, you'll find street art and cool graffiti everywhere in the city!
---
---
IF YOU ENJOYED THIS POST ABOUT STREET ART IN CHIANG MAI, PLEASE SAVE AND SHARE IT…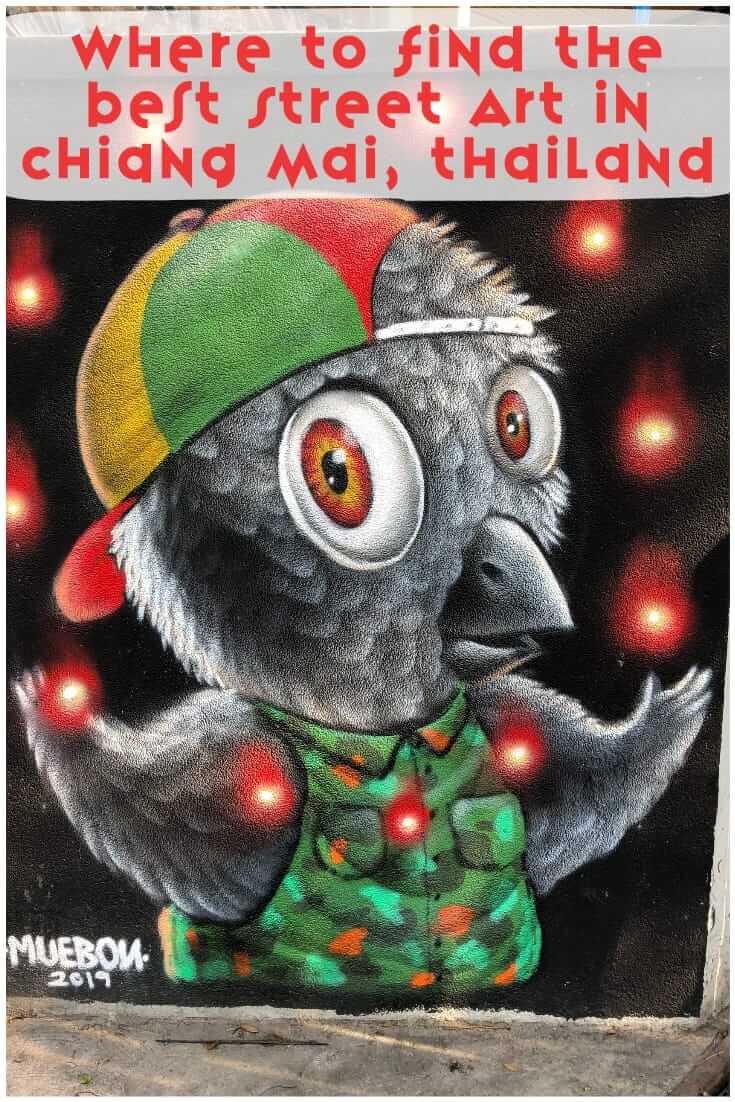 ---
---