Some of the alternative places of interest near Bangkok
'
s Hua Lamphong railway station
Apart from foolishly thinking I could break in a new pair of fake Converse by walking in them for about 10kms in one day, we thoroughly enjoyed ourselves last time we stayed in Bangkok. 
That's not to say that we don't usually have a good time in the Thai capital, but because we've been to there so many times, we struggle to find anything new and interesting to see or do. We've visited numerous temples, both big and small, been up and down the Chao Phraya river countless times, seen a fair bit of the city's street art, travelled out of the city to places such as the Maeklong railway market and also undertaken a spot of urban exploration at the airplane graveyard on Ramkhamhaeng Road. 
So, of late our visits to the metropolis have consisted of catching up with friends, eating, drinking and people-watching in and around Khao San Road as well as shopping for replacement clothes in one of the mega-sized shopping centres on Rama I Road. But this time, rather than stay on Soi Rambuttri, which is the travellers' haunt not far from Khao San Road yet far enough to be away from all the mayhem, we decided to get a hotel near Bangkok's Hua Lamphong railway station and spend a couple of days seeing what we could find in and around that area. 
The vibe, as much as there is one, is a world away from that on Khao San Road and Rambuttri, with most people only in the area because they are transiting through the train station, awaiting a night train or sleeping nearby in preparation for an early morning departure. In the immediate vicinity, there are only a handful of places to eat and have a drink in the evening and, generally, there really isn't that much going on. Hence, if you're after a bit of action then this isn't the place to be but if a lack of nightlife doesn't bother you then, for the reasons given below, we think being near the train station in Bangkok is one of the best locations to stay in the entire city.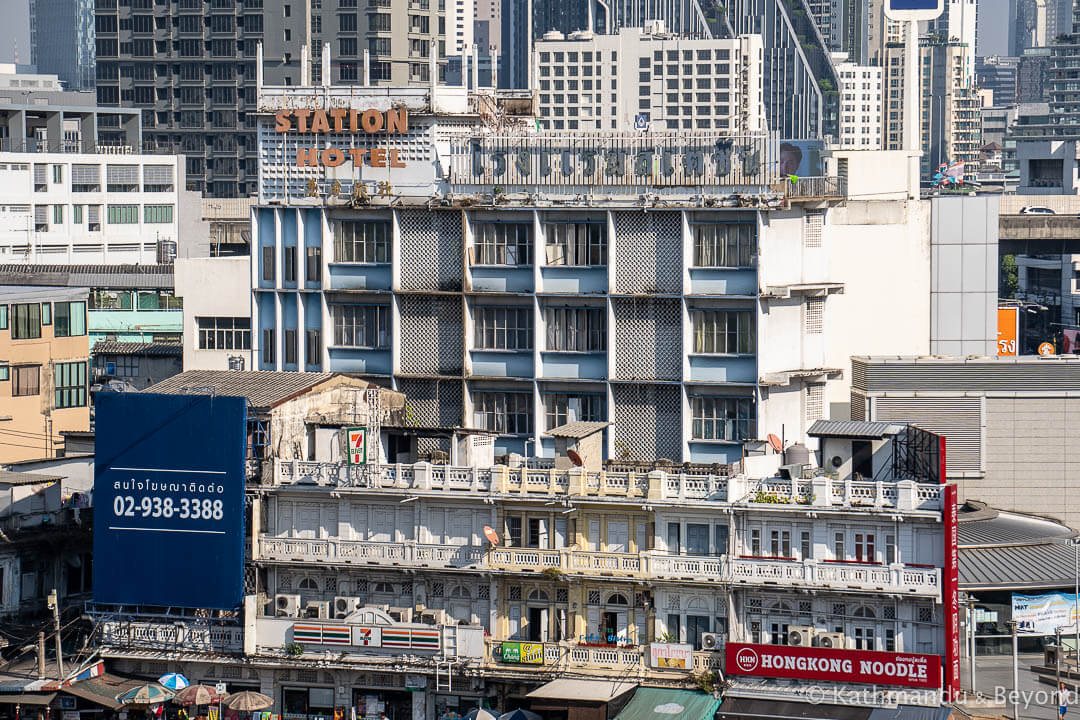 Looking down on the neighbourhood directly surrounding Bangkok's railway station 
For starters, it is on the city's MRT Blue Line (Hua Lamphong MRT station) (*). Being close to an MRT station in Bangkok opens up all sorts of possibilities. For example, from Hua Lamphong MRT you can easily get to Lumphini Park, the Grand Palace (the station will get you within about a kilometre), and all the way out to Chatuchak Weekend Market. And with connections on the BTS Skytrain, you can access Suvarnabhumi Airport and all over Bangkok. 
(*) Khao San Road is nowhere near an MRT or BTS station. In fact, transport links in the area aren't great and limited to the river ferry, the shark-like taxi drivers (and metered ones if you can find one!) and public buses, which we know from experience are sporadic.  
Admittedly, you could stay anywhere in the city that is near an MRT or BTS station and have the same level of accessibility and, in many instances, you'll find better nightlife as well (Silom, Bangkok's 'Wall Street', springs to mind) but the best thing about staying in the vicinity of the train station is its proximity to four of Bangkok's most fascinating neighbourhoods, all of which can be easily be explored on foot. 
The four areas I'm referring to are Chinatown, Phahurat (more commonly Little India), Talat Noi and the district of Bang Rak. 
Map showing the things to do near Hua Lamphong station in Bangkok
Before getting down to the nitty-gritty as to why these neighbourhoods are so fantastic to explore, it's worth mentioning the train station itself. With a subtle mix of Thai Art Deco and neoclassicism, Hua Lamphong railway station celebrated its 100th birthday in June 2016. Inspired by Frankfurt's main station, it was designed by Italian architect Mario Tamagno, who also worked on other early 20th century buildings in Bangkok, including the well-known Oriental Hotel. If you do decide to check it out, as well as admiring the building's facade, the decorated wooden roofs that cover the platforms and the stained-glass windows inside the station are also worth a look.
The station is due to cease operating as Bangkok's main railway station at some point in 2021. The plan is to convert Hua Lamphong into a museum and move all operations to a new terminus called Bang Sue Grand Station, which is currently under construction in the Chatuchak district of the city.
Back on track, my suggestion for exploring the four neighbourhoods in the vicinity of the train station would be to start in Bang Rak, then head to Talat Noi, followed by Little India and finally, Chinatown. There are two reasons why I am suggesting this. First, the magnificent facade of the General Post Office in Bang Rak is best photographed in the morning when the sun is behind you, and the second reason is related to food. If you leave Chinatown, or Little India if your taste buds prefer, until last then you get the opportunity to tuck into some scrumptious cuisine before calling it a day.  
I'll also add that, although there are specific things to see in each of the four districts, wandering down any soi (side-street) that takes your fancy and getting a bit lost is by far and away the best way to explore each of these particular neighbourhoods.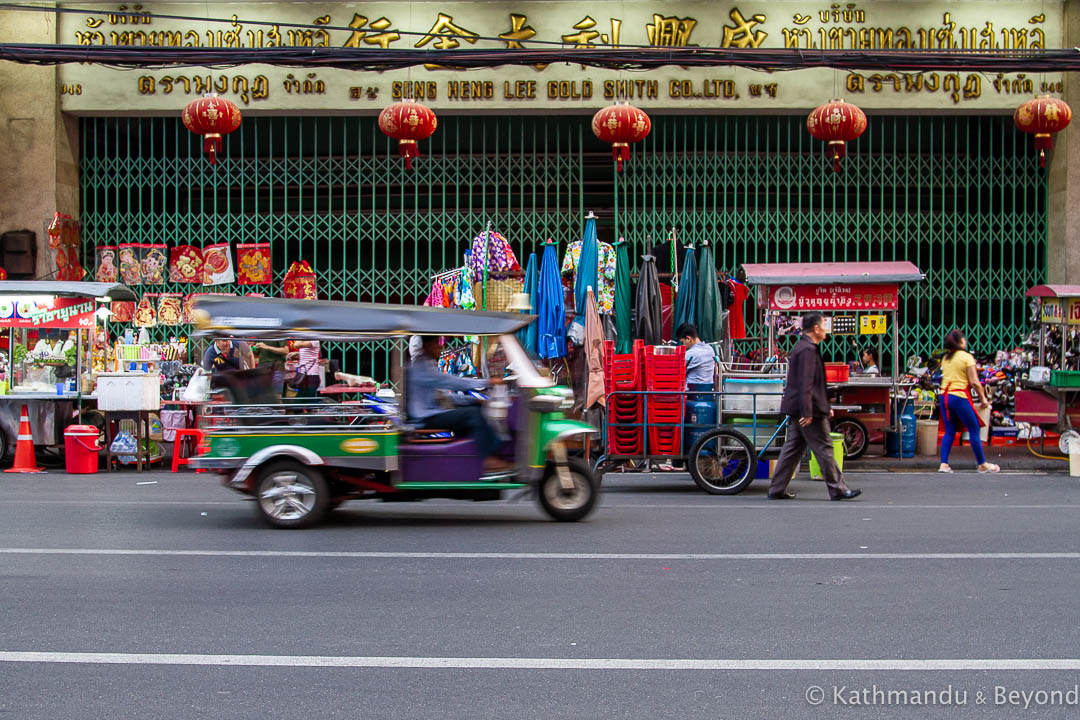 Chinatown at dusk
Bang Rak
Located on the east bank of the Chao Phraya River, Bang Rak is home to some of the city's most luxurious hotels (the Shangri-La, Oriental, Sheraton etc.), a number of historic buildings linked with the area's colonial past (such as Customs House and East Asiatic Building), and one of the city's most notorious entertainment areas, Patpong. 
Bang Rak also has plenty of street art and that was our (Kirsty's) main reason for coming here. There are several pieces dotted around the area but you can find a good concentration along the wall that runs alongside Charoen Krung Soi 32.
Although we had success photographing street art in Bang Rak, we didn't fare so well with its historic buildings. Security guards didn't allow us to point our camera at the 19th century Customs House. The fact that the building is going to be renovated into a luxury boutique hotel (Aman Resorts are said to be involved) is an understandable reason as to why it is being guarded, but not allowing people to take photos of the building's exterior is a bit overzealous.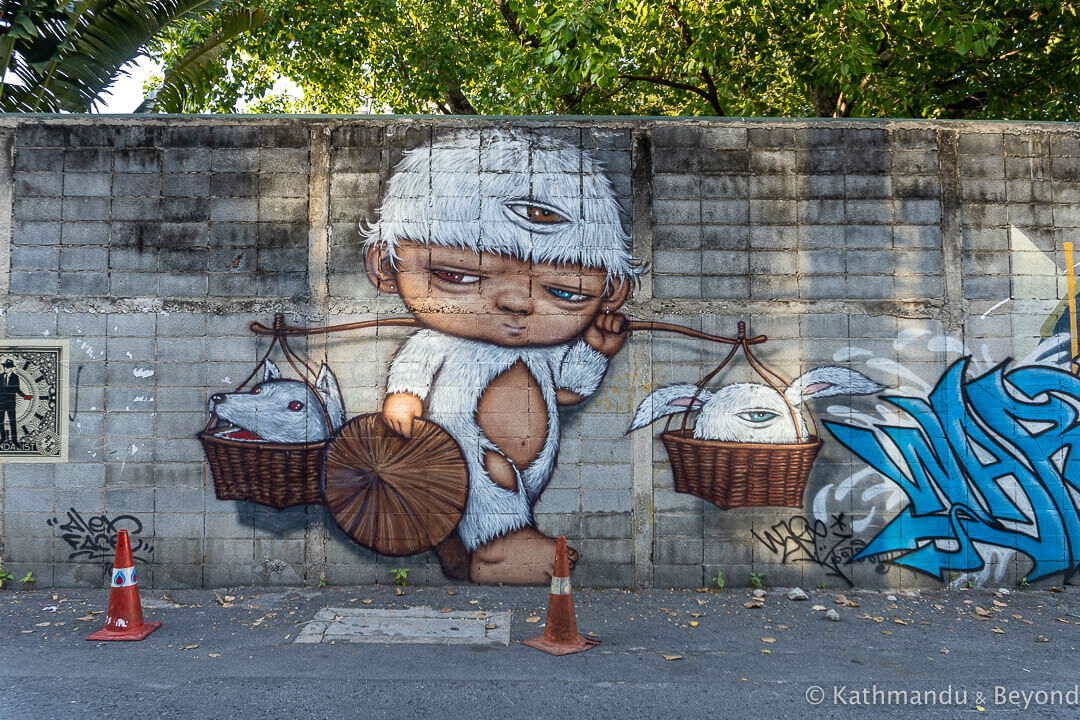 Street art on Charoen Krung Soi 32 in Bang Rak
We had no such issue at the General Post Office, a glorious building that dates back to the 1940s, but, against our own advice, we visited in the afternoon and the light was hopeless for taking photos of the exterior. We did, however, take some shots of the equally impressive interior but have no idea where the photos are! 
As an aside, and a little trip down memory lane, I remember coming to this post office on more than one occasion in the early 1990s when I was backpacking through South East Asia. It was an exciting day for me as I was going to the poste restante part of the building to pick up letters from my mates, as well as (if I was lucky) a small parcel from my parents containing Wine Gums and a deodorant or two, which were hard to get in Asia back then. How times have changed! 
Talat Noi 
On the edge of Chinatown, and some say part of it, Talat Noi is as old as Bangkok itself. The minute we entered its boundaries, we were completely taken with the neighbourhood and wondered why on earth we hadn't visited this part of the city before? Too much eating, drinking and general slothfulness near Khao San Road is probably the answer to that question but we made up for it this time around, with two visits in two consecutive days.
Talat Noi is a work-a-day neighbourhood and this is at the epicentre of its charm. Junkyards and machine shops are a common sight and here, even more so than in the other three districts, ducking into side-streets is key to discovering what the area has to offer. Besides an abundance of scrap metal and spare engine parts, you'll also come across some gloriously-faded architecture, yet more street art as well as plenty of other curios from a bygone era. In fact, wandering around certain parts of Talat Noi is like being transported back in time to when Bangkok was simply an important trading city rather than the urban metropolis it is today.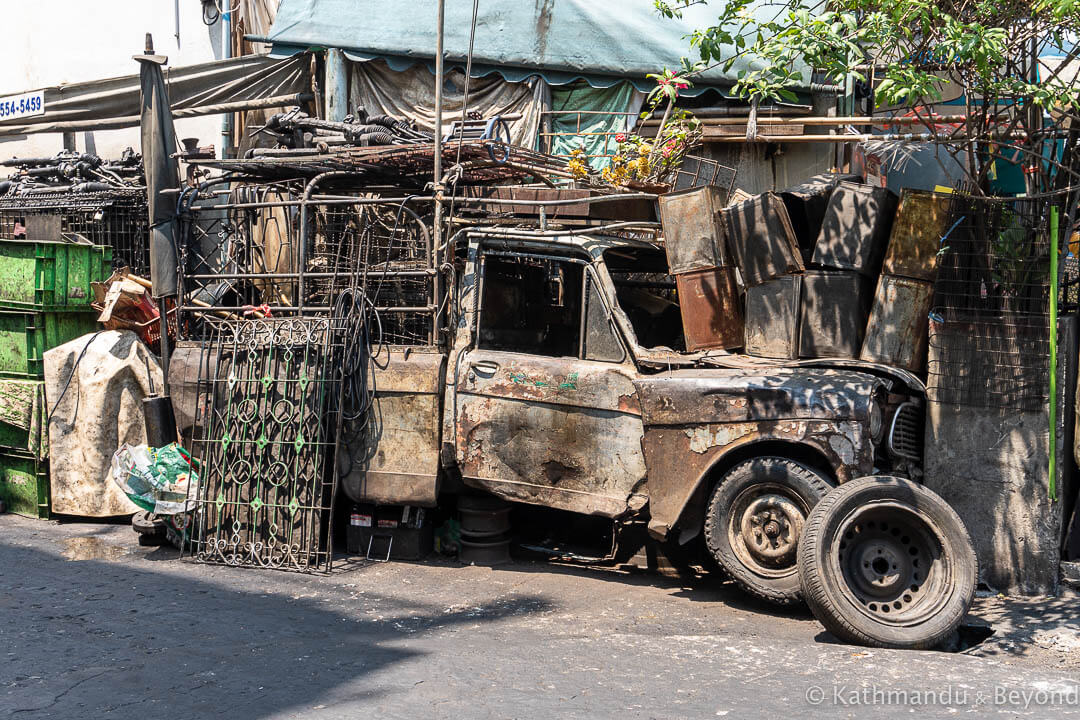 One of many junkyards in Talat Noi
Although less visited than nearby Chinatown, Talat Noi is no secret either. Thais, as well as some tourists, come here to experience an authentic Chinese quarter. At the moment, street vendors and family-run shops outnumber trendy coffee shops and 7-Elevens but, as with any area with potential for development, this is unlikely to last forever.
The reason we went back to Talat Noi for a second time was that on our first (morning-time) visit we noticed that many of the buildings had really interesting facades, but the light wasn't right for photographing them. But, by 4 o'clock the following afternoon, the light was perfect and we retraced our steps looking up and photographing any building that caught our eye. We think the facades we found in Talat Noi are wonderful and yet another compelling reason to spend time aimlessly ambling around the neighbourhood.  



Examples of architectural facades in Talat Noi
Chinatown 
Although I suggested leaving Chinatown to last, it makes sense to talk about it now as it the next logical destination from Talat Noi. 
The most well-known of the four neighbourhoods, Bangkok's Chinatown is one of the largest in the world. It is easy to navigate – at its core is Yaowarat Road, a busy thoroughfare that runs from Wat Traimit at the train station end to China World Shopping Centre at the other. The road is such an integral part of the district that, often, Thais simply refer to the entire Chinatown area as Yaowarat. The road comes into its own soon after dusk when all the neon lights come on and it looks, well, very Chinatown-ish! 
Running parallel to Yaowarat Road, on its southwest side, is Sampeng Lane, a narrow but always crowded artery of about 400 metres in length were vendors sell everything imaginable, from wholesale fabrics and bags of bangles to trainers and electrical goods. None of the stuff found along Sampeng Lane is of particularly high-quality and the focus is on bulk and price. It is not a touristy market place and most of the people you will see there will be Thais.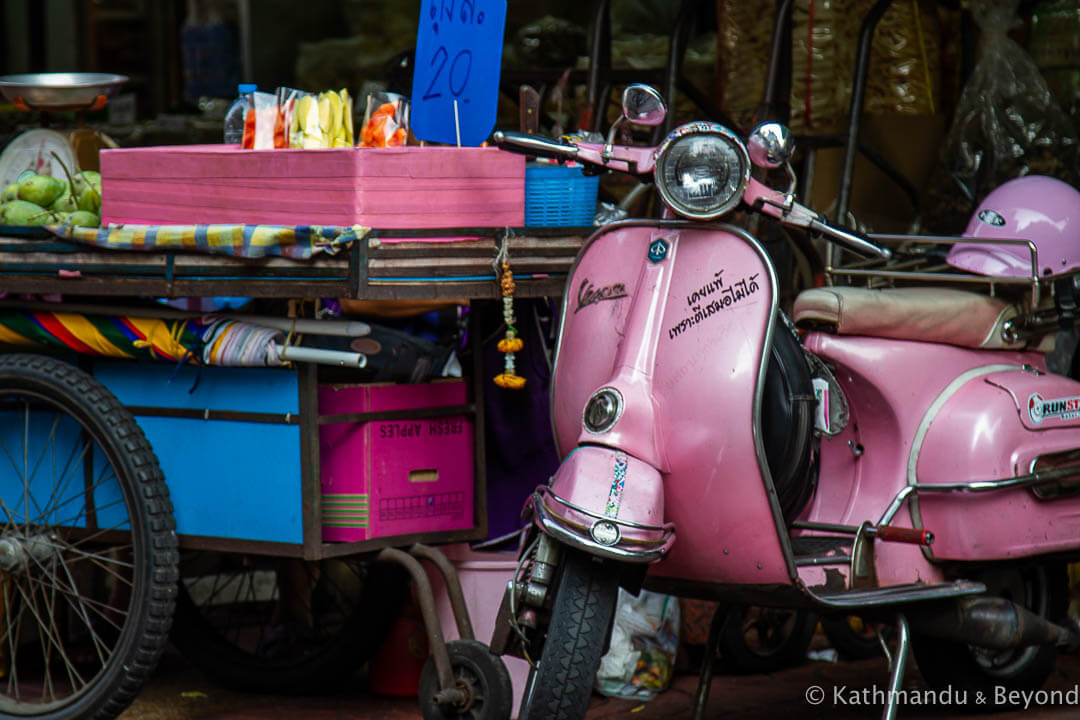 Street scenes in Chinatown 
In my opinion, there are two must-see sights in Chinatown, although guidebooks and other publications about the neighbourhood might only agree with me about one of them. The first of these is Wat Traimit, a revered Thai temple approximately 450 metres west of the train station. The temple itself doesn't especially stand out from others in the city, but inside is a 3-metre tall, 18 karat gold Buddha that weighs in at a whopping 5.5 tons. Although historians aren't certain, it is suspected that the Golden Buddha (officially Phra Phuttha Maha Suwanna Patimakon) dates back to the 13th or 14th century and the Kingdom of Sukhothai. At some point before the fall of Sukhothai (1438), the statue was moved to Ayutthaya but not before it was completely covered with a layer of stucco and decorated with pieces of coloured glass to disguise it and prevent it from being stolen. This tactic worked and, later, after the Burmese attacked and defeated Ayutthaya in 1767, the statue remained unnoticed among the ruined city for many years to come. 
To cut a long story short, the statue was moved to Bangkok some years after Rama I established the city as the new capital of Siam (1782) and it was eventually rediscovered in 1954, when it is said that the image was dropped and some of the plaster came off, revealing its true identity. 
The tale has the makings of an Indiana Jones-style movie and is made even more remarkable by the fact that the statue's date of re-discovery came very close to coinciding with the 2,500-year anniversary of Gautama Buddha's death. The statue's current net worth is in the region of US$250 million.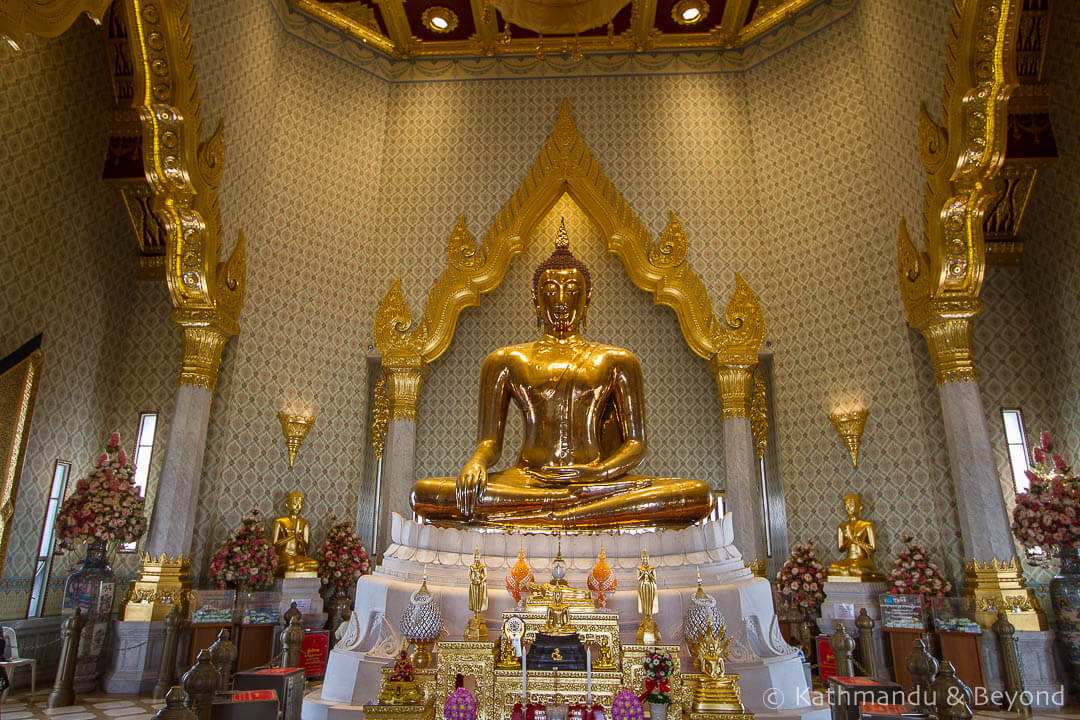 The Golden Buddha inside Wat Traimit
My other must-see sight in the area doesn't have such an interesting story attached to it, and I suspect that many would argue it's not actually an essential Chinatown sight but, as lovers of modernist architecture, I'm going to put it out there and say that it is worth stopping by the Nightingale–Olympic Department Store whilst in the area.
Nightingale commenced trading in a single shophouse in 1930 and is officially the oldest still-functioning shopping centre in all of Thailand. Eventually, it expanded into a chain of stores across the city and the company name was changed to Nightingale–Olympic.
The seven-storey building seen in the photo became the company's flagship store in 1966 and, back in its day, it was the most prestigious retail outlet in the city, attracting well-off Bangkokians and even providing a mail order service for its clientele in the provinces. It was inevitable that the store's popularity would wane once the city's mega-malls came onto the scene (*) but Nightingale–Olympic is still open for business and stepping inside is like entering a wonderful 1960's time-warp where all manner of decades-old goods are still for sale, there isn't a single customer or member of staff under sixty-five, and the mannequins are flaky and as old as the store itself. 
(*) CentralPlaza Lardprao was the first integrated shopping complex to be built in Bangkok in 1982.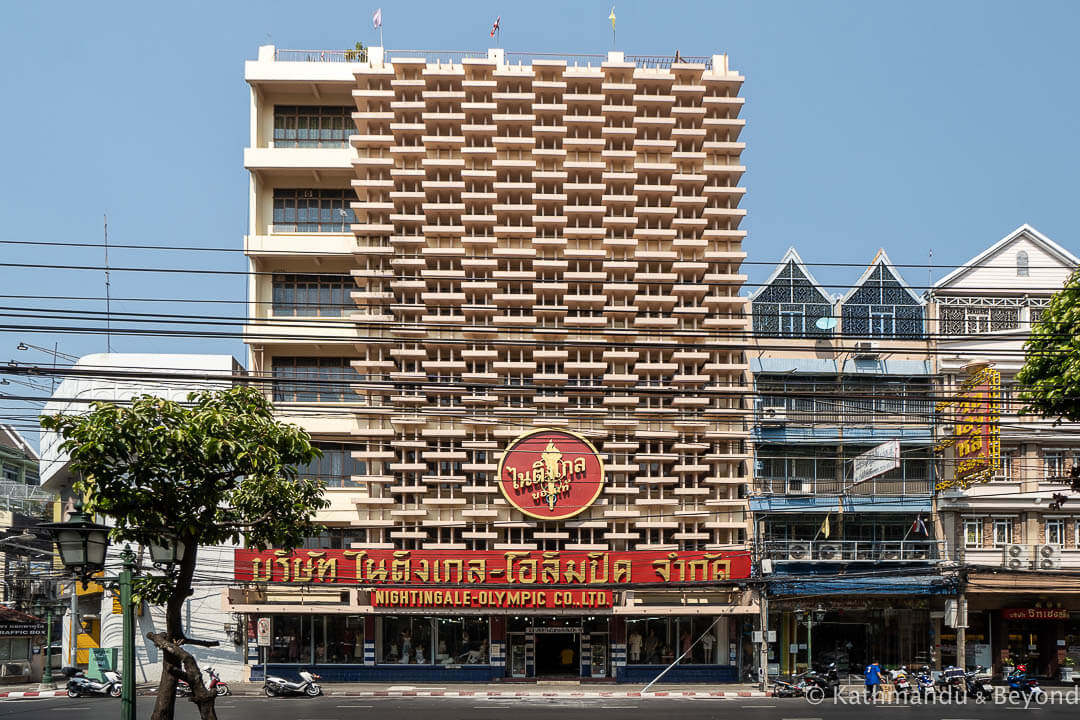 Nightingale–Olympic Department Store
The entire scene, including the mid-century facade of the structure's exterior, is glorious and the Nightingale–Olympic Department Store has instantly become our new favourite place in the Thai capital. Anyone is welcome to enter; it is, after all, a shopping centre, but taking photographs inside is forbidden.
While on the subject of architectural facades, Chinatown, and Little India, which is about to follow, are both fantastic hunting grounds in which to look for them.
Little India
Before reaching China World Shopping Centre at the western end of Yaowarat Road, you'll come to a picturesque section of Khlong Ong Ang (klong means canal in Thai), where there are brightly coloured shophouses and a few restaurants etc. To me, this is the dividing line between Chinatown and Little India and crossing the canal takes you into the latter.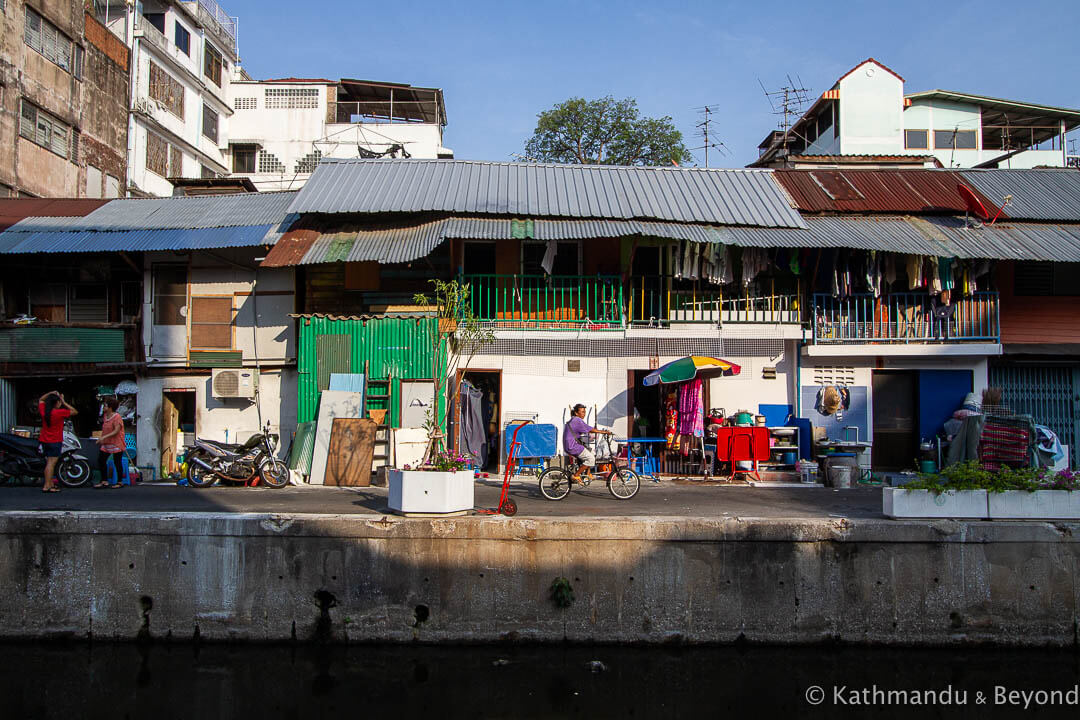 Khlong Ong Ang
If you have visited the Little India neighbourhood in such places as Singapore, Kuala Lumpur or Yangon then you might be disappointed by the one in Bangkok. Slowly being engulfed by Chinatown, it doesn't have the same feel to it that you get in the cities mentioned above. Still, it's a good place for a wander and, at the very least, you'll be able to gorge on South Asian food in places such as the food court at the Indian Emporium on Chakkraphet Road. 
Phahurat Road, and the sois running off it, is the heart of the district and the golden-domed Sikh temple named after Siri Guru Singh Sabha is a major landmark.
At this point, you are really quite close to the Grand Palace and Wat Pho as well as the Chao Phraya River from where you can cross to Wat Arun on the other side should you wish to take in some of Bangkok's more well-known sights.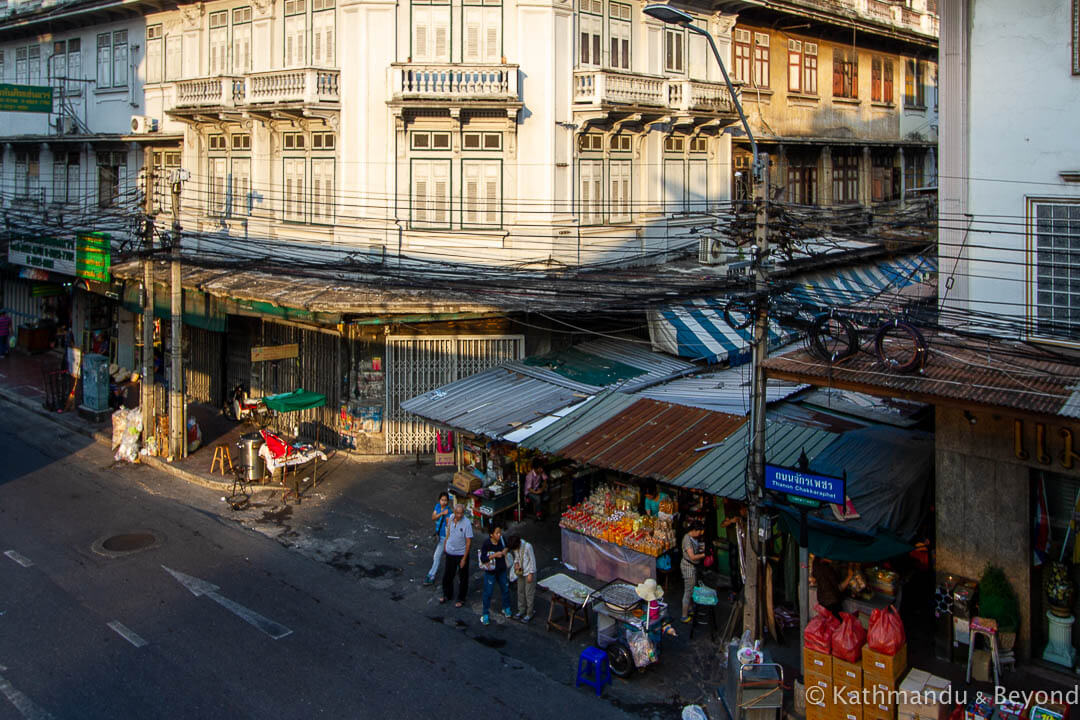 Looking down on Chakkraphet Road in Little India 
Where to stay near Bangkok Railway Station
There is a wide choice of hotels and hostels in the area close to Hua Lamphong train station, depending on your budget. We've stayed at two of them. Our first choice is the OYO Krungkasem Sri Krung Hotel. It's a traditional Chinese-Thai hotel, which reminds us of some of the Soviet-style hotels we've stayed in in Eastern Europe (perhaps that's why we like it). It's also clean, comfortable and quiet, and breakfast is included which saves having to go out and hunt down food first thing in the morning. We've also stayed in Chic Hostel which was fine for a night, but only has shared bathrooms.
---
---
IF YOU FOUND OUR POST ABOUT SOME OF THE ALTERNATIVE THINGS TO DO NEAR HUA LAMPHOHG STATION IN BANGKOK, PLEASE SAVE AND SHARE IT…



---
---