Images of battered vehicles – from the UK to Thailand, and Kyrgyzstan to Cuba
There is an inexplicable pleasure in stumbling across an abandoned car and other mechanical contraptions while out exploring or just mooching about. And you do 'stumble' across them. Unlike practically all of the abandoned places that we have explored, prior research isn't something you can really get stuck into when it comes to abandoned vehicles. As with everything there are exceptions of course, such as this graveyard of supercars in the United Arab Emirates (which we had on our radar when we visited in November 2019 but ran out of time) or this well-known traffic jam of rusting cars located in a Belgium forest which were cleared by the authorities in 2010. But mostly, if you type 'abandoned cars' followed by a location into the Internet, all you get is information about how to report a vehicle that has been dumped or is untaxed.
This is good in a way because it can take ages to pinpoint an abandoned building. Take this former hospital in the Taiwanese city of Yuanlin as an example – it took us (well, Kirsty) ages to pinpoint its exact location and when there are other things to be getting on with, it's not always the best use of our time. Then there's the post-visit research to consider. If you want to write a decent article about a place you've recently explored, you need to try and ascertain a few facts, a bit of history and anything else to add flavour and that also takes time. 
That's not to say that there isn't a past attached to an abandoned vehicle. Of course there is but, more often than not, it's fair to assume that the neglect is linked to one or more of the following factors: the vehicle's age and decline in usefulness, the financial circumstance of the owner, a lack of proper dumping facilities, or even whether it's been stolen and then abandoned. Whatever the reason, unless the owner happens to be around at the same time as you, you're never going to find out for sure.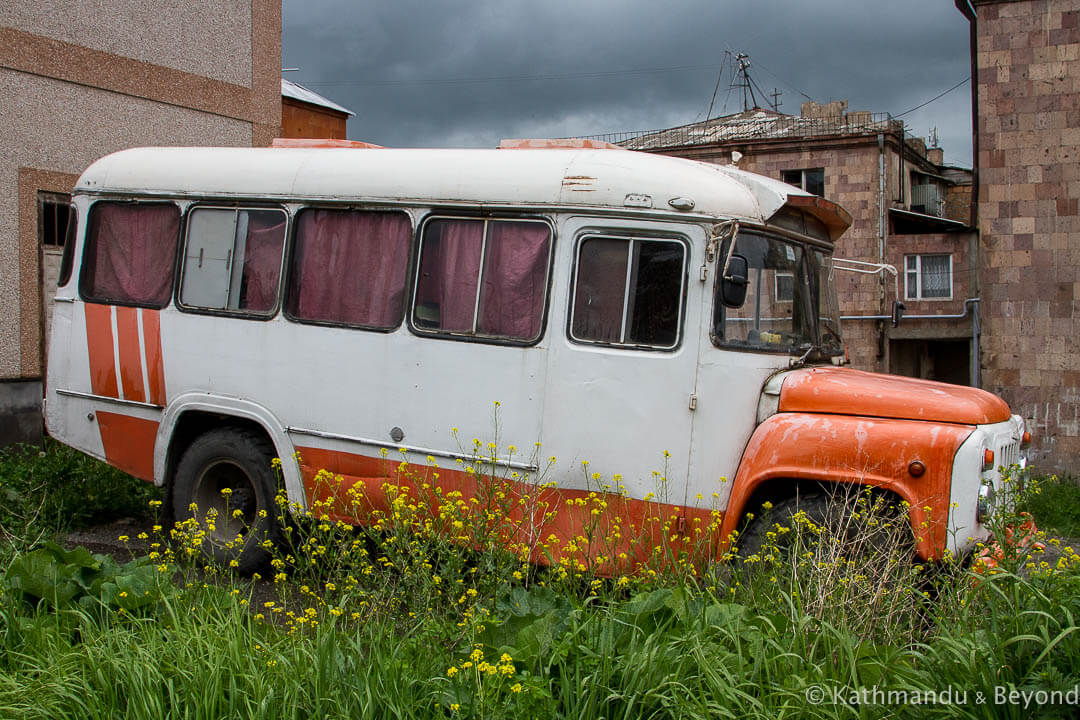 Abandoned stuff, like this old bus in Sevan (Armenia), looks great when there is a storm approaching. The change in light exaggerates the colours and makes the subject matter seem rather ominous.  
What is so mesmerising about abandoned vehicles …
Apart from pondering how they managed to get into their current state, the thing that draws us to forsaken vehicles is their surroundings. Rusting metal and nature are a perfect combo and although we know it's not great for the planet, we are unapologetic in the fact that beaten-up machines slowly being reclaimed by the natural world result in some atmospheric photographs (especially when enhanced a little using Lightroom!). 
Most of what we've found has been in Europe, the Balkans and the Caucasus but we have also come across rusting heaps further afield, in countries such as Taiwan, Kyrgyzstan and Costa Rica.  
With an array of (faded) colours and textures, and in varying degrees of dilapidation, what follows is a selection of some of the abandoned cars and other motorised contraptions we've accidentally chanced upon during our eleven-plus years of full-time travel. To see more, including many examples of cars etc. that aren't in a dejected and forlorn state, take a look at the Planes, Trains and Automobiles section of our website. For two people who, generally, have very limited interest in cars, we seem to have amassed a sizeable collection of photos of them over the years!
Moldova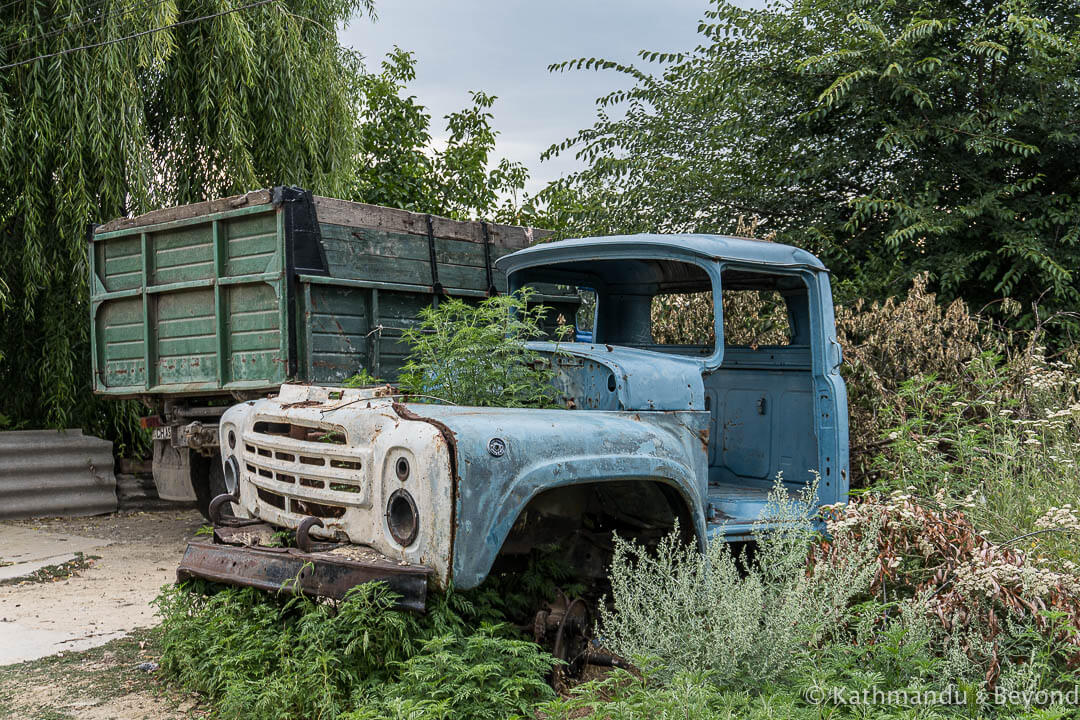 We were on our way to see an impressive Soviet-era mosaic on the outskirts of Cahul in southern Moldova when we saw this abandoned truck that was evidently having a losing battle with Mother Nature.
Cyprus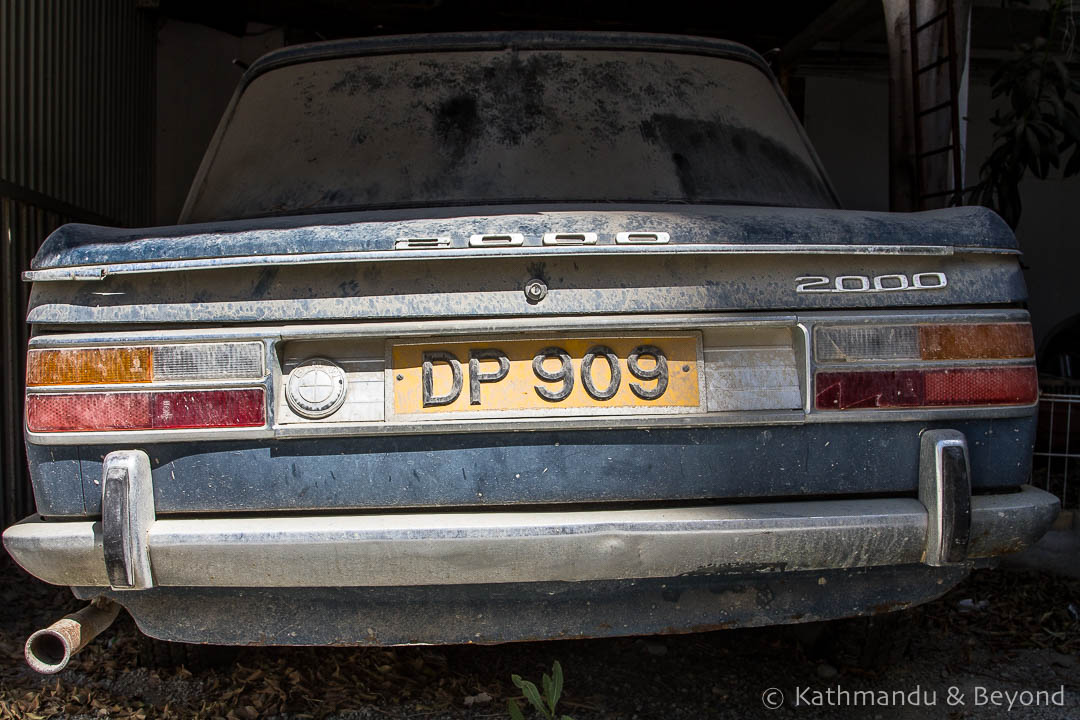 This BMW 2000 would have been a real beauty in its day. We were getting checked into an apartment building in Lefkosia (South Nicosia) at the time and you could see the owner's frustration because he was trying to give us codes and other details and all we were interested in was the car! 
Georgia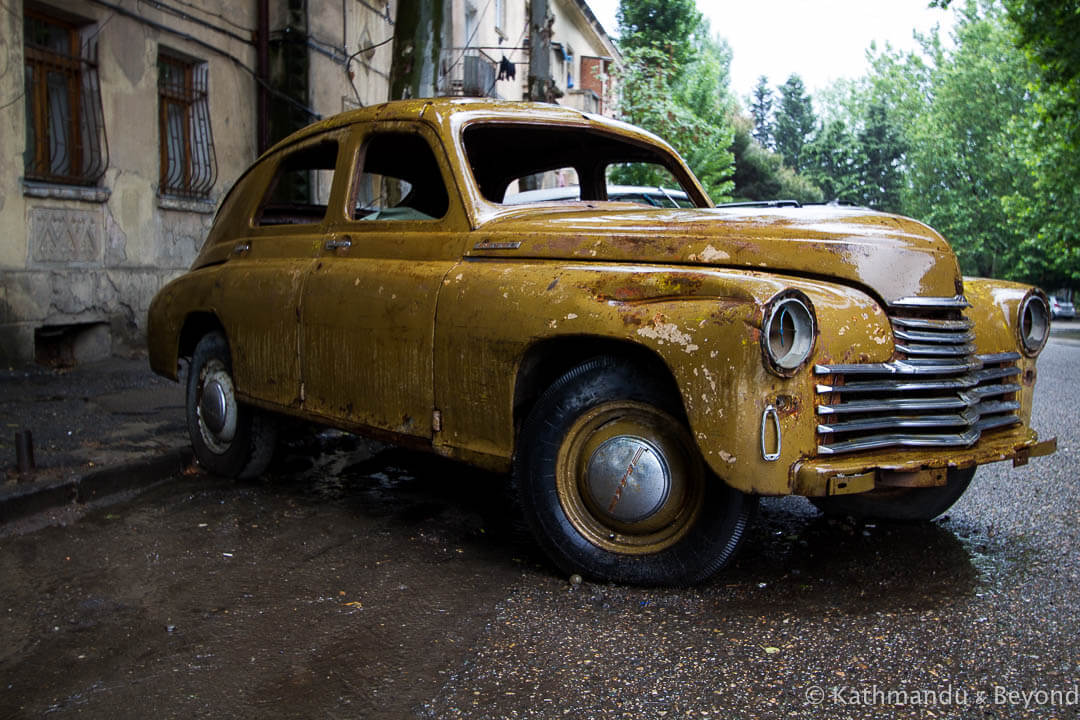 There was a handful of abandoned cars like this one on the same Tbilisi street and they were all from the same period, which I think was the late 1950s. 
Thailand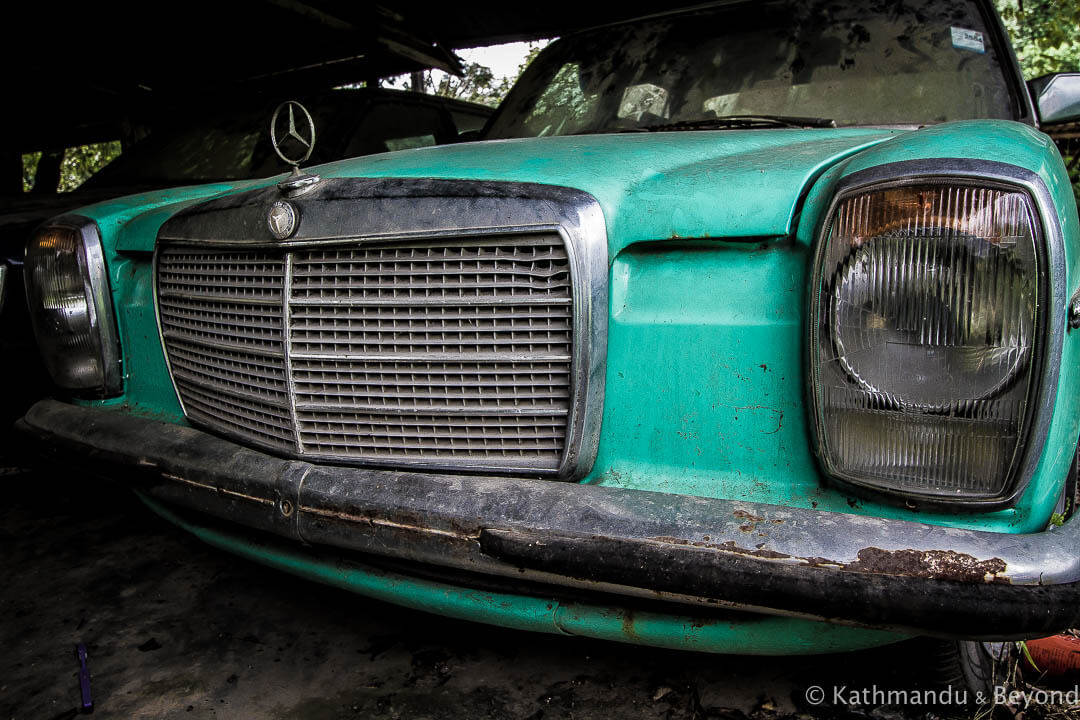 I like the fact that this Mercedes in the southern Thai town of Ranong was is in a terrible state, but the classic Merc badge is still intact. 
Taiwan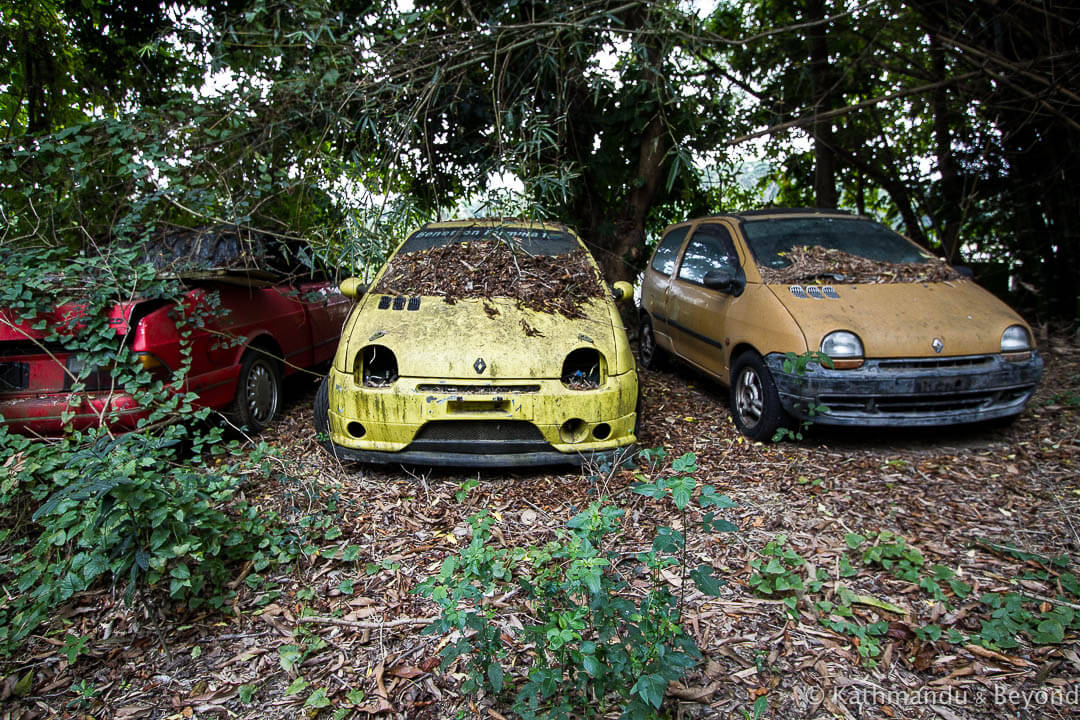 We were on our way back from visiting the remains of the atmospheric, and supposedly haunted, Old Liu Family Mansion near the Taiwanese city of Chiayi when we noticed this trio of abandoned cars on the edge of someone's land.
Armenia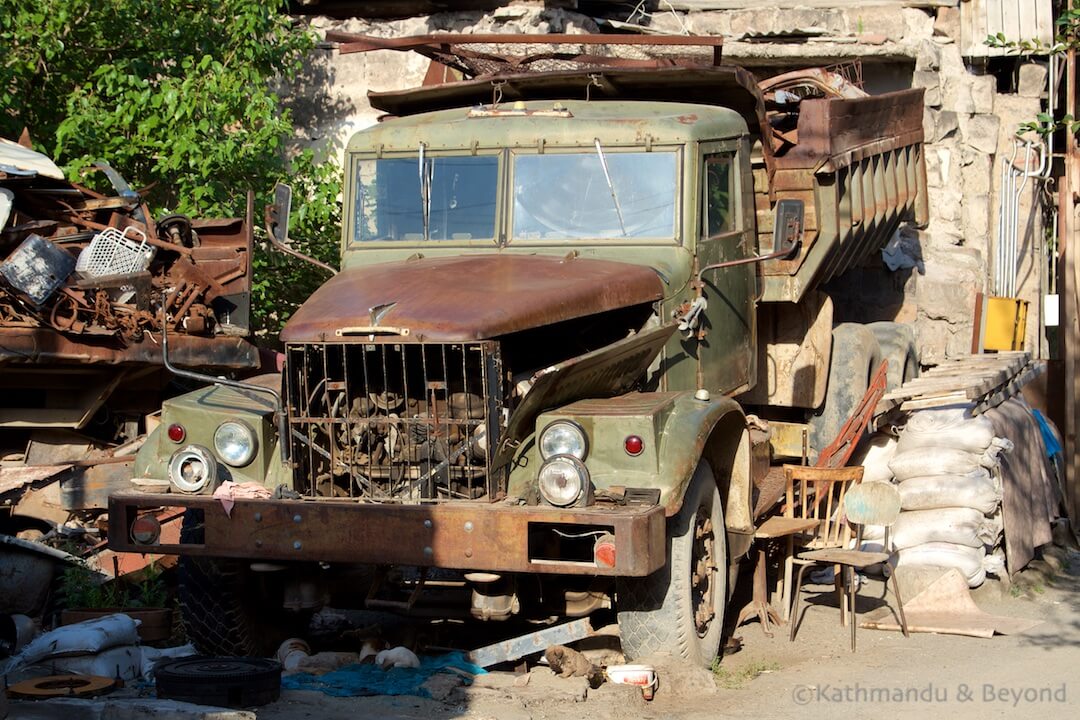 There's a lot of junk in this photo, not just the truck but for the litter of puppies underneath this vehicle's chassis in Gyumri, this was home.
North Macedonia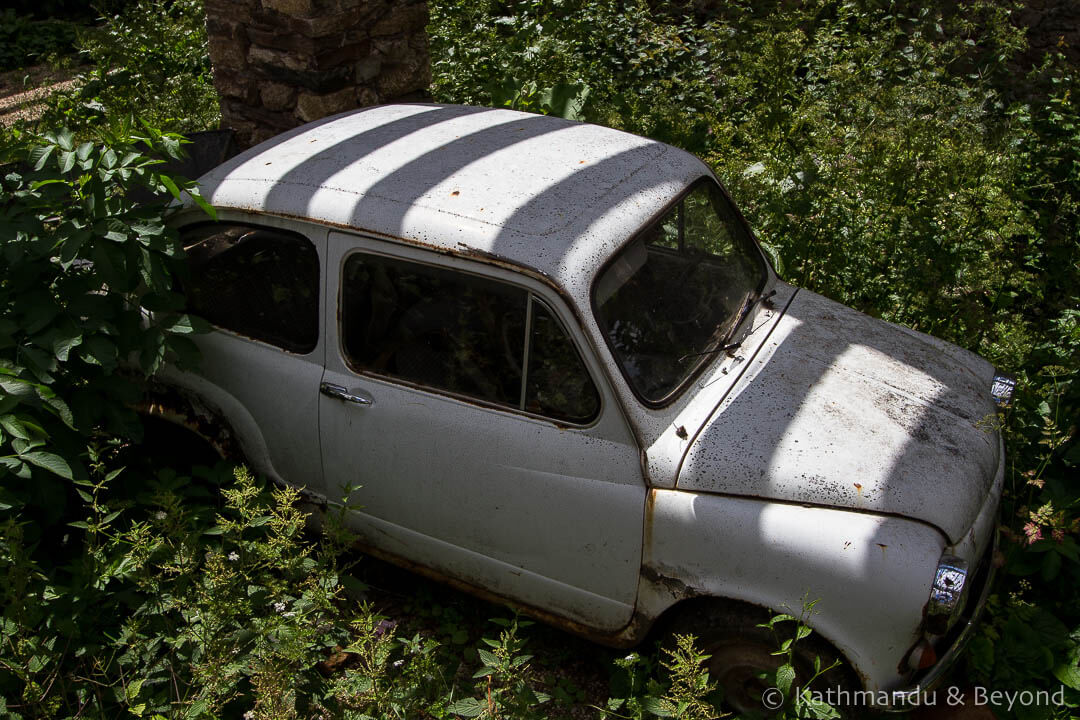 We nearly didn't spot this dinky Zastava 750, aka the Noddy mobile, in the North Macedonian mountain town of Krusevo because the driveway was below the level of the pavement and the car itself was well disguised by overgrown foliage. 
Laos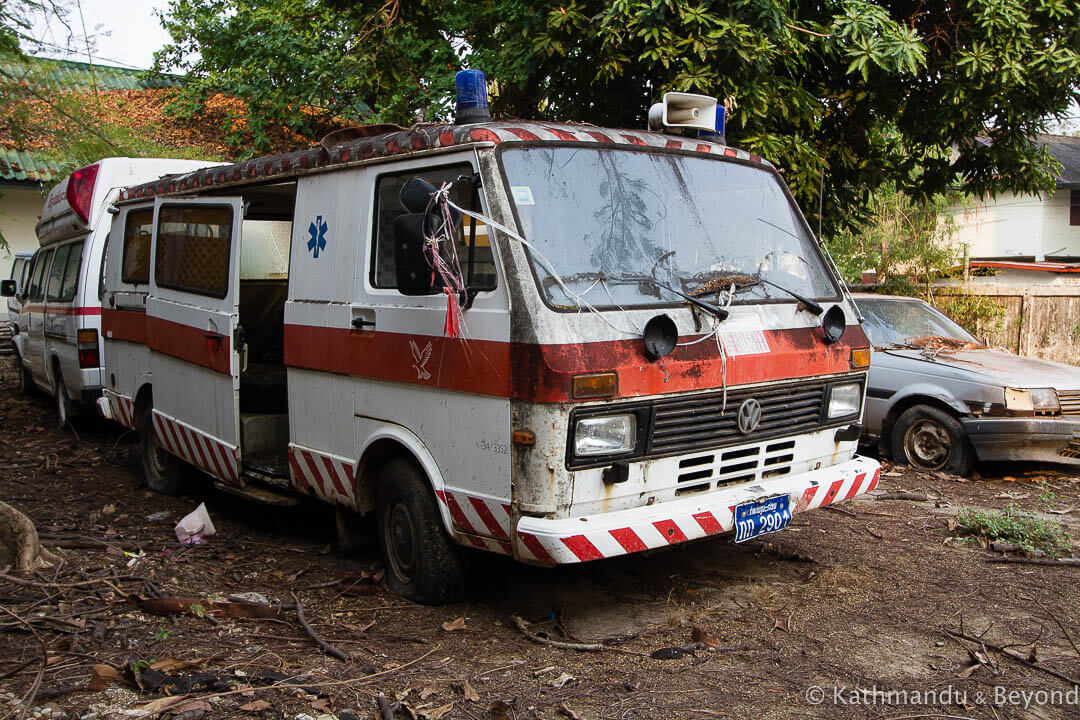 We found this rundown ambulance around the back of a still-functioning hospital near the Mekong River in the Laotian capital of Vientiane. The door on the ambulance was open and inside was a jumbled mess of medical equipment that had seen better days. 
England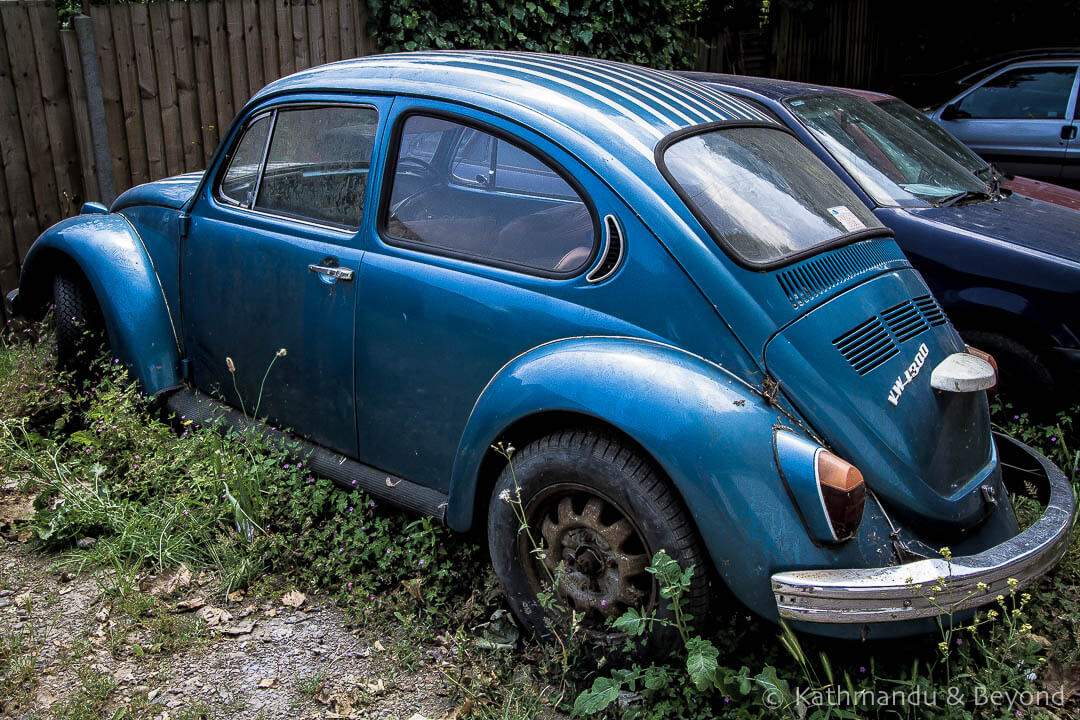 This VW Beatle was part of a job lot of wrecked vehicles underneath St. Jame's Lane Viaduct in Muswell Hill, North London. There was a mechanic's garage in one of the arches and I'm pretty certain this particular car was earmarked for restoration and a tidy profit.  
Bosnia and Herzegovina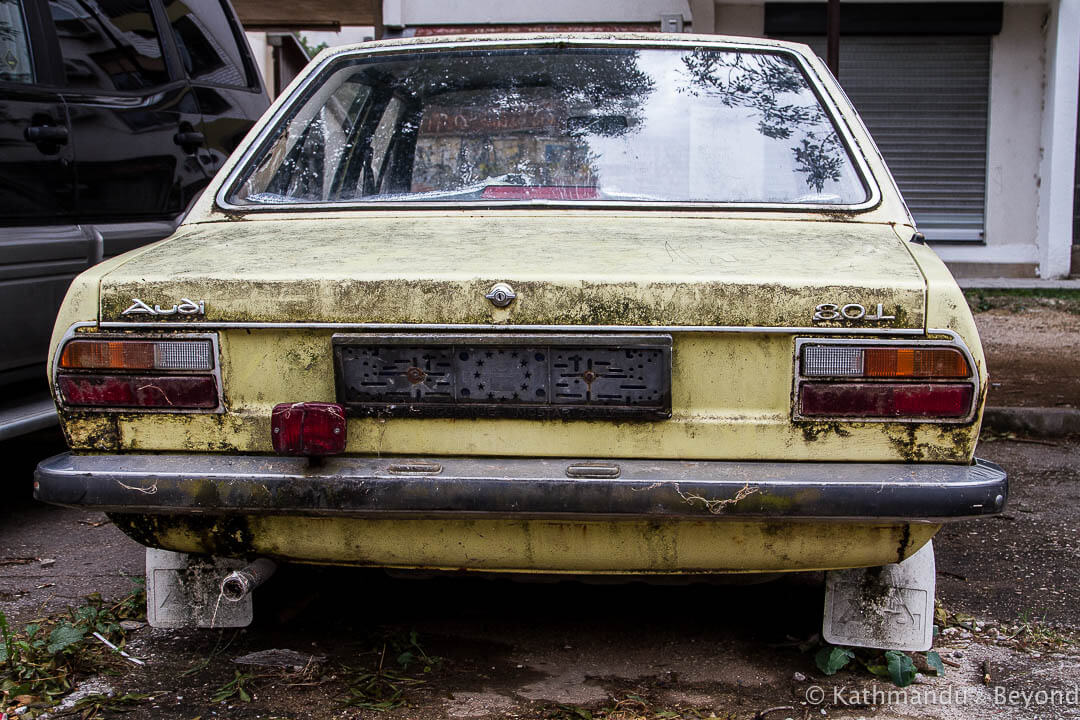 The yellow paint job and the mould really complement each other on this shabby-looking Audi found outside a block of flats in downtown Mostar. 
Georgia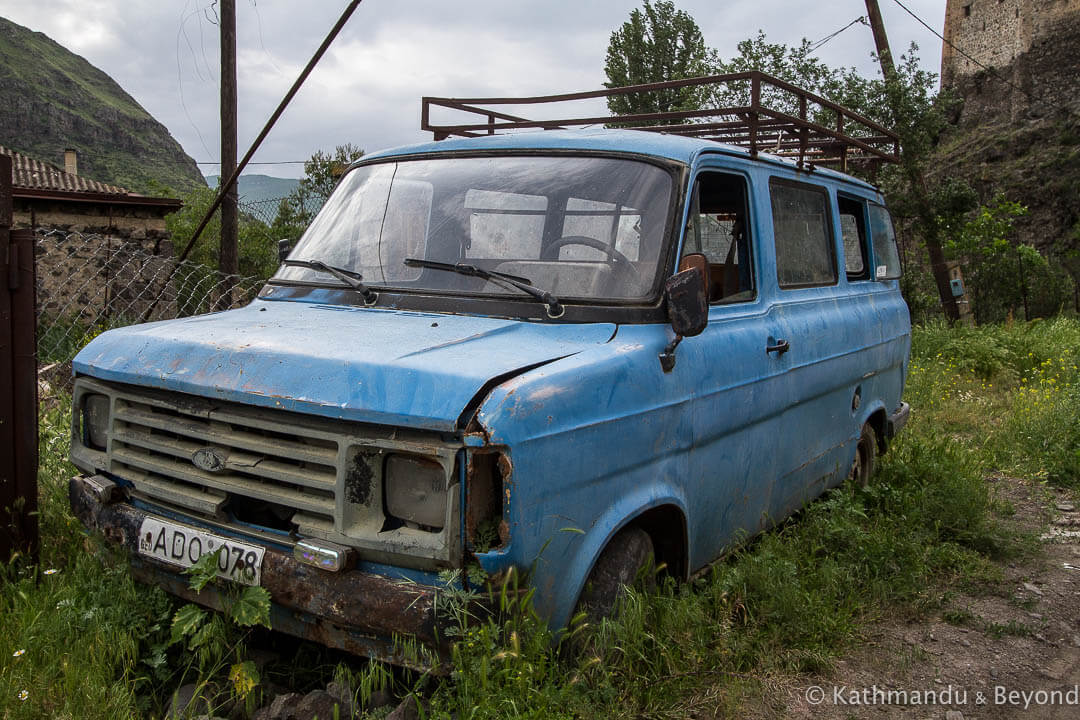 I've always liked the Ford Transit. I think it's the sliding side door and the noise it makes when you slam it shut that does it for me! If you go to the Greece section of Planes, Trains and Automobiles you'll see this van's still drivable twin.
Cuba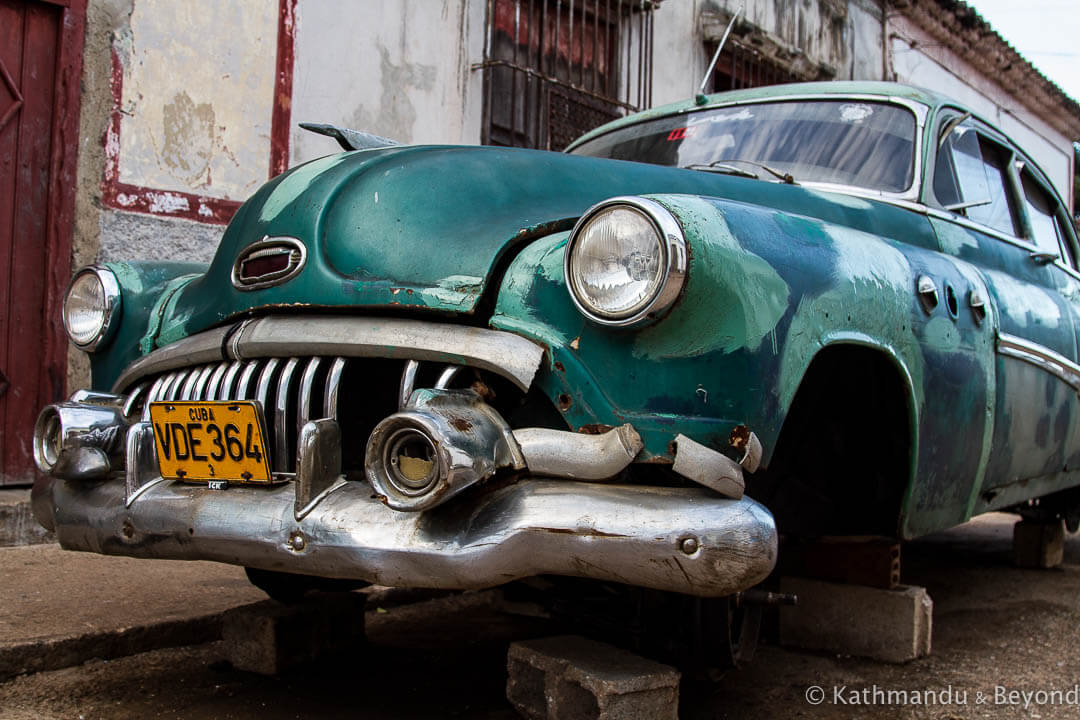 Generally, Cuba is a dream destination for anyone with an appreciation of cars. The abundance of American-built classic automobiles that still ply the streets of every Cuban town and city vary in the state they are in; from lovingly looked after and in immaculate condition to up on blocks and long-forgotten like this one we saw in Remedios. 
Thailand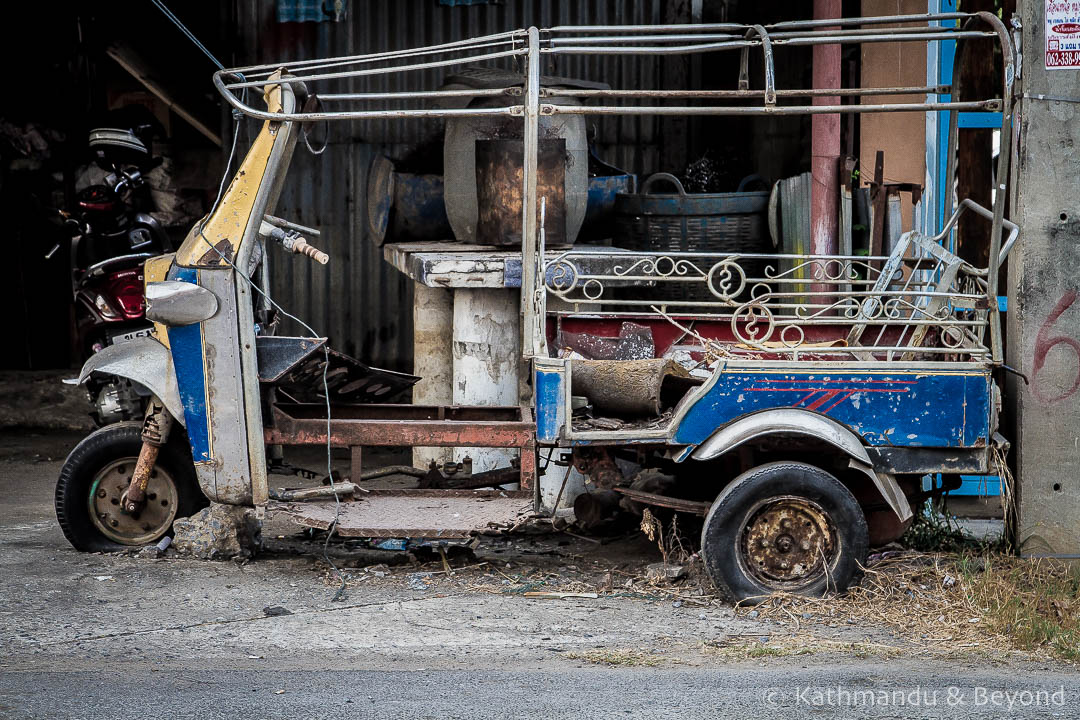 In the ancient Thai town of Ayutthaya, tuk-tuks are a completely different style from anywhere else in Thailand. Perhaps that is why this classic Thai tuk-tuk is in the state it is in… tuk-tuk bullying is real, people, and it should be stopped! 
Armenia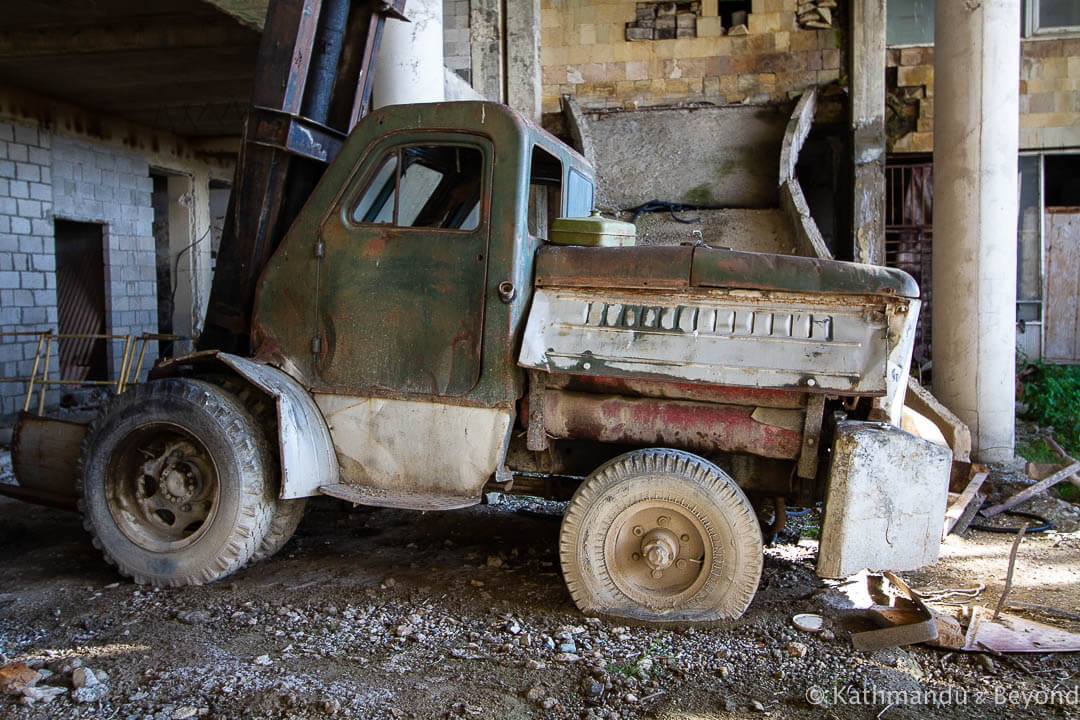 Located in the grounds of an unfinished hotel overlooking scenic Lake Sevan this rusty old digger was a great find. It was as if one day the construction site was up and running and the next day it wasn't. There were quite a few machines like this still in situ. 
Kyrgyzstan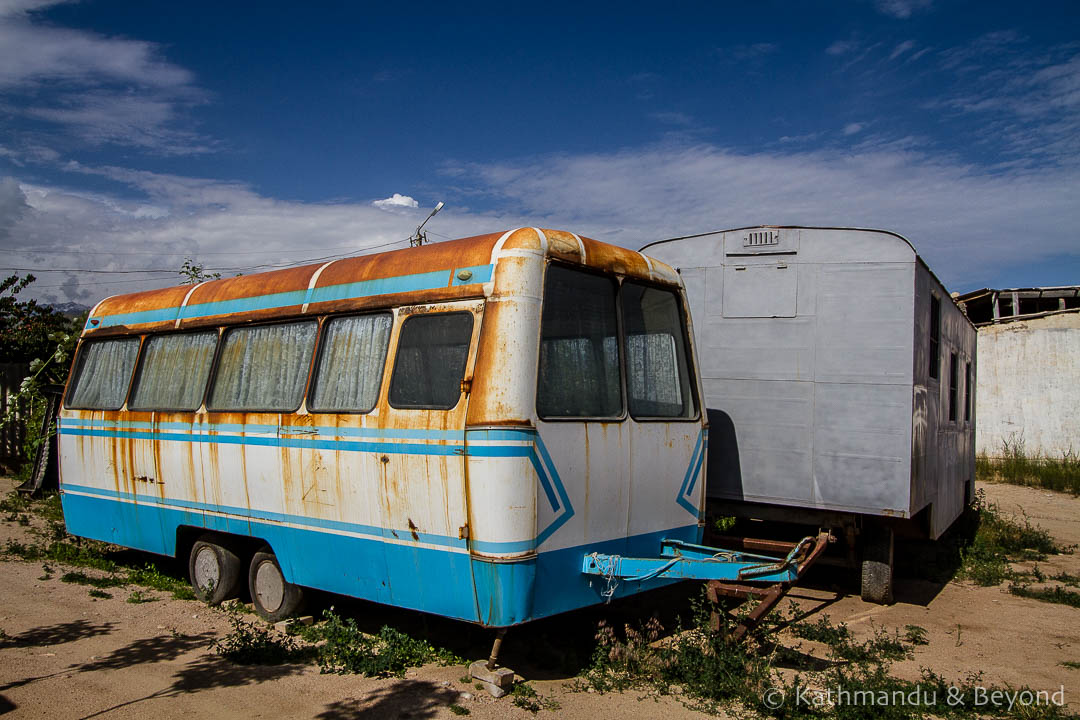 Corroding caravans, like this one in the hills above Cholpon-Ata, also catch our eye. This is especially the case when the rust sets off the mobile home's original colours so perfectly. 
Costa Rica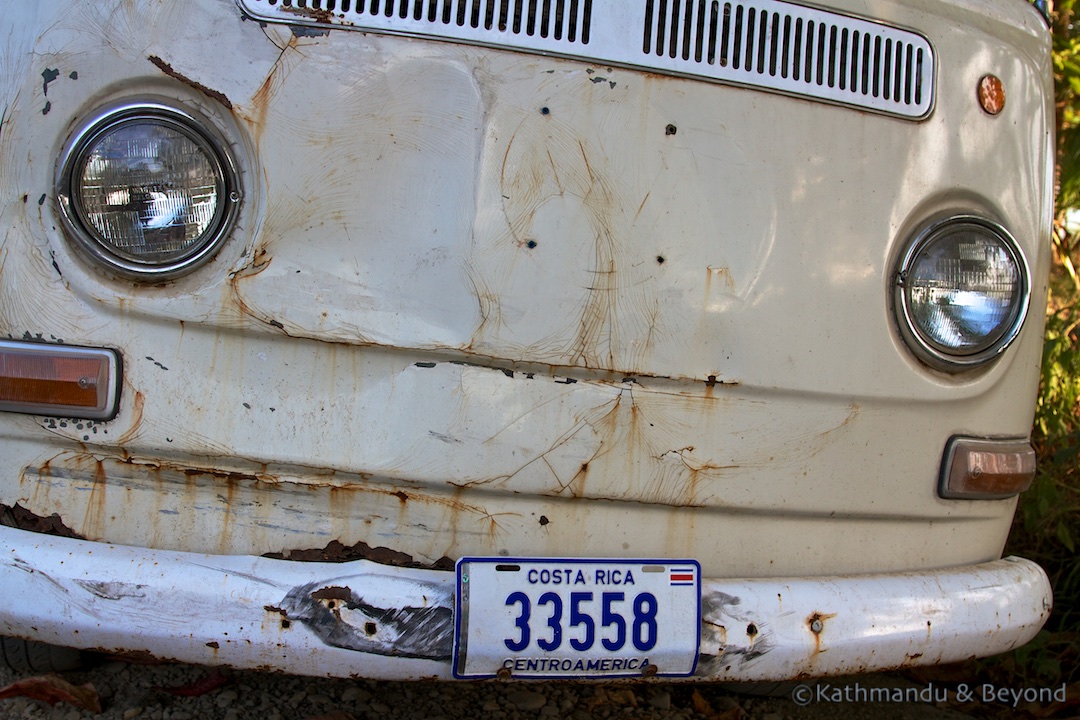 Even without its trademark VW badge, it's inescapable that this is a classic Volkswagen camper. You can still just about make out the outline of the badge. You never know, perhaps this one, which had appropriately been laid to rest in the Costa Rican surf town of Dominical, had been 'Beastied'! (*)
(*) A reference to the American hip hop band, the Beastie Boys. In the late 1980s, the band made accessorising with medallions made from VW badges a 'thing' and subsequently many Volkswagen badges were prised from said cars by fans wishing to emulate the band members. Often the car's grill would get damaged and It became such a problem that, eventually, Volkswagen stepped in and offered free VW badges to Beastie Boy fans to curb the vandalism. If you had your VW badge nicked back then you had been 'Beastied'. 
Georgia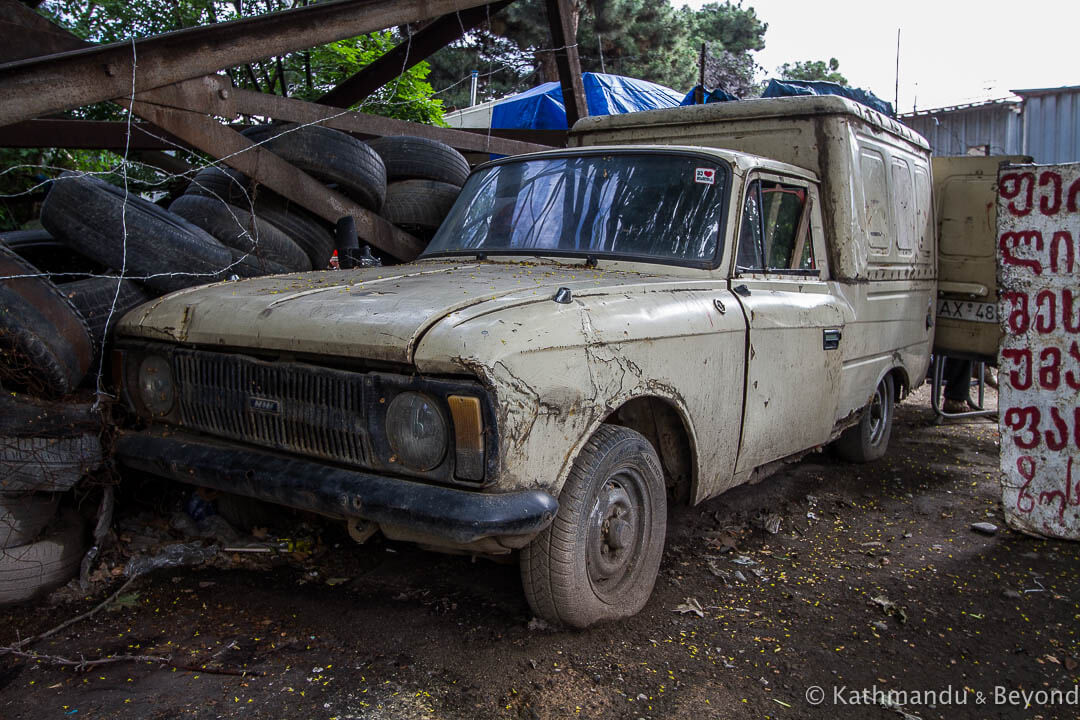 Making good use of this knackered van in Tbilisi, the owner had turned it into a semi-permanent market stall/storage place for whatever he was selling.
Cambodia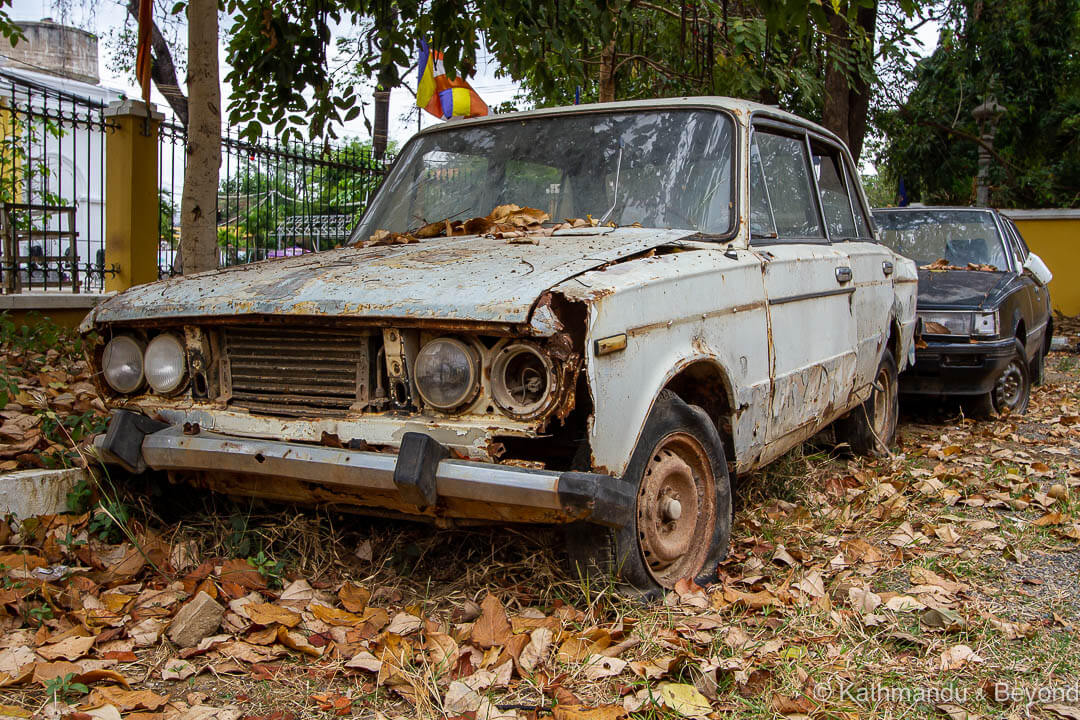 I'm pretty sure this is a Lada. We are used to seeing this Russian-designed car in the former Soviet Union and even Eastern Europe, but its more common to see Toyotas and other Asian-manufactured vehicles in this part of the world. Then again, Cambodia was a communist country under the Khmer Rouge and Russia did have some influence thereafter once the murderous regime was toppled so maybe the Lada, like this one in the grounds of the municipality building in Battambang, wasn't such an unfamiliar sight thirty-odd years ago?
Kosovo 
A beaten-up Opel with Serb plates in the northern part of the divided city of Mitrovica. A blog about defunct cars is not the place to get into the complex history and politics attached to this small city in the north of Kosovo but it is a subject we have tackled and you can read more about here. 
Thailand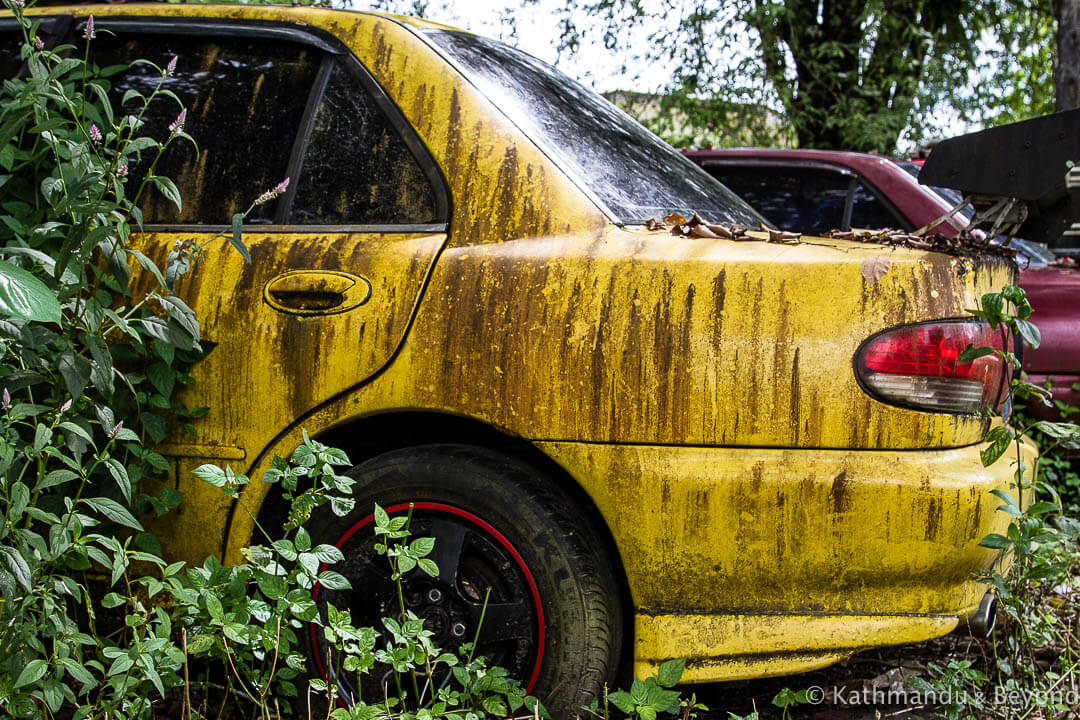 We had a good time in Ranong. Not only did we find the old Mercedes with its badge intact (see above) but we also photographed this splendent yellow car that had been walloped by the South-East Asian climate over the years. Perfect fodder for Lightroom! 
Estonia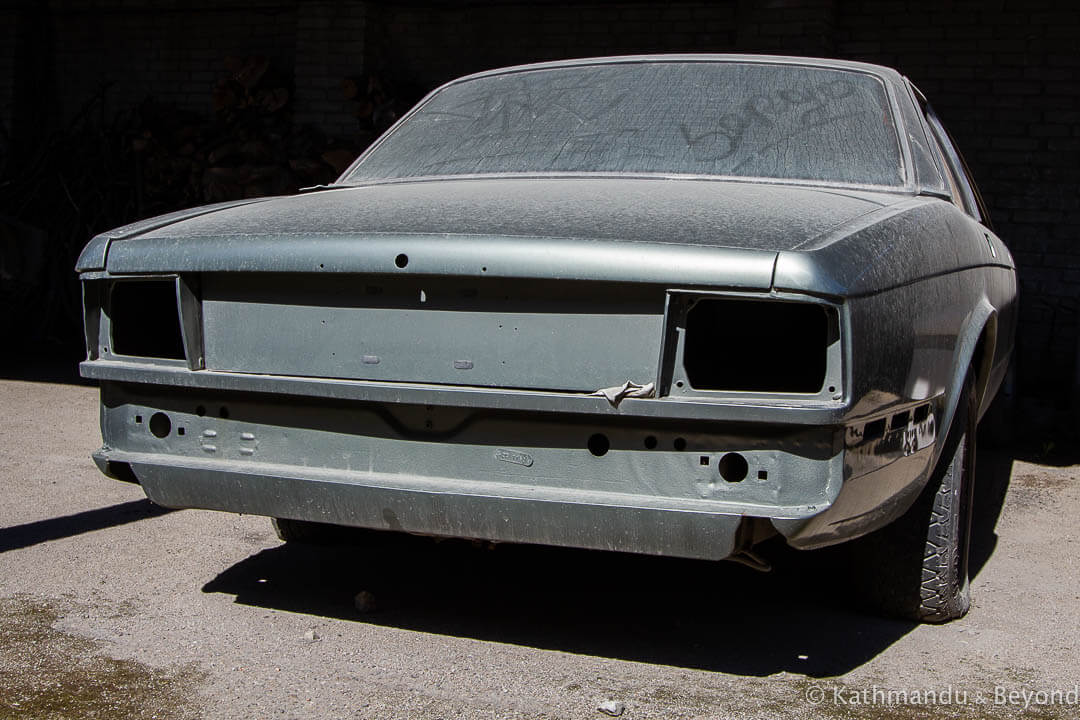 Covered in dust and devoid of most of its vital components such as lights and, no doubt, its engine, this Jaguar looked like a kit car waiting to be assembled. We found it in the grounds of a disused factory not a million miles away from Tallinn's way-prettier old town.
---
IF YOU ENJOYED THIS POST, CHECK OUT PLANES, TRAINS and AUTOMOBILES, THE SECTION OF OUR WEBSITE DEDICATED TO PHOTOS OF ABANDONED CARS, DECAYING VEHICLES AND OTHER UNLOVED PUBLIC TRANSPORT THAT WE HAVE PHOTOGRAPHED ON OUR TRAVELS
---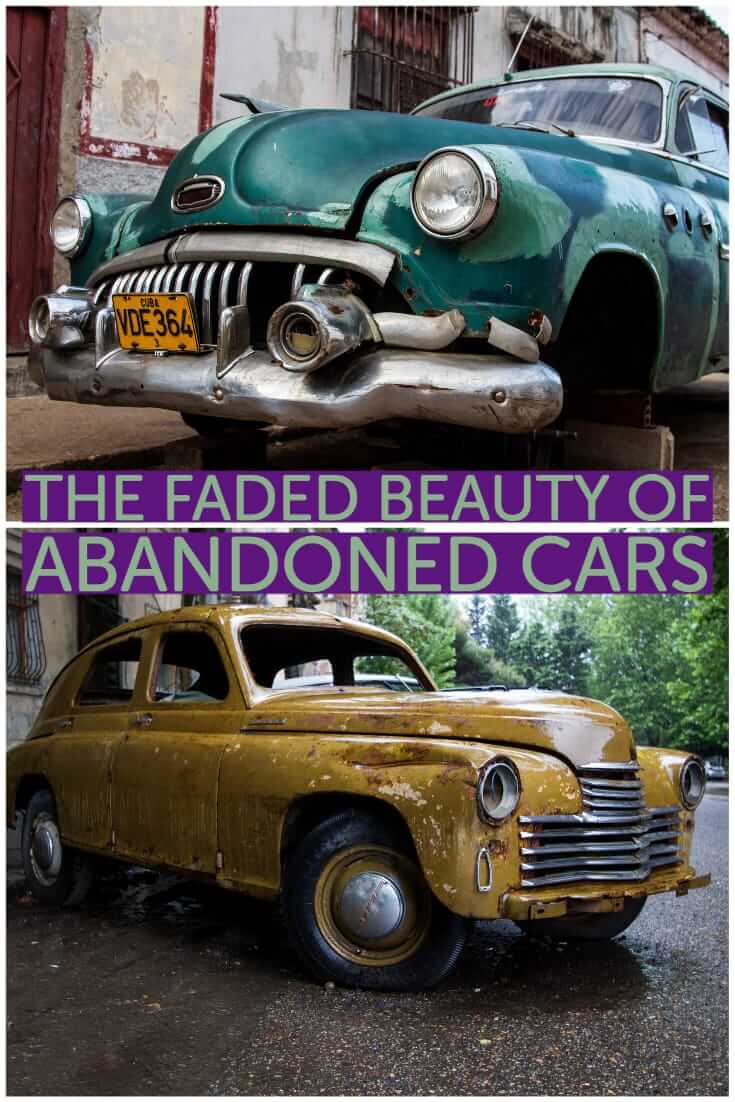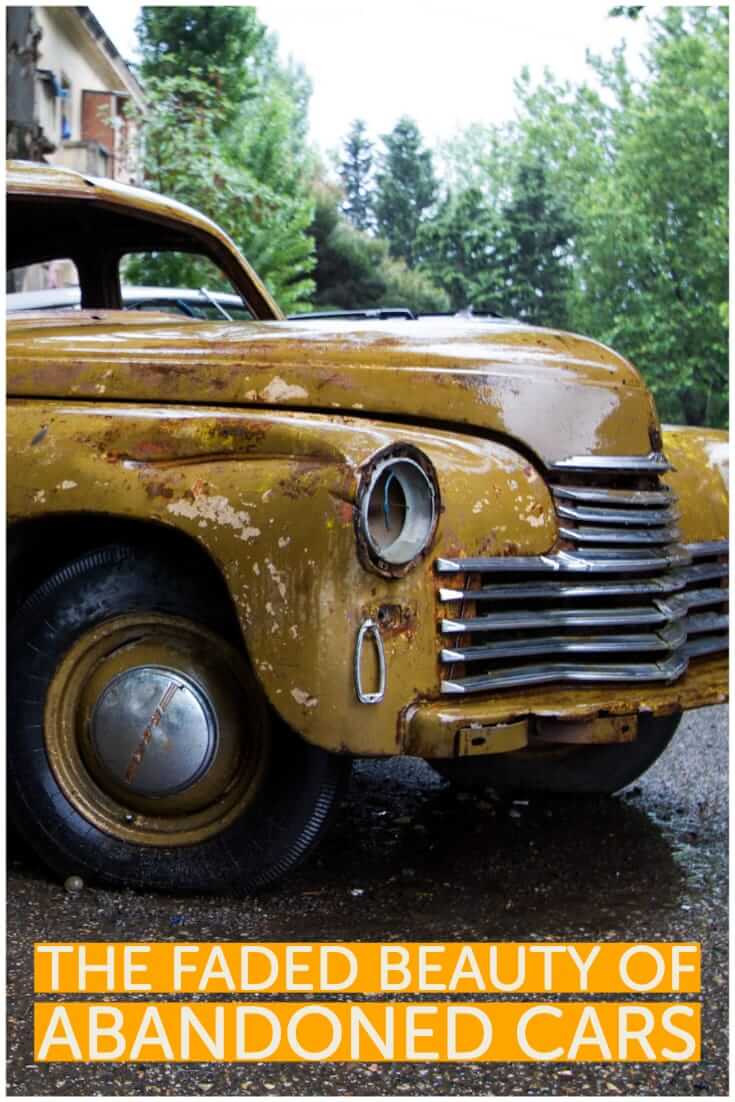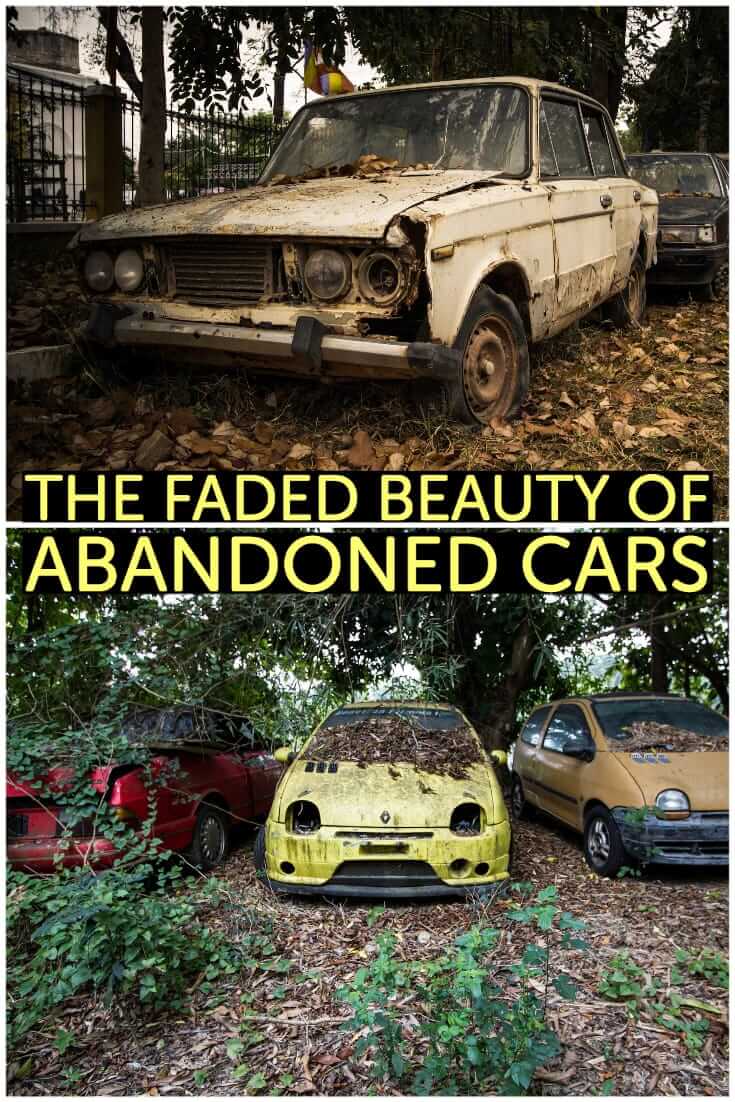 ---
---