Ultimate Turkey itinerary: Istanbul to the Georgian border in two months
This is part three of a three-part series recapping the highlights of our two-month overland trip across Turkey, from Istanbul to Georgia and the Caucasus. Part I covered Istanbul to Antalya (The Coast) and Part II filled the gap from Antalya to Malatya (The Centre).
Part III: Malatya to the Georgian border (The East)
Itinerary summary
Malatya – Diyarbakir – Mardin – Batman – Hasankeyf – Tatvan (Lake Van) – Bitlis – Ahlat – Gevas – Akdamar Island – Van – Hosap – Cavustepe – Dogubayazit – Igdir – Kars – Ani – Hopa – Georgian border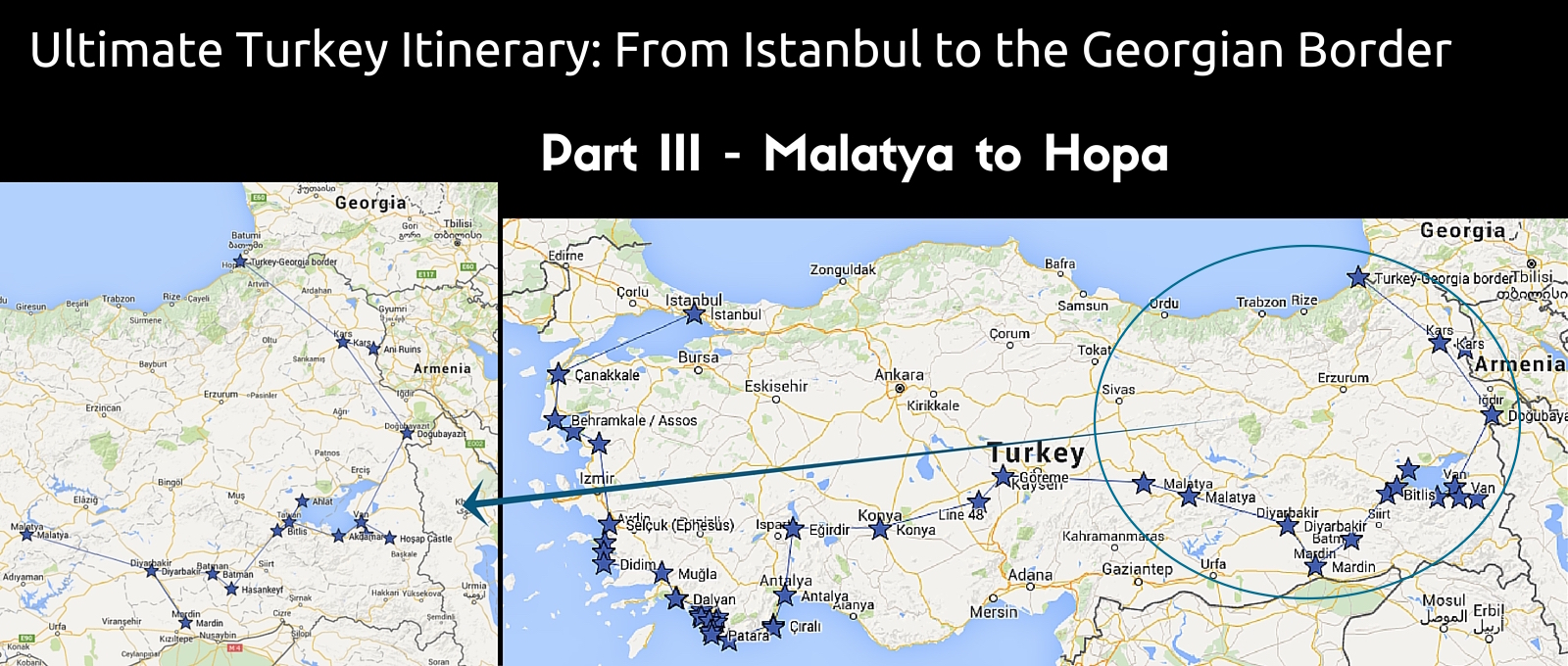 Our route for the final leg of our Turkey travels. Click on the map or here to enter an interactive version in Google maps.
Eastern Turkey and Kurdistan has long been one of my favourite regions in the world. This was my fourth time in the region but for Kirsty, it was her first and I was keen to show her the highlights. We started our journey in the area with a bus to Diyarbakir. Often a city of conflict between the Government and the local Kurdish population, we didn't experience any issues whilst there. Indeed, we were in luck as unbeknown to us, the city had received UNESCO World Heritage status (for its Fortress and Hevsel Gardens Cultural Landscape) on the day of our arrival and when we went to the tourist board the next morning to pick up a map we were greeted with warm enthusiasm by the staff as we were the first tourists to visit their office since the announcement. Photo opportunities and tea were followed by a private full-day tour of the city guided by several members of the tourist board team.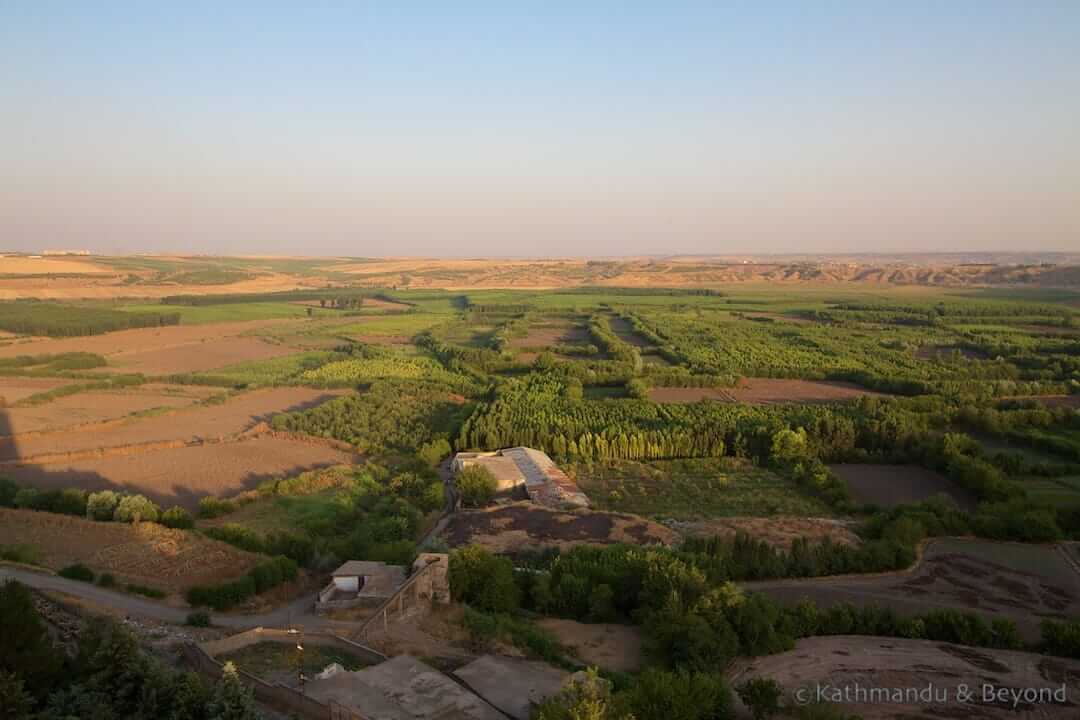 Hevsel Gardens, Diyarbakir
Our next stop was the historic city of Mardin. Although visiting was a tad risky due to its proximity to the Syrian border, we were taken in by Lonely Planet's opening description of the city; 'Mardin is a highly addictive and unmissable spot' – and the description is bang on the money. Honey-coloured buildings, a labyrinth of backstreets and a desert vista that stretches as far as the eye can see did indeed make Mardin an unmissable spot for us.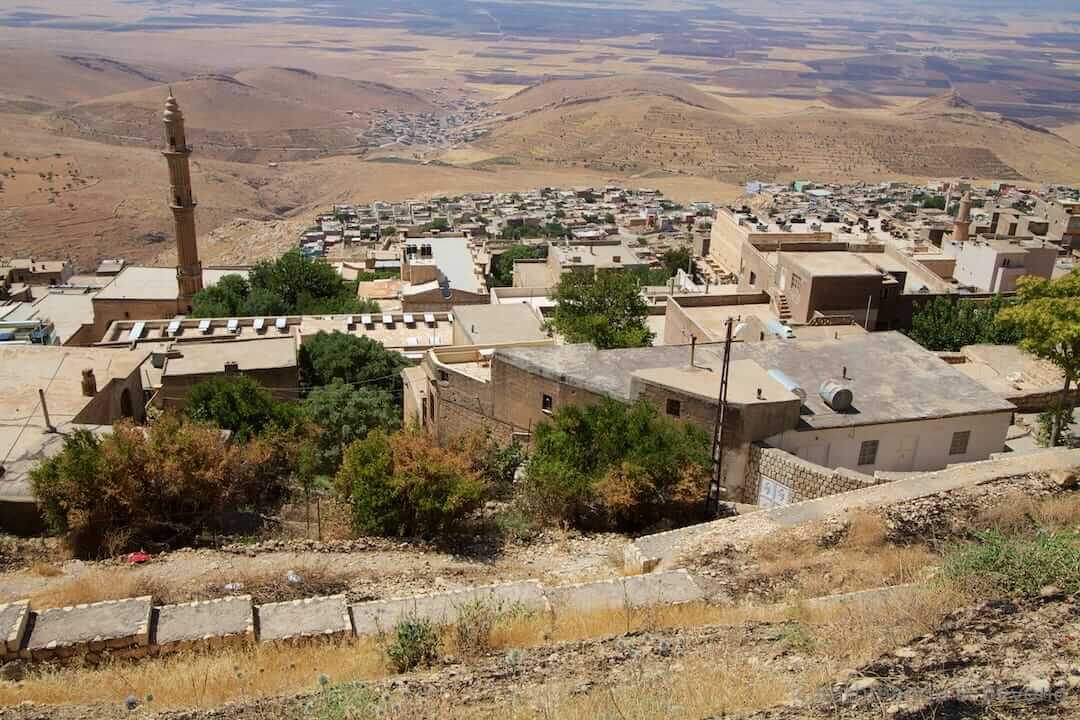 Mardin
Mardin was followed by a dolmus ride east to the wonderfully named town of Batman where we transferred to another dolmus ('Quick Kirsty, to the Dolmobile…') that took us to Hasankeyf.
An ancient town surrounded by superb scenery, Hasankeyf is a sorry place. It was a popular tourist destination (and still is with locals) but we stayed in the worst accommodation of the entire trip. The problem lies in the fact that in the not so distant future the town could all be under water as the Government is building a new hydroelectric dam that threatens Hasankeyf's very existence. As a result, nobody wants to invest in the infrastructure and who can blame them?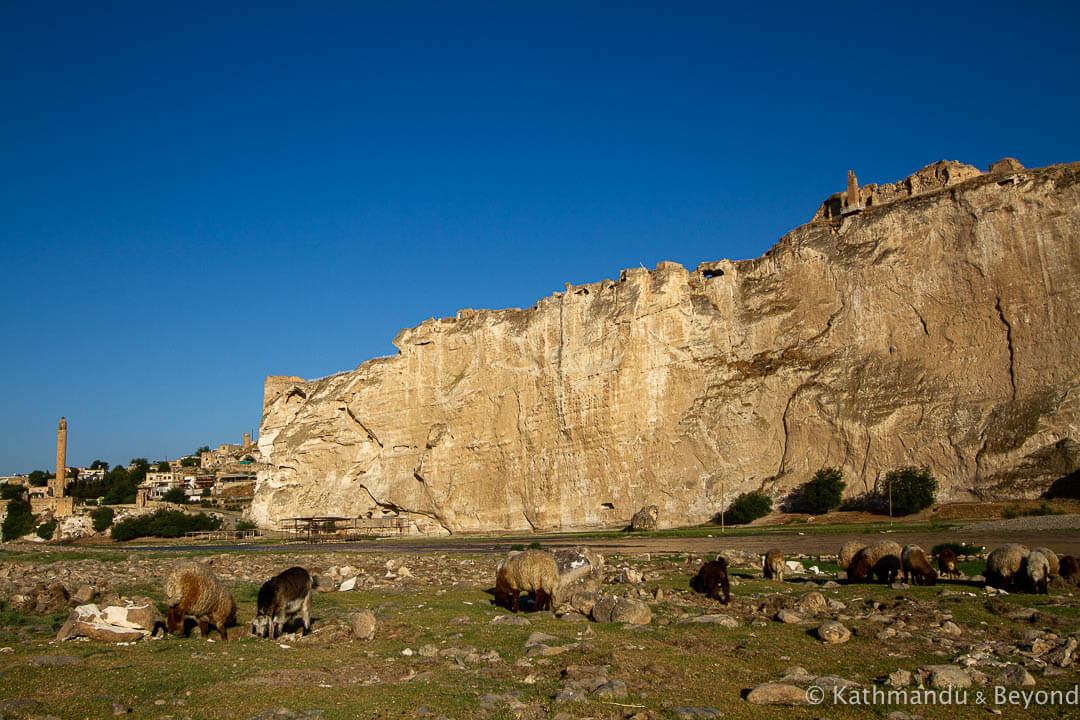 Hasankeyf
We thought we would have to return to Batman ('Quick Kirsty … nah, you get the picture) in order to get to Tatvan, our next destination, but luckily a direct bus came through so we flagged that down and jumped on it. Lake Van is big and using one base to visit all of the attractions would mean quite a bit of backtracking so we spent some time in Tatvan on the western shores of the lake and made day trips to Bitlis and Ahlat. We then travelled along the southern edge of the lake to Gevas from where we took a boat to Akdamar Island to see the Armenian Cathedral of the Holy Cross (*).
(*) This church, and its setting is very famous. If you type Lake Van into Google and go to images it's pretty much always the first thing to come up. Try it?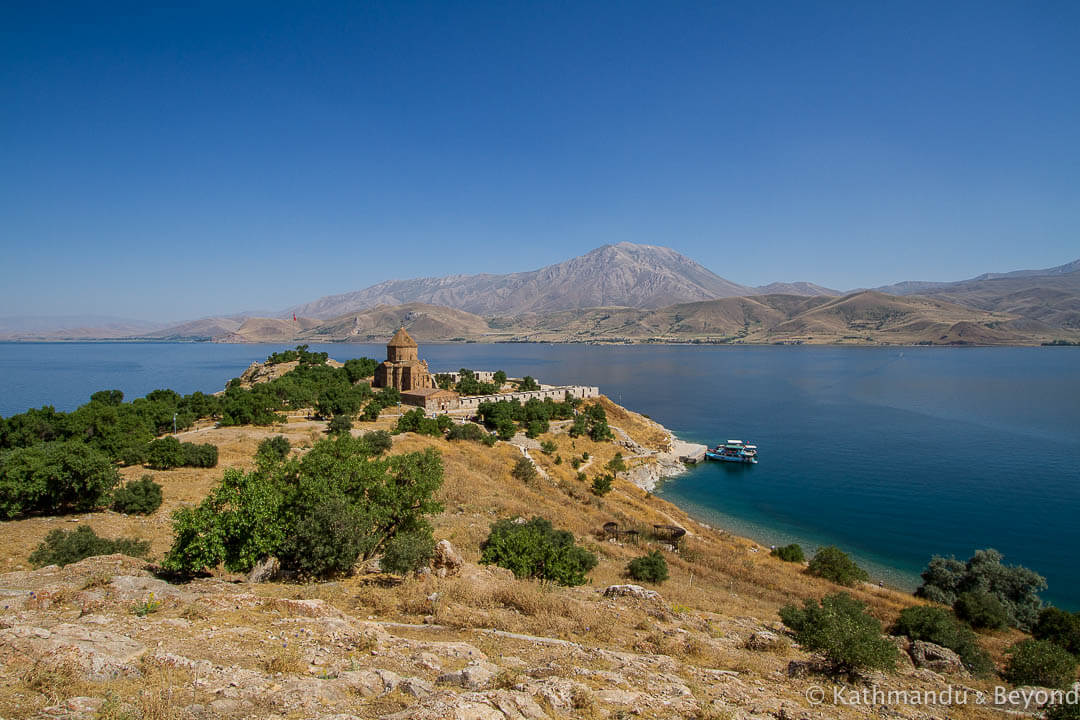 Akdamar Church, Lake Van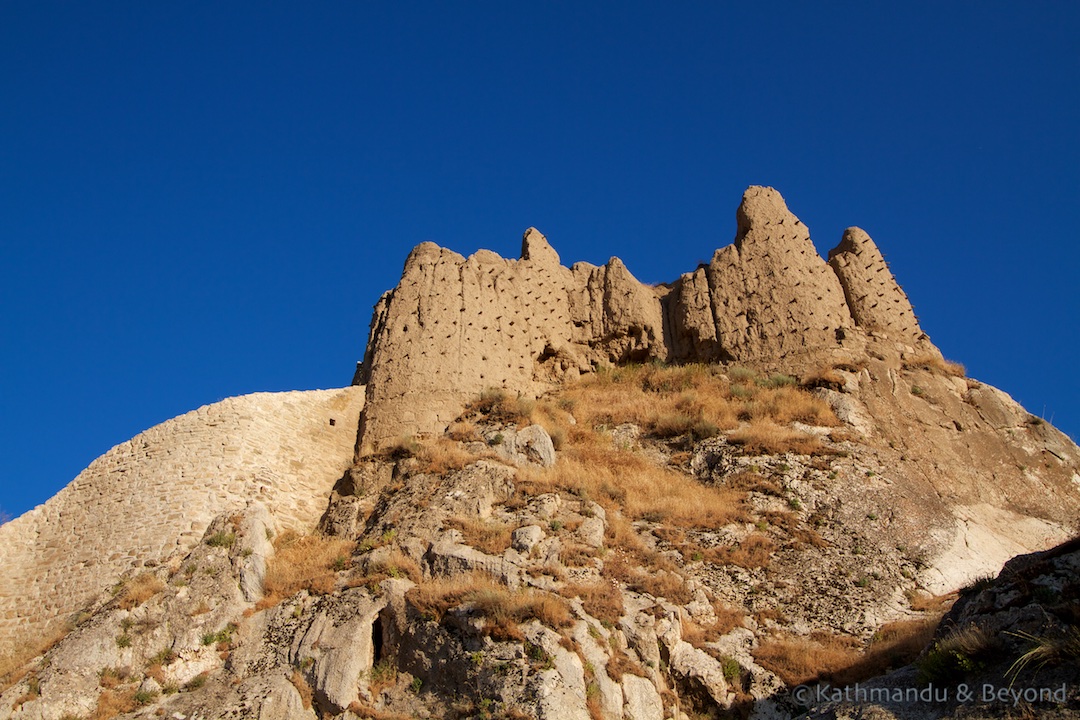 Van Fortress
Back in Gevas after our visit to the island, we took an onward dolmus to Van on the eastern shores of the lake. Van is a good base for exploring the hilltop castle at Hosap and the ancient fortified site of Cavustepe. In better times we could have gone further south and explored Hakkari and other Kurdish towns near the Iraqi border but it was not advisable because of the border conflicts and so we started our journey north, taking the very scenic 5-hour bus journey to Dogubayazit which I prefer to call Doggy Biscuits. From previous trips, I remember Dogubayazit being a bit of a dump and I can assure you that is still the case. The town is windy and cold (even in summer) but it does have two redeeming features – fine views of Mount Ararat (on a clear day) and the superbly located Ishak Pasha Palace. Both are worth the trudge into the middle of nowhere to see.


Hosap Castle (left), Cavustepe Upper Castle (right)


Ishak Pasha Palace, Dogubayazit (left) and Mount Ararat (right)
Continuing north and hugging the Armenian border, our next change of bus was in Igdir (push pineapple, shake the tree – anybody?), with our final destination that day being the old Russian outpost of Kars. I also have memories of Kars being a bit of stinker but the years have been kind and the city was more pleasant than I remember.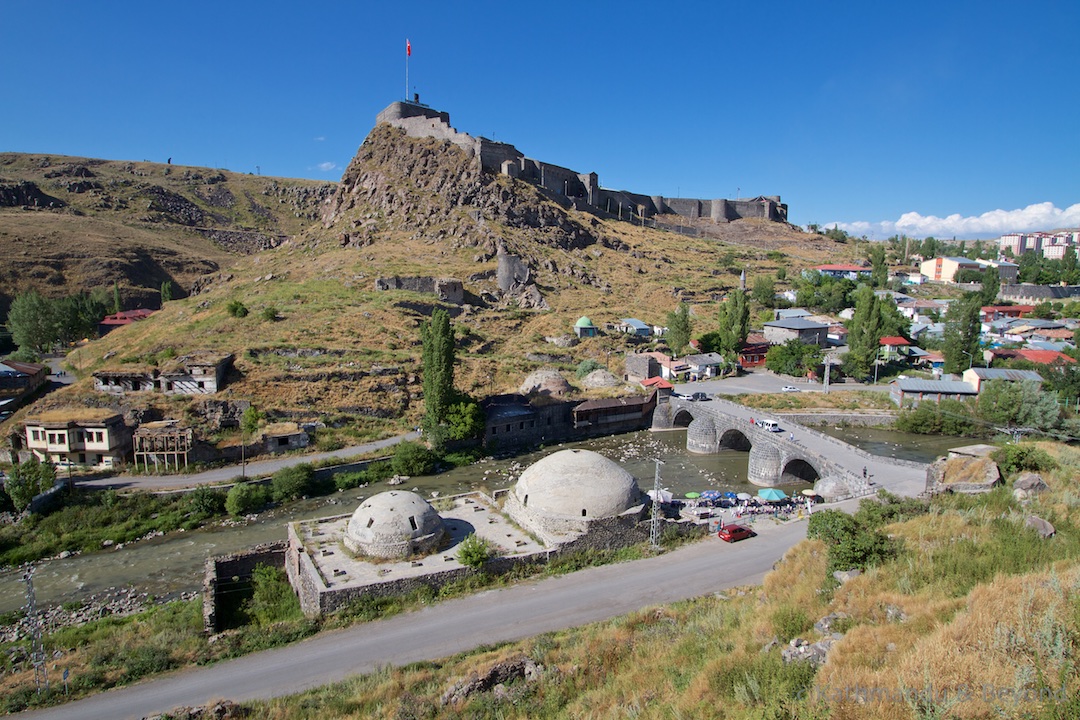 Kars Castle
Another highlight of our time out east was the ruined medieval Armenian city of Ani which we visited from Kars. The site and its location are unquestionably superb but it is in the middle of nowhere and there is no public transport to it. As a result, you either need to take a taxi or hitch a ride. We took a taxi and were glad we did as we hardly saw any traffic on the road and reckoned we would have been in for a long wait in both directions.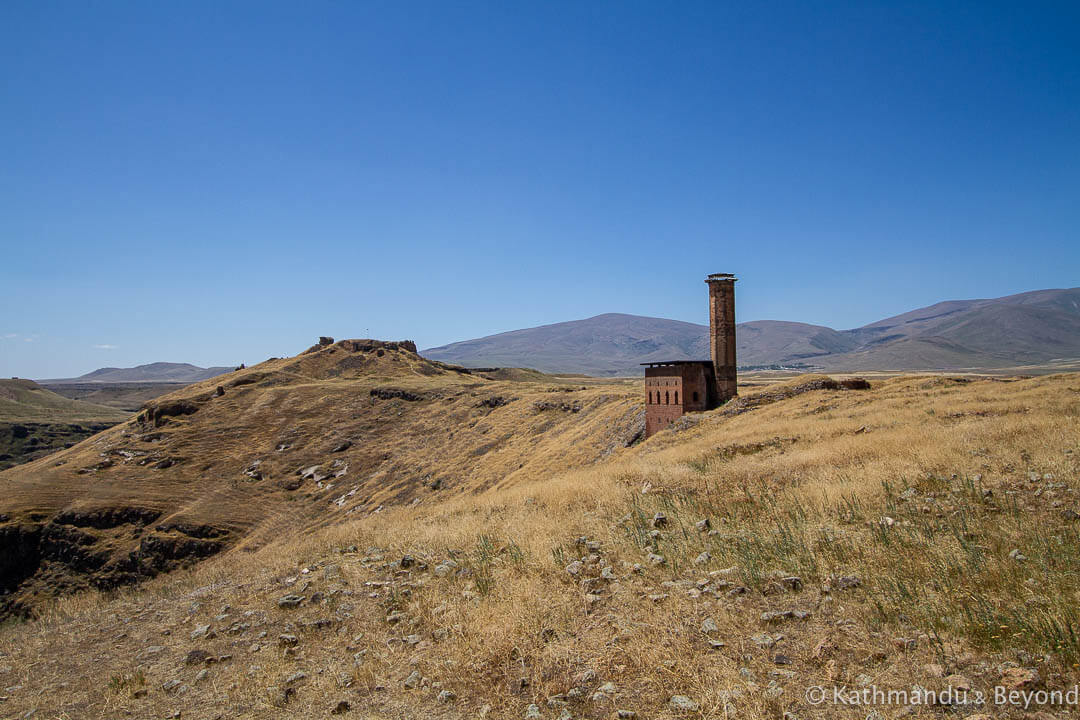 The ancient city of Ani
We weren't expecting the bus journey from Kars to Hopa on the Black Sea coast to take as long as it did. It was a very scenic journey but our anticipated 4 hours took more like 7. Hopa is a busy city and there are dolmuses running regularly to the border with Georgia some 37km to the east. As soon as we got off the bus from Kars we were herded onto a waiting dolmus and before we knew it we were being stamped out of Turkey and walking through no man's land and into Georgia. That was it: no time to reflect or to say güle güle (goodbye in Turkish) to this wonderfully diverse country.  Our departure was over in a flash with reflection and discussion about our personal highlights having to wait a couple of hours until we were firmly ensconced in a bar in Batumi, drinking cold Georgian beer and questionable red wine!
We were in the east of Turkey for about three weeks in total and this was probably enough. The Kurds are decent people but the atmosphere in Eastern Turkey is very different from that on the coast plus the food is not as diverse. The Greek influence along Turkey's Aegean and Mediterranean coastline ensures lots of nice meze style dishes whereas out east we ate a lot more kebabs and bread which got a bit boring after a while. Nonetheless, we both enjoyed the journey and given the current political situation, it will come as no surprise to hear that we hardly met any other tourists during our time there and for the best part we had sites and places of interest all to ourselves. It would have been nice to have been able to visit Gaziantep and Şanlıurfa (both in the southeast near the Syrian border) but both were (and still are) off-limits. We maybe would also have considered breaking the journey between Kars and Hopa had we known the journey time in advance. I say maybe because by this time we were craving different food and cheap Georgian beer and wine so it probably wouldn't have happened.
All in all, Turkey was a great trip for us and we enjoyed it very much. We were tempted to return after visiting the Caucasus and head overland to Istanbul via the Black Sea Coast but instead, we decided to fly to Kyiv in Ukraine from where we made our way to Poland. It turned out to be a good decision and gives us an excuse to return to Turkey at a later date.
Which of these places would you like to read more about or maybe see more photographs of? Leave a comment below and will get onto it.
---
Catch up on Part I and Part II of our Ultimate Turkey Itinerary or check out more of our photographs here. And head here for our complete route map.
---