Coastal Turkey itinerary from Istanbul to Antalya along the Turquoise Coast
Istanbul – Canakkale (Gallipoli Peninsula) – Behramkale (Assos) – Ayvalık – Bergama (Pergamum) – Izmir – Selcuk (Ephesus) – Miletus – Priene – Temple of Apollo – Didim – Mugla – Dalyan (Kaunos) – Fethiye – Kayaköy – Ölüdeniz – Tlos – Saklıkent Gorge – Pınara – Xanthos – Letoön – Patara – Kas – Cirali (Olympos) – Antalya
COASTAL TURKEY ITINERARY HIGHLIGHTS
Ancient Greek and Roman ruins: if you are interested in archaeological sites and historical ruins, you will be happy in this region of Turkey.
The cuisine: Turkey produces some amazing food, but the Aegean coast is where we've had some of our best feasts. Due to its historical connections, the food is comparable with neighbouring Greece.
Gorgeous coastal scenery: the area is called the Turquoise Coast for good reason. This part of the Mediterranean coast provides some of the world's greatest hiking trails, including the Lycian Way that stretches from Fethiye to Antalya. Averaging 17 km/day, it takes a month to walk the entire 500 km path, but several sections can be done as day hikes.
Pretty harbour towns like Fethiye, Kas and Behramkale
Best time to travel: July and August are the hottest months but they are also the height of the season for beach-goers. Travel along Turkey's Aegean coast in May/June or September/October for optimum conditions.
Start / Finish: Istanbul / Antalya (or vice versa)
Recommended duration: 3 weeks minimum. It took us about a month to travel from Istanbul to Antalya. We didn't move at breakneck speed but, apart from short stays in Bergama and Cirali, we didn't hang around that much either.
Best place to slow down: It depends on your interests but if you want to include some beach time in your Turkey itinerary, Patara or Cirali would be our choices. If you prefer a more lively town, pick somewhere like Fethiye or Kas.
Mode of transport: Mostly by bus and, in many cases, by dolmus (minivans which operate on shorter distances and local routes; the Turkish equivalent of a marshrutka).
TURQUOISE COAST TURKEY ITINERARY INTRODUCTION
We followed this itinerary as part of a two-month journey across Turkey from Istanbul to Batumi in Georgia. Leaving Istanbul, we headed south along the coast, hungry for ancient cities, fine beaches, and delicious Turkish cuisine.
Initially, we were reluctant to spend much time on the Aegean coast, supposing the towns would be crowded with rowdy sun-seekers. However, it ended up being one of our favourite parts of Turkey. The only archaeological site that was very busy was Ephesus. It seems that many visitors to the region largely stay within their resorts, leaving only for day trips to the major attractions.
We visited a LOT of ancient ruins on our Turquoise coast itinerary, so feel free to skip some of them if you're not quite as obsessed as us, and fill your itinerary with more beach time or longer stays in the towns.
Our coastal Turquoise itinerary starts in Istanbul and ends in Antalya but you could also do the itinerary in reverse.
Istanbul
We started our coastal Turkey trip with three clear days in Istanbul. With so much to see and do, three days is essential if you want to see the highlights.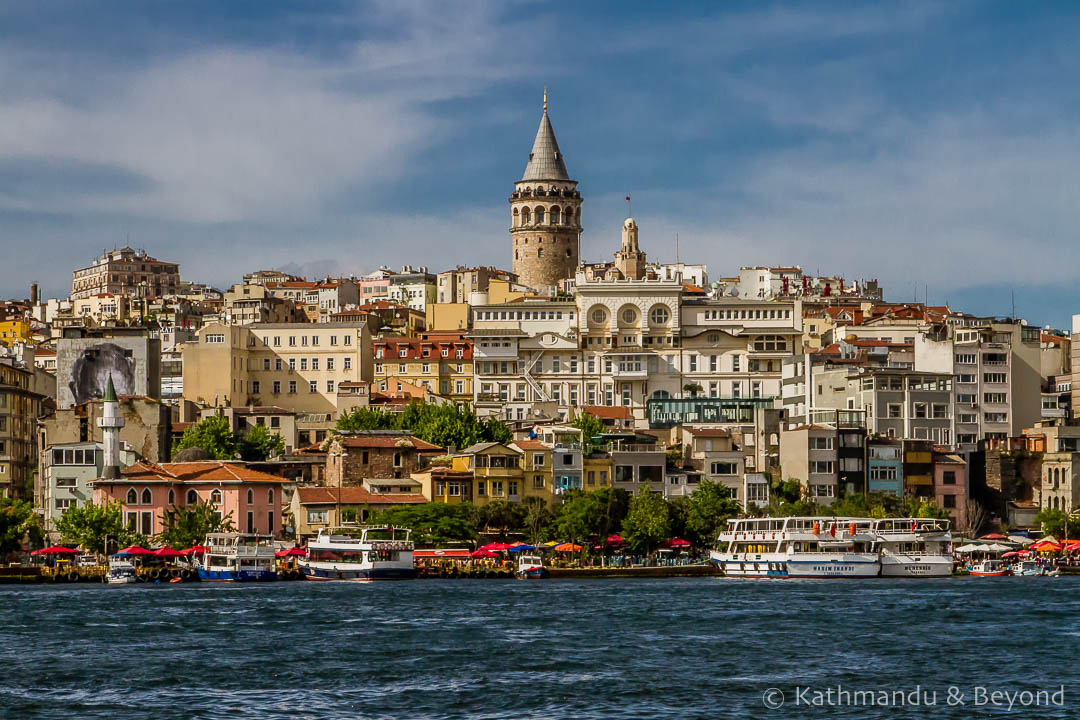 Beyoglu, Istanbul
Gallipoli / Canakkale
From Istanbul, we took a bus southwest to Canakkale, an attractive harbour town that sits across the Dardanelles Strait from the Gallipoli Peninsula. The Battle of Gallipoli was a First World War military campaign fought here between the Allied Powers and the Ottoman Empire. If you want to visit the war graves and memorials on the peninsula, Canakkale is a good place for independent travellers to be based, and unless you have your own transport, it is best to take an organised tour. From Canakkale, we went on a half-day tour to the Gallipoli Peninsula organised by Crowded House Tours (highly recommended and good value for money).
While in Canakkale, we took a bus 30 kilometres south, to nearby Troy (of Helen of Troy fame). According to Homer's epic poem, the Iliad, it is the site of the Trojan War. However, the Archaeological Site of Troy is real, and its 4,000 years of history earned it a place on the UNESCO World Heritage List. There is a reconstruction of the mythical Trojan Horse in the town centre, but generally Troy is not so interesting as there is not much left to see. But take your imagination and history books and visit if you are in the region.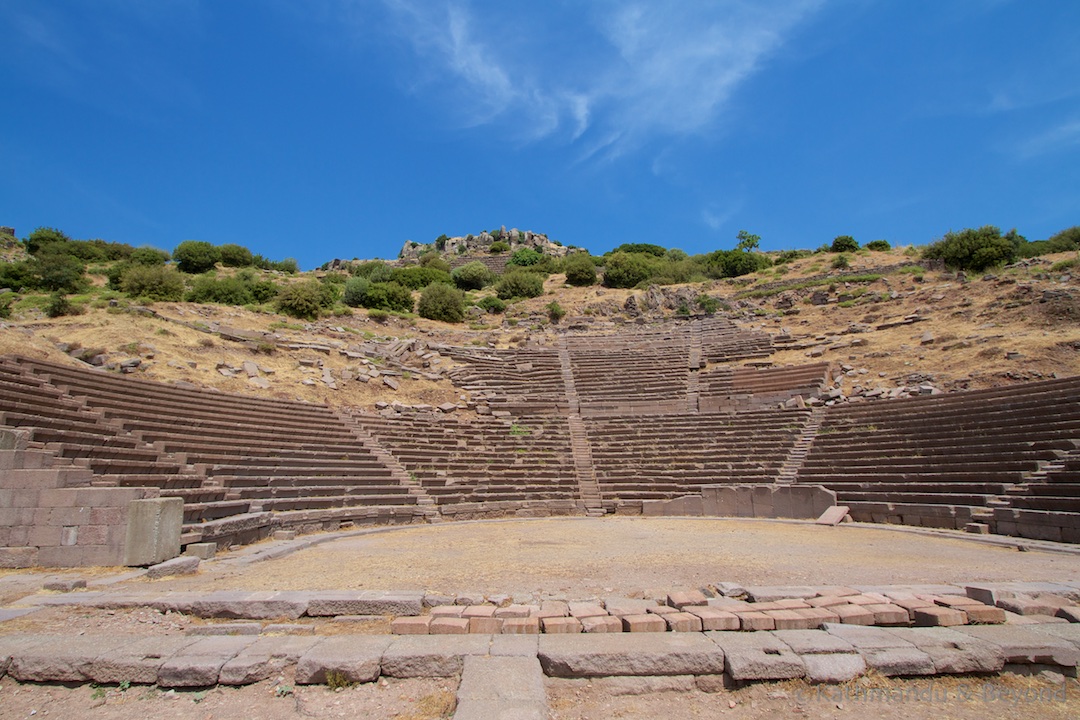 Assos (Behramkale) Amphitheatre
Assos-Behramkale
From Canakkale, we headed south to Behramkale, an oversized village with a stunning hilltop location and an equally splendid harbour. The main reason to come here is to visit the ancient classical ruins of Assos. Confusingly, the town is known as either Behramkale, Behram or Assos.
Most of the activity, including shops and accommodation, is in the upper part of the town. It is around a 20-minute walk downhill to the harbour (factor in more like half an hour for the trip back up). The harbour area has a few waterfront restaurants and a couple of places to stay, but generally, the cheaper hotels and guesthouses are in the upper town.
In between the two settlements is the archaeological site of Assos. Overlooking the Aegean Sea, the Temple of Athena has one of the most spectacular settings of all Turkey's classical ruins.
Ayvalık
After a night in the sleepy village at Assos, we made our way by a series of dolmuşes to Ayvalık, a typical working port that sees few tourists and has a rambling Old Town, some good coffee shops and plenty of fresh fish. It is also famous for a unique type of fast-food, Ayvalık toast, a massive toasted sandwich crammed with all manner of fillings, including spam-like meat, and drowned in ketchup and mayonnaise. It's pretty sickly if truth be told and not something we would rush back to Ayvalık for.
There are less than 150 kilometres between Behramkale and the next stop, Bergama, so Ayvalık could be a place to skip if you are short on time.
Bergama / Pergamum
Still travelling south but heading slightly inland, our next stop was Bergama to see the ruined city of Pergamum. Of the many classical sites we visited along the Aegean coast, this was the most impressive. We slowed down a little in Bergama as we found a nice place to stay, and the medium-sized town had some good eating options and leafy tea gardens.
Izmir
We transited through Izmir en route to Selcuk, but, in retrospect, we should have spent some time there. I can't remember why we skipped through Izmir. I suspect it was because our focus was on smaller towns, and we were put off by the fact that Izmir is the third most populous city in Turkey.
Selcuk / Ephesus

Our next stop was Selcuk, a base for exploring the ancient city of Ephesus, one of Turkey's premier sights. After the lack of tourists at Assos and Pergamum, the crowds at Ephesus were quite a shock. However, we left it until late afternoon to visit and then walked in the opposite direction to everybody else (up the hill from the Lower Gate to the Upper Gate). As a result, we had a reasonably unmarred experience. We even managed to get a photo of the Great Theatre with no one in it. The only downside with a late afternoon visit is that the sun faces the wrong direction for photographing the Library of Celsus – for that, you need the morning light.
The vast majority of visitors to Ephesus are day-trippers from beach resorts. As a result, the nearest town, Selcuk, is surprisingly peaceful. Selcuk had plenty of good value accommodation options so we spent an extra day there before dolmuşing and hitching our way to the very British-like seaside resort town of Didim.
We hadn't planned to hitch in Turkey (or anywhere else for that matter) but soon discovered that in regions where public transport is thin on the ground, hitching a ride for a short distance is very easy and we ended up hitchhiking quite a bit during the following months, not just in Turkey but also Georgia and Armenia.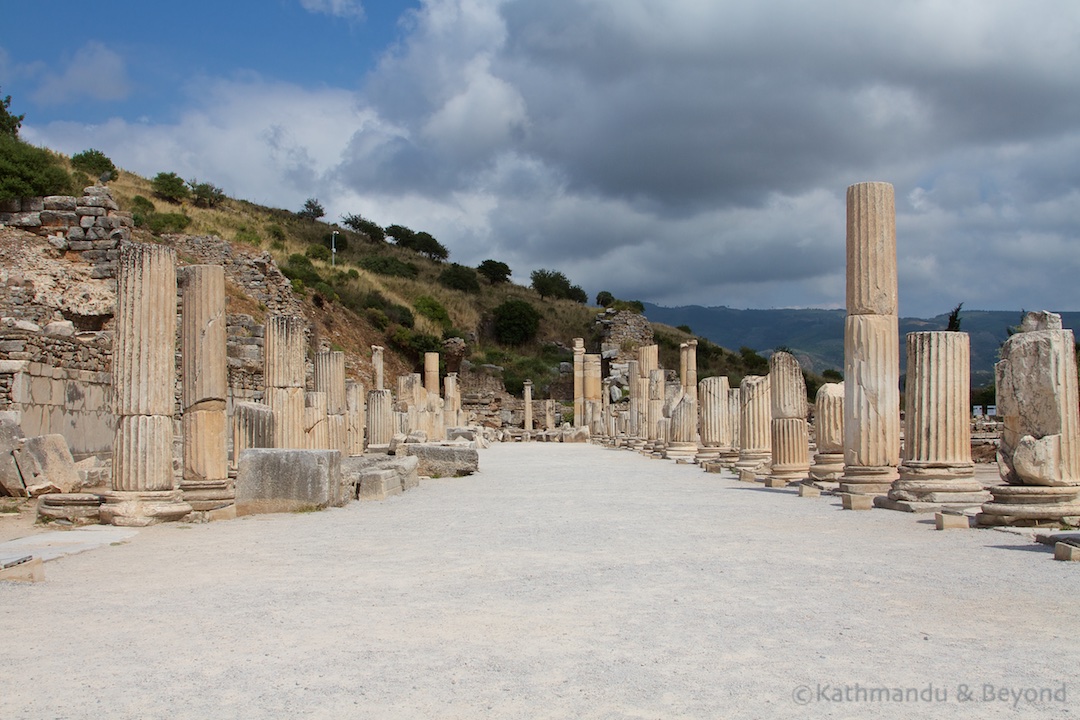 Didim
We stayed in Didim for two reasons – we wanted to see the nearby Roman ruins and we were curious to experience a Brits-abroad style holiday resort.
On the way to Didim, we visited the ancient ruins at Priene and Miletus and the Temple of Apollo at Didyma, on the outskirts of Didim. This trio of classical sites is nick-named PMD: Priene, Miletus and Didyma. They are often grouped this way because they are not easy to reach by public transport, and travel agents often package them as a tour. They are all different and not really comparable but, of the three, we both agreed Miletus was our favourite.
All of these archaeological sites are well-worth seeing, but you need to either have your own transport or be prepared to hitch if you want to visit them independently. We had a great day hitching rides between them and managed to avoid any tour groups too!
Didim is far from a traditional Turkish town, with many prices listed in British pounds. It was easier to order a full English breakfast than a plate of Turkish cuisine, and the restaurant touts were very fond of the catchphrase lovely jubbly (made famous by Del Boy in the classic sitcom Only Fools and Horses).
As mentioned above, unless you are extremely keen on seeing as many ruins as possible and are prepared to hitch to see them, Didim could be skipped.
Mugla
We played a wildcard after leaving Didim and headed southeast and inland to the university town of Mugla. This was a good call and we enjoyed wandering the Old Town with its white-washed Ottoman houses and drinking strong Turkish coffee with the locals.
Dalyan
Continuing south, we stopped in Dalyan, where we rented an apartment with a pool and kicked back for a few days. The ruined city of Kaunos on the outskirts of town is less impressive than other ancient ruins, but it is worth the effort of the climb for the view from the hill above the amphitheatre. Dalyan is popular with package tourists (especially British), but unlike Didim, it has plenty of charm, and we both found it hard to move on.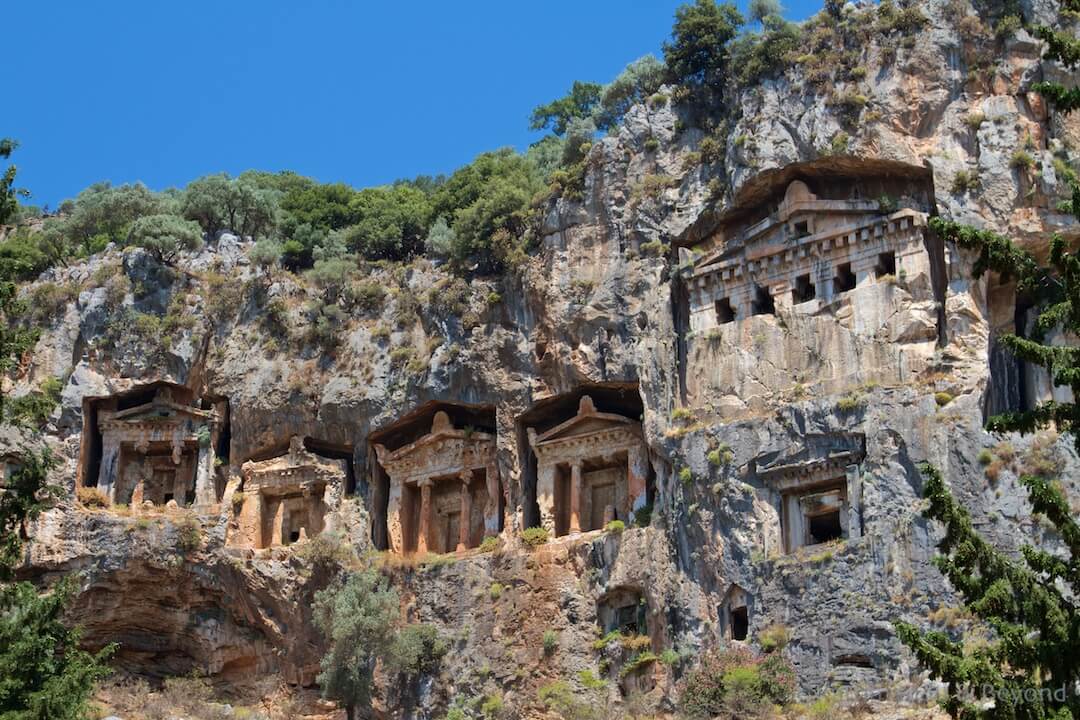 Kings' Tombs Dalyan 
Fethiye
Moving on our next stop was the harbour town of Fethiye, a good but rather expensive base for visiting the ghost town of Kayaköy and the long golden beach at Ölüdeniz. We hiked between Kayaköy and Ölüdeniz. The route is not part of the historic Lycian Way, but the 2-3 hour 8 km walk was spectacular with some outstanding views of the coastal scenery. Regular dolmus run between Fethiye and both Kayaköy and Ölüdeniz, and the walk itself is signposted with waymarks (although you need to keep your eye out for them). Undertaking the walk independently is straightforward and there is the bonus of being able to cool off in the sea at Ölüdeniz before heading back to Fethiye.
The ruined cities of Tlos, Pınara, Xanthos and Letoön
This part of our Turkey itinerary was only possible by having our own transport for the day and our circumstance. For most travellers, the logical thing to do at this point in the itinerary is to take a bus from Fethiye to Patara and hire a car from there to see this set of ruins.
Leaving Fethiye, we took a dolmus to a small village in the middle of nowhere called Güneşli. There we met up with a friend with whom we had been travelling since Istanbul but had gone our separate ways for a few days. She hired a car from Patara, where she was staying, and picked us up in Güneşli so we could do some serious ruin-bashing.
We visited the ruined cities of Tlos, Pınara, Xanthos and Letoön, of which Tlos, with its huge hilltop citadel, was our personal favourite. We even managed to squeeze in a quick visit to Saklıkent Gorge, and take in the sunset from the sand dunes at Patara Beach (having made a pit stop at the local store for an obligatory couple of cans of Efes beer), before eventually heading to our accommodation in Gelemiş, a short distance inland from Patara beach.
Patara Beach / Gelemiş
Patara beach features on many best beaches in Turkey lists but, despite this, it is surprisingly devoid of crowds. Perhaps because at 20 kilometres, unspoilt Patara is the longest beach in Turkey. And maybe because there is, thankfully, no major tourist developments along the beach. Patara's town is Gelemiş, a sleepy village a kilometre and a half from the sea where there are several guesthouses and restaurants.
Another reason to visit Patara is the Lycian ruins which are scattered along the road to the beach. Again, they are not as impressive as some in Turkey but if you are in Patara it would be a shame to miss them.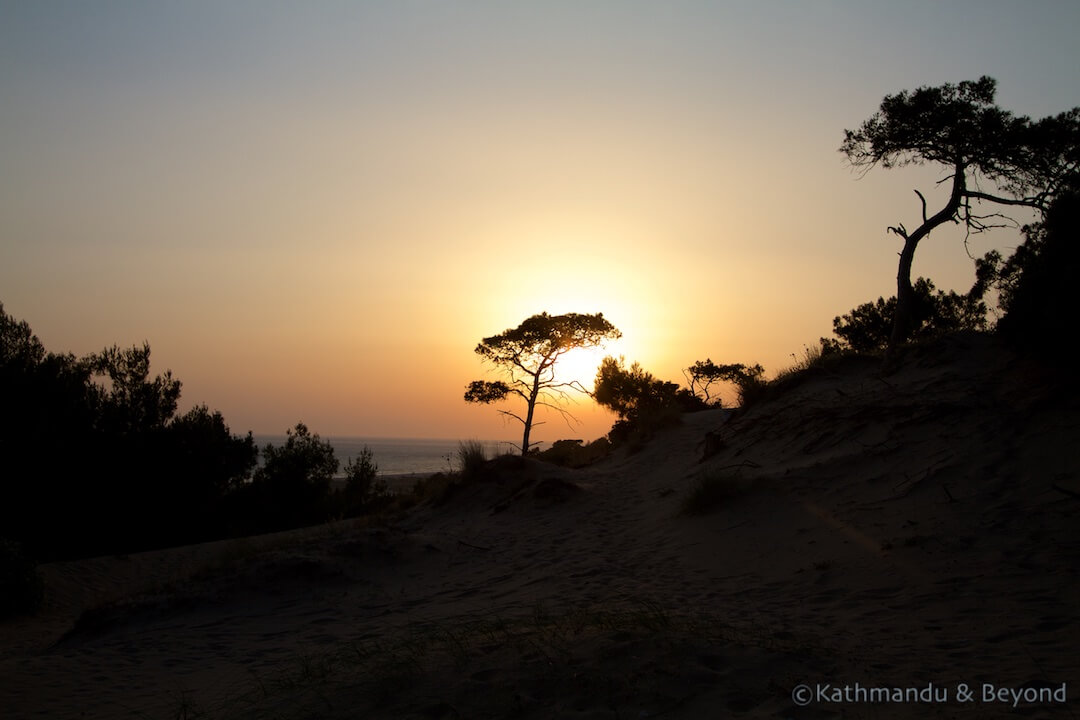 Patara Beach sunset
Kas
After a few lazy days in Patara, we made our way to nearby Kas. The town is an excellent base for discovering some of Turkey's best scuba diving sites and is also a popular start point for boat trips and sailing holidays. That aside, the attractive harbour and white-washed backstreets make it an appealing place for a day or so of exploration.
Cirali and Olympos
Some serious sunbathing and R&R on the laid-back twin beaches at Cirali and Olympos were next on the agenda. Away from the beach, explore the Ancient City of Olympos and gaze at the Eternal Flames of Chimera.
Antalya
We finished our coastal explorations with a few nights in Antalya. We both agreed it had the nicest old town and most picturesque harbour out of all the coastal cities we visited during this section of our Turkey itinerary. With a population of almost 1.3 million, Antalya is among Turkey's ten most populous cities. It also has a reputation as a busy tourist destination although the hotels and resorts tend to be away from the city, along the coast. However, Kaleiçi, the historic centre of Antalya, doesn't feel overwhelming and has cobbled streets and a pleasant harbour to explore. The triumphal arch known as Hadrian's Gate is Antalya's most impressive historical site.
One regret from our time in Antalya was that we couldn't muster the energy to visit the ruined cities at Termessos and Perge or the theatre at Aspendos. All three are located near Antalya, but by this time, we had visited thirteen ancient sites and were feeling archaeological overload!
OTHER TIPS & TRAVEL PLANNING RESOURCES
Usually, we include links to other useful websites, provide more information about getting to a destination, and getting around tips in our itinerary posts. However, to avoid a lot of repetition in our series of Turkey itineraries, we intend to round them up in a single guide to planning the perfect Turkey itinerary – that post is coming soon!
And if you need a few more reasons to follow our Turquoise coast itinerary…
Lone Pine Cemetery ANZAC Battlefields, Gallipoli Peninsula
Hellenistic theatre Pergamon
Blue Mosque (Sultan Ahmed Mosque) Istanbul
Coldwater Springs Oludeniz
Roman Harbour Kaleici Old City Antalya
If you found our three week Turkey itinerary helpful, please share it or pin it to your travel planning boards…