Ultimate Turkey itinerary: Istanbul to the Georgian border in two months – Part 2 of a 3 part series
This is part two of a three-part series recapping the highlights of our two-month overland trip across Turkey, from Istanbul to the Caucasus. Part I covered Istanbul to Antalya (The Coast).
Part II: Antalya to Malatya (The Centre)
Itinerary summary
Antalya – Eğirdir – Konya – Aksaray – Güzelyurt – Göreme (Cappadocia) – Ürgüp – Kayseri – Darende – Malatya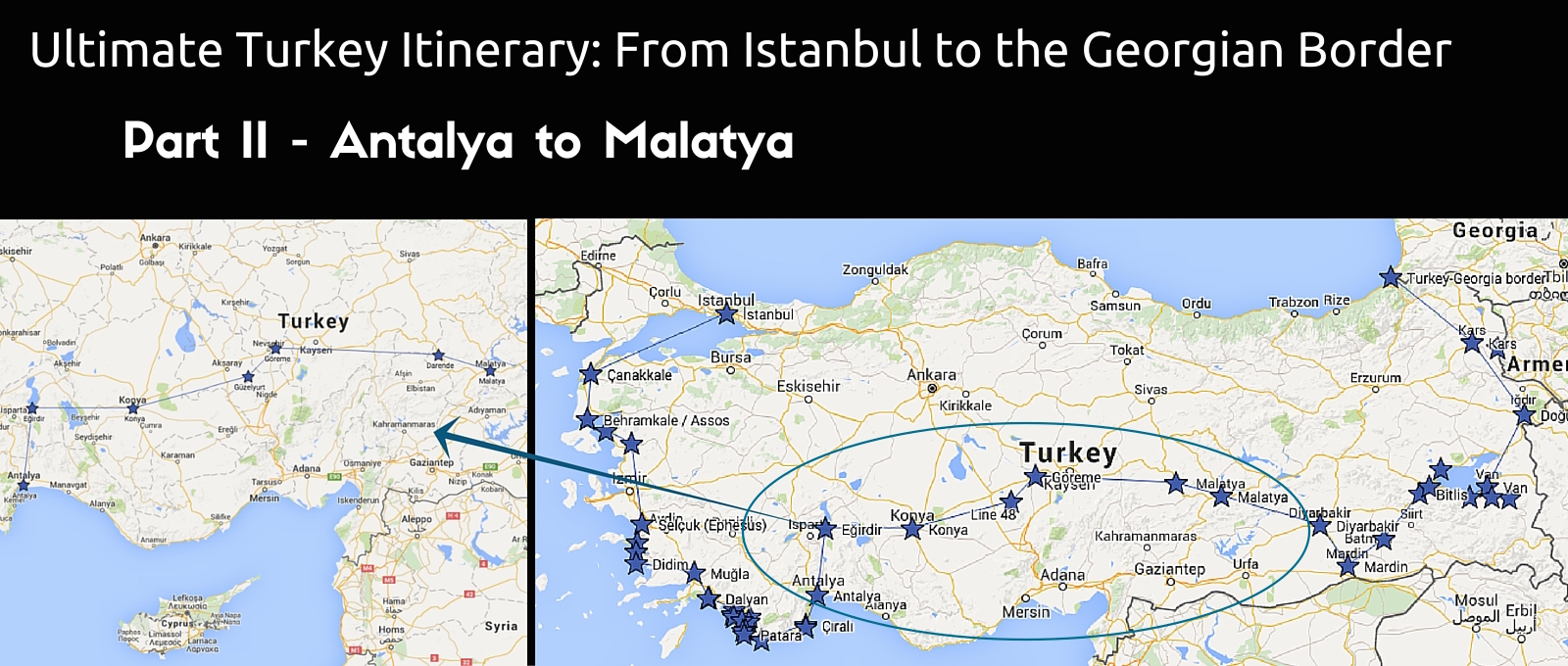 Leaving the coast and heading into the region known as western Anatolia, we decided we would make a few stops before reaching our next big destination in Turkey, the fairy chimney-like landscapes of Cappadocia. We opened our trusted map (in French but free from the tourist board in Canakkale) and planned the next part of our Turkey trip that would have us linking the coast with the eastern part of the country.
We don't like long bus journeys so we started by heading directly north for 3 hours to the town of Eğirdir. Situated in the Turkish lake district, Eğirdir wasn't one of the most inspiring places that we visited on this trip (although it looks quite good in the photographs!) but it served a purpose in so much as it broke up an otherwise long bus ride and the lake itself was scenic enough so we were quite happy to spend an afternoon there.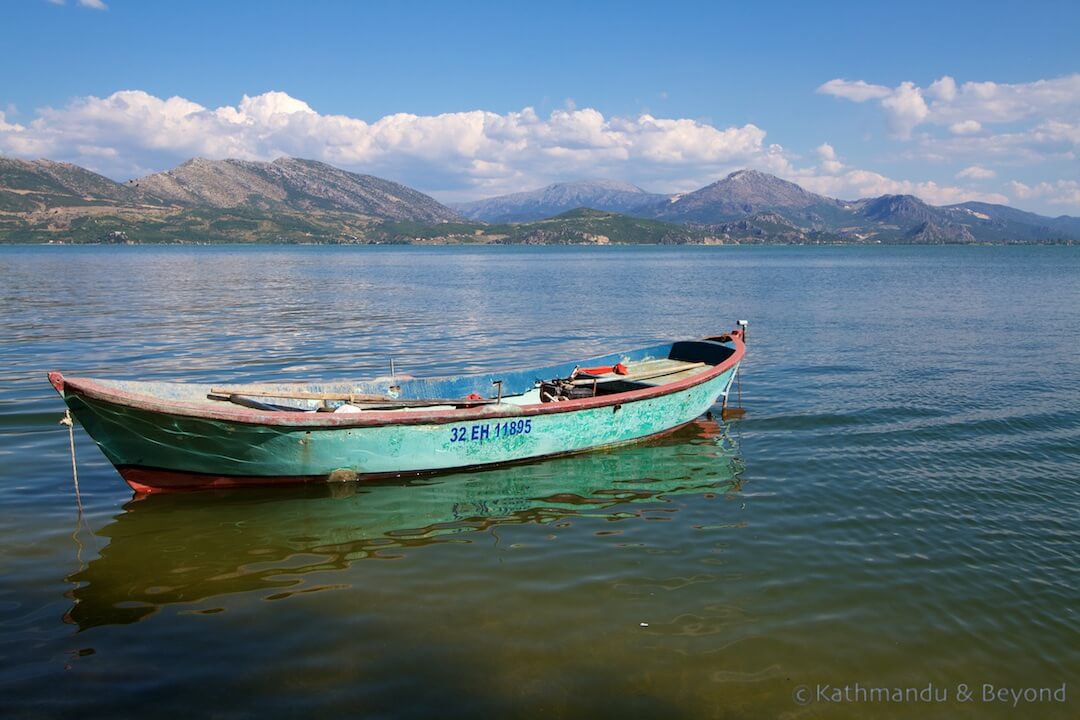 Lake Egirdir
Konya, on the other hand, was a fascinating city to explore and without hesitation, we recommend including it on any itinerary that visits western Anatolia. We timed our visit to be there on a Saturday when there is a free performance by the Whirling Dervishes. Not my cup of tea if I'm being honest (too slow and too long) but I did enjoy our visit to the Mevlâna Museum – architecturally, it is stunning and the atmosphere inside is quite special.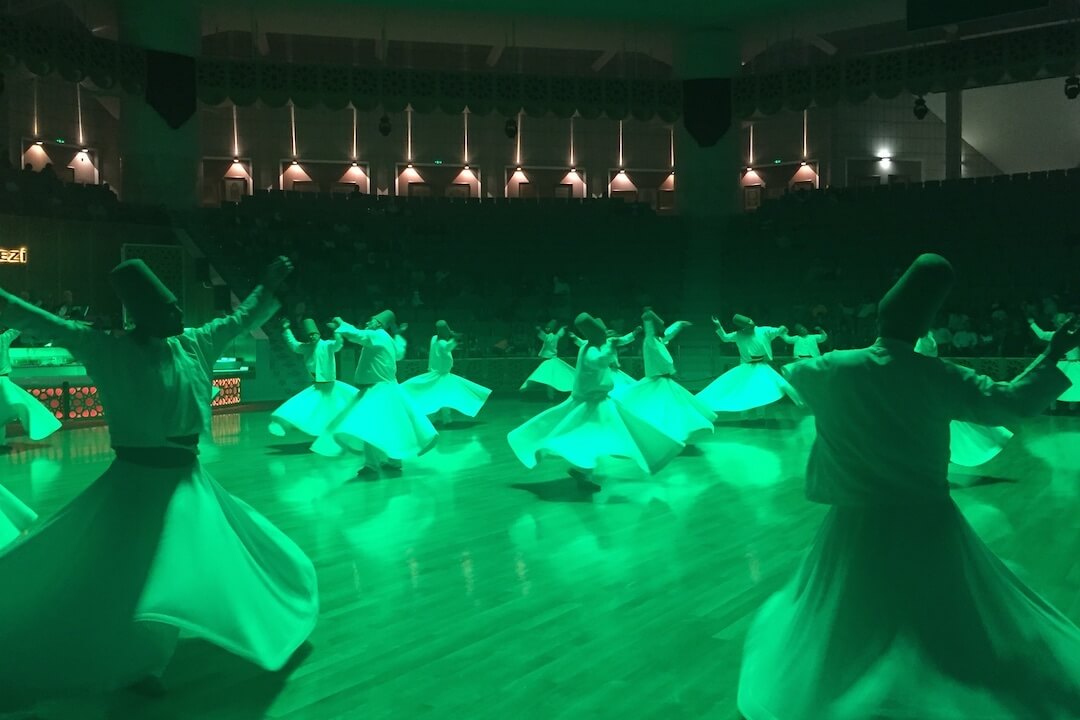 The Whirling Dervishes, Konya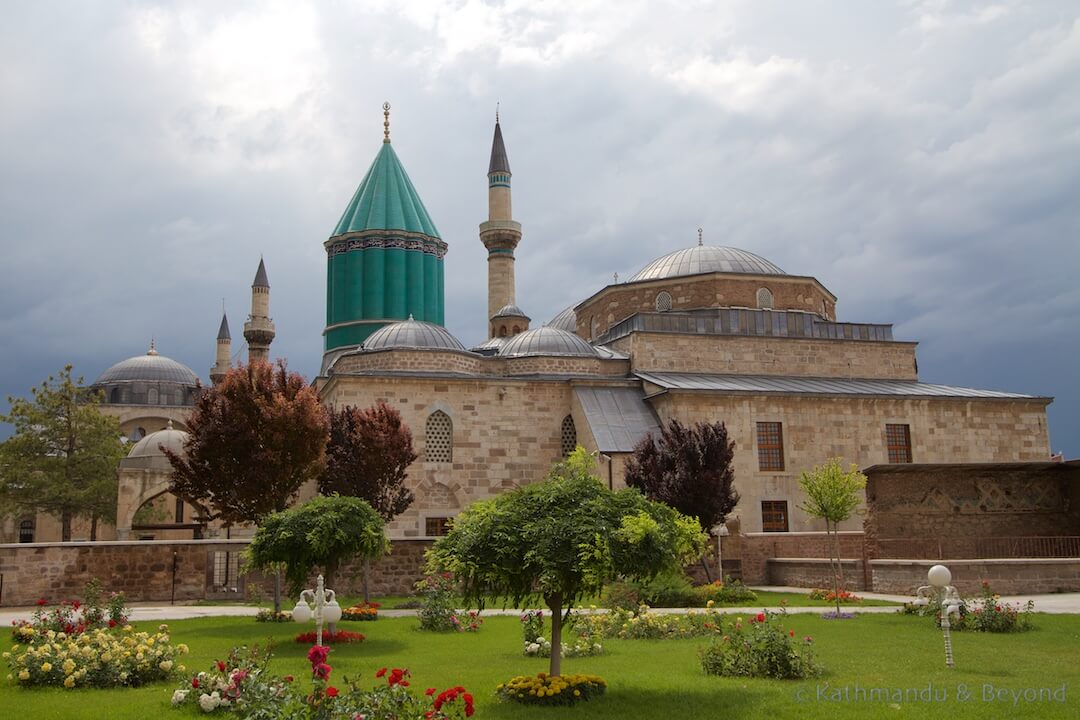 Mevlana Museum, Konya
Heading east across the Anatolian plain for 2 hours brought us to the nondescript town of Aksaray, one of the jumping-off points for Cappadocia. But instead of heading on through to the star attraction, we changed buses (with a nice 2-hour wait in the rain by the side of the road!) and travelled south to Güzelyurt. Hiking in valleys and sleeping in a cave hotel are the two main things to do in Güzelyurt and we did both. Cave hotels are cheap in Güzelyurt and ours, the Cappadocia Mayaoglu Hotel was excellent in all respects except one – the bed was a bit rickety and the mattress too soft. We looked at another couple of rooms but all the beds were in the same condition so we just had to put up with it. We enjoyed the hiking in nearby Monastery Valley and although the scenery around Güzelyurt was not as impressive as that in the valleys of Cappadocia, it was still very much a worthwhile place to visit and sees fewer tourists than its more famous neighbour.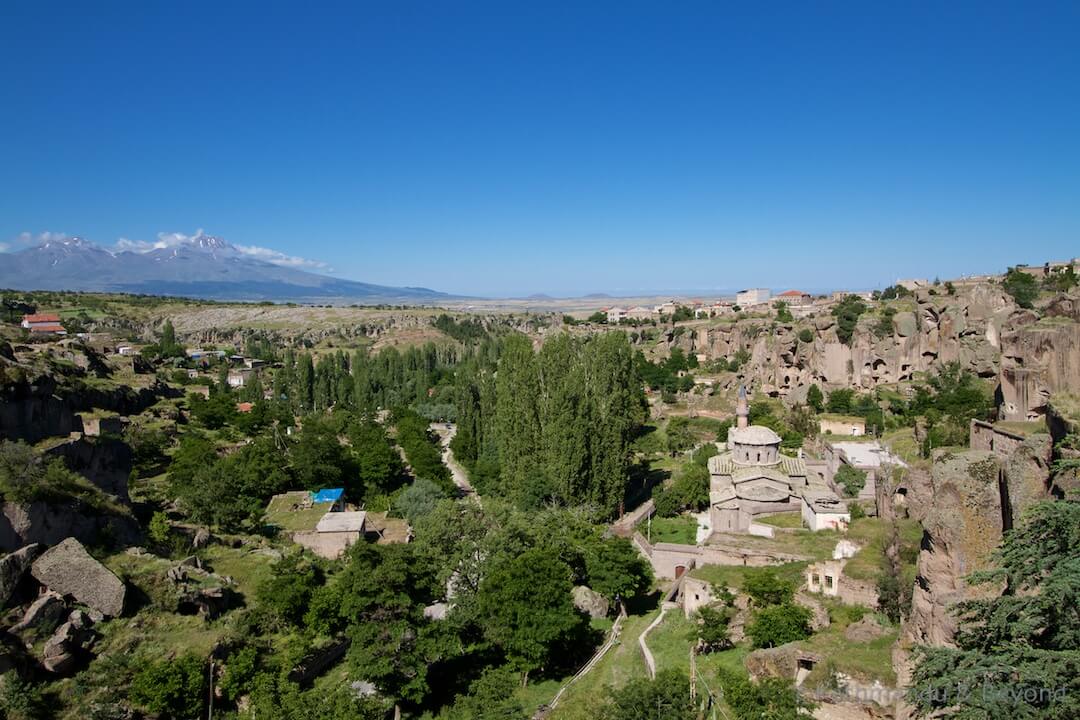 Buyuk Kilise Camii in Monastery Valley, Guzelyurt
Returning to Aksaray, we changed buses (minus the long wait this time) and arrived in Göreme, one of the main bases for exploring Cappadocia, in time for lunch. Horrified by the number of tourists milling around the town, our initial hopes for some crowd-free trekking weren't looking good. But we were in luck as clearly walking in the valleys is not high on the agenda for the bulk of the tourists that visit the region and we ended up having many trails to ourselves. We spent early mornings and late afternoons trekking key valleys such as White, Rose, Sword and Zemi and the rest of the day relaxing and escaping the heat. It was an enjoyable few days and the hiking and spectacular scenery in Cappadocia certainly lived up to expectations.
We have far too many photographs of Cappadocia to share here so here is just one to tempt you to check out our Turkey photo gallery.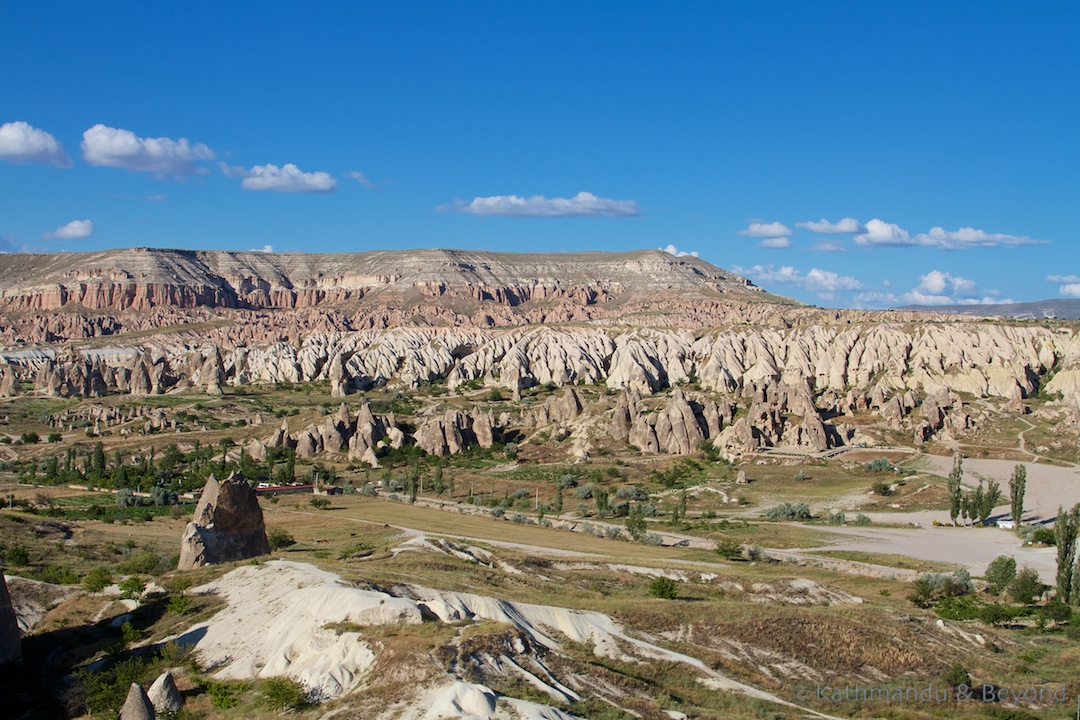 Kiliclar (Swords) Valley, Cappadocia


Cappadocia: Guvercinlik (Pigeon) Valley (left) and Akvadi (White) Valley (right)
A short dolmus ride to Ürgüp followed by a long bus ride to Kayseri had us leaving Cappadocia and starting our journey to Eastern Turkey, the final section of our itinerary. After a few hours of waiting time at Kayseri's huge bus station, we were on our way to Darende, another wild card that we knew very little about. Yet again the gamble paid off. An impressive canyon, an interesting mosque complex, and some traditional Turkish hospitality all contributed to an agreeable short stay in this little-visited town.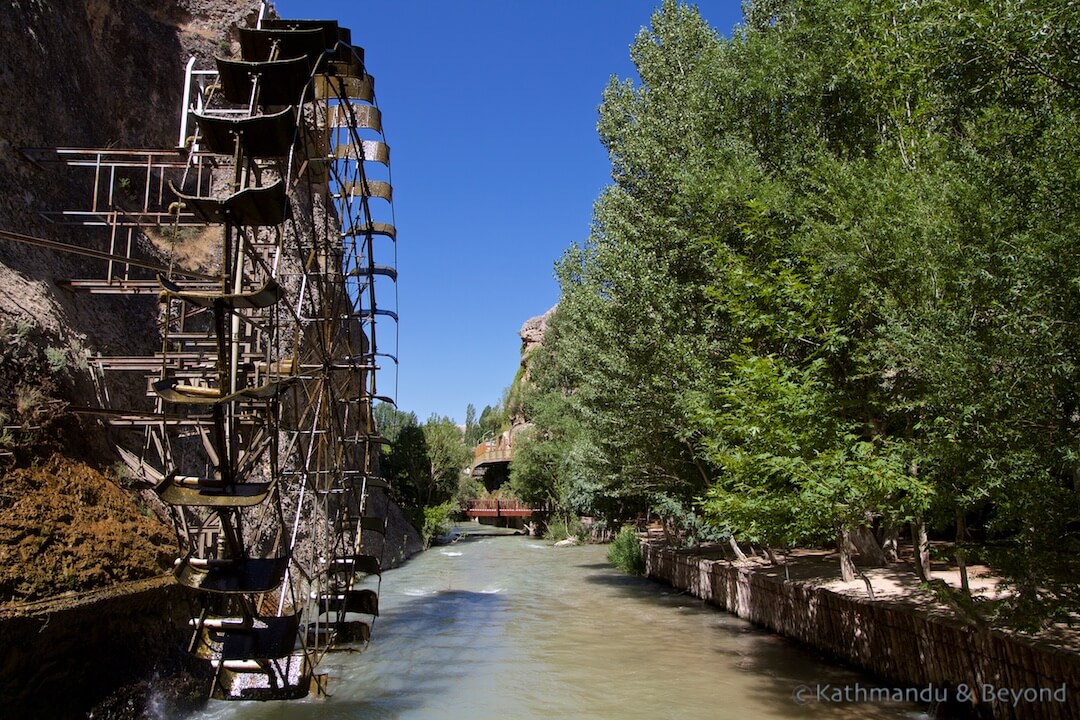 Tohma Canyon, Darende 
It was a week into Ramadan by the time we got to Malatya, a city that is home to a zillion apricots and where we received our first experience of Kurdish hospitality. No lunch and only a few sneaky apricots in the market meant we were starving by sunset (around 8.30pm). Heading out for dinner we were accosted by the young manager of our hotel and his group of friends who insisted we share their evening meal. This was the first time we had been invited to share the only meal of the day (*) and we tried to decline, insisting they needed to eat the food more than we did (we had at least eaten apricots!). They weren't having any of it and we feasted on pide (Turkish pizza) and Pepsi Cola like it was going out of fashion.
(*) We soon discovered that it is common practice to share your one meal of the day with neighbours, friends, and strangers during Ramadan.


Malatya: Invited to break the fast and being force-fed apricots in the market!
It took us eleven days to get from Antalya to Malatya with half of that time spent in Cappadocia. It was an interesting section of the trip with the highlight definitely being Cappadocia. We would have liked to have included a visit to the mythical statues atop the summit of Mount Nemrut but getting there on public transport from Malatya or nearby Katha would have been time-consuming and because of the lack of tourists in the region, the demand for tours was not high, thus making them pretty expensive.
---
Now live  … Part III of our Ultimate Turkey itinerary.
Did you miss Part I? You can read it here. And head here to check out our complete route map from Istanbul to Hopa on the Georgian border.
---