Central Turkey itinerary from Antalya to Ankara
Antalya – Edirdir – Konya – Güzelyurt – Cappadocia – Hattusa – Ankara
CENTRAL TURKEY ITINERARY HIGHLIGHTS
Cappadocia – undeniably a highlight of all Turkey, but do allow time to fully appreciate it
Konya – learn about the Whirling Dervishes and Sufism
Hattusa – explore an off-the-beaten-path UNESCO World Heritage Site without any crowds
Best time to travel: Visit Central Turkey in May/June or September/October for the best weather. July and August can be very hot on the plains.
Start / Finish: Antalya / Ankara (or vice versa)
Recommended duration: 1 week / 10 days 
Best place to slow down: Cappadocia region.
Mode of transport: Mostly by bus and, occaisonally, by dolmus (minivans which operate on shorter distances and local routes; the Turkish equivalent of a marshrutka).
CENTRAL TURKEY ITINERARY INTRODUCTION
We followed part of this itinerary as part of a two-month journey across Turkey from Istanbul to Batumi in Georgia, but on that trip, we continued east from Göreme. The rest we saw on other visits. Many travellers go directly from the coast to Cappadocia, however it is worth stopping at a few places en route. Although a worthwhile stand-alone itinerary, our Central Turkey itinerary also works well as a linking itinerary; connecting the Turquoise coast with either the Black Sea coast or Eastern Turkey. Equally, it is straightforward to travel from Ankara to Istanbul, perhaps via Safranbolu should you want to extend the itinerary.
Our Central Turkey itinerary starts in Antalya and ends in Ankara but you could also do the itinerary in reverse.
Antalya
We enjoyed our time in Antalya so make sure you factor in some time in the city and don't instantly move on. Antalya has a reputation as a busy holiday resort but actually, the large hotel complexes are outside of the city. It's one of Turkey's largest cities but despite a population of almost 1.3 million, Antalya's historic centre, known as Kaleiçi, has cobbled streets and a pleasant harbour to explore. The triumphal arch known as Hadrian's Gate is Antalya's most impressive historical site.
There are also some fantastic archaeological sites that can be visited on day trips from Antalya such as the ruined cities at Termessos and Perge and the theatre of antiquity at Aspendos.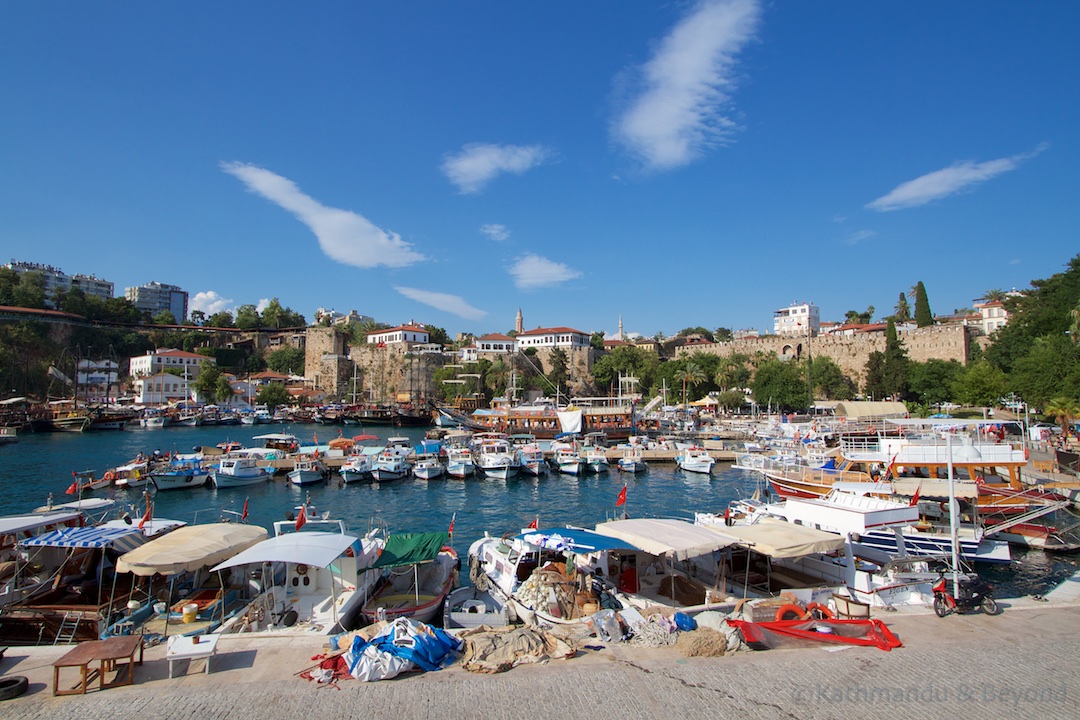 Roman Harbour Kaleici Old City, Antalya
Eğirdir
Leaving the coast head into western Anatolia. We try to avoid long bus journeys so we started by going directly north of Antalya and travelled for 3 hours to the town of Eğirdir. Situated in what is known as the Turkish lake district, Eğirdir wasn't one of the most inspiring places that we visited on this trip (although it looks quite good in the photographs) but it served a purpose insomuch as it broke up an otherwise long bus ride and the lake itself was scenic so we were quite happy to spend an afternoon there.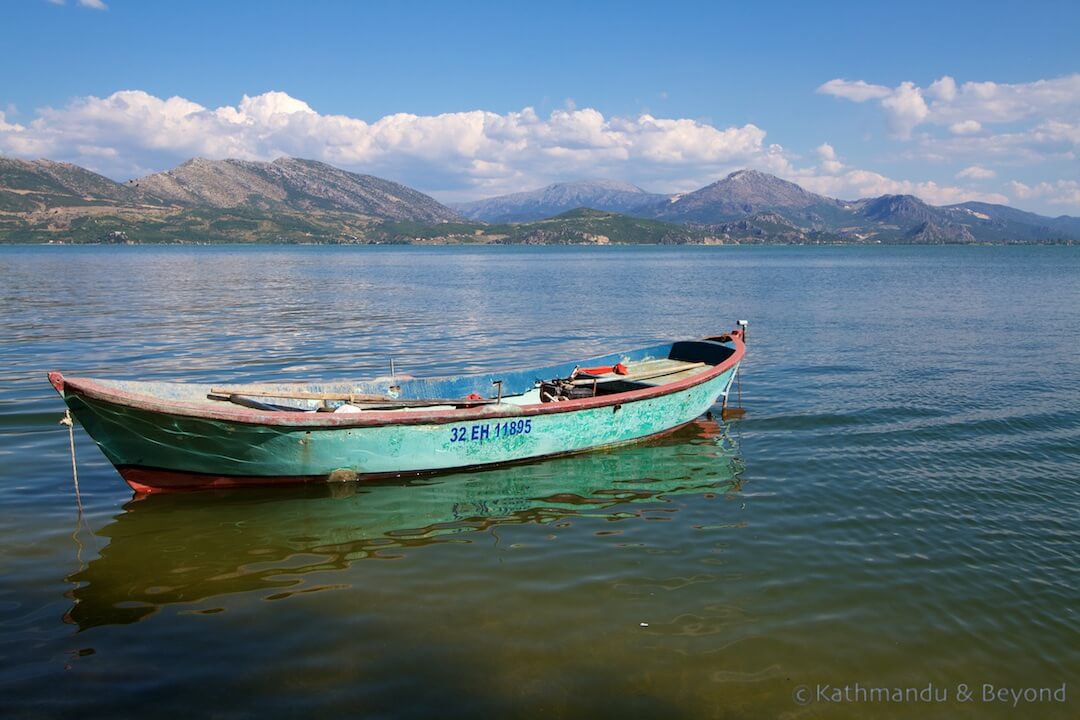 Lake Egirdir
Konya
From Eğirdir, we took the bus to Konya which, in comparison, was a fascinating city to explore and one we wouldn't hesitate to recommend inclusion on any central Turkey itinerary. 
Konya is best-known as a pilgrimage centre for Sufis; those who follow Sufism, a mystical branch of Islam devoted to contemplation and spiritual closeness with Allah. Specifically, Konya is home to the Mevlevi order of Sufism which was founded by Mevlana Jelaleddin Rumi in the early 13th century. Rumi was an acclaimed Persian poet, mystic and philosopher whose teachings still attracts followers from around the world. 
Today Konya is home to what is now the Mevlâna Museum. The architecturally stunning complex was the dervish lodge of the whirling dervishes, as followers of the Mevlevi Sufi order are often called. Rumi's atmospheric mausoleum lies within the Mevlâna complex and is a place of pilgrimage for Muslims. 
Time your itinerary so your visit to Konya falls on a Saturday when free-to-watch Sema whirling dervish ceremonies take place at the Mevlana Cultural Centre, east of the museum. Mark was underwhelmed by the whirling dervishes – he thought the performance was too slow and too long – but most spectators are enthralled and it's something you should witness when you are in Konya.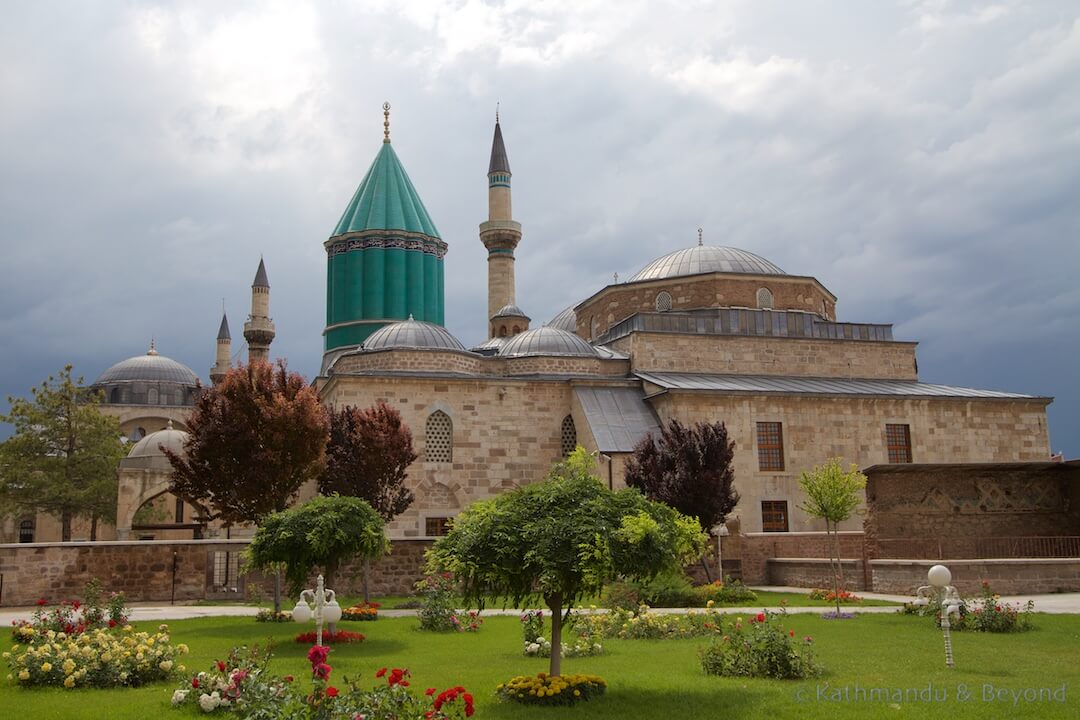 Mevlana Museum in Konya
Güzelyurt
Travelling by bus two hours east from Konya, across the Anatolian plains brought us to the forgettable town of Aksaray, a transit point for getting to Cappadocia. Instead of continuing directly to Turkey's star attraction, we changed buses and journeyed southeast to Güzelyurt. Hiking in the valleys and sleeping in a cave hotel are the two main things to do in Güzelyurt and we did both. Cave hotels are cheap in Güzelyurt and ours, the Cappadocia Mayaoglu Hotel was excellent in all respects except one – the bed was a bit rickety and the mattress too soft. We looked at another couple of rooms but all the beds were in the same condition so we just put up with it. We enjoyed the hiking in nearby Monastery Valley and although the scenery around Güzelyurt was not as impressive as that in the valleys of Cappadocia, it was still very much a worthwhile place to visit and sees fewer tourists than its more famous neighbour.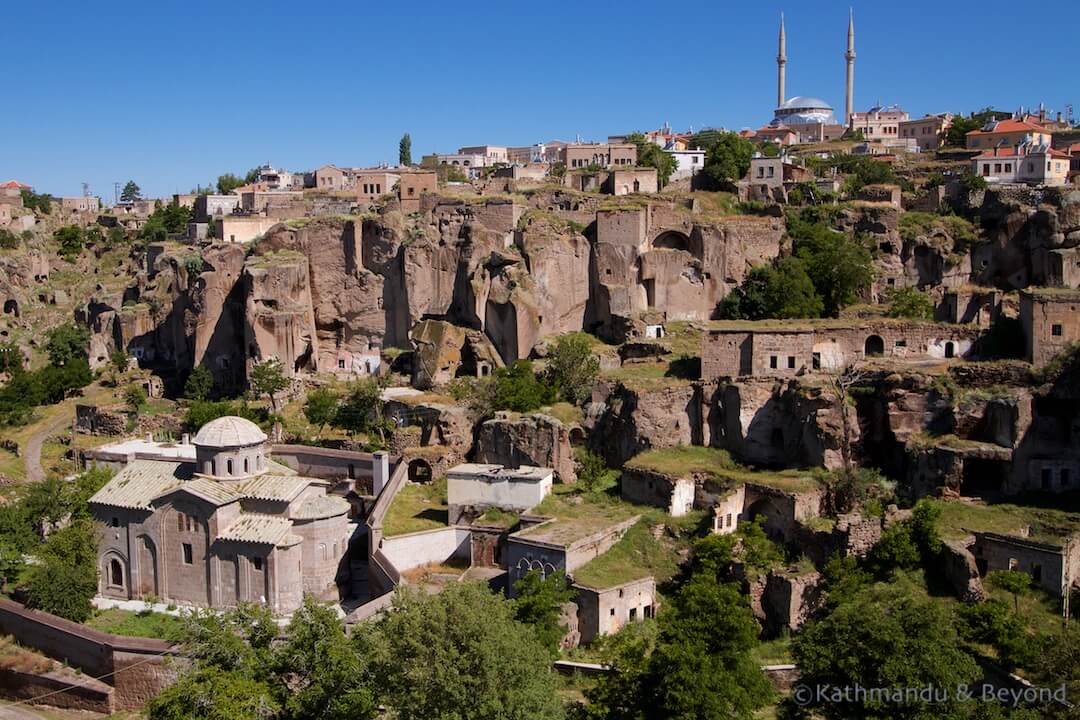 Güzelyurt
Göreme, Cappadocia
Next up is Cappadocia. Returning to Aksaray from Güzelyurt, we changed buses and travelled to Göreme, one of the main bases for exploring the famed fairy chimney landscapes of Cappadocia.
The number of tourists milling around the town initially dashed our hopes for some crowd-free trekking. However, we soon discovered that most visitors don't venture very far into the valleys or much beyond the Göreme Open Air Museum. While the museum is a highlight, the surrounding valleys have so much more to offer and yet are largely overlooked by many visitors.
We ended up having many walking trails to ourselves. Depending on the time of year, it can get hot in the valleys and we spent early mornings and late afternoons hiking, and the rest of the day relaxing and escaping the heat.
We walked in the Rose Valley from Göreme to Cavusin, one of the most accessible and therefore most popular hikes in Cappadocia. Another popular destination is Love Valley but many visitors don't venture more than a couple of hundred metres beyond the phallic-shaped fairy chimneys. Other Cappadocia walks we enjoyed were the trails through White Valley from Uchisar to Göreme, Sword Valley to Girls Monastery (Red Valley) and Pigeon Valley between Uchisar and Göreme. It was an enjoyable few days and the hiking and spectacular scenery in Cappadocia certainly lived up to expectations.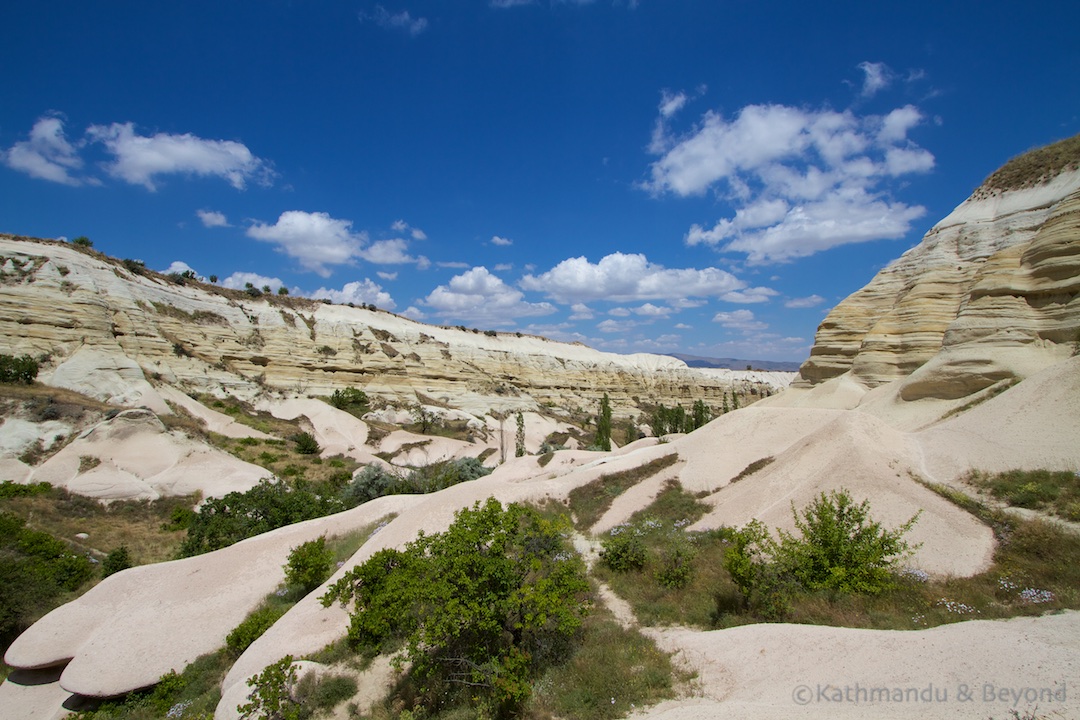 Akvadi (White) Valley, Cappadocia
Our visit to Cappadocia was part of a two-month cross-Turkey trip and from Göreme, we headed east via a short dolmus ride to Ürgüp followed by a long bus ride to Kayseri and on to Darende. However, this is a Central Turkey itinerary so we will remain in the region…
Hattusa
Despite being one of Turkey's eighteen UNESCO World Heritage Sites, the ancient Hittite Kingdom of Hattusa remains one of the country's lesser-visited archaeological sites. We visited Hattusa as a detour on our Black Sea itinerary but getting there on public transport is a bit of an adventure. Whichever direction you are coming from, there is a high chance that you will have to change buses in Ankara in order to get to Hattusa, around 200 kilometres to the east.
The nearest conurbation to the archaeological site is Bogazkale, a village with a few shops and a couple of places to stay. We felt it was worth the effort; it's an impressive site made all the more enjoyable by not having to share it with countless tourists. We have written in detail about the logistics of getting to Hattusa independently using public transport in a separate guide to visiting Hattusa. If you don't want to include Hattusa in your Central Turkey itinerary, you can get to Ankara from Cappadocia quite easily Nevşehir's bus terminal.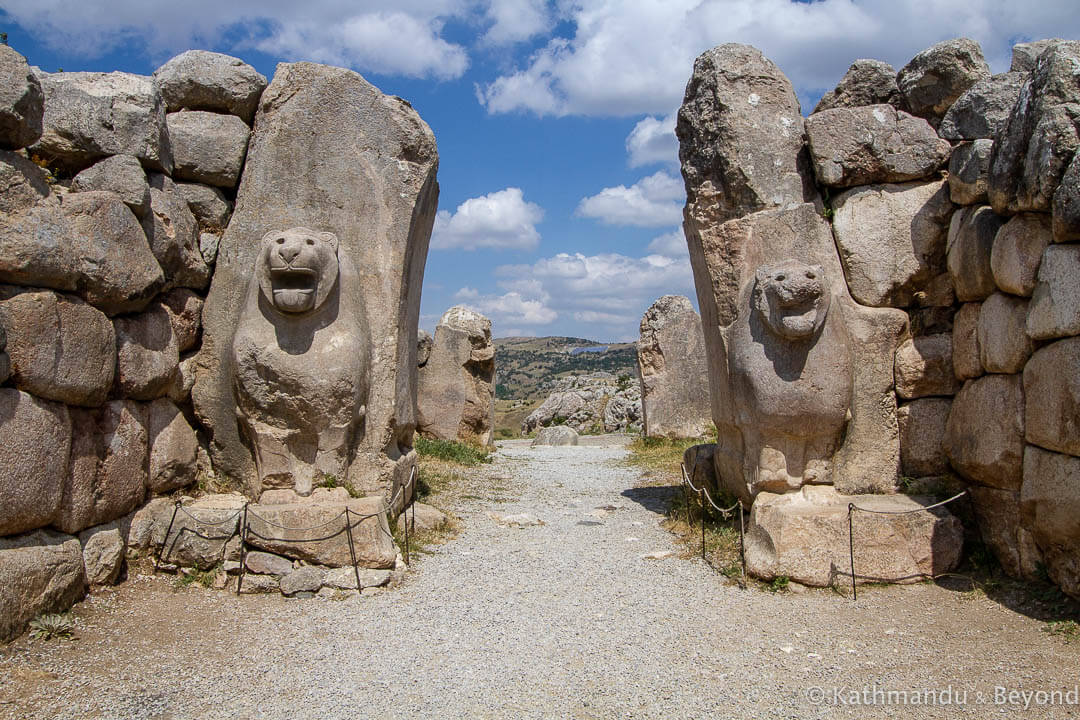 Lion Gate, Hattusa
Ankara

Despite being the capital of Turkey, Ankara gets far fewer visitors than Istanbul. To be fair, there is no comparison between the two cities and if we had to choose between a week in Ankara or a week in Istanbul, we would pick the latter.
But Ankara surprised us and we left wondering why we had delayed visiting the Turkish capital for so long. We had two days in Ankara, which was enough to see the main sights, although we could have spent longer soaking up the atmosphere.
Ankara castle, or Kalesi, is the oldest part of the city and is an interesting place for a wander as well as having some great panoramic views. If you enjoy mosque architecture, Melike Hatun Mosque in the old quarter, and Kocatepe Mosque, the biggest in Ankara, should be on your itinerary.
The most important sight in the capital is Anitkabir, the monumental hilltop mausoleum of Kemal Atatürk. Considered to be the father of modern Turkey, Atatürk was Turkey's first president, and it was he who declared Ankara the capital in 1923.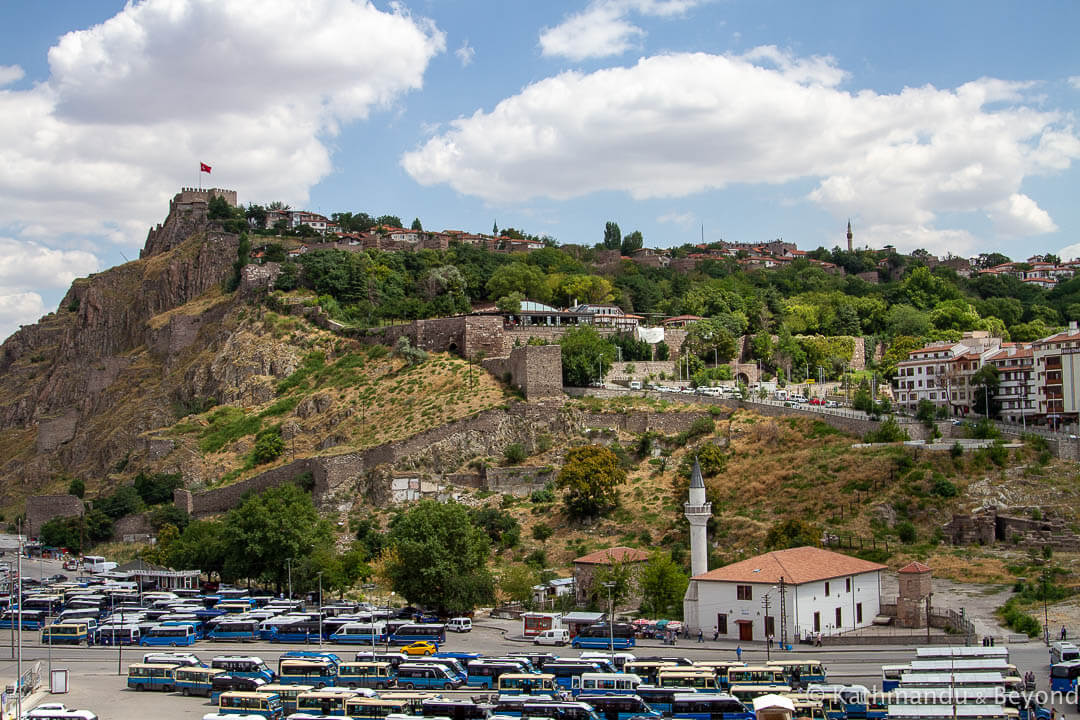 Citadel, Ankara
Onward travel from Ankara
There are many options for travelling onwards from Ankara. You could either travel directly to Istanbul, or extend the itinerary and travel via Safranbolu and/or Bursa. Or you could head north to the Black Sea coast, or traverse east. Ankara has plentiful bus and domestic flight connections to the rest of Turkey.
OTHER TIPS & TRAVEL PLANNING RESOURCES
Usually, we include links to other useful websites, provide more information about getting to a destination, and getting around tips in our itinerary posts. However, to avoid a lot of repetition in our series of Turkey itineraries, we intend to round them up in a single guide to planning the perfect Turkey itinerary – that post is coming soon! In the meantime, check out Go Turkey, the official tourist board website. 
And if you need a few more reasons to follow our Central Turkey itinerary…
Roman Harbour, Kaleici Old City, Antalya
Whirling Dervishes in Konya
Monastery Valley, Guzelyurt
Uchisar Castle, Cappadocia
House on the slope, Hattusa
If you found our Central Turkey itinerary helpful, please share it or pin it to your travel planning boards…