Suggested Turkey and Bulgaria Itinerary: Istanbul to Sofia
(Turkey) Istanbul – Edirne (Bulgaria) – Plovdiv – Bansko – Rila – Sofia
If you are travelling overland between Asia and Europe and looking for places to visit on the route from Istanbul to Sofia, this itinerary is for you. Whilst you could sit on a bus for ten (or more) hours, or take the Istanbul-Sofia Express overnight train (more appealing but in 2019 the train only operates between May 31st  and October 8th) we urge you to take the slow route and enjoy some of the off-the-beaten-track destinations that lay between Istanbul and Sofia.
Edirne is a worthwhile stop on the route up from Istanbul to Bulgaria. The city sees few tourists, has some excellent cuisine (Edirne is known for its thinly-sliced calf's liver) and some great sights including the must-see UNESCO-listed Selimiye Mosque. There are direct buses to Plovdiv, which is one of Bulgaria's most liveable cities in our opinion.
As well as exploring the city, we did a couple of day trips out of Plovdiv (Bachkovo monastery and Perushtitsa) before taking the train to Septemvri, from where we connected with the Septemvri–Dobrinishte narrow-gauge railway to Bansko. In all honesty, the rail journey was too long for us (about 6 hours in total) but it passed through some lovely countryside and didn't arrive into Bankso too late in the day. There is little going on in the ski resort of Bansko in the summer months but the main square is still active and accommodation is a real bargain at that time of year.
Blagoevgrad is the jumping off point for the orthodox monastery of Rila. Once there, you have the choice of either staying at the monastery itself or in the village of the same name and using that as a base for a visit. We chose the latter but wished we had decided to sleep at the monastery instead – it's the best way to avoid the crowds and also affords the opportunity for a bit of hiking in the surrounding countryside. Whichever you decide, Rila is a special place and from there getting to Sofia by bus (via Blagoevgrad) is straightforward.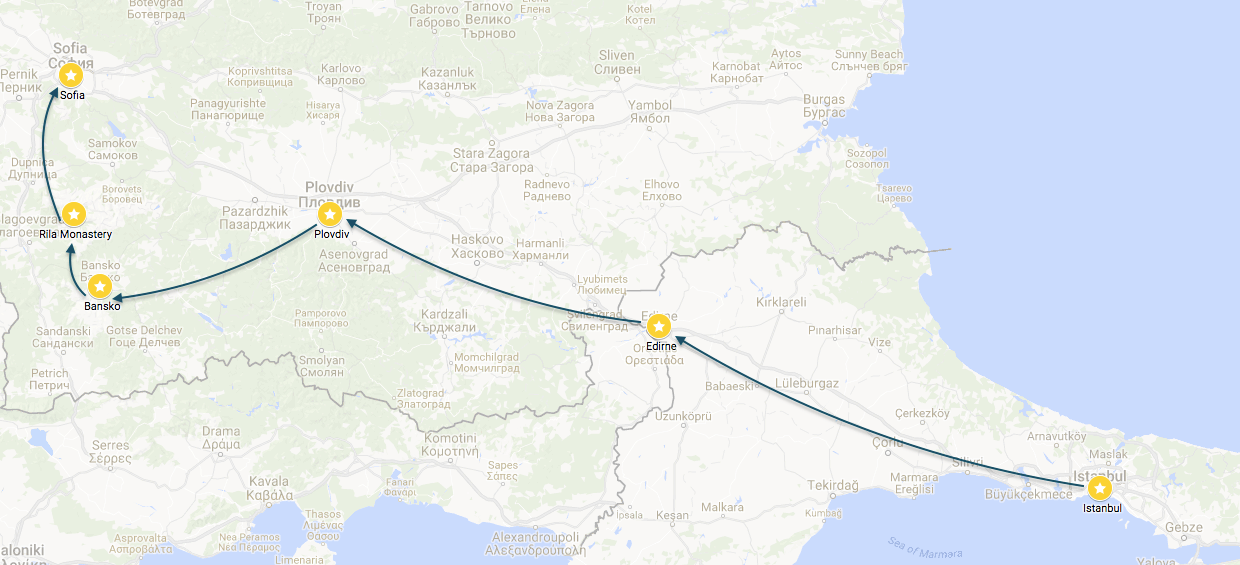 Number of countries: 2
Number of UNESCO sites: 3
Best time to travel: May to October
Recommended duration: 8-10 days excluding time in Istanbul and Sofia
Best places to slow the itinerary down: Plovdiv and Bankso
Mode of transport: Bus and one train journey
OTHER TRAVEL PLANNING RESOURCES
Balkan Viator is a useful resource for finding bus and train schedules in the region, although it's not 100% reliable so double-check timings locally.
Depending on our itinerary and destination, sometimes/often we find our accommodation as we go, particularly in smaller places. In big cities, for slightly longer stays, during peak season or just when we're being a bit more organised, we tend to make a reservation in advance using Booking.com.
There are several options for guidebooks to this part of the world but we've always used Lonely Planet and it's hard to change a habit of a lifetime!
And if you need a few more reasons to follow this itinerary…
Selimiye Mosque Edirne, Turkey
Alexander Nevsky Cathedral Sofia, Bulgaria
Did you find this post useful? Are you inspired to travel from Istanbul to Sofia via the slow route? Pin it to your travel planning board for later…