Ultimate Turkey itinerary: Istanbul to the Georgian border in two months – Part 1 of a 3 part series
In early May of this year (2015) we arrived in Istanbul ready to make our way overland across Turkey to the Caucasus (Georgia, Armenia and Nagorno-Karabakh). We started our journey by heading south down the coast, hungry for ancient cities, fine beaches, and scrumptious Turkish cuisine. After a few days in Antalya, our last stop on the coast, we headed inland to explore the highlights of the Anatolian Plateau. The sublime landscape and valleys of Cappadocia were our ultimate goal but we also spent time discovering lesser-known spots in the region including the Turkish lake district and the little-visited town of Darende.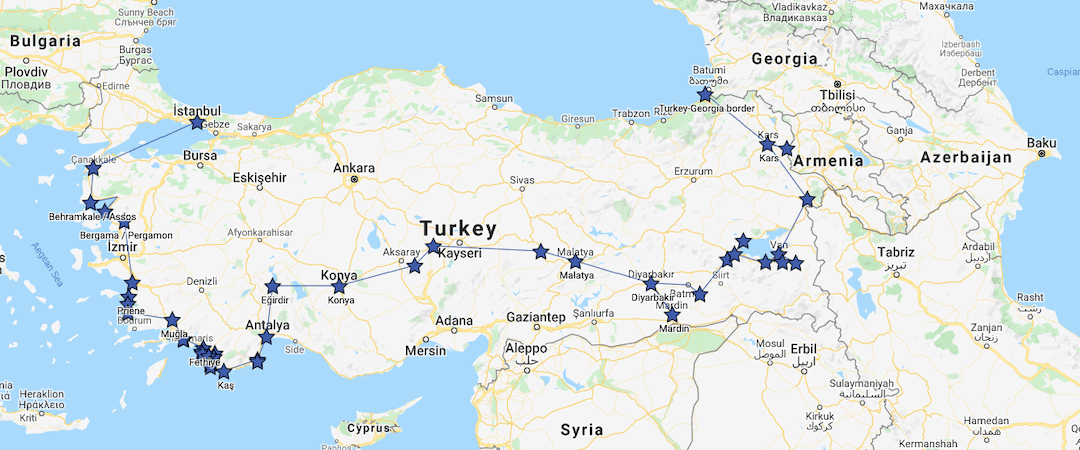 Our route across Turkey. Click on the map or here to view in Google maps
Leaving central Anatolia, our real adventure began as we headed southeast into the heart of Kurdish Turkey. Very different from anywhere else in the country, Kurdistan is hot and dusty and the main attractions such as Hasankeyf, Ma, din and Lake Van are spread out. Transport is less frequent and more planning is required but the rewards are numerous – great scenery, a distinct lack of tourists and the hospitality of the Kurdish people among others. The town of Van was the furthest point we could go in southeast Turkey without entering Iraq or Iran and when we eventually left, we headed north to Kars and on to the Black Sea coast from where we crossed into Georgia.
Of course we didn't see everything Turkey has to offer during our two month stint but we were content with what we saw. As a prelude to more detailed write ups on our time in the country, here is a summary of our route including the many highlights, some of the lowlights and a few bits of advice that I have thrown in for good measure.
Part I: Istanbul to Antalya (The Coast)
Itinerary summary
Istanbul – Canakkale (Gallipoli Peninsula) – Behramkale (Assos) – Ayvalık – Bergama (Pergamum) – Izmir – Selcuk (Ephesus) – Miletus – Priene – Temple of Apollo – Didim – Mugla – Dalyan (Kaunos) – Fethiye – Kayaköy – Ölüdeniz – Tlos – Saklıkent Gorge – Pınara – Xanthos – Letoön – Patara – Kas – Cirali (Olympos) – Antalya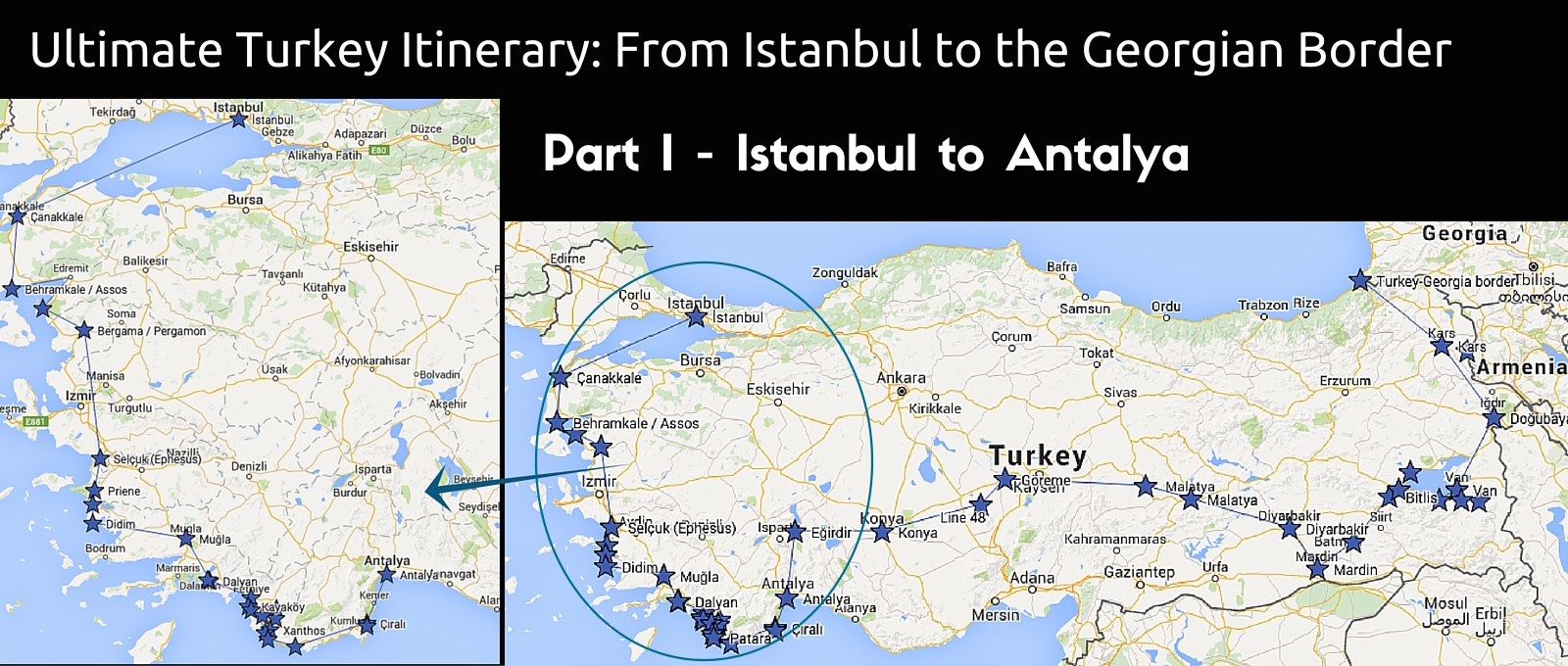 Our route for the first leg of our Turkey travels. Click on the map or here to enter an interactive version in Google maps.
We started with three clear days in Istanbul. With so much to see and do, three days is essential if you want to see the highlights of the city.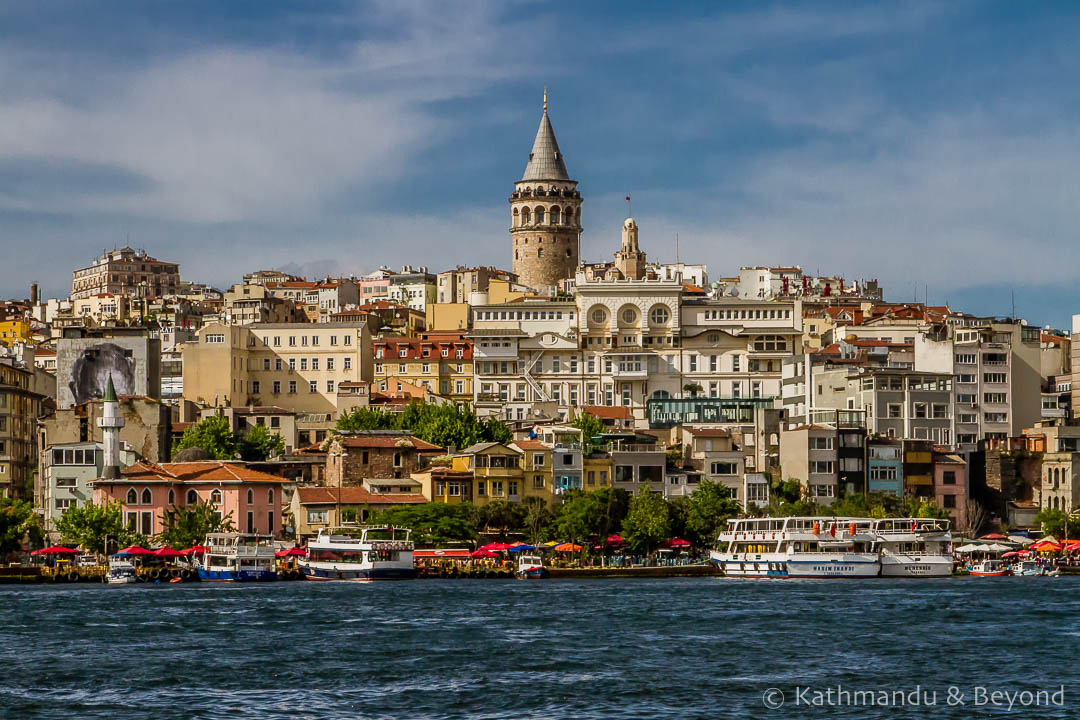 Beyoglu, Istanbul
Blue Mosque (Sultan Ahmed Mosque), Istanbul
From there we took a bus southwest to Canakkale, an attractive harbour town from where we went on an afternoon tour to the Gallipoli Peninsula organised by Crowded House Tours (highly recommended and good value for money) and an independent trip to nearby Troy (not that interesting as there is not that much left to see anymore but take your imagination and history books and visit if you are in the region).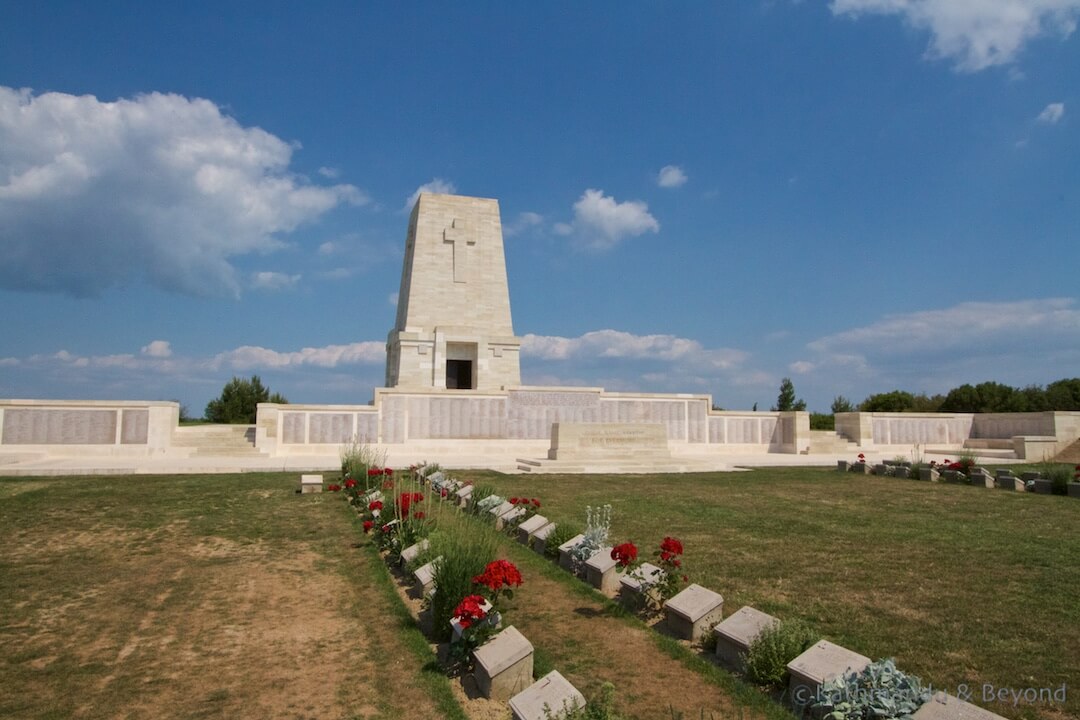 Lone Pine Cemetery on the ANZAC Battlefields, Gallipoli Peninsula
From Canakkale, we headed south to Behramkale, an oversized village with a stunning hilltop location and an equally splendid harbour. The main reason to come here is to visit the ancient classical ruins of Assos.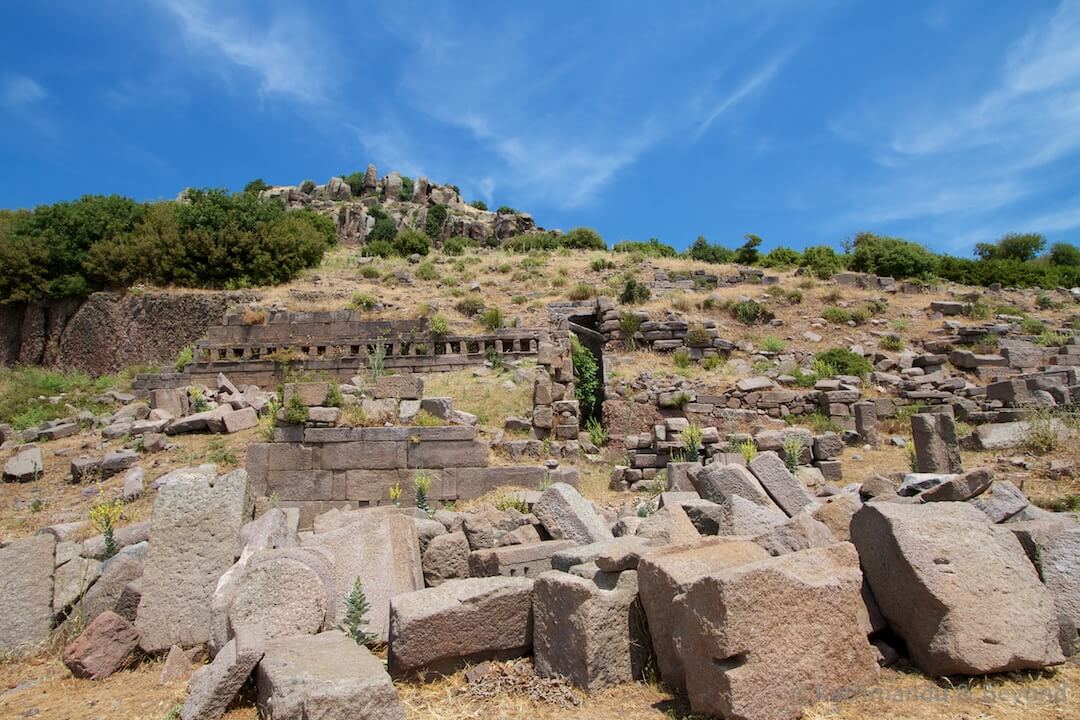 The Agora, Assos (Behramkale)
After a night in this sleepy village we made our way by a series of dolmuşes (a dolmus is a Turkish shared minivan that runs along a set route) to Ayvalık, a typical working port that sees few tourists and has a rambling Old Town, some good coffee shops and plenty of fresh fish. It is also famous for its own version of fast-food, Ayvalık toast which is basically a massive toasted sandwich crammed with all manner of toppings and then drowned in ketchup and mayonnaise. It's pretty sickly if truth be told.
Still heading south but also slightly inland, our next stop was Bergama to see the ruined city of Pergamum. We saw many classical sites along the Aegean coast but for me, this had to be the most impressive. We slowed down a little in Bergama (the town was a good size, had some good eating options plus we found a nice place to stay) before transiting through Izmir en route to Selcuk, the base for one of Turkey's premier sights, the ancient city of Ephesus. After the lack of tourists at both Assos and Pergamum, the crowds at Ephesus were quite a shock but we left it until the late afternoon to visit and walked in the opposite direction to everybody else (up the hill from the Lower Gate to the Upper Gate) and the whole experience didn't work out too bad for us. We even managed to get a photo of the Great Theatre with no one in it. The only downer about a late afternoon visit, however, is that the sun is in the wrong direction for photographing the Library of Celsus – for that you need the morning light.
Pergamon: Upper Gymnasium (right) and the Temple of Trajan (left)
Ephesus: the Great Theatre (right) and the Fountain of Trajan (left)
Selcuk had plenty of good value accommodation options so we spent some additional time there before dolmuşing and hitching (*) our way to the very British seaside resort town of Didim.
(*) We hadn't thought about hitching in Turkey (or anywhere else for that matter) but soon discovered that in regions where public transport is thin on the ground, hitching a ride for a short distance is very easy and we ended up doing quite a bit of it over the next few months in not only Turkey but also Georgia and Armenia.
In Diidim many of the prices were listed in GBP sterling and it was easier to order a Full English breakfast than it was a plate of Turkish cuisine. Furthermore, all the restaurant touts kept saying 'lovely jubbly' (a catchphrase expressing approval made famous by the character Del Boy in the BBC sitcom Only Fools and Horses for those not familiar with the term) but we arrived late and left the next morning so the whole experience wasn't too bad. And I did enjoy the Full English breakfast – only kidding!!! Along the way to Didim that day, we stopped at the ancient ruins at Miletus and Priene as well as the Temple of Apollo, which is on the outskirts of Didim. All well worth visiting but you need your own transport or need to be prepared to hitch if you want to see them without backtracking.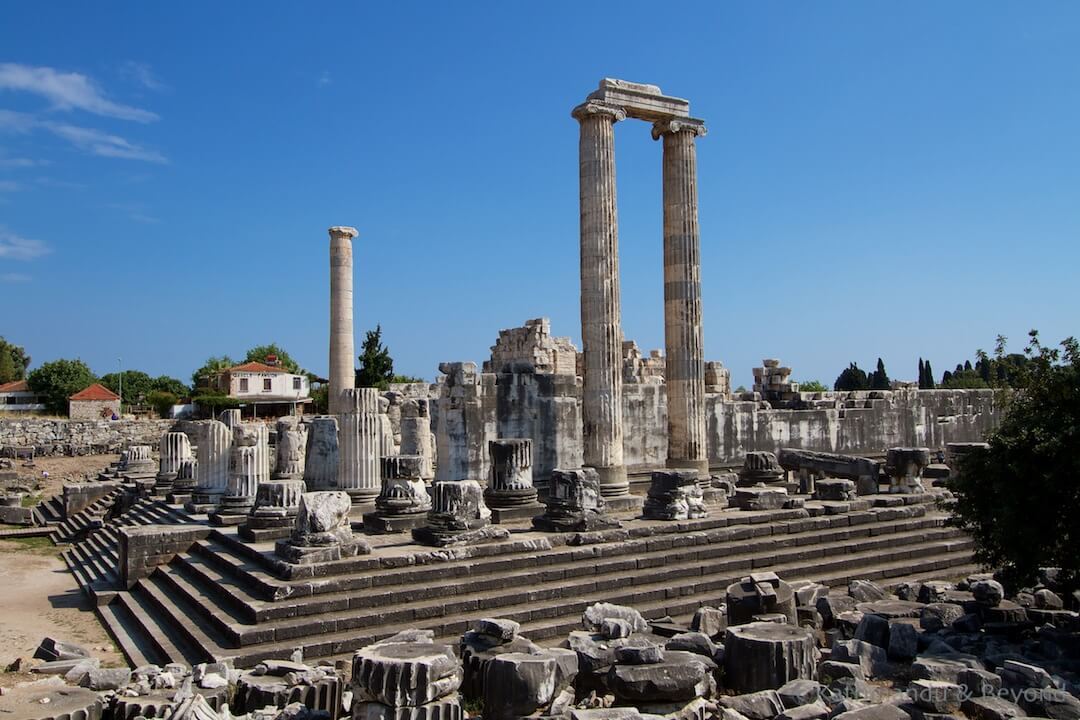 The Temple of Apollo, Didim
The Grand Theatre, Miletus (left) and the Temple of Athena, Priene (right)
We played a wildcard after leaving Didim and headed southeast and inland slightly to the university town of Mugla. This was a good call and we enjoyed wandering the Old Town with its whitewashed Ottoman houses and drinking strong Turkish coffee with the locals. Continuing south we stopped in Dalyan, where we rented an apartment with a pool and kicked back for a day or two. The ruined city of Kaunos on the outskirts of town is only average on the Ancient ruins front but the view from the hill above the amphitheatre is something else and well worth the effort of the climb to the top. Dalyan is popular with package tourists (especially British) but it has plenty of charm (unlike Didim) and we both found it hard to move on.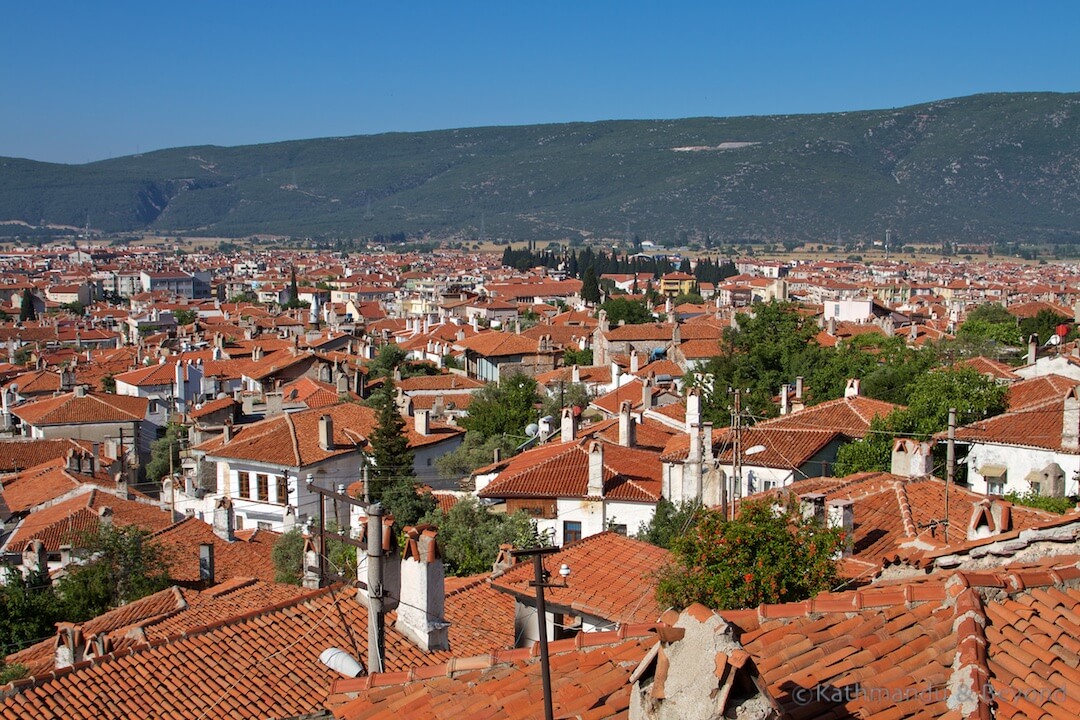 Mugla
Kaunos (Dalyan)
But move on we did with our next stop being the harbour town of Fethiye, a good but rather expensive base for visiting the ghost town of Kayaköy and the long golden beach at Ölüdeniz. We hiked between Kayaköy and Ölüdeniz. The route is not part of the historic Lycian Way but the 2-3 hour 8km walk was spectacular none the less and there are some outstanding views of the coastal scenery along the way. There are regular dolmuses running between Fethiye and both places and the walk itself is signposted with (albeit) subtle waymarkers (you have to keep your eye out for them) so undertaking the walk independently is pretty straightforward plus there is the added bonus of being able to cool off in the sea at Ölüdeniz before heading back to Fethiye.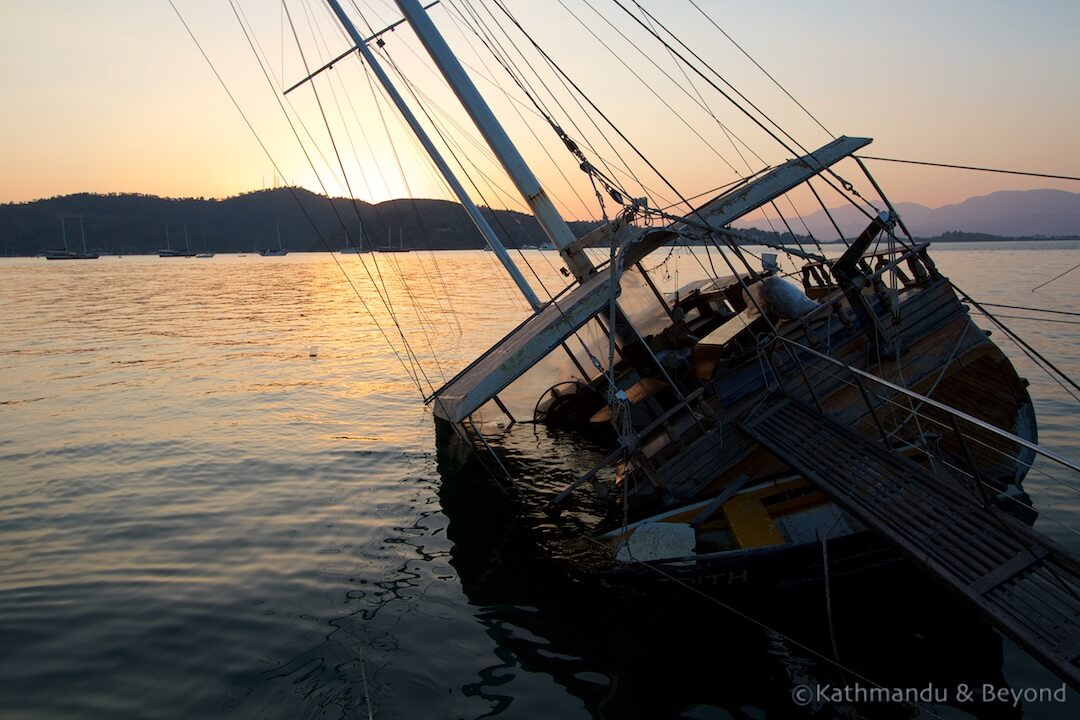 Fethiye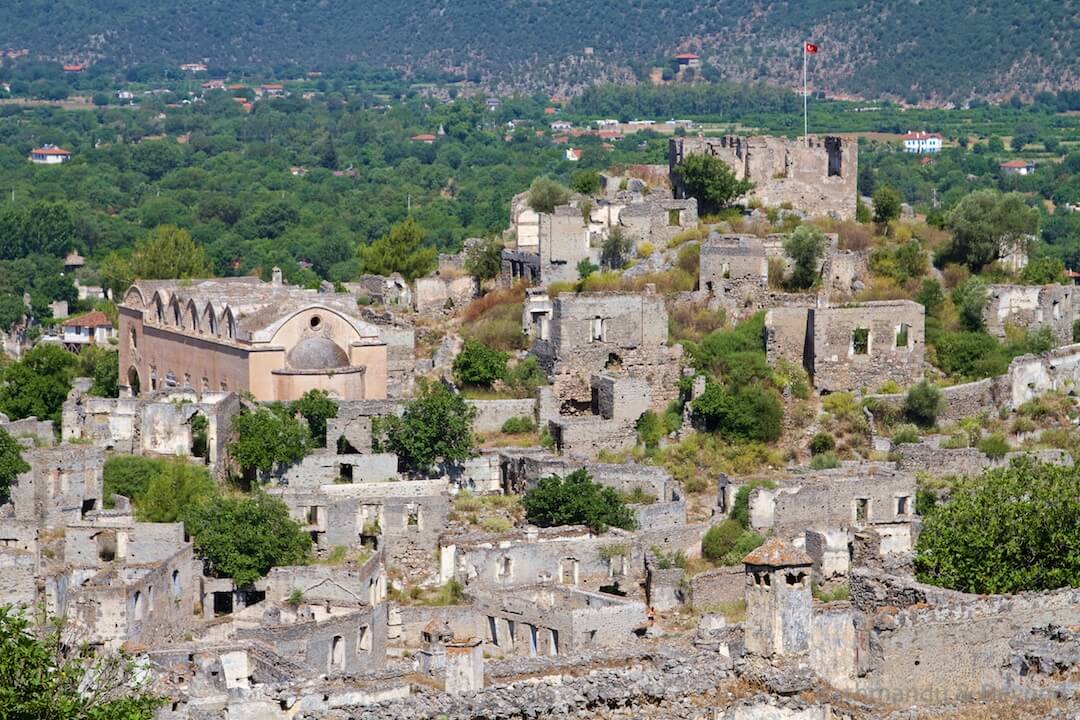 Kayakoy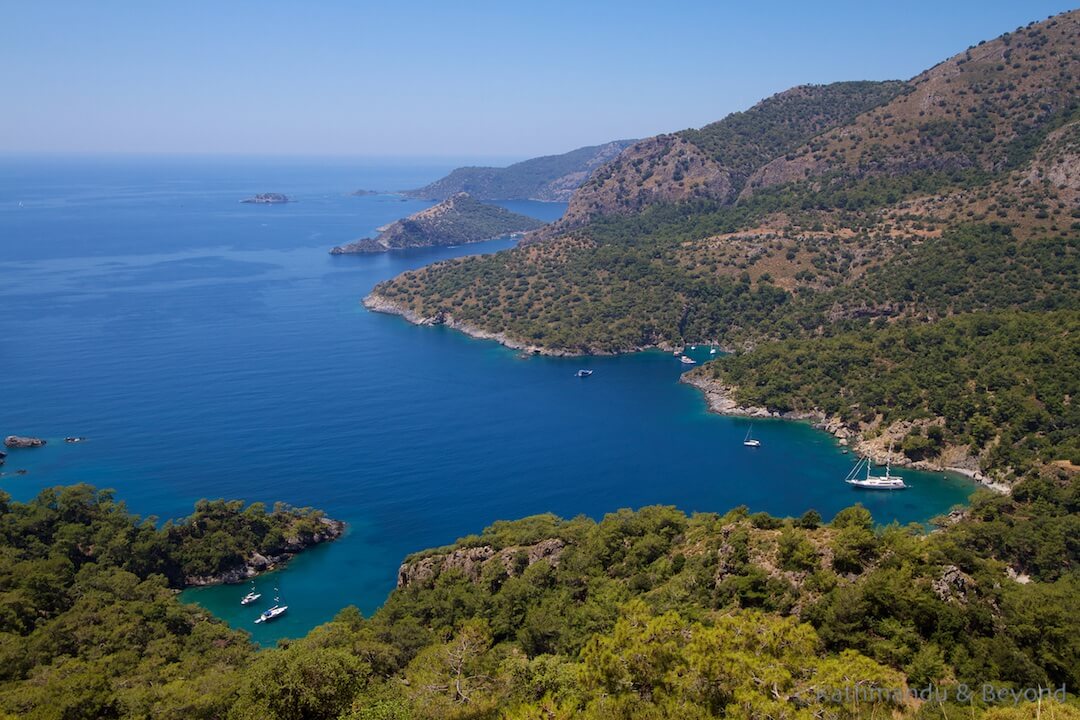 Overlooking Coldwater Springs near Ölüdeniz
Leaving Fethiye, we took a dolmus to a small village in the middle of nowhere called Güneşli. The aim was to meet up with our friend Dara, with whom we had been traveling as we made our way down the coast, but had gone our separate ways for a few days. She was coming from Patara and had hired a car for the day so that we could do some serious ruins-bashing. We met at the appointed time and proceeded to visit the ruined cities of Tlos, Pınara, Xanthos and Letoön, of which Tlos, which its huge hilltop citadel, was my personal favourite. We even managed to squeeze in a quick visit to Saklıkent Gorge and take in the sunset from the sand dunes at Patara Beach (having made a pit stop at the local store for the obligatory couple of cans of Effes beer of course), before eventually heading to our accommodation in the sleepy village of Gelemiş, 1.5km inland from the beach itself.
Colonnaded Street, Patara (left) and the amphitheatre, Tlos (right)
The Roman Theatre, Xanthos (left) and the Apollo Temple, Letoon (right)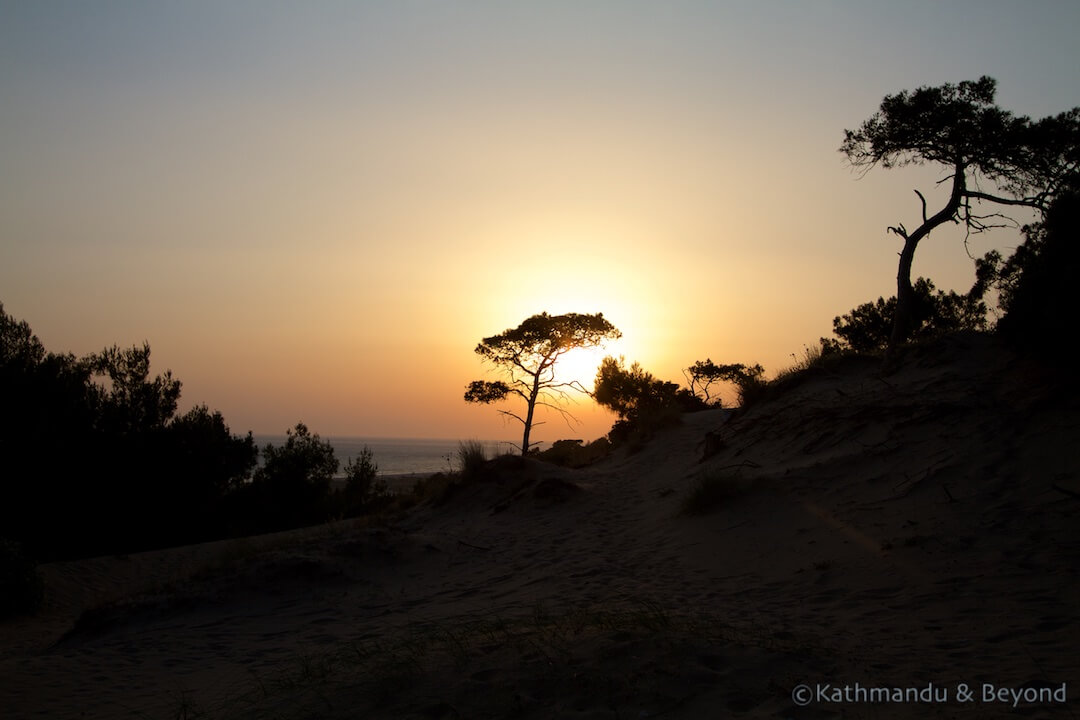 Patara Beach
After a few lazy days in Patara we made our way to nearby Kas. I wasn't too bothered about stopping in Kas but Kirsty was and I am glad she got her way as the town, with its attractive harbour and appealing backstreets, was worth an afternoon of exploration.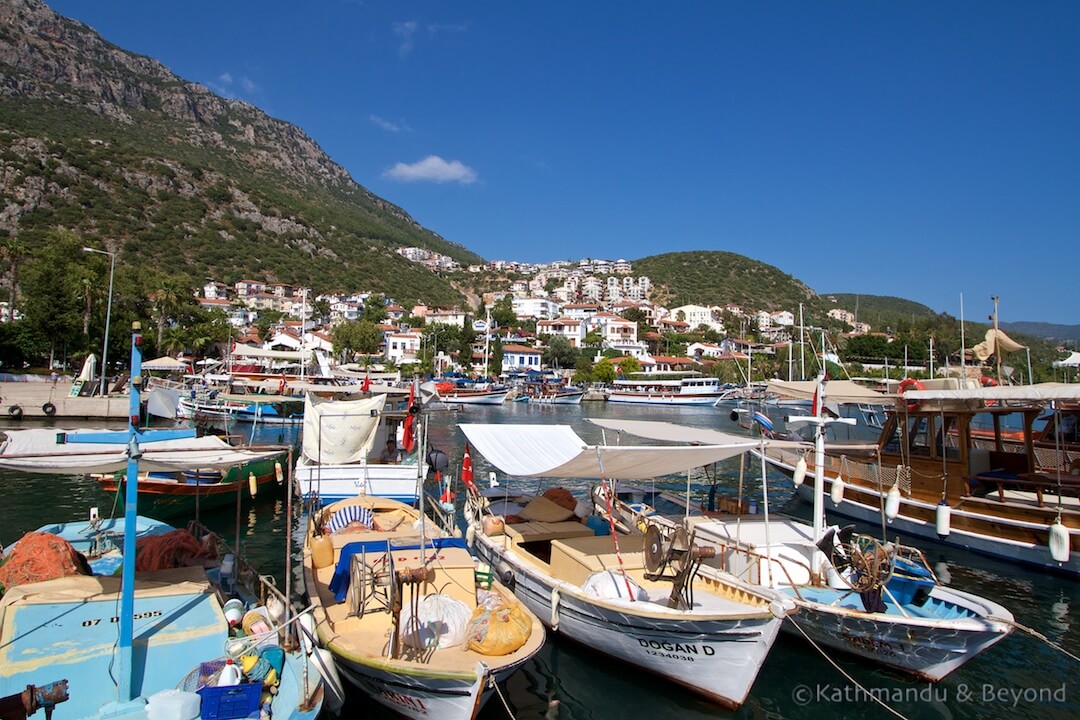 Kas Harbour
Some serious sunbathing and R&R on the laid-back twin beaches at Cirali and Olympos were next on the agenda before we finished our coastal explorations with a few nights in Antalya, which we both agreed had the finest Old Town and picturesque harbour out of all the coastal cities we visited during this section of our Turkey itinerary.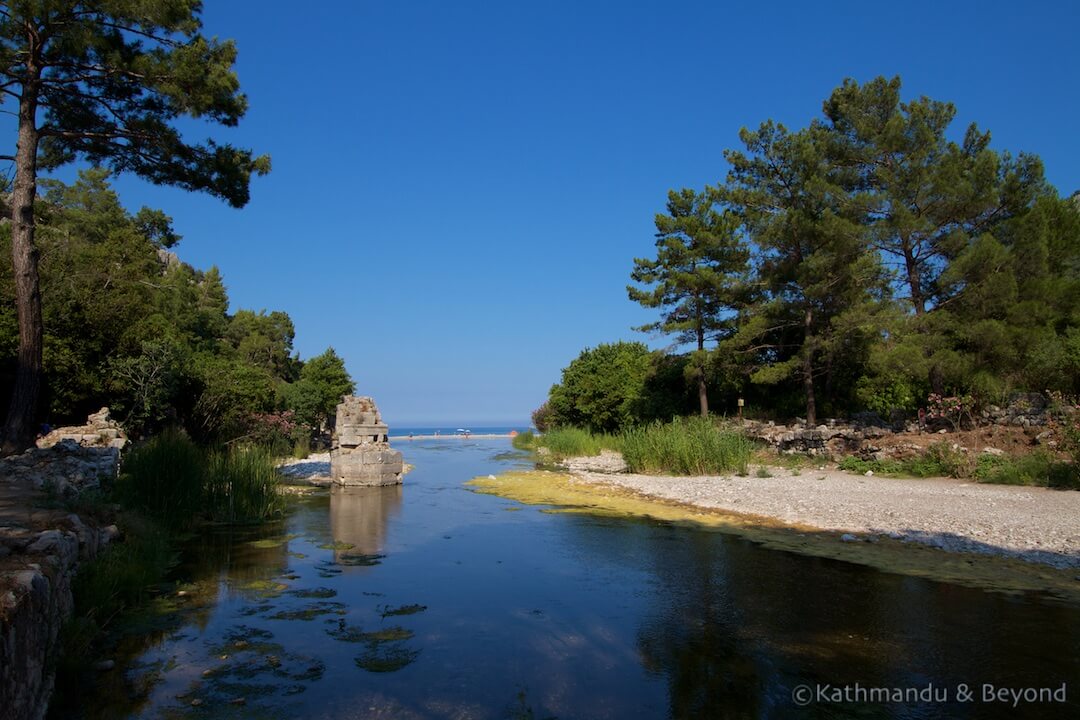 Olympos (Cirali)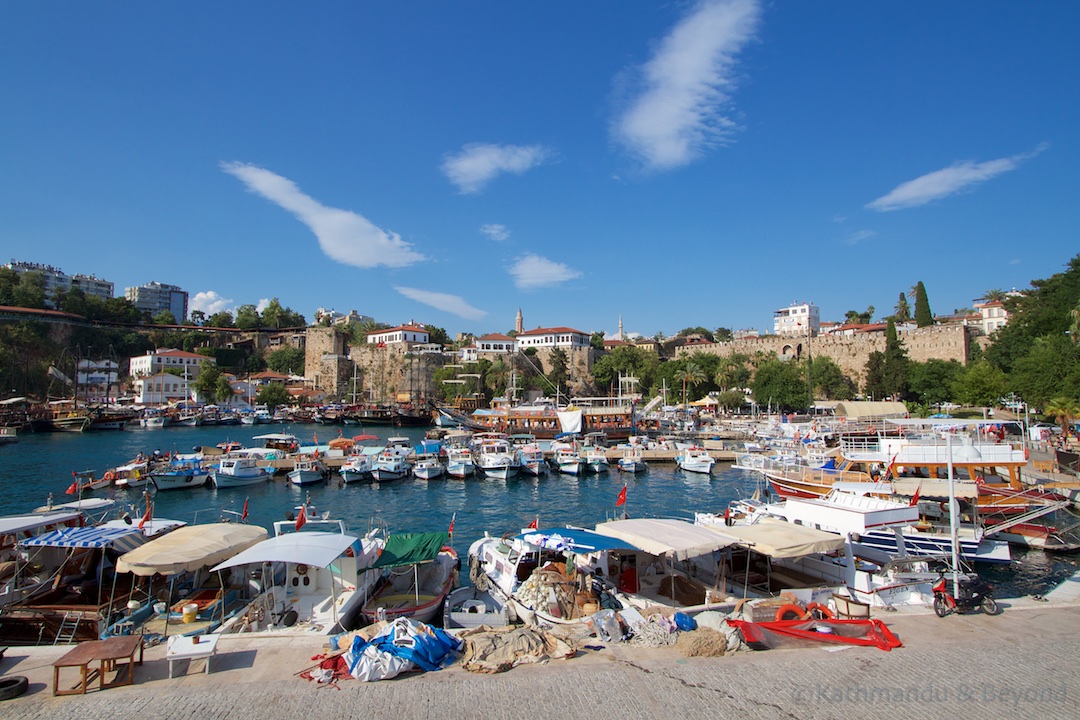 Roman Harbour, Antalya
It took us more or less one month to get from Istanbul to Antalya. We didn't move at breakneck speed but apart from short stays in Bergama and Cirali, we didn't hang around that much either. There were a few things we felt we missed out on. In hindsight we should have had a day in Izmir plus we didn't get to the terraced rock pools known as travertines, or the ancient ruins of Hierapolis in Pamukkale which would have meant an inland detour of about 3 hours in each direction from the coast. We also couldn't muster the enthusiasm to visit the ruined cities at Termessos and Perge or the huge theatre at Aspendos. All three are located near Antalya but by this time we had visited thirteen ancient cities and we were a bit ancient-citied out.
---
---