Places to visit in Kiev: A guide for independent travellers
Serious statement: we could live in Ukraine's capital, Kiev. On a scale of one to ten, it hits a nine for us and, along with London, Belgrade, Chiang Mai and Kolkata (on a good day!), it is one of our favourite cities. We never seem to run out of things to do in Kiev. The city is affordable, easy to navigate, has great summertime temperatures and, most importantly, has an abundance of everything we like to see and do in a city; namely interesting architecture, vibrant street art, decent bars, lots of opportunities to people-watch and plenty of quirky stuff.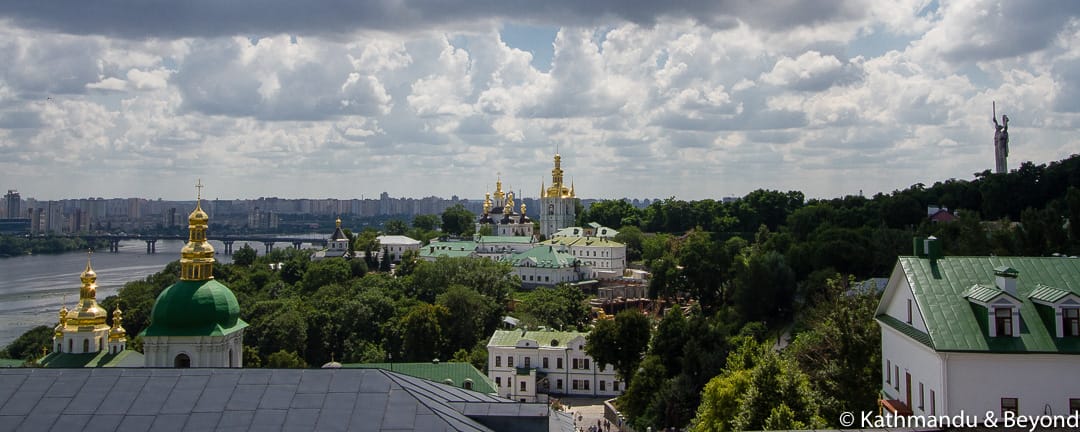 View from Kievo-Pecherskaya Lavra across to Mother Ukraine at the World War II Memorial Complex in Kiev
It might seem a slightly strange thing to say but the only thing that stops the Ukrainian capital getting a full-on ten out of ten from us is an apparent aversion to using any spices whatsoever in their cuisine! This statement isn't specifically targeted at Kiev or even Ukraine for that matter. As part of a generation of Brits who have grown up with spicy food, coupled with the fact that we have spent a lot of time in Asia (where even the cheapest meals are extremely tasty and full of spices), means that we miss it terribly when we can't get it. We often lament that the UK is the only place in Europe where you can get decent Asian food outside of the respective country of origin and we've yet to be proven wrong on this account!
Anyway, we all have our problems in life and we deal with it as best we can by trying to always book apartments with cooking facilities wherever possible and carrying a bag of spices and chilli pastes around with us 🙂 (*).
(*) At least the bag of spices doesn't attract as much attention when we are going through security checks at airports and border crossings etc. as the small bag of washing powder that we also normally have in our possession!
One thing is for sure; it's not enough to stop us from returning to Kiev whenever we can. We've now spent around six weeks in and around the city and although we've written over twenty-five posts featuring Ukraine, we realised we have never written a post dedicated solely to what there is to see and do in Kiev.
We haven't seen everything in the city. This is not an 'xx things to do in Kiev' kind of post: we have only written about places that we have visited and would like to recommend to you. Keep in mind, however, that normally we are not drawn to traditional museums, such as archaeological or national history, nor to art galleries. We tend to seek out museums of unusual items such as old aircraft or other forms of transport. In that respect, The Museum of Unnecessary Things in Kiev is high on our agenda next time we visit Kiev.
What's more, although we're big fans of Soviet-era architecture and look for it whenever we can, we've only made reference to it in this post if it was logical to do so, i.e. if it's near something else of interest. If you want to see more examples of Soviet architecture that we've found in Kiev then check out Architectonic, our dedicated page on the subject.
Kiev or Kyiv?
We haven't covered this is in any of our other Ukraine blog posts but now is the time to highlight the fact that we have used both Kiev and Kyiv spellings for the city. There are two ways of writing the name of the city, Kiev (normally pronounced Key-ev) and Kyiv (pronounced more like Keev), and that while we recognise that the correct name is Kyiv, we, like many others, have tended to use the more-common international variant of Kiev. It's like Geneva and Genève. There's no such place as Geneva but everyone knows where it is!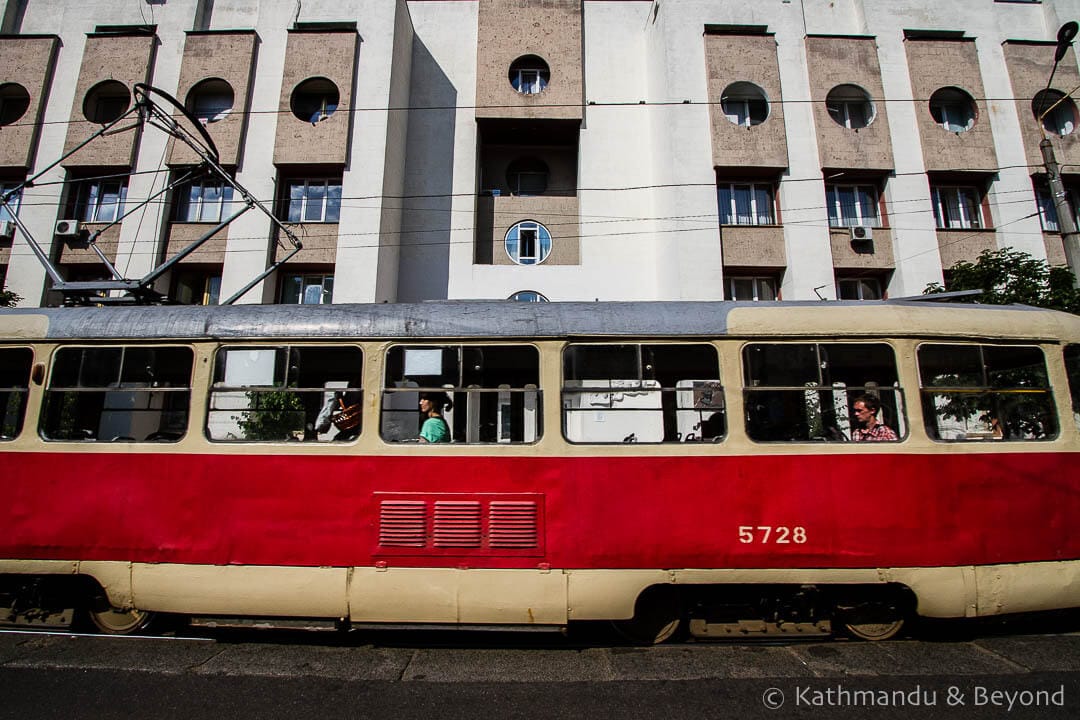 Getting around Kiev
Kiev has an excellent and very affordable metro system. Using the Kyiv Metro is very easy: buy a plastic token from the attendant in the kiosk for 8 UAH which is good for one ride. There are three colour-coded lines (red, blue, and green) and three interchange stations. The token allows you to travel on any of the lines until you exit at your destination.
For other places not accessible by metro, Kiev has an extensive network of trams, buses, trolleybuses and marshrutka. Our go-to site and app for public transport in Kiev is EasyWay. Either choose your A to B points on a map, or enter your destination, and the site will offer the route along with the metro, tram or bus number.
Except for the Ukraine State Aviation Museum, which is best reached by bus, all of the places in Kiev mentioned here can be reached using the metro. Note though, that some of the sights require a fair bit of walking from the closest metro station.
OK, if you're ready to read about all the places to visit in Kiev, let's begin. And, if this long list starts to get a bit overwhelming, don't worry, there's a handy map at the end of the post.
Independence Square and the surrounding area
Independence Square
Independence Square, also known as Maidan Nezalezhnosti, is considered to be the city centre and it's the best place to start your sightseeing and get your bearings in Kiev. Notable sights on the square include the Independence Column and the towering, Soviet-era, Hotel Ukraine, but they aren't really reasons for coming here. Hanging-out and people-watching are the predominant pastimes in this part of Kiev. All of the city's major celebrations, the annual May 9th Victory Day Parade for example, and demonstrations such as opposition to the war with Russia will often begin or end at Independence Square and, even without the crowds, the area is often a hub of activity.
The restaurants on, or close to Independence Square can be rather touristy, and therefore expensive by Ukrainian standards, but they are still good places to have a meal, especially in the summer when everything moves outside.
Nearest metro station: Maidan Nezalezhnosti
Khreshchatyk Street
Leading off Independence Square, Khreshchatyk Street is one of Kiev's main shopping streets and where Kyivans (pronounced Ky-van, like Ivan, not Key-van as you'd expect) come for a stroll. All the city's flash shops are on this road but, for the visitor, the main thing of interest is the Stalinist Empire style architecture that lines each side of the boulevard. Most of the buildings seen today were constructed soon after World War II (also referred to as the Great Patriotic War in this part of the world) because many of the pre-existing structures were boobytrapped, and subsequently destroyed, by Soviet soldiers as part of their retreat from the advancing German army. For a scenic photograph of the Stalinist Empire style buildings, walk up the slightly-elevated street on which Teatralna metro station is situated in the late afternoon and look back down behind you.
Khreshchatyk Street is pedestrianised at weekends.
Nearest metro stations: Maidan Nezalezhnosti, Khreshchatyk or Teatralna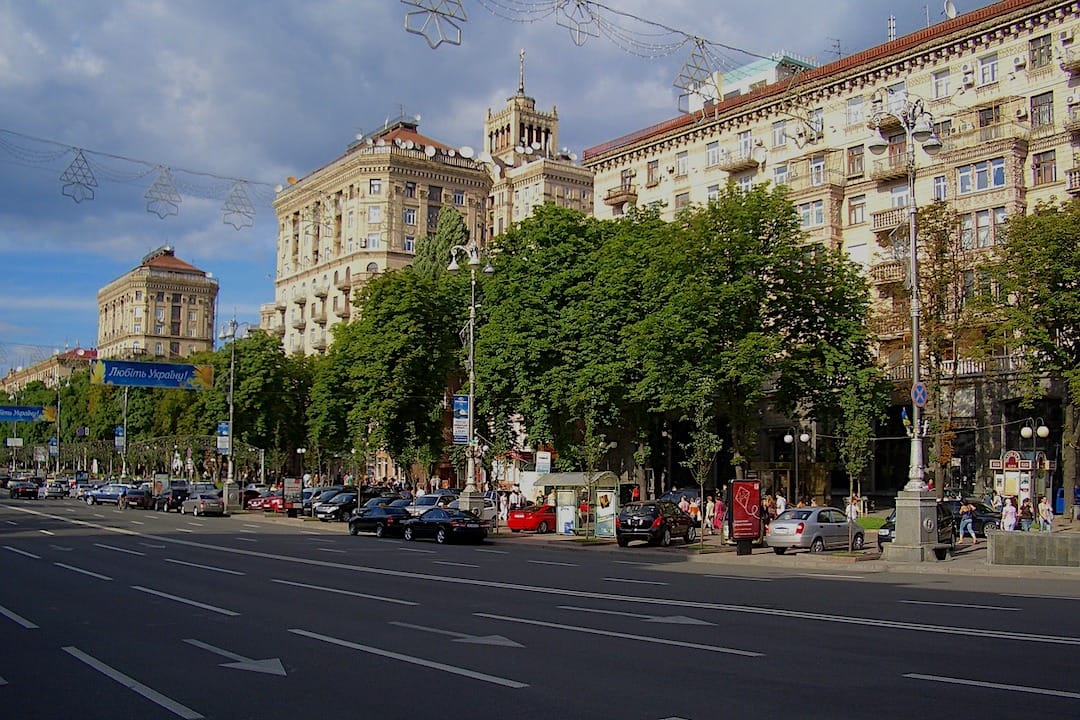 Besarabsky Market
Situated at the end of Khreshchatyk Street, Besarabsky (also called Besarabka) is a large indoor market dating back to the early 1900s. It sells predominately fresh produce and is an interesting place to visit if you are into markets (Kirsty is definitely more so than Mark!).
There are lots of cheap fast-food restaurants located around the edge of the market.
Nearest metro station: Teatralna or Ploshcha Lva Tolstoho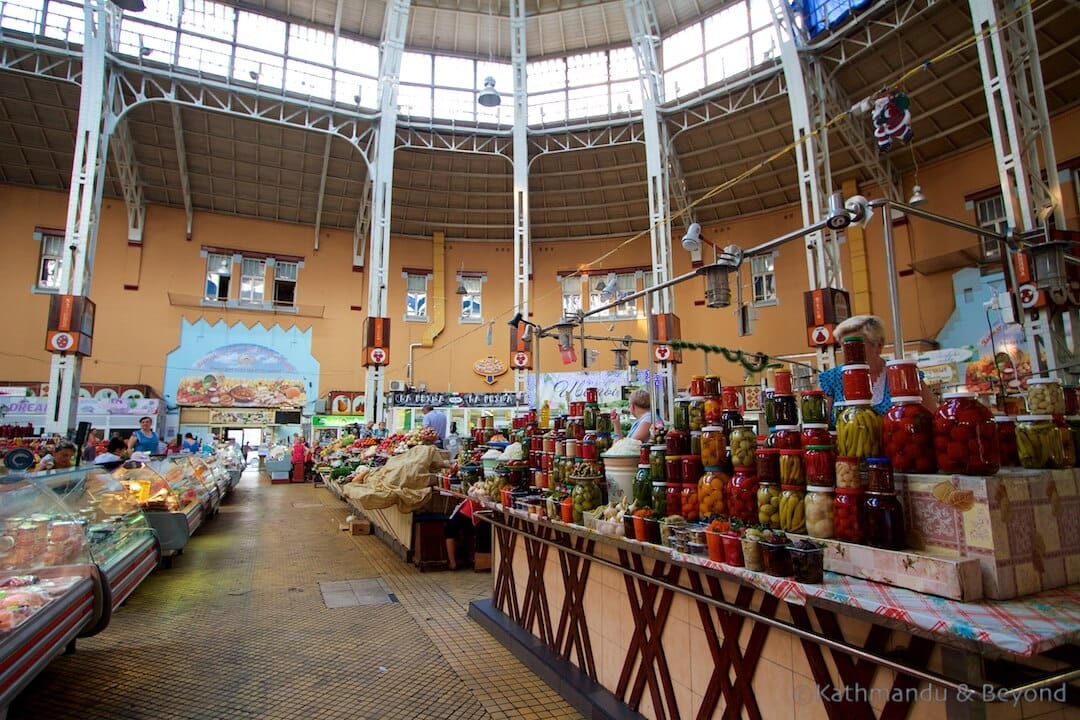 House of Chimaeras/Gorodetsky House
Situated to the east of Khreshchatyk Street in the historic neighbourhood of Lypsky, the House of Chimaeras (also called Gorodetsky House) is a wonderful example of Art Nouveau architecture. It has an incredibly detailed facade but, because it is located more or less opposite the President of Ukraine's office, is very difficult to get up close to, and therefore photograph (hence we don't have any of our own photos).
If you want to visit the building properly, try contacting the Museum of History of Kyiv. On the excursions page in the dropdown menu of their website, they offer walking tours of Lypsky district that potentially include the House of Chimaeras.
Nearest metro station: Khreshchatyk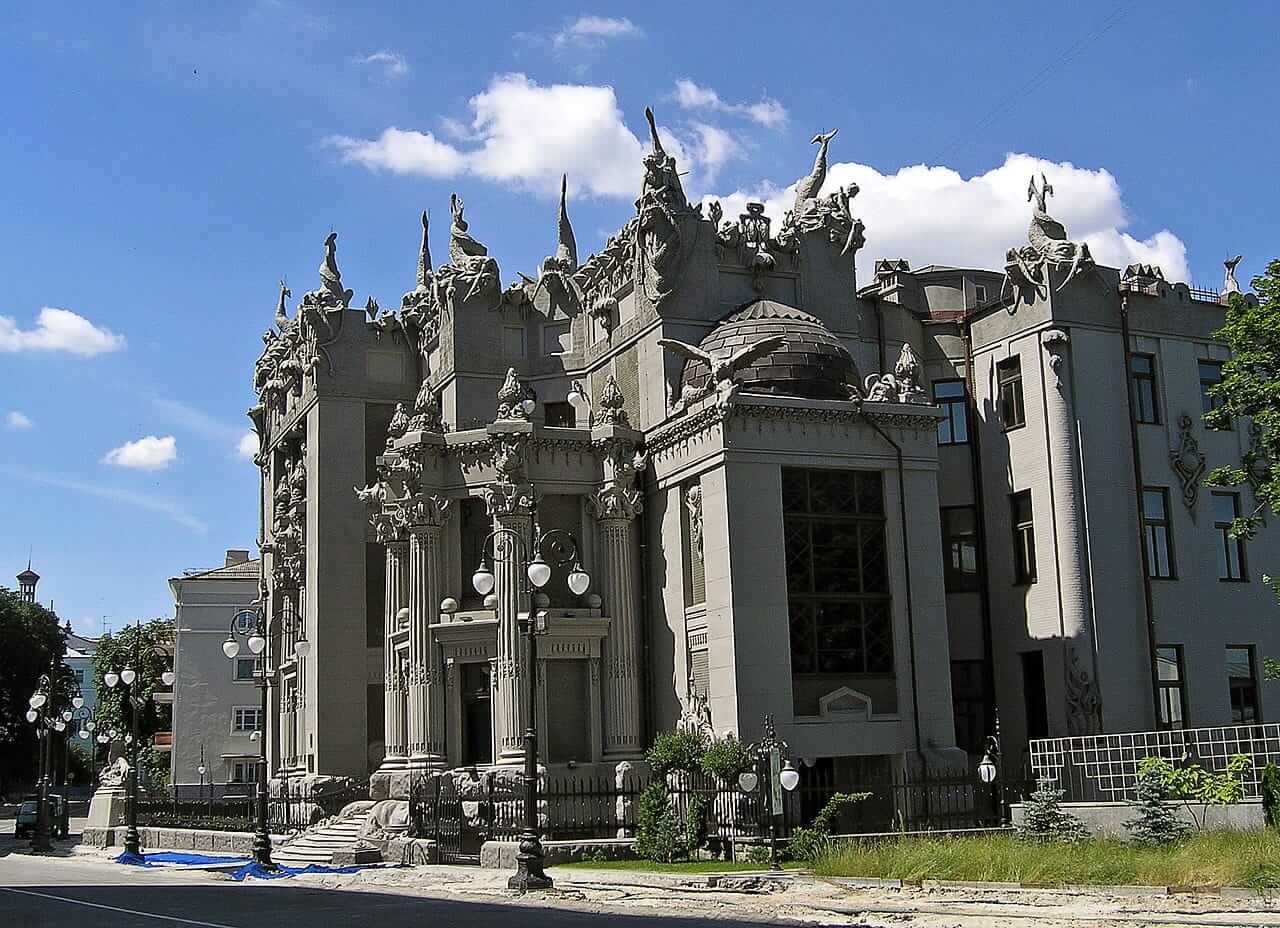 Image by Дядя Саша [CC BY-SA 3.0]
Golden Gates of Kyiv (Zoloti Vorota)
The rather tacky structure that you see today on the corner of Volodymyr street and Yaroslaviv Val Street sits on the site of the city's original 11th-century fortification. It was erected in 1982, during the Soviet period, and has remained controversial ever since because, apparently, it was reconstructed not knowing what the original might have looked like and there are those who still argue that the design is nothing like how it should be.
Today, because of its immediate proximity to Zoloti Vorota metro station, it is a popular rendezvous point. There are a few restaurants nearby as well as a great underground pub called Trallebus, which is marked on the map.
Nearest metro station: Zoloti Vorota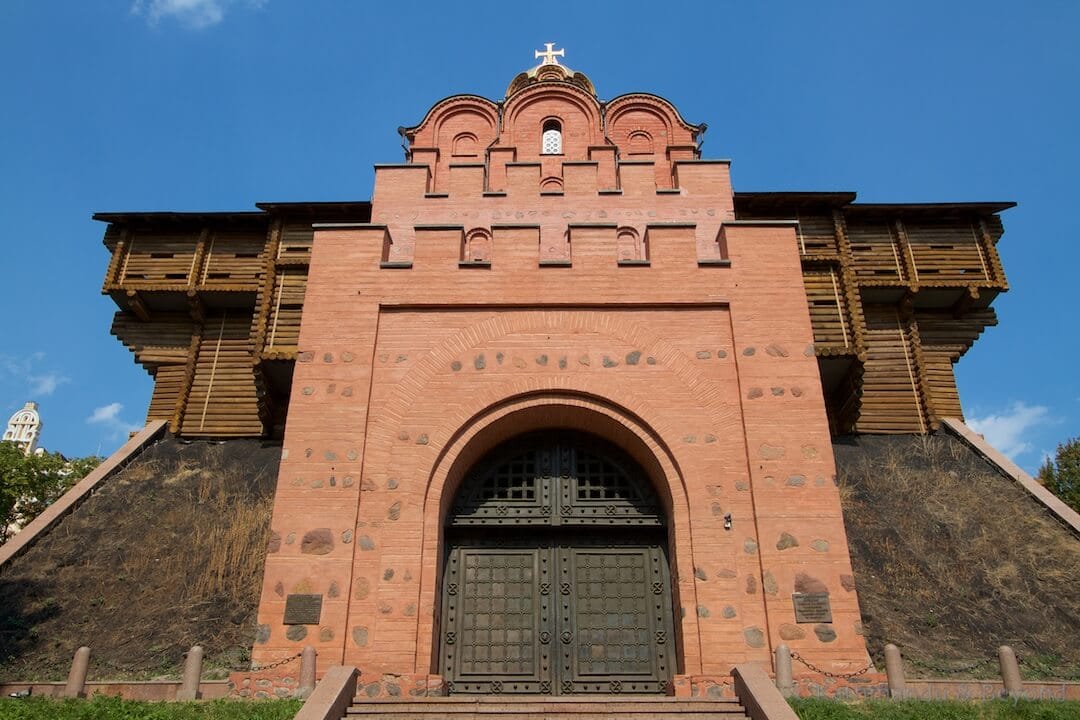 Mobile coffee vans in Kiev
If you are new to the city, it might be around Zoloti Vorota that you spot your first mobile coffee van. Cheaper than coffee shops, and ridiculously inexpensive for anyone coming from western Europe or the United States, there are a zillion of these mobile baristas all over the Kiev, catering to the population's caffeine needs. They come in all shapes and sizes and the coffee is decent. What's more, there's often a nearby bench where you take the weight off for ten minutes or so before continuing along your sightseeing route.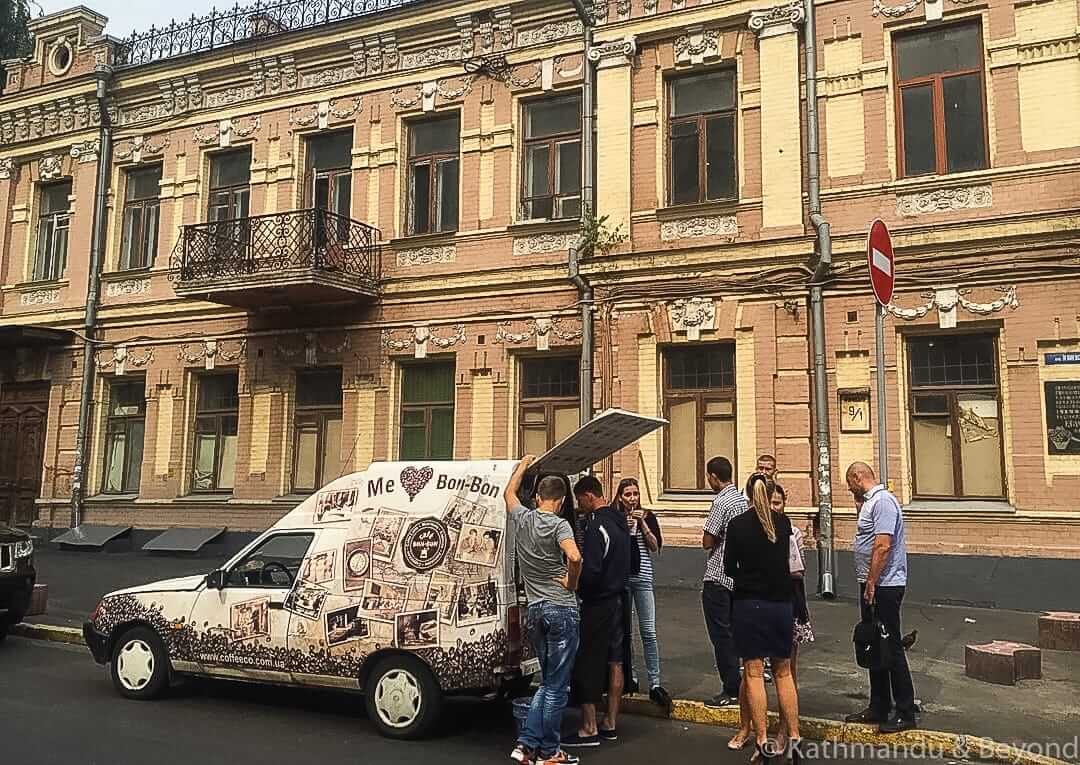 St. Sophia's Cathedral
One of three must-see cathedrals in the vicinity of Independence Square is Saint Sophia (named after the Hagia Sophia in Constantinople, now Istanbul). The cathedral, now a World Heritage Site, dates back to the 11th century and is renowned for its mosaics and frescos. You have to pay to enter the grounds of this particular church and there's an additional ticket if you want to climb the bell tower but it's well worth it for the view.
There are pleasant grounds within the monastic complex and, outside the entrance to the cathedral, it's difficult to miss the large monument to the 17th century Cossack leader, Bohdan Khmelnytsky, which is one of the oldest (and most photographed) statues in the city.
Nearest metro station: Zoloti Vorota or Maidan Nezalezhnosti
St. Michael's Golden-Domed Monastery
For us, this is the most impressive religious structure in the Ukrainian capital and every time we visit Kiev, we make time to go and see it. The mix of colours (sky blue on the building itself and a lovely golden yellow for the domes) is very pleasing on the eye, not to mention very photogenic, and the complex is a delightful place to while away a bit of time.
What you see today is a reconstruction of the original church, which was purposely destroyed in the mid-1930s by the Soviets in order to make way for administrative buildings. See the short section about the Ministry of Foreign Affairs building below for more details.
Nearest metro station: Maidan Nezalezhnosti
Public toilets in Kiev

There is a free toilet inside the grounds of St. Michael's Golden-Domed Monastery. The 'free' bit isn't such a big deal; more significant is that there is a toilet you can use is because Kiev is distinctly lacking in public conveniences!
Ukrainian House
Ukrainian House is a convention centre not far from Independence Square that was constructed in the late '70s, early '80s. The building was originally used as a museum displaying material documenting the life of Vladimir Lenin and was known as the All-Union Lenin Museum but the exhibition was packed up and put into storage soon after the dissolution of the Soviet Union in the early '90s and the structure was transformed into a conference and exhibition centre.
Nearest metro station: Maidan Nezalezhnosti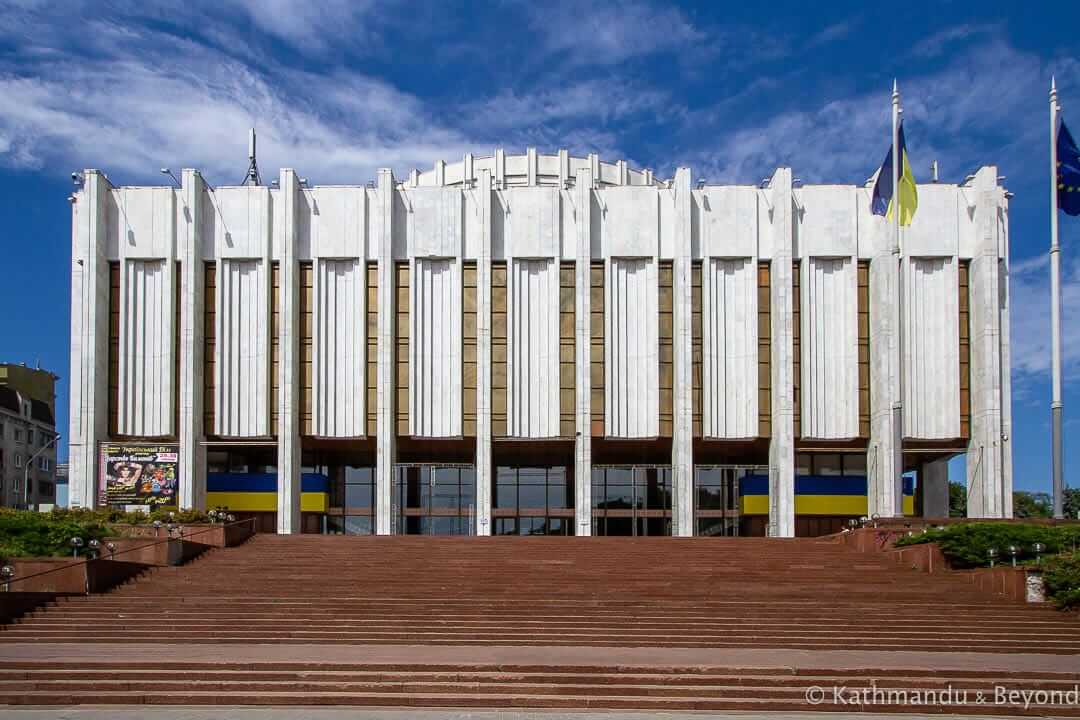 The Friendship of Nations Monument
Opened at the same time as Ukrainian House (when it was the All-Union Lenin Museum), the People's Friendship Arch, as it's also known, was constructed to commemorate the country's union with Russia. As part of the decommunisation process in Ukraine, the arch was very nearly torn down but, in the end, it didn't happen.
There are great vistas of the Dnieper River and the other side of the city from the viewing platform near the Friendship of Nations Monument.
Nearest metro station: Maidan Nezalezhnosti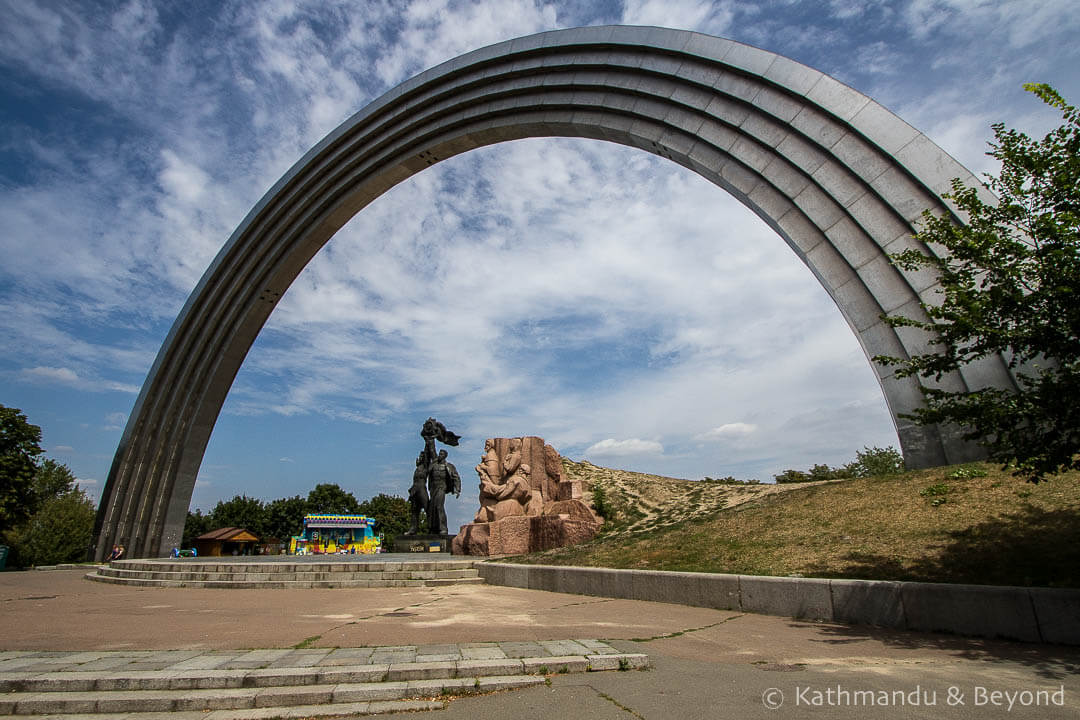 Mariyinsky Park
If you are exploring the House of Chimaeras and other parts of the Lypsky neighbourhood, it's worth continuing in an easterly direction to Mariyinsky Park, which is also sometimes called Park Misky Sad. There are some pleasant tree-lined avenues inside the park and you can connect this part of town with the area around Ukrainian House and the Friendship of Nations Monument by walking across Park Bridge, which is also called the Bridge of Love because of all the padlocks attached to it by newlyweds and courting couples. The most notable building in this area is Mariyinsky Palace, the official ceremonial residence of the Ukrainian president.
Nearest metro station: Arsenalna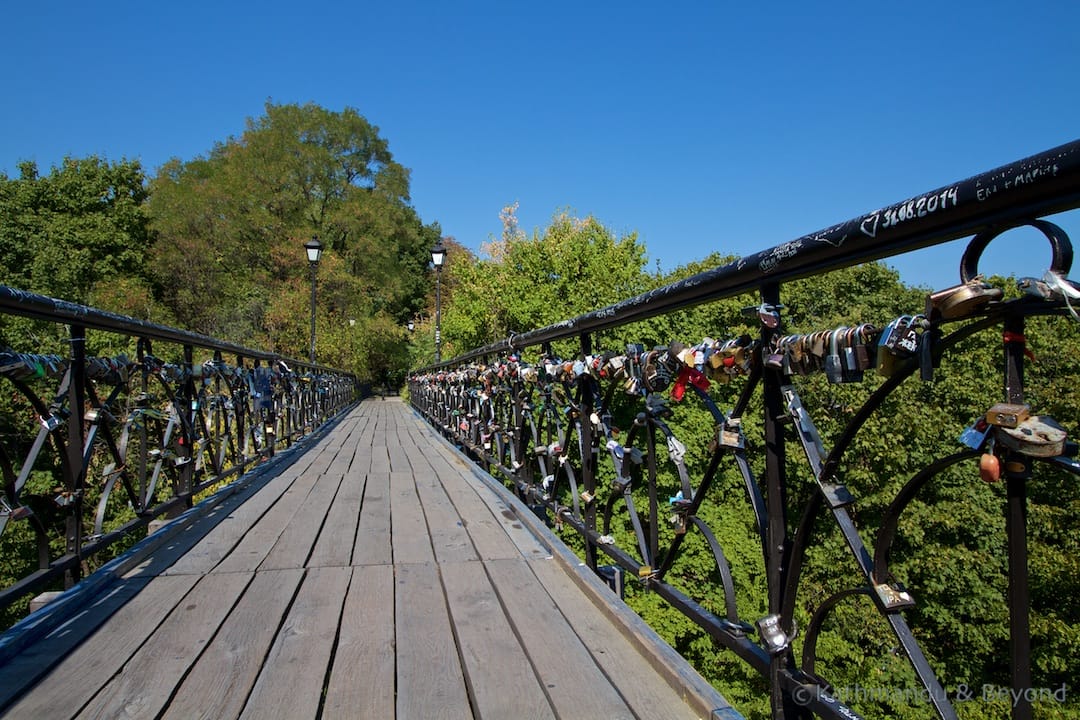 St. Volodymyr's Cathedral
Not as impressive as the other two major churches in the area (St. Sophia's Cathedral and St. Michael's Golden-Domed Monastery), St. Volodymyr's Cathedral is, nonetheless, worth seeing for its ornate interior and brightly-painted yellow outside.
Near metro station: Universitet or Teatralna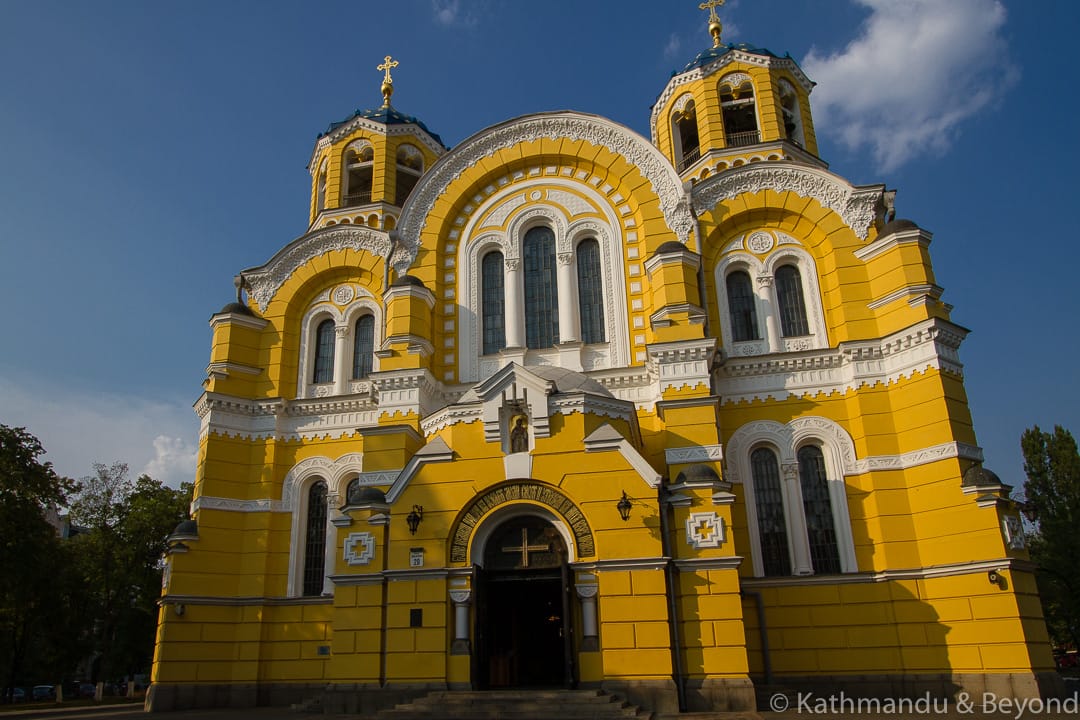 Taras Shevchenko Park
This small park is home to a large statue of Taras Shevchenko (1814 – 1861), Ukraine's national poet, but it's more fun to plonk yourself next to the sculpture of a babushka (granny) sitting on a bench and have your photo taken with her!
Near metro stations: Universitet or Teatralna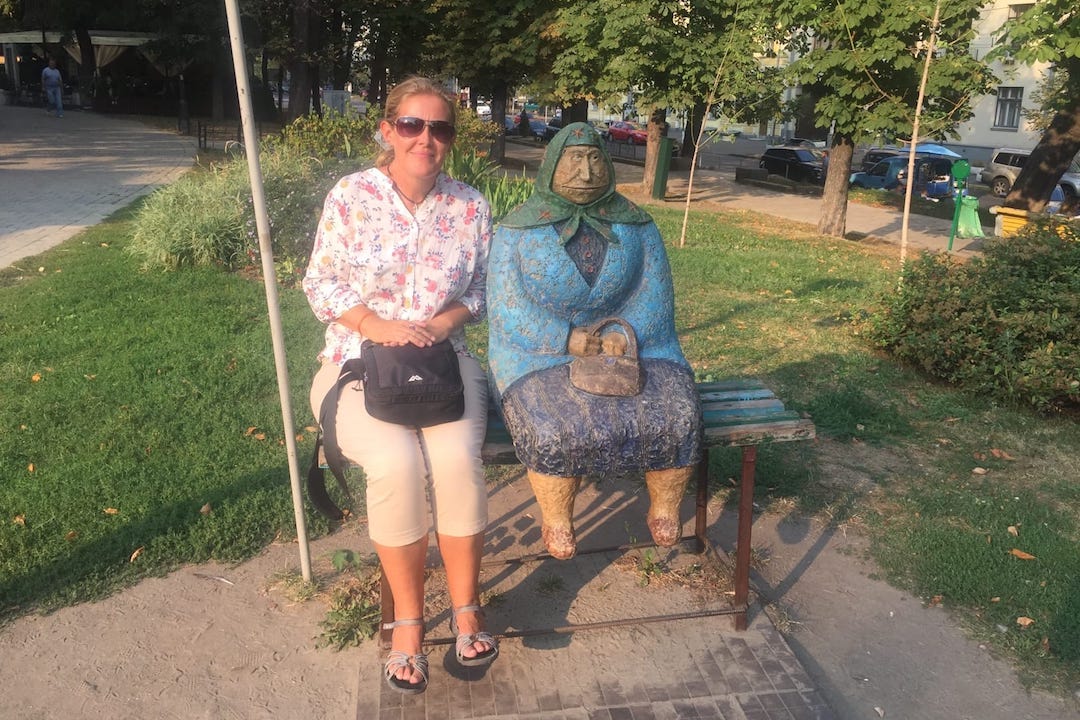 Taras Shevchenko Ukrainian National Opera House
We mention the opera house here for its architectural values but the performances that are put on are, not surprisingly, reported to be some of the best in the country and, because of the weakness of the Ukrainian currency (Hryvnia or UAH), exceptionally good value for money. Opera is not our bag but if you're interested in catching a performance, check out the official website for details of what's on and prices, etc.
Nearest metro station: Zoloti Vorota or Tealtrana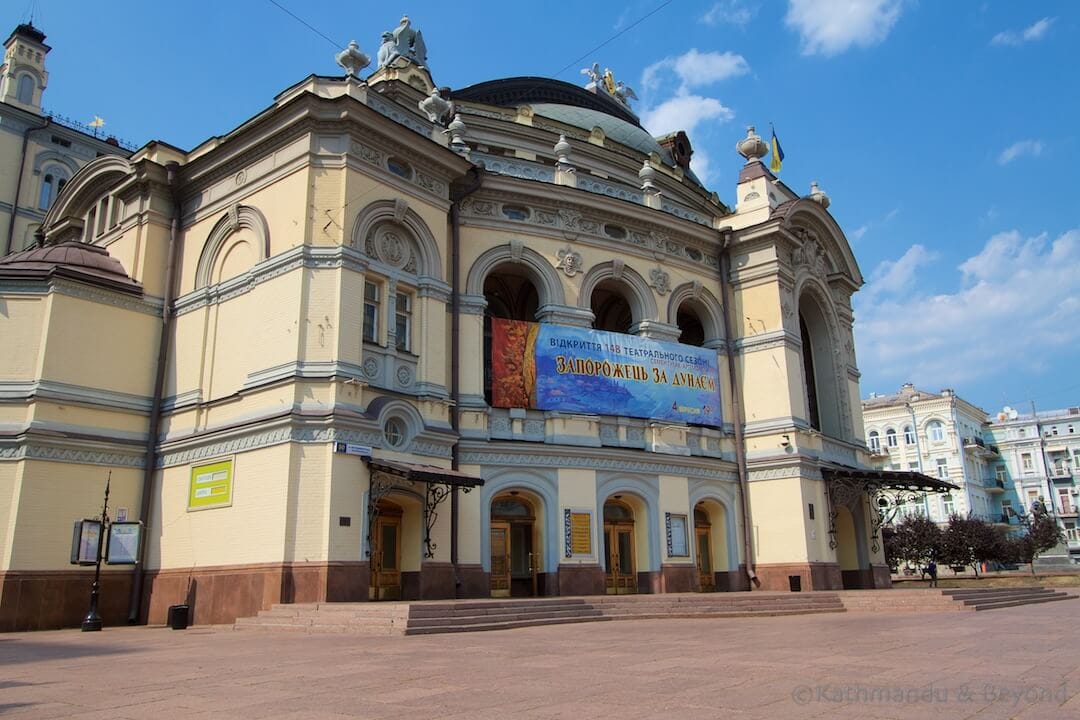 Kyiv Old Town and the surrounding area
Andriyivsky Descent (Andrew's Decent)
Andriyivsky Descent is a road connecting the city's Upper Town with the riverside district of Podil. This cobbled street is about as touristy as it gets in Kiev (although not very compared with most other European capitals) and is lined with souvenir stalls and galleries as well as some overpriced places to sit and eat or have a drink. Still, ambling up or down (preferably down!) Andriyivsky Descent is a de rigueur thing to do in the capital.
Visiting in the morning is best if you want to avoid the crowds and the stall sellers, who won't have set up yet, and along its route there are some interesting distractions, including notable buildings as well as one of the city's more famous pieces of street art, the Renaissance / Rebirth by Seth Globepainter and Kislow.
Nearest metro station: Maidan Nezalezhnosti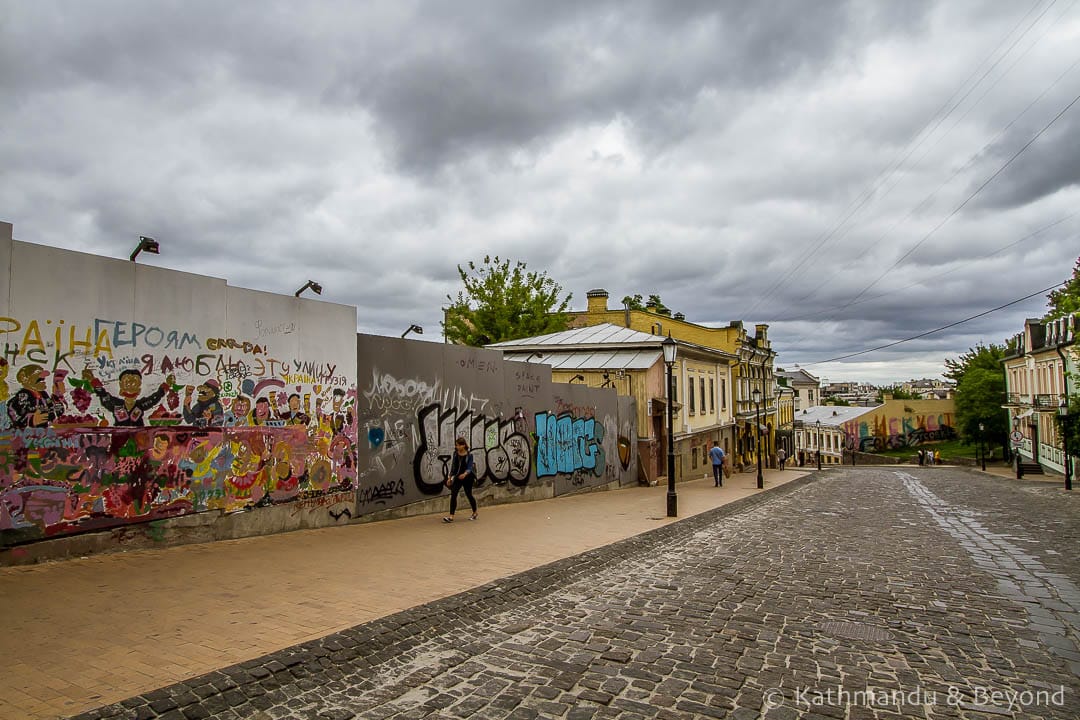 Street Art in Kiev
On the subject of street art, if you are a fan then Kiev is the city for you! There are heaps of murals all over the city and trust us when we say you could easily spend a solid few days dedicated purely to looking for the stuff and nothing else. We know because we've done it and still we feel like we've only just scratched the surface. What we have seen, we have written about and created a self-guided walking tour. Head
here
if you want to delve into the Ukrainian capital's mega street art scene.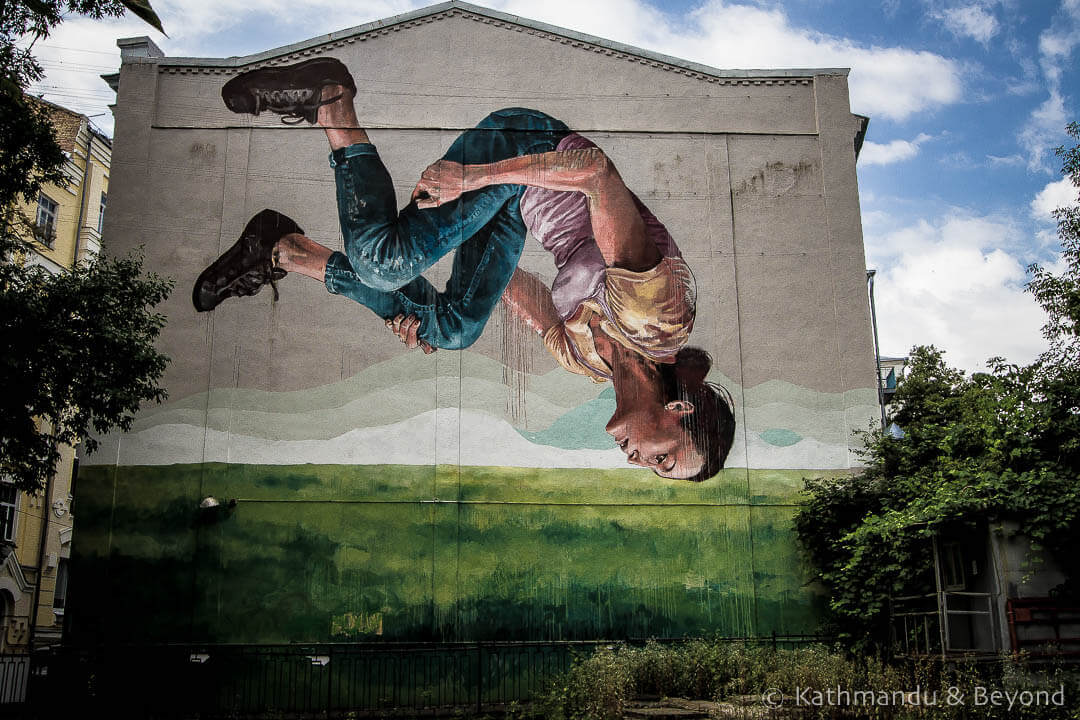 St Andrew's Church
Situated at the top of the Upper Town, this Baroque-style church has a fantastic location and is one of Kiev's most famous landmarks. It was designed in the mid-18th century by Bartolomeo Rastrelli, whose major claim to fame was the Winter Palace in Saint Petersburg.
Nearest metro station: Maidan Nezalezhnosti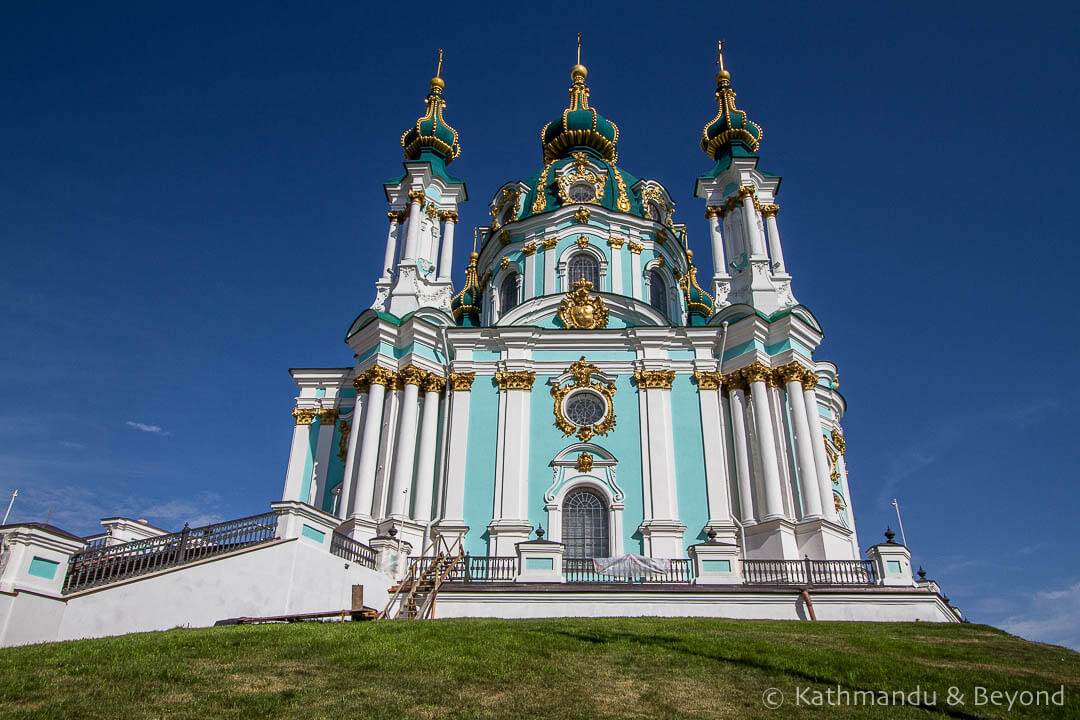 Peizazhna Alley/Children Landscape Park/Kiev Fashion Park
This is the place to come if you want to see a mishmash of wacky sculptures and mosaic art. Peizazhna Alley dates back to the Soviet times (circa the 1980s) and was created as a place where you could come and have a stroll while looking out across the ravine on which it is situated towards the city's historic Upper Town and the neighbourhood of Podil. Children Landscape Park, basically an Alice in Wonderland-esque kiddies' play area, was added around twenty years later and then Kiev Fashion Park, which comprises of even more obscure artwork, a short time after that.
Ideally, come on a sunny day and be prepared for a plethora of art installations including hugging zebras, mosaic-covered cat benches, elephant fountains and multi-coloured Manneken Pis.
Mind-bending drugs are optional, and probably not necessary!
From this area, it's easy to reach St Andrew's Church and the top of the Upper Town via the National Museum of the History of Ukraine.
Nearest metro station: Maidan Nezalezhnosti
Kiev Funicular
Kiev Funicular also connects the Upper Town with Podil and is a good option if you don't fancy the walk up Andriyivsky Descent. It travels up the side of Volodymyrska Hill (Saint Vladimir Hill) and only takes three minutes to get from the top to the bottom (or vice versa). At 8 UAH per ride (2019), it's a snip and saves on the leg work.
The Kiev Funicular leaves from Verkhnia Station in the Upper Town, which is just behind St. Michael's Golden-Domed Monastery, and Nyzhnia Station in Podil, which is just over the road from Poshtova Ploshcha metro station and Kiev River Port.
Nearest metro station: Maidan Nezalezhnosti or Poshtova Ploshcha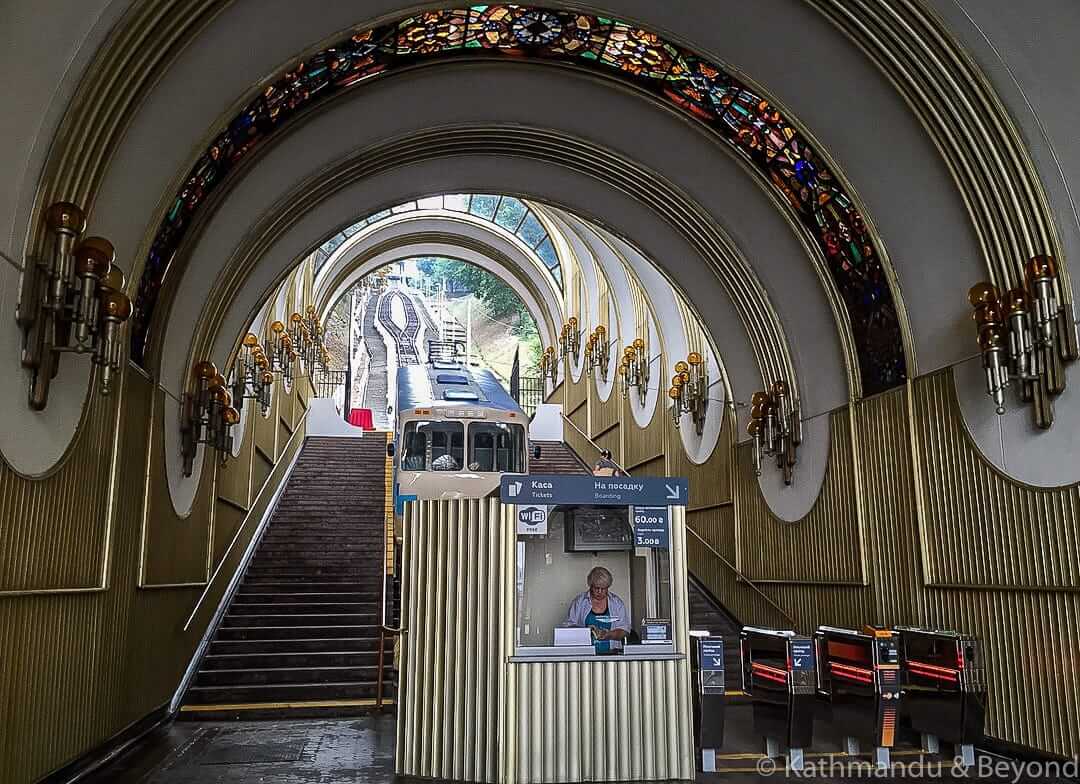 Volodymyrska Hill (Saint Vladimir Hill)
The main reason to come here is to see the Monument to Saint Vladimir and also to take in the terrific views of the Dnieper River and the city's left bank. It's nice and leafy up on the hill and if you've got time for a stroll or want a bit of fresh air then this is a good place to come.
Nearest metro station: Maidan Nezalezhnosti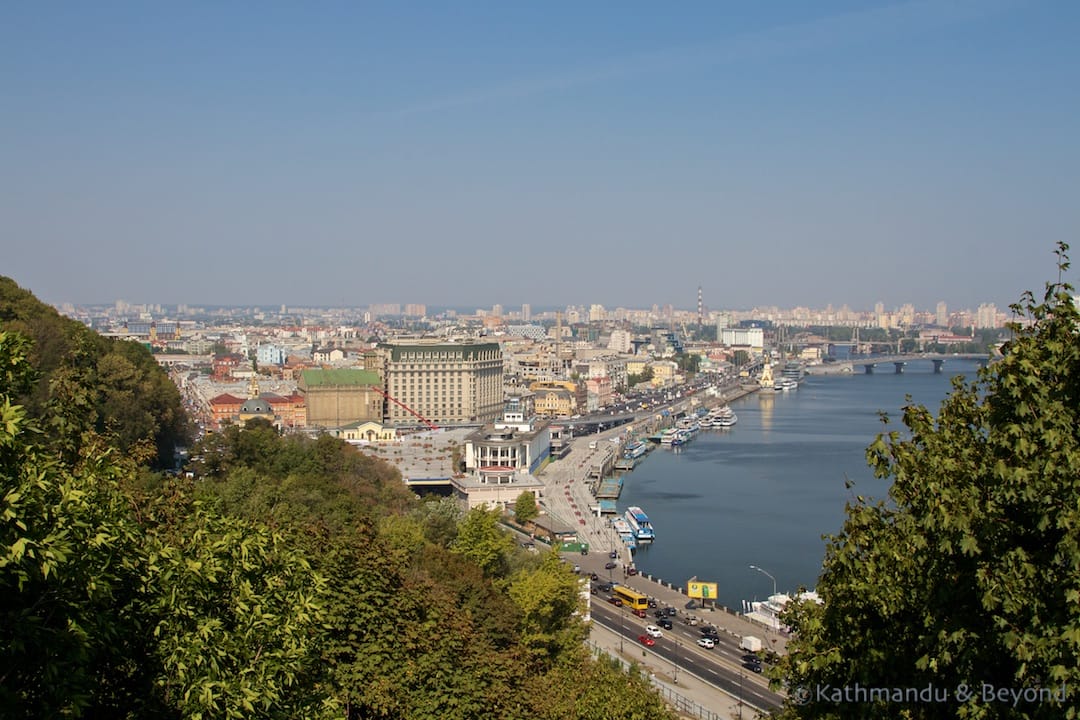 Ministry of Foreign Affairs building
When the capital of the Ukrainian Soviet Socialist Republic (Ukrainian SSR) moved from Kharkiv to Kiev in 1934, there was a spate of Stalinist Empire style buildings constructed in the city, including, what was then, the headquarters of the Central Committee of the Communist Party of Ukraine. The official policy at the time was to build a new city on top of the old one and that is why St. Michael's Golden-Domed Monastery mentioned above was deliberately demolished. The original intention for what is now the Ministry of Foreign Affairs included two symmetrical wings, with the other one being constructed on the site of the demolished monastery but World War II got in the way of the Soviet's architectural plans for the city and the other wing was never built.
Nearest metro station: Maidan Nezalezhnosti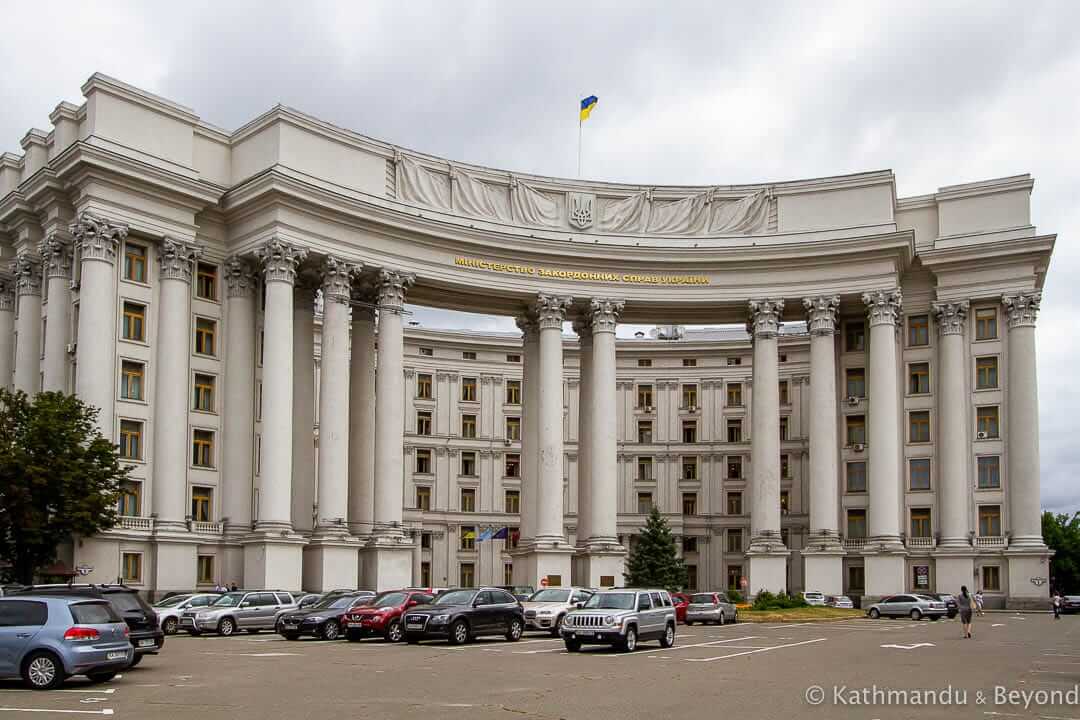 Podil neighbourhood
Kyiv River Port
The area around Kiev's port has been really spruced up in recent times and there is now a pleasant promenade along some of it. Architecturally, the passenger terminal, which was constructed in the late 1950s in Stalinist Empire style, is the most notable building in the river port area.
Nearest metro station: Poshtova Ploshcha
Nativity of Christ Church
The foundations of the Nativity of Christ Church dates back to the mid-16th century but, like other religious building at the time, the original structure fell into a state of disrepair during the rule of the Soviets, when it was first closed and then used as a hostel. As a result, the church seen today is a meticulous reconstruction undertaken between 2002 and 2005 using the original blueprints.
The Nativity of Christ Church is very close to the Kiev River Port passenger terminal mentioned above.
Nearest metro station: Poshtova Ploshcha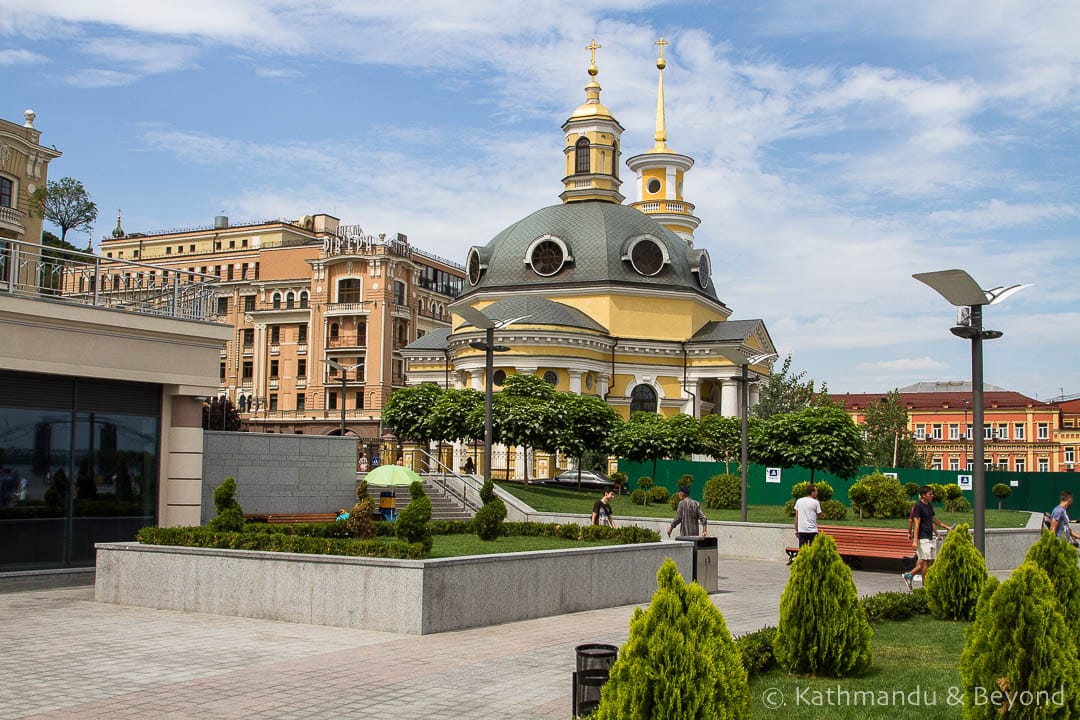 Zhytniy Market
Although the building in which the market is located today only dates back to early 1980s, Zhytniy is one of the oldest bazaars in Kiev. The interior is vast and the market also spills out onto the steps in front of the main building. Mornings tend to be more interesting as there is more activity but there is usually brisk trade throughout the day and Zhytniy Market is a great place to hang out and people watch for an hour or so. For one of the best views, head to the upper level of the market and look down on the proceedings below.
Nearest metro station: Kontraktova Ploshcha
Ukrainian National Chornobyl Museum
This well-thought-out museum commemorates the victims of the Chernobyl disaster that took place on 26th April 1986. If you are planning a visit, or have already been to the Chernobyl Exclusion Zone, then you will benefit greatly from visiting the museum. Even if the Exclusion Zone is not on your agenda, the exhibition is worth seeing.
More details can be found on the museum's official website.
Nearest metro station: Poshtova Ploshcha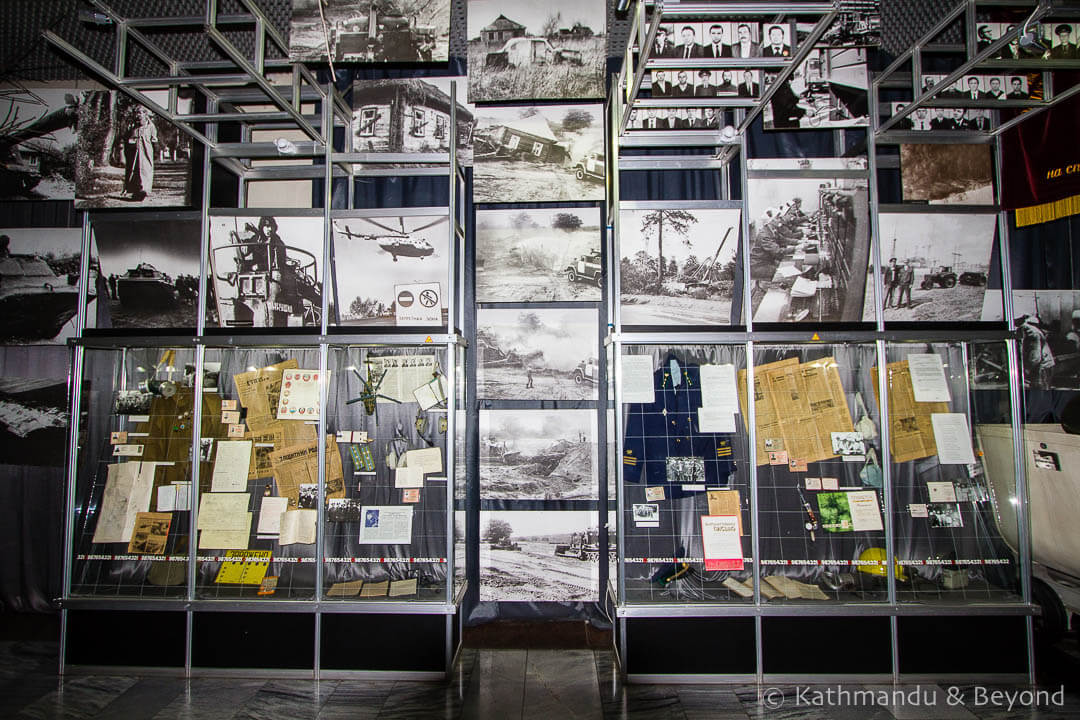 Further things to do in Podil
Podil is one of the city's most interesting areas and there are other things to discover (street art, architecture, parks, etc.) just by wandering around. The neighbourhood is also known for its restaurant and bar scene and so is a good place to visit in the evening as well. If you fancy a proper spit-and-sawdust style bar then check out Beer on Line (Бар "Вернисаж") – it's a bit rough around the edges and the toilet facilities leave a lot to be desired but the jukebox is loaded with plenty of good tunes and we would challenge anyone to find a cheaper bar in the city than this one. It's marked on the map.
Pechersk Lavra and surrounding area
Arsenalna Metro Station
Quite a few of the stations on the Kiev Metro are worth seeing (*) but Arsenalna should get a special mention because it holds the record for being the deepest underground station in the world. It takes about 5 minutes to travel on the two escalators that take you from the station's entrance to the platforms 105.5 metres below the surface and it's not uncommon to see commuters sitting down on the escalator steps, reading a book or playing on their phone, etc.
(*) This is especially true of the interiors but, annoyingly, the self-appointed metro police (normally in the shape of miserable, uniformed employees) take great pleasure in preventing visitors from taking any photos of them. The reasons why have always been a mystery to us, but this is the case in many post-Soviet states, although in some cities, for example, Uzbekistan's capital, Tashkent, the laws have recently been relaxed to allow photography of their beautiful metro stations. Much to their annoyance, they can't stop you from looking and admiring, however, and other metro stations worthy of a closer inspection include Zoloti Vorota, Palats Ukraina, Olimpiiska and Lybidska.
Nearest metro station: Arsenalna (funny that!)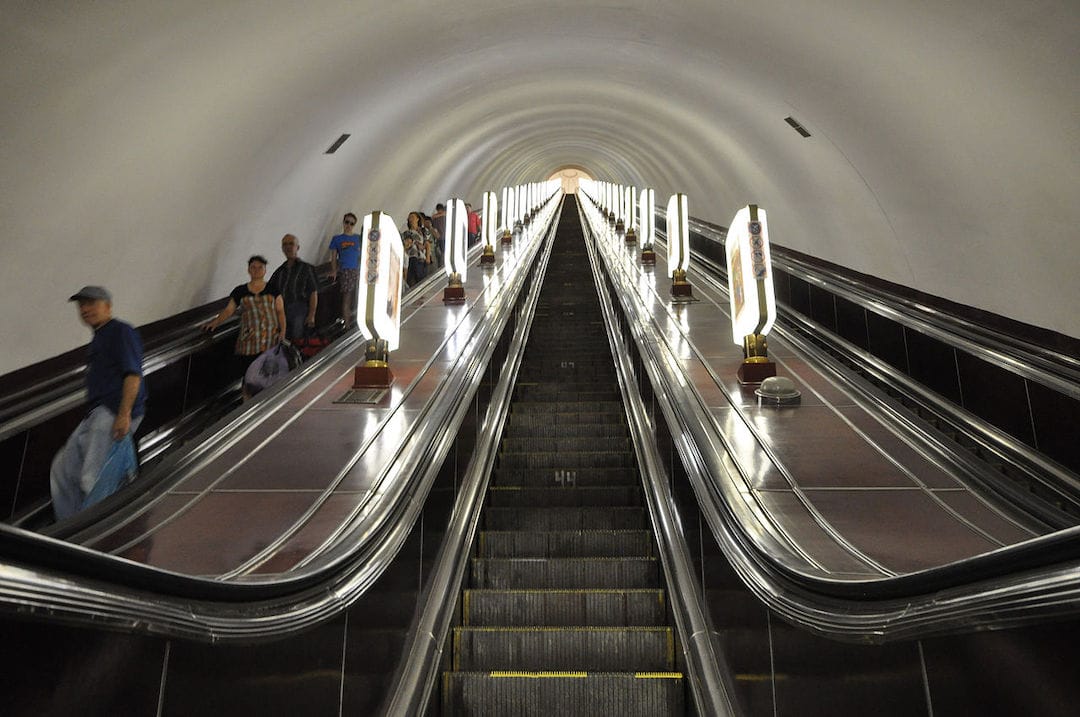 Image by Jorge Láscar [CC BY 2.0]
Hotel Salute
This post isn't really about Soviet-era architecture, but the Hotel Salute is such an iconic landmark from that era that it would be remiss of me not to mention it. What's more, it is highly likely you will walk past it en route to some of the area's other attractions, so it's probably best to know what you are looking at when the inevitable "What on earth is that?" comes into your head!
Work started on the hotel in 1976 and was completed six years later, in 1982, with disputes between the architects and local communist party leaders being responsible for the delay. If you are smitten by the outside appearance of the building, check out the reception area also which, how should we put it, is still very much in keeping with the period!
The Salute still operates as a hotel and receives pretty good reviews on booking.com, which is unusual for most Soviet-era hotels these days.
Nearest metro station: Arsenalna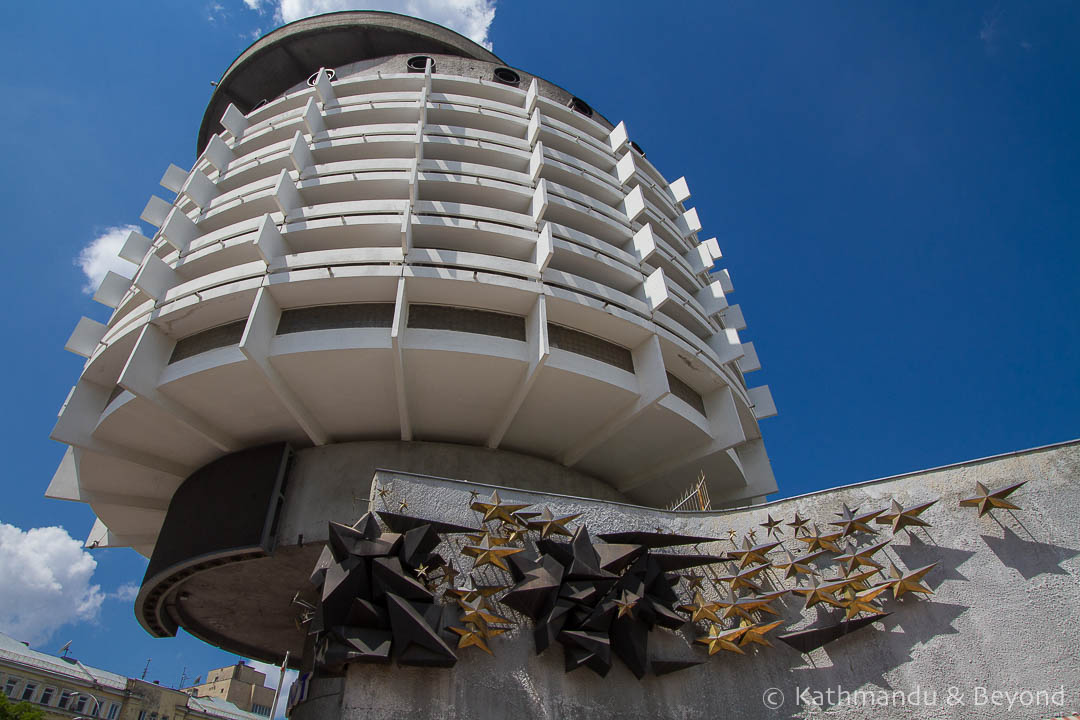 Holodomor Genocide Memorial
Holodomor translates as 'to kill by famine' or 'death by hunger' and the Holodomor Genocide Memorial is a museum that commemorates the millions of victims who perished across the Ukrainian SSR because of the 1932/3 forced famine that was induced by Stalin's policy of collectivisation in the Soviet Union.
The memorial has a peaceful setting on the edge of Vichnoy Slavy Park and there are impressive views of the Dnieper River from nearby.
Nearest metro station: Arsenalna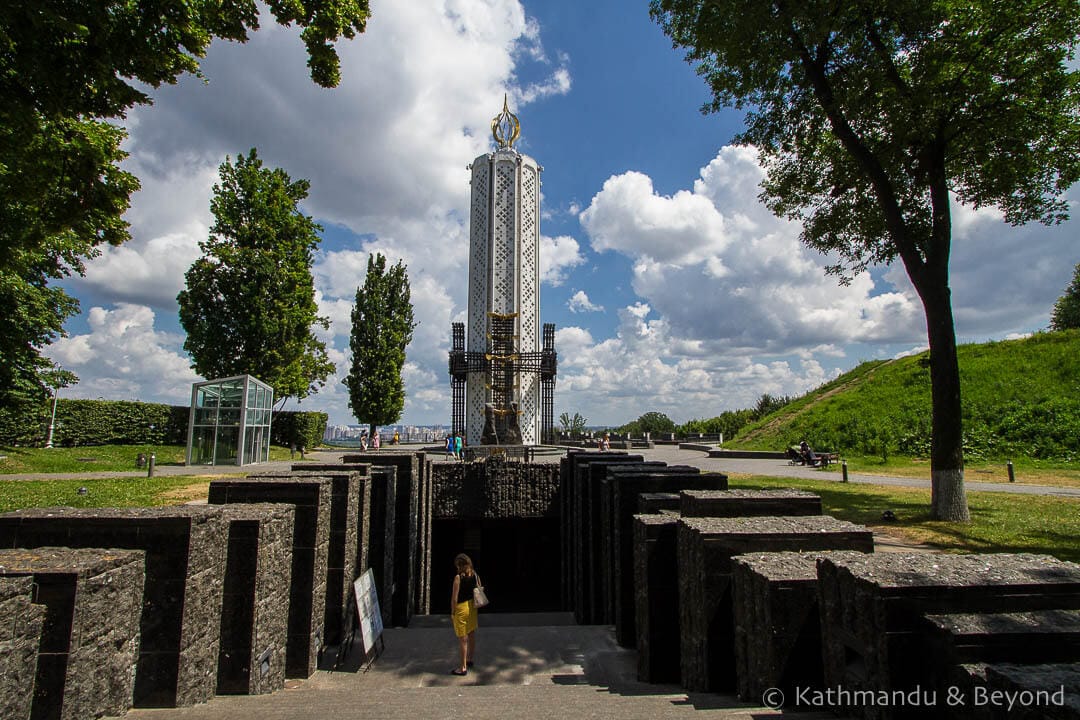 Kiev Pechersk Lavra
The UNESCO World heritage-listed Kiev Pechersk Lavra Orthodox Christian monastery, or simply the Lavra, is one of the most magnificent, not to mention sacred, sights in all of Kiev. It takes at least two to three hours to see the entire site properly, which includes incredible structures such as the Dormition Church, the refectory and the bell tower. We found the underground caverns, which are one of the holiest parts of the complex, a little underwhelming if truth be told, but there is no denying that, overall, the Lavra is a special place and should be on everyone's list of must-see places while in the city.
Nearest metro station: Pecherska or Arsenalna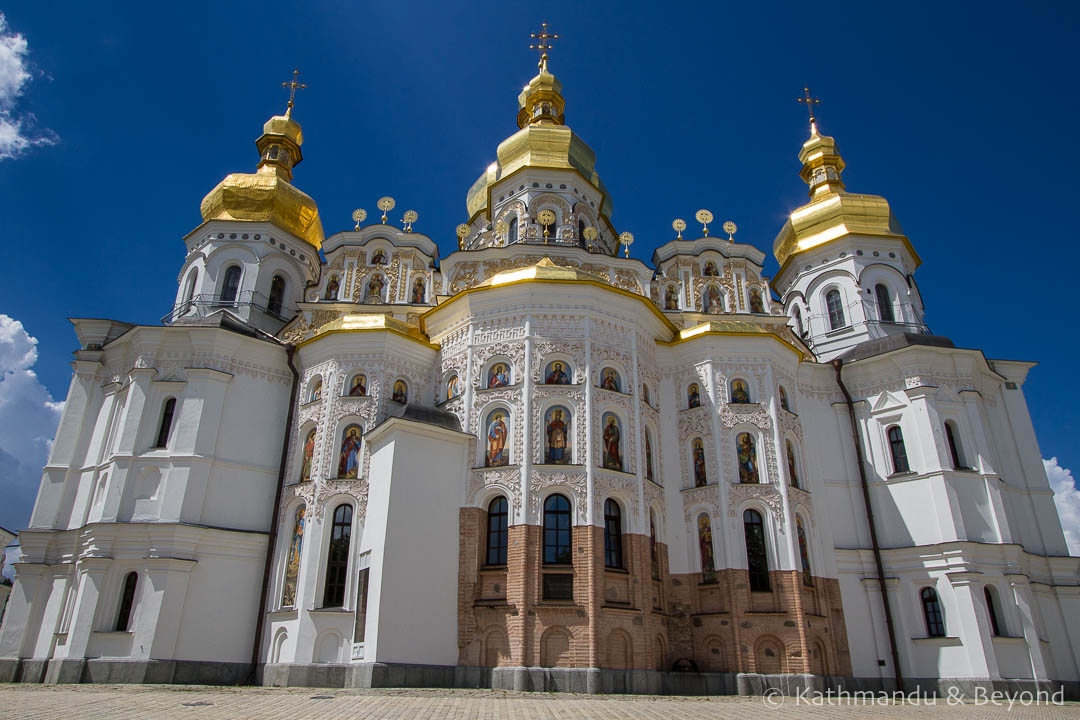 Museum of The History of Ukraine in World War II Memorial Complex
Now you're talking – for us personally, this is one of the best things to see in Kiev! Opened in 1981 with great pomp and ceremony by Leonid Brezhnev, the then General Secretary of the Communist Party of the Soviet Union, this complex is dominated by the 62-metre-tall Motherland Monument, standing atop the 40-metre museum building. At the base of the stainless-steel statue is the museum itself and surrounding it are various other sculptures, some tanks (which are repainted in different bright colours on a regular basis) and an eternal flame. For an additional fee, it is possible to go up to the top of the Motherland Monument and stick your head out of small hatch – each to their own!
It is a pleasant and easy walk between the memorial complex and the Lavra.
Nearest metro station: Pecherska or Druzhby Narodiv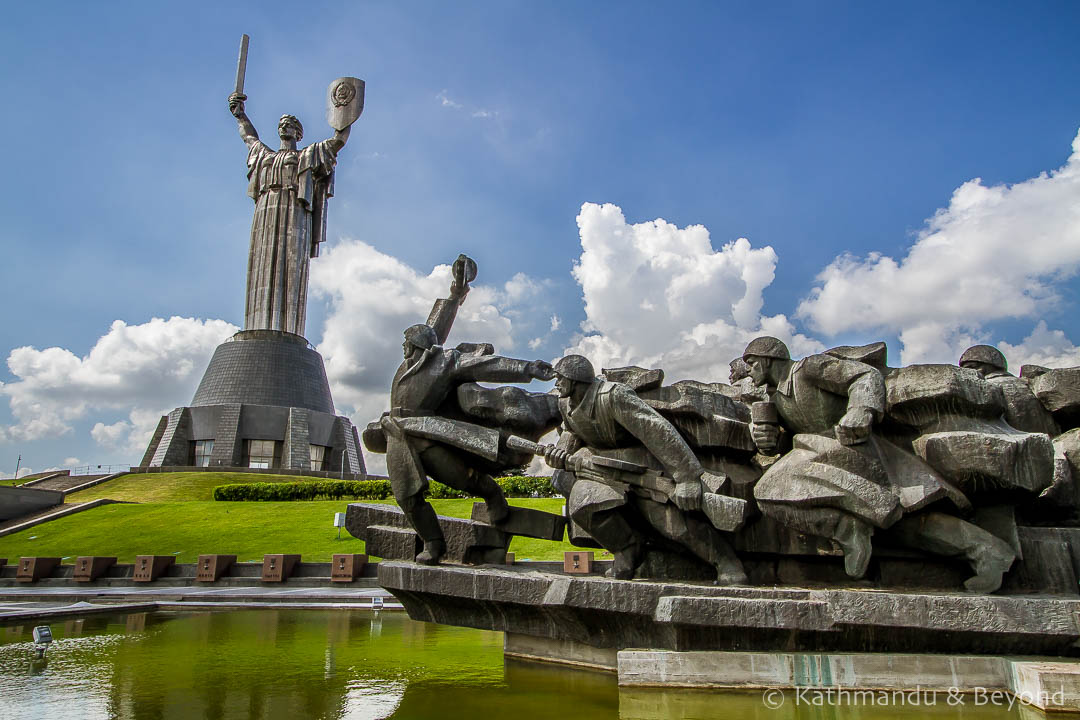 Vydubychi Monastery
Vydubychi Monastery is a 30-minute (2.5km) hike from either the nearest metro station or the Museum of The History of Ukraine in World War II Memorial Complex but it's a beautiful monastery and so worth the effort of visiting if you can (*). It's one of the oldest religious structures in Kiev and the green and blue domes, which peep out above the dense forest look fantastic. This is the monastery to head to if you want to avoid the crowds.
(*) it is possible to walk the 2km between the Museum of The History of Ukraine in World War II Memorial Complex and Vydubychi Monastery but it's mainly alongside the highway (some sections don't have a footpath) and therefore not that pleasant. Unfortunately, there's no convenient way using either the metro or a bus to circumvent this 2km walk, but you could get an Uber or Uklon (the Ukraine equivalent).
The nearby Trinity Monastery of St. Jonas is also worth a look if you are in the area.
Nearest metro station: Druzhby Narodiv or Vydubychi
Hryshko National Botanical Garden
We don't normally bother with botanical gardens but we passed through this one once on our way to Vydubychi Monastery and thought it was rather pleasant. Apparently, May is the time to visit as the lilacs are in bloom but I suspect the grounds will look attractive all year round, regardless of the seasons.
Nearest metro station: Druzhby Narodiv
Suggest walking tour of Kiev
It's possible to include everything detailed above in a mega walking tour. You definitely won't be able to complete it all in one day and will have to do it in stages. Plus, you will have to put in some serious klicks if you want to cover all of the ground but, when you've had enough, you shouldn't be that far from a metro station and so can call it a day and continue another time.
Starting in Independence Square, walk partly along Khreschatyk Street before turning left and heading up to the House of Chimaeras (Gorodetsky House). Then come back down on Khreschatyk Street and visit Bessarabsky Market. Next, go to Taras Shevchenko Park and then over the road to St.Volodymyr's Cathedral. Visit the nearby Taras Shevchenko Ukrainian National Opera House before walking up to the Golden Gates of Kiev in Zoloti Vorota. Hit the first of the big churches with a visit to St. Sophia's Cathedral before making a quick stop at the Bohdan Khmelnytsky Monument en route to St. Michael's Golden-Domed Monastery and the nearby Ministry of Foreign Affairs of Ukraine building.
Next, head in a westerly direction to Peizazhna Alley. Spend some time at Children Landscape Park and Kyiv Fashion Park before walking via the National Museum of the History of Ukraine to St. Andrew's Church. From here, meander down Andriyivsky Descent into the Podil neighbourhood. Make a beeline for Zhytniy Market and then wander around Podil until eventually reaching the Kyiv River Port terminal building. If you then cross the road, you can visit the Nativity of Christ Church before walking up Volodymyrs'kyi Descent. About halfway up, there is a path on the right-hand side that will lead up through Volodymyrska Hill to the Monument to Saint Vladimir and the viewpoint overlooking the Dnieper River. Then come down the hill to Ukrainian House before crossing the road to the Friendship of Nations Arch. From this point, a path will take you across Park Bridge (Bridge of Love) to Mariyinsky Palace. If you want to explore more of the historic Lypsky district, this is the time to do so before continuing to Arsenalna metro station.
Arsenalna metro station might be a good place to call it a day as it means you can head down to the platform and say you've been inside the deepest metro station in the world. Otherwise, from here continue walking in a southeasterly direction past the Hotel Salute and the Holodomor Genocide Memorial until you reach the Kiev Pechersk Lavra. As mentioned above, it's a pleasant walk between the Lavra and the Museum of The History of Ukraine in World War II Memorial Complex but you will need to trudge for a couple of kilometres or so along a busy highway if you want to then continue to Vydubychi Monastery. From the monastery, you can amble through the Hryshko National Botanical Garden and eventually jump on the metro at Druzhby Narodiv.
Google Map of Places to visit in Kiev
Places of interest away from the centre of Kiev
Babi Yar Memorial Park
Possibly the single largest Jewish massacre of the Second World War happened at Babi Yar (also called Babyn Yar), a ravine 7km west of the city centre. On 29th September 1941, in the region of 34,000 Jews were murdered here within 48 hours of being rounded up and, in the months that followed, the same fate happened to the city's gipsies, the mentally disabled, Soviet POWs and others deemed 'undesirable' by the Nazi regime and its collaborators.
Various memorials are scattered throughout the park commemorating different ethnic groups as well as other horrific events that occurred during that time, including the inhumane treatment of the three million-plus Ukrainians who were used by the Germans as forced labour during World War II – the infamous and horrific Ostarbeiter programme.
The most impressive structure is the Soviet-era Monument to Victims of Nazism but a number of the other memorials are more poignant reminders of atrocities that took place here.
Nearest metro station: Dorohozhychi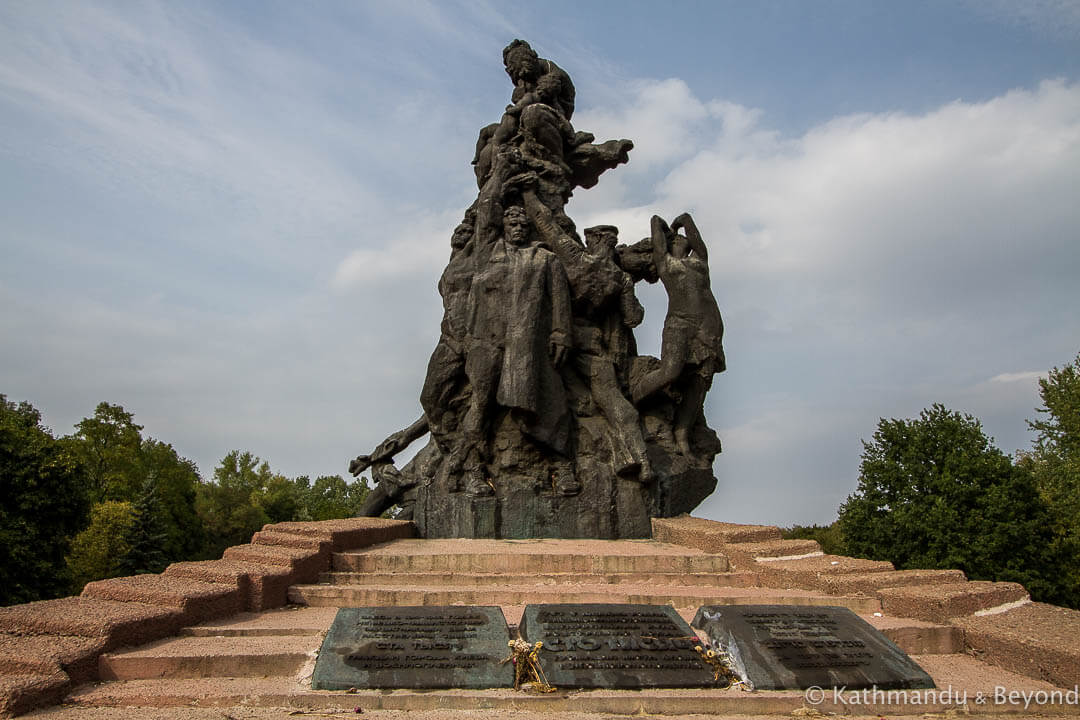 Expocenter of Ukraine
A ride out on the metro to the Expocenter of Ukraine is definitely worth it for anyone that a) likes Stalinist Empire style architecture or b) wants to see Kyivans out and about and enjoying themselves. We spent a good couple of hours wandering around the grounds admiring the pavilions when we went to the Expocenter the last time we were in Kiev and will probably return again when we next visit the city so that we can spend time relaxing in one of the cafes and enjoy the place à la Kyivian-style.
We've written a more detailed post about the Expocenter of Ukraine that you might find useful if you're planning a visit.
Nearest metro station: Vystavkovyi Tsentr
Taras Shevchenko University
This one is admittedly a little bit specialist but if, like us, you have a penchant for brutalist architecture and Soviet-era bas-relief then you will enjoy wandering around the campus of the Taras Shevchenko University, which is situated literally over the road from the Expocenter of Ukraine.
Nearest metro station: Vystavkovyi Tsentr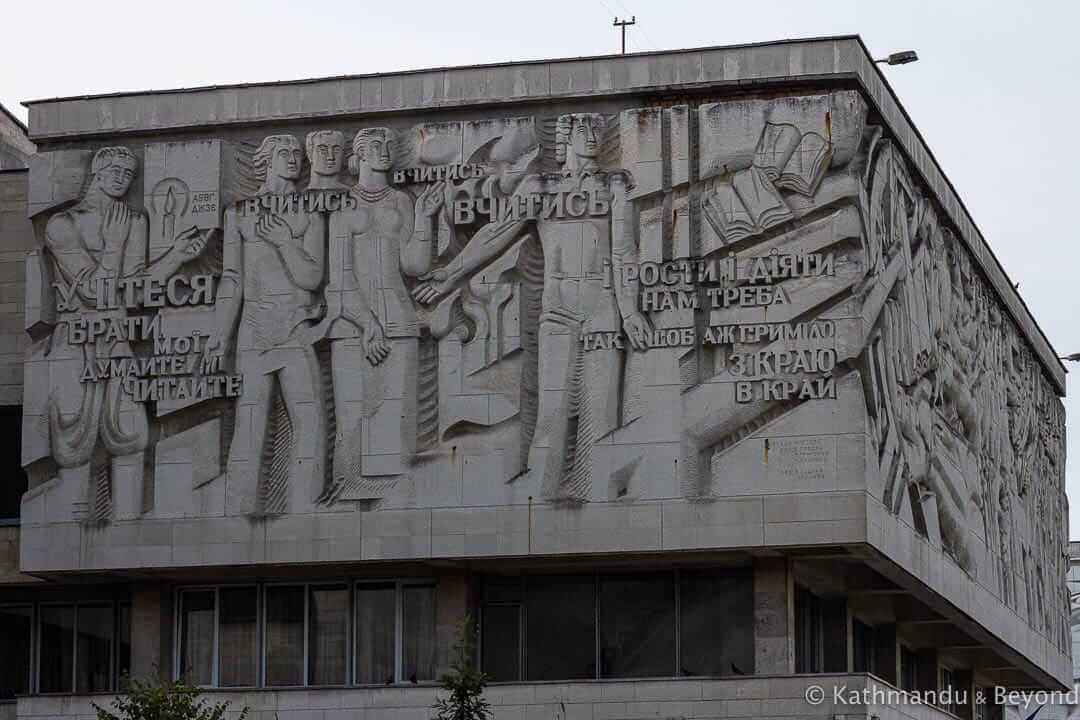 Ukraine State Aviation Museum
The Ukraine State Aviation Museum is one of the most worthwhile excursions away from the centre of the city. It's a bit tricky to reach in so much as it's not on a metro line and you have to take a public bus part of the way but if you follow the instructions in our more detailed post on the place and make the effort to get there, you will be in for a real treat. This outdoor museum is a bumper crop of extraordinary-looking jet fighters, helicopters, bombers and passenger aircraft and, as an added bonus, you are allowed to enter some of them! Kids and aviation geeks will especially enjoy this place and we don't think anyone will leave feeling disappointed!
Nearest metro station: Bus is the easiest form of public transport for getting to the museum – read the relevant section of our post here.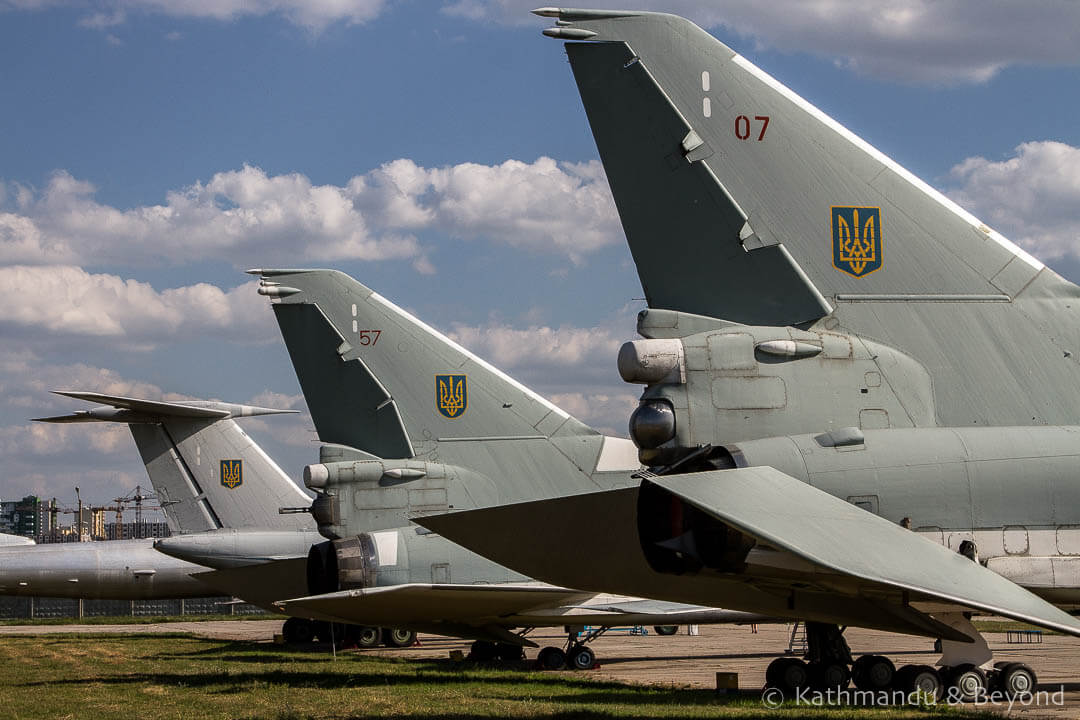 Vernadsky National Library of Ukraine
If you are on your way to the Ukraine State Aviation Museum, the chances are that you will go via Demiivska metro station and, therefore, one of the World's largest libraries, the Vernadsky National Library of Ukraine. Given the vastness of the structure, it won't come as much of a surprise to know that it was built during the Soviet period and if you're in the area, it is worth stopping by for ten minutes or so to clap eyes on the magnificent exterior before moving on to your next destination.
Nearest metro station: Demiivska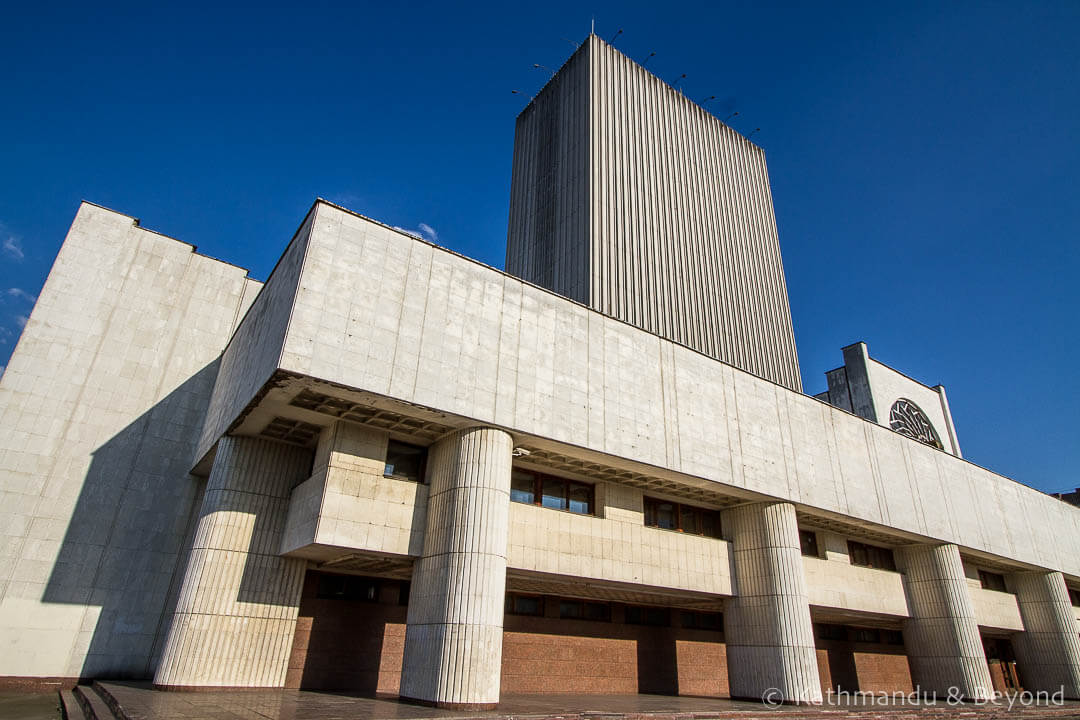 And if you have worked your way through all of the places in this post and are looking for some side trip ideas, you might enjoy our post: The Best Day Trips from Kiev.
We hope you find this list of places to visit in Kiev useful. As we've said, it is by no means exhaustive and we find something new to do in Kiev every time we visit. Have you been? What's your favourite place or thing to do?
---
---
IF YOU FOUND THIS POST HELPFUL, WHY NOT PIN IT TO YOUR UKRAINE TRAVEL PLANNING BOARDS?
---