Istanbul to Batumi itinerary – Places to visit in the Black Sea region of Turkey
Istanbul – Safranbolu – Amasra – Ankara – Amasya – Trabzon – Batumi (Georgia)
BLACK SEA TURKEY ITINERARY HIGHLIGHTS
Safranbolu – well preserved Ottoman-era houses and now a UNESCO World Heritage Site
Amasya – half-timbered Ottoman houses with an attractive setting on the Yeşilırmak River against a rocky backdrop of rock-cut tombs
The irony that neither of these highlights is on the coast isn't lost on us!
Best time to travel: Visit Turkey's Black Sea region from June to September/October for the best weather. Note that July and August are very busy and prices will be inflated.
Start / Finish: Istanbul / Trabzon or Batumi in Georgia (or vice versa). This itinerary could also be started from Ankara and would tie in nicely with our Antalya to Ankara Central Turkey itinerary.
Recommended duration: 2 to 3 weeks
Best place to slow down: Safranbolu, Amasya
Mode of transport: Mostly by bus with the occasional dolmus (minivans which operate on shorter distances and local routes; the Turkish equivalent of a marshrutka).
BLACK SEA TURKEY ITINERARY INTRODUCTION
This itinerary is for independent travellers and backpackers travelling overland from Istanbul, through Turkey to Georgia in the Caucasus, and those undertaking a comprehensive all-Turkey itinerary.
There are a growing number of international flights both to Georgia and Armenia in the Caucasus, but getting there by air can be challenging. Fortunately, neighbouring Turkey receives numerous international flights, and if you have the time, travelling overland from Turkey to Georgia can be an affordable option. Plus, you get to see a bit of Turkey, which is always a bonus.
Although there are several places along the Black Sea coast to choose from, some of our favourite places on the route from Istanbul to Batumi take you slightly inland.
Our Black Sea Turkey itinerary starts in Istanbul and ends in Batumi in Georgia but you could also do the itinerary in reverse, or start/finish it in Trabzon in eastern Turkey, if you are not travelling through Georgia.
Istanbul to Safranbolu

Several companies operate comfortable bus services to Sanfranbolu from various Istanbul bus stations including Safran Turizm. Check the timings carefully because the journey time can vary from around five to as long as nine hours, depending on the company and number of stops. 
If the options for buses from Istanbul to Safranbolu are limited you could switch Safranbolu and Amasra around (you may have to travel to Bartin and then on by dolmuş (shared taxi) to Amasra). 
The biggest transport challenge on this itinerary will be getting out of Istanbul, so unlike some of our other suggested itineraries, we haven't included many transport details because bus travel in Turkey on this route is mostly straightforward.
Safranbolu
Safranbolu comprises a new town and an old town. Although the new town is a mainly commercial district, the old part of the town is a good example of a traditional Ottoman town and is very attractive. Its cobbled streets are lined with Ottoman houses with mortar-covered bricks, wooden beams and red-tiled roofs. Many of them have been converted into guesthouses making it easy to experience the night in one.
Historically, Safranbolu was an important caravan station on the East-West trade route and many of the buildings built between the 13th and 17th centuries remain. These include the Old Mosque, Old Bath and Süleyman Pasha Medrese. Safranbolu's architecture went on to influence urban development throughout much of the Ottoman Empire. Due to its significance and well-preserved state, Safranbolu earned an inscription on the UNESCO World Heritage List.
Where to stay in Safranbolu
For maximum atmosphere, stay in one of the many Ottoman homes in Safranbolu that have been converted into hotels and guesthouses. We stayed in Demirkapi Konak Hotel which was about halfway between the main road in the new town and the historic old town which was convenient for seeking out not-so-tourist-orientated restaurants.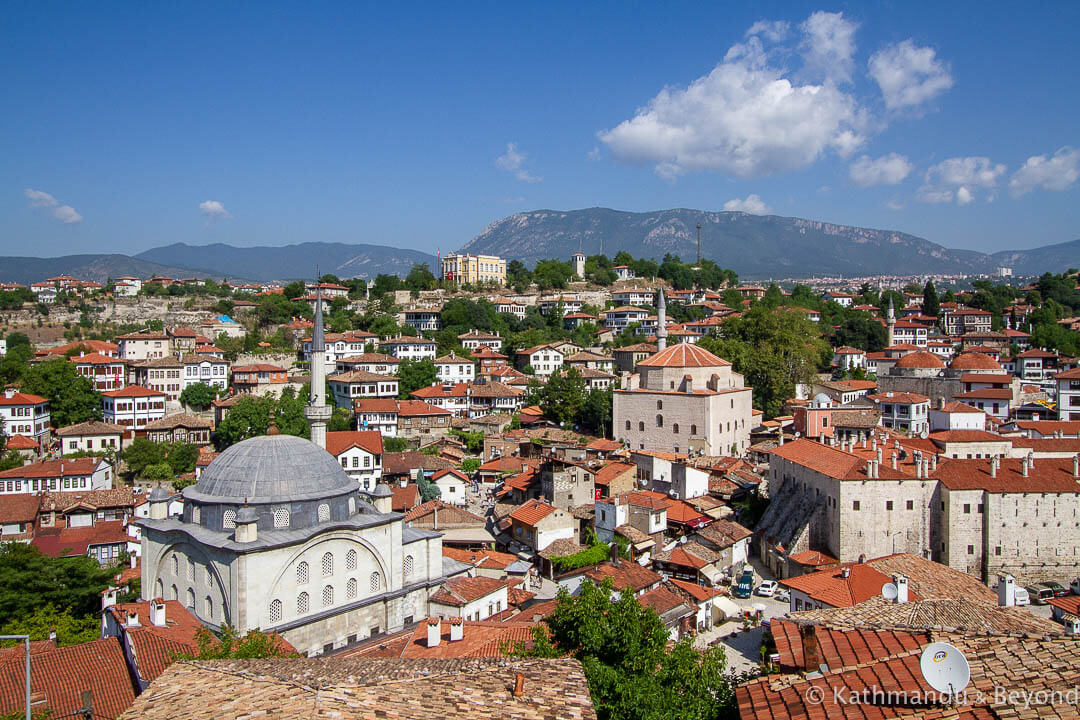 Safranbolu rooftops
Amasra
Amasra is the smallest and prettiest of the towns we have visited in the Black Sea area. It is a historical town spread across a peninsula and a small island linked by a stone bridge. Dominated by its fortress, Amasra has plenty of narrow cobbled streets to explore, and the citadel architecture is a mix of the city's Roman, Byzantine and Genoese heritage.
The region was once part of an important trading route to and from Italy and Amasra Fortress forms part of a listing on UNESCO's World Heritage tentative list. In total, nine towers and fortresses across Turkey are up for future consideration under the umbrella nomination 'Trading Posts and Fortifications on Genoese Trade Routes from the Mediterranean to the Black Sea'.
Although the beach at Amasra is the main pull for most visitors (mostly Turkish tourists), the combination of small-town vibe, dramatic coastal scenery, and history makes Amasra more than a seaside resort.
Using public transport, the easiest way to reach Amasra is by taking a bus to Bartın, 16 km to the south, from where you can connect with a minibus to Amasra.
Where to stay in Amasra
We stayed at Amasra Kusna Pension, a simple but adequate guesthouse in Amasra.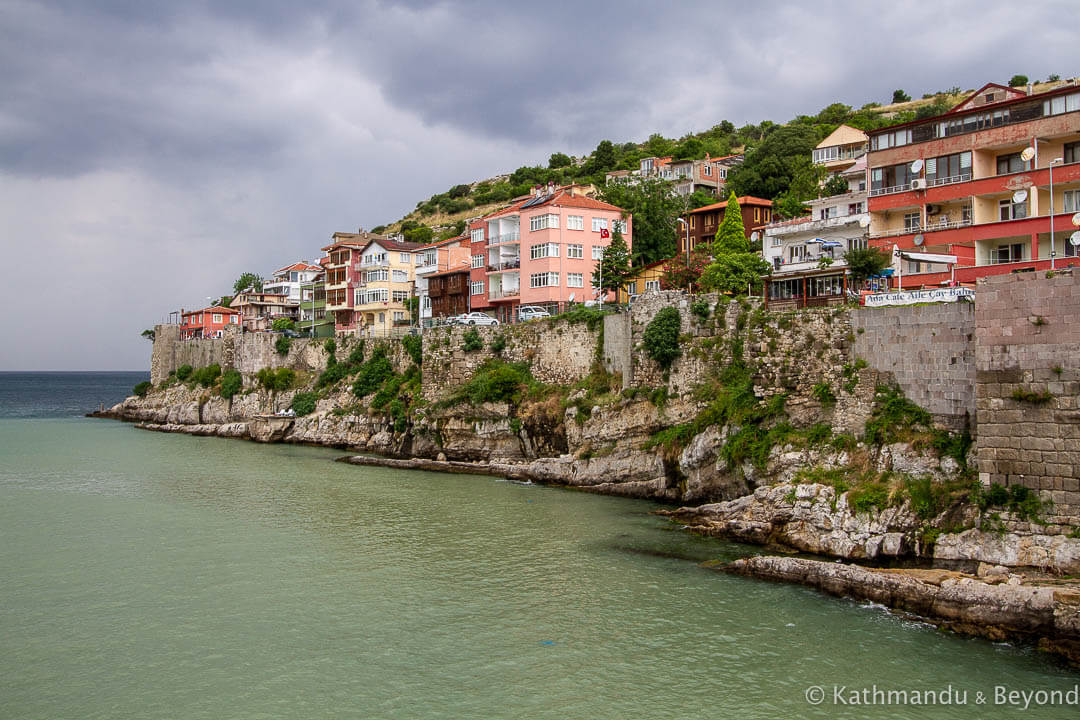 Amasra
Ankara
You might expect the capital of Turkey to have more to see and do in terms of cultural and historical sights. That is until you consider Ankara has been the capital for less than a hundred years, since the country become a Republic in October 1923. Compared to Istanbul's population of over seventeen million, Ankara's five million-plus residents make it feel small in comparison. Its size means Ankara is a pleasant city that can largely be explored on foot. 
Key places to visit in Ankara are the Citadel, known as the Kalesi, which dates from the 8th century BCE, and Anıtkabir, the mausoleum of Mustafa Kemal Atatürk, the founding father of the Republic of Turkey. Atatürk's tomb was opened in 1953 following his death fifteen years earlier. 
Mosque hunters won't be disappointed in Ankara. The city has over 2,800 mosques, including the monumental Kocatepe Mosque that took twenty years to complete, and boasts Turkey's largest chandelier, a 5½ metre diameter ball of light. The mosque was bigger than all of Istanbul's mosques until Grand Çamlıca Mosque opened in 2019. You might also visit Melike Hatun, one of Ankara's newest mosques located little more than a kilometre from one of its oldest, the 13th-century Aslanhane Mosque.
Museum-goers will want to visit the Museum of Anatolian Civilisations, and the Roman Baths, now an open-air museum.
Where to stay in Ankara
We stayed at Hotel Mithat, a clean, comfortable and centrally-located budget hotel for a very affordable price.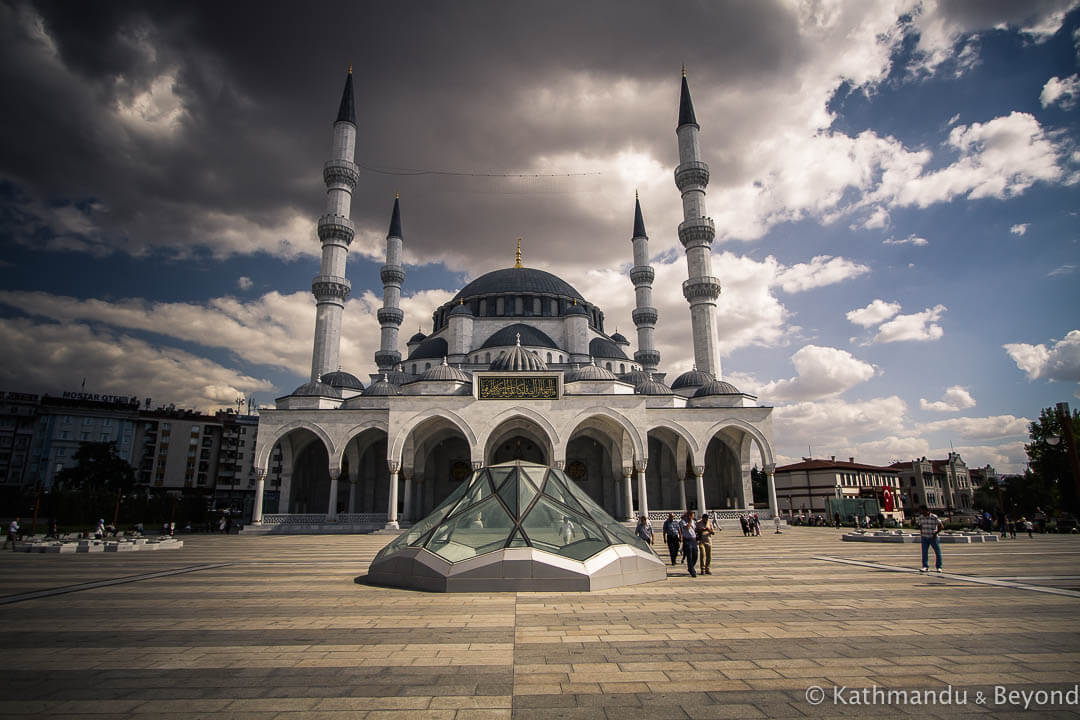 Melike Hatun Mosque in Ankara
Amasya
We first visited Amasya around twenty-five years ago during one of the first holidays we had together. We have fond memories of an afternoon spent drinking beer and eating fruit in a dingy bar with some of the village elders. As a result, we have a bit of a soft spot for Amasya. We were keen to relive our experience but found although the town was as charming as ever, it had become a lot harder to find somewhere to enjoy a beer.
But do not be put off – Amasya is still well worth including on any Turkey itinerary. Amasya straddles a gushing river, and the picturesque north bank is lined with traditional Ottoman half-timbered houses set against a backdrop of rugged hills.
Amasya has been continuously inhabited since around 5500 BCE and the hills above the town are dotted with rock-cut tombs, the burial place of the kings of Pontus. Aside from seeing the rock tombs (which, to be honest, look best when viewed from a distance), the highlight of Amasya is wandering among the Ottoman houses and along the river.
Where to stay in Amasya
We stayed at Emin Efendi which was a bit of a splurge on our usual budget but worth it for the river location and atmospheric traditional room. To be honest, we struggled to find cheap accommodation in that part of town and there are several similar hotels in the vicinity.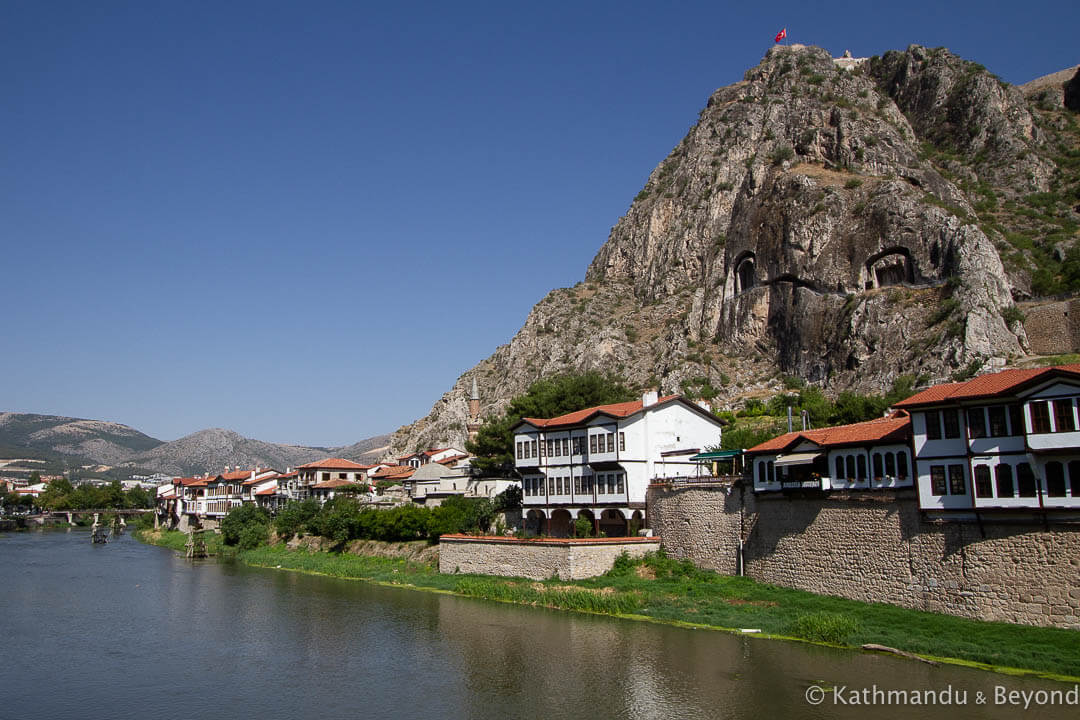 Amasya
Trabzon
Historically significant, Trabzon is one of the most important cities on the Black Sea coast. Although there isn't a long list of things to see in Trabzon, it is a good place to experience a traditional Turkish town. Spend your time wandering the Byzantine walls and bazaars of the old quarter and enjoying Turkish tea in a tea garden.
Most impressive when viewed at a distance, Trabzon Castle lies largely in ruins with the remnants of its defensive walls visible from various spots around the city. Another important historical site is Hagia Sophia, a 13th century Greek Orthodox church that was converted into a mosque in 1584.
Where to stay in Trabzon
In Trabzon, we stayed at Hotel Efe, a simple but clean and centrally-located hotel.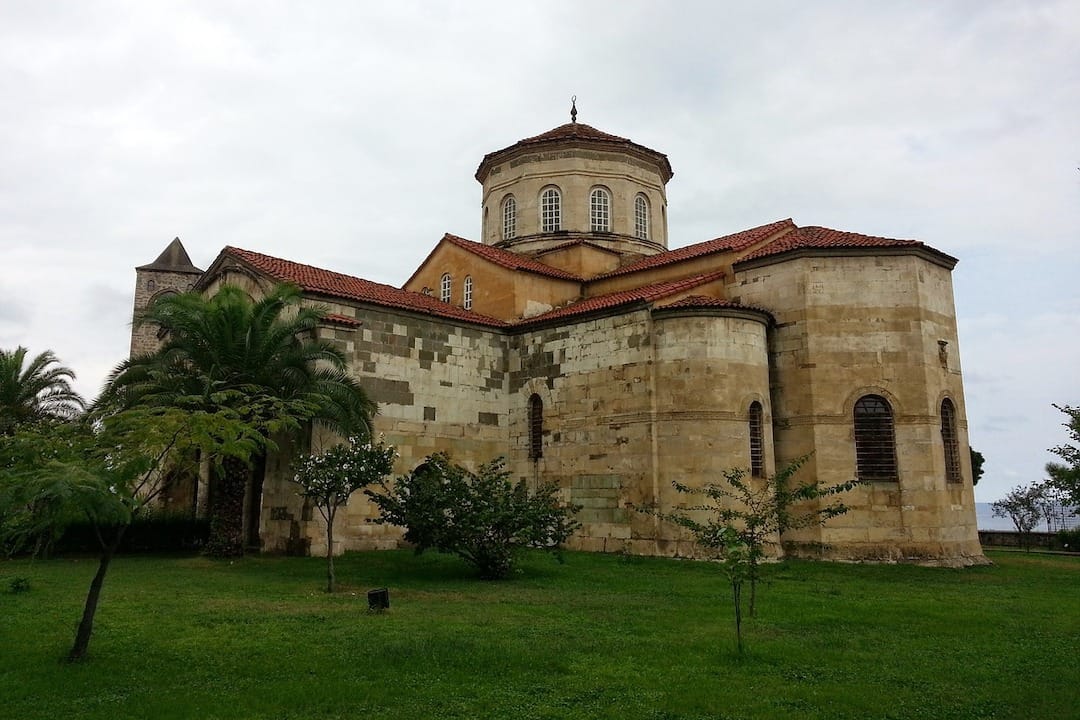 Hagia Sophia, Trabzon
Sumela Monastery day trip from Trabzon
We were lucky enough to visit Sumela Monastery many years ago, and we did so by bus from Trabzon. However, the monastery closed to visitors in 2015 for major renovation work. Officially it re-opened in 2020, although reports from other travellers indicate that it still isn't fully accessible. Whether this is due to COVID restrictions or because the renovations are not complete is unclear. Neither Sumela's official website nor the Turkey tourist association's site has clear up-to-date information. The national park that the monastery is within is open and you may be charged to enter the park and even offered transport to the monastery. The best thing would be to check the situation locally, perhaps at the Tourist Information Office, and whether you can only get to a viewpoint or whether access to the monastery is also possible. 
The nearest conurbation to the archaeological site is Bogazkale, a village with a few shops and a couple of places to stay. We felt it was worth the effort; it's an impressive site made all the more enjoyable by not having to share it with countless tourists. We have written in detail about the logistics of getting to Hattusa independently using public transport in a separate guide to visiting Hattusa. If you don't want to include Hattusa in your Central Turkey itinerary, you can get to Ankara from Cappadocia quite easily Nevşehir's bus terminal.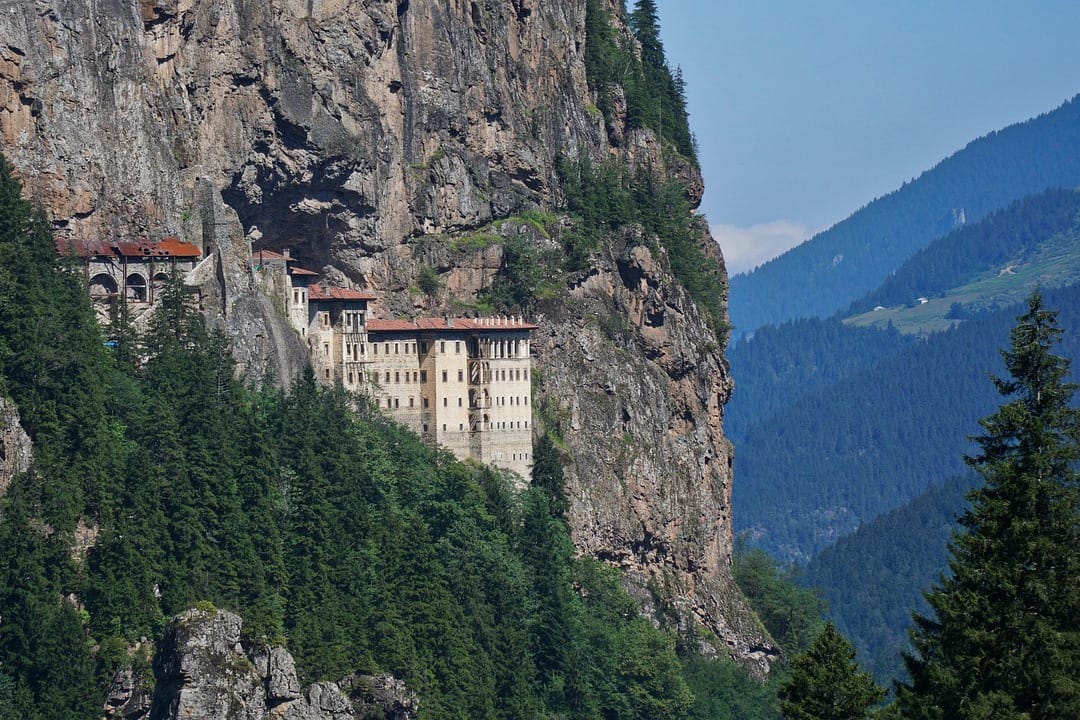 Sumela Monastery
Kaçkar Mountains
Another potential side trip from Trabzon (although it's more than a day trip) is trekking in the Kackar Mountains. Our visit to this part of Turkey was so long ago that most of the logistics of getting to the Kackar Mountains have faded from memory (it was over 20 years ago!). We can't even be sure of the village we stayed in.. it might have been Yusufeli, or maybe it was Ayder Yaylasi. 
What we do remember though is that our simple guesthouse didn't have any washing facilities and we had to go to the local hamman (public bath) for a soak in what felt like boiling water: a soak that was very much needed after our day walk turned into an arduous twelve-hour trek thanks to dubious directions in our guidebook. Note the trekking season runs approximately from June to September.

Kaçkar Mountains
Other places to visit along Turkey's Black Sea Coast
This itinerary is based on the journey we made which, in turn, was based on the research we did and the places we liked the look of. If you want to stick as closely as possible to the coast, there are a few other places to consider visiting between Istanbul and Batumi in Georgia. These include Samsun, the largest city on the Black Sea coast, which we avoided for that very reason. Other towns that popped up when researching places to visit on Turkey's Black Sea coast, included Sinop, Ordu, Giresun and Rize. For various reasons they didn't appeal as much as other places; in some cases, lack of budget accommodation was an additional deterrent. However, you could find yourself passing through these larger towns as you may need to change buses. Between Amasya and Trabzon, we spent the night in the coastal town of Unye but it's not somewhere we'd especially recommend. 
Continuing to Batumi: Crossing the Turkey – Georgia border at Sarpi
You've made it all the way from Istanbul to the Georgian border (a minimum 1300 km journey) so now it's time to tackle the border crossing. If you are travelling by public transport, you have two choices. The first and most straightforward choice is to take a long-distance bus from a major city like Trabzon, directly to Batumi with a company such as Metro Turizm. This option is easy and comfortable. The downside is that if there is a long queue of traffic waiting to cross, you could be stuck for several hours. Buses do seem to get priority over private cars, but border delay could still add a considerable amount of time to the journey. The second option is to make the journey in stages, hopping from one local bus or dolmus/marshrutka to another. Using this method, you can take one bus to the border, walk across independently, and then pick up local transport on the other side. There are generally far fewer foot passengers crossing the border so this method can be quicker (and much cheaper than more costly long-distance coaches). However, you need to be prepared to walk a little bit.
If this second option appeals to you, first take a bus from Trabzon to Hopa. Once in Hopa, walk 500 metres or so and get on a minibus that will take you to the border. The border on the Turkish side is Sarp, and is Sarpi on the Georgian side. Cross the border on foot, completing passport control formalities on both sides and then catch another minibus to Batumi.
Batumi is Georgia's premier Black Sea resort and we've always enjoyed our stays. There is more to do in Batumi than sitting on the beach and the city has an eclectic mix of architecture, an interesting history, good quality street art and modern sculptures, and of course delicious Georgian food and wine!
Our Georgia travel blog has plenty of inspiration for onward travel from Batumi.
OTHER TIPS & TRAVEL PLANNING RESOURCES
Usually, we include links to other useful websites, provide more information about getting to a destination, and getting around tips in our itinerary posts. However, to avoid a lot of repetition in our series of Turkey itineraries, we intend to round them up in a single guide to planning the perfect Turkey itinerary – that post is coming soon! In the meantime, check out Go Turkey, the official tourist board website. 
And if you need a few more reasons to follow our Turkey Black Coast itinerary…
Ottoman houses in Safranbolu
If you found our Central Turkey itinerary helpful, please share it or pin it to your travel planning boards…