Turkey Travel Blog
Travel guides, itineraries, abandoned places, street art and off-the-beaten-path places in Turkey
Hello and welcome to our Turkey travel blog. You will find all our Turkey blog posts in this section of our website.
Maybe you found our Turkey travel blog because you are considering a visit, or perhaps you are partway through planning a trip to Turkey. Whatever the reason, we hope we can provide some useful resources and travel tips for Turkey.
With one foot in Europe and the other in Asia, 18 UNESCO World Heritage Sites, and incredibly diverse cultures and landscapes, Turkey is the travel writer's perfect cliche. The Republic of Turkey, to give it its official name, shares land borders with eight countries: Armenia, Azerbaijan, Bulgaria, Georgia, Greece, Iran, Iraq and Syria, and borders three major bodies of water: the Black Sea to the north, and the Aegean Sea and the Mediterranean to the west and south respectively.
We've travelled to Turkey many times; from east to west, along the Black Sea and Aegean coasts and through the middle, so know the country well.
Our Turkey blog posts are generally aimed at independent travellers and backpackers like us and have a strong focus on travelling around using public transport, staying in budget accommodation and exploring off-the-beaten-path and lesser-visited places.
Browse all of our Turkey blog posts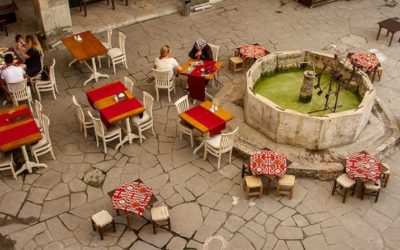 An Istanbul to Batumi itinerary with suggestions of where to visit in the Black Sea region of Turkey when travelling to Georgia.
---
IF YOU ENJOYED OUR TURKEY TRAVEL BLOG, YOU MAY BE INTERESTED IN SEEING MORE OF OUR PHOTOS OF TURKEY
If you enjoyed our TURKEY Travel Blog…
Subscribe to our newsletter to receive our latest blog posts as well as our latest news from the road less travelled…