Edirne in Turkey and Plovdiv in Bulgaria: Two excellent places to stop en route between Istanbul and Sofia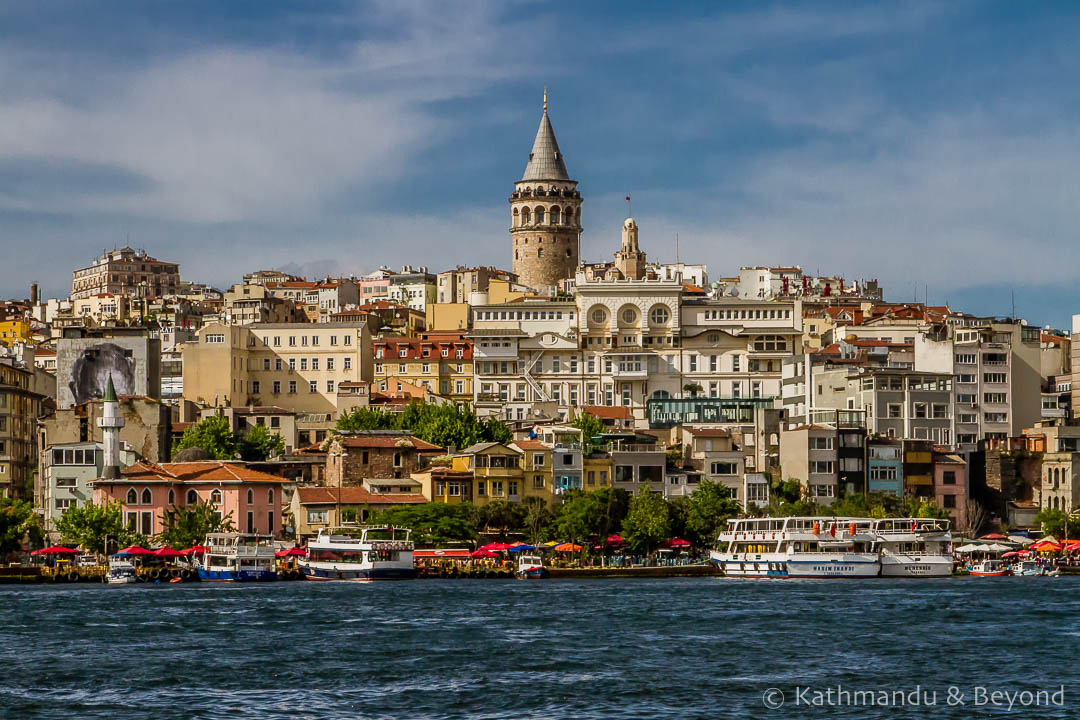 Beyoglu, Istanbul
If you are travelling between Turkey's greatest city and the Bulgarian capital and don't fancy either an 18-hour bus journey or the sometimes unreliable Balkan Express, which should leave Istanbul's Sirkeci train station nightly at 10pm and arrive at Sofia the following morning at just gone 9am, there are two places bang on the route that both make excellent stopovers for a day or two. The first is Edirne in Turkey and the other is Plovdiv in Bulgaria and below is a low-down on visiting these two cities to include what there is to see and do in each place as well as transport tips on how best to travel between them.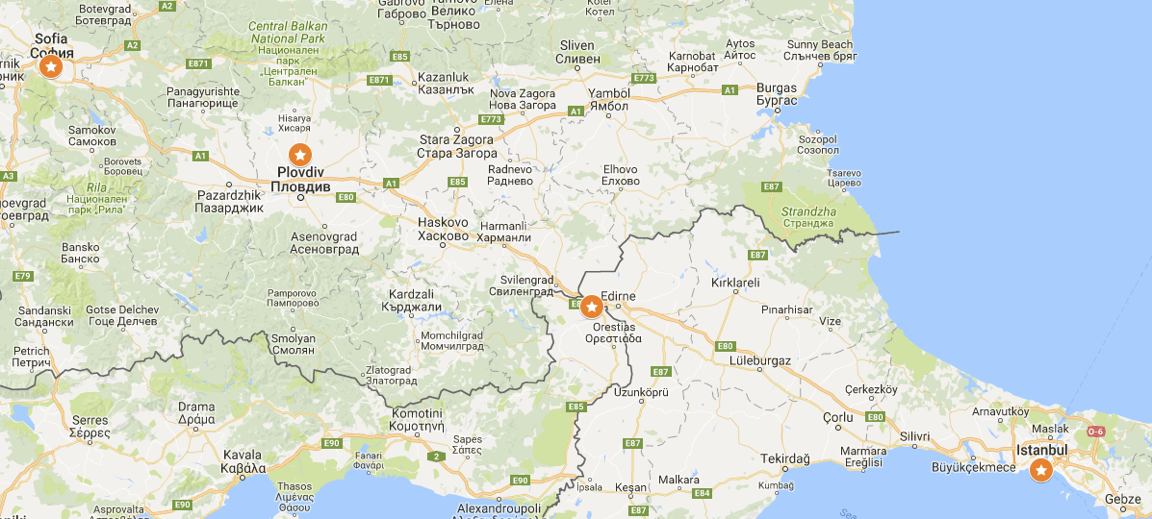 Edirne
Situated in ancient Thrace, some 240km north-west of Istanbul, Edirne is a gem of a place with two must-see sights (one of them UNESCO-listed) and a handful of others that will easily keep you occupied for a full day or more.
Once the capital of the Ottoman Empire, interest in Edirne peaks during the annual world-famous Kırkpınar oil wrestling festival, which is usually held in late June. If watching burly men lathered in olive oil wrestling each other to the ground is your sort of thing then by all accounts the festival is an unforgettable experience but should you decide to visit, make sure you book both your accommodation and transport well in advance as the tournament is incredibly popular.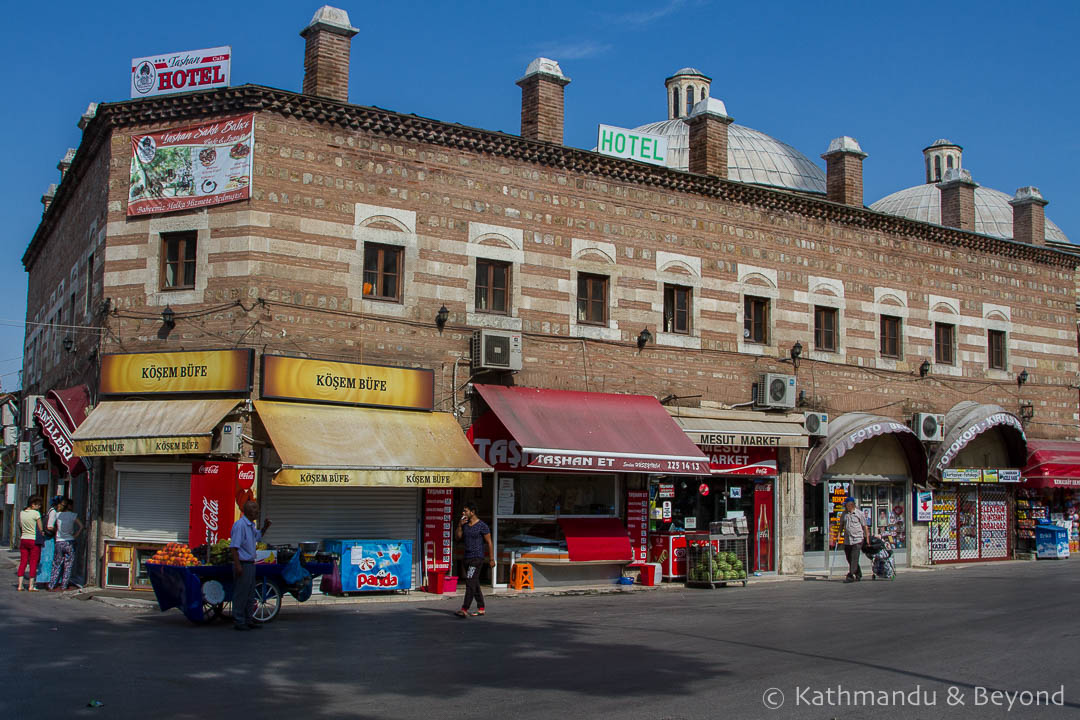 Downtown Edirne
At other times of the year, Edirne is more relaxed and certainly not as busy. The city still sees a steady stream of visitors, however, as it is home to two very impressive sights. The UNESCO-listed 16th-century Selimiye Mosque is situated in the heart of the city and considered to be a masterpiece of Islamic architecture. Built by Mimar Sinan, one of the greatest ever Ottoman architects, between 1569 and 1575, the Selimiye Mosque rivals any of the great mosques in Istanbul. Indeed, Mimar Sinan was responsible for both the Suleymaniye and Sokollu Mehmed Pasha mosques in Istanbul among his many other architectural creations. 
The mosque itself is stunning, both inside and out, and is free to enter. Appropriate clothing must be worn (no shorts, headscarf for women, etc.) and shoes must be removed before entering.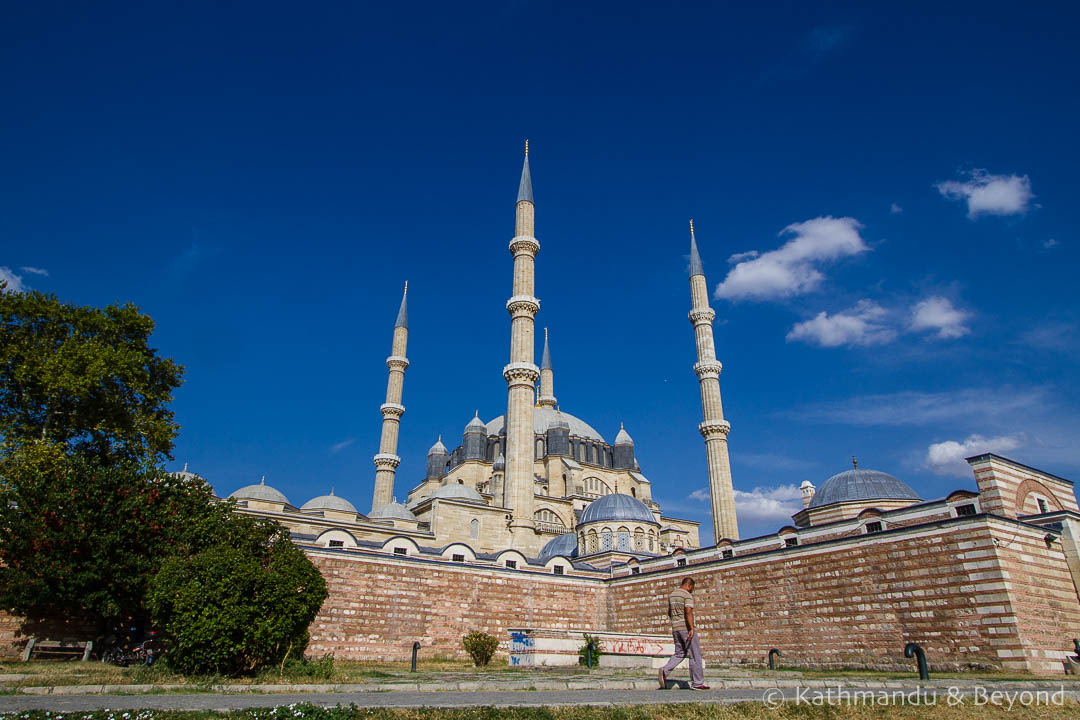 Selimiye Mosque, Edirne


Selimiye Mosque, Edirne
Edirne's other must-see sight is the complex of Sultan Bayezid II Mosque and Health Museum. Located on the outskirts of the city, about 2km (25 minutes by foot) from the Selimiye Mosque, the complex is a hospital museum centred around the mosque. It is situated in isolation on the edge of the Tunca River and the series of buildings look especially impressive from afar. Inside the hospital part of the complex, the various rooms have been turned into a museum displaying information relating to medicine and the treatment of patients throughout its time as a hospital (the complex operated as a hospital for four centuries, from the late 1400s right through to the backend of the 1800s). It's an interesting place to visit and worth the hike from the centre of town.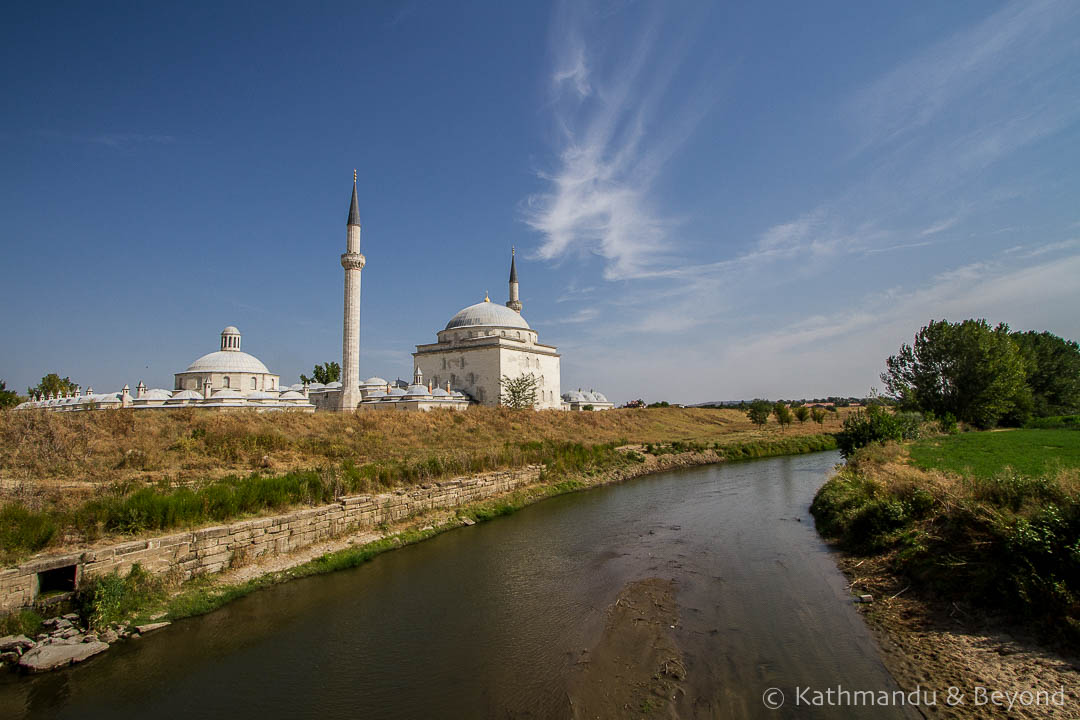 The Complex of Sultan Bayezid II Mosque and Health Museum, Edirne


The Complex of Sultan Bayezid II Mosque and Health Museum, Edirne
Away from the star attractions, Edirne remains a very affable city that doesn't see many western tourists. There are two more mosques worth seeing – the Old Mosque and the impossible-to-photograph Uc Serefeli Mosque – both are in the historical part of the town and within walking distance from the Selimiye Mosque. The covered bazaar is also worth a poke around and we enjoyed wandering around the kaleici (old town). As a focal point, the Great Synagogue in the kaleici is worth tracking down but generally, it's good just to walk around the back streets and take in the architecture of some of the more notable buildings.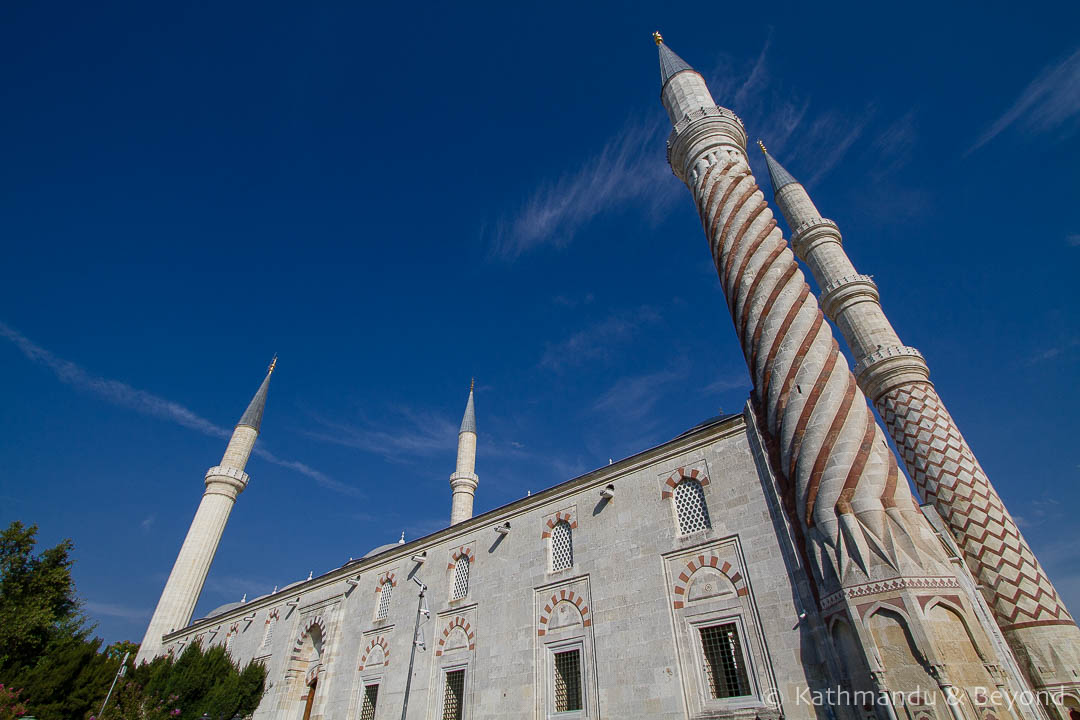 Uc Serefeli Mosque, Edirne


Edirne: Covered bazaar (left) and Kaleici (Old Town) (right)
We also trekked 30-minutes south of the centre to see the early 17th century stone humpback bridge, Tunca Koprusu, which was built during the Ottoman times. Unless you're into bridges, it probably isn't worth the trek and the walk there and back is along a particularly busy stretch of road. That said, there are a scattering of tea gardens and restaurants in the vicinity of the bridge but if you leave it too late in the day and it starts getting dark, the walk back into town would be even more unpleasant.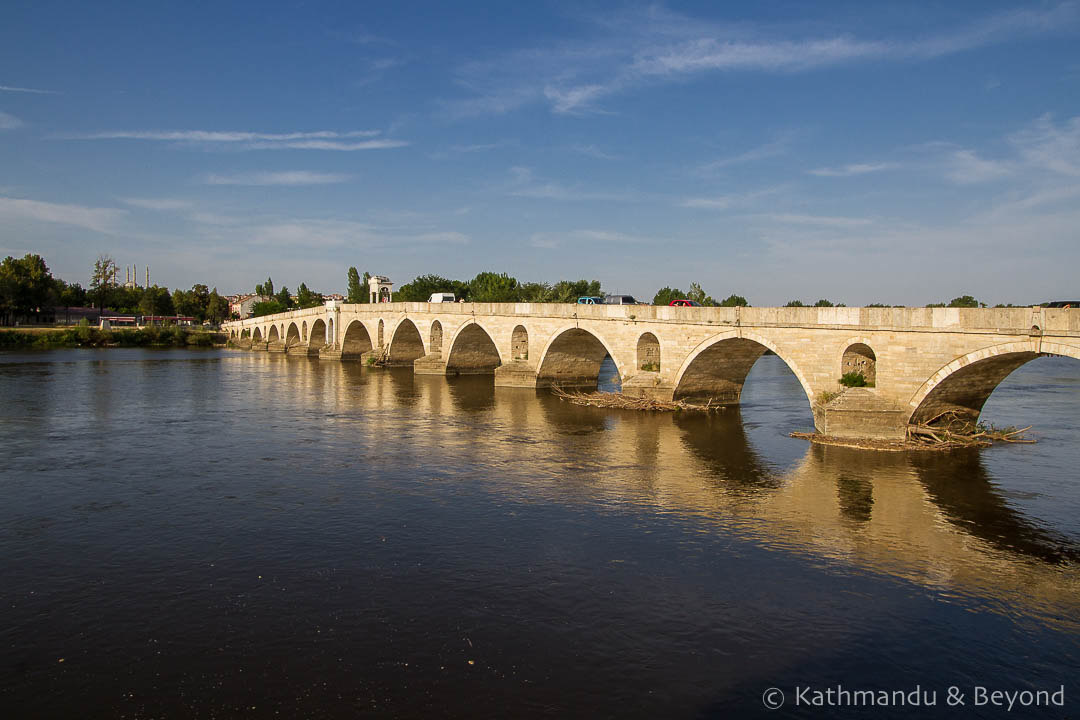 Tunca Koprusu Bridge, Edirne
Where we stayed in Edirne
We stayed at the Sari Pansiyon. Our Lonely Planet Turkey guidebook said that the location was convenient for the centre of town (which was true) but that it could be noisy in the mornings as it was opposite a school. As we were in Edirne during the Turkish school summer holiday, we didn't think this would be a problem and we were right. But what Lonely Planet neglected to mention was the fact that the pension was right next to a mosque, which kicked off with the call for prayers at the usual anti-social hour of about 5am!
Apart from the proximity to the mosque, Sari Pansiyon was a good choice. We had a spacious, twin-bedded room (there are no doubles) and, although the bathroom was shared, we were the only ones staying on our floor and so had it to ourselves. Breakfast was included and a veritable feast was laid on for us each morning and included all sorts of homemade goodies. The owner and her family were also very friendly. We paid US$23 per night for a twin room with a shared bathroom and breakfast included.
On the food front, Edirne is known for liver. Calf's liver, which is thinly sliced and deep-fried, is served with fried red chillies and washed down with ayran (yoghurt drink) – yum, yum! The dish is known locally as ciger tava and there are quite a few restaurants in and around the kaleici (old town) serving it.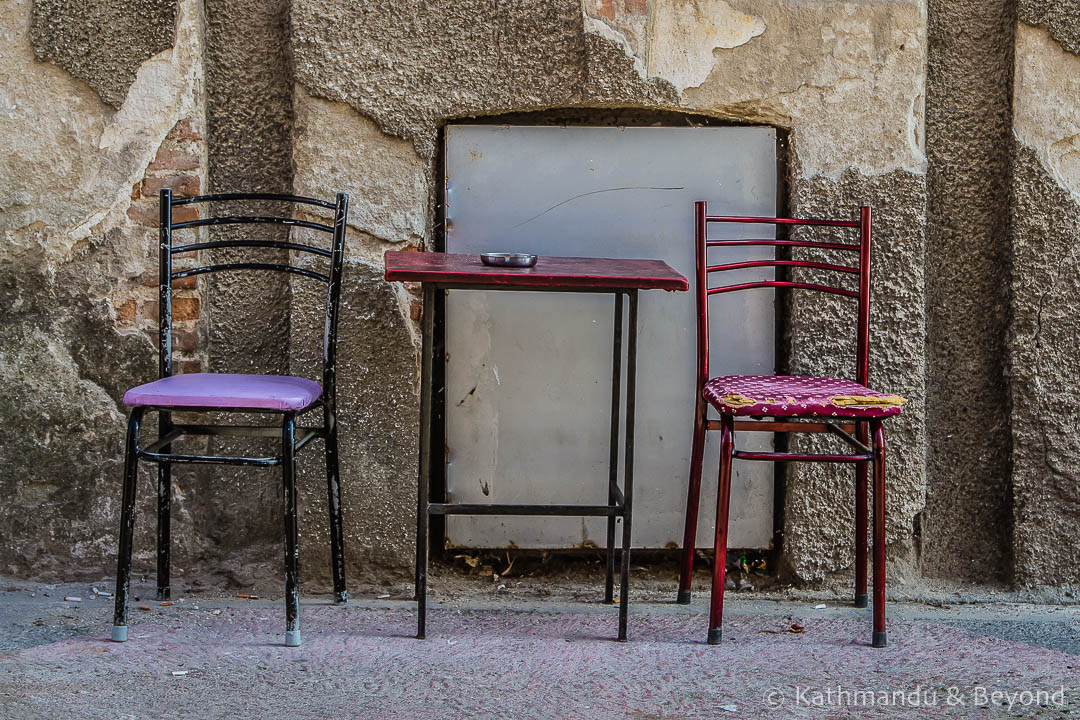 Kaleici (Old Town), Edirne 
Getting to and from Edirne
Getting to Edirne from Istanbul
Metro Turizm offers a good and reliable bus service between the mammoth Buyuk İstanbul Otogarı (Big İstanbul Bus Station) and Edirne's much smaller and less intimidating bus station (*).
(*) Actually, that isn't completely fair. Although Istanbul's main bus station is huge and can be overwhelming at times, it is well organised and all of the bus companies are clearly signposted and have waiting areas. What's more, the major bus companies offer a free shuttle service from the centre of Istanbul to the bus station and if you take advantage of this service, you are dropped off right next to your bus – so all you've got to do is hand over your luggage to the baggage handler, leg it off for one final pee (Turkish buses are never equipped with toilets, although they do make frequent stops) and then take your seat.
Timings can be looked up online and the journey time is about 4½ hours. The current price for a ticket is 35 Turkish Lira (£7.50, €8.50, $9.30) per person. As a general point, you are supposed to be able to book tickets online via Metro Turizm's website. We've travelled extensively by bus in Turkey but generally, we've never had any luck obtaining our tickets this way. Instead, we normally either just rock up at the bus station and buy our tickets on the spot or visit the company's central booking office, if they have one, and buy them there.
As with many bus stations in Turkey, the one in Edirne is located away from the centre of the city. Local buses make regular journeys into town and will drop you off close to the Selimiye Mosque.
Departing Edirne for Plovdiv
Metro Turizm has direct buses from Edirne to Plovdiv but they don't come into or depart from the main bus station. The bus is coming from Istanbul and terminates in Sofia and bypasses the centre of Edirne completely. Instead, the bus picks up Edirne passengers from outside the Arslanli Hotel, which is 8km east of Edirne on the road to Bulgaria. To get to the Arslanli Hotel, there are dolmuses (fixed-route shared minivans) but not that regular so it is probably safer to take a taxi.
I know it sounds a bit dodgy, and I must admit I was a bit nervous about the whole arrangement until some other passengers arrived, but the bus did turn up (almost) on time and was aware of our reservation and within minutes we were on our way to Bulgaria.
We took the 12pm bus, which was scheduled to arrive in Plovdiv at 4.30pm. I can't remember the exact price but I think it was more or less double the price of the Istanbul-Edirne ticket even though the distance is shorter (180km versus 237km). I can only assume the reason for the price differential is it is an international service rather than domestic. I don't know why this should make a difference but it always does! We bought our tickets from the Metro Turizm office in the centre of Edirne, opposite the Old Mosque.
Most of the above information we gleaned from the very friendly guy at the Tourist Information Centre in Edirne. I think we would have struggled if we had only had communication with the man in the Metro Turizm office as he spoke no English and our Turkish leaves a lot to be desired. He did manage to get across the point that the bus would not be departing from the bus station but it helped that we had already been given this information from the guy at the Tourist Information Centre. He was helpful in other ways also, informing us how many Turkish Lira we needed to hold back for the taxi and providing us with a map of the city and other tourist information literature. He is a good first point of contact when you arrive in Edirne.
After being picked up outside the Arslanli Hotel, the rest of the journey went smoothly although crossing the border at Kapıkule (Turkey)/Kapitan Andreevo (Bulgaria) seemed to take forever and delayed our arrival time in Plovdiv by about 1½ hours. The number of cars queued up on the Turkish side was crazy. Apparently, it was worse than usual because non-resident visiting Turks were returning to Europe as it was the end of the school holidays. The problem for us, i.e. the bus, was further compounded by the fact that the above-said cars were also queued up in the dedicated bus lane as well as their own. Our second driver did a sterling job of getting car drivers to move their vehicles left and right so that we could negotiate our way to the front of the line but this did take quite a bit of time. In true Turkish fashion, this manoeuvre sparked scores of horns and other such protests but it didn't faze our drivers and anyway, the cars shouldn't have been in the bus lane in the first place!
When we finally arrived in Plovdiv, we were dropped off outside the Yug bus station, from where it was a 15-minute walk to the centre of town and a couple of very cheap pints of Bulgarian lager!
I know there is a lot of detail above for just one bus journey but I have one final bit of advice to add. It's probably not a good idea to do the journey in stages unless you are prepared to hitch (*). There are dolmuses to the Turkish side of the border at Kapıkule and it's possible to walk from one Passport Control building to the other but we didn't see any public transport or taxis on the Bulgarian side whatsoever.
(*) Hitching is officially illegal in Bulgaria, although people (including us, later on in our trip around the country) still do it. The problem with attempting it at the Bulgarian border is that practically every car we peered down upon, as we made our way slowly to Immigration, was full to the brim with people and luggage. Approaching truck drivers would probably be the best bet if you do want to try and hitch.
Plovdiv
Situated in the south of the country, Plovdiv is one of Bulgaria's nicest cities. In fact, I would go as far as to say that we could easily spend an extended period, which is the closest we come to putting down roots somewhere these days, in Plovdiv. It's got plenty going for it – the centre is compact and walkable, there are some lively (but not too lively!) bars, plenty of green space and some interesting things to see and do – it's our kind of town!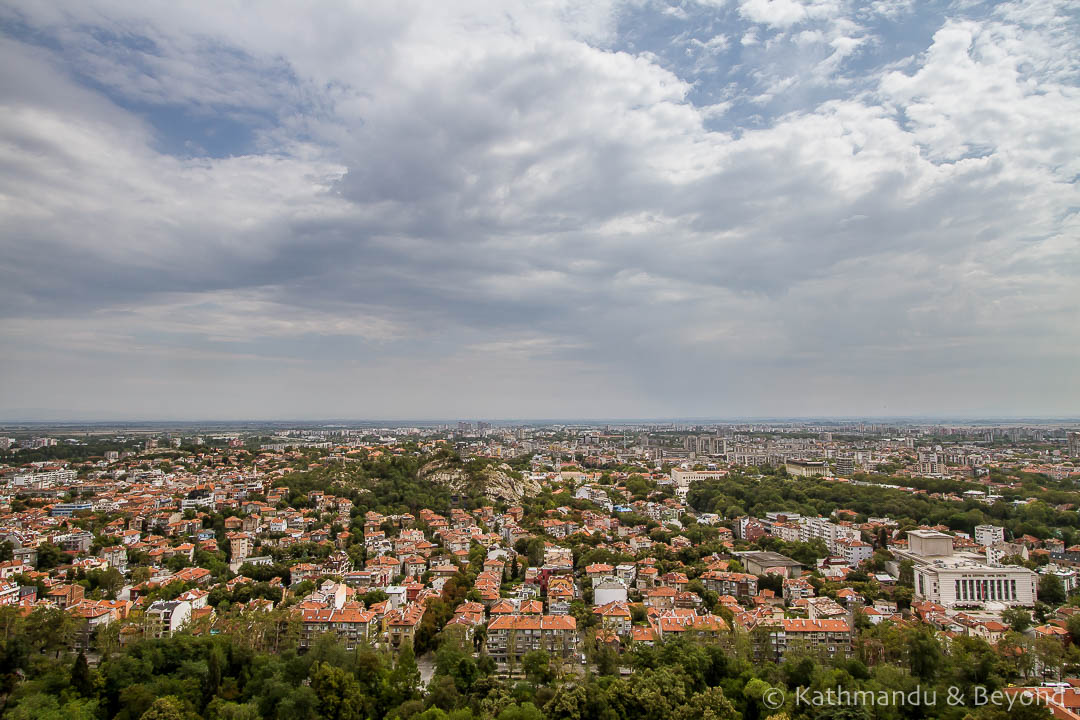 Looking down on Plovdiv from Liberators Hill
Although Plovdiv dates back to the time of the Thracians, it was the Romans who developed the city (what have the Romans ever done for us? – Brian, Monty Python's Life of … 1979) and the Roman ruins that survive today are as good a place as any to start when beginning to look around the town.


Plovdiv: Roman Stadium (left) and Roman amphitheatre (right)
The once-massive Roman Stadium is situated at the top end of Knyaz Aleksandar I Street, Plovdiv's main pedestrian thoroughfare, while the well-preserved Roman amphitheatre is to the east of Knyaz Aleksandar I Street and reached by heading up to and slightly beyond the Holy Assumption Cathedral (which also goes by the names; the Church of Sveta Bogoroditsa and the Church of the Holy Mother of God). Close to the amphitheatre is Plovdiv's delightful old town. The area is a bit touristy but still well worth exploring for its cobbled back streets and ornate 19th-century houses. Quite a few of these houses have been turned into museums and can be visited for a fee.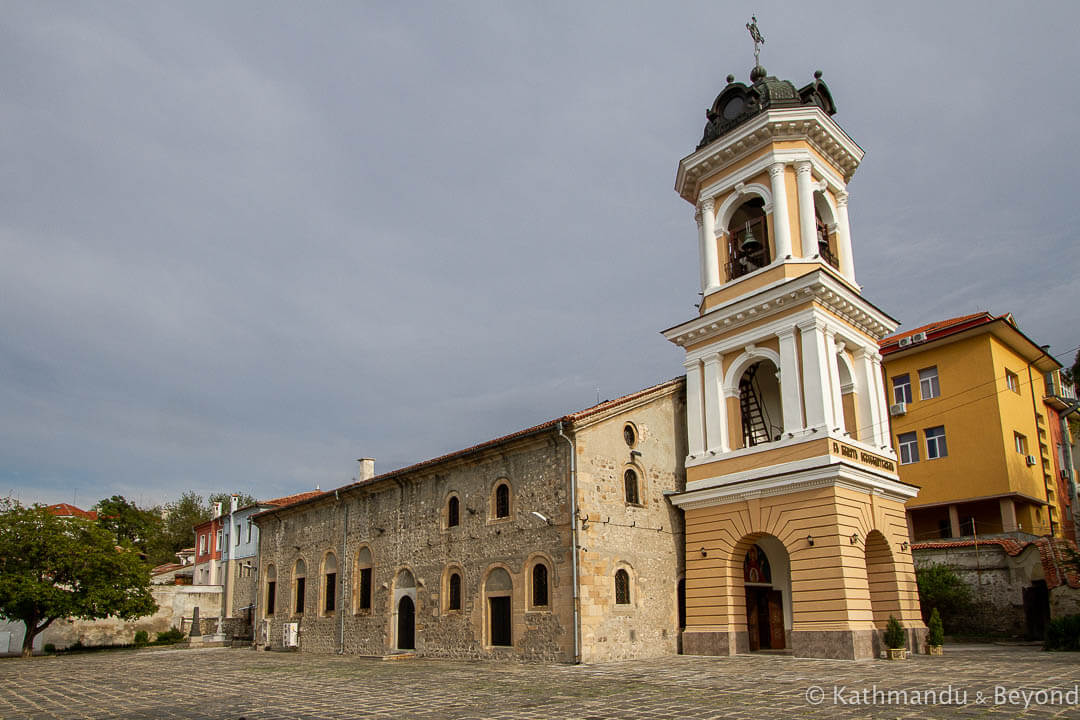 Holy Assumption Cathedral, Plovdiv


Old Town, Plovdiv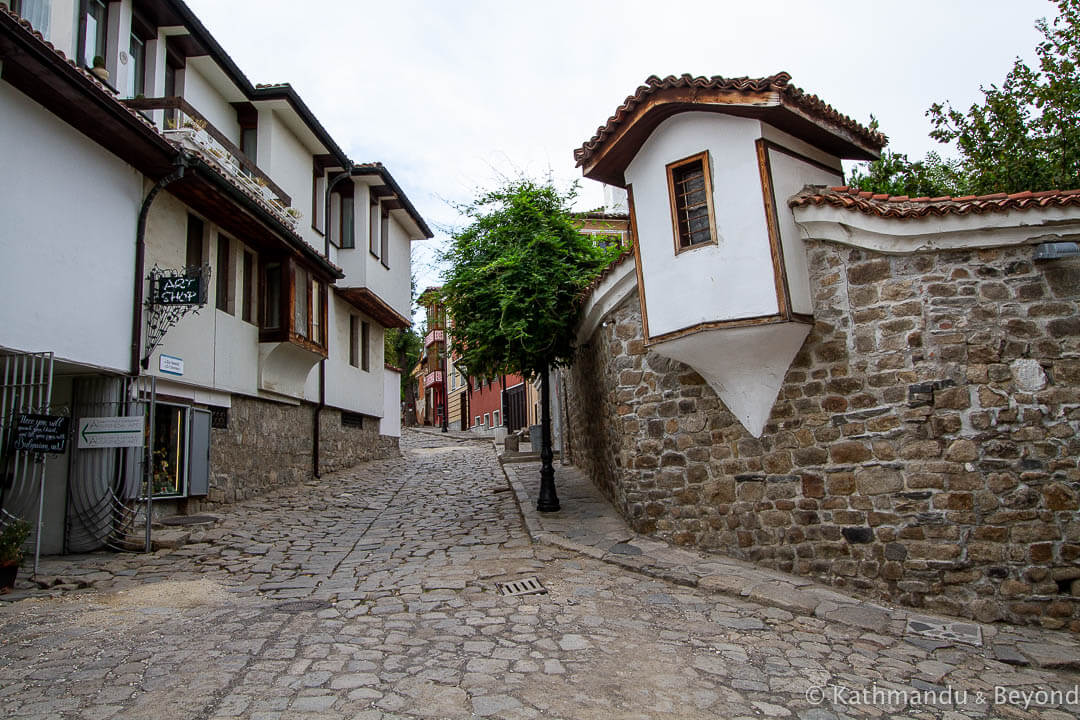 Old Town, Plovdiv
Knyaz Aleksandar I Street is also lined with some interesting buildings and the reasonably helpful Tourist Information Centre is located at the southern end of the street. I say reasonably helpful because the office is well stocked with maps and other tourist literature and the staff are cooperative enough if they know the answer to your question but they clam up somewhat if you ask them anything out of their comfort zone. We asked them how to get to the nearby town of Perushtitsa on public transport, for example, and had to persevere somewhat to get the information.
It was a relief to find the monolithic Central Post Office building at the southern end of Knyaz Aleksandar I Street, having almost overdosed on quaint buildings in the old town!


Plovdiv: Knyaz Aleksandar I Street (left) and Central Post Office (right)
Away from the centre, Plovdiv is a very different city and quite gritty in parts. There is plenty of street art in the side streets off Ruski Boulevard and the city also has its fair share of Communist-era statues and monuments. On the top of Liberators Hill, the Unknown Soviet Soldier Memorial, commonly known as Alyosha, is huge and visible from most places in the city. Commemorating Soviet casualties during WWII (Bulgaria fought on the side of the Germans during the war), the authorities in Plovdiv have twice sought to have the statue removed (1989 and 1996) but on both occasions had been successfully blocked by a preservation campaign.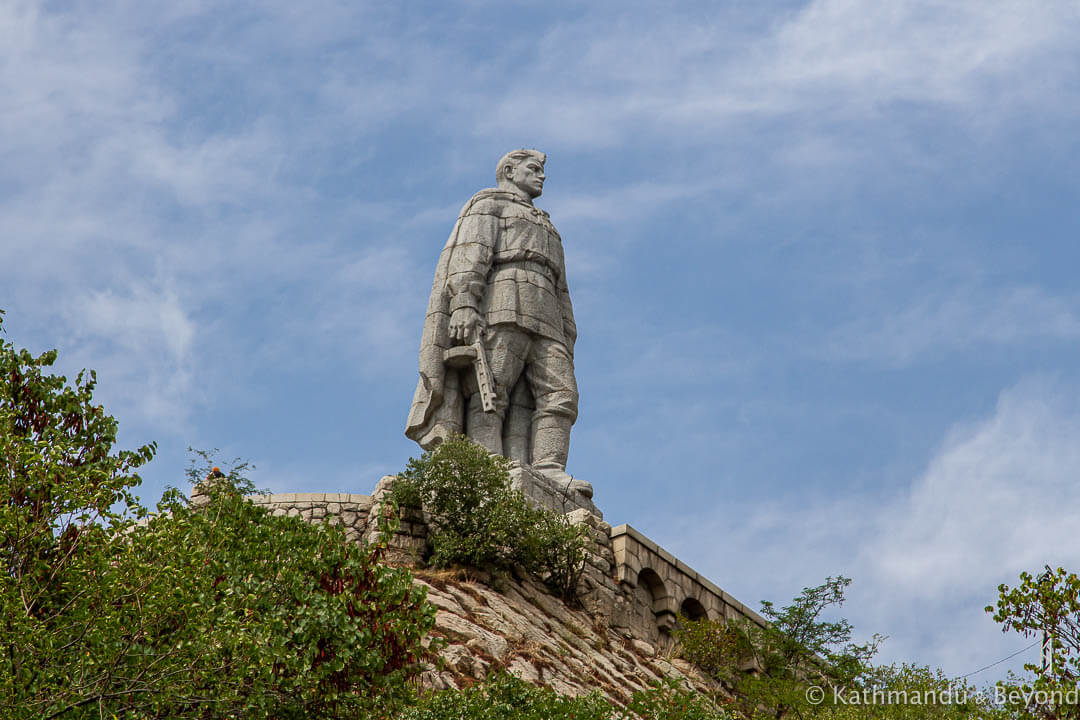 Unknown Soviet Soldier Memorial (Alyosha), Plovdiv
The Monument to the Unification of Bulgaria in 1885, which is on 6th September Boulevard (close to the Archaeological Museum) is also a noteworthy statue dating back to the 1980s.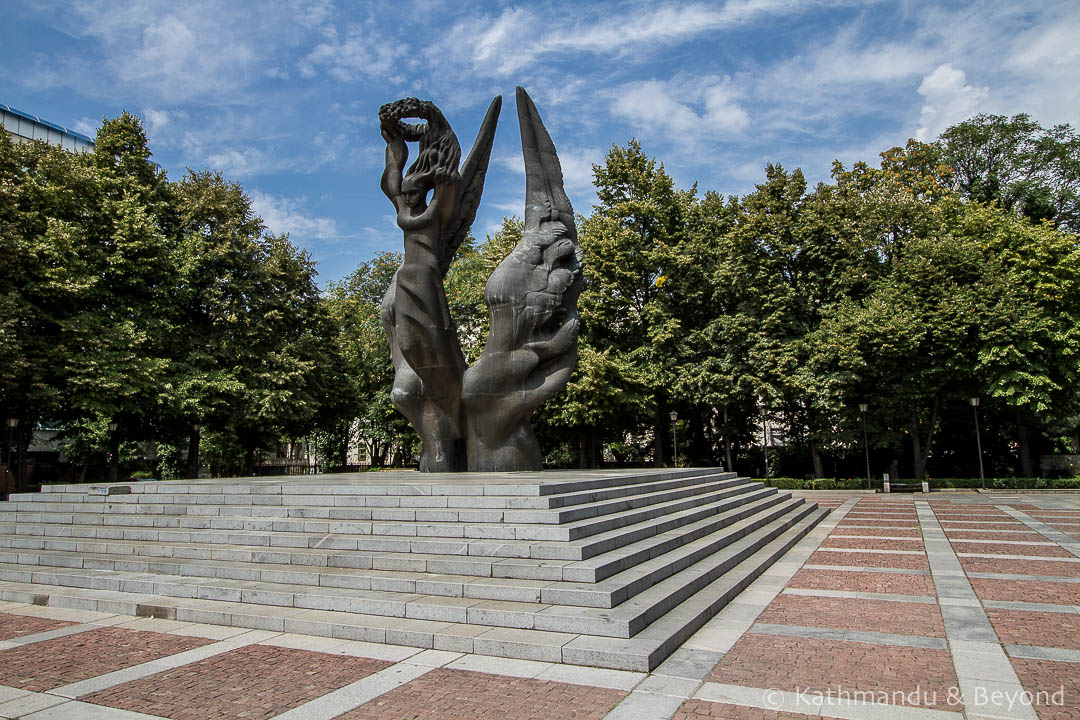 Monument to the Unification of Bulgaria, Plovdiv
However, the most interesting monument of that era that we saw in Plovdiv was the Fraternal Barrow Memorial Complex. Located in Relaxation and Culture Park, in the western part of the city, the Fraternal Barrow Memorial Complex (sometimes called the Hillock of Fraternity or Brotherly Mound) is a memorial complex dedicated to antifascists who lost their lives during World War II as well as those who fell during the struggle for Liberation from Ottoman Rule. It also marks the Unification of Bulgaria in 1885. The structure symbolises a Thracian hillock/burial mound and inside are the remains of 126 partisans from the Plovdiv region. These days, the complex is padlocked and entry is forbidden. It is also in a state of neglect and covered in graffiti but, in my opinion, it still worth visiting for its unusual design and historic association.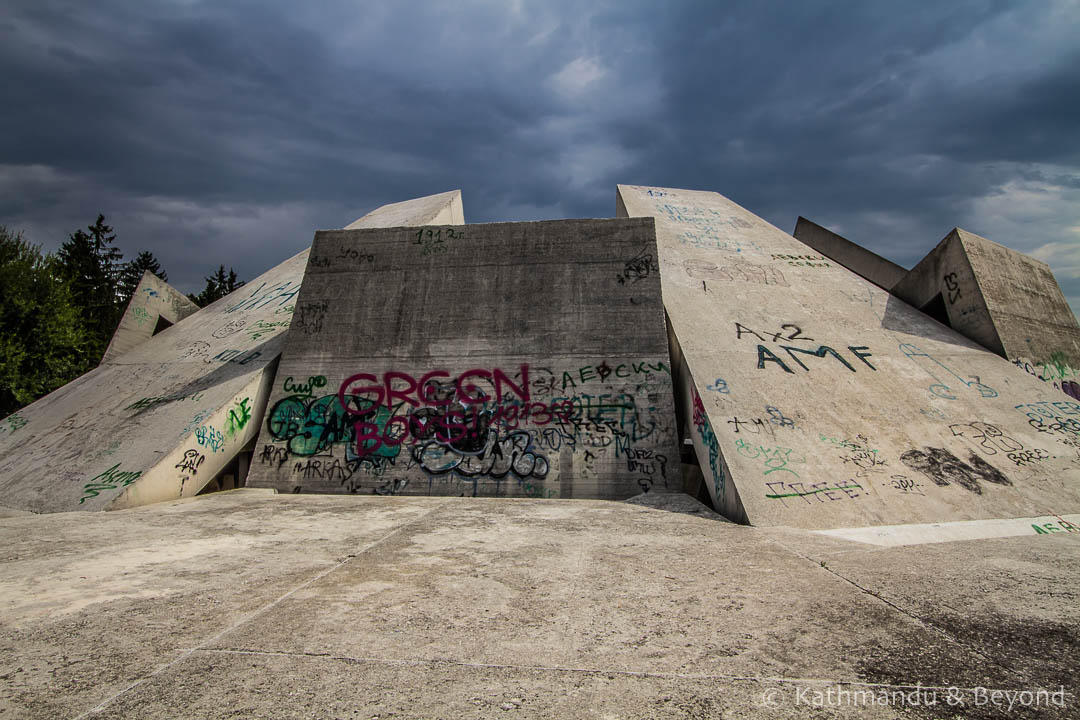 Above: the Fraternal Barrow Memorial Complex
We also took a couple of day trips out of Plovdiv. Bachkovo monastery is the second largest monastery in Bulgaria and an easy half-day excursion from Plovdiv. The small, but beautiful, Church of Sveti Nikolai (free to enter) is the highlight of the complex but you can also visit the refectory for a fee and, although the interior is closed to the public, it is worth taking a look at the Ossuary which features some detailed murals in its porched entrance.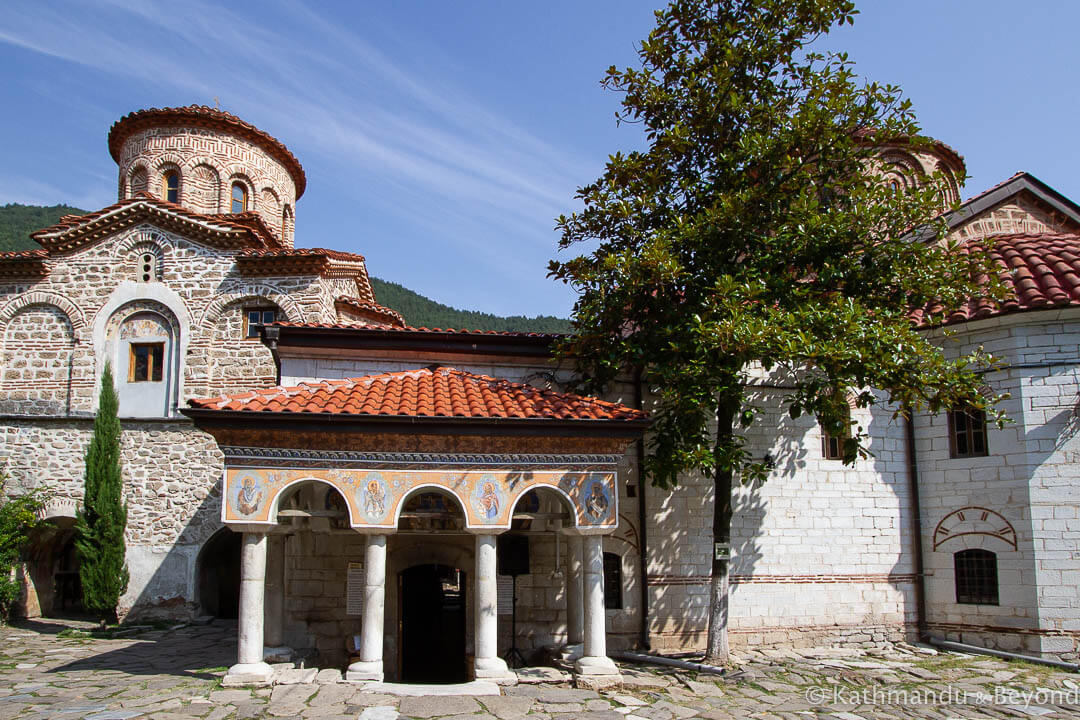 Church of Sveti Nikolai, Bachkovo Monastery


Church of Sveti Nikolai, Bachkovo Monastery
Getting to Bachkovo monastery is simple. There are two bus stations in Plovdiv – Rodopi bus station, which is located on one side of the railway station, and Yug bus station which is situated on the other side. Buses for Bachkovo depart from Rodopi bus station at least hourly. You can also take any bus heading to Smolyan and ask the driver to drop you off at the turnoff to the monastery from the main road, from where it's an easy 10-minute walk. Bachkovo monastery is 30km south-east of Plovdiv and the journey takes about 40 minutes by bus.
We also visited the small town of Perushtitsa, which is 23km south-west of Plovdiv. Perushtitsa itself is quite a pleasant place but our main reason for visiting was to see the Three Generations Monument, which is located on the dominating hill that overlooks the town.
We have written in more detail about our visit to Perushtitsa and have included more information about the Three Generations Monument and how to reach it by public transport here.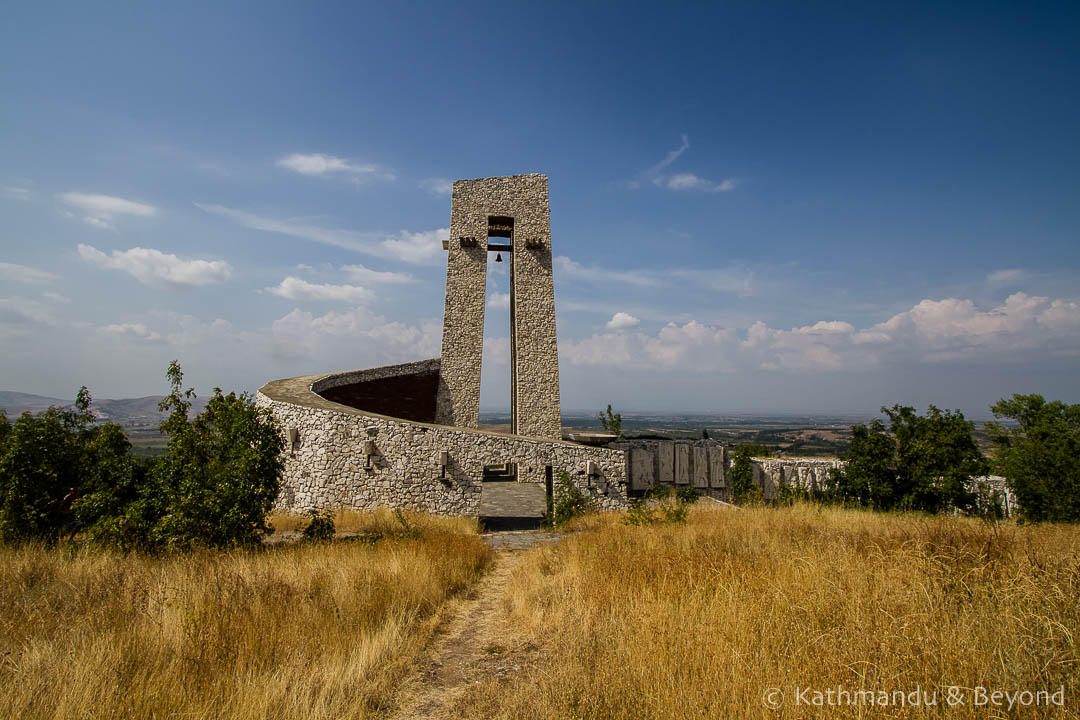 Three Generations Monument, Perushtitsa
Where we stayed in Plovdiv
We stayed at the Funky Monkey Hostel. Although there was nothing wrong with the place per se, we are so over hostels these days and only stay in them when we can't find anything else in our price range. We had a decent private double room with shared bathroom. The kitchen was well stocked, clean and even had a can opener (a big plus in my books!). The communal area was also decent.
This was all fine for the first couple of nights as we were more or less the only ones staying there but later it became busier and its then that these sort of places begin to grate on us big time. Why do people need to slam doors or take showers in the middle of the night? Also, exchanging bodily fluids in a hostel, even in a private room, should be banned any time after 11pm and I don't get why other travellers sit around in the hostel all day rather than getting out there and seeing what the destination has to offer – what's the point in travelling? It drives me crazy but I keep shtum. We shouldn't stay in hostels anymore, I know that, but sometimes needs must. Anyway, the Funky Monkey in Plovdiv is perfectly fine if you are into hostels! We paid 50 Bulgarian Lev (£22.00/€25.50/US$27.50) per night for a double room with a shared bathroom. A typical hostel breakfast (crappy bread, jam that isn't really jam and some salad (who eats salad for breakfast?)) was included in the price.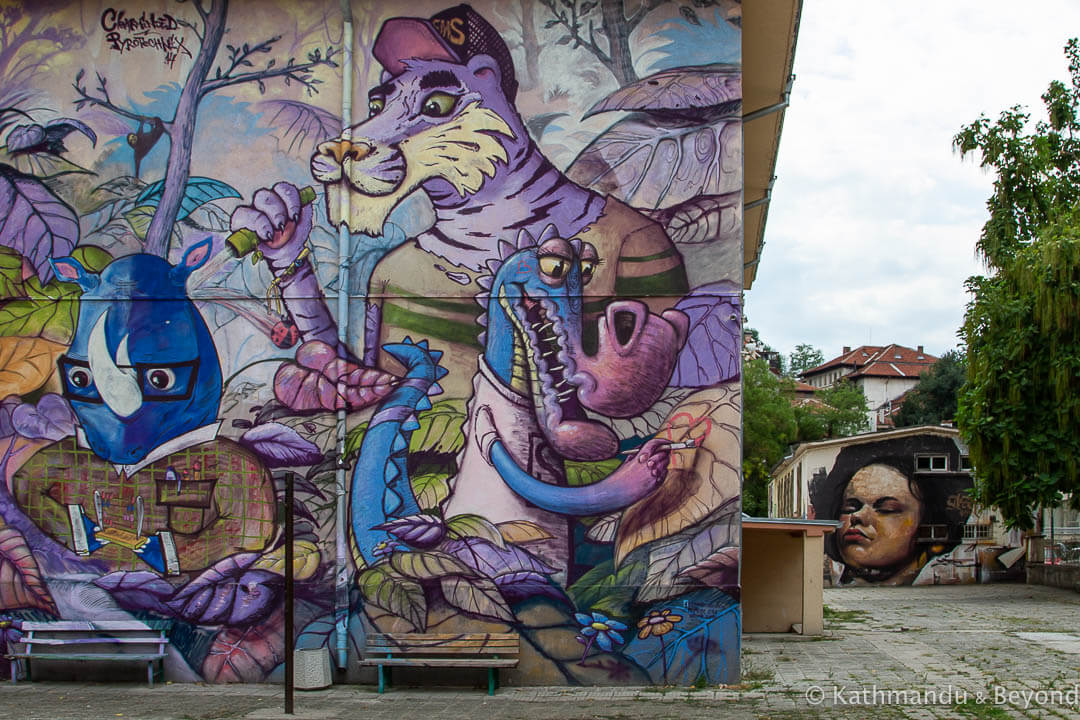 Street Art near Ruski Boulevard, Plovdiv
Getting to and from Plovdiv
Getting to Plovdiv from Edirne
See above for details of the journey from Edirne to Plovdiv.
Getting to Sofia from Plovdiv
As you can imagine, travelling between Bulgaria's second city and the capital is very straightforward. There is a bus to Sofia every half an hour from Yug bus station and the journey takes approximately 2½ hours. There are also at least 12 daily trains from Plovdiv to Sofia and again, the journey takes about 2½ hours.
Is it worth breaking the journey between Istanbul and Sofia?
Most definitely! Both Edirne and Plovdiv are destinations in their own right and way more than simply places to break a journey. But that said, both are exactly on the route between Istanbul and Sofia, there is no detour necessary, so it makes perfect sense to break up an otherwise long and fairly boring ten hours or so of travelling.
Finally, if you only have the inclination or the time to visit just one of the two places, I would make it Plovdiv over and above Edirne. Both are great destinations but Plovdiv has the slight edge. Actually, I'm going to take that back – visit both!
---
---
LIKE IT? PIN IT…


---
---