Alternative places in Armenia to stop on the journey from Tbilisi and Yerevan
If you are familiar with our style of travel, you'll know we're not big fans of long journeys on public transport and we're especially not keen on overnight travel.
We like going places by rail but it perplexes me why anyone would consider taking the train between Tbilisi and Yerevan, or vice versa. For us, overnight trains (and buses for that matter) are a false economy. You might make a partial saving on a night's accommodation but more often than not, you'll need to check out of your previous hotel or guesthouse by midday and hang around all day waiting for your evening departure (and if you're in an apartment, won't have anywhere to leave luggage). Similarly, after arriving at some godforsaken hour in the morning, you probably won't be able to check in until the early afternoon. Then there's the whole broken night's sleep to take into consideration. Take the case of the train between Tbilisi and Yerevan as an example. The train leaves Tbilisi at 8.20pm and arrives into Yerevan at 7am the following morning. If there are no delays, border formalities take place between 10pm and midnight. I guess this isn't too bad but it's definitely an irritation. But if you take the train between Yerevan and Tbilisi, although the timings are similar, the travel time to the border is longer and on that particular service you end up with immigration formalities around 3am, which is more than an irritation in my book!
What's more, as you can see from the timings above, the train takes approximately 11 hours to cover the 276km which separates the two cities. By comparison, a marshrutka (fixed-route minivan) takes about 6 hours and if you do the journey by taxi, it's probably about an hour less.
So, our recommendation on this particular route would always be road travel during daylight hours. But, better still, if you have the time there are actually a few places worth stopping in for a night or two along the way and below are the details of how we turned 6 hours on the road into a journey of about a week or so. We travelled south from Tbilisi to Yerevan and that's the way I'm going to describe the route but it works equally as well if you do it in the reverse direction.
Places to break the journey in Georgia between Tbilisi and Yerevan
It's a relatively short distance (68km) between Tbilisi's Ortachala bus station (which is one of two locations you need to head to (see below) in order to kick-start the trip) and the Bagratashen/Sadakhlo border crossing that connects Georgia with Armenia. We couldn't find anywhere worthwhile to overnight on the Georgian side of the border but, if you have your own transport or have chartered a taxi, it's interesting to look out for two Soviet-era monuments along the way. The first is the Nine Brothers of Kherkheulidze Monument, which is located on the outskirts of Marabda, and the second is the Monument to the Heroes of the Great Patriotic War which is just a little bit further along the road. Both are clearly visible from the highway.
Places to break the journey
in Armenia
between Tbilisi and Yerevan
Alaverdi and the Debed Canyon
The landscape starts to become more rugged after crossing the border into Armenia, and the first town of any size is Alaverdi. A mining town that was badly affected, economically, by the breakup of the Soviet Union, Alaverdi is probably the most depressing place we have visited in Armenia. The half-open copper mine on the outskirts of town looks like a film set from Mad Max (OK, I admit, this did appeal to us!) and the centre has very little going for it. The town's small museum, which is dedicated to the Mikoyan brothers (Aryton and Anastas), who were born nearby and were partly responsible for creating the MiG series of fighter aircraft, is worth visiting but this isn't reason enough to spend a night or two nights in Alaverdi.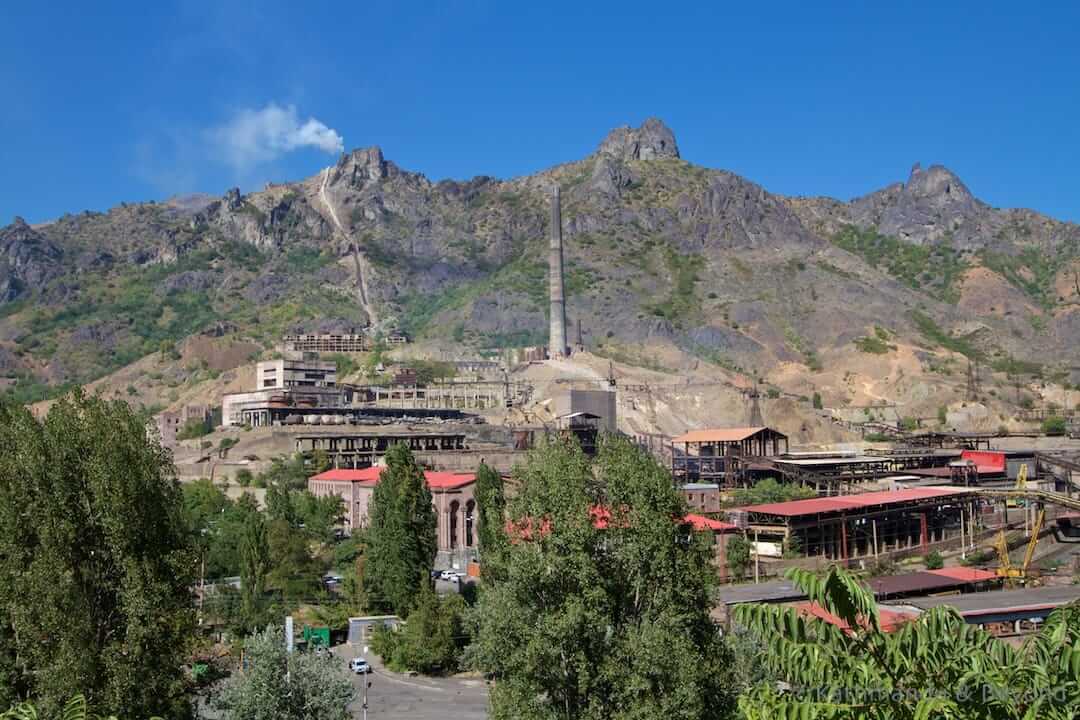 The magnificent Debed Canyon, in which this apocalyptic-esque town is situated, on the other hand, is worth making time for. The scenery in this part of northeast Armenia certainly packs a punch and the umpteen monasteries, including two that are listed as UNESCO World Heritage sites (Sanahin and Haghpat), that dot the landscape are icing on the cake.
Besides Sanahin and Haghpat, two other monasteries are definitely worth seeing: Odzun and Akhtala. As already mentioned, there are plenty more besides but, if you see too many, there is a danger of getting monastery'd out plus, without private transport, they are difficult to reach so unless you are really into your Armenian churches, I would recommend sticking to just these four. We actually saw quite a few others but only because we were lucky inasmuch on our first day in Alaverdi we met a German guy with a camper van who drove us around, and on our second day of exploring, we were taken well off-the-beaten-track by the parish priest at Odzun Monastery, who gave us a personal tour of the region in his 4WD Lada. Wonderful as the experience was, we were definitely not in the mood to see another monastery for a while by the time we left Alaverdi!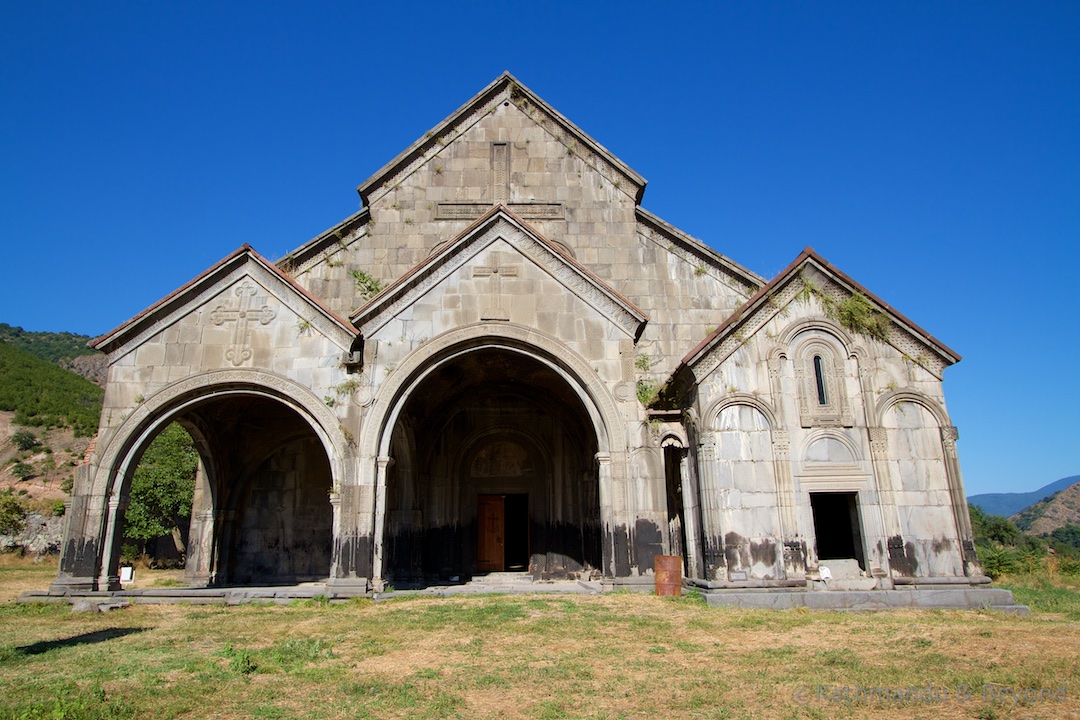 Talking of transport, it's possible to visit Sanahin independently by cable car and Haghpat and Odzun by reasonably regular local buses. Akhtala is also served by scheduled transport but it's not that frequent and so trickier to reach. But, keep in mind that both buses and the cable car depart from the centre of town and if you decide to stay at Iris Guesthouse (see below), it's at least a 3km walk between the two. Therefore, it makes more sense to hire a taxi and see all that you want to see in one go. Iris Guesthouse has a pool of reliable taxi drivers and, because the place is popular with travellers, it's fairly easy to find others with whom you can share the cost. Utilising your time like this also means you only have to spend one night in Alaverdi. After seeing the monasteries, there isn't that much to do and it's perfectly feasible to leave Tbilisi in the morning, arrive in Alaverdi by lunchtime and visit the canyon (and associated churches) in the afternoon.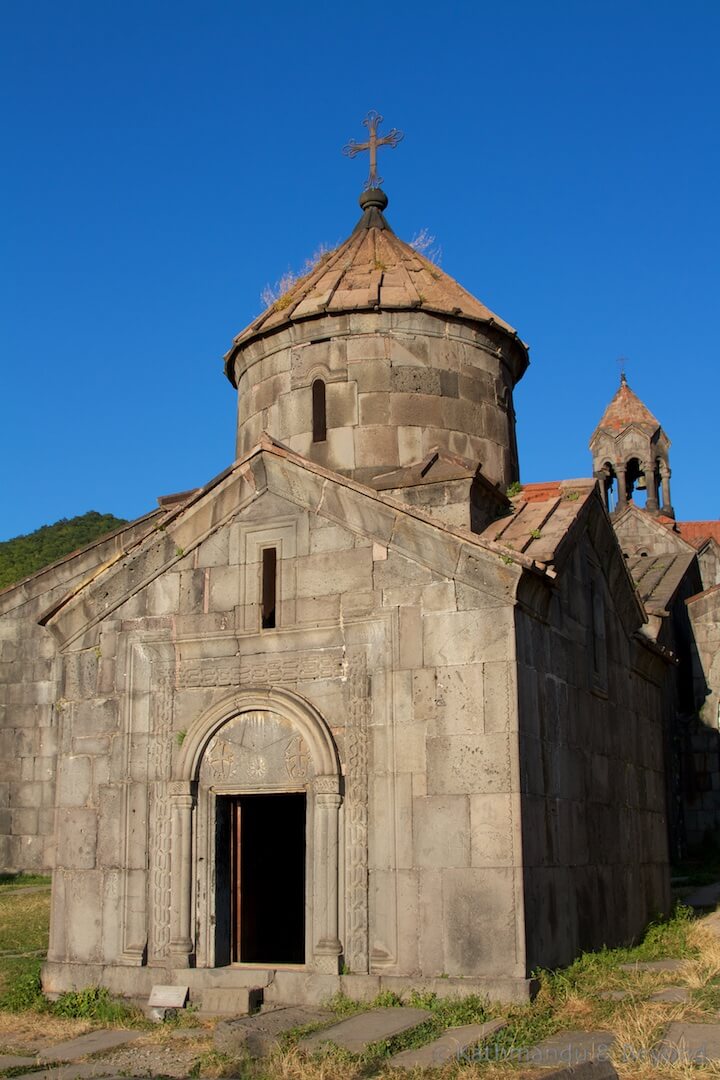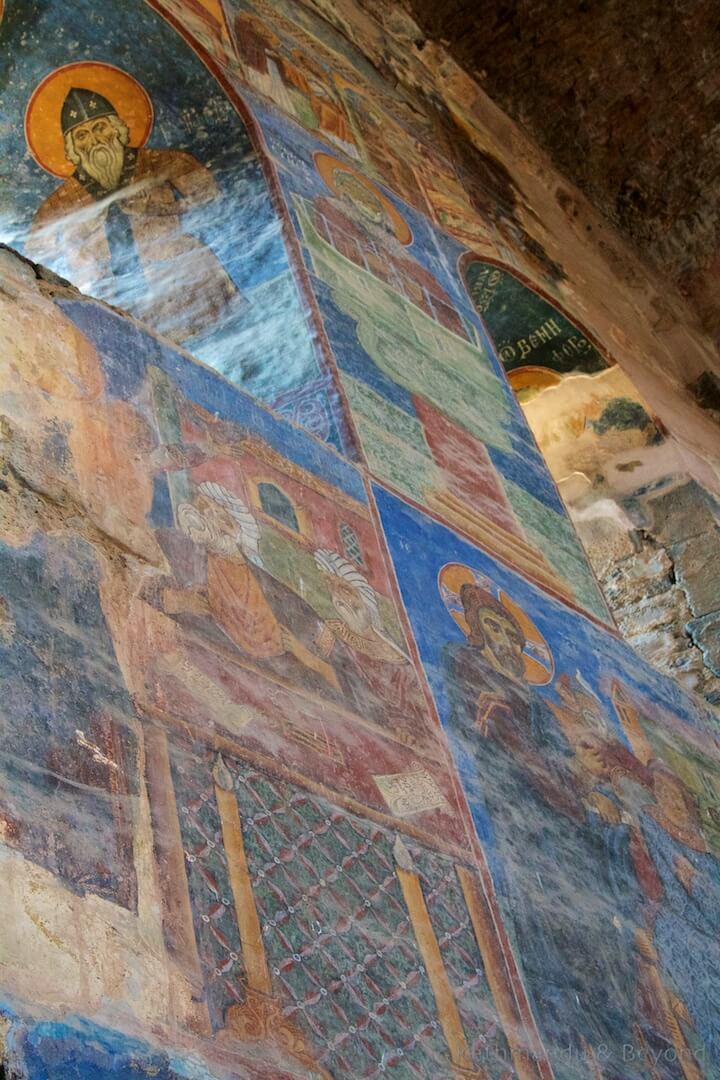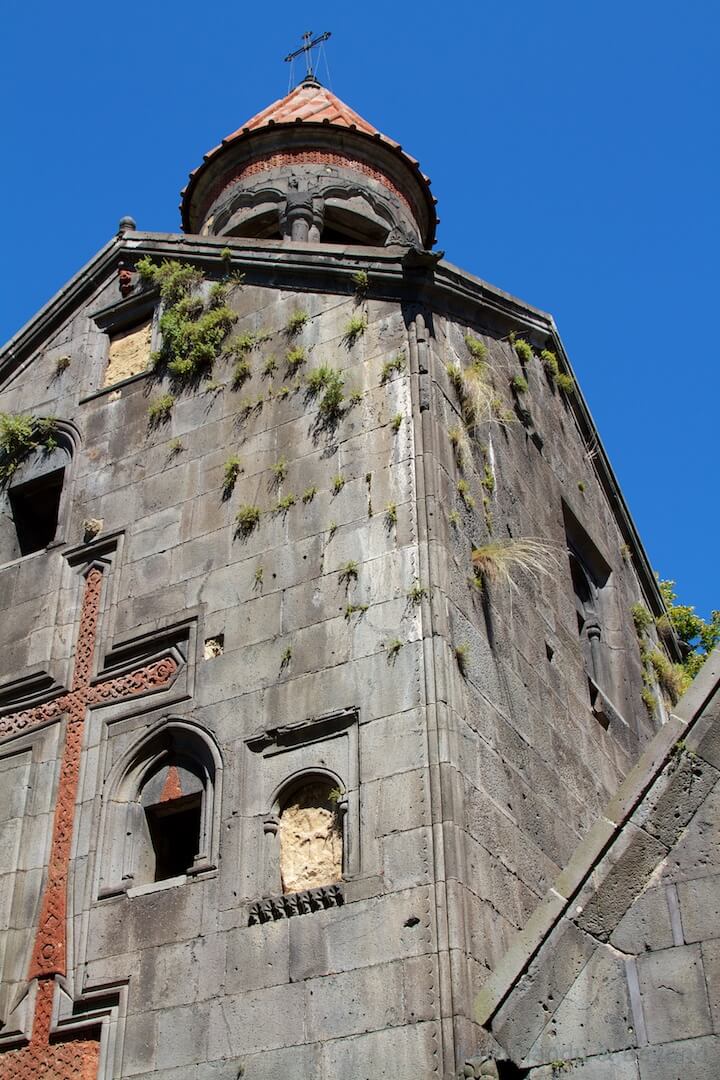 Where to stay in Alaverdi
We stayed at Iris Guesthouse and thought it was excellent. Our room (with shared bathroom) was decent and the communal area (outside in summer) was a good place to meet other travellers. The only disadvantage was the location, which was about 3km beyond the centre of Alaverdi, on the road to Vanadzor. But, in all honesty, this wasn't a big deal. You can pre-order meals or use the kitchen at the guesthouse and there was a small shop a short distance away that sold basic supplies, including beer! What's more, as well as arranging a taxi in order to see the monasteries, Irina and Stepan (the owners) can also sort out onward transport when you are ready to leave Alaverdi and they ensure that you are picked up from directly outside the guesthouse. There are other places to stay in the vicinity but we thought this was a good one.
Public transport to/from Alaverdi
Any transport heading south from Tbilisi to Yerevan will drop you in Alaverdi. Yerevan-bound marshrutkas (there are no buses) depart from Tbilisi's Ortachala bus station at 8.20am and 10.20am regardless of the number of passengers and, additionally when full, between 11am and 5pm. Furthermore, there are two daily marshrutkas which go only as far as Vanadzor. These depart at 9am and 2pm. We took the 9am Vanadzor departure which we didn't reserve in advance although, apparently, it is possible to do so using the following number +995 577411044 (good luck if you don't speak Georgian or Russian!). We did turn up about 45 minutes beforehand, however, to be sure of getting seats and we left, almost on time, about half full. The fare was 17 Georgian lari and the journey time was about 3 hours including border formalities.
There are also shared taxis from Ortachala. When you arrive at the bus station, the taxi drivers are normally the first to approach you as they are parked outside the terminal, whereas the marshrutkas go from the lower level inside the bus station proper. If you want to take a taxi then talk to these guys but, if you prefer to travel by marshrutka, ignore their claims that there are only shared taxis on this route and head down to the lower level where you will see marshrutkas for various routes as well as larger buses which go further afield to places such as Turkey and Iran.
Apparently, there are scheduled shared taxis from Ortachala at 9am, 11am, 1pm, 3pm and 5pm but I wouldn't bank on them leaving when they say they will if they are not full (three passengers on the backseat, one in the front) and you'll almost certainly have to pay the full Yerevan fare, regardless of where you get off along the route (35 Georgian lari). The other option is to charter the taxi i.e. pay for all the seats, for your own use. You might be able to negotiate on the fare, depending on how keen the driver is to get going.
The above schedule is valid as of June 2018 and we got it from the Tourist Information Centre in Freedom Square. The printed sheet we were given (they must get asked this a lot!) also listed scheduled shared taxis from Station Square (outside Tbilisi Railway station) at 9am, 11am, 1pm, 3pm, 5pm and midnight plus, apparently, there are marshrutkas departing from here also but, as we've only done the journey from Ortachala, I can't provide any firsthand experience for this particular route.
Continuing further into Armenia from Alaverdi, there are scheduled buses and marshrutkas to both Vanadzor (1 hour) and Yerevan (3 hours). Iris Guesthouse is aware of the current schedules. There is also the opportunity to flag down transport that is passing through en route from Tbilisi. Assuming they have space, both buses and marshrutkas will always stop and pick you up.
Vanadzor
I was in two minds whether to mention Vanadzor in this post as, for us personally, it was such an interesting and friendly place to spend time in that I almost wanted to keep it to myself!
I have to admit that the reason we thought Armenia's third-largest city was so sick (*) was because of the things we found to see and do but, if admiring Soviet-era architecture (that bus station!), rummaging around a seemingly abandoned sanatorium that was actually still in use, and locating one of the country's most impressive memorials to the Great Patriotic War (World War II) is not your thing, then you may want to skip Vanadzor in favour of some of the other places listed below.
(*) I know! My niece taught me the urban slang meaning of this word (exceptionally cool) and I'm trying to get down with the kids!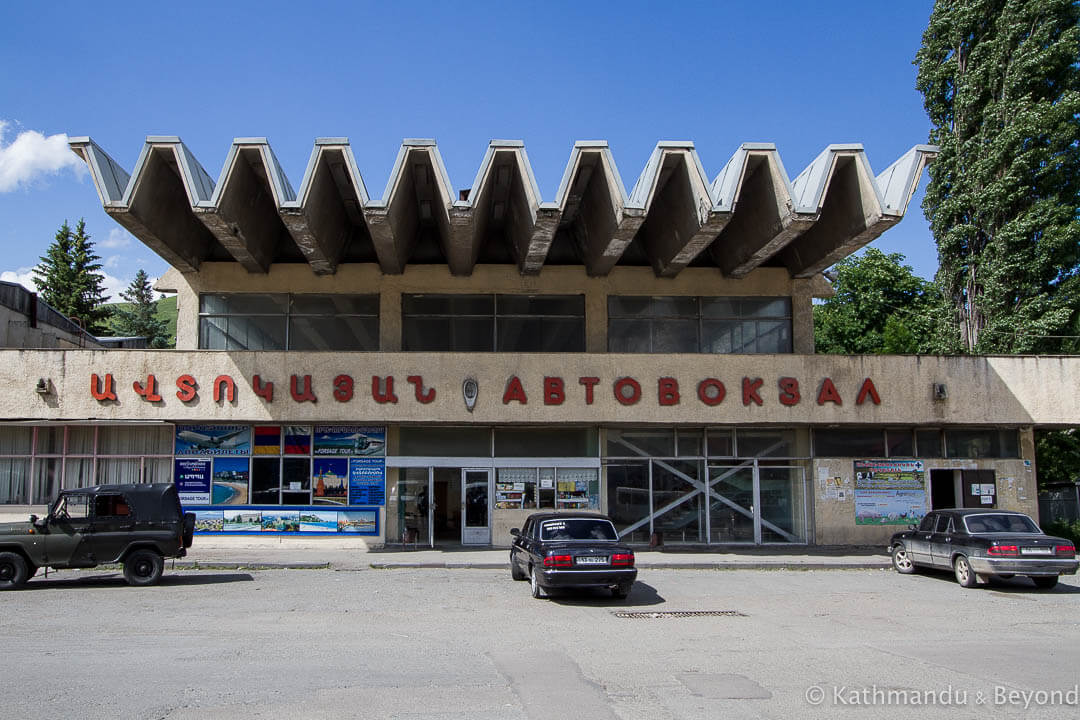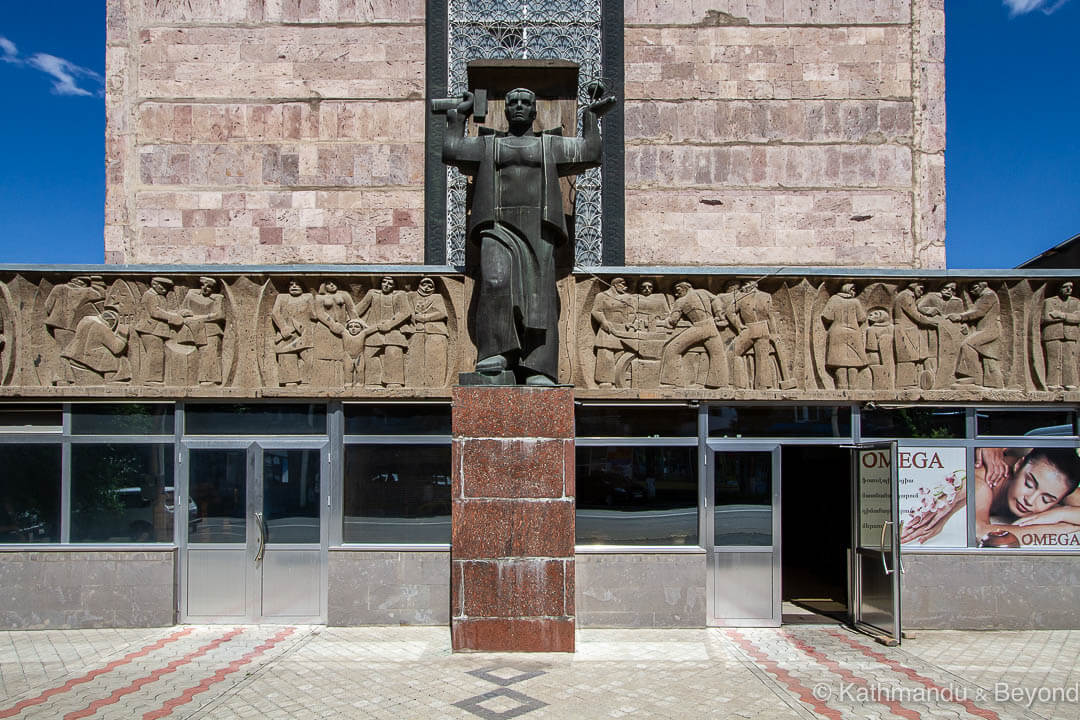 The city is quite popular as a base for visiting the Debed Canyon, which is only an hour away but we spent the bulk of our time wandering around admiring the city's monuments and architecture. Like nearby Gyumri and Spitak, the city was badly affected by the 1988 earthquake but, unlike the other two places, the majority of the buildings in Vanadzor remained intact. The bus and train station, which are adjacent to each other, are marvellous examples of Soviet-era architecture and, just by walking around, we found plenty more structures from the same period. Locating the unusual Monument to the Great Patriotic War (*), on the other hand, wasn't as straightforward and involved a bit of luck. We didn't have GPS coordinates for it and were searching blind. A guy at the bus station was sure of its whereabouts and sent us to the lake area of the city but he was wrong. While at the lake, I helped a guy place an injured bird back in a tree (aren't I the nice one!) and, afterwards, we took the opportunity to show him a photo of the memorial. He not only knew of its location but also offered to drive us there, which we greatly appreciated given it was some distance from where we were.
(*) It's unusual because the soldier has a moustache. Normally they are clean-shaven.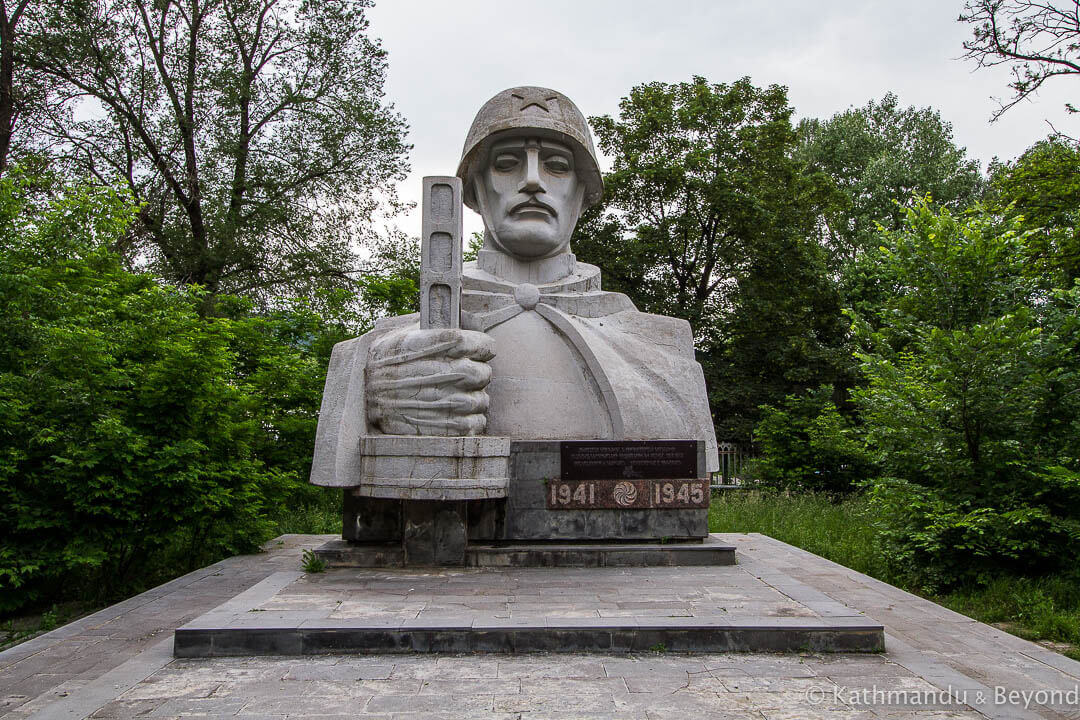 We also lucked out with finding the city's sanatorium, which we had identified as somewhere we wanted to see but didn't know where it was. From photos we had seen, it was our understanding that the sanatorium had long since been abandoned and the atmospheric indoor swimming pool and the original part of the complex, both of which we visited first, certainly confirmed this. But, we then came across a part of the sanatorium that was still occupied. Initially, this surprised us somewhat as the building in question looked decidedly ropey from the outside but it was most certainly in use as we saw guests milling around both inside and out. We had a quick look around some of the public areas, which were very kitsch, before moving on.
The atmosphere on the city's main thoroughfare was buzzy in the early evening and we ended a very satisfactory day with a couple of beers and some dinner in one of the local cafes.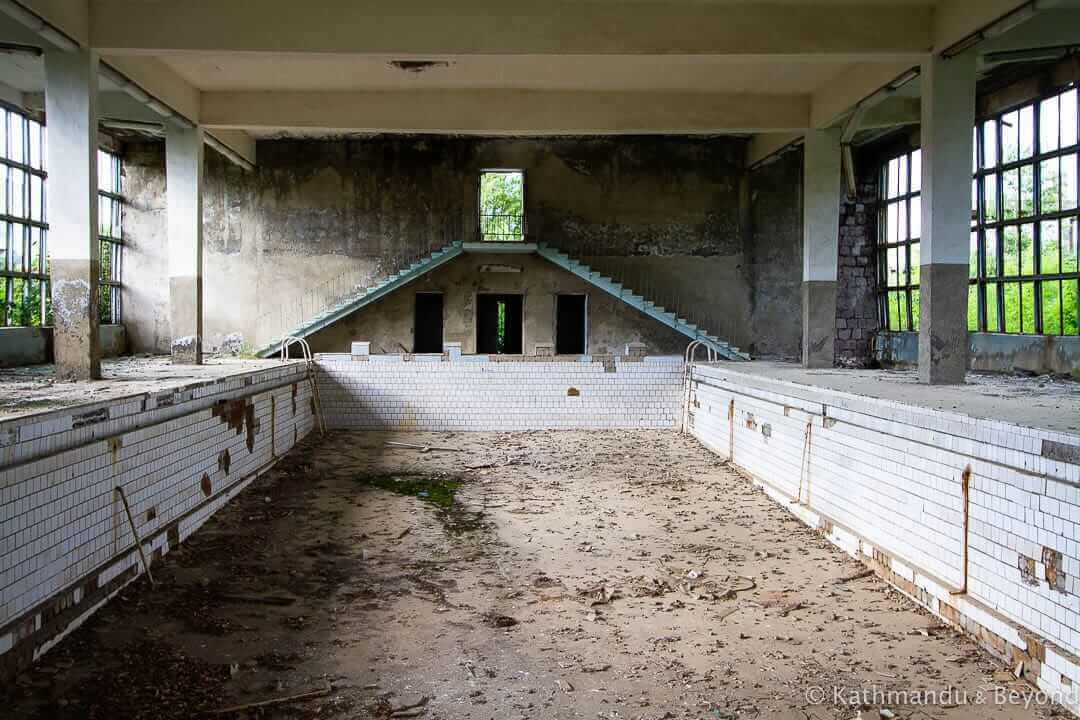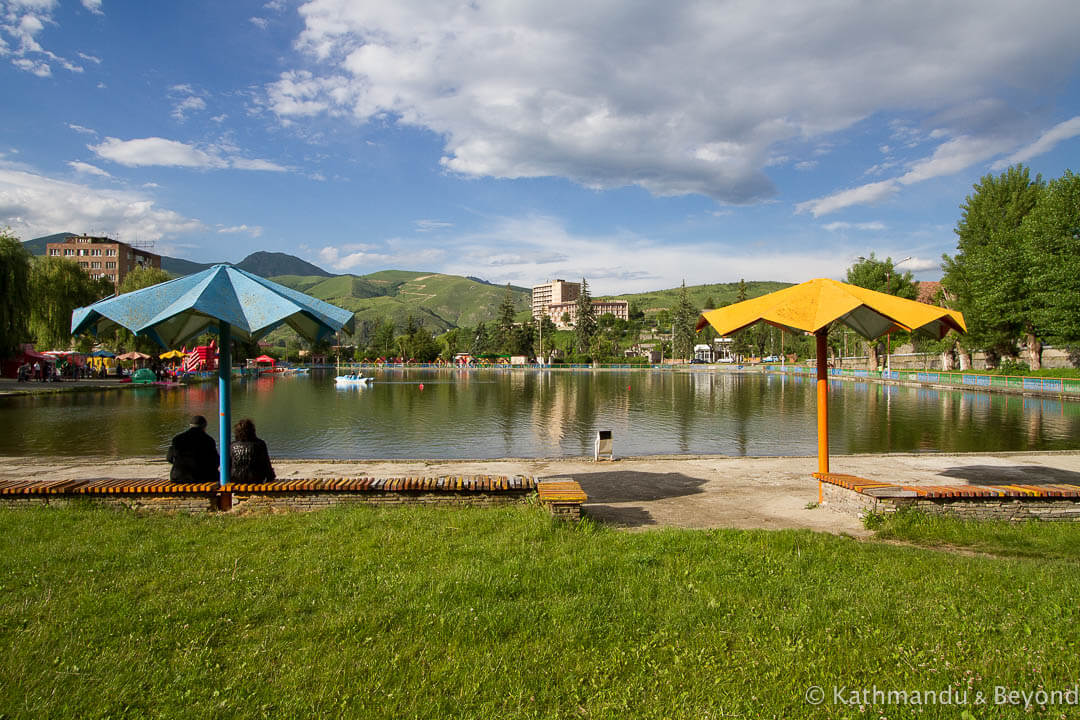 Where to stay in Vanadzor
We stayed at another Lonely Planet recommendation in Vanadzor (Iris Guesthouse in Alaverdi is also listed in LP). Maghay B&B, which is located a few blocks from the centre of town, was an excellent choice. The B&B has expanded considerably since Lonely Planet last visited and now has rooms with ensuite bathrooms as well as the original rooms that have shared facilities. The owners spoke excellent English and the included breakfast was very good. With advance warning (a couple of hours will suffice), the B&B can also provide dinner, although we thought it was a bit pricey (I can't remember how much exactly) and so we decided to eat in the town.
Onward public transport from Vanadzor
We need to take better notes! I know there is a 10am bus from Vanadzor to Dilijan, the next place on the slow journey down to Yerevan. We took it but I can't remember when the others go even though the nice man in the bus station took an age to write them all out for us! There weren't as many as I was expecting, that I do recall – maybe about six departures throughout the day – and I'm pretty sure the last one left at 2pm. Either way, there is certainly direct transport between the two destinations and it's just a matter of checking the schedule at the bus station while you're down there admiring its magnificent facade!
Dilijan
Dilijan's billing as the 'Switzerland of Armenia' is a bit far-fetched but, with an abundance of lush forest everywhere you look, there is no denying that it is one of Armenia's more attractive towns. The main reason to come here is to do a bit of walking in the surrounding countryside and visit the nearby Haghartsin Monastery. We have done some walking but, even though we have visited Dilijan twice now, we haven't gotten round to visiting the monastery. There are lots of monasteries in Armenia and every now and then we can't face visiting another one and this happened to be the case both times we have been in Dilijan. Instead, we found other things to occupy us.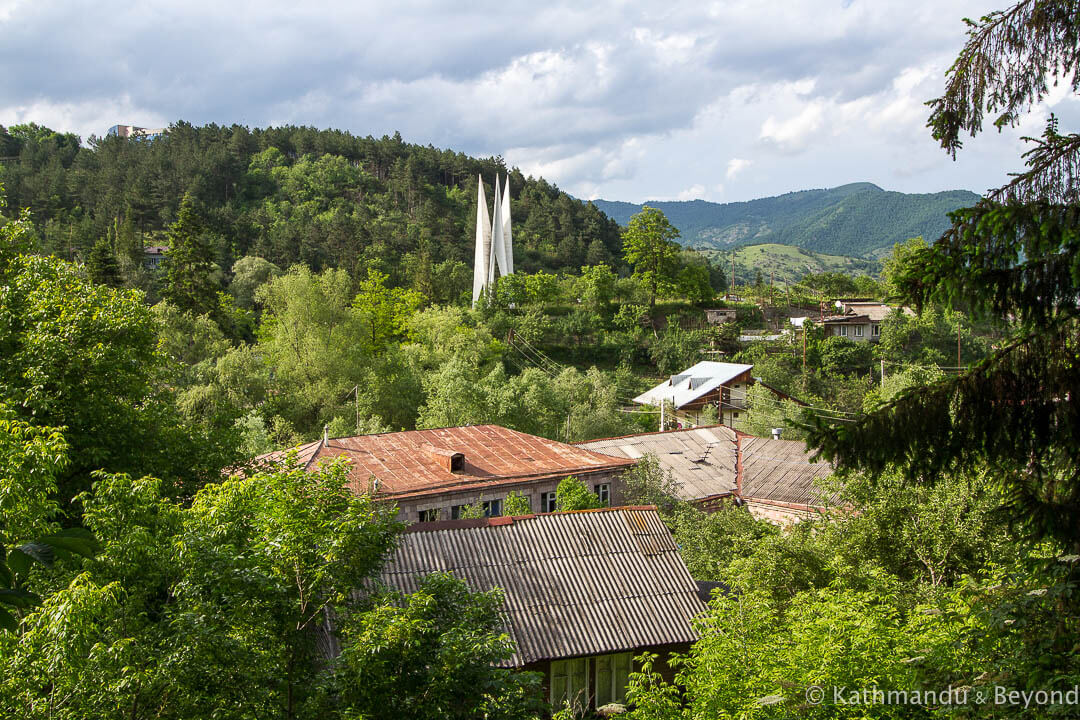 Top of our list was the Dilijan's monument to the Great Patriotic War – a powerful sculpture located on a hillock about 1.5km west of the bus station. What we didn't bank on, though, was the bonus of finding an abandoned amusement park and a load of street art in the same vicinity. If you are walking (or driving) to the war memorial, you can't fail to miss the street art as it is plastered along the side of a wall that goes on for at least a couple of hundred metres. The amusement park, on the other hand, was better hidden. It is inside a public park that is still in use but the rides and ticket booths etc. are heavily camouflaged by the encroaching undergrowth. I'm not certain if we should have been wandering around this part of the park but we bumped into a security guard, who appeared to live in a small shed on-site, and he didn't seem to have any issues with us being there (we did pretend that we were lost and looking for a way back to the main road!). I'm also not convinced the amusement park will be there for much longer. We visited in June 2018 and, although there wasn't any action when we were actually there, we saw diggers and associated machinery parked up nearby and we assumed some sort of construction work was going on that would ultimately result in what's left of the amusement park being demolished for good.
Let us know if you find it and it's still there?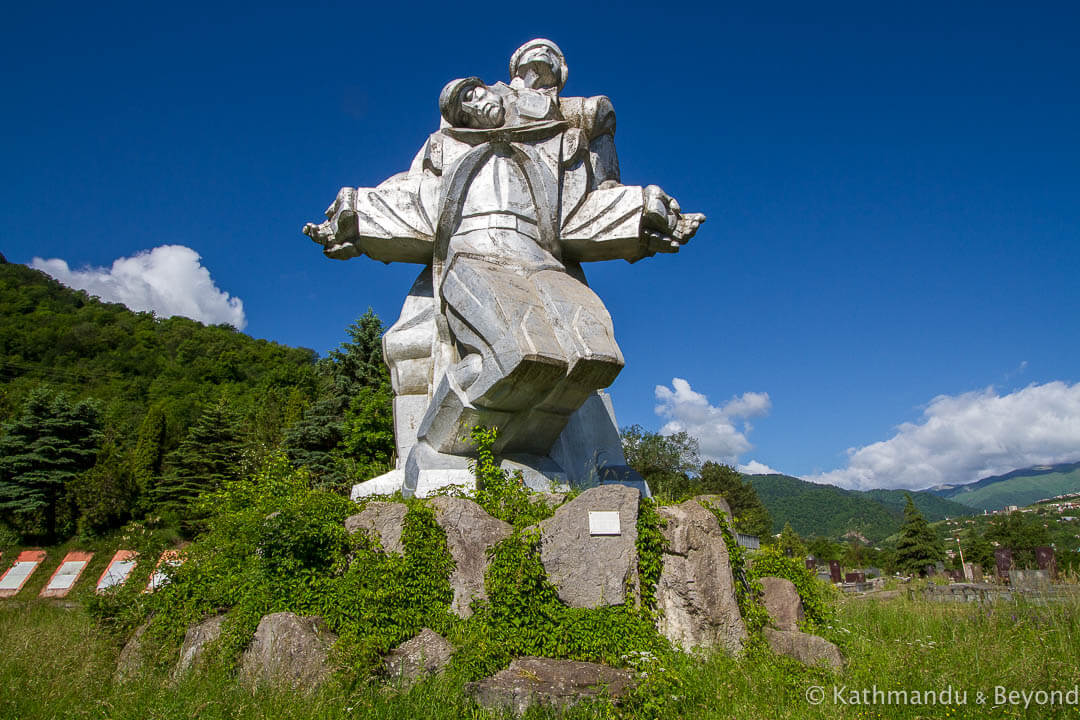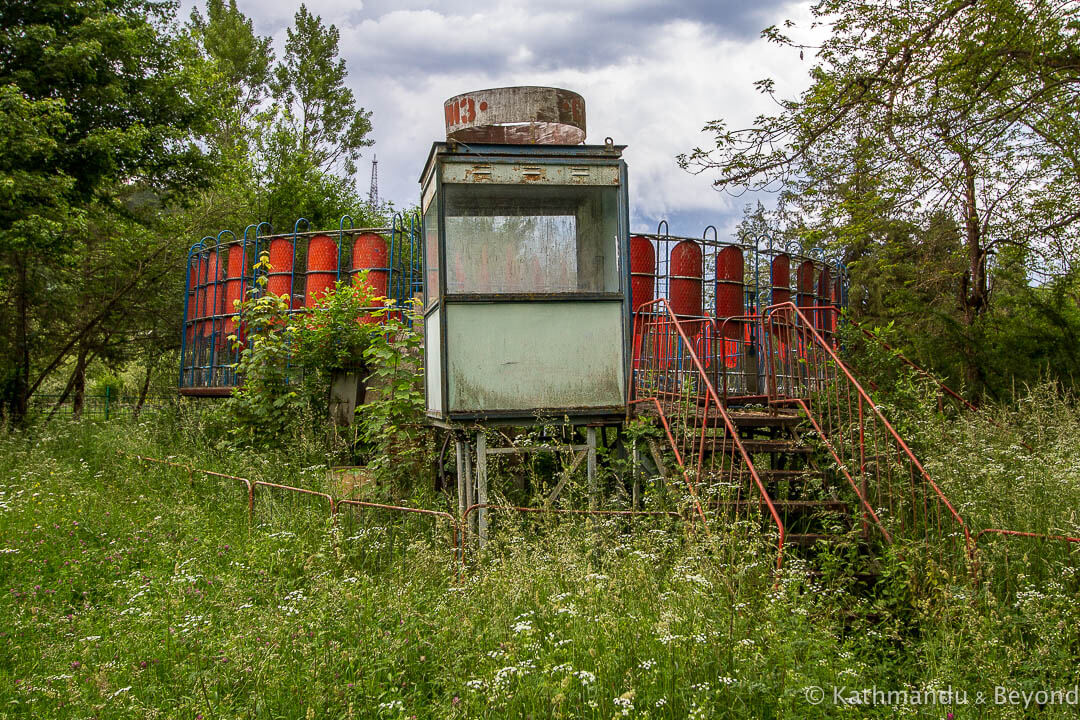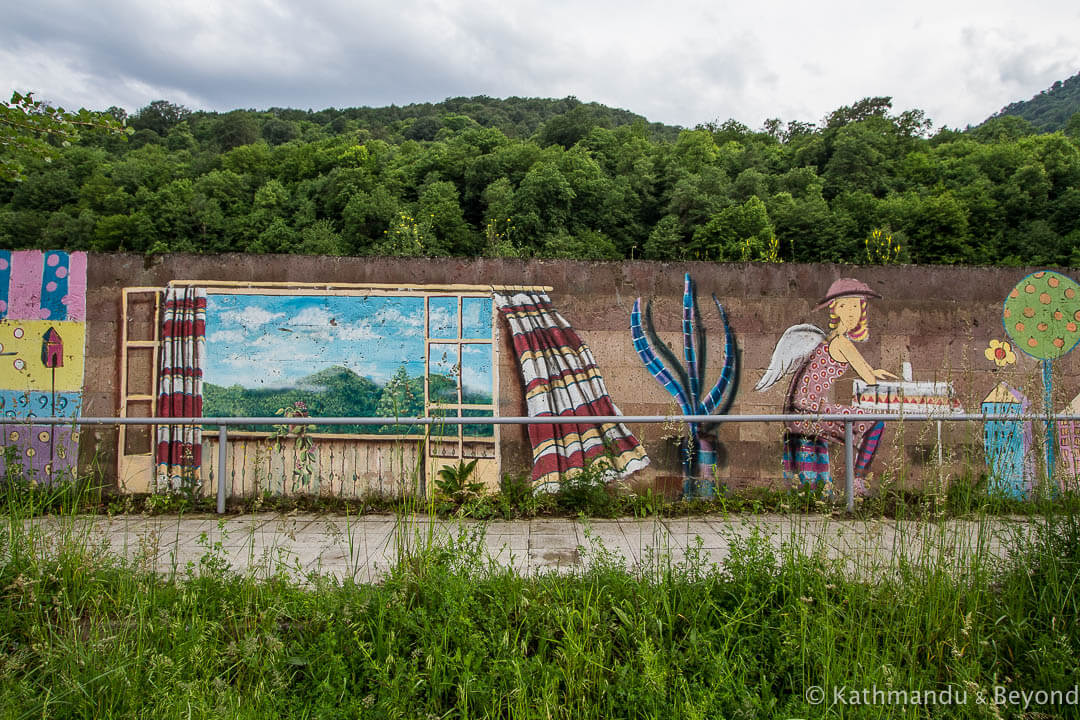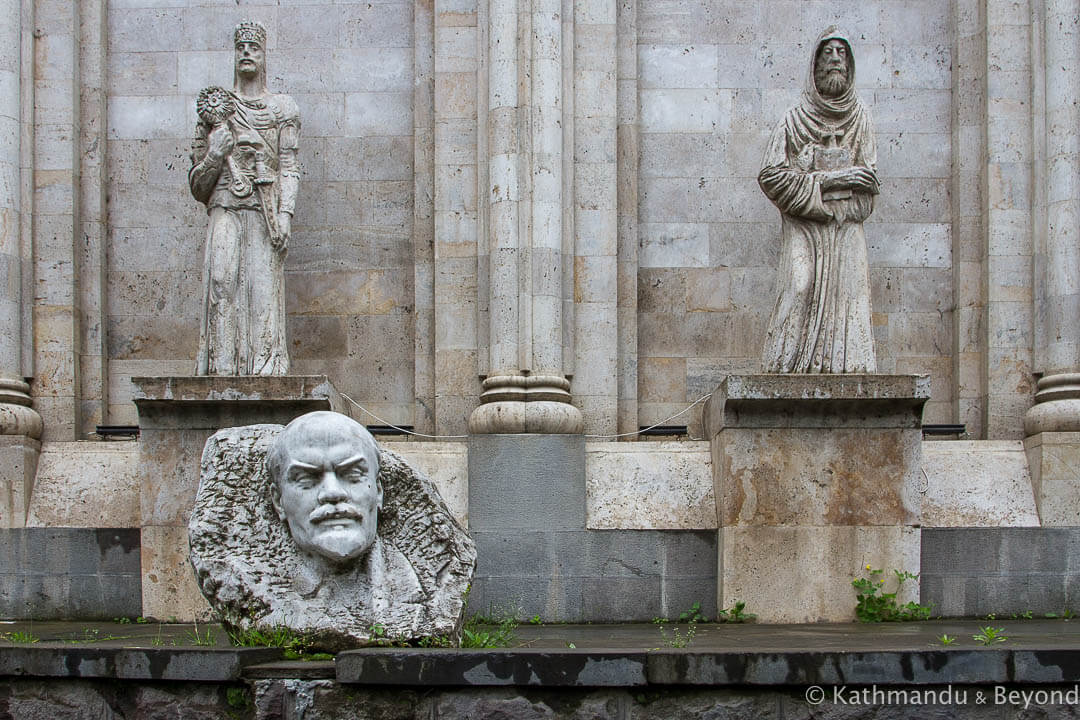 There wasn't too much to see in the town itself. We liked the Soviet-era new town more than the historic old centre, which we thought was rather characterless but, as they are next to each other, it's pretty easy to take a look around both. There were also a few Soviet-era memorials scattered around town, including the Monument to the 50th Anniversary of Soviet Armenia, which is located near the bus station, and a rather solemn-looking statue of a woman close by which, I later discovered, was a monument to fertility. Dilijan Museum of Local History is also worth a quick visit if it is open.
The other highlight for us was the now-abandoned Khanjian Villa and nearby King of the Woods statue. Built in the early 1930s as a summer home for the First Secretary of the Communist Party of Armenia, Aghasi Khanjian, you're not supposed to get close to this example of Armenian modernism (it's in a shambolic state of disrepair) but the security guard posted nearby will allow you to enter the area if you say you want to visit the freaky King of the Woods statue, which is literally a minute's walk from the villa. We were lucky inasmuch that it was hacking down with rain when we climbed the winding track to visit the place, and the security guard just pointed us in the right direction and went back to his hut, meaning we had a small window of opportunity to look around the villa before arousing his suspicion because we were taking too long.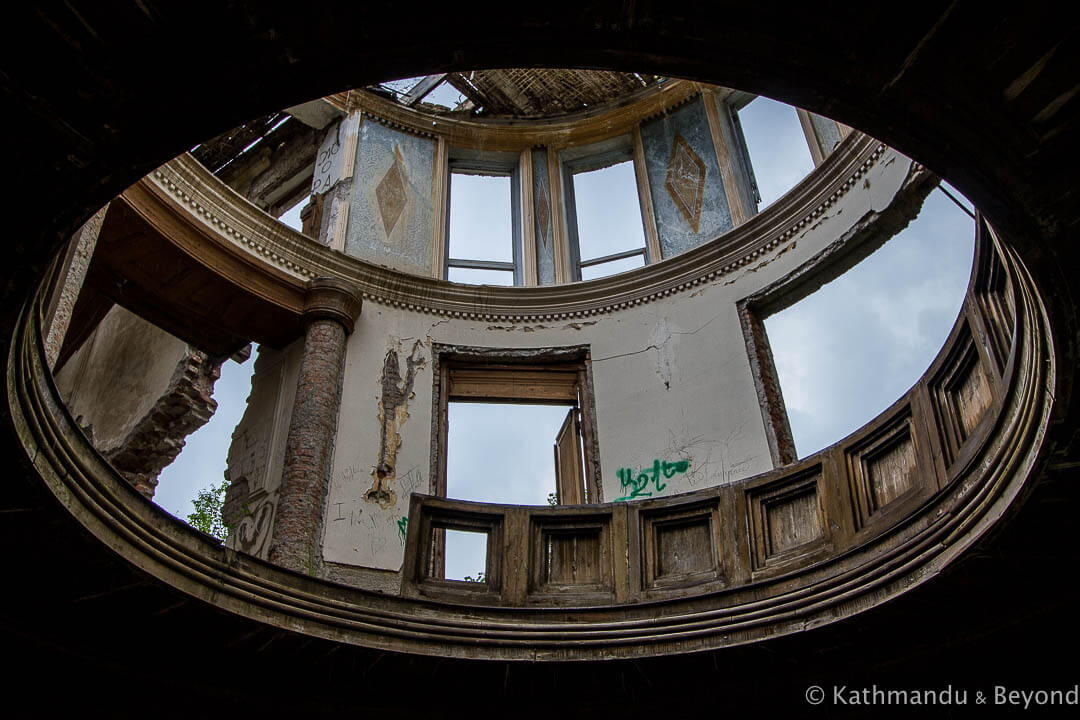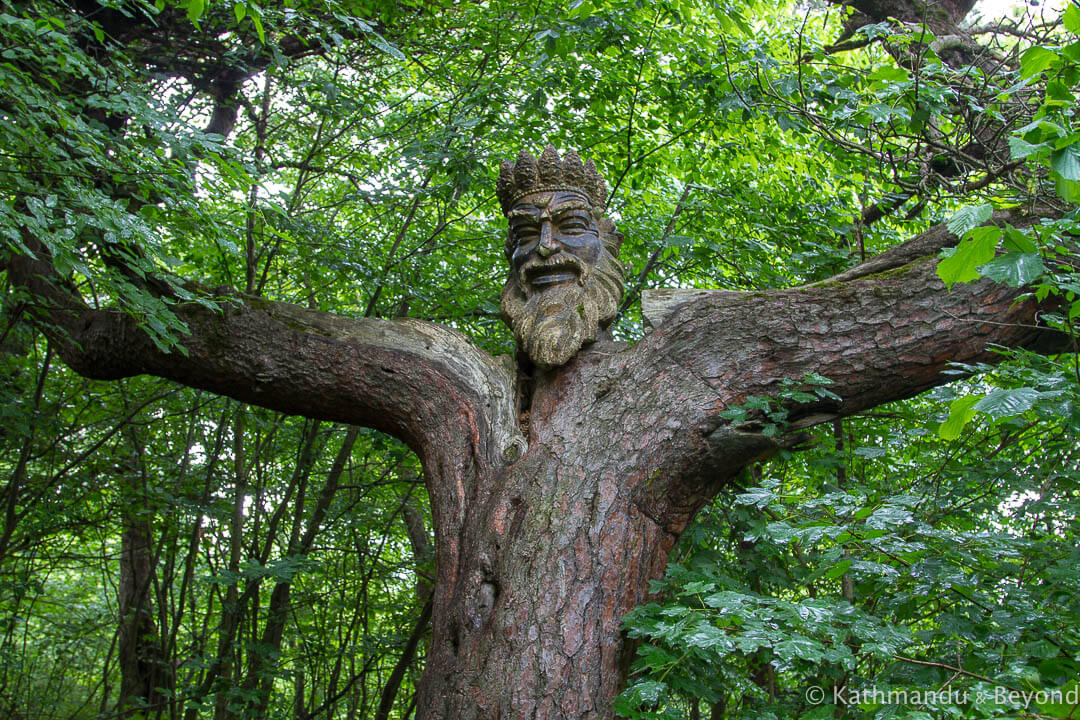 Where to stay in Dilijan
There are lots of B&Bs and guesthouses in Dilijan. We stayed at Hotel Seno, which was fine but not especially remarkable. The owners were friendly but the best thing about it was its proximity to Kchuch Restaurant, which was just a 2-minute walk away. We don't normally mention where we have eaten but this place deserves to be an exception to the rule: the kebabs were truly excellent and the prices were reasonable. It's a good idea to make a reservation if you want to eat there as it's very popular.
Onward public transport from Dilijan
There is no public transport linking Dilijan with Lake Sevan only so it is necessary to take a Yerevan-bound marshrutka and pay the full Yerevan fare. These leave hourly from the small bus station near the roundabout in Dilijan. The journey time to the lake is about 45 minutes.
Lake Sevan
Most people visit the Caucasus's largest body of water in and out of Yerevan but it's very easy to incorporate Lake Sevan into the route down from Tbilisi or up from Yerevan depending on which direction you are travelling. In fact, given that all public transport on this road passes the entrance to Sevan Peninsula (which is where all the activity is), it's doable to visit without overnighting if your schedule is tight. Unless you're planning on spending time on the beach, it doesn't take long to see the sights on the peninsula, namely the view, Sevanvank (Sevan Monastery), and the supercool guesthouse of the Armenian Writers' Union and, because distances are short and transport is reasonably regular, moving on is certainly something to consider.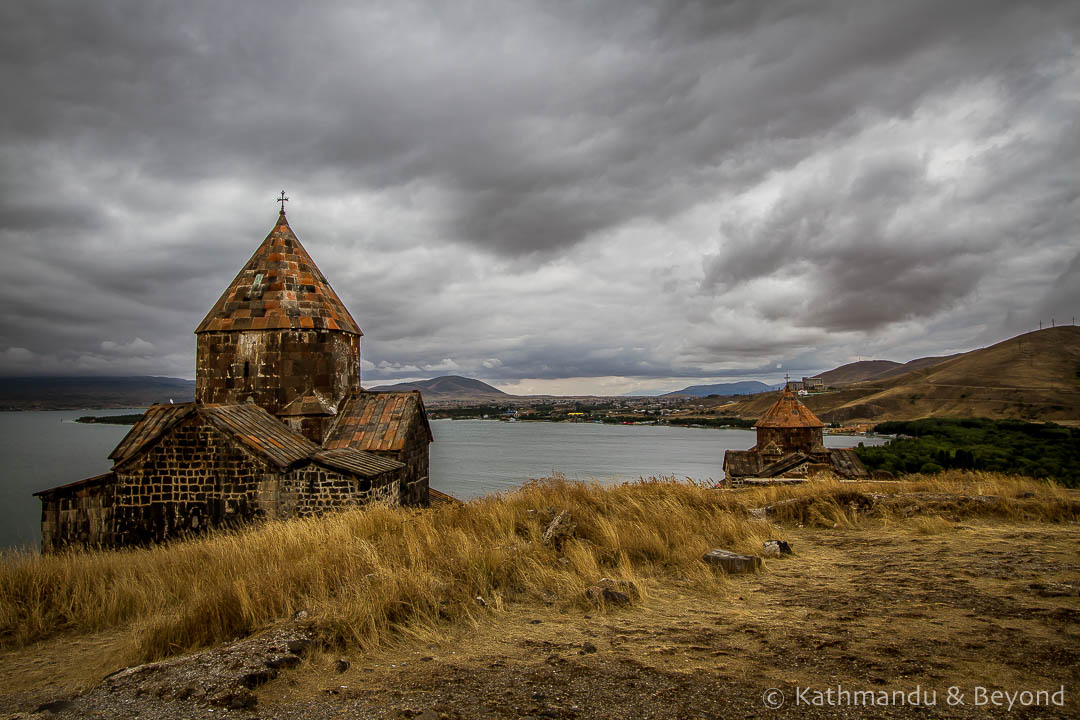 There are advantages to staying at least one night, however. Sevan Peninsula is one of the most-visited tourist attractions in Armenia and one of the most popular spots to get hitched, and it gets extremely busy, especially in the afternoons and on summer weekends. By overnighting nearby, it's possible to go there either early or late (early is better) in the day and avoid the crowds as much as is feasible. What's more, with its numerous restaurants and beach bars etc., the peninsula is tacky in a good sort of way and finding a decent spot for lunch or a drink and watching the goings-on is more fun than getting wound up because the umpteenth selfie stick-wielding tosser has just got in the way of the photo of the church and the lake that you've been waiting for ages to take!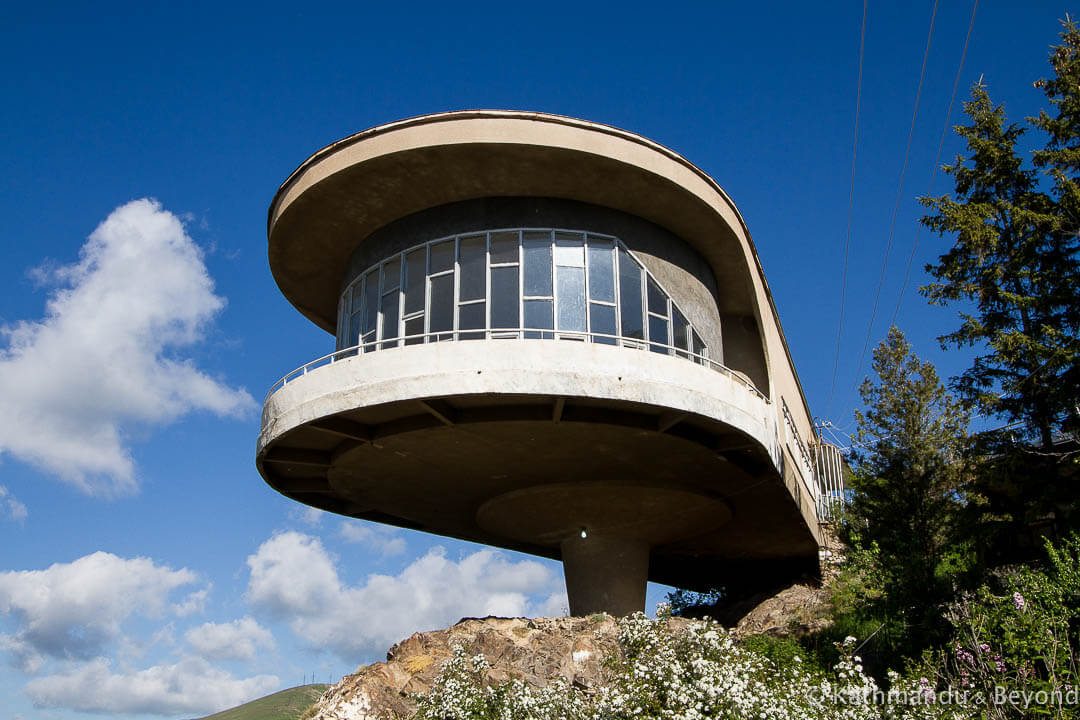 We also found some stuff of interest away from the lake and closer to the town. We could clearly see the vast, unfinished building on the hill that looks down on Lake Sevan and couldn't resist climbing up to take a closer look. On the outside of what we assumed was a partly-built hotel, we found an eclectic mix of decaying machinery that was presumably associated with the hotel's construction. For us, it was very photogenic and we also got the bonus of seeing the lake from a different (high up) perspective.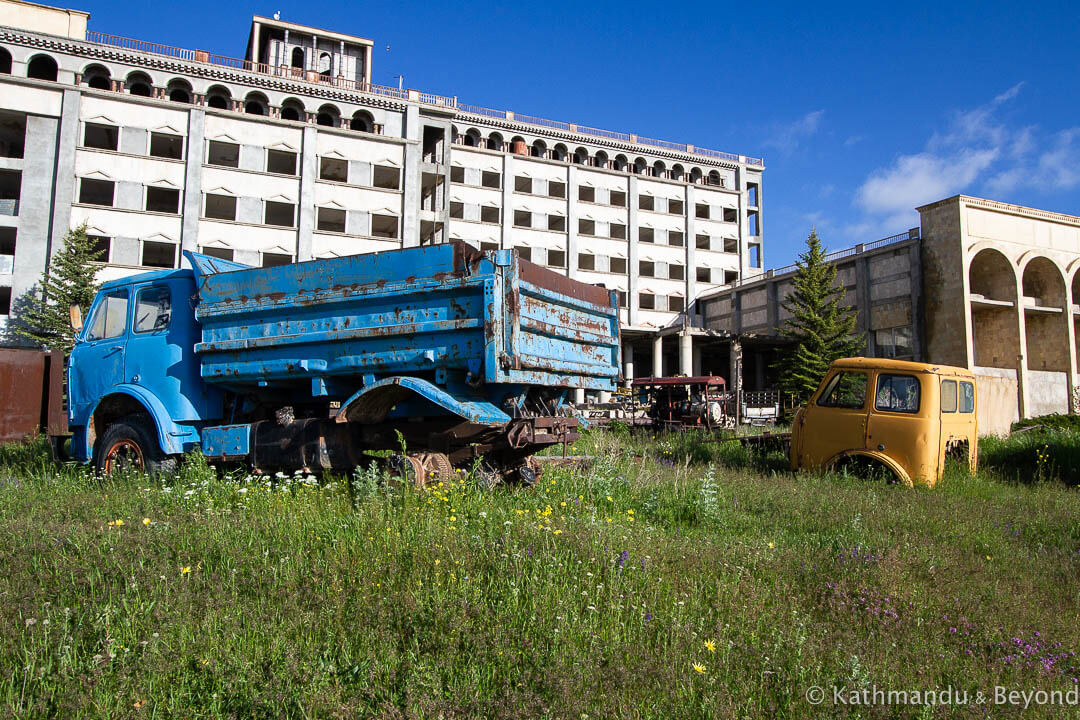 Additionally, we sought out the Stalinist-Empire-style train station which was not far from the centre of Sevan town and also had a poke around the industrial wasteland behind it. In fact, if you wanted to visit both the station and the unfinished hotel, you can connect the two with a 4km walk across the hills to the west of the lake. We didn't work this out until afterwards, when we looked at a map, but reckon it would be quite a pleasant walk and provide a glimpse of rural Armenian life.
The lake is big and there are, of course, other parts of it that are worth seeing, but without your own transport this is either tricky or time-consuming (or both). Hiring a taxi for the day would be a good option if you wanted to get further than just Sevan Peninsula.
Where to stay at Lake Sevan
We stayed at the Best Western Bohemian Resort, which was located about 600m from the entrance to the peninsula. This is not normally our level of accommodation but it was such a good deal on booking.com that we decided to up the budget and spend the night there. The swimming pool was empty, even though it was July, and the breakfast was mediocre but our two-storey room (get us!) was very comfortable and the hotel's position on the lake was second to none.
Onward public transport from Lake Sevan
See below if you fancy trying to get to Hrazdan. For Yerevan, you have two options when it comes to travelling by marshrutka if you are staying out near the lake. You can just stand on the side of the road and wait for one to come by or, alternatively, you can head into town and pick one up from there. The first option is more convenient and means you don't have to take an initial taxi into town (about 4km). There are plenty of marshrutkas passing, especially in the morning, so if you stand out early enough, you shouldn't have a problem flagging one down. The same theory applies if you are heading in the other direction, i.e. towards Dilijan and beyond.
Hrazdan
Hrazdan is 25km west of Lake Sevan and just off the main highway leading to Yerevan. It was our wild card on this route. We knew very little about the place, not least how to get there by public transport, but we had seen photos of the town's spiky and now-defunct bus station and decided instantly that we wanted to see it for ourselves. Along with the bus station in Kielce, which was another 'give it a shot and see what happens' decision, the one in Hrazdan is unquestionably the funkiest (I'm off the word sick!) bus station we have ever seen. While there, we also saw the very Cubist-inspired World War II Memorial, which is about 3km out of town, and nearly caused a bus driver to crash his vehicle when we unexpectedly spotted a huge Lady-of-the-Lake-style monument (*) on the last leg of our journey into Hrazdan (see below) and excitedly jumped up and down in his personal space and insisted he stopped the bus there and then to let us off!
(*) Officially called Tsovinar and also known as the 'Lady Coming out the Water'.
Given that we weren't sure if we would even get to Hrazdan or not, it all worked out pretty well and we were happy to have visited yet another off-the-beaten-track Armenian town and especially elated with what we saw once we got there.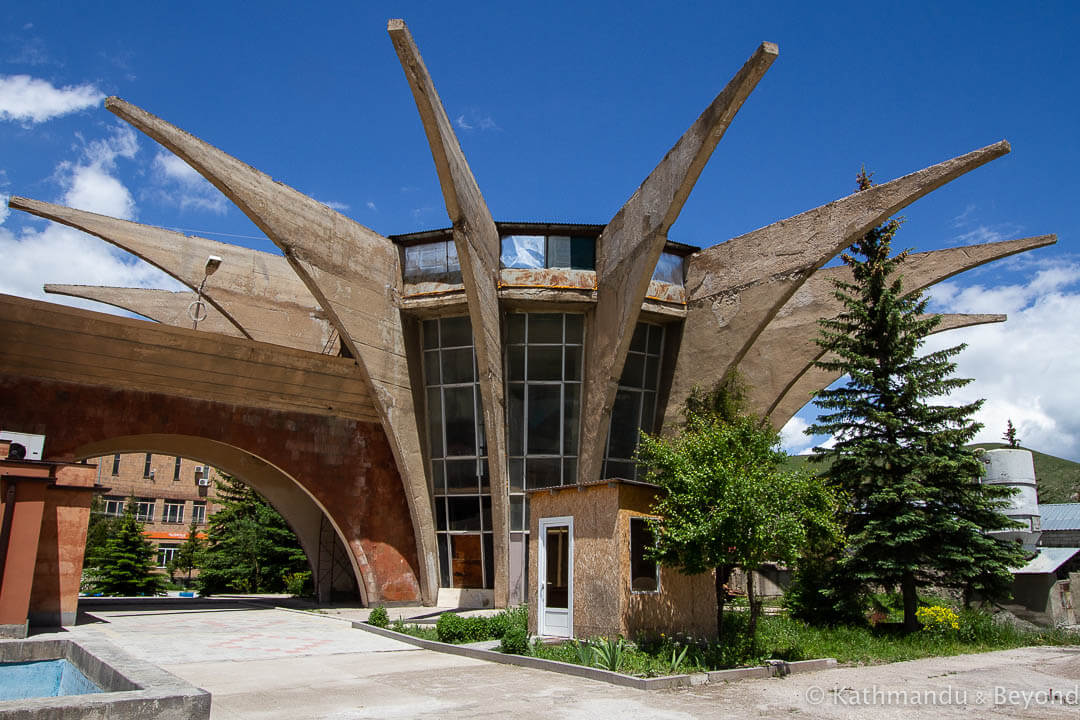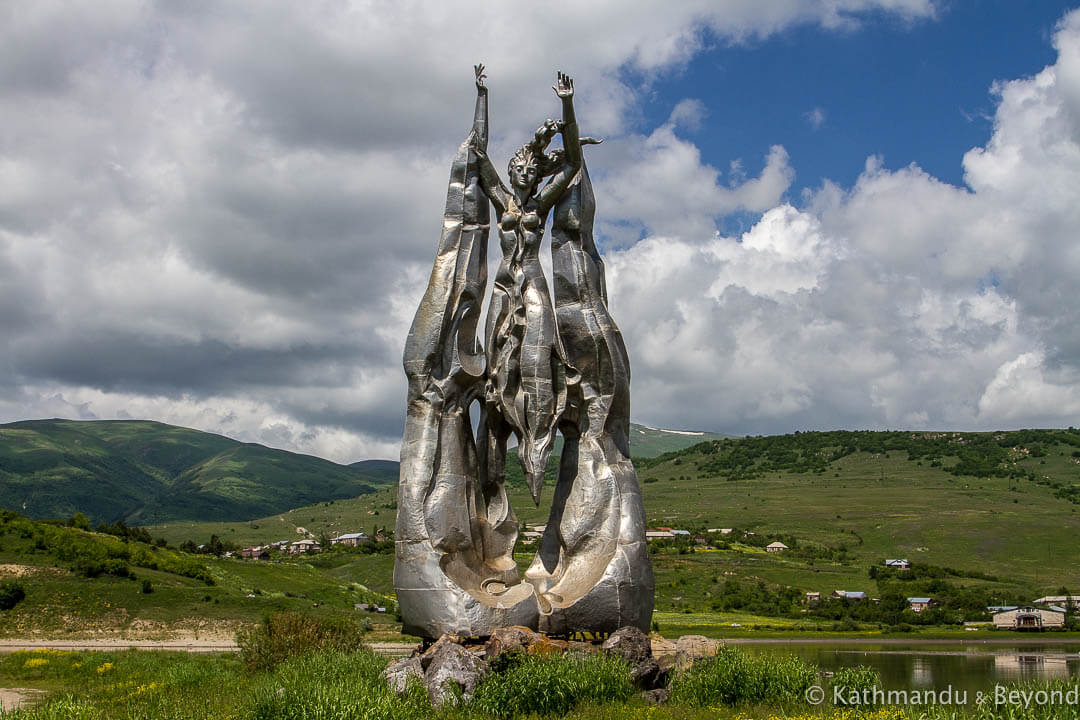 Public transport to/from Hrazdan
We travelled from Hrazdan to Yerevan via shared taxi. These departed from outside the railway station and the journey time was about an hour. In Yerevan, we were dropped off in the north of the city, close to the Museum of Communications.
As for public transport between Lake Sevan and Hrazdan, I can't help with that I'm afraid, as we hitched most of the way and only took a local bus for the last couple of kilometres. We did ask around about transport options while we were exploring Sevan town but were told there were only private taxis (*).
(*) If you are not keen on hitching, a taxi is another option. I would guess that the one-way fare isn't that expensive given the distance is only 26km.
Hitching was a doddle and, as per the norm in Armenia, good fun. We hitched one ride from the lake to the turnoff to Hrazdan. Then, two guys squeezed us and our luggage onto the front seat of their van and drove us almost the rest of the way (while plying us with chocolate biscuits!) and, finally, we boarded a bus that would have taken us to the centre of town had we not asked to get off almost instantly to see the Lady of the Lake monument mentioned above. Admiration of the said monument complete, we jumped on the next bus to pass through and managed to stay on it until we reached the town centre. We intended to walk the 3km to the War II Memorial and back but, again, we were picked up in both directions – boy, we love hitching in the Caucasus!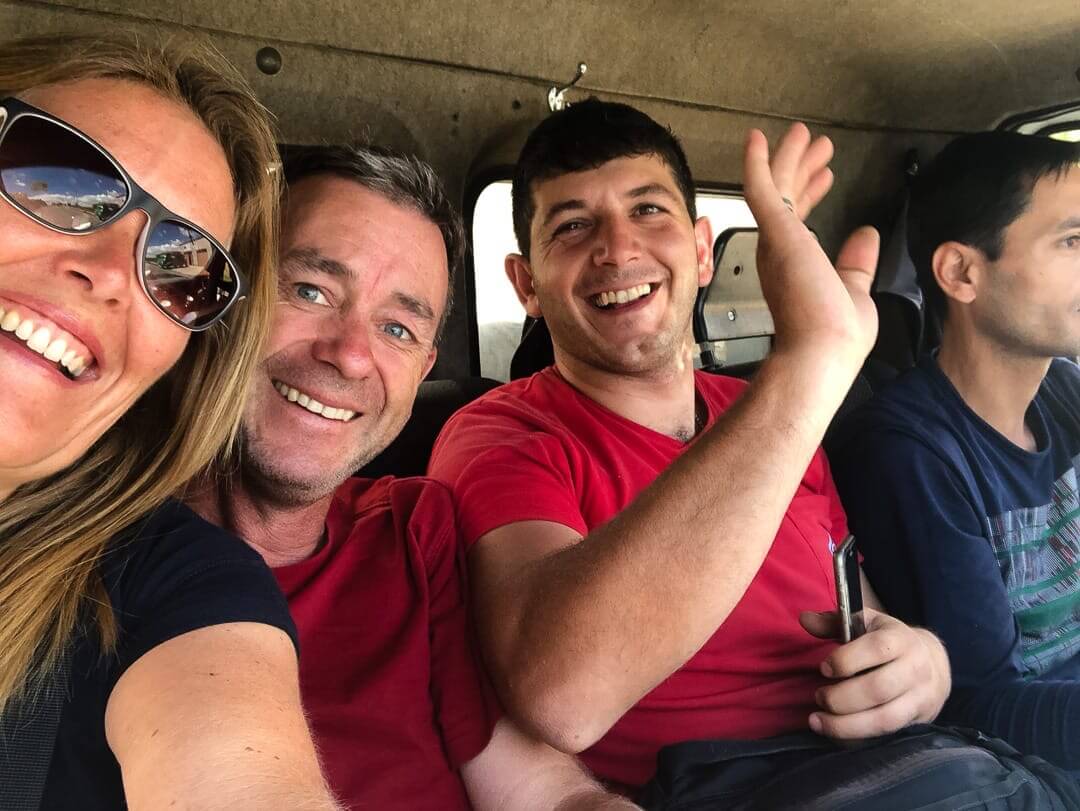 In conclusion
So, there you have it. That's how we managed to break up what is, ultimately, just 6 hours of travel and turn it into a trip that lasted about a week or so. If you don't have the time or the inclination to do the same but still want to break the journey at least once, I would recommend giving priority to the Debed Canyon: not only is it geographically more or less halfway between Tbilisi and Yerevan, it is also the most historically significant location on the route and the surrounding scenery is truly exceptional.
---
---
ARE YOU INSPIRED TO HEAD OFF-THE-BEATEN-PATH IN ARMENIA? PIN THIS POST TO YOUR CAUCASUS OR TRAVEL PLANNING BOARDS…
---
---