Kielce – a small Polish town, perfectly placed to overnight and break up the journey between two of Poland's greatest cities
So I have to admit, we broke the journey between Krakow and Warsaw because we wanted to see a bus station. Yep, we are strange like that sometimes but when Lonely Planet make such a headline-grabbing statement as Kielce is home to what is arguably Poland's coolest bus station – a retro-futuristic, UFO-shaped building that dates from the 1970s, that's us hooked I'm afraid and we wanted to see it for ourselves. (*).
(*) Excerpt from Lonely Planet Poland guidebook, published March 2016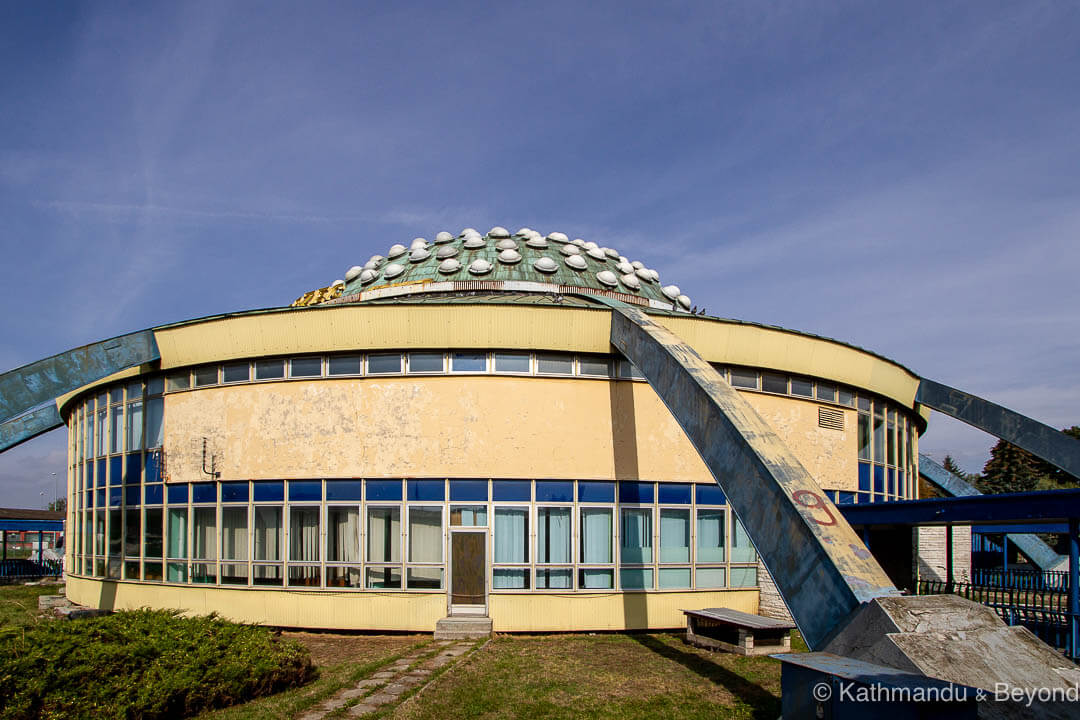 Kielce bus station
There isn't really any need to break the journey between the two cities. Regular buses take between 5 and 6 hours to complete the journey, while super-fast, bullet-nosed trains can travel the distance in as little as 2 hours, 18 minutes and will get up to speeds of 200km per hour. Even regular trains take 3 hours or less to cover the 294km that divides Warsaw and Krakow but if, like us, you enjoy slow travel and want to see beyond the major tourist destinations, then Kielce is a decent enough overnight stop.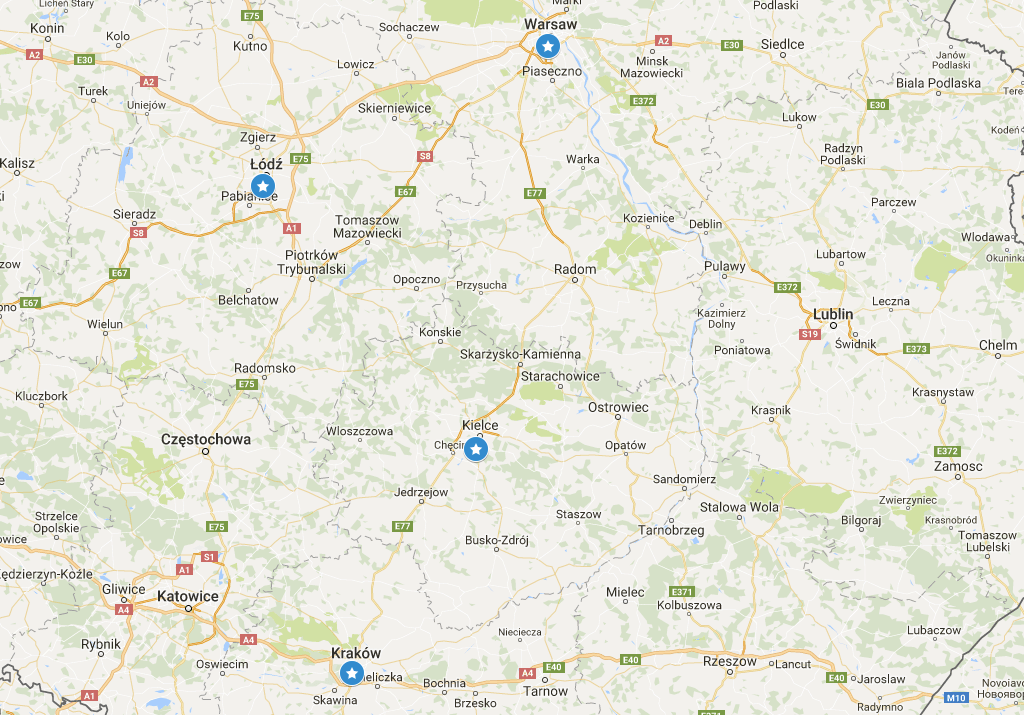 Is Kielce bus station worth seeing?
You're reading a blog by a bloke who has admitted he is officially obsessed with communist-era architecture and all things retro so of course, in my opinion, the bus station in Kielce is well worth seeing. It wasn't very busy when we had a poke around, in fact, I'd go as far as to say that the place was darn right depressing.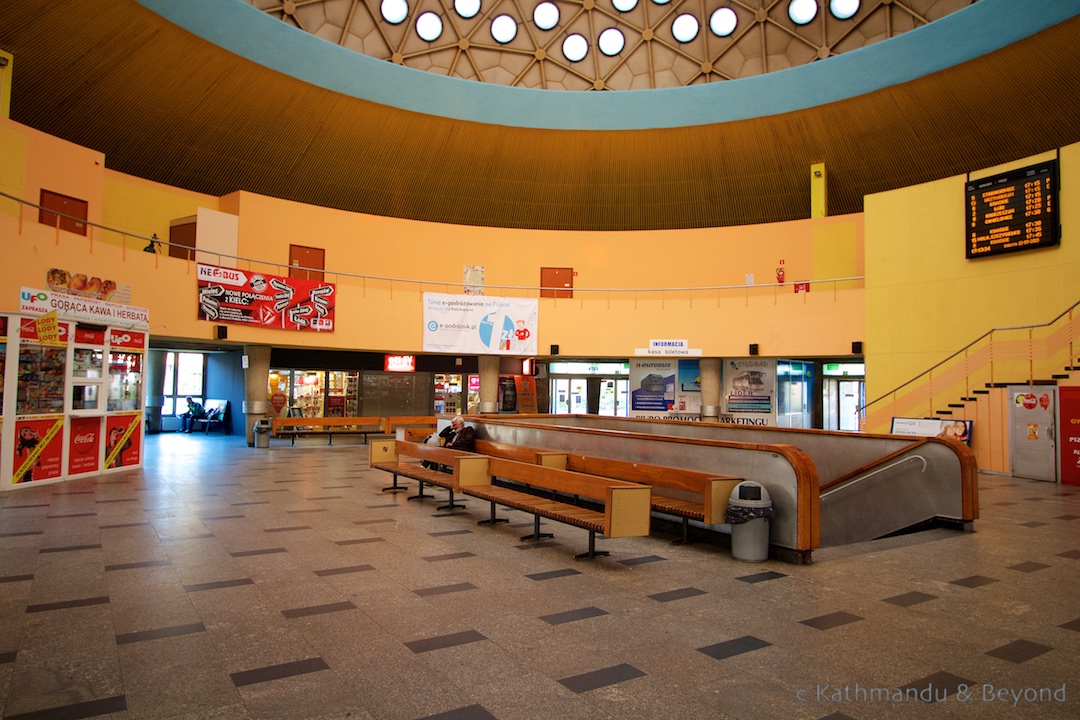 Kielce bus station
When it was designed and built (between 1975 and 1984), Kielce bus station was considered to be state-of-the-art and could apparently accommodate 1,500 buses and up to 24,000 passengers daily but, when we visited in September 2015, the building was looking very sorry for itself. In post-communist Poland the structure was privatised, having formerly been owned by the PKS public transport company (*), and it is during this period (with the advent of more private vehicles and less Polish people using public transport) that the bus station fell into a state of disrepair. The local authorities, who viewed the building as an important Kielce landmark, urged the new owners to undertake repairs and renovate the bus station, but they refused, claiming that they were running at a loss as it was and couldn't afford to invest in the building.    
(*) PKS is short for Przedsiębiorstwo Komunikacji Samochodowej. No wonder it's abbreviated to PKS. I challenge anyone who is not Polish to try pronouncing it. In fact, I even challenge Polish speakers to give that one a shot :-).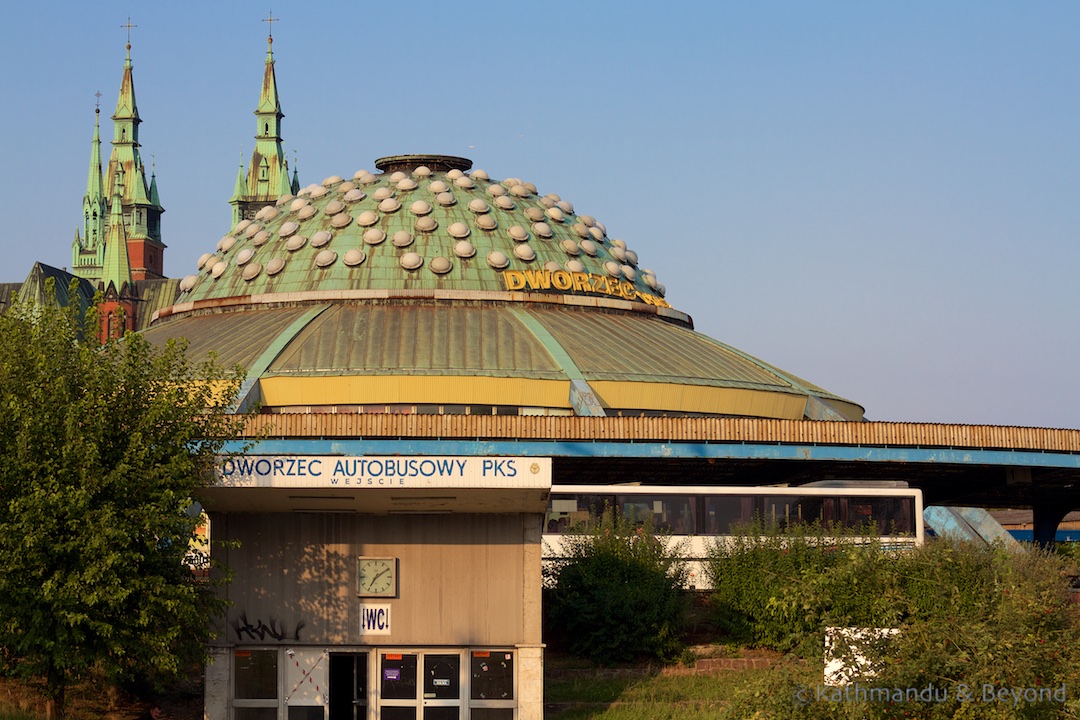 Kielce bus station
It definitely is a unique-looking bus station and most certainly resembles a UFO. The good news is that, since our visit, the city authorities have bought back the bus station from its current owners and have plans to renovate it to its former glory.
Visiting the bus station is easy as it is located just to the left of the main entrance to Kielce's railway station in the north-west of the city.
What else is there to see and do in Kielce?
So, here's the bonus – Kielce is worth visiting even if you don't want to see its space-age bus station.
For normal people, the highlight of the city is undoubtedly the Palace of the Krakow Bishops. Located in the town centre, the palace was built as a summer residence for the Bishops of Krakow and dates back to the 17th century. The palace is now a museum and inside the lavish rooms have plenty of exhibits dating back to that period, while the large garden at the rear of the building is very picturesque indeed.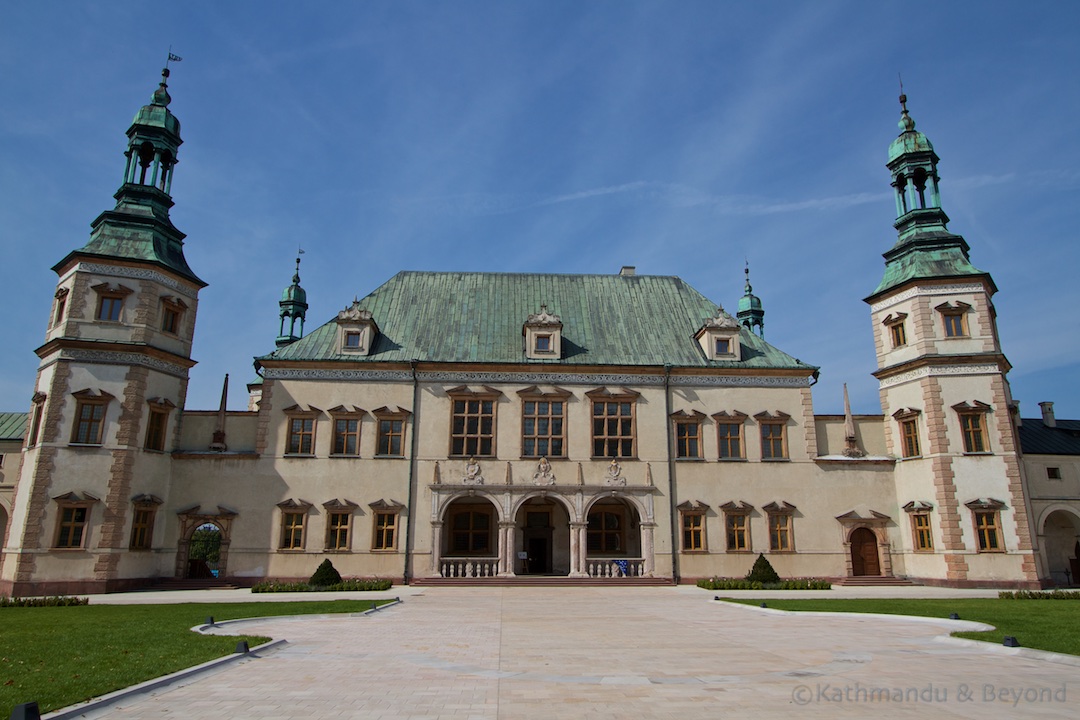 Palace of the Krakow Bishops, Kielce


Palace of the Krakow Bishops, Kielce
Palace of the Krakow Bishops It costs 10 zł (Polish Zlotys) (£2/US$2.40/€2.30) to enter the palace, except on Sundays when it is free. The palace is closed on Mondays.
Just out by the main entrance to the palace, the baroque-style Kielce Cathedral is also worth visiting.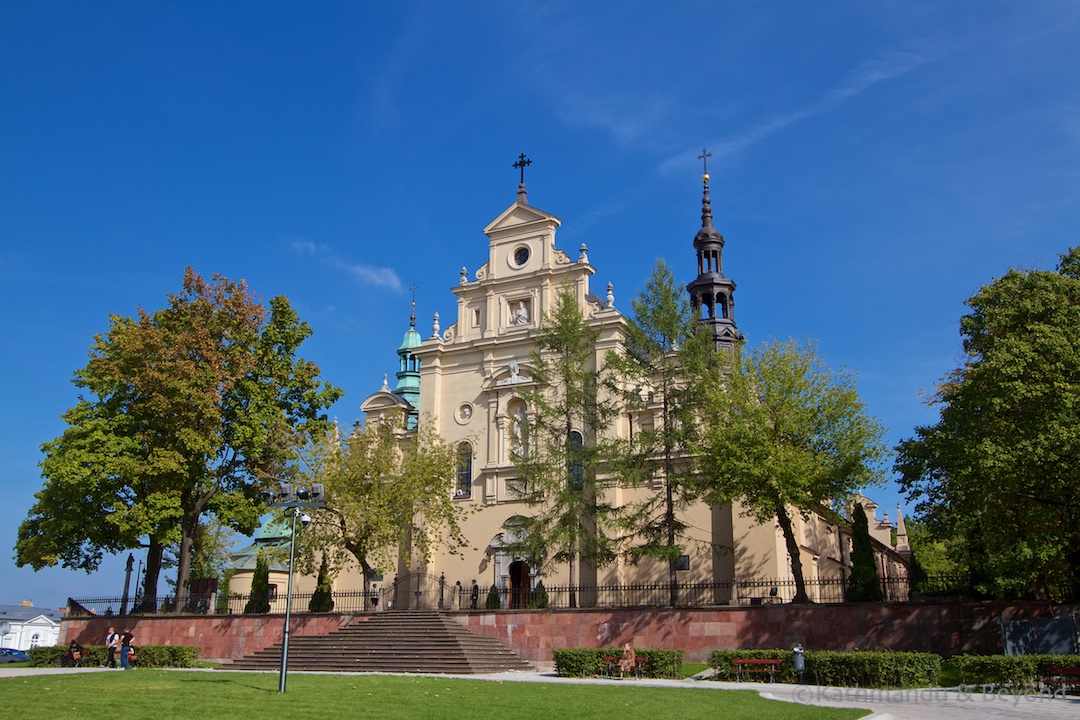 Kielce Cathedral
That is probably about it when it comes to must-see-sights but Kielce, generally, is a nice place to pass the time for a couple of hours. The main thoroughfare is Sienkiewicza Street, where you will find some periodic buildings as well as an interesting art creation that reminded us of the dead baby on the ceiling in Mark Renton's bedroom in the film, Trainspotting. As to whether these freaky babies are still there or not is anyone's guess as nothing is coming up on Google when I do a search. If they are – happy nightmares!!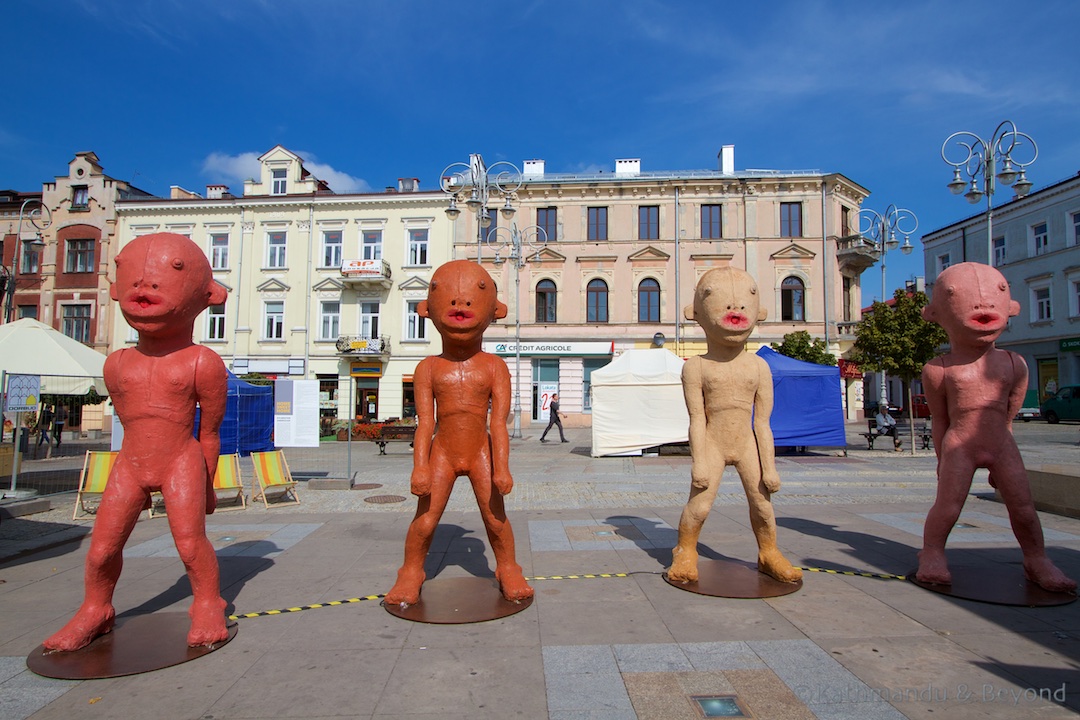 Art installation, Kielce 
Where to stay in Kielce
We stayed at the Bristol Hotel, which is located near the top end of Sienkiewicza Street. The hotel was tucked away and overlooked a small courtyard which meant it was nice and quiet. We had a good-sized double-bedded room and buffet breakfast included in our room rate of 150 zł per room per night (£29/US$37/€34).
Where we ate in Kielce
We had already gone over budget for the day, given the cost of the room and the fact that we had had to buy 1st class train tickets (a long story) for our onward journey to Warsaw (plus it was Saturday night), so we treated ourselves to a cracking bit of grub and a couple of pints of Tyskie (Polish lager) at the Roy Ben pub and steakhouse on Sienkiewicza Street. Decked out like a ye olde English pub, it was a good choice but there are also a few restaurants near the town square, which also happens to be a good place for a coffee or a beer and some people-watching.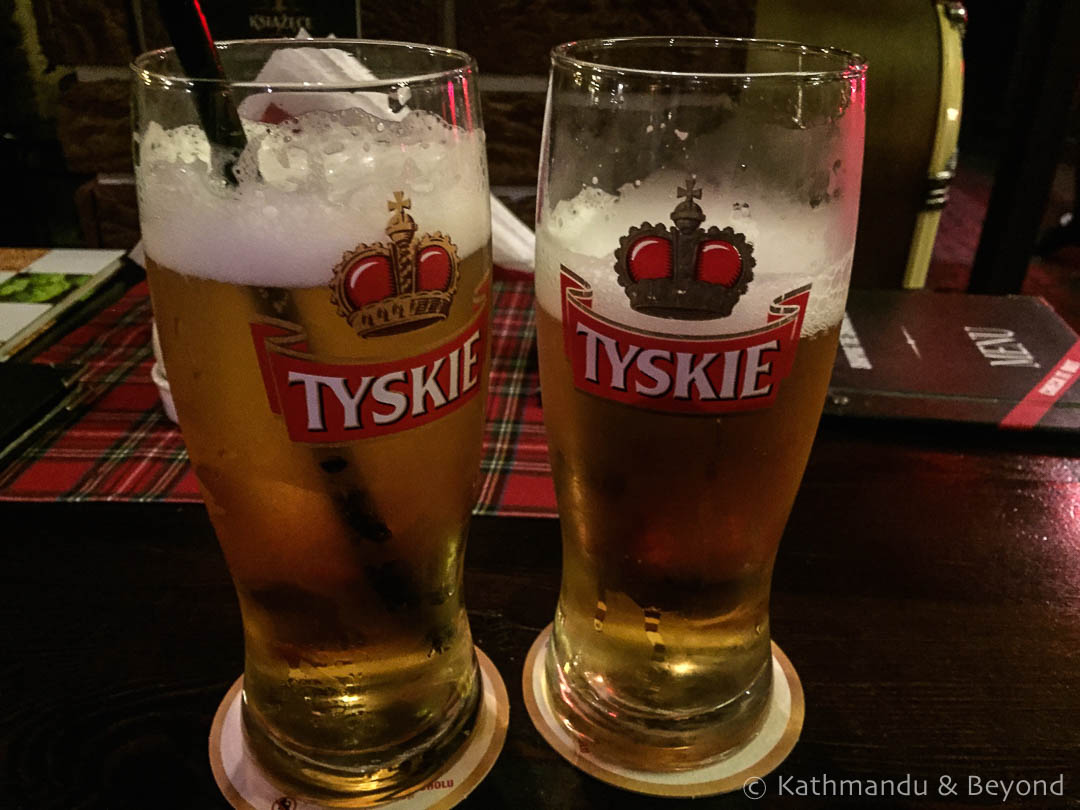 It's normal to get a straw in your pint in Poland if you are female!
Getting there and away
Kielce is 116km from Krakow and 179km from Warsaw. Unfortunately, I don't think the super-fast trains mentioned above go via Kielce but there are regular trains linking the city with both Krakow and Warsaw. The best place for information is Polish State Railways' website. The travelling time is in the region of 2 hours for the journey between Kielce and Krakow and up to 5 hours (it must be a slower line) for the journey between Kielce and Warsaw.
And even though the bus station gives the impression that Kielce is a tumbleweed city, there are also lots of buses plying both routes. As always, we would recommend the wonderful Polski Bus (*). They cover the Krakow – Kielce distance in a similar time to the train but are quicker on the journey between Kielce and Warsaw (about 3 hours) and so are a better option for that particular segment of the journey.
(*) If you are wondering, we don't get anything from Polski Bus in return for plugging their services. We just like them and they are very cheap if you book tickets in advance!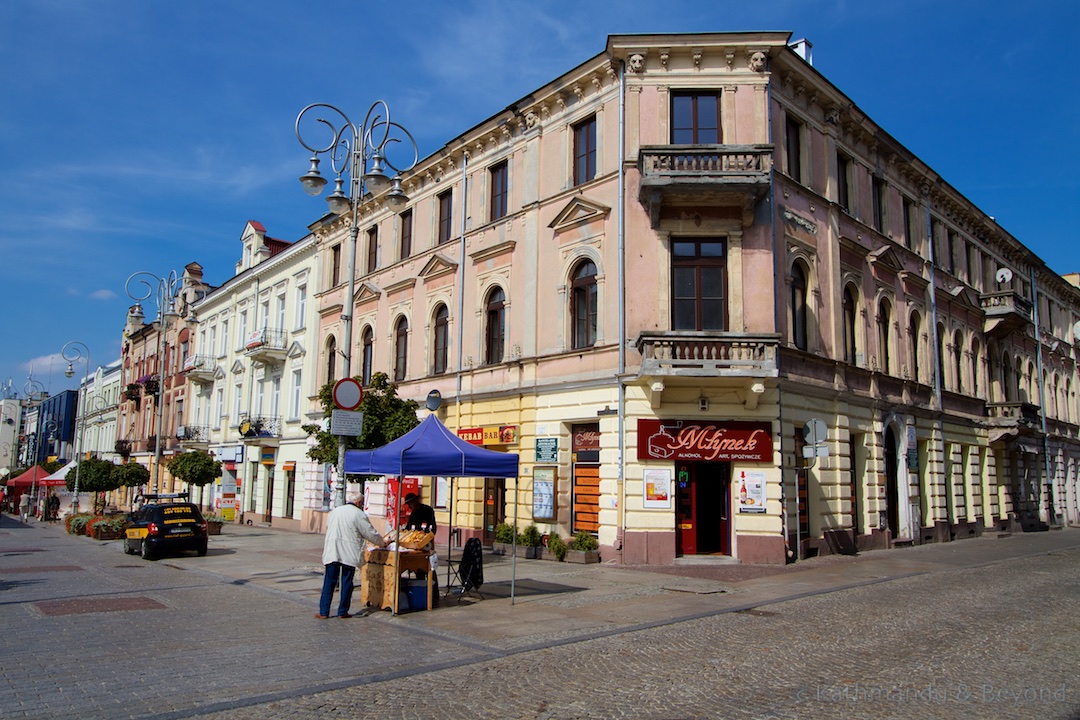 Sienkiewicza Street, Kielce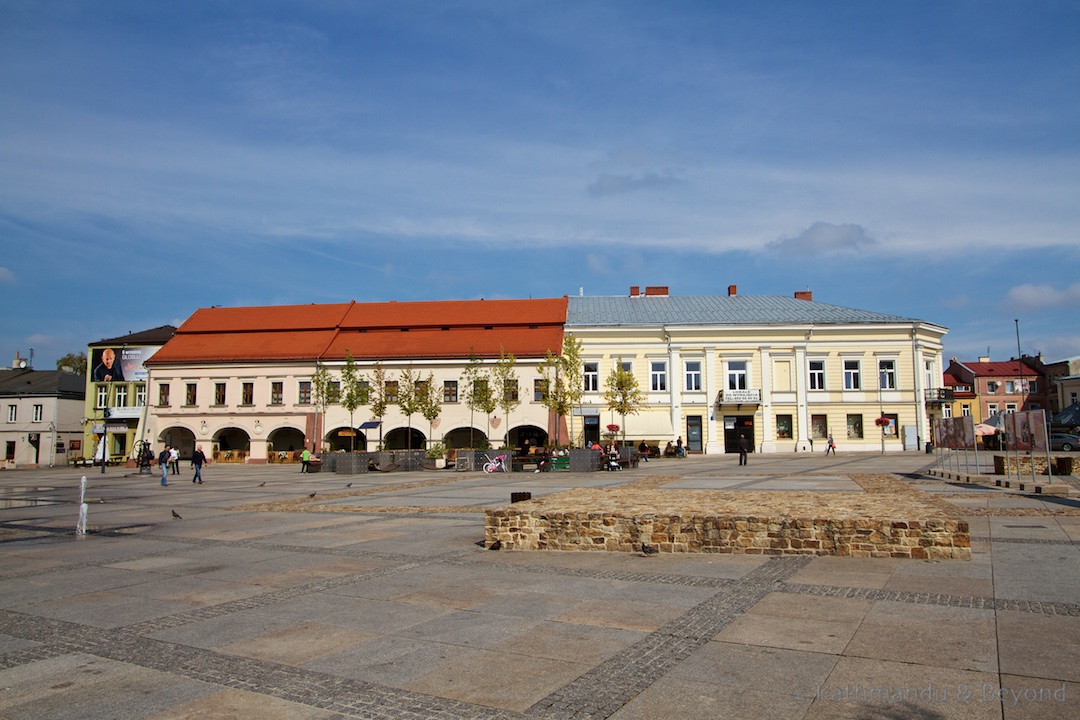 Kielce
Is Kielce worth visiting?
We often take a punt on lesser-known cities and towns when travelling. Sometimes the plan backfires and we end up in a real duff place for twenty-four hours or so but Kielce in south-central Poland was not one of them. There are many Polish cities with more impressive sights than Kielce (apart from the bus station of course!) but it's nice to sometimes be in a place with not much to see and do. For us, personally, it ensures that we slow down and sit around in a cafe or bar for an hour or so and take stock rather than continue to rush around like blue-arsed flies trying to see everything there is to see.
If that appeals, give Kielce a go but if your time in Poland is limited then consider giving the city a miss in favour of more impressive destinations.
As a final thought, even though it is not exactly on the route and would involve a bit of a detour, Lodz (pronounced woodge) would also make an excellent stopover between Krakow and Warsaw. We've written more about our visit to the city here.
---
---
LIKE IT? PIN IT…


---