Sightseeing from Yerevan that can be done without taking an organised tour
Although we highly recommend travelling around Armenia and getting out into the countryside and visiting some smaller towns, if you're short on time, the capital, Yerevan makes a great base for day trips.
As independent travellers, it can often seem that we don't like to do things the easy way. We enjoy the challenge of reaching a destination by public transport, and we get a lot of satisfaction from knowing that we've saved a few bucks that can be spent on beers! It's also true that our style of travel affords us the time to hang around waiting for infrequent buses, and we definitely fall into the 'time-rich, cash-poor' category of travellers.
Many travellers to Armenia find themselves taking organised tours from Yerevan and that's perfectly OK – we're not here to bash on that style of travel. There are several reasons for choosing a tour versus independent travel: convenience, lack of time, wanting to benefit from the knowledge of a guide, lack of confidence, limited public transport, and, sometimes, laziness. Group tours can be a better use of time and often you do see more (although getting taken to 'attractions', such as woodcarving workshops and fish farms, are one reason we avoid organised excursions).
If you do want to do things independently, our guide will put you in the right direction. Here are ten places you can visit from Yerevan by public transport, without joining a group tour:
Contents:
Garni Temple
Geghard Monastery
Zvartnots Cathedral
Mother See of Holy Echmiadzin
Armenian Alphabet Monument
Sardarapat Monument
Khor Virap
Lake Sevan
Gyumri
Dilijan
DAY TRIPS FROM YEREVAN
DAY TRIP 1: Garni Hellenic Temple and Geghard Monastery
Both popular places to visit on a day trip from Yerevan, it's sensible to combine Garni Temple and Geghard Monastery if you're touring independently and using public transport. You can't get all the way to Geghard by bus so it makes sense to minimise the amount of money needed to spend on taxi fares.
Garni Temple – Why visit?
The Temple of Garni, or Sun Temple as it is also known, is not only the last remaining Greco-Roman collonaded building in Armenia. It's also the last one standing in the former Soviet Union. Built in the first century AD, Garni is Armenia's only pagan place of worship not to have been destroyed when the country converted to Christianity in the 4th century. If the columns look in good condition for a structure built over 2,000 years ago, that's because the Sun Temple has been largely reconstructed following a massive earthquake in 1679 (the extensive restoration work took place in the 1960s and 1970s).
We spent about forty minutes at Garni as it's quite a small site, but those who are really keen on seeing each and every detail of the stone carvings may take longer. The style of the temple makes a refreshing change from most churches and temples in Armenia, and the surrounding scenery is particularly photogenic.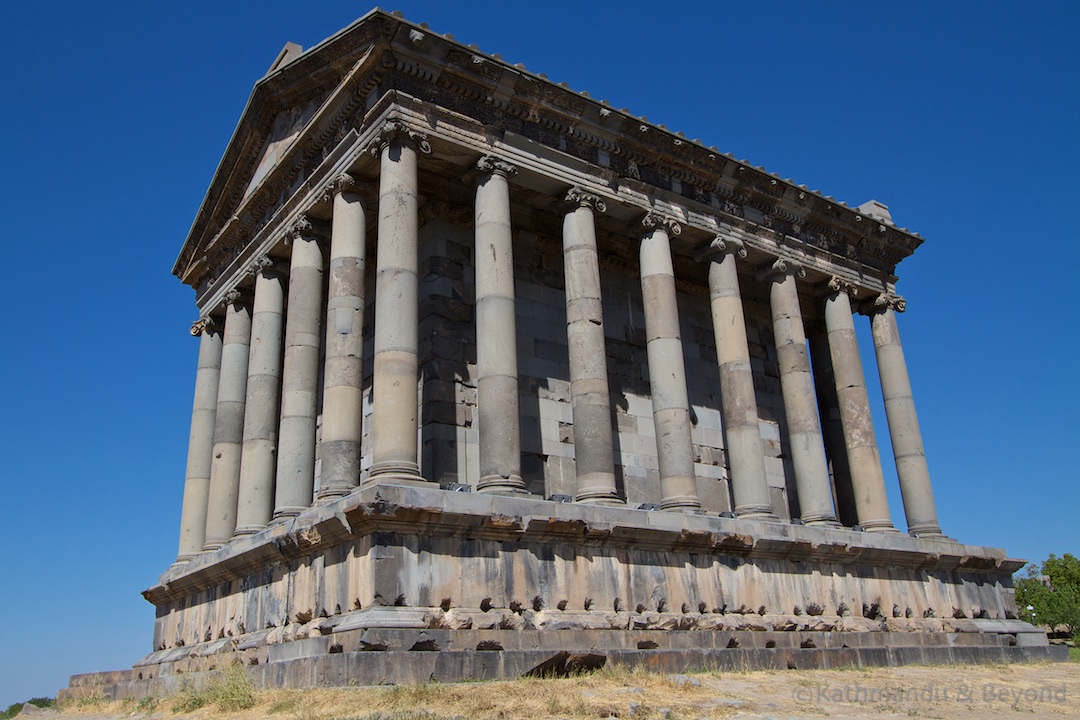 How to get to Garni Temple from Yerevan
Marshrutka (fixed route minivans that operate like buses) for Garni depart from Gai bus station (more a bus stop than a station) on Gai Poghots (Avenue) on the outskirts of Yerevan. To find it, you'll need to take a bus or marshrutka to the Mercedes Benz showroom (a landmark that most Yerevanites know).
How you get to Gai Poghots will depend on your starting point but several buses/marshrutka head there from downtown Yerevan: we took bus 44 from Mesrop Mashtots Ave and, I believe, bus numbers 22, 35 and 51 and trolleybus 1 will get you there. Check which is the best one for you, particularly as routes and numbers are prone to change in Yerevan (this goes for all routes and timings mentioned in this post). The journey takes around 15 minutes from central Yerevan and the fare is 100 dram.* Ask the driver to stop at 'moto Mercedes' – he will probably turn the corner next to the car showroom and stop there. The stand for marshrutkas to Garni is on the other side of the street and we arrived to find a departure in twenty minutes time, at 10am (from what we gathered, they should depart every 50 minutes but will often wait until they are full). We paid 250 dram per person and it took exactly 30 minutes to reach Garni where we were dropped at the top of the road leading to the temple, a five-minute walk away. To ensure you get off the bus at the right place when travelling in this part of the world, a useful tip is to make sure as many people as possible on the bus know where you are going. More often than not, half of your fellow passengers will start yelling at the driver to stop when you reach your destination!
* At the time we made this trip, June 2018, the exchange rate was 100 dram = £0.16/$0.21/€0.18
Tips for visiting Garni
Most tours leave Yerevan at 10am and arrive at Garni Temple around forty-five minutes later. If you have the flexibility to visit Garni later in the day, you will be more likely to avoid the tour groups. Additionally, the light will be better for photographing the temple from the front, the best angle.
Opening hours: 9am to 5pm daily
Entrance fee: 1,500 dram (the ticket price for Garni recently increased to 1,500 dram for foreign visitors and 500 dram for Armenian citizens). Source.
Travel between Garni Temple and Geghard Monastery
There is no public transport between Garni and Geghard, so unless you are up for a ten-kilometre walk, taking a taxi is the best option. You may also be able to hitch a lift from other tourists visiting the two sites.
We found a taxi waiting on the road outside Garni Temple and the driver offered to take us to Geghard monastery and back to Garni, with one hour waiting time, for 3,000 dram. This matched the cost our Lonely Planet guide suggested, so we assumed it was fair.
Geghard Monastery – Why visit?
Geghard Monastery, or Geghardavank in Armenian (vank means monastery), is one of Armenia's three UNESCO World Heritage Sites (although technically there are six sites under three listings). It is highly regarded for its complex of rock-cut temples and tombs. A full translation of Geghardavank is 'Monastery of the Spear', so named because it supposedly once housed a spear that wounded Jesus at the crucifixion.
Geghard is an impressive monastery, although its location, tucked into the rock face, makes it frustrating to photograph. It was also one of the busiest monasteries we visited in Armenia and it was hard to avoid the crowds.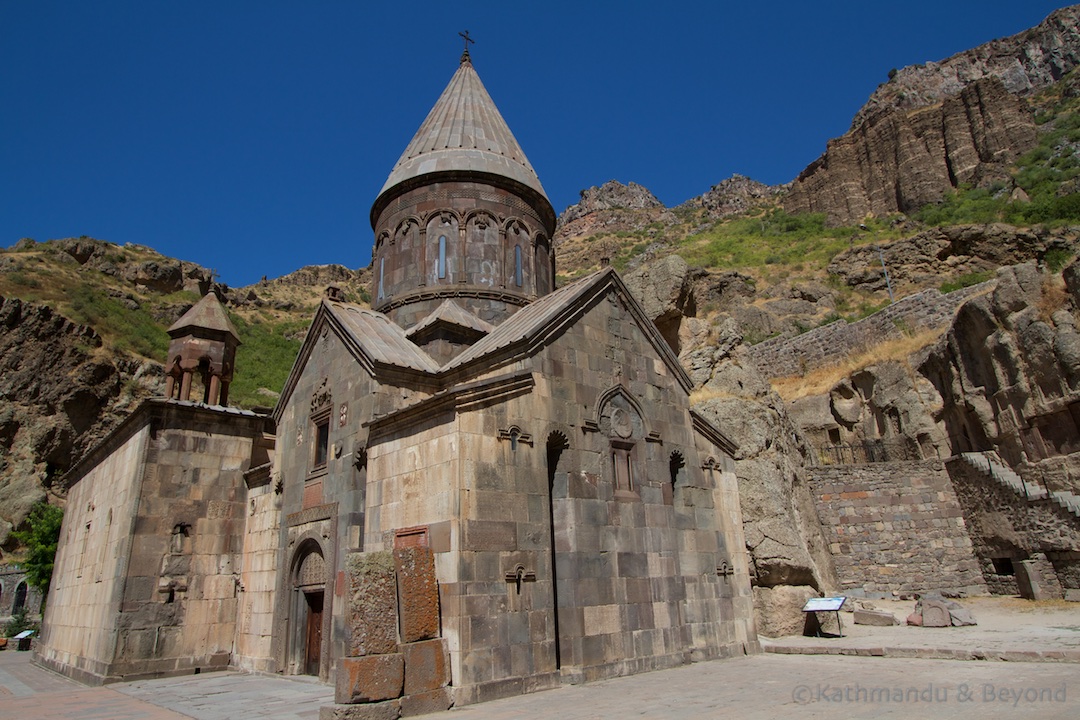 How to get to Garni Temple from Yerevan
As mentioned, there isn't any public transport from Yerevan to Geghard, however, some Garni buses continue to the village of Goght which is six kilometres further on, in the direction of Geghard. That still leaves another four or so kilometres to walk, hitch, or get a taxi. In theory, the most efficient way of combining Garni and Geghard is to first take a bus or marshrutka to Goght and then negotiate a taxi to take you to Geghard monastery, wait, next drop you at Garni Temple, and eventually take the bus back to Yerevan. However, it's much of a muchness and I don't think you'll save much (if anything) on the taxi fare. Plus, transport from Yerevan is more frequent to Garni than it is to Goght.
Opening hours: 9am to 6pm daily (maybe open later in the summer)
Entrance fee: free
DAY TRIP 2: Zvartnots Cathedral and Echmiadzin Cathedral, Vagharshapat
The town of Vagharshapat, more commonly referred to as Echmiadzin even though the former has been the official name since 1992, is an easy day trip from Yerevan. There are plenty of public transport options, and you'll pass Zvartnots Cathedral on the way, so it makes sense to combine these two sites.
Mother See of Holy Echmiadzin – Why visit?
Pay attention here: Echmiadzin Cathedral (sometimes spelt with a t: Etchmiadzin and sometimes with an s instead of a z: Echmiatsin) is home to the Mother See of Holy Etchmiadzin. The Holy See is the governing body of the Armenian Apostolic Church, the national church of Armenia, also referred to as both the Armenian Orthodox Church and the Gregorian Church. In summary, it's the Armenian equivalent of the Vatican, i.e. quite important if you're Armenian!
It's also a UNESCO World Heritage site, twinned with nearby Zvarnots and listed as 'Cathedral and Churches of Echmiatsin and the Archaeological Site of Zvartnots'.
The Mother See of Holy Echmiadzin comprises a large compound where you'll find three churches: Mayr Tachar Cathedral (Mother Church of Armenia), St. Hripsine, and St. Gayane. There are also a couple of museums within the manicured gardens. Vagharshapat, itself, is a relaxed town for a wander (it's actually the fourth largest city in Armenia which just goes to show how sparsely populated the country is).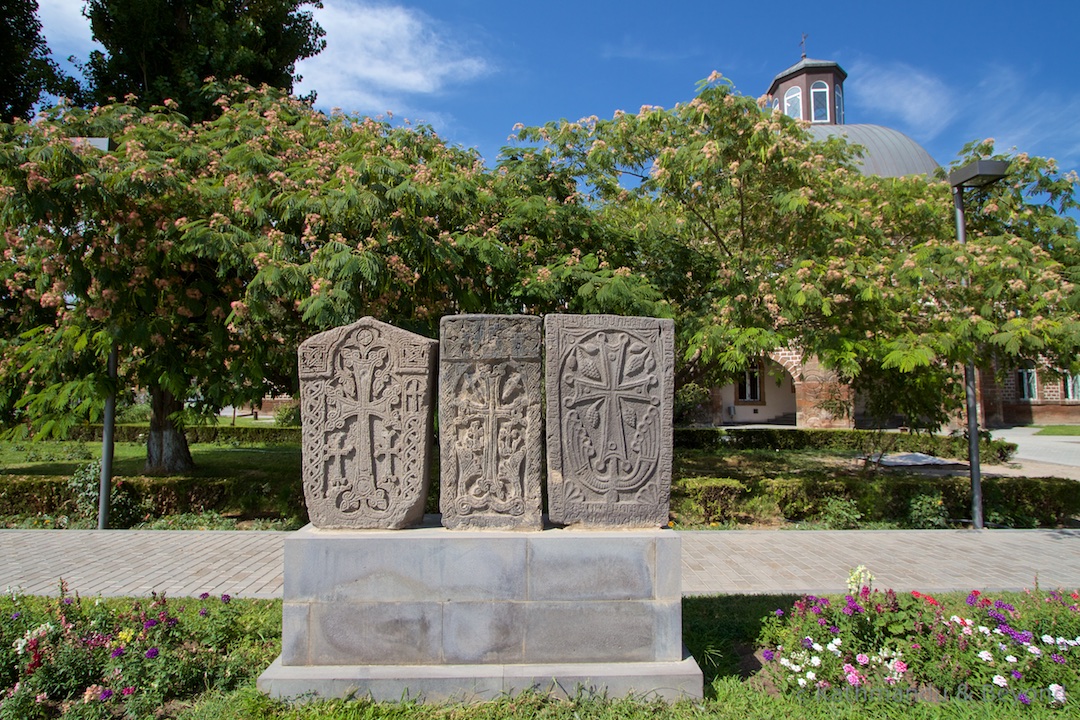 How to get to Echmiadzin from Yerevan
Frequent public transport operates between Yerevan and Echmiadzin so getting there isn't difficult. We took bus number 111 from Kilikiya Avtokayan (Central Bus Station) but ask around – it's a popular destination so there are probably more options. The fare should be 250 dram and the journey time is 30 to 40 minutes.
Tips for visiting Echmiadzin
As one of the most spiritual places in the region, Echmiadzin gets busy so arrive early if you can. Echmiadzin/Vagharshapat is a medium-sized town and therefore a good option to grab lunch or other refreshments.
Opening hours: The Mother Church is open daily from 7am to 9pm. Check on the Holy See's website for up to date information including times of services and opening hours for the museums: https://www.armenianchurch.org/index.jsp?&lng=en
Entrance fee: The churches and grounds are free, but there is a steep 1,500 dram entrance fee for the Cathedral Museum.
Travel between Echmiadzin and Zvartnots
It should be easy to pick up transport heading to Yerevan which can drop you off at Zvarnots. The only annoyance is that you might have to pay the full Echmiadzin to Yerevan fare of 250 dram.
Zvartnots Cathedral – Why visit?
Zvartnots was added to UNESCO's World Heritage List in 2000, and it's an evocative site. More of an archaeological site than a cathedral, 7th-century Zvartnots Cathedral is now in ruins. However, it's quite different in its construction to anything else you'll see in Armenia so is worth a visit. On a clear day you can see Mount Ararat behind it – we had a dark and moody day, so didn't!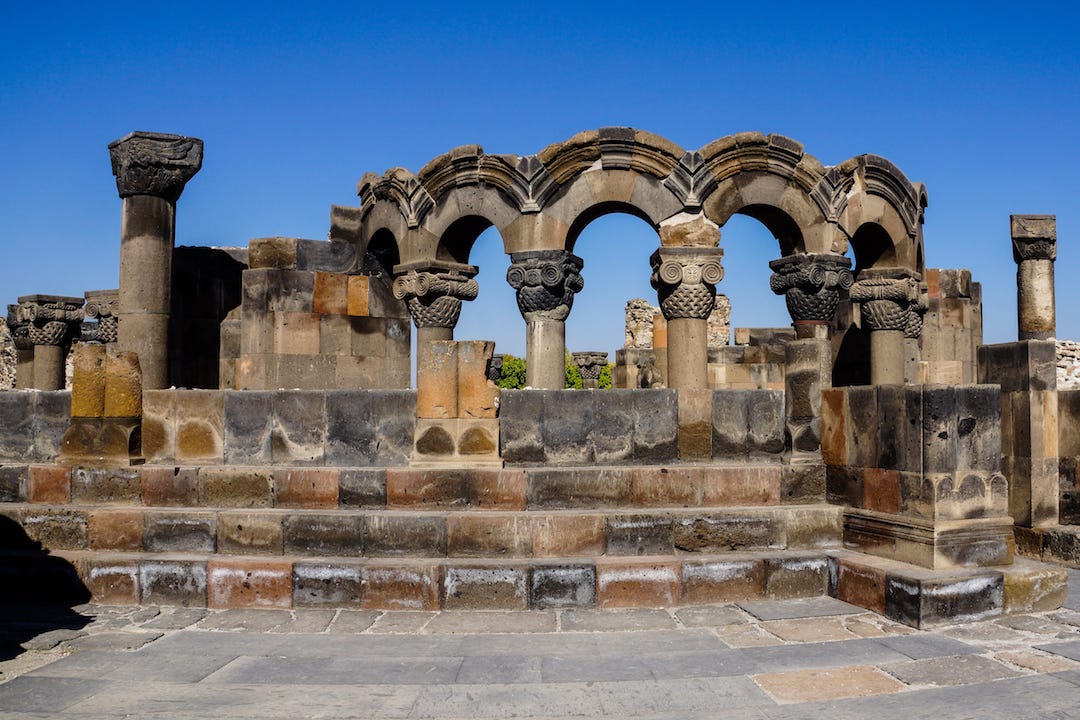 How to get to Zvartnots Cathedral from Yerevan
To get to Zvartnots from Yerevan, take bus number 111 from Kilikiya Avtokayan (bus station). If you're going in the opposite direction, any Yerevan-bound transport should be able to drop you at the site. We paid 250 dram each although I think the fare should be more like 200 per person.
Tips for visiting Zvartnots
Coming from Yerevan, Zvartnots is on the left-hand side of the highway. It's therefore safer to visit Zvartnots on your way back from Echmiadzin heading towards Yerevan to avoid crossing the busy main road (they drive on the right in Armenia).
Opening hours: 10am to 5pm from Tuesday to Saturday, 10am to 3pm on Sunday (closed on Monday)
Entrance fee: Foreign adults pay 1,300 dram and Armenians pay 300 dram.
Zvartnots Old Airport – Why visit?
Not exactly a tourist attraction or a place you'll find on a typical Zvartnots tour but if, like us, you are into unusual architecture from the former USSR, the old airport terminal at Zvartnots is a must-see.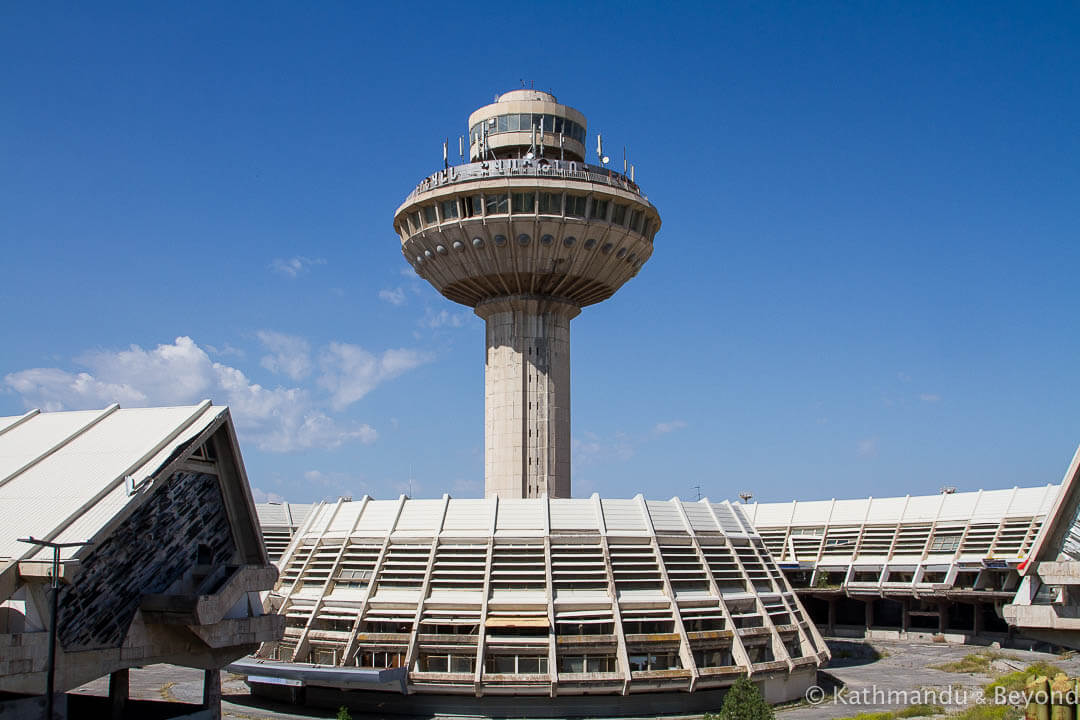 Although we particularly liked the 1960s original terminal building (now out of use), the modern new terminal is pretty cool too!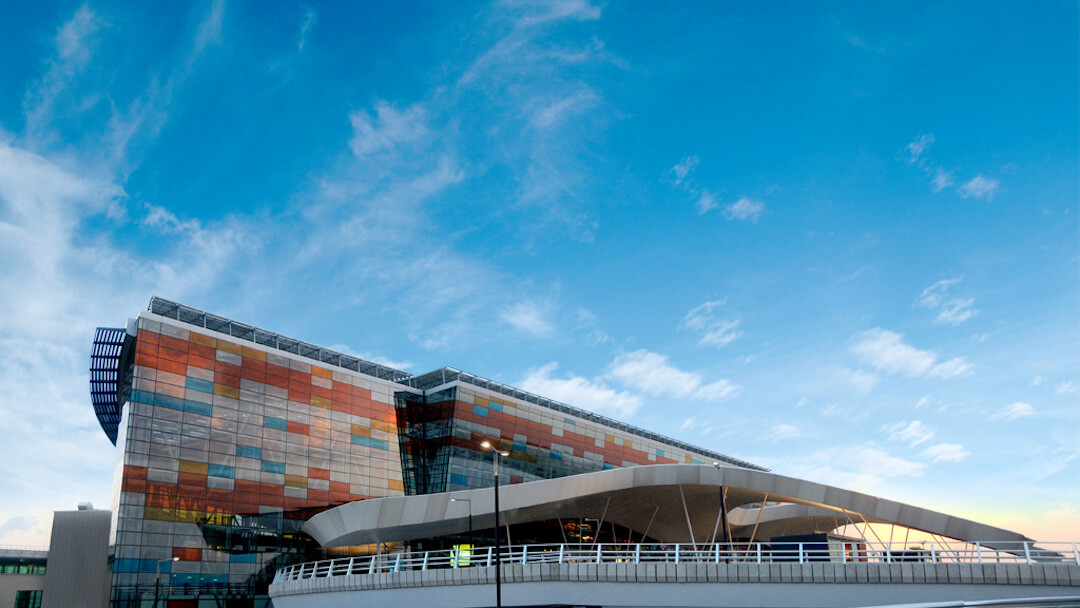 How to get to Zvartnots Airport from Yerevan
Being Armenia's main international airport, you can take the Airport Express Bus (number 201) from downtown Yerevan to Zvartnots airport (stops include Yeritasardakan Metro station and Republic Square). The bus operates every 30 minutes from 7am to 10.30pm and the fare is 300 dram. There are also regular marshrutkas running to the airport including the 107 to/from Barekamutiun metro station and the 108 to/from the main train station.
Tips for visiting Zvartnots Airport
For the best light for photography, visit in the morning. For the best views, go to the departures level and look down to the terminal building. By the VIP arrival area is another good spot.
Opening hours: Airport operating hours
Entrance fee: No
DAY TRIP 3: Armenian Alphabet Monument
Monument to the founder of
Armenia's alphabet – Why visit?
This unusual looking monument, which comprises a stone-carving for each of the Armenian letters, was designed in 2006 by local architect, Jim Torosyan, to celebrate 1,600 years of this ancient alphabet. There are 39 characters in the Armenian alphabet, although there were only 36 when Mesrop Mashtots conceived it circa 405 AD. If you have spent any time in Armenia and paid attention to street names, you will recognise the name Mashtots.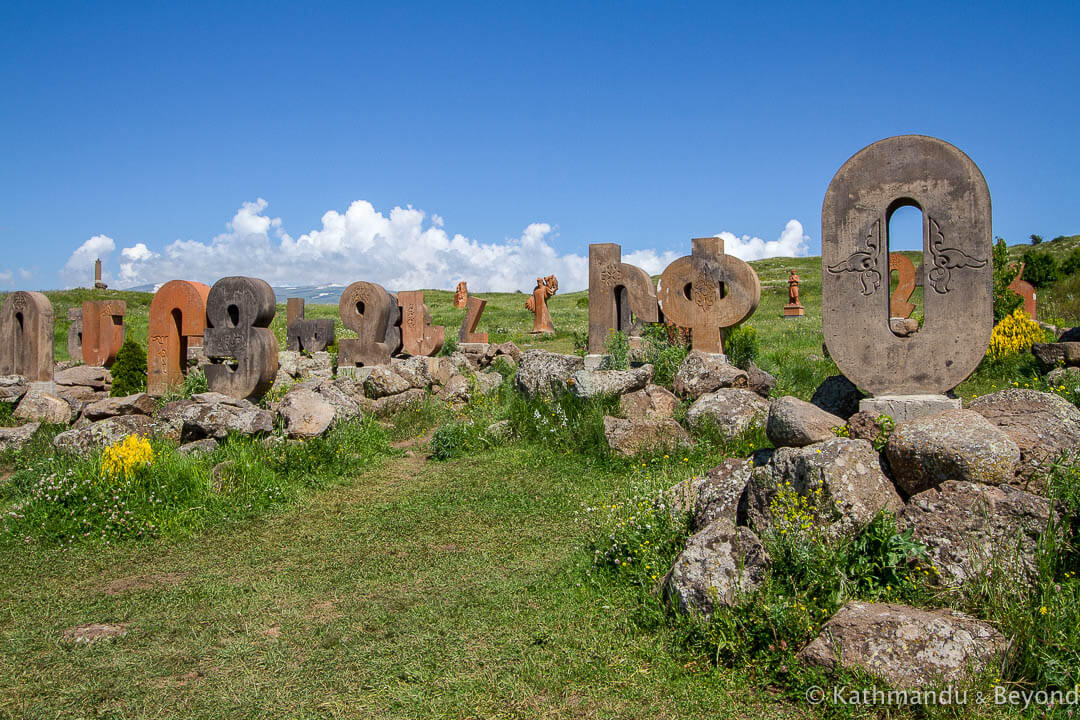 To be honest, visiting the Alphabet Monument independently takes quite a lot of effort relative to the average time spent there – around twenty minutes. We stopped to visit the monument on the journey from Yerevan to Gyumri which felt like a better use of our time, rather than returning to Yerevan. It's not the easiest day trip from Yerevan if you don't have your own transport, so it may be better to visit this as part of an organised tour.
How to get to the Armenian Alphabet Monument from Yerevan
Take a Vanadzor-bound marshrutka from Kilikia (Central) bus station. The journey time is about 40 minutes and we had to pay the full Vanadzor fare (1,200 dram) even though the monument is only around a third of the distance. We find this is common practice in Armenia (even though locals tell us it's not).
We told the driver where we were going and he dropped us off on the side of the road right opposite the Armenian Alphabet Monument (it's clearly visible from the highway). When you're ready to return to Yerevan, stand on the side of the road and flag down a passing marshrutka.
Tips for visiting the Armenian Alphabet Monument
You might have to wait a while for a marshrutka to pass, so you may want to try your hand (or thumb) at hitching back to Yerevan.
Although it goes against our ethos, this is one site we would suggest taking a tour to see, especially if you're short of time.
Opening hours: None – it's an open site
Entrance fee: Free
DAY TRIP 4: Sardarapat Monument
Sardarapat War Memorial and Museum – Why visit?
Built in memory of those who lost their lives in the Sardarapat Battle towards the end of WW 1, the monument is one of Armenia's most easily recognised symbols. The Memorial Complex to the Battle of Sardarapat was unveiled in 1968 to commemorate the 50th anniversary of the battle and consists of two winged bull statues which act as a gateway to the bell tower. From the tower, a pathway known as 'eagle alley' leads to the Ethnographic Museum. It doesn't take long to wander around the grounds and the impression the monument will have on the average visitor will correlate to how interested they are in unusual monuments and Soviet-era design.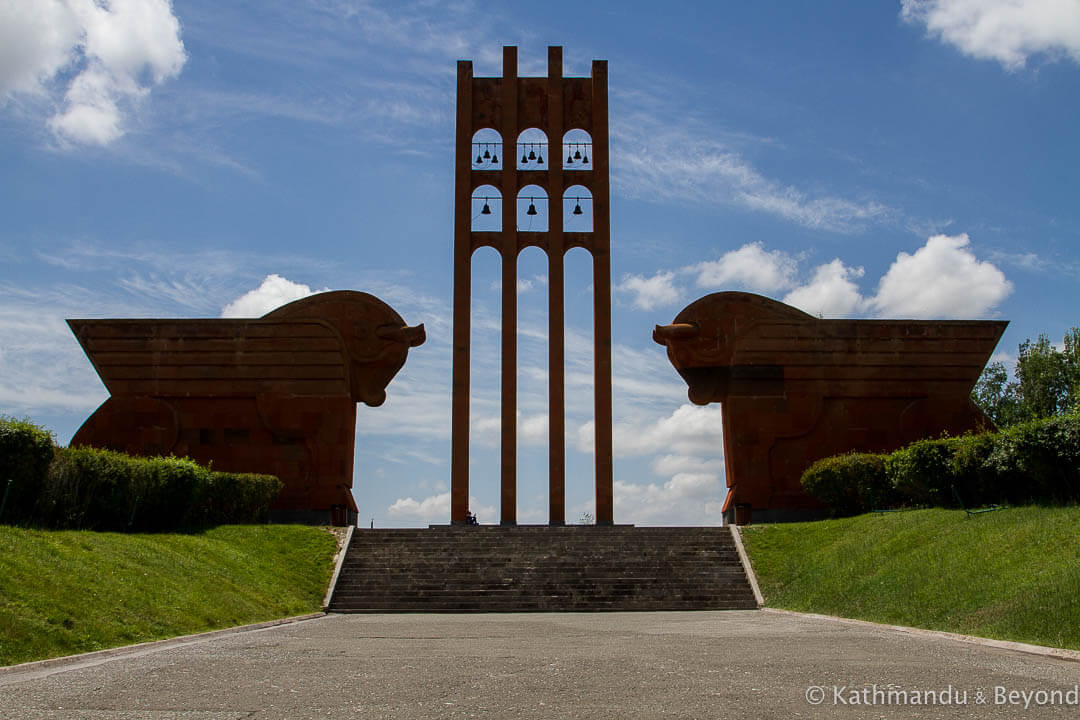 How to get to Sardarapat Monument from Yerevan
We took a marshrutka from Kilikia bus station towards the town of Armavir (400 dram each). We told the driver where we were going, and he dropped us off just outside the town on the road to Sadarapat, where there were taxis waiting. We paid 1,000 dram for the 10 kilometres to the monument. We later noticed there are frequent marshrutkas running along the road, which we could have taken for 100 dram each. Alternatively, hitching is an option.
Note: Whilst we were waiting at Kilikia, taxi drivers offered to take us to Sadarapat Memorial and back to Yerevan for 7,000 dram including waiting time. This is cheaper than taking a tour, especially if there are two or more of you.
Tips for visiting Sardarapat Monument
There are buses between Vagharshapat (for Echmiadzin Cathedral) and Armavir so it is possible to combine these two excursions into one. We'd recommend heading to Sardarapat first (the furthest point) and working your way back towards Yerevan because transport options tend to thin out later in the day. If you're short on time, a return taxi from Armavir to Sardarapat should cost 2,000 dram with 2 hours waiting time (you're unlikely to need as long as that especially if you don't bother with the museum)
Opening hours: The monument complex is always open and the museum opening hours are Tuesday-Sunday 11am to 5pm (closed on Mondays).
Entrance fee: The monument and grounds are free to enter and walk around. Tickets for the museum are 500 dram per adult.
Bonus Place: Armavir
After leaving the memorial, we hitched a ride towards Yerevan. We never found out if that lift would have taken us all the way back to Yerevan because a few kilometres down the road Mark spotted a World War II memorial and we asked to be dropped off, much to the bemusement of our driver!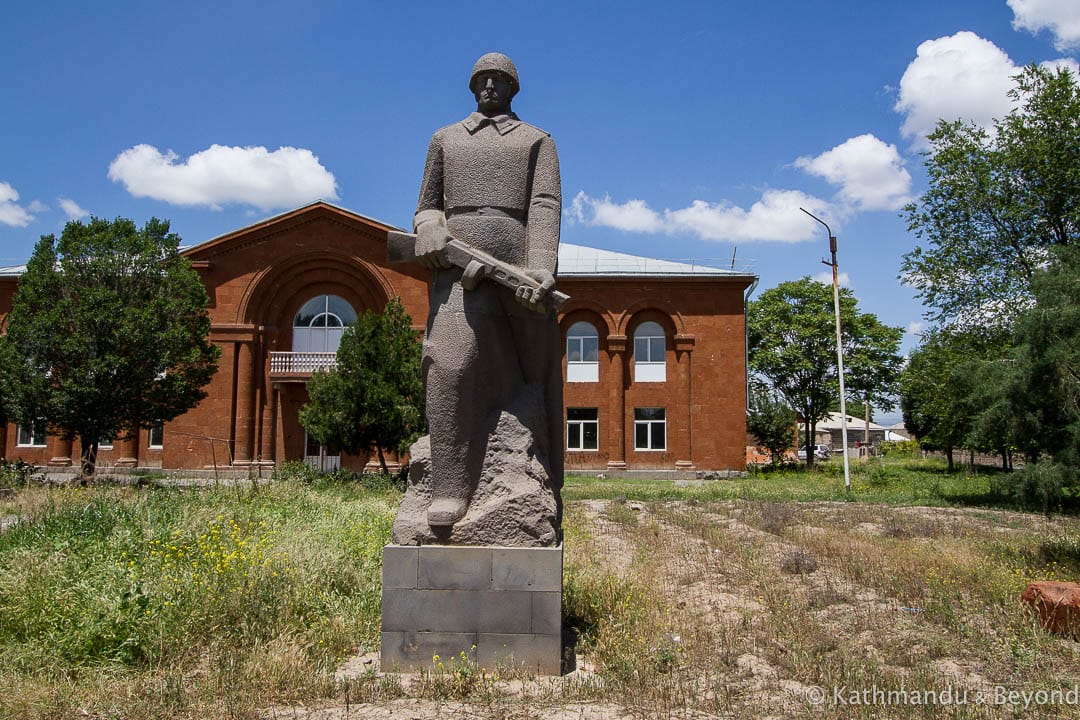 After photographing the monument, we noticed a bus stop on the opposite side of the road where a woman was waiting. Following a conversation that consisted mostly of one-word sentences and a lot of miming, we established that she was expecting the arrival of a marshrutka that would take her somewhere she could catch another one to Yerevan. That seemed like a good plan, so we waited with her. The journey cost 100 dram each and the place was the town of Armavir. From Armavir bus station there were marshrutkas leaving for Yerevan as soon as they were full of passengers. They seemed to be filling every 20 minutes or so – much quicker than the ones coming from Yerevan.
We'd spotted a couple of interesting-looking buildings on the way into Armavir so, rather than jump on the marshrutka with our chaperone from the previous journey, we decided to take a wander around the town (to bewilderment from her and other waiting passengers).
Armavir is typical of many small towns in Armenia – not a lot going on, but full of friendly and curious people, and with plenty of buildings to satisfy any #uglypretty architecture hunter.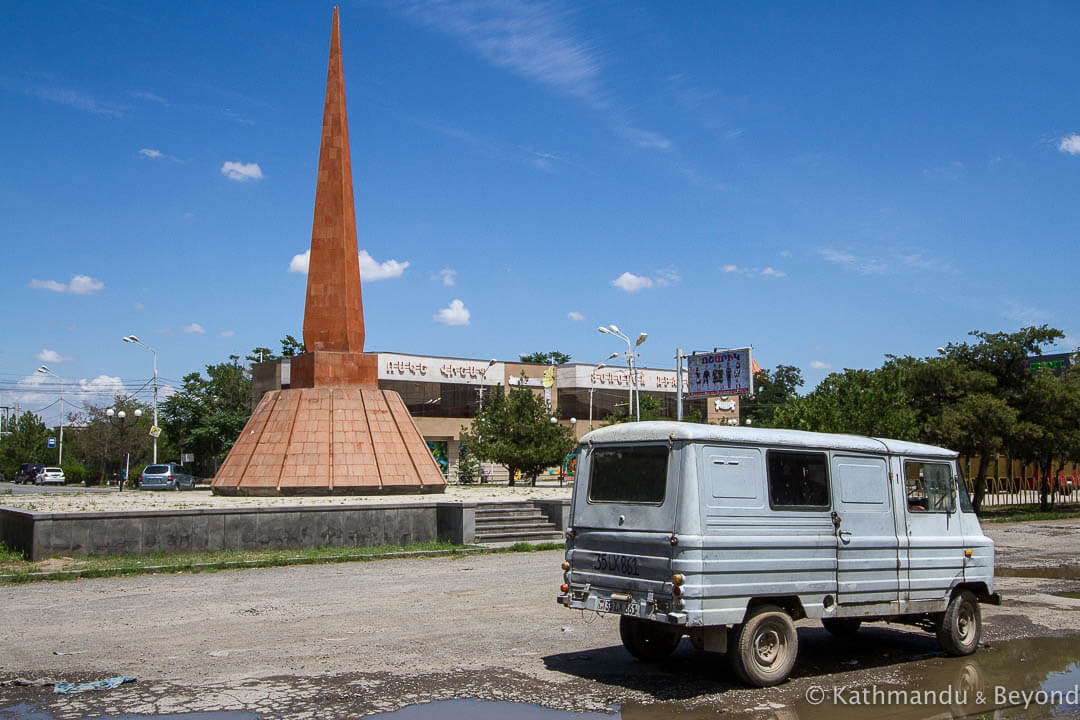 DAY TRIP 5: Khor Virap Monastery
One the of the most popular day trips from Yerevan, what sets this otherwise typical Armenian stone monastery apart from the thousands of others in Armenia is the setting. Close to the Turkish border with snow-capped Mount Ararat in the background, Khor Virap is one of the most photographed places in the country.
Confession time: We haven't visited Khor Virap yet! Of course, we have considered making the trip, but have always been put off when weighing up the amount of effort required versus the chance of getting those stunning views in the promotional posters! However, we've included it here because it is one of the most popular day trips to take from Yerevan. Hopefully, our information will help you decide whether it's worth visiting Khor Virap by public transport. It's the only place in this post that we haven't been to, so I expect we'll make it there eventually.
In addition to the views, Khor Virap is historically significant and is considered to be one of the most sacred pilgrimage sites in Armenia. Armenia was among the first countries to adopt Christianity as its official religion and it was the religious leader, Saint Gregory the Illuminator, who was responsible for the country's conversion from paganism at the beginning of the 4th century. Clearly, not everyone agreed with his ideas and it's possible to visit the pit in which he was imprisoned for the best part of thirteen years (khor virap means deep pit).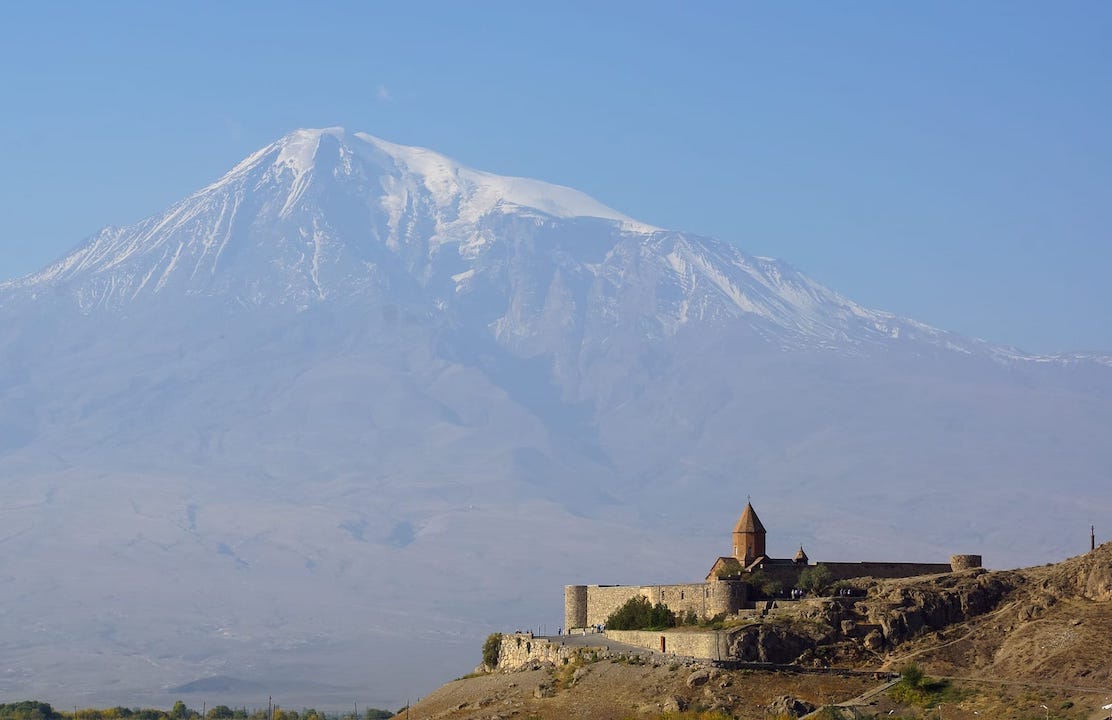 How to get to Khor Virap from Yerevan
The first step is to get to Yerevan's Sassountsi David metro station (also known as the Southern Bus Station, and where the main train station is located). On exiting the metro, turn left and you should see the parking lot for the marshrutkas to Khor Virap.
According to information provided by the hostel we were staying at (in fact, we've stayed at Hostel Glide twice and highly recommend it), there are three marshrutkas a day to Khor Virap departing at 9am, 10am and 11am. The journey takes approximately one hour and the fare should be 400 dram.
You'll be dropped at the junction to Khor Virap (the destination of the bus is the nearby village of Lusarat) from where it's around a kilometre walk to the monastery.
Information on return buses is less clear – the best thing is to ask your driver about times going back to Yerevan. If you get stuck, you could either take a taxi for 4,000 dram or try and hitch a ride.
Tips for visiting Khor Virap
Check the weather forecast and get there as early as you can (unfortunately this rules out public transport). If you decide to take a taxi to Khor Virap (which is still cheaper than an organised tour), we've been quoted anything from 8,000 to 10,000 dram.
Don't forget to check out the pit where St. Gregory the Illuminator was imprisoned 1,500 years ago! The best view of Khor Virap can be found by walking behind the abandoned gas station just before the church parking area. Follow the dirt road and walk about 100 metres for a great view (weather permitting).
Opening hours: 8am to 8pm
Entrance fee: Free
Further afield options from Yerevan
The next suggestions are a little further from Yerevan, although they are popular places to visit as part of an organised tour. Whilst it is feasible to visit them independently as a (long) day trip from Yerevan, our recommendation would be to spend a night or two at each of them.
DAY TRIP 6: Lake Sevan
Another contender for the most photographed place in Armenia, Lake Sevan is indeed a picturesque location. The lake itself draws visitors, especially in the summer months, but it's the two stone churches of Sevanavank Monastery, dating back to the 9th century and sitting pretty on a peninsula, that most travellers are alluding to when they talk about Sevan.
Arriving by public transport, you'll probably end up in the town of Sevan which is about a 5km walk from Sevanavank. Sevan Town has a rundown feel to it and there's not much for the average tourist to do. We certainly wouldn't suggest spending much time in the town if you're visiting Sevan as a day trip from Yerevan. That said, we managed to find some 'alternative' sights; more details of which you can find in our post 'Where to break the journey between Tbilisi and Yerevan'.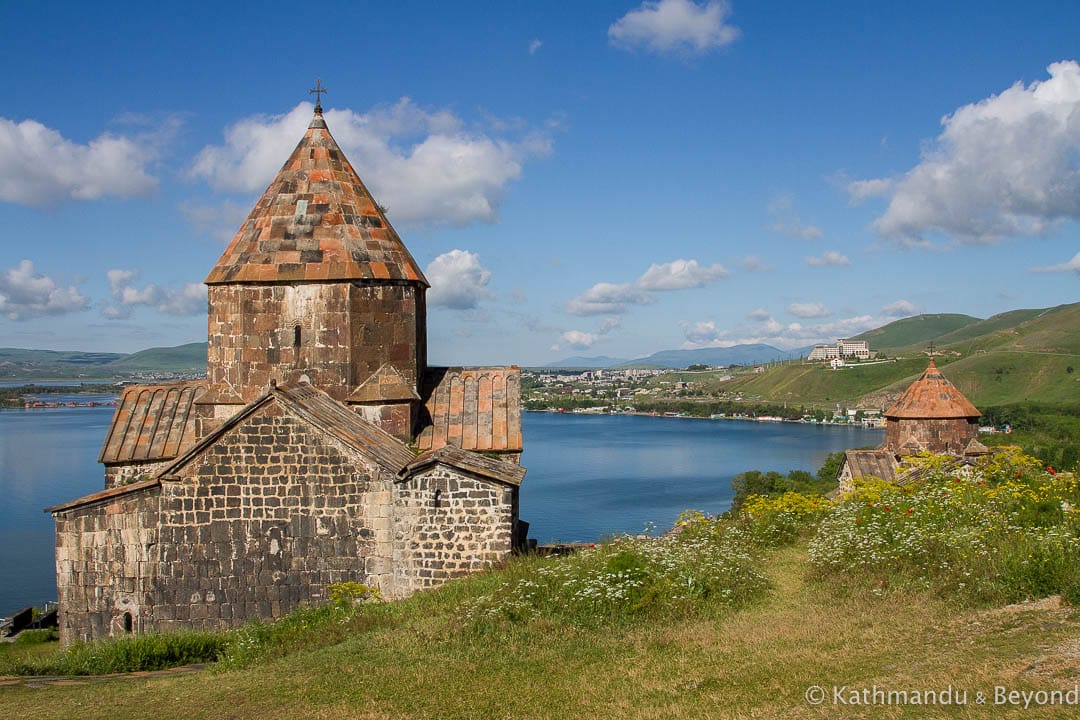 How to get to Lake Sevan from Yerevan
Buses and marshrutkas to the north eastern regions of Armenia including Sevan leave from Yerevan's Hyusisayin Avtokayan (Northern Bus Station and sometimes called Kanakeri Bus Station), located about ten kilometres north of the city centre. Transport usually leaves every 20 to 30 minutes (although it may be less frequent in the winter months) and the fare is 500 dram. To get to the Northern Bus Station from downtown Yerevan, take bus 113 or marshrutka 101. The journey to Sevan should take around an hour and, as mentioned, the marshrutka will take you to Sevan town, turning off the highway four kilometres short of the lake. You might be able to negotiate a lake drop-off with the driver; otherwise a taxi should cost 1,000 dram. During the summer months, a special train schedule operates, and the route extends to take passengers directly to the lake.
During the summer months (from June until 1st September), a special train schedule operates, and the route extends to take passengers directly to the lake.
The train to Sevan leaves from Yerevan's Hrazdan station (the official name is Almast which is a tiny station) and also stops at Kanaker station. Both are north of the city, on the way to the Northern Bus Station. It's debatable how worthwhile it is taking the train – the journey is much longer (and often runs late) than by marshrutka but you'll save a bit of time (and money) by not having to take a taxi from Sevan town to the lake. Plus, a train is far less uncomfortable than a packed marshrutka!
Note though, that the train only services Lake Sevan on weekends (Friday, Saturday and Sunday), leaving Yerevan at 8.20am and arriving at the Lake Sevan peninsula station around 11am. The return train departs at 6pm.
This information is based on the available schedule and is subject to confirmation and change for 2021 and beyond. When it's known, the schedule will be on Armenian Railways site or you could try one of these numbers: +374 60 46 32 83, +374 60 46 32 84 +374 60 46 34 32 for railway enquiries.
Tips for visiting Lake Sevan
Read our advice for visiting Sevan including information on where we stayed here.
DAY TRIP 7: Dilijan
It's going to be hard to do Dilijan and its associated highlights justice on an independent day trip from Yerevan. Although it's easy enough to get to Dilijan on public transport, once there the highlights associated with the area aren't accessible by public transport and you'll need to take a taxi to visit both Haghartsin and Goshavank monasteries (a 30- and 40-minute drive out of town respectively), and also to access the walking trails in Dilijan National Park. That said, we have stayed in Dilijan a couple of times and found enough to occupy us for a day without having to take a taxi. Some guidebooks claim that Old Dilijan Complex is a highlight but trust us when we say there's not a lot to this small scale reconstruction of what Dilijan supposedly looked like in the 1800s. More up our alley were a couple of impressive monuments including the imposing 'Monument to the Great Patriotic War' and the striking '50th Anniversary of Soviet Armenia' monument which you can't fail to miss as you arrive into the town. Additionally, we tracked down the 'King of the Forest', a bizarre tree carving deep in the woods, the remains of an abandoned Soviet-era theme park, and even a small amount of street art.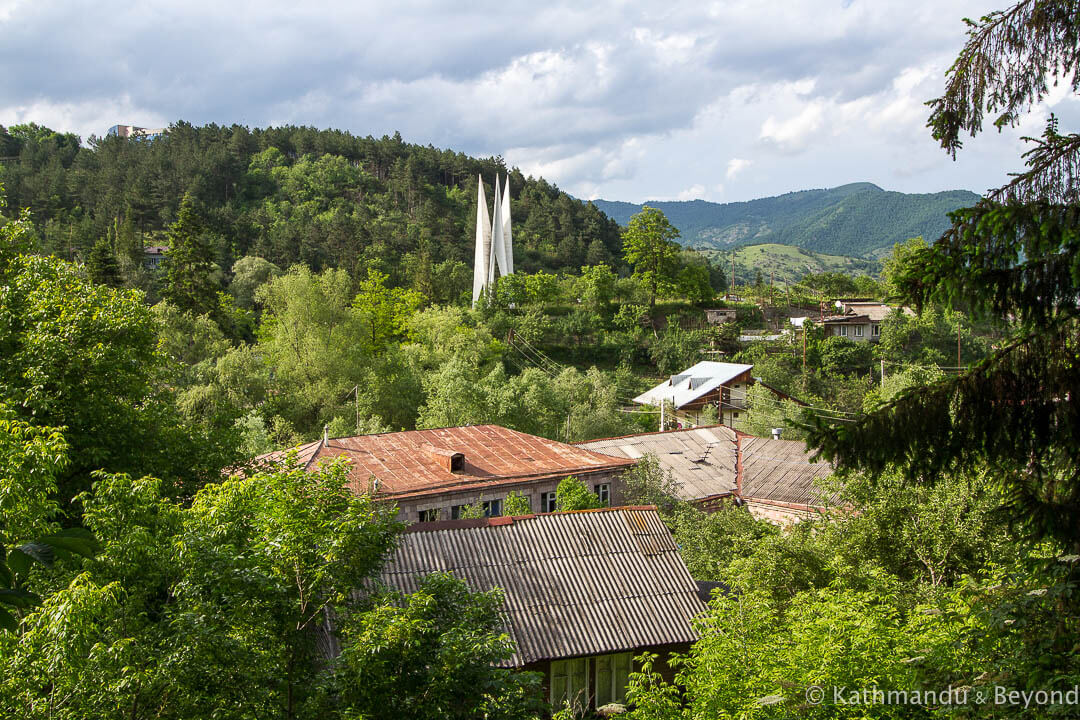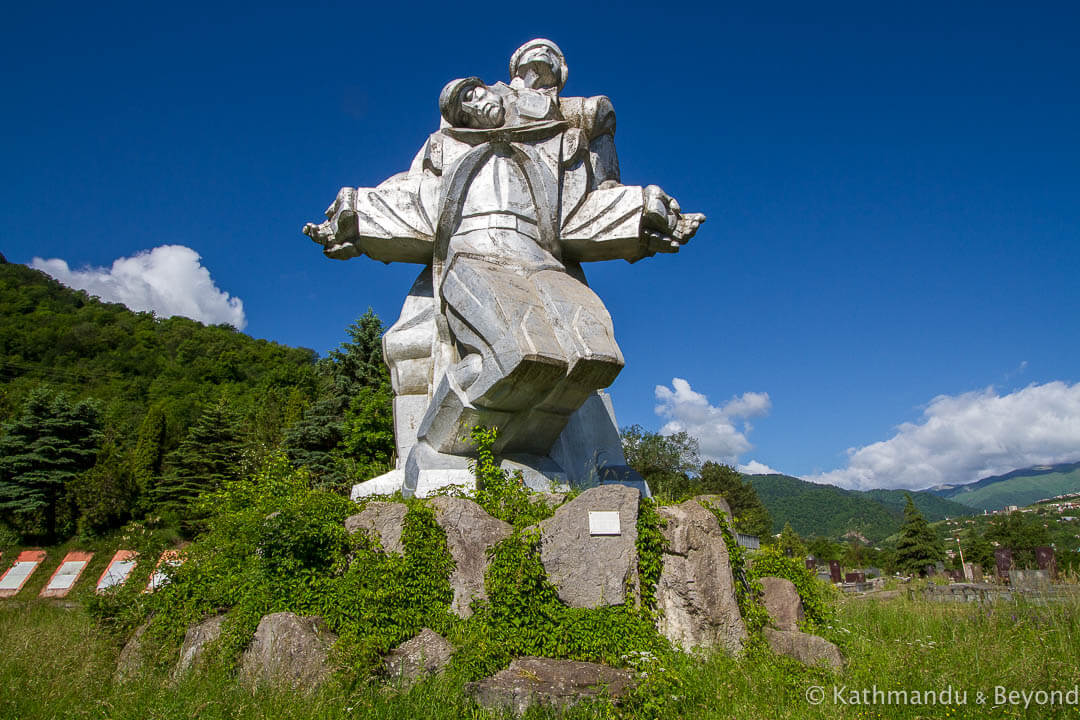 How to get to Dilijan from Yerevan
Dilijan is served by the Northern Bus Station (Hyusisayin Avtokayan). There are scheduled departures from Yerevan to Dilijan at 8am, 9am, 10am, 11am, 1pm, and 4pm and the fare should be 1,000 dram. Returning from Dilijan to Yerevan, the timings are the same. Transport goes via Sevan and the journey time usually ends up being the best part of two hours.
Tips for visiting Dilijan
We further covered Dilijan in our 'Where to break the journey between Tbilisi and Yerevan' post. Read the Dilijan section here.
DAY TRIP 8: Gyumri
Despite being Armenia's second-largest city, Gyumri is mostly an off-the-beaten-path travel destination. If people have heard about the city, it's usually because of the devastating 1988 earthquake.
But thirty years on, Gyumri is rising from the ashes and shows signs of becoming a modern, vibrant city. We've stayed in Gyumri twice; in 2015 and in 2018 and the difference in the city in those years is noticeable. Yes, there are still signs of the earthquake's effects, but Gyumri today has a less abandoned feel to it than it did a few years ago.
Sadly, much of modern Gyumri was destroyed by the earthquake, but there's still a lot of history. Recently, remains of a settlement dating to 3,000 BC were discovered and Gyumri itself has had several guises. Under Russian rule in the 19th century, the city was named Alexandrapol (after Tsar Nicholas I's wife, Alexandra Fydorovna) and during Soviet times the name was changed to Leninakan. For a short period of time following independence, the city reverted to its original name of Kumayri, until 1992 when Gyumri was chosen.
Visiting Gyumri as a day trip from Yerevan will give you enough time to explore the city centre, but to go further afield we'd recommend a night or two there. Two attractive monastery complexes, Harichavank and Marmashen, can be visited independently from Gyumri, but you'll need more time if you plan to do it all by public transport.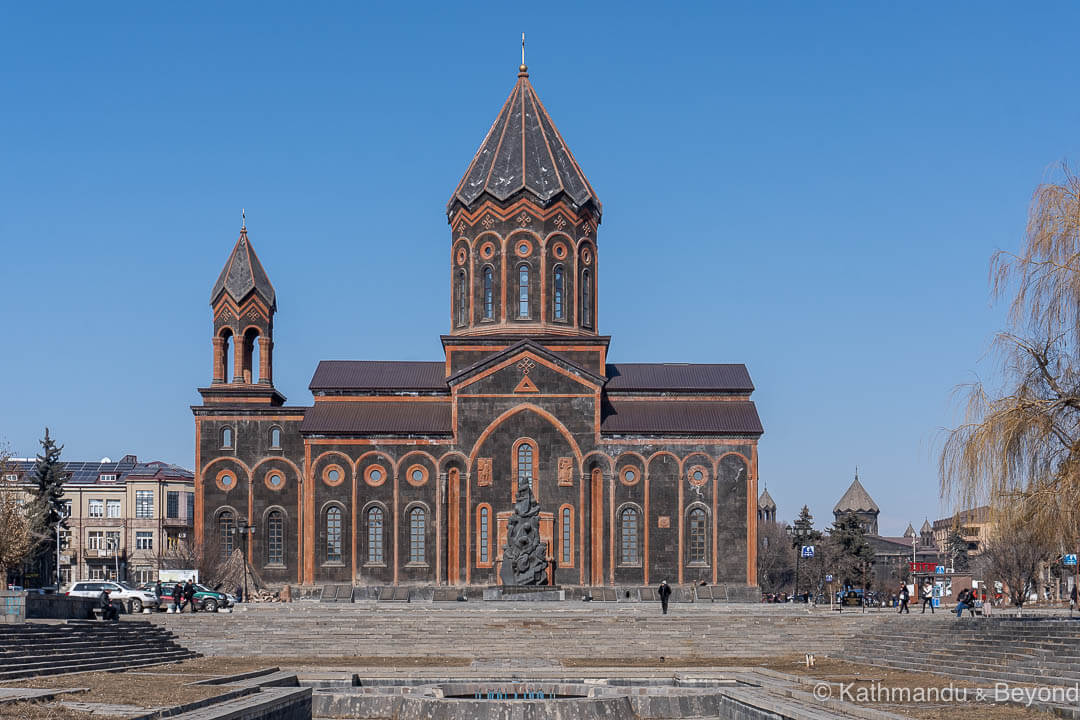 How to get to Gyumri from Yerevan
Following the implementation of a new express electric train, it's possible to get between Yerevan and Gyumri in just over two hours but only on Fridays, Saturdays and Sundays: leaving Yerevan at 10am and arriving in Gyumri at 12.10pm (the return journey departure times are 5.10pm/7.20pm). The regular daily train takes just over three hours and the timings are suited to a day trip: Yerevan to Gyumri at 7.55am/11.05am and Gyumri to Yerevan at 18.15pm/21.25pm. The fare is 1,000 dram and you can check the train schedules on the Armenian Railways website.
There are, of course, regular marshrutkas running between the two cities, leaving from either Yerevan's Kilikia Central Bus Station or from a lot near Sasuntsi Davit metro station (sometimes referred to as the southern bus station). The fare should be 1,500 dram and the journey time is usually between 2½ to 3 hours.
Tips for visiting Gyumri
Check out our post on places to visit in Gyumri for more information on what to do in Armenia's second city.
Conclusion… Should you take organised tours from Yerevan or should you make use of public transport?
We can't deny that you are likely to see more in less time on an organised tour. Ultimately it comes down to a combination of personal travel style, budget, and time available, although your budget may well be the defining factor.
As full-time travellers, we are fortunate that we usually have time to spread our sightseeing out over several days. We also get immense satisfaction from successfully navigating public transport and getting from A to B under our own steam. And yes, we particularly enjoy the financial savings made by doing things independently rather than joining a group tour.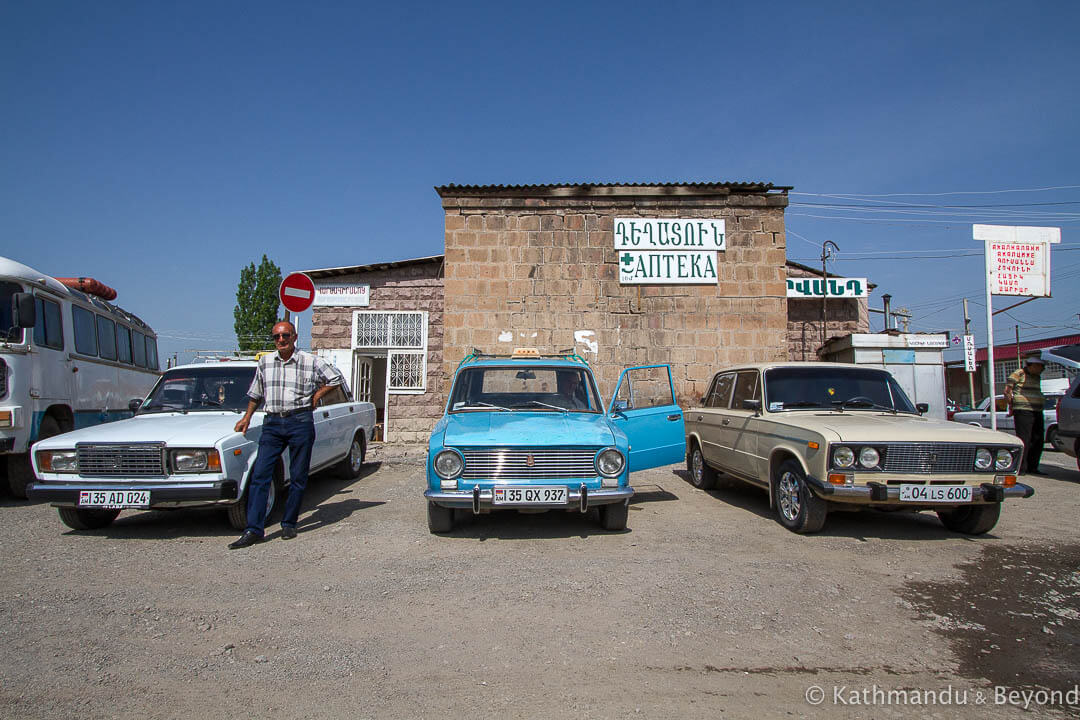 Comparing the cost of taking an organised tour Garni and Geghard with visiting both sites independently
Cost of transport and entrance fees independently: 3,200 dram per person (based on 2 people sharing the taxi)
Cost of joining a group tour: 8,000 dram per person
Saving per person: 4,800 dram per person
OK, so although the cost of joining a tour is 150% more than doing it independently, some travellers may feel that for just over £7.50 more, the convenience of having organised door-to-door transport plus the benefit of a guide, makes it worth it.
The choice is yours, but we presume you came across this post because you also enjoy doing things the hard way!
---
---
---
HAS THIS POST INSPIRED YOU TO TAKE A DAY TRIP FROM YEREVAN? WHY NOT PIN IT TO YOUR TRAVEL BOARDS?…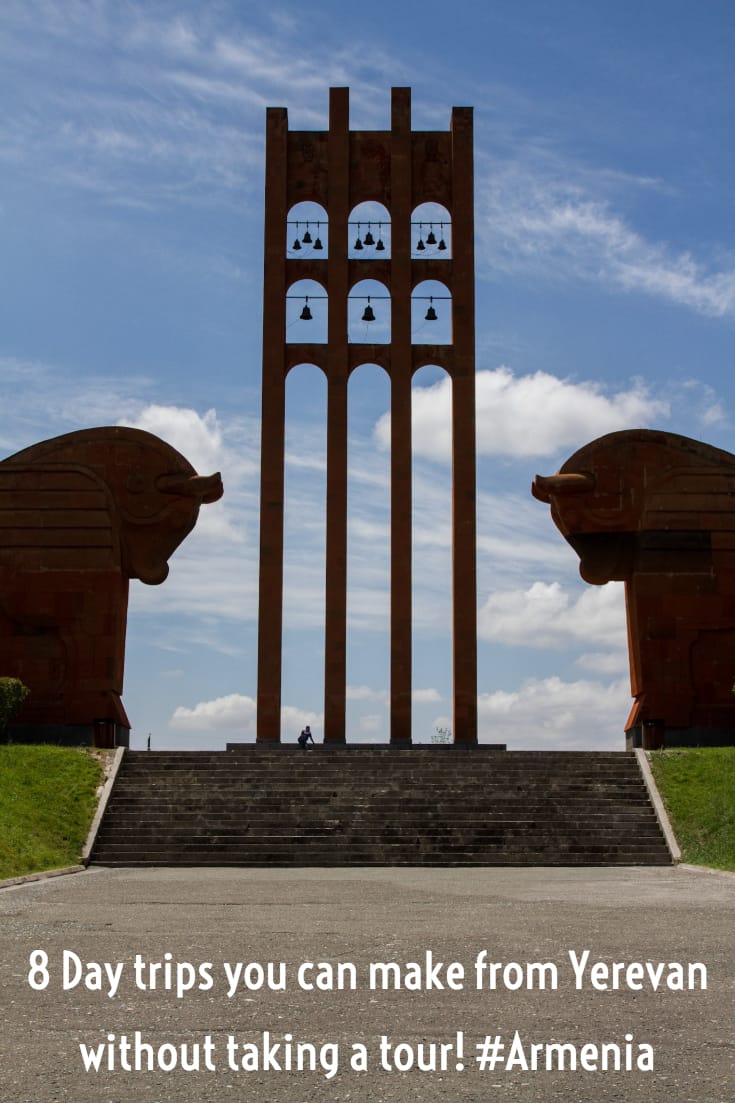 ---