Urban exploration at some of the world's forsaken swimming pools
Updated in December 2019 with the addition of abandoned swimming pools in Bulgaria and Tunisia, as well as another one in Croatia that was once connected to the founder of Penthouse magazine.
Of all the derelict places we find, swimming pools have to be one of the most alluring.
It's not always that easy to visualise what an abandoned location would have been like before it became uninhabited. Clues can sometimes be few and far between, especially if a place has been stripped bare. But with a disused swimming pool, it's much simpler to imagine the scene prior to its demise.
An indoor pool, for example, is all about exercise and learning how to swim – coaching, parent and baby classes, lane-swimming and that sort of thing are all part of the day-to-day activities that take place. Open-air pools, on the other hand, are definitely more about having fun and relaxation and the atmosphere is not so serious. Jumping, splashing, diving and bombing, sunbathing, flirting and strutting around – that's what outdoor swimming pools are all about until the lane-swimmers take over in the early evening …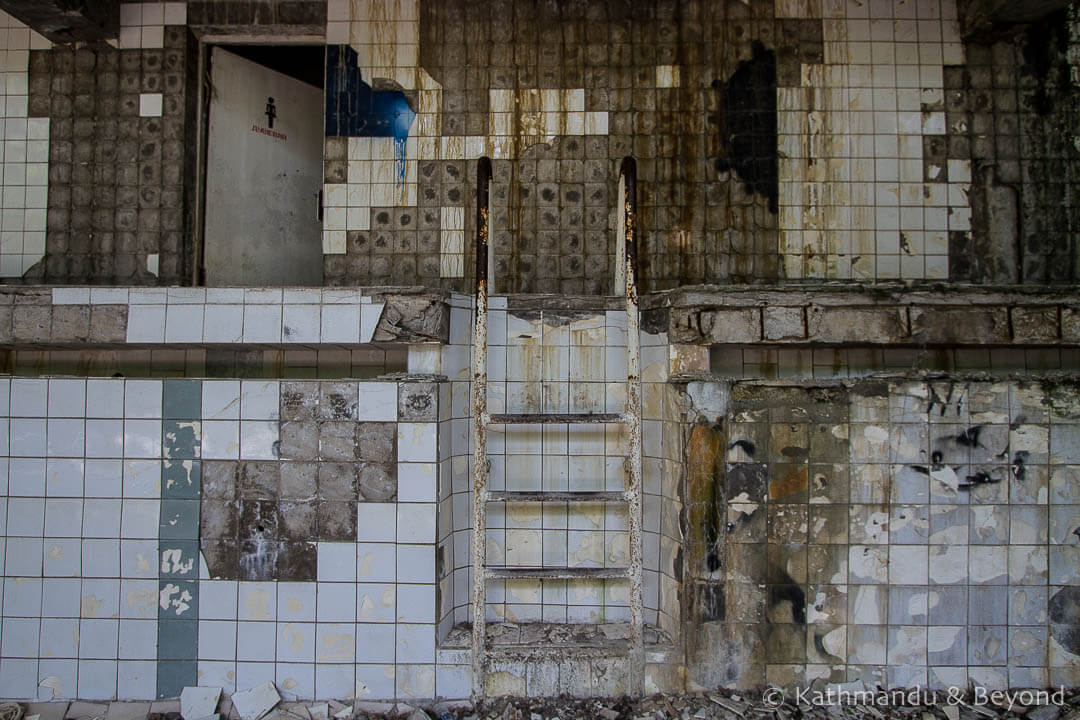 Pripyat (Chernobyl Exclusion Zone), Ukraine
Conjure up other associations with a swimming complex, such as the distinctive smell of chlorine, communal shower blocks, locker rooms, or even simply the general appeal of visiting such places, and you've got yourself a fascinating contrast when you step inside one that has been neglected for a long period of time.
The transformation from a swimming pool full of fresh and clear enticing water to one either completely drained, or worse, replaced with a stagnant mess that you wouldn't touch with a barge pole, is extremely entrancing.
We prefer indoor abandoned swimming pools but we are happy whenever we stumble across any kind of overgrown or neglected pool or water-based theme park. We've only seen one of the latter (near Hue in Vietnam) and, generally, we haven't seen that many abandoned pools at all but the examples below showcase the few that we have seen and we will definitely add more to this post as and when we locate them.
Former swimming pool in Lovech, Bulgaria
This abandoned swimming pool on the outskirts of Lovech was a bonus find during our road trip around Bulgaria. We'd heard rumours of its existence and, after studying Google Maps, we successfully located it. There were two neglected pools at this former sports complex. The outdoor pool was rather overgrown and difficult to get close to, but the highlight was two socialist-era mosaics, one at either end of the indoor pool.
Read more: Abandoned Bulgaria: Former swimming pool in Lovech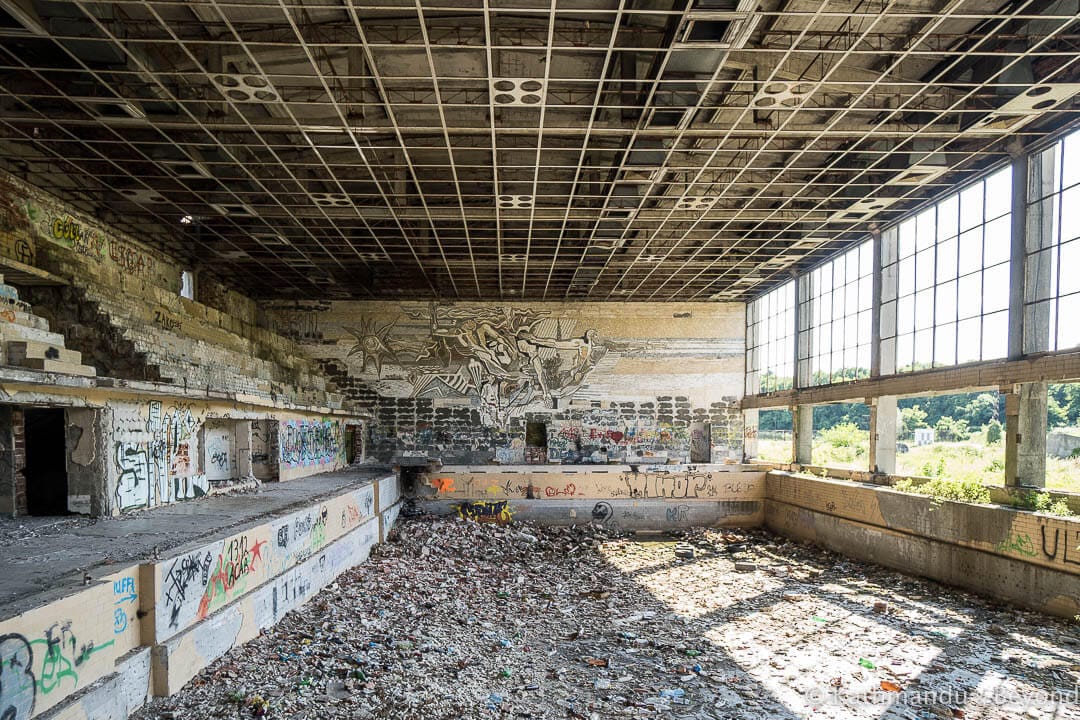 Lovech, Bulgaria
Coralia Hotel on Djerba Island, Tunisia
Actually, we located four abandoned resorts on the Tunisians island of Djerba and each one had a derelict pool that was either empty or partly full of sand. The Coralia Hotel was the first purpose-built resort to be constructed on the island and renowned guests included Tunisia's first president after the country gaining independence from the French in 1956, Habib Bourguiba. We spent a full day walking along the beach on Djerba looking for abandoned hotels and reckon we still didn't see them all.
Read more: Off-the-beaten-track Tunisia: Abandoned Resorts on Djerba Island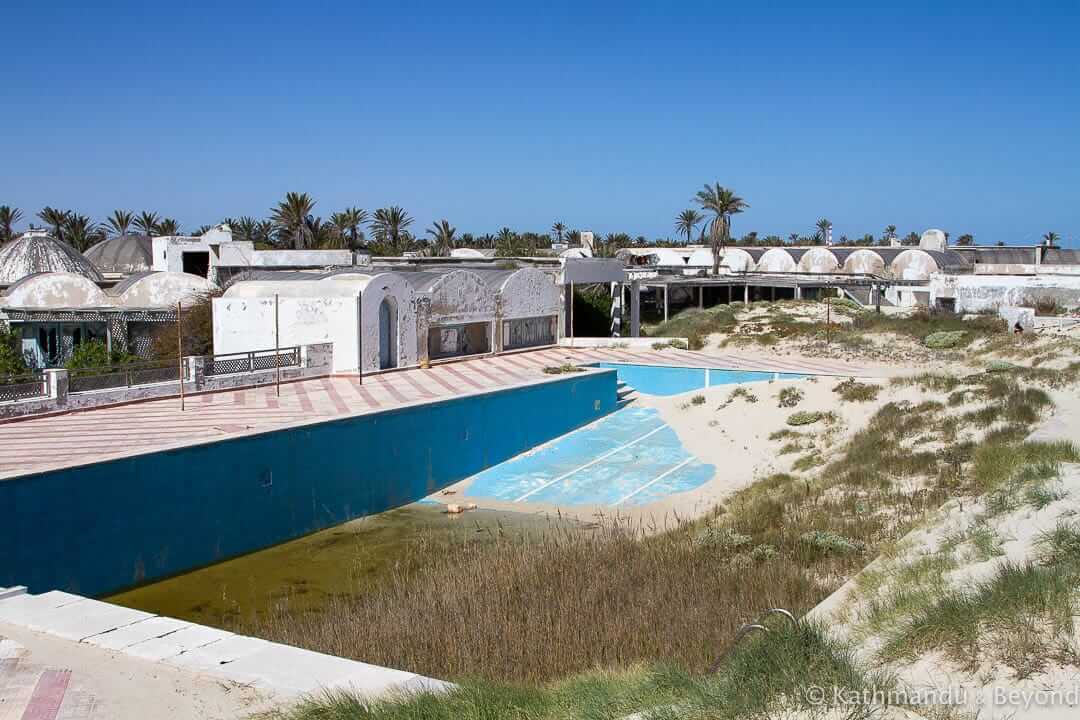 Djerba Island, Tunisia
Haludovo Palace on Krk Island, Croatia
The original Adriatic palace of sin, Bob Guccione, the founder of Penthouse magazine, was one of the major investors in this once-stylish hotel that now sits empty. A victim of the Yugoslav Wars, the property was used as a shelter for refugees during part of the conflict. The outdoor swimming pool, the inner walls of which are blanketed in street art and graffiti, is almost overshadowed by the canopy that covers the indoor one. The swimming pool canopy at the abandoned Haludovo Palace is a wonderful example of mid-century modern architecture, the concrete awning juts out and completely dominates what was once the main recreational area of the hotel.
Read more: Abandoned Croatia: Haludovo Palace Hotel on Krk Island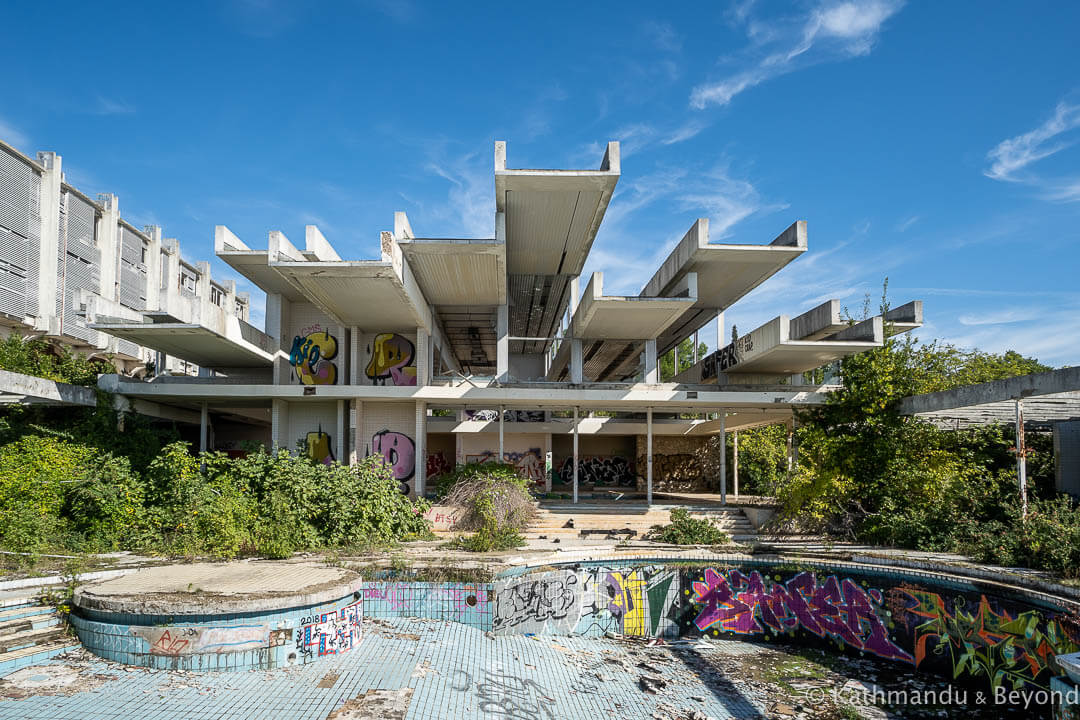 Krk Island, Croatia
Escher Sports Complex in Eshera, Abkhazia
This indoor swimming pool was part of a larger complex that was used as an Olympic training base for sportsmen and women from all over the Soviet Union during the 1970s and '80s. The entire compound was destroyed during the Abkhazia-Georgia conflict that started in August 1992 and lasted until September the following year.
It's probably the dingiest abandoned swimming pool that we have encountered!
Read more: Abandoned Abkhazia: Eshera Sports Complex.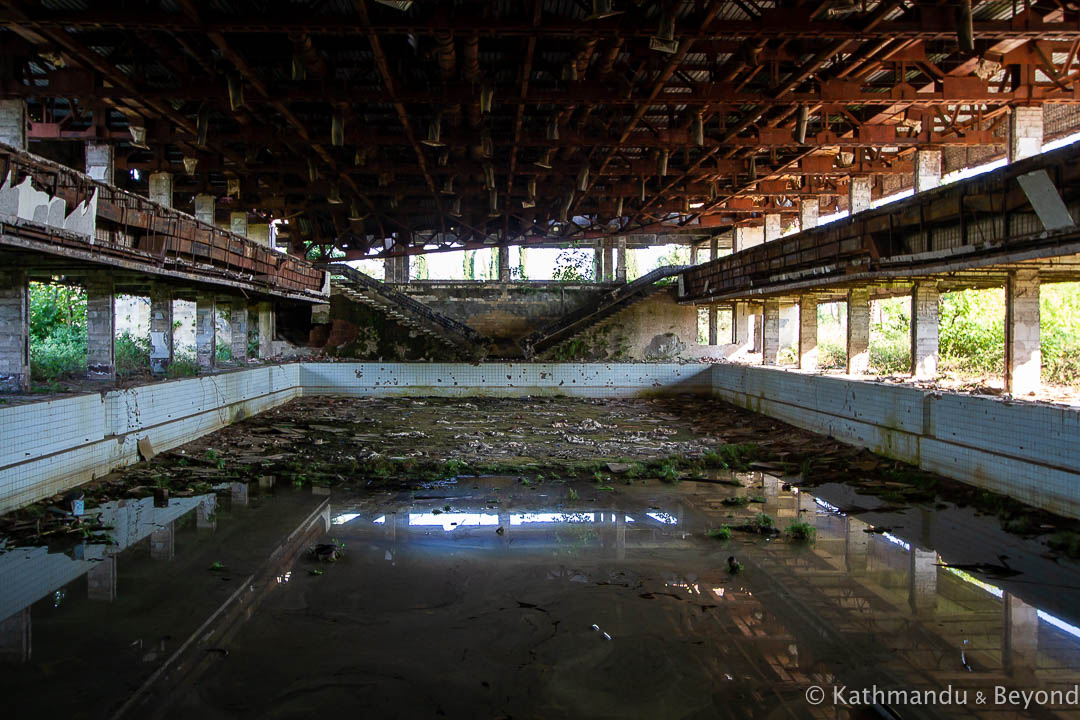 Eshera, Abkhazia
Hotel Sakartvelo in Tskaltubo, Georgia
Hotel Sakartvelo is one of several quasi-abandoned hotels and sanatoriums we visited in the Georgian spa town of Tskaltubo but this particular property was the only one in which we found a disused swimming pool. The mosaics that decorate both the pool and the back wall were typical of the time.
Read more: Soviet Sanatoriums in Tskaltubo, Georgia.
Tskaltubo, Georgia
Azure Swimming Pool in Pripyat (Chernobyl Exclusion Zone), Ukraine
The Azure Swimming Pool is one of three disused indoor pools located in the abandoned city of Pripyat within the Chernobyl Exclusion Zone in Ukraine. It is also the most famous abandoned swimming pool we have seen. It was featured in the video game Call of Duty 4: Modern Warfare and even has its own Wikipedia page along with a wealth of information about it on the Internet.
Read more: Pripyat: Photos from Chernobyl Exclusion Zone, Ukraine.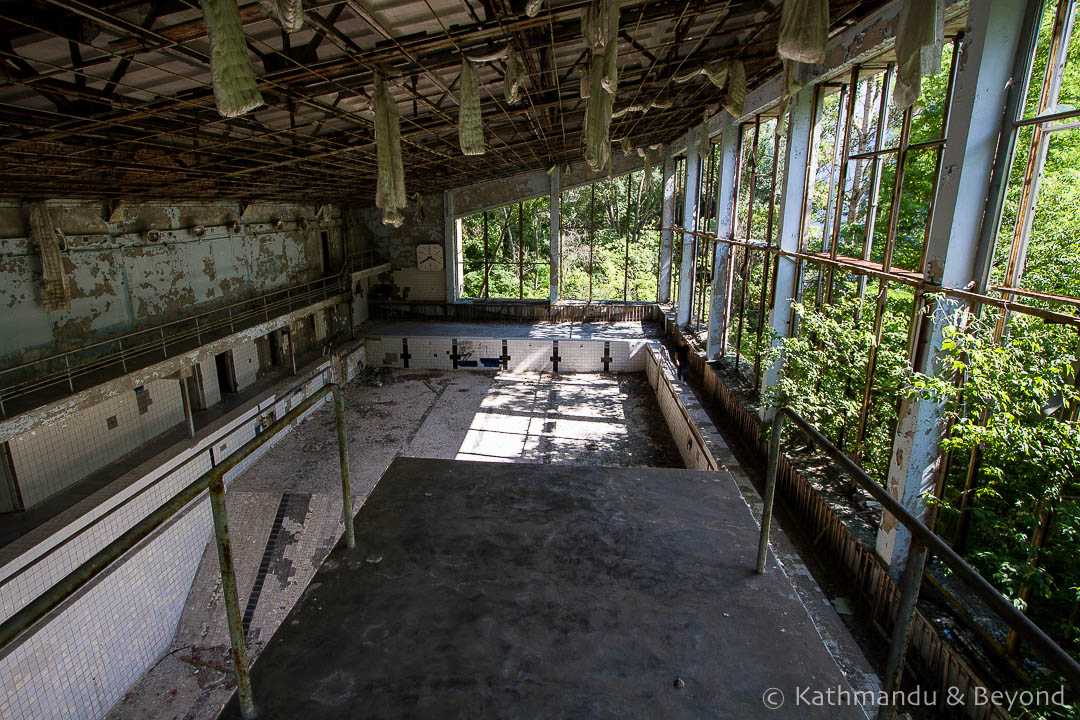 Pripyat (Chernobyl Exclusion Zone), Ukraine
Sanatorium swimming pool in Vanadzor, Armenia
We spent a while looking for this particular pool and had to be a little creative in order to get inside but it was worth it. You can tell that this would have once been a gleaming white pool and a delightful place for a swim, with plenty of light streaming. The symmetry of the staircase is also pretty hard to beat and, overall, this is probably the most seductive forsaken swimming pool we have seen.
Read more about our impressions of Vanadzor: Where to break the journey between Tbilisi and Yerevan.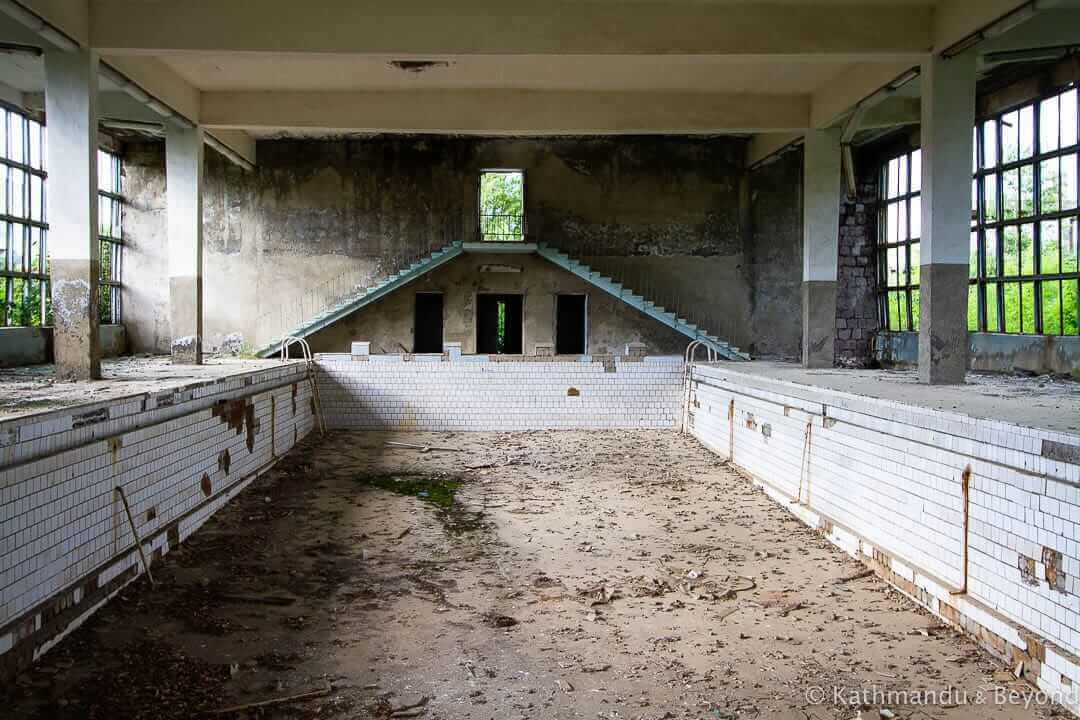 Vanadzor, Armenia
Uszoda Sports Base in Timișoara, Romania
This is the only abandoned pool we have found that is adorned with street art. It was located in the middle of the city's central park and probably no longer exists as there was talk, even in October 2016 when we took the photos, of the area being redeveloped into basketball courts.
Out of interest, "Uszoda" means swimming pool in Hungarian. Timișoara is close to the Romanian/Hungarian border and has strong historic connections with Romania.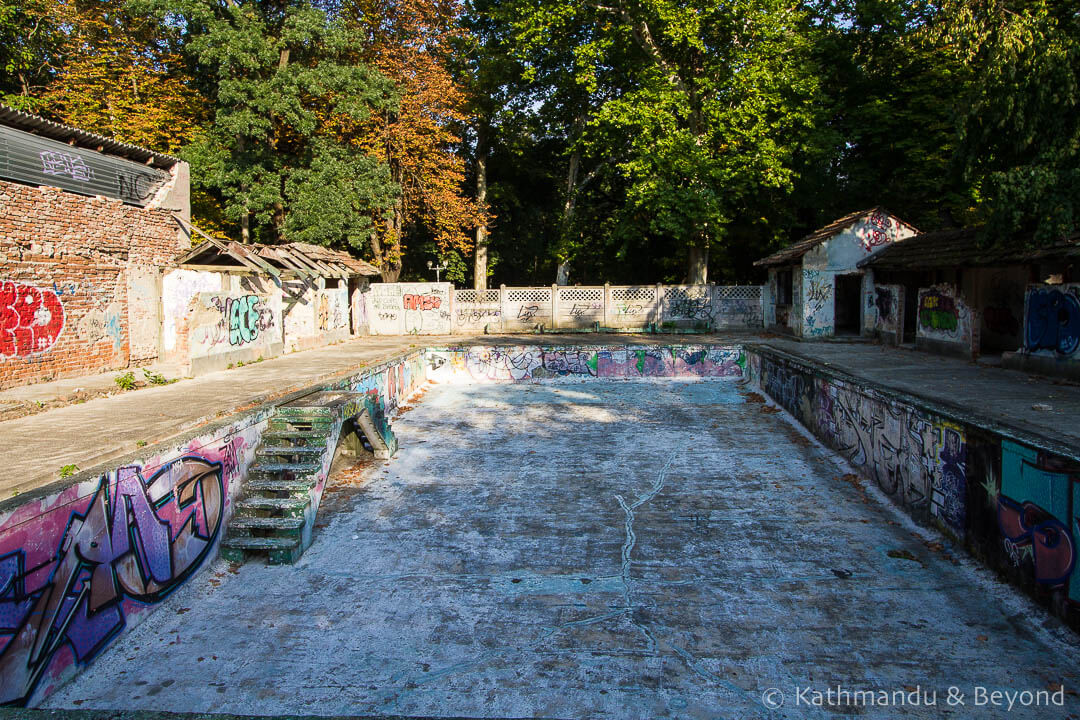 Timișoara, Romania
Sport Centre in Battambang, Cambodia
We keep meaning to write more about Battambang's gloriously-faded French and New Khmer architecture but, for the time being, all we can offer is this modernist-style sports centre which is also still known by its French name of Au Circle Sportif de Battambang.
The swimming pool was Olympic-size when it was constructed in the mid-1960s but, over time, its dimensions have been altered and the diving board (the arched structure in the photo below) is now some distance from the pool itself.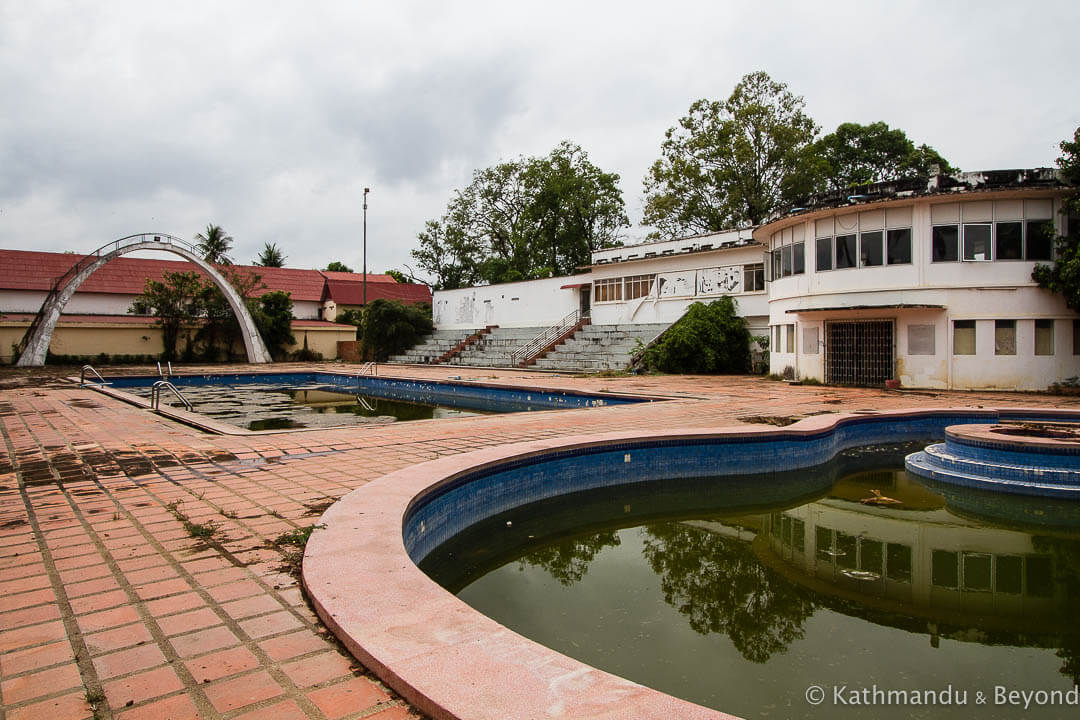 Battambang, Cambodia
The Sanatorium of the Ministry of Defence of the USSR in Eshera, Abkhazia
Another abandoned swimming pool in Abkhazia, this one was part of a sanatorium that was used by the Soviet Ministry of Defence. We like this pool because it still looks in good condition despite the dense vegetation that surrounds it on all sides.
Read more: Abandoned Abkhazia: The Sanatorium of the Ministry of Defence of the USSR.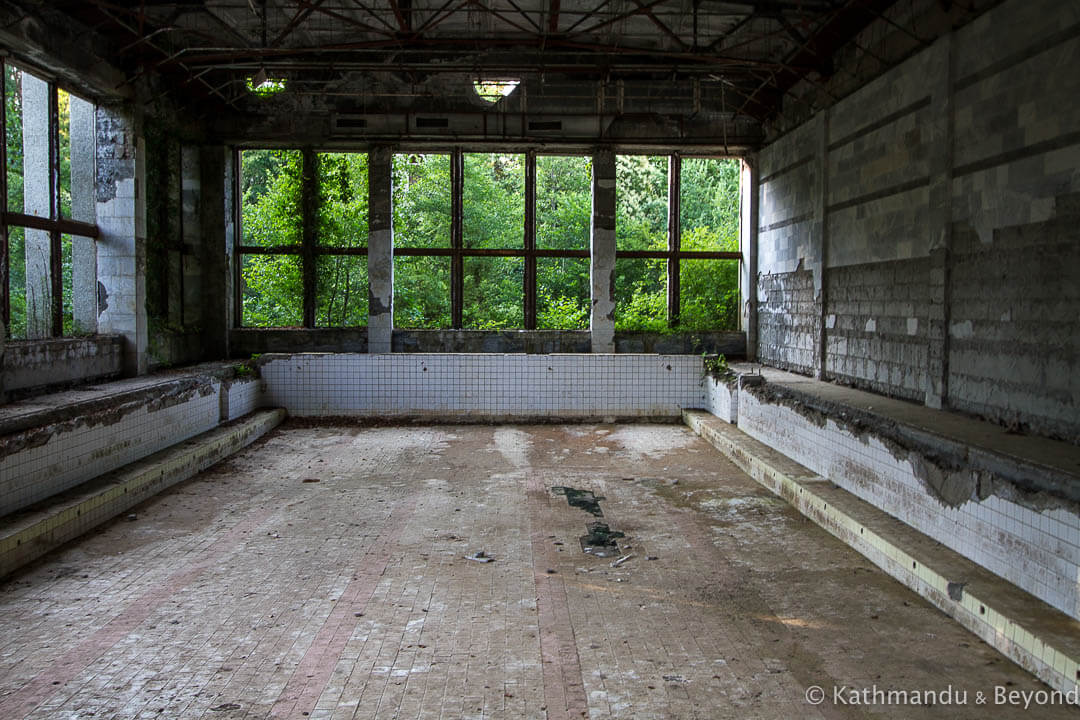 Eshera, Abkhazia
Hotel Kupari in Župa Bay (Kupari), Croatia
Situated under a rather ominous collapsed roof, this Olympic-size swimming pool made up a substantial part of the Hotel Kupari, one of a handful of resorts constructed near Dubrovnik for the Yugoslavian military from the 1960s onwards. Along with the other resorts in the bay, the Hotel Kupari was heavily attacked during the early stages of the Siege of Dubrovnik (autumn 1991) and has remained in a state of neglect ever since.
Read more: Visiting the Bay of Abandoned Hotels in Kupari, Croatia.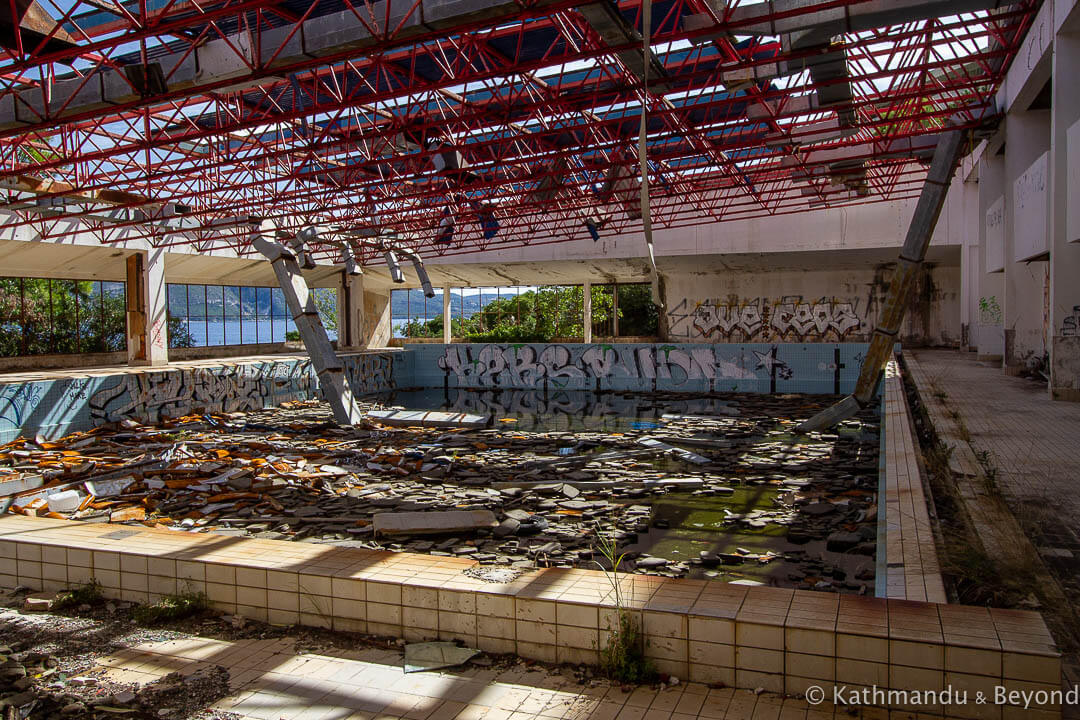 Župa Bay (Kupari), Croatia
Hotel Colheti in Kobuleti, Georgia
This is another swimming pool that might not survive much longer. When we stumbled across it in August 2018, construction/renovation work was already taking place in other buildings associated with the hotel and it's only a matter of time until the contractors get round to doing something with the pool.
This was the first abandoned location we entered after getting set upon by three guys in the nearby disputed territory of Abkhazia a few days earlier and so we felt more than a little apprehensive upon entering, but it all turned out OK and we were rather taken by the circular appearance of this particular pool.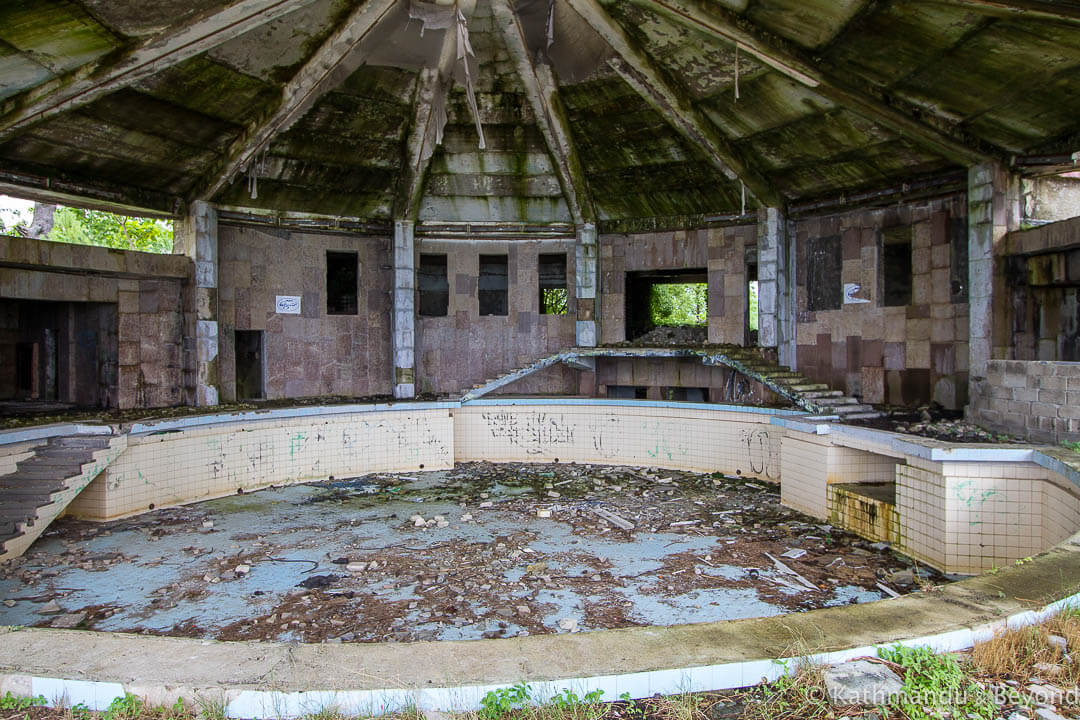 Kobuleti, Georgia
Ho Thuy Tien Water Park in Hue, Vietnam
Plastic crocodiles, waterslides and other water-based paraphernalia, all cloaked in a jungle-clad setting … what's not to like about this former water park on the outskirts of Hue, apart from the other visitors perhaps? This place is well and truly on the tourist (mostly backpackers) radar and can get quite busy at times (for an urbex location) but it's still definitely worth visiting and very photogenic.
Read more: Abandoned Vietnam: Ho Thuy Tien Water Park in Hue, Vietnam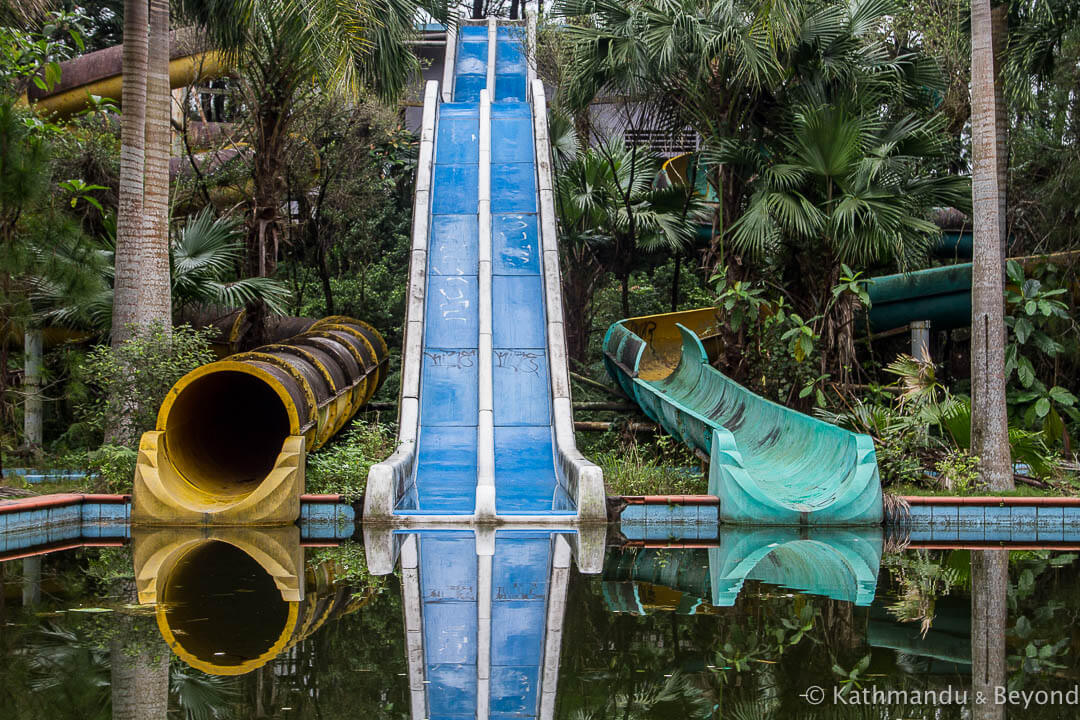 Hue, Vietnam
Former swimming pool in Yerevan, Armenia
It was the prominent diving board at this abandoned swimming pool that first caught our eye during one of our numerous walkabouts around the Armenian capital and so we decided to go and take a closer look. We ended up spending quite a bit of time ferreting around and only left when we had a bit of a run-in with a pack of dogs that had decided to call the place home.
Read more: Abandoned Armenia: A Former Swimming Pool in Yerevan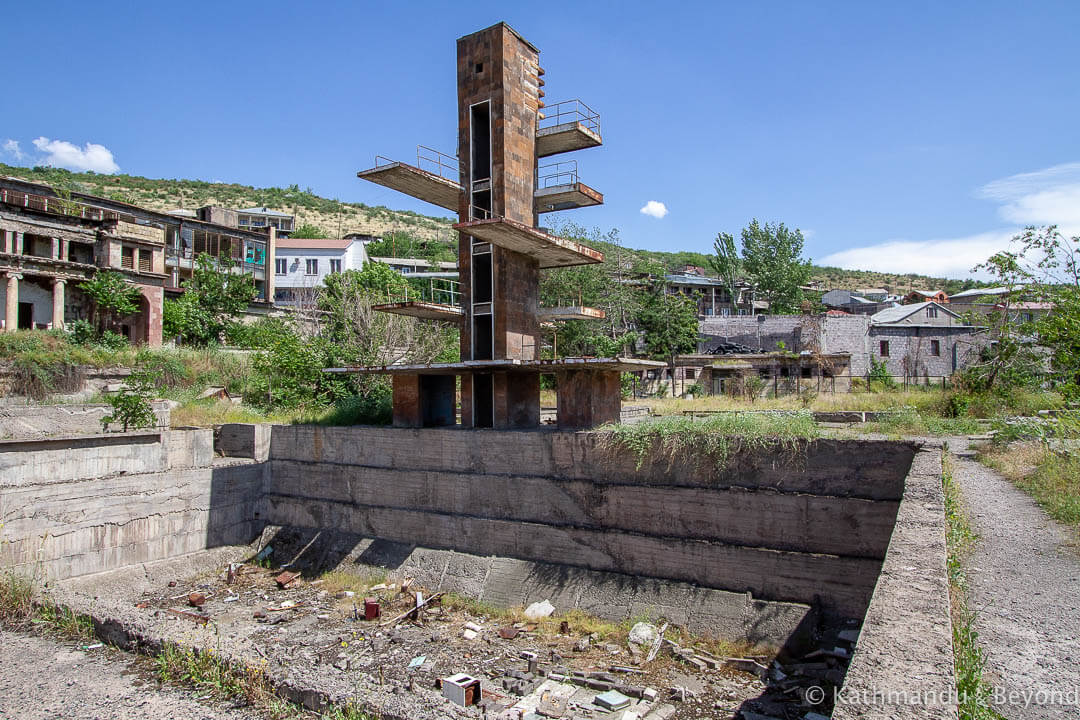 Yerevan, Armenia
Sana Sanatorium in Gagra, Abkhazia
We only got a tantalising glimpse of this particular indoor swimming pool while wandering around the exterior of the very brutalist Sana Sanatorium in Gagra, northern Abkhazia. The sanatorium is still in use but the swimming pool is not. We looked for ways of getting a closer peek at the pool itself but had no joy and, in the end, had to make do with holding the camera above our heads and taking a photo through one of the (very) murky windows.
Under the circumstance, it's a result that the photo has come out even half decent!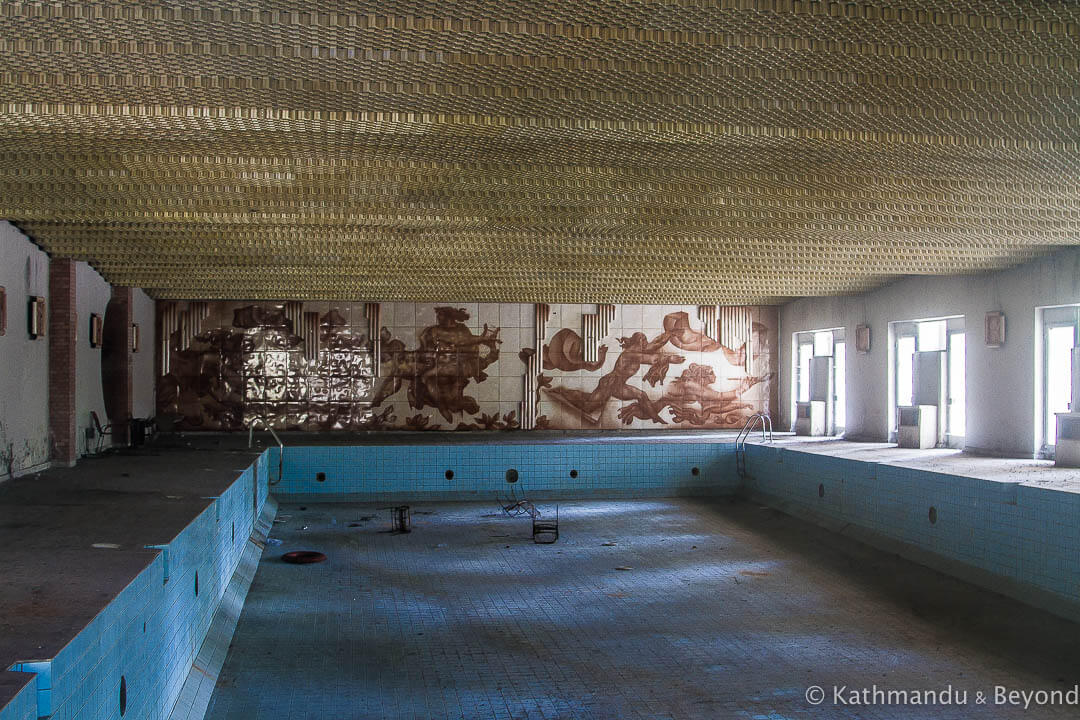 Gagra, Abkhazia
Encore Garden near Taichung, Taiwan
Part of Encore Garden, this large water flume was one of the most dominating features at this mostly-forgotten theme park on the outskirts of Taichung in Taiwan. It seemed to go on forever when we started to follow its course and, no doubt, would have been bustling with both children and adults in its day.
Read more: Abandoned Taiwan: Encore Garden in Taichung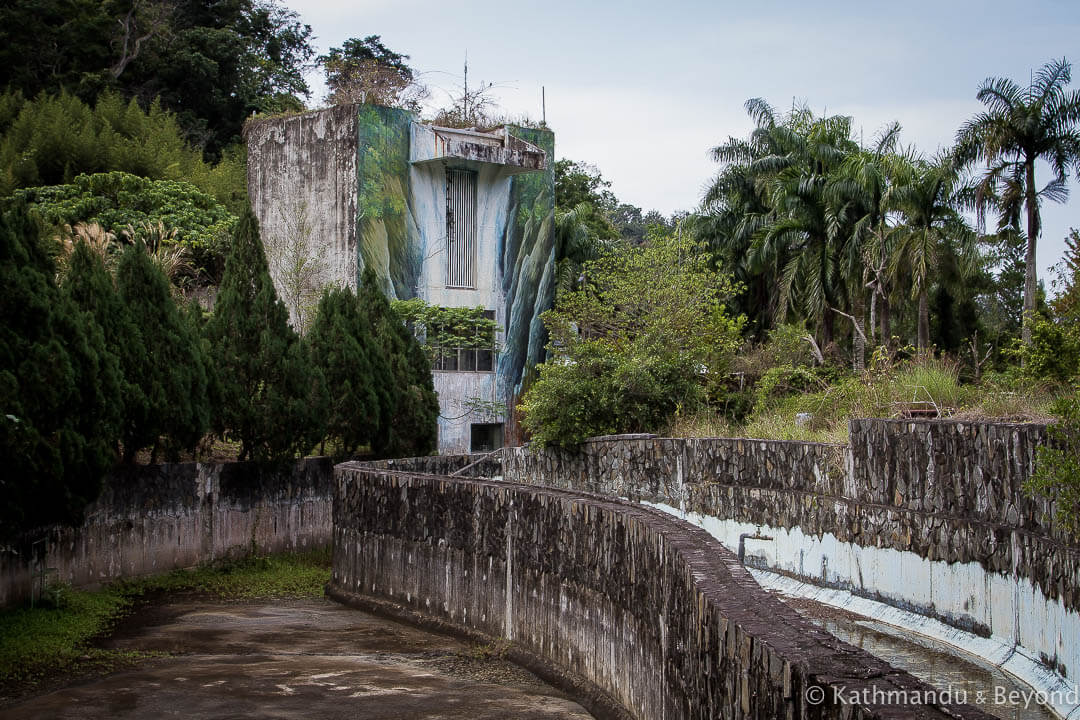 Taichung, Taiwan
So, there you have it, fourteen abandoned swimming pools, one water-based theme park and a flume ride, found in ten countries and one disputed territory around the world. If anyone knows of any more, especially in Asia or Eastern Europe/the Balkans/the Caucasus and are OK with divulging their whereabouts, we would be very pleased to hear from you. We are quite happy to do swapsies and trade coordinates for coordinates!



---
DO YOU ENJOY EXPLORING ABANDONED PLACES? PIN THIS POST…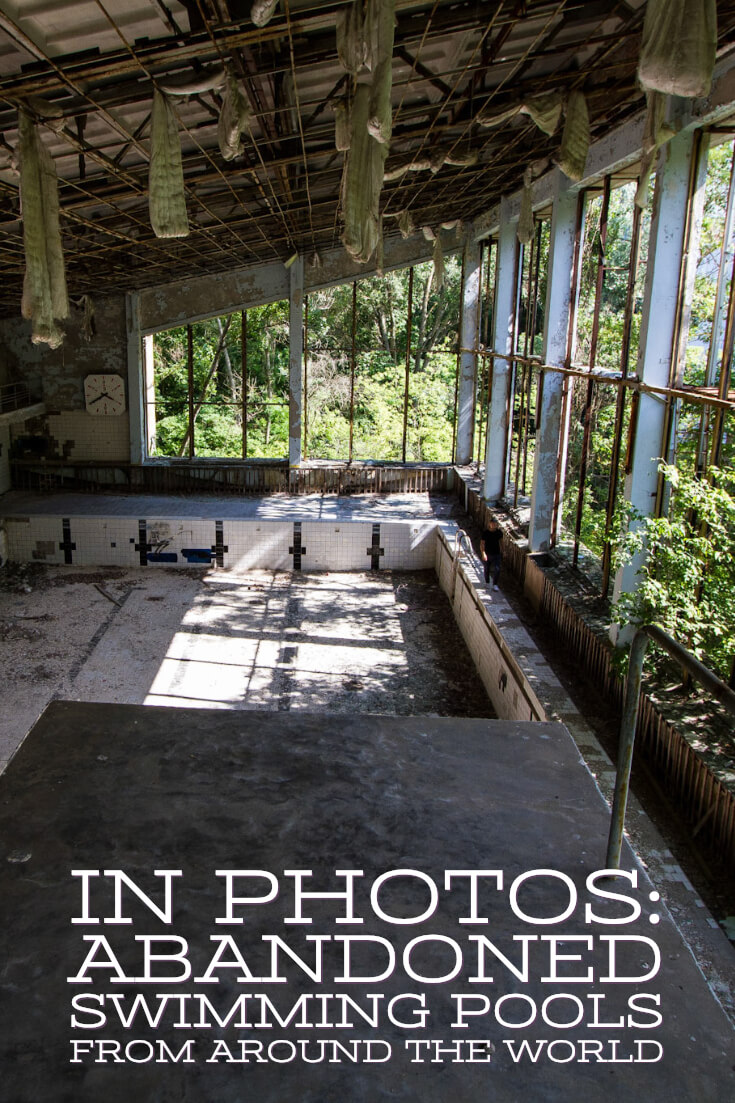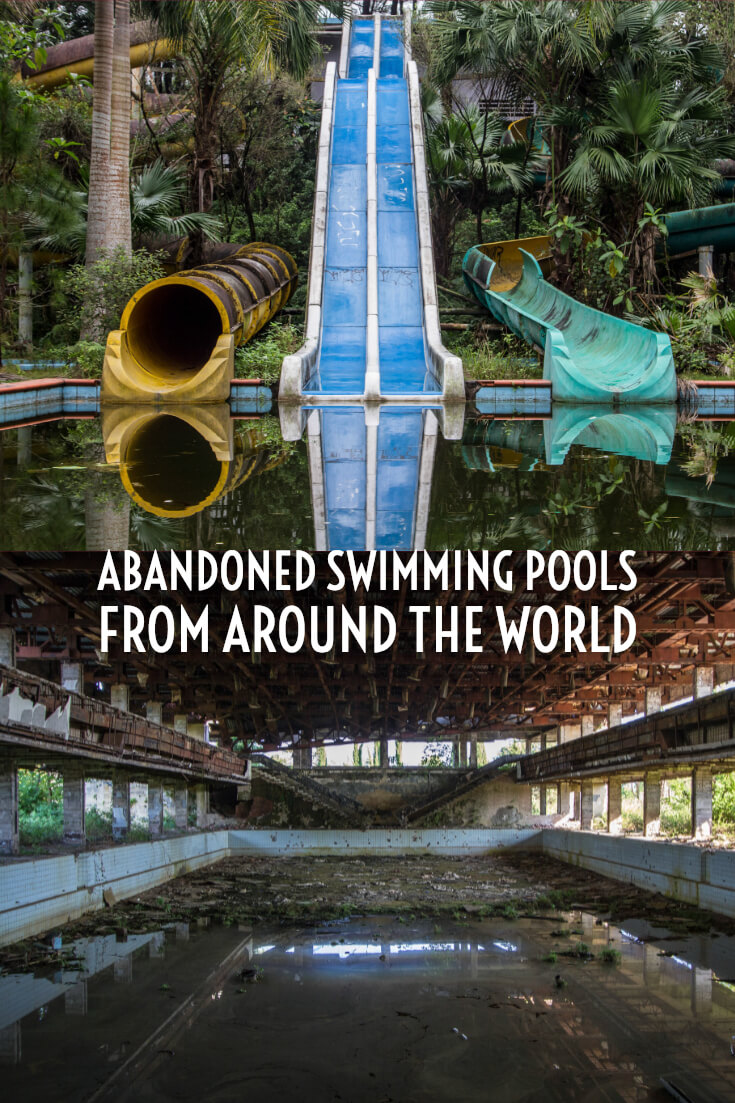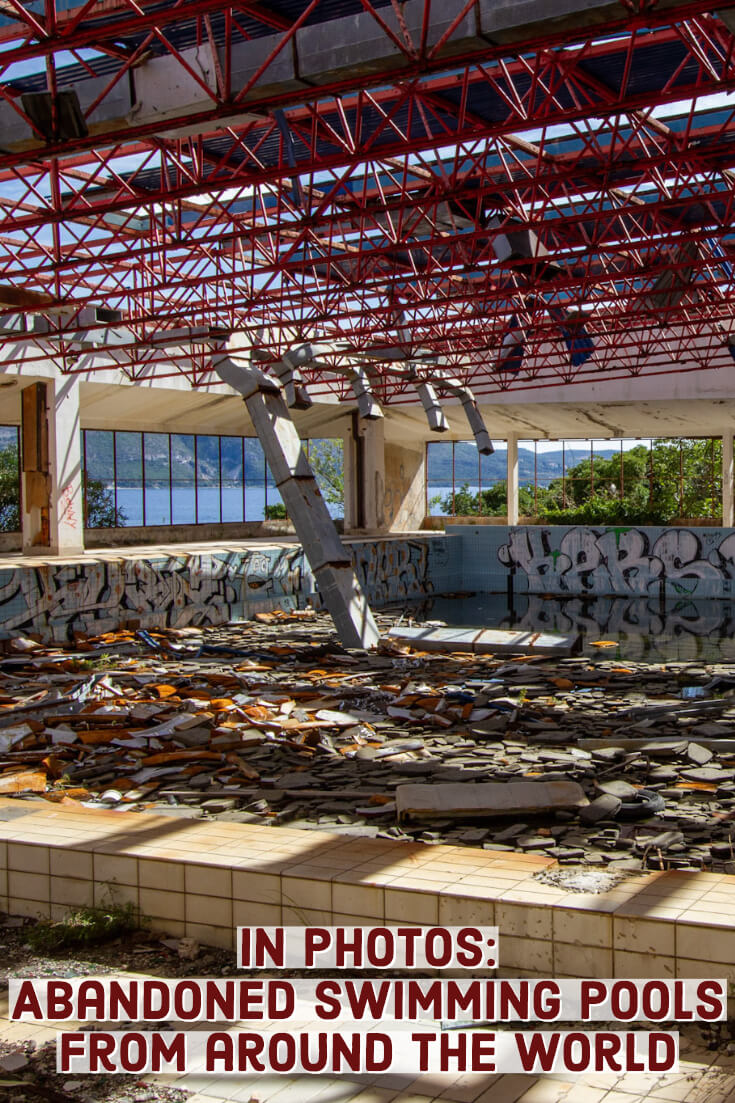 ---
---