Interesting places to stop on the route from Kyiv to Lviv
There are, of course, some great exceptions but many travel guides to Ukraine focus on Kyiv and Lviv (and maybe Odesa) as if they were the only cities in the country.
And to be honest, if you asked me to suggest just two places to visit in Ukraine, it would be Kyiv and Lviv. These are the two cities we visited on our first trip to Ukraine, and the places which got us hooked and eager to see more of this vast country,
In many a traveller's eyes, Ukraine itself is an off-the-beaten-path destination, but it has its fair share of hidden gems. Chernivtsi, Kamianets-Podilskyi, Vinnytsia, Chernihiv, and Kharkiv are a handful of our favourites, though, as the second-largest city, Kharkiv is hardly 'hidden'! Perhaps underrated is a better word.
So what about those travellers who want to see more than Kyiv and Lviv? Those who want to get to places most tourists don't reach (that'll be everywhere else besides!). Travel logistics in Ukraine can be overwhelming, particularly if you don't speak the language, and it's easy to see why many travellers jump straight on the train and travel the 500-plus kilometres between Kyiv and Lviv in one hit. But breaking this journey will take you down the road less travelled and show you the 'real Ukraine' without adding hundreds of additional kilometres to your trip.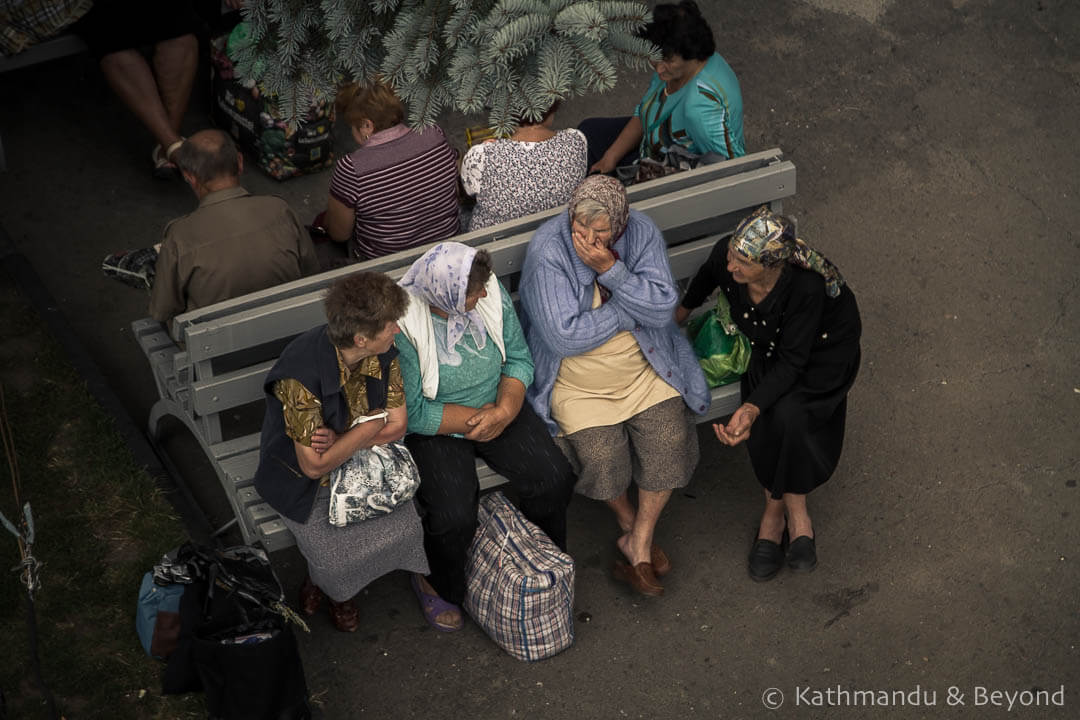 Train station, Rivne
When coming up with suggestions for alternative places to go we quite often find ourselves describing many of Ukraine's small towns and cities in the same way: "There isn't a long list of must-see sights but it's a pleasant place and certainly worth wandering around for a couple of hours or so. People are friendly but it's a bonus if you find someone who speaks English". Some travellers need a list of tangible sights to visit, in which case off-the-beaten-path Ukraine may not be for you.
Most towns of this ilk have at least one shiny onion-domed church, a provincial museum, some Soviet-era architecture as well as some more ornate buildings pre-dating that period. Some offer more than others in the way of sightseeing, and admittedly, the appeal is sometimes hard to define. But it's only when you get away from Kyiv and Lviv that you start to experience a more authentic Ukraine and meet friendly folk going about their daily business, and more often than not perplexed by, but welcoming towards, a couple of non-Russian speaking tourists passing through their town.
Where should you stop on the journey from Kyiv to Lviv?
Admittedly, if you look at a map of Ukraine, there's not a singularly obvious route between Ukraine's two best-known cites, and the country's slightly disjointed railway system doesn't make itinerary planning easy. So for this post, rather than propose one A to B route, I've mapped out all of the places we've visited in this western part of Ukraine. The places are listed in the order we travelled to them, so if you do want to visit them all, you can follow our reasonably logical route. At the end of the article, there are some alternative itinerary suggestions for feasible routes, depending on how much time you have available and what interests you.
ZHYTOMYR
Just 140km west of Kyiv, Zhytomyr is a good place to start if you want to explore beyond Kyiv but are worried about feeling overwhelmed. The style of the architecture in Zhytomyr means it retains a 'Soviet' feel, with the tank mounted in the centre of town contributing to this. At the same time, it's a leafy town with several green spaces and a pedestrianised street where you can find a few foreigner-friendly cafes and restaurants. We first wrote about Zhytomyr in our post, 'Where to break the journey between Kyiv and Odesa and most of this section has been taken from there.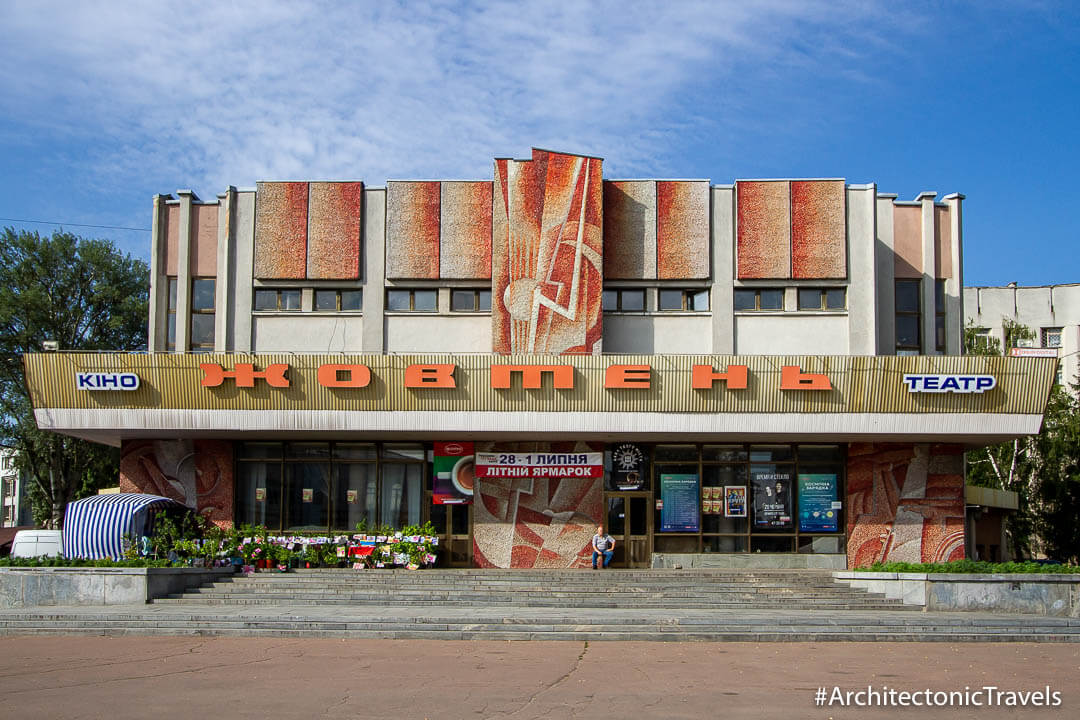 October Theatre, Zhytomyr
What to do in Zhytomyr
The first time we visited Zhytomyr it was the quirky Korolyov Cosmonaut Museum that drew us there. The space museum contains some pretty cool stuff, including a lunar ranger, a couple of satellites and other space-related memorabilia. It even has a section dedicated to the dogs sent into space as part of the Soviet space program. Walking through the dark interior of the museum, you are accompanied by space-age music. Outside, a couple of large rockets and bust of Sergei Korolev, a prominent rocket engineer after whom the museum is named, are on display. The museum is about 20 minutes' walk from the centre of the city.
Apart from the cosmonaut museum, Zhytomyr's sights are clustered around either Maydan Soborny (main square), Victory Square or close to Mykhailivska Street. There are several churches in Zhytomyr, of which the most impressive is the Holy Transfiguration Cathedral, which is situated just behind Victory Square. It is worth strolling down pedestrianised Mykhailivska street and if you are into Soviet-era architecture, check out the city's court building (at the southern end of Mykhailivska street), the nearby orange-coloured theatre as well as the much larger Zhytomyr Ukrainian Music and Drama Theatre, which is located on Maydan Soborny.
You can find quite a lot of street art in Zhytomyr too, both the familiar kind and the less conventional kind. We were drawn to a series of Soviet-style plaques on the side of a building which Mark photographed and subsequently wrote a post about (to be published very soon!), attempting to interpret their meanings: Street art USSR style.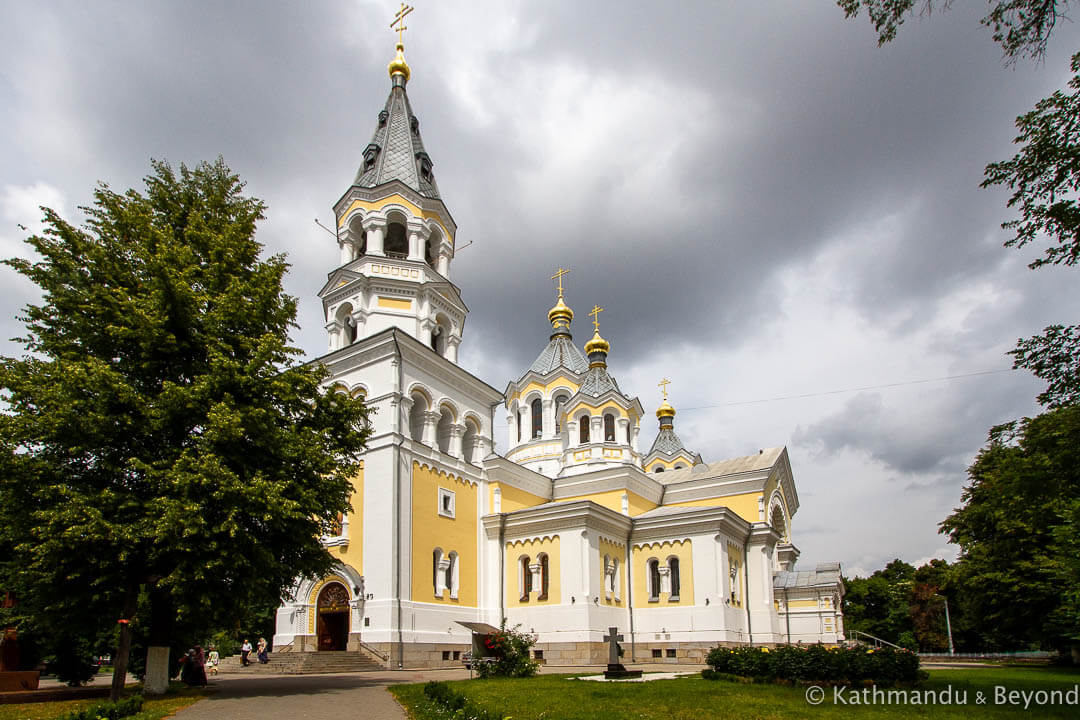 The Holy Transfiguration Cathedral, Zhytomyr
Where we stayed in Zhytomyr
We've stayed at the Hotel Ukraine (Ukrainia) twice. From the 1970s elevator and uniformed staff to the dusty sofa-dominated bedrooms (you get a separate living area), the Hotel Ukraine harks back to the Soviet-era big time. It's functional, centrally located and rates include a decent breakfast.
Travelling to Zhytomyr
Zhytomyr isn't on the railway line, so the easiest way to get there from Kyiv is by marshrutka. For other destinations, the bus is the best option.
BERDYCHIV
Aside from our incurable curiosity for offbeat places, one of the main reasons we included Berdychiv on our itinerary was so we could cut out a long stretch of cramped bus travel and replace it by the more comfortable train. Zhytomyr doesn't have any westbound rail connections but by taking a bus south for one hour, we could pick up rail services heading west. Berdychiv is a small town and half a day there will probably be enough for most visitors.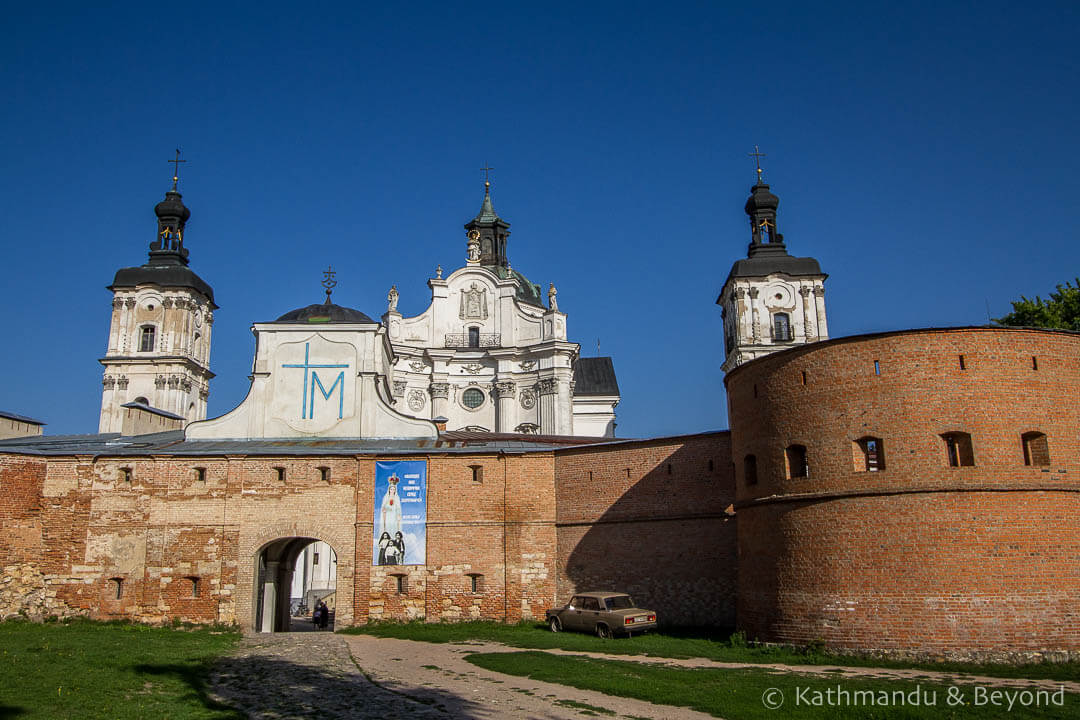 Carmelite Monastery, Berdychiv
What to do in Berdychiv
One of Berdychiv's main sights is its Jewish Cemetery. The town has a long history of Jewish settlement (before the Nazis came along 80% of Berdychiv's population was Jewish) and reading about the overgrown graveyard bought out the tombstone tourists in us. The cemetery covers a large area and as we wandered around it was interesting to observe the difference in the style of tombstones depending on their age. Compared with more familiar modern graves, the oldest ones resembled upturned stone boots. Many historic cemeteries we visit are lost to the forest but this one is an open space and with evidence of recent work to clean up a lot of the stones it appeared to be well-maintained.
The Jewish Cemetery is a kilometre or two out of town and it's easy to jump on a marshrutka if you don't fancy the walk. Once you cross the railway tracks, look out for the cemetery to your right.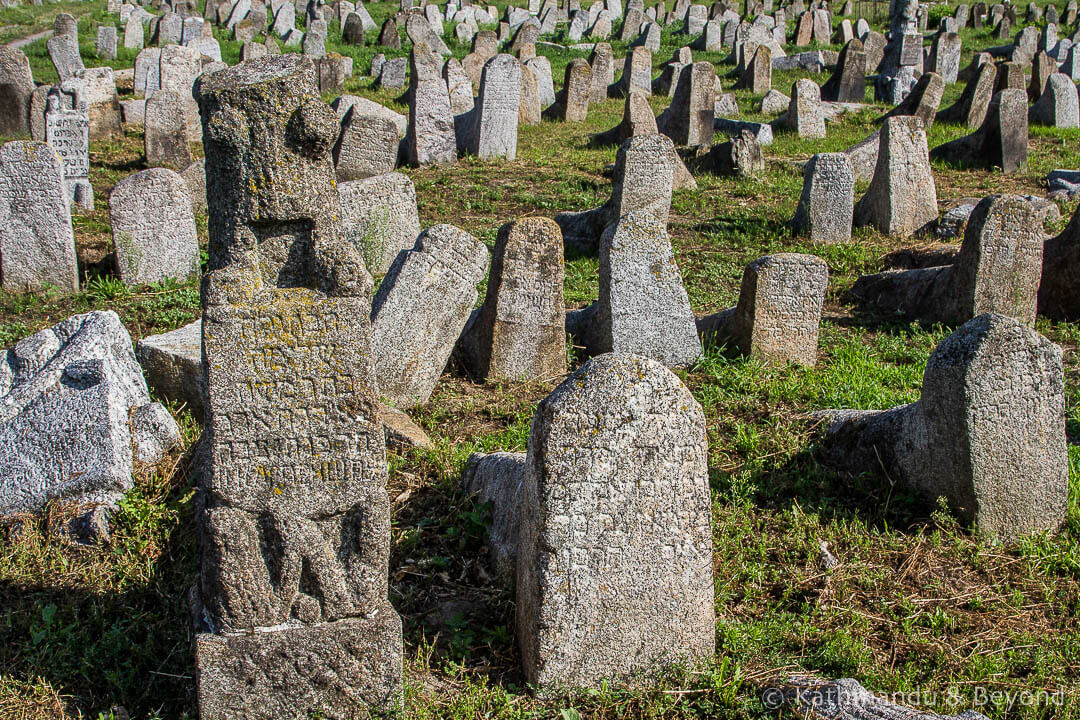 Jewish Cemetery, Berdychiv
Back in the town centre, there isn't much evidence left of the significant Jewish history and the synagogue is barely noticeable. We might not have found it, had it not been across the road from our hotel.
Another city landmark is Carmelite Monastery. More commonly known as Berdychiv Fortress because of its fortified walls even though it has never actually served as a fort.
Interesting fact: writer Joseph Conrad who is considered to be Polish-British was born in Berdychiv and within the monastery grounds is a museum dedicated to him (unfortunately we didn't get our museum opening hours timing right, so can't comment on the museum's worthiness).
That's more or less it for sightseeing in Berdychiv although if you take the time, there are some interesting buildings and like almost everywhere in Ukraine, Berdychiv has a couple of churches which are worth a look: Saint Nicholas Church and Saint Barbara Church. If you visit in the summer, it's worth taking a walk down to the small city beach, along the river and across the bridge for the view back to the monastery.
Where we stayed in Berdychiv
Hotels are a bit thin on the ground in Berdychiv and we stayed at the Hotel Deja Vu on Sverdlova Street. It was a comfortable 2-3 star hotel, not the cheapest place we've stayed in Ukraine but a fair price for what we got and more than adequate for a night.
Travelling to Berdychiv
Berdychiv is on the train line, making it a straightforward stop on the route between Kyiv and Lviv, although one night will probably suffice. Alternatively, there are plenty of buses to destinations not served by the railway.
SHEPETIVKA
Our visit to Shepetivka was a classic 'stop the bus' moment – the idea behind this is to jump off the bus (in this case the train) in a random town just for the hell of it or, in this case, because of one obscure thing we've read about!
What to do in Shepetivka
Shepetivka is one of the smallest towns we've visited in Ukraine and I think most of the local residents were wondering if we'd got off the train at the wrong station. The reason for our visit? To see this rather unusual monument that caught Mark's attention on Pinterest!
The Museum of M. Ostrovsky, or give it its full name, Khmelnytsky Regional Literary-Memorial Museum M. Ostrovsky (Музей Миколи Островського) is one of the most way-out looking museums we've come across (and there's been a few!).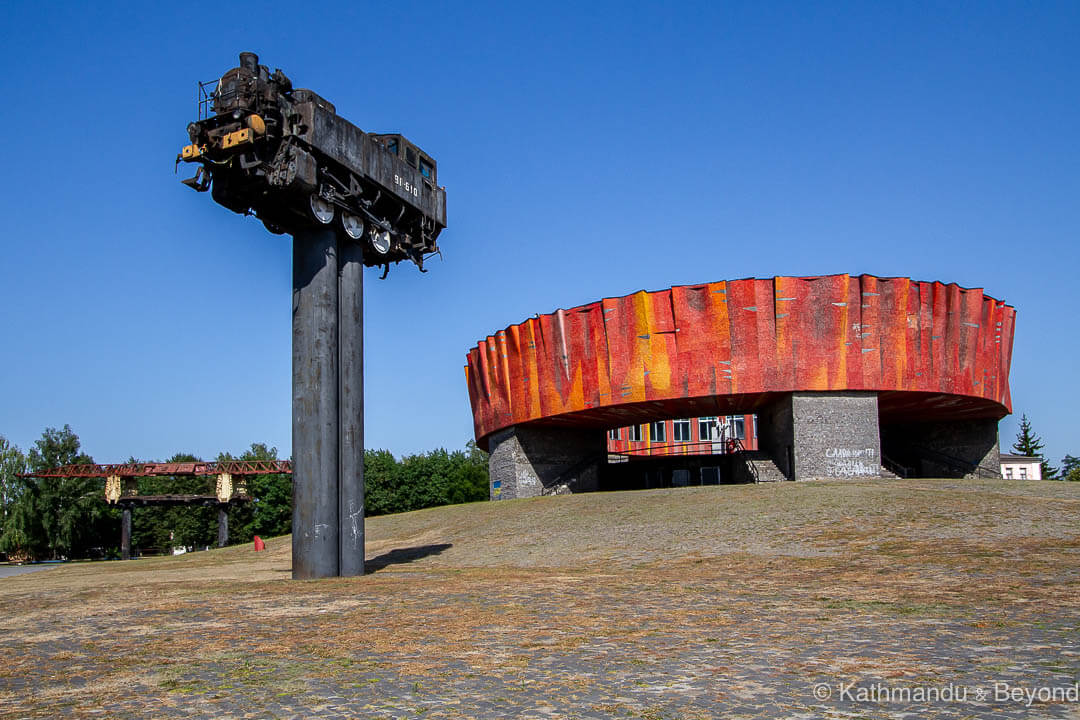 Khmel'nitsky Regional Literary-Memorial Museum, Shepetivka
We couldn't find much information about this incredible looking building in the centre of Shepetivka other than it's a memorial museum dedicated to author Nikolai Alekseevich Ostrovsky who penned a couple of famous novels (famous maybe if you know Russian literature, but we hadn't heard of them!). His books How the Steel was Tempered and Born of the Storm (the latter unfinished due to his death from illness at the age of 32) are of the socialist realism genre, the official style of the USSR at the time.
Ostrovsky lived in Shepetivka as a child, and this is presumably the reason for the memorial. We understand there has been a memorial on the site since 1946 (Ostrovsky died in 1936) but we weren't able to establish if the imposing building standing there today was built during that period or subsequently (possibly in 1979). In addition to the red rotunda, there is a locomotive perched atop a steel structure. Inside the building, there was some kind of activity centre for local kids. This was another instance where not speaking any Russian or Ukrainian is frustrating as it meant we left with lots of unanswered questions even Google couldn't help with.
The Ostrovsky Memorial alone was worth breaking the journey for, but be warned, there's not much else in this small town!
Where we stayed in Shepetivka
We didn't stay in Shepetivka and it's just as well we hadn't planned to because we didn't see any hotels during our walk around town. We left our backpacks in the left luggage lockers at the train station (with the help of the railway staff).
Travelling to Shepetivka
Shepetivka may be an unassuming town, but it's on the railway line to and from Kyiv. The train station is (just about) walking distance from the town centre. The bus station is way, way on the opposite side of the town, so if you do visit Shepetivka, we would recommend arriving and departing by train. Buses link the train and bus terminals and this is also a handy route if you don't want to walk into town.
Don't make the same mistake as we did with your travel plans! Our original idea was to travel by train from Berdychiv to Ostroh via Shepetivka. The fun started when we came to catch the train to our next destination, Ostroh. This was when we worked out the Ostroh we wanted to visit was not on the train line and there are two towns with identical names! Although quite close to each other, the Ostroh we wanted to visit (with a charming-looking castle and old town) is not the Ostroh connected by rail. To cut a long story short, it was getting late so we had to abort our plan and continue to Rivne instead. I don't know how we could have told the places apart because both are written as Остро́г in Russian and both seem to be written as Ostrog.
RIVNE
With a population of around a quarter of a million, Rivne is a typical mid-sized Ukrainian city – it doesn't have a long list of sights to tick off (most tourists are there to visit the Tunnel of Love) but it has a relaxed vibe and enough to keep most people occupied for the half a day they aren't visiting Klevan.
What to do in Rivne
The number one thing to do, and what brings 99% of tourists to Rivne, is the Tunnel of Love in nearby Klevan. The fairytalesque overgrown, tree-canopied disused railway track is about a 30-minute drive from Rivne and it's definitely a 'must-see' if you're in the area. I wrote about it in more detail, including how to get there, here.
Rivne
Other than visiting the Tunnel of Love, I suggest you wander around Rivne town and see what takes your fancy. A central point is Independence Square, where you'll find a Shevchenko statue and the 'Ukraine' cinema (for fans of Soviet-style theatres). If you're into golden-domed churches the Holy Resurrection Cathedral, Pokrovsky Cathedral and the bright blue wooden Assumption Church should all be on your list.
Rivne's Glory Hill Memorial Park is a little walk out of town but a visit to the imposing monument is a good opportunity to stretch your legs.
Back in the town, look out for 'Heroes Never Die', a combination of street art and sculpture which is dedicated to the heroes of the 2014 revolution. Nearby, there's a lively babushka market (Ukraine's equivalent of a farmer's market) where you'll find produce from granny's garden on sale.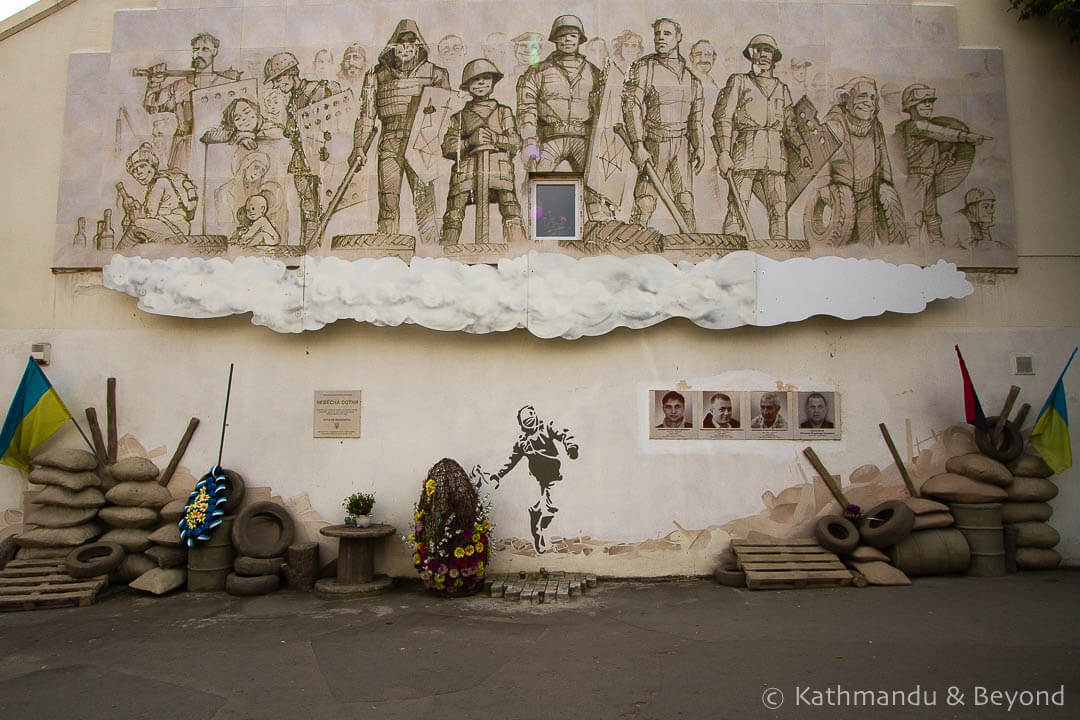 2014 Revolution Monument, Rivne
Where we stayed in Rivne
We had a minor accommodation disaster in Rivne. Arriving late, we found out the centrally-located hotel I'd booked via booking.com was pinned incorrectly and the Hotel Tourist was, in fact, a couple of kilometres out of town. We traipsed to the hotel only to be told we had 'booked too late' (umm, we booked online and it shouldn't have shown available if it wasn't!). The only accommodation the unsympathetic receptionist could offer us was a single room. The bed was more like a small double so exhausted, we accepted it. No apology from the hotel was forthcoming and they didn't even throw in a second breakfast, but in the end, it worked out OK and we made do because we couldn't be bothered to find another place for our second night in Rivne.
Travelling to Rivne
Rivne is on the train line which is the best way to get there. Additionally, you can take local buses (to destinations including Klevan) from outside of the train station. The main bus station is on the other side of town, a couple of kilometres out (next to the Hotel Tourist) and on the way to Glory Hill Memorial Park. Direct buses to Lutsk depart from this bus station too and you can use these buses to reach Klevan if you don't mind a 15-minute walk from the main road).
KLEVAN
The only reason to visit the small village of Klevan is to go to the Tunnel of Love. All the information on what to expect, how to get there, and details on what else there is to see there is covered here.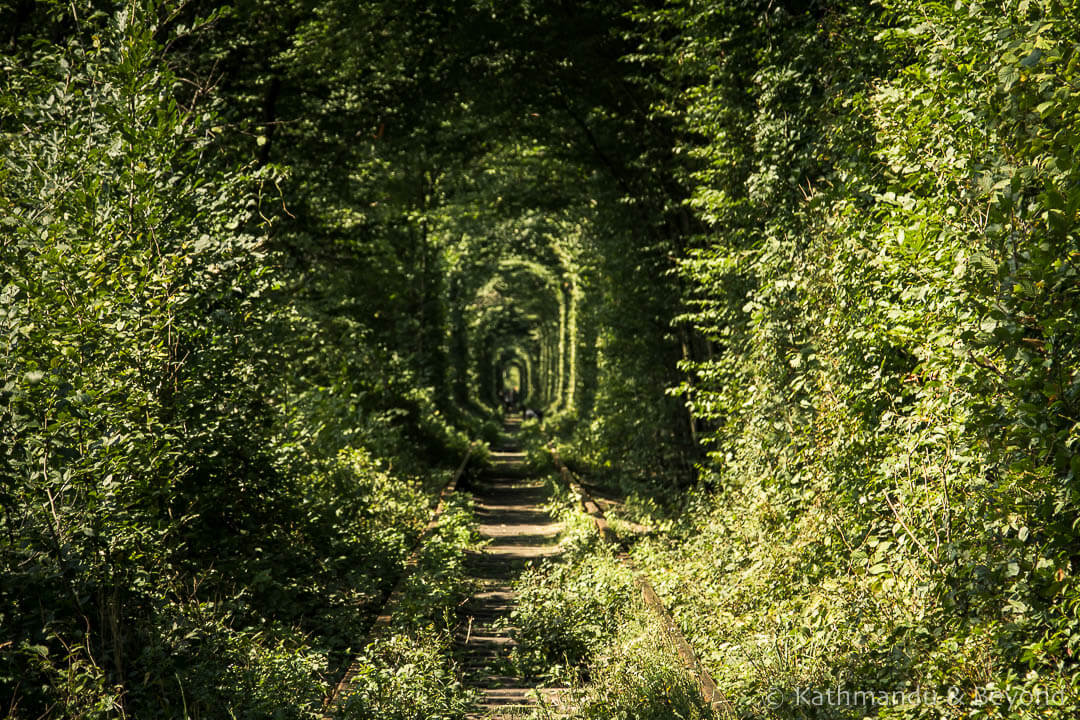 The Tunnel of Love, Klevan
Travelling to Klevan
To visit the Tunnel of Love, the best option to take a bus from outside the railway station. How to get there is covered in the above-mentioned post.
LUTSK
The history of Lutsk dates to at least 1085 (although folklore dates it to the 7th century), making it one of Ukraine's oldest cities. In addition to a 14th-century castle, the town (which is a little larger than Rivne) has a good combination of stark Soviet architecture and graceful 19th-century buildings.
What to do in Lutsk
Lutsk's main attraction is the castle which is also known as Lubart's Castle and sometimes Upper Castle. The imposing tower gate is the symbol of Lutsk and is in very good condition as is the interior, although it covers quite a small area and there is a limited amount to see. Like all good castles, it has a ghost – that of a young girl who refused to marry Lubart, the Lithuanian prince who built the castle.
A central point from which to explore Lutsk is Theater Square (Maydan Teatralny). Here you can see the pretty Holy Trinity Orthodox Cathedral, originally a Catholic Church and the more brutal Volyn Academic Drama Theatre. To the north of the square is Voli (Freedom) Boulevard, along which you'll find more buildings built during Soviet times. A short distance away is Eternal Glory Memorial Park, similar in layout and substance to other such parks found in all cities in Ukraine.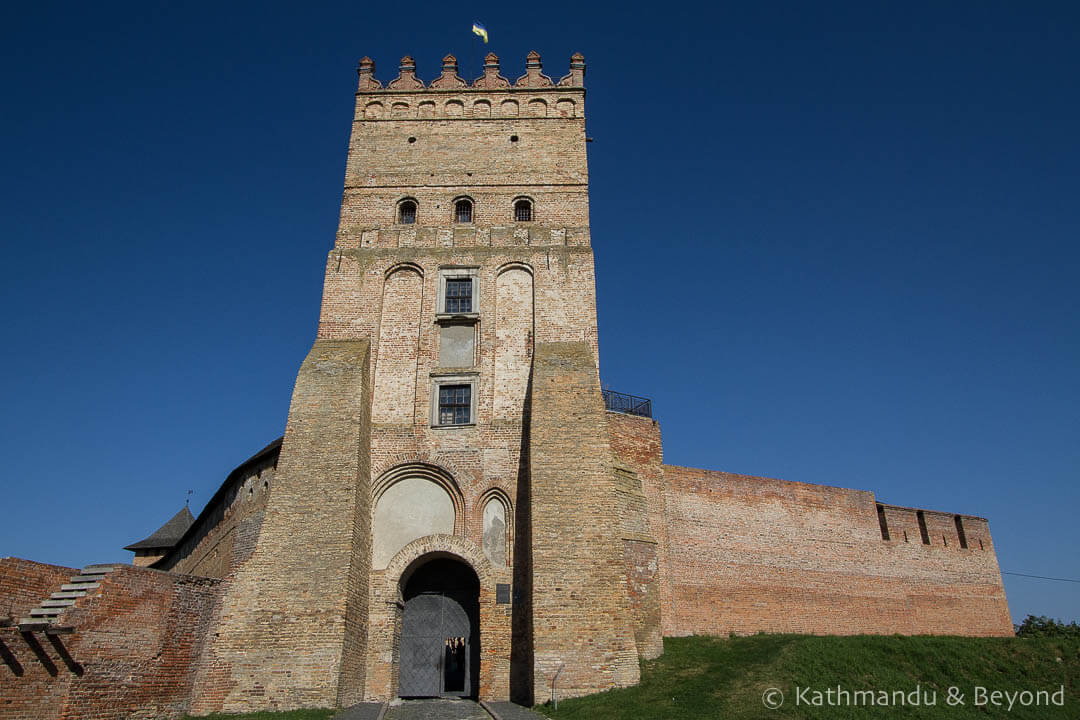 Lutsk Castle
Back on Theatre Square, follow Lesya Ukrainka Street, a long pedestrian street to the south, and head into the Old Town where you'll start to notice a higher concentration of buildings pre-dating the Soviet time.
Notable churches in the Old Town are the bright yellow Protection of Virgin Orthodox Church, Saint Peter and Saint Peter Catholic Church, and the tall skinny gothic style Lutheran Church.
More for its historical significance than the building itself, the 17th-century synagogue is worth a look. Of note is its unconventional boxy design with an attached defence tower – quite unusual for a synagogue. Reading about the history, we learnt this is because when the synagogue was built the king at the time supported the Jewish community in Lutsk on two conditions: first, the structure should be lower than the city's main Catholic church, and second it needed to serve as a defence point should the city be invaded.
Nearby, and not far from Lubart's Castle, is the 'House with Chimeras', the home of a local sculptor, which has become a tourist attraction due to the weird statues and sculptures covering and surrounding the building.
Fans of unusual museums are well-catered for in Lutsk: options include the Bell Museum, Book Museum, Pharmacy Museum and the Museum of the Victims of Totalitarian Regimes. We didn't visit any of the museums in Lutsk but if you do, let us know your favourites!
Dig a little deeper and wander a little further and you'll find a few alternative sights including a little street art, some Soviet-style mosaics and this Aeroflot plane seemingly parked randomly in a car park!


Driving School of the Civil Defence Organisation (left) and an Aeroflot plane in a car park! (right)
Where we stayed in Lutsk
We stayed at the Hotel Svytyaz which was OK; a typical 2-3 star hotel and nothing special. The location felt a bit isolated although it was actually only a 500-metre walk to Lesya Ukrainka Street. Budget options are scarce in Lutsk and generally, we avoid hostels, but if we were ever to find ourselves in the city again, I'd consider forgoing a private bathroom in favour of staying at the cheaper and more centrally located Hotel Druzi.
Travelling to Lutsk
Daytime trains passing through Lutsk are limited, so you might find it more convenient to take the bus or a marshrutka, especially if only travelling a short distance.
DUBNO
Dubno was next on our tour of off-the-beaten-path places in Ukraine no other travellers seem to make it to. Another castle town, albeit a rather modest one, Dubno makes for a low-key pitstop en route from Lutsk to Kremenets. With a castle and the river, Dubno's not an unattractive town, but there's not really much to do there!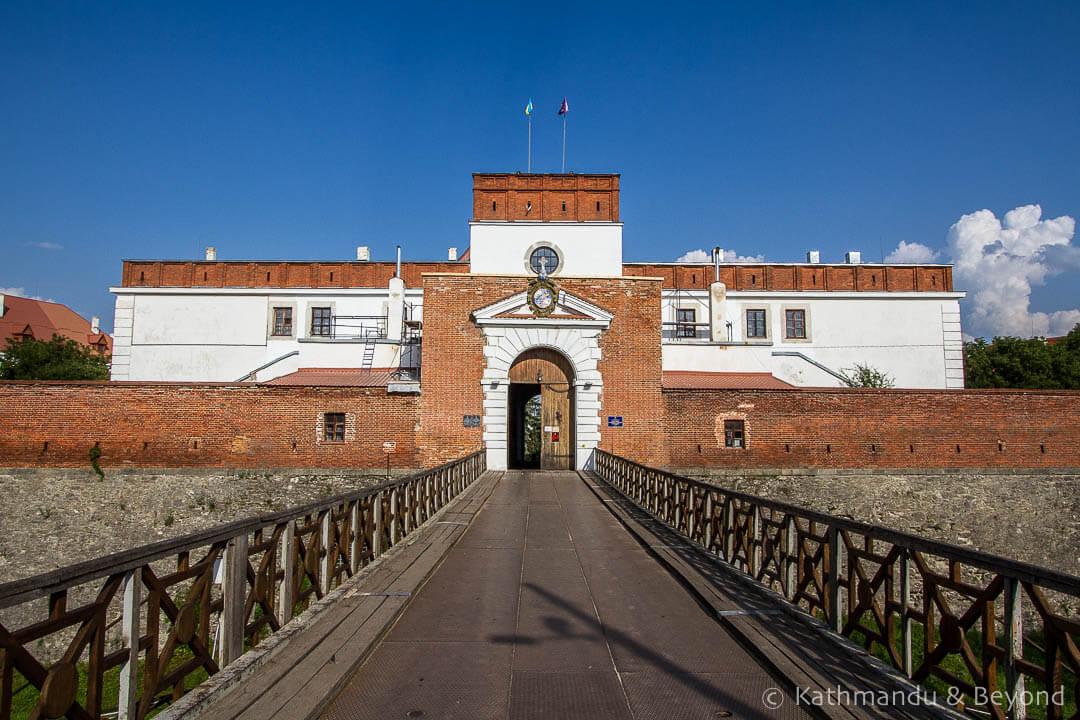 Dubno Castle
What to do in Dubno
Although Dubno Castle looks promising from the outside, there's not much beyond the facade and it took us all of 20 minutes to look around (and that was taking it slowly!). After you've visited the castle, spend an hour or so wandering up and down Dubno's main street and see what appeals: there's a historic abandoned synagogue, and the golden-domed Saint Elijah Church, and of course a bit of Soviet-era architecture and Ukraine's omnipresent war memorials.
But for us, the real highlight of Dubno was Tarakanovskiy Fort, a hidden gem outside of the town. Also known as Tarakaniv, this abandoned fortress lies concealed in the forest a few miles out of town. Built at the end of the 19th century to protect the western borders of the Russian Empire, it was taken by the Polish during the First World War, and then in World War II, whilst back in Russian hands, it was captured by German soldiers. Today, it's an eerie place, overgrown with vegetation and riddled with dark damp tunnels. Oh, and the occasional Ukrainian family having a picnic on the bonnet of their car!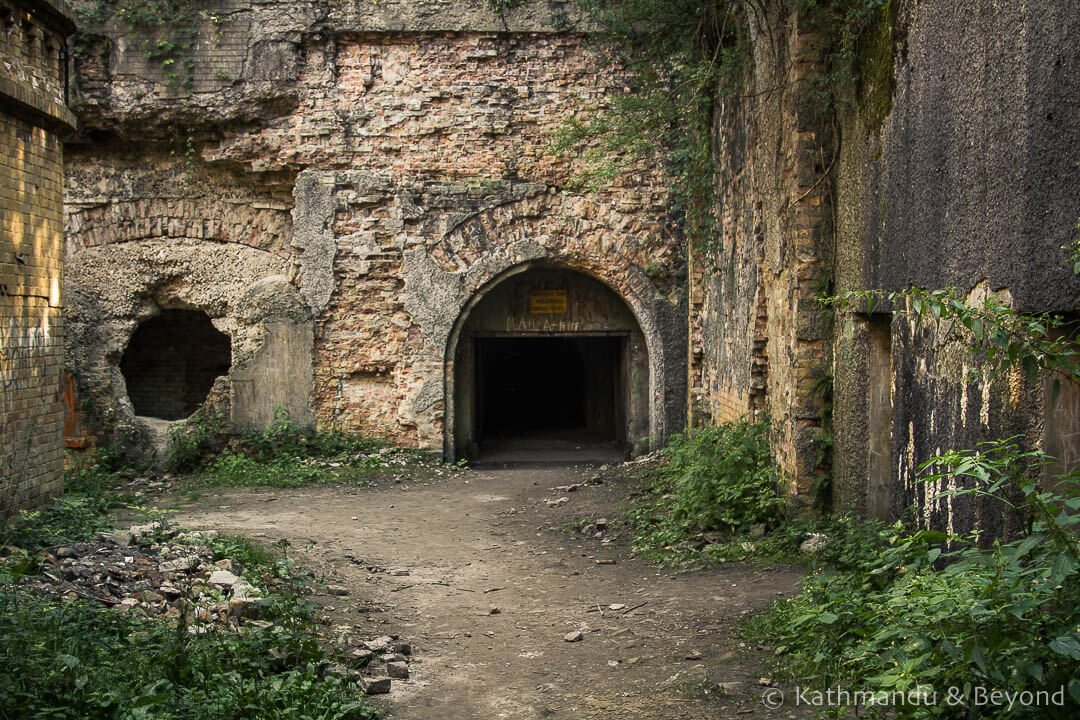 Tarakanovskiy Fort near Dubno
To get to Tarakanovskiy Fort (Тараканівський форт) on public transport, you'll need to catch a bus going in the direction of Pidluzhzhya. Make sure everyone on the bus knows where you are going to ensure the driver stops in the correct spot on the main road. There is a town called Tarakaniv but the fortress is a little beyond it so don't get off too soon. From the bus stop, continue walking until you see a wooden restaurant on the left-hand side of the road. It's called Hostynna Pich (Гостинна Піч) which translates as Hospitable Oven. After another 300 metres, take the left turn down an unmarked, unmade road (there's a small church in the field). After another 700 metres during which you'll probably be wondering where on earth you're going, continue straight when the road forks left, and the fortress is just ahead of you. It's marked on both Google maps and maps.me so it's easy to locate.
Where we stayed in Dubno
Having spent the previous few nights in austere Soviet-era relics, our guesthouse in Dubno was more like an English country B&B! The cosy Antique House Hotel is a stone's throw from the castle gates and across the road from the bus stop – the location couldn't be better.
Travelling to Dubno
Again, due to the frequency of trains, it may be more convenient to travel by bus to and from Dubno. Some Lviv to Rivne trains travel via Dubno, but the town's not connected by rail to Lutsk.
KREMENETS
One of our reasons for staying in Kremenets was to visit the nearby Pochayiv Lavra but Kremenets itself turned out to be a bit of a hidden gem! Kremenets is a small town that perfectly sums up what attracts us to Ukraine: Kremenets combines ugly and pretty in one sweet little package. Check out the Soviet-era Memorial to the Great Patriotic War (World War II) memorial smack in front of the ornate Jesuit college!
On the long gently sloping main street, 18th and 19th-century churches and buildings are juxtaposed with Soviet-era architecture.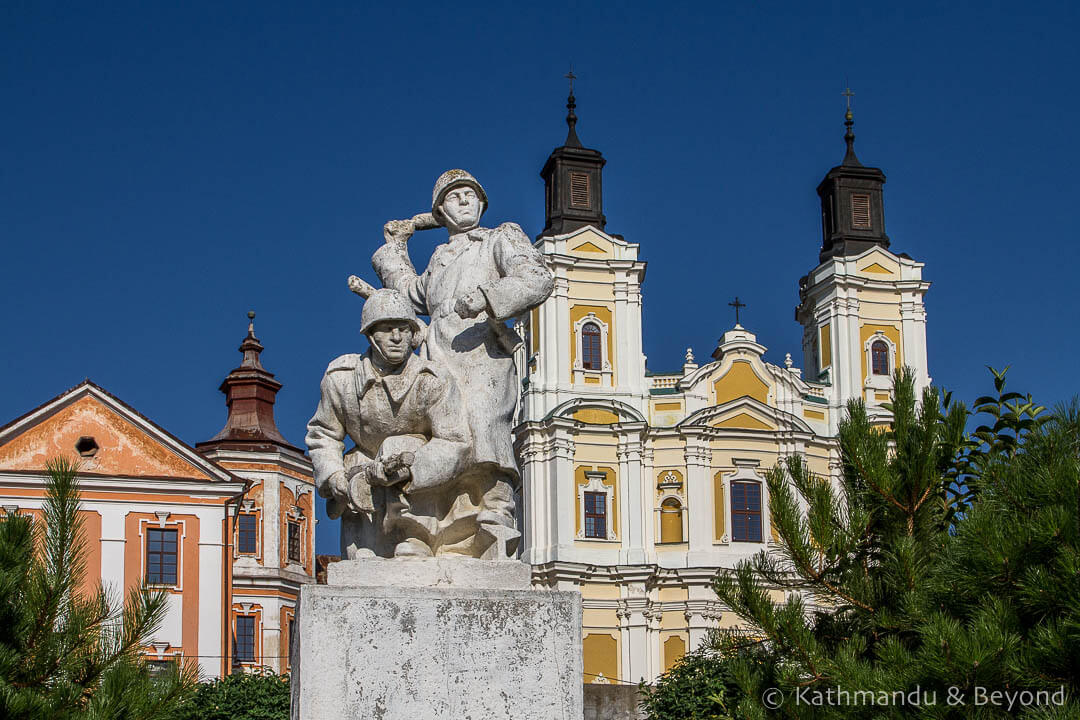 Memorial to the Great Patriotic War and the Jesuit College, Kremenets
What to do in Kremenets
With legacies left by the Mongols, Cossacks, Polish, Soviet and Jewish communities, including a 12th-century fortress, monasteries and churches, WWII monument and Cossack cemetery, there's a lot packed into this small town! The locals don't seem to agree as the population of 22,000 has been slowly declining over the years as young people leave the town to look for work and a more exciting life.
Kremenets consists mainly of one long street so if you walk up and down you'll spot all the 'sights'. Better still, walk one way and catch a bus the other because Kremenets' charming churches and other buildings are quite spread out. One of the most imposing sights is the Jesuit Collegium mentioned above, made even more striking by the very Soviet-style statue in front of it.
Other attractive religious buildings to look out for include St. Nicholas Cathedral, Holy Epiphany Convent, and the Church of the Holy Cross. Alternative sights include Soviet mosaics and an abandoned Ferris wheel and summer theatre in the Culture & Leisure Park.


Downtown Kremenets (left) and Shevchenka Park, Kremenets (right)
Away from the 'high street', tombstone tourists will be drawn to the atmospheric Pyatnystke Cemetery (Pyatnytske Kladovyshche) which holds the overgrown graves of over one hundred Cossacks who died during the 1648 uprising against Poland.
I recommend making the trek up to the site of the 12th century Kremenets Fortress. There's not much left of the fortress, but it's worth the walk up for the view over the city below. It's about a 30-minute walk and you can either follow the road around and up the hill or take a steeper shortcut.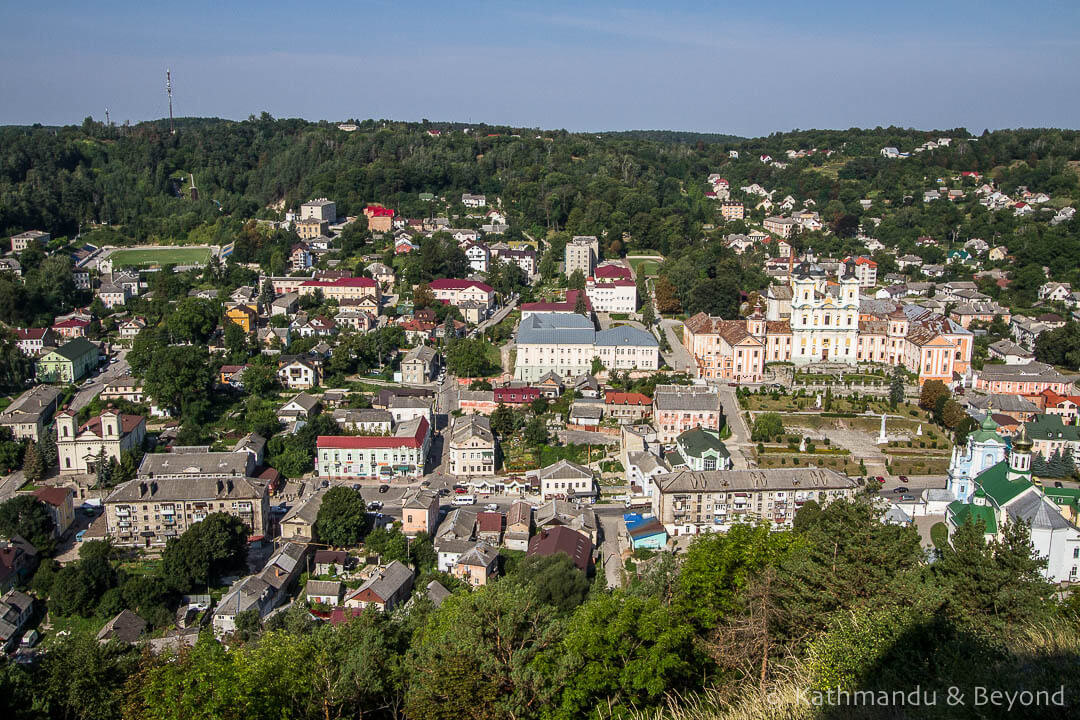 View from Kremenets Fortress
Pochayiv Monastery
Ukraine's lesser-known lavra (monastery), Pochayiv is the second-largest Orthodox complex in Ukraine after Kyiv Pechersk Lavra. Although smaller, this alternative is almost as impressive but without the tourists. It's much smaller than its counterpart in the capital but definitely worth the trip. The complex houses several churches and monasteries from different centuries and they seemed to be in the process of building another huge cathedral. For Orthodox Ukrainians, its importance is second only to the Lavra in Kyiv and many make a special pilgrimage to it. We'd read photography is prohibited in the complex but others seemed to be taking snaps so we discreetly took a couple ourselves. As we entered one of the churches, a hunched old lady came up to us and pointed at Mark and his camera bag (she also said something in Russian which we obviously didn't understand). Our interpretation was that she wanted us to leave the bag whilst we looked around so we duly followed her to the side of the church. But when she pointed at a ladder we realised we had misinterpreted her command. Following on more signals and gestures, we established she wanted Mark to carry the ladder across to the altar area of the church and set it up next to a pulpit. Fair enough, Mark was happy to do a good deed. But his job was not done and next, she had him climbing the ladder and changing the little curtain which protected a holy icon! In five minutes he'd gone from thinking he was going to get a right ticking off to being a handyman in one of Ukraine's most revered places!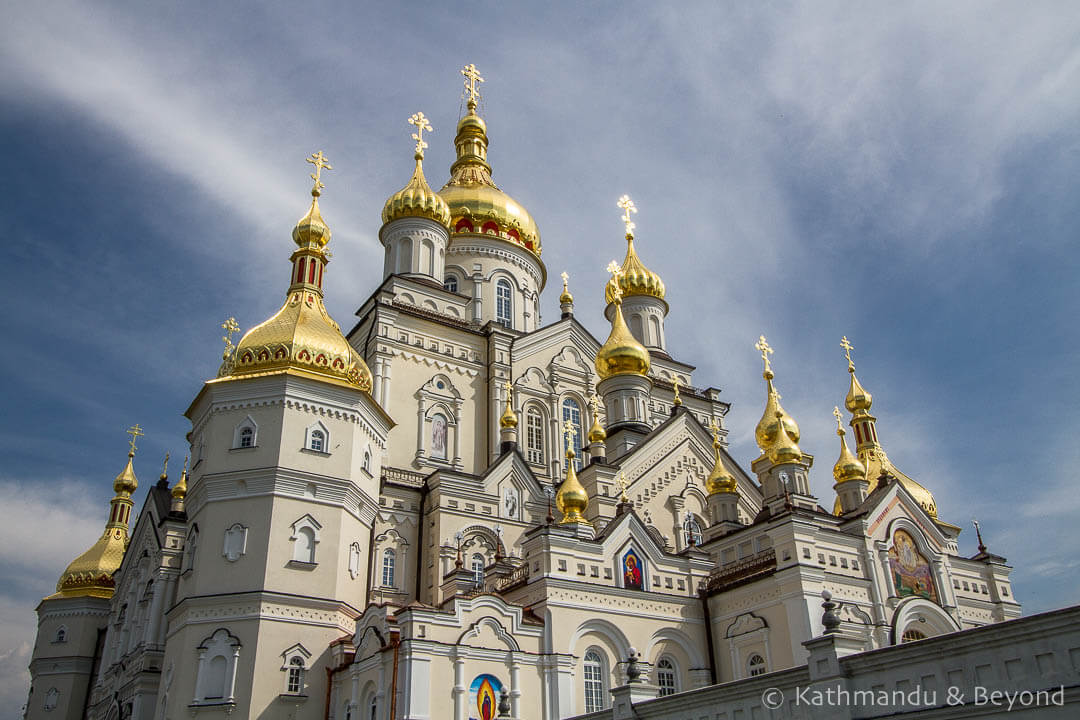 Transfiguration Cathedral, Pochayiv Monastery
The monastery, or Holy Dormition Pochayiv Lavra to give it its full name is around 18 kilometres southwest of Kremenets and easily reached by regular buses, taking around half an hour. Remember to dress appropriately – no bare shoulders and trousers for guys and full-length skirts and headscarves for women. If you turn up unprepared you can borrow some more respectable attire at the entrance.
Where we stayed in Kremenets
We stayed at the Kalyna Hotel which didn't have an ideal location because it was too far to walk into town, so we needed to take a bus. On the plus side, it was walking distance from the bus station and right outside the hotel there is a bus stop from where you can catch the bus to Pochayiv. Location aside, it was a good place to stay – a comfortable modern room, a nice garden where you can order food from the restaurant (although the menu wasn't in English and Google's translations were rather amusing) and the staff were friendly (we also communicated via Google translate).
Travelling to Kremenets
Although Kremenets has a railway station (a couple of hundred metres from the bus station) it doesn't appear to have any trains so a bus is the only public transport option here.
VINNYTSIA (VINNYTSYA)
Vinnytsia, also known as Vinnytsya, is one of our favourite off-the-beaten-track towns in central Ukraine. We first wrote about it a couple of years ago when we stopped there between Odesa and Kyiv.
It was by far the most interesting place we visited en route between Odesa and Kyiv, plus it was the most pleasant. Depending on the route you take, it's not illogical to include it on a Kyiv to Lviv itinerary, therefore I've repeated the Vinnytsia section of that post here.
What to do in Vinnytsia
Vinnytsia's epicentre is Independence Square and Kozitsky Park. Here you will find the red brick water tower complete with a mock cascading waterfall and the city's War Memorial and eternal flame. The Water Tower apparently houses a War Veterans museum, but there was never any sign of life each time we passed by so we gave up trying to visit. To the south of Independence Square, on the opposite side of Soborna Street, is the striking, glass-dominated City Hall while northeast of the square, the backstreets are worth exploring for their urbanity and ramshackle buildings.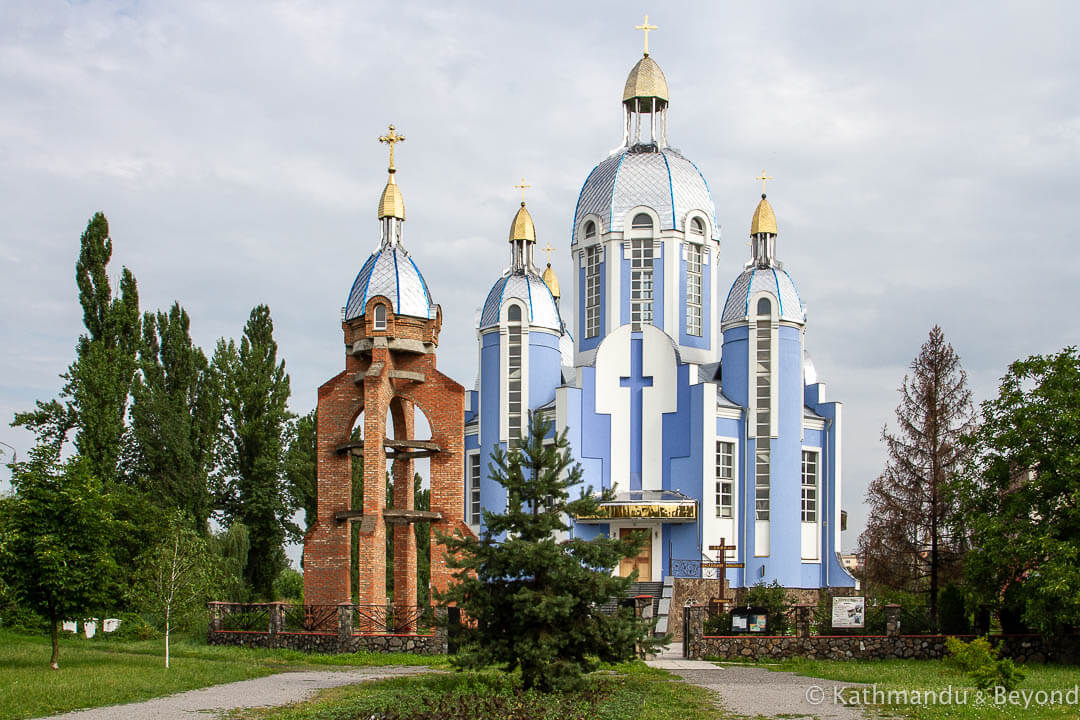 The Greek Catholic Church, Vinnytsia
Soborna Street is the main road in Vinnytsia. It runs from near the bus station, across the Southern Bug River and all the way up the hill past Independence Square and eventually terminates at Central City Park, the city's largest green space.
On or just off Soborna Street, you will find Vinnytsia's most interesting sights. Our favourite was most certainly the catchily-named AutoMotoVeloPhotoTeleRadio Museum, a small but fascinating junkyard of a place packed with Soviet-era memorabilia. We visited the Regional Museum too, but having just come from the AutoMotoVeloPhotoTeleRadio Museum, we found it a bit formal and rather boring.
Two churches are worth a look – the Transfiguration Church, which is also close to the bridge, more or less opposite the Soviet-era building just mentioned, and the eye-catching Greek Catholic Church, which is opposite the bus station.


Backstreets, Vinnytsia (left) and the AutoMotoVeloPhotoTeleRadio Museum, Vinnytsia (right)
If you are a lover of all things Soviet, check out the Cinema Rossiya (Russia) just down from the Transfiguration Church on the left-hand side if heading towards the bus station.
Any list of what to see and do in Vinnytsia wouldn't be complete without the mention of chocolate. The Ukrainian confectionery company, Roshen, has its main base in Vinnytsia. The company is controlled by the millionaire and current Ukrainian president, Petro Poroshenko (he was a billionaire but Russia's ban of Roshen products combined with the general state of the Ukrainian economy means that's no longer the case).
Although very tasty, it's not Roshen chocolate* that draws visitors to Vinnytsia, it's the Roshen Fountain.
* Roshen products can be bought anywhere in Ukraine and even further afield so you don't need to travel all the way to Vinnytsia to sample them. Although you might want to visit the huge Roshen store on Soborna Street selling slabs of chocolate as well as other mouthwatering treats.
The Roshen Fountain is an incredible (and free) multimedia fountain, that puts on a spectacular display nightly throughout the summer months. Hailed as one of the most amazing fountains in the world, it is the largest in Europe and evening performances, using lasers, 3D projection and superb acoustics, are held from early April to mid/late October. Depending on the time of year, the show doesn't get going until 9 pm or even later and lasts about 45 minutes. There is plenty of seating but it is still advisable to get there no later than 8.30pm in order to secure a place. There is a fun atmosphere on the bank of the river with vendors selling candy floss, those whirly things you throw up in the air, and other such novelty toys and snacks. Expect lots of oohing and aahing from the excited crowd once the performance gets underway.
As you can see, the fountain wasn't easy to capture in pictures. I did attempt to take a video of the spectacular show, however, it didn't come out nearly as professional as this relatively short (2 minutes, 45 seconds) video I found on YouTube. Worth a look if you're interested in seeing what the fuss is all about!
Interesting fact: According to Atlas Obscura, 'hibernation technology' is used in the winter to protect the fountain from Ukraine's harsh winter conditions. Around mid-October, the equipment is sunk to the bottom of the water, where it remains until the ice has thawed and it can be brought back to the surface once more.
Where we stayed in Vinnytsia
We decided to treat ourselves in Vinnytsia and stayed at the Hotel France on Soborna Street. The room rate was more than we usually pay for accommodation in Ukraine and it's expensive by Ukrainian standards but we had a lovely room at this centrally-located 4-star classified hotel. A good buffet breakfast is included, and the staff were friendly and spoke good English.
Travelling to Vinnytsia
Vinnytsya is well-connected by rail and there are direct trains to Kyiv, Lviv and Odesa. Closer stations include Berdychiv and Ternopil.
TERNOPIL
Although Ternopil has very little in the way of sights, it was fun for us, thanks to the lovely Ira. We met on a local bus in Kremenets where she was visiting family before returning home to Ternopil on the same day we were heading there. Ira works as a translator so speaks great English and gave up a lot of her time to show us around the city, as well as the best places for a good beer.
What to do in Ternopil
We spent most of our day in Ternopil with Ira, and we mostly just wandered and chatted about life in Ukraine and the UK. But despite walking and talking and stopping to take the odd photograph, I think we probably covered more than what Ternopil has to offer!
Ternopil's most photogenic attractions are Ternopil Lake, the Cathedral of the Immaculate Conception of the Blessed Virgin Mary, and Shevchenko Theatre and the vast Theatre Square. The city has the usual mix of Soviet and 19th-century architecture and a very pleasant pedestrianised central 'Old Town'.
One place we wanted to visit was the Museum for Political Prisoners and we were grateful to have Ira with us as she acted as a translator as the curator showed us around. The museum exhibits are in the cells of this former KGB prison which finally closed in 1986.


Central Ternopil
Where we stayed in Ternopil
We stayed at the centrally-located Hotel Ternopil, another typical 3-star hotel which represents very good value for budget travellers like us!
Travelling to Ternopil
Ternopil is well-connected by train to Lviv to the west and Vinnytsia to the east (and of course Kyiv). For other destinations, there is, of course, the bus.
Itinerary ideas for the journey from Kyiv to Lviv (or Lviv to Kyiv!)
Depending on how much time you have, you may not want to break your journey through western Ukraine in all of these places. There isn't one direct and obvious way to travel between Lviv and Kyiv, so here are a few suggested route options which work using public transport.
Our Route:
(Kyiv) Zhytomyr, Berdychiv, Shepetivka, Rivne, Klevan, Lutsk, Dubno, Kremenets, Pochayiv, Ternopil (Lviv)
The Most Direct Route:
Kyiv – Zhytomyr – Kremenets (Pochayiv) – Lviv
The "I only want to see the Tunnel of Love" Route:
Kyiv – Rivne (Klevan) Lutsk – Lviv (the only part of this journey which can't be done by train is the section between Rivne and Lutsk, but it's a relatively short journey and the Tunnel of Love is in between the two cities).
The Northern Route:
Kyiv – Zhytomyr – Rivne, Klevan, Lutsk, Dubno
The Southern Route:
Zhytomyr, Berdychiv, Vinnytsya, Ternopil
Travelling Only by Train:
Kyiv – Vinnytsya – Ternopil – Lviv
Kyiv – Berdychiv – Shepetivka – Dubno – Lviv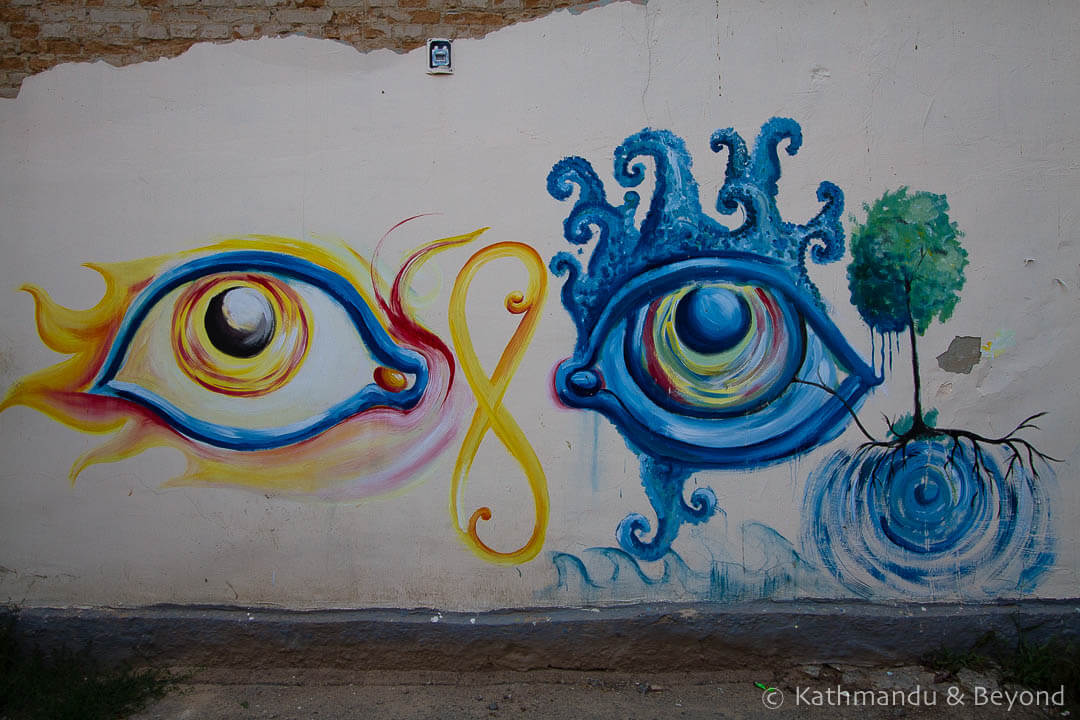 Street art, Zhytomyr
Further Resources
As usual, we recommend and use Ukrainian Railways website to look up (and book) trains and this website for bus schedules, although we always buy the tickets from the bus station itself. For local transport (buses, trams etc.) we refer to a website called Easyway.
The Lonely Planet Guide to Ukraine – the new and long overdue edition was released in July 2018! And if you really want to impress, pick up a Ukrainian Phrasebook too.
Use this link to get £15 off your next booking with Booking.com (valid for accommodation bookings anywhere in the world!)
---
---
HAS THIS POST INSPIRED TO YOU SEE MORE OF UKRAINE ON YOUR JOURNEY BETWEEN KYIV AND LVIV? PIN IT TO YOUR OFF-THE-BEATEN-PATH TRAVEL BOARDS!



---
---