East of the Dnipro River: Places to visit in Kharkiv
The first part of our series of posts about our travels in the eastern part of Ukraine highlights what to do in Kharkiv. Despite being Ukraine's second city, few travellers visit Kharkiv. On one hand, that's a great pity but on the other, it means that those who do include it on their itinerary still feel like they are off-the-beaten-path even though it's an incredibly accessible city.
Introducing Kharkiv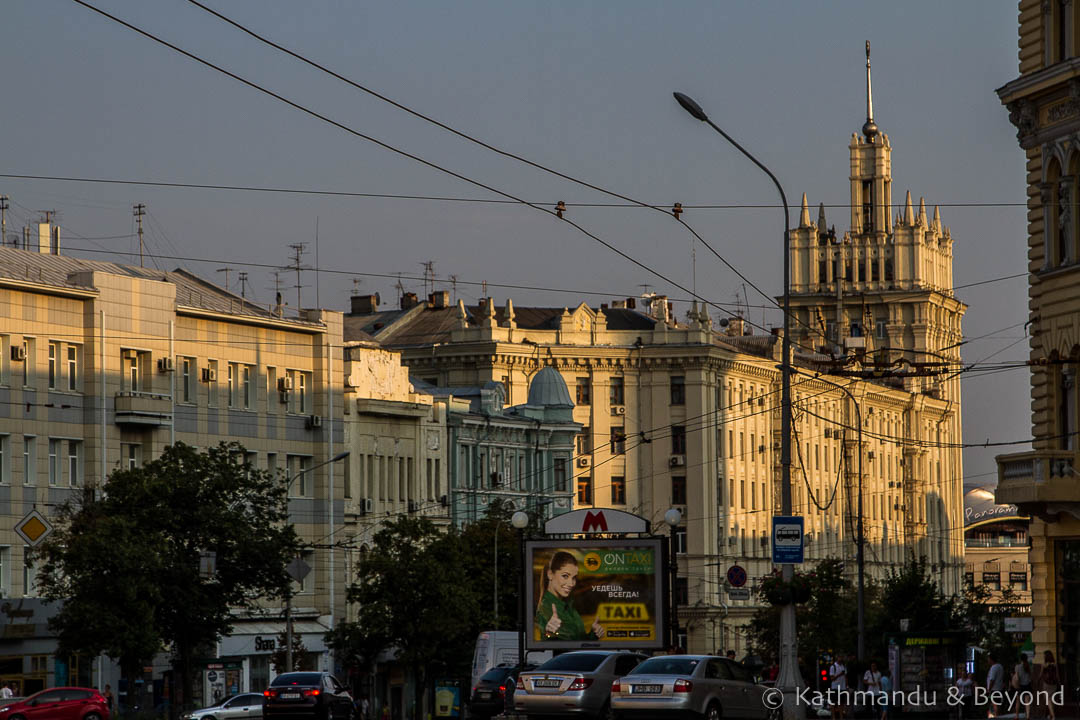 We pretty much exhausted ourselves in Kharkiv! We spent five nights and four days in the city and were out and about and looking around for the entire period. By the time we reached our next destination, Poltava, we were dead on our feet and in need of some serious R&R.
That will give you some indication of what a great city and how much there is to do in Kharkiv, or Kharkov as it's called in Russian, truly is. For us personally, it's not on a par with Kyiv (or Kiev, as the Russian transliteration). Few European cities are in our opinion – London and Belgrade perhaps – but Ukraine's second city is definitely a contender for runner-up. In fact, we enjoyed the city so much that I suspect this post will end up being quite a long one.
Kharkiv is both Soviet and attractive. Although Kirsty and I find Soviet-era architecture attractive, that's not what I mean in this instance. Brutalist and Stalinist Empire style buildings are plentiful in Kharkiv, but the city also exudes an air of elegance and sophistication. There is plenty of green space, imposing orthodox churches and attractive neighbourhoods scattered throughout the city. What's more, Kharkiv felt affluent, not a word I would use readily when talking about many of the other places we have visited in Ukraine.
It's reasonable to say that, unless you are Ukrainian, Russian or from a country that formally made up the USSR, you probably won't know that much about Kharkiv. It certainly wasn't a city we had much knowledge about prior to our visit and so before I move onto the nitty-gritty of what there is to see and do, here are a few facts that will help put the city into perspective.
Facts about Kharkiv
Kharkiv is officially Ukraine's second city after Kyiv.

The population of Kharkiv is in the region of 1.5 million (in contrast, Kyiv's population is 2.8 million).

Kharkiv was appointed the first capital of the Ukrainian Soviet Socialist Republic (Ukrainian SSR) in 1919 and remained the seat of government until 1934 (when it was relocated to Kyiv).

Kharkiv is situated in the east of Ukraine, close to the present-day border with Russian. Moscow is 745km to the north and Kyiv is 480km to the west.

As with all cities in Ukraine, the official language in Kharkiv is Ukrainian but many Kharkivites speak Russian on a day-to-day basis. 

Not that it is apparent if you stick to the heart of the city, but Kharkiv is a major centre for industrial manufacturing. The famous Soviet T-34 tank was developed and produced at the Kharkiv Locomotive Factory (now the Malyshev Factory), which remained a world-leader in tank production right up until the 1980s.

After the fall of the Soviet Union (the early 1990s), a large number of Orthodox churches were constructed and these days Kharkiv is one of Eastern Ukraine's most important religious centres. 

There is a sizeable Vietnamese population in Kharkiv. Although I have no evidence to corroborate this next statement, I am assuming that they originally came to Ukraine as refugees after the Vietnam War (solidarity between communist countries) and the community has grown from there. Reportedly, the largest Vietnamese/Buddhist temple in Europe is in Kharkiv and we also discovered a Vietnamese section at the city's Barabashova market, complete with small restaurants serving bowls of delicious and spicy (a word I rarely associate with Ukrainian food) beef noodle soup (pho).
Although we didn't visit it, Kharkiv is home to Ukraine's one and only Museum of Sexual Cultures of the World. Well, fancy that!
Is Kharkiv safe to visit?
I really don't mean to be sensationalist by including this but it's a question we often get asked. Yes, Kharkiv is a safe city to visit (as safe as any large city). It's probably safer than Kyiv purely because it's smaller. It's a long way from Ukraine's conflict zones and the war in the east is no reason to avoid travelling to Kharkiv.
Map of places to see in Kharkiv
What to do in Kharkiv
Squares in Kharkiv
A good place to start exploring Kharkiv is Freedom Square. The area is huge, in fact, it is the eighth-largest city square in Europe and it is encompassed by monumental government and other administrative buildings. The undisputed architectural champ on the square is the Derzhprom (or Gosprom in Russian), which was designed and constructed in the 1920s when Kharkiv was the capital of the Ukrainian SSR. At the time of completion, it was the tallest skyscraper in the Soviet empire and is a perfect example of Constructivist architecture. Ironically, it was inspired by the early 20th century skyscrapers of America, particularly Chicago, and it wouldn't look out of place in movies such as Metropolis (1927) or Blade Runner (1982). To really appreciate the Derzhprom's symmetrical shape, it is best to stand in the middle of the square but the building is tricky to photograph from ground level because of the number of trees in the way. Still, it is magnificent nonetheless and shouldn't be missed.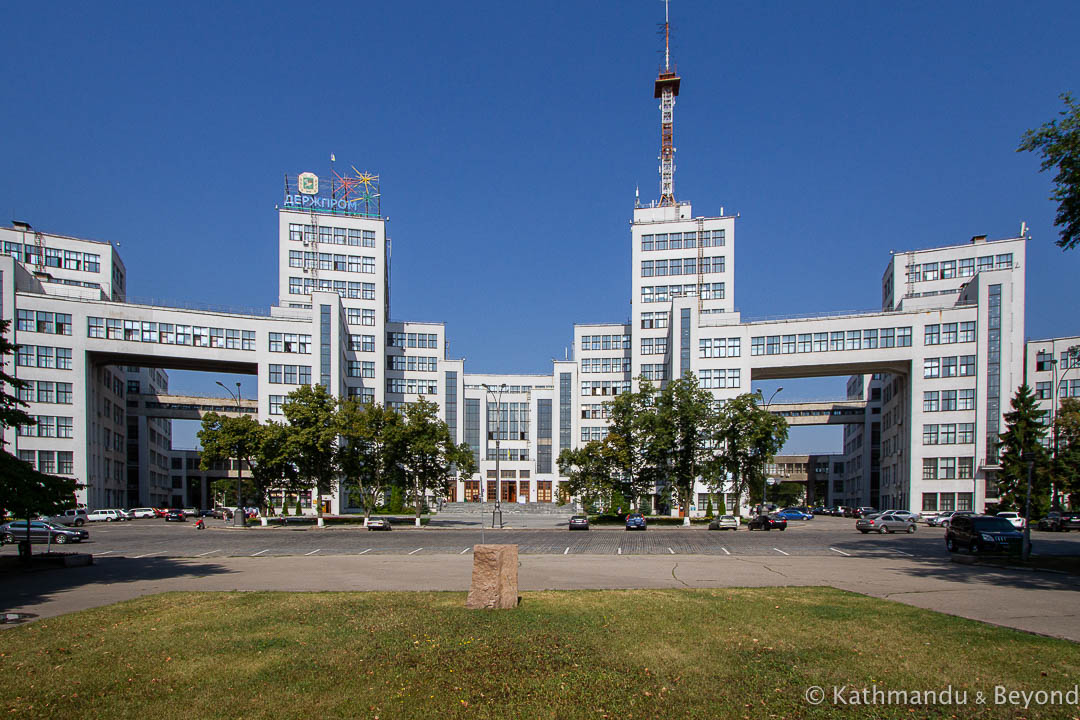 Derzhprom (Gosprom) on Freedom Square 
Away from Freedom Square, Constitution Square is the next most impressive plaza in the city. This is where you will find the recently redesigned Kharkiv History Museum, the thermometer (which is used as a meeting point for many a Kharkivite) and a large granite sculpture, that commemorates the city's appointment as the first capital of the Ukrainian SSR.
Constitution Square is a nice place to hang out and people-watch and over the road on the square's northeast corner, you will find the fast-food chain restaurant, Puzata Khata. I've waxed-lyrical about these self-service canteens (known as stolova) when writing about the reasons to visit Ukraine. In a land where ordering even the simplest meal can be a challenge, these point and pick-style restaurants are perfect for non-Ukrainian and Russian-speakers like us!
One final square worth looking at is Proletariat Square. It's not really a square in the true definition of the word but rather a set of sweeping stairs flanked by a couple of pleasant flower beds but it's worth a quick look if you are in the vicinity. 


Constitution Square (left) and Proletariat Square (right)
Kharkiv Parks
Kharkiv has got plenty of parks but we concentrated our efforts on three of them. Shevchenko Park, which is behind the Kharkiv State Academic Opera and Ballet Theatre, is the city's most central park. It was undergoing some heavy-duty renovation when we visited in August 2017, but nonetheless, it was a nice place for a stroll and was also home to some interesting architecture (see below).
Gorky Central Park, or Maxim Gorky Central Park for Culture and Recreation to give the place its full title, is Kharkiv's largest public garden and the go-to place for families, teenagers, the elderly and pretty much everyone else in between. Wherever we are in the former Soviet Union, we make a beeline for that particular city's Gorky Park: they are guaranteed to be the best place to observe general life and you can't beat sitting down in a prime spot for an hour or so and watching the world go by in one of these parks.


Gorky Central Park (left) and Kharkiv Cable Car (right)
The park in Kharkiv was no exception, plus it was also the starting (or finishing) point for the novelty Kharkiv Cable Car, which was originally constructed in the early 1970s to provide employees of two of the city's factories (Kharkiv Aviation Production Enterprise and Kharkiv Machine-building Factory) with cheap and easy access to their place of work. These dinky little cars are no longer used for that purpose but are still operational and riding in one of the 124 brightly coloured, two-person-only, gondolas is a fun thing to do in Kharkiv. The ride is about twenty minutes one way (1387 metres) and because the gondolas rarely go about the tree line, there isn't a whole lot to see so it gets boring after a while. Watching Kirsty get off a moving car when we reached our destination was most definitely the highlight for me!
Because our accommodation was nearby, we would spend the early part of the evening in Streak (Arrow) Square. More a park that a square (that's why I've listed it here), the place was packed with locals at this time of day (it was the month of August) and we enjoyed hanging out there also. There are pleasant views of the confluence of the Lopan and Kharkiv rivers from here and there is also a lovelock bridge nearby if that's your thing.
Cathedrals and Churches
As mentioned in the intro, Kharkiv is a significant centre for the Orthodox religion in Eastern Ukraine. We didn't go looking for too many churches during our time in the city but three that did stand out for us were Pokrovsky Cathedral, which is located on the western side of Constitution Square, the Church of the Holy Myrrh-Bearers, which is opposite Kharkiv State Academic Opera and Ballet Theatre, and the huge, candy-coloured Annunciation Cathedral. The latter is the most important Orthodox Church in Kharkiv and is inspired by the Hagia Sophia ex- basilica, ex-mosque, now a museum in Istanbul.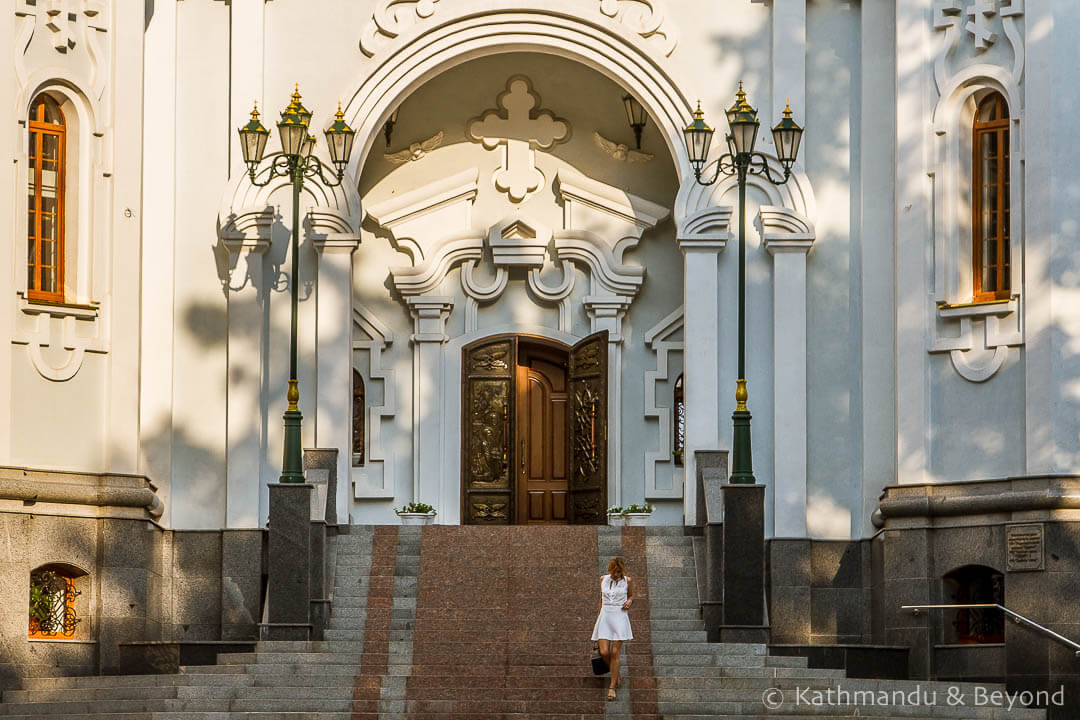 Church of the Holy Myrrh-Bearers


Pokrovsky Cathedral (left) and Annunciation Cathedral (right)
Museums and Exhibits
I've mentioned before that, unless they are unusual and/or quirky, we aren't really into museums. We didn't go inside the Kharkiv History Museum, for example, but we are suckers for retro-style locomotives and rolling stock, especially from the Soviet times, and so couldn't resist the History Museum of the Southern Railway. The museum is situated next door to the city's main railway station, Pivdennyy Vokzal, free to enter and has plenty of nerdy stuff to ogle at!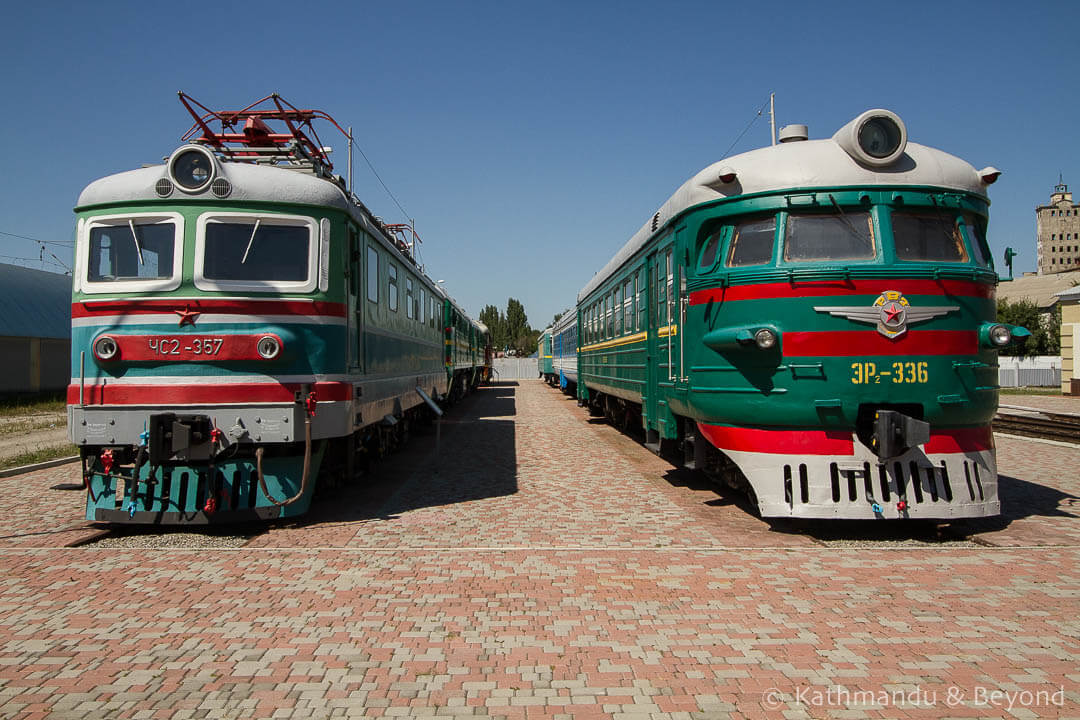 History Museum of the Southern Railway
Kharkiv Metro System
This leads me on nicely to Kharkiv's metro system and specifically, its metro stations. Opened in 1975, it's not as deep as Kyiv's metro system but many of the stations are stunning and well worth taking the time to observe. Indeed, if it wasn't for the fact that we consistently got bollocked by some jobsworth every time we went to take a photo, we could have easily dedicated half a day or so to simply riding the metro, getting off at each of the stations and photographing them. We got a few sneaky shots in, however, and metro stations that we thought were especially decorative include Akademika Barabashova, Istorychny Muzey and Kyivska.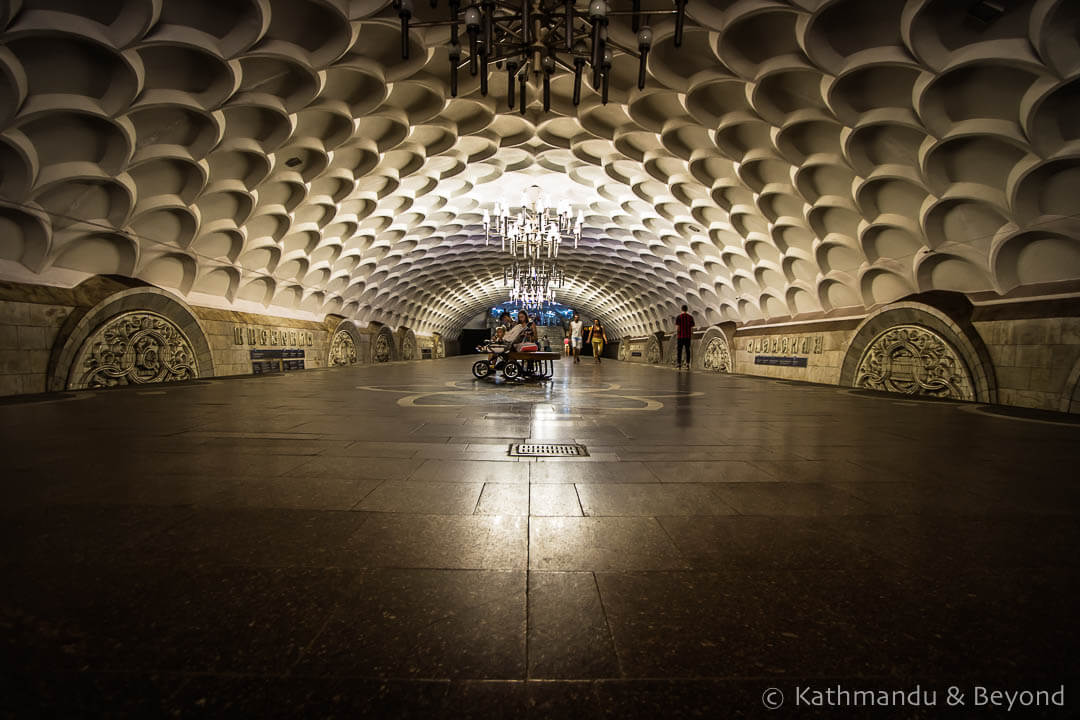 Kyivska Metro Station


Istorychny Muzey Metro Station (left) and Botanichnyi Sad Metro Station (right)
As an aside, it always perplexes me why the authorities in countries of the former Soviet Union and Eastern Bloc are still so sensitive about people (mostly tourists) photographing the interior of metro stations. So much money, not to mention time and effort, has been spent on turning them into ornate pieces of art yet photographing them is a big no, no. Actually, that last statement isn't entirely correct, you seem to get away with taking the odd photo if you do so on a smartphone these days but anything larger than that invariably lands you in trouble.
Soviet-era Architecture in Kharkiv
OK, so this was the real reason why we came to Kharkiv. The fact that, for us, the city was almost on a par with Kyiv when it came to general attractiveness and all-around good impressions was simply the icing on the cake. It was the Soviet stuff that drew us to Kharkiv in the first place.
And it didn't disappoint. These photos of Soviet architecture in Kharkiv will give you an idea of what there is to see in the way of Soviet architecture in Kharkiv but a few of the buildings deserve more of a mention. I've marked all of it on the map above.
You can't miss the enormous Kharkiv State Academic Opera and Ballet Theatre. It's plonked right in the heart of the city, close to the entrance to Shevchenko Park. The theatre still hosts regular events and in the summertime, its front steps are a hive of activity, with people using it as a meeting place and to practice their skateboarding and BMX bike skills.


Kharkiv State Academic Opera and Ballet Theatre (left) and Ukraina Cinema and Concert Hall (right)
You can enter Shevchenko Park from behind the theatre and inside you'll come across the Ukraina Cinema and Concert Hall. More Soviet-looking in its design and much smaller than its counterpart outside the park, I rather liked this building because of the interesting mosaic on its front entrance.
As circuses go, the Kharkiv State Circus is a good one! With its classic design and interesting detail, we found ourselves passing this building on more than one occasion and each time we stopped to admire something new about it. Although the structure itself only dates back to 1974, Kharkiv's actual circus was founded in 1886, making it one of the oldest in the country. Nearby, in the direction of the river, is a hulking lump of concrete that houses PJSC Ukrtelecom, Ukraine's monopolist telephone company.


Kharkiv State Circus (left) and Ukrtelecom building (right)
Another good area to look for interesting architecture is close to, and in the vicinity of the city's main railway station, Pivdennyy Vokzal. The station itself is well designed but it wasn't in the same style as the structures we were specifically looking for. On the other hand, the nearby high-rise Express Hotel, which I don't think operates as a hotel anymore, certainly was. It's best viewed from the bridge to the south of the main station. On the north side of Station Square the Central Post Office building, which dates back to the same time as the Derzhprom (the 1920s), is worth checking out. Like the Derzhprom, it is a fine example of Constructivist architecture.


Central Post Office (left) and Express Hotel (right)
If you head north from the railway station, along Yevhena Kotliara, for about 2km (alternatively catch any marshrutka heading that way) you will reach the Palace of Culture for the Railway Workers. Another building in the same ilk as the Derzhprom and the Post Office, it was completed in 1932 and is reminiscent of art deco in design. The nearby area was obviously an enclave for railway workers as opposite the Palace of Culture for the Railway Workers is the more modern-looking Sports Complex Lokomotiv.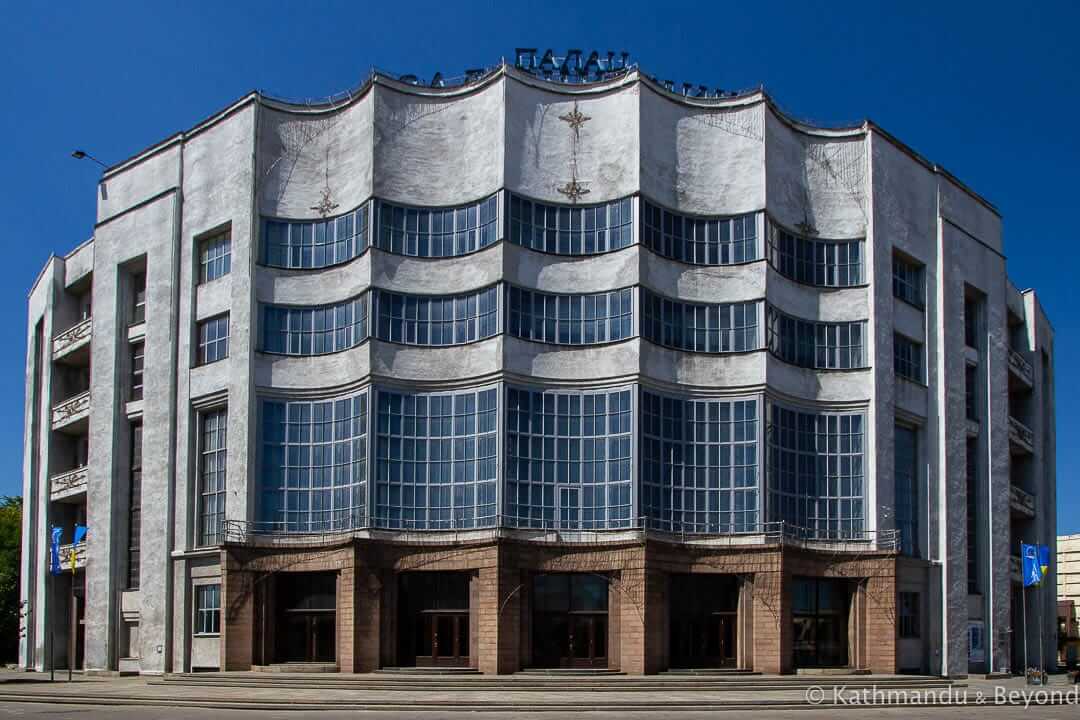 Palace of Culture for the Railway Workers


Pioneer Swimming Pool (not mentioned in the copy but pinpointed on the map)(left) and Sports Complex Lokomotiv (right)
Away from the centre of the city and the railway station, we saw two more structures that were built during Soviet times. Both involved a little more endeavour to track down but were worth the effort.
We were a little taken aback if truth be told when we first clapped eyes on Kharkiv's Palace of Children and Youth Creativity. Its phallic-looking observatory was quite distracting and not exactly appropriate for a structure associated with youth! The decision to create a youth palace in Kharkiv was taken in 1977 but it wasn't until 1985 that work on the building commenced. Due to be completed two years later, in 1987, for reasons I can't ascertain construction on the project halted not long after it had begun and didn't restart again until 1990. The Palace of Children and Youth Creativity in Kharkiv eventually opened on 21st August 1993. Phallicness aside, the building is one of the finest examples of Soviet Modernist architecture that we found in the city.
To reach the Palace of Children and Youth Creativity on public transport first you need to get to Barabashova market (Metro: Akademika Barabashova). From there, take either trolleybus #24 or marshrutka #281e along Yuvilejnyj Avenue to the junction of Traktorobudivnykiv Avenue. From there it is a five-minute walk south to the palace. Alternatively, from Barabashova market take marshrutka #10e to Peremohy Park and this will drop you off right outside the palace.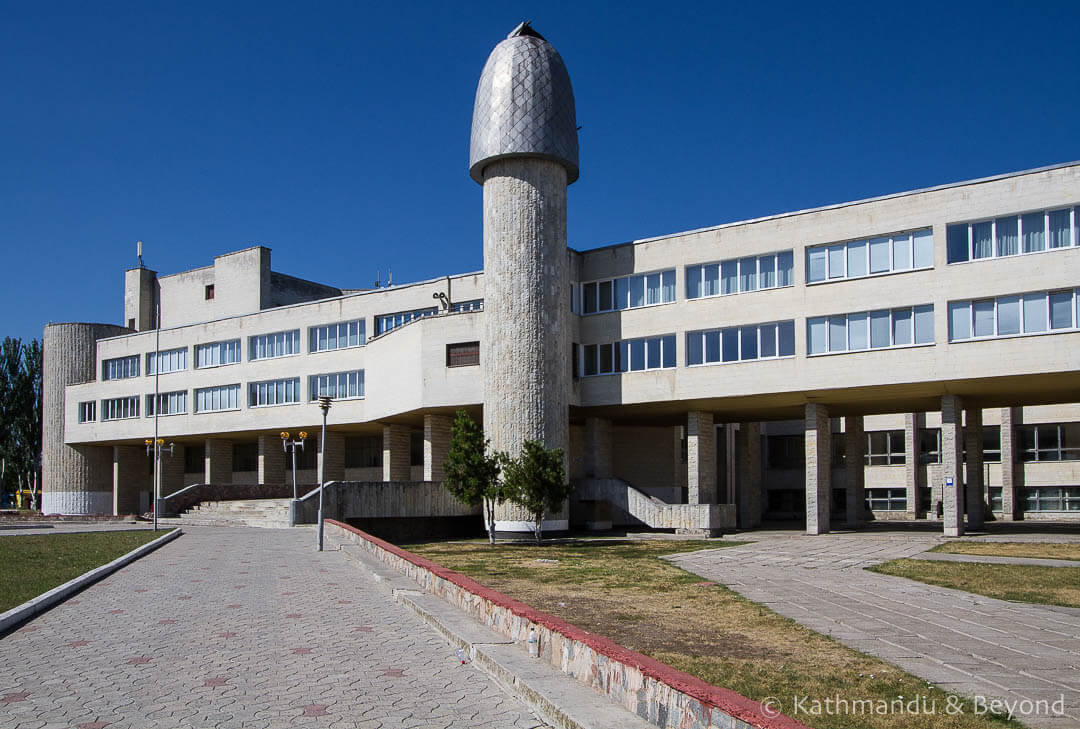 Palace of Children and Youth Creativity
If you are heading out this way, remember to dive into Barabashova market and locate the Vietnamese section. Chowing down on a flavoursome bowl of spicy beef noodle soup (pho) was one of the high spots of our time in the city! It had been such a long time since either of us had eaten Asian food and we were overcome with happiness. There was even a small tear in my eye but I suppose that could have been the chilli when I decided to rub it!
The other out-of-town Soviet structure that we went in search of was the city's Glory Memorial, or Monument to the Great Patriotic War. Situated 3km northeast of Gorky Central Park, the long walkway of this well-manicured memorial is flanked by two large monoliths detailing Soviet soldiers. The path eventually leads to the main part of the complex, where you'll find a grieving 'Mother of the Motherland' statue, an eternal flame and a long wall depicting various scenes of battle. You could walk there from Gorky Central Park if you wanted to (it's a straight road) but there are regular buses and marshrutkas heading in that direction (towards Lesopark), that depart from outside the park.
Glory Memorial, or Monument to the Great Patriotic War.
Plug time …

Malyshev (tank) Factory
An article on Kharkiv aimed at your more than the run-of-the-mill tourist wouldn't be complete without mention of the fabled 'Soviet tank graveyard'. Contrary to what you might have read elsewhere, Malyshev factory is not abandoned and it certainly isn't a graveyard for decommissioned tanks. Indeed, the factory has its own, up to date, website proudly displaying the various tanks and armoured vehicles that it produces. What has captured people's imagination is no doubt this photogenic post on the subject. It was certainly the catalyst for our visit but, although the article in question does point out that the facility is, in fact, a repair depot, it doesn't focus on that aspect of the plant and it certainly doesn't make any mention of the production side, unlike this Aljazeera article from 2014.
We were still curious and of course desperate to get some similar photos. We planned our visit for a Sunday (fewer people around, etc.) and, having just been at the Palace of Culture for the Railway Workers, managed to catch a bus from there to the factory itself (about 3km). We scoured the perimeter wall in an easterly direction looking for a way in or at the very least a place where we could bunk up and take a look inside. It soon became apparent that, given our limited urbexing skills, neither was going to be an option. The perimeter wall was too high to look over and what's more, it was doused with grease and topped with razor wire. Nearby trees were unclimbable.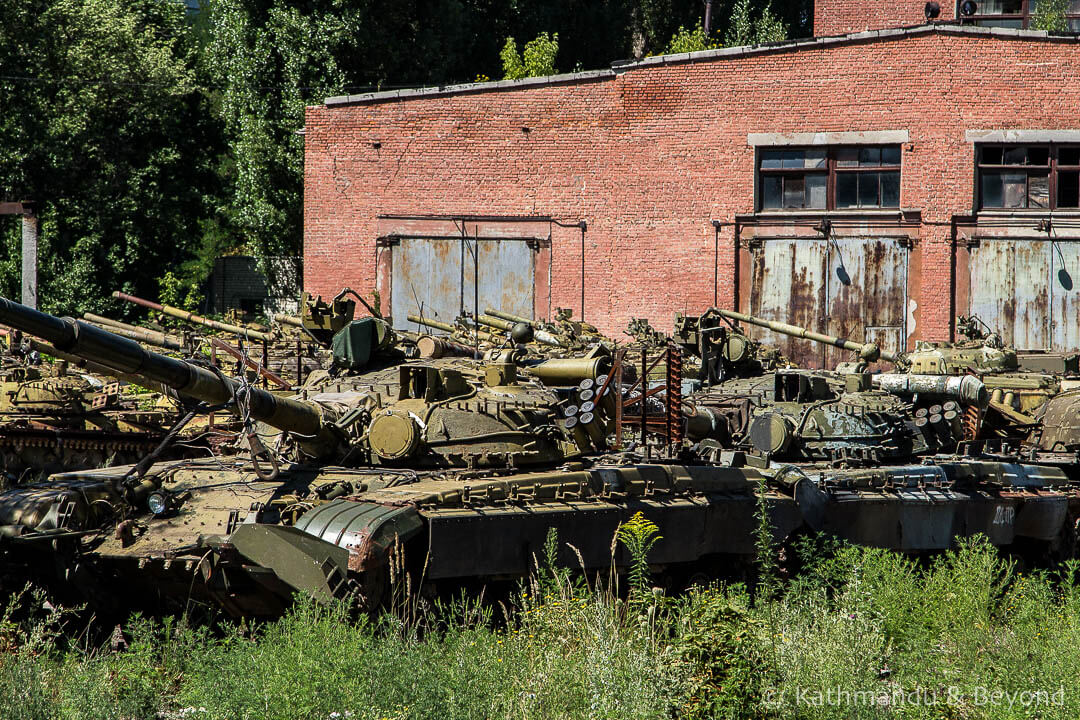 Malyshev Tank Factory
Even if we had managed to get inside, I'm not sure it would have been our smartest move. There's trespassing and then there's military trespassing and the consequences of getting caught in a factory that produces tanks in a country that is currently at war are unquestionably dire. For a humorous but potentially very serious take on the subject, read this post by our friend Lara at Lost Lara, who did manage to get inside!
I'm not as agile as I used to be, but I did manage to elevate myself a little and get a few shots of the grounds and some of the tanks within. Knowing that was going to be our lot, we gave up and headed to the main entrance of the factory thereafter, where we solemnly waited for the bus back to the centre of the city.   
To be honest, it was a bit of an adventure but largely a waste of time. Unless you have plenty of the latter or are more experienced at urban exploration than we are (Lara got about fifteen metres inside the place before she was detected), I'd probably give it a miss in favour of some of Kharkiv's more accessible sights.
Finally, check out the aerial view of the place on Google maps. The green blobs are all tanks!
Where we stayed in Kharkiv
We stayed at Hostel Bunker Light in Kharkiv. It had two things going for it. The location was good and, because it was below ground and we were there in August, it was nice and cool. Apart from that, it was a strange place. We had a private room (and bathroom) but there were also dorm rooms available, which people were clearly living in longterm. This changes the dynamics of a hostel in my opinion. There were people lying around all day and the place was devoid of atmosphere. What's more, because the rooms were below ground level, the entire place had an air of dampness about it and very little natural light got in. Budget accommodation is quite hard to come by in Kharkiv and Hostel Bunker Light was the cheapest private room with an ensuite in a decent location that we could find. Search for the best place to stay in Kharkiv.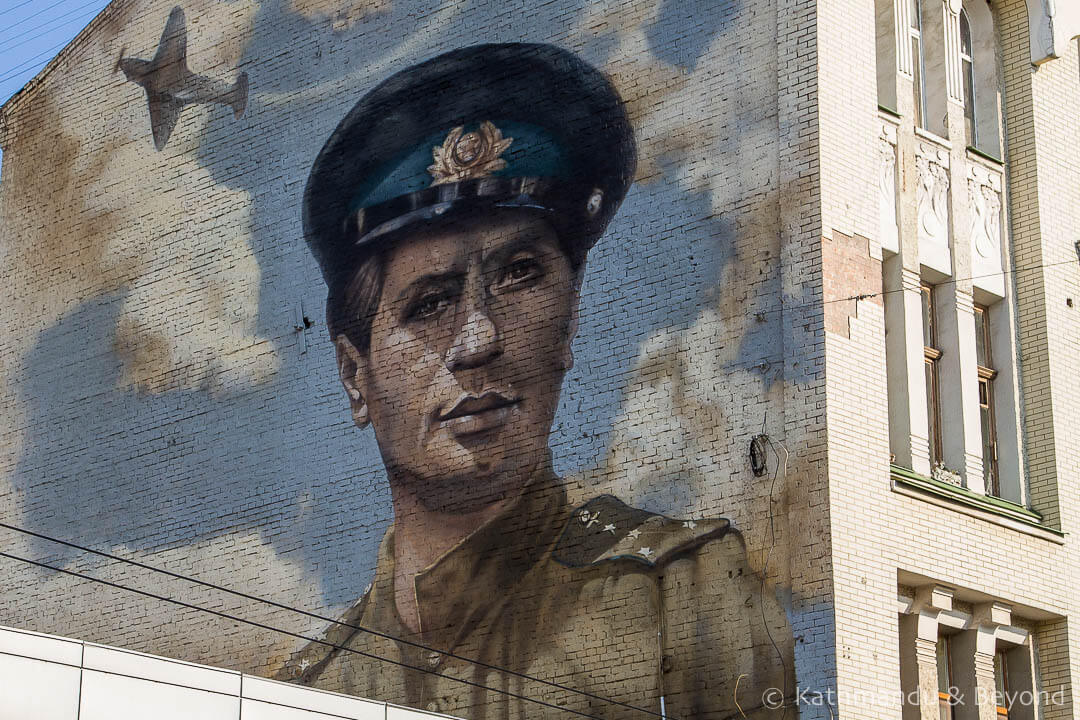 How to get to Kharkiv
Given Kharkiv's status as Ukraine's second city, it will be no surprise to learn that is well connected with the rest of the country by train, bus and marshrutka (and, of course, air). Among other destinations, there are fast trains to Kyiv (via Poltava), Dnipro and Zaporizhia. For example, we arrived in Kharkiv by train from Zaporizhia and continued to Poltava also by train before taking a final train back to Kyiv. This worked out well for us and we booked all of our tickets online (see link below). The trains were busy, however, and we had to sit apart on a couple of them so it's best to book as far in advance as possible.
Dnipro is well connected by train with Kyiv. Fast and comfortable daytime trains make the journey in about 6 hours plus there are slower as well as overnight trains. Dnipro is also well connected with other parts of Ukraine but if you want to get to nearby Zaporizhia, this is best done by bus or marshrutka as the train is slow in comparison.
We use Ukrainian Railways website to look up (and book) trains and this website for bus schedules, although we always buy the tickets from the bus station itself. For local transport (buses, trams etc.) we refer to a website called Easyway.
Is Kharkiv worth visiting?
I hope our enthusiasm for the city has come across in this post and that there's no need to answer this question! Kharkiv is a glorious city with plenty to do, that both of us would happily revisit. The only thing that let it down for us personally was our choice of accommodation, but given that we were out and about all day, every day and only used it as a place to sleep, it didn't really impinge on our enjoyment of the city. If you are looking for a third city to visit in Ukraine after Kyiv and Lviv, I would recommend Kharkiv, even over and above Odesa, which is normally third-in-line on most people's Top cities to visit in Ukraine list.
---
---
HAS THIS POST INSPIRED A TRIP TO KHARKIV? SAVE IT TO YOUR TRAVEL BOARDS…



---
---