Ukraine Travel Blog
Travel tips and resources for travellers: Travel guides, itineraries, abandoned places, street art and off-the-beaten-path places in Ukraine
Hello and welcome to our Ukraine travel blog. You will find all our Ukraine blog posts in this section of our website.
Maybe you found our Ukraine travel blog because you are thinking about visiting Ukraine, or perhaps you are partway through planning a trip to Ukraine. Whatever the reason, we hope we can provide some useful resources and travel tips for Ukraine.
Even though our first trip to Ukraine was in 2015, it is a country that keeps calling us back, and we have visited many times since. Although we continue to revisit Kyiv (it's one of our all-time favourite cities), each time we visit Ukraine, we also explore new areas of the country and, to date, we have been to 30 towns and cities in Ukraine.
Our Ukraine blog posts are generally aimed at independent travellers and backpackers like us and have a strong focus on travelling around using public transport, staying in budget accommodation and exploring off-the-beaten-path and lesser-visited places.
Browse all of our Ukraine blog posts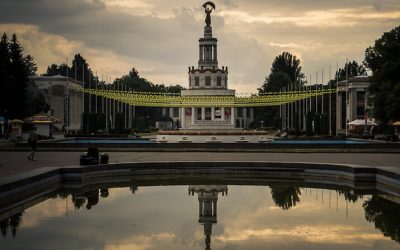 If you enjoy alternative sights and architecture, visit the Expo Centre in Kiev, correctly called the National Complex Expocenter of Ukraine (VDNG),
If you enjoyed our Ukraine Travel Blog…
Subscribe to our newsletter to receive our latest blog posts as well as our latest news from the road less travelled…
Looking for a unique face mask inspired by travel, architecture, and photography from the former USSR? Check out our Redbubble store. Redbubble is a marketplace which allows us to create products using our photography and digital designs. In addition to face coverings, you can buy prints, posters, mugs, t-shirts, tote bags and even shower curtains and bath mats featuring our photography.