You know when you see pictures of something and become so obsessed with seeing it, that when you finally do it turns out to be a total letdown?
Or I am the only one with a serious case of FOMO?
To say I was obsessed with visiting the Tunnel of Love is a tad overdramatic but after seeing photos splashed across Facebook, Instagram and those type of clickbait articles that proclaim 'the most fairytale, surreal and mysterious places on the planet', it was somewhere I had to see for myself. Not urgently, just one day when it wouldn't be massively out of our way.
So what and where is this so-called Fairytale Tunnel of Love?
To the less romantically-inclined (e.g. Mark) the Tunnel of Love is basically an overgrown section of a disused train line. To photographers and romanticists, it's an atmospheric abandoned railway track canopied by an arch of lush foliage, forming a viridescent tunnel as far as the eye can see. And for others, it's a place for selfies and Instagram feed. As with so many things, it all depends on your perspective…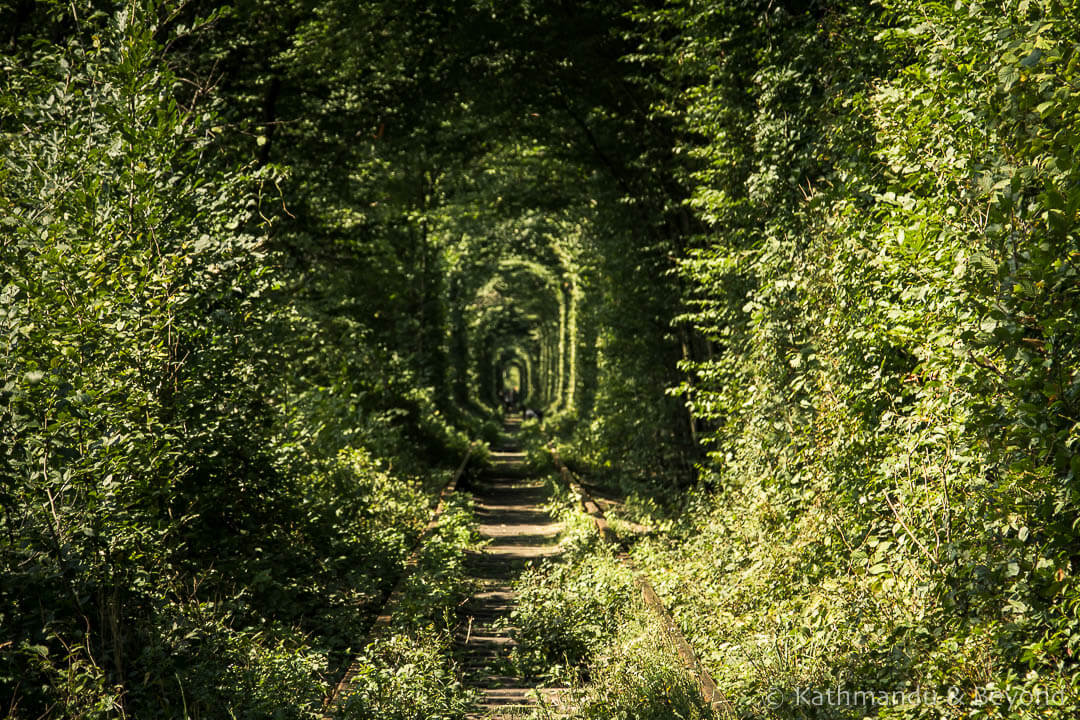 It's possible that you too have seen photos on social media labelled simply 'Tunnel of Love Ukraine' but it's a big country so that doesn't give much away. The tunnel is located just outside the rural village of Klevan, west of Kyiv and north-east of Lviv. The nearest town of any notable size is Rivne. I suspect the people living in Klevan were quite bemused when tourists suddenly started appearing in their one-street town and tramping along the railway line!
We arrived by bus into Klevan (see below for more transport details) and headed towards the train station (seemed logical right?). Many tunnel-seekers skip the town completely, jumping off the bus just short of it and heading directly to the train track, but the pretty church and the WWII memorial are worth a look. There's an impressive stained glass window in the deserted train station that you should check out too.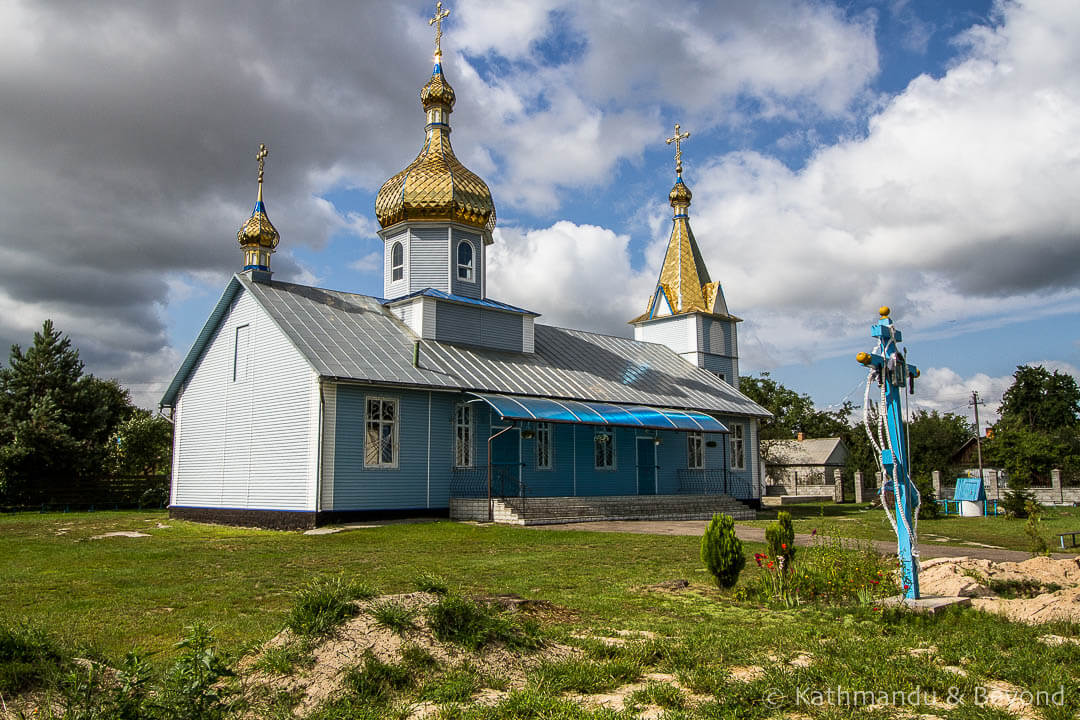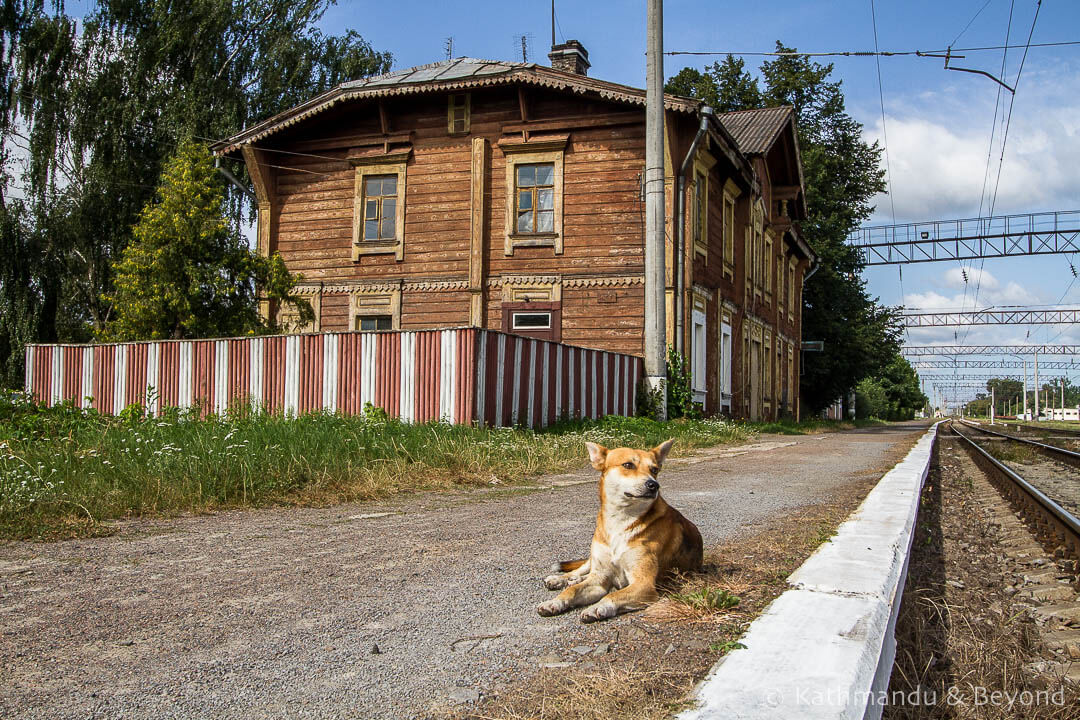 On the empty platform, we picked up a canine friend who accompanied us on our walk, in case we got lost! He led us a couple of kilometres to the point where the train line turns into a tunnel. He also stayed with us patiently whilst we took photographs before walking back to the bus stop with us.
No passenger services run along this stretch of railway and although several online sources mention that commercial trains carrying logs from a nearby plant trundle down the line two or three times a day, we couldn't find any information to confirm this, nor did we see any signs of train life during our visit (the tracks looked far too overgrown for any trains to have recently travelled along them).
The Tunnel of Love runs for several kilometres but we came to the prettiest section around 20 to 30 minutes' walk along the tracks. Twenty minutes is also about as far as you need walk to lose any other visiting tourists (it's a popular stop for Ukrainians passing by in their own transport and for Asian tour groups).
Did Ukraine's Tunnel of Love live up to expectation?
In short, yes. The arc of trees and their green leaves form an atmospheric tunnel along abandoned railway tracks and it does look just like the photos.
Some travellers with limited time in Ukraine seem to be on a crazy mission to see the tunnel at the expense of quality time in places like Kyiv and Lviv. That's a mistake in my opinion, but if your journey takes you close to the area, as ours did, it's well worth the effort. If you are travelling around Ukraine and Rivne is a good place to break the journey between Lviv and Kyiv.
There's not much more that can be said about Ukraine's Tunnel of Love, so I'll just drop a few of those 'Insta-worthy' pics here (OK, I admit they all look a bit the same!). And if you're planning a visit yourself, you can find all the practical information further down the post.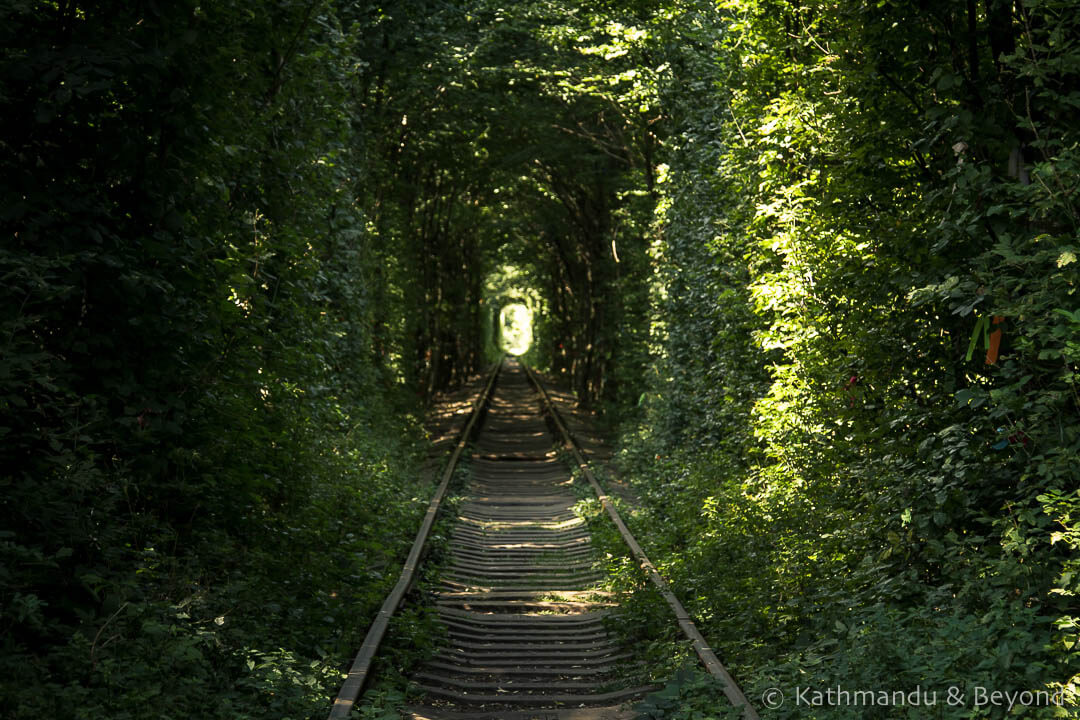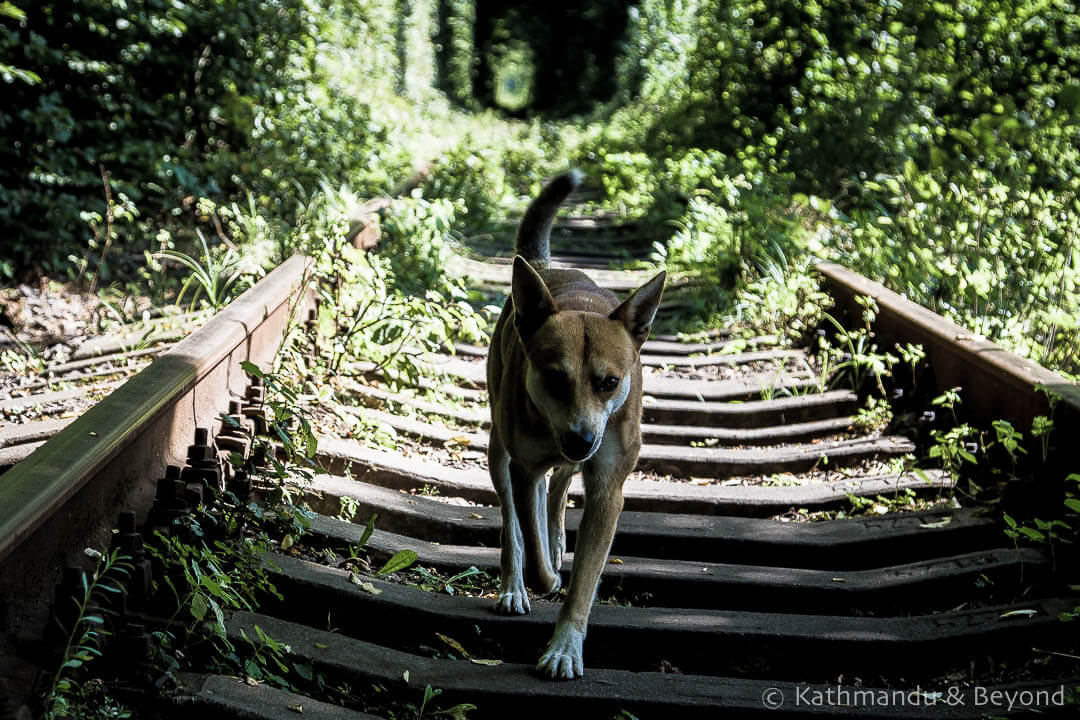 When is the best time of year to visit the Tunnel of Love?
As the main reason to visit Klevan is to see the Tunnel of Love in all its green glory, you'll want to get the timing right! The best time, therefore, is the end of spring (mid/end-May) and the early part of the summer. During this time, the greenery still looks fresh, not too dry or yellowish, as it can be by the end of the summer. If you manage to catch some golden autumnal colours, it would also look gorgeous at that time (although I'm not convinced some of the images I've seen haven't been photoshopped a tad!). However, by the time the leaves drop, I can't imagine there's much of a tunnel left to see. Winter could go one of two ways – if it's a snowy winter, you'll capture a perfect winter wonderland. That's rather hard to predict though and you could end up with photos of a few damp branches instead!
And now for the really boring bit. Unless you are planning a trip to the Tunnel of Love, you'll probably want to skip through this part!
How to get to the Tunnel of Love on public transport
It's fairly easy to visit the Tunnel of Love by public transport – it's not difficult, but it is time-consuming considering an hour or two in Klevan is probably sufficient for most people. Coming from Kyiv or Lviv, you will have to first get to Rivne or Lutsk and probably overnight there. This map also shows Klevan and the Tunnel of Love's location in relation to Kyiv and Lviv (click on it to open in Google maps).

Klevan
The part of the railway tracks over which the tunnel has grown is a short walk from the centre of Klevan, a small town that until a few years ago had probably never seen a foreign tourist. Wherever you are coming from in Ukraine, you will need to get to Klevan.
From Rivne to Klevan
Rivne is the closest city to the Tunnel of Love and the best place to base yourself.
Regular marshrutka (small buses) leave from a bus stop in front of the train station for Klevan (across the road and slightly to the left if you have your back to the train station). Tell the bus driver you are going to the Tunnel of Love and he should let you off at the right spot. Otherwise, getting off at the bus shelter in the village is not the end of the world.
You can also take a bus from Rivne's main bus station on the other side of town. Larger than the mini-vans, these are bigger buses which run between Rivne and Lutsk. However, they will stop on the main highway about 1½ kilometres from Klevan so you'll need to walk a bit.
There are supposed to be trains between Rivne and Klevan but the only one I could find any information about passed through Rivne en route from Kyiv at around four in the morning which is not a lot of use for most visitors. It's far more convenient to take the bus.
From Lutsk to Klevan
A similar setup operates from Lutsk, west of Klevan – either take a marshrutka directly to Klevan, or a Rivne-bound bus and jump off on the main road.
Both Rivne and Lutsk are worth visiting if you're travelling in western Ukraine. If you have your own transport or travel with very little luggage, it makes perfect sense to stop at the Tunnel of Love en route from Rivne to Lutsk (or vice versa).
From Kyiv
The 'fast' train from Kyiv takes just under 6½ hours and arrives in Rivne at the ungodly hour of 3.45am. Given a choice, we would always take the train over a bus in Ukraine – five hours on a regular bus is rarely fun – but in this instance, it's the best option. Better still, break the journey between Kyiv and Lviv in a couple more places.
From Lviv via Rivne
The train from Lviv to Rivne takes approximately 2 hours 45 minutes but the schedule doesn't make it easy to visit the Tunnel of Love as a day trip. The schedule varies from day to day so check timings on Ukraine Railways.
If you do want to take the train, chances are you will have to spend at least one night in Rivne.
From Lviv via Lutsk
If you are set on a day trip from Lviv, it would be better to go by bus to Lutsk. There are several buses a day including early morning departures and late afternoon buses back to Lviv. The fastest buses take around three hours, but some take closer to four, so it's a very long day.
Check your transport options for getting to the Tunnel of Love, Ukraine here:
---
---
INSPIRED TO VISIT THE TUNNEL OF LOVE UKRAINE? WHY NOT PIN THIS POST TO YOUR TRAVEL BOARDS?



---
---