Overland itinerary from Vilnius (Lithuania) to Warsaw (Poland) via Belarus
(Lithuania) Vilnius – Kaunas – Druskininkai (Belarus) – Grodno (Hrodna) – Minsk – Brest (Poland) – Warsaw
After a few days sightseeing in Vilnius (including time for a day trip to the nearby redbrick castle at Trakai), head to the appealing city of Kaunas, where the museum and Soviet-era memorial at the Ninth Fort are definitely worth visiting. Continuing with a Soviet theme, the kitschy Grutas Park near Druskininkai is like a rescue home for discarded Communist-era statues and other such memorabilia. If, like us, you are into this type of thing you will be like the proverbial pig in mud and, to boot, Druskininkai, which is a spa town, has more than its fair share of dilapidated and abandoned sanatoriums to keep you amused for the rest of the day.
There are direct buses across the border to Grodno (also known by its Russian name of Hrodna) in Belarus. The city is a great introduction to this little-visited European country and getting onto Minsk by train, although requiring an early start, is straightforward enough. Minsk is an elegant city and nothing like what we were expecting. We stayed several days and did lots of walking around before taking another train to Brest on the Belarus/Polish border. It was a return to Soviet-era sightseeing as soon as we got off the train at Brest, namely in the form of the incredible monuments that dominate the city's fortress. The statue of Valour, in particular, needs to be seen to be believed!
The border with Poland was a little more busy than the one with Lithuania but presented no issues and from the small town of Terespol (on the Polish side of the border) there are regular trains west to the Polish capital, Warsaw.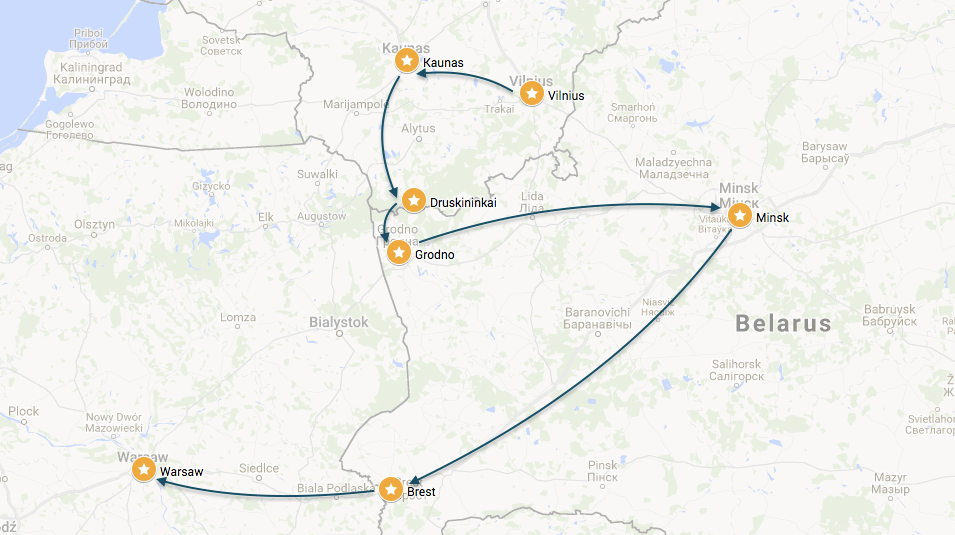 Number of countries: 3
Number of UNESCO sites: 2
Best time to travel: Early May to late September
Recommended duration: 3 weeks, including time in Vilnius and Warsaw
Best places to slow the itinerary down: Kaunas. It is not really possible to slow down in Belarus unless you build the time into your itinerary in the first place
Mode of transport: Mostly train and a few buses
Brest Fortress
Walking around Minsk
Grutas Park
Ninth Fort in Kaunas
Visiting Warsaw – we've been several times and always enjoy our time there. It is an underrated city!
Soviet-era architecture in Belarus
Cheap and excellent beer throughout all three countries
OPTIONS FOR EXTENDING THE ITINERARY
From Warsaw, the options are endless. Continue by exploring more of Poland or visit one of the neighbouring countries such as Ukraine or the Czech Republic
If you want to see more of the Baltic States then starting in Tallinn and working your way down to Vilnius would be a good idea
If you are short on time, an alternative route which still takes in all three countries is: Kaunas – Vilnius – Minsk – Brest, Warsaw (or start in Vilnius).
This is where we stayed in Belarus. A condition of our Belarusian visa was fixed dates and we were required to provide confirmation of our accommodation bookings. Although we made all of our reservations via
Booking.com 
, we had to obtain confirmation in writing directly from the hotels and apartments to the Embassy.
Apartment On Dzerzhinskogo, Grodno
Minskapart Apartment, Minsk
Molodezhnaya Hotel, Brest
OTHER TRAVEL PLANNING RESOURCES
Balkan Viator is a useful resource for finding bus and train schedules in the region, although it's not 100% reliable so double-check timings locally.
Timings and prices for buses in Lithuania and beyond can be checked here.
For transport in Belarus, try the information in this on Belarus.by.
And for Poland, we always check PolksiBus as a first option for inter-city buses or check train schedules here.
There are a lot of great guidebooks to Europe available but we've always used Lonely Planet and it's hard to change a habit of a lifetime!
Lonely Planet's Eastern Europe Travel Guide includes coverage of all Lithuania, Belarus and Poland and will be sufficient for most for a short trip such as this one.
If you like more detail, try these options:  Estonia, Latvia & Lithuania travel guide |  Poland Travel Guide | Bradt's guide to Belarus
And if you need a few more reasons to follow this itinerary…
Memorial to the Victims of Nazism (Ninth Fort), Kaunas, Lithuania
The Joy of All Who Sorrow Church, Druskininkai, Lithuania
Grutas Park near Druskininkai, Lithuania
Tank Memorial Hrodna (Grodno), Belarus
Mound of Glory near Minsk, Belarus
Gorky Park ,Minsk, Belarus
Statue of Valour, Brest Fortress Belarus
Stoklosy Metro Station, Warsaw, Poland
Did you find this post useful? Pin it to your travel planning board for later…