Suggested Baltics Itinerary: Vilnius to Tallinn, an introduction to the Baltics
BALTICS ITINERARY SUMMARY 
(Lithuania) Vilnius – Kaunas – Siauliai (Latvia) – Riga – Sigulda (Estonia) – Tartu – Tallinn
Begin this Balitcs itinerary through Lithuania, Latvia and Estonia, in Lithuania's capital. Position yourself somewhere between the railway/bus station and the Old Town in Vilnius as there are a surprising number of day trips out of the city (including Trakai Castle and the unassuming but historically important village of Paneriai) as well as things to do in the centre itself. For us, the highlight of our visit to Kaunas was the museum and Soviet-era concrete monument at the Ninth Fort. Siauliai is the closest place to the atmospheric Hill of Crosses, and from the town there are a few daily direct buses to Riga.
There is all sorts to occupy your time in the Latvian capital, be it Art Nouveau architecture in the city's Quiet Centre, museums, a trip to the seaside at Jurmala or simply hanging out in the Old Town and drinking stupidly-cheap steins of beer. Riga deserves at least two full days before moving onto the more tranquil setting of Sigulda. It is sometimes called the 'Switzerland of Latvia' – we wouldn't go that far but it is a lovely spot for a bit of walking and we were impressed with the medieval castles at nearby Turaida and Cesis.
Estonia's second city, Tartu, has got bags of street art and sees far less visitors than Tallinn, which in all honesty we find difficult to get enthusiastic about (too many tourists and difficult to photograph) but there is no denying it is an attractive city and shouldn't be missed from any Baltics itinerary you haven't been there before.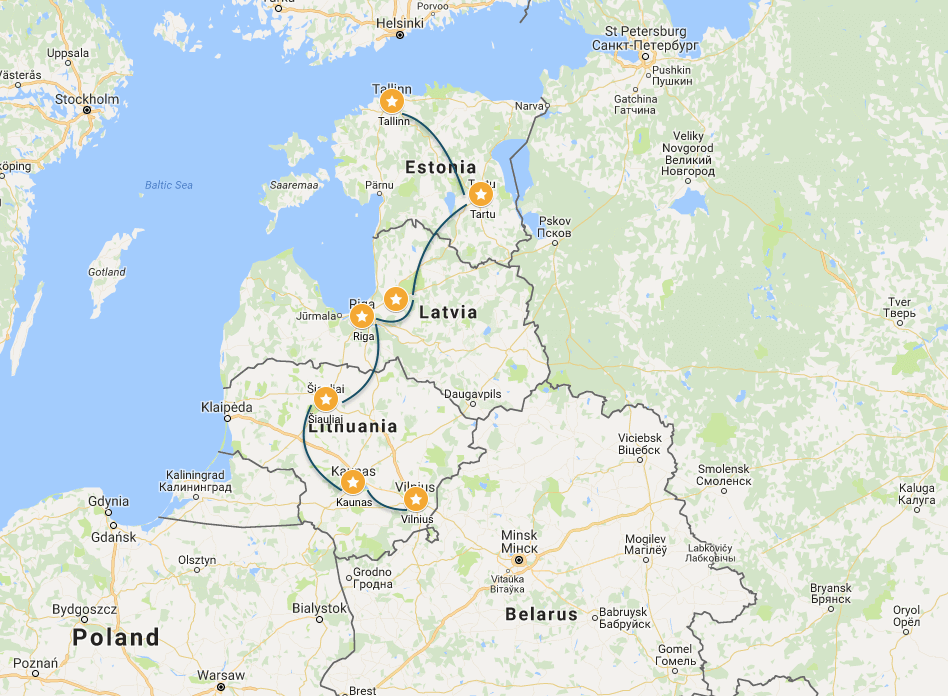 Getting out and doing a bit of walking in Sigulda
Riga – of the three capitals, it is the best one in our opinion
Day trip to Trakai Castle from Vilnius
Cafe culture throughout the region but especially in the capitals
Art Nouveau architecture in Riga's Quiet Centre
The museum of Genocide Victims in Vilnius
Visiting the Hill of Crosses on the outskirts of Siauliai
The gargantuan Memorial to the Victims of Nazism at Ninth Fort in Kaunas
OPTIONS FOR EXTENDING THE ITINERARY
There are regular ferries across the Baltic Sea to Helsinki
Reversing the itinerary and ending in Lithuania opens up onward travel to Poland and/or Belarus – link it up with our Vilnius to Warsaw via Belarus suggested itinerary
Start the itinerary in Kaunas and then travel to Vilnius and continue the itinerary as set out
OTHER TRAVEL PLANNING RESOURCES
Depending on our itinerary and destination, sometimes/often we find our accommodation as we go, particularly in smaller places. In big cities, for slightly longer stays, during peak season or just when we're being a bit more organised, we tend to make a reservation in advance using Booking.com.
There are a lot of great guidebooks to Europe available but we've always used Lonely Planet and it's hard to change a habit of a lifetime!
Get Lonely Planet's Estonia, Latvia & Lithuania travel guide
And if you need a few more reasons to follow this Baltics itinerary…
St.Anne and Bernardine Church Ensemble in Vilnius, Lithuania
Memorial to the Victims of Nazism Ninth Fort near Kaunas, Lithuania
Hill of Crosses near Siauliai, Lithuania
The House of Blackheads in Ratslaukums Square in Riga, Lativa
Street Art in Tartu, Estonia
Old Town Tallinn, Estonia
Are to planning to visit Lithuania, Latvia and Estonia? If you found this Baltics itinerary useful, pin it to your travel planning boards…