Everything you need for planning a trip to Ukraine: travel tips, advice, useful resources and what to expect
We've travelled to Ukraine several times and have visited thirty different towns, cities and villages. It's about time we gathered all of our travel tips to Ukraine together in one place. We will start with some reasons why you should visit Ukraine before moving on to practical information such as how to get to Ukraine, how to travel around the country once you are there, and the type of accommodation and food you can expect. We also include a list of useful websites and apps to help you plan a trip to Ukraine, plus lots more advice.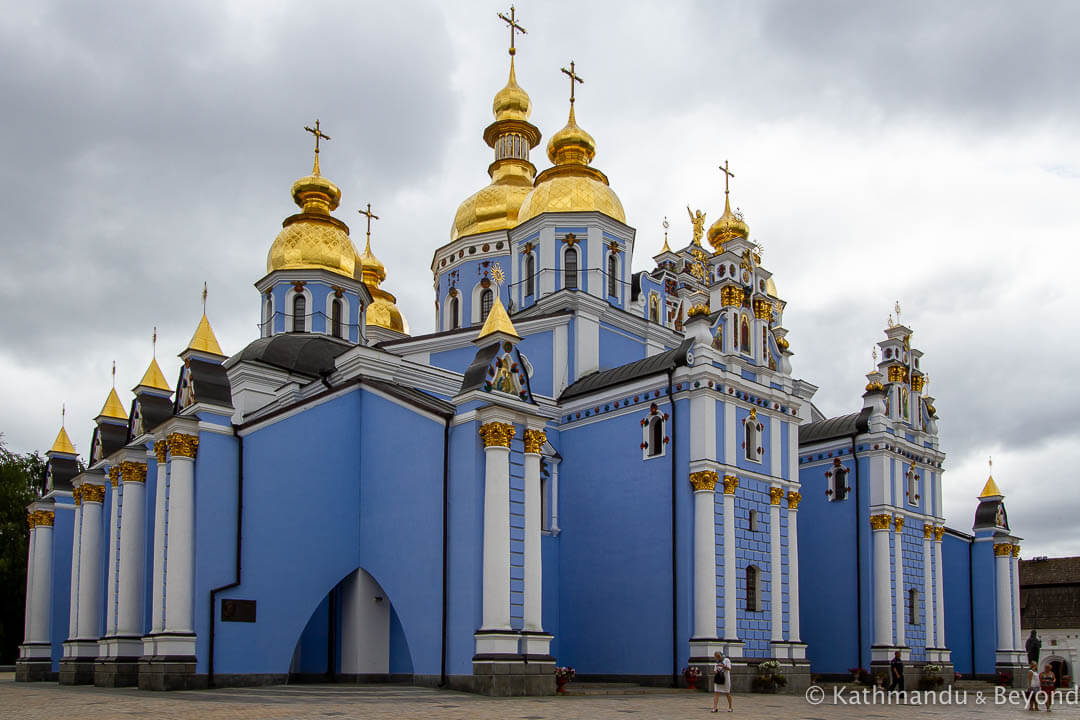 CONTENTS (Click to see what's in this Ukraine travel guide)
Where is Ukraine?
Located in Eastern Europe, Ukraine is on the western edge of the former Soviet Union. Ukraine was part of the USSR from 1922 until its independence on 24 August 1991. It borders Russia, six other European countries, one unrecognised country (Transnistria) and the Black Sea.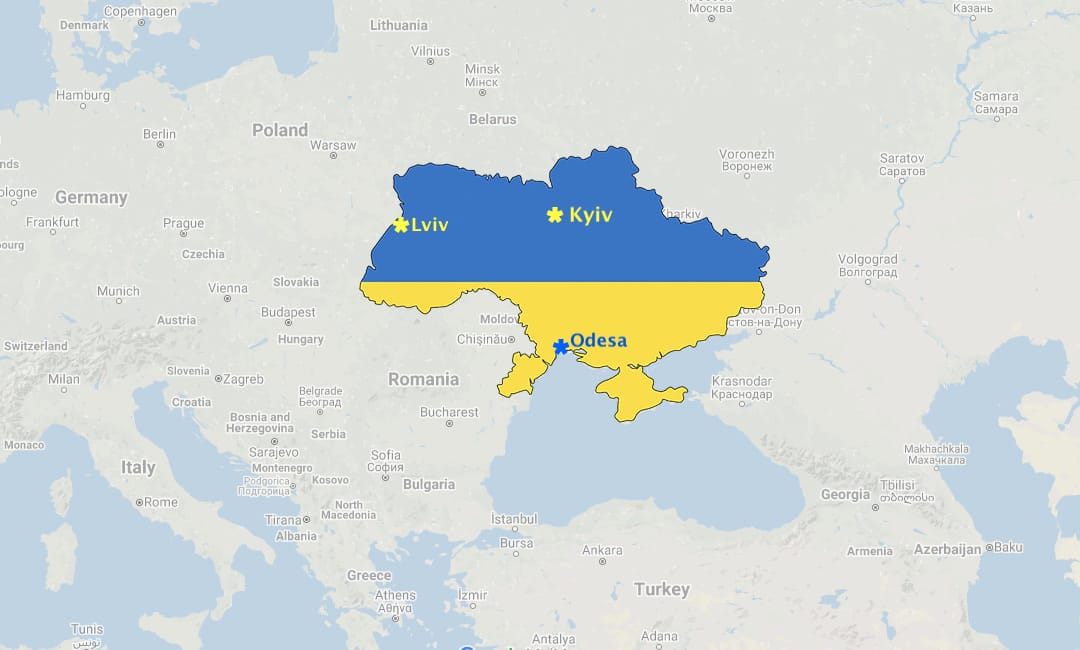 Why visit Ukraine?
We can come up with loads of reasons to visit Ukraine – it's easy to get to and to get in (many nationalities do not require a visa in advance). A visit to Ukraine offers a glimpse into its Soviet past but at the same time has a very forward-looking vibe. Ukraine is a country rich in history, cultural heritage and varied architecture. Ukraine is a fairly flat country, known for its fertile plains and wheat fields, but away from the big cities lie some attractive landscapes as well as the remote Carpathian Mountains. Ukraine is often associated with Soviet architecture, but you can also visit medieval castles, see golden onion-domed churches and stroll among grand Baroque and Renaissance-era buildings.
Ukraine is one of the cheapest countries in Europe in respect of travel, accommodation and sustenance, making it a good choice for backpackers and budget travellers. Ukraine is also a great destination for off-the-beaten-path experiences.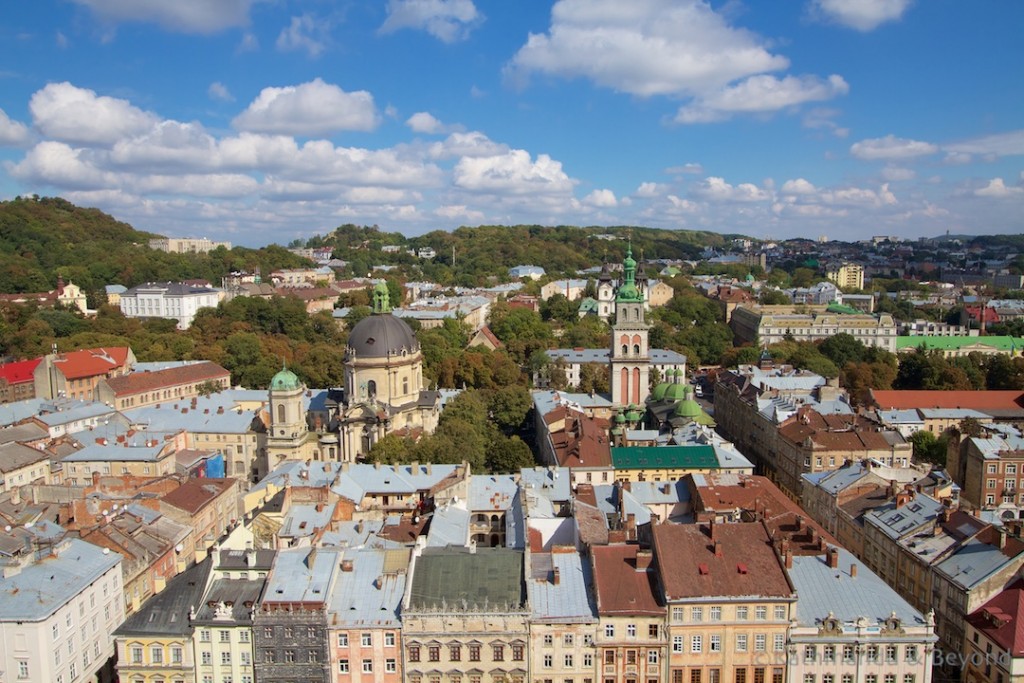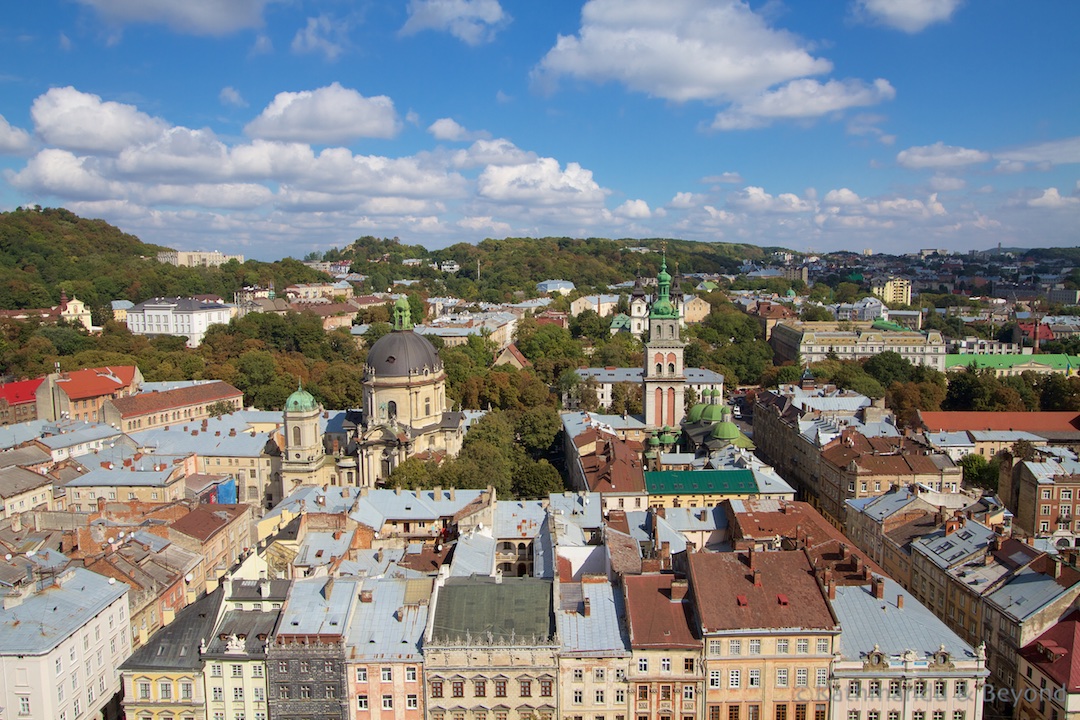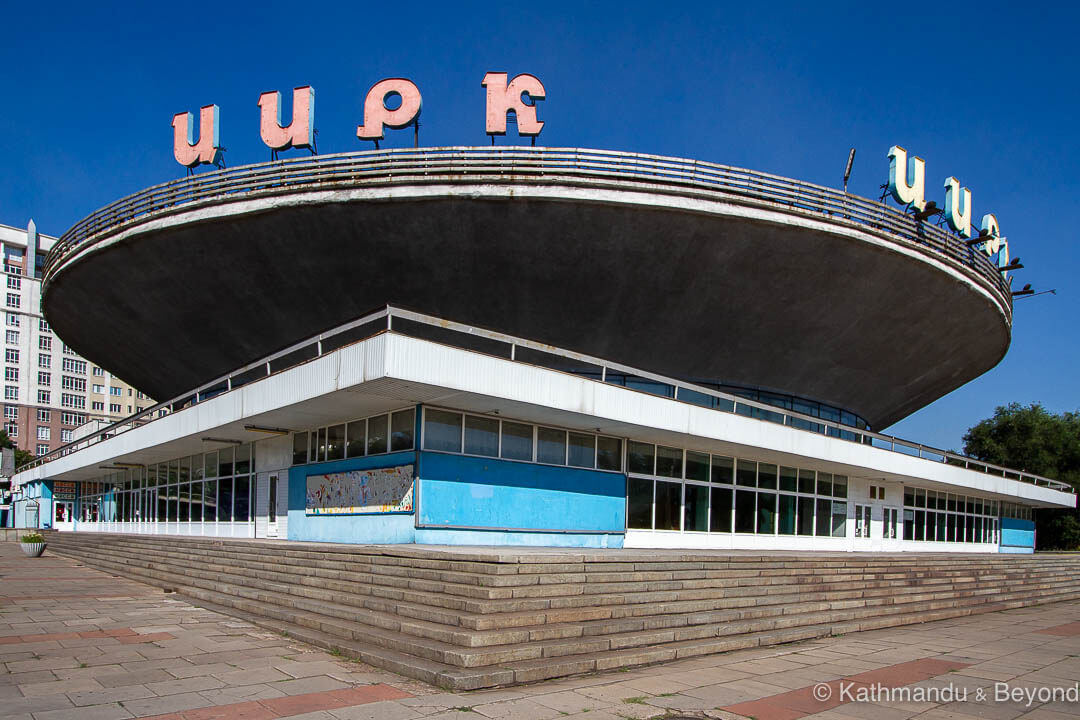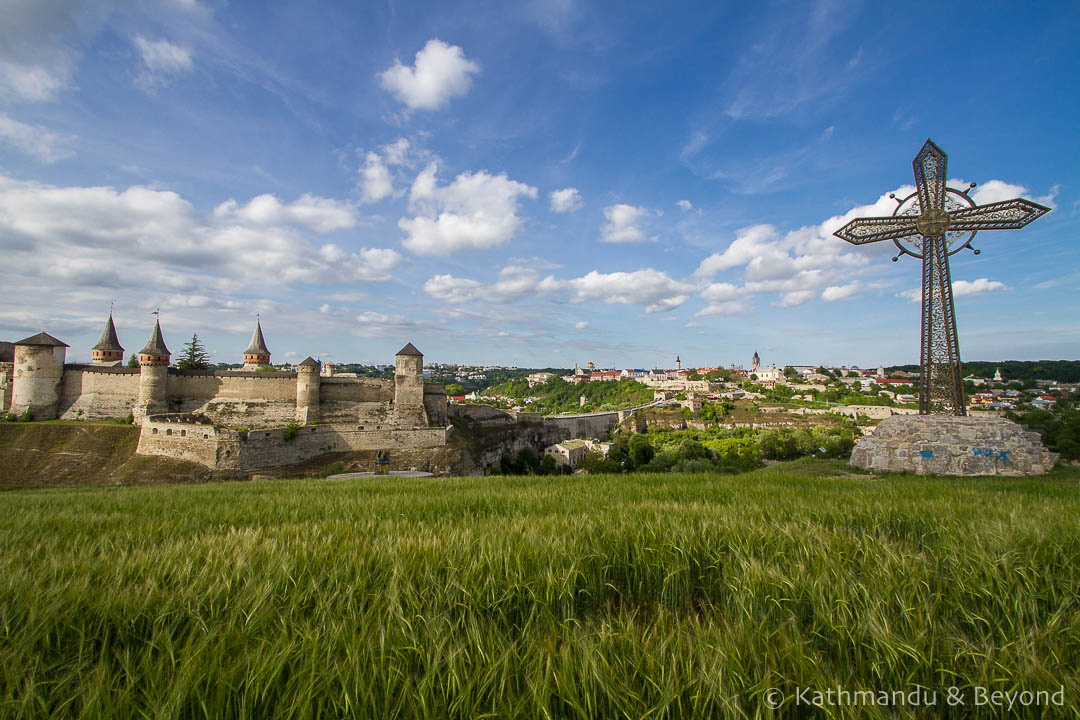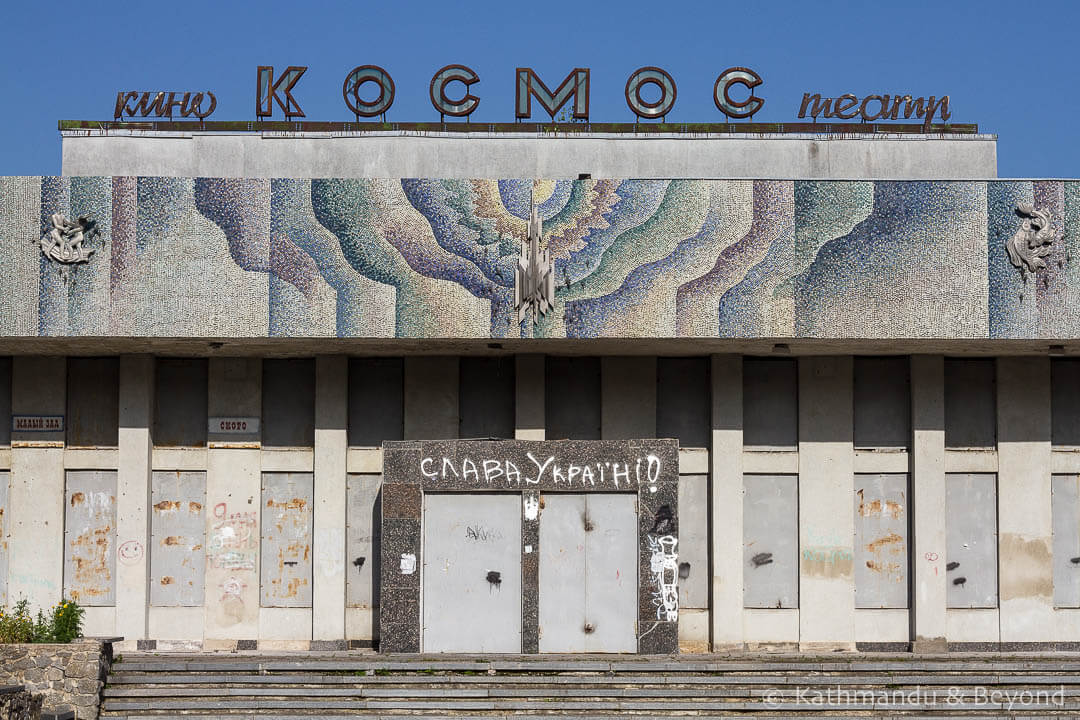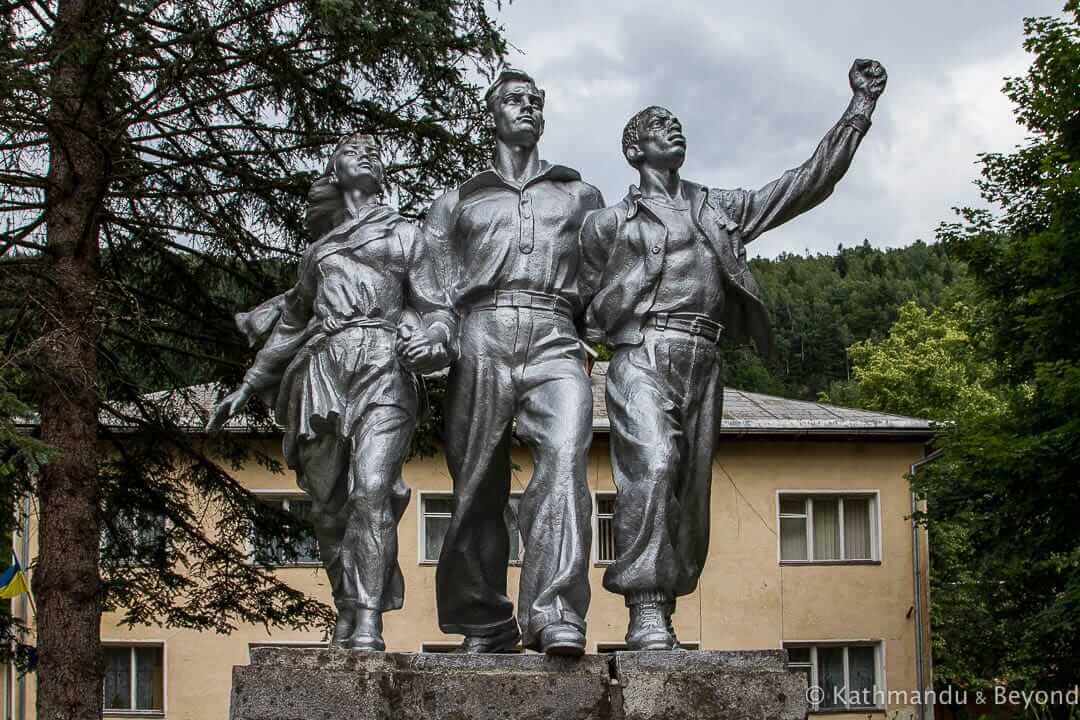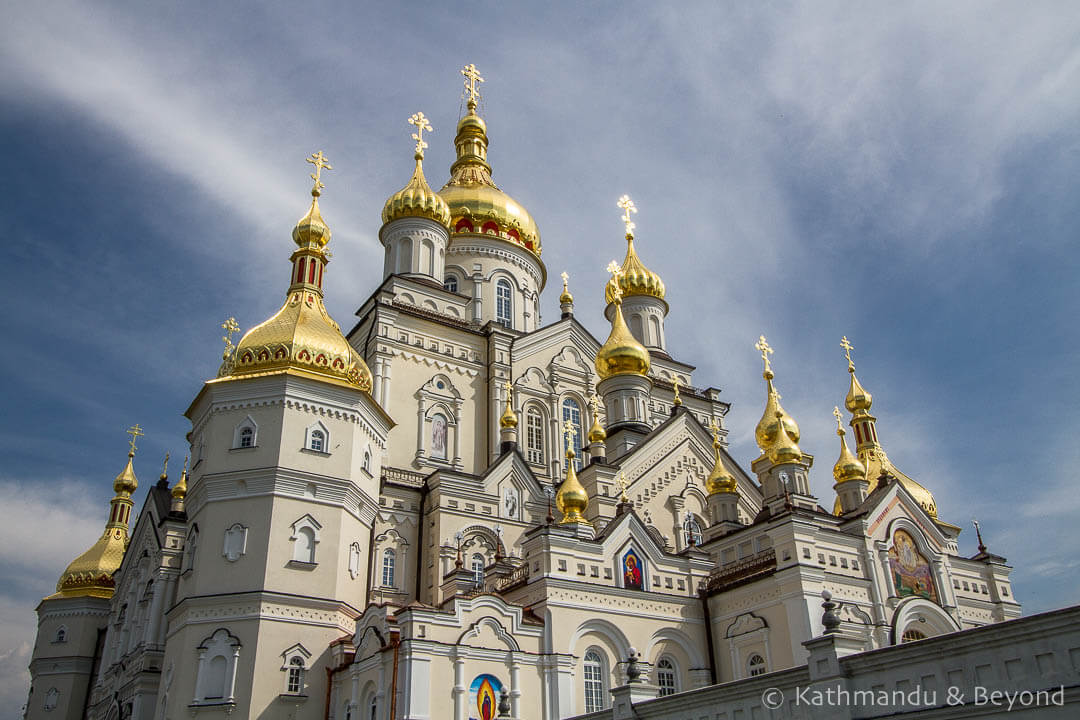 Highlights of Ukraine and where to go
Many travellers are initially drawn to its vibrant capital Kyiv (Kiev), one of the unquestionable highlights of Ukraine. While in Kyiv, an excursion to the Chernobyl Exclusion Zone features on an increasing number of visitors' itineraries.
In a nutshell, we suggest that first-timers to Ukraine should consider Kyiv, Lviv, Kharkiv and Odesa, but our guide to thirty places to visit in Ukraine should give you plenty more ideas.
Best time to visit Ukraine
Ukraine follows the pattern of a European climate with cold (and often snowy winters) and hot summers. Although Ukraine can be visited all year round, generally speaking, the best time to visit Ukraine is in early summer and autumn (May/June and September/October). Odesa, Ukraine's popular Black Sea coast resort, gets very busy in the summer.
On August 24, Ukraine celebrates Independence Day with colourful parades, especially in Kyiv. Expect a big party on the 30th anniversary in 2021. If you are planning to visit Ukraine for Christmas, remember that Ukrainians celebrate Christmas on 6 – 7 January according to the Orthodox calendar, not on 24-25 December.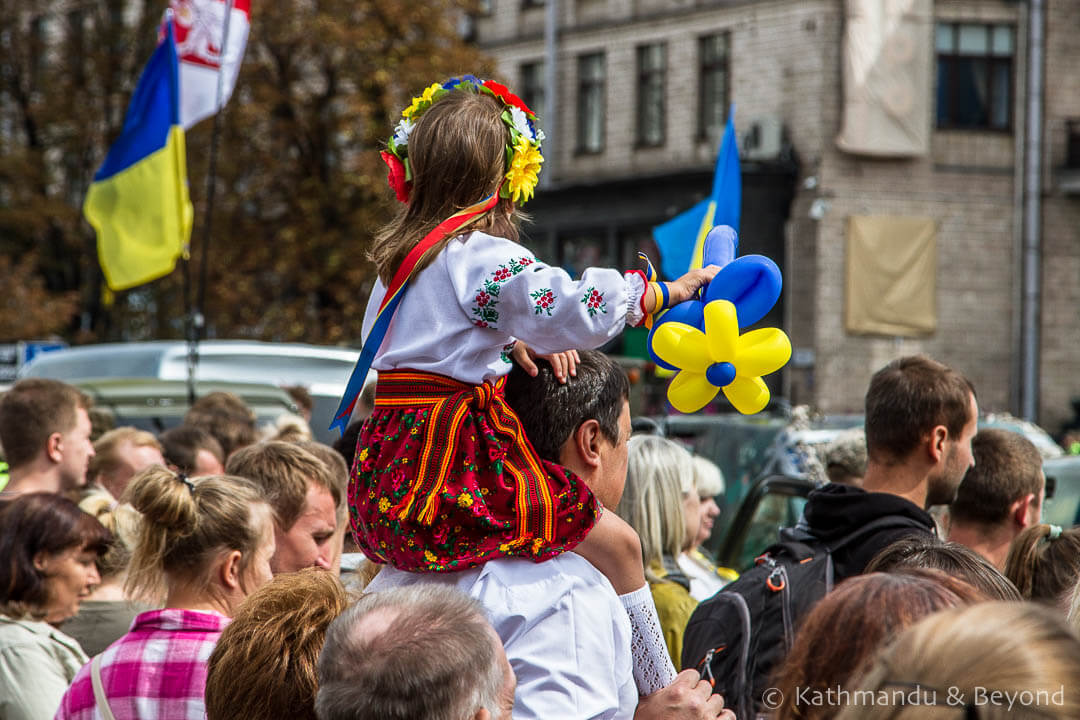 Kyiv or Kiev?
For some time, we referred to Ukraine's capital as Kiev, arguing that Kiev was an acceptable international alternative spelling of Kyiv, the local spelling (much in the same way that we use Geneva rather than Genève). Don't even get started on the pronunciation which, correctly is something like kay-eve, with a silent v and not Key-Ev or Keev. However, since we started our blog, the #KyivNotKiev campaign has gained both support and momentum and we now realise it's a little bit more complicated than switching a letter or two.
Traditionally Kiev is the more commonly used English name for the city, however, this is the transliteration from Russian, whereas the Ukrainian language rendition is Kyiv. Hence Kiev is considered to be a colonialist remnant of the USSR and an inference of Russia's influence over Ukraine.
Kyiv is used officially by the country, and it is increasingly used in English-language sources. Its commonplace usage was our main motive, however, in 2018, the Ukrainian Foreign Ministry launched #CorrectUA, a campaign which urged countries, news agencies and organisations to adopt official Ukrainian spellings instead of "outdated" Soviet-era place-names.
Other Ukrainian versus Russian spellings of cities are Lviv v. Lvov, Odesa v. Odessa and Kharkiv v. Kharkov.
Getting to Ukraine
By air
Travelling to Ukraine by air is an easy and largely affordable option. Ukraine Airlines (UIA) is the national carrier and flies an extensive network of flights, mostly out of Kyiv but with some international services from Kharkiv, Lviv, and Odesa. If you book some time in advance, the fares can be very low, although ensure you are booking the right fare level for your needs (e.g. the cheapest fare allows only a 7kg carry-on bag which we know from experience they enforce strictly).
The past couple of years have seen a growth in low-cost carriers to Ukraine. For example, Wizz Air operates flights from Kyiv, Kharkiv, Lviv, Odesa and Zaporizhzhya to many cities across Europe. airBaltic flies from Riga to Kyiv and Odesa and Ryanair have services from several European destinations to Kyiv, Kharkiv, Lviv, Odesa and Kherson. SkyUp Airlines is a new-ish Ukrainian low-cost carrier with an increasing number of international routes.
Crossing land borders with Ukraine
Borders with seven other countries make Ukraine a good destination for including in an overland itinerary.
Poland
There are several border-crossing points between Poland and Ukraine but the easiest, and the one most commonly used by travellers, is the route that goes from near the Polish town of Przemyśl and crosses close to Lviv in western Ukraine. The crossing can be done by train or bus. Popular international train routes include Warsaw to Kyiv and Krakow to Lviv.
Slovakia
The best way for travellers to cross the border from Slovakia into Ukraine is to travel from Košice in Slovakia to Uzhhorod in Ukraine. Both cities are well worth spending time in and Uzhhorod is a good place from which to access the Carpathian Mountains. There are also daily trains between Bratislava and Kyiv, Lviv and Chop.
Hungary
The busiest of the five road border crossings on Hungary and Ukraine's 100-km border is the Záhony (Hungary) / Chop (Ukraine) crossing. There is also a rail crossing and several trains a day run between Záhony and Chop, the journey taking 15 minutes (border formalities are done before you board the train in either Záhony or Chop). In Hungary, you can take the train from (or to) Záhony from Budapest or Debrecen (on the same line) and in Ukraine, Mukachevo in the Carpathian Mountains and Lviv are the most convenient onward train lines from Chop. You can also take the train directly from Budapest to Kyiv (24 hours) or Lviv (14 hours).
Moldova
The Moldova-Ukraine border crossing most commonly used by travellers is the one which goes via the unrecognised republic of Transnistria. A daily train and several buses operate from the capital, Tiraspol to Odesa on Ukraine's Black Sea coast. This makes a good overland itinerary especially if you time things to fully utilise your 24-hour Transnistria visa.
If you're not intending to visit Transnistria, there are three trains a week between Moldova's capital Chisinau and Odesa, as well as daily buses.
Romania
For many travellers, the most convenient border crossing is the Vama Siret crossing about 45 km north of Suceava on the Romanian side and 40 km south of Chernivtsi in Ukraine. The train runs from Bucharest to Lviv or Kyiv. There is also a daily bus between Suceava and Chernivtsi.
An alternative Romania – Ukraine border crossing is from Sighetu Marmatiei in Romania to Solotvyno in Ukraine. This one might be useful if you are travelling between Transylvania and Ukraine. Romania and Ukraine also share a border along the Black Sea coast. We once looked into travelling via the Danube Delta from Romania into Ukraine but didn't find a route using public transport without going via Moldova.
Belarus
There are several land border crossings between Ukraine and Belarus but many of them are only open to citizens of those two countries. Visa rules for Belarus change frequently so double-check the possibilities before you make firm plans. There is a nightly train between Kyiv and Minsk and you can also travel by bus from Kyiv or Chernihiv into Belarus.
Russia
Despite the tensions between the two countries, it is still possible to cross the border between Russia and Ukraine (providing your Russian visa is in order). There are several trains each day between Moscow and Kyiv and daily services between Moscow and Lviv, Odesa and Kharkiv.
Note: Details related to border crossings are subject to change, so make sure you double-check the above details in relation to your situation and nationality before you travel.
Visa regulations for Ukraine
UK passport holders can enter Ukraine without a visa for visits of up to 90 days within an180 day period. This also applies to those from the USA, Canada, France, Germany and most other European countries. Australian and New Zealand passport holders need a visa in advance. Nationalities who are unable to enter on the visa-free regime may be able to apply for a 30-day e-visa. Check with the Ukraine embassy or consulate in your home country and on the Ministry of Foreign Affairs of Ukraine website. Note, additional COVID regulations may override these general entry rules.
What to wear in Ukraine
The primary consideration is to dress appropriately for the time of year – you'll need plenty of warm layers to cope with winters' sub-zero temperatures whilst in the summer, you'll want to dress to keep cool. Generally speaking, in cities you can more or less wear what you would in your home country, and the only place you need to dress conservatively is when entering places of worship. In an Orthodox church, women should cover their head and wear a skirt that falls below the knees. As a tourist, trousers are sometimes acceptable, but you may have to wear a wrap-around skirt over the top. As in many countries, the more rural you travel, the more conservative communities tend to be so you should follow suit to avoid possible unwelcome attention. If you are planning to visit Chernobyl you will need long trousers, a long-sleeved top and closed shoes.
Two examples of typical dress in Ukraine…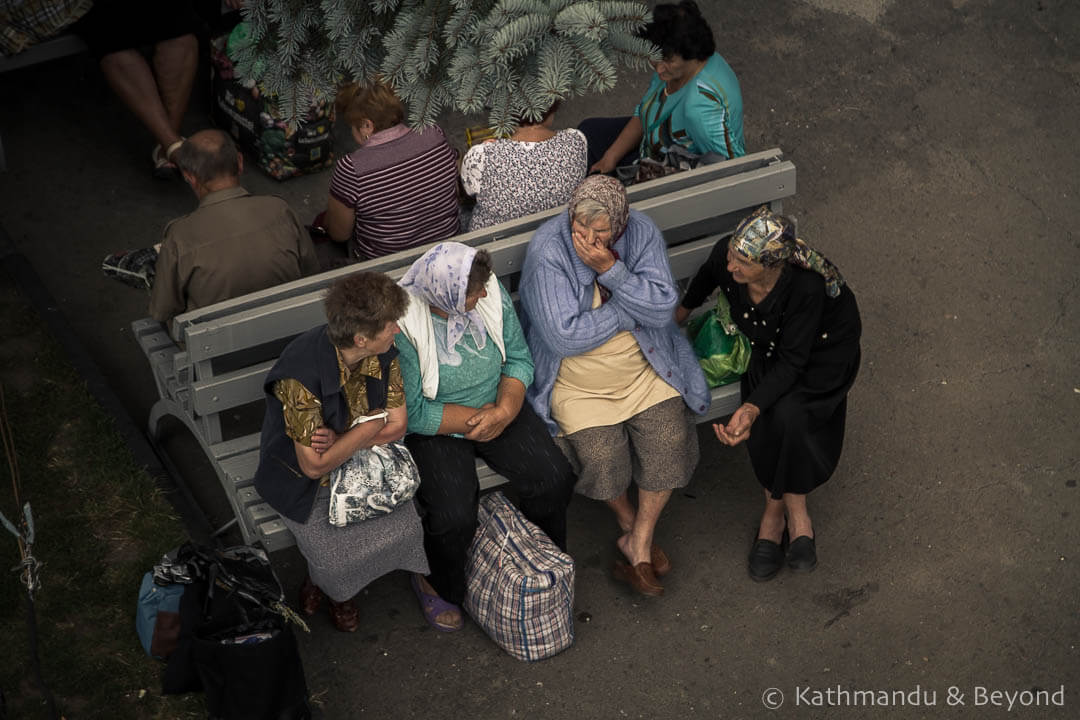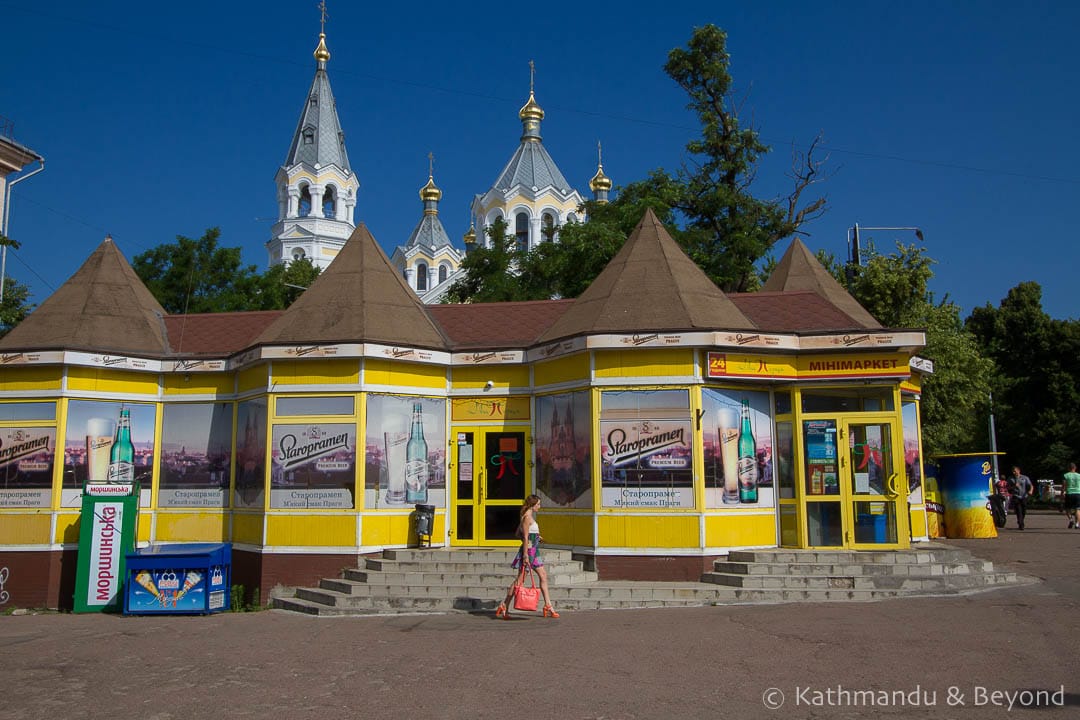 Is it safe to visit Ukraine?
This is a topic that had been done to death on other travel blogs so we're not going to dig too deeply here. The short answer is yes, Ukraine is as safe as many other places in the world. Common sense and awareness of your surroundings go a long way. In big cities and in crowded places like public transport and markets, pick-pockets and bag snatchers may be on the lookout for easy targets, so wear your bag across your body, don't leave your phone or wallet poking out of back pockets (the usual precautions we would take anywhere).
Most governments advise against travelling to eastern Ukraine due to the ongoing conflict with Russia. The war in Donbas is 800 km from Kyiv and whilst it wouldn't be accurate to say the rest of Ukraine is unaffected by it (soldiers are drafted from all over the country), the flighting remains a long way away so whilst Donetsk and Lugansk are no-go areas, the hostility in the east isn't reason enough not to visit Ukraine.
Travelling around Ukraine
Travelling within cities and towns: Public Transport, Taxi, On Foot
Thanks to a good network of buses, trams, trolleybuses and marshrutka (fixed-route minivans that work like shared taxis) there are plenty of options for getting around cities in Ukraine. A Metro system also operates in Kyiv, Kharkiv and Dnipro,
How straightforward navigating public transport in Ukraine will depend on your Ukrainian or Russian language skills. Ours are limited but we still manage fine with a combination of basic Cyrillic, Google (translate and maps) and mime. (Mark enquiring if a bus was headed to the train station in actions alone is a memory that will stay with me).
Perhaps the most useful app for navigating public transport in Ukraine is EasyWay (Eway). Pinpoint your destination and Eway will suggest routes, advise which public transport to choose, and provide bus/tram numbers and schedules. It can help you locate the nearest stops and even tell you what the fare should be. You can download some route information in advance to use offline, but with data (a local SIM card is cheap) it's easy to figure out your journey on the hop. Currently, EasyWay is available for sixty-five towns and cities in Ukraine. We know some travellers who prefer 2GIS which does a similar thing but is much harder to use if you don't read Cyrillic.
The Metro system is easy to use and be sure to spend some time admiring the many beautiful station interiors. In Kyiv make a journey to Arsenalna, the second-deepest underground station in the world at 105 metres. The Kyiv metro is often cited as the deepest in the world, but North Korea's Pyongyang Metro is deeper at 110 metres.
Taxis are plentiful in the cities, but language might present problems and tourists frequently report fare extortion. Easier for visitors is Uber which we've always found reliable, or Uklon the local equivalent (which shows the final price before ordering the taxi, avoiding the danger of being ripped off). Note that in some medium-sized cities e.g. Zhytomyr and Poltava, Uber doesn't operate but Uklon does.
When on foot, equally useful is Google maps, but if you don't have data, Maps.me is another great app (just remember to download the area you need when you have WiFI). Even if I do have data, I often use maps.me and it's probably the app I use the most when travelling.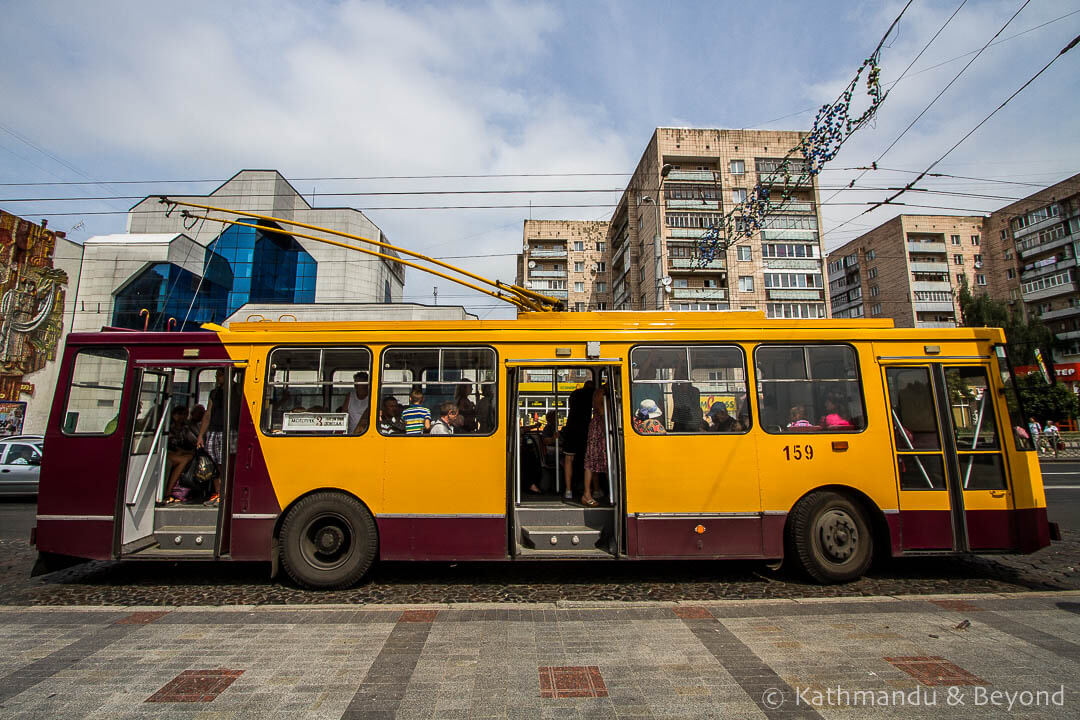 Travelling around the country between cities in Ukraine
Our preferred method of public transport is by train but whilst Ukraine has an extensive rail network, you can't get everywhere in Ukraine by train. You can check timetables and book online on Ukraine Railways' website or app. If you book on the app you can use an e-ticket, alternatively showing a copy of the ticket on your phone should suffice (you used to have to print out the ticket but that is no longer the case).
https://booking.uz.gov.ua/en/
We haven't come across many comfortable long-distance buses in Ukraine, but Autolux comes the closest. We've used them between Kyiv and Odesa but their selection of routes is expanding.
Other websites we find useful for planning purposes are ticketsua and busbud. You can also book tickets on these sites although we prefer to do things old-school and buy our tickets at the bus station. We sometimes also use bus.com.ua to check local buses, although it's a bit complicated if you try and use it in conjunction with Google translate.
Another option for shorter journeys is marshrutka although we try to limit our travel time on these often-cramped mini-vans to a couple of hours. They can be quicker than buses because once they get going they tend not to hang around and in Kyiv, for example, they depart from the city outskirts, usually a metro station, so don't waste time stuck in city-centre traffic. Marshrutkas for Chernihiv leave from outside Chernihivska station in Kyiv. Simple huh?
Some travellers swear by BlaBlaCar, which is operational in Ukraine, but we've never had any luck matching ourselves with a ride.
Flying domestically within Ukraine is also an option worth considering for longer distances. Ukraine International Airlines offer flights between Kyiv and Dnipro, Kharkiv, Kherson, Lviv, Odesa, Chernivtsi, Zaporizhzhia, and Ivano-Frankivsk. If you can plan ahead, fares are less than €20. There is also SkyUp Airlines, a low-cost carrier operating an increasing number of domestic (and international) routes.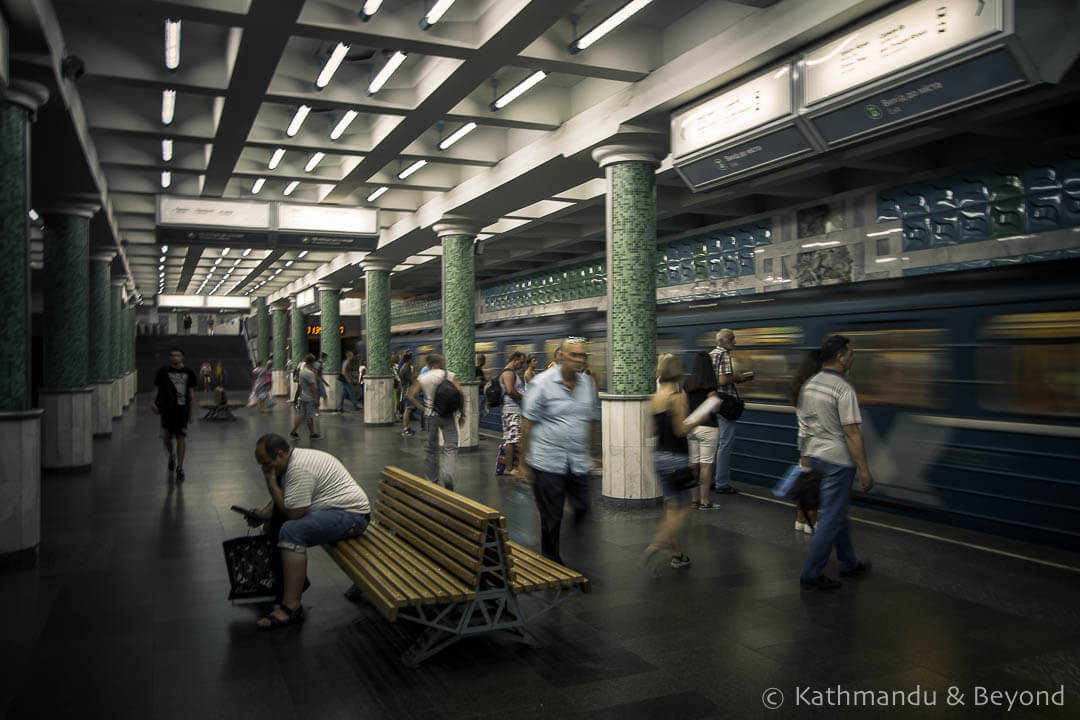 Accommodation in Ukraine
Finding a place to stay when travelling in Ukraine is easy and in cities and larger towns, you can find accommodation for all budgets. We tend to opt for private apartments and have stayed in some excellent ones in Kyiv and Lviv for between €20 to €30 a night. In smaller cities and towns, we usually end up in mid-range hotels. The larger cities have a wide choice of hostels but as the majority of international backpackers don't usually venture beyond the 'golden triangle' of Kyiv – Lviv – Odesa, the choice dwindles the further off the path you are.
Because the Ukrainian hryvnia is a weak currency, Ukraine is a great country to splurge a little and either become a flashpacker on a backpacker's budget or stay in some very comfortable three and four-star hotels for less than you would in most other parts of Europe.
One hostel chain that stands out is Dream Hostels. They have popular and highly-rated places in Kyiv, Lviv and Odesa but they also have hostels in some lesser-visited towns: Rakhiv, Khmelnytskyi, Zaporizhzhia and Poltava (we've stayed in their hostels in the latter two). All Dream Hostels have dorms and private rooms and a dorm bed in Kyiv costs around €9/night.
Clearly, apartments require some advance booking to ensure your host is there to let you in, but otherwise, it's not usually essential to have everything in place before travelling Ukraine. That said, we tend to book in advance using Booking.com (even if only a day or so, and sometimes the same day) as we find that having a reservation in advance removes one step of the language barrier. It also means less traipsing around looking for a suitable place (something we've grown less and less fond of since our twenties).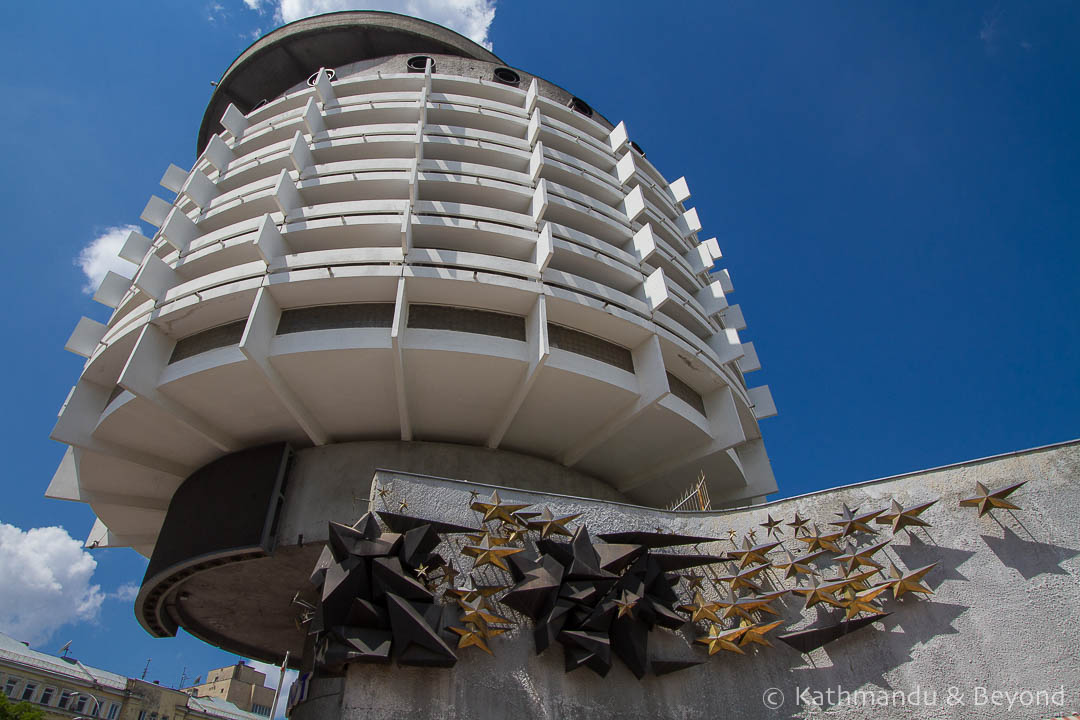 Stay at one of Ukraine's most impressive-looking Soviet-era hotels for less than 50 Euros a night: The Hotel Salute in Kyiv
Food and Drink in Ukraine
Dumplings, potatoes, bread… we admit that we do not get especially excited about Ukrainian (or any Eastern European) cuisine. It doesn't feature enough chilli and spice for us and it all seems a bit school dinner-ish!
We've said it many times before but we're not overly-qualified to write best places to eat posts as we tend to dine out on a budget. There are many excellent restaurants in Kyiv, Lviv, Odesa and beyond, but we're not in a position to recommend any of them not having tried them out. Kyiv, in particular, has a growing number of international restaurants (Georgian for example). Also, we found an excellent pho (Vietnamese noodle soup) in a hut in a car park in Kharkiv, but that's another story!
Budget travellers should head to canteen-style restaurants such as Puzata Khata, a chain that is far from gourmet but has saved us on more than one occasion.
Popular Ukrainian dishes include borscht, a hot beetroot soup, and stuffed dumplings a little bit like ravioli, known as varenyky or pierogi and often served with a dollop of sour cream. Potatoes pancakes (deruni), stuffed cabbage leaves and filled pancakes (sometimes with fruit so nice for breakfast or dessert) are also common. Chicken Kyiv is also a real dish in Ukraine, although we hardly see it on menus. Writing about Ukrainian food reminds me that actually I quite like most of these things. I guess it's the repetition that stops us from raving about it, and except for borscht, the fact that most of it is rather beige.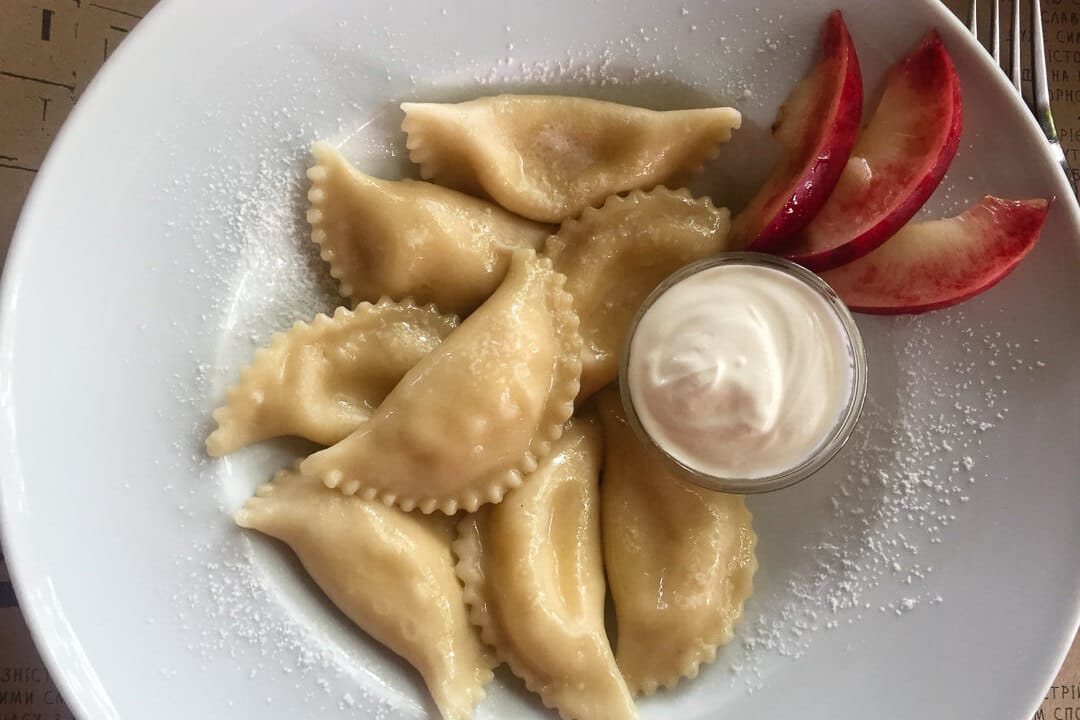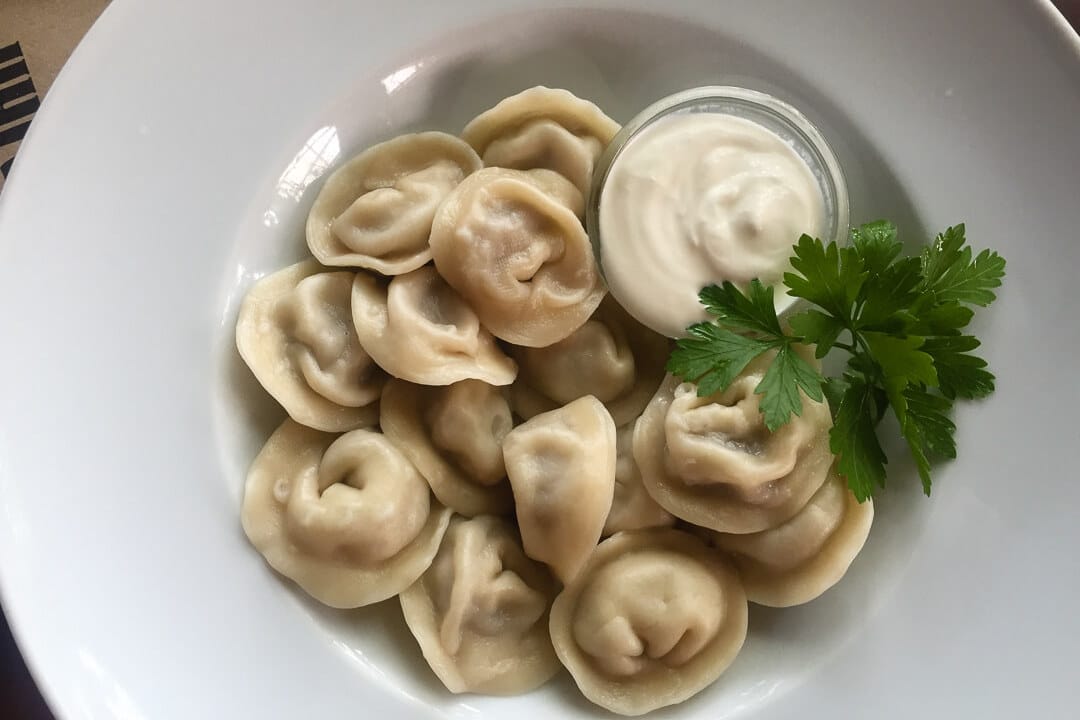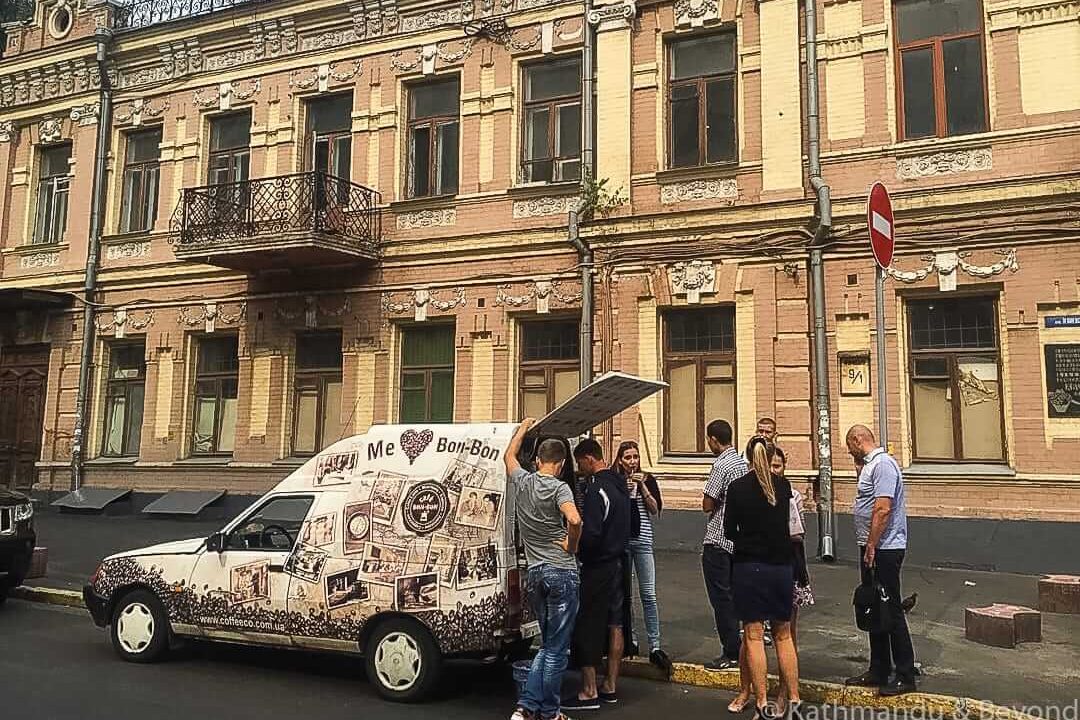 Food and drink in Ukraine: sweet and savoury varenyky (or pierogi), and a coffee van in Kyiv
Coffee trucks are very popular so grabbing a caffeine fix is usually easy. Another drink you'll see sold on the street is kvass. Often served from a giant barrel, kvass is brewed from rye bread but is actually a non-alcoholic beverage. It's a slightly acquired taste, but definitely give it a try as it's quite refreshing during a hot day of sightseeing.
Ukrainians like to go out for an evening beer, but they like something to soak the alcohol up with and the waiting staff may think you slightly strange if you don't order any snacks to go with it. Horilka is a widely drunk clear spirit, Ukrainian vodka more or less.
Note that 18 is the legal drinking age in Ukraine and drinking alcohol in public places like parks and public transport is banned.
Practical information for travelling to Ukraine
Currency, Money exchanges and ATMs
The currency in Ukraine is the hryvnia (notes) which is subdivided into 100 kopiyok (coins) with the smallest note being one hryvnia. You may see hryvnia abbreviated to UAH, грн or ₴. At the time of writing (September 2020) the approximate exchange rate is €1 = 33 hryvnia, £1 = 36 hryvnia, US$1 = 28 hryvnia.
The hryvnia is a closed currency, meaning it is difficult to get hold of outside of Ukraine. You can change money at airports but the exchange rates are usually terrible and it's better to withdraw cash from an ATM when you arrive.
ATMs are widely available but always have some backup cash as you might find long queues or empty cashpoints especially at weekends or during national holidays. Credit cards are commonly accepted but don't rely on them.
Most ATMs have a cash withdrawal limit of 3,000 to 3,5000 UAH which can be annoying if you are trying to avoid ATM charges. We have had luck with Ukrsibbank (part of the BNP Paribas Group) which usually allows you to take out 5,000 at a time and doesn't charge any fees (of course you also have to watch out for any fees your own bank may charge).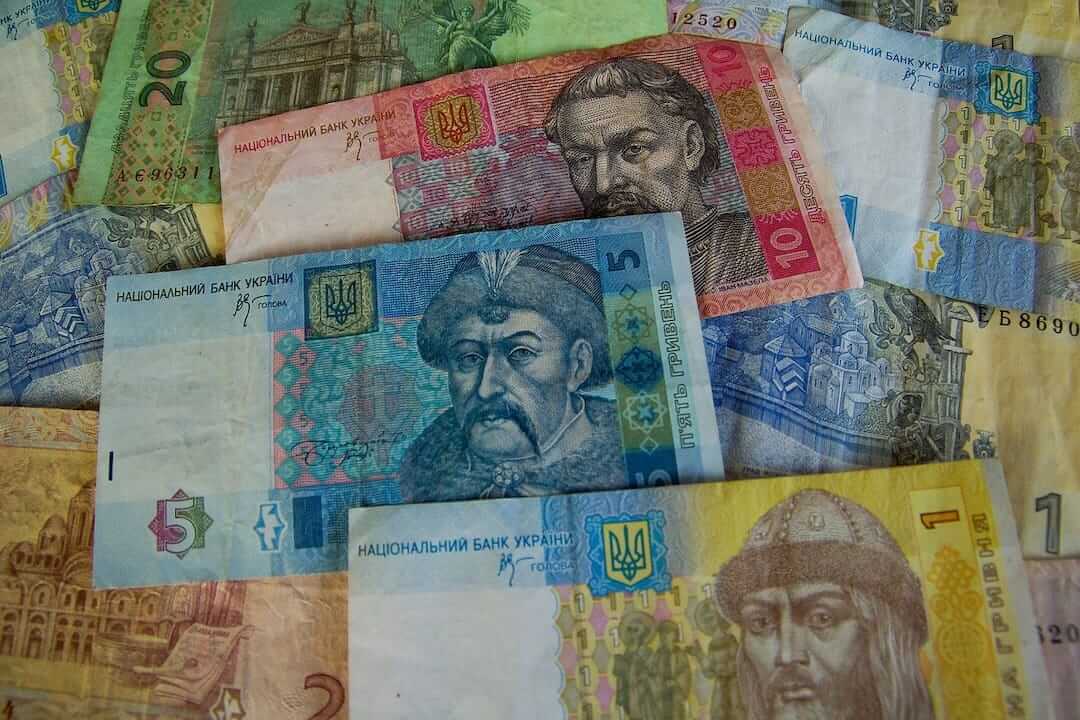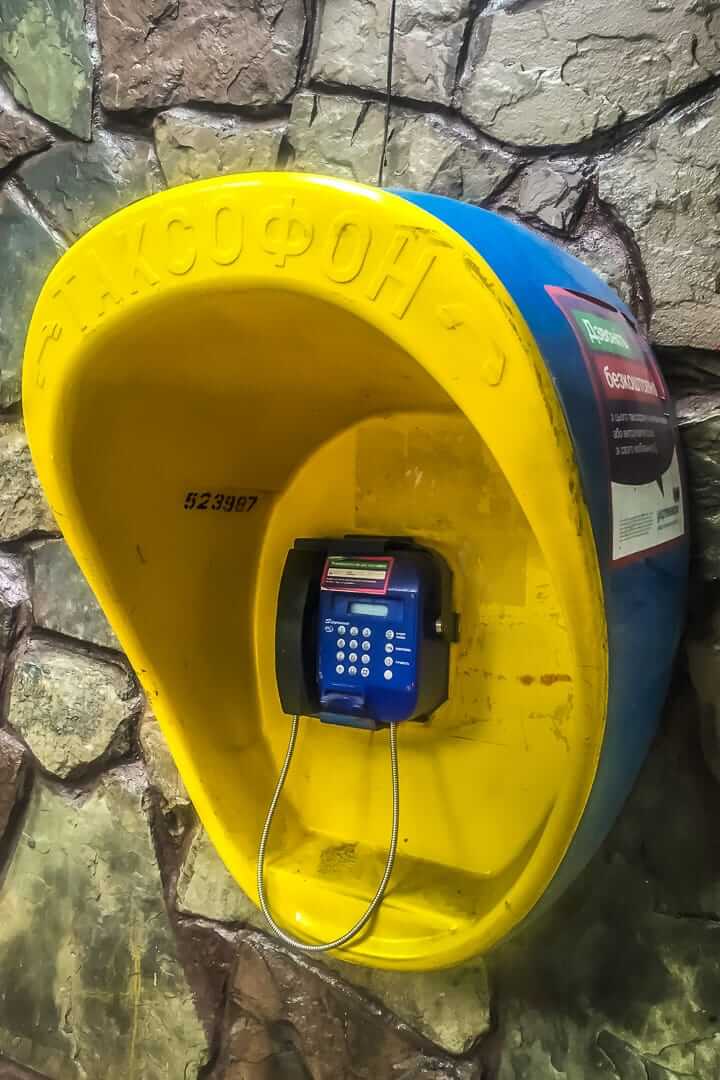 Tipping in Ukraine
Generally tipping isn't part of the culture in Ukraine, but it is becoming increasingly the norm especially in the big cities. As a tourist, you are more likely to be expected to leave something in a restaurant or bar (10% is common). Taxi drivers don't expect a tip but do appreciate a small amount (round up the fare) especially if the traffic has been bad.
Wi-Fi in Ukraine
Free Wi-Fi is widely available throughout Ukraine in bars, restaurants, hostels, apartments and hotels. We have occasionally found that connectivity in budget hotels in more off-the-beaten-path places can be patchy – if they don't receive a lot of overseas guests, management tends not to care if the Wi-Fi doesn't work well because most people staying have data on their devices.
SIM cards in Ukraine
It is both straightforward and cheap to get a SIM card in Ukraine. Although you might see them for sale in corner stores or from other third-party sellers, we always go to the networks' own store. They will ensure you are properly set up and also take care of any necessary registration (in some countries you get re-sold a soon-to-expire tourist SIM or one that isn't registered so stops working).
When it comes to which network to choose, a handful of telecom companies operate in Ukraine but the biggest two are Kvivstar and Vodafone. We've used both over the years with equal reliability. Check which has the best offer at the time but you should be able to get around 5GB and some inclusive calling time for around 110-125 UAH (≈ 3-4 Euros), or unlimited data for twice that (30-day validity). Check the prepaid tariffs for Kvivstar and Vodafone for the best option for you.
There are Ukrainian SIM cards for sale at Kyiv airport, but I never 100% trust I am getting an official deal, so always prefer to wait until we're in the city centre. In Kyiv, we usually head to either a Kvivstar or Vodafone store on Khreshchatyk Street (close to Maidan Nezalezhnosti) where there is a good chance a staff member speaks English. I've never been asked to show my passport when purchasing a Ukrainian SIM card but regulations change so take it with you to save the hassle of having to return (officially you should be carrying your passport when out and about anyway).
Language in Ukraine
Although we are a case in point that proves it is possible to travel around Ukraine with barely any knowledge of Ukrainian or Russian, it will make things a lot easier if you know a bit of the language. So what's the difference between Russian and Ukrainian and which one should you learn?
This topic could fill a page or more and there are plenty of resources you can read. In short, Ukrainian and Russian are both East Slavic languages and both use the Cyrillic alphabet (although a few letters are unique to each language). There are both similarities and differences between Russian and Ukrainian.
Learning to interpret the characters of the Cyrillic alphabet will help a lot when trying to work out things like the place name on the front of a marshrutka. And also for menus although we often use the camera function of the Google translate app for deciphering menus, often with hilarious consequence.
The further east you travel, the more "Russian" things feel and far more people in Dnipro speak Russian as their first language than they do in Lviv. The reality is that nearly all Ukrainians also speak Russian and will likely forgive a tourist for speaking Russian rather than Ukrainian. If you plan to spend a lot of time travelling around Eastern Europe, it makes more sense to learn Russian, but if Ukraine is your sole destination, then start with their language. Out of politeness, you may want to try and learn at least a few words of Ukrainian – even saying hello and goodbye and please and thank you in Ukrainian will be appreciated.
There are numerous website and apps that will help you learn Russian and popular ones include Drops, Duolingo and Babbel. There are loads of other apps available and although a bit amateur, I found 'Russian Cyrillic in 3 Hours' easy to understand. Apple iOS or Android.
How much does it cost to travel around Ukraine?
Although we have noticed a significant rise in some cost elements of travelling in Ukraine over the five or so years we have been visiting, budget travellers will still find Ukraine very friendly on the pocket. For example, the first couple of times we visited Kyiv, we stayed at the Mini-Hotel Kievskiy, a no-frills but clean and secure budget hotel with a great location near Golden Gate. During our first stay, we paid around €18/night for a double room. Today that same room is on sale for €50/night (although you might find a special deal). We've also noticed the cost of apartments has crept up over the years. However, you can still get a dorm bed in one of Kyiv's best-rated hostels for less than €10/night and there are good-value hotels and apartments if you look around.
Eating out can be as cheap or costly as you want, but you can get a meal in a canteen-style restaurant like Puzata Hata upwards of €2 to €3. Taking in the cultural attractions won't dent your wallet either. For example, entry to one of Kyiv's top attractions, the Kyiv-Pechersk Lavra monastery, costs less than €2 and a ride on the Kyiv Metro is under €0.25. Bear in mind, your daily average spend will rise quickly if you take an excursion to the Chernobyl Exclusion Zone or are a fan of fancy cocktail bars!
It's also worth considering that prices in Kyiv are higher than elsewhere in the country, so even taking into account the cost of transport, you will likely spend less by seeing more of the country.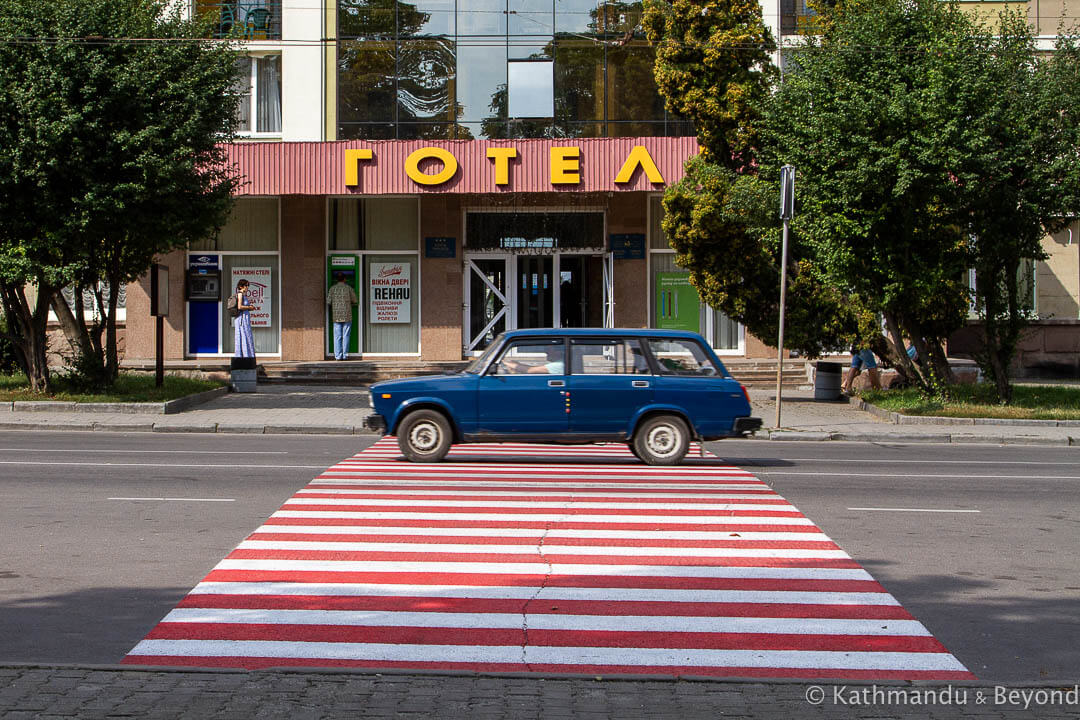 Guidebooks for Ukraine
Although there is a growing number of independently published travel guides for Ukraine, Lonely Planet Ukraine (latest edition: July 2018, next edition due July 2021) and the Bradt Travel Guide to Ukraine (latest edition: June 2013, updated in 2010) are the only mainstream guidebooks available. Lonely Planet also publishes a Ukrainian Phrasebook & Dictionary which is a useful pocket guide for those who prefer physical books to technology.
Useful websites for travellers to Ukraine
We've already mentioned some of the websites and apps that we use either for planning a Ukraine trip or whilst travelling in Ukraine, but will recap them here:
Transport
EasyWay (Eway)
Ukrainian Railways
Metro: Kyiv Metro, Kharkiv Metro, Dnipro Metro
Bus websites: bus.tickets, budbud, and bus.ua
Airlines: Ukraine International Airlines, SkyUp Airlines, Wizz Air, Ryanair
Government travel advisories
UK FCDO travel advice
US Department of State
Canada travel advisory
Australian Government
Ministry of Foreign Affairs of Ukraine: check the latest entry requirements and COVID-19 related restrictions
Visit Ukraine Today Information about COVID-19 restrictions and requirements for travellers
Ukraine travel apps to download
maps.me Apple iOS or Android
Google offline maps Apple iOS or Android
EasyWay (Eway) Apple iOS or Android
2GIS Apple iOS or Android
Uklon Apple iOS or Android
Uber Apple iOS or Android
Ukraine railways mobile or Android
Kyiv Metro Apple iOS or Android
Your language app of choice
Google translate Apple iOS or Android
Kyiv murals for street art fans Apple iOS or Android
Currency converter (we use Currency but there are plenty to pick from) Apple iOS or Android
Dii Vdoma COVID tracker (if applicable) Apple iOS or Android
Books about Ukraine
We wrote A Short History of the Soviet Union from 1917 to 1991 to help us unravel the complicated chronicle of events that surround Ukraine and the former USSR and there are numerous other lengthier (and probably better-written) books on the same topic. These include:
Borderland: A Journey Through the History of Ukraine, by Anna Reid
The Gates of Europe: A History of Ukraine, by Serhii Plokhii
In Wartime: Stories from Ukraine, by Tim Judah
East West Street, by Philippe Sands
Life and Fate, by Vasily Grossman
Wolves Eat Dogs, by Martin Cruz Smith (crime novel)
A Boy in Winter, by Rachel Seiffert (historical novel)
Chernobyl: plenty of books are available recounting the events and personal stories of the Chernobyl disaster including Voices from Chernobyl by Svetlana Alexievich and Midnight in Chernobyl by Adam Higginbotham.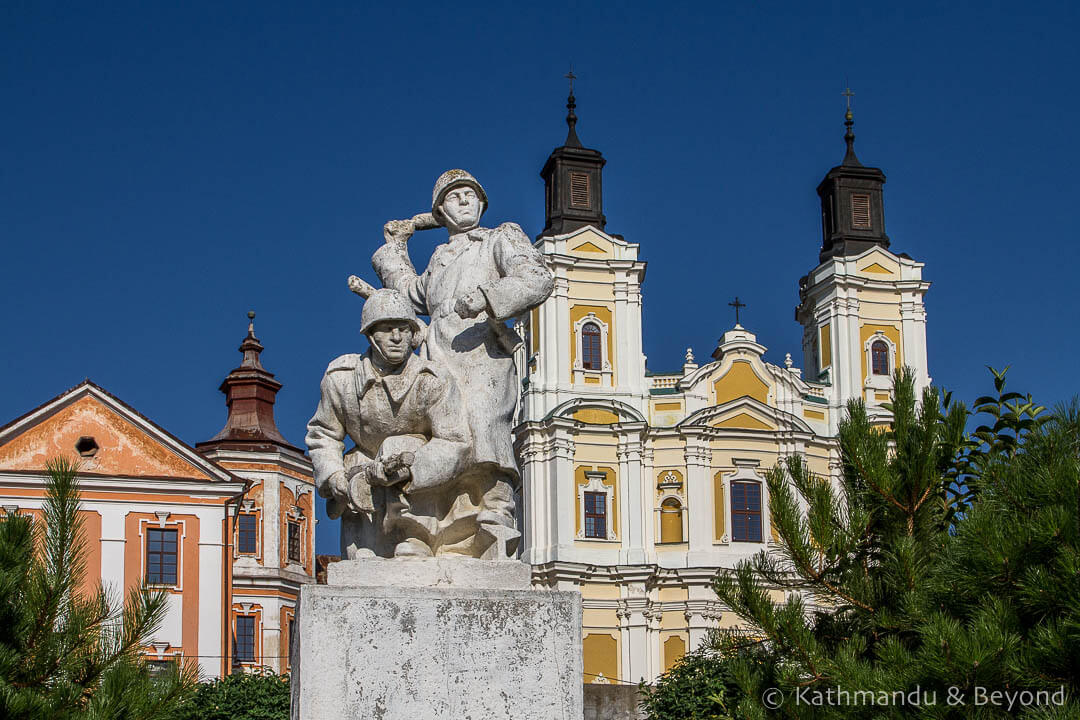 Is Ukraine worth visiting?
We hope that if you have made it this far through the post you've decided that Ukraine is worth a visit. Its diversity means it's a 'something for everyone'. Yet despite being unlike any country in Europe, Ukraine isn't really on the way to anywhere so travellers tend not to find themselves passing through. But Ukraine is definitely worth the detour, we promise you!
Hopefully, we have given you plenty of travel tips for Ukraine, but if you need further inspiration take a look at our Ukraine photos. If you're looking for help planning a Ukraine trip, we have a lot of blog posts. These should give you a few ideas and get you started with your planning:
The Best Things to do in Kyiv
The Best Day Trips from Kyiv: A guide to independent excursions
Where to break the journey between Kyiv and Lviv
Where to break the journey between Kyiv and Odesa
Off the beaten track Lviv: What to see and do
Suggested Itinerary to Ukraine, Moldova & Transnistria: From Uzhhorod to Kyiv
Things to do in Kharkiv
---
IF YOU FOUND OUR PLANNING GUIDE AND TRAVEL TIPS FOR UKRAINE HELPFUL, PLEASE SHARE IT…