Ten of the coolest bus terminals we have seen on our travels
It was a recent trip to Abu Dhabi that inspired me to look through our archive of photos and see if I could muster up enough images to create a post about bus stations.
I know what you are thinking, and I agree … bus stations are, in general, places that you really shouldn't be hanging around in. You arrive, you buy your ticket, perhaps purchase an overpriced bottle of water or some snacks, have a quick pre-boarding pee and that's your lot; you're off.
But, when you are into a certain genre of architecture in the same way as we are, namely modernism, brutalism, Soviet-era, etc., then you begin to look at bus stations in a different way and before you know it, you can be spending an hour or more admiring a depot's shapely curves and contours and thinking, yep, that's pretty sexy!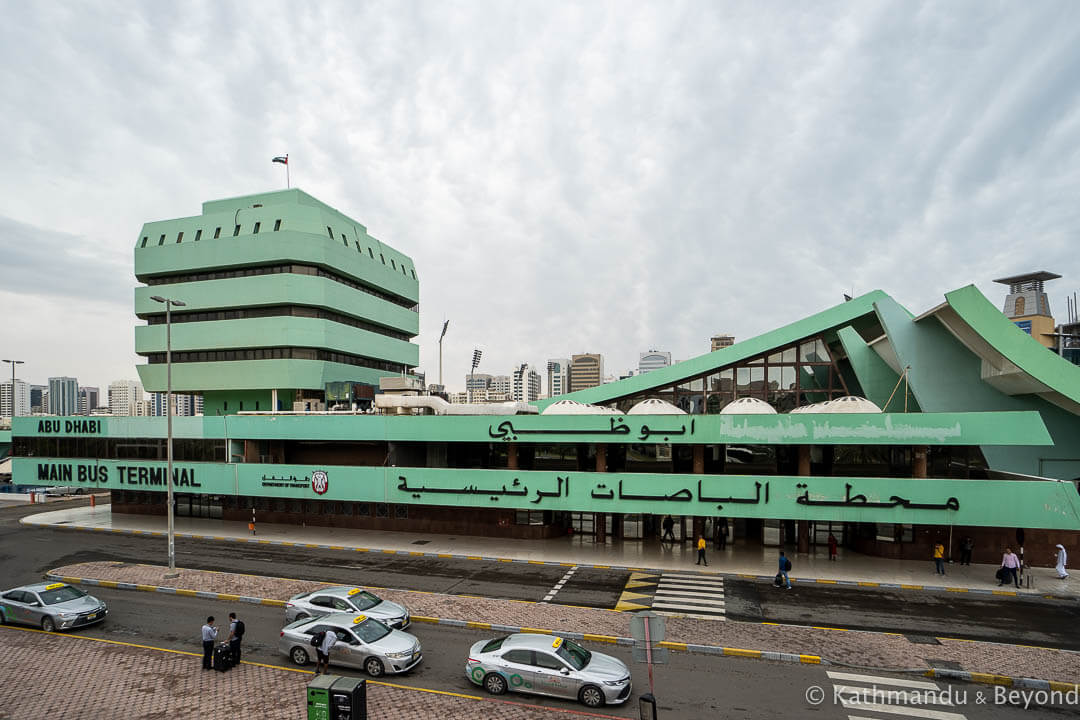 Central Bus Station in Abu Dhabi, United Arab Emirates
Abu Dhabi's Central Bus Station (above) was not the first bus station to captivate us, far from it in fact as is evident below, but it is probably the one in which we have spent the longest amount of time without actually getting a bus. We were in the UAE capital primarily to visit a very good friend of ours who lives and works there and when he asked us what we wanted to see and do, I rather sheepishly said that the bus station was on our to-do-list. I was self-conscious in my reply because I knew, rightly so, that he would take the piss and of course, he did for a bit but he was also aware of the building's architectural significance, and understood why we wanted to see it. Unlike his (very) French girlfriend, I hasten to add, who, in a nice but very French way, just thought we were slightly insane! We spent a good hour dodging the officious security guards (*) at the terminal and left with a memory card full of photos as well as the 'added bonus' of a 200 dirham (about US$55) parking ticket!
(*) You get this a lot when photographing significant buildings in Abu Dhabi.
Parking ticket aside, we've done the same thing in other bus stations around the world. I've deliberately kept this post short because, like our friend's French girlfriend, I suspect many of you are probably thinking at the moment that we are slightly crazy to spend our time admiring and photographing bus stations but I challenge anyone to not think that at least a couple of those listed below are pretty stylish and worthy of a photo or two.
Alba Iulia Bus Station (Alba Iulia, Romania)
Completed in the 1970s. Architect not known.
I'm going to start with an absolute belter. We had no idea of this bus station's existence until we rocked up at it. Alba Iulia's bus station has to be one of the most #accidentallywesanderson buildings we have ever seen and the pink concrete lines set it off perfectly. We headed off unwittingly hymning "Music For a Found Harmonium", a song by the Penguin Cafe Orchestra that I know isn't featured in any Wes Anderson movie but should have been and somehow seemed appropriate at the time!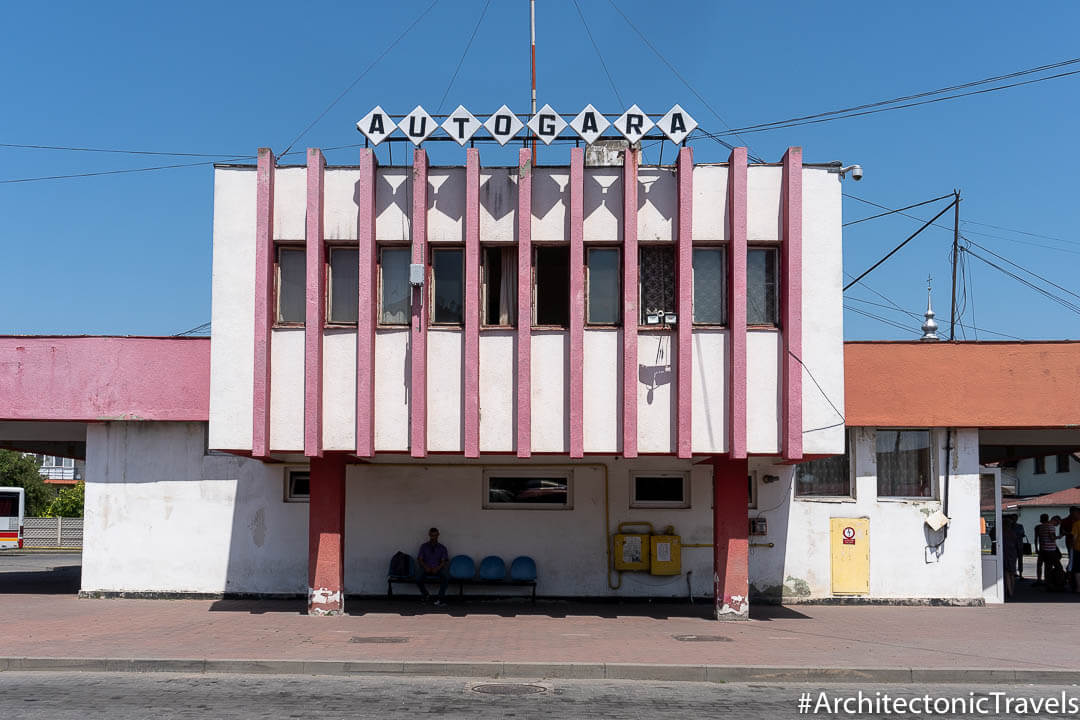 Bus Station in Alba Iulia, Romania
Central Bus Station (Hrazdan, Armenia)
Completed in 1978 by architect Henrik Arakelyan
I'm pretty certain that this spiky structure used to be the shop for the bus station, rather than the terminal itself. Regardless, the complex is no longer used for public transport purposes and the main part of the terminal is now a venue for wedding receptions. We had to hitch, in several stages, from Lake Sevan, some 20km east of Hrazdan, in order to see this specific bus station, which is a dedication to the cause in our eyes!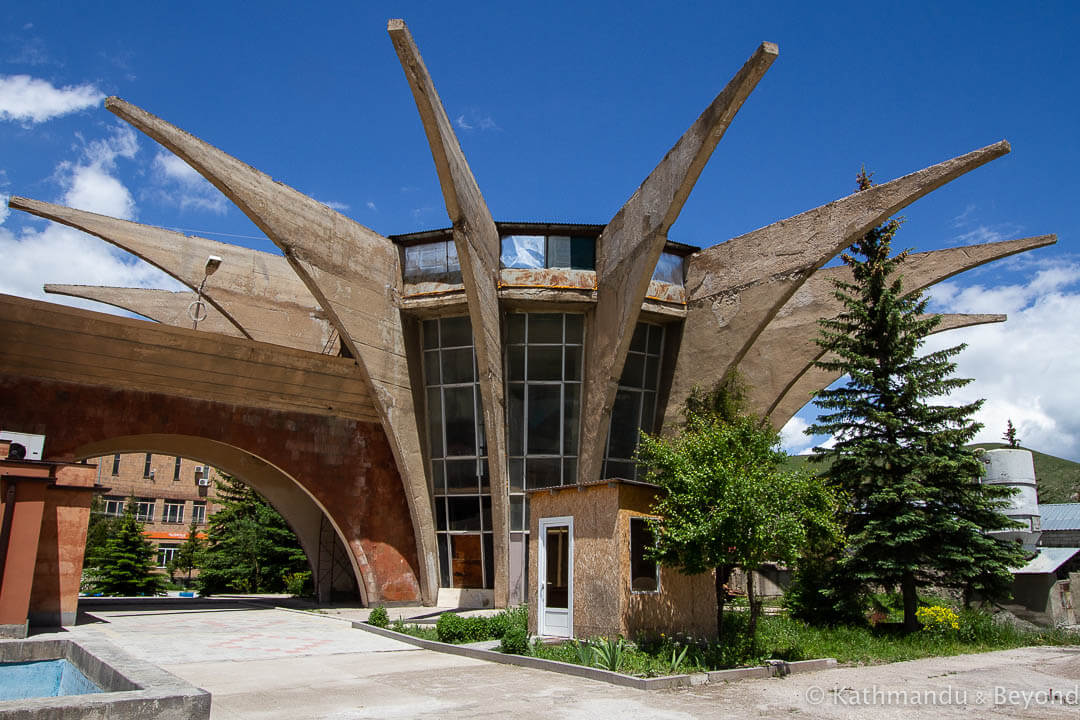 Central Bus Station in Hrazdan, Armenia
Bus Station Striyskyi (Lviv, Ukraine)
Completed in 1980 by architects V. Sagaidakovskyi and M. Stolyrov
The weather was horrendous when we headed to this fine example of Soviet Modernism but, actually, it added to the overall Sovietness of the place. Kind of resembling a huge concrete fidget spinner (it's one of the few times we wished we travelled with a drone), the part of the building attached to the portico is a hotel, while the other side is where the actual bus station and waiting room are located.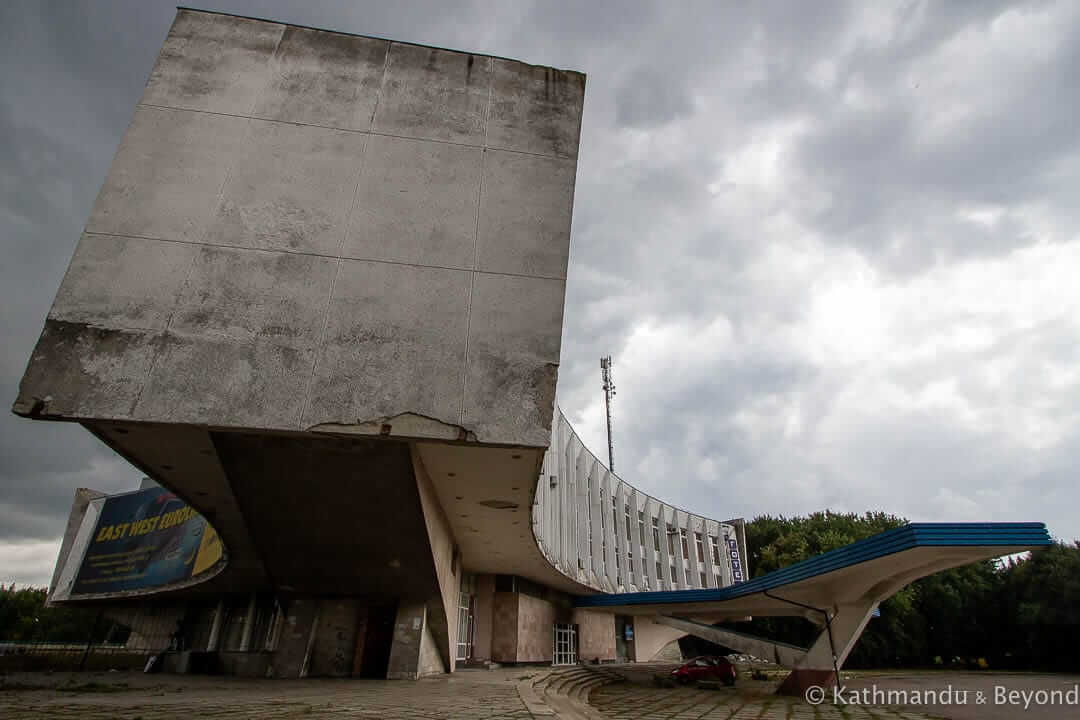 Bus Station Striyskyi in Lviv, Ukraine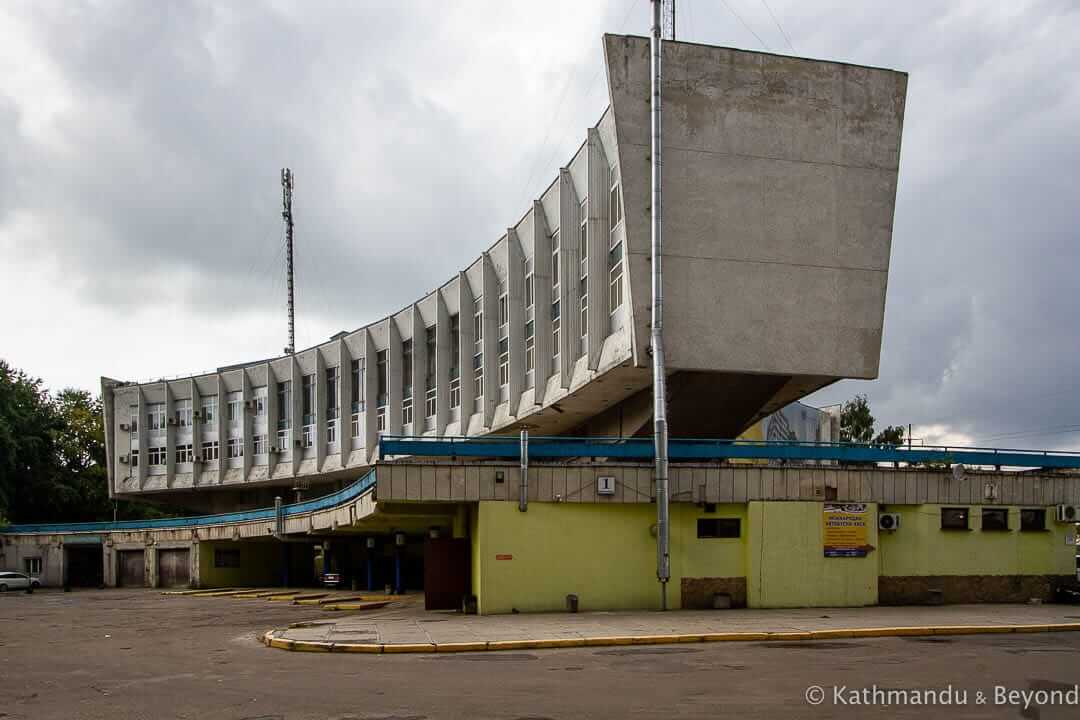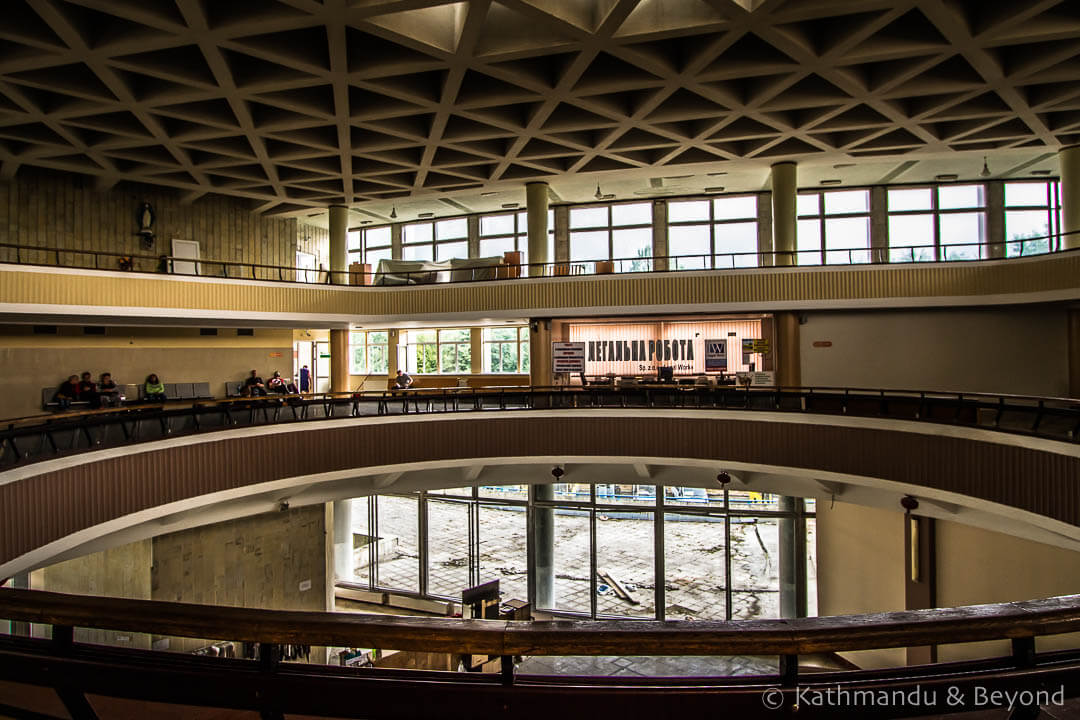 Bus Station Striyskyi in Lviv, Ukraine
Bendery Bus Station (Bendery (Bender), Transnistria)
Completed in the 1960s. Architect not known
There is nothing remarkable about the exterior of Bendery/Bender's petit bus station but the inside is (literally) a work of art and about as retro as a bus station interior can get. There are three Soviet-era mosaics on the walls of the waiting area, with the two at either end entitled "Old Bendery" and "New Bendery" respectively. There is also a Soviet-themed canteen on the first floor of the bus station and, as we pointed out in our dedicated post about things to do in Transnistria, the idea of an intentional retro cafe inside a genuinely retro bus station was a strange concept for us to grasp!
Update: In 2021, the bus station in Bendery underwent renovations and there is now a pop-up retail outlet in the area beneath the mosaic. The surrounding walls have been white-washed but thankfully the mosaic remains intact. Sadly the retro look is no more!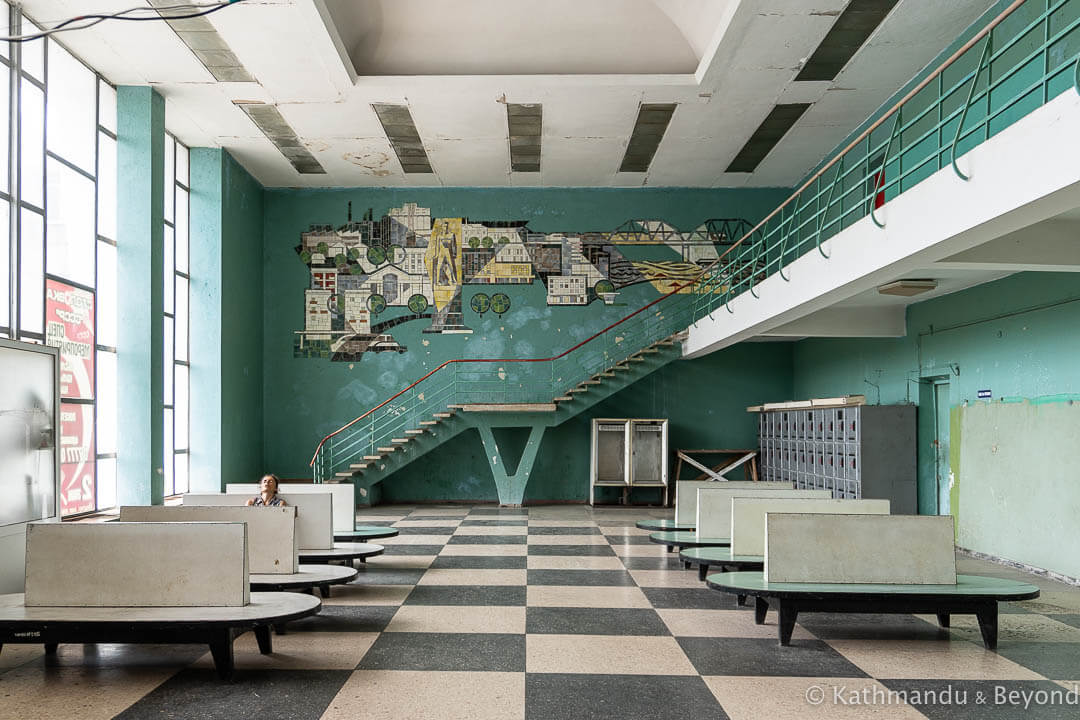 Bus Station in Bendery (Bender), Transnistria
Autogara Metropoli (Galați, Romania)
Completed in 1968 by architect Irina Rosetti
What's not to like about this fantastically-shaped piece of Socialist Modernist architecture? The curves, the yellowness and the '60s interior all blend perfectly and we made sure we arrived extra early for our marshrutka (fixed route minivan) to neighbouring Moldova so that we could take it all in before leaving Galați.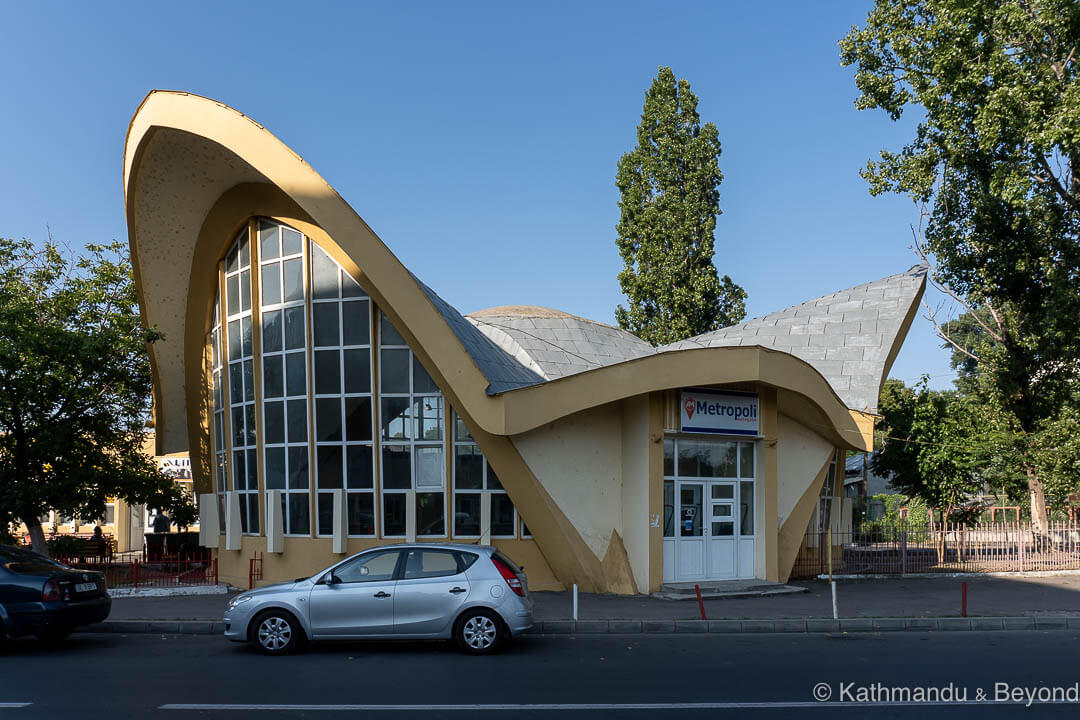 Autogara Metropoli in Galați, Romania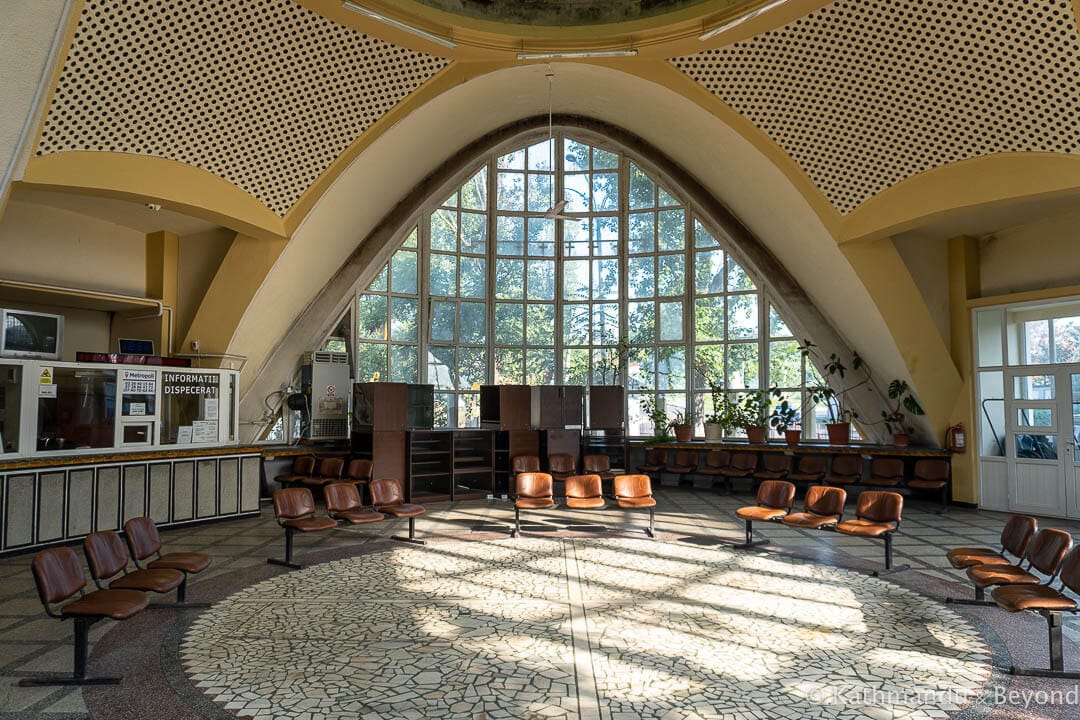 Autogara Metropoli in Galați, Romania
Central Bus Station (Chisinau, Moldova)
Originally constructed in the 1970s. Architect not known
Chisinau's downtown bus station has been modernised in recent times and now blends in with the hectic market that surrounds it. But, fortunately, the terrific mosaic, that would have been the centrepiece of the original terminal, was saved when the revamp took place. The artwork is entitled "The City is Flourishing and Being Built" and depicts life in Soviet Moldova. It was completed in 1974 and is the work of Mikhail Burya and Vladislav Obukh, two Soviet artists who were responsible for other works of monumental panel art in the Moldovan SSR, including the mosaics inside Bendery Bus Station mentioned above.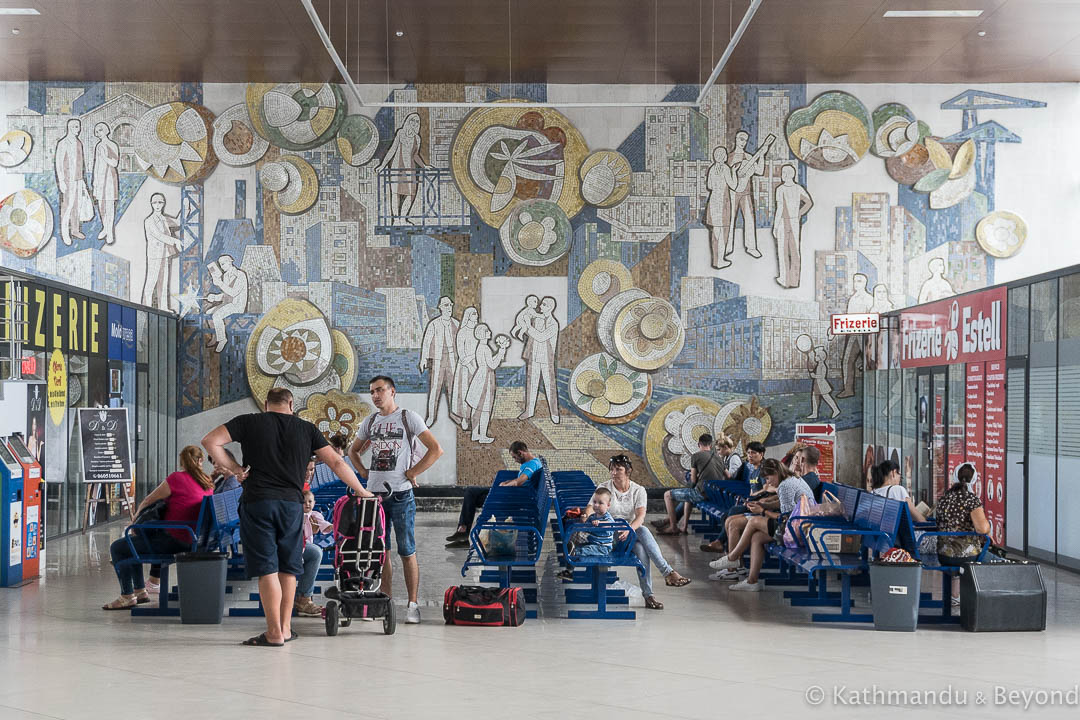 Central Bus Station in Chisinau, Moldova
Abu Dhabi Central Bus Station (Abu Dhabi, United Arab Emirates)
Completed in 1989 by architect Georgi Kolarov.
I was initially somewhat baffled when I discovered that the architect for this glorious structure was a Bulgarian but I read more on the topic and found out that practically all of Abu Dhabi's architecture from the 1970s and '80s was designed by foreign architects. You have to keep in mind that the United Arab Emirates was only founded in late 1971 and in the particular case of Abu Dhabi's bus station, the fact that the designer was from Bulgaria would help explain why a building of this style wouldn't have look out of place in socialist-era Eastern Europe. The characteristic Islamic (mint) green was obviously added to give it a local touch.
As far as I'm aware, the bus terminal itself is not under threat but, like quite a few of city's modernist buildings from that early era, the near taxi stand (bottom right) is soon to be demolished and probably won't be there for much longer.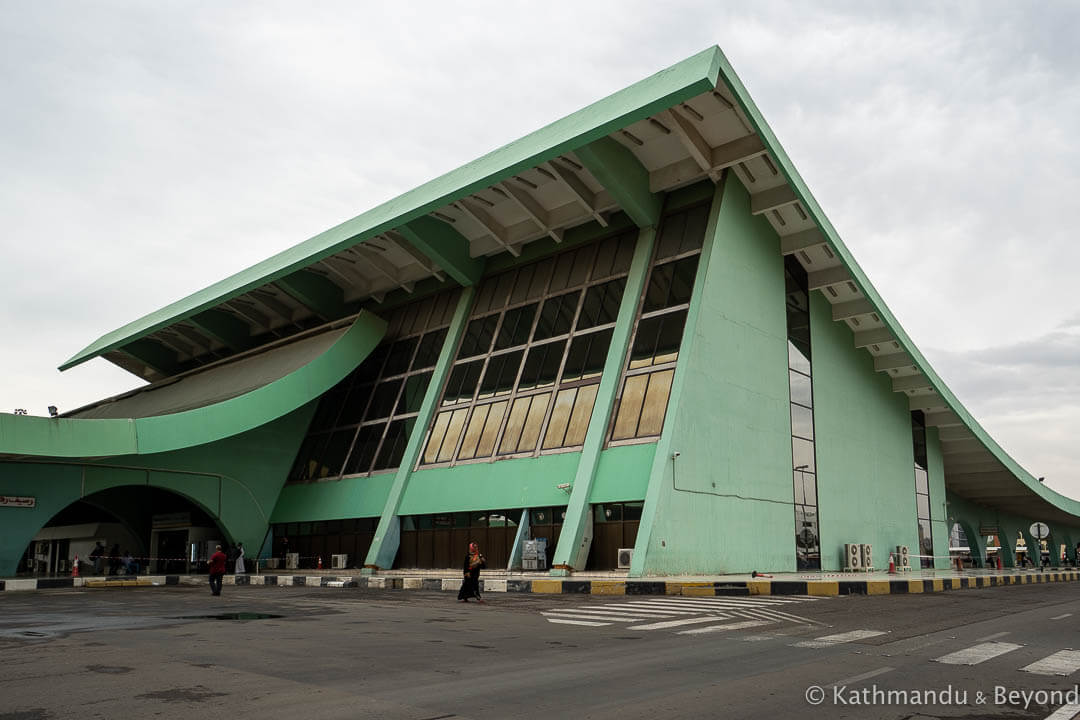 Central Bus Station in Abu Dhabi, United Arab Emirates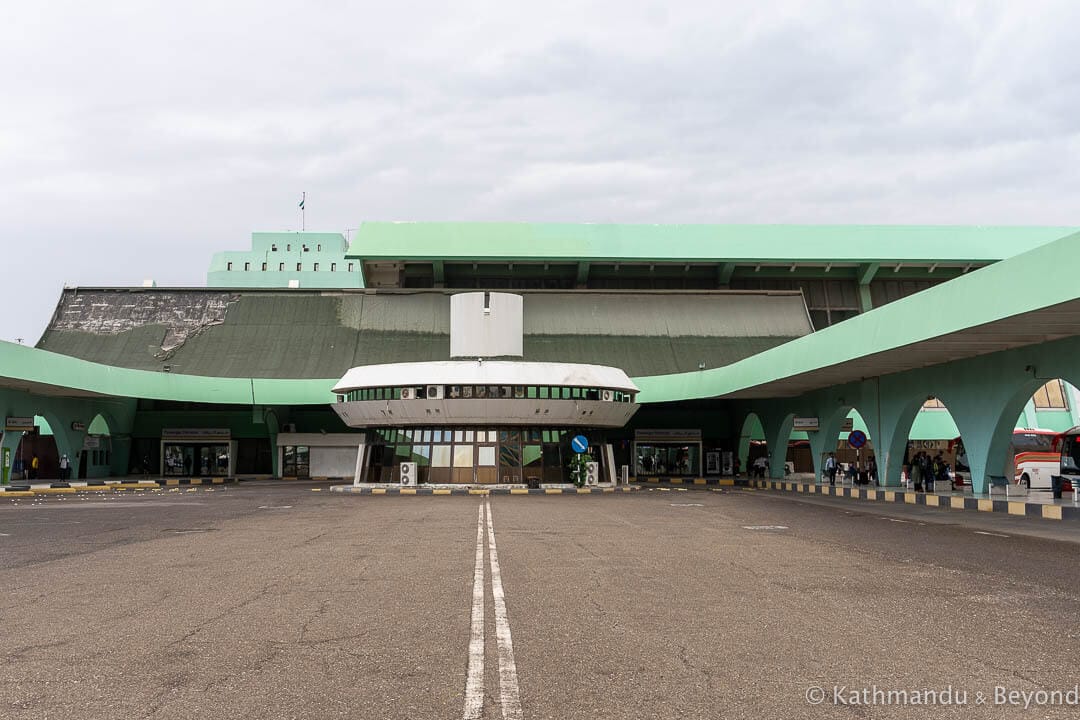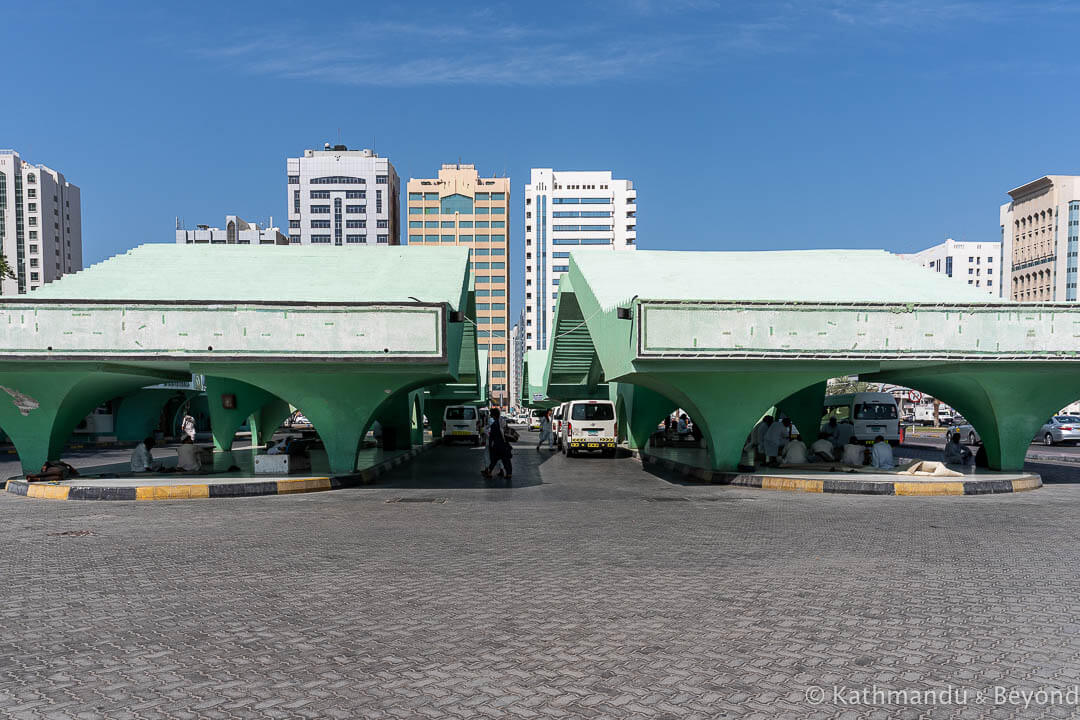 Central Bus Station in Abu Dhabi, United Arab Emirates
Vanadzor Bus Station (Vanadzor, Armenia)
Year built and architect not known
This is another bus station that we just rumbled into and instantly fell for. This time it was on a rickety old Armenian bus and although we were transiting through onto our next destination, which was Gyumri, I think, the sight of the city's Soviet-style bus terminal was enough to convince us that Vanadzor was worth returning to at some point in the future. We did go back a couple of years later and besides the bus station, we found plenty of stuff to justify the visit, including Soviet-era monuments and memorials and yet another abandoned swimming pool to add to our collection.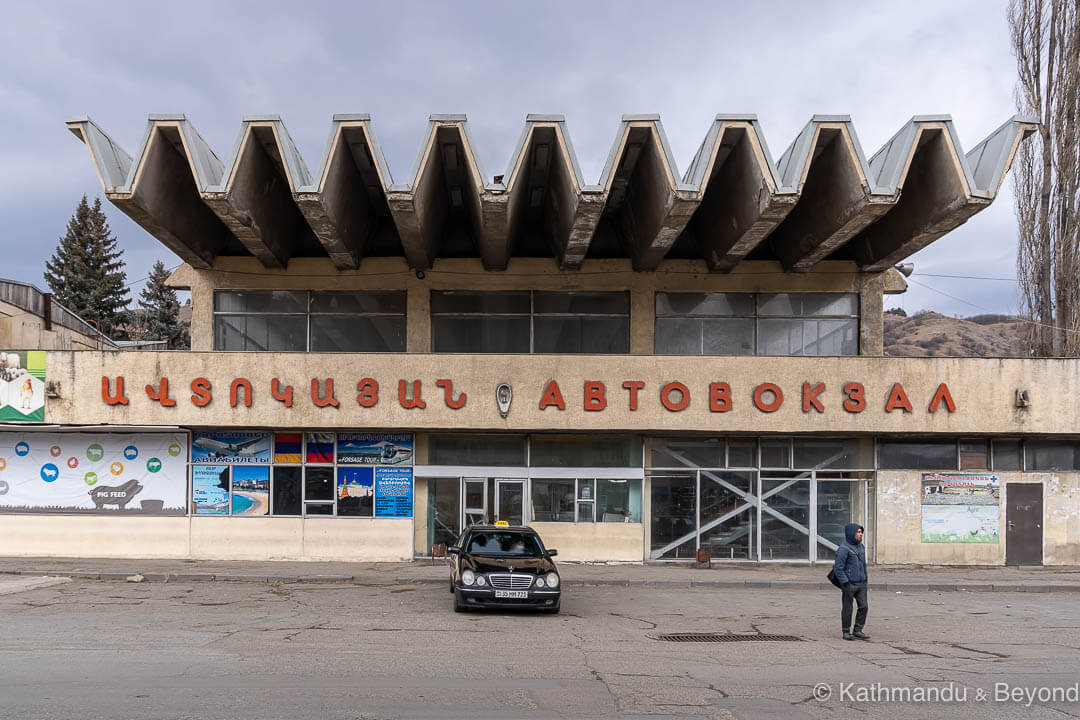 Bus Station in Vanadzor, Armenia
Ortachala Bus Station (Tbilisi, Georgia)
Completed in 1973 by architects Ramaz Kiknadze, Vladimir Kurtishvili and Shota Kavlashvili
Another example of Soviet Modernism, Tbilisi's Ortachala Bus Station is a large glass-panelled structure that never seems to have anyone in it every time we've passed through. The large mosaic panel is called the "History of Transport" and was created by Zurab Tsereteli, the renowned Soviet/Georgian artist and current president of the Russian Academy of Arts.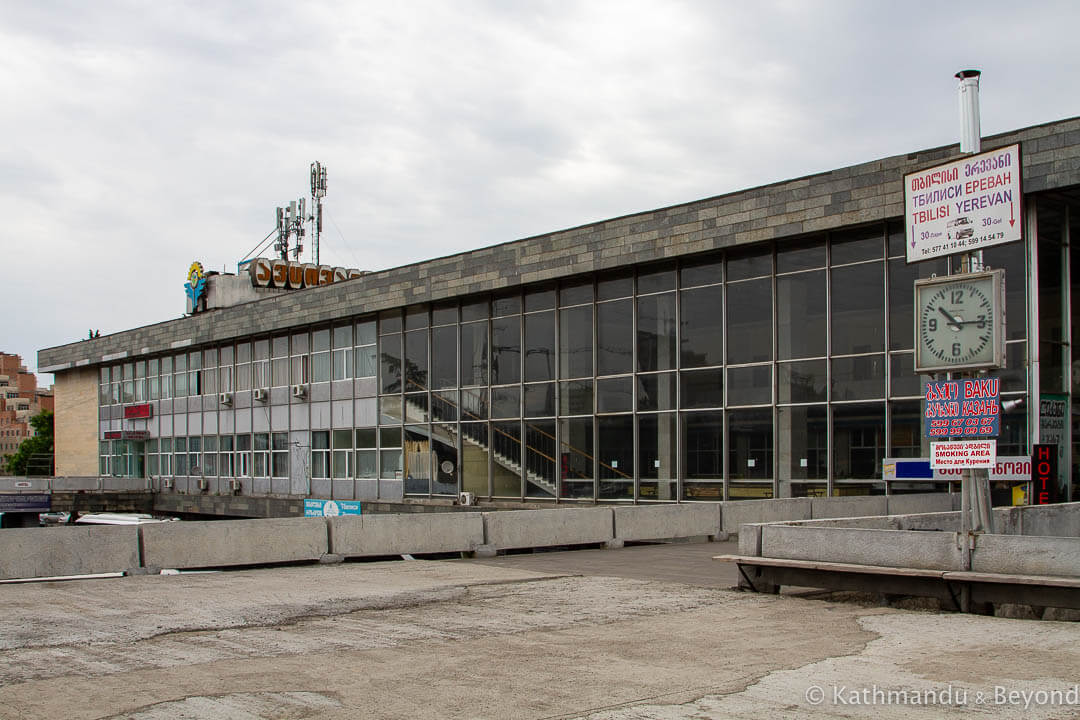 Ortachala Bus Station in Tbilisi, Georgia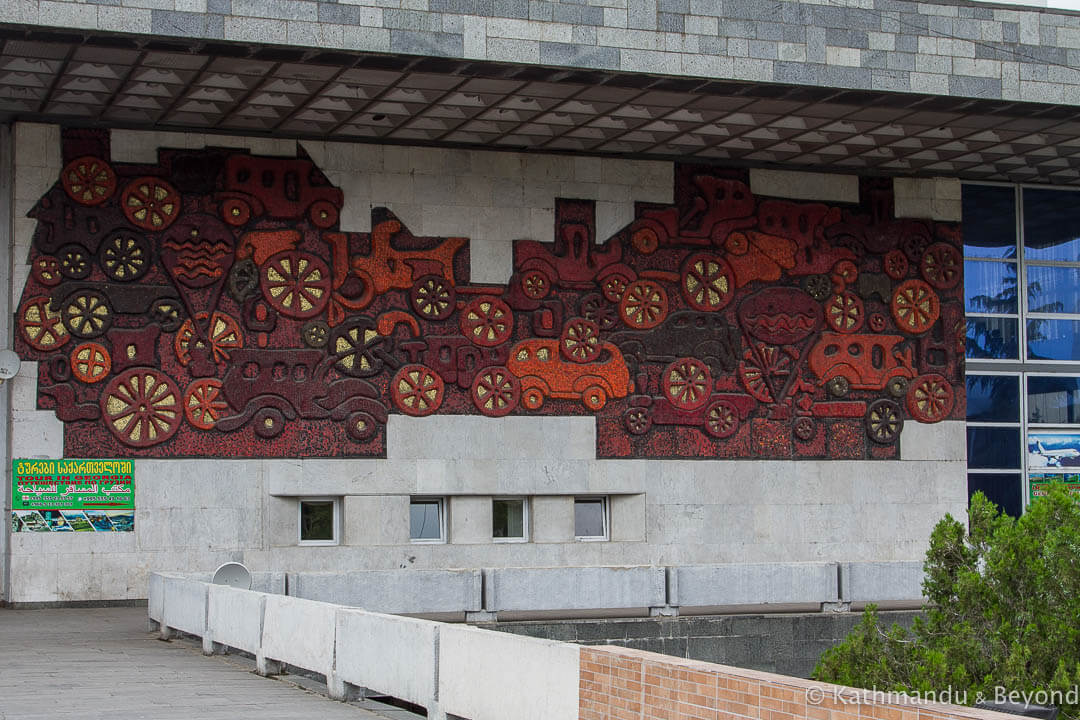 Ortachala Bus Station in Tbilisi, Georgia
Kielce Bus Station (Kielce, Poland)
Completed in 1984 by architect Edward Modrzejewski
I do believe I've left the best until last! Kielce, a medium-sized city more or less halfway between Warsaw and Krakow, is the only place on the planet that we have ever intentionally visited with the sole purpose of checking out a bus station. But there is no denying that this UFO-shaped futuristic structure is a wondrous piece of adventurous architecture and, all things considered, stopping off to see it was a good call. In fact, the city, in general, turned out to be an alright place to spend a day and a night and we ended up writing a separate post about our visit to Kielce, which includes more info about the bus station itself.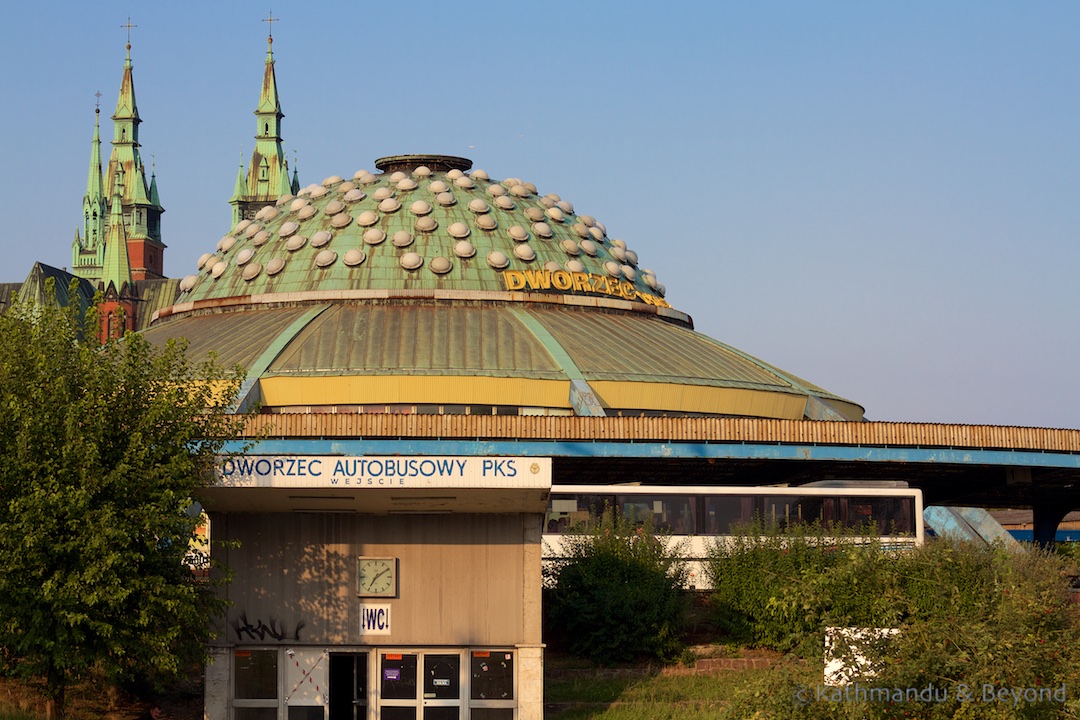 Bus Station in Kielce, Poland
---
IF YOU ENJOYED OUR PHOTO GUIDE TO BRUTALIST AND MODERNIST BUS STATIONS, PLEASE SHARE IT…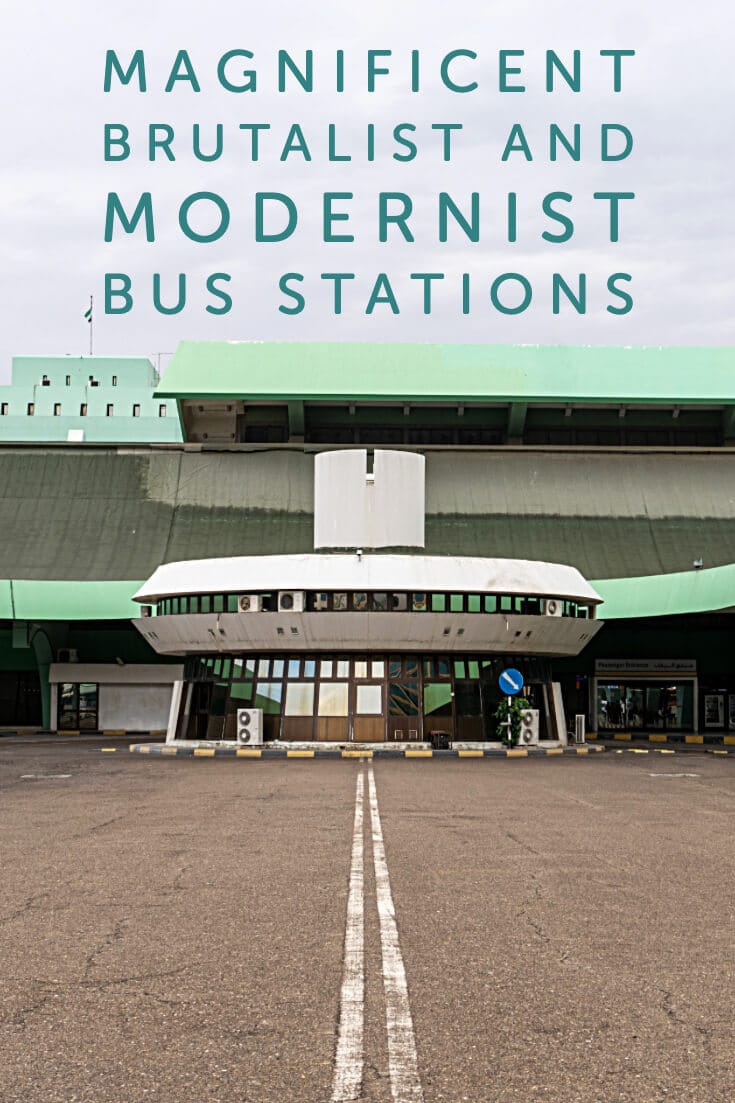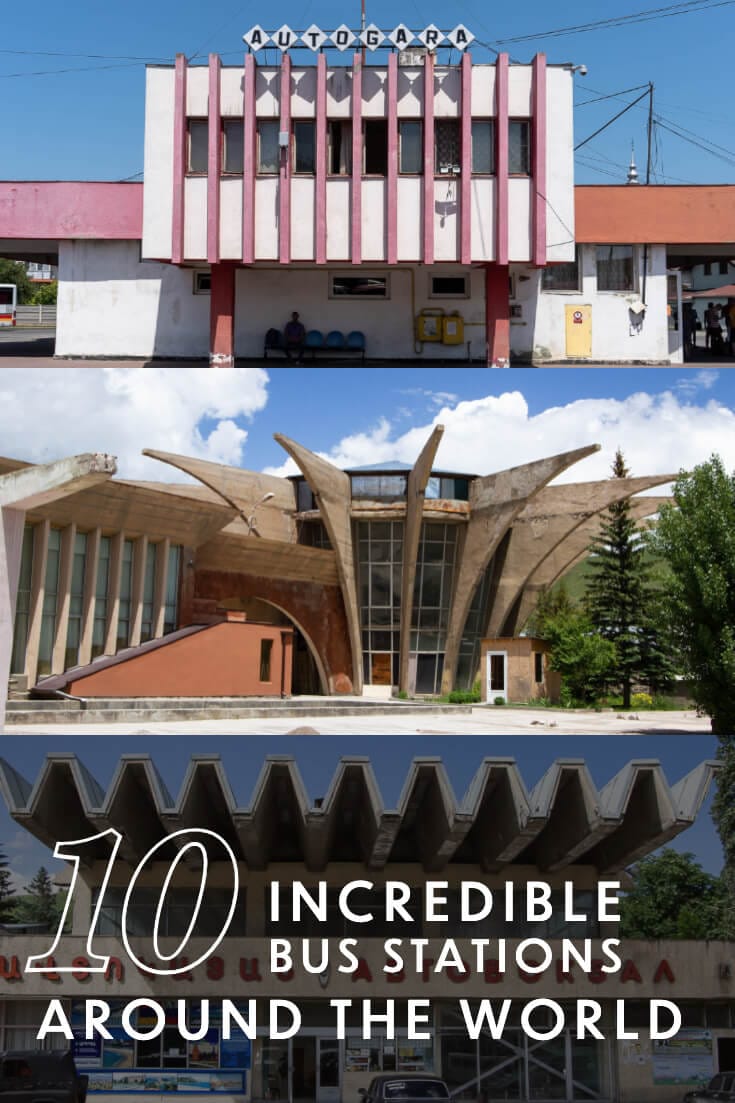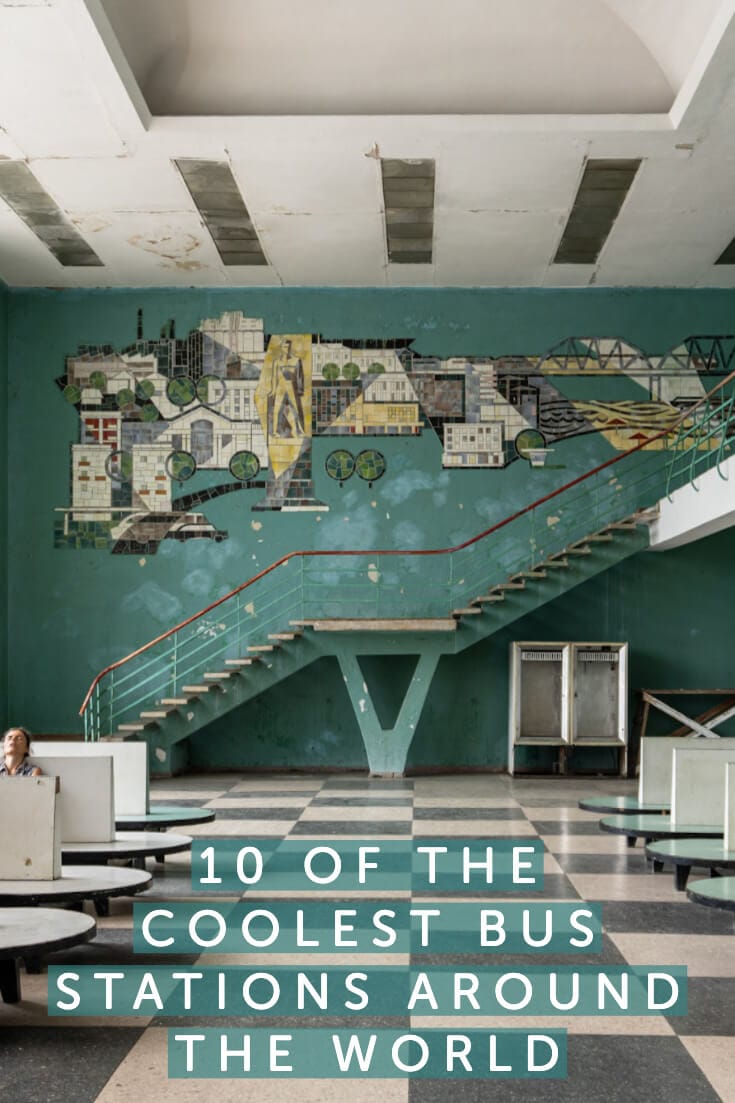 ---
---