Which are the top excursions from Kyiv? Our suggestions including how long they will take
Whilst there are more than enough things to see and do in Kyiv to keep most visitors happy for a few days or more, we know that many of you enjoy a day excursion or two.
Some travellers start to feel claustrophobic in large cities and yearn to see a bit of open space, whilst others just want to utilise their time to the max and see as much of the country as possible using Kyiv as a base.
In this post, we'll attempt to answer a question we are often asked: what are the best day trips from Kyiv?
I'll say upfront that we are not big fans of long day trips and if an excursion involves more time travelling to and from a place than time actually visiting it, we tend to go off the idea. We're also not keen on day trips that involve getting up at sparrows and getting back late into the evening (we quite like having our sightseeing done and dusted in time for beer o'clock!).
If a place is going to take us longer than an hour or two to reach, we'll start questioning if it's worth the effort for a day trip. Then we'll ask ourselves whether we should consider spending a night or two there, especially if it can be a place to break the journey to our onward destination. But that's our style, and we appreciate that everyone is (and should be) different.
Although we usually only write about places that we've been to ourselves, I've included a couple of day trips from Kyiv we haven't yet done despite having spent a fair bit of time in the capital. Perhaps it's because there is so much to see and do in Kyiv that we never feel the urge to escape the city.
That said, we appreciate that many travellers are prepared to put in the travel hours on a day trip to see more of a destination – those short on time, for example, or those who are (ahem) younger and may have more energy! Even though we've spent a night or more at most of the places here, this post is all about what could be considered feasible as a day trip from Kyiv and we'll leave it to you to decide what amount of travelling time suits your personal travel style.
Contents
Chernobyl (3 hours from Kyiv)
Pereyaslav-Khmelnytsky (1 hour from Kyiv)
Mezhyhirya Residence (under 1 hour from Kyiv)
Zhytomyr (1½ hours from Kyiv)
Bila Tserkva (1½ – 2 hours from Kyiv)
Chernihiv (2 hours from Kyiv)
Strategic Missile Forces Base (3½ hours from Kyiv)
Berdychiv (2½ hours from Kyiv)
Uman (2½ hours from Kyiv)
Slavutych (3 hours from Kyiv)
Vinnytsia (2½ to 4½ hours from Kyiv)
Poltava (3 to 5 hours from Kyiv)
The Tunnel of Love (5 hours from Kyiv)
Unless the place isn't possible to visit independently, we'll assume you're travelling by public transport. Having your own transport or joining a tour allows you to go further in less time.
The travel times mentioned below and summarised in the list above, are how long the journey should take 'on a good day', and don't factor in travel time getting to the bus station or marshrutka stand (which are often a little way out of the centre of Kyiv). The mini-vans, known as marshrutkas, have fixed routes, but not fixed times. Bear in mind that if you have to wait half an hour for the van to fill up with passengers, it will add significantly to the overall travel time. However, once a marshrutka gets going, it is usually faster than the bus.
Fourteen Suggestions for Day Trips from Kiev
Chernobyl
Travel time from Kyiv: 3 hours
I know we are kicking off with somewhere that breaks all of our rules regarding travel time and independent journeys but a visit to the Chernobyl Exclusion Zone is, without exception, the most popular day trip from Kyiv so let's get it out of the way.
Exploring Pripyat, the town from which all 47,000 residents were evacuated on the day after the catastrophic accident at Chernobyl's Nuclear Power Plant, initially became de rigeur among dark tourists but now features as mainstream sightseeing on most tourist agendas. The events surrounding the Chernobyl disaster are well-documented and much-photographed so I won't go into detail here.
The majority of people visit Pripyat and the Chernobyl 'sights' as a long day trip from Kyiv, but it is possible to spend the night in the Exclusion Zone as part of a guided tour. The cost of overnight trips has come down since our visit to Chernobyl (the rise in popularity has reduced the price) and these days increasing numbers of tourists are opting for a two-day itinerary. We would like to return on an overnight trip and, in hindsight, regret not doing that on our first visit. If you do have the time and money, do consider it if you have a genuine interest in the history of the area.
Chernobyl is located about one hundred kilometres north of Ukraine's capital, and the driving time between Kyiv and the Exclusion Zone is approximately 2½ hours in each direction, making the average excursion twelve hours long. You have to join an organised guided tour to visit Chernobyl (unless you're planning on sneaking in illegally, which we definitely do not advise). If you don't want to travel as part of a group, you can, of course, book a private tour but you still need to book it in advance.
There are numerous companies offering day trips and two-day packages into the Exclusion Zone and many come highly recommended. We booked our one-day Chernobyl tour with CHERNOBYLwel.come largely because it advertised a maximum group size of fifteen (on the day, there were eight on the tour, so it was perfect). They had good online reviews and I also liked the fact that the company included use of a Geiger counter and lunch in the price rather than selling them as add-ons. We were happy with our tour and would definitely recommend CHERNOBYLwel.come. Advance booking is required as a few days are needed to sort out the paperwork and acquire the permission to visit the exclusion zone.
Another company that comes highly recommend is Chernobyl Zone – Radioactive Team.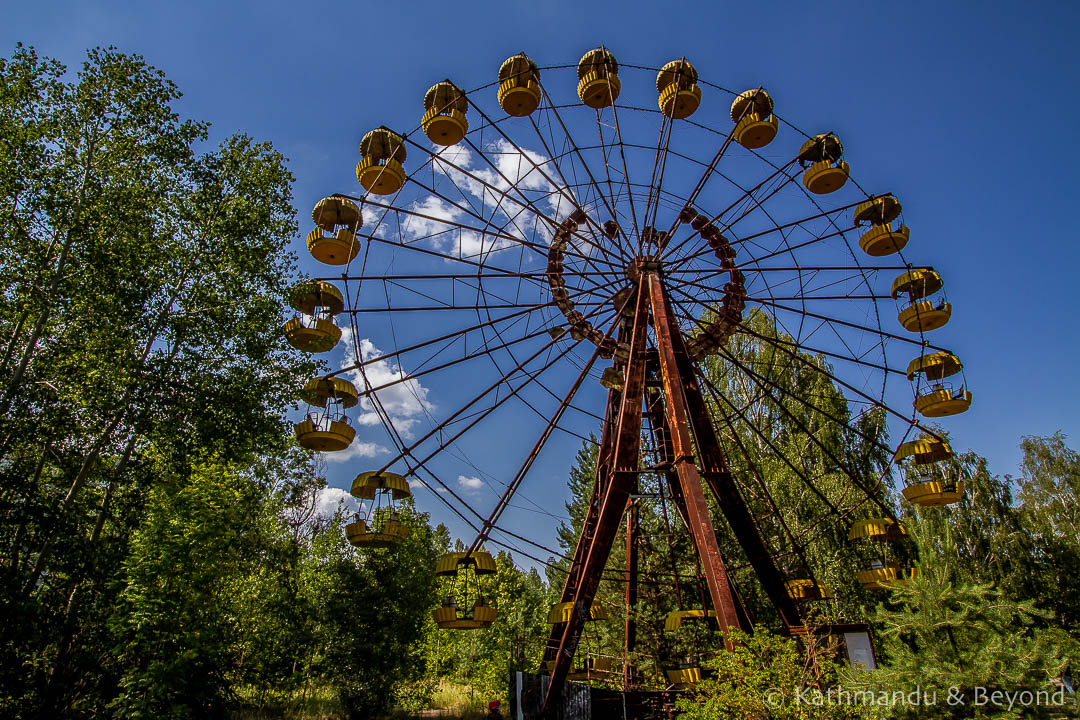 Abandoned Ferris wheel, Pripyat
How to get to Chernobyl from Kyiv (Kiev)
As mentioned above, the only way to visit the Exclusion Zone as a tourist is with a licensed guide on a pre-arranged trip, either as part of a group tour or on a private tour. Your chosen company will meet you at a designated spot in Kyiv and drive you to Chernobyl.
The Mid-Dnipro Museum of Folk Architecture and Life in Pereyaslav-Khmelnytsky
Travel time from Kyiv: 1 hour
Now, this is a place that can legitimately be described as a Kyiv day trip. By public transport, it should take around 1½ hours to reach the museum from downtown Kyiv. Usually, any mention of a folk museum or ethnographic village would have us both walking very quickly in the opposite direction, but against the odds, we enjoyed visiting the Mid-Dnipro Museum of Folk Architecture and Life in Pereyaslav-Khmelnytsky (henceforth known as MDMFAL to avoid a repetitive mouthful).
Pereyaslav-Khmelnytsky is actually known as Ukraine's 'museum town' due to it having no less than twenty-three museums in its locale. The MDMFAL is the biggest and most-visited one. Typical of ethnographic museums, you'll find a large collection of wooden buildings that were transported from the surrounding area. Some of the buildings contain small, quirky museums, like the Bread Museum. One of our favourites was the Space Museum which was housed in an old wooden church. Another aspect we enjoyed was the random collections of rusted farming machinery and abandoned aircraft.
As this is mostly an outdoor museum, it is best visited on a dry, sunny day. The grounds are a pleasant place for a picnic lunch.
Read more: Visiting the Mid-Dnipro Museum of Folk Architecture & Life near Kyiv.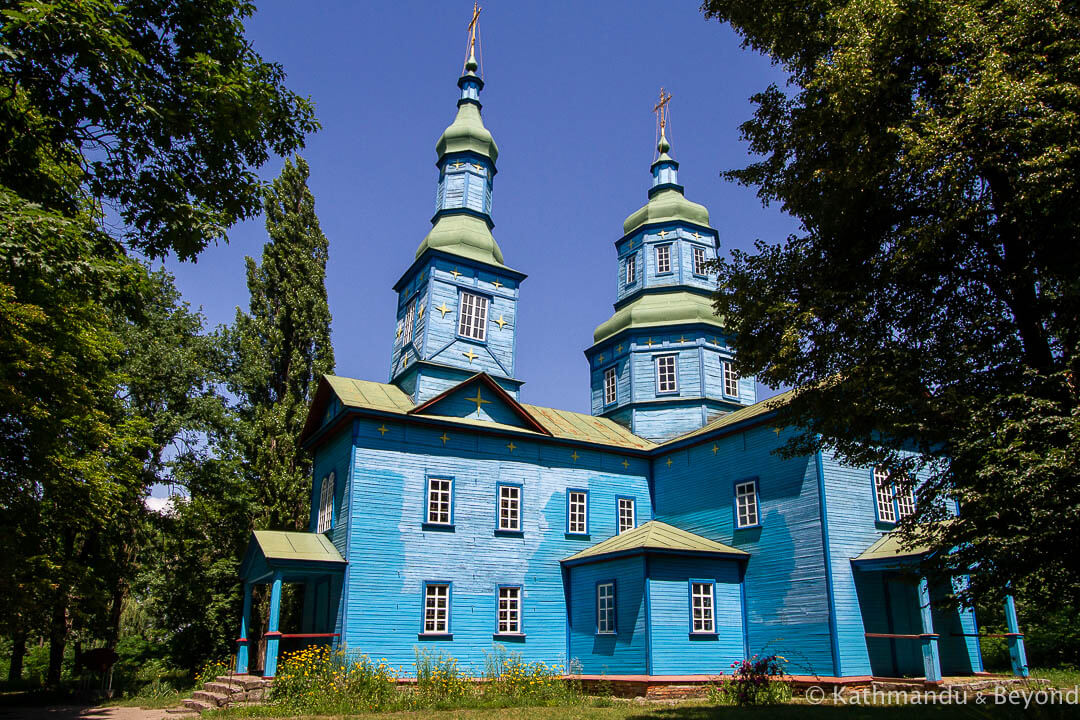 The Mid-Dnipro Museum of Folk Architecture and Life, Pereyaslav-Khmelnytsky


The Mid-Dnipro Museum of Folk Architecture and Life, Pereyaslav-Khmelnytsky
How to get to the Museum of Folk Architecture and Life from Kyiv
Take a marshrutka from Kharkivska metro station to Pereyaslav-Khmelnytsky bus station (Переяслав-Хмельницький, approximately one hour). From the bus station, it's then approximately two kilometres on foot to the back entrance of the museum. Alternatively, there are usually local taxis near the bus station which will take you the longer route (six or seven kilometres) to the main entrance.
See our post about the museum for more information and photos.
Bonus Folk Museums and Ethnographic Villages
I'll be honest, these kinds of places don't really interest us, but I felt it would be remiss and unbalanced if I didn't include the following places. Their proximity to Kyiv makes them legitimate contenders for day trips out of the capital. Furthermore, if you are looking for things to do in Kyiv with kids, they are more suitable than some of the other places in this post.
Pirogova Open-air Museum
Travel time from Kyiv: 20 minutes (by taxi) to 1 hour (by bus)
The Mid-Dnipro Museum of Folk Architecture and Life shouldn't be confused with Pirogova Open-air Museum (also known as the National Museum of Folk Architecture and Life of Ukraine), which is an outdoor museum located in Kyiv's suburbs. We haven't visited this one yet but from reading about it, it appears to be mostly old wooden houses and windmills and not as quirky as the Pereyaslav-Khmelnytsky location. It gets largely good reviews on TripAdvisor though.
How to get to Pirogova Open-air Museum
Pirogova (also spelt Pyrohovo) can be reached by taking a metro to Vystavkovyi Tsentr station, followed by bus #507. The journey will take around an hour, however, it's just a twenty-minute drive by car so you may prefer to save time and take a taxi (an Uber fare estimate is 4-6 Euro). If you do take public transport, whilst you are at Vystavkovyi Tsentr you can also visit the Expocenter of Ukraine, and Taras Shevchenko University and the Akademmistechko Campus. Both must-sees if you're into Soviet-era architecture.
Other cultural villages are Kievan Rus Park which is about a forty-minute drive from Kyiv and Mamajeva Sloboda Cossack Village which is in the Kyiv suburbs; a 15-20 minute drive from Independence Square and quite doable by taxi.
Mezhyhirya Residence
Travel time from Kyiv: less than 1 hour
Mezhyhirya, the former home of corrupt ex-President Yanukovych, now in exile in Russia, is another popular day excursion choice (at least with of members of a Facebook group we help out with).
Dubbed as the Museum of Corruption and Greed, Mezhyhirya is close enough to Kyiv and easy enough to reach to make a relaxed day trip from the capital. I don't know why, but during all the time we've spent in Kyiv, we've not made it out to Mezhyhirya. However, fellow travellers and bloggers at 'What Kate and Kris Did' currently live in Kyiv and they have. You can read about their experience plus lots of useful information about visiting here.
They highly recommend a visit to the massive Countryside Residence and suggest you leave time for the estate's oddities such as the collection of classic cars, the pirate ship restaurant, the dog training centre and the duck pond where all the duck have their own duck houses! Most people seem to spend around four or five hours there so don't leave it too late in the day to set off from Kyiv.
The estate is huge (fifty-seven hectares), but this map will help you get around. There is also lots of useful information on TripAdvisor, and further information, including opening times and ticket prices on the museum website.
Further reading: Inside the palace Yanukovych didn't want Ukraine to see.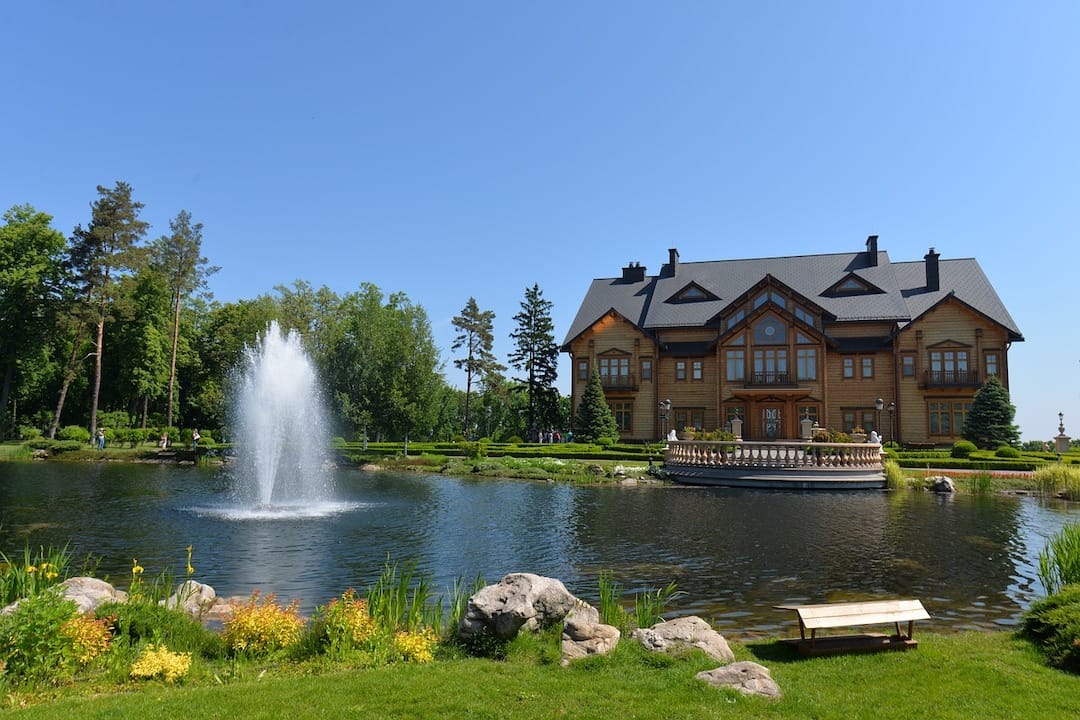 Mezhyhirya Residence
How to get to Mezhyhirya from Kiev
Buses and marshrutkas depart from outside Heroiv Dnipra metro station and drop passengers directly outside the museum-mansion.
This site has a lot of information about how to get to Mezhyhirya by bus.
Approximately 25 km from central Kyiv, it's also easy and not too costly to take a taxi to Mezhogorye. If you use an app like Uber or the Ukrainian equivalent Uklon, it should cost around 7 Euro / 8 US$ each way.
Zhytomyr
Travel time from Kyiv: 1½ hours
Zhytomyr isn't a particularly picturesque town and we've previously described it as being more 'Soviet' in feel than some of the other cities in western Ukraine. There is a smattering of 19th-century architecture and the usual offering of pretty churches. Zhytomyr also has a small area, close to the main street, where you can find some decent street art.
One of the more interesting things to do in Zhytomyr is to visit the Serhiy Pavlovych Korolyov Cosmonaut Museum. Dedicated to the Chief Engineer of the Soviet Union's space and rocket programme in the '50s and '60s, the museum will make any space geek very happy.
Rather than a day excursion, Zhytomyr is better-suited as somewhere to break the journey between Kyiv and Lviv. It's the kind of city you have to get to know and it's probably a little bit too big to do this in a quick visit.
Read more about the things to do in Zhytomyr here.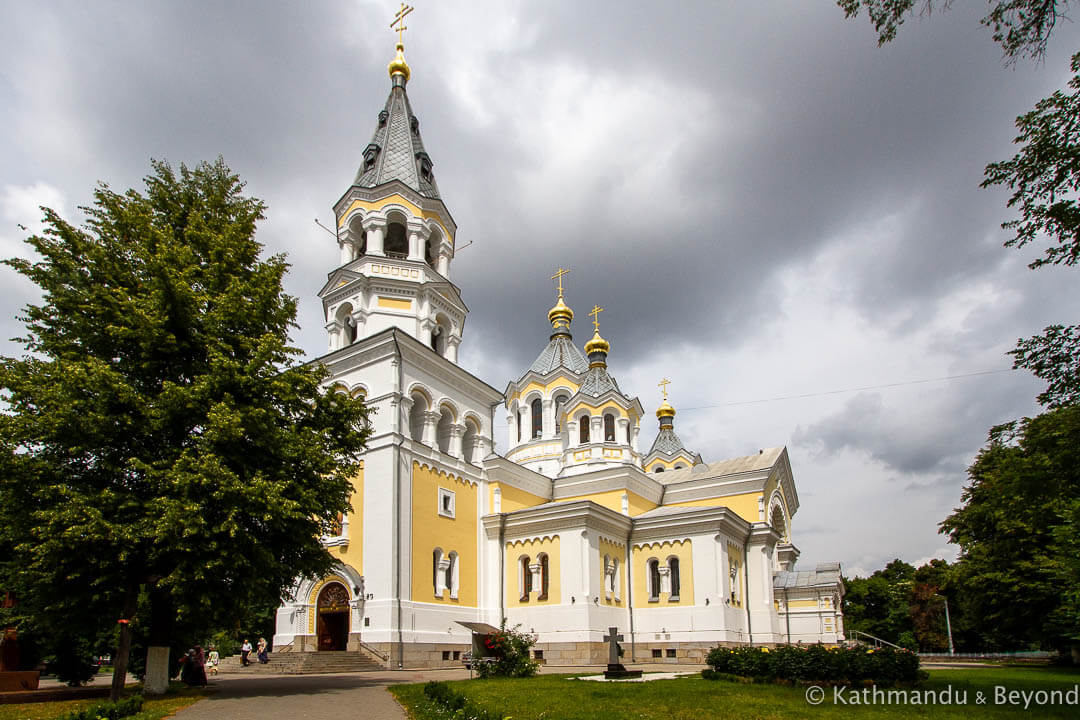 The Holy Transfiguration Cathedral, Zhytomyr


Zhytomyr: Korolyov Cosmonaut Museum (left) and the former Cosmos Cinema (right)
How to get to Zhytomyr from Kiev
Zhytomyr is only 140 km west of Kyiv and frequent buses and marshrutkas speed along the main road linking the two cities. Catch one of the frequent mini-vans which leave from outside Kyiv's Zhytomyrska metro station. From there, the journey should take around 1½ hours.
Bila Tserkva
Travel time from Kyiv: 1½ – 2 hours
The historic town of Bila Tserkva sits about ninety kilometres south of downtown Kyiv. Lonely Planet's Ukraine guide describes Bila Tserkva as a drowsy town which is "an easy and rewarding day trip out of the capital". We haven't managed to visit Bila Tserkva yet – we considered going last year on the way back to Kyiv from Poltava, but the travel logistics didn't make sense so we put it on the back burner.
Billa Tserkva's main attraction is Oleksandriya Park, an arboretum and gardens which was founded in the late 18th century by Crown Prince Hetman of Poland in honour of his wife, Oleksandriya.
Sometimes written as Oleksandria, the park is much bigger than the better-known Sofiyivka Park in Uman. With its manicured gardens, outdoor sculptures, and thousands of trees and plants from around the globe, it's a good option if you're feeling overwhelmed by Kyiv and in need of some verdant horticulture. Bila Tserkva is a historic city – Kyivan Prince Yaroslav the Wise built a fortress there in 1032 – but although nothing remains of the fort, there are several 19th-century buildings to take a look at.
Bila Tserkva is on the Kyiv-Odesa road and is easy to visit en route from one city to another (although Uman is a more logical place to break the journey, being closer to halfway between the two cites). We plan to visit Bila Tserkva next time we're in Kyiv, but until we're able to give our personal opinion of the place please let us know what you think if you visit. This post gives a good overview of the sights in Bila Tserkva.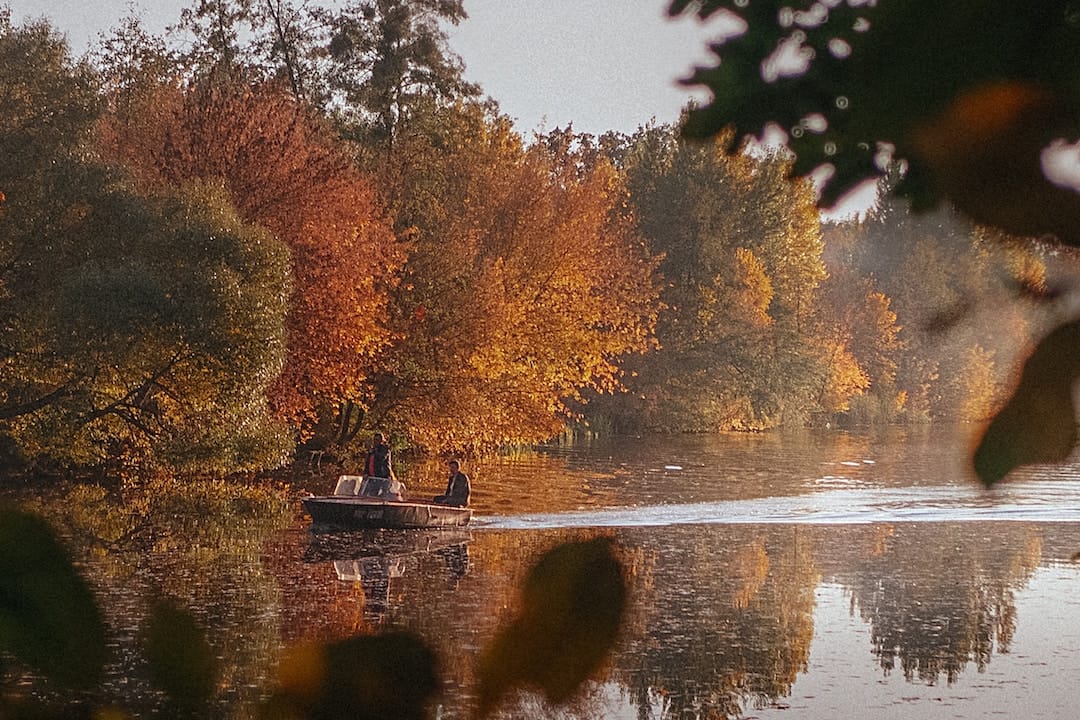 Oleksandriya Park, Bila Tserkva
How to get to Bila Tserkva from Kiev
There are frequent buses from Kyiv's Central Bus Station to Bila Tserkva (Біла Церква), taking around 1½ hours. There are also marshrutkas from Kyiv Central Railway Station.
Chernihiv
Travel time from Kyiv: 2 hours
With a scenic location on the Desna River, Chernihiv, or Chernigov as it's also known, is one of Ukraine's prettiest small cities. The main attraction is the cluster of golden-domed churches and cathedrals set in well-kept parkland, but the expansive Krasna Square is also home to some attractive buildings and Chernihiv's size makes it a relaxed place to while away whatever time you have.
Chernihiv is a historical city. It used to be one of the most important centres of ancient Kyivan Rus' (Old Russia) and is home to Ukraine's oldest church – the Saviour-Transfiguration Cathedral which dates back to the 11th century. For those who prefer their sights to be more 'Soviet', Chernihiv has an impressive war memorial and some sexy concrete modernism but you'll need to allocate extra time to do them justice.
Chernihiv is a good example of how easy it is to travel off the beaten path in Ukraine. It's only 150 kilometres from Kyiv and yet is overlooked by many travellers. It's also the perfect antidote if big city life starts to overwhelm you. The travel time to Chernihiv is between 1½ hours and two hours so it's on the cusp of what we would consider a day trip destination. We spent three nights in Chernihiv and enjoyed the relaxed atmosphere, but if an overnight stay isn't an option, a long day trip would give you sufficient time to see all of Chernihiv's main sights.
Further reading: What to do in Chernihiv.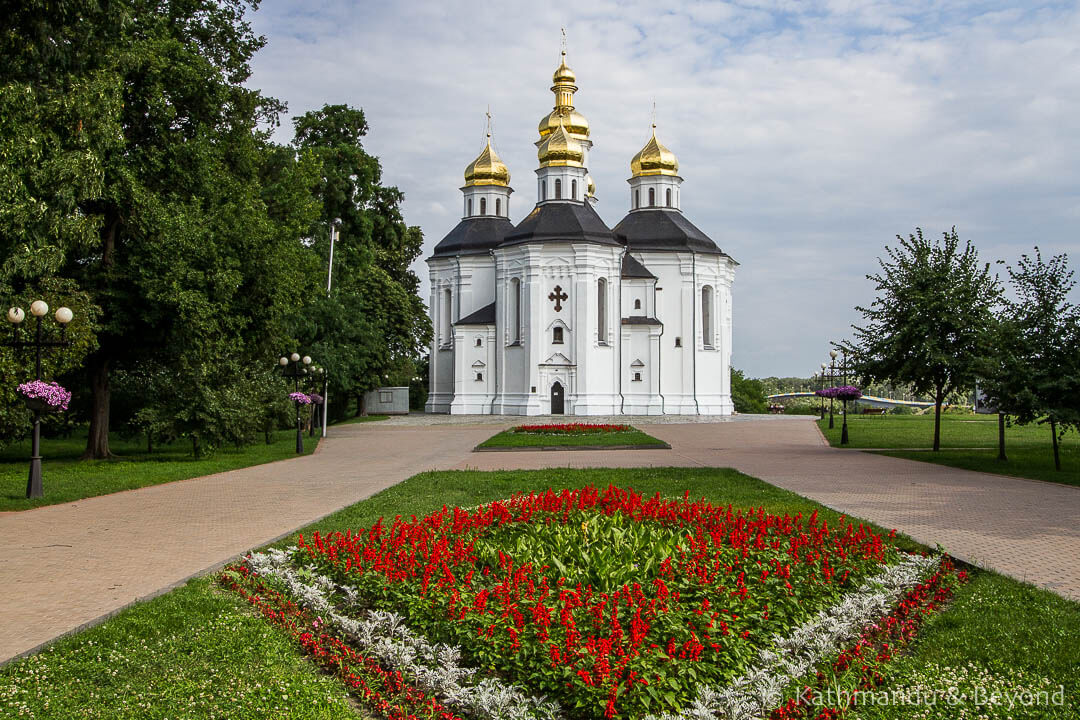 St Catherine's Church, Chernihiv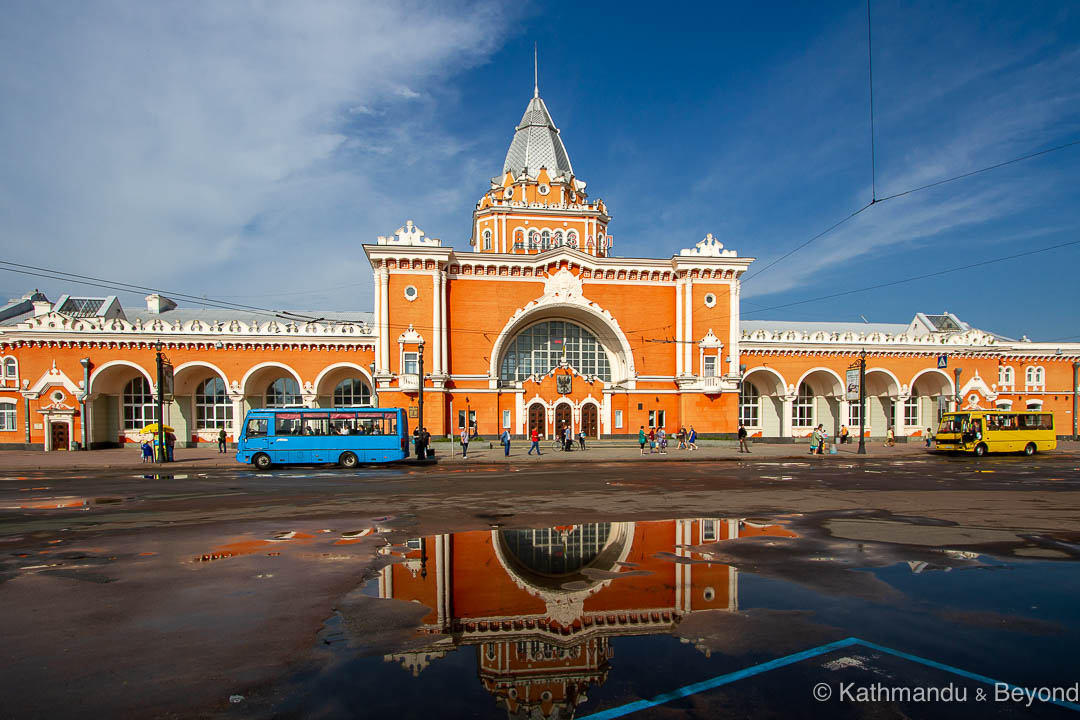 Chernihiv Train Station
How to get to Chernihiv (Chernigov) from Kiev
Assuming you're travelling by public transport, the best way to reach Chernihiv from Kyiv is by marshrutka which depart from outside Kyiv's Lisova (Лісова) metro station. Minivans also go from Chernihivska metro (Чернігівська), but we were advised that Lisova is more convenient. Look for the sign reading Chernihiv or Chernigov on the front of the marshrutka, which will be written as ЧЕРНІГІВ or ЧЕРНИГОВ.
Marshrutkas depart frequently during the day (less so after dark) and the journey shouldn't take longer than two hours but marshrutkas run on a very flexible 'schedule'. We paid 30 hryvnia per person (approximately €3.20 / US$3.70 in May 2019). There are also direct buses to Chernihiv from Kyiv's central bus station but we found it hard to get confirmation of times and exact departure point so stuck with a marshrutka.
Museum of Strategic Missile Troops near Pervomaisk (Pervomaysk)
Travel time from Kyiv: 3½ hours
Also known as the Strategic Missile Forces Base, this Cold War relic was once a fully active missile control centre within the Soviet Union. The site has been a museum since 2001, and if putting your finger on the button that could have destroyed half the world and caused World War 3 (had somebody actually pushed it back during the Cold War) is your thing, then a visit to the Museum of Strategic Missile Troops is a day trip from Kyiv that you won't want to miss.
This place has been high on our list for some time, but realistically it has to be visited as a day trip from Kyiv and we've been put off by the distance – over 300 kilometres! Unless you speak either Ukrainian or Russian and have your own transport, it's hard to organise an independent visit.
Is it worth it? We'll let you know when we get there! This is how a visit to the missile base is summed up on the excellent website, Dark Tourism: "All in all, even though it is a long way from Kyiv and comes at a price, it is still worth it. Especially for anybody with an interest in the Cold-War era and missile technology, this is a must! It's the only former Soviet ICBM base open to the public". The website has a lot more information about the site (and many other dark tourism places around the world).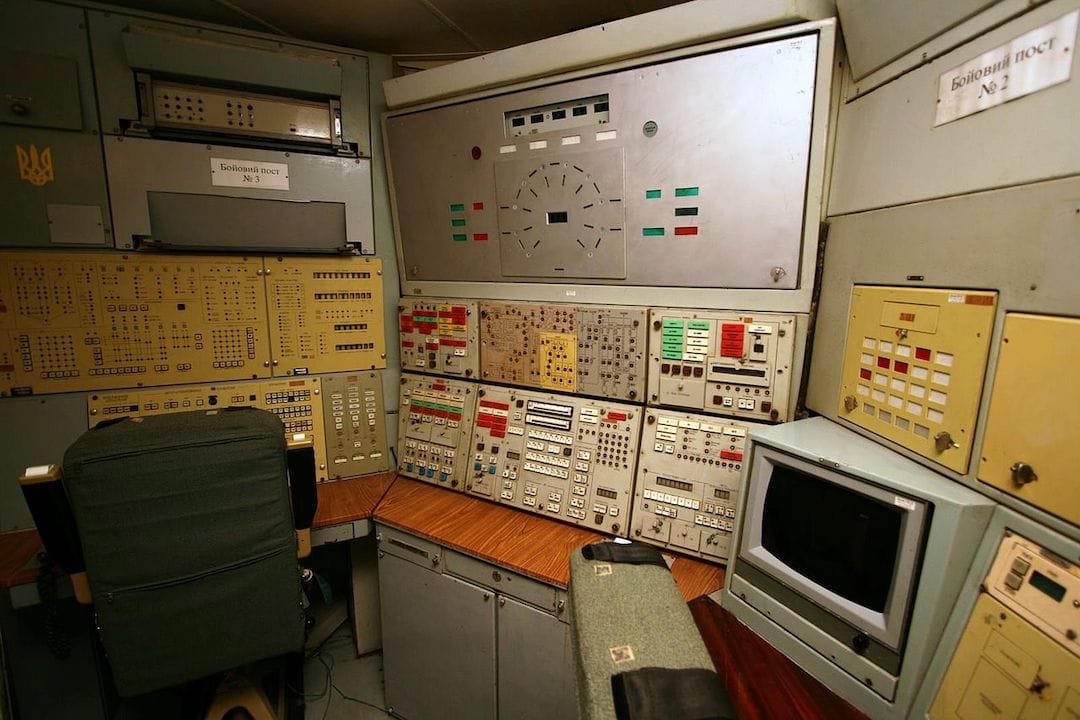 Museum of Strategic Missile Troops near Pervomaisk. Image (c) Michael / Wiki Commons licensed under CC BY 3.0
How to get to the Museum of Strategic Missile Troops
Most of the companies that organise trips to the Chernobyl Exclusion Zone also offer excursions to the missile base, so shop around. We were happy with our tour with CHERNOBYLwel.come and would consider them again for this trip.
Book a tour with CHERNOBYLwel.come or look at other options on Viator.
If you speak Ukrainian or Russian, this post has some useful information about visiting independently.
Berdychiv
Travel time from Kyiv: 2½ – 3 hours (train)
Another excursion that works quite well as a day trip, if you don't mind a few hours on the train, is the small town of Berdychiv. At first glance, it doesn't appear to have very much to offer the casual visitor, and it's hard to imagine with today's population of 75,000 that Berdychiv was once the fourth largest city in Ukraine! Today, there are over fifty towns and cities in the country with more residents.
The town's main attraction is known as Berdychiv Fortress, although it's actually a Carmelite monastery these days. Only the walls of the 16th-century fortress remain and within them the Church of Our Lady which was built around one hundred years later. Berdychiv certainly has some interesting facts going for it, and it was in this church that Balzac got married in 1850. There are also a few museums inside the complex including the Joseph Conrad Museum (he was born in Berdychiv).
The tombstone tourist in us led us to visit the Jewish Cemetery which is on the outskirts of town (about a fifteen-minute walk from the town centre). Apparently, it used to be very overgrown, but these days it's well kept. In fact, there were several gardeners at work during our visit. Berdychiv is significant in the history of Jews in Ukraine and there are records of Jewish settlements in Berdychiv dating to the late 1500s. By the middle of the 18th century, the town was established as one of the main Jewish centres in Ukraine. As such, some of the tombstones date back quite some time. There aren't many other notable Jewish sights left in Berdychiv, in fact, we walked past the synagogue a couple of times without realising its significance.
There are a couple of churches that are worth a peak including the pink St. Barbara's Church and the more traditional-looking Saint Nicholas Cathedral. And, if you've got any time to spare before your train back to Kyiv, take a walk down to the small city beach and along the river. If you cross the bridge, you get a nice view of the fortress walls.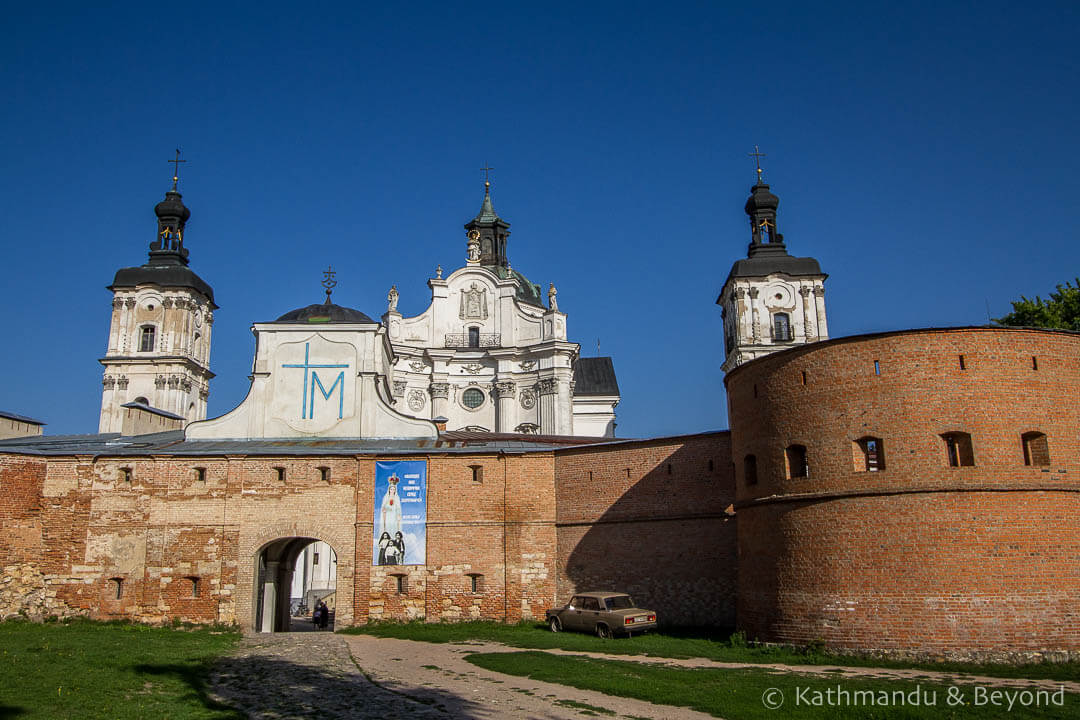 Carmelite Monastery, Berdychiv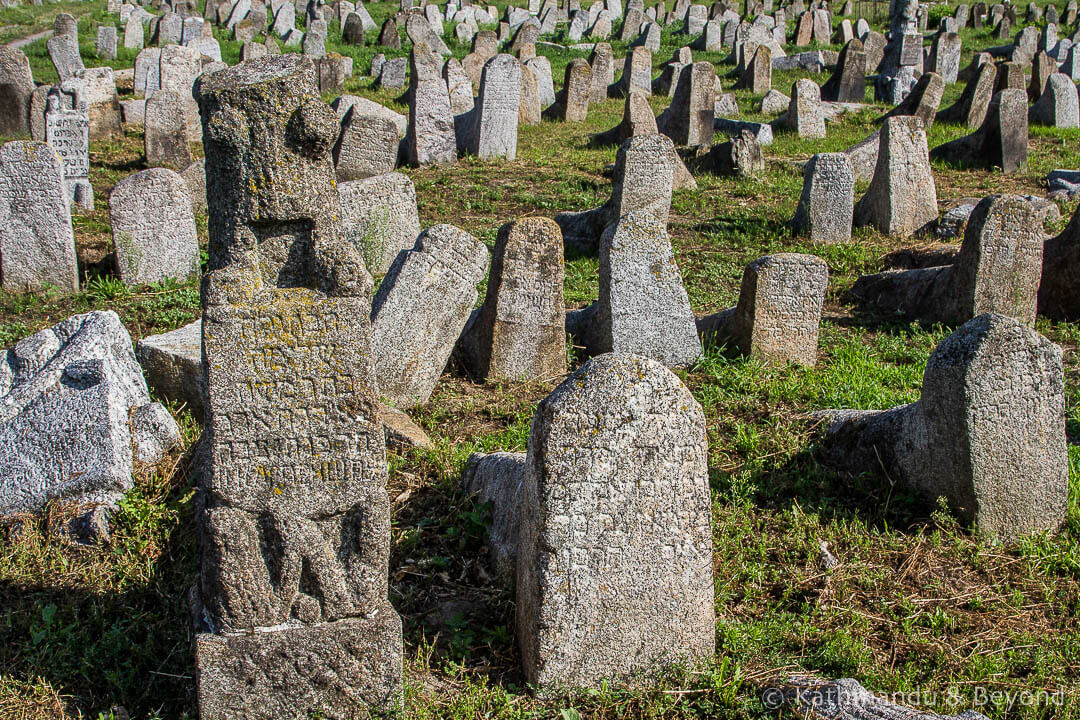 Jewish Cemetery, Berdychiv
How to get to Berdychiv from Kyiv
Berdychiv is right on the cusp of being a sensible day trip. Rail is the best way to travel to Berdychiv – trains aren't that frequent, but the daily timings are well-suited to a day trip. A morning train leaves Kyiv Pasazhyrsky station at 7.35am and arrives in Berdychiv just over three hours later at 10.44am. The return train departs at 7.18pm, getting into Kiev at 9.54pm (a slightly shorter journey time of 2½ hours).
More suggestions on day trips from Kyiv
One of the reasons I wrote this post is because I frequently see recommendations for day trips that I think are too far away to be called a day trip and I wanted to point travellers in the direction of more feasible options.
How far is too far is certainly subjective but the following are places that although we have visited, we don't recommend visiting as a day trip from Kyiv. For us, they are just too far to 'pop' to for the day.
However, they are all worthy of a longer visit, and you may be prepared to tackle them as a day trip!
Places NOT to visit as a day trip from Kyiv
Uman
Travel time from Kyiv: 2½ hours
One place that we see suggested as a Kyiv day trip is Uman, but make sure you get an express bus otherwise you'll spend way too long travelling. In truth, Uman doesn't have a huge amount to see and do and although it's a decent place to break the journey between Kyiv and Odesa (or even Odesa and Lviv), it seems like a lot of effort for relatively little return to go there and back in a day.
Uman's best-known sight is Sofiyivka (also Sofiyivsky) Park, an arboretum with manicured gardens located about a 10-minute walk from the city centre. The park was founded in the early 19th century and is a huge landscaped garden dotted with statues and featuring a decent-sized lake and fountain. There's no question that Sofiyivka is a very pretty place to spend a relaxed couple of hours wandering around, but I don't think it's special enough to spend the best part of three hours travelling on a bus from Kyiv to visit!
Uman's other visitor attraction is the tomb of Rabbi Nachman of Breslov. He was revered and considered highly influential with the Hasidic community and, as such, his resting place is one of the more important pilgrimage sites for Hasidic Jews. Uman is particularly busy during Jewish New Year (Rosh Hashana) when thousands of (mostly) men flock to his tomb to celebrate his life.
Non-Jews may be able to visit if the centre is open (although there are restrictions on which areas women can enter). If you're really interested, it's probably best to book an organised tour or try and get in touch ahead of your visit to check it's open.
Another reason not to visit Uman as a day trip is that one of its sights can only be seen at night. The Musical Fountain 'Pearl of Love' is a relatively new attraction to Uman – its first performance was in Spring of 2017. Looking much like its counterpart in Vinnytsia, Uman's multimedia fountain performs a light and laser show to musical accompaniment. We haven't been able to compare the two yet as it opened after our visit to Uman, but there are nightly shows from early May to late September.
The fountain is on the edge of town near Taras Shevchenko Square. Search for Музичний фонтан "Перлина Кохання" (Muzychnyy Fontan "Perlyna Kokhannya") on Google maps. Limited information, in Ukrainian, can be found here.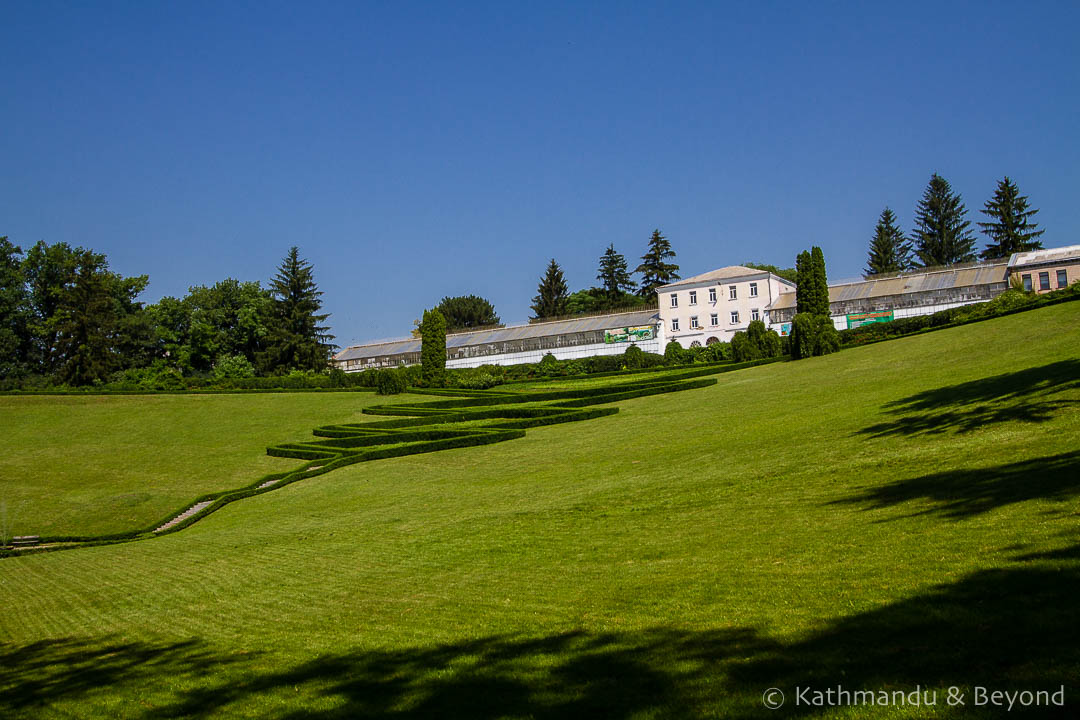 Sofiyivka Park, Uman
How to get to Uman from Kyiv
Uman is approximately halfway between Kyiv and Odesa so there are lots of express buses plying the route. Buses leave from either Kyiv Central Bus Station or Vydubychi Bus Station and the fastest journey time is around 2½ hours. In the past, we've used Autolux Bus, but there are several other options.
Although Kyiv and Odesa are connected by train, the line doesn't go via Uman.
Slavutych
Travel time from Kyiv: 3 hours
Visiting Slavutych won't be top of everyone's list but if you are, one, a fan of Soviet-era architecture and, two, interested in delving deeper into the legacy of the Chernobyl disaster beyond Instagram-staged scenes at abandoned hospitals, Slavutych might be on your list of destinations.
Slavutych is a planned city, purpose-built in 1986 to house residents of Pripyat and the surrounding villages when they were evacuated following the Chernobyl disaster. What is interesting is that the town was designed and built by workforces from several other Soviet states, namely Georgia, Armenia, Estonia, Latvia, Lithuania. Part of the city was built and funded by Ukraine and Russia but other members of the Union were asked to provide aid in the form of architects, construction workers and building materials. As a result, as you wander around Slavutych from one district to another it almost feels as if you are being transported from Tbilisi to Yerevan to Moscow in a matter of steps.
Although it is feasible to visit Slavutych as a day trip from Kyiv, ideally, we recommend that you combine your visit with an overnight stay in Chernihiv (which is what we did). It is also possible to book a tour to the Chernobyl Exclusion Zone which includes an overnight stay in Slavutych.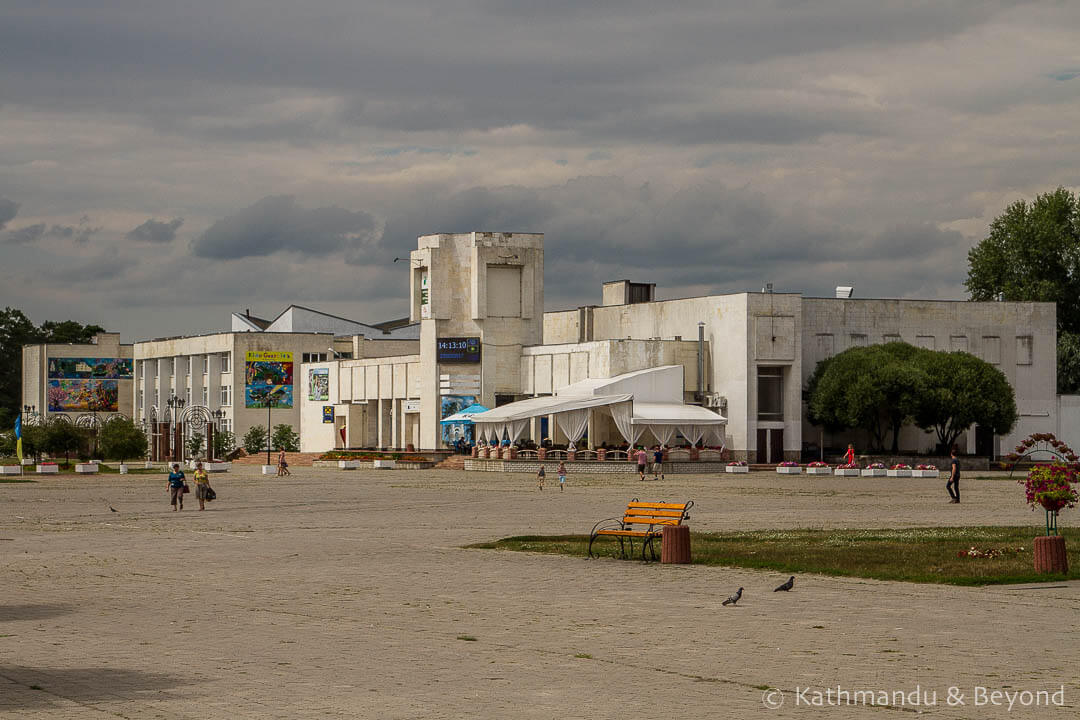 Town centre, Slavutych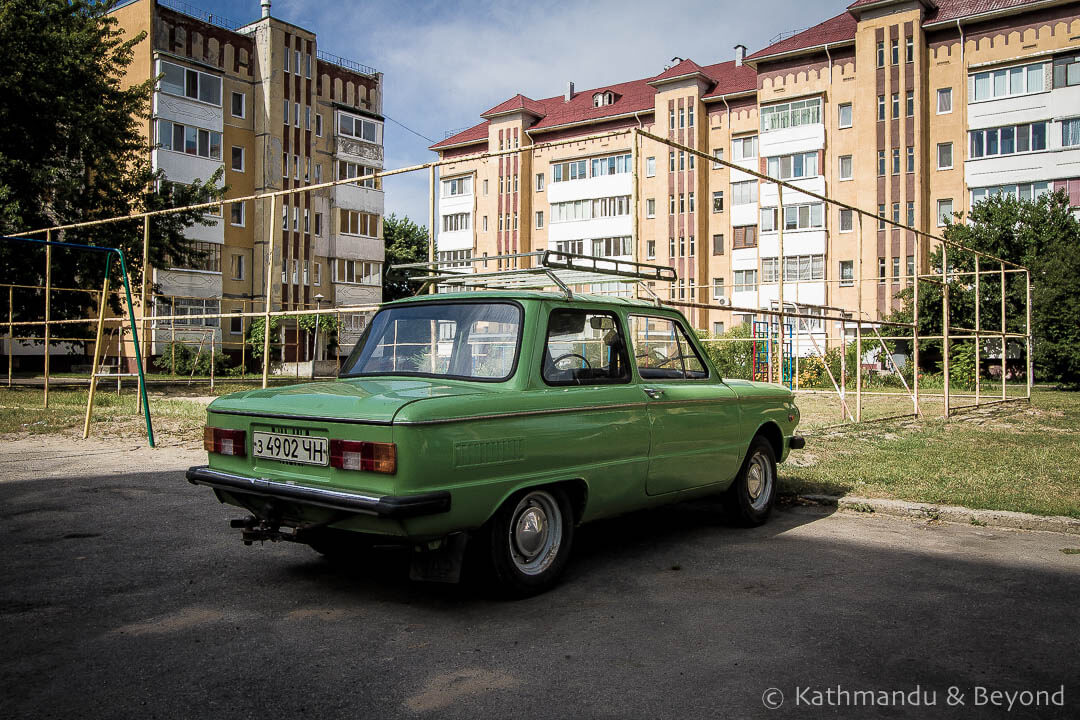 Baku quarter, Slavutych
Further reading: Slavutych: A Walking Tour in Photos
How to get to Slavutych from Kyiv
There are supposedly a few direct buses a day between Kyiv and Slavutych but neither we nor any travellers we've spoken to have had any success in finding one. There is also a train, although it's not daily, takes over four hours and has timings that don't fit in with visiting for the day. Travel by marshrutka is, therefore, the quickest and most flexible way to get there. First, you need to get to Chernihiv (see the instructions above). From Chernihiv, there are frequent buses to Slavutych leaving from a bus stop in front of the train station. There is also supposed to be a train to Slavutych but they are certainly not very frequent. Look out for a sign saying Славутич on the front of the bus. Check out the how-to-get-there section of our Slavutych post for more details.
Vinnytsia
Travel time from Kyiv: 2½ (train) to 4½ (bus) hours
Vinnytsia (also spelt as Vinnytsya) is an attractive town some 250 kilometres southwest of Kyiv. It's got a nice mix of Soviet-era and 19th-century architecture, and is the home of Roshen (Ukraine's answer to Cadbury), along with a spectacular multi-media fountain (which you wouldn't see if you went to Vinnytsia for the day as it's an after-dark affair). Vinnytsia also has the quirky AutoMotoVeloPhotoTeleRadio Museum of Retro Technology – one of the highlights for us!
If you're already thinking that sounds like far too much to do in a few short hours, you'd be right. There's too much to see to make Vinnytsia an enjoyable day trip. However, we're big fans of the city and really recommend spending a night or two there.
We've written more about Vinnytsia (and included a lot more photos) in our post: Where to break the journey between Kyiv and Lviv.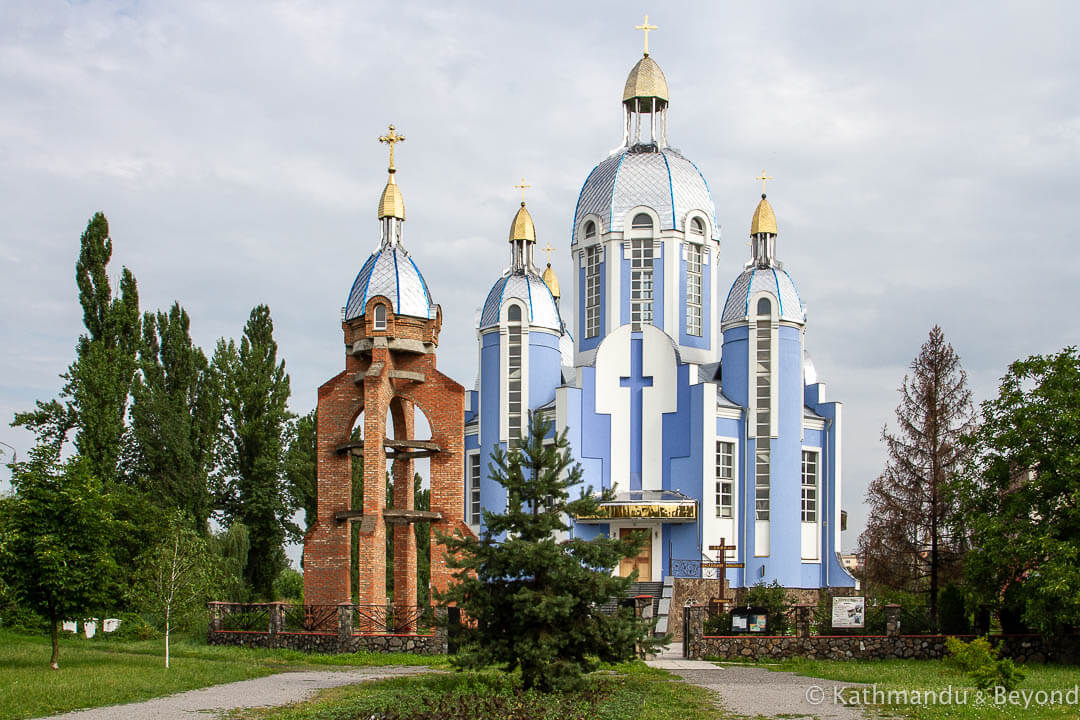 Greek Catholic Church, Vinnytsia


Vinnytsia: Water Tower (left) and the AutoMotoVeloPhotoTeleRadio Museum of Retro Technology (right)
How to get to Vinnytsia from Kyiv
The quickest way to reach Vinnytsia from Kyiv is by train with the fastest journey time being two hours and twenty minutes. Note though that you'll need to get up early for this one as the train departs Kyiv-Pasazhyrsky station at 6.50am. The alternative is a long bus ride taking 4½ hours minimum (bank on five hours each way). As I said, not a great day trip option!
Poltava
Travel time from Kyiv: 3 (train) to 5 (bus) hours
Another place that we've heard suggested as a day trip from Kyiv is Poltava, but again if you go on a day trip, you'll spend more time travelling than looking around the place. Poltava's main touristic attraction is the site of the Great Northern War battlefield, its small museum and the surrounding churches. This is the site of a decisive battle in which Peter the Great and his Russian forces defeated a combined army of Cossacks and Swedes in 1709. The battlefield is a few kilometres out of town, so you'll need to take a bus (or taxi) there.
Although it's the site of an important battle in history, we found our visit to the Museum of Long-Range and Strategic Aviation more up our street. What made it especially interesting is the fact that the museum is located on an active military airbase and it's the English-speaking serving airmen who get pulled from their regular duties to show foreign tourists around. Entry is not quite as straightforward as just rocking up, so if you are planning a visit read our post: The Long Range Aviation Museum in Poltava.
Poltava is definitely worth a day or two. OK, probably just the one, although we ended up spending three nights there, mainly because the hostel was so good! Off-the-beaten-path Poltava is a good place to break the journey between Kyiv and Kharkiv, as it's on the train line linking the two cities.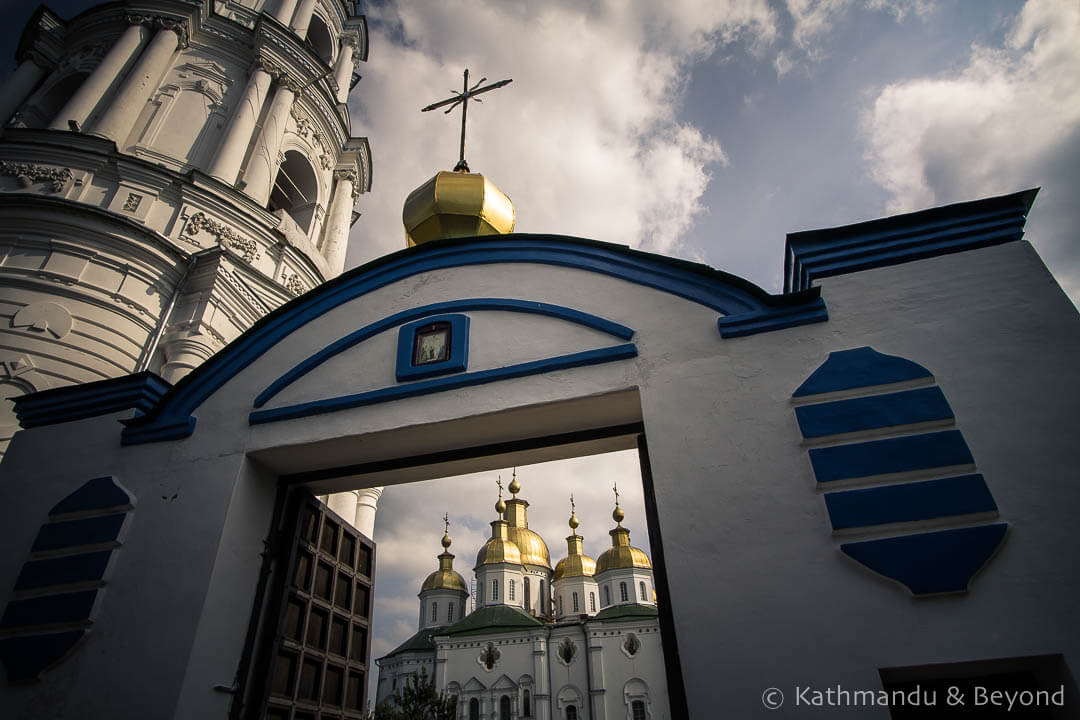 Holy Cross Convent, Poltava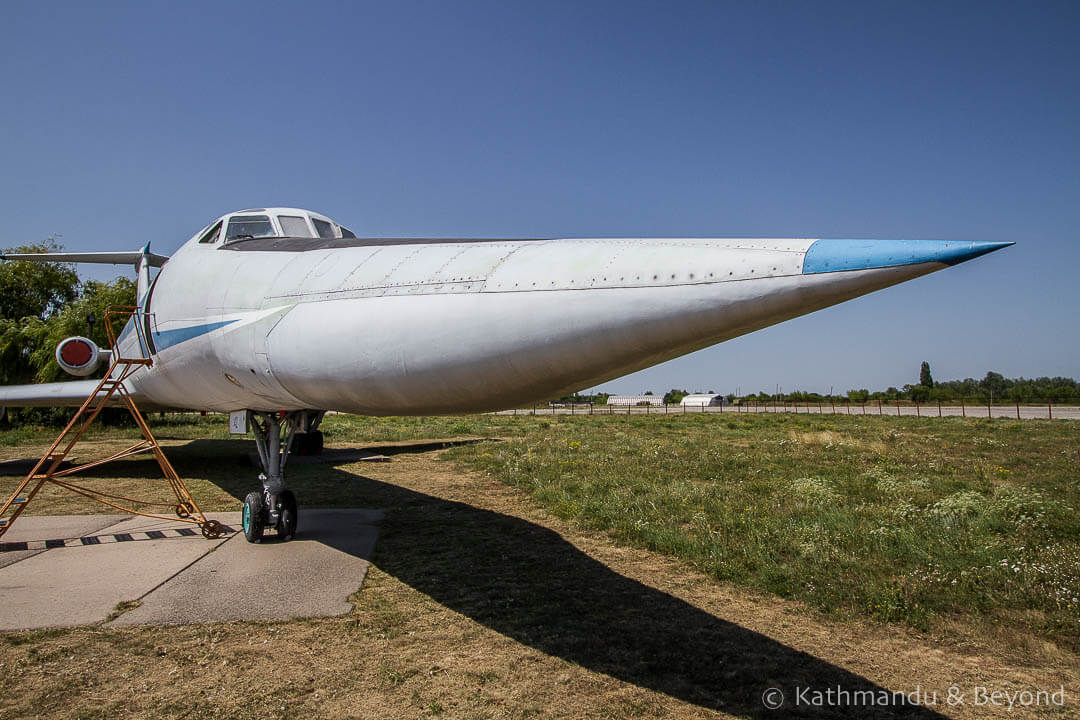 The Long Range Aviation Museum, Poltava Airbase 
How to get to Poltava from Kiev
The train is the fastest way to get to Poltava, and an early start is required to catch the express train, which leaves Kyiv at 6.12am and arrives just before 9.30am. The return train timings are convenient for a day trip, with return trains leaving at 5.35pm (a journey time of four hours fifteen minutes) or a faster train taking just over three hours departing Poltava at 11pm. That's a veeery long day! Forget the bus – that takes at least five hours each way!
The Tunnel of Love at Klevan
Travel time from Kyiv: 5 hours in a private vehicle!
And finally… I often see the Tunnel of Love advertised as a day trip from Kyiv, but anyone prepared to endure a 700-kilometre round trip to see a few curved trees and an overgrown railway track has got to be some kind of travel masochist. If you have limited time in Kyiv, there are so many more worthwhile places closer by. If you have longer in Ukraine, the Tunnel of Love is best visited as part of a longer journey, for example en route from Kyiv to Lviv.
If you are set on visiting the Tunnel of Love as a day trip from Kyiv (and I strongly recommend that you don't), renting a car, hiring a private car and driver, or joining an organised tour, are the only feasible options.
Read more about visiting the Tunnel of Love independently (not as a day trip!), or book a tour like this one.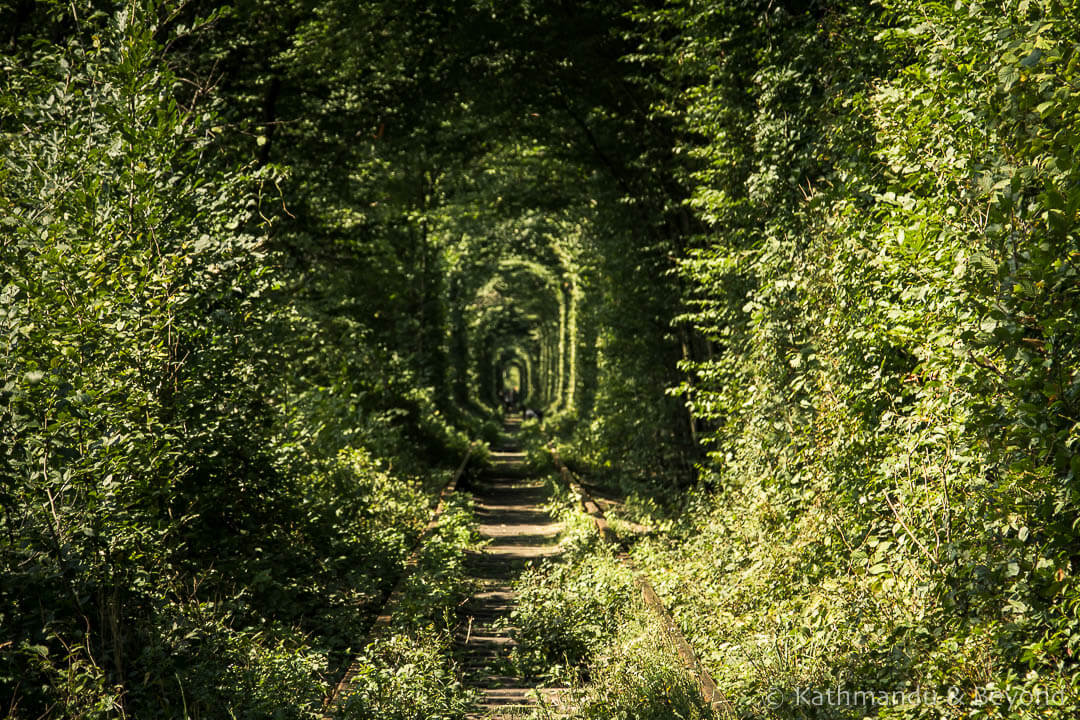 The Tunnel of Love, Klevan
How to get to the Tunnel of Love from Kyiv
If you want to visit the Tunnel of Love by public transport, either as a side trip from Kyiv or as part of a longer itinerary, you can find all the details in a previous post.
Day Trips from Kyiv mapped out
So, there you have it, twelve places to consider, with hopefully enough travel information to help you decide how much travelling you are prepared to do to see what's on offer. If you've done any of these day trips from Kyiv, let us know in the comments below.
---
---
ARE YOU PLANNING A TRIP TO UKRAINE? PIN THIS POST TO YOUR TRAVEL BOARDS…




---
---