Suggested Three Week Tunisia Itinerary
TUNISIA ITINERARY SUMMARY
Tunis – Sousse – Monastir – Mahdia – El Jem – Djerba Island – Tataouine – Old Matmata – Tozeur – Kairouan – El Kef – Dougga – Tunis
TUNISIA ITINERARY HIGHLIGHTS
Tataouine – ancient villages, Berber cave dwellings, and dramatic landscapes
Roman Tunisia – El Jem and Dougga – among the most impressive Roman remains in Africa
Kairouan – a rich architectural heritage within an easy-to-explore medina
Djerba – a multi-cultural island with beaches, street art and abandoned hotels
Star Wars film sets – visit otherworldly filming locations at Mos Espa, Ong Jemel, Matmata, and in Ksar country
Number of countries: 1
Number of UNESCO sites: 6
Best time to travel: From March to June and September to November (July and August is high season at the beach resorts, but tourism in the Sahara shuts down due to summer heat)
Recommended duration: 3 weeks minimum
Best places to slow the itinerary down: Djerba and Kairouan
Mode of transport: Predominately by louage (fixed route minivans), but also bus and train
Although we could come up with myriad variations of a Tunisia itinerary, this is the route that we would recommend, following our 2019 trip. Tunisia is an incredibly diverse country and this journey showcases that. You will see ancient medinas, Roman ruins, desert landscapes and a pretty coastline. For those with more alternative travel interests, the itinerary also has room for abandoned places, street art and Star Wars nostalgia.
Our suggested three-week Tunisia itinerary is based on the course we took, although we have incorporated a small tweak with the benefit of hindsight. We have also detailed the public transport path we took, but there may be alternative options.
TUNISIA ITINERARY IN DETAIL
Tunis – suggested length of time: 3 nights
Start your journey in Tunis, Tunisia's capital. Tunis medina is a highlight and is the first of Tunisia's six UNESCO World Heritage Sites you'll visit on this itinerary. It's easy to spend half a day exploring the labyrinth of alleyways, souks and mosques within the medina. The focal point of the walled city is the 7th century, Al-Zaytuna Mosque, the second oldest mosque in the country, and everything spreads out from there. Come nightfall, the medina is dark and completely deserted so make sure you find your way out by sunset.
In contrast to the medina, it's worth spending some time looking around the newer part of the city known as Ville Nouvelle. During the period under the French Protectorate (1881 to 1956), the local population began to move beyond the walls of the medina and a 'new town' grew side-by-side. Avenue Habib Bourguiba starts just beyond the medina at Bab el Bhar (the sea gate) on Place de la Victoire and runs in a straight line to Tunis Marine train station. The streets that spread out from Habib Bourguiba are worth roaming around to spot the prolific amount of Art Nouveau architecture, influenced by Baroque and Renaissance designs. Fans of Star Wars should also seek out an altogether more modern piece of architecture, the Hotel du Lac, an upside-down pyramid thought to have been George Lucas's inspiration for the Sandcrawler.
Even if you don't usually visit museums, do plan to see the Bardo National Museum. It's one of the most important museums in the region and houses an extensive collection of Roman mosaics. The museum is in the Tunis suburbs and is easy to reach by tram.
Visitors to Tunis will also want to visit the archaeological site of Carthage and the picture-postcard town of Sidi Bou Said. Both places are on the outskirts of Tunis, connected by the Tunis-Goulette-Marsa (TGM) light train line, so it makes sense to combine visits to both in one day.
The UNESCO-listed Archaeological Site of Carthage is one of North Africa's most significant ancient ruins. The highlights are spread out so it'll take at least half a day to visit them independently. If you follow our suggested walking or cycling tour, you'll finish your exploration at TGM's Carthage Hannibal station, three stops away from Sidi Bou Said.
A shimmering white-washed town of cobbled streets and blue doorways and windows, Sidi Bou Said was named after a Sufi holy man who settled there in the 13th century on the return journey from his pilgrimage to Mecca. Sidi Bou Said is often called the Santorini of Tunisia and is incredibly photogenic. Or at least it would be if there weren't hundreds of visitors getting in the way of the camera! Sidi Bou Said's transformation into a twee town of boutique shops and over-priced cafes combined with the volume of people meant we were completely underwhelmed by it. Our number one tip would be to avoid visiting Sidi Bou Said on a weekend or public holiday – it's a popular escape from the city and the crowds shuffling along the cobbled streets made us want to get out as quickly as possible. The return train journey from Sidi Bou Said to Tunis takes around half an hour.
Sousse (and Monastir) – suggested length of time: 2 nights
The most comfortable way to travel from Tunis to Sousse is by train. For train times and the complete low-down on train travel in Tunisia, consult the Man in Seat 61. 
The stretch of coast called the Sahel is full of holiday resorts, but for the Phoenicians and Romans, this was one of the wealthiest regions in North Africa. Sousse is the third-largest largest city in Tunisia, but it's the area in and around the UNESCO-listed medina where most of the things to see are located. In addition to wandering the alleyways of the medina (which are far easier to navigate than those of Tunis), highlights include the Great Mosque, the ribat and the kasbah.
Sousse is a good base for several easy excursions, thanks to the Sahel Metro, an electric railway that runs along the coast to Mahdia via Monastir (it makes sense to combine these two towns into one outing if you aren't spending the night in Mahdia – see below). 
Monastir is an ancient port city founded by the Phoenicians but its most striking sight is the Habib Bourguiba Mausoleum, an impressive marble and gilt mausoleum that is the resting place of ex-president Habib Bourguiba. Bourguiba was born and died in Monastir and is still highly revered.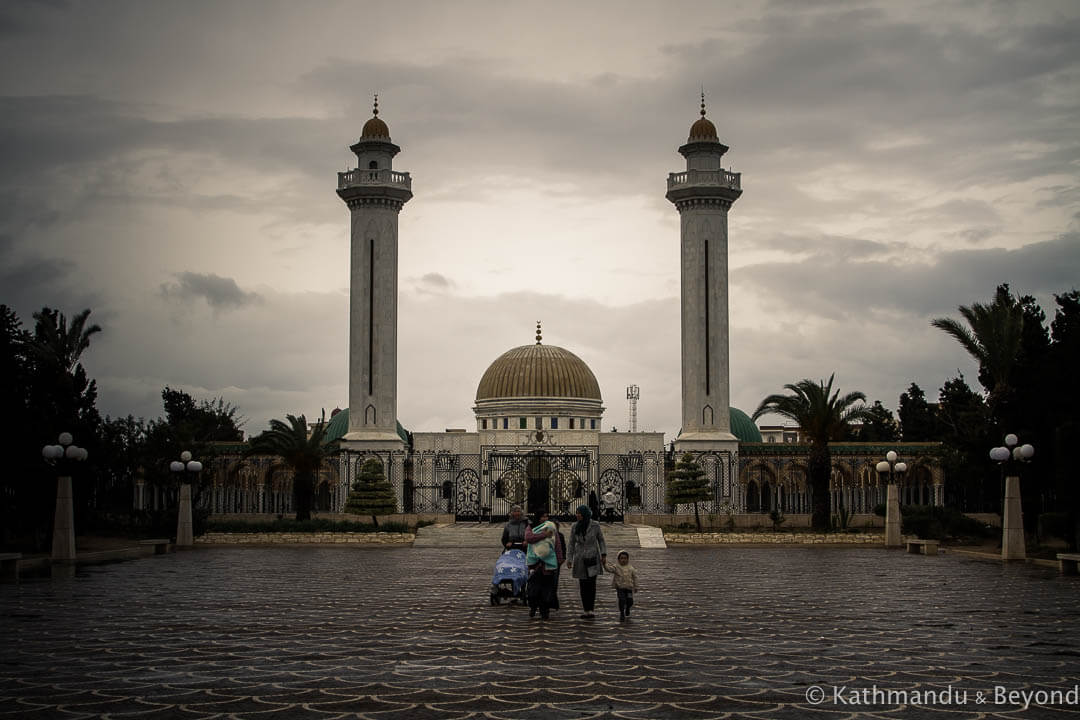 Habib Bourguiba Mausoleum in Monastir on a moody day
Mahdia – suggested length of time: 1 night
We spent a night in Mahdia and took a louage from there to El Jem, but if you prefer to travel by train wherever possible, you could visit Mahdia as a day trip from Sousse and continue to El Jem by train. Another reason to consider this is that accommodation options are more limited in Mahdia than they are in Sousse (particularly if you are travelling on a budget). 
Mahdia was founded in 916 CE and today has a village-like feel with quiet cobbled streets and bougainvillea-shaded squares. The old medina is situated at the top of a peninsula with its port walls surrounded by the Mediterranean ocean. Mahdia is a sleepy place, worthy of a few hours' of exploration, with some excellent fish restaurants.
El Jem – suggested length of time: 1 night
Take the train from Sousse or a louage from Mahdia to see what was, for us, one of the highlights of our trip to Tunisia. El Jem was once one of the richest towns in Roman Africa and its magnificent 3rd-century amphitheatre, has been likened to the Colosseum in Rome.
There is only one hotel in El Jem, the Hotel Julius, a midrange hotel (online rates are high but we got a walk-in rate of 120 dinar for a double room including breakfast and a view of the Roman amphitheatre). If this doesn't fit with your budget, consider spending an additional night in Sousse and visiting as a side trip.
Djerba Island – suggested length of time: 2 nights
The next stop on this Tunisia itinerary is the island of Djerba, which is connected to the mainland by a seven-kilometre causeway bridge. The most southerly point you can take a train to is Gabes, from where you need to switch to a louage. It was about a fifteen-minute walk (or a short taxi ride) between the train station and louage stand. There is also one daily bus from El Jem to Houmt Souk on Djerba which departs at 11.40am.
The Mediterranean island of Djerba is known for its sandy beaches and white-washed desert towns influenced by Berber, Arab, Jewish and African cultures. Unless you're there for the beach, we recommend spending a couple of days on the island, basing yourself in Houmt Souk, the main city. The name translates as 'market quarter' and in addition to being a charming place to wander the quiet streets for a day or two, it's also where you'll find most of Djerba's budget accommodation and is the island's transport hub.
A visit to the historic El Ghriba Synagogue is a worthwhile excursion, especially if you combine it with a stroll around nearby Hara Sghira Er Riadh. This pretty village is worth a wander, but it's a must-see if you are a fan of street art – in 2014, a street art project dubbed Djerbahood took over and created over 250 murals across the village's white-washed walls. And if urban exploration is your thing, head out to the beaches and explore some of Djerba's numerous abandoned hotels.
Tataouine – suggested length of time: 2 nights
To travel from Djerba island to Tataouine, we had to first travel by louage to Medinine and then by bus on to Tataouine, so be prepared to do the same.
Although there's not much to the town of Tataouine (apart from having a cool name which inspired the naming of the planet of Tatooine in the first Star Wars movie) the surrounding area was another of our Tunisia highlights. The region is known as Ksar Country and is full of ruined or abandoned Berber villages that once served as fortified granaries (known as ksour). They were often built on hilltops to help protect them from raiding parties and therefore have dramatic positions. You'll need to hire a taxi to get out and about and we visited four places (Guermessa, Chenini, Douiret and Ouled Soltane) on a full day trip.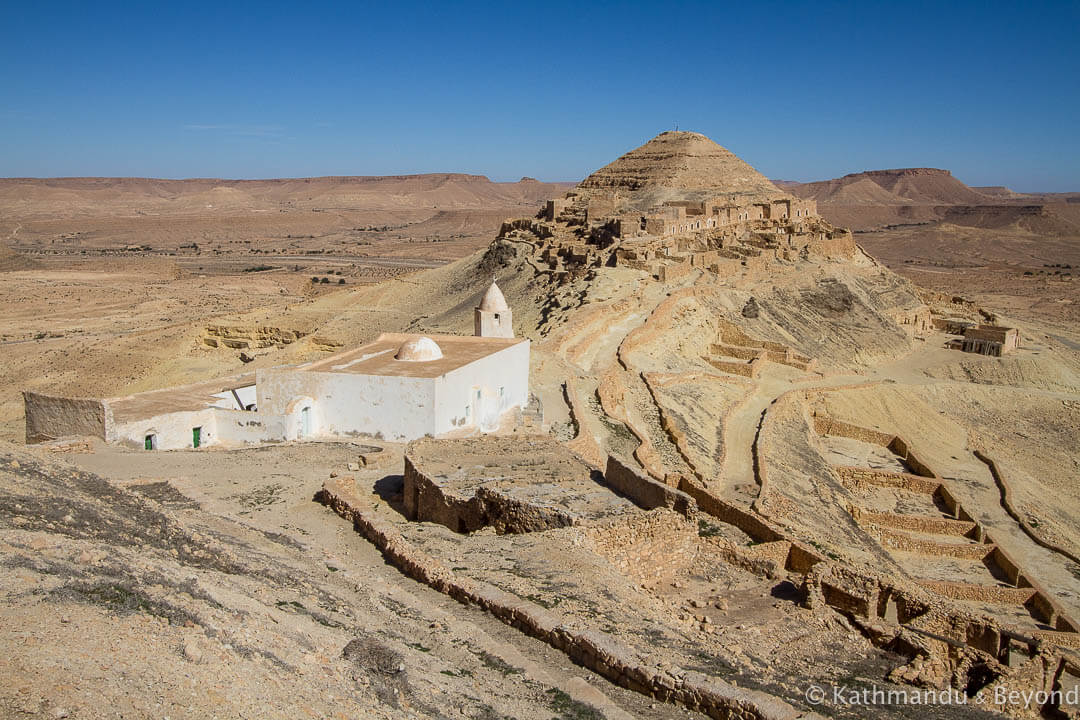 The abandoned Berber town of Guermessa near Tataouine
Old Matmata – suggested length of time: 1 night
The journey by bus or louage from Tataouine to Old Matmata may involve a series of changes (our route was Tataouine – Gabes – Nouvelle Matmata – Old Matmata). 
The highlight of Matmata is its traditional underground troglodyte dwellings. If you are a Star Wars aficionado, a further highlight is the Hotel Sidi Driss, formerly a series of underground houses and the filming location of a young Luke Skywalker's home). Troglodyte houses are built by first digging a deep circular pit into the soft sandstone, and then carving out underground rooms and tunnels, leaving the main pit as a courtyard. Old Matmata is a small, rural village, but because of the historical interest and Star Wars link, a few hotels have emerged. 
Tozeur – suggested length of time: 3 nights
There isn't any public transport from Matmata directly to Tozeur (or even via Douz). If not on a tight budget, you could take a taxi and arrange a stop at Chott el Djerid salt lake en route. To travel from Matmata to Tozeur, we had to return to Gabes and take a louage from there.
Famed for growing the best dates in Tunisia, Tozeur is an oasis town on the edge of the Sahara Desert. It's easy to fill two or three days with activities. Spend a couple of hours wandering Tozeur's 14th-century medina, where the walls and buildings are made from distinctive small yellow bricks. The Palmeraie is an enormous green space on the edge of the town, filled with date palms, fig and pomegranate trees. Explore on foot (like us) or be a tourist and take a ride in a calèche (traditional horse-drawn carriage). Also on the edge of town, we were intrigued to visit Belvedere Rocks where the face of Tunisia's national poet, Abdulkacem Chebbi, is carved into a huge rock, Mount Rushmore–style, but we found the area thronging with camel-riding Tunisian tourists.
A short louage-ride away from Tozeur is Nefta, the home of Sufism in Tunisia and the country's second-holiest site after Kairouan. Nefta's best-known attraction is the Corbeille, a sunken palmeraie in the town centre. It's also interesting to compare the different style of architecture between here and Tozeur – Nefta's buildings are decorated in green tones in contrast to Tozuers shades of yellow. 
You'll need a 4-wheel-drive to reach some of the area's most impressive sights including Ong Jemel and Mos Espa (dramatic scenery that featured in the Star Wars films). Locally-arranged excursions may also include the Chott el Djerid and the smaller Chott el Gharsa. We visited three mountain oases (Chebika, Tamerza and Mides). Of the three, Mides was our favourite, but this area is currently out of bounds according to UK FCO Travel advice, due to its proximity with the Algerian border, so check before you travel.
Kairouan – suggested length of time: 2 nights
Passenger trains no longer run to Kairouan. We travelled from Tozeur to Kairouan by louage (changing in Gafsa) but there are also a handful of direct busses scheduled throughout the day.
The city of Kairouan was founded in 670 CE and was declared a UNESCO World Heritage Site in 1988. The ancient walled medina is accessed through one of three monumental gates. For most travellers, Bab ech-Chouhada on Place des Martyres is a convenient place from which to begin exploration – visit Mosque of the Three Doors, the souks, and Bir Barouta (an 8th century well that uses a camel to turn the wheel that draws the water – interesting but now a bit touristic in our opinion).
Just beyond the medina walls lies Kairouan's most important attraction; the Grand Mosque (the fourth most important place of pilgrimage for Muslims). Other places to visit in this part of the city include Aghlabid Basins (once one of the most important pieces of hydraulic engineering of the Arab world).
El Kef – suggested length of time: 2 nights
El Kef is the only place included in our suggested Tunisia itinerary that we haven't visited (we simply ran out of time but it's high on the list for a return visit). Travelling by bus or louage from Kairouan to El Kef, we'd be tempted to break the journey in Maktar to explore the Roman ruins there.
El Kef (also referred to as Le Kef), has a past which will be familiar at this point on your Tunisia itinerary – following the First Punic War it fell to Carthage, only for the Romans to take over the town. It has a scenic location and a pleasant-to-explore compact historic centre. Start at the Place de l'Independance, stroll through the white and blue-hued medina and continue to Place Bou Makhlouf to discover the Byzantine kasbah and the Basilica (formerly the Great Mosque).
Dougga
The Roman ruins at Dougga impressed us immensely and despite the hassles of getting there by public transport, we would encourage you to visit. From El Kef there are scheduled buses to Teboursouk, the closest town to Dougga, and then onwards from Teboursouk to Tunis. These mostly run in the morning so make an early start from El Kef. If you can't find a bus, travel by louage is another option. It's also possible to visit Dougga as a day trip from Tunis if you don't want the hassle of visiting the archaeological site with your luggage in tow. For more transport details, read this section of our guide on how to visit Tunisia's UNESCO sites independently. 
Beginning life as a Punic settlement, Dougga fell into the hands of the Berbers before becoming part of the Roman Empire in 46 BCE. Also known as Thugga, the city wasn't destroyed in the same way Carthage was and UNESCO's claim that Dougga is "the best-preserved Roman small town in North Africa" is an accurate one in our opinion. 
Tunis – 1 night
You'll probably need a final night in Tunis before an onward flight. Or a further two nights if you've opted to visit Dougga as a day trip from Tunis.
OPTIONS FOR EXTENDING THE ITINERARY
We also visited Bizerte on our itinerary, a town on Tunisia's northwest coast with an attractive Old Port. First settled by the Phoenicians, destroyed and rebuilt by the Romans, Bizerte was a major naval base under the French Protectorate and was occupied by the Germans during World War II. Today Bizerte has a relaxed vibe and, if you've got some extra time, is worth a side trip from Tunis. With even more time, you could continue along the coast to Tabarka.
Another area, that is on our 'next time' itinerary is the Cap Bon Peninsula to the southeast of Tunis.
If you want to slow down the pace of your Tunisia itinerary, rather than add in more travelling, choose a place which appeals – our picks would be Kairouan and Djerba island.
OTHER TRAVEL PLANNING RESOURCES
And if you need a few more reasons to follow our Tunisia itinerary…
Baths of Antoninus at Carthage
Djerbahood street art, Erriadh, Djerba
Ksar Ouled Soltane near Tataouine
Prayer Hall of Kairouan's Great Mosque
If you found our three week Tunisia itinerary helpful, please share it or pin it to your travel planning boards…