And on gatecrashing an all-night party at Luke Skywalker's house …
Finding this abandoned hotel in the small Berber town of Matmata in southern Tunisia was an added bonus to our visit to Tunisia. We came here for one reason, and that was to see, and possibly stay at, the Hotel Sidi Idriss aka Luke Skywalker's home in the original 1977 Star Wars movie, now known as Star Wars: Episode IV – A New Hope (*).
(*) It also featured in the 2002 prequel, Star Wars: Episode II – Attack of the Clones but, as an old-school Star Wars fan, I'm not that bothered about anything beyond the original trilogy which also included The Empire Strikes Back and Return of the Jedi.
As soon as we arrived in Matmata we made a beeline for the Hotel Sidi Idriss, a traditional underground troglodyte house, but soon discovered we couldn't check in because the place was fully booked for the night. Up until that point, we hadn't encountered any problems getting the hotel of our choice anywhere in Tunisia. The terrorist attack at the Bardo National Museum in Tunis in March 2015, followed by the mass shooting in the resort city of Sousse three months later severely damaged the country's tourism industry and, even though there are signs of recovery, four years later Tunisia is still struggling to convince visitors that it is safe to return.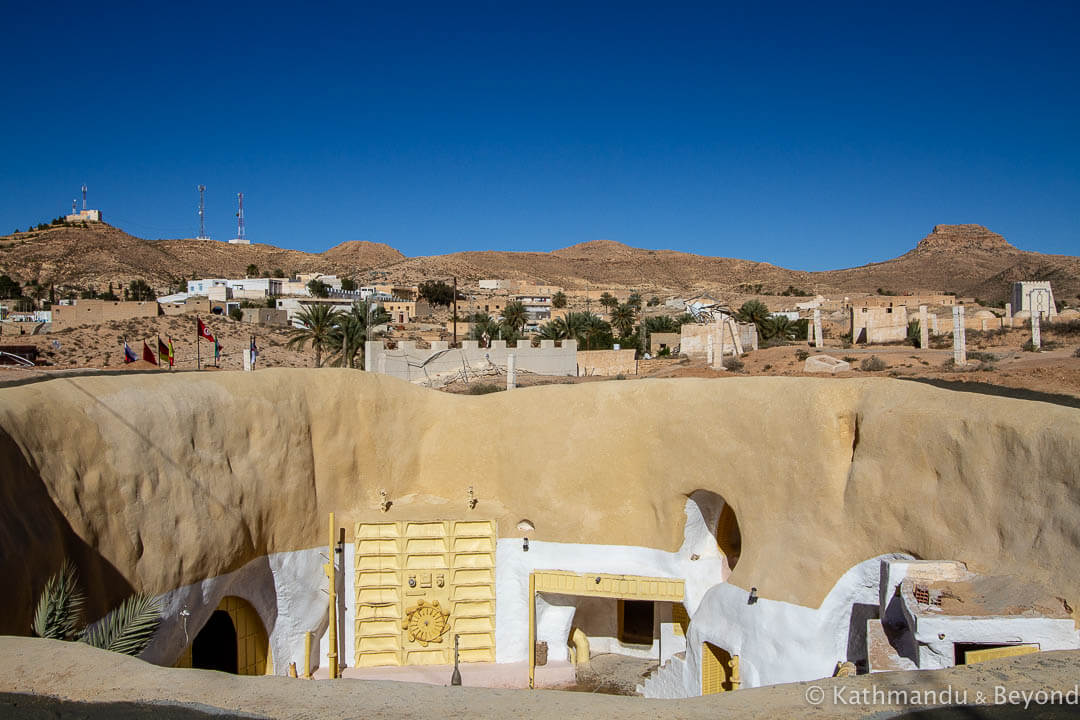 Looking down into the courtyard of the Hotel Sidi Idriss in Matmata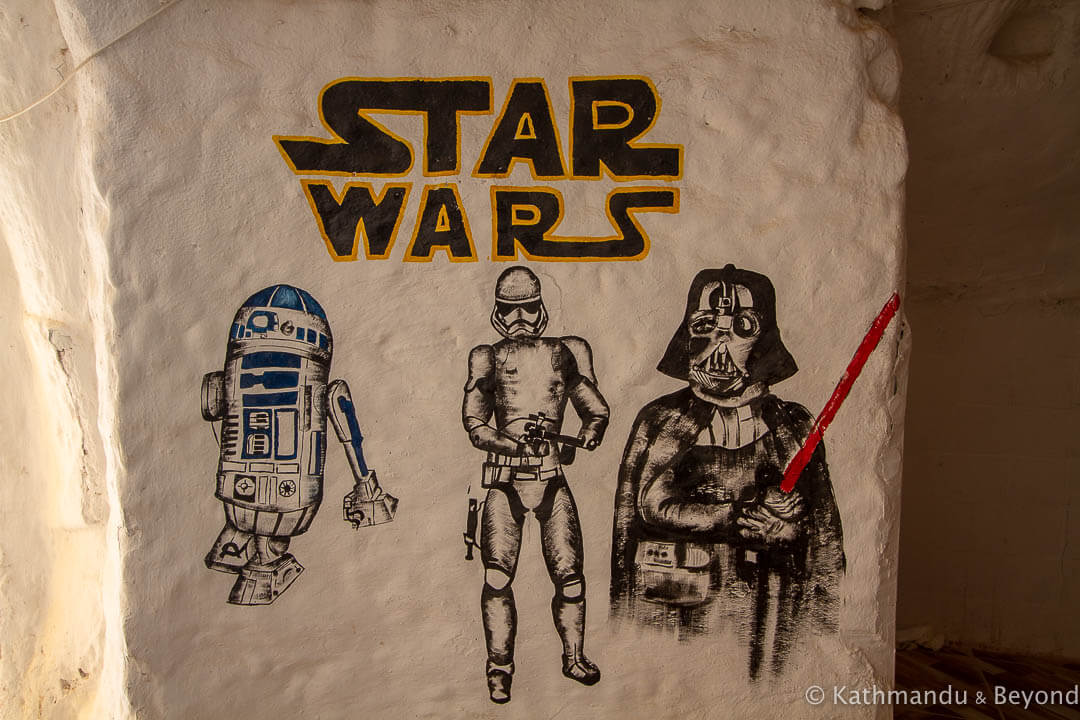 Star Wars artwork inside the Hotel Sidi Idriss in Matmata
This is not good news for the country's tourist industry. We spent nearly a month in Tunisia in March/April 2019 and throughout our visit we felt very safe, and enjoyed our time there a great deal. I appreciate that we were travelling in the shoulder season, but we didn't see many other tourists anywhere apart from along the coast. Every hotel we identified as somewhere we wanted to stay was able to offer us a room on the spot and, usually, also offer us an unprompted discount into the bargain. So, even though the Hotel Sidi Idriss in Matmata was once the residence of a Jedi Knight, well, technically a Jedi Knight in the making at that time, we didn't think we would encounter any problems getting a room by turning up unannounced.
What we didn't bank on was the fact that the hotel was hosting an all-night rave and was therefore full to the rafters with young Tunisians who had come from as far away as Tunis to party the night away. We first saw evidence of the night's shenanigans in the early afternoon when the organisers were setting up the stage area and to begin with, we got majorly excited and assumed it was going to be a Star-Wars-themed rave. We asked the receptionist who had just informed us that there was no room at the inn if this was the case but he just laughed in that "Are you being serious?" sort of way and that dashed any hopes we (read me!) had of gatecrashing a Star Wars party and rubbing shoulders with wanna-be Obi-Wan Kenobis, Chewbaccas, Darth Vaders, and the like!
I don't believe that most Tunisians, regardless of age, care that much about Star Wars and the association their country has with the franchise. There are plenty more Star-Wars-related film locations in Tunisia besides Matmata, including the abandoned film set of Mos Espa, where all the Tunisian visitors we observed were more interested in taking a selfie with the resident camels rather than having a poke around a small part of film-location history.
Anyway, I digress. After leaving the Hotel Sidi Idriss, we headed off like C-3PO and R2-D2 across the arid landscape in search of another place to stay. The task wasn't that difficult and we found another hotel with ease but while trudging around and trying not to fall down into the cavernous and unprotected courtyards of other troglodyte homes (true!) We came across the main entrance to a rather grand looking building which we subsequently found out was formerly a hotel, Hotel Kousseila Matmata.
The place was completely accessible and the temptation to have a snoop around was too great to resist so we quickly checked in to our revised hotel of choice, dropped our bags off, and then headed back to take a closer look.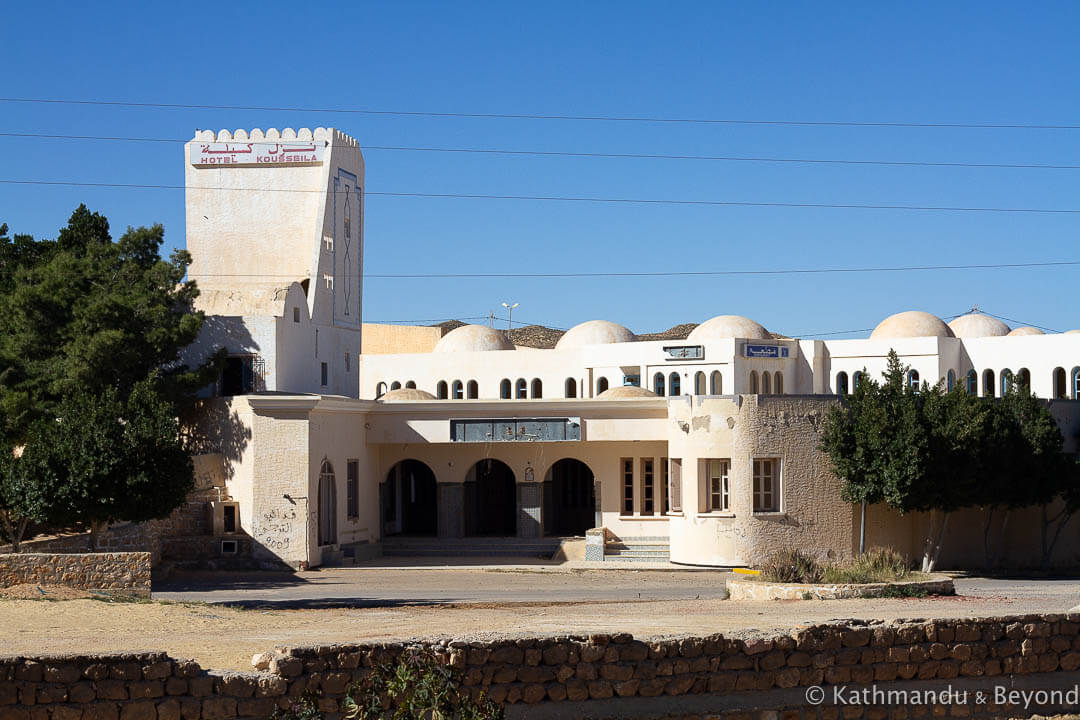 Former Hotel Kousseila in Matmata
I can find very little post-2014 information about the Hotel Kousseila online but you don't have to be Sherlock Holmes to work out that the property was obviously a victim of the decline in visitor numbers as a result of the 2015 attacks mentioned above. It was definitely operating as a hotel in February 2013 because there is a photo of it on the internet showing a functioning souvenir shop at the main entrance. There is also a YouTube video dated November 2014 in which the hotel is featured but it's a very brief glimpse and I cannot determine if it was abandoned or not by this point.
Traditionally Tunisian/Berber/North African in style, there was plenty of tile work all over the property including inside the bedrooms and the bar area. Quite a few of the window panes were broken or had been smashed, and there was nothing of value left anywhere but the two-storey hotel was still in a reasonable condition and the central tower that overshadows the rest of the building was in very good shape.
Apart from that, I've got nothing else that I can tell you about the hotel but this unexpected find was certainly a worthwhile place to explore for half an hour or so and we were pleased to have stumbled across it.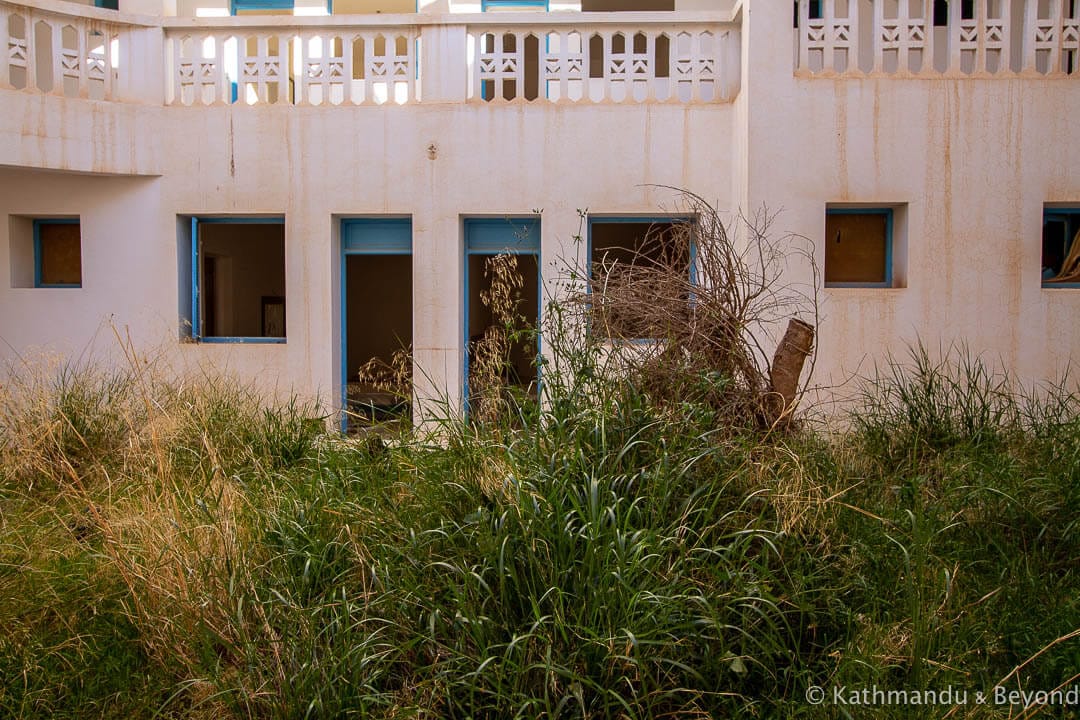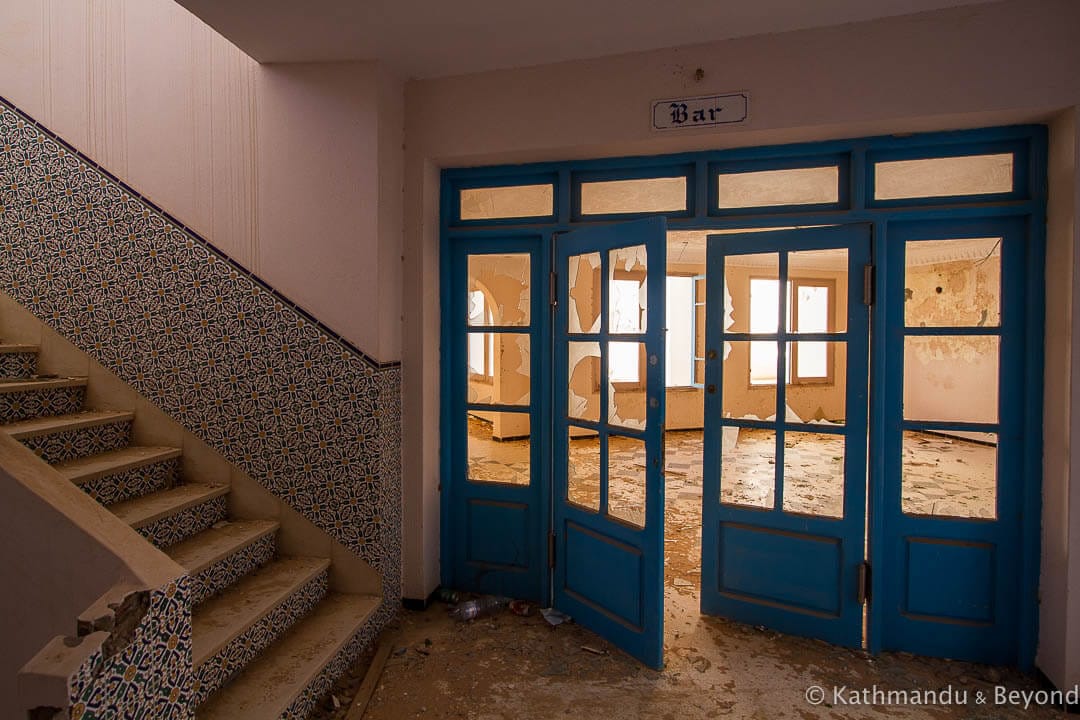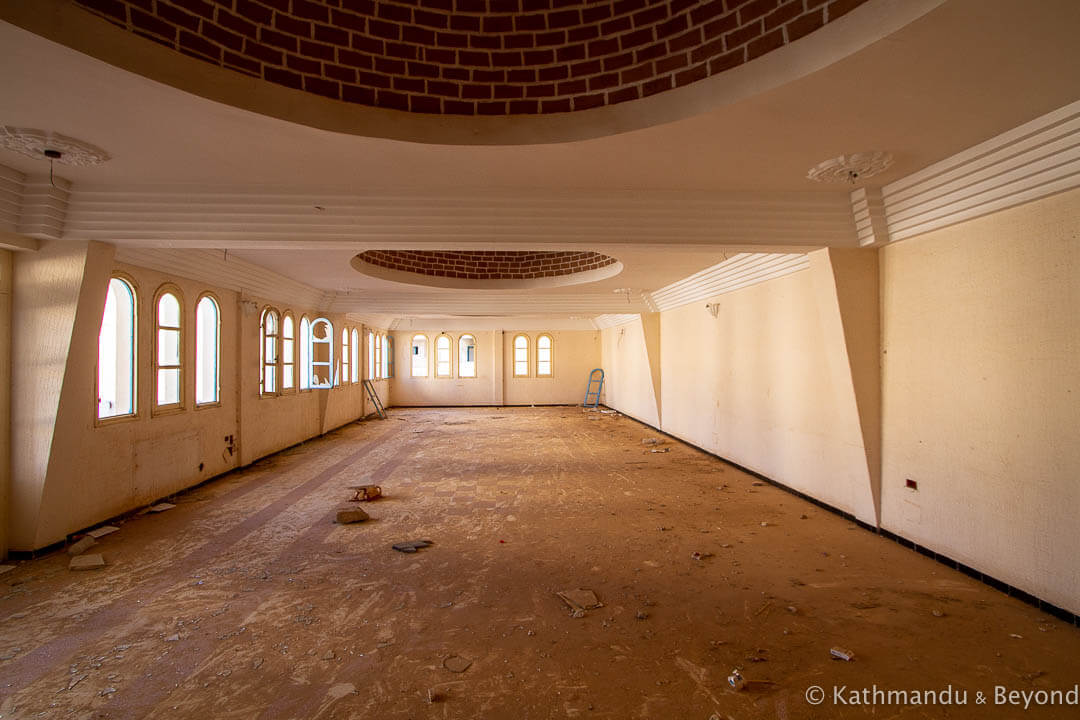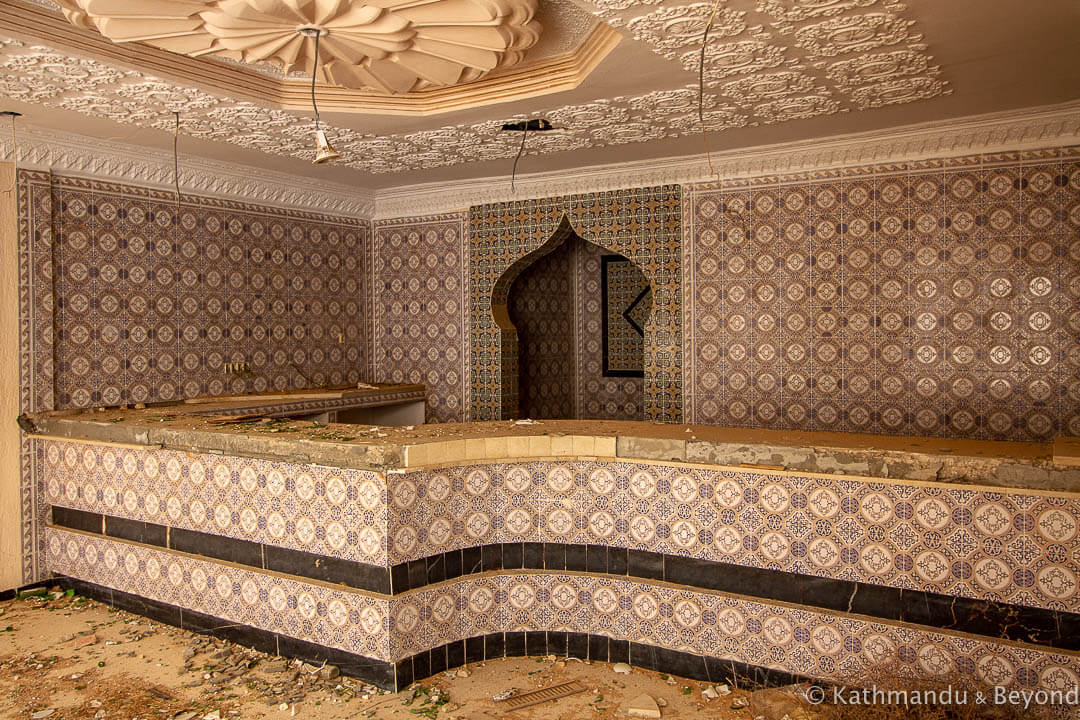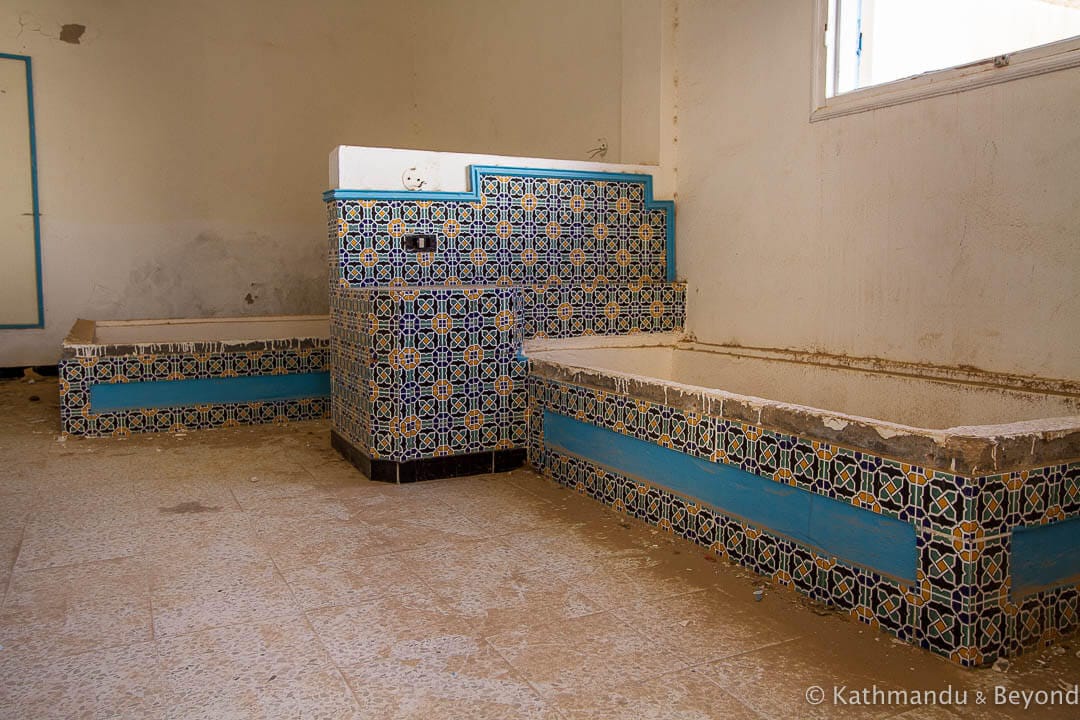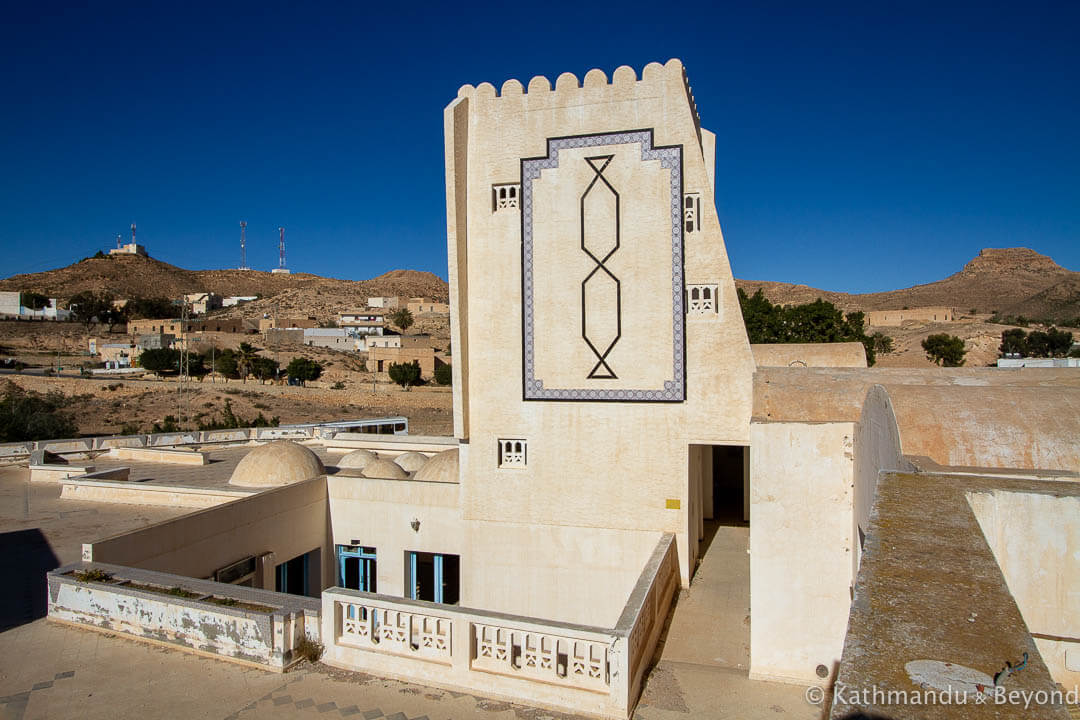 Former Hotel Kousseila in Matmata
To return to the story of the troglodyte rave… we aren't much into thumping techno music and staying up late these days but we did go back to the Hotel Sidi Idriss around 6pm to see what was happening which, in short, wasn't a lot. The music was dutifully thumping, and very loud but the only sign of life was a handful of people standing around the edge of the courtyard plus a single DJ (accompanied by groupies) up on the stage doing his thing. We were unfashionably early but that suited us fine. We got a couple of beers and hung around in our own little cave booth for a while before heading off to our own hotel for dinner, thankful that it was out of earshot and that, in the event, we hadn't managed to get a room for the night at the Hotel Sidi Idriss, given how we envisaged the night would likely pan out.
And finally, we did get talking to a couple of lads from Tunis. They asked Kirsty if I was alright when they noticed me doing my best Chewbacca impression while heading across to the bar to get another couple of beers!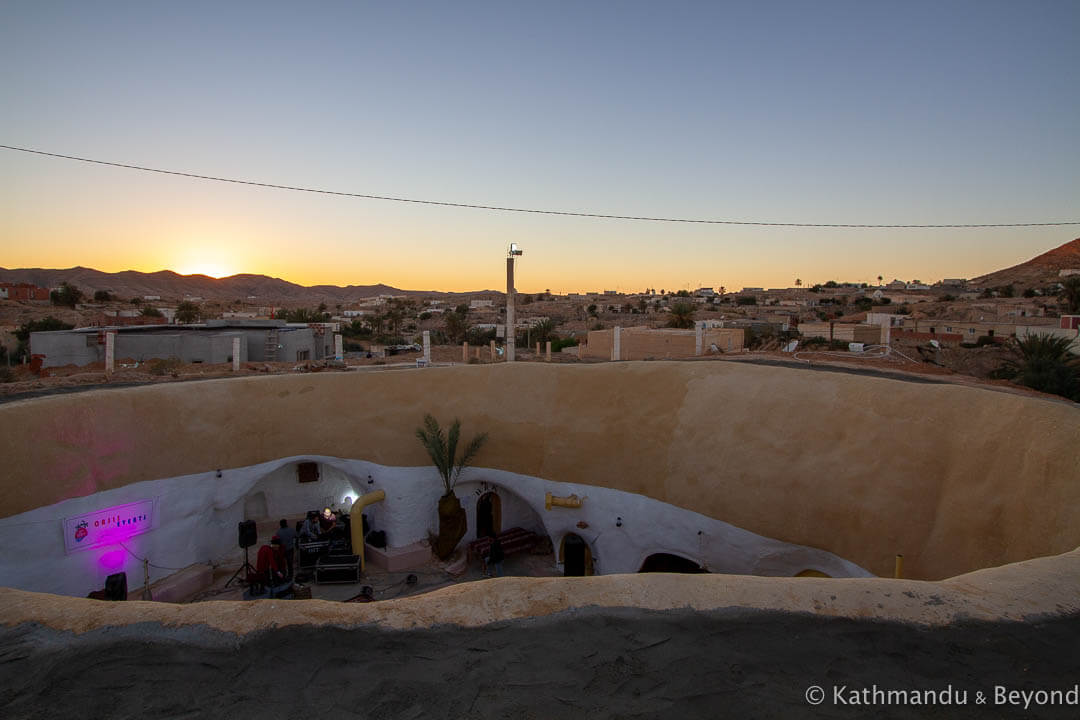 A final view of the Hotel Sidi Idriss in Matmata before heading off to our own hotel for a bit of peace and quiet
---
---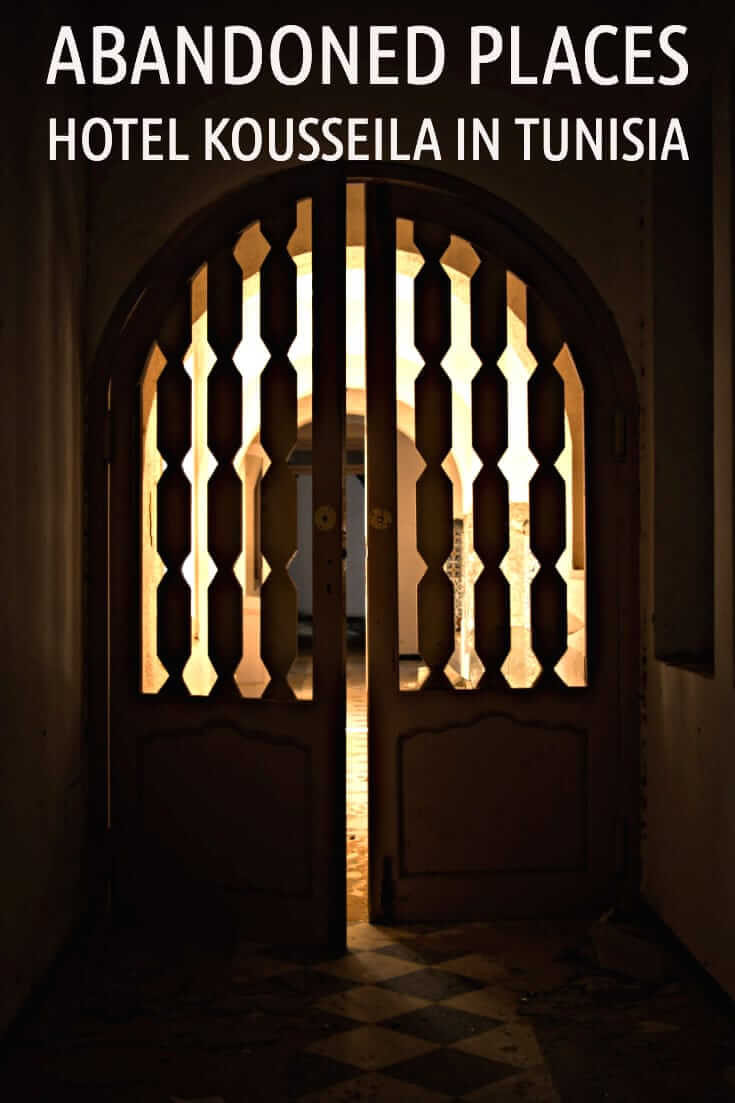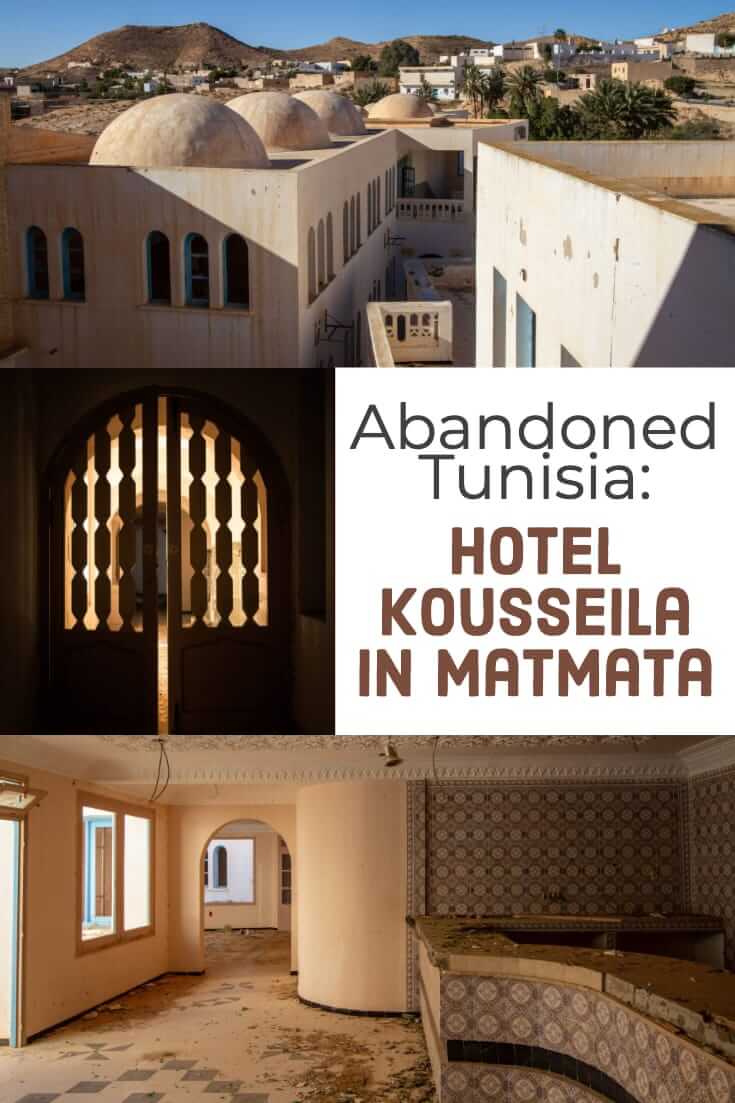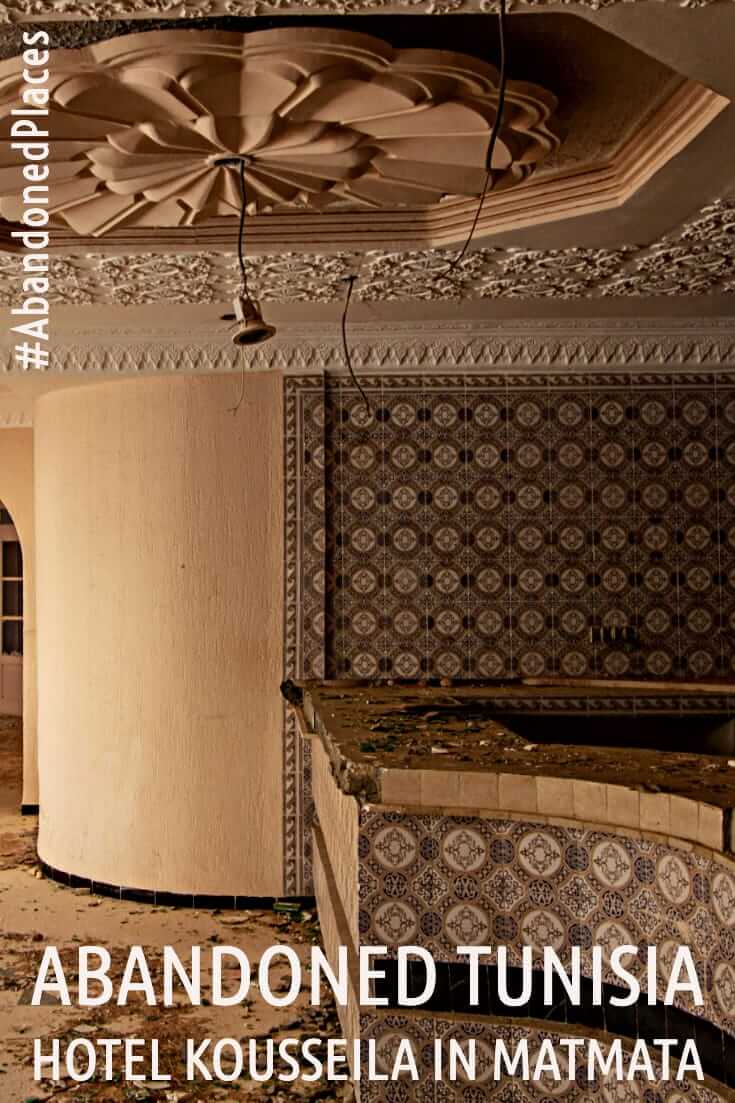 ---
---