A guide to Project Djerbahood and the street art in Erriadh, Tunisia
On the holiday island of Djerba in Tunisia, there is a traditional village that has changed beyond all recognition through street art. The village of Erriadh (Hara Sghira Er Riadh) received quite the makeover in 2014 when a street art event, known as Djerbahood, came to town.
The Djerba street art venture, which transformed Erriadh village into an open-air museum of murals and frescoes, was the brainchild of Galerie Itinerrance. Based in Paris, this contemporary art gallery showcases urban art, graffiti and street art, aiming to bring together international artists from the street art movement. Djerbahood was the gallery's first overseas project.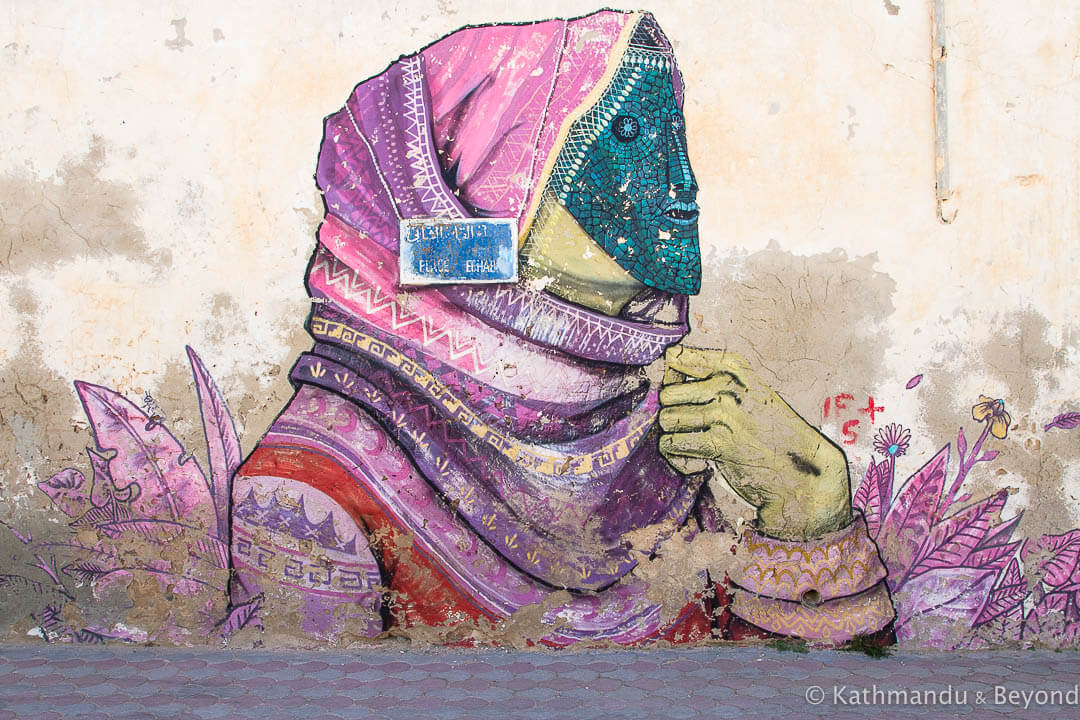 Street art by Saner (Mexico)
The event took place in June 2014 when 150 artists from 30 countries came together to cover Erriadh's gleaming white walls with vibrant colour. One reason the village was chosen was its timeless traditional architecture – the Tunisian tradition of whitewashed, cubiform buildings is certainly well-suited to providing street artists with countless blank canvases on which to work. After some initial reluctance, it seems that the residents didn't require much persuasion to agree to something that would dramatically change their landscape. According to the project's founder, Mehdi Ben Cheikh, it was mainly the women who persuaded their men to give it the go-ahead. Once the first works were completed, the inhabitants began asking for their houses to be decorated.
In addition to welcoming artists from countries as far-flung as Chile, Reunion Island, Japan and South Africa, Tunisia's best-known street artists were joined by others from neighbouring countries including Morocco, Algeria, Libya, Egypt and Saudi Arabia. As you would expect, Europe's prolific street art scene was well-represented by artists from the UK, France, Germany, Portugal, Poland and more. Together, they worked for three months to produce over 250 pieces of art which can be seen on walls, doorways, arches and buildings all over Djerbahood. Artists were given free rein with their creativity providing they respected local customs and culture.
There are several pieces of street art that have been created since 2014, most prominent of which is are the works of the French artist, Pleks, who added several murals to the Djerba street art scene in 2018.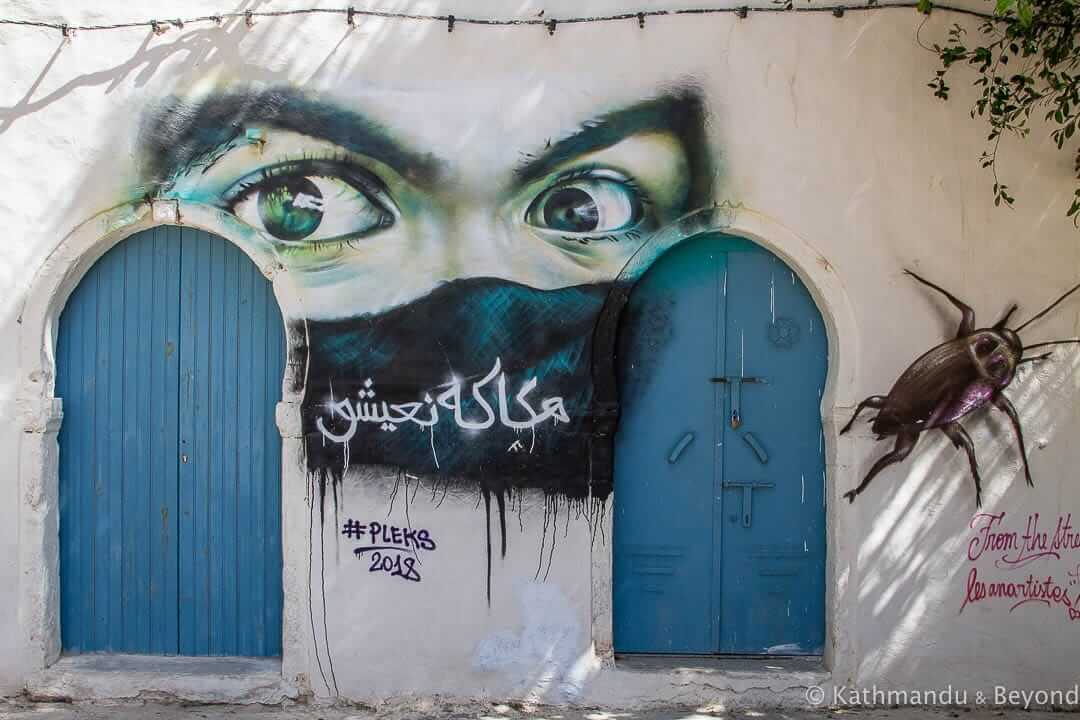 Above: three pieces of Djerba street art by Pleks (France) created in 2018
A tour of Djerba street art in photos
As is usually the case with street art, photos provide the best insight into what you'll see at Djerbahood. Sadly, many of the murals and paintings haven't survived the elements and others are looking somewhat faded (the result of strong sunlight, sea breezes, salty air and painting on limestone). The photo galleries on Djerbahood's official website highlight just how strong the colours were when the artworks were created almost six years ago. When I look at images of the original street art, it makes me sorry that I didn't get to see Djerbahood at its finest moment – it must have looked incredible and it would have been so exciting to explore it at the time.
It feels as though we only saw a small amount of the Djerbahood street art, however when it came to choosing the ones to include here, we had an enormous about of photos to whittle down!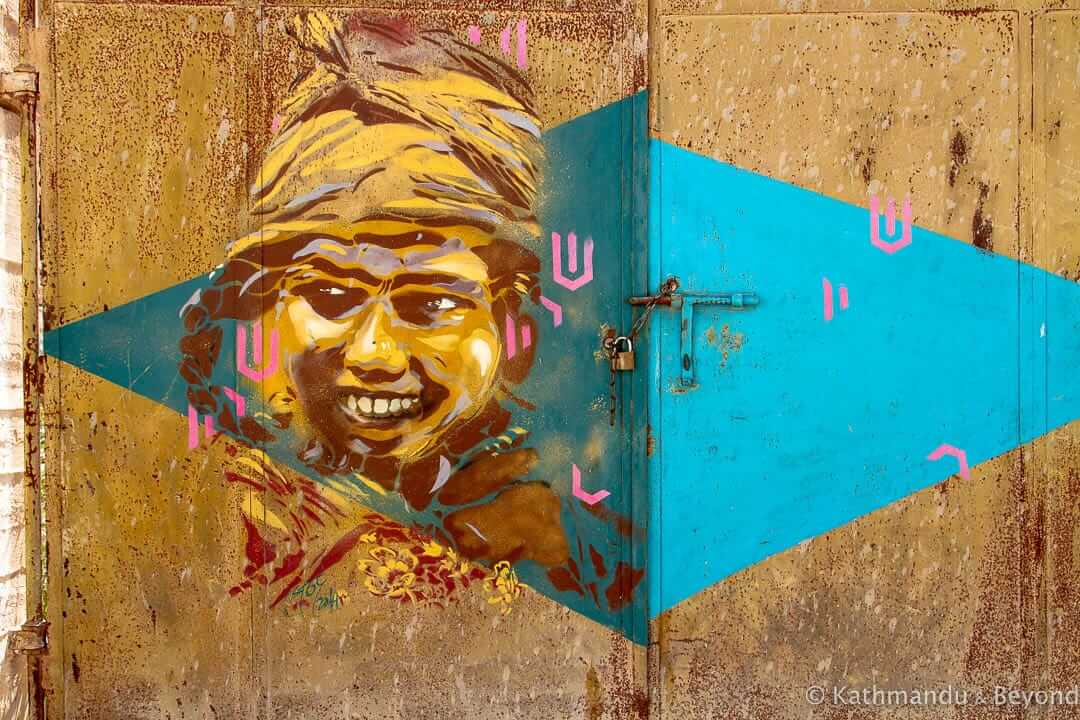 Street art by B-Toy (Spain)
Above: Two murals by Malakkai (Spain)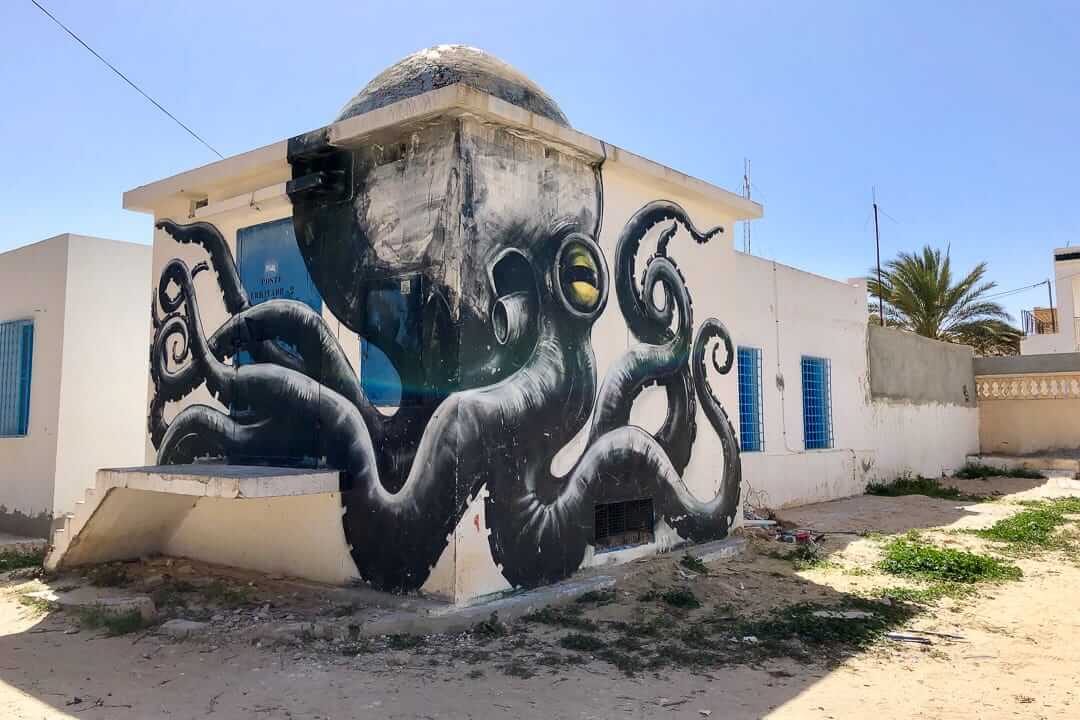 One of the seven pieces of street art created by Belgium artist Roa for Djerbahood
There are several examples of street art being incorporated into elements of traditional Tunisian architecture.
Left, street art by on a traditional door by Yazan Halwani (Lebanon) and right, unknown artist
More street art on doorways. Right by artist Zepha (France)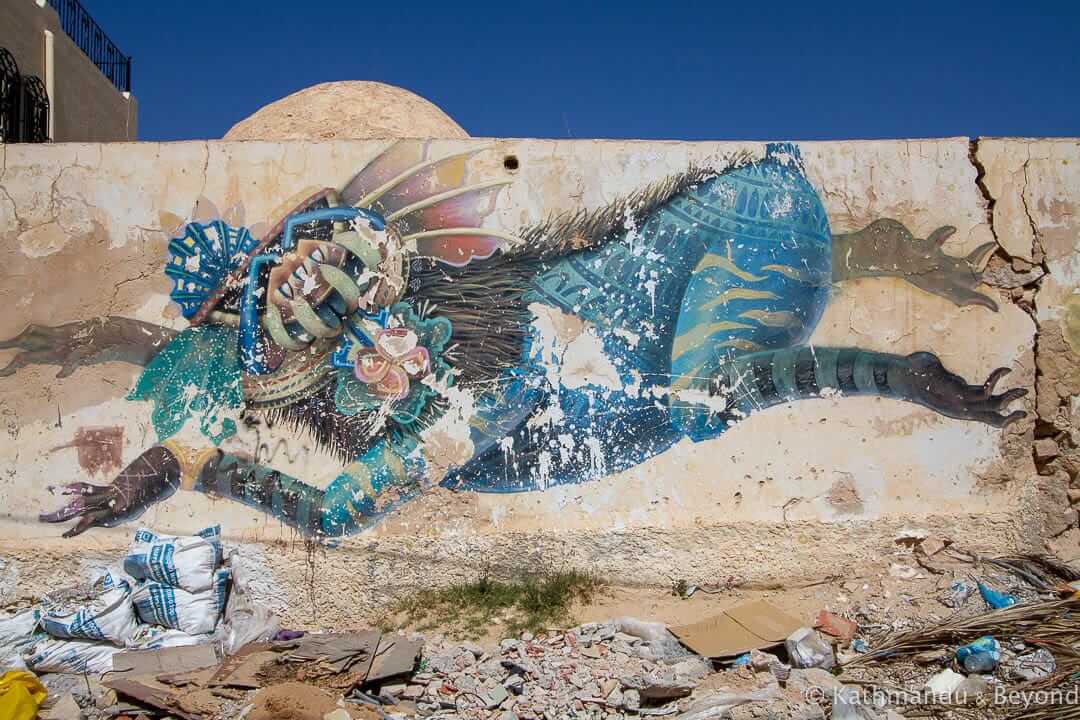 The colour in this mural by Curiot (Mexico) is very deteriorated. See the original here


Both of the above pieces are by Mosko (France)


Left: by Wisign from Tunisia, and right: by Sunra from France
Above are two pieces by artist Nilko (France)



Artists from left to right: Mario Belem (Portugal), Katre (France) and Deyaa (Saudi Arabia)


Left: Jace (Reunion Island), and right: Unknown artist
How to get to Djerbahood and where to find the street art
Although the number of places marked makes it somewhat overwhelming, you can download a PDF map of Djerbahood which pinpoints 229 pieces of Djerba street art by artist name. Some of the street art is no longer there and you may find it easier simply to wander around and see what you can find rather than going on a wild goose chase for a non-existent piece by renowned Belgium artist ROA. Djerba street art is everywhere in Djerbahood!
Djerbahood (Erriadh, to give it its official name) lies almost at the centre of Djerba island. Houmt Souk, on the northern coast of the island, is the main town and the most convenient place to stay, although there are a handful of guesthouses in Erriadh itself. Djerba is connected to the mainland by a seven-kilometre bridge and is easy to reach by public transport (bus or louage). If you are planning a trip to Tunisia, our suggested three-week itinerary includes a stay on Djerba island.
You can take a louage from the bus station in Houmt Souk to Erriadh. We took a taxi to the nearby El Ghriba synagogue (see below) and walked to Erriadh village after our visit and then took a louage from Erriadh back to Houmt Souk. The taxi cost just 5 dinar (approximately US$1.70/UK£1.35). The louage fare was a fraction of that but we had to wait quite a long time for it so you may decide on a taxi both ways!


There are still a few white walls in Erriadh
Other things to see in Erriadh
The Djerbahood street art is close to one of the island's much older tourist sights, El Ghriba Synagogue (sometimes simply called Djerba Synagogue), and we recommend combining both places in one visit. The 19th-century synagogue is the oldest in Tunisia (some say the oldest still-in-use synagogue in the world) and features a beautiful interior that is a riot of blue paint and traditional blue and ochre painted tiles. Remember to take your passport. It's required to pass through a security checkpoint.
Not far from the synagogue is Ben Yala mosque, a whitewashed domed structure that you'll pass if walking to Djerbahood from El Ghriba.
There are a few cafes, gift shops and restaurants around Erriadh's main square but generally, it's a sleepy place.
---
---
IF YOU ENJOYED THIS POST ABOUT THE DJERBAHOOD STREET ART, PLEASE SHARE IT



---
---